Wavy hair men are a type of hair that grows straight before taking loose curly shapes. Naturally, men tend to look classy when they are on wavy short hair because it got hair styling almost all the modern haircuts. These modern haircuts include fade, undercut, disconnected undercut, crew cut, mohawk, and a whole lot of them.
Wavy Hair: How To
Another reason why men choose wavy hairstyles men is that it doesn't select skin tone. Whether you're Asian, white, or black, you can't miss with wavy hair.
How To Manage Wavy Hair
To properly manage your wavy hair type, do the following:
You have to use a conditioner more often than a shampoo.
As much as you can, allow your hair to air-dry. Too much heat on the hair can damage it.
If you must blow-dry, make sure to use hair-protectant spray.
Use a deep conditioner at least twice a week.
Apply styling mousse to hold waves together.
Importantly, find a barber who knows how to deal with wavy hair, and make it flattering.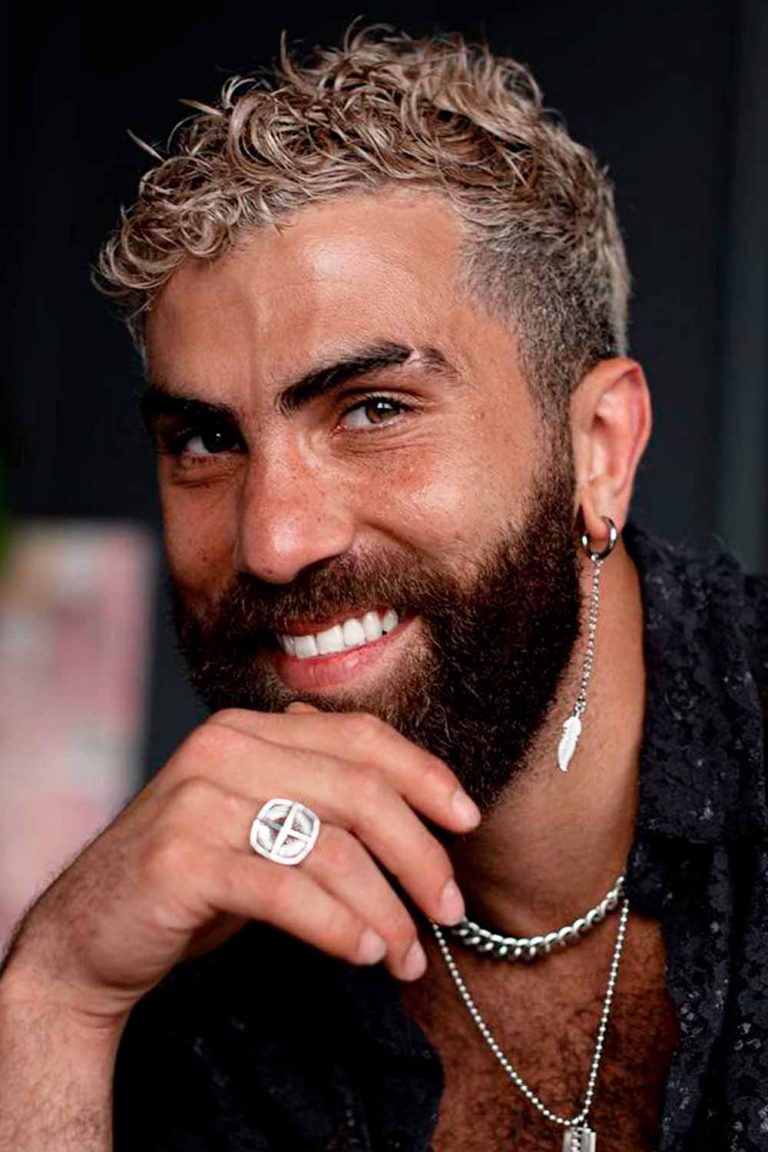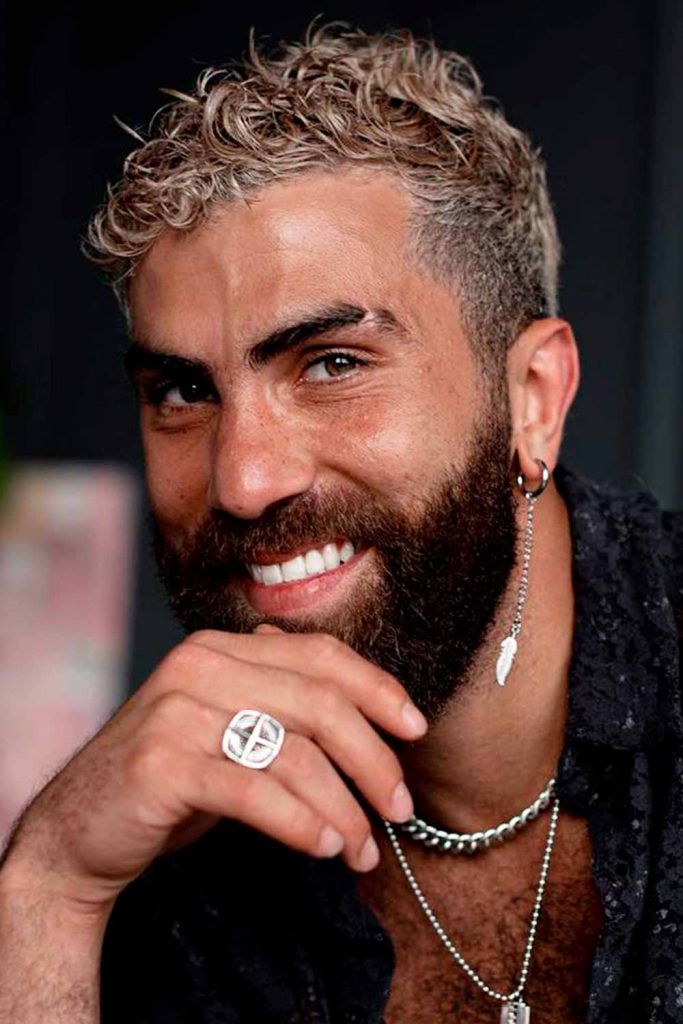 Source: @reza_jax via Instagram
How To Style Wavy Hair Men
Follow these steps when styling your wavy hair:
After washing with the right shampoo and conditioner, style your hair before drying completely.
Thoroughly apply a hair styling product first. Depending on the length and thickness of your hair, focus either on the roots or on the ends.
Using your fingers to style it, or a comb to achieve a sleeker look.
Secure the hairstyle with the low heat from a blow dryer to reduce frizziness and enhance longevity.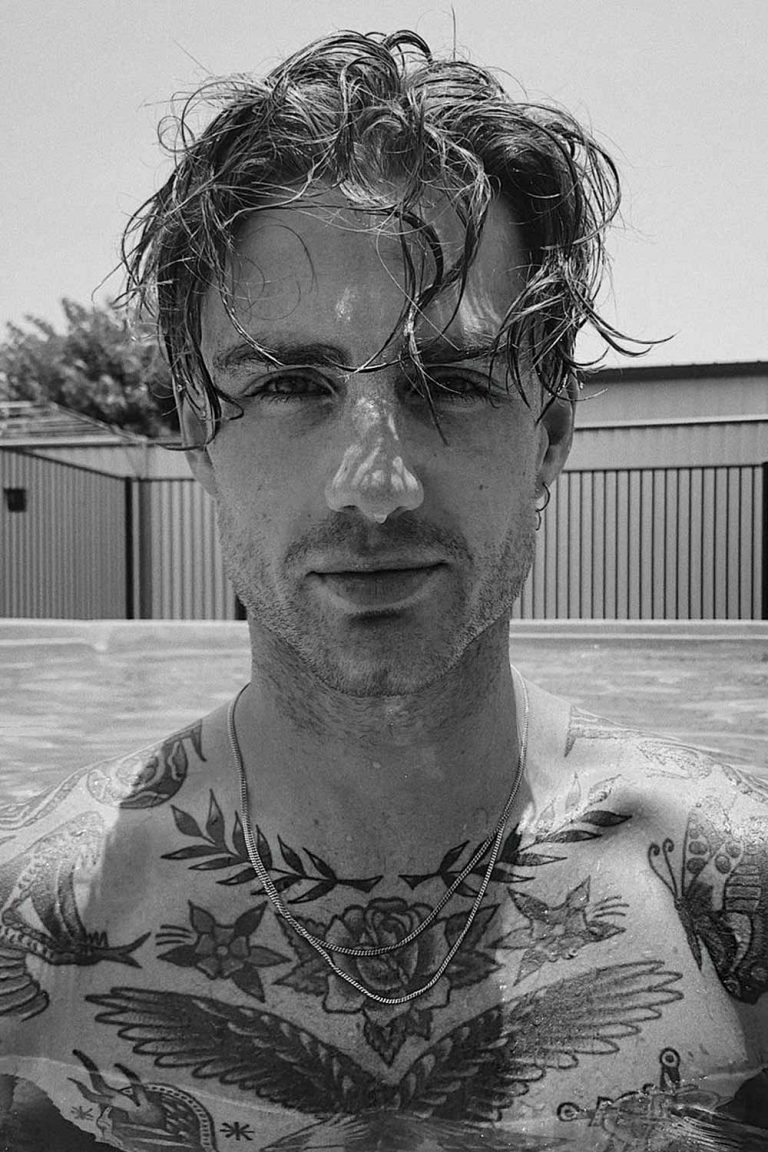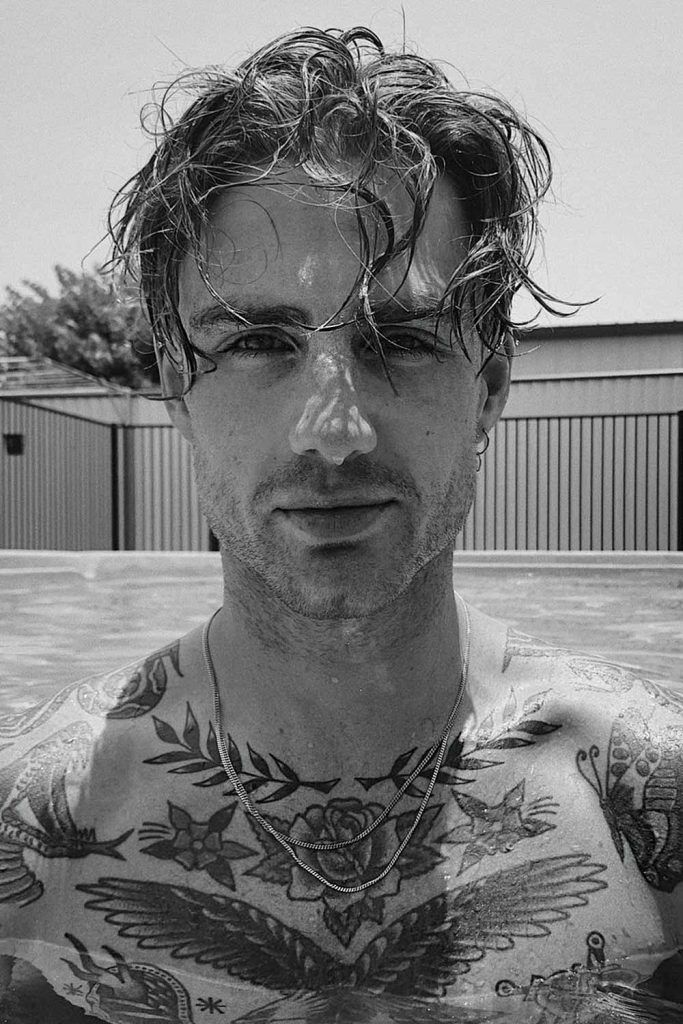 Source: @thomasdavenport via Instagram
How To Get Wavy Hair For Men
To achieve wavy hair with your straight hair, you have to do the following:
Add hair product: This is especially for those with naturally straight hair. The hair product is to add texture to your hair before taking other steps. After washing hair with shampoo and conditioner, apply the product on your damp hair, style it, and let it dry.
Apply salt spray: Also known as sea salt spray, salt spray often contains oil and conditioner to reduce the effect of salt on your hair.
Apply styling mousse: Mousse can be used in place of salt spray. The volume and texture of your hair are improved by the styling mousse.
Blow-dry: Blow-drying is the best technique to get lasting waves. But before you blow-dry, you need to add mousse, heat-protectant, and salt spray. After blow-drying, apply hair cream and twist. Apply curl cream to hold twists in place.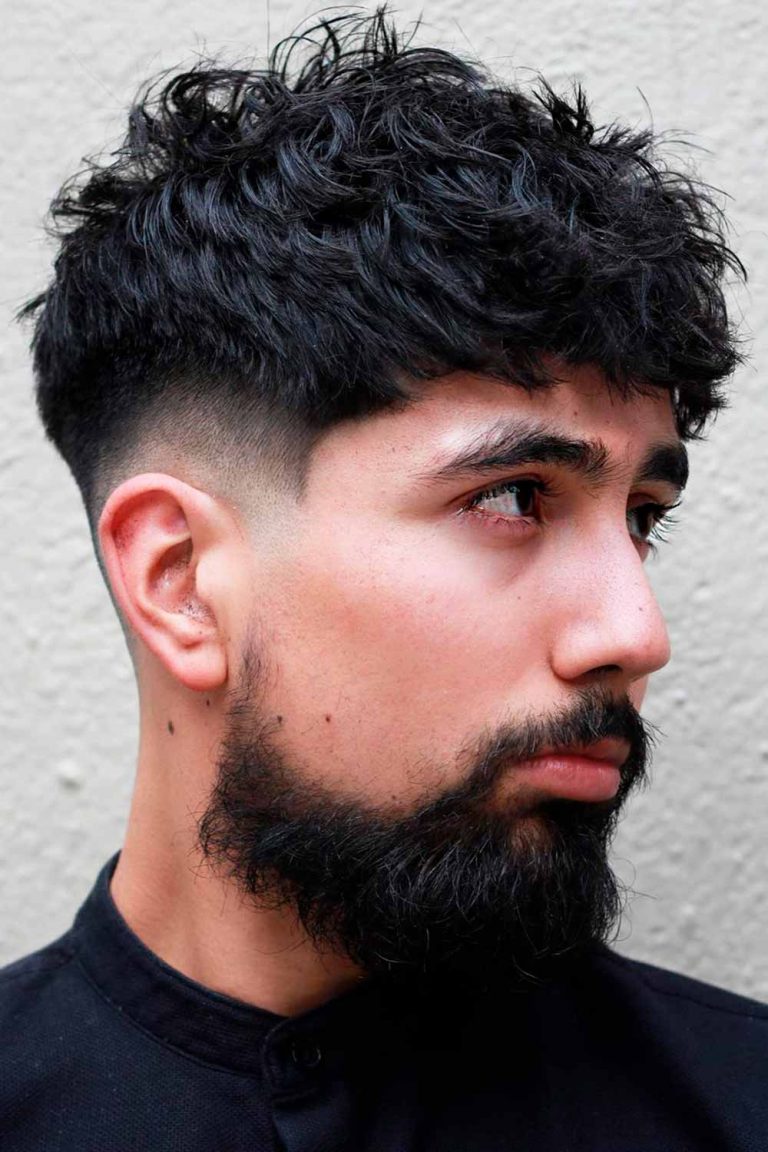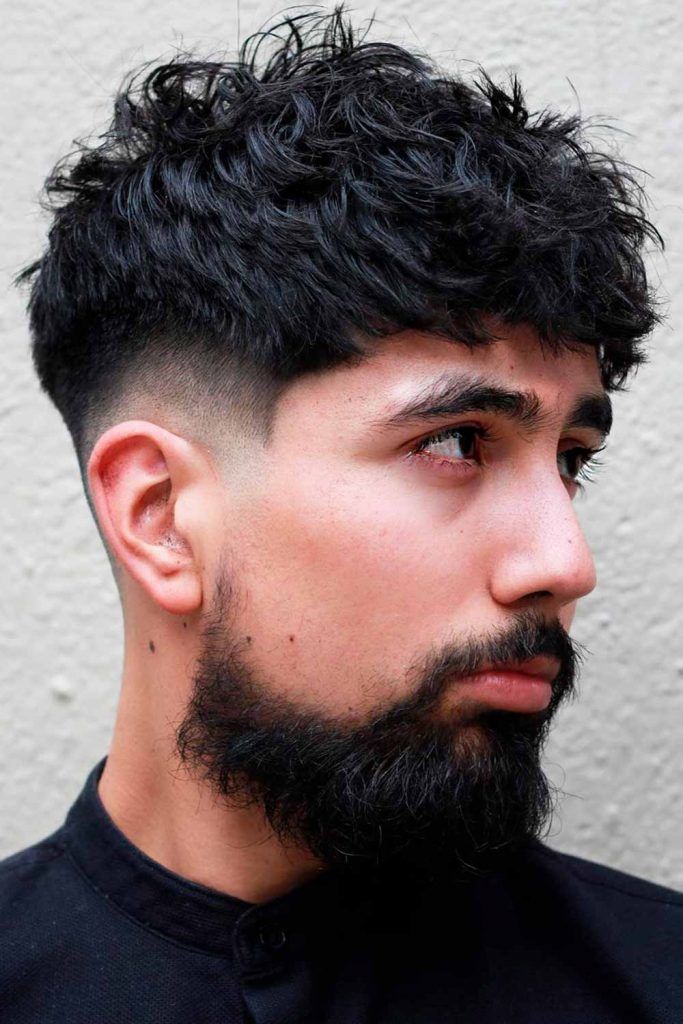 Source: @hayden_cassidy via Instagram
Tips And Tricks For Wavy Hair
To maintain your wavy hair, you should stick to these essential tips and tricks:
Don't wash your hair more often than twice a week if you don't want the waves out.
To eliminate frizziness, apply moisturizing conditioner regularly.
For neat and taut ringlets, opt for a hair styling product with a matte finish and high hold.
To increase volume, apply a sea salt spray to moisturize your locks.
Use a dry hair styling product with a matte finish to reduce the definition of your ringlets.
For softer locks, use a moisturizing conditioner.
Go for pointed cut ends instead of blunt ones for an added soft touch.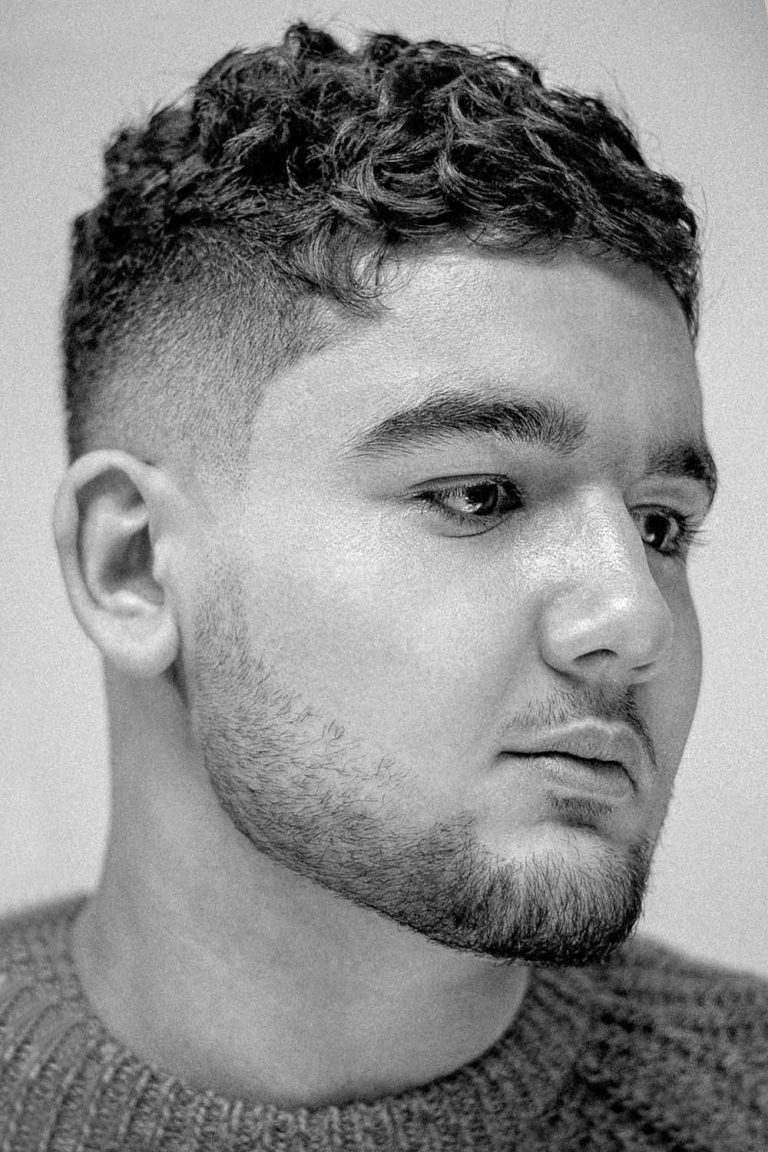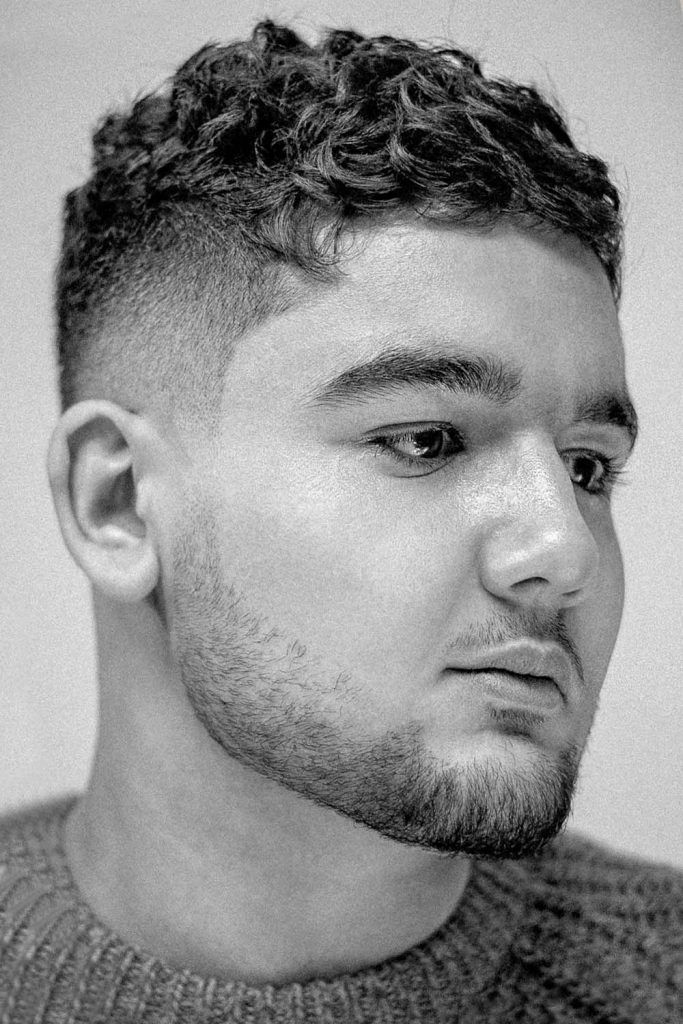 Source: @a.nizhnick via Instagram
The Best Hairstyles For Wavy Hair
Arguably, the best thing about having such a hair texture is that there are a bazillion wavy hairstyles for men on the market. So, let's take a closer look at the best options.
Textured Crop
If you don't have much experience in styling your wavy locks yet, start off with the basic men's haircuts. Try out a true staple of wavy short haircuts for men, which is a textured crop accentuated with a low fade.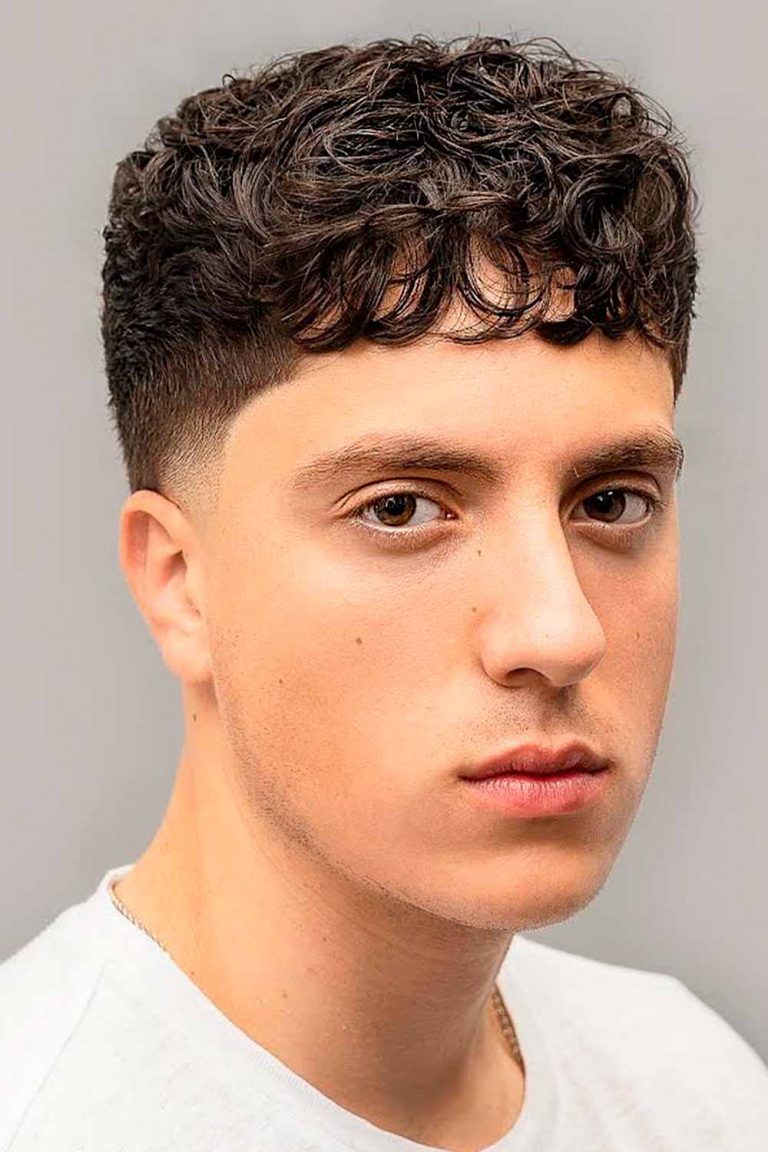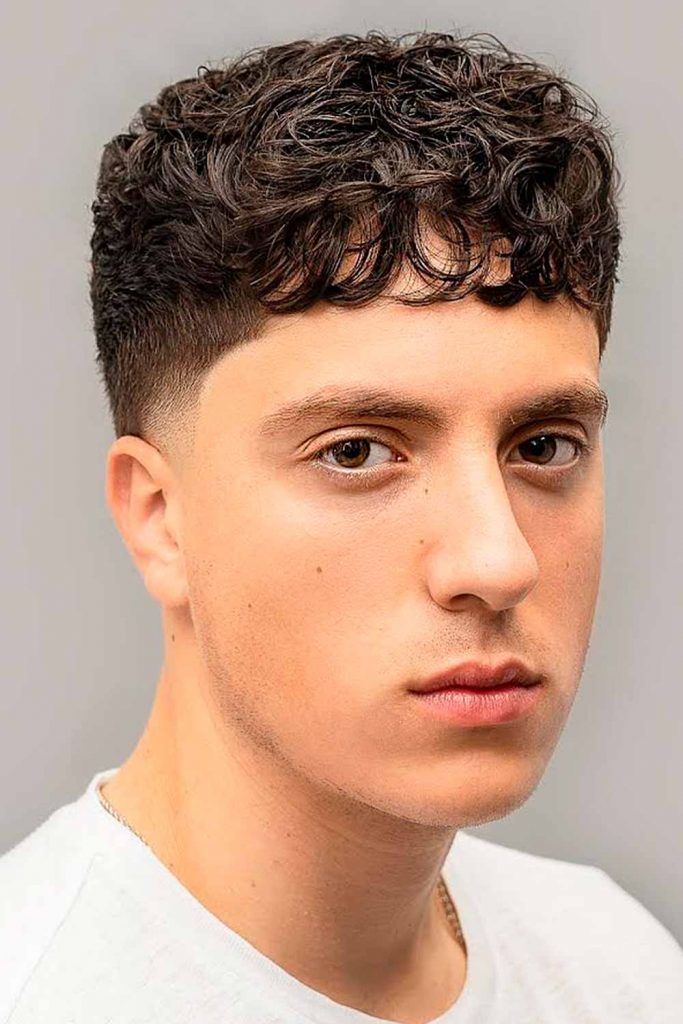 Source: @keller_konturen via Instagram
Side Part Hairstyle + Mid Fade
Wavy haircuts can be easily transformed into any other trendy short mens haircuts. Leaving a bit of length on top, you can opt for a side part paired with any of the mens fade haircuts on the sides and back.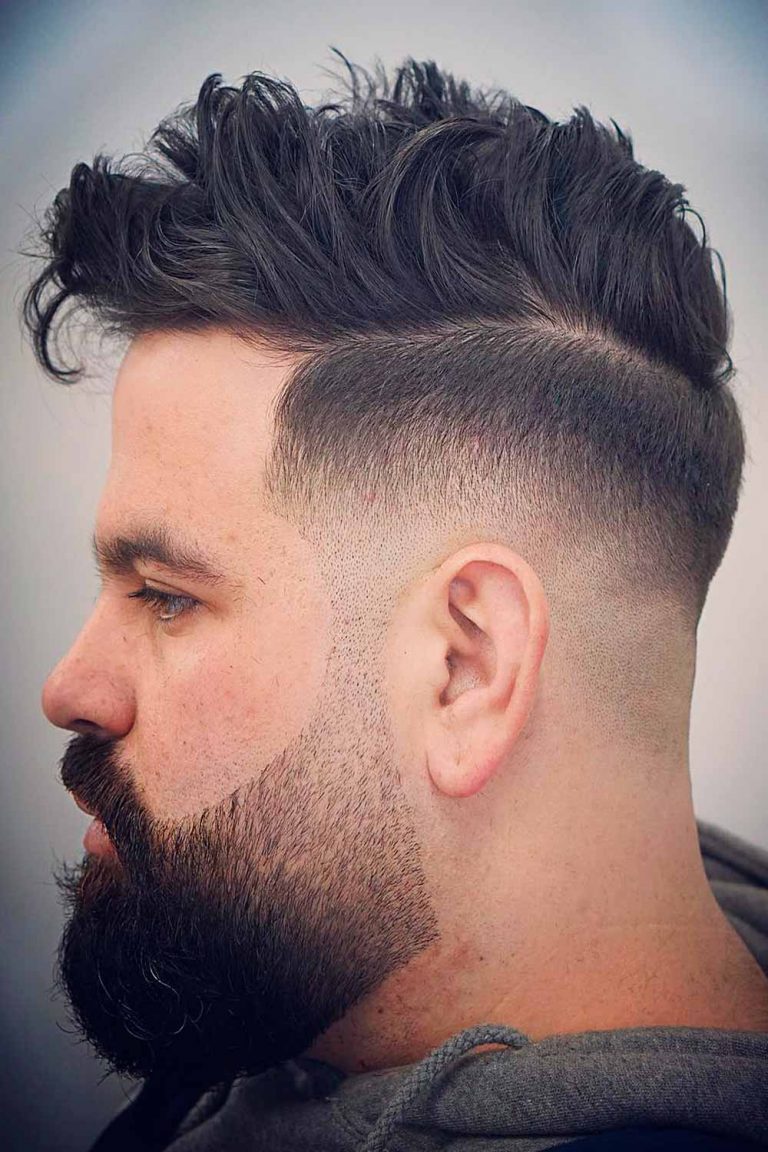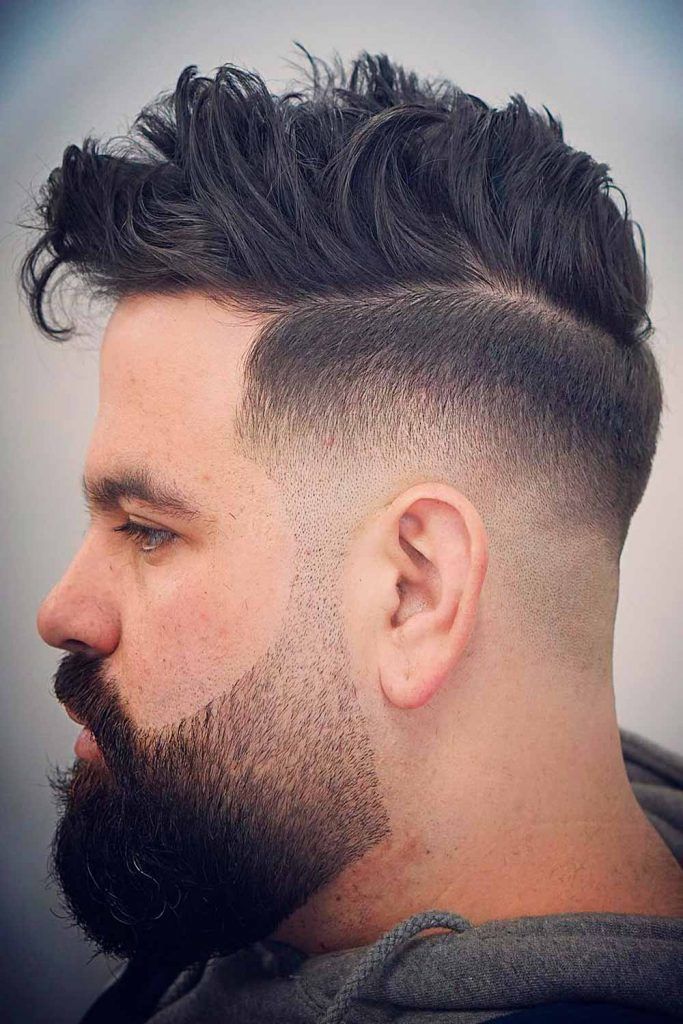 Source: @lmikes_custom_kuts via Instagram
Slicked Back Waves
Wavy slicked back hair gets an unusual twist thanks to its texture and definition. Partner it with any of faded haircuts for men on the sides and back for easy maintenance.
Source: @alexthegreatvivar via Instagram
Long Wavy Hair
When you have long hairstyles, it allows you to show off your mane without making much effort. An undercut makes any of the guys haircuts for wavy hair low-maintenance and easy-wearable.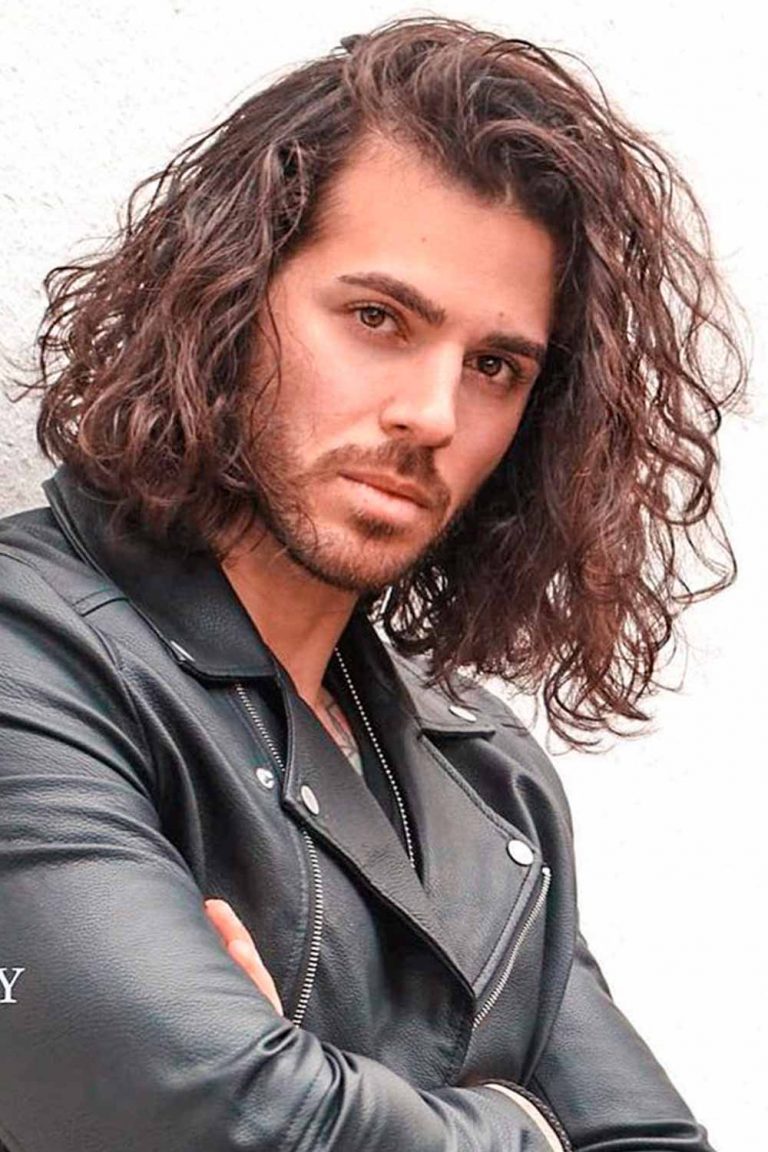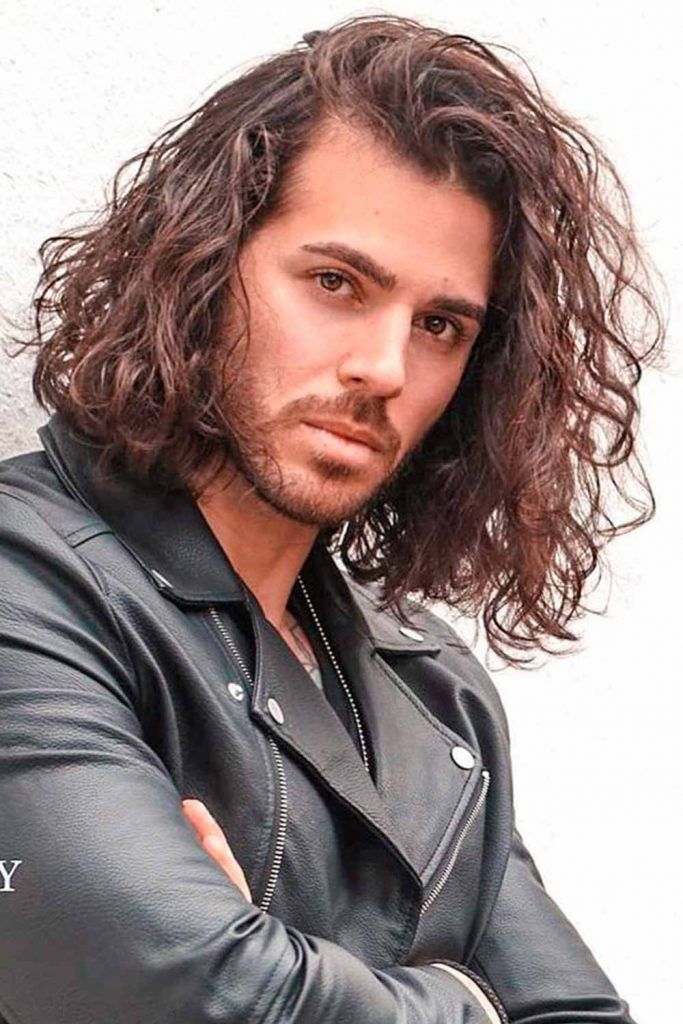 Source: @enrico.ravenna via Instagram
Wavy Fringe + Fade Haircut
A men's haircut with a wavy fringe not only looks textured and dimensional but also helps you to disguise a prominent forehead. A low fade on the sides and back allows messy hair men keep their locks in check.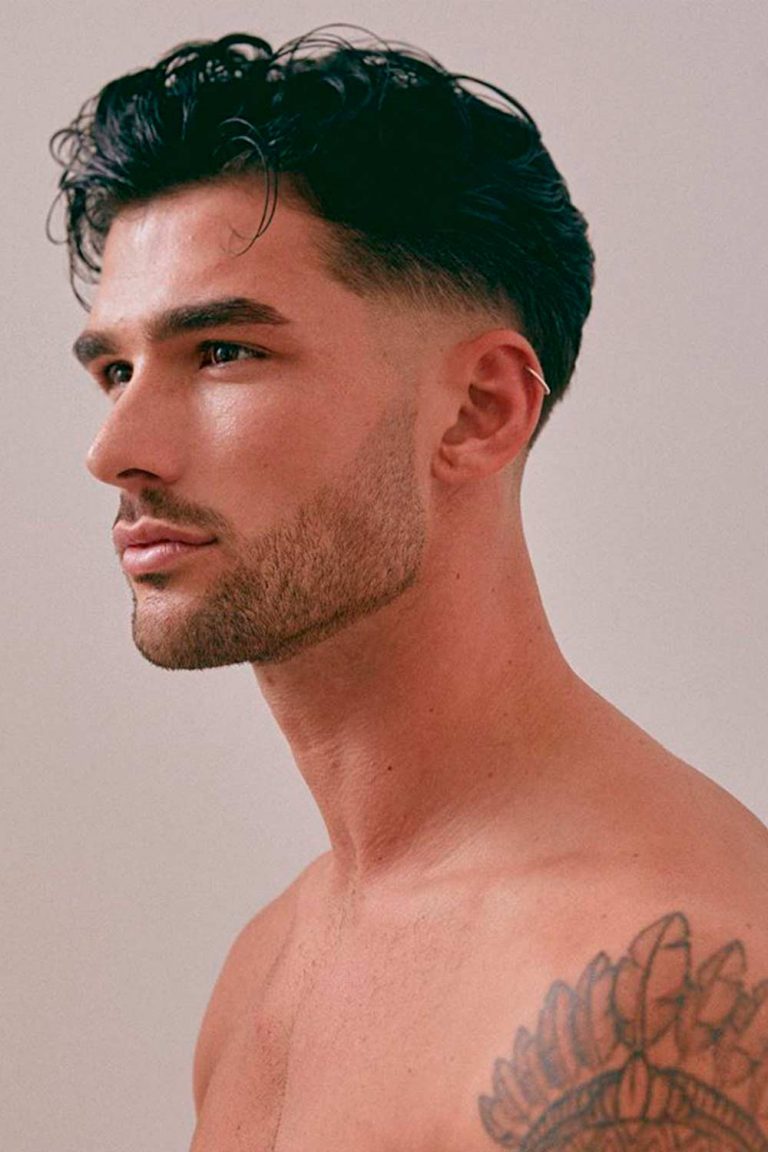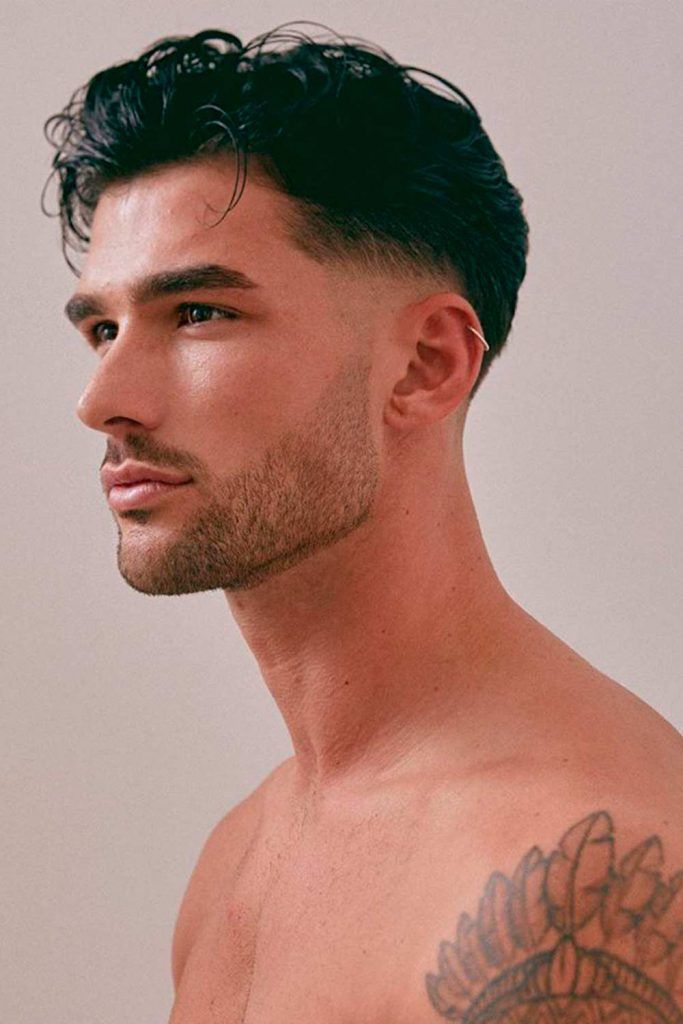 Source: @hayden_cassidy via Instagram
Short Sides Long Top
The short sides long top wavy man haircut is incredibly versatile. The hair on top can be styled in multiple ways whereas the sides and back can be given any tapered hair cut for men. The only rule to follow is to keep the contrast between the top and the hair around the head noticeable.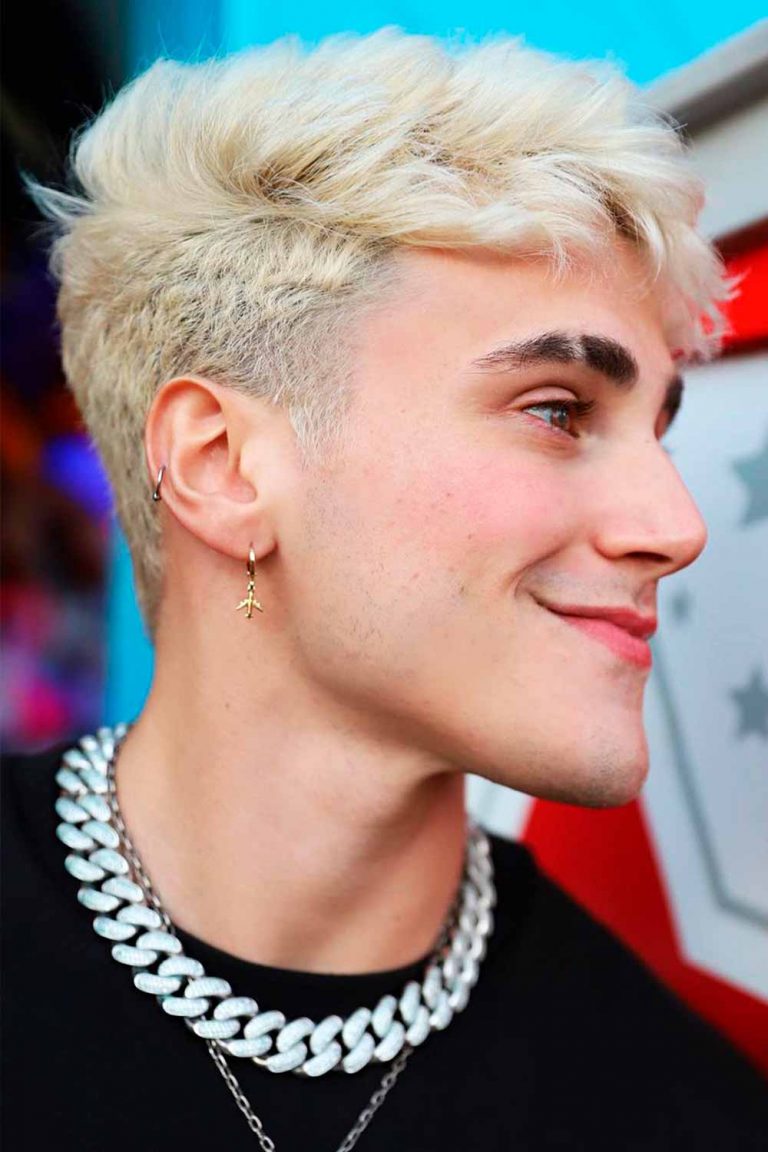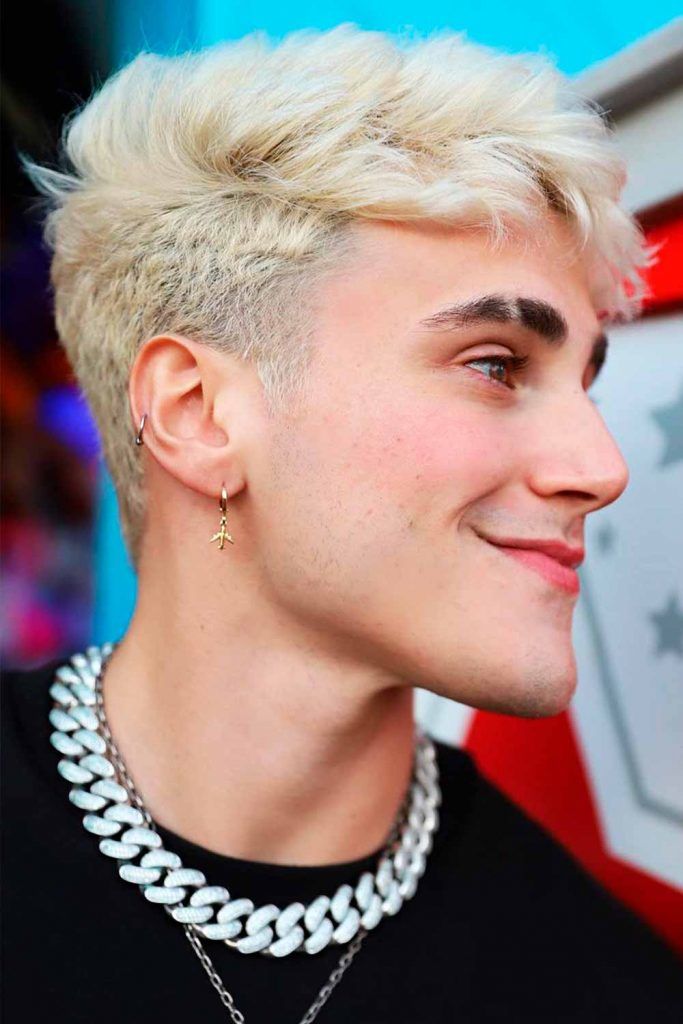 Source: @alexmapeli via Instagram
Thick Crop + Drop Fade
Short wavy hairstyles for men look exceptionally satisfying when they're thick and voluminous. Go for crop mens haircut styles if you have a full head of wavy hair. On the back and sides, get something neat and stylish, like a drop fade. Altogether, you'll get one of the best cuts for wavy hair men.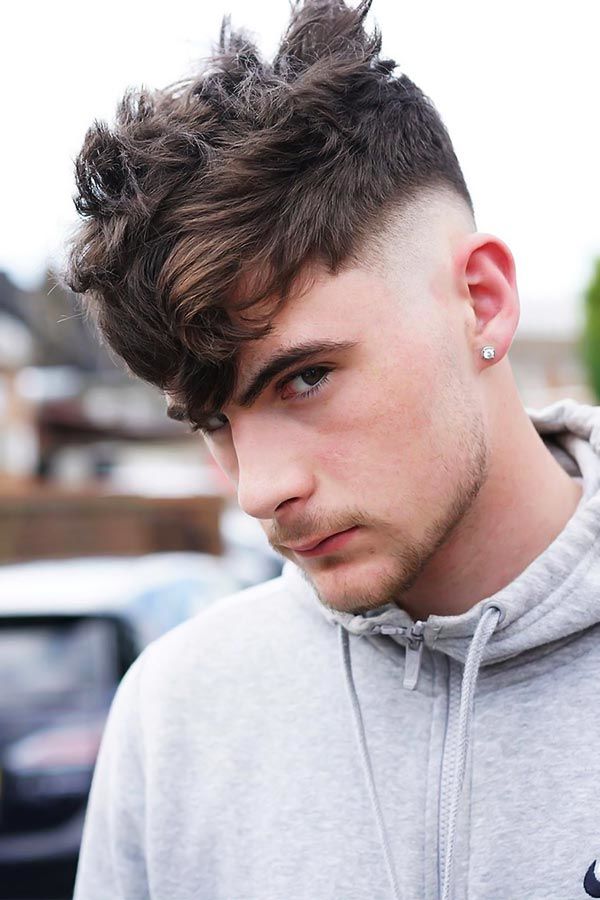 Source: @egobarbers via Instagram
High And Tight For Wavy Hair
It would be a shame not to try one of the best haircuts for men with wavy locks, which is high and tight. Being originally one of the most recognizable military haircut styles for men, it has morphed into an extremely popular civilian hairstyle. The main feature, however, remains the same: the top should be cut longer than the sides and back.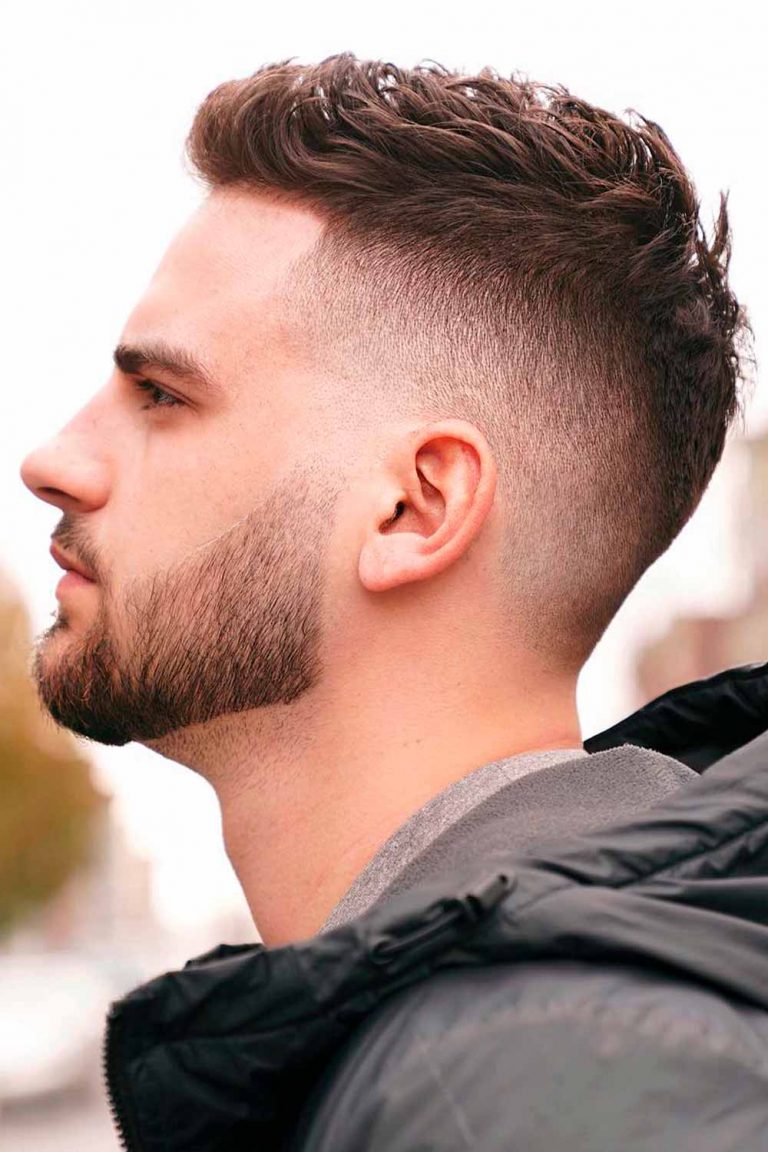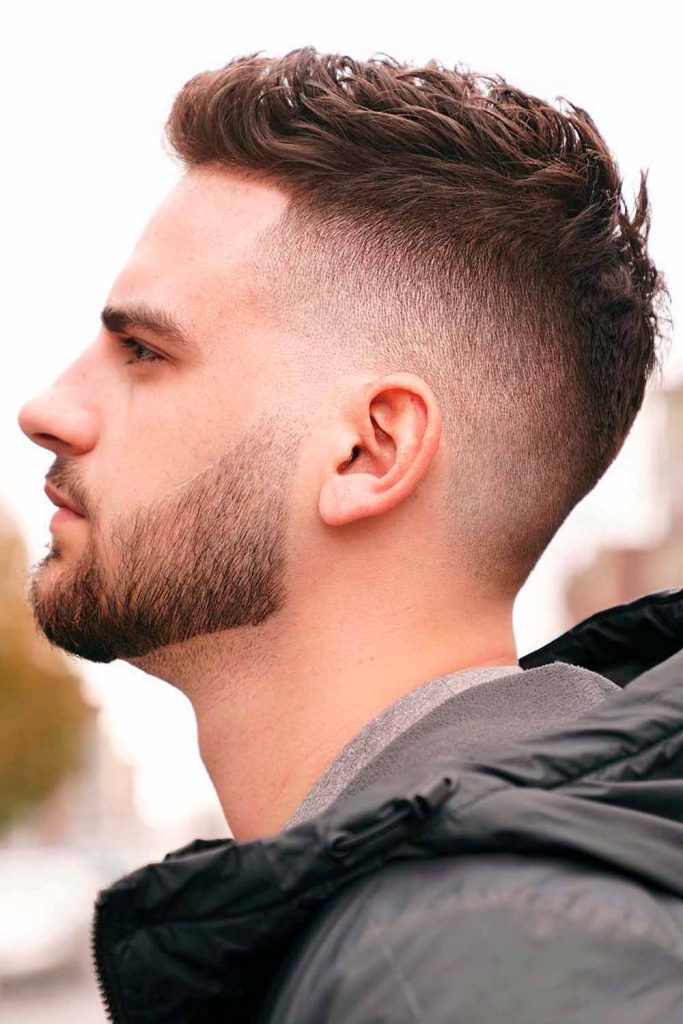 Source: @z_ramsey via Instagram
Wavy Faux Hawk
The faux hawk fade on wavy hair gives you everything that popular mens haircuts should give – trendy sharp look, individual style and pretty low maintenance.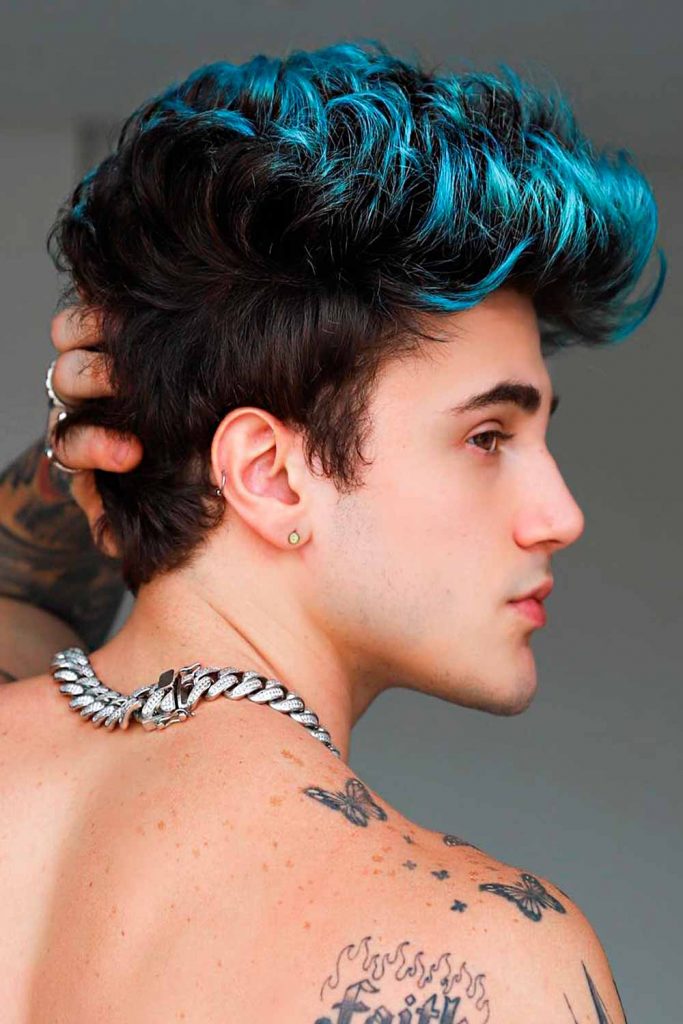 Source: @alexmapeli via Instagram
Side Part Comb Over
Men's short haircuts can also look elegant and neat on wavy hair men, such as, for instance, a comb over with a shaved-in side part.
Taper Fade Waves
A taper is a perfect wavy hair men haircut for those who are looking for a low key and moderate option that they can wear both in a professional and casual ambiance. Because the hair on the sides decreases in length gradually, it does not create harsh contrast with the top. Yet, thanks to the length difference, the taper with waves still looks quite edgy.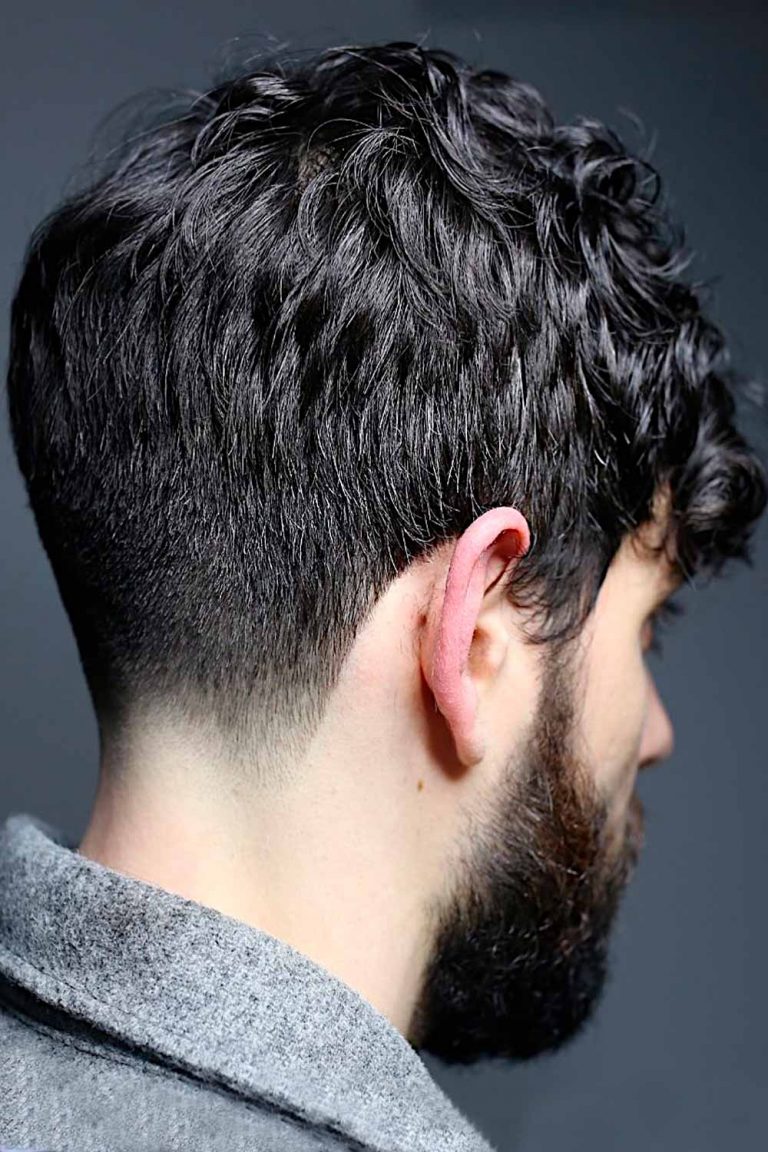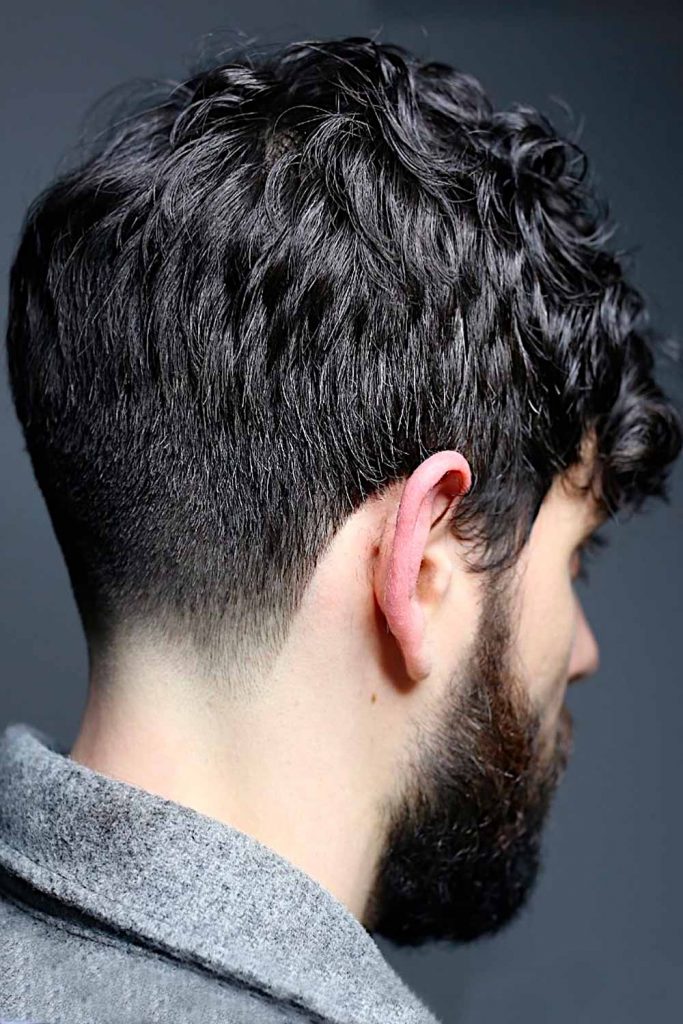 Source: @rpb_nq via Instagram
Wavy Hair Fade Brushed Back
To accentuate their waves men can opt for various kinds of fade. With a low fade wavy hair looks more prominent and defined, yet it does not appear over the top. If you do want to get a really impactful haircut, then pair your mens wavy hair with a high fade or even a high bald fade, which comes out ultimately sharp.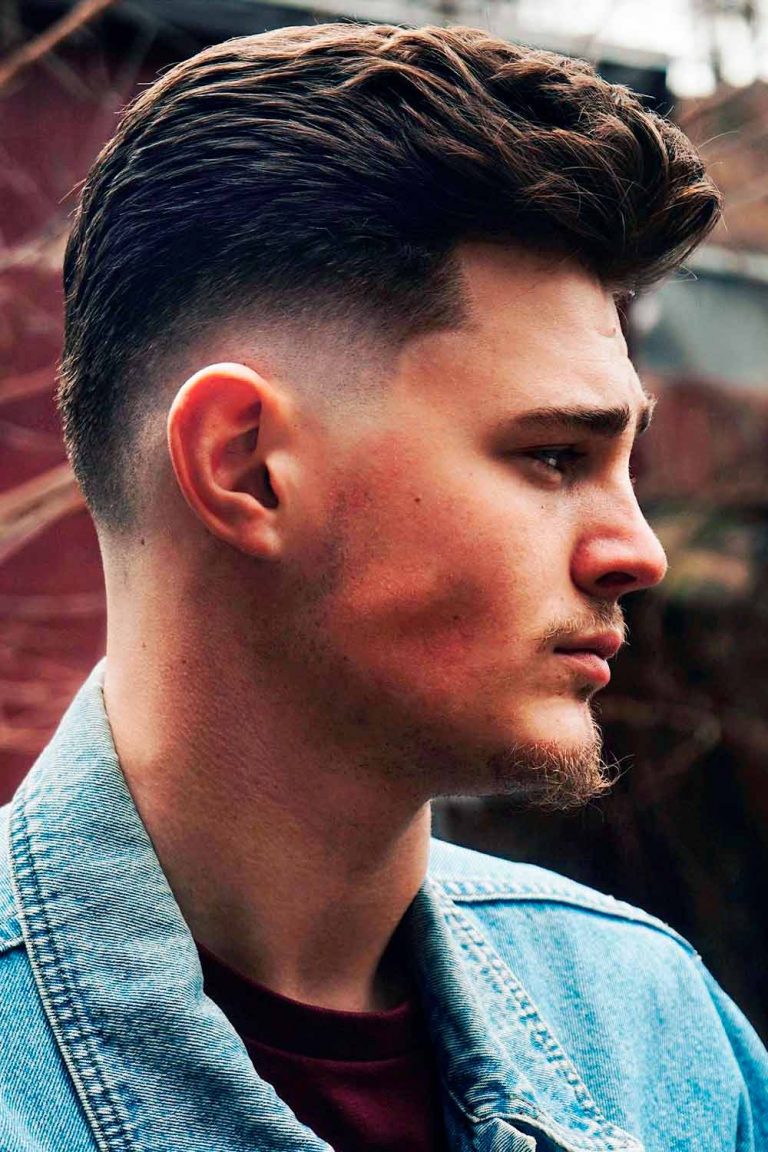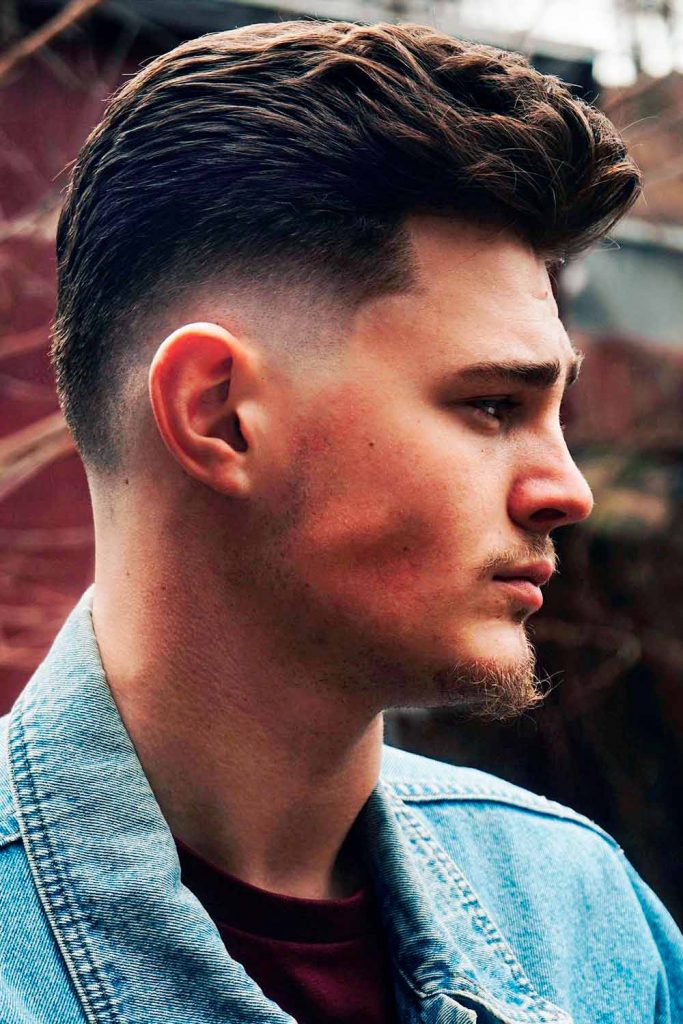 Source: @z_ramsey via Instagram
Medium Wavy Hair Men
Medium length wavy hair men do not need to reinvent the wheel to take their hair to the center of attention. They can simply emphasize its pattern with a texturizing product and be good to go. A short haircut on the back and sides will help you to keep the focus on your structured top.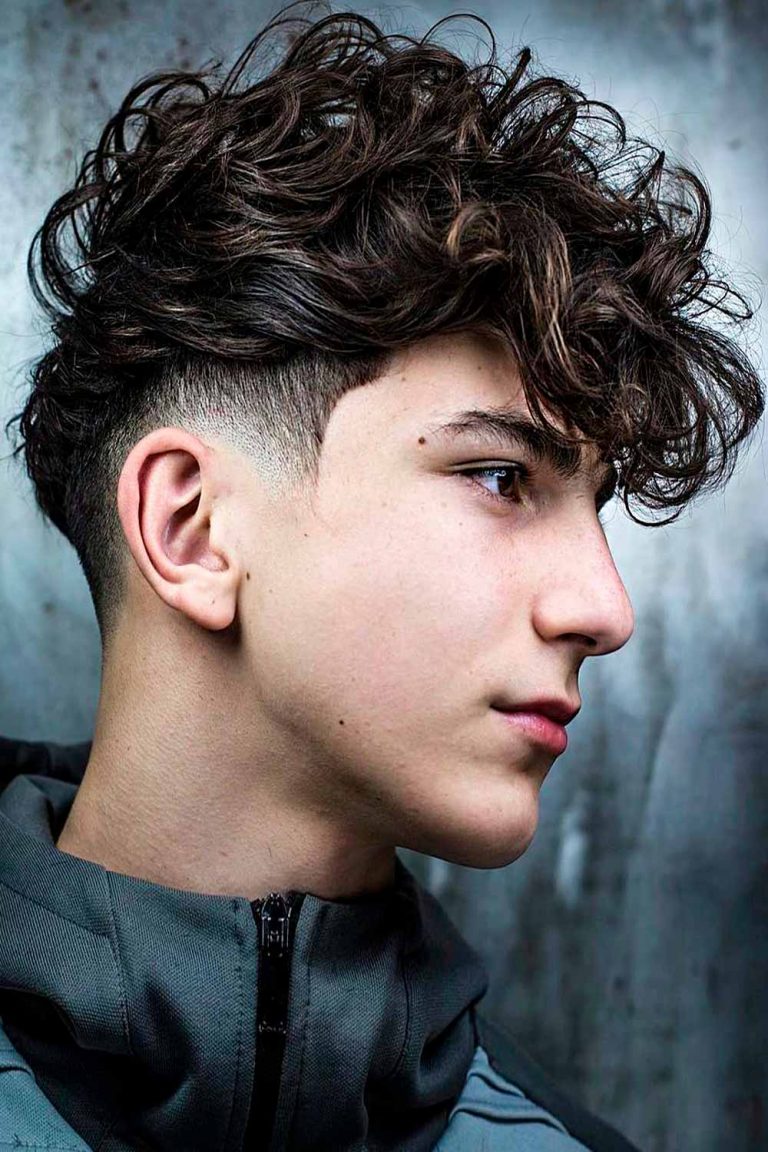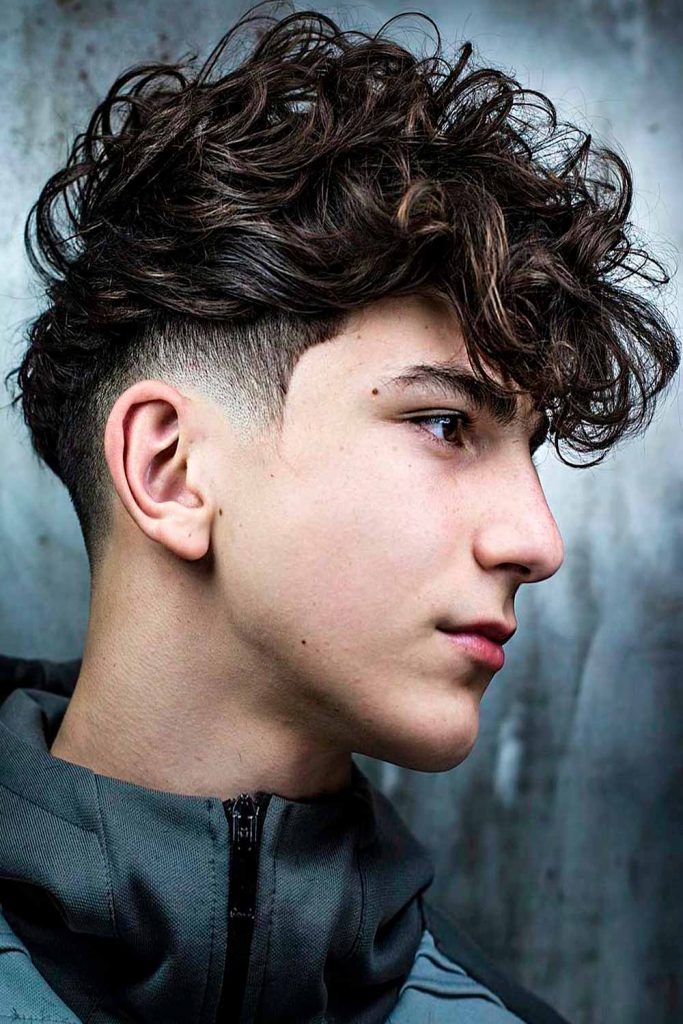 Source: @r.braid via Instagram
Extra Long Men's Weaves
With long wavy hairstyles men are guaranteed to stand out in the crowd. Should you have a certain amount of patience and be willing to commit to long locks, feel free to grow them as long as you like. Extremely long mens wavy hairstyles make everyone around envy and gasp in awe at the same time. If this is what you are aiming for, then you can never go wrong with long men wavy hairstyles.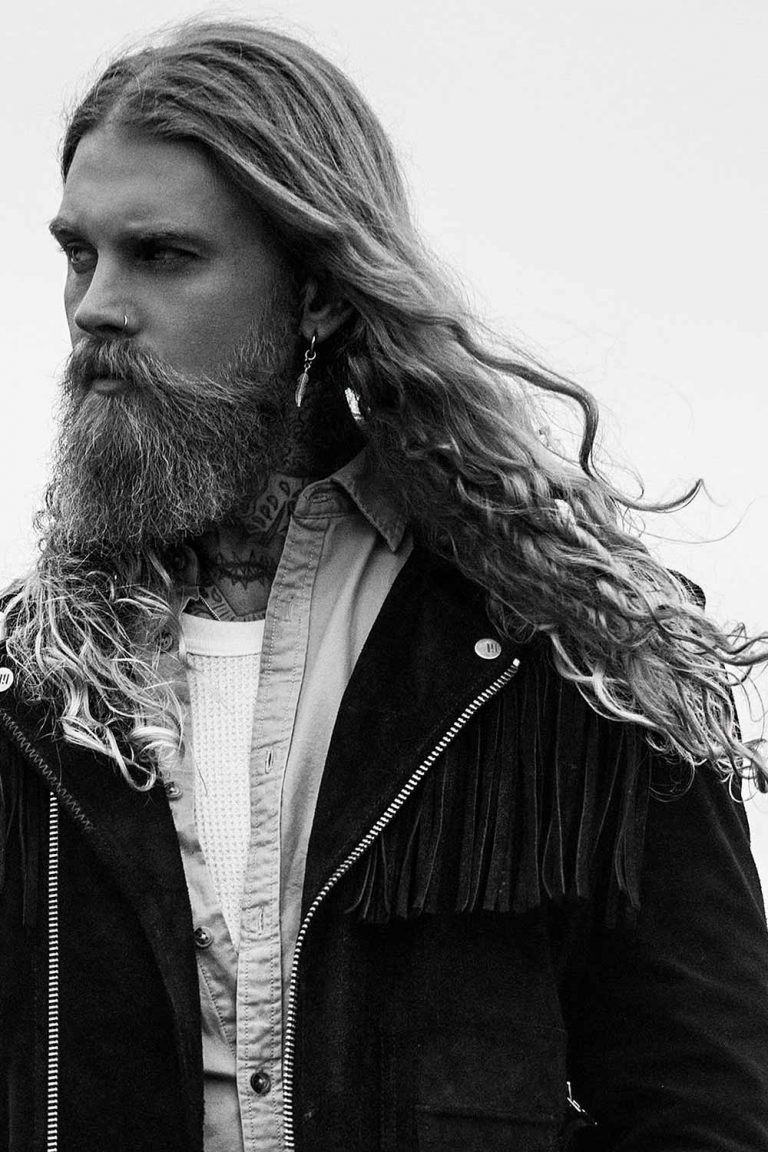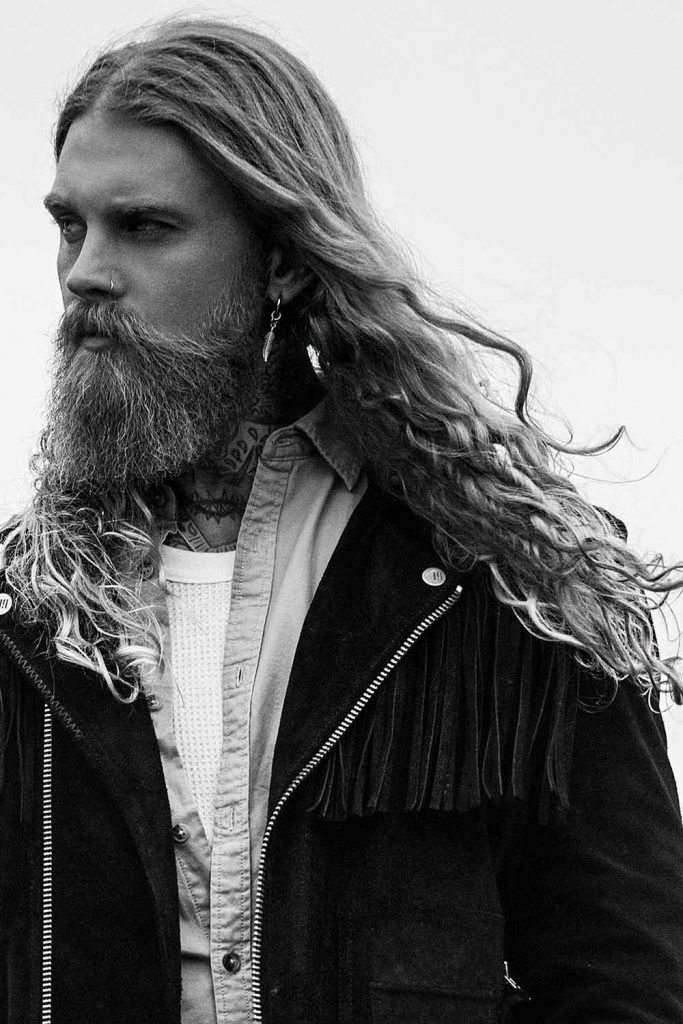 Source: @NAME via Instagram
Jewfro Inspired Wavy Hair Men
Just like when it is wavy curly hair men may enhance their hair texture with the help of hair styling products. As a source of inspiration, you can use a Jewfro hairstyle, which is one of the best ways to show off your curls. To style your locks, you will just need to leave them air dry after washing and follow up with a texturizing product.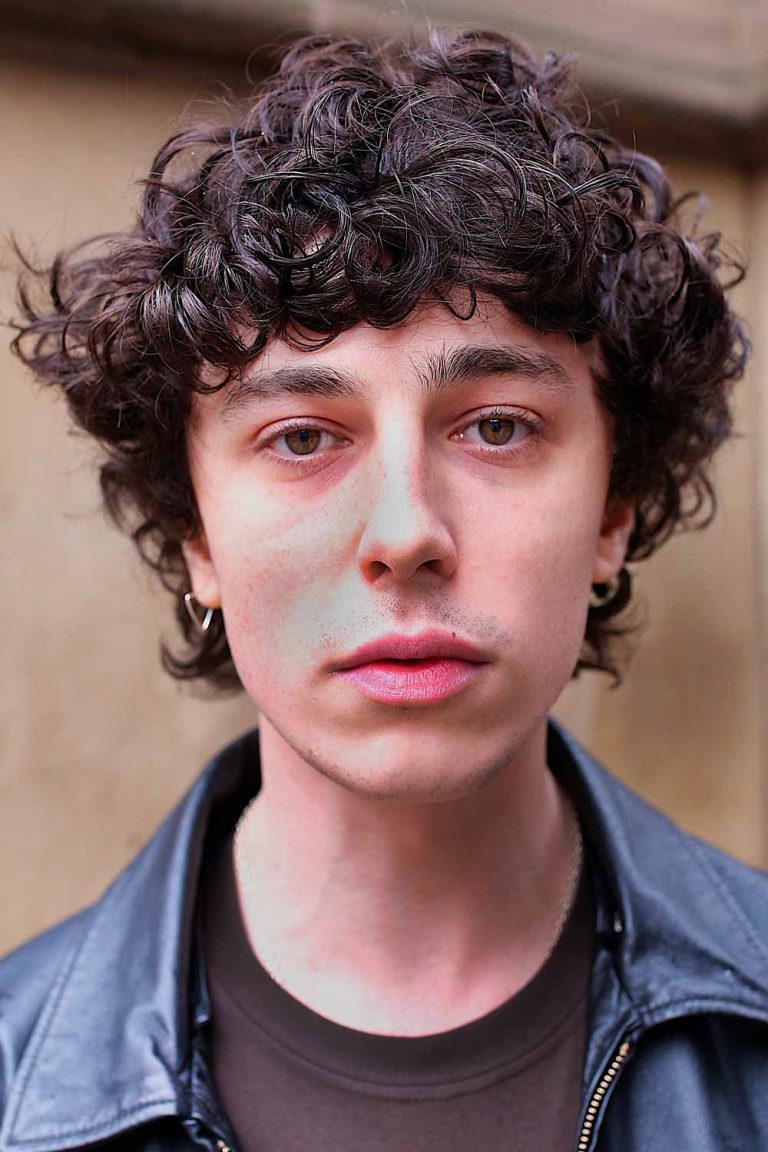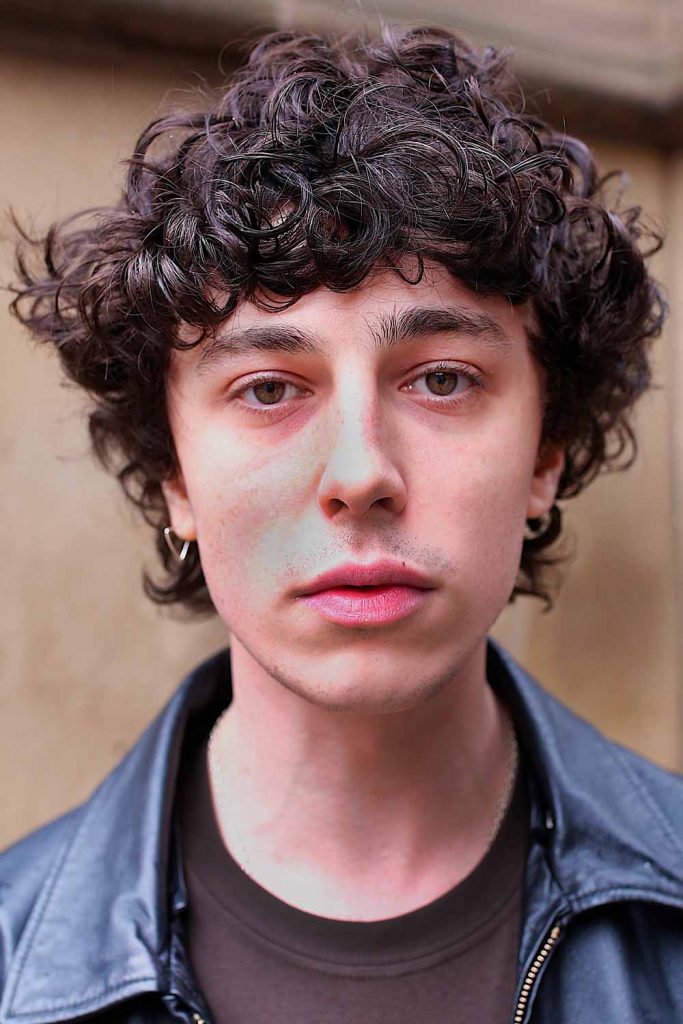 Source: @rpb_nq via Instagram
Bro Flow
There are plenty of modern hairstyles for wavy hair men that are effortless and carefree and a brow flow is no exception. So that it has the desired relaxed vibe, you will need to style your mane with a blow dryer and a voluminous hair product. The length of the hairstyle is up to you. But to make the texture more pronounced, it is better to go with mid length hair or even longer.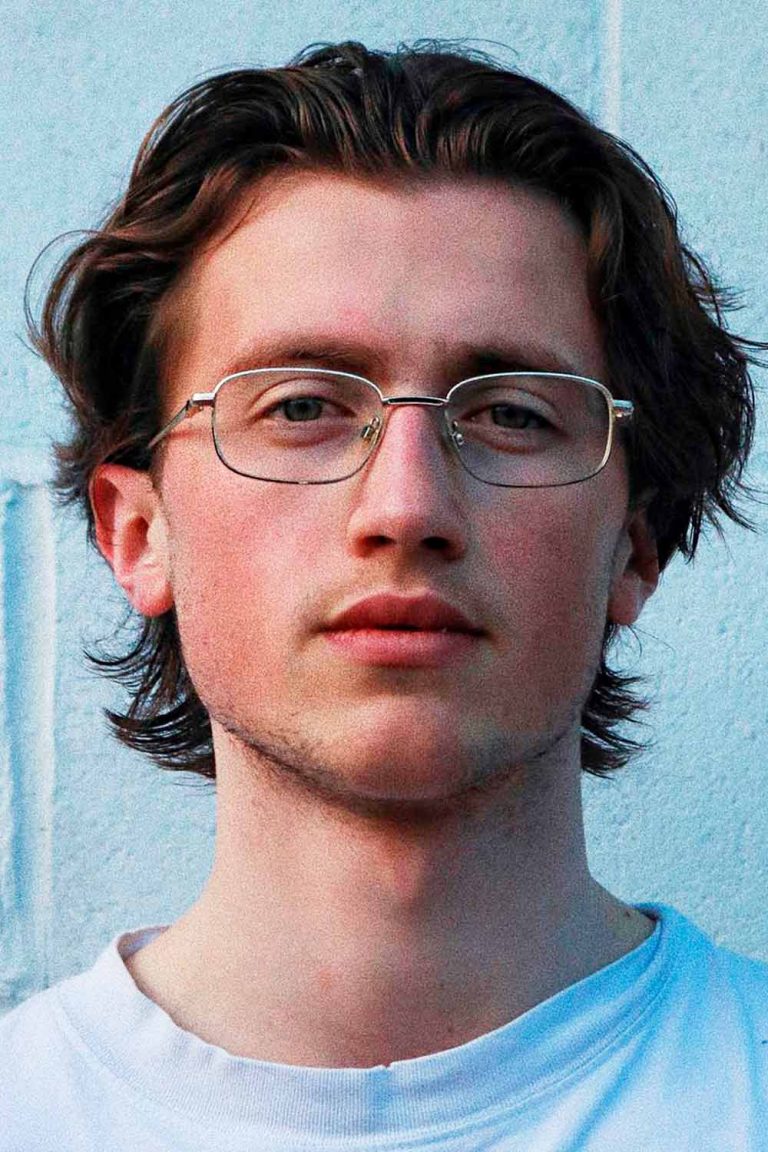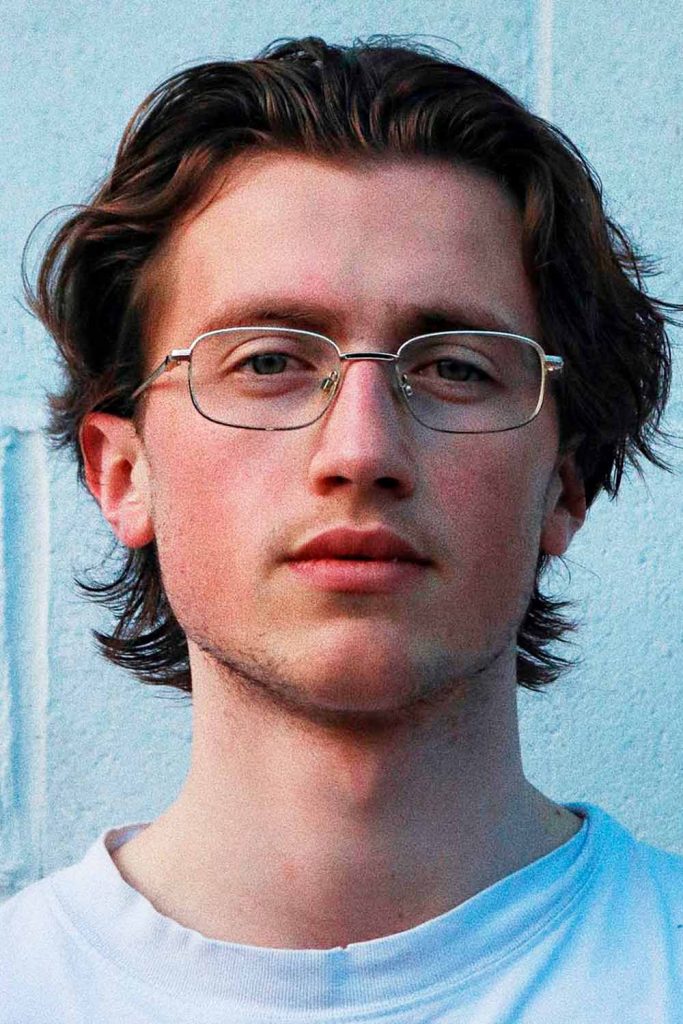 Source: @hayden_cassidy via Instagram
Side Swept Fringe
A fringe is a great accompaniment for almost all mens wavy haircuts. On the one hand, it looks well outlined so you will not have to put much effort into accentuating it and on the other hand, you are offered to style it in multiple ways. For instance, you can swipe the fringe to the side and end up with a stylish and chic hair look.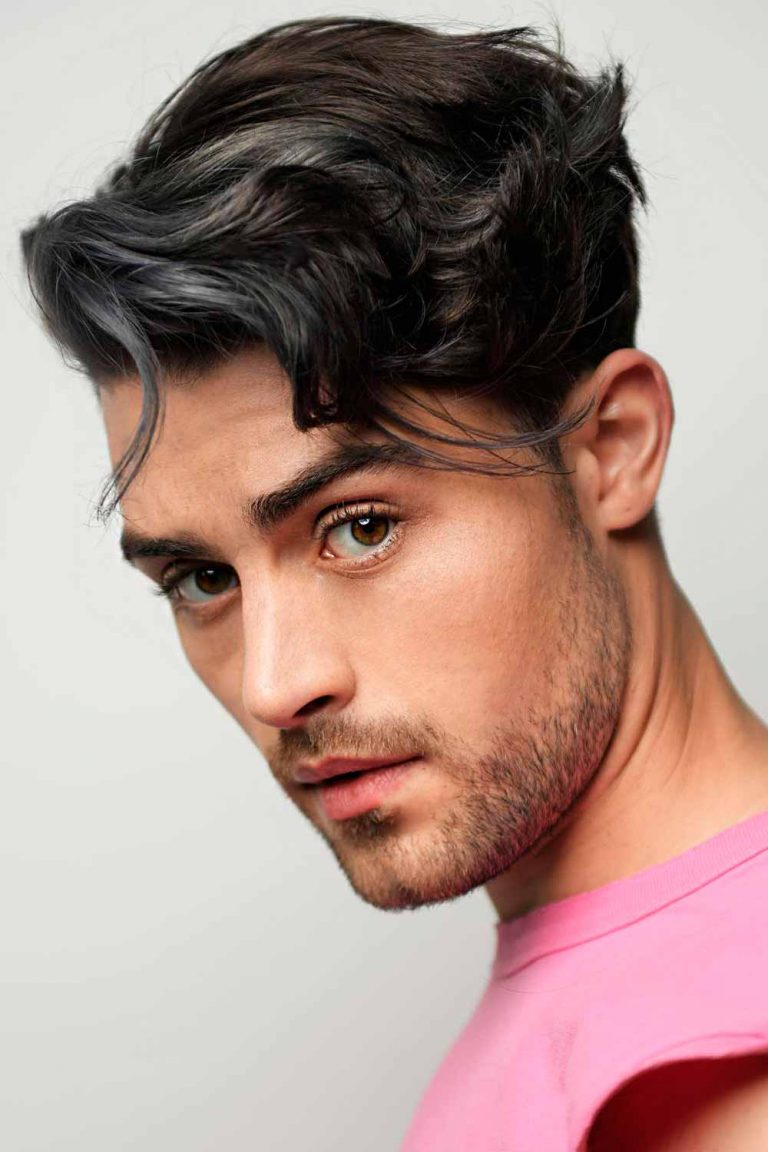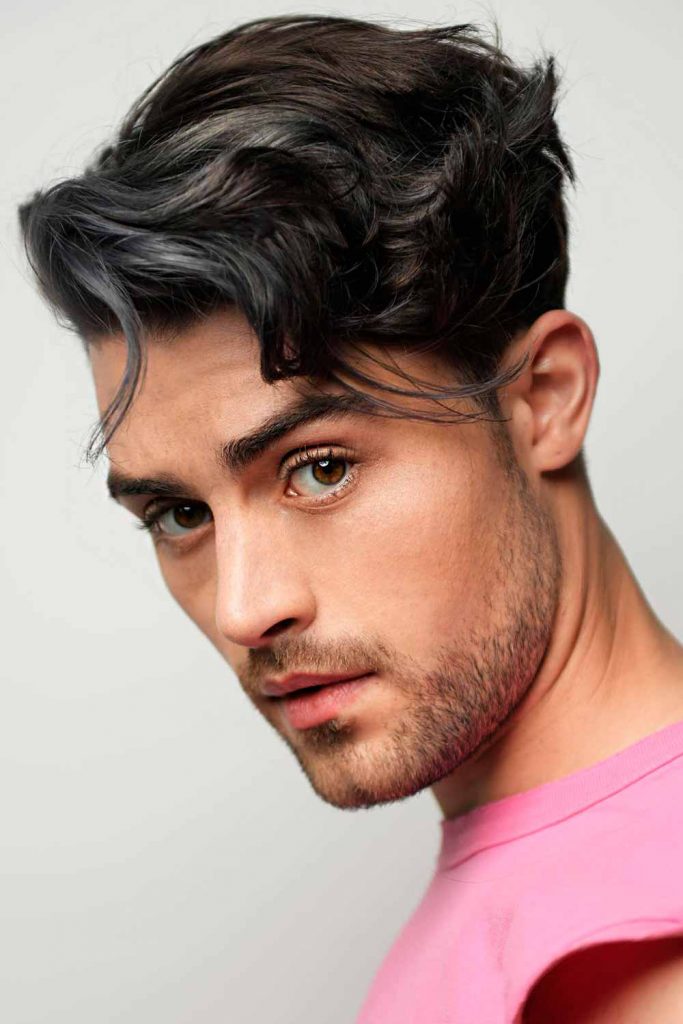 Source: @sidsottungacademy via Instagram
Mullet Fade
Mullets have always been one of the most popular hairstyles for men with wavy hair. Though, to give your haircut a modern feel, consider upgrading it with a fade on the sides. Keep in mind that the edgier the look you want, the higher the fade should start. A skin high undercut fade is how you can give your mullet fade a supreme boldness.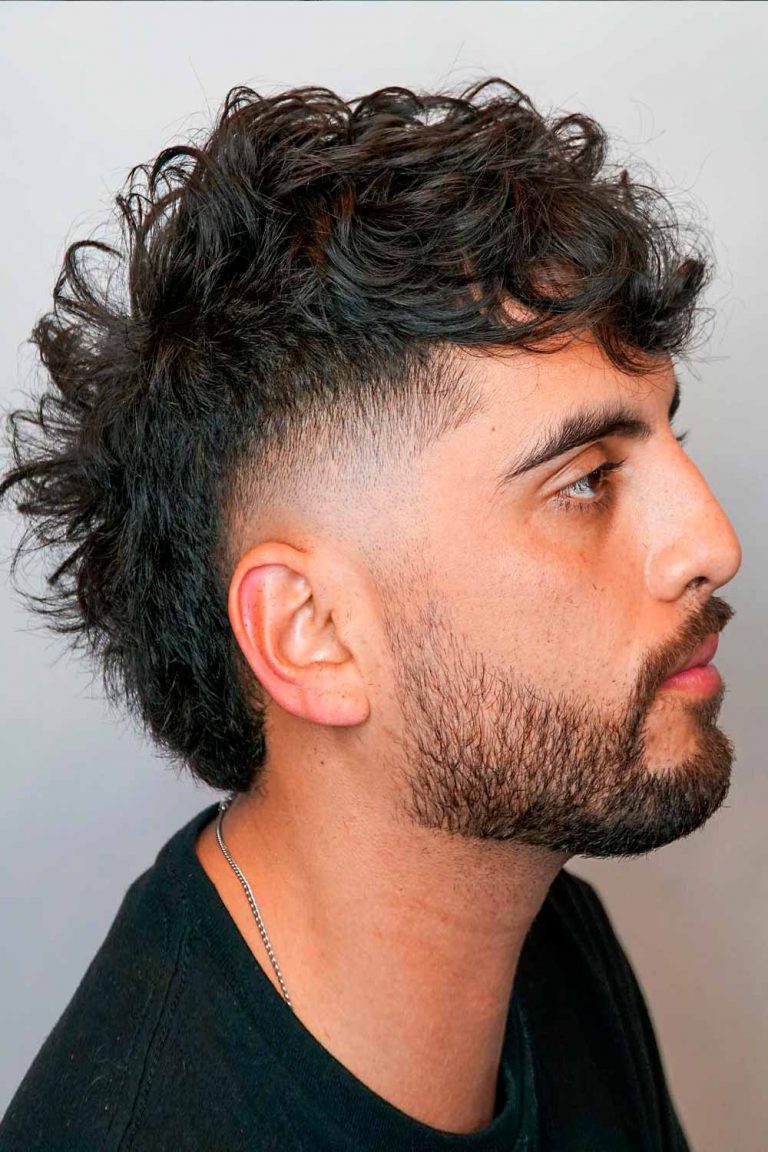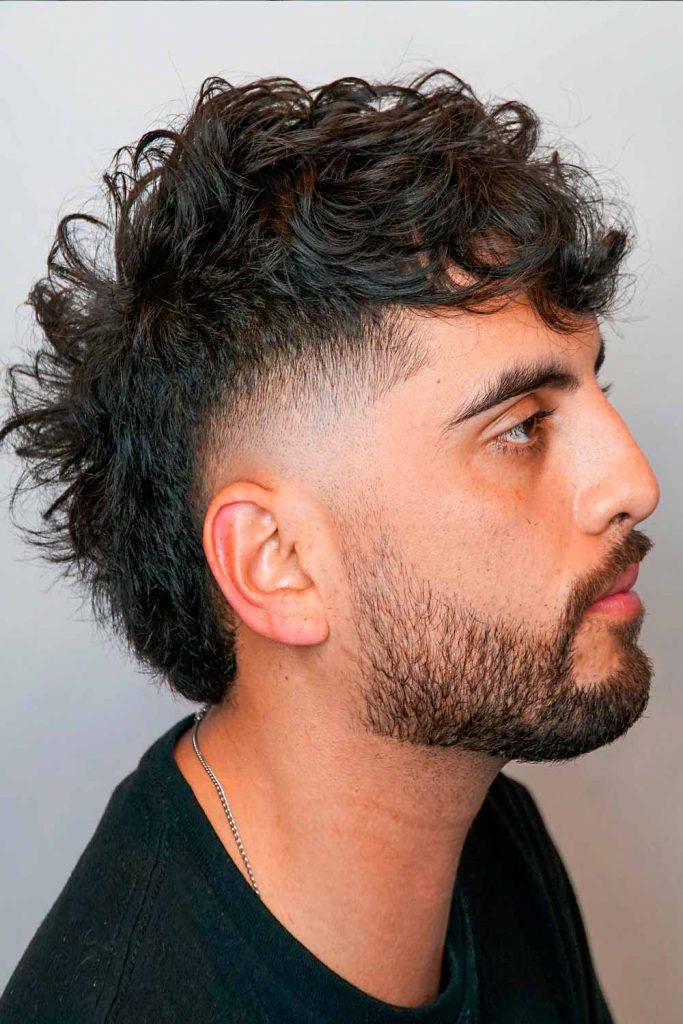 Source: @anthonythebarber916 via Instagram
Forward Fringe + Undercut
If you undercut the bangs and push them forward, you'll combine two barber trends in one cut for short thick hair – a fringe and crop.
Source: @meha_barber via Instagram
Short Wavy Haircut
Short wavy hair already looks defined and textured without additional details. Wavy hair men may want to accentuate their natural hair texture with a taper hair cut though.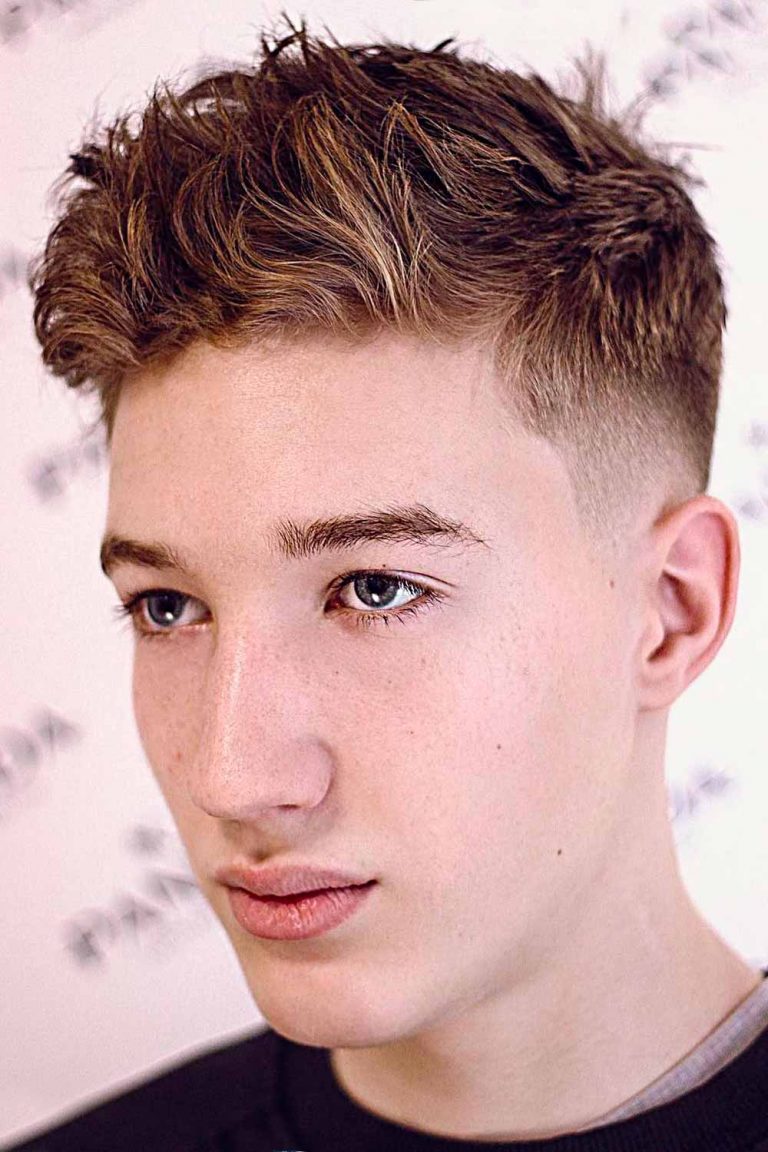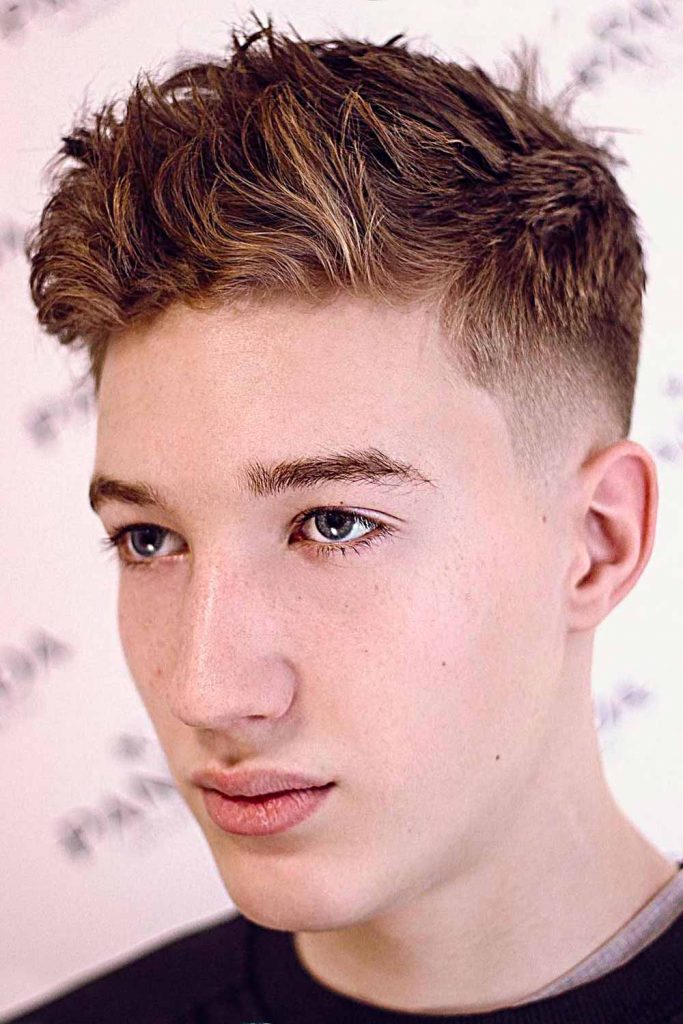 Source: @a.nizhnick via Instagram
Wavy Surfer Hair
To get the surfer hair look, which is truly one of the best hairstyles for wavy hair, you don't have to spend hours on the beach (even though it's always a nice thing to do). The salt spray will help you create the hair style men usually attain with the help of salty sea water and scorching sun.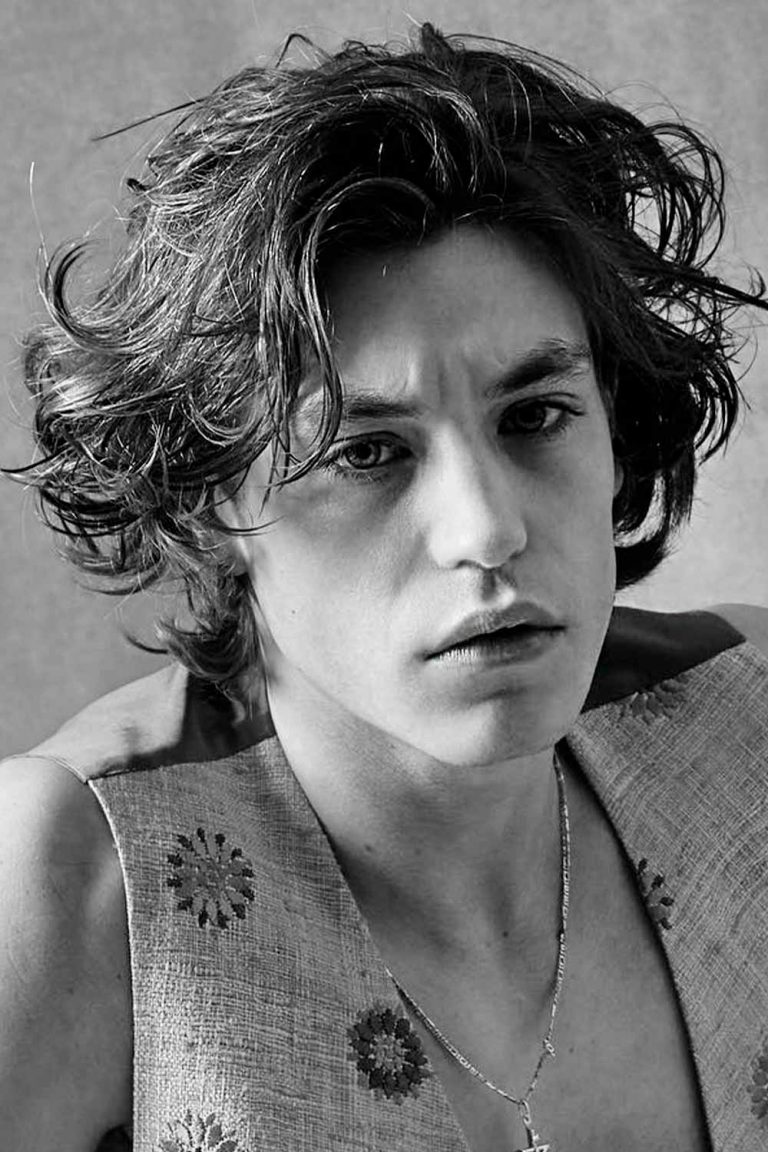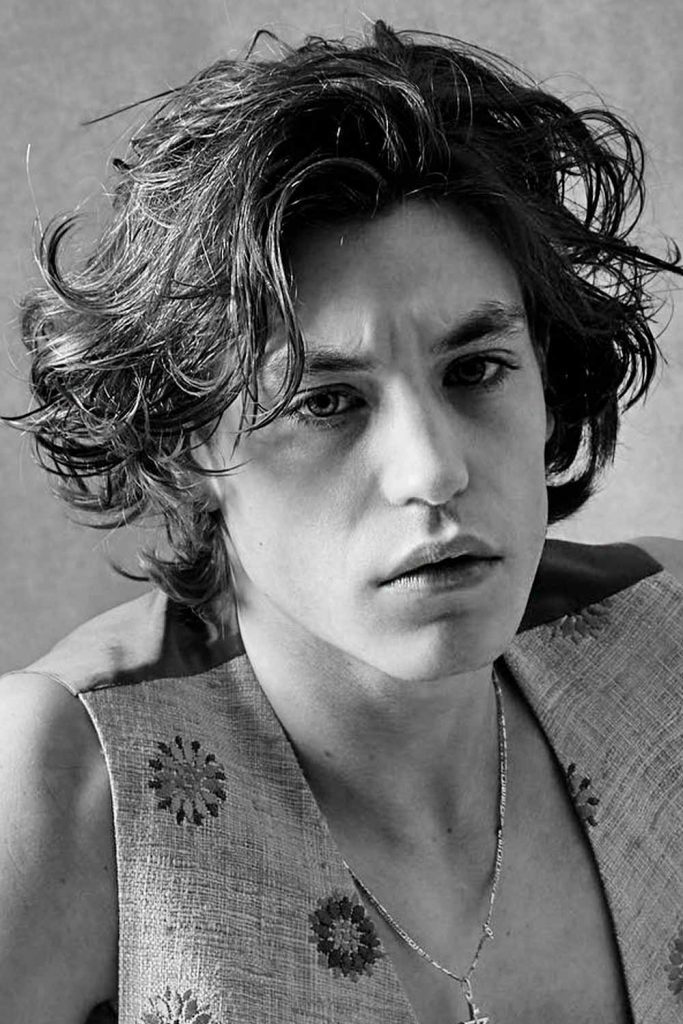 Source: @hayden_cassidy via Instagram
Textured Fade
One of the most popular haircuts for men with wavy hair is a textured fade. It is so common because it doesn't require any specific styling thanks to your defined hair texture.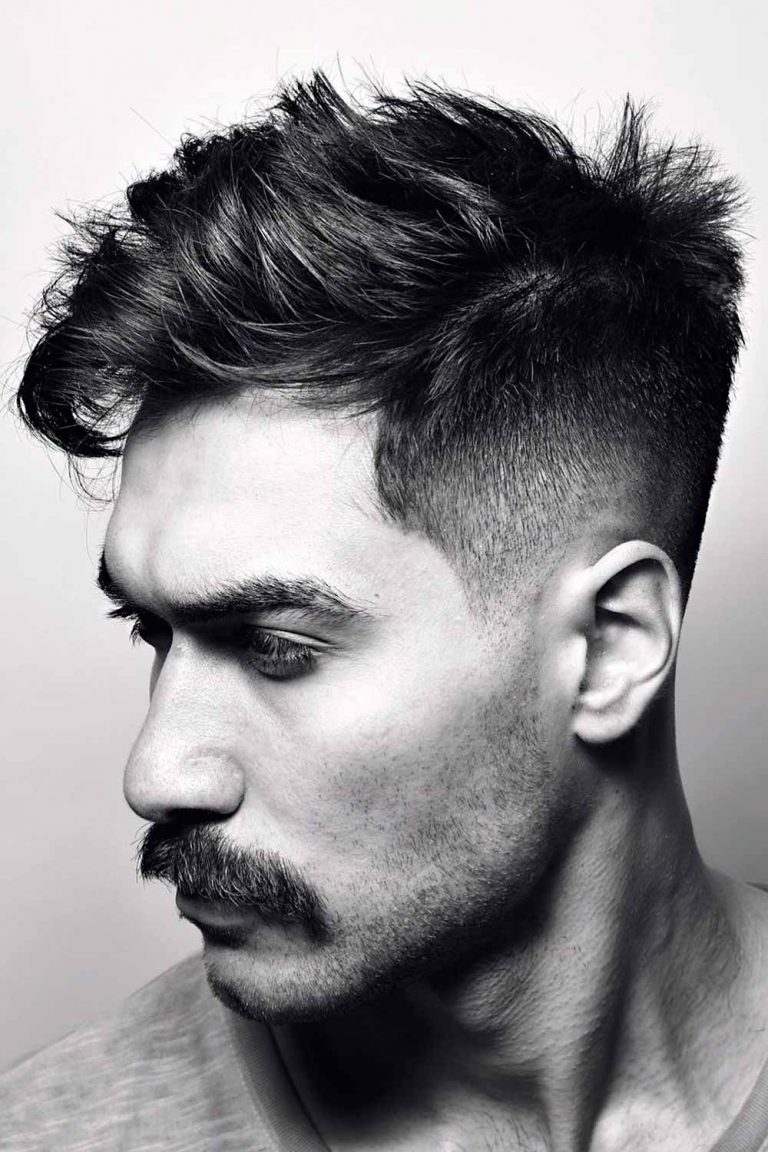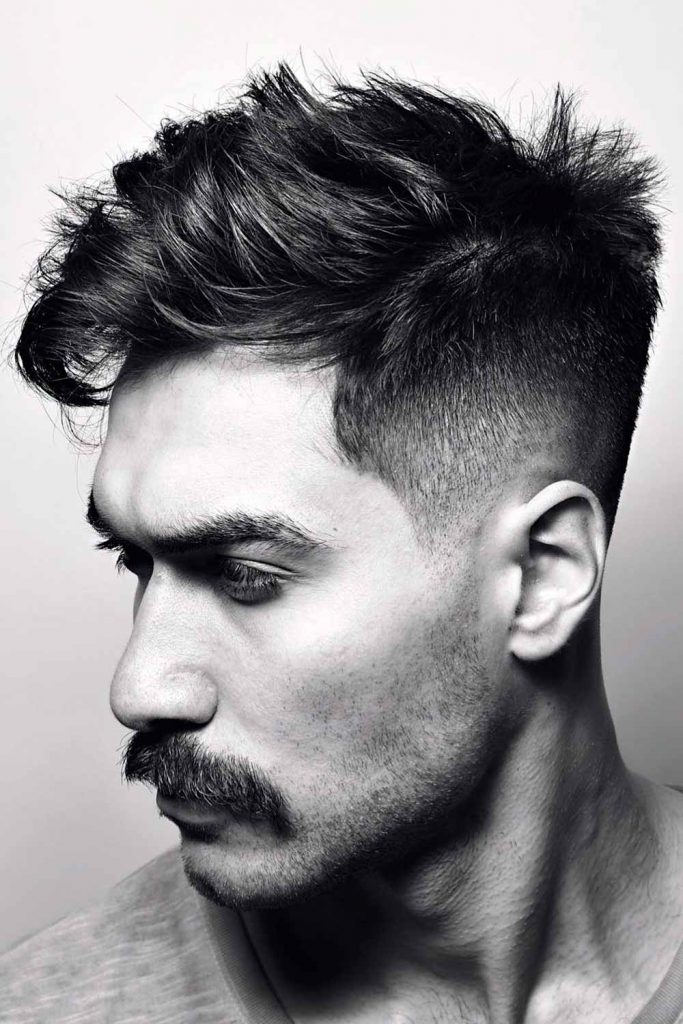 Source: @a.nizhnick via Instagram
Long Wavy Hair
Long wavy hair men look attractive and awe-inspiring. If you are one of those guys, lucky you are. To make the most out of your locks, you can simply wear them loose.
Source: @enrico.ravenna via Instagram
Tousled Waves
To style their short wavy hair men can get away with tousling their locks with a hand. In this way, you will achieve a relaxed yet stylish look that makes your hair texture even bolder.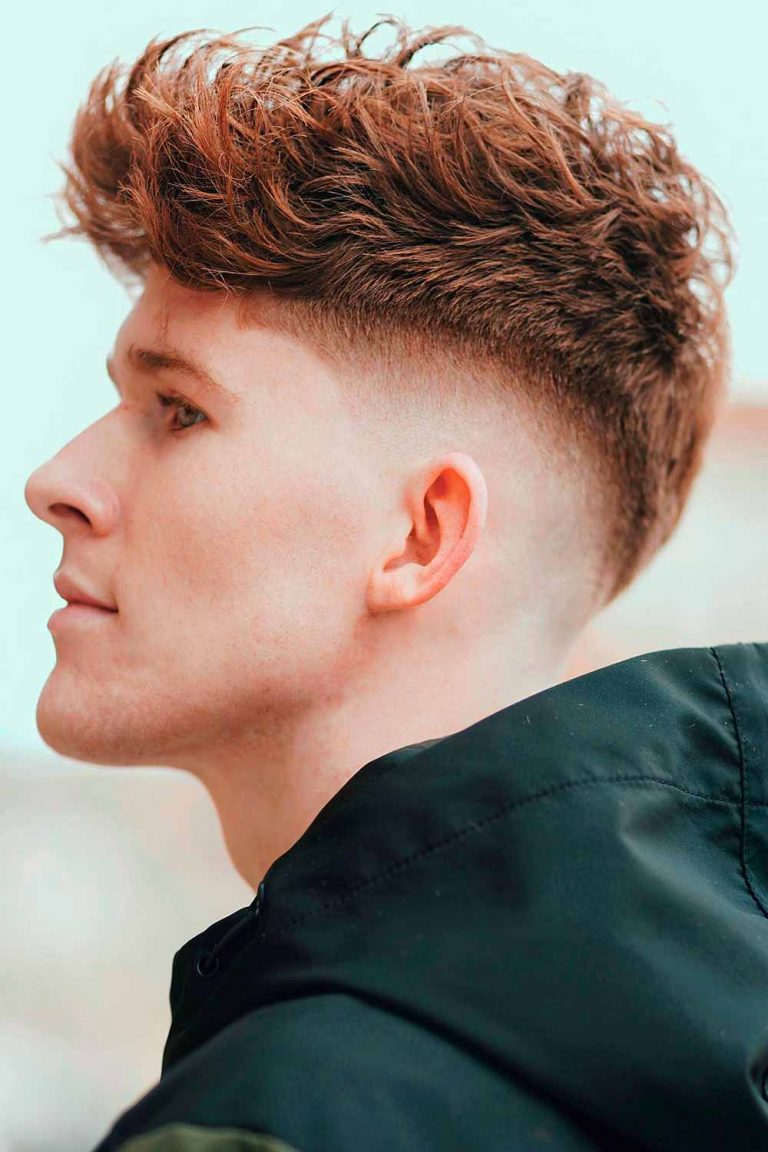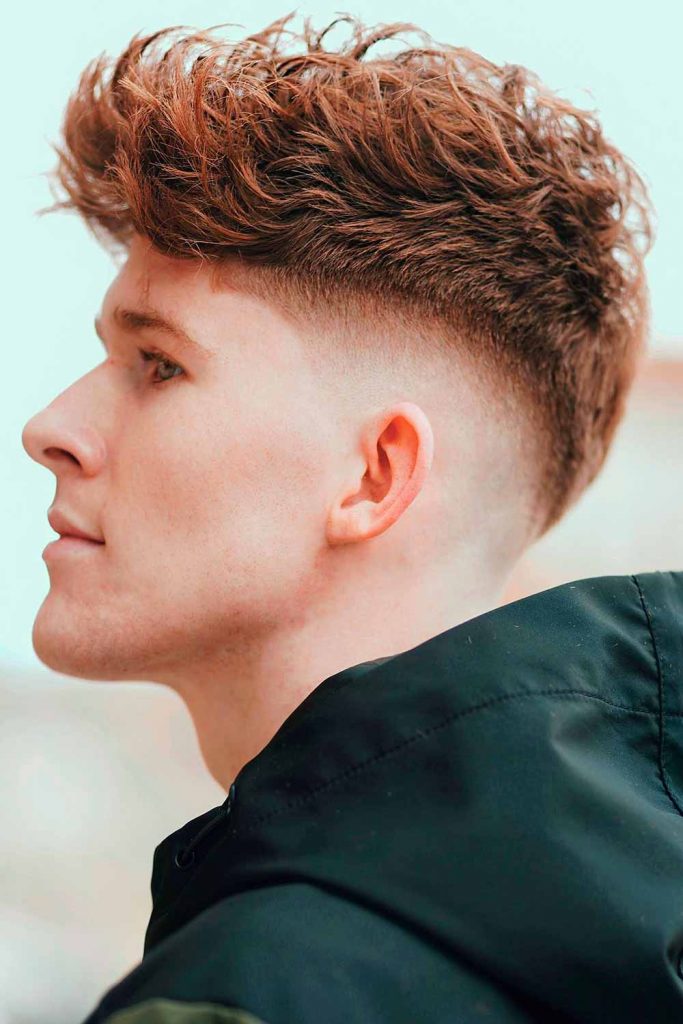 Source: @z_ramsey via Instagram
Messy Waves
For men wavy hair is actually a blessing rather than a curse. Though, it's true only if you know how to style it. Try out these breezy and carefree messy waves that can be styled in a blink of an eye.
Source: @ryancullenhair via Instagram
Medium Waves
Although this hairstyle isn't completely effortless, it fully pays off. Medium waves require a bit more styling, so ensure you can allocate time for it. Still, you are offered a multitude of styling options, as you can direct your waves in any way you like.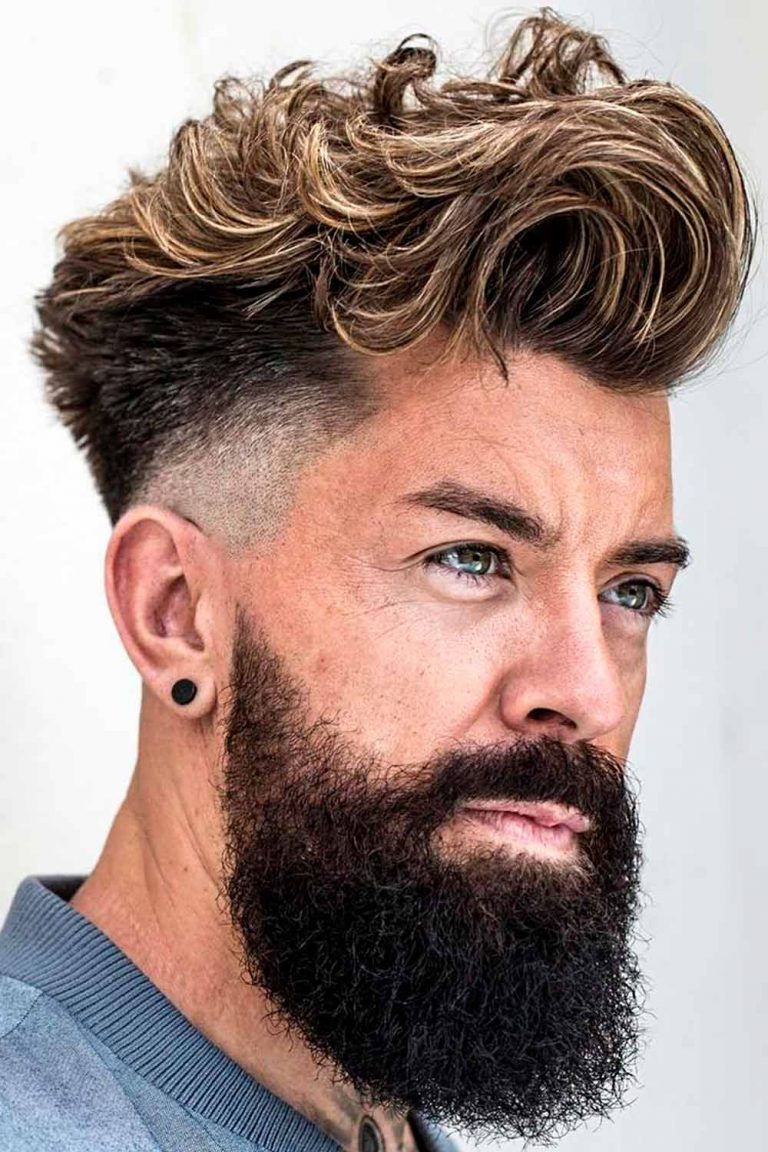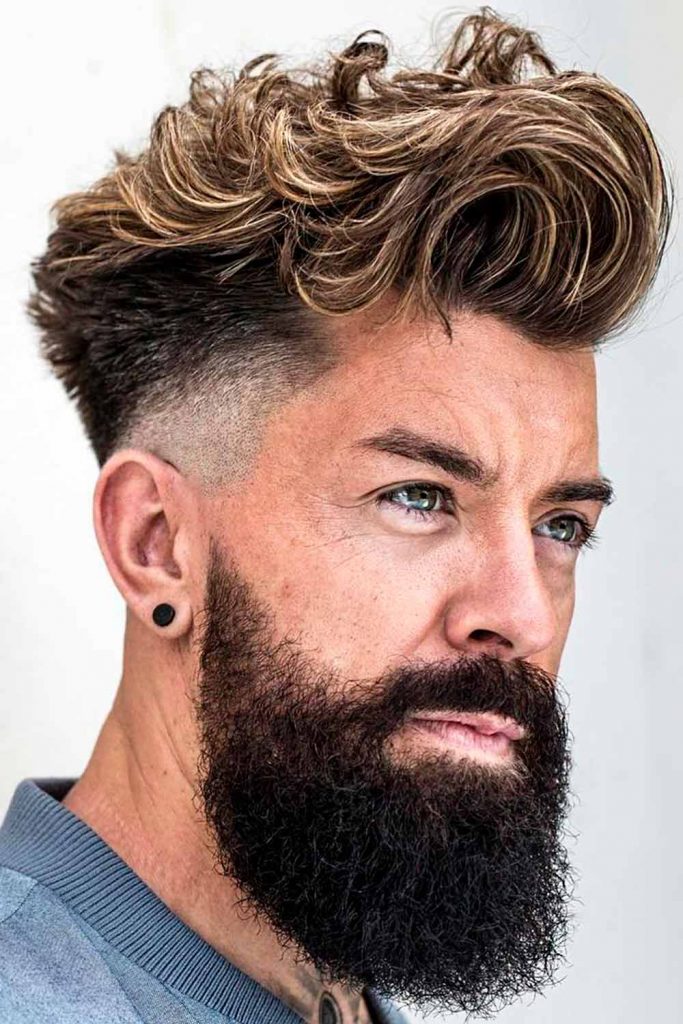 Source: @r.braid via Instagram
Undercut
An undercut haircut is bound to be teamed with a wavy top. It adds neatness and dapperness to your look keeping the focus on the edgy top at the same time.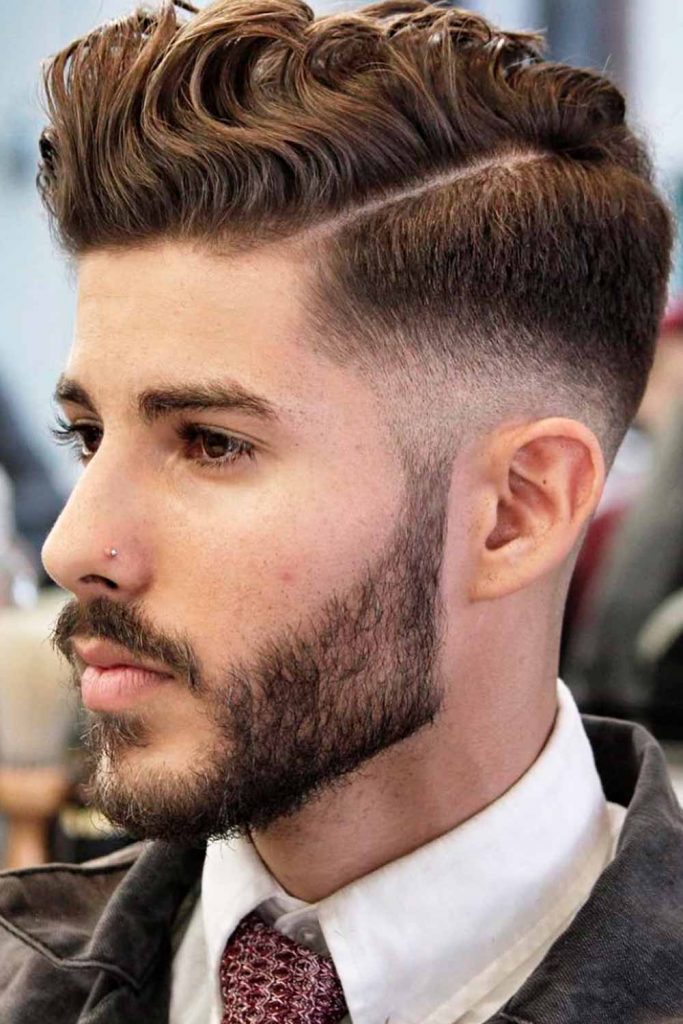 Source: @anthonythebarber916 via Instagram
Mid Length Wavy Hair + Line Up
Oftentimes, even the best short haircuts for men with wavy thatch can look a bit messy and scruffy. If you opt for a medium length, you should add some definition to it. A fade and line up work just fine for wavy mens hair cuts.
Source: @chadius_maximus via Instagram
Angular Fringe
Here's a hairstyle for more fashion-forward guys. It features trimmed sides and an angular fringe on the top of the head, which due to sharp hair texture looks unbelievably defined.
Source: @ryancullenhair via Instagram
Long Wavy Hair And Beard
So that you will never be accused of feminine inclination for wearing your wavy locks long, complement with a full coarse beard. Thus, you will not only show off your enviable mane but also pull off one of the trendiest looks of late.
Source: @spizoiky via Instagram
For advice on looking after your curly hair for women we recommend reading
British Curlies
.
FAQs
How do guys get wavy hair?
Here is a quick tutorial on how to get wavy hair men with straight locks should follow:
1. Damp your hair.
2. Rub a blob of a pre-styling product between palms and apply it to the hair.
3. Comb your hair halfway to the right side.
4. Using a hair dryer, blow dry the hair.
5. With the help of a straightener, grab a strand of the hair and twist it.
6. Apply a styling product for a finished look.
Is wavy hair good for men?
With an abundance of texture, volume and movement it has, wavy hair looks extremely good on guys.
Is wavy hair attractive?
Wavy hair men look very attractive for a number of reasons. Their locks reflect light so that it creates a shimmering ribbon effect. Besides, because waves are animated and flowy, they give your appearance a youthful touch.
What is wavy hair male?
Wavy hair is when your strands are neither completely straight nor curly. They are slightly curved, creating an "S" shape.
Is wavy hair curly?
Wavy hair is considered a subcategory of curly hair. While they are not the same thing, they definitely have much in common.
Why do I have wavy hair?
The exact origins of each hair type are unknown. Yet, scientists claim that the follicle of your hair as well as its proteins are responsible for the type you have.