Cornrows men hairstyles allow you not only to tame your unruly locks but also to customize one of the trendiest 'dos to express your individual style. We can't say that it's a very low-maintenance style. However, all the time and effort pay off fully. If you want to get more deets on how to get and style cornrows, here's our comprehensive guide.
What Is A Cornrow Braid?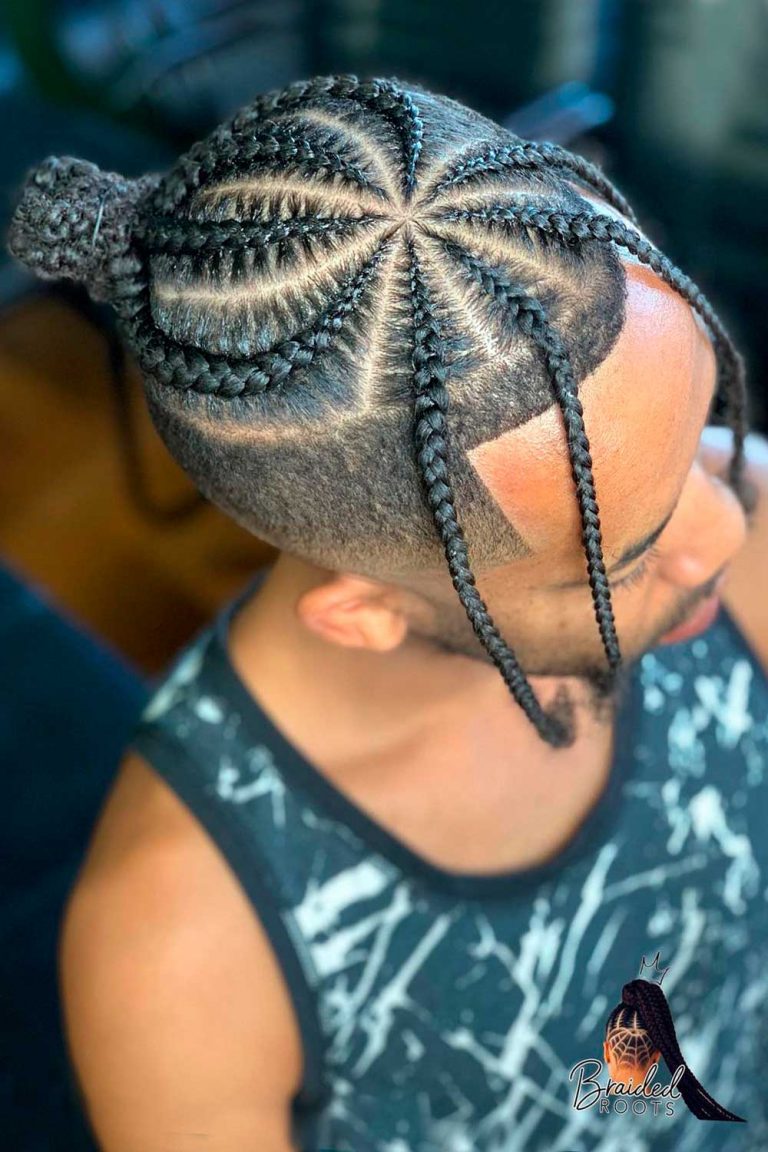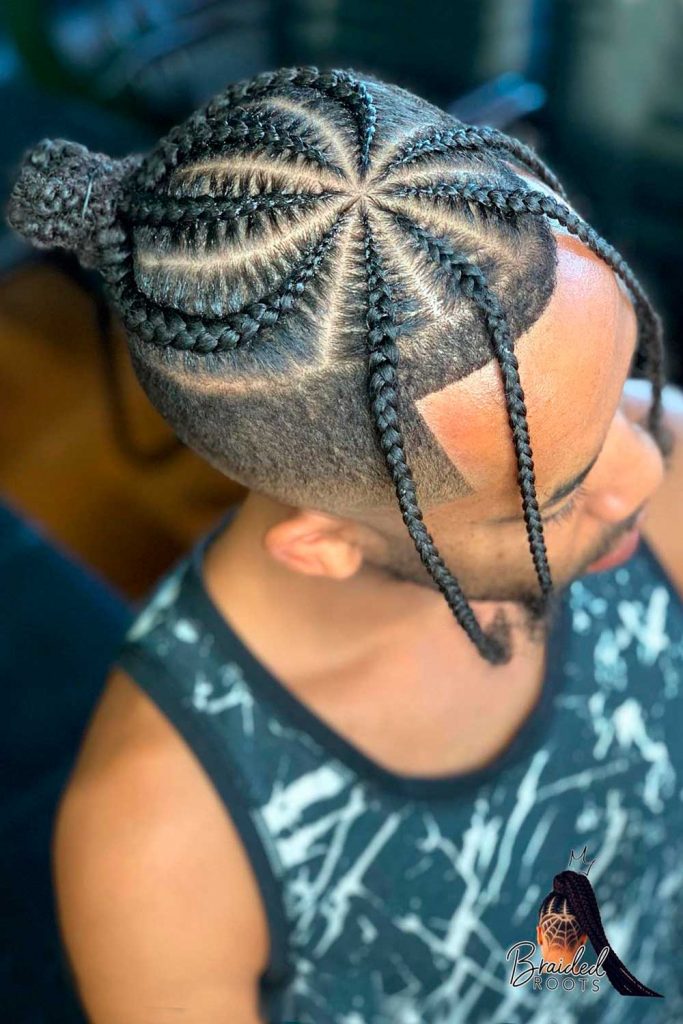 Source: @braidedroots via Instagram
Also known as skin braids or canerows, the cornrows for men are basically the same as the cornrow braids for women. This staple of black men haircuts is created by braiding the hair near the head, which forms a nonstop raised row. Classic cornrows are braided in straight rows, Though, modern hairstyles offer a sheer selection of the most intricate and exquisite cobwebs.
Source: @dynasty_barbers via Instagram
Benefits Of This Hairstyles
Cornrow braids for men have a number of benefits. First and foremost, it's an extremely versatile hairstyle, which works for any hair type and length. So, whether you have long locks or harness one of the short men's haircuts, you can pull off the look easily. Also, cornrows don't age. Being an ancient hair grooming African style, they still remain one of the hippest hair trends. Finally, it's a utilitarian hairstyle that shields your hair from harsh weather conditions and helps to manage frizziness.
Source: @braidsvolna via Instagram
Cornrows Men Hairstyles
Also, before choosing a hairstyle and plaiting a cornrow, you should learn what types of braids exist. The first type concerns extensions, whether you have them or not. Then, there are cornrows consisting of 3 interlaced strands and 2 interlaced strands, which are also called twists. So now, when you're filled with the ultimate info on cornrows, let's get down to choosing the style to your taste.
Cornrow Fade
No hairstyle can be ruined by a fade and cornrows men braids are no exception. Complement your trendy hairstyle with a high skin fade to make it more impactful black braids men.
Source: @nickthebarber via Instagram
Colored Corn Row Braids
Although men cornrows styles are nothing short of boldness, you can still take them to another level. Just get the cornrows dyed to accentuate the pattern even more.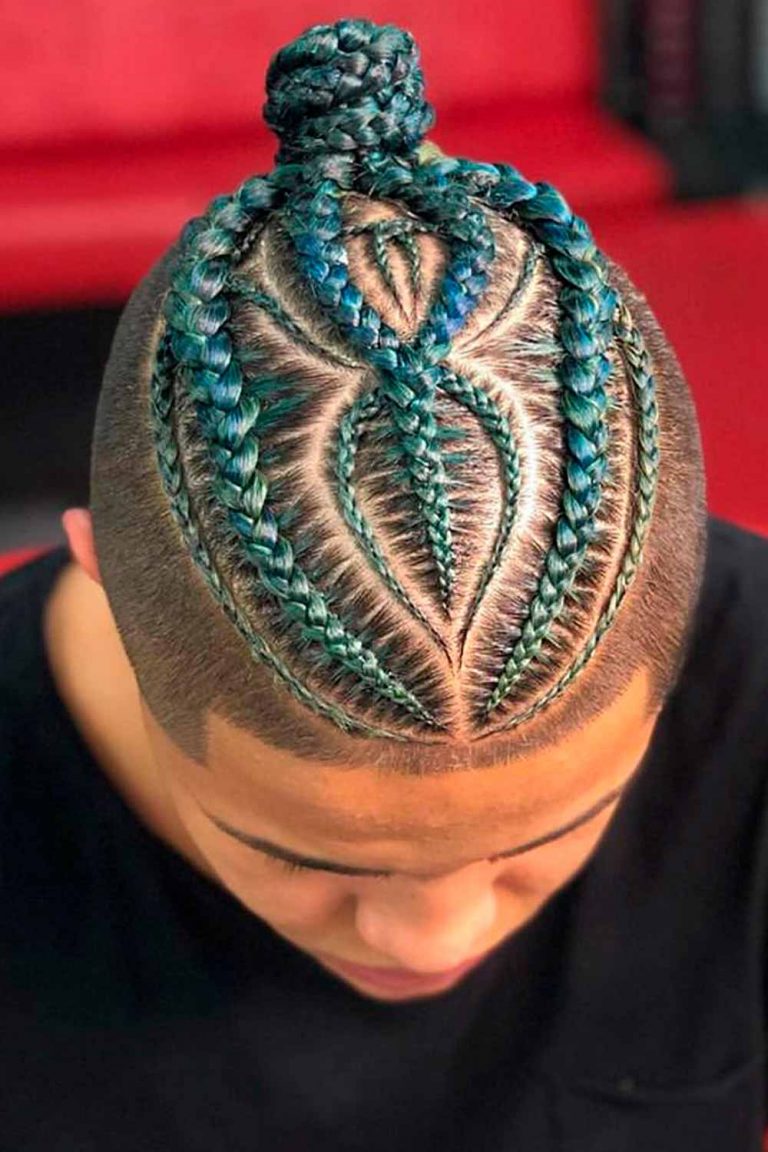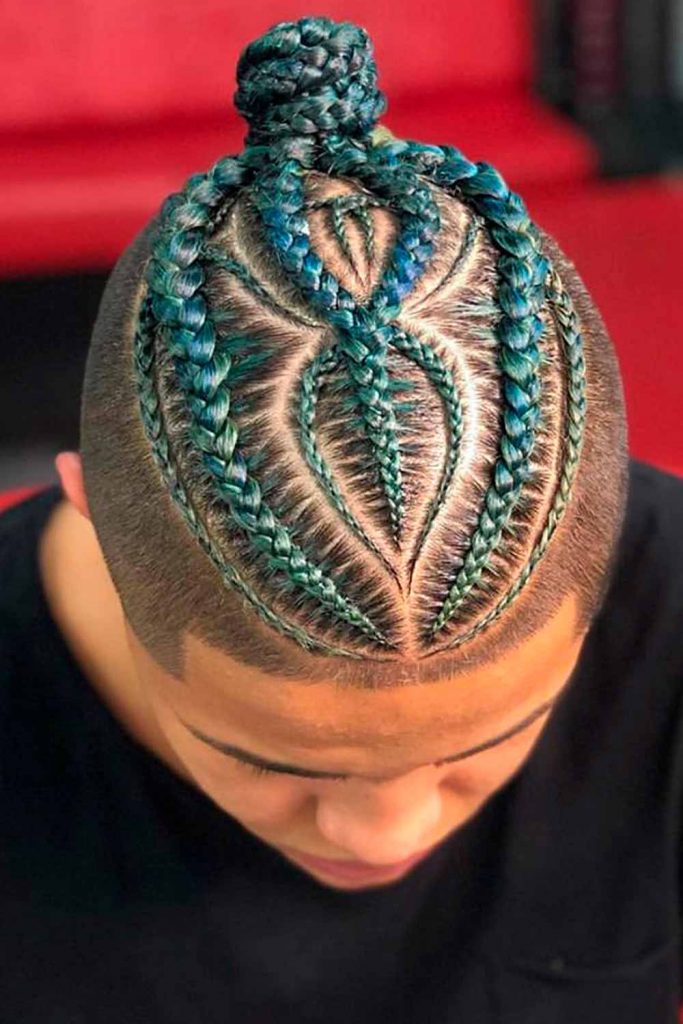 Source: @dynasty_barbers via Instagram
Spider Braids
Among all male cornrow styles, spider braids are probably the most unique and prominent. The pattern is not very difficult to create but make sure it is even and clean.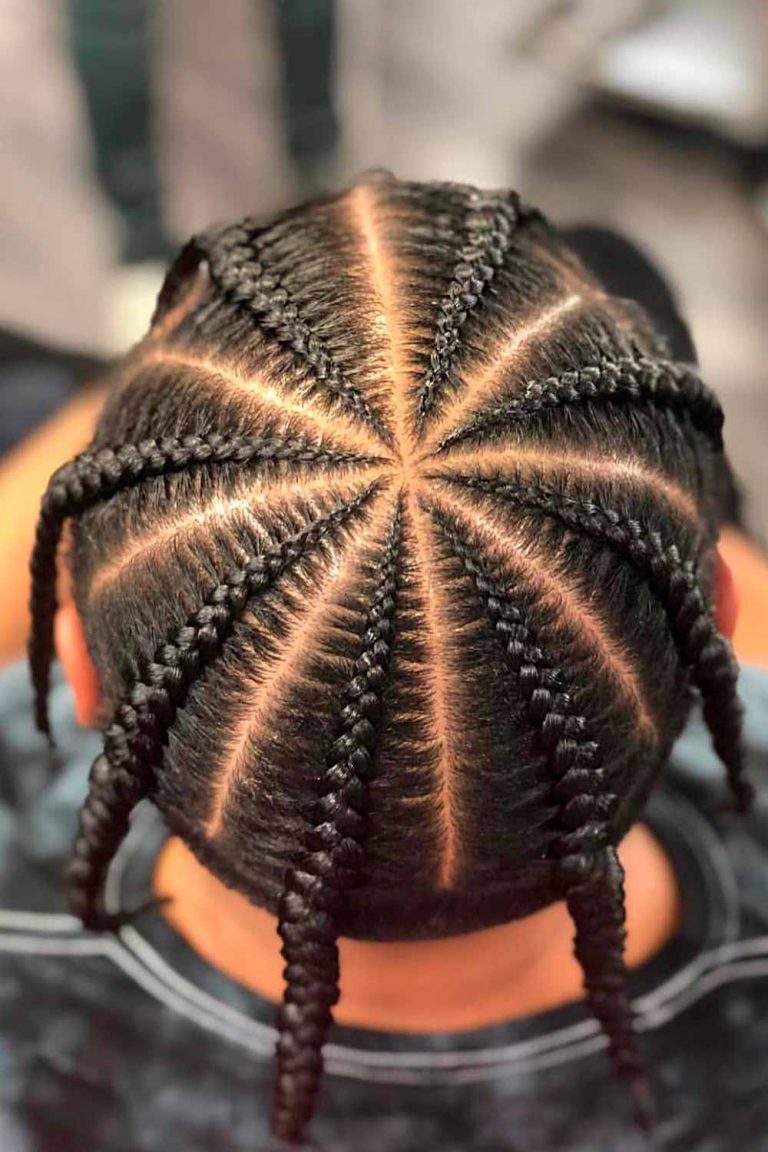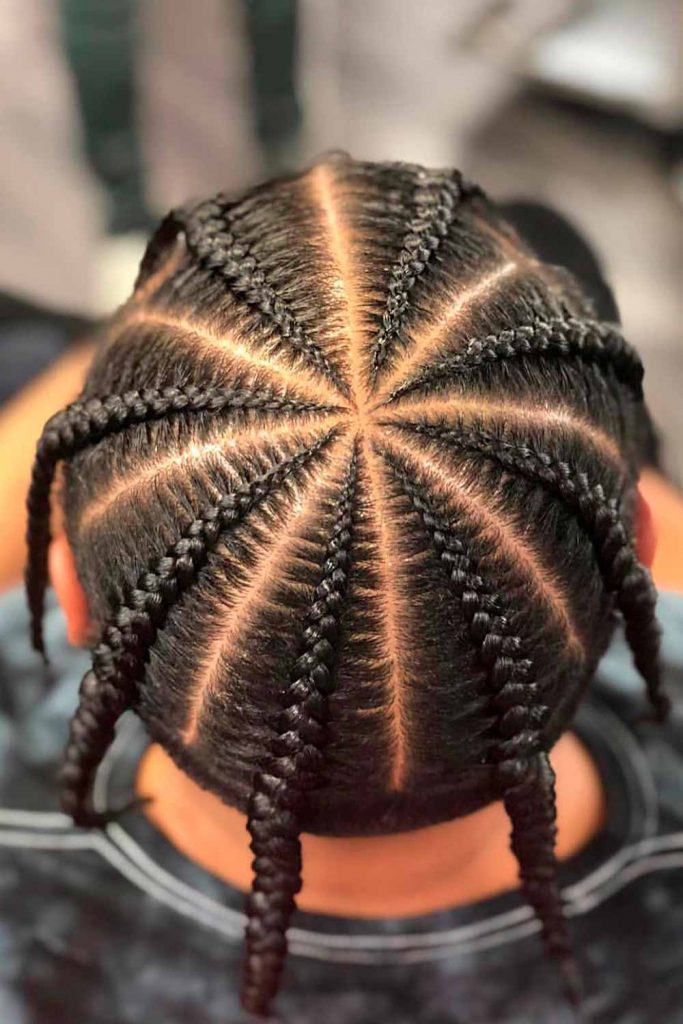 Source: @dynasty_barbers via Instagram
Middle Part Crown With Undercut
Many cornrow styles are symmetrical. This intricate hairdo with the braided crown is the apple of the perfectionist's eye. To keep the focus on top, go with the undercut hair on the sides and back.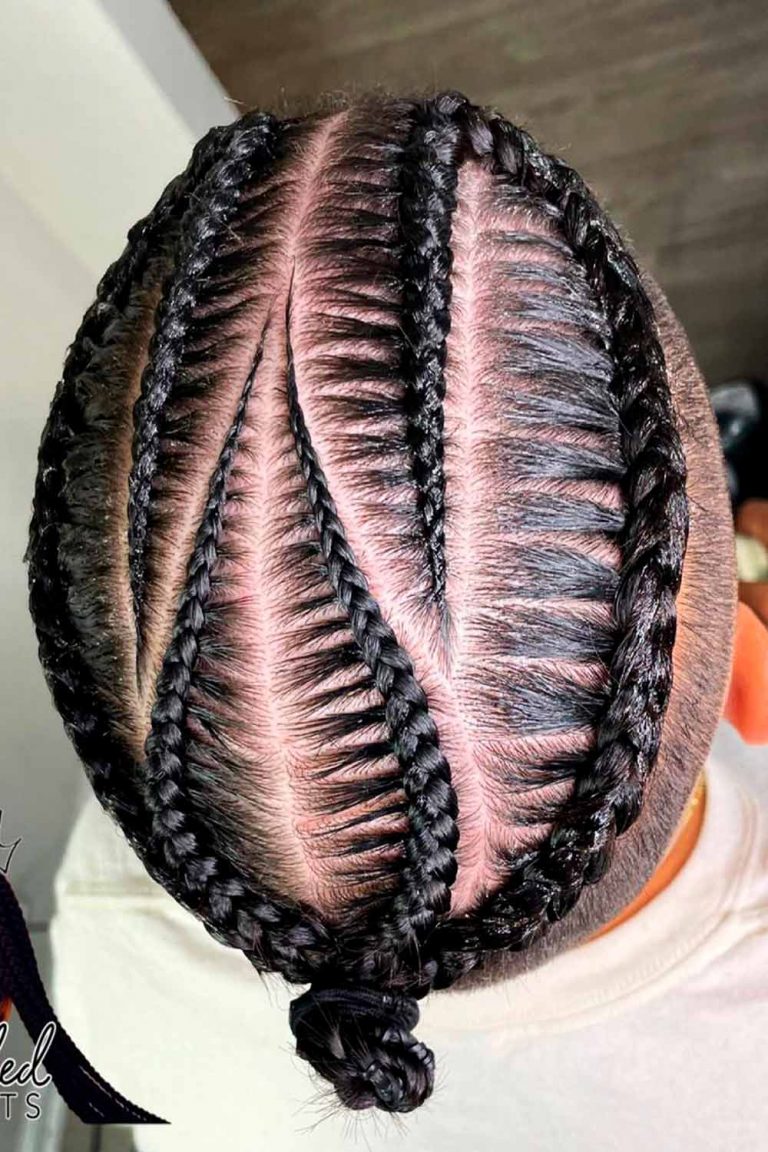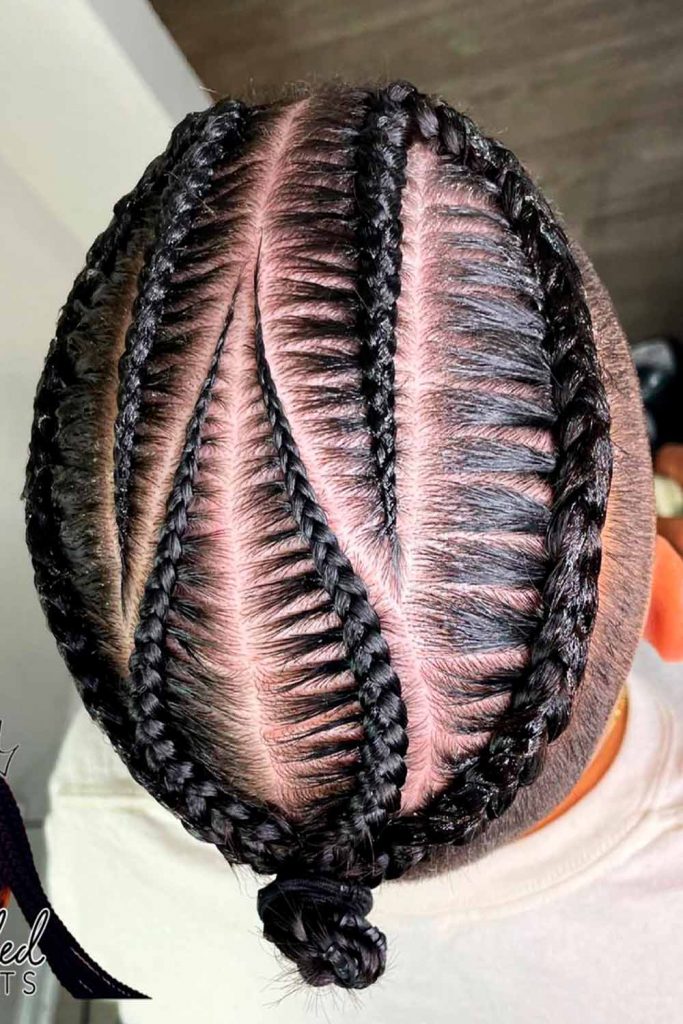 Source: @braidedroots via Instagram
Braid's Pattern
Incredible as it may sound, you can let your imagination fly quite high with cornrow braids patterns. If you want both a stylish elaborate look and protection, you should try out box braid styles.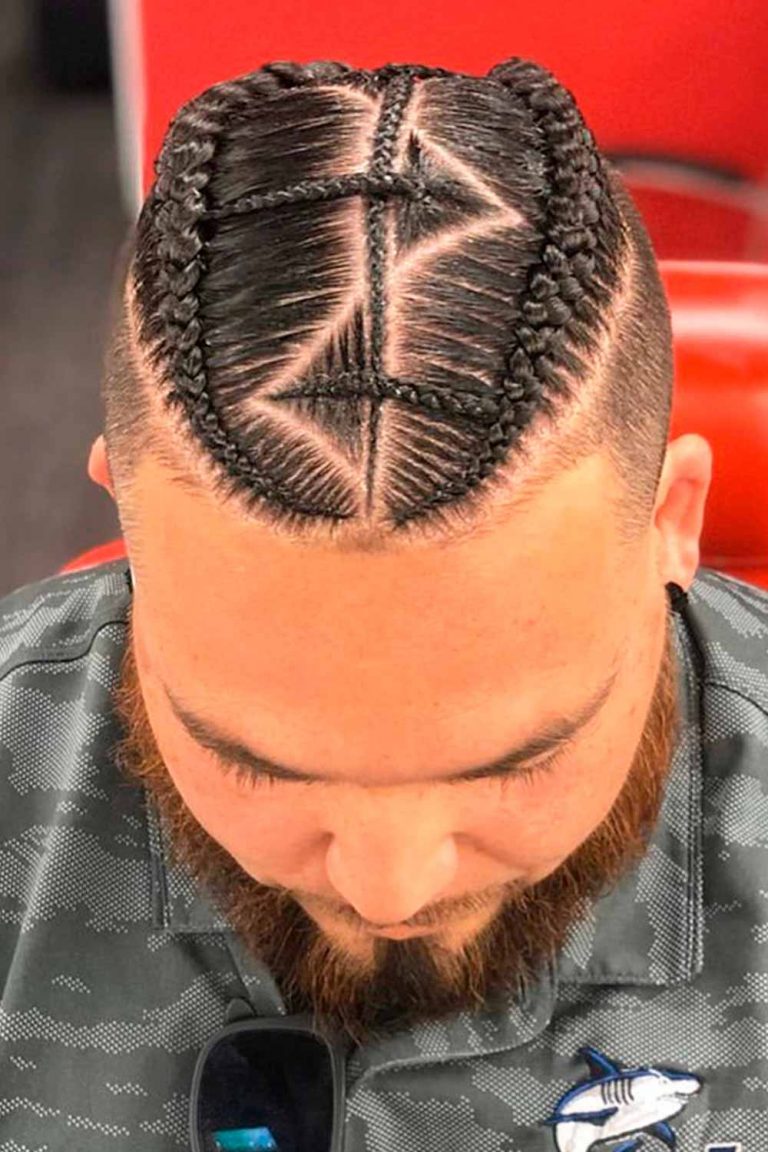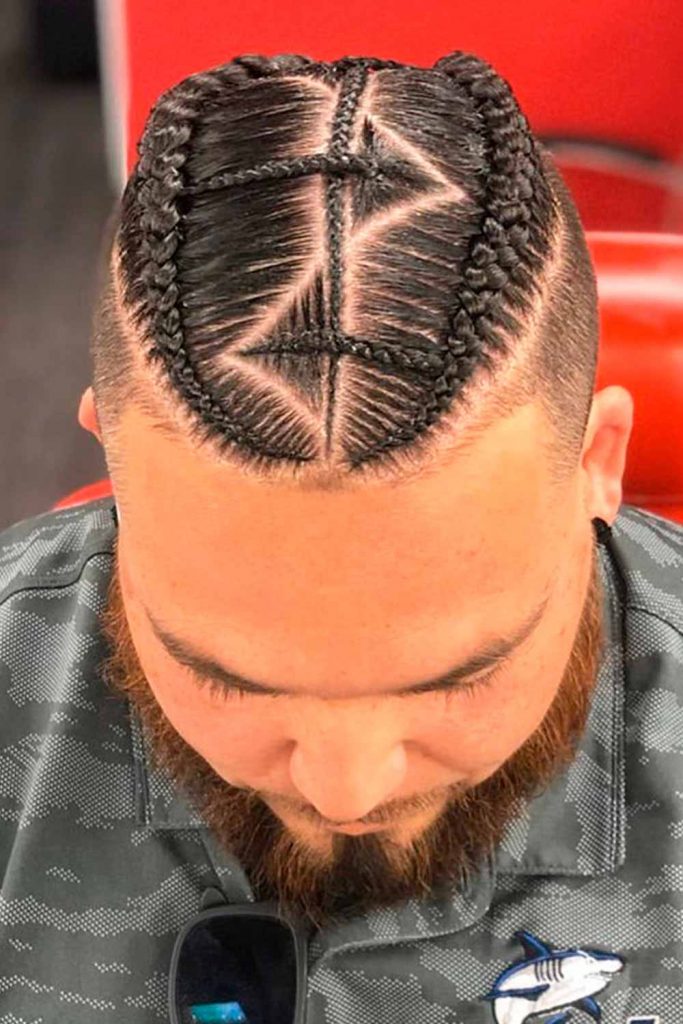 Source: @dynasty_barbers via Instagram
Pop Smoke Braids
Based on cornrows, you can create many exclusive braid styles. As such, pop smoke braids are one of the trendiest cornrow variations. Their main feature is a defined parting located just in the middle of your head. In this way, the braids frame your face, while keeping the hair out of your way.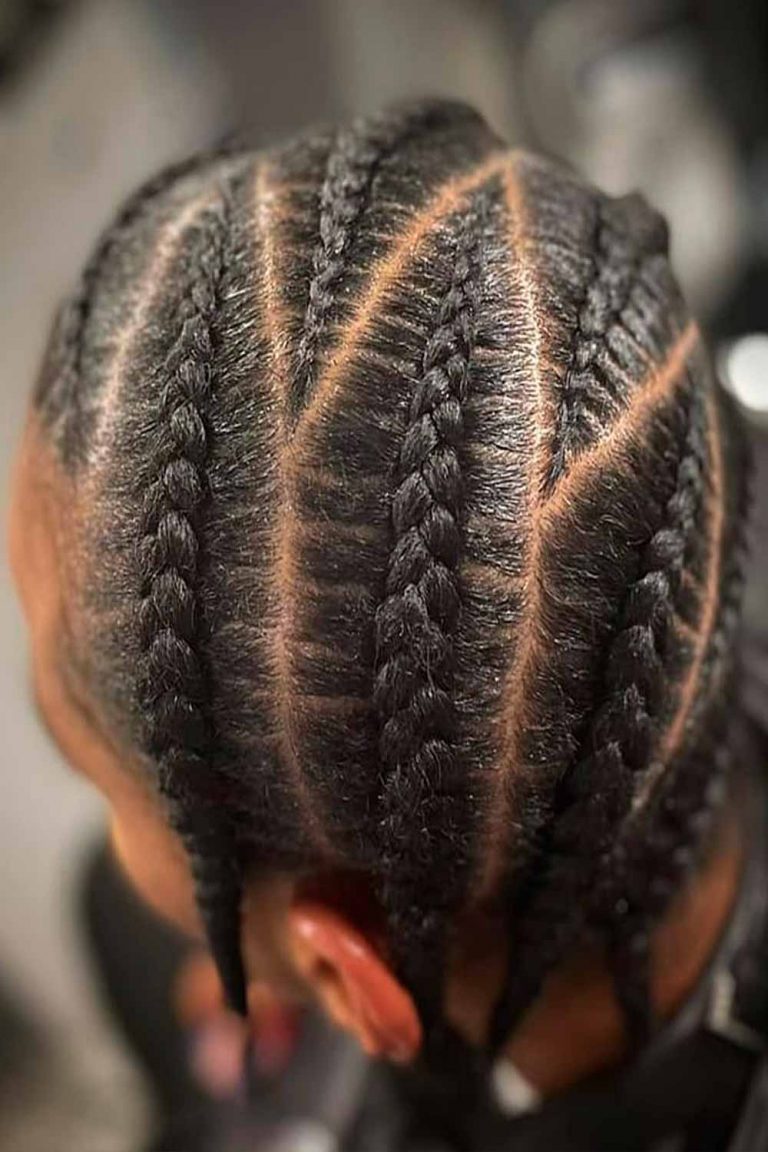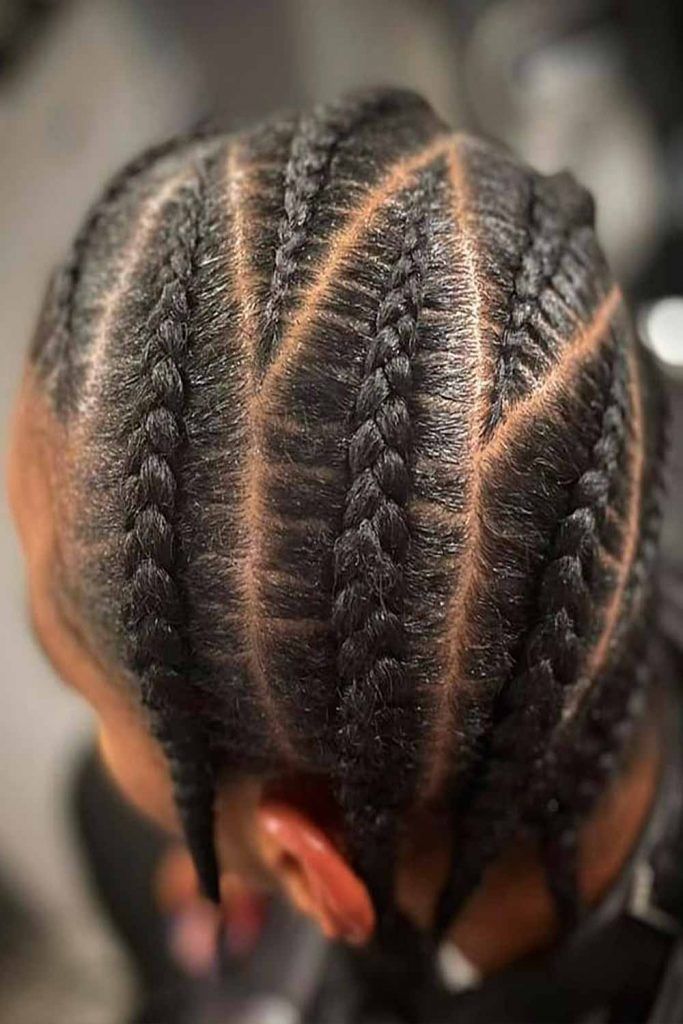 Source: @f4fade via Instagram
Braided Top Knot
Can't decide what to do with the ends of your cornrows? Tie them in a top knot for an even more stylish look.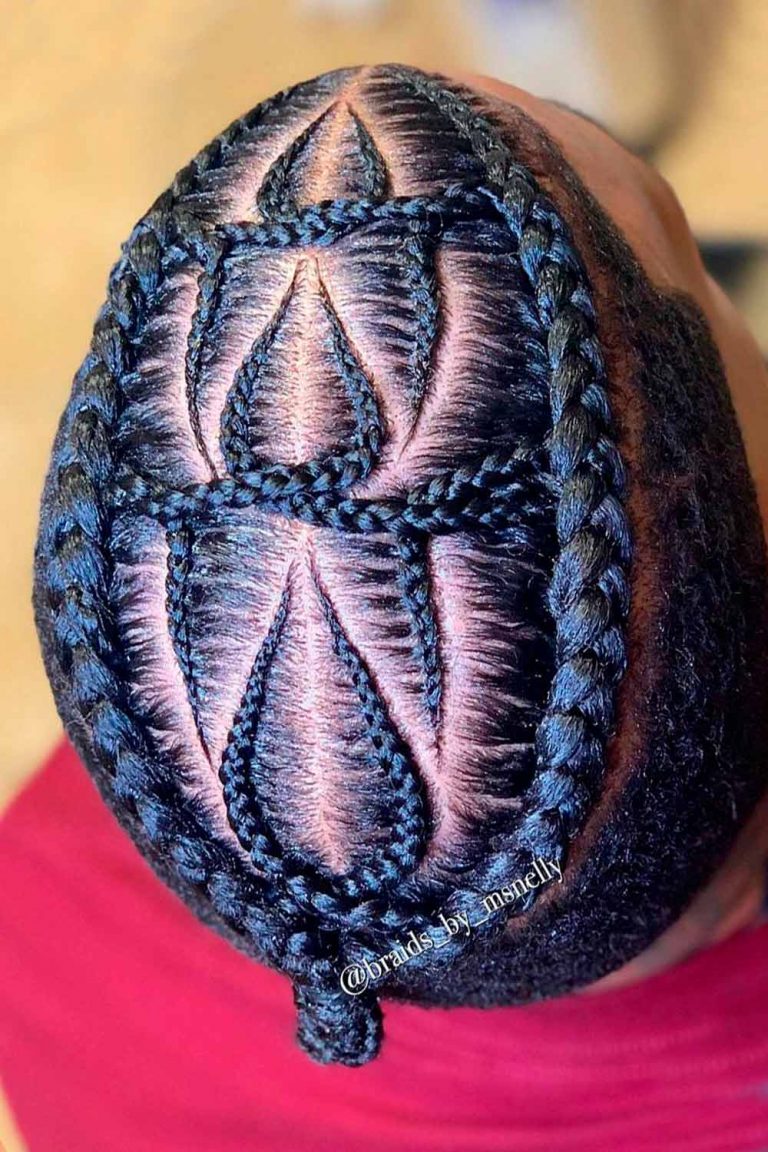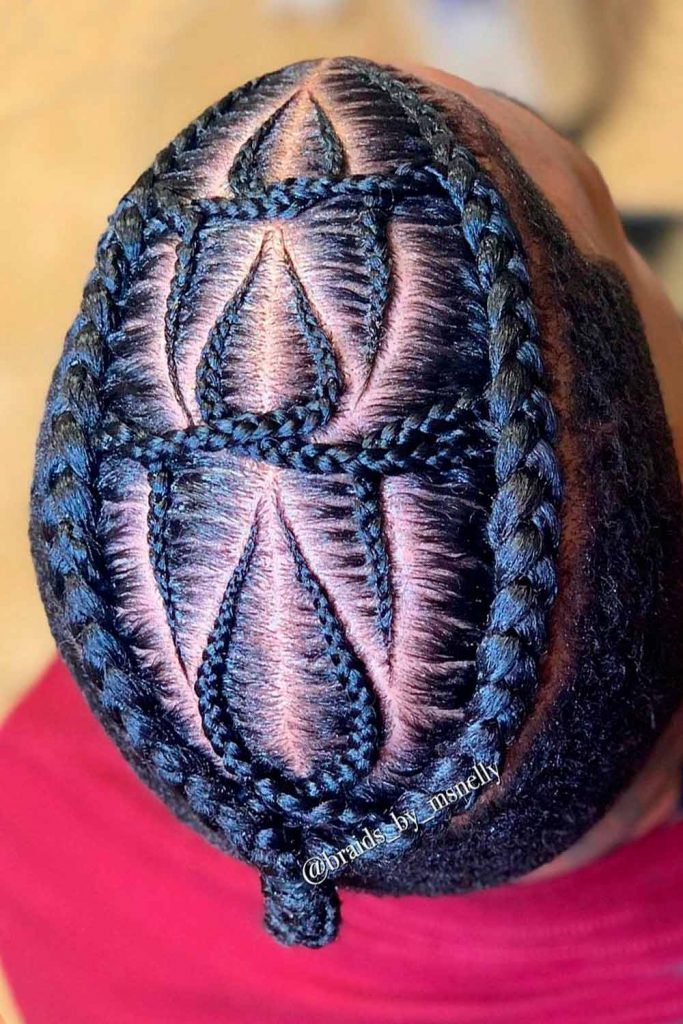 Source: @braids_by_msnelly via Instagram
Zig – Zag Short Cornrows Men
For those who like geometrically defined braid styles for men, here's a zig-zag cornrows men hairstyle. It's also a symmetrical look that will please your inner hairsplitter.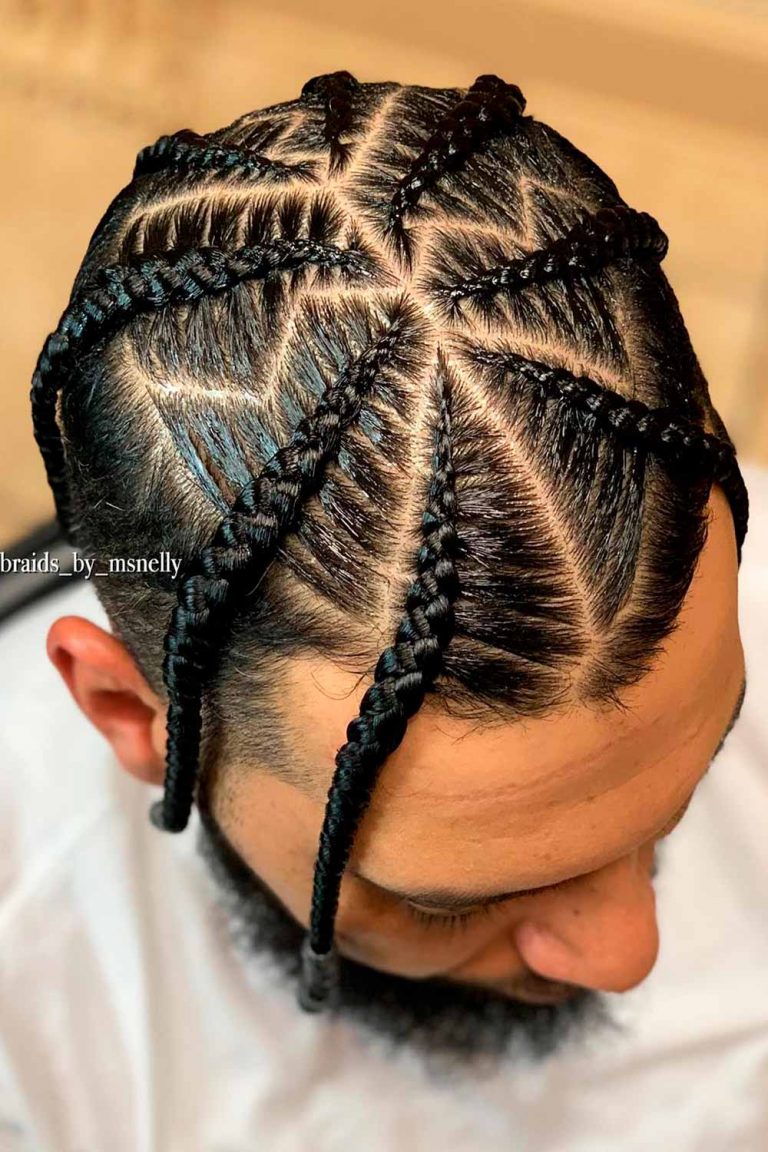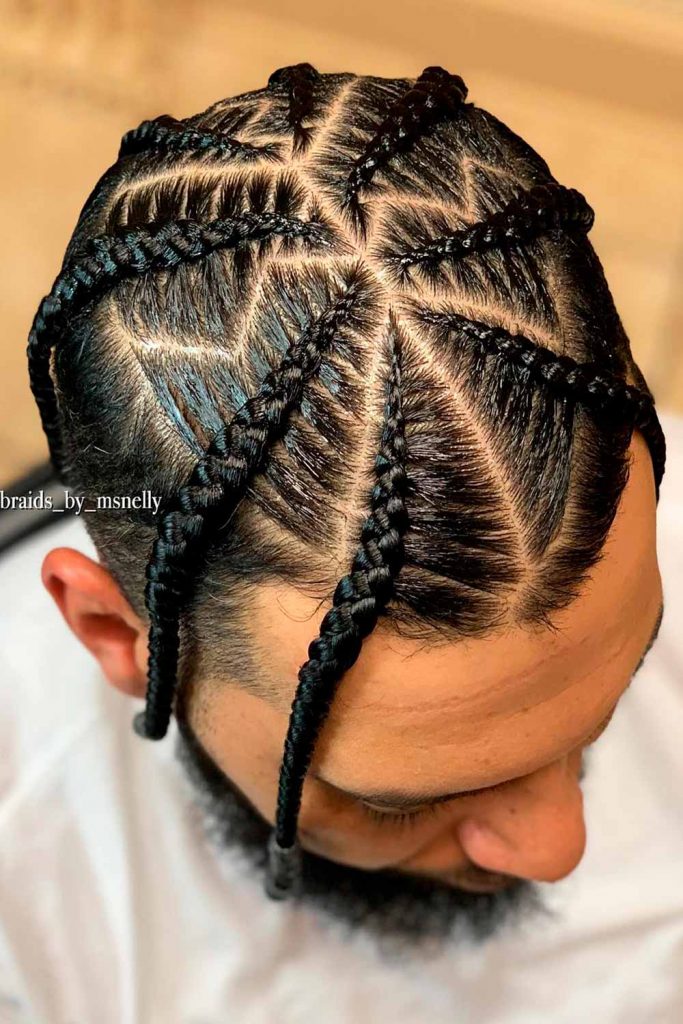 Source: @braids_by_msnelly via Instagram
Blonde Braided Cornrows
If you want to make your hair braids stand out even more, you can either opt for a more elaborate shape, such as a Mohawk braid, or place a bet on its color. Blonde braided cornrows look awesome on black men and will definitely make everyone's heads turn.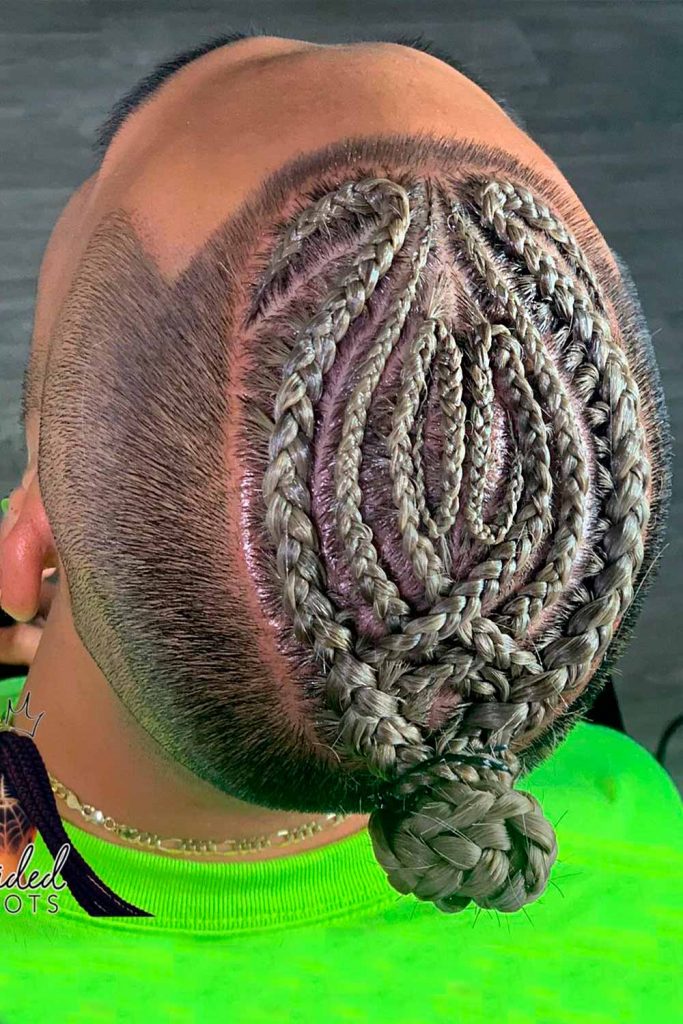 Source: @braidedroots via Instagram
Male Reference
Although cornrows with a bun are a unisex hairstyle, when sported by a virile male, they make a really clear gender distinction. However, to keep your thatch in check, don't forget to make a break from tight cornrows every now and then or at least, go for box braids men often resort to.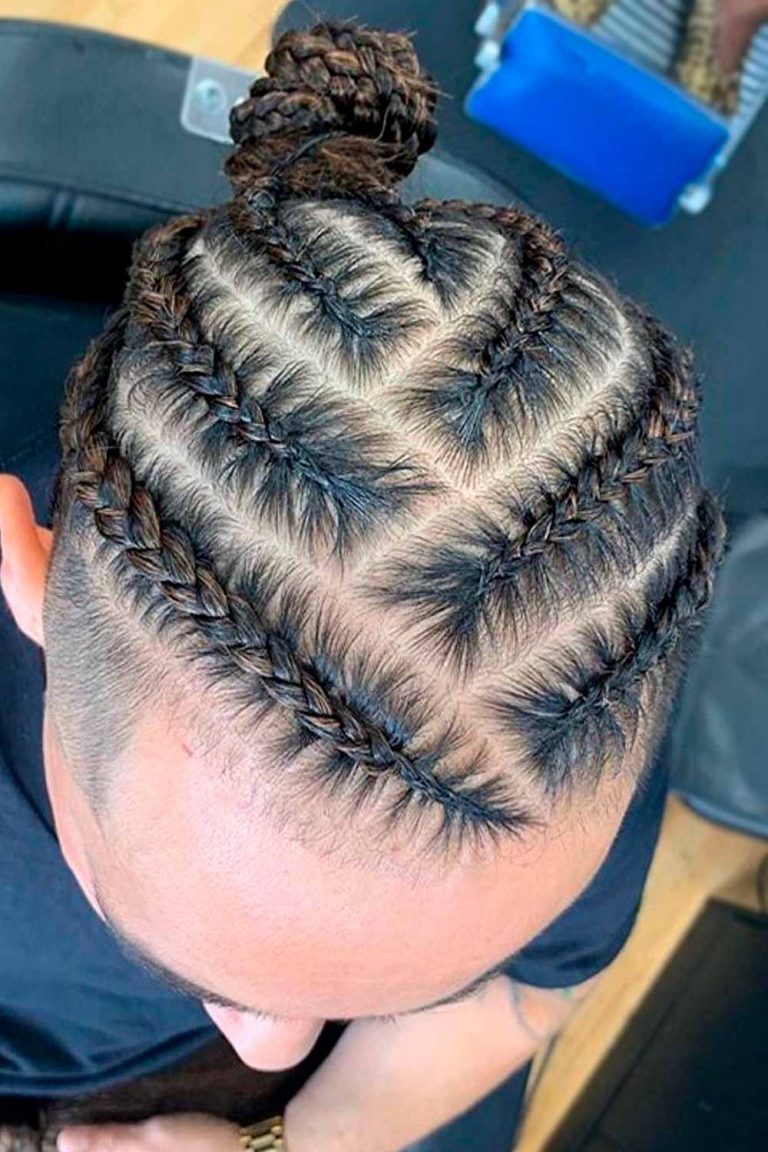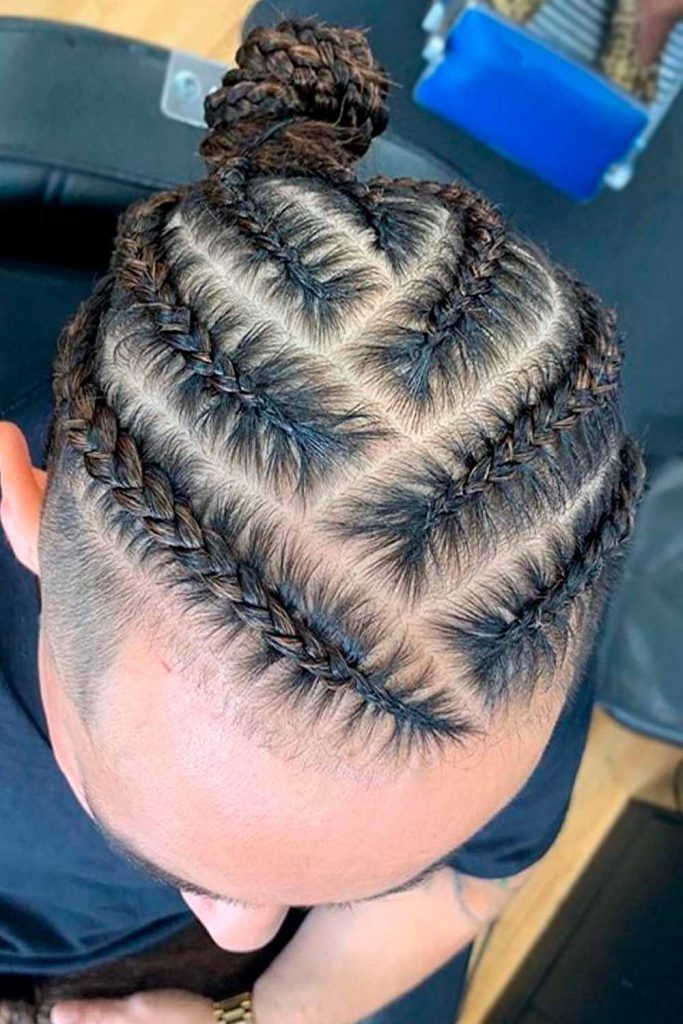 Source: @braidedroots via Instagram
Cornrows With Highlighted Ends
An easy way to give your cornrows a bit of movement and dimension is to add highlights to your hair before plaiting it. What color to choose is totally up to you. If you want to get a really contrasty and edgy look, opt for the shade that is several tones lighter than your natural hair color. For a softer appearance, go for highlights that are only one or two shades lighter than your hair.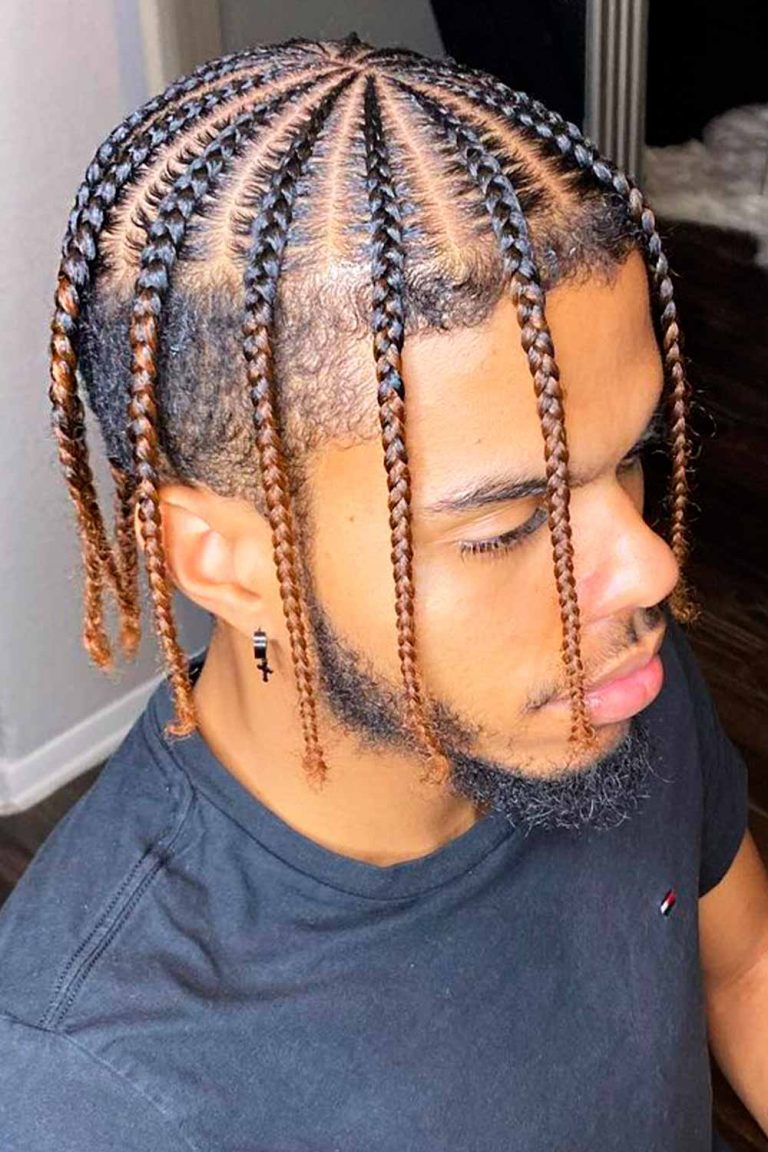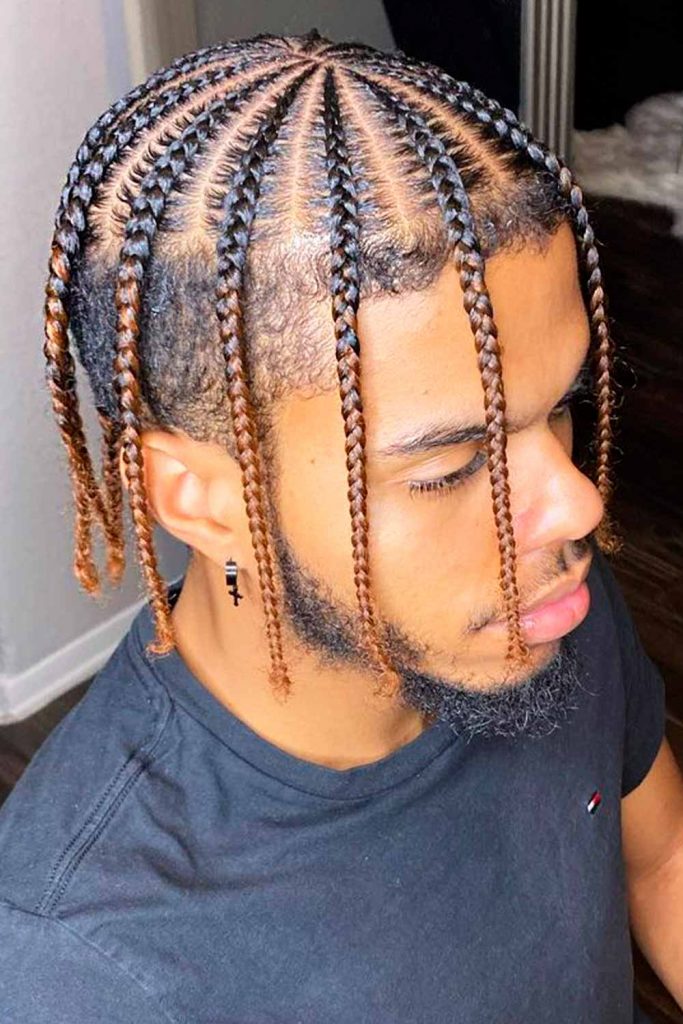 Source: @lovedbyloni via Instagram
Cornrows And Disconnected Undercut
Even though cornrows already look quite eye-catching, you can add more sharpness to them by complementing with a disconnected undercut. When your sides and back are cut much shorter than the top, the whole focus shifts to your hair up top. In our case, to the cornrows.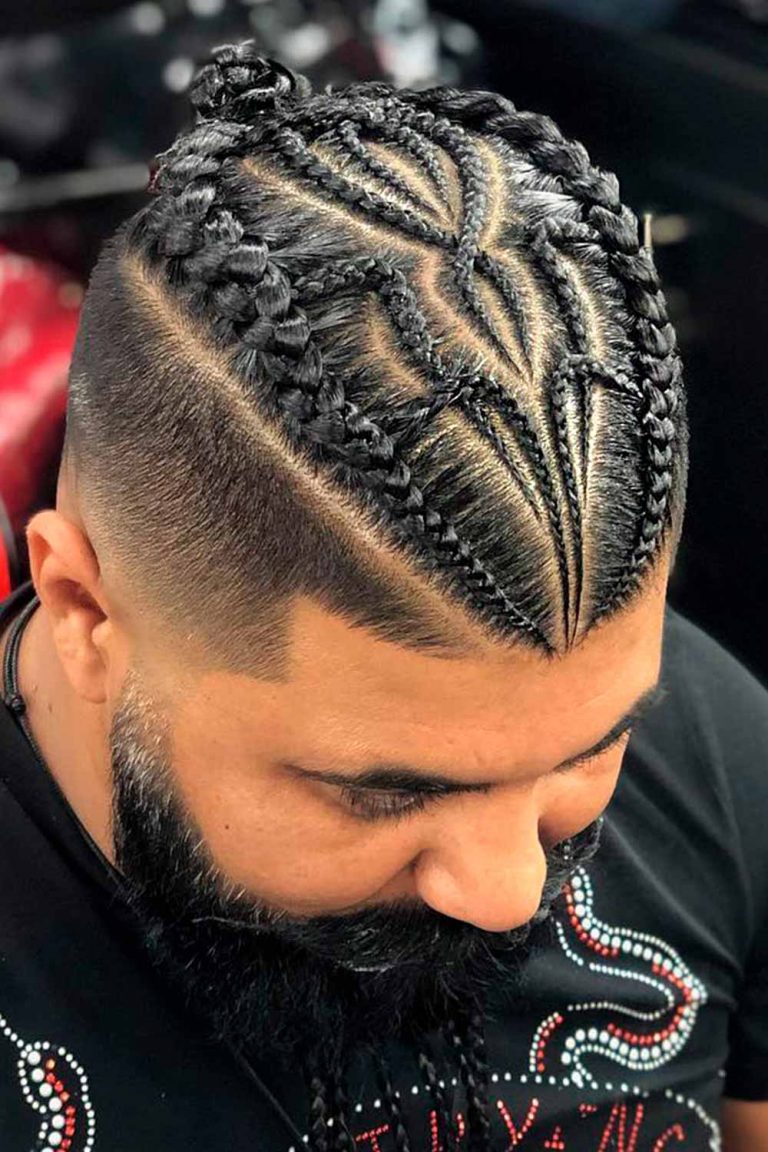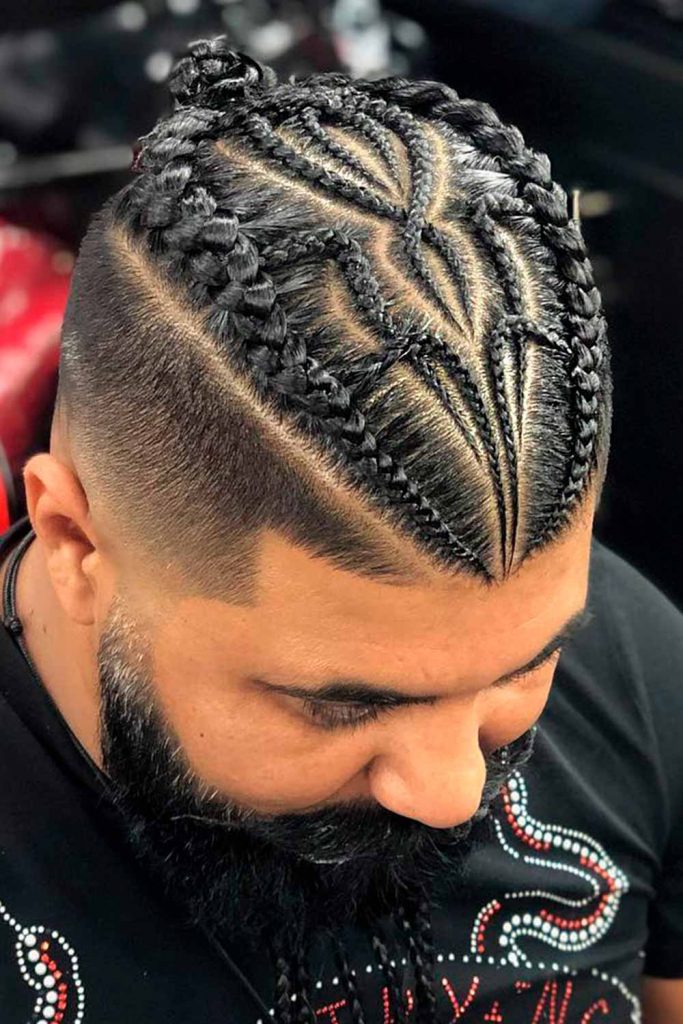 Source: @dynasty_barbers via Instagram
Artistic Zig-Zag Cornrows
Yes, classic cornrows are an elaborate hairstyle without any additional adornments. However, you can bring them to the whole new level of glory by plaiting not in straight rows but in a zig-zag pattern. Such an intricate style will help you to cultivate a reputation for being a really fashion-forward guy.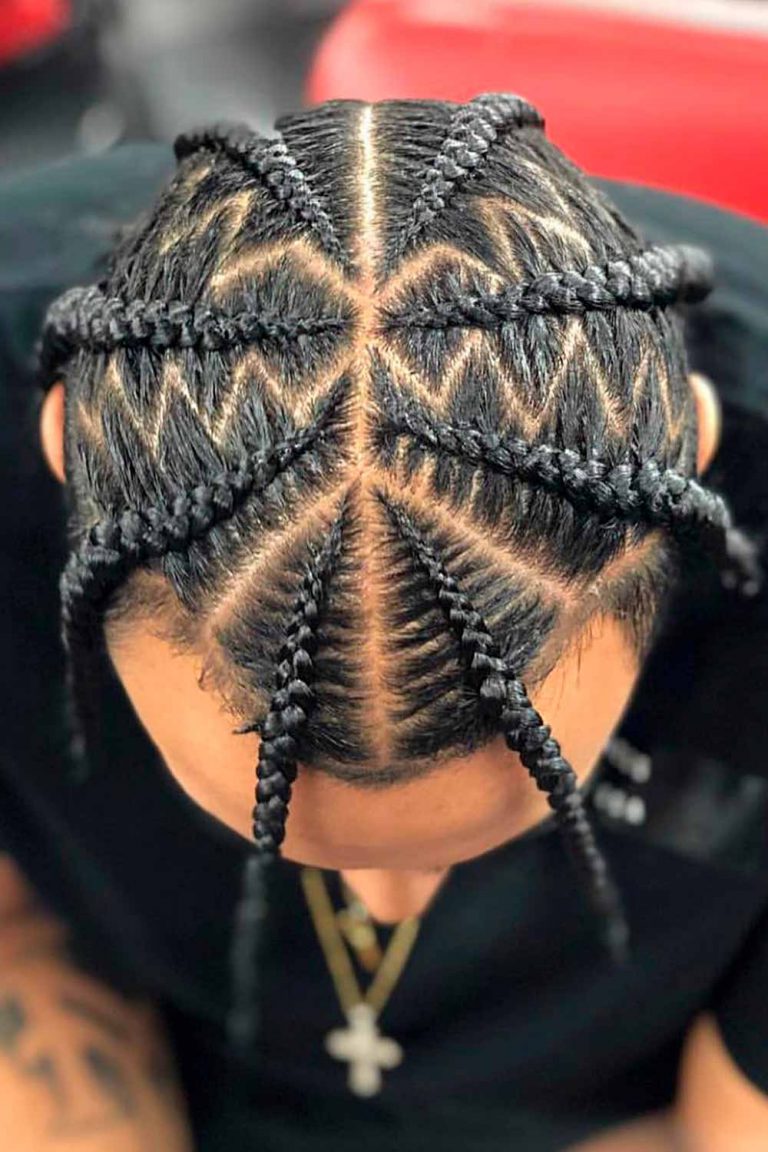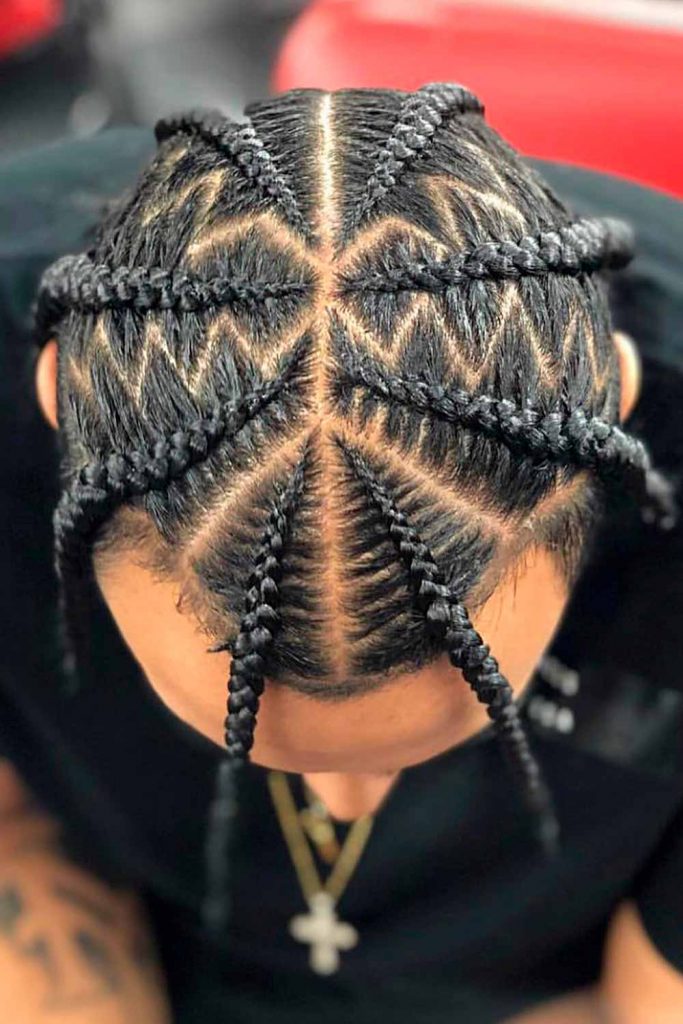 Source: @dynasty_barbers via Instagram
Twisted Cornrows Men
If somebody told you that you cannot pull off cornrows on short locks, forget about it. When it comes to this striking hairstyle, the length of your mane does not matter actually. Guys who have relatively short locks will also be able to get cornrows. Just make sure you have found a really professional braider.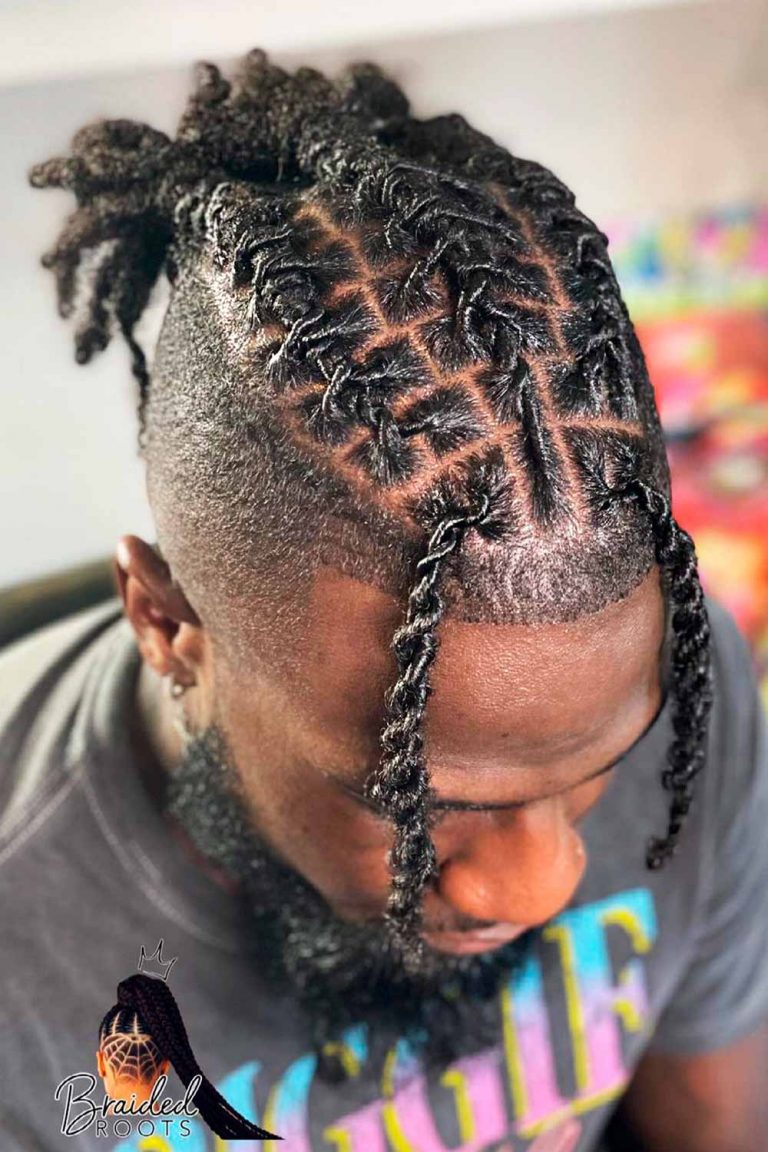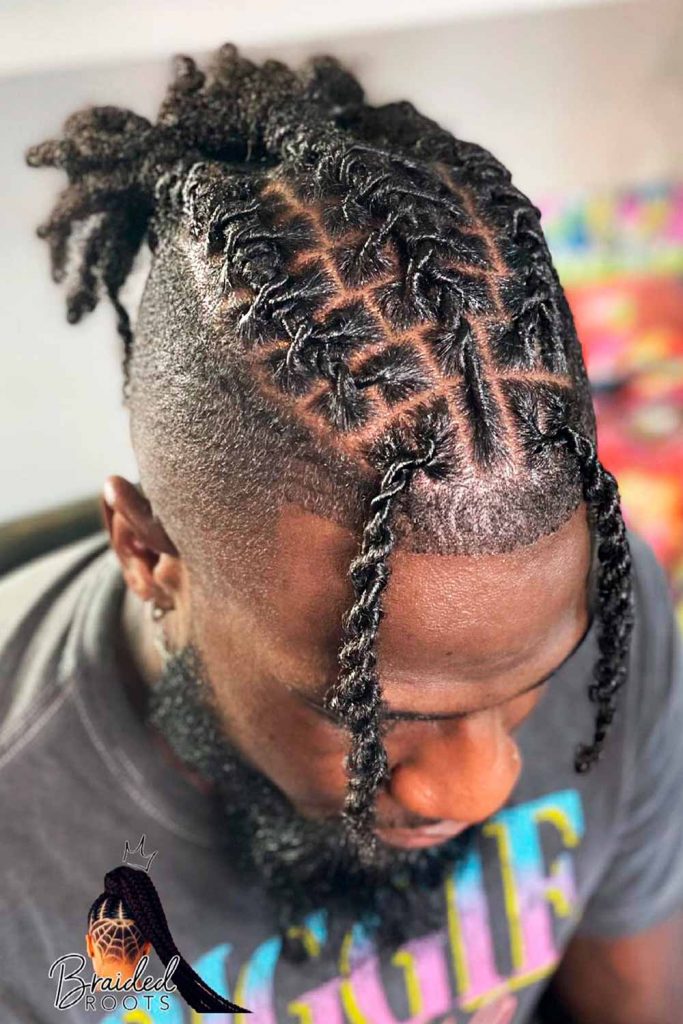 Source: @braidedroots via Instagram
Viking Mohawk
Cornrows come in a lot of styles and shapes. They set off many other hair looks. If you have always wanted to sport a virile and powerful hairstyle without shying away from cornrows, try out a Viking mohawk with cornrows. To get this 'do, you need to have your sides shaved and leave a narrow strip of hair that goes along the middle of your head to the nape. This section should be plaited to form cornrows that gradually blend into a classic braid. And do not forget about a rough, full beard.
Small Cornrows Style
As the rule of thumb, the smaller the braids, the more effort they require. However, it fully pays off with tons of admiring gazes you are going to collect.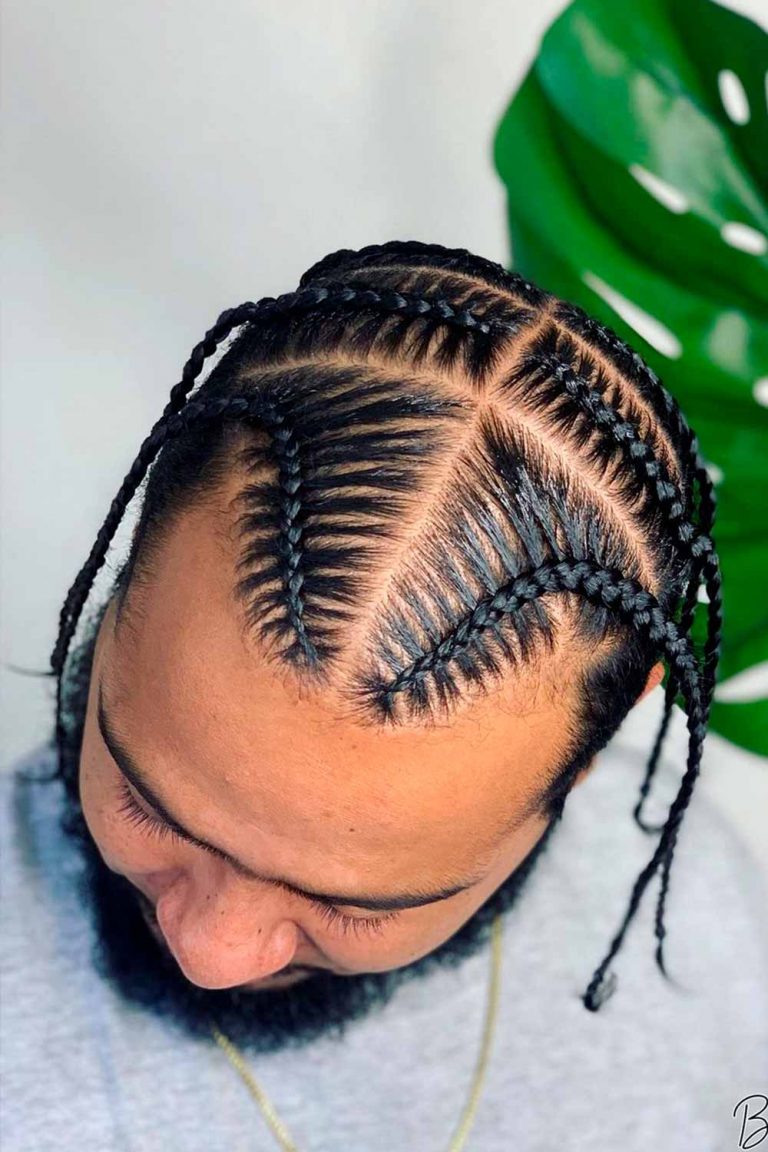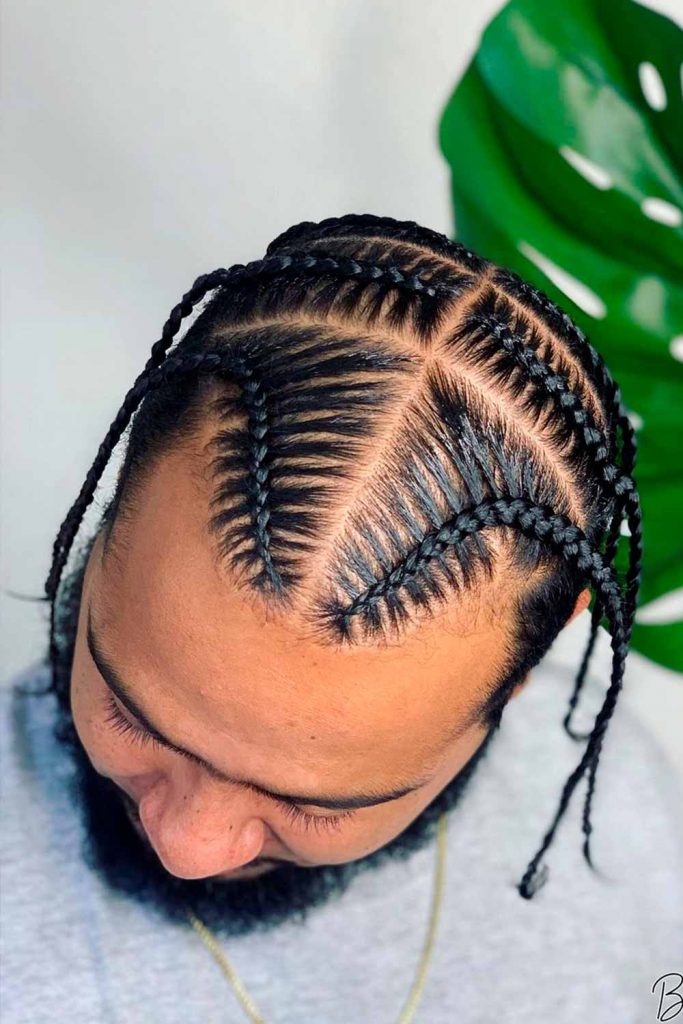 Source: @braidedroots via Instagram
Two Cornrows Styles
Can't decide between two cornrow hairstyles? You do not have to. Pair them together and you are going to end up with a unique and unusual cornrow look.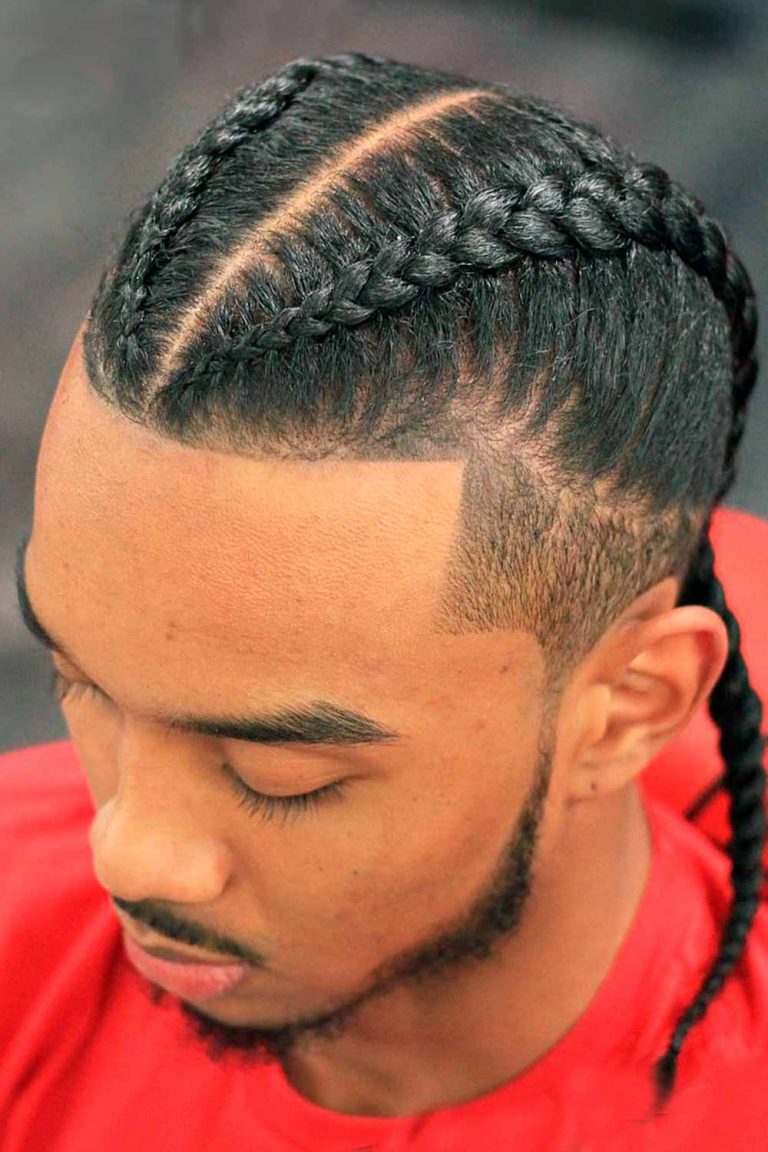 Source: @dynasty_barbers via Instagram
Four Thick Cornrows
There are several ways to sport four braids for black men. You can allow them to cover all your head from back to front and from side to side. Or, you can get the back and sides trimmed for a bolder look.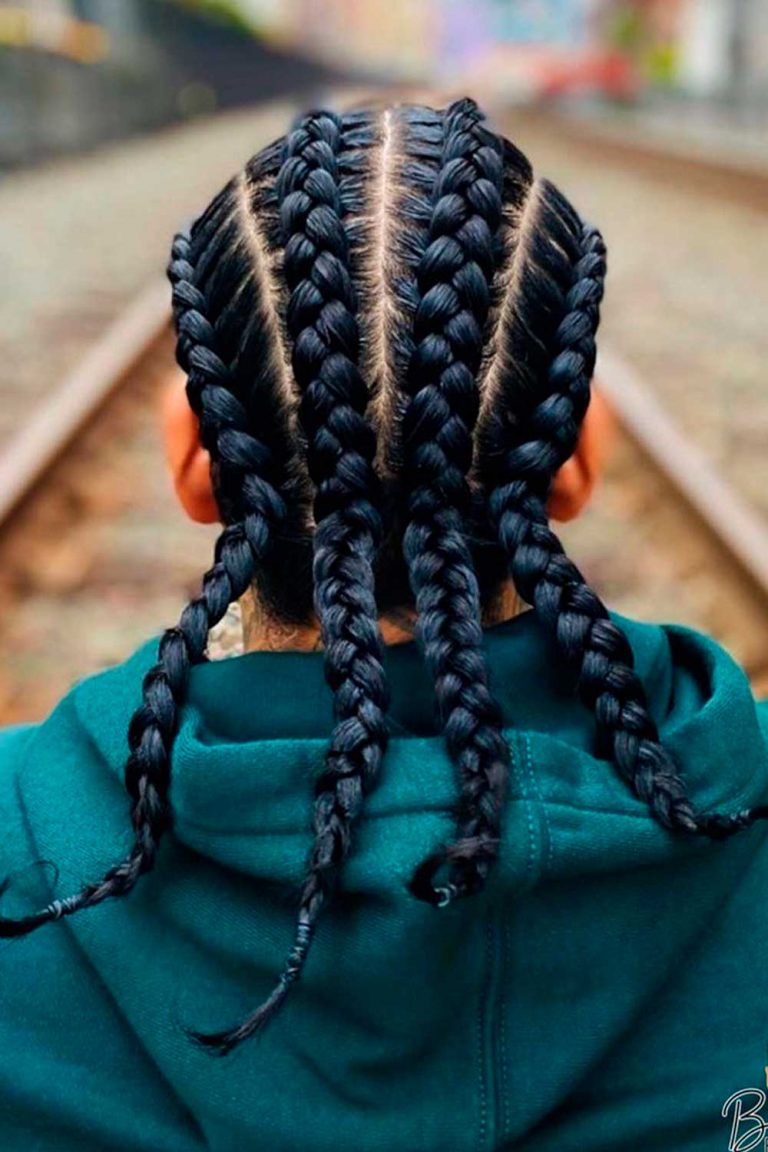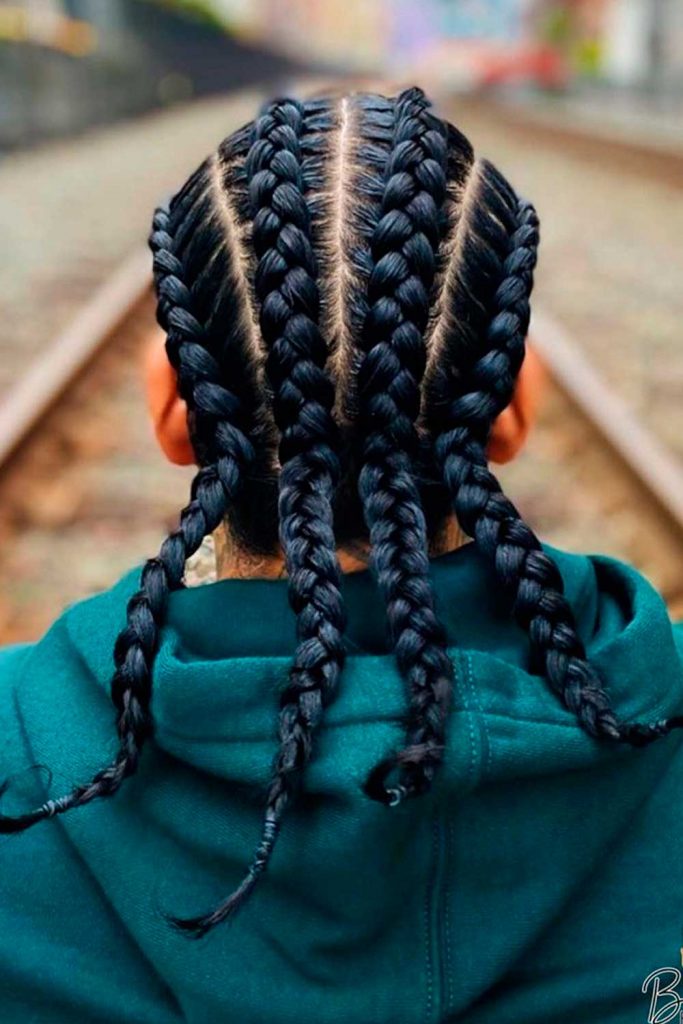 Source: @braidedroots via Instagram
Big Cornrow Braid Styles
The size of cornrows is up to you. For a low key and comparatively effortless look, go for a big chunky cornrow hairstyle.
Source: @game_of_braids via Instagram
Long Hair Corn Rows
As the most cornrow styles are black, you can spice up your look by long hair. In this way, you will get a really pronounced and contrasty appearance.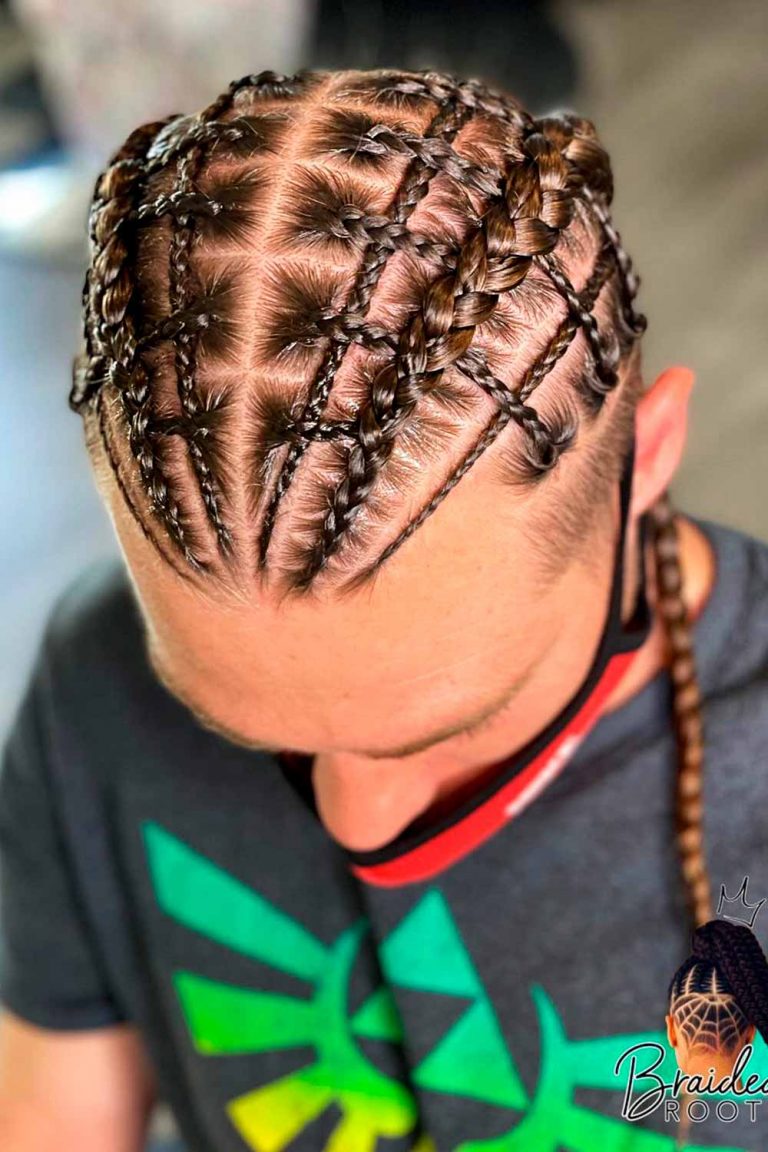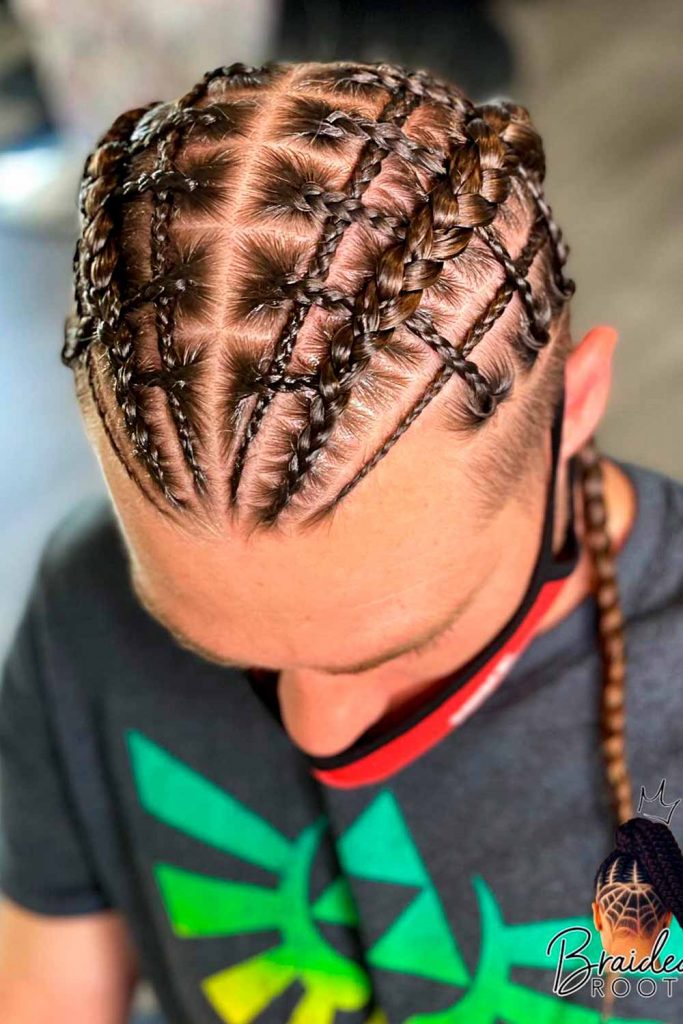 Source: @braidedroots via Instagram
Shaved Sides Cornrows Hairstyles
Another way to give your cornrow hairstyles extra emphasis is by shaving the sides to the skin.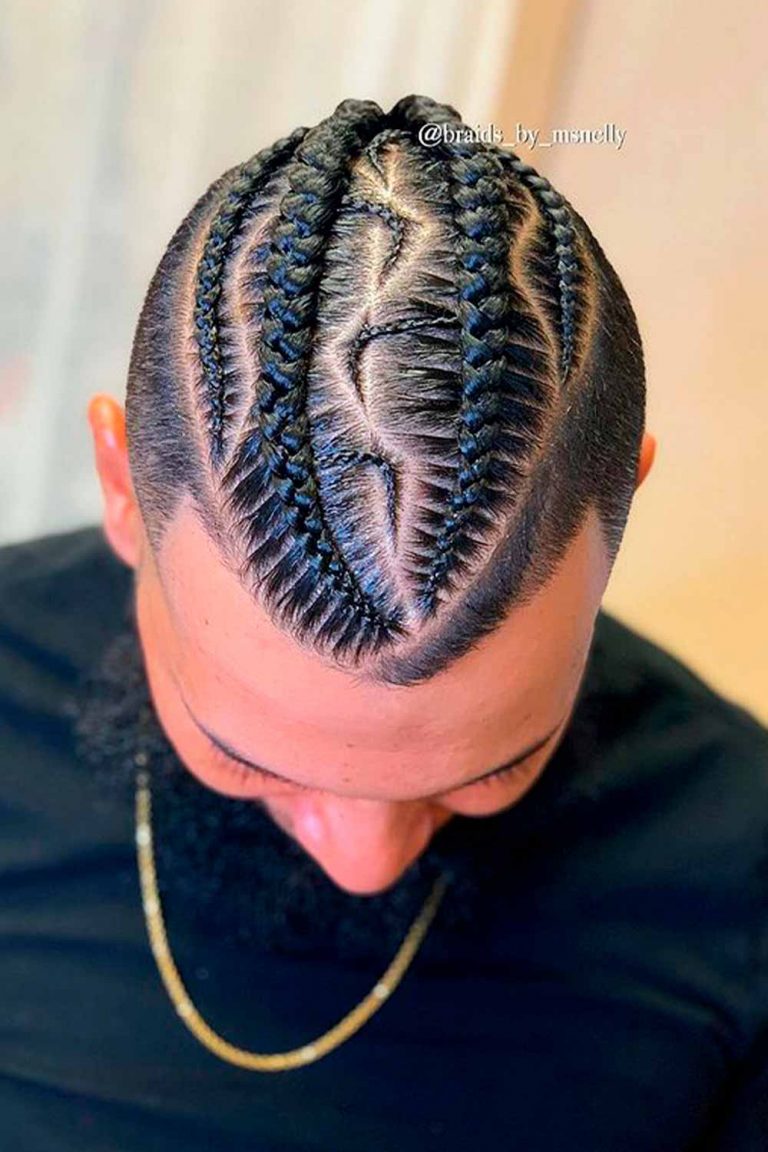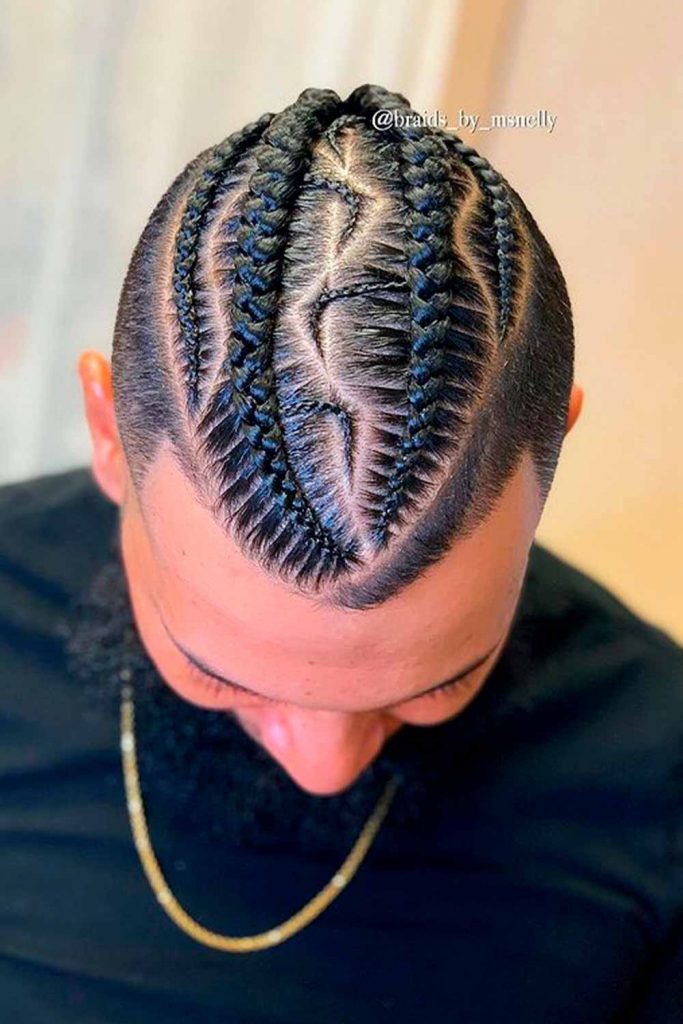 Source: @braids_by_msnelly via Instagram
Long Zig Zag Braids
Cornrows should not necessarily follow a straight pattern. You can play around with it a little and go with zig zag or circle braids.
Short Cornrows Men
One of the best things about cornrow braid hairstyles is that there is no need to grow your hair long. Short cornrows can also look pretty cool.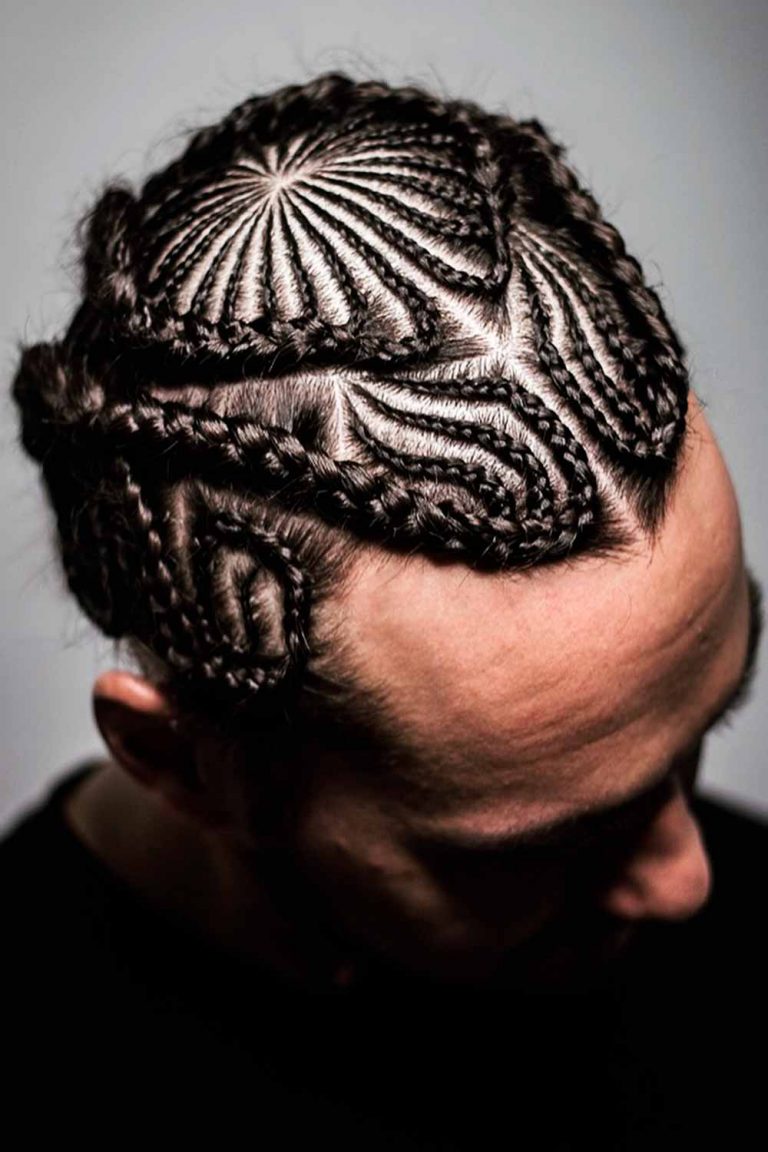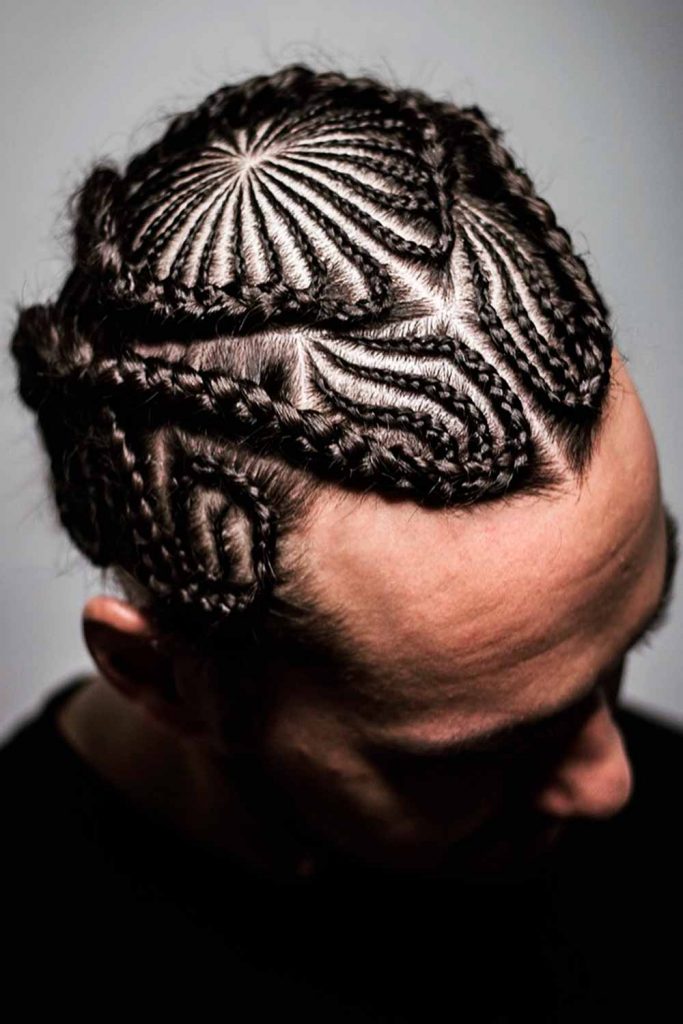 Source: @braidsvolna via Instagram
Cornrows With Taper
Give your cornrows men hairstyle an added sharpness by enhancing the hair look with a taper cut.
Source: @dynasty_barbers via Instagram
Long Cornrows Hair
Long cornrows are a real fashion statement. They indicate that you are not only persistent and patient but also fashion savvy and daring.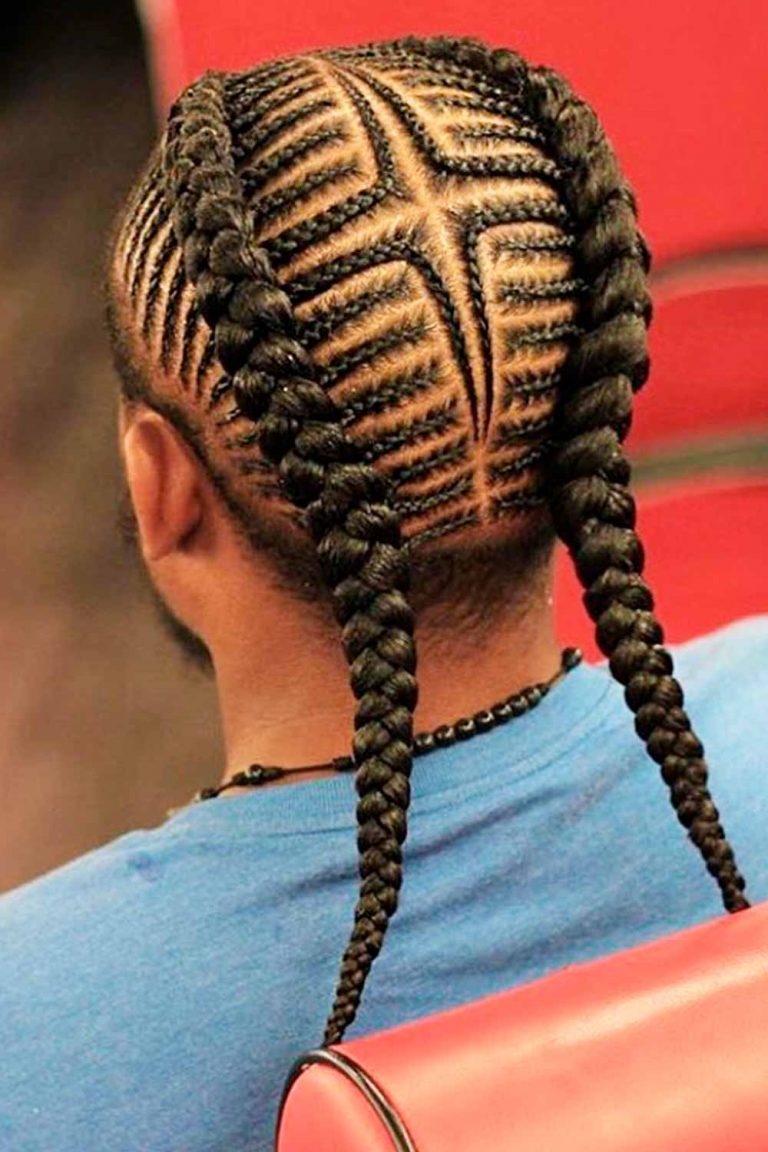 Source: @dynasty_barbers via Instagram
Side Cornrows
As we are pretty used to seeing cornrows on men, they can hardly surprise us. But side braids are a whole different story. They look unusual and eye catching. That is basically why it is better to go for quite low key men cornrows in this case.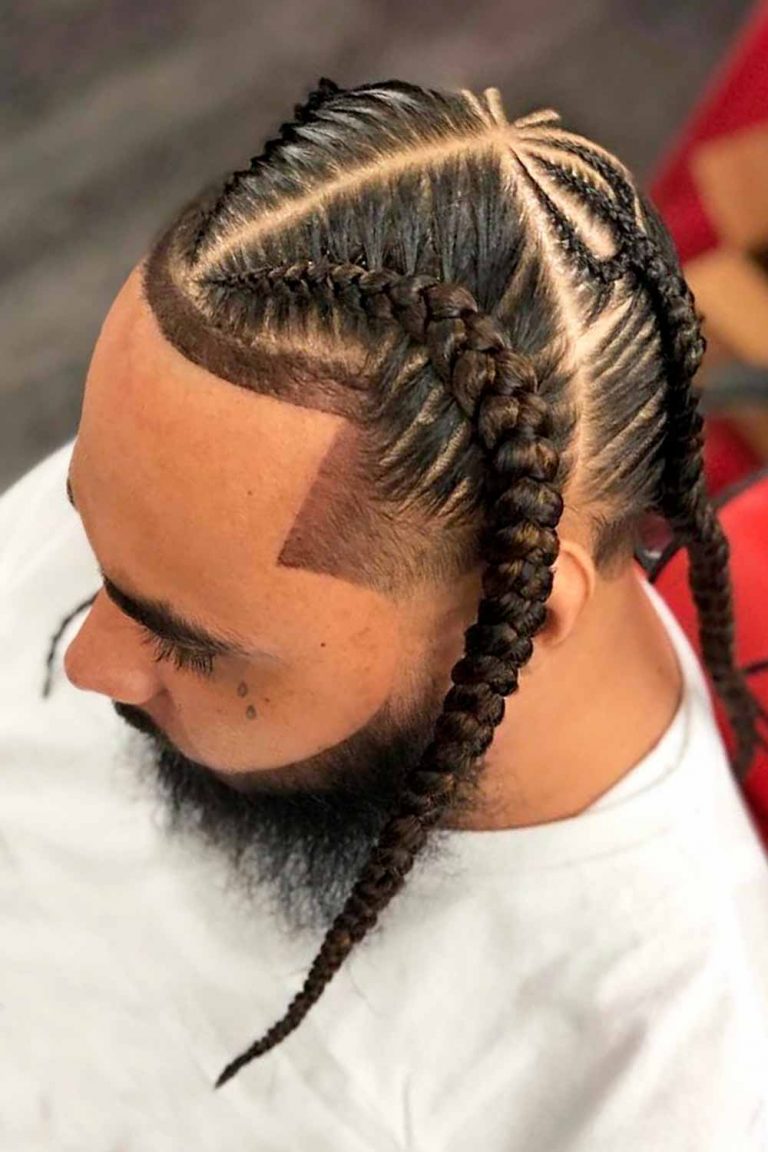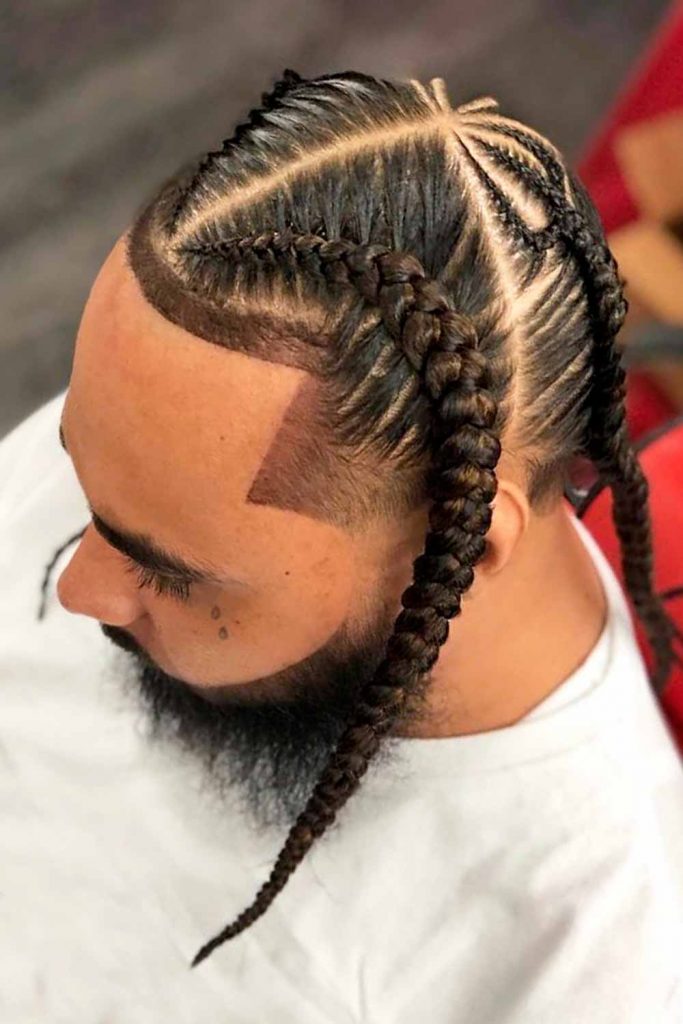 Source: @dynasty_barbers via Instagram
Simple Men Cornrows
While there are quite many different cornrow styles, you do not always have to go for overly elaborate plaiting. Sometimes the simpler it is, the better cornrows on guys look.
Source: @braidedroots via Instagram
Three Cornrows
In many cases, two braids are better than one and three braids are better than two. The same rule applies to cornrows men hairstyle. Besides, this is one of those cornrows braided hairstyles where you can play around with the thickness, size and direction of cornrows.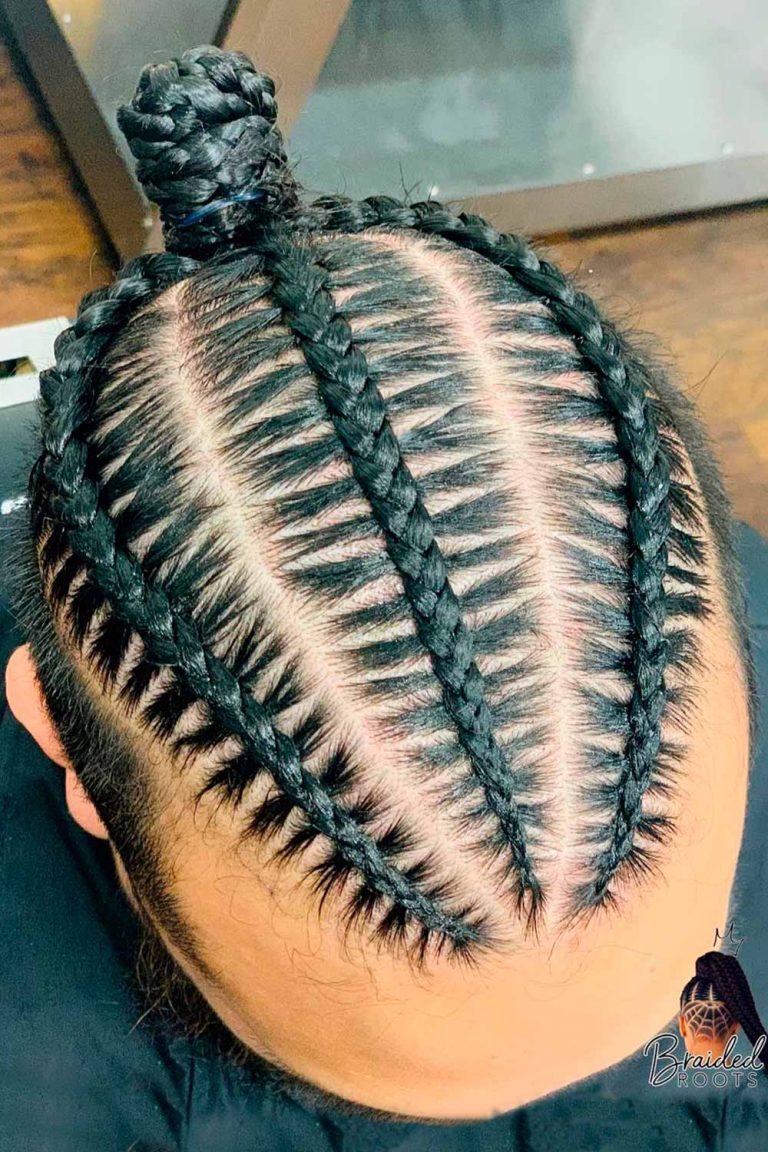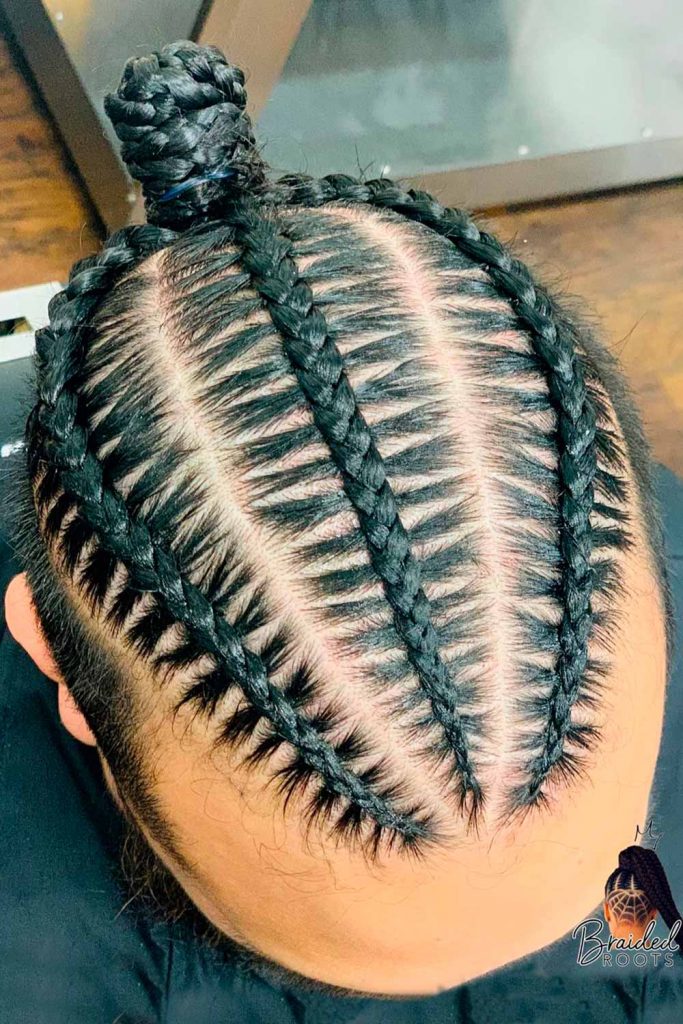 Source: @braidedroots via Instagram
Cornrow Designs
Mens cornrow designs look unbelievably striking and attention grabbing. However, for a cornrow braids men hairstyle to come out flawless, it is better if it is done by a skilled braider, not an amateur. Otherwise, you will achieve the opposite effect.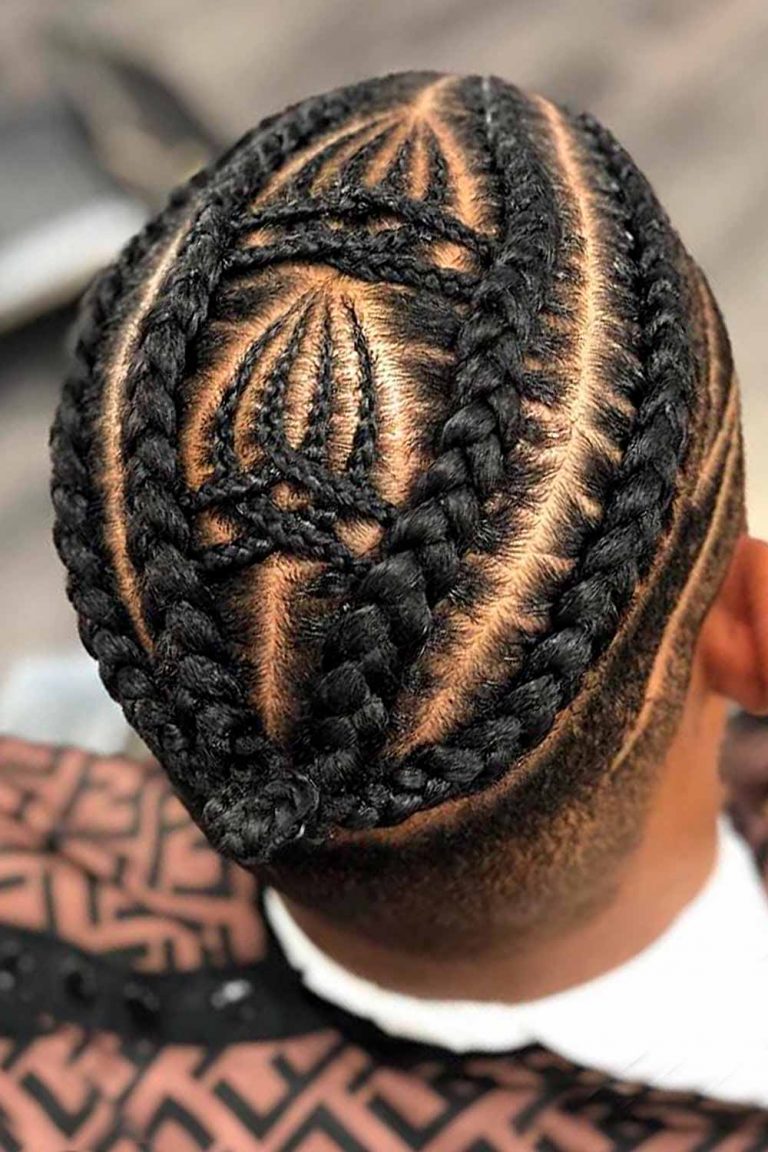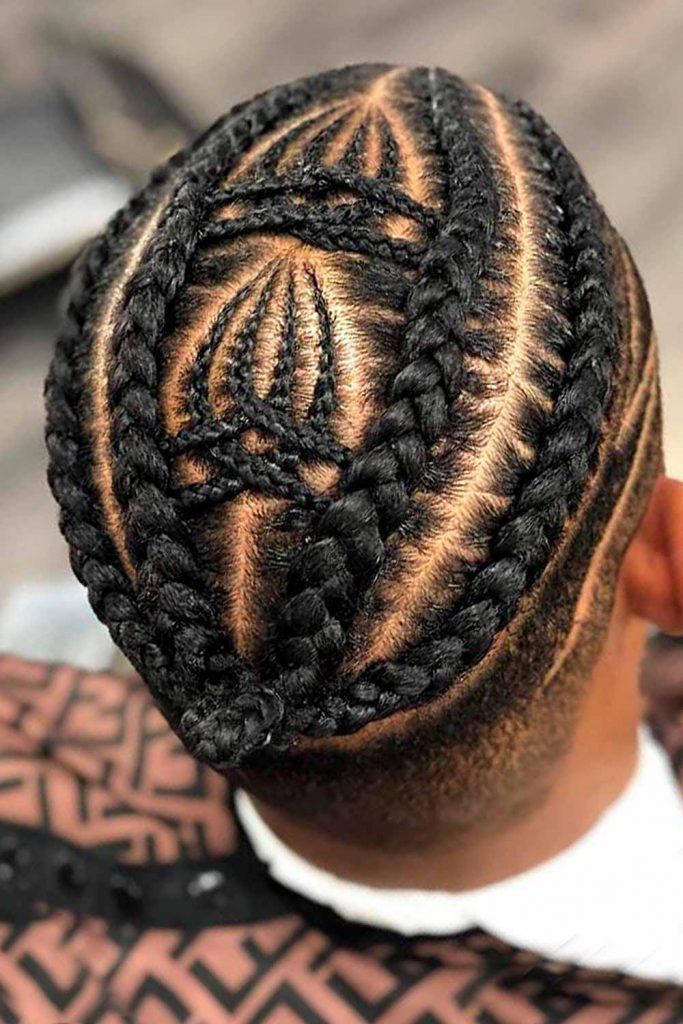 Source: @dynasty_barbers via Instagram
Easy Men's Cornrows
If this is the first time you are venturing out for cornrow styles for guys, then it might be a good idea to start with something easy. And once you are comfortable with your new hairstyle, you can try out more elaborate cornrows mens hair looks.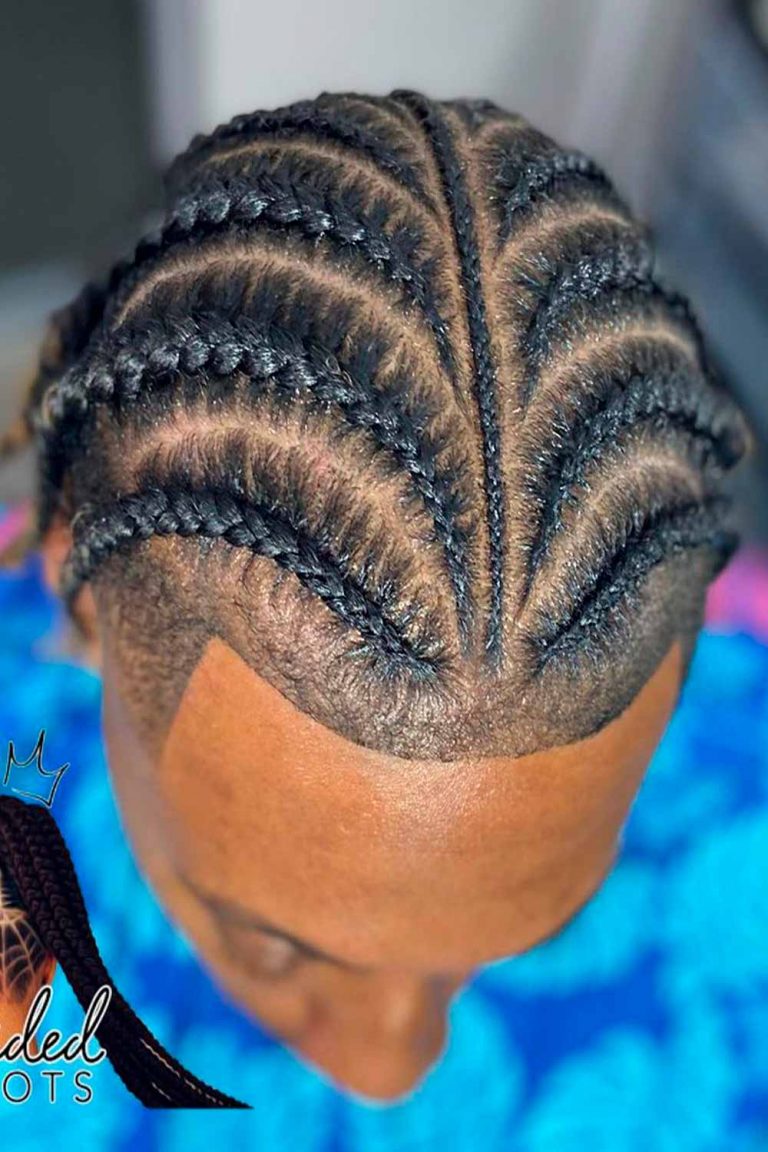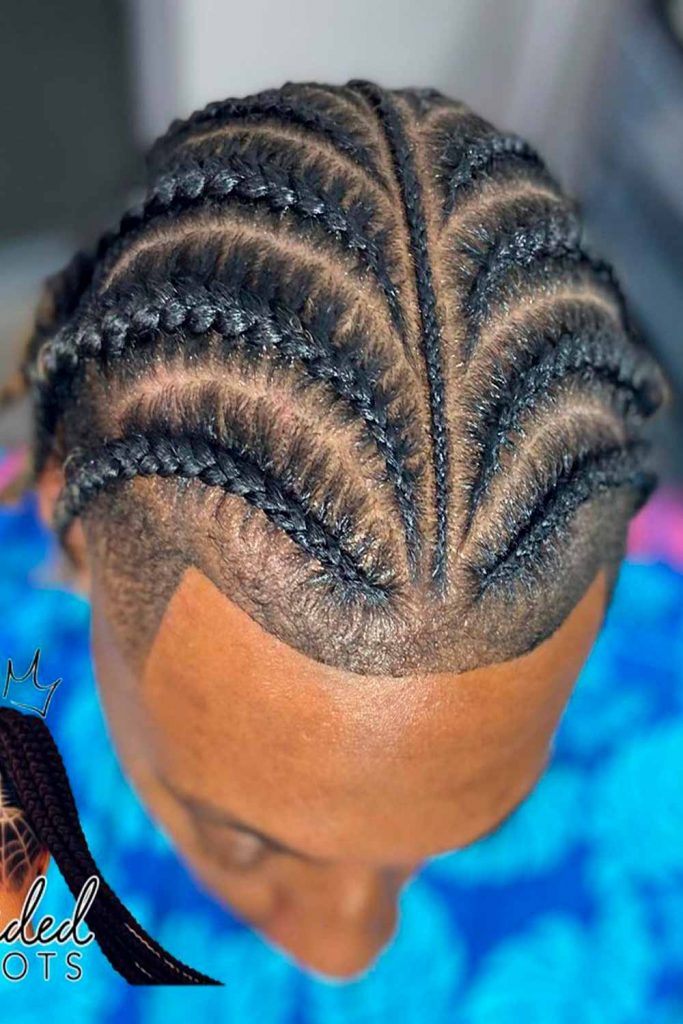 Source: @braidedroots via Instagram
Crown Braid
It comes as no surprise that men with cornrows shaping a crown give off royal vibes. Besides, this cool hairstyle allows for various hair accessories to achieve an ultimately kingly look.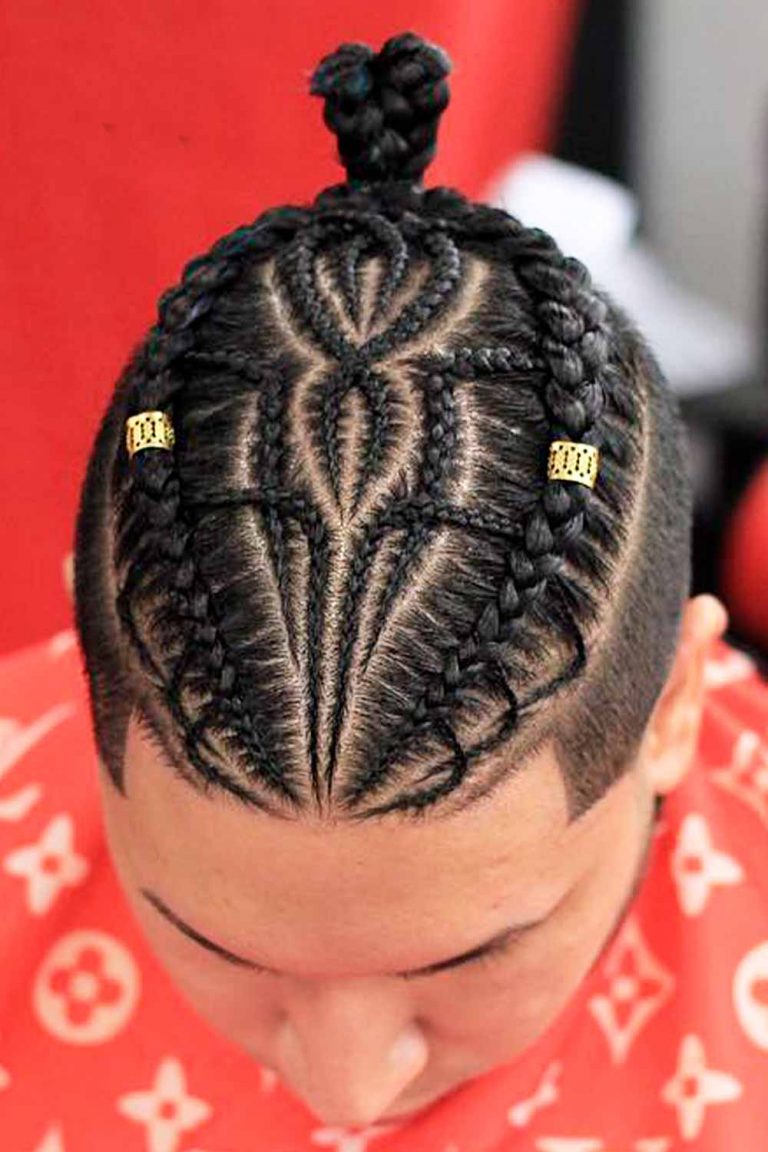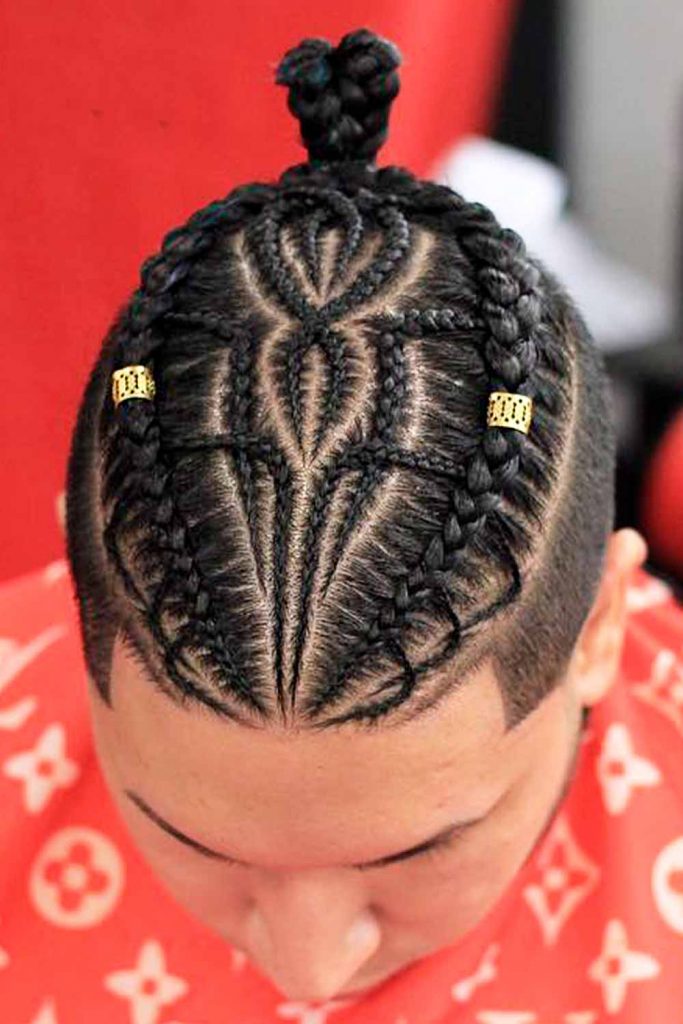 Source: @dynasty_barbers via Instagram
Mohawk Mens Cornrows Styles
If you want to get a mohawk hairstyle but shaving off your head does not sound like a good idea to you, then Mohawk cornrows men 'do is your way to go. Though, for extra emphasis, you can get the sides faded or tapered.
Source: @dynasty_barbers via Instagram
High Top Cornrows
A high top hairstyle remains one of the most popular options for kinky hair and the number of ways to pull it off is endless. High top cornrows will not only allow you to keep your unruly locks tamed but also appear edgy and unusual.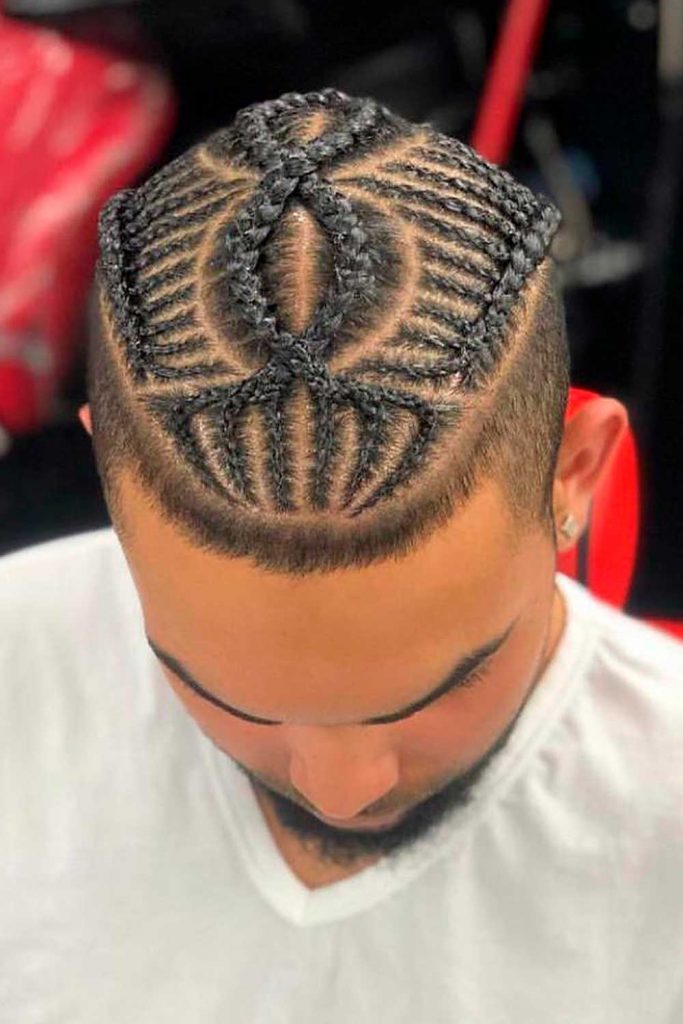 Source: @dynasty_barbers via Instagram
Recommended Hair Products For Cornrows
If you want to learn how to cornrow, you need to keep in mind that it's impossible without special hair products. Here's the full checklist:
Do-rag or du-rag. A special scarf for hair treatment purposes.
Shea or coconut butter. To keep your 'rows hydrated.
A shampoo for deep cleansing. To remove a buildup of oils.
Rich hair conditioner. For added moisturizing.
Hair ties. To secure your African braids.
Multi-vitamin supplement. To treat your locks from the inside.
Suitable Hair Type
So that you could make the most out of all your black men hairstyles, you need to match them to your hair type. Thus, it's crucial to know what mens hair types there are, namely straight, wavy, curly and kinky.
Who Should Wear Corn Rows?
Even though cornrows are a traditional African hairstyle, there are no restrictions as to who can wear them. So, if you are into black men braids, you are very welcome to flaunt them. Just make sure to familiarize yourself with their symbolism and origins.
Cornrow Styling Tips
To make the most out of your cornrows hairstyle, stick to the following expert tips:
Do not style cornrows yourself if you are not completely sure that you can pull them off. It is always better to entrust this task to a professional.
Do not wash your cornrows men hairstyle too often.
Apply leave-in conditioner and moisturizer regularly.
Steer clear of moisturizers that contain oils.
Switch your pillowcases to satin ones in order to protect your hairstyle.
Source: @game_of_braids via Instagram
How long have you been struggling with your unruly hair? It's time to put an end to your frustration. Cornrows men's hairstyles will help you to not only manage your kinky locks but also keep your hairstyle functional and protected.
FAQs
How long do male cornrows last?
Corn rows may last from several days to a couple of weeks depending on how well you take care of them.
To create cornrows braids, follow these steps:
1. Comb your hair and divide it with a center parting.
2. Apply leave-in conditioner to your hair length while working castor oil into the roots.
3. Take a small section of hair from the front and divide it into three smaller sections.
4. Bring the left section under the middle one and put it in the right hand.
5. Repeat the previous step for the right section.
6. Take some more hair from the head into the left hand and add it to the left section.
7. Repeat step 4.
8. Repeat step 6 for the right section.
9. Continue until you get to the end of the back of your head.
10. Proceed by braiding a regular braid.
11. Secure the braid with an elastic band.
12. Repeat steps 3-11 for the rest of your hair.
Do cornrows damage your hair?
When done right, not only will cornrolls not damage your hair, but they can also help you to keep it healthy and strong.
What do cornrows symbolize?
Originally, corn rolls indicated to what tribe a person belonged.
Can you shower with cornrows?
While it is definitely possible to wash cornrows in the shower, you should remember to put on a net to protect the cornrows from fly-aways and frizz.
Do cornrows help hair grow?
Yes, cornrow braids are often used for hair growth promotion and damage correction.
REFERENCES:
Cornrows or braids also called cane rows in the Caribbean, are a style of hair braiding. Source
The Caribbean is a region of the Americas that consists of the Caribbean Sea. Source
The latest entertainment, celebrity, and sports news with reviews of movies, music, TV and streaming shows from the top experts of GQ. Source