Time To Choose The Best Business Haircut To Show Off Your Personal Style
Most men associate a business haircut with something boring and overly preppy. However, things aren't as lousy as they seem. You can still get a stylish and classy look that will perfectly suit the formal ambiance. Everything you need is a skilled barber and our collection of the best business hairstyle ideas for the movers and shakers of this world.
What Is A Business Cut?
If not to exaggerate, a businessman haircut is expected to look spick and span. You can hardly imagine a shaggy person with a scruffy beard holding a high position. It's crucial not only to be a seasoned professional but also give a good and serious impression. Business hairstyles usually feature Ivy League, crew cuts and different types of tapered 'dos.
Business Haircut Elements
If you've decided to try on one of the professional hairstyles for men, keep in mind that they should include three vital elements, namely cleanness, versatility and conservativeness. By cleanness, we imply an even length and thoroughly trimmed edges. Versatility makes the hairstyle suitable for both formal and casual occasions. Don't confuse conservativeness with boredom and plainness. It only means that the hairstyle should be elegant and aesthetic.
Top Business Hairstyles
We're almost sure you'll face some difficulties when looking for a professional cut that meets your preferences. To help you out, we've piled up the best hairstyle ideas for businessmen.
Buzz Cut
Source: @lanedorsey via Instagram
A buzz cut is the basic business professional haircut that doesn't require much maintenance, thus saving you precious time in the morning. It's clean, simple and edgy. If you want to give it a more casual touch, pair your buzz cut with beard.
Ivy League
An Ivy League haircut is a real staple of business hairstyles for men. It's a kind of an upgraded version of a crew cut, with a longer top but still short sides. To get the genuine look, sport it with a side part.
Classic Taper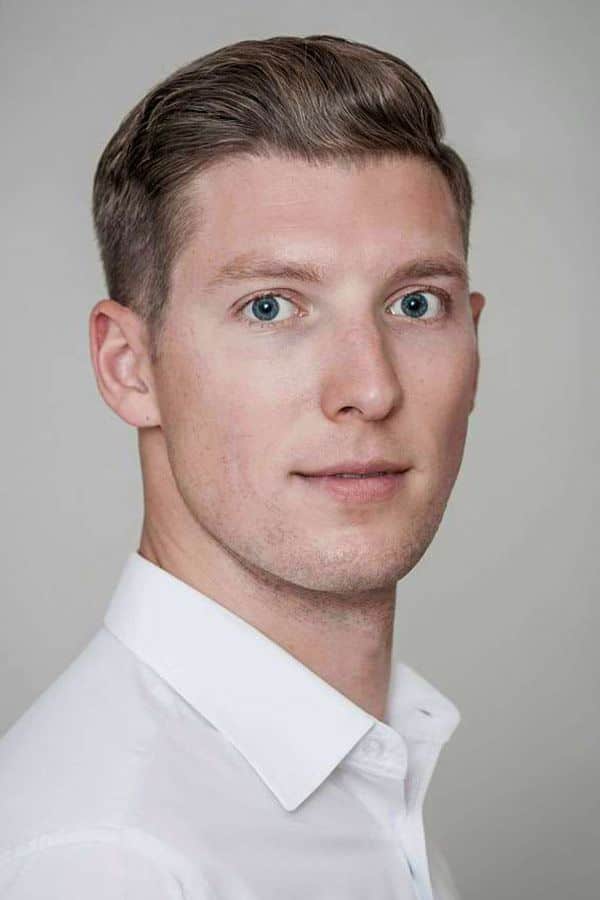 Source: @urednistvo.pricesk.robert via Instagram
A taper haircut is often regarded as a classic version of business male haircuts. Its exceptional contrast, created by a lengthy top and gradually tapered sides, makes this haircut extremely versatile.
Fade Haircut
Source: @lena_piccininni via Instagram
There are a plethora of reasons to love a fade haircut men often opt for. As it makes the look clean and neat, you can style the top in whatever way you want. Remember though that a faux hawk isn't the best choice for business professional men, so stay within reason.
Crew Cut
An original crew cut haircut combines a tidy and dapper look with high functionality, which are essential elements of many modern mens haircuts. Along with a stylish neat appearance, a crew cut doesn't pull over the public attention, thus we find it very convenient when you take the floor.
Modern Comb Over
A comb over haircut needs no introduction. It has long been known as a gentleman hairstyle. To make it keep up with the trends of modern haircuts for men, go with the maximum volume and the minimum texture on top.
Slicked Back
Slick back hair can be arguably named a calling card of modern haircuts for businessmen. Although a slicked back haircut is obviously not a new trend, it's surely on a roll now. Mind though that you need a really high-quality hair styling product that delivers a strong hold with a shiny finish.
Pompadour
Source: @kamilnizinski via Instagram
The pompadour haircut will perfectly accentuate your exquisite taste and striking confidence. Despite being particularly flattering for wavy and curly locks, it remains suitable for any hair texture. Such elegant hairstyles require an appropriate attitude, so don't skimp on styling products and time.
Side Part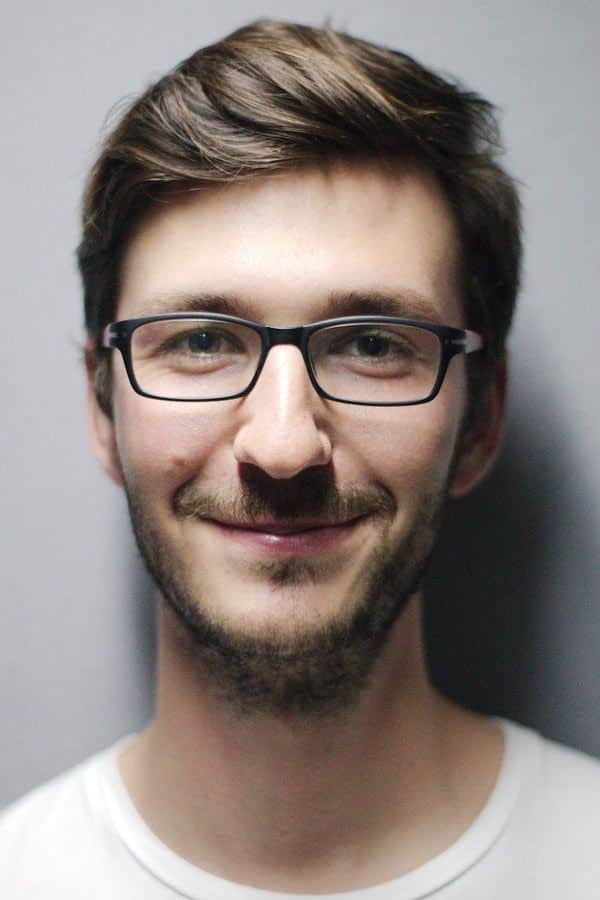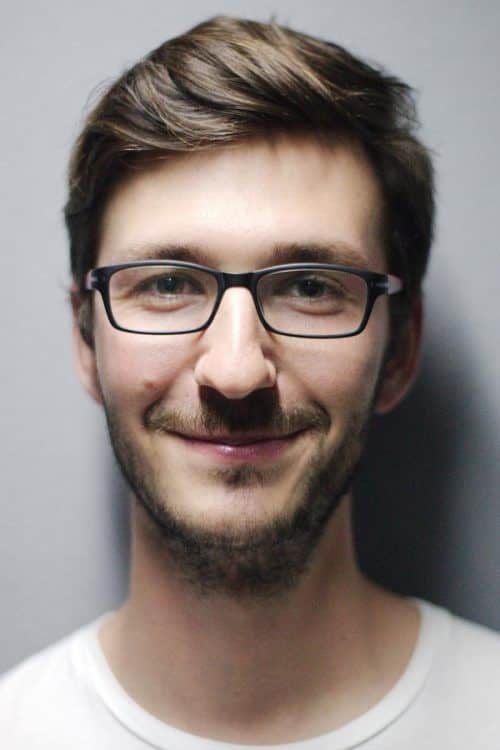 Surprisingly, a side part haircut offers you quite a lot of styling options. You can either go for a classic look, combing the hair to one side and letting it fall into a part naturally, or get a professional haircut with a hard part for a modern and saucy look.
Brushed Back Curly Hair
Source: @lanedorsey via Instagram
As a rule, curly hair men underestimate their natural hair texture and give up on styling. Good news is with a little effort, you can achieve a stylish and elegant look. Simply brush back your locks and you'll get a slicked back hair style with a unique twist.
Medium Hairstyle
You can ask: "Is men's long hair unprofessional?" and we have answer for you. Medium length hairstyles have plenty of advantages over other men hairstyles. In addition to being extremely versatile, they can be effortlessly styled to fit any ambiance, from casual to professional. Hence, getting a mid business haircut is one of the best ideas for guys who are always on the go, as you can easily transform it into a trendy style if you go out after work.
Quiff Hairstyle
A quiff can spruce up any look, as you are free to style it in many different ways. To make it appropriate for work, give it an elegant and refined appearance. And when you are planning to hang out with friends, make the quiff look a bit messy and tousled.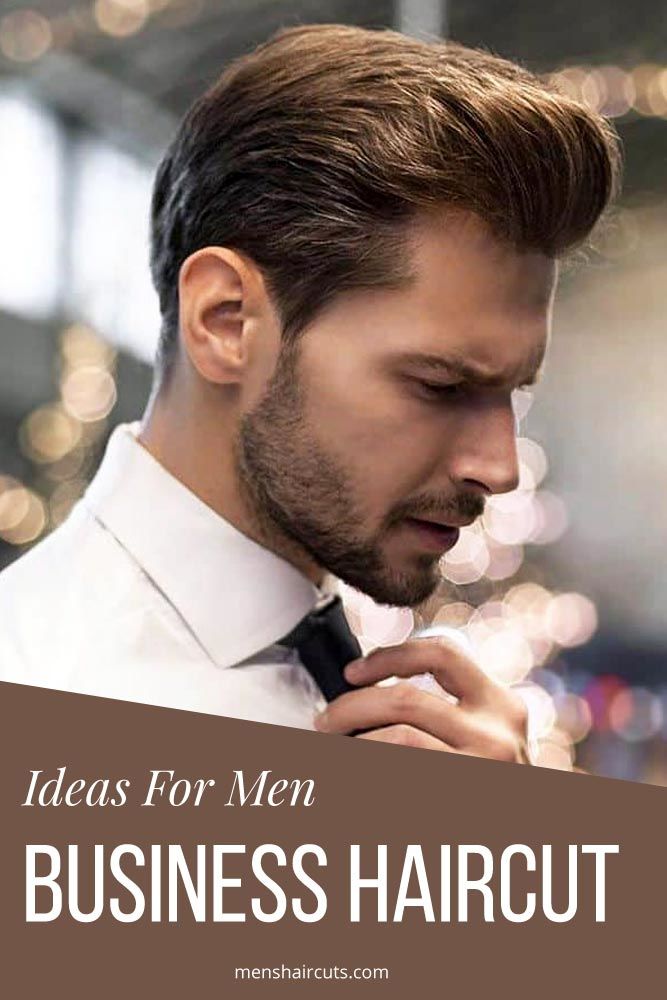 Making the right choice with the business haircut is so crucial not only because the first impression matters. When you have a hairstyle that makes you take pride in your hair, it encourages you to feel confident, persistent and positive, which are intricate features of a true leader. Thus, don't hesitate on getting one of the greatest professional hairstyles we selected.