So, what exactly is the taper haircut? It's short haircuts for men when the hairstylist leaves the hair on the top of your head long, and then buzz cuts the hair on the sides and back of your head in a progressive manner or, in other words, "tapers" the hair toward your neckline. And, how long is a taper haircut? Generally, it is anywhere between 2-4" long.
*We may earn money from affiliate links on this page. Please check out our disclosure policy for more details.
What Is A Taper Haircut? All You Need To Know About Tapers
The taper haircut offers a lot of styling options. You can part it on either side, brush it back, create a faux hawk, fashion a pompadour, spike it, or do anything you can imagine, really.
The taper hair cut has a few "relatives," each of which varies the length of the hair on top and/or the manner of the taper. The taper fade haircut is one such variation. With this haircut, the taper keeps on going along the sides and back until it merges or "fades" into the skin.
Source: @alan_beak via Instagram
Taper Haircut Types
Almost all barbers know what you want when you ask for the classic taper haircut. But of course, bringing a picture will always help to get really wright result. Decide what type of taper haircut you like and suit more and then boldly go to your stylist!
Classic Taper vs. Taper Fade
What Is The Difference Between A Taper And A Fade?
A lot of men confuse a taper with a fade haircut. So, let's sort things out. A taper cut is more classic for the most part. In this cut, the hair on the back and sides smoothly shortens from the top toward the hairline. When it hits the ear, it curves around it and goes down toward your nape. With a fade, the hair on the back and sides is usually cut much shorter compared to a taper. It can also be skin faded at all levels. Thus, your hairline is minimized. Moreover, there are many more hairstyles to pair with a fade, such as an undercut fade, a comb over fade, a mohawk fade and a lot of others.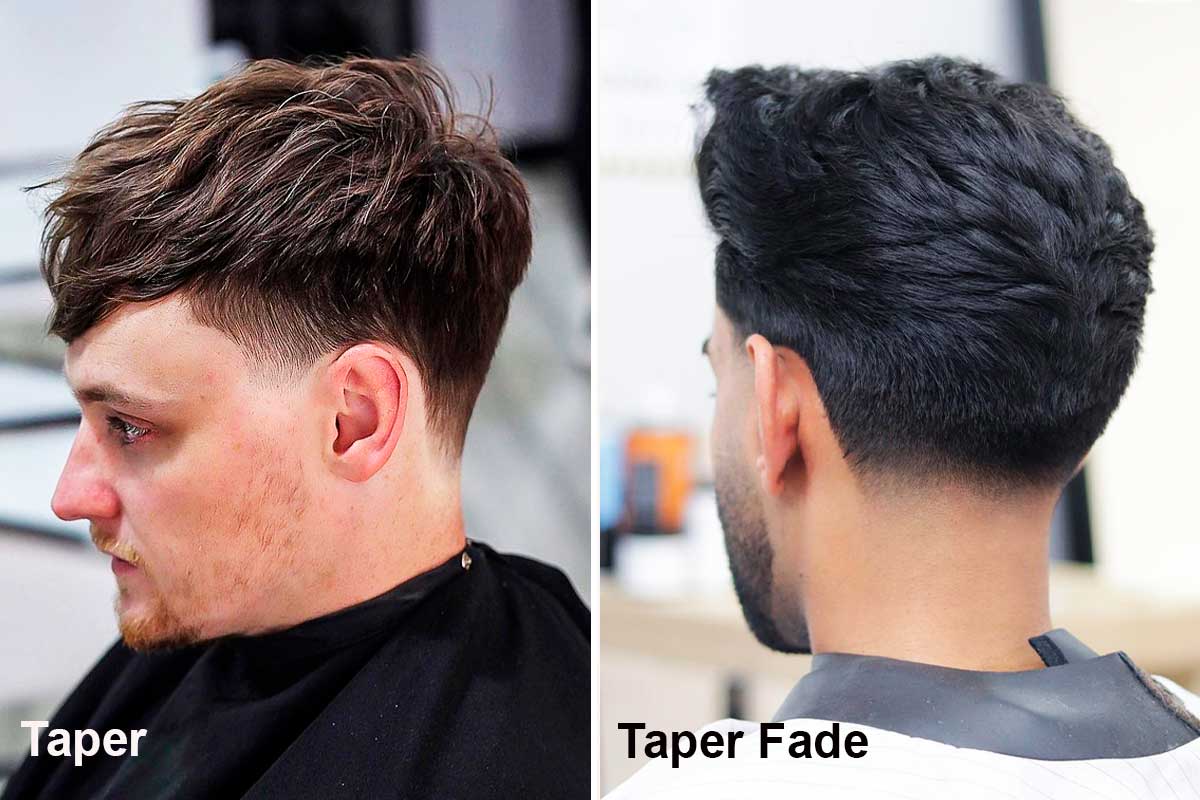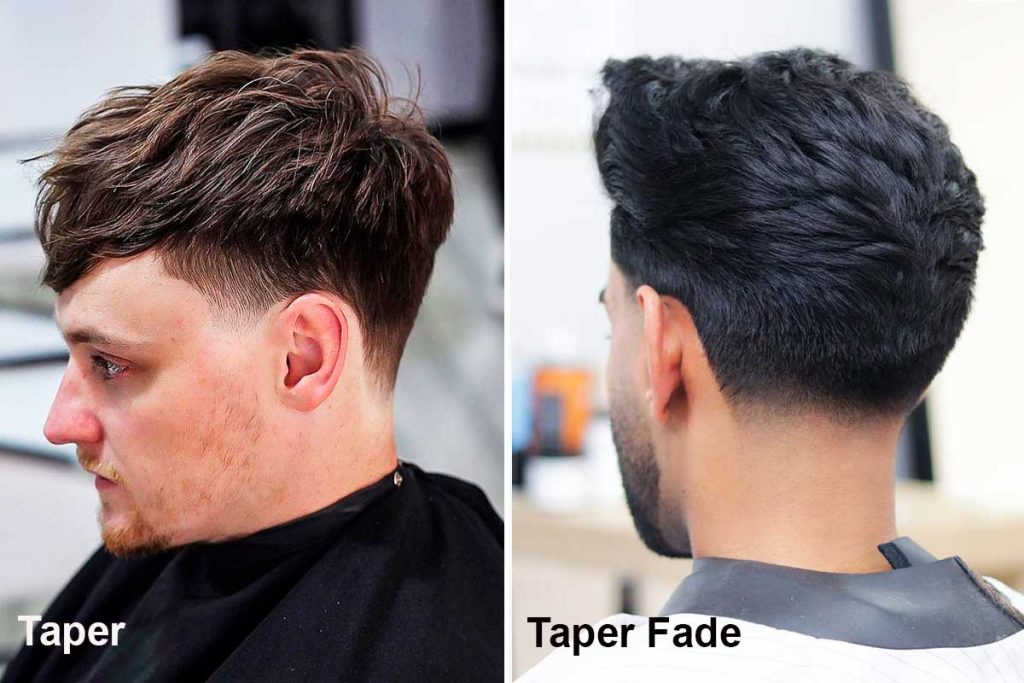 Source: @ryancullenhair, @alan_beak via Instagram
While the classic taper haircut and the taper fade haircut resemble, they differ in particular ways. It's a bit hard to tell at first glance, and you might not be able to readily tell if it's taper vs fade or fade vs taper. But, here are some basic differences:
Hairstylists use scissors to cut a taper hair cut and clippers to cut a taper fade haircut.
Taper fade haircuts might make you look like you're balding. Such isn't the case with taper haircuts.
Taper fade haircuts require little upkeep. Taper haircuts require upkeep.
Your hair moves readily in a taper hair cut. Not so much in a taper fade haircut.
Styling a taper haircut is very easy. The volume is built into the haircut. If you want more, however, with just a comb and styling product, you can create a host of great looks. Fashion a slicked back look, comb over, side part, or pompadour, just to name a few. It takes only a few extra minutes, but it's definitely worth it.
Low Taper Haircut
In addition to deciding to get a taper haircut, you also need to decide where you want the taper to start and end or consider a variation. One such variation is a low taper fade haircut. With the low taper fade, the taper starts about an inch over the ears and is closer to the neck and ears than other tapers.
Source: @spukthebarber via Instagram
i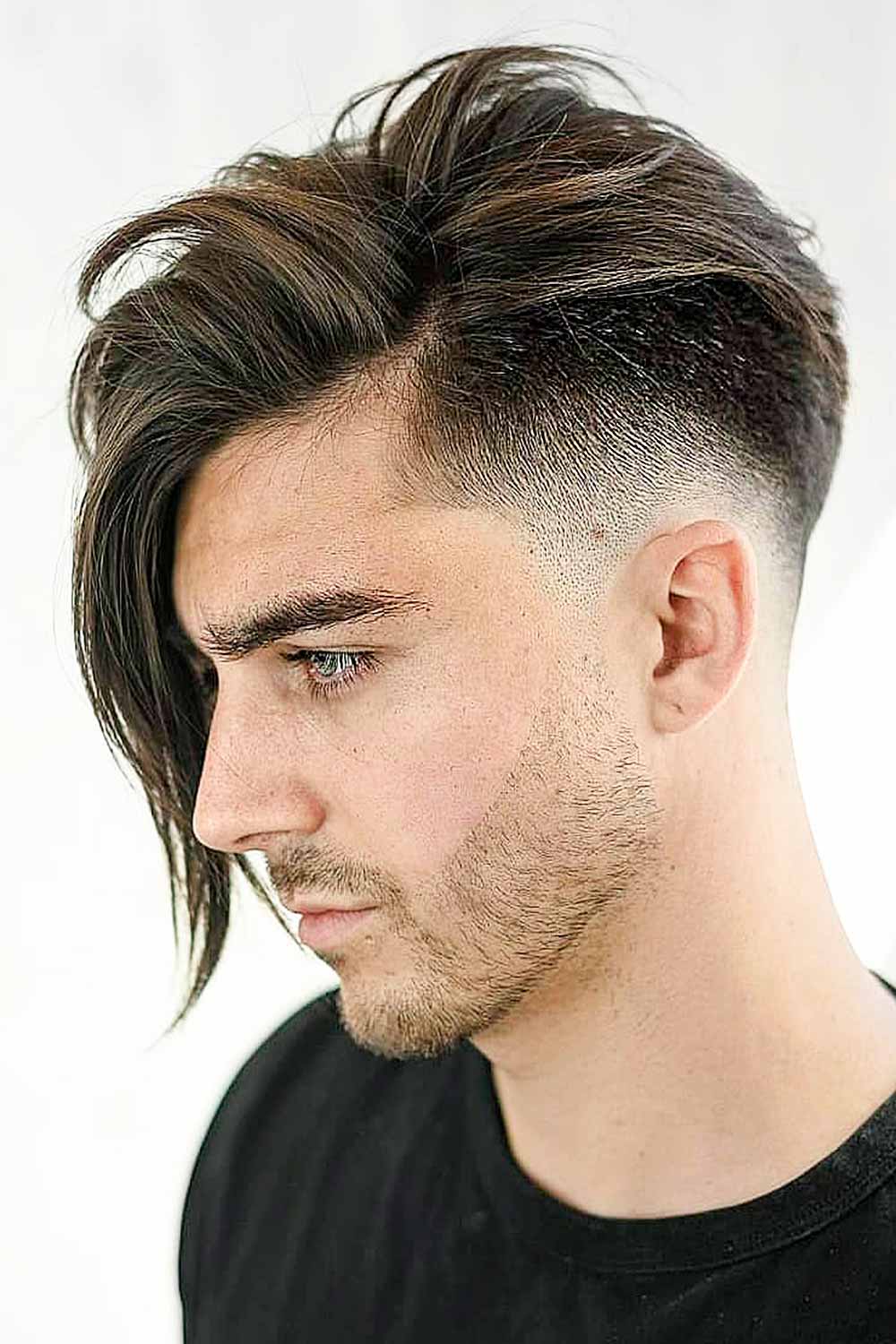 Source: @z_ramsey via Instagram
i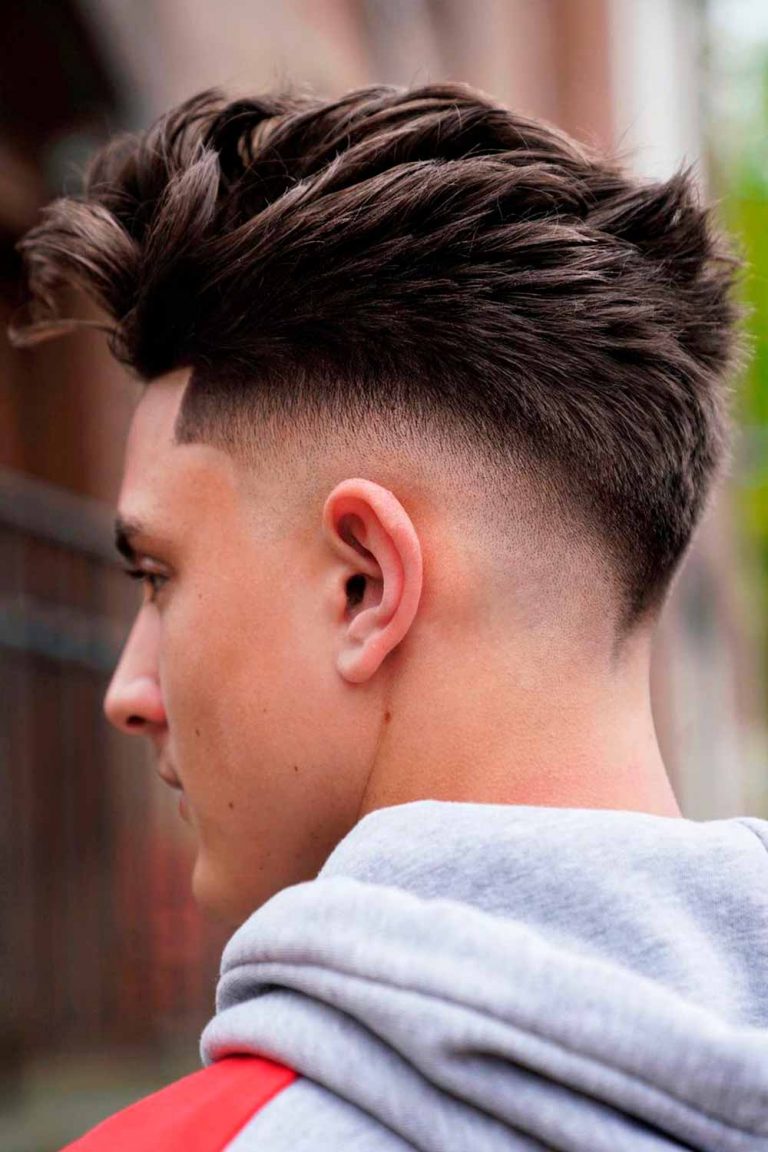 /
Classic Taper Haircut With Parting
This men's taper is a classic choice for haircuts. The sides are buzzed short close to the ear and gradually get longer as the hair nears the top of the head. With short sides and a combed back top, it's a fresh, neat style to wear to work.
Source: @ahmetaslanhairsalon via Instagram
i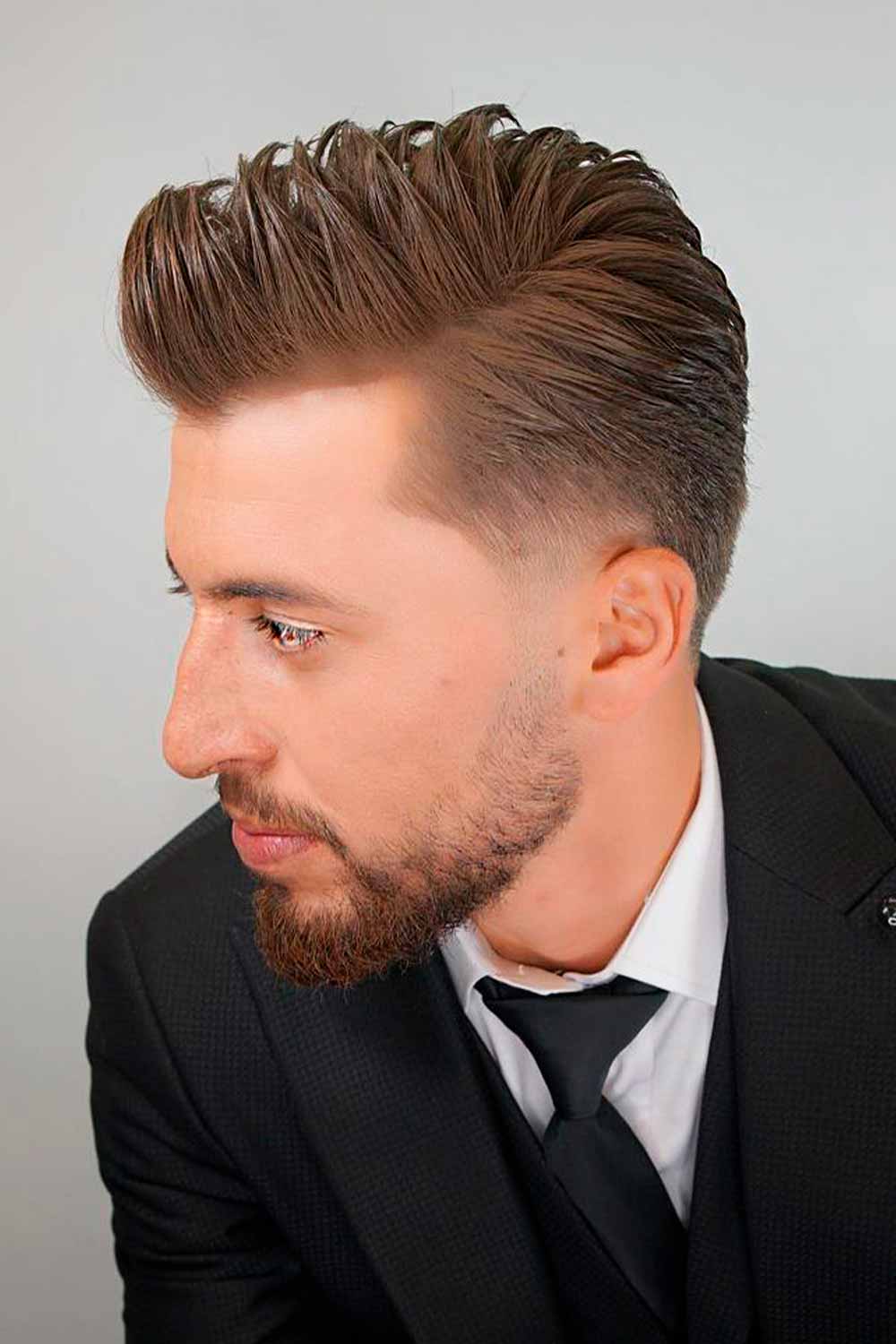 Source: @ahmetaslanhairsalon via Instagram
i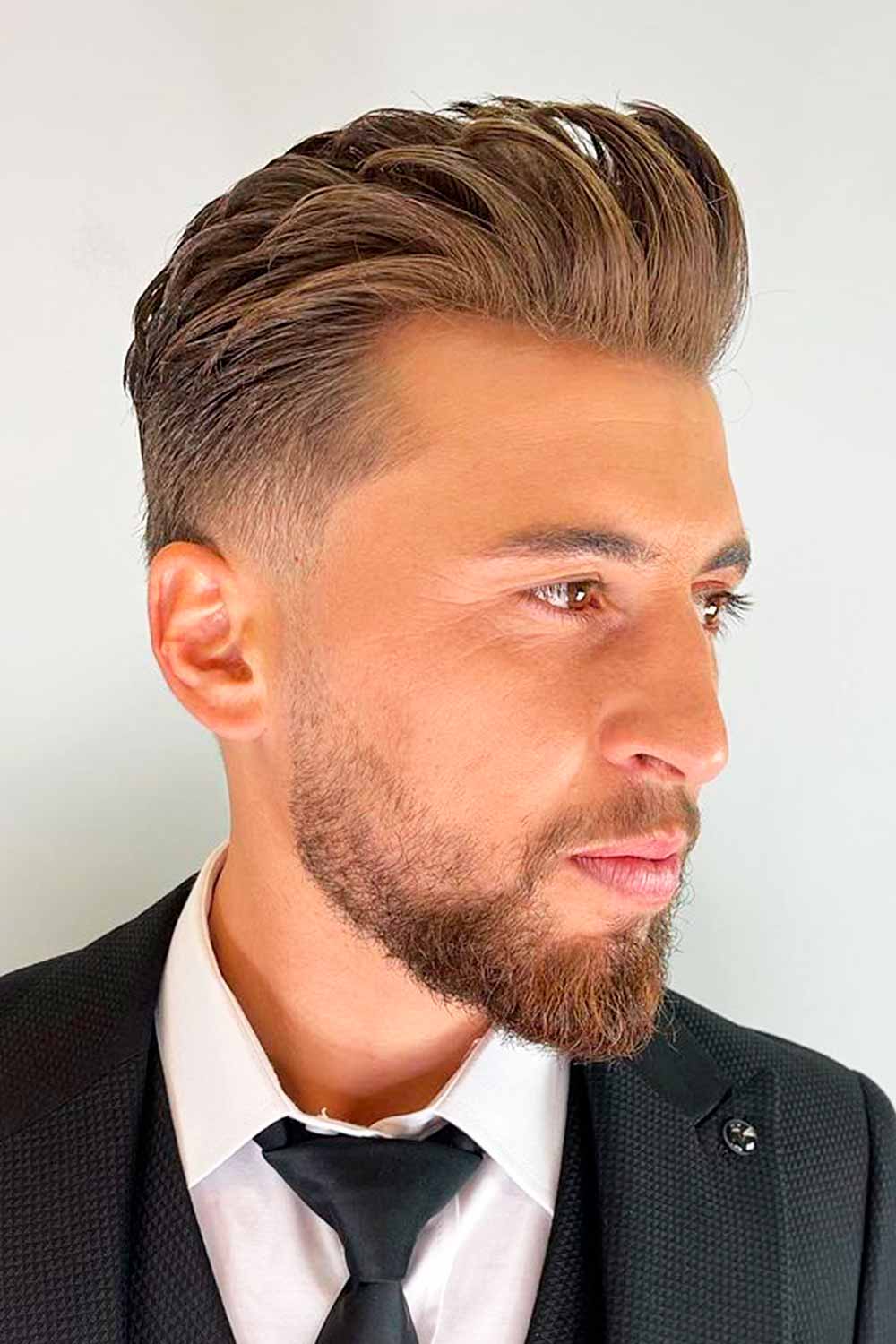 Source: @ahmetaslanhairsalon via Instagram
i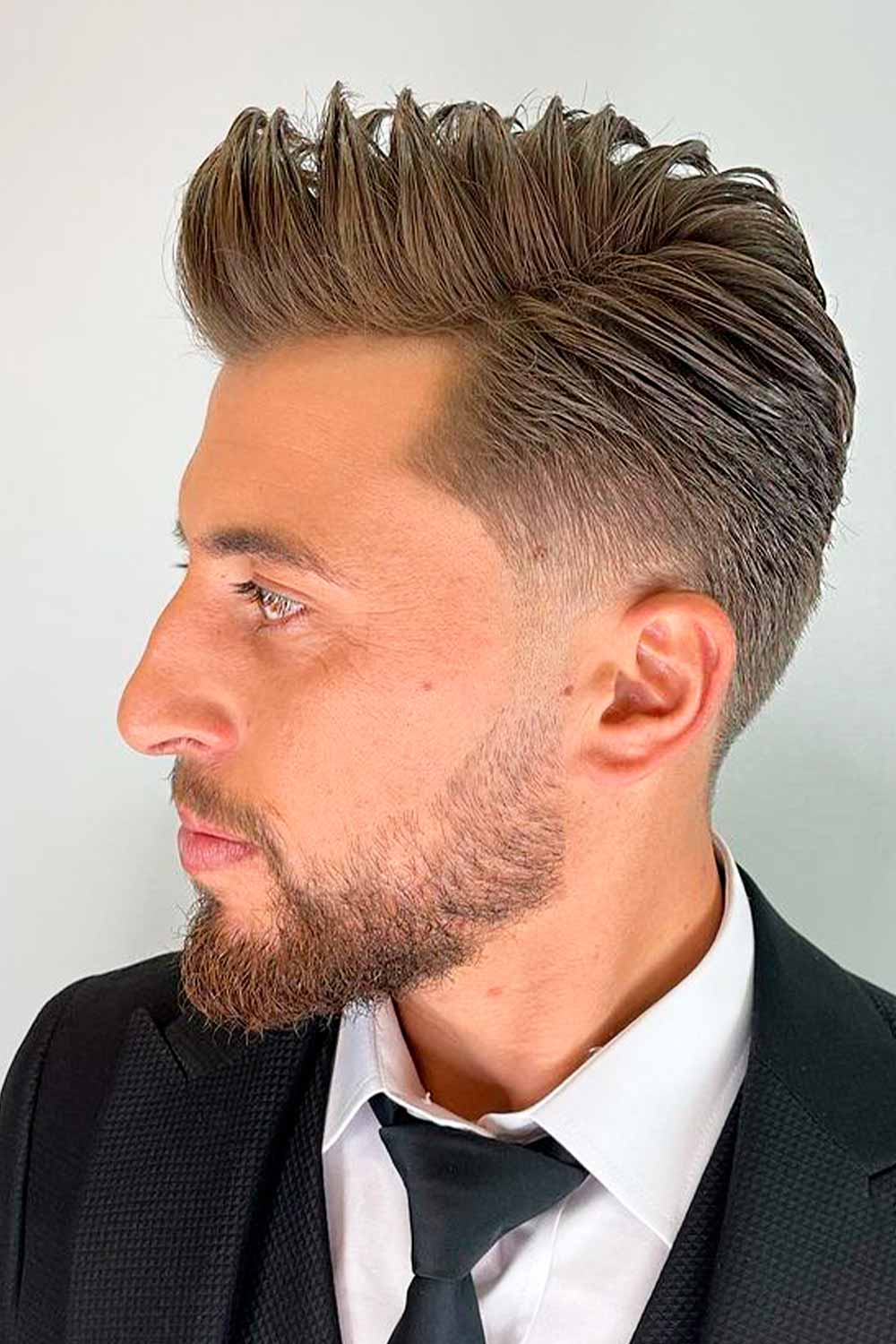 Source: @alan_beak via Instagram
i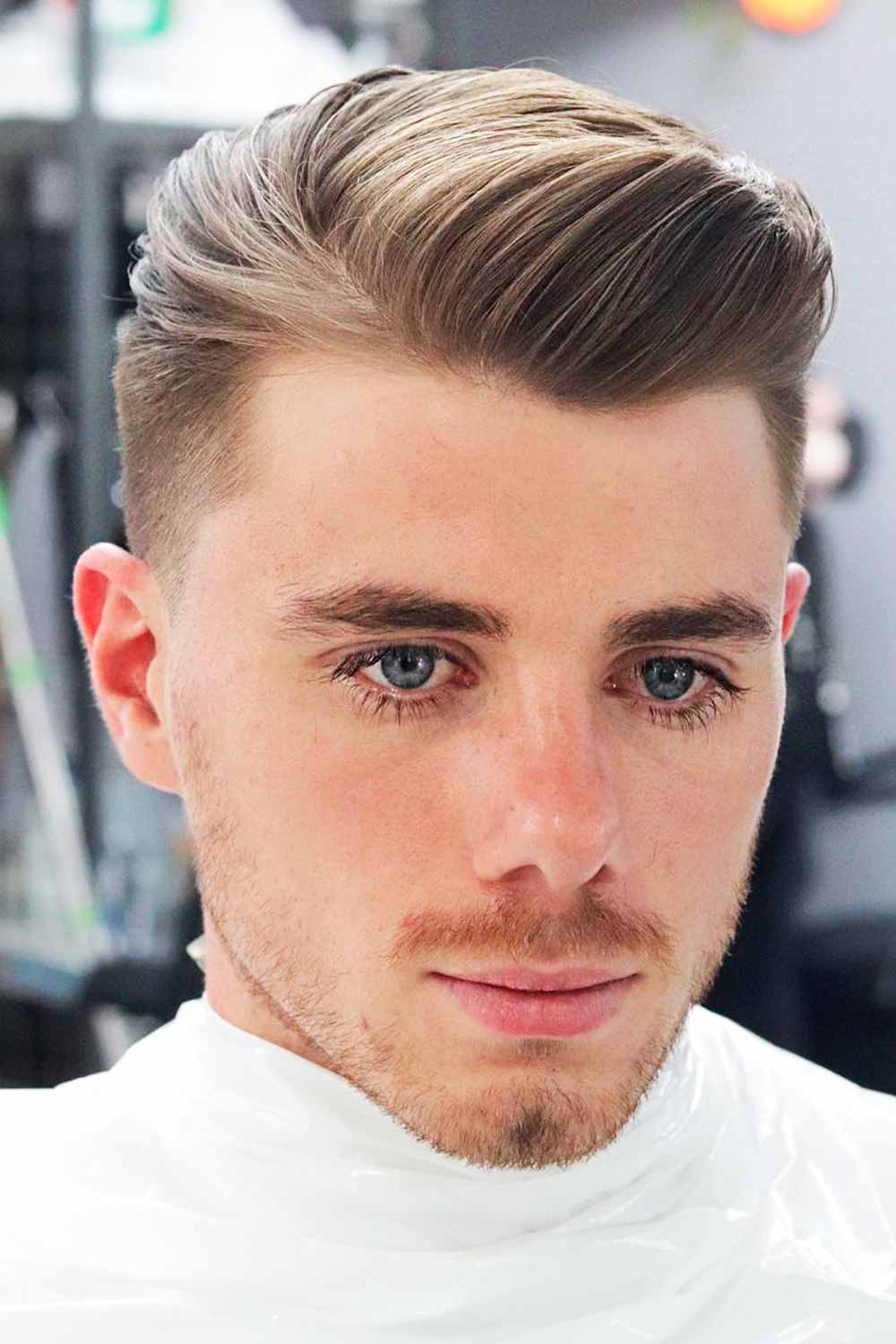 /
Brushed Back Short Waves
After washing your hair, apply some styling products and blow-dry your hair brushing it in the back. Rub in a small amount of styling putty or pomade between your hands and work through your hair to shape and lock in the style.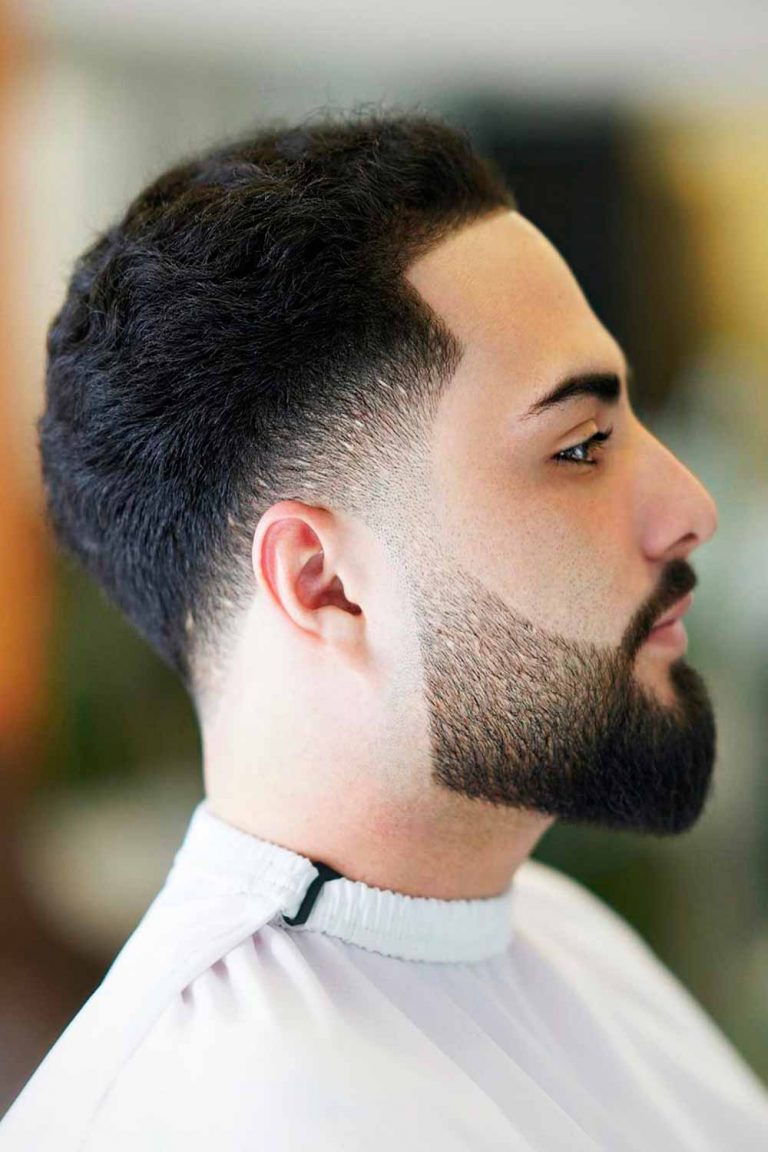 Source: @xbigwesx via Instagram
Tapered Sides with Long Comb Over
If you prefer to keep your hair longer, a taper comb over haircut will help with that. This one features long hair about 3 inches in length combed to one side. The sides are tapered low so all the attention is drawn to the top. With brunette color, it's a boy-next-door vibe, but if you go with blonde, you'll get major surfer style.
Source: @ahmetaslanhairsalon via Instagram
i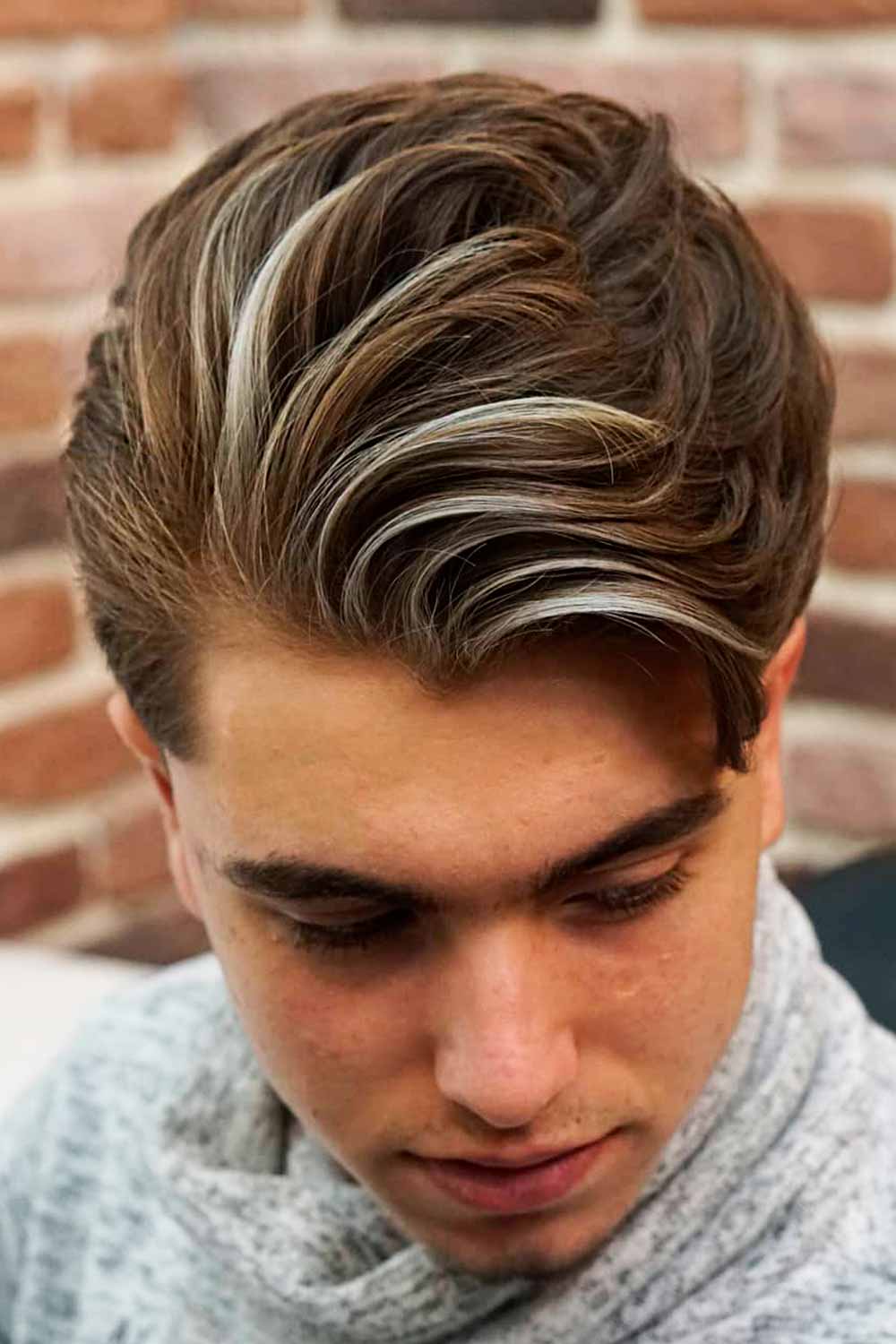 Source: @ahmetaslanhairsalon via Instagram
i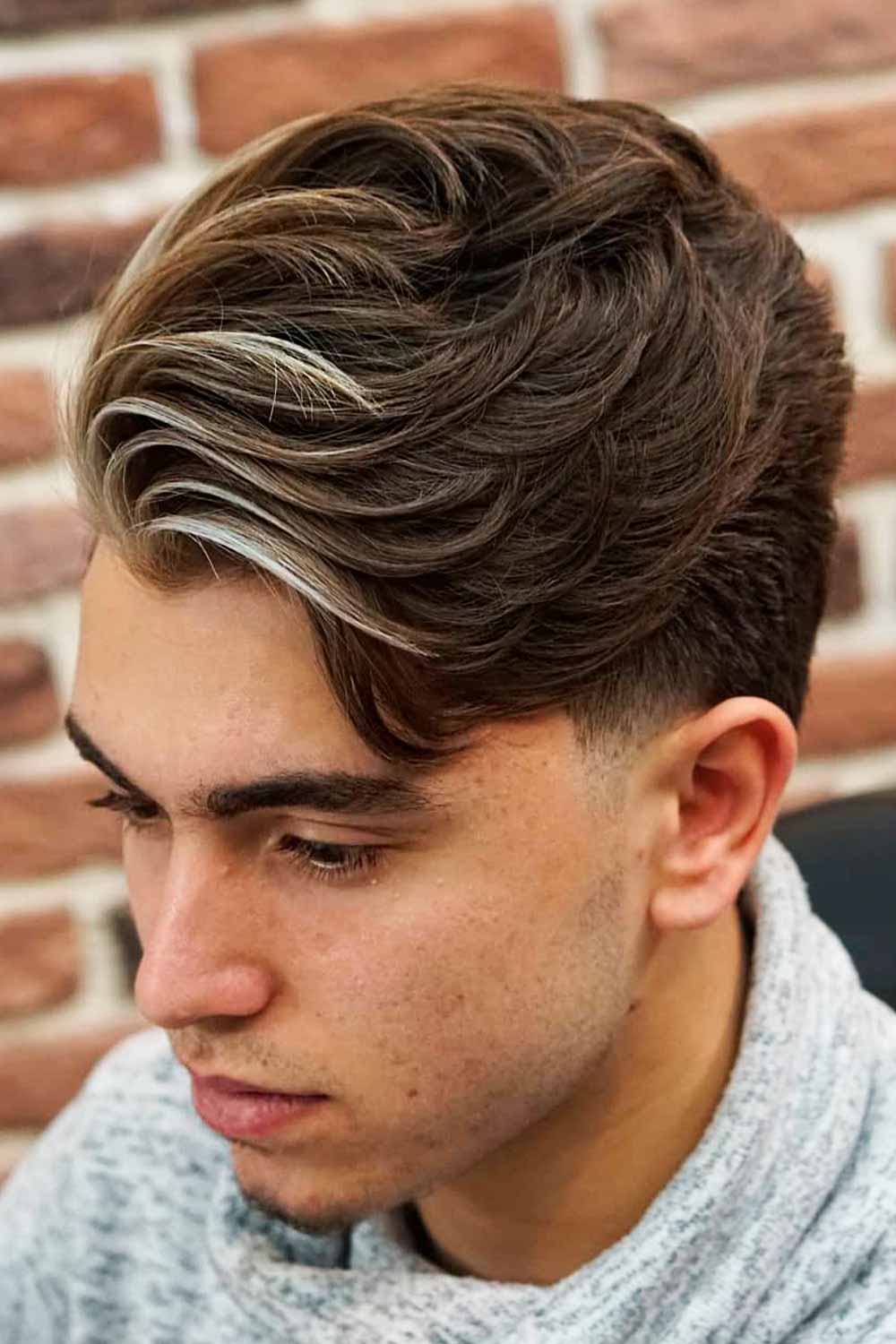 Source: @ahmetaslanhairsalon via Instagram
i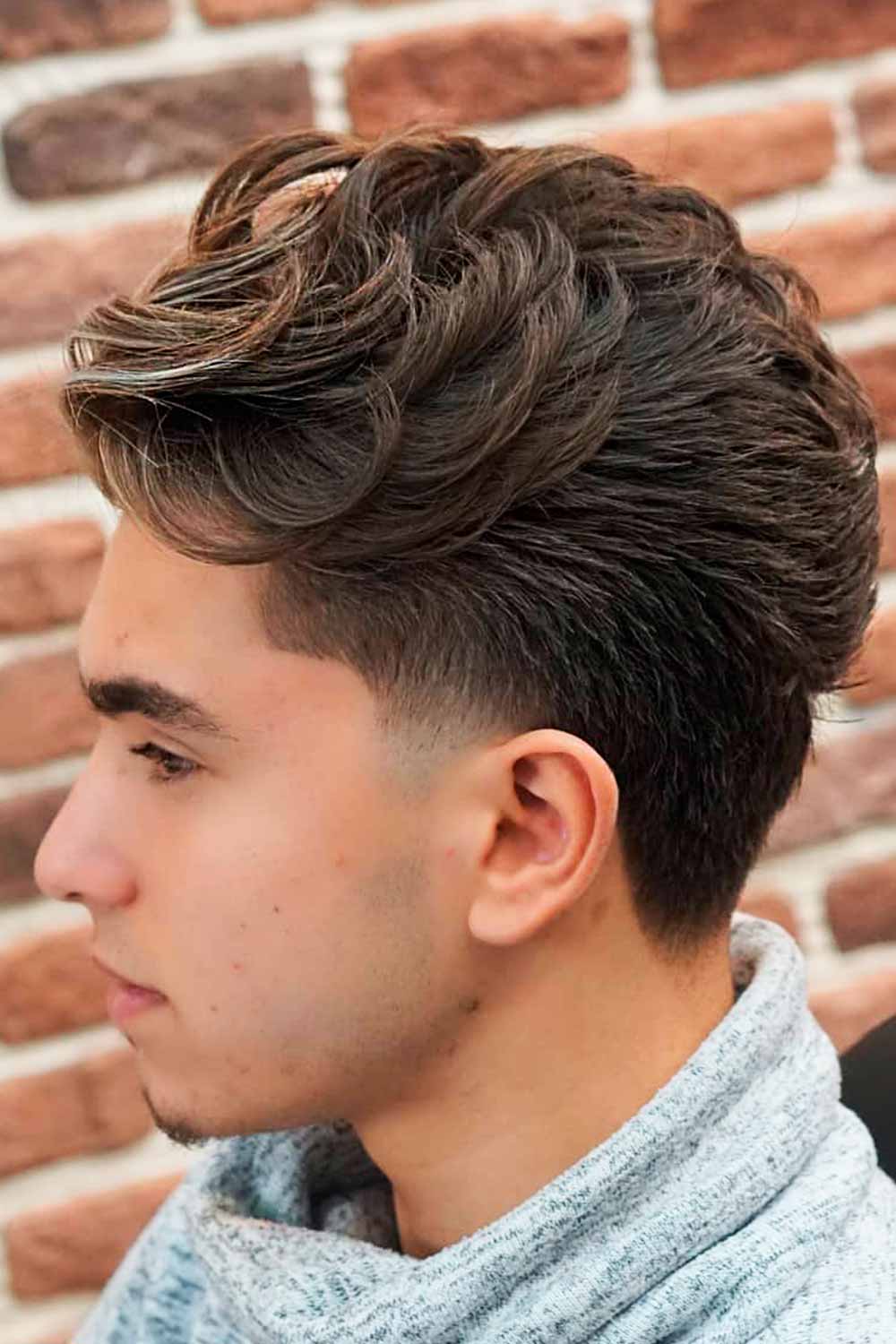 Source: @egobarbers via Instagram
i
/
Low Neck Taper Fade
One of the best things about a taper fade is that it can go as low down your neck as you want. Therefore, if you are not into a particularly sharp and bold haircut, then a low neck taper fade is a perfect solution for you. Although it does not take a lot of hair from your head, it still makes your hair look spick and span.
Source: @birdcobarbers via Instagram
i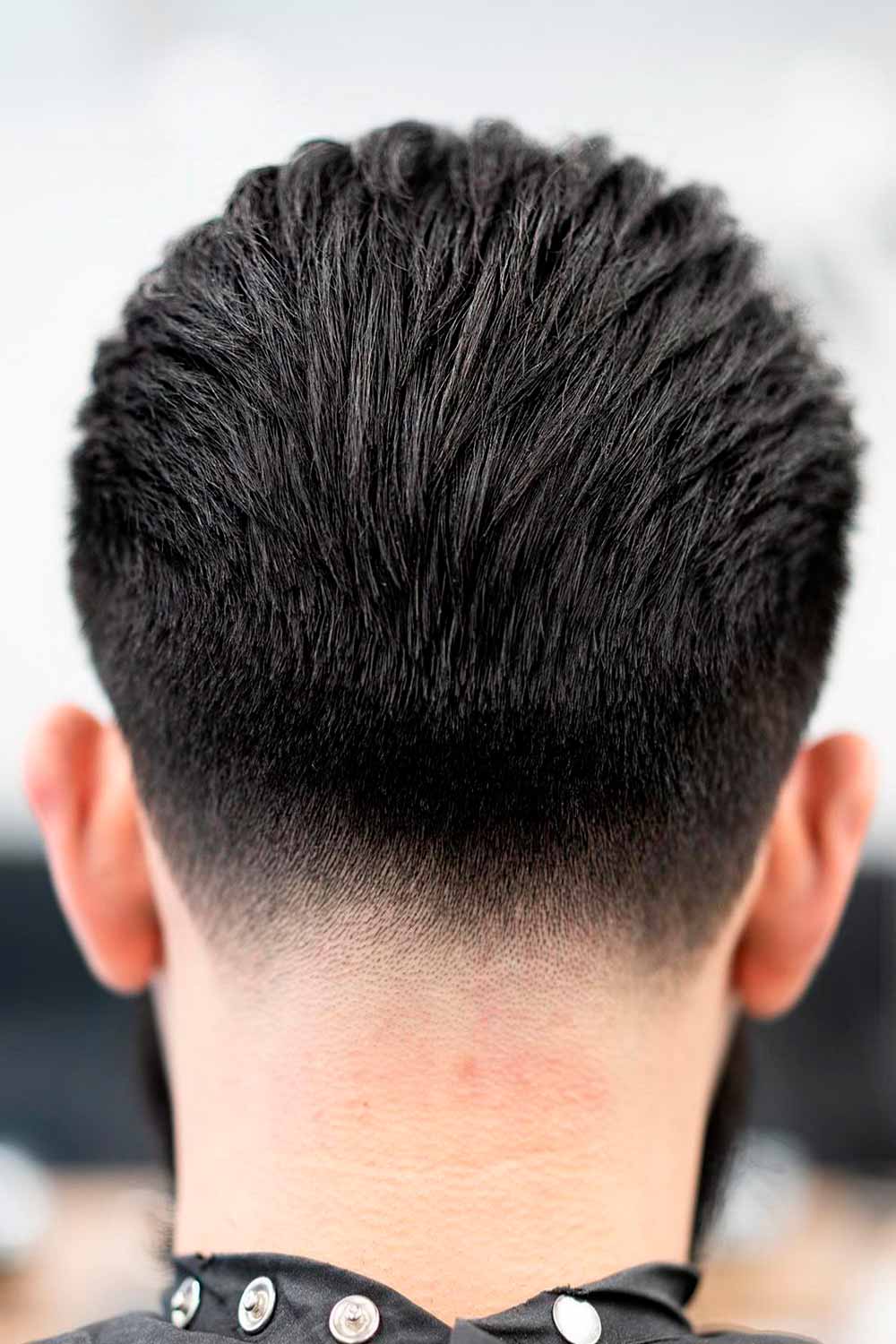 Source: @barbersofbt45 via Instagram
i
/
Brushed Back Low Taper
After shampooing, use some styling product or thermal protector, blow dry your hair, and finish with pomade or styling gel. Slick back your locks with a brush or use your hands. The more styling product you use, the stronger your hair will get slick and shiny.
Source: @birdcobarbers via Instagram
i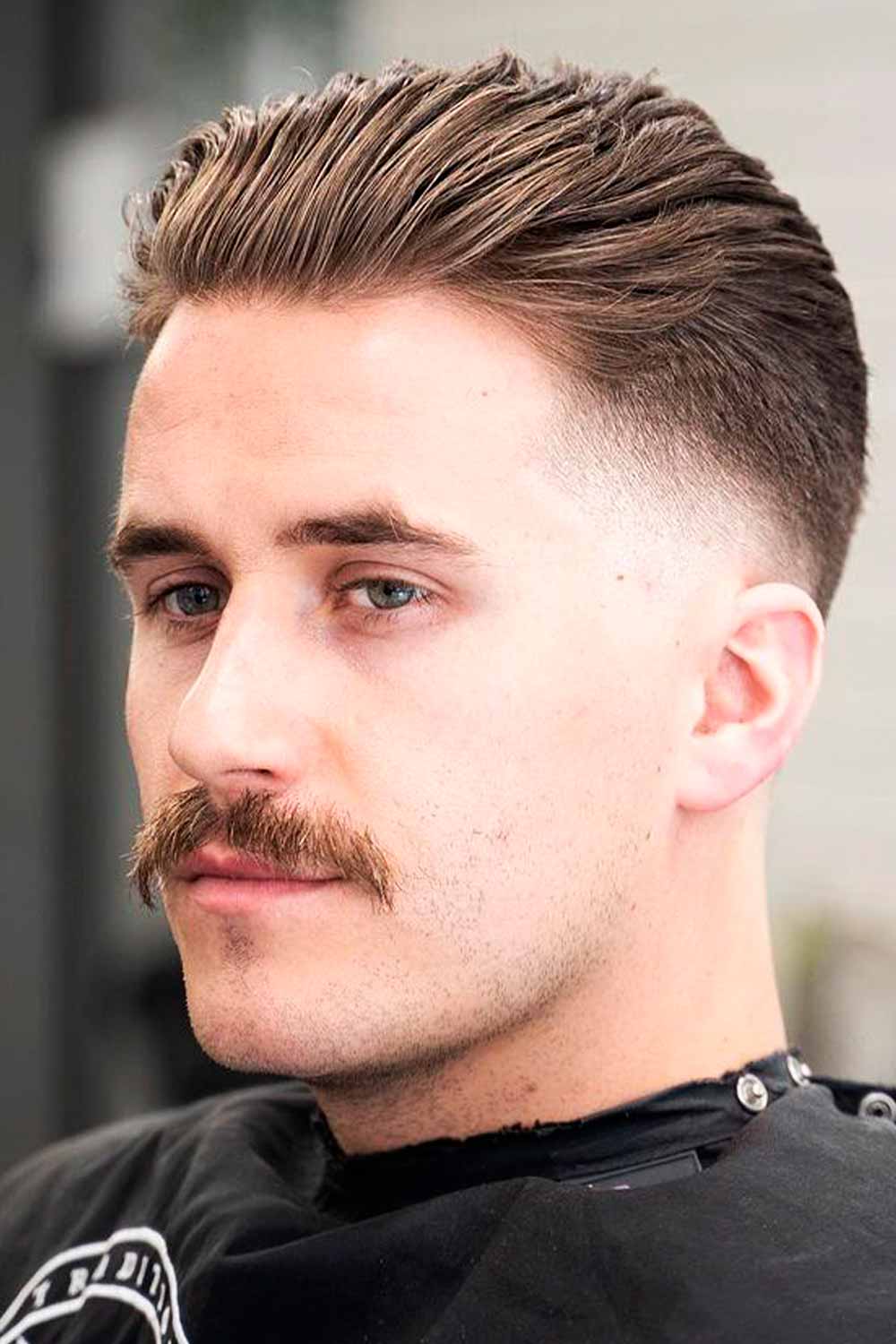 Source: @birdcobarbers via Instagram
i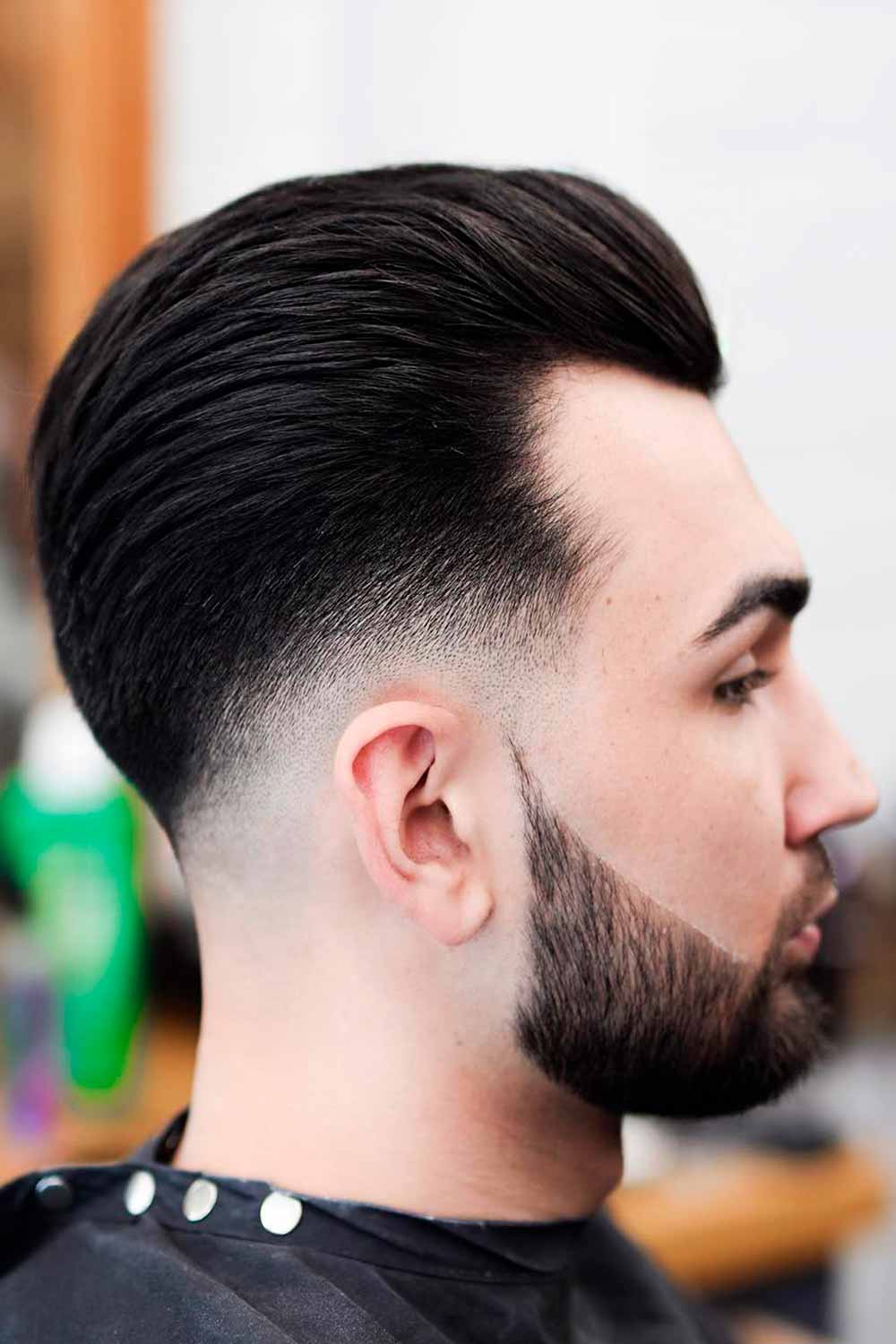 Source: @birdcobarbers via Instagram
i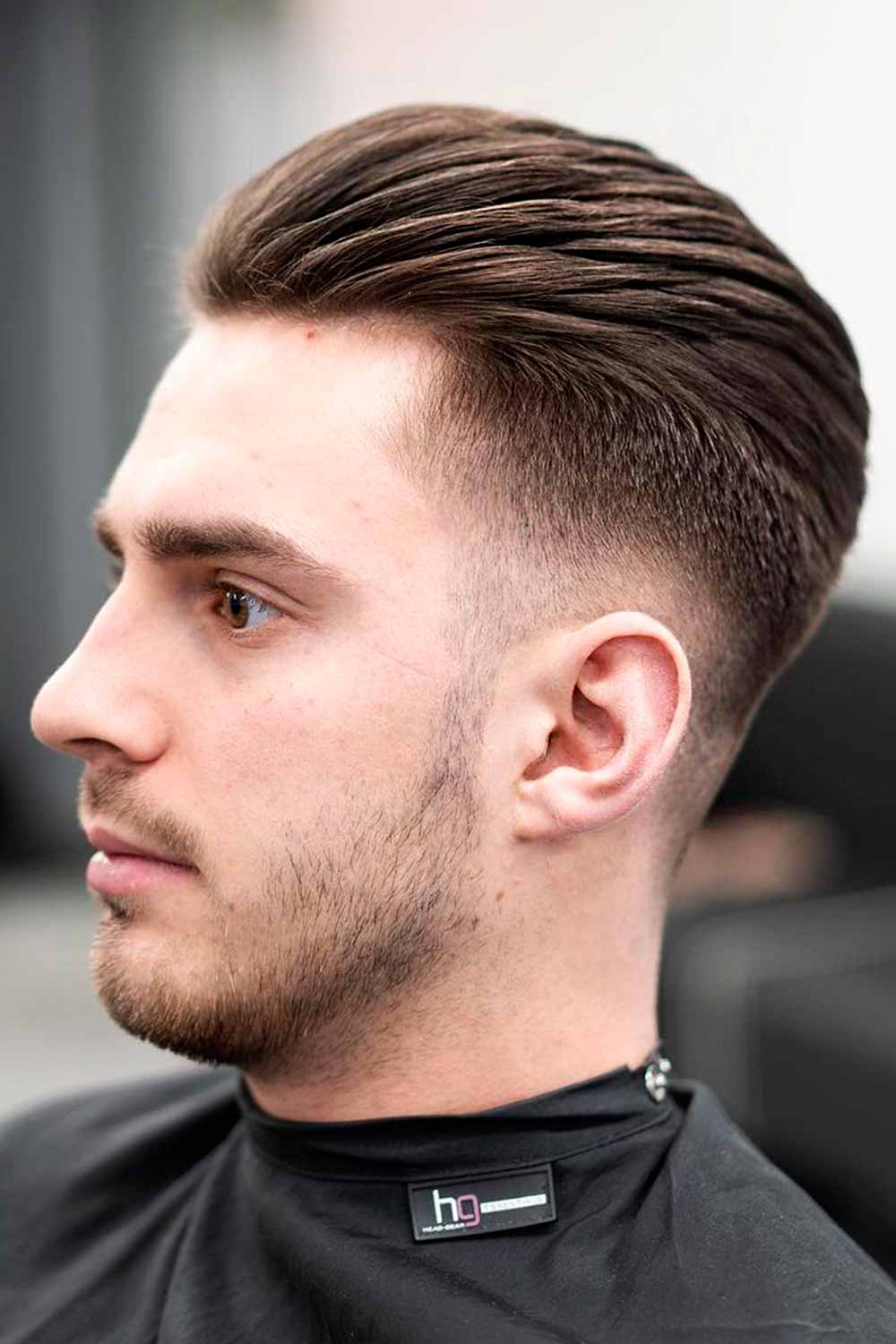 /
Mid Taper Haircut
An undercut, where the back and sides of the head are buzzed very short, emphasizes this model's mid taper fade. It commonly sits above the ear, under the temples.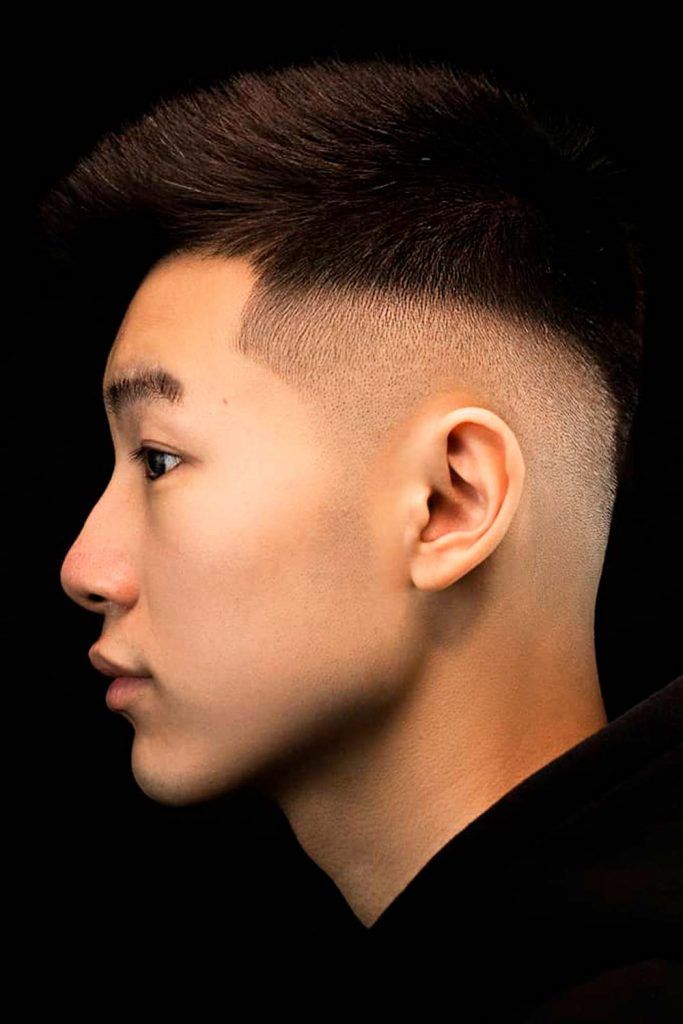 Source: @barberking_kh via Instagram
Classic Scissor Cut With Beard
A classic tapered cut is one to keep in the books for a style that always looks good. If your beard is on the thicker side, the contrast of it with short sides and scissor-cut top is quite handsome. Keep the medium taper fade trimmed up for the best balance of short with a brushed up long top.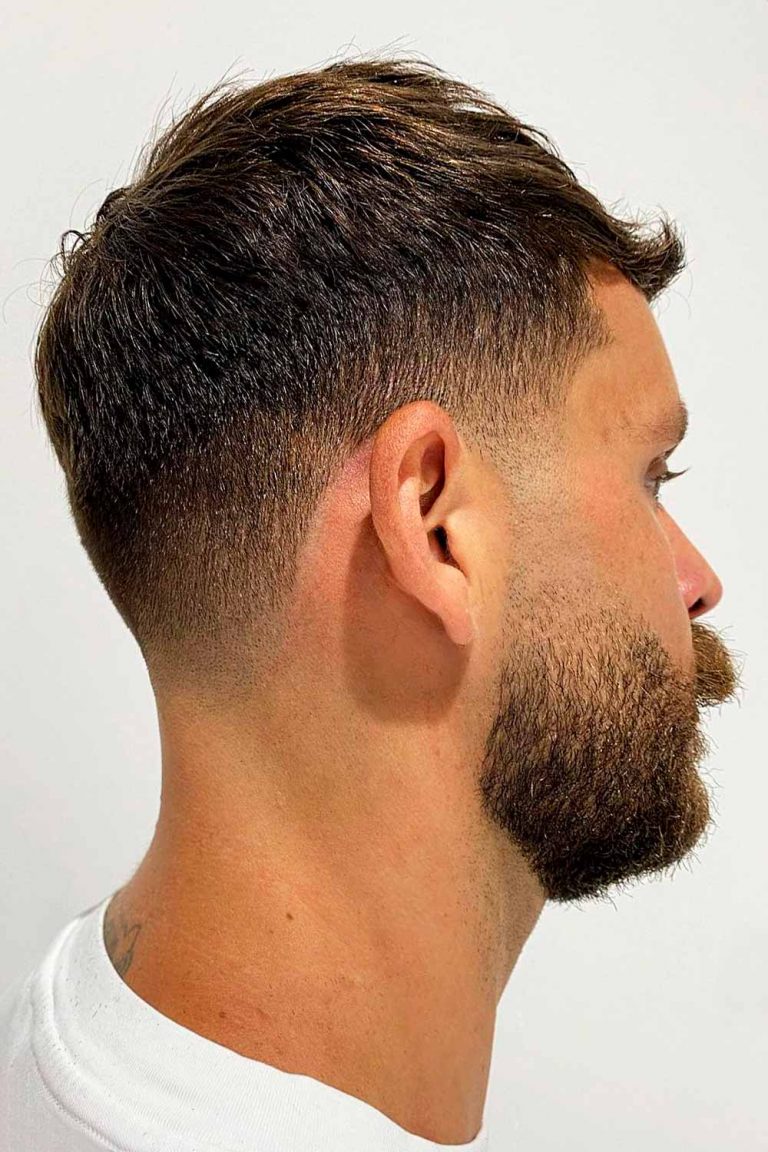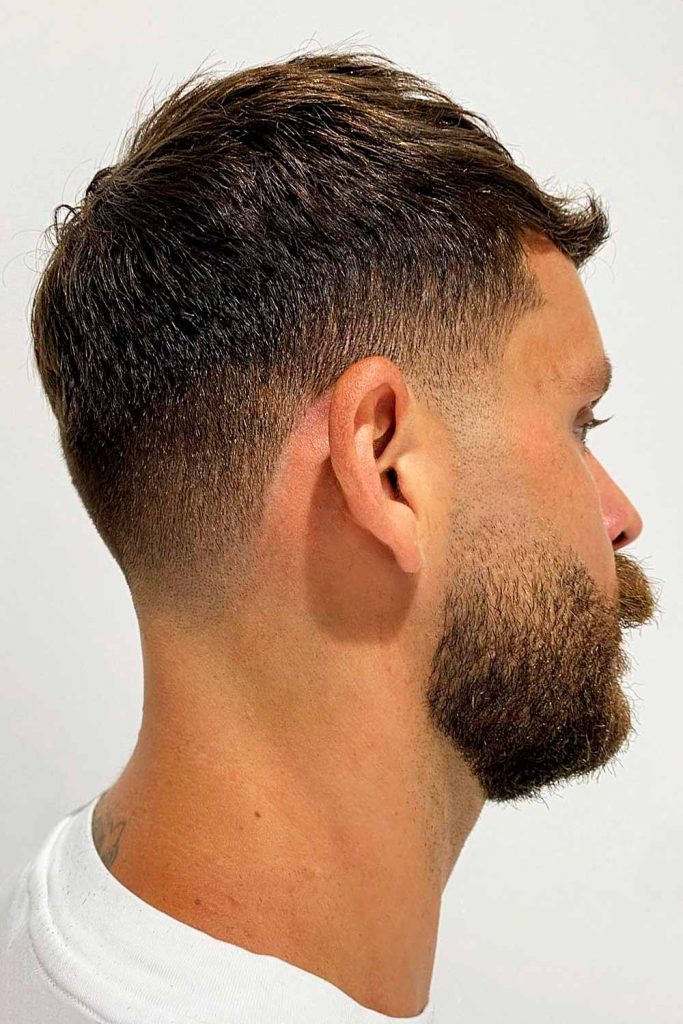 Source: @alan_beak via Instagram
High Taper Haircut
As you can see, with some imagination, and some styling product, the taper haircut lets you do anything you want. The low fade and high taper haircut fade are amongst the most popular variations. The high taper fade usually blends away about two inches from the top of the head.
Source: @cheobarberpr via Instagram
Taper Fade
A taper fade is an extremely popular haircut for good reason. It always comes out flattering no matter what style you are going for on top of your head. Thanks to the shorter sides, you make your crown the focal point of the whole look. Besides, it helps you tame the locks with its neat and clean silhouette.
Source: @sidsottungacademy via Instagram
Brushed Back Scissor Cut
You can get a tapered men haircut with the help of hair clippers or scissors. In the latter case, the haircut looks more textured and voluminous. For an added emphasis, brush the hair back using a wide tooth comb and a blob of a hair mousse.
Source: @z_ramsey via Instagram
Short Taper Fade With Crop Top
If you think that a crop top is a boring and old-fashioned hairstyle, then you have not tried to pair it with a short taper fade on the back and sides. It is noteworthy that you can adjust the style to fit any ambiance. For a more formal and restrained appearance, go for a low taper fade, whereas to achieve a bolder and sharper look, opt for a high taper fade.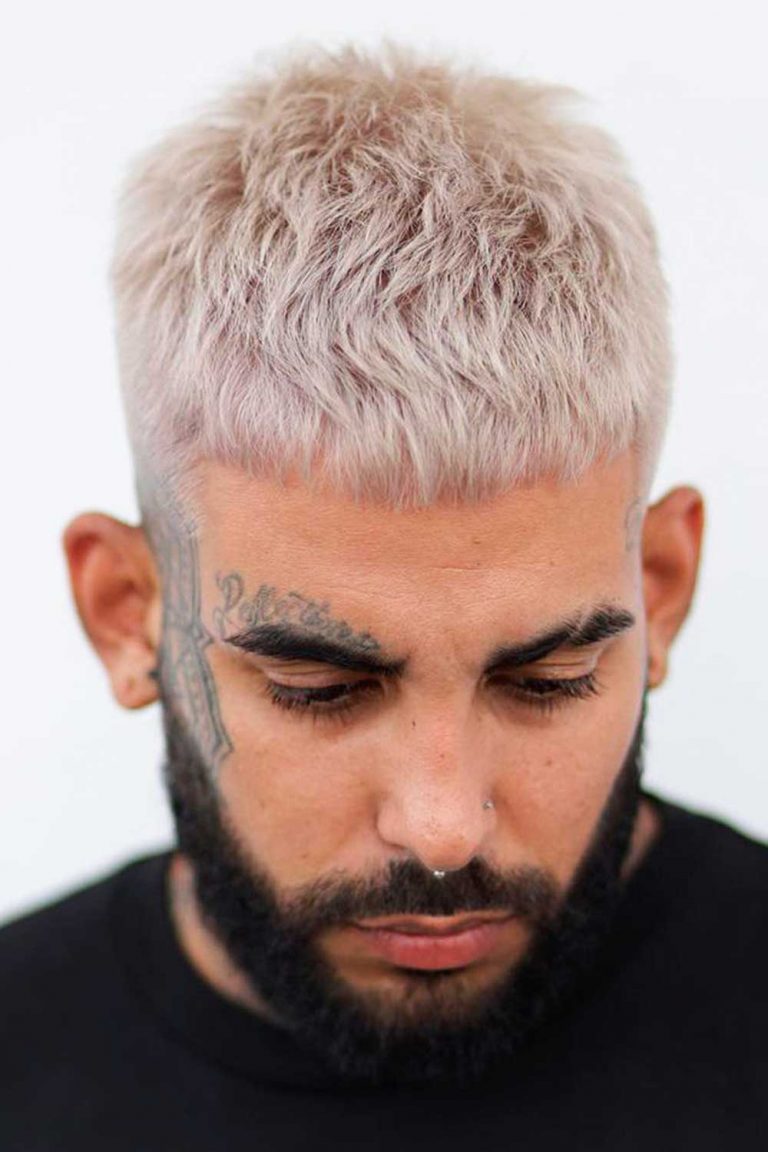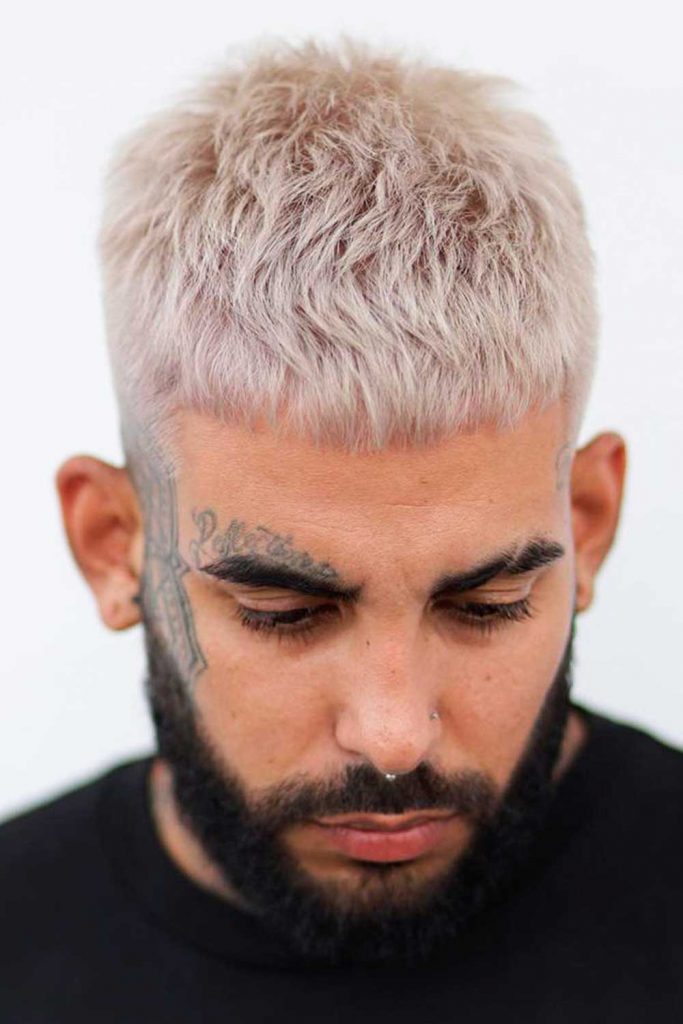 Source: @cheobarberpr via Instagram
Fresh & Clean Tapers
With a fresh taper haircut men may feel like newly born. If you want to experience this sensation too, do not hesitate to ask your barber for a clean taper haircut.
Source: @xbigwesx via Instagram
Styled Pompadour
To draw attention to a pompadour, a high bald taper is just the thing. The top is about three inches near the hairline and features shorter layers as it nears the back of the head. The temples are prominent with detailed shaping. With a cleaned up neckline and the suave thick layered style up top, this cut is especially flattering on many face shapes.
Source: @hayden_cassidy via Instagram
Tapered Side Part
Another stylish way to wear a tapered cut is with a side part. You pick your good side and the stylist either shaves in a hard part or simply separates the hair at the point above one eyebrow's center. Use a bit of mousse to comb the hair smooth and give it a bit of wave. To keep the overall style fresh and neat, make sure to regularly groom your facial hair to avoid a messy look.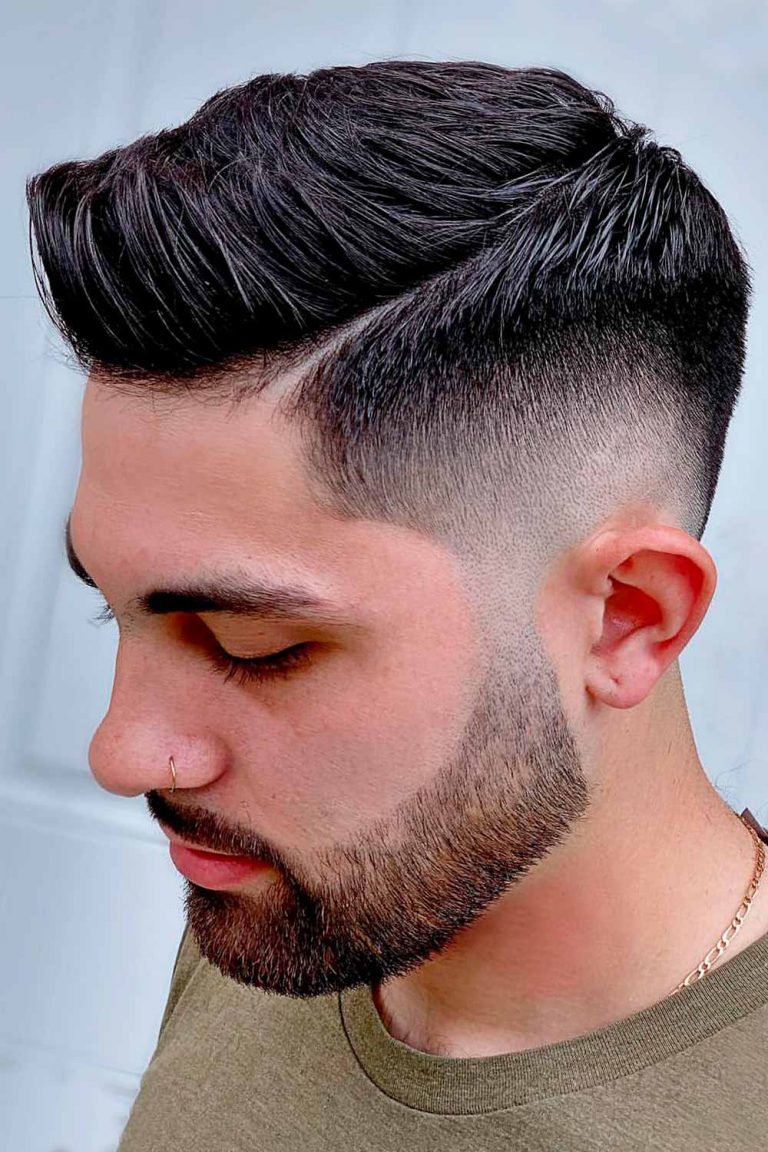 Source: @alexthegreatvivar via Instagram
Textured Brushed Up
A skin fade taper allows you to maintain thick texture up top while keeping the overall style low maintenance with its short sides. Hair is almost bald near the ears and gradually increases in length up to the top. Maintain at least a couple of inches to get this spiky texture.
Combed Up & Back Taper Haircut
To help your taper haircut out with some rugged sexiness, pair it with thick hair and slightly scruffy facial hair. Keep the facial hair trimmed, then shave sideburns to the same length as the fade at the ear level. Scrunch in a product at the top to encourage this piecey texture.
Source: @ryancullenhair via Instagram
Undercut Taper
An undercut taper features a short back that is typically buzzed to near baldness or with only minimal length. It's a handsome addition of edge when the top is long and combed to the side. A goatee or minimal facial hair looks best with this cut. To liven up the top, add blonde hair color.
Source: @ahmetaslanhairsalon via Instagram
i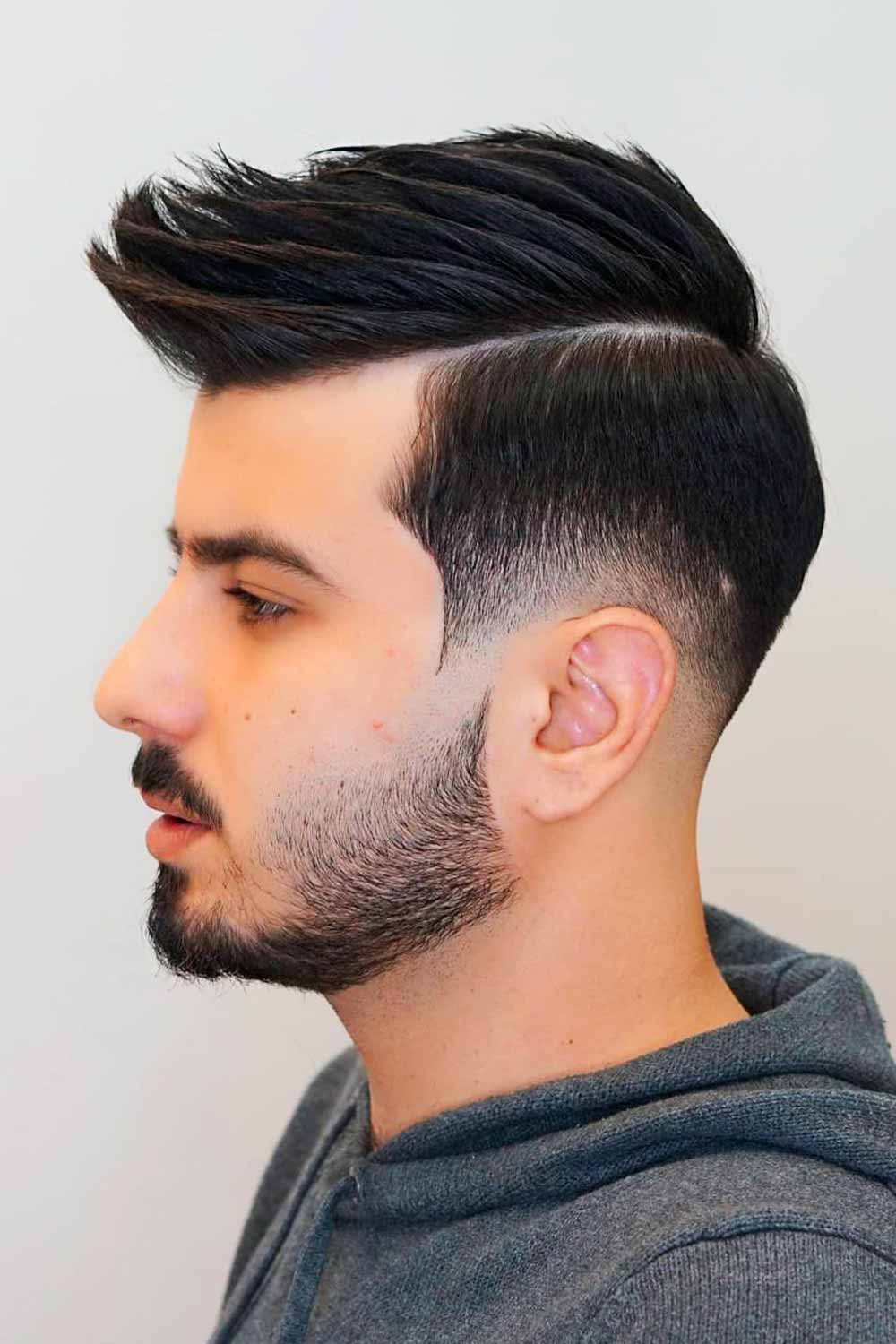 Source: @ahmetaslanhairsalon via Instagram
i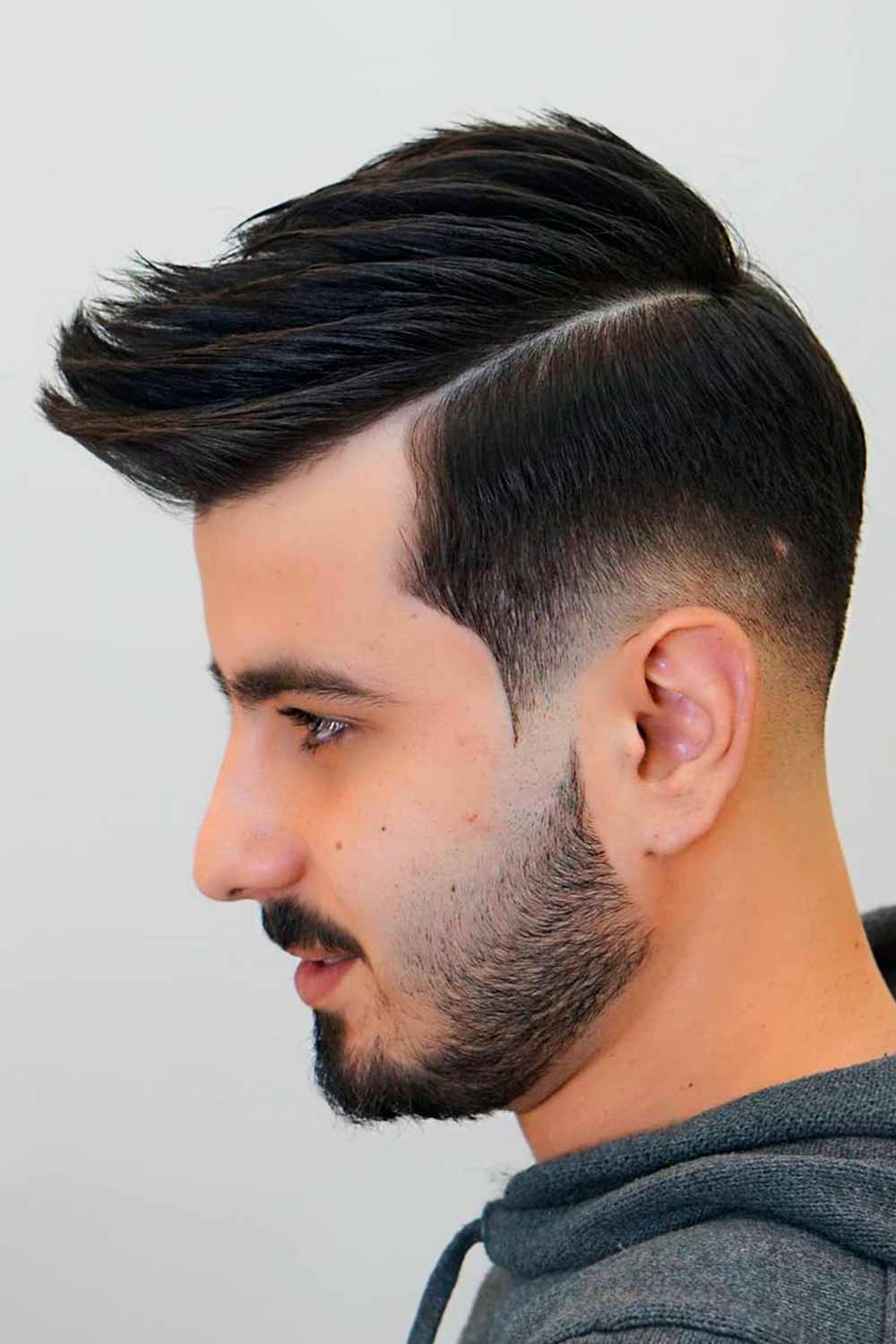 /
Medium Crop
To get a crop haircut, make sure the bangs are cut bluntly and just above the eyebrows and opt for a low fade taper. The bangs will match up with where the side hair begins to shorten. You can either keep the top straight and brush it flat or use product to shape texture.
Source: @hayden_cassidy via Instagram
The Tapered Ivy League
This Ivy League haircut features a low taper fade and slightly messy texture up top that is 1.5 to 2 inches long. With just a small amount of scruff at the beard, the style is effortlessly handsome. Choose to brush down the top hair or slightly mussied for surfer vibes.To maintain the Ivy League vibe, have the length trimmed regularly. A slight bit of lift at the hairline is what makes it flattering for a round or square face.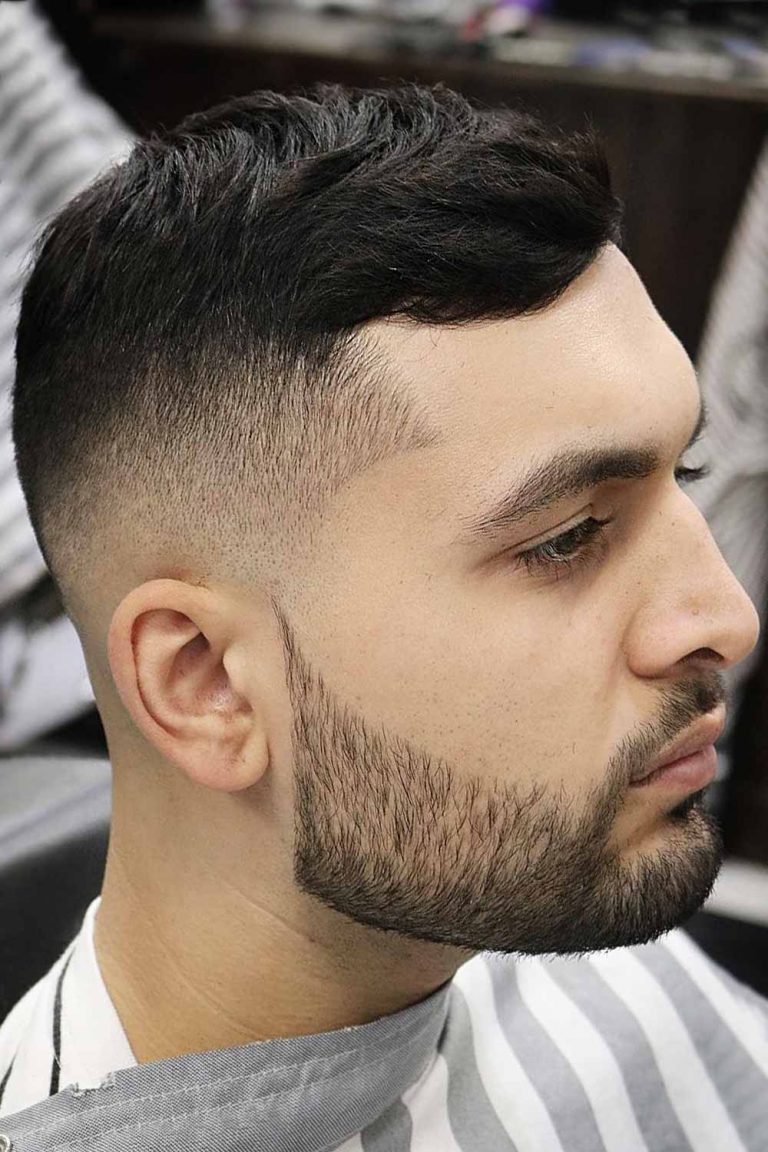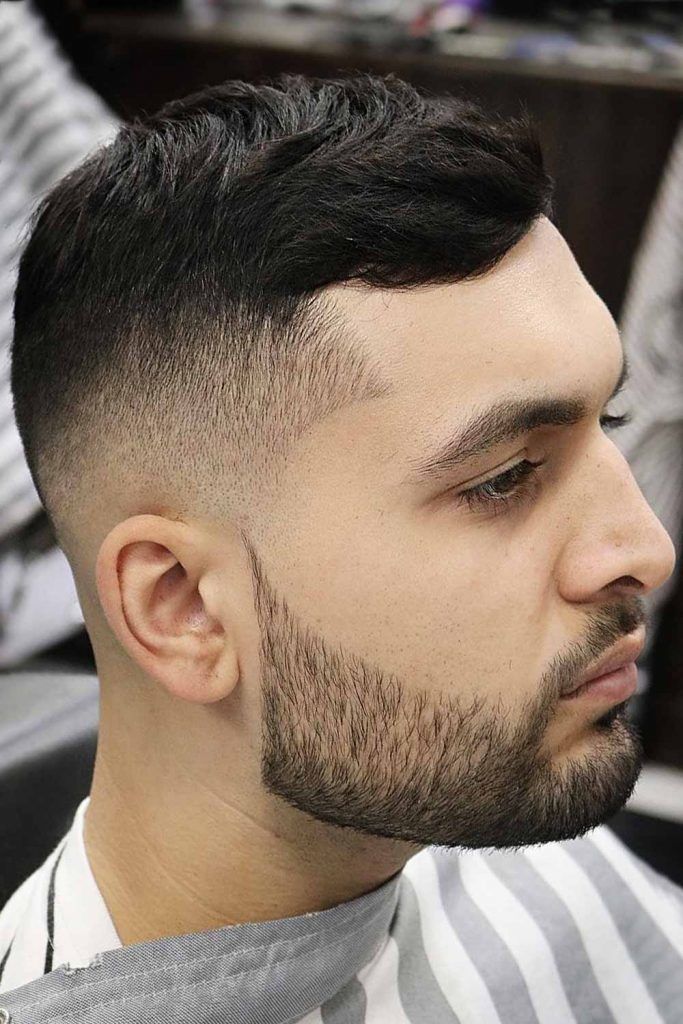 Source: @corneliucrihan via Instagram
Brush At The Side And Faded Taper Haircut
As you can see, the side part fade looks amazing. When you get your haircut, you can tell your hairstylist you want a deep side part or a side part haircut. Or, if your hair has enough length, you can just go ahead and simply do it.
Source: @alan_beak via Instagram
Slick Back Hair
This model's slick back hair works for all this model's needs. He maybe touched up his slick back fade once. Or was it twice. Maybe. Want to know how to slick back hair? A brush and pomade. That's it.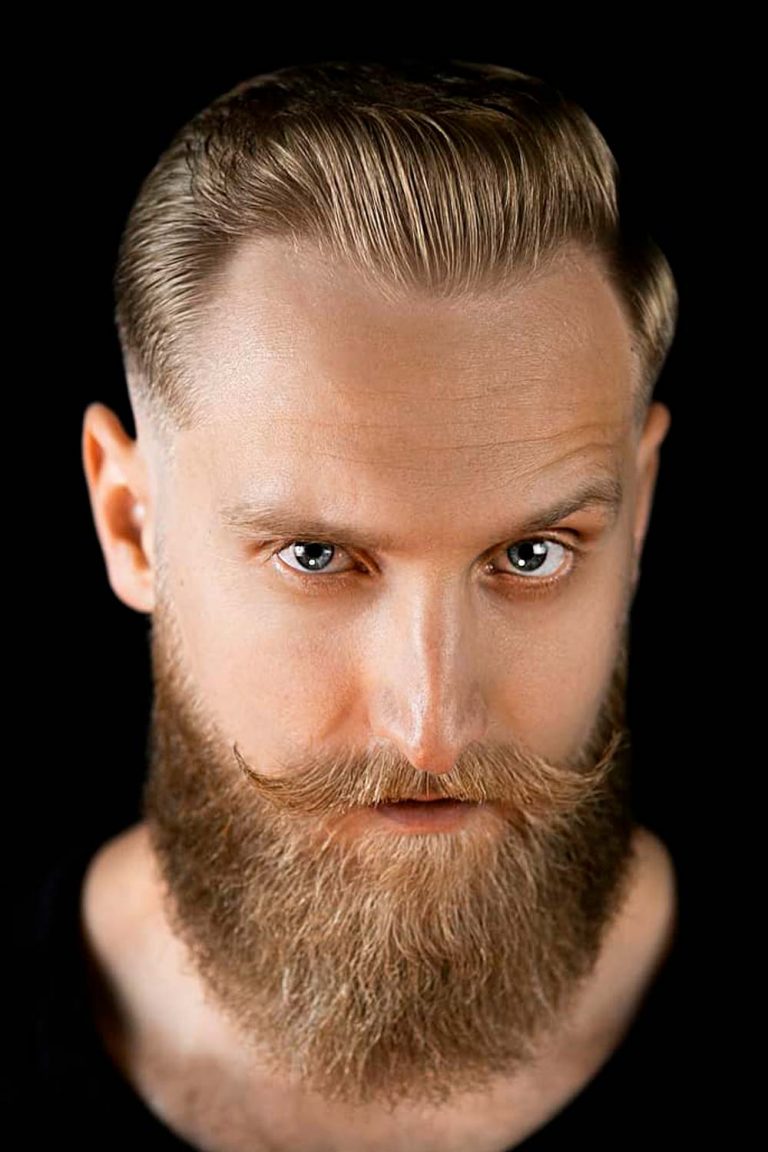 Source: @barberking_kh via Instagram
Brushed Back Layers
This model's hair captures the wow factor of a taper haircut. While the tapers of a medium layered haircut are mostly short, you can always vary the length of the top. The hairstylist combined the longer top into the lower taper. It's just gorgeous. You'll have no worries with how to style medium length hair men. Just brush.
Source: @cheobarberpr via Instagram
The Medium Pompadour
If you want to know how to style a pompadour, you'll first need a skin taper that allows you to style your hair like this model's. Here it is longer in the back and sides (you could simply download this photo and take it to your hairstylist). You could also ask your hairstylist to give you a pompadour fade haircut.
After shampooing, use strong hold, water based pomade to slick back the sides of your hair. Then, blow dry your hair with a round brush. Use the brush to roll your hair upward and forward in sections. When your hair is dry, use a small amount of pomade to further form and shape your pompadour. Finish your pompadour hair with a spritz of hairspray.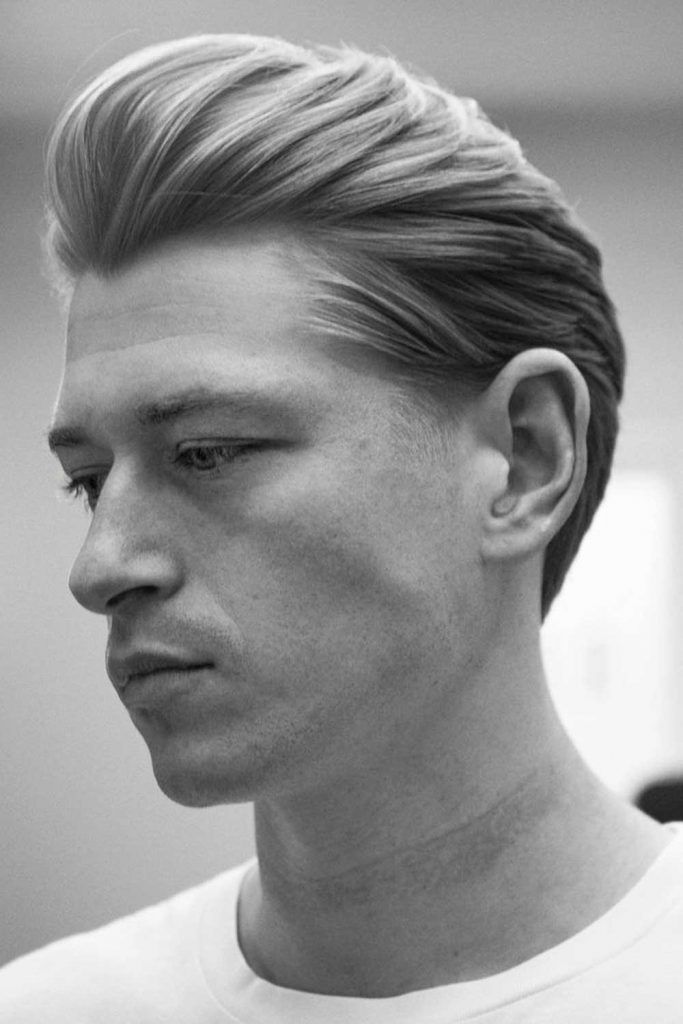 Source: @alan_beak via Instagram
Taper Cut With A Hair Tattoo
Check out this photo. This model added a fascinating hair tattoo to his taper haircut. Taper haircuts were already unique. With a hair tattoo men, their distinction was radically elevated.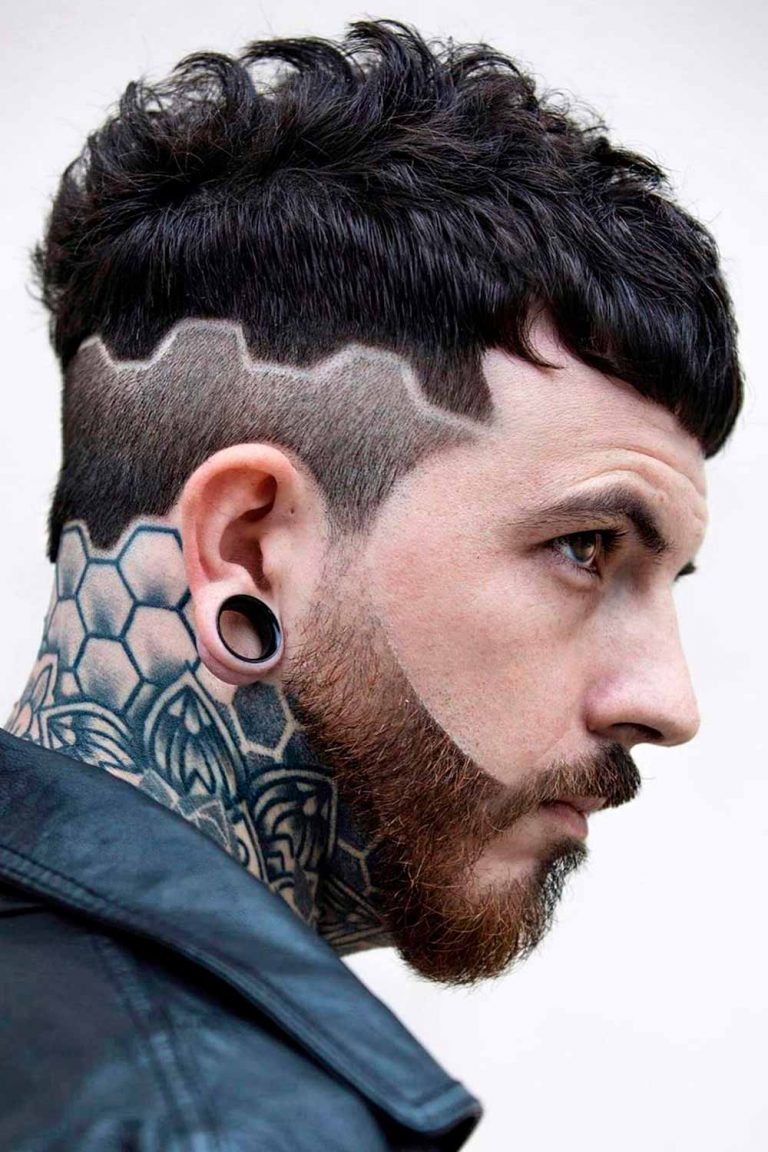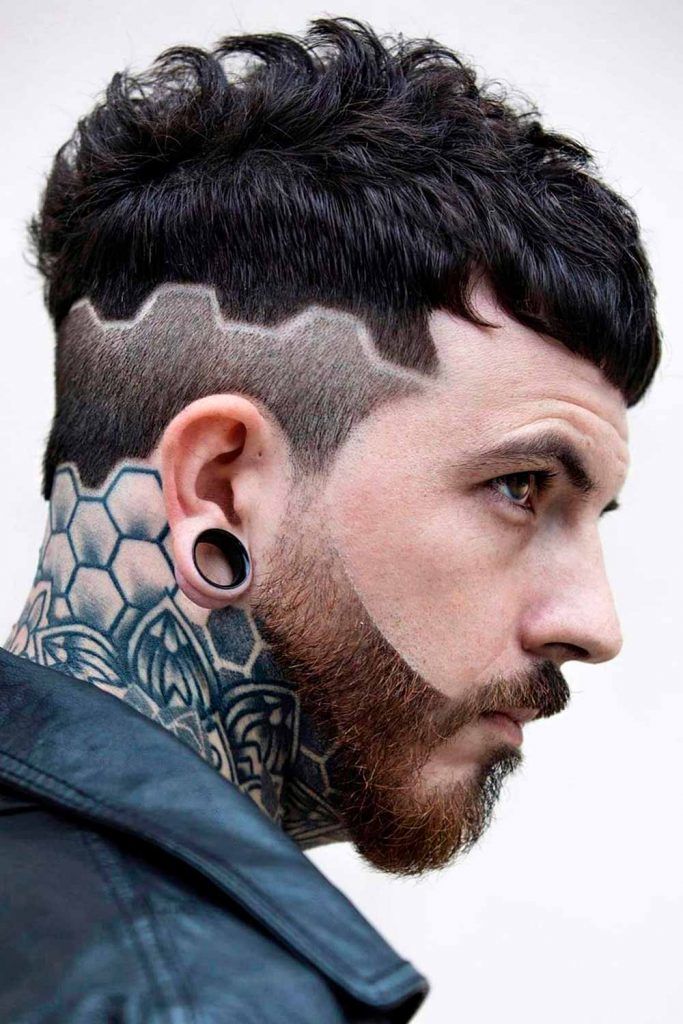 Source: @r.braid via Instagram
Textured Quiff Taper Haircut
The quif hairstyle somewhat resembles the pompadour, as it sweeps back the hair. If you want a mens quif, ask your hairstylist to begin the taper higher up. It will produce more even, less heavy quif hair. It will even give you more styling options, such as parts.
Source: @alan_beak via Instagram
Spiky Taper Haircut
Short spiky hairstyles give you even more flexibility with taper haircuts. It's so easy to get short spiky hair, too. If you want spiky hair like this model's, high taper hair like his works best. The lower tapers might not work as well.
Source: @xbigwesx via Instagram
Textured Taper
Taper and taper fade haircuts work perfectly for textured hair. This model's waves look fabulous parted. And he could do even more if he wanted to. Also, due to the fact that a taper haircut takes some hair off your sides and back thus making your mane appear less heavy, you can complement your look with some facial hair without being afraid to give an unkempt impression. To double the effect, go for a taper cut on your beard as well.
Source: @z_ramsey via Instagram
Afro Taper Fade
Tapered haircuts are ideal for everyone. Look at the tapered haircut on natural hair. Taper haircut black and the black men haircuts taper fade so easily incorporate several trends. This popular low fade haircut accentuates this young man's curls, gradually lessens, and then disappears. It's exclusively his. The length of the hair decreases as it gradually goes down from the top until it disappears. The curls on the top are styled in various ways.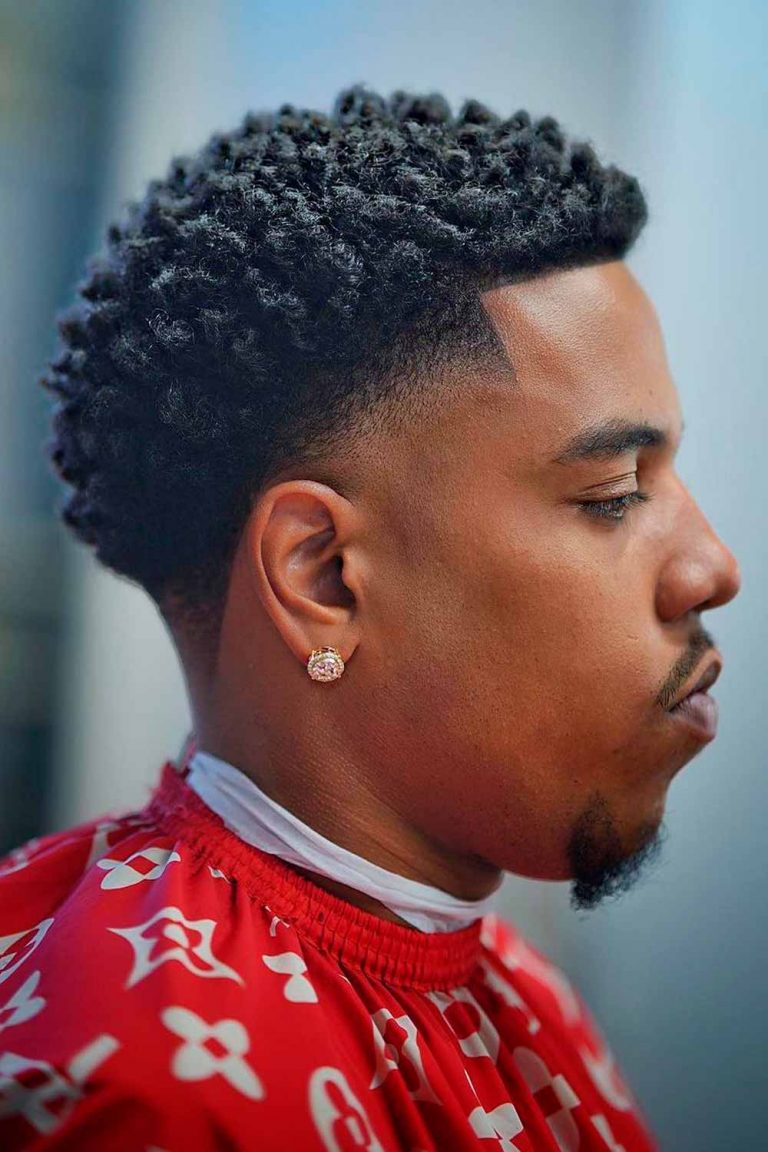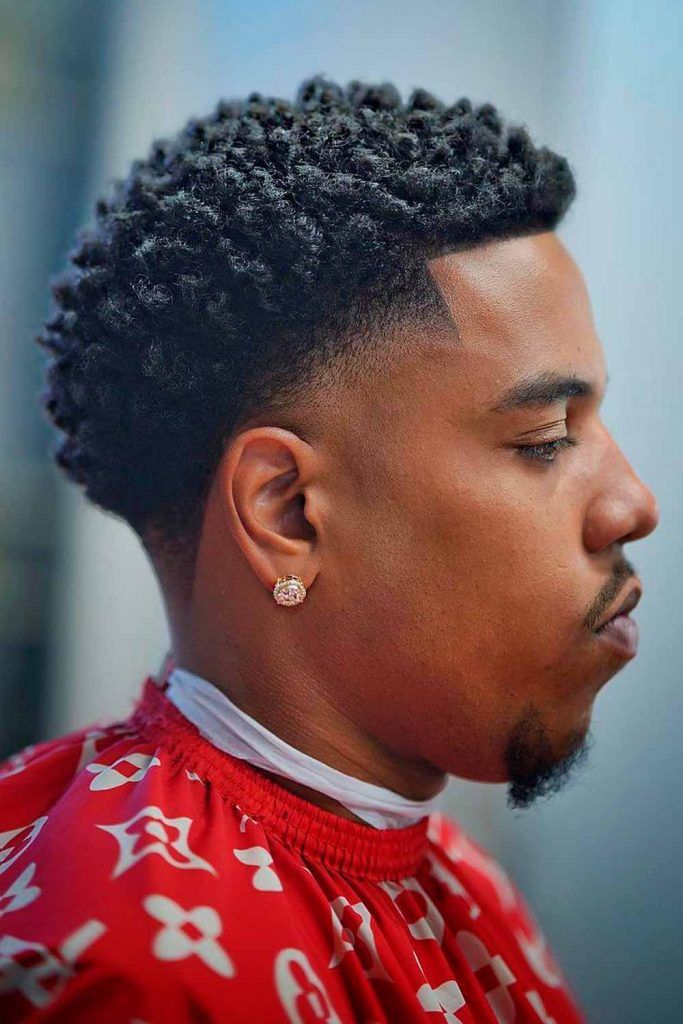 Source: @nickthebarber via Instagram
Layered Quiff
If you are looking for ways to complement your layered quiff, there is hard to think of a better option than a tapered haircut. Thanks to the sleek and smooth appearance, it pairs nicely with any layered cut. Even a coarse beard cannot make your hairstyle enhanced with a taper look unkempt.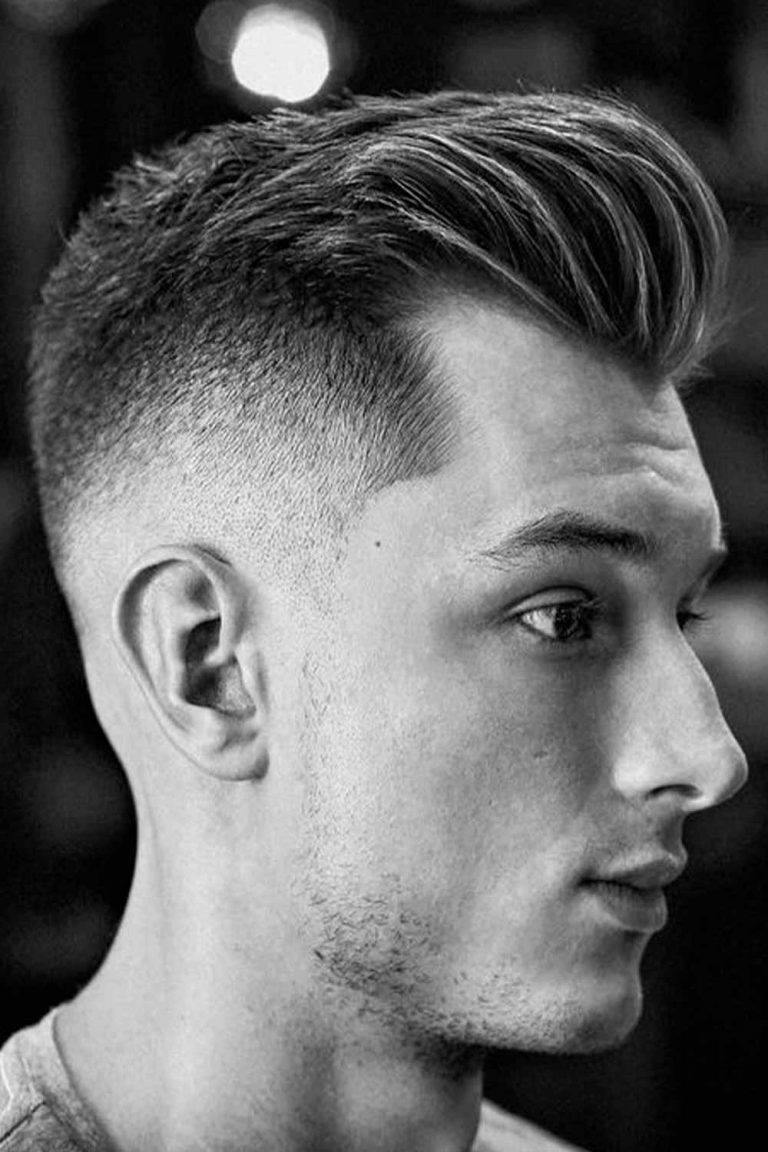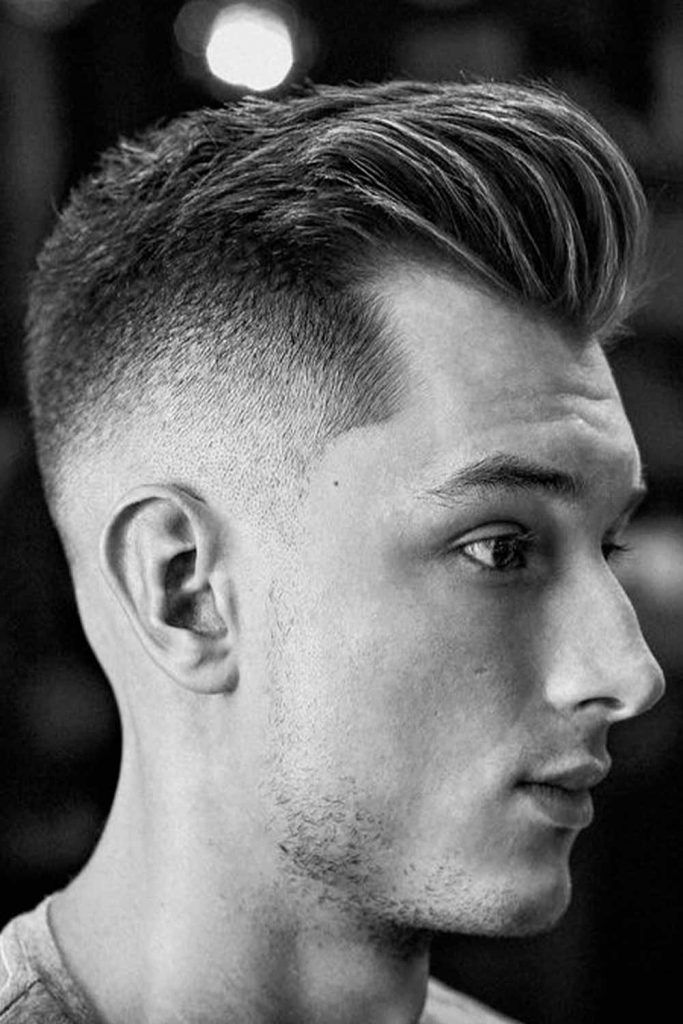 Source: @a.nizhnick via Instagram
Classic Texture
For those who opt for rather classic haircuts, there is also a great way to spruce it up with a taper. Go for more texture on the top for added definition and contrast while complementing it with a smooth taper on the sides. In this way, you will get the look that will open any door.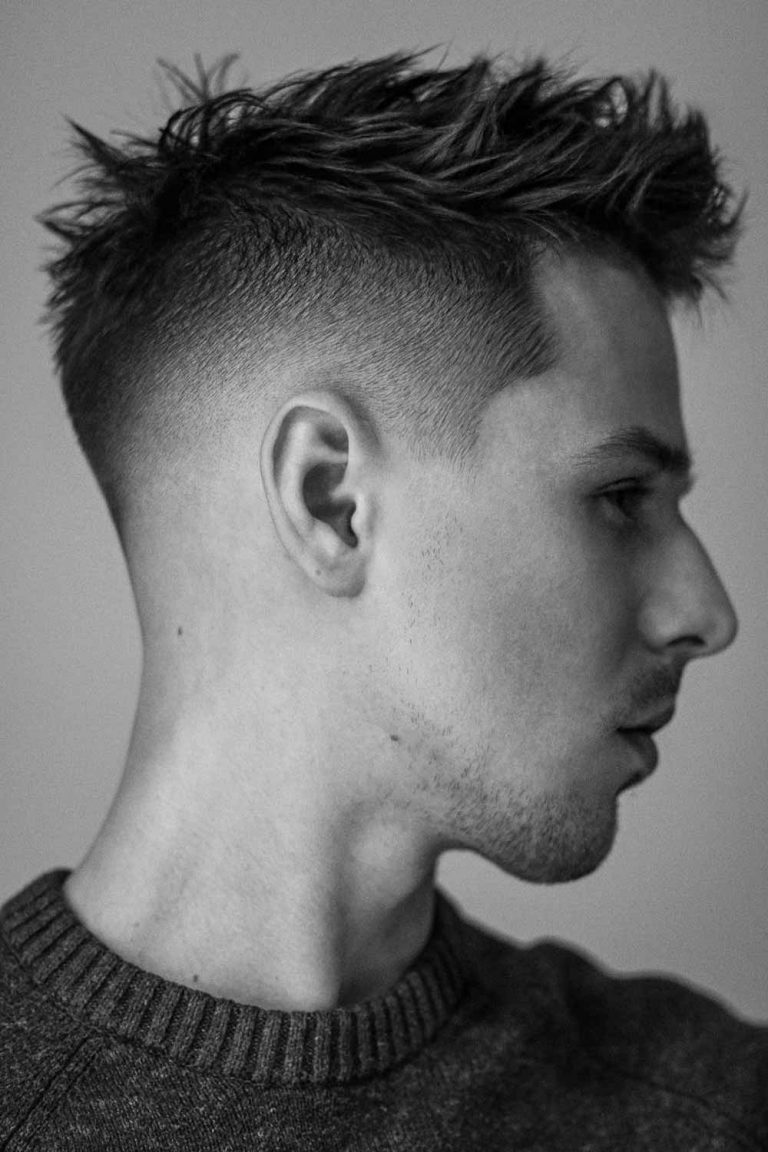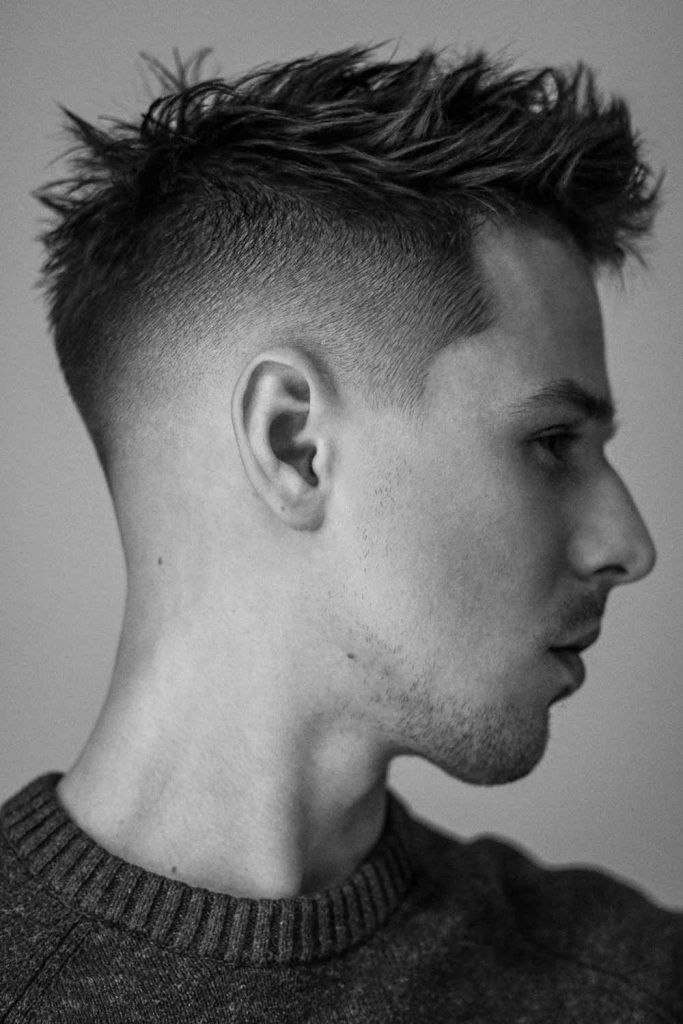 Source: @a.nizhnick via Instagram
Casual Brushed Up Hair With Tapered Sides
To give your look a casual and breezy flair, brush up the hair on the top so that it forms a crest. The hair on the sides should be tapered, which creates additional contrast with the ample top. It also makes up a more relaxed take on a traditional faux hawk hairstyle.
Source: @alan_beak via Instagram
Comb Over Taper Haircut
You do not always have to team a taper with a textured top. It also goes perfectly with such a polished and elegant hairstyle as a comb over. Instead, it enhances its refined appearance and creates an exceptionally clean-cut look. Thus, if you are looking for a hairstyle with a formal yet modern feel, the search stops here.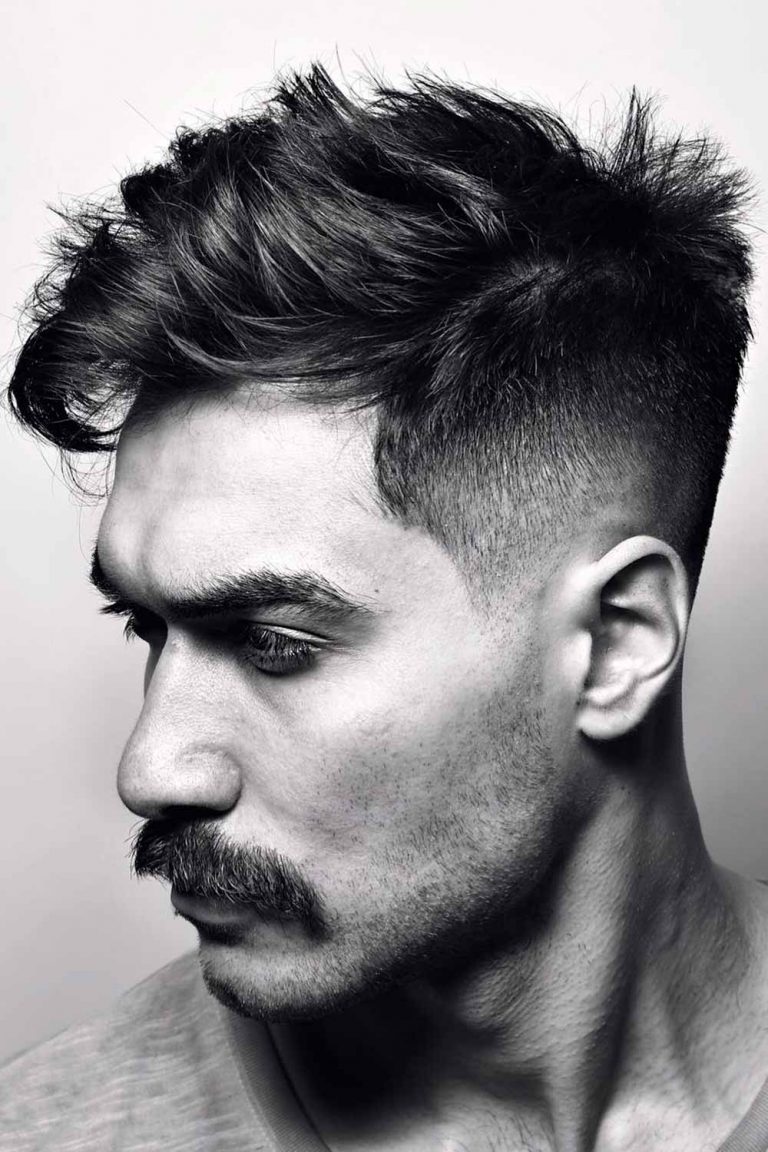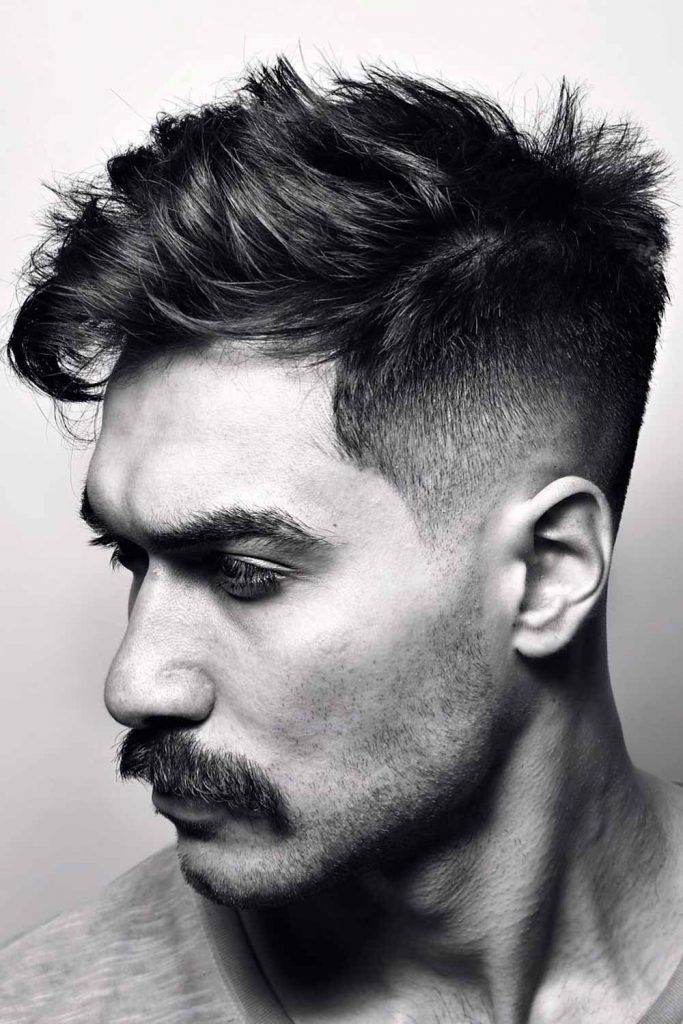 Source: @a.nizhnick via Instagram
Medium Taper + Undercut
A golden mean of taper haircuts is a mid taper. It creates both edgy yet moderate look of your cut allowing you to sport both messy and sleek hairstyles on top. Thus, it can be considered an utterly versatile, as you can style it to suit any ambiance, from casual to formal. Not sure what is a medium taper haircut? In this type of taper cuts, the back and sides are tapered starting a midway downward. As simple as it is.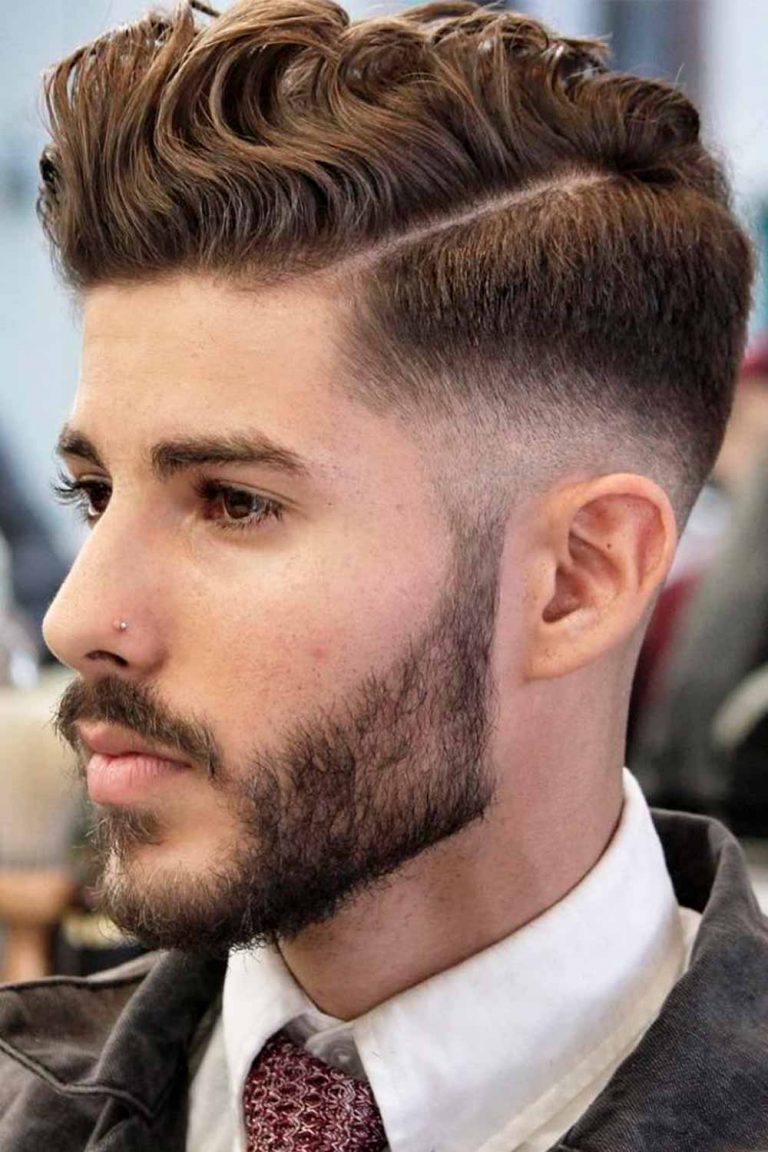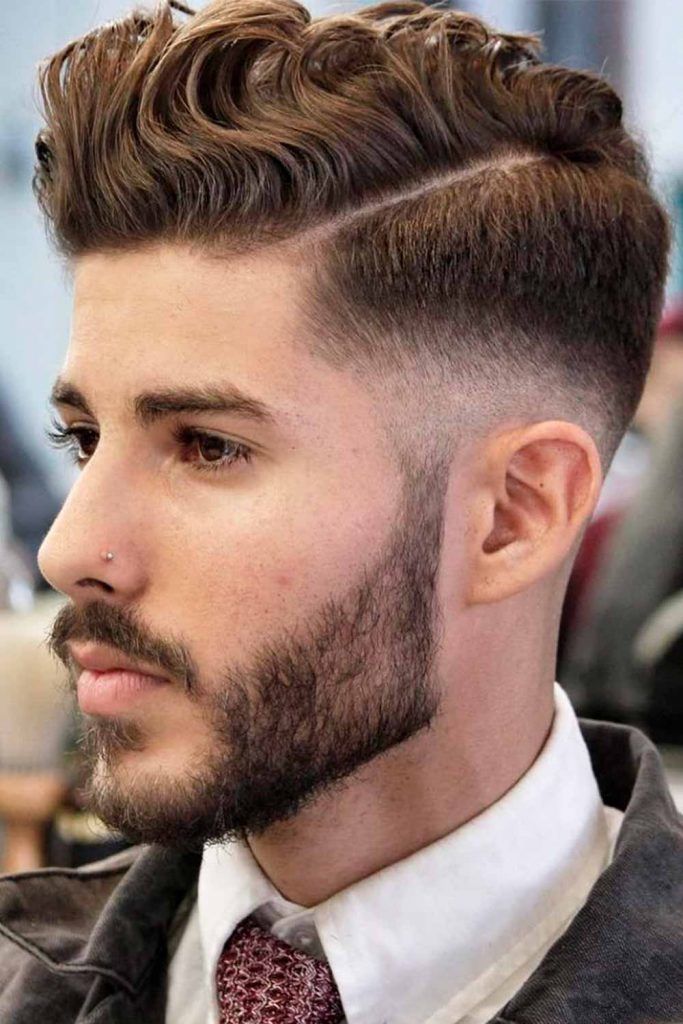 Source: @anthonythebarber916 via Instagram
Crop Top Fade
Many consider a crop top fade quite a controversial hairstyle. Yet, if you modernize it with a taper haircut, all doubts will be dispelled. Because the hair on top of your head is already so short, you should also chop off quite a lot of length from the sides. The first thing you will really appreciate, apart from a neat and clean look it gives, of course, is the low maintenance this hairstyle provides you with.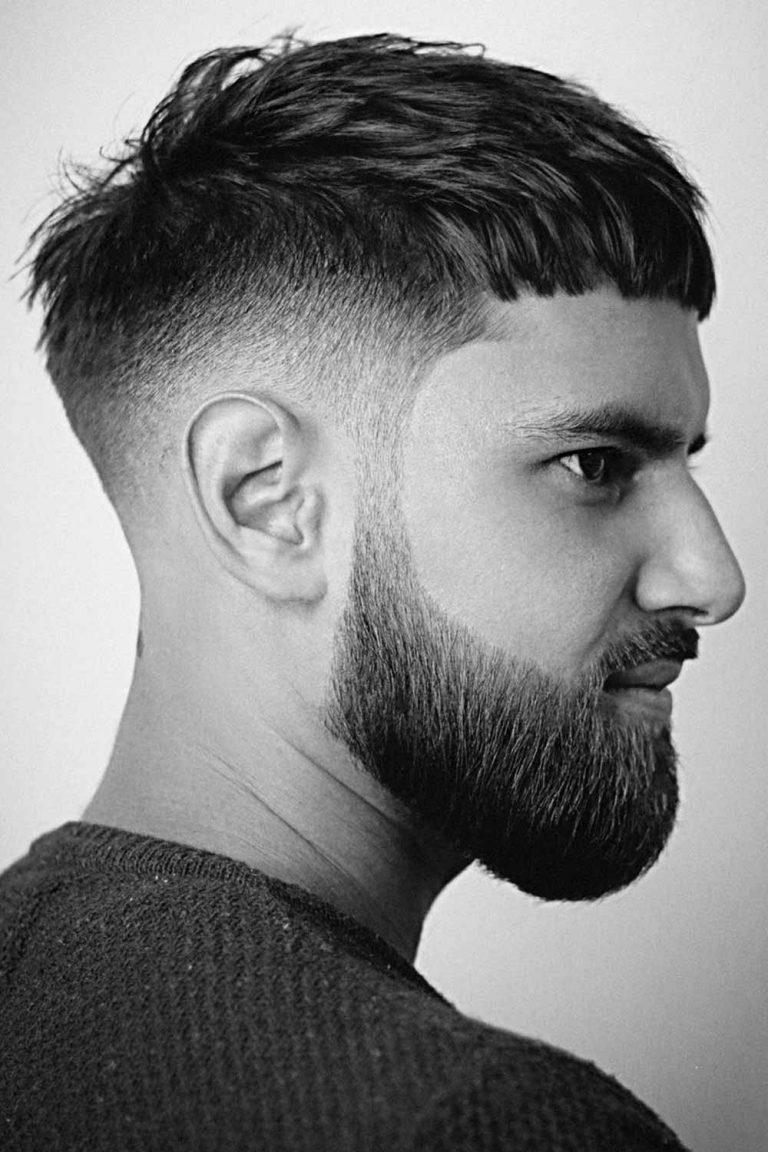 Source: @a.nizhnick via Instagram
Taper Fade With Textured Brush Up
This hairstyle is obviously not for everybody. Only a really daring and trendy man will be able to pull it off. The sides are tapered to move the focus to the textured top, which you need to brush up for a voluminous appearance. But what makes this cut really stand out is its texture.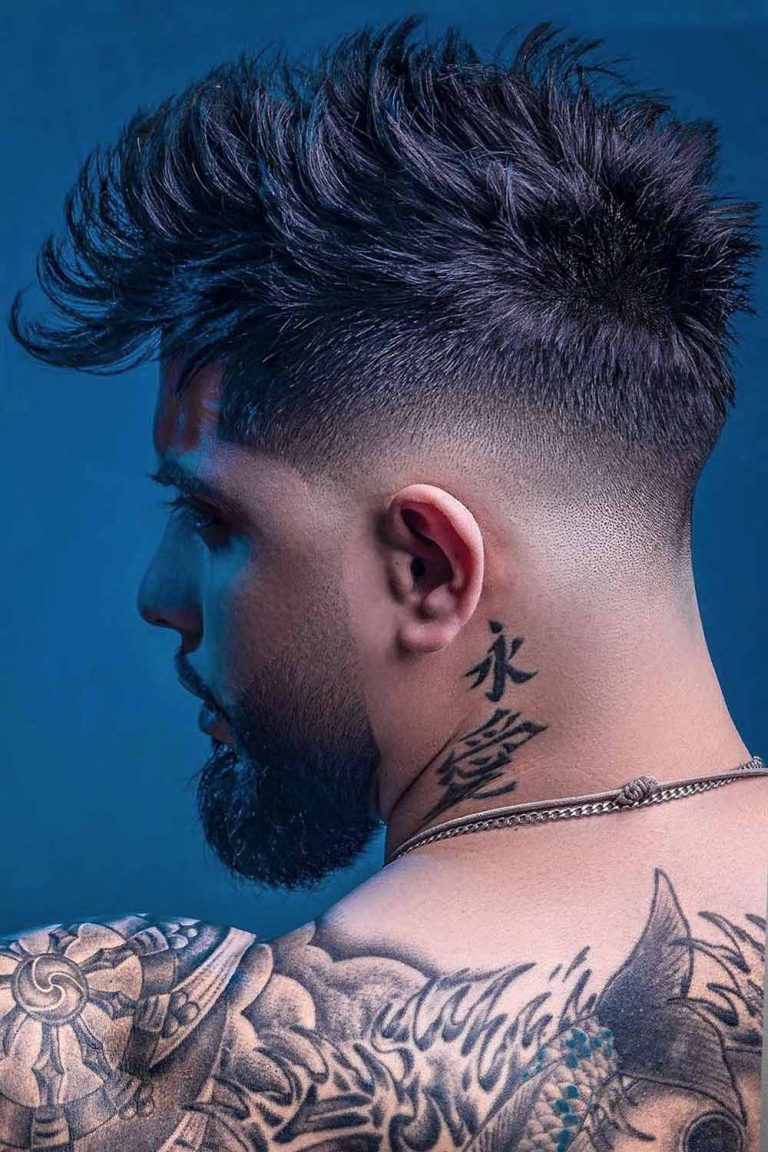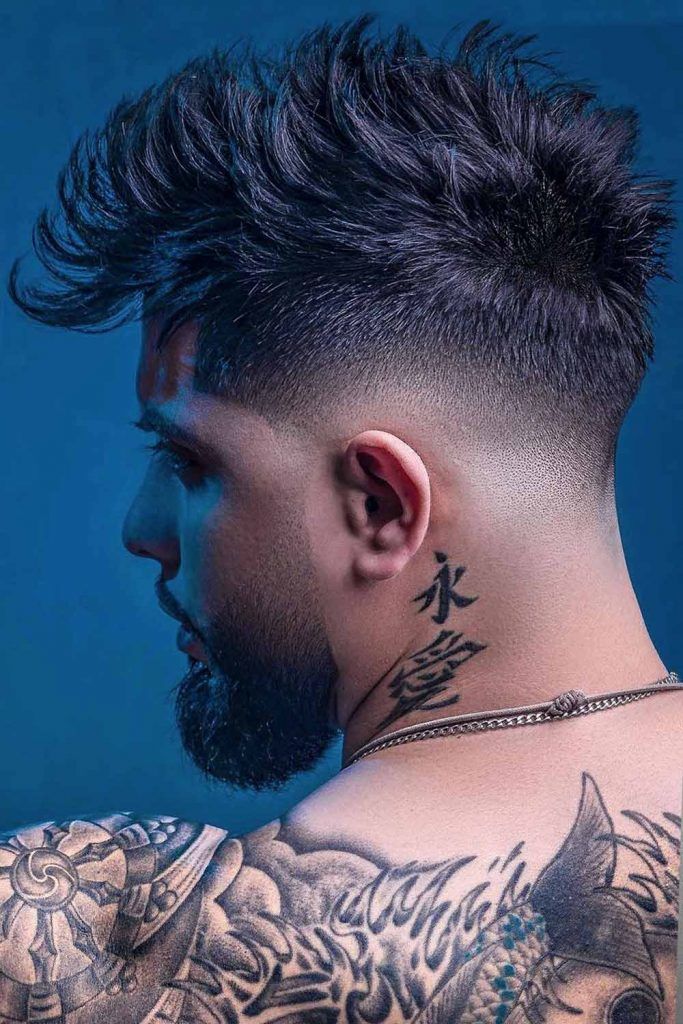 Source: @los_cut_it via Instagram
Flat Top Taper
Nowadays, the men's flat top hairstyle is extremely popular. It brings back the 50s. If you don't know those styles, you should. They are legends and set the cool standard.
Source: @dima_naiden via Instagram
i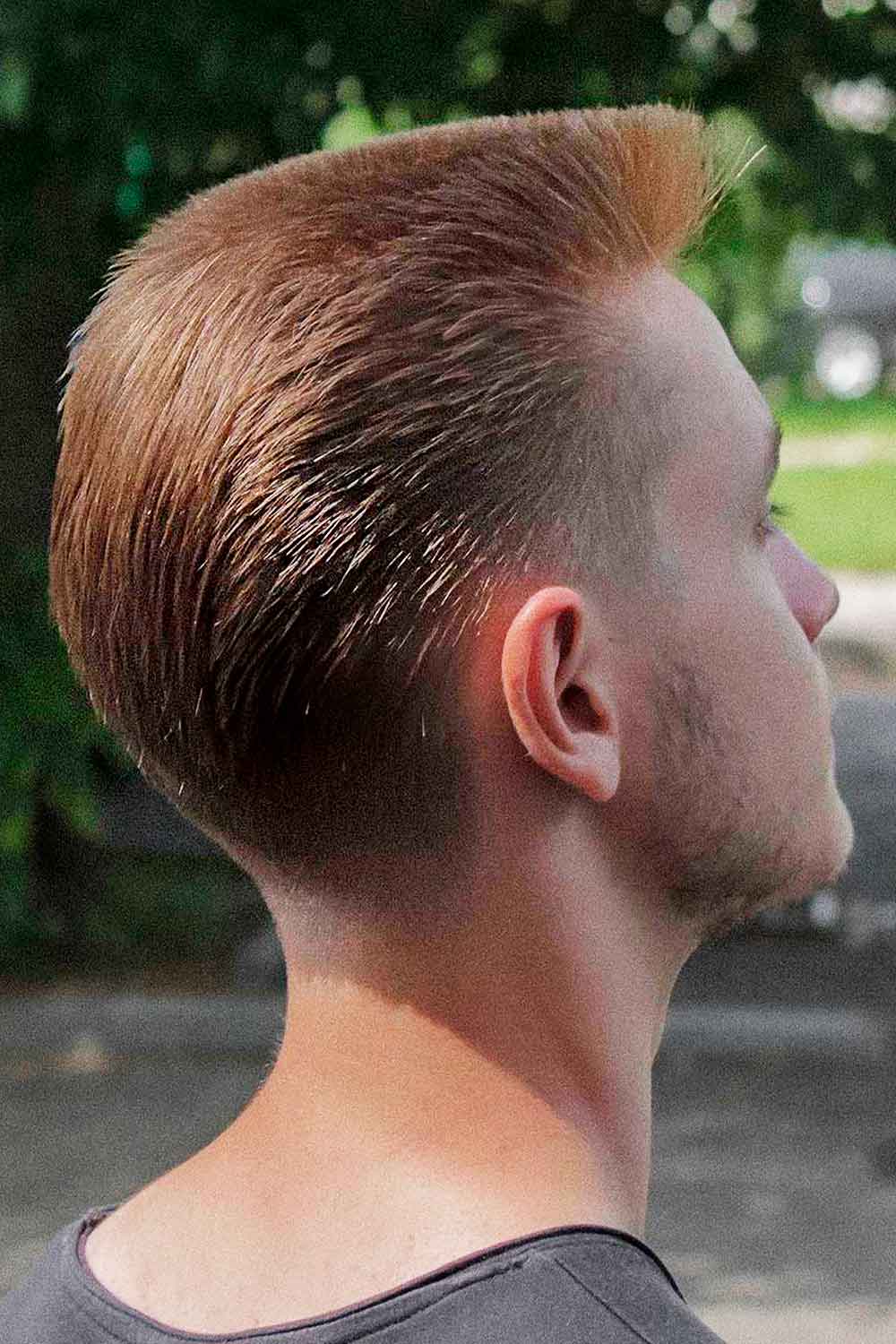 Source: @dima_naiden via Instagram
i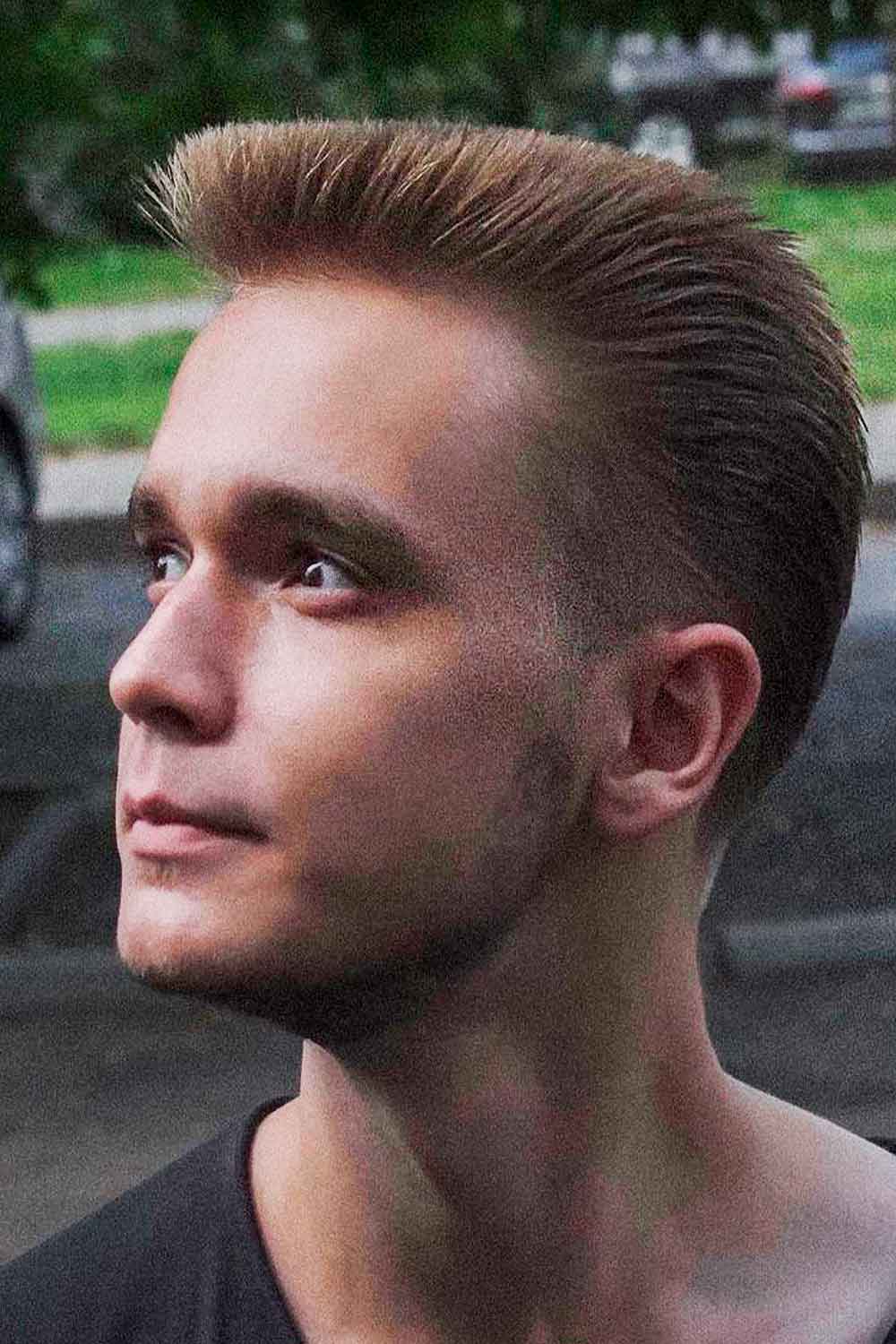 /
Tapered Crew Cut
Even such a short haircut as a crew cut can be complemented with a taper. Together they make up a stylish and trendy combo that is low maintenance and dapper. Short stubble will become an awesome accompaniment to such a look, as it brings a bit casual and carefree vibes.
Source: @shrunknheads via Instagram
Quiff With Short Tapered Hair
An awesome way to accentuate your quiff is to complement is with a short taper cut on the sides and back. This will give your hairstyle an additional contrast and shift the whole attention to the hair on top. Thus, you can also apply a sparing amount of a hairstyling product to enhance the texture of the quiff.
Source: @fernthebarber via Instagram
i
Source: @alan_beak via Instagram
i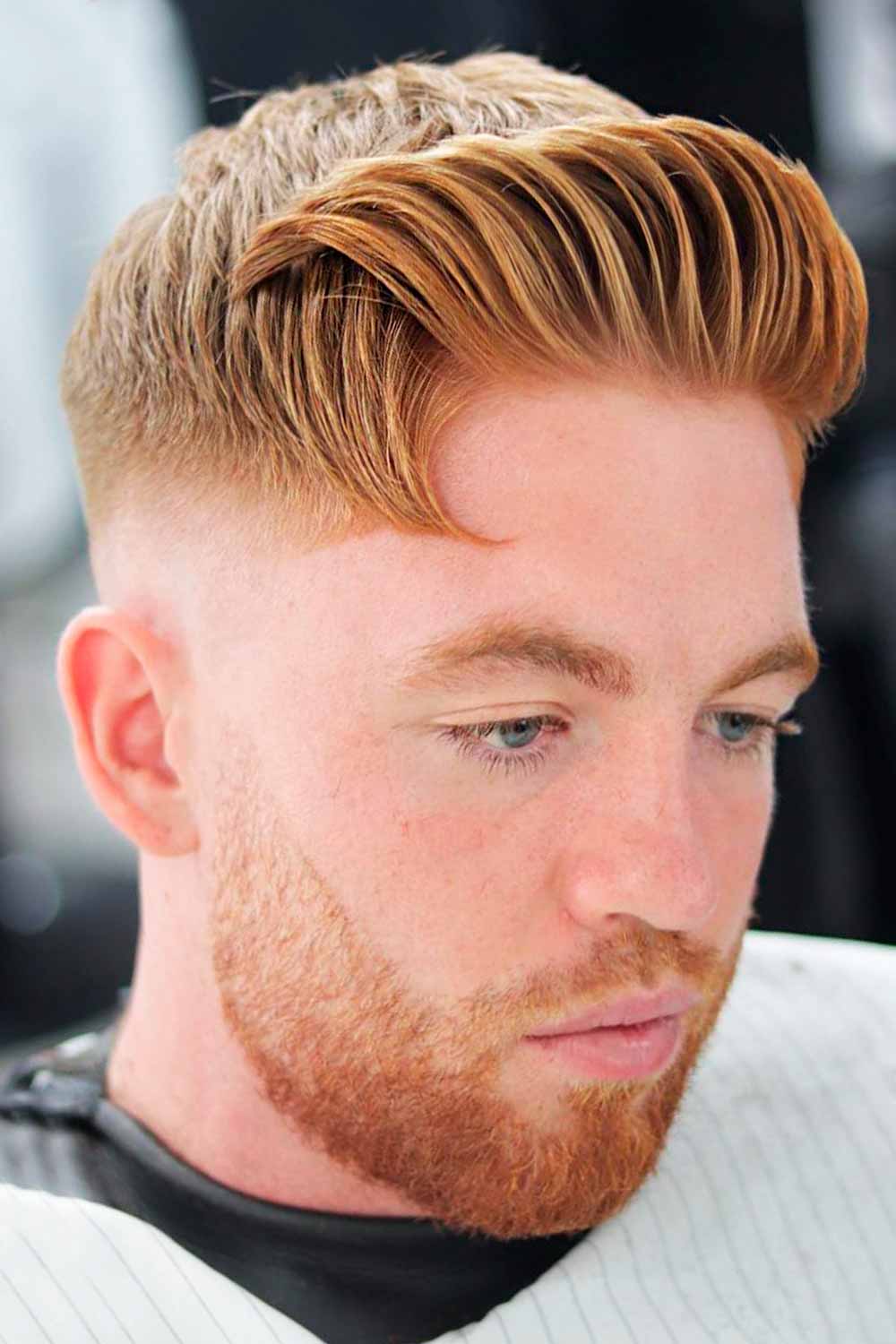 /
Tapered Sides And Back
Tapering your back and sides allows you to make the hair on the top of your head a focal point of the whole look. Hence, you are welcome to play around with the style of your top as you like. If you are aiming for a relaxed and carefree look, style your top messy and textured, while for a refined and dapper impression, sleek the top back or comb it over.
Source: @ahmetaslanhairsalon via Instagram
i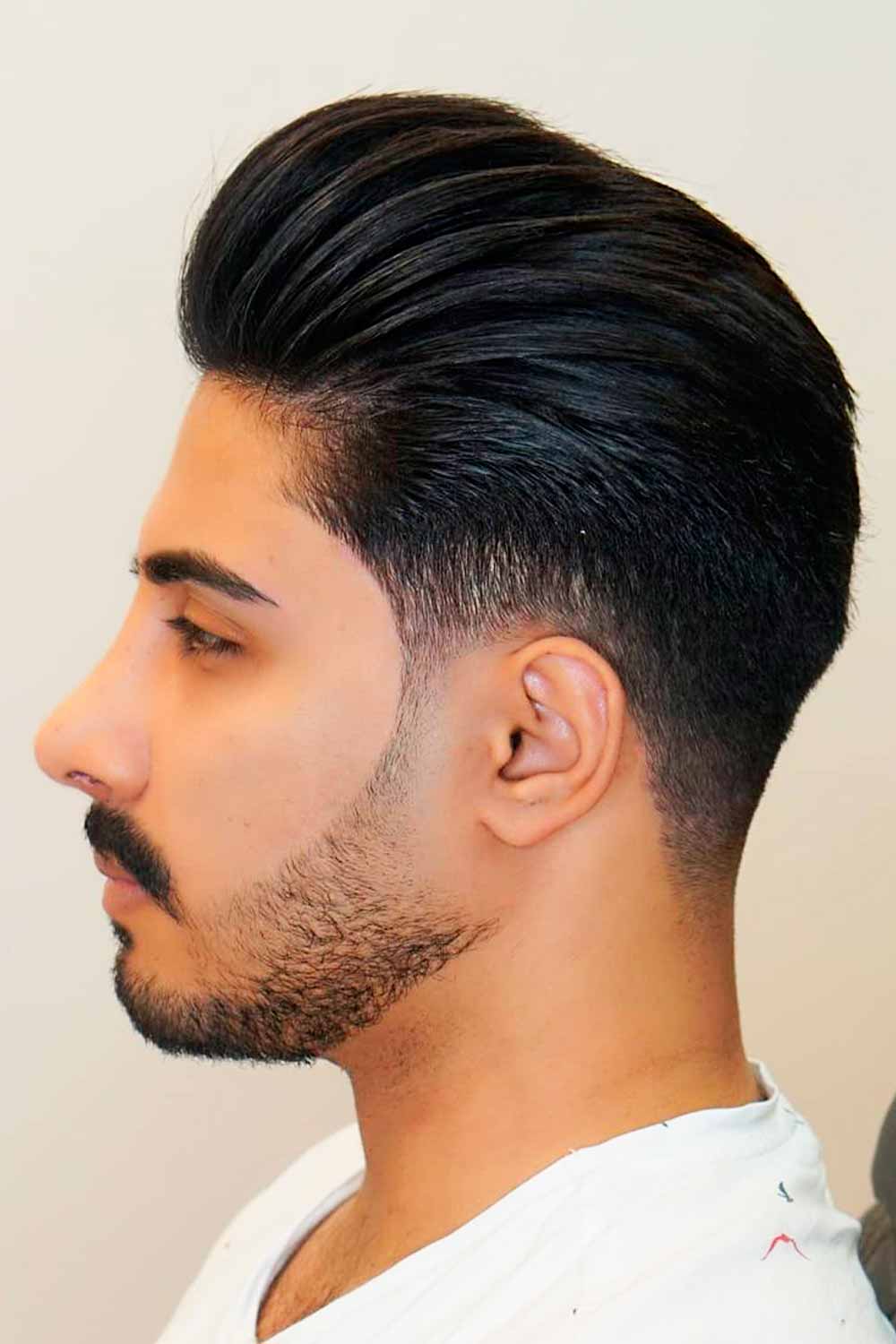 Source: @fernthebarber via Instagram
i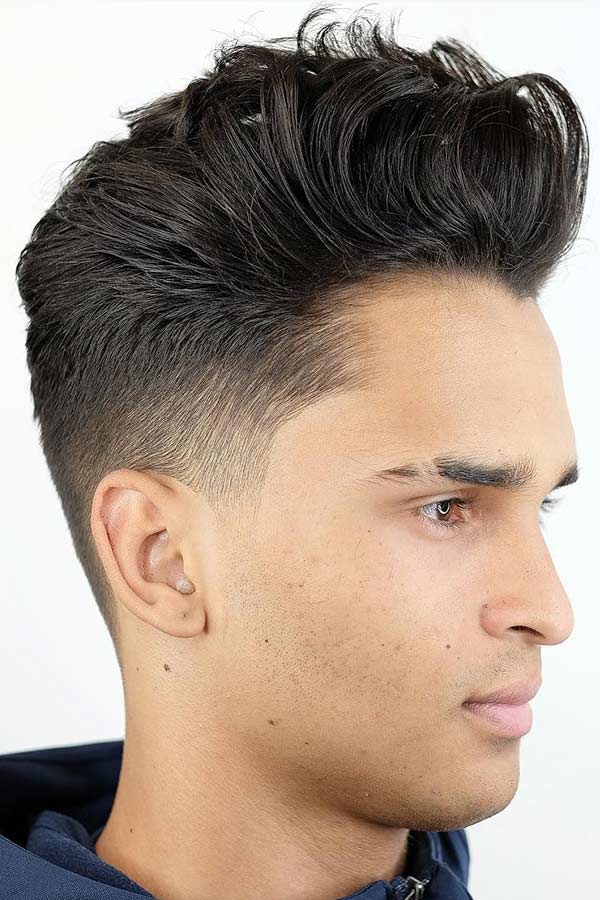 /
Short Taper With Brushed Back Hair
If you think that a taper cut does not suit a professional environment, we are here to prove you wrong. It all depends on the way you style your top. So it looks neat and dapper, brush the front section of your locks back and secure it with a spritz of a hair spray.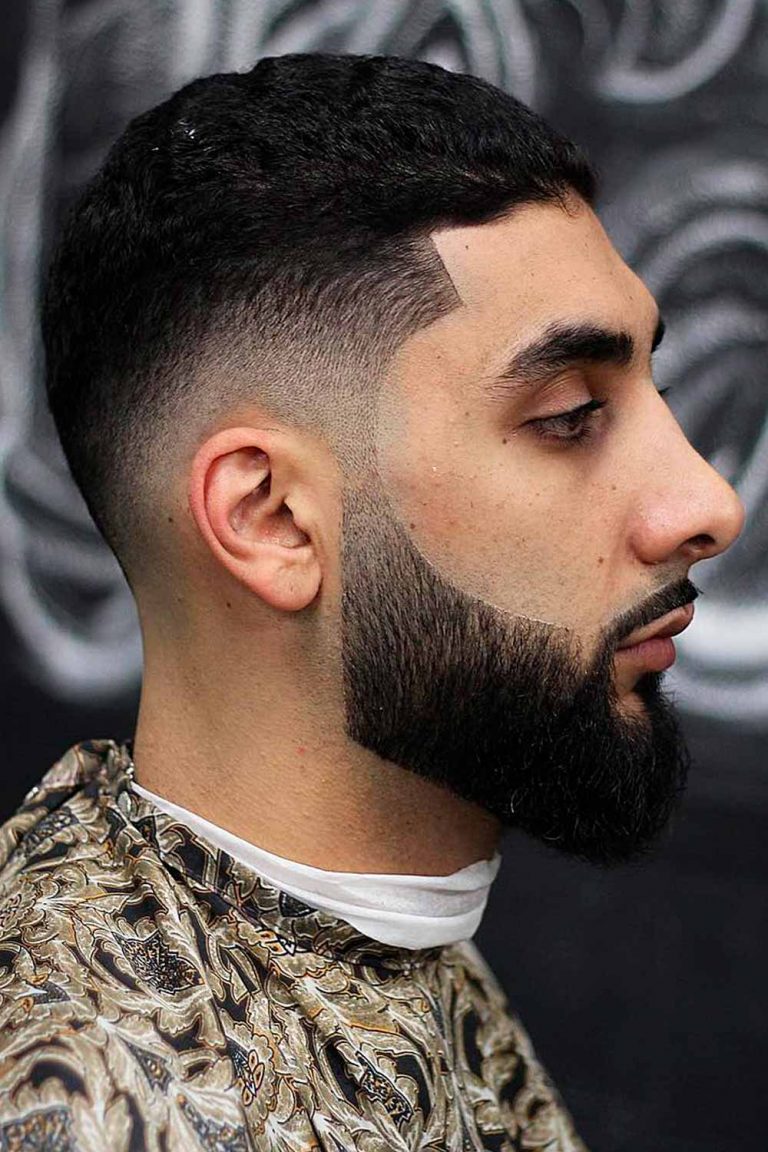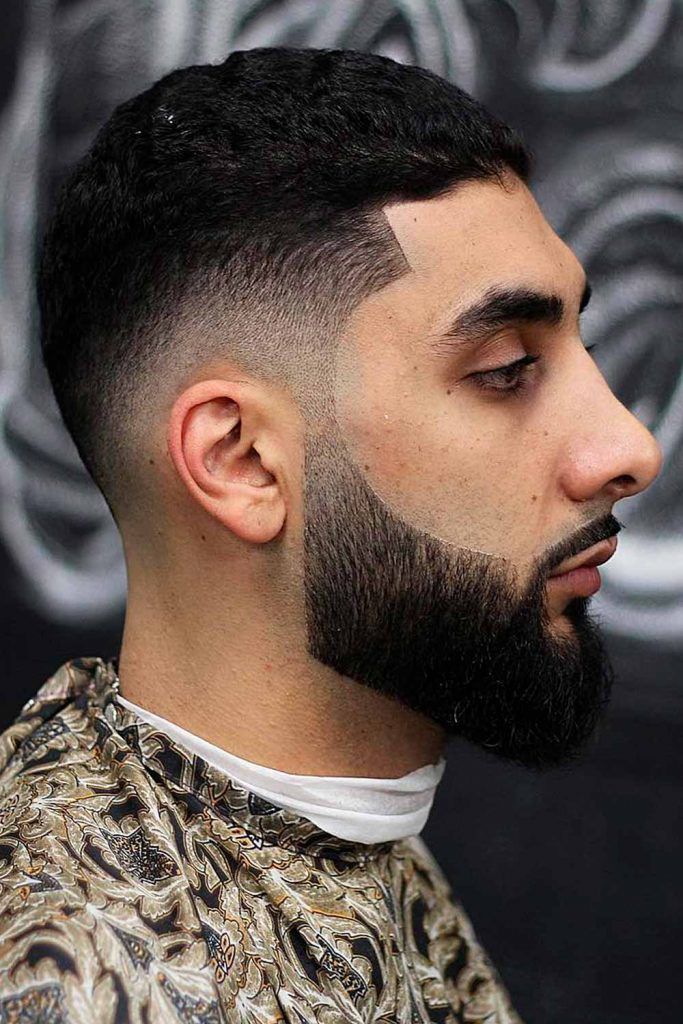 Source: @shawn_barbz via Instagram
Taper Haircut With Side Brush
As hair tapering takes the top to the center stage, you can play around with it as you like. For instance, brush the hair on top to the side and complement it with a side part for a neat and defined look.
Source: @barberking_kh via Instagram
Slicked Back Undercut
Whenever you need your hair to look neat and clean, feel free to slick it back. A tapered undercut is a perfect accompaniment for such a look.
Source: @barberking_kh via Instagram
Tapered Cropped Bang
There are many ways to accentuate a cropped top and tapered mens haircuts are one of the most popular. With a haircut taper, cropped bangs come out more prominent and accentuated.
Source: @z_ramsey via Instagram
Textured Wavy Crop
With a tapered cut natural hair texture gains a new turn, as it becomes more pronounced. Besides, no matter whether it is a high or low taper haircut, you can rest assured that it will look amazing.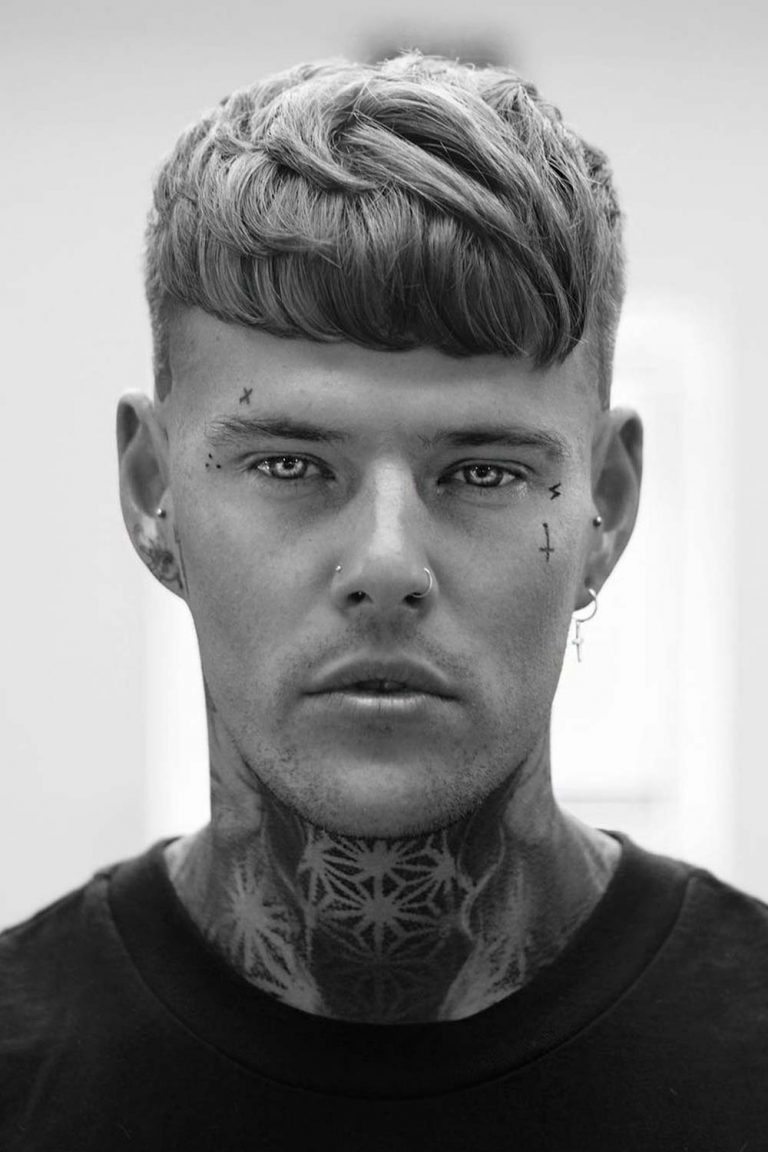 Source: @alan_beak via Instagram
Blow Back Mohawk
If you lean toward a long taper haircut, then you can try to style it blow back. This will give your hair more volume and emphasis.
Source: @corneliucrihan via Instagram
Wavy Brushed Back Taper Haircut
For wavy long hair taper works wonders. It shows off your hair texture like no other. So, you can never go wrong with it.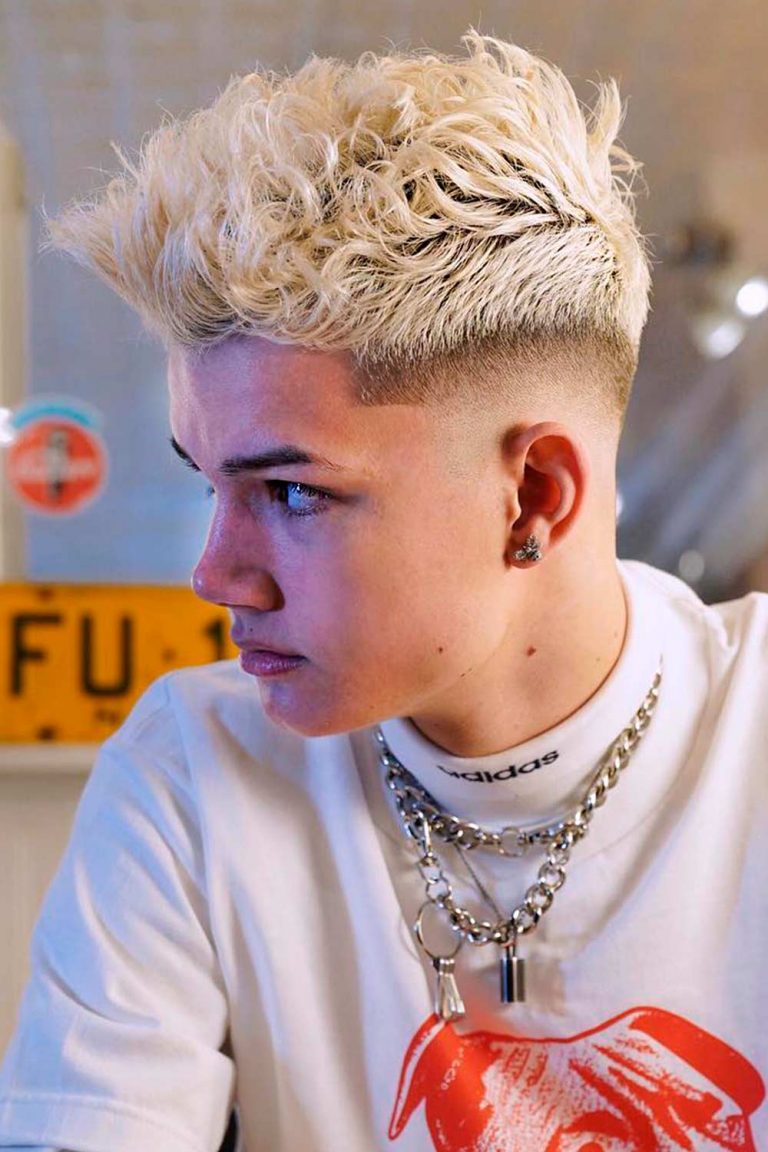 Source: @z_ramsey via Instagram
How To Style The Classic Taper Haircut
When it comes to the styling of a taper cut, there is an abundance of ways to do it. The first thing that you should consider is what impression you want it to give and what situation to suit. Based on this, you can choose sleek and elegant or messy and casual taper hairstyle or anything in between them. Yet, there are several surefire steps you can take when styling a classic taper cut.
A side part is always a good idea to complement your taper cut with, particularly when you go for a bold part. Also, so that you would be able to make the most out of your tapered haircut, you need to stock up on some really trusty hair styling products. If you have short locks, then a hair pomade, wax, paste or alike will become your best friend. In case you opt for a long cut, go for a strong hold product. Finally, to give your hairstyle a shiny finish, choose a hair paste or pomade.
Source: @xbigwesx via Instagram
Are There Any Tapered Haircut Requirements?
For tapered hair, your hairstylist should have at least two inches all around your head with which to work. More on top would be even better. Such a length on the sides lets your hairstylist create an even, nice-looking taper. If you have less, your hairstylist could probably create a nice faded taper.
Source: @xbigwesx via Instagram
How Do I Tell My Hairstylist I Want A Men's Taper Haircut?
Most hairstylists know what a men's taper haircut is. To be absolutely sure you get the exact haircut you want, download a photo of the look you like onto your smartphone and show it to your hairstylist. You could even use the pics from this article.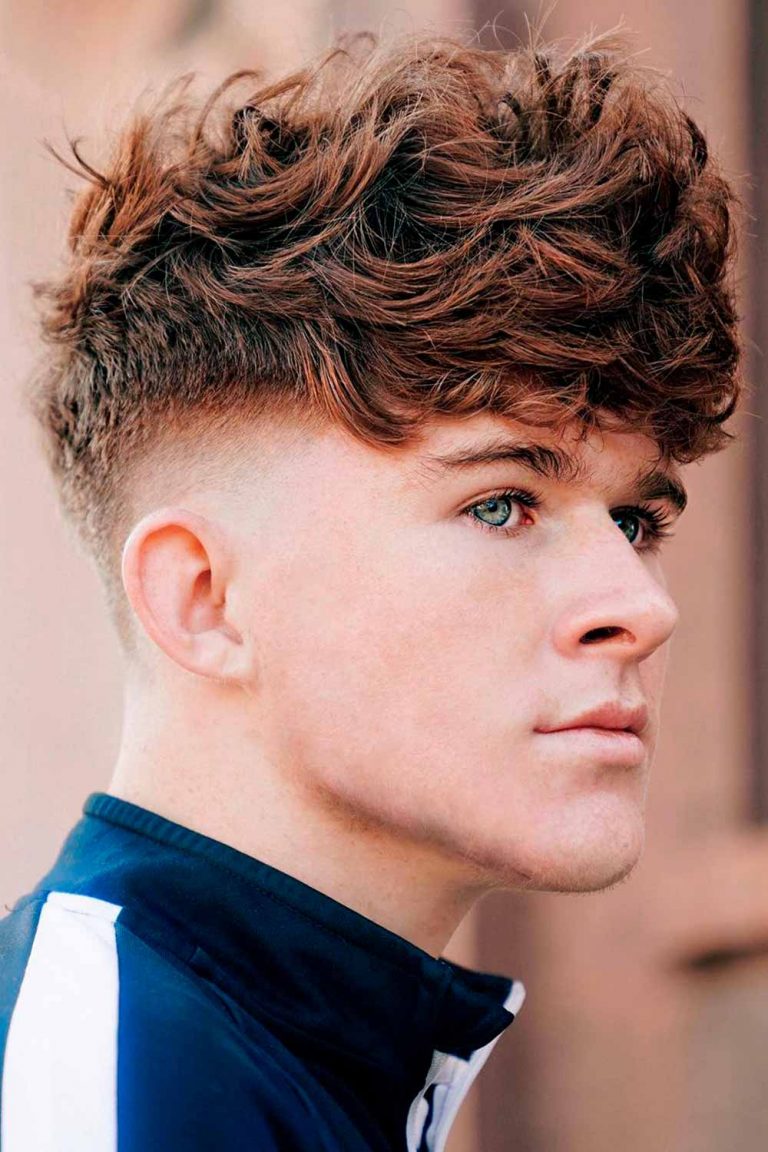 Source: @z_ramsey via Instagram
What Do I Need For The Men's Taper Haircut?
Despite the fact that there are no strict rules when it comes to required hair length for a taper cut, it will be easier to pull off if your hair is around two inches long. For a better result, you can leave the top a bit longer than the rest of your hair. This will allow your barber to taper you locks smoothly and gradually.
Source: @sirpaulcharles via Instagram
The taper haircut is the perfect men's hairstyle. Its variations, including the taper fade haircut, offer the ideal versatility for a today's man. He can do anything he wants, go everywhere, and his hair will always look modern and fresh.
Imagine getting ready for work in the morning. It just takes a few minutes. You first style your hair professionally. After work, with just a few sweeps of the comb or hand tousles, you look casual or maybe a bit wild. Now you're ready to meet the guys for a drink or perhaps that special date. It's that easy.
With a taper haircut, you can be yourself. You can have it all.
FAQs
What is a taper in a haircut?
A mens taper in terms of a haircut is a gradual change in length of your hair from longer to shorter.
How do you ask for a taper haircut?
To ask your barber for a mens taper haircut, you should just tell them that you want it. A real pro should know the term. However, what you may need to specify is how short you want it to be and what you are planning to pair it with on top.
What does a tapered haircut look like?
A men's tapered haircut features longer hair on top with the back and sides gradually decreasing in length.
What's the difference between a fade and a taper?
The main difference between a hair taper and fade is that the former implies simply taking the hair from longer to shorter, whereas for the latter to take place, the hair should be blended into the skin. That is why tapered hair is noticeably longer than faded.
REFERENCES: