Some curly hair men consider it to be a nightmare, but we can`t disagree more. A true blessing with which you can experiment so much to look the best way possible. One of the trendiest ways to keep up with curly hair is to choose a curly undercut hairstyle. Of course, it can be not the easiest to maintain this hairstyle however the final look of it will make you forget about all of the difficulties you`ve had during the process of styling. Are you curious to see what we are talking about? Would you like to upgrade your hairstyle and rock it?
How To Style Curly Undercut At Home?
Sure thing, you do not want to visit a hair salon every time you style your hair, as you will need to do it pretty often. So that you would be able to get along without the help of a hairstylist, we will give you some insight into styling your curly undercut on your own.
Tools needed:
A comb
Hair clips that will secure your locks
Hair clippers with the required attachments
Hairdresser's scissors
A hair oils or serum
A mirror.
Steps to follow:
Wash your hair with a small amount of hair shampoo and apply conditioner.
Comb the locks to eliminate knots and tangles.
Separate the section of your curls that you are going to retain from the one that you need to chop off and secure it with the hair clip.
With the hairdresser's scissors, chop off the hair length that is excess to blueprint the undercut.
Trim the hair using the hair clippers with a #2 or #3 setting below the crown. Work it down the sides and back.
For a gradual transition, switch to a shorter setting and run the clippers from the ear side to the neck base.
Using hairdresser's scissors, sculpt the top of your hair to achieve the desired look.
Rinse your hair in warm water.
Work the hair oil or serum into your locks and either leave to air dry or style using a hair dryer with a diffuser attachment.
Long Curly Undercut
Source: @ninothenice via Instagram
There are so many men`s haircuts that will look absolutely stunning, and a long curly undercut is for sure one of them. The best way for keeping your long curly undercut hair looking good is to keep it longer at the fringe area while cutting it a bit shorter at the back. Make sure the length of your hair at the front area reaches your nose cause that is the secret condition that makes this style super flirty and charming.
Dyed Curly Hair Undercut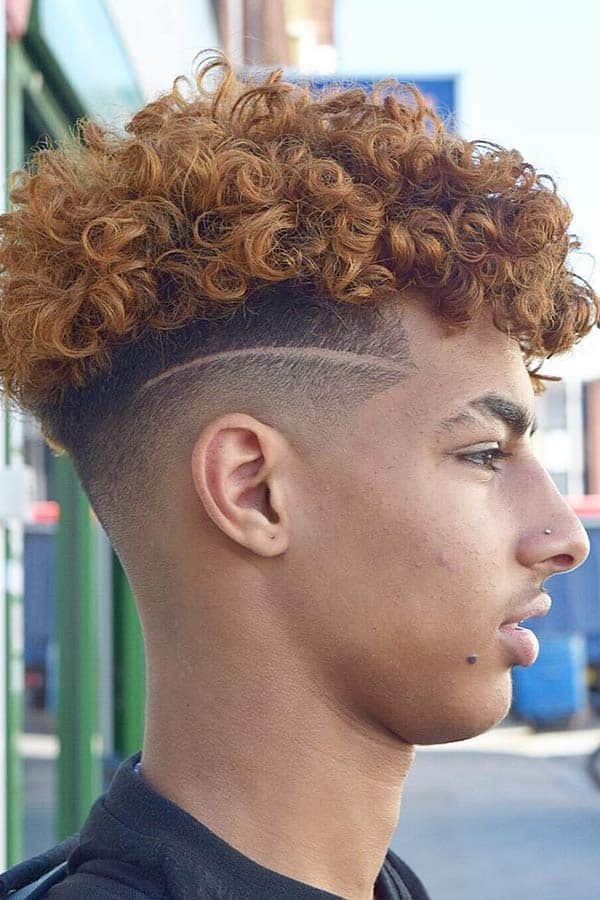 Source: @f4fade via Instagram
Are you up for experimenting with your hair? Would you like to bring in even more changes rather than just choosing new curly hairstyles for men? Well, we have a perfect idea then. Define the structure of your curly hair not only with an undercut but also with bleaching it and making it an interesting accent in your look. This is a true rock star's choice among short mens haircuts.
Side Swept Curly Hair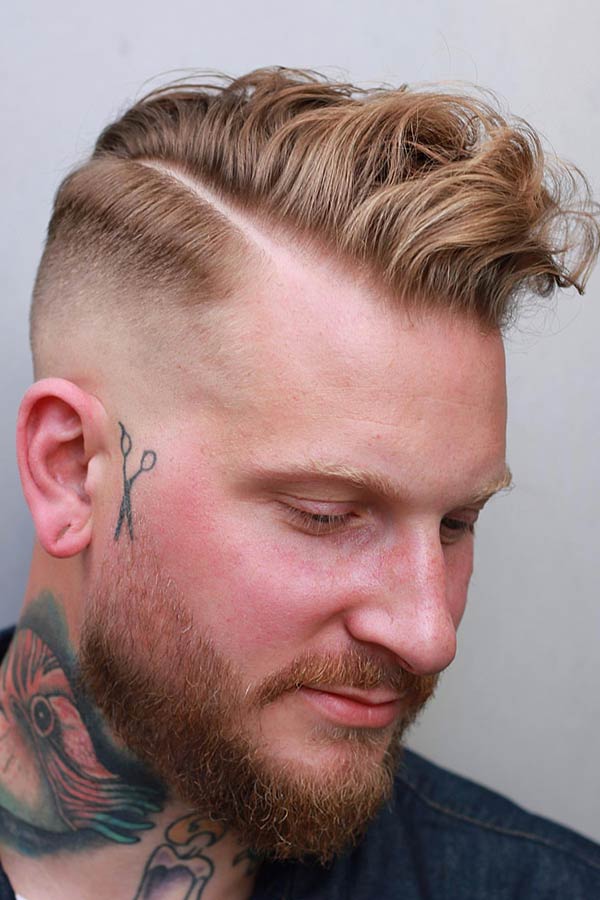 Source: @hayden_cassidy via Instagram
We love different variations of undercut hair, and this one is truly one of the favorites. Just have a look at this side-swept curly hair that looks so charming and brings in some spiciness into the appearance. Don`t you agree? It is also a perfect solution for men whose hair is not perfectly curly and tends to be a bit wavier. Leave your hair longer and thicker at the top layer and keep the sides clean and faded. One of the trendiest haircuts for men at the moment for sure.
Military Hairstyle
Source: @ninothenice via Instagram
Do you have curly hair that you prefer to cut short? Then we have some perfect short haircuts for men with such a structure of hair. A military haircut is there to become your best choice. Neat and good-looking it will make you look perfect any time of the month, keeping your curly hair in place all the time. Short curly hair has never been out of the trends, for sure.
Curly Undercut With Man Bun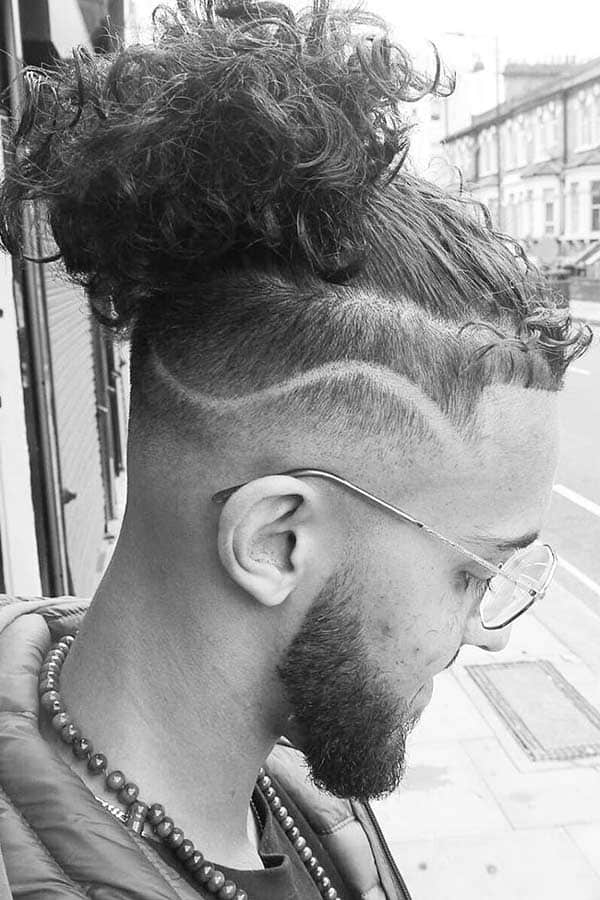 Source: @f4fade via Instagram
If you are not ready to say goodbye to your long curly hair but would love to make it look neater, we have a perfect solution for you. Leave the undercut long hair at the top and fade the sides really shortly. So fresh and clean, it will make your appearance pop, especially if you try a man bun that is so popular right now. One of the most stylish guys haircuts.
Thick Curly Haircut
Source: @f4fade via Instagram
Among best haircuts for men, there is this one. It will prevent your hair from tangling and will make your life with thick curly hair easier. We love clean looking haircut styles for men. With a fading technique at the sides, you will get a nice transition from short to long hair that will make your appearance pop.
Curly Faux Hawk Undercut
Source: @f4fade via Instagram
A faux hawk fade is here to make your curly hair pop! We love how unique and beautiful it looks. It is one of the most popular mens haircuts that helps men to rock the curly hair without much of the effort. For sure it looks harder to keep up with than it really is.
Pompadour Undercut
Source: @f4fade via Instagram
No one can deny the fact that a pompadour hairstyle never goes out of style; however, imagine when it is combined with curly hair undercut. Isn`t that a true style definition? Curly short hair will look perfect when styled like this, don`t you agree?
Curly Bang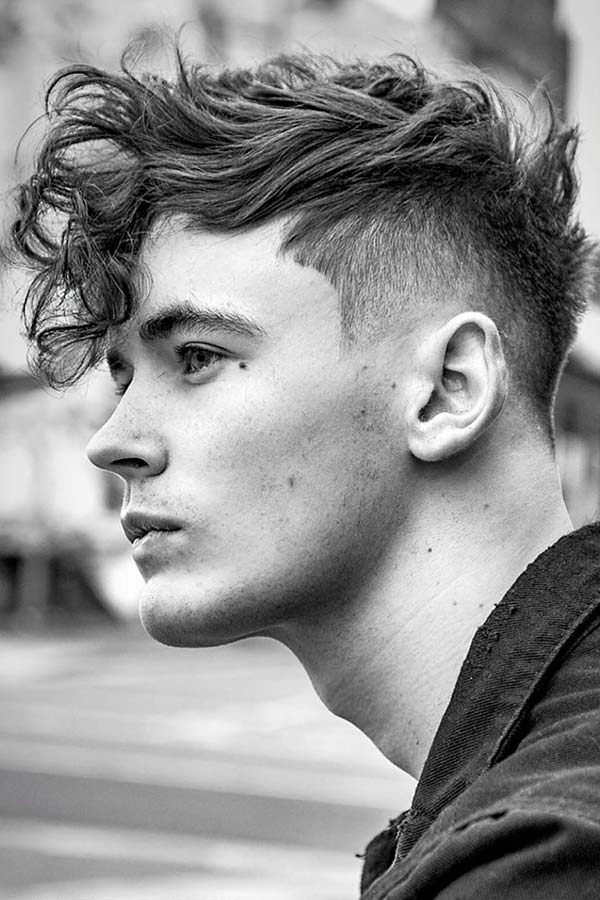 Source: @ryancullenhair via Instagram
Interesting details in the hairstyle can definitely change the appearance of the person. Here is a great example of how such a small change brings so much difference into the look. A top front curly bang that is long at the front and short at the back will make you look amazing and really stylish. Curly hair with bangs is so unique looking, don`t you think?
Faded Undercut
Source: @f4fade via Instagram
Almost every curly hairstyle looks perfect when done with a faded undercut. Such a technique will keep your sides clean and neat while the top layer of your hair will bring in a charming messy effect that is so trendy right now.
Afro Undercut
Source: @f4fade via Instagram
Men who love afro hair can still rock it while choosing an undercut hair at the same time. With neat effect at the sides, it will make all curly haircuts pop and look amazing, especially this one. A great choice for those who love trying new things!
There are so many curly hairstyles that you can try. We have gathered the best ones that will upgrade and freshen up your look without you putting much effort into dealing with it. Perfect for men who love to look stylish.
Mullet Haircut With Undercut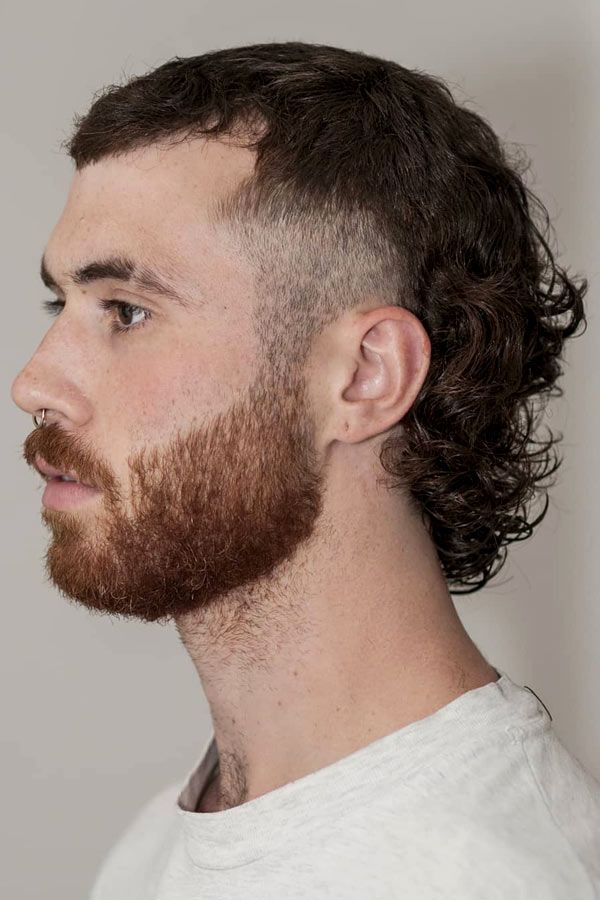 @urednistvo.pricesk.robert via Instagram
A lot of men shy away from a mullet haircut considering it old-fashioned and boring. However, if you pull it off on curly locks and enhance with an undercut, you will get a stylish and trendy look. Just apply some hair styling product to accentuate your locks texture and you are good to go.
Curly Hair With Surgical Line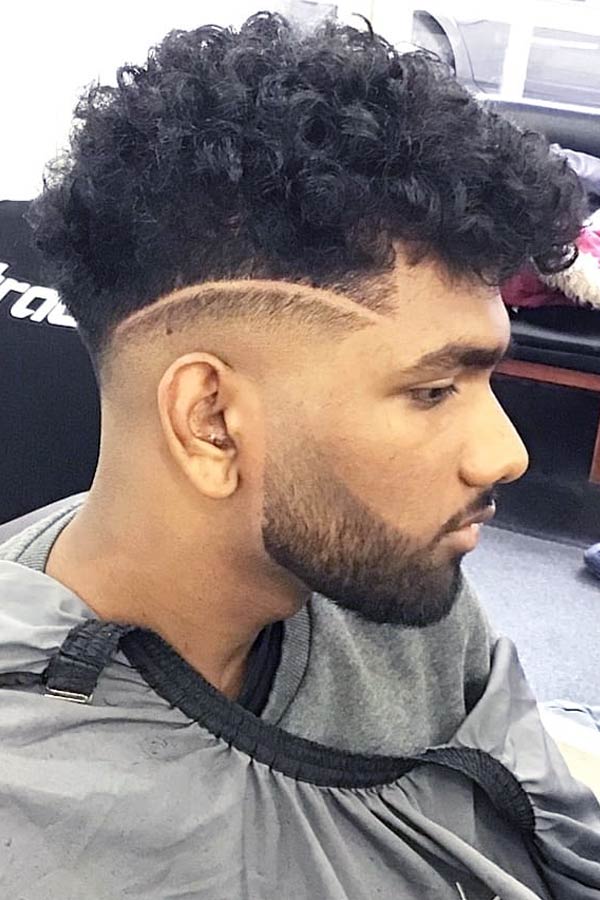 Source: @f4fade via Instagram
If you do not want to go for something overly elaborate to enhance your bold hair type, then resort to some simple yet noticeable accent. All kinds of lines are perfect for defining curly hair, especially if it is a surgical line. Having it cut on your side will make your coils give a neat and orderly impression while keeping the focus on the prominent hair texture. Add a line up along the forehead and temples for more precision.
Source: @ryancullenhair via Instagram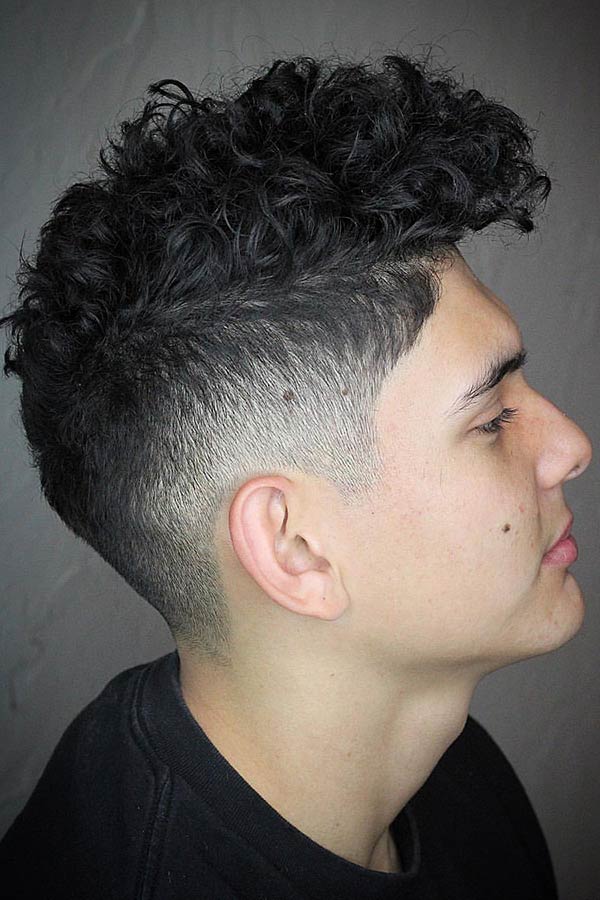 Source: @shrunknheads via Instagram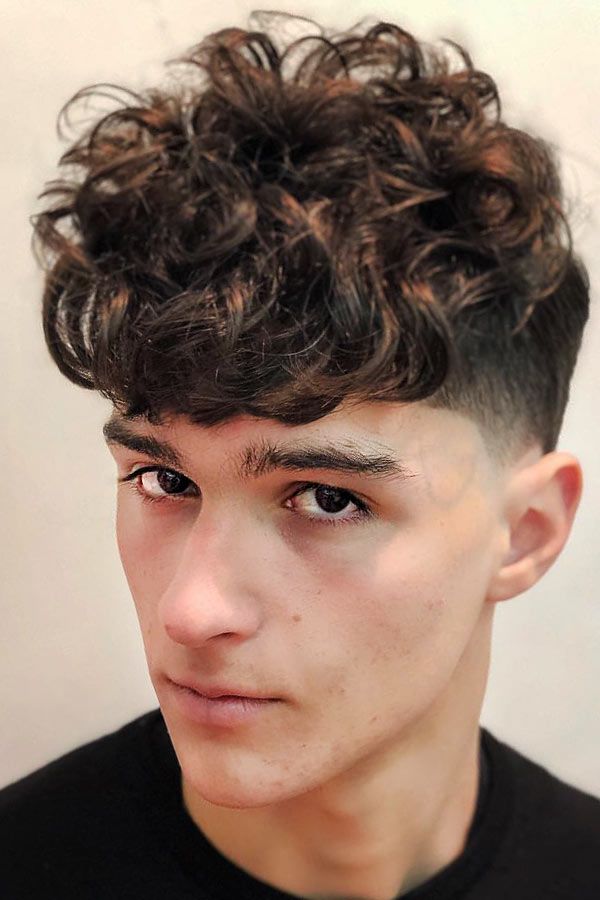 Source: @hayden_cassidy via Instagram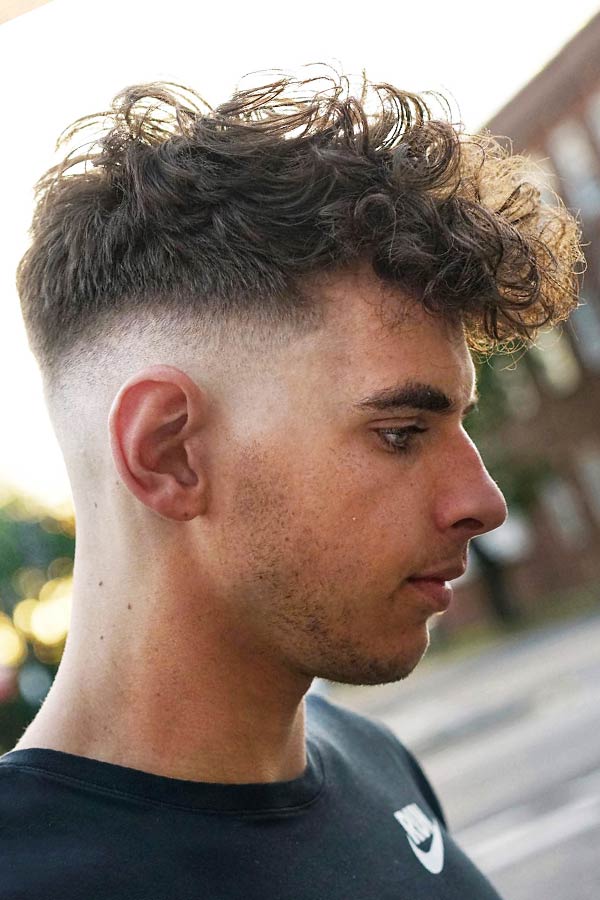 Source: @egobarbers via Instagram
Source: @hairraribarber via Instagram
REFERENCES: