If you're a man seeking a new hairstyle or a way to liven up your current look, you're missing out if you haven't tried the undercut fade. The great thing about fade haircuts is that they work with pretty much any style of hair out there.
Perhaps the classiest, an undercut fade, combines the best parts of a fade haircut and an undercut to create one cohesive and handsome feature becoming on all men. But don't just take our word for it! See for yourself below what a fade undercut is and why it should be part of your new look.
Source: @shrunknheads via Instagram
What Is An Undercut Fade Haircut?
While undercut fades work best on men with longer hair, if you have shorter hair the feature will still work. An undercut fade works by shaving or trimming the sides of your head to a very minimal or bare look from ears to temples. The undercut vs. fade difference is simple: a fade refers to the sides while the undercut is the back and right above the neck. The length continues all the way around the head, forming what is called an undercut. The result is a long top and short sides, great low maintenance and flattering look for all men no matter their hair texture or length.
The benefits of choosing a men's undercut fade are that you don't need to completely change your current look to rock it. Add the feature to your long hairstyle to edge up a man bun or ponytail, transition a crew cut to an undercut fade, or switch-up an afro by adding a fade undercut. All of these looks will narrow your face and flatter the best parts of your facial features.
Source: @alan_beak via Instagram
Undercut vs Fade
If you often confuse an undercut haircut with a fade, we are going to clarify this for you. In an undercut, your hair on the sides and back is cut noticeably shorter than that on top. Thus, the contrast between them is striking. A fade also takes the hair off the sides and back. Yet, the length decreases gradually and blends into the skin around the hairline. The transition between the top and sides is smooth and seamless.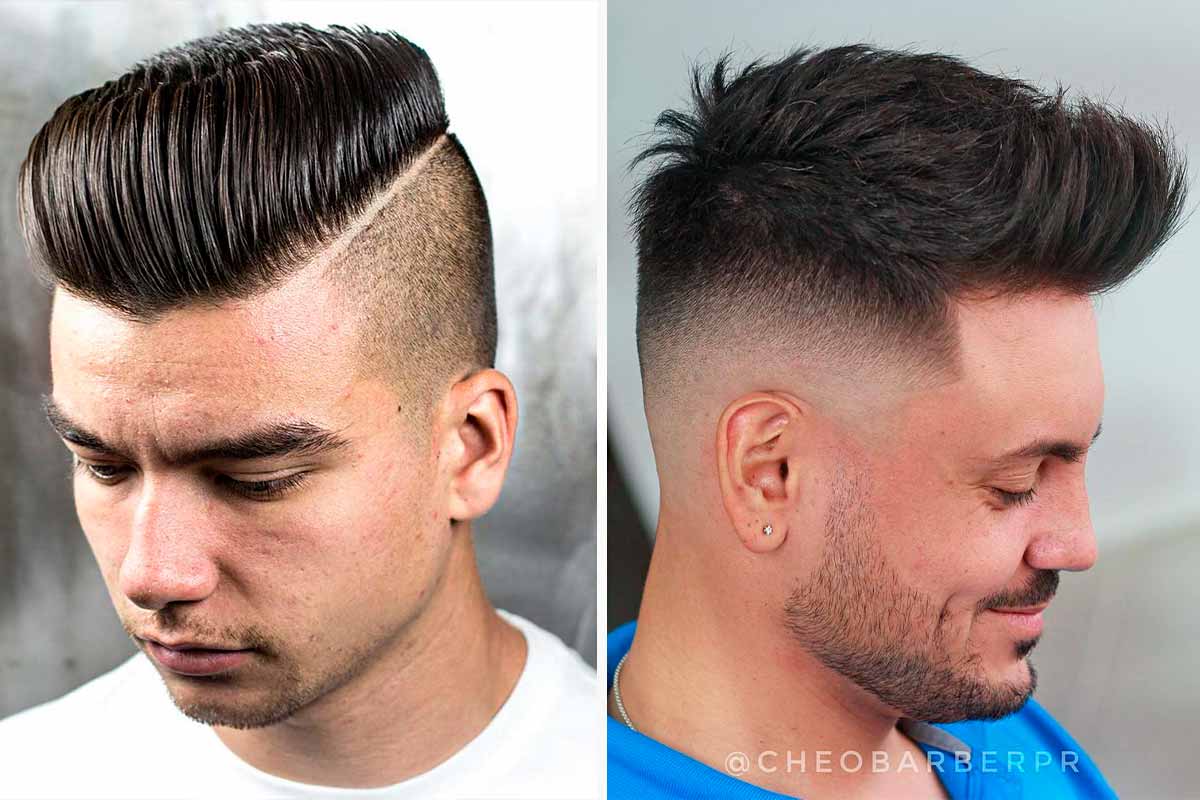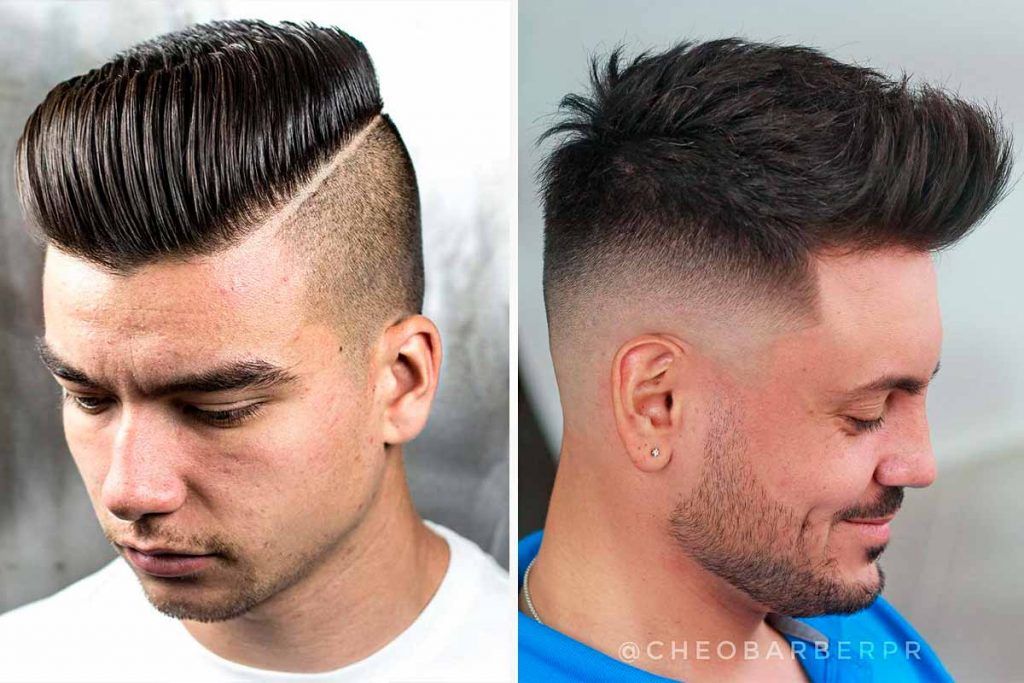 Source: @r.braid/@heobarberpr via Instagram
How You Can Wear This Cut?
If your hair is thin in texture, a fade undercut will provide a handsome contrast. Its shaving or fading of hair will accentuate the rest of your hair, making it appear thicker. For men with thick hair, a men's undercut takes the bulk out and makes your look easier to style.
Used to wearing all your hair spiked up? You can still get the texture you love, but a fade undercut will draw extra attention to the top. Like the look of hard parts? You can combine it with a fade undercut for fresh detail. Tame everything from dreadlocks and afro hair to shaggy or surfer haircuts with an undercut fade!
Source: @alexthegreatvivar via Instagram
Low Fade Undercut
An undercut haircut on men with a gradual fade draws the attention to every part of this detailed do, from the smooth neck and lineup to the thick textured top and low fade.
Source: @cheobarberpr via Instagram
High Fade Undercut
An undercut fade for men with a high fade features shaved or trimmed hair from ears to the temple line, leaving a rounded shape to top the head with blonde locks.
Source: @ryancullenhair via Instagram
Skin Fade Undercut
Pair a men's undercut bald fade with smooth skin on sides for professional vibes you can rock at work and at home. The top hair is spiked up and all one length for easy styling.
Short Undercut Fade
Make your current hairstyle more noticeable with a pop of electric pink or blue over a dark base, then add a fade undercut. Combined with a trimmed beard, it's the perfect mix of neat and rugged.
Source: @ryancullenhair via Instagram
Tapered Undercut Fade
A taper haircut and undercut fade it's a mix of styles: tapered back oh your head merges with undercuted sides. Consequently, on the side you have a clear cutting edge, which comes down from the bottom with a soft fade. It complements this hairstyle light side parting and surgical line as a design.
Source: @mikes_custom_kuts via Instagram
Bald Fade
The bald fade haircut abruptly goes from long to short hair and then fades to the skin. Yes, the bald fade is intense, and it looks really sharp, especially when slicked back.
Source: @nickthebarber via Instagram
Disconnected Undercut
What else is good about an disconnected undercut is that it allows you to go as long with your hair on top as you like. If you want to make a real fashion statement with your hairstyle, grow out the hair on top so that it reaches your nose and get it disconnected from the sides with an undercut fade. As a final touch, dye the top section of your hair in an ombre technique, which is all the rage now.
Source: @nickthebarber via Instagram
Comb Over Fade
A mens comb over blends the timeless with the contemporary. The end result proves that opposites attract. This model's comb over fade looks exciting and contemporary. Notice the line in the undercut. It nicely accentuates the skin fade comb over.
Source: @ryancullenhair via Instagram
Hard Part Haircut
The hard part haircut automatically incorporates the etched line. Here, the model combined it with the undercut and taper and created a hard part fade. This kind of undercut fade allows you to make the hair up top the focal point of the whole look thanks to the outline the hard part creates. It's cool. It evokes some rebellious icon who will eternally define cool. Hence, you are welcome to style the top section of your hair whatever you like. Try out different styles to figure out which one resonates with you most.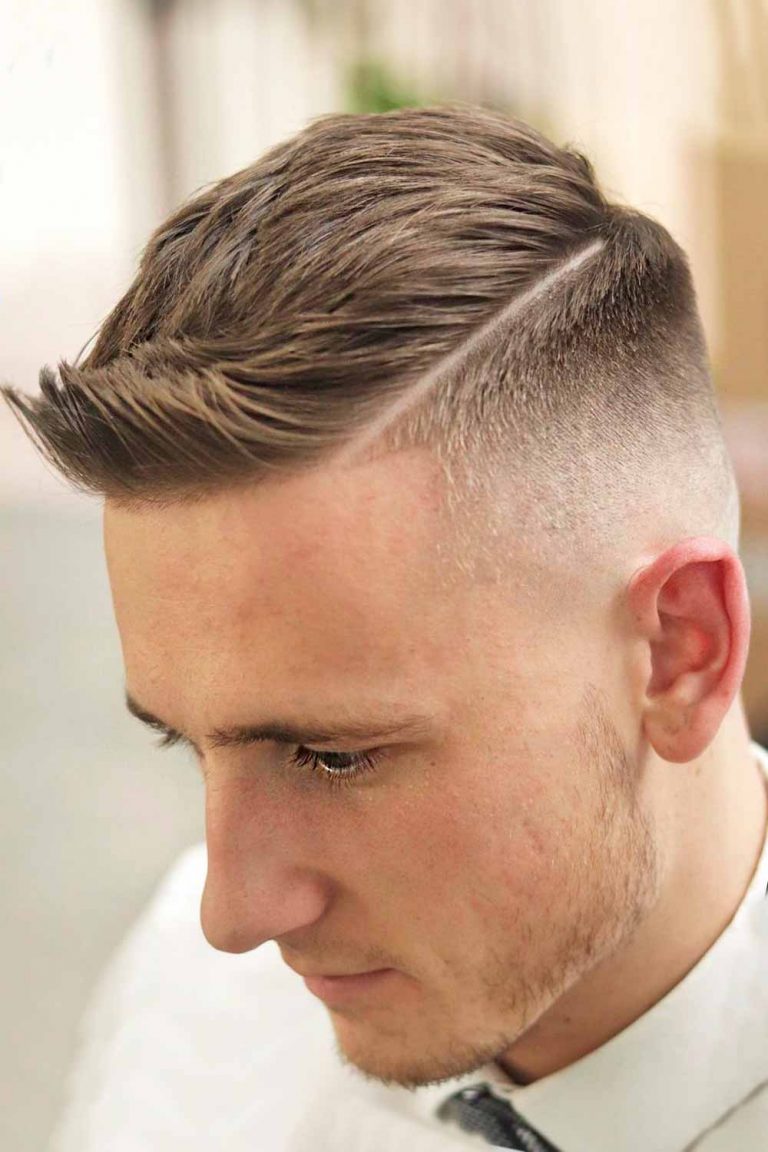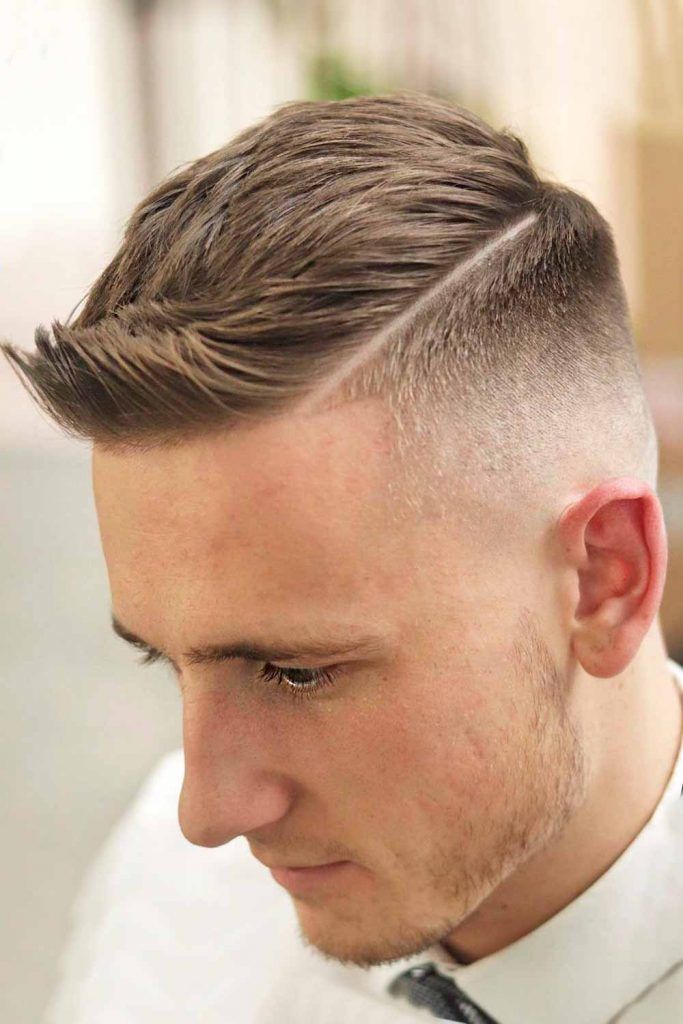 Source: @alan_beak via Instagram
Mohawk + Undercut Fade
Combing back all the hair gives the illusion and fun of a Mohawk, without the commitment. This model's Mohawk fade, along with the color and the etched line, is both awesome and distinct. Where else will you find a cut like it?
Source: @jubei_ma via Instagram
Undercut Fade Long Hair
If you want to upgrade your long hairstyle, then an undercut fade men haircut is your way to go. It creates a clean and neat silhouette, so your hair look is going to suit almost any ambiance.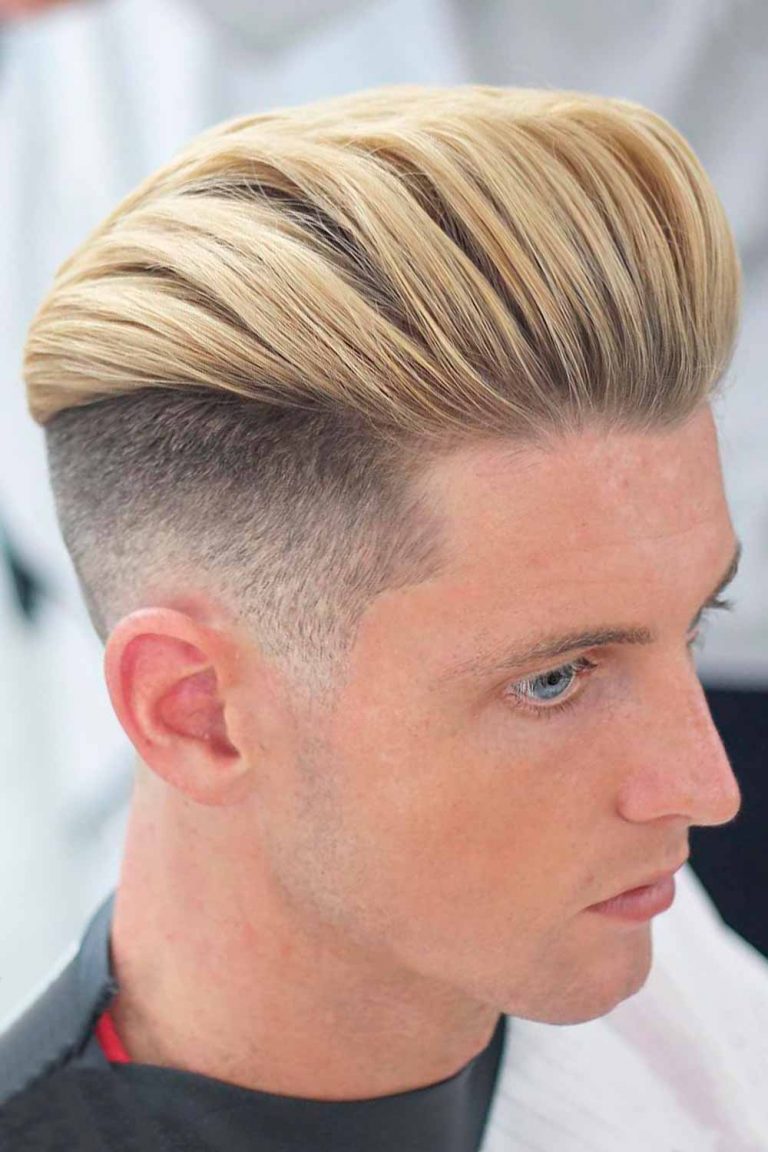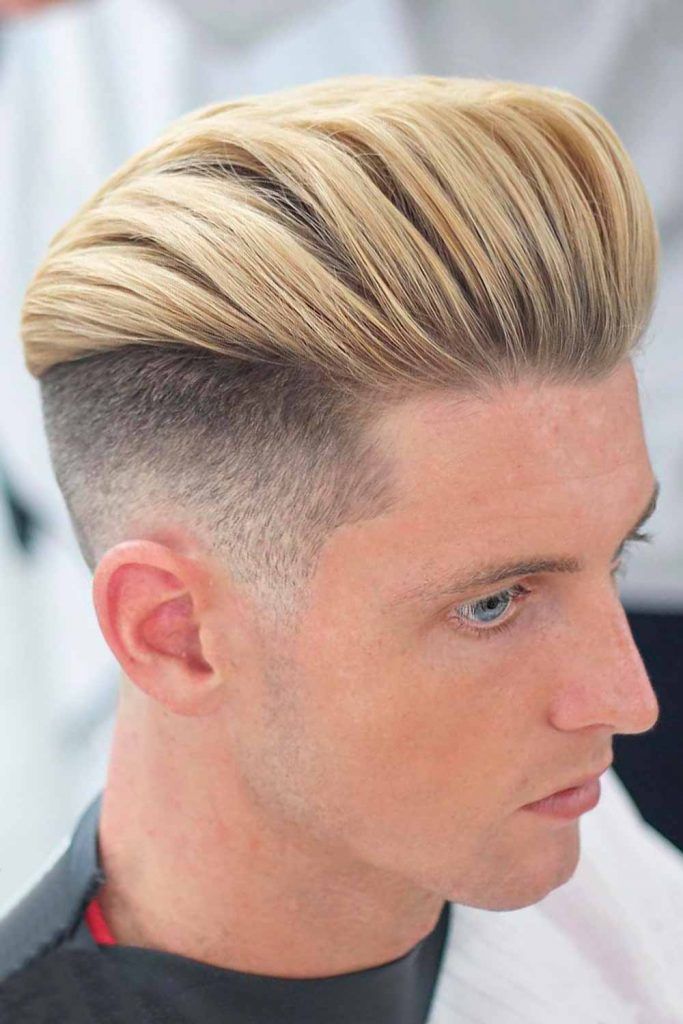 Source: @alan_beak via Instagram
Pompadour Hairstyle With Undercut
The Pompadour got its name from Madame de Pompadour, King Louis XV's mistress. Elvis Presley, another icon of cool, turned it into a mens pompadour and young men at the time went nuts for the macho rock and roll hairstyle. Today, it's the pompadour fade, and it's just as macho and just as cool. Hopefully, today's young men will get to know "the king."
Source: @hayden_cassidy via Instagram
Slicked Back Undercut Fade
Slick back hair looks great as it is or with the product. Combine it with a slick back undercut or slick back fade, like this model's, and you've got a "wow."
Source: @kevinelezaj via Instagram
Messy Texture On Top + Undercut Fade
Messy hair looks really neat atop an undercut fade. For those who consider themselves messy hair men, this hairstyle is for you. Notice this model's grungy beard and tousled hair. He looks amazing and, dare we say, sexy.
Source: @cheobarberpr via Instagram
Curly Undercut Fade
Curly hair can sometimes be a styling challenge. Not anymore! The undercut curly hair controls those curls and makes women want to touch them! Note what this model did with the product and a curly hair undercut. He both defined and brushed his gorgeous waves over his curly undercut. Fabulous.
Source: @ryancullenhair via Instagram
Tousled Quiff
Quiff hair is a bit like a pompadour, in that it's swept up and back, but it's not as top heavy and is fuller on the sides. It can also be styled differently whether you wish to get slick or tousled hair. With a quiff hairstyle and some styling product and/or teasing, you can add volume and texture, like this model did. You can even flatten and tame hair, if you wish. The choice, as always, is yours.
Source: @ryancullenhair via Instagram
Caesar Haircut +Faded Undercut
With an undercut fade, a Caesar haircut gains a modern and stylish touch. In such a way, it looks much edgier and contrasty, keeping the focus on the hair atop. Thus, it allows you to play around with the hair texture, going for a feathery, spiky or curly top for added boldness.
Source: @hayden_cassidy via Instagram
Undercut And Faux Hawk
Although a faux hawk implies having some hair on the sides, it doesn't mean that there's supposed to be plenty of it. In addition, when you have an undercut fade on the sides, it allows the crest to stand out even more. For extra emphasis, you can add platinum highlights to the hair on top and a shaved in line along the sides.
Source: @ryancullenhair via Instagram
Ivy League +Fade
A classic and elegant Ivy League haircut may look too smart and preppy on some occasions. That's why it's highly beneficial to pair it with an undercut fade, which will make your hairstyle a bit more casual yet trendy. On top of that, when your sides are cut that short, styling your hair doesn't require much time and effort.
Source: @alexthegreatvivar via Instagram
Spiked Top
As we said, an undercut fade is a perfect solution if you want to make your hair on top a focal point of the whole look. It brings all the attention to the texture of your top, so be sure not to limit your imagination. A spiked up top will create an unusual and eye-catching appearance of the top. Besides, it's quite low maintenance. We don't see any reasons not to opt for it.
Source: @ryancullenhair via Instagram
Undercut Fade With Beard
A mens undercut fade pairs nicely with a bushy facial hairstyle. So, feel free to grow a full thick beard if you have your hair undercut and do not worry that you are going to look unkempt.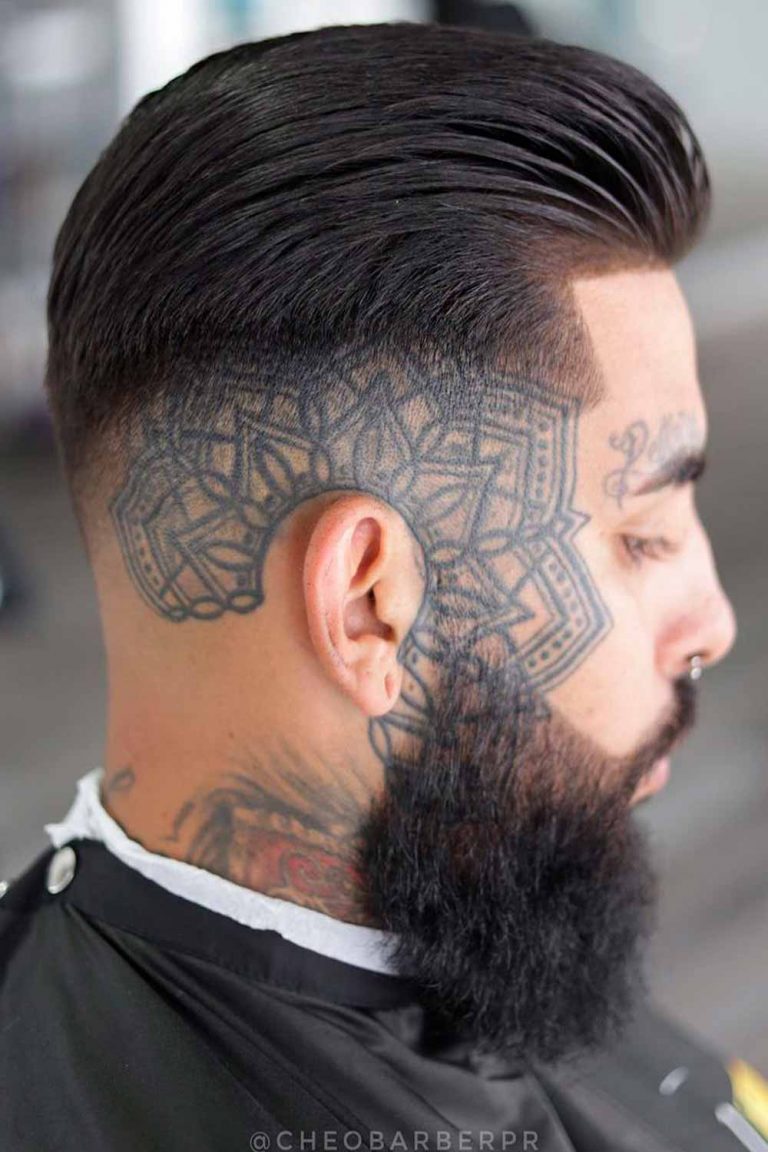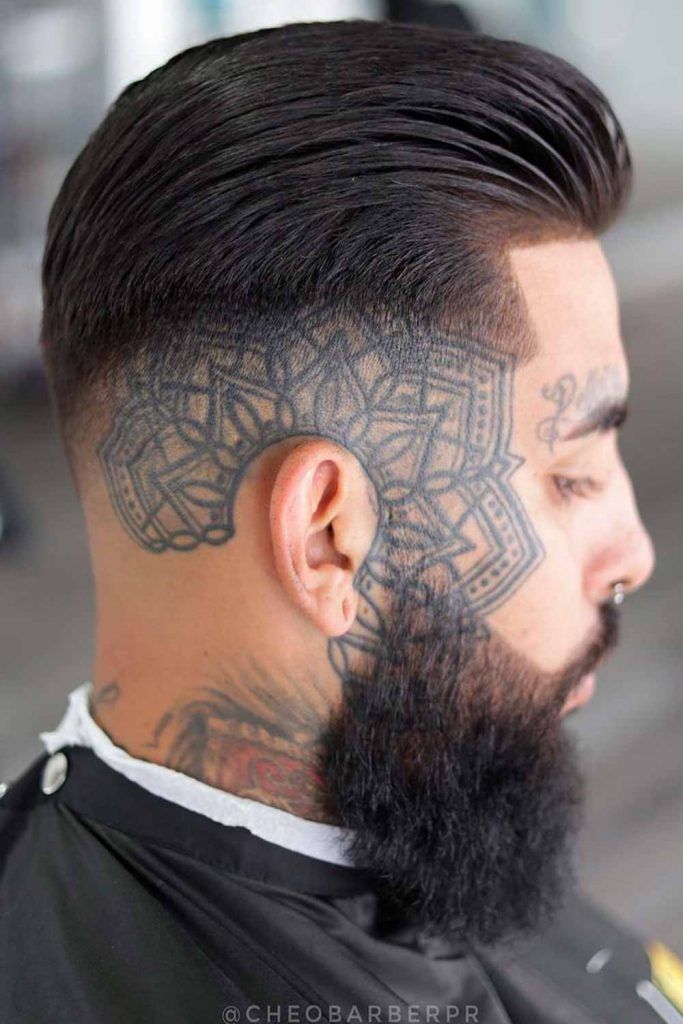 Source: @cheobarberpr via Instagram
Longer Crew Cut +Undercut
You may be surprised but an undercut fade can be teamed with such relatively short haircuts for men as a crew cut. Just leave a bit more hair at the front section of the head than you normally would and go for a bald fade on the sides, and you'll gain a high-contrast look.
Source: @ryancullenhair via Instagram
High And Tight Haircut Fade
If you have thick and voluminous hair, then you're bound to try on a high and tight haircut with an undercut fade on the sides and back. It creates a lot of contrast, especially if you opt for a skin fade. Besides, such a hairstyle makes you visually taller and your face shape longer, which is quite beneficial, don't you think?
Source: @urednistvo.pricesk.robert via Instagram
Cropped Cut
Cropped top haircuts are on a roll these days. However, to make them look more stylish and bold, you may add a skin undercut fade to the sides. As you take away hair from the head, you're welcome to add it to your face. A full beard is a great option to go for. With such a combo, there's no way your hairstyle will go unnoticed.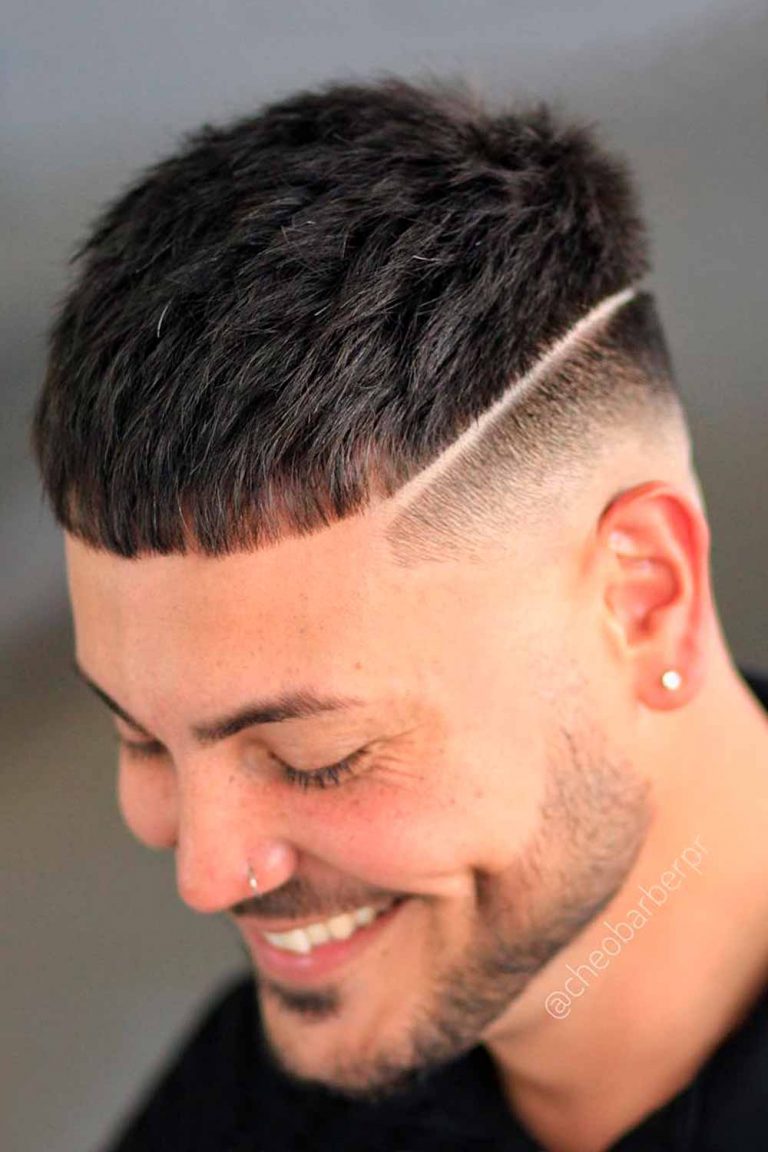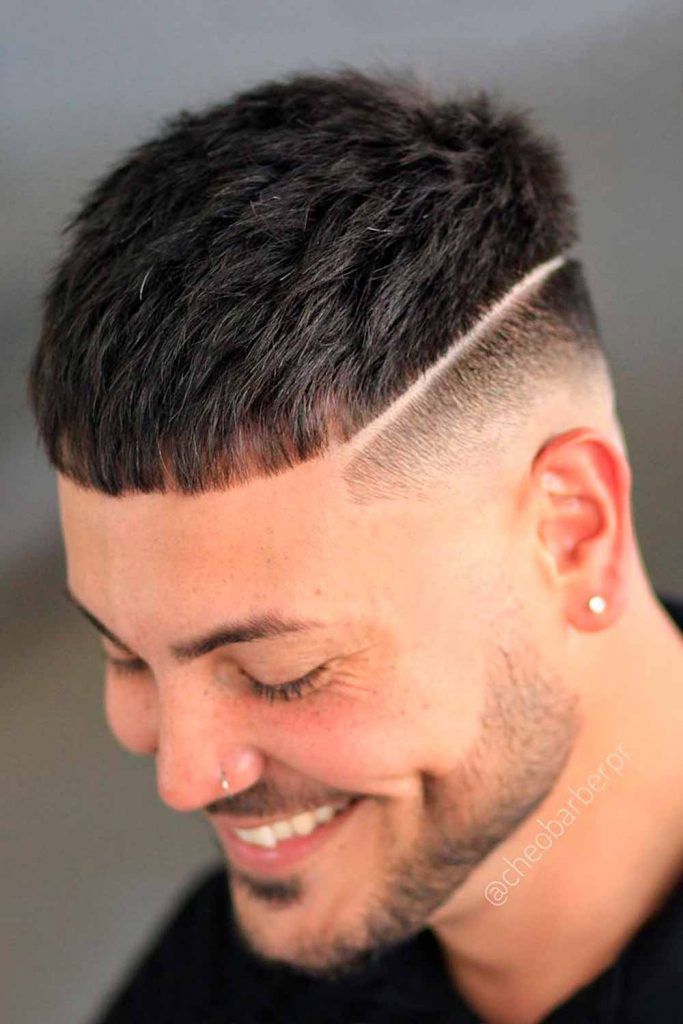 Source: @cheobarberpr via Instagram
Edgy Bleached Top With Undercut
A high bald undercut fade refuses to let you look away from the hair on top. Hence, do your best to work out a really stylish and elaborate hairstyle. A brushed up textured top is a sure way to go. However, you can make your 'do much edgier by bleaching the ends of your locks, which creates a great contrast if you have naturally dark hair.
Source: @ryancullenhair via Instagram
Side Part With Line Up
Want to achieve a really distinct and bold look? Add more lines to it. A side swept undercut with a line up around the forehead, temples and cheekbones comes out defined and edgy. In case you find it too sharp, it's always possible to balance it out with a blurry undercut fade.
Source: @hayden_cassidy via Instagram
FAQs
What is an undercut fade?
An undercut fade is a mix of two popular men's haircuts – an undercut and a fade. On the sides, it incorporates short hair faded high and blurry. The top is usually left long or mid length.
What is the difference between fade and undercut?
When you are talking about a fade, you usually refer to the hair on the sides, whereas by the fade, you should understand the hair on the back and near the area of your neck.
What do I tell my barber for an undercut?
To get a perfect undercut fade, you need to ask your barber to start from your hair on the sides using zero attachment and fade it toward the top all around the head with the help of the #1, #2 or even #3 attachment. As for the top, leave the hair around 3.5.–5 inches long, depending on the length of the hair on the sides. And do not forget to tell them to blend your top into the hair on the back using #1 or #2 attachment.
Is the undercut still in style 2021?
Arguably, an undercut is one of those timeless haircuts that never go out of style. So, yes. It is still on trend.
How long does it take for an undercut to grow out?
It depends on how long you want your hair to be. It may take you from several months to a couple of years to grow your hair back after getting an undercut.
REFERENCES:
The undercut is a hairstyle that was fashionable from the 1910s to the 1940s, predominantly among men. Source
A regular haircut is a men's and boys' hairstyle that has hair long enough to comb on top, a defined or deconstructed side part, and a short, semi-short, medium, long, or extra long back and sides. Source