Short sides long top haircuts have been on trend for a good few years now, and they're definitely not going to fade away any soon. Their incredible versatility allows you to customize your hairstyle to match your face shape along with individual preferences. You can style the top section of the hair with various colors, layers, shapes, and textures. The sides, in turn, can be undercut, faded or shaved. To keep up with the latest trends, we've prepared a collection of the best short on sides long on top haircuts.
Long top short sides haircuts are getting more and more popular every year. One of the reasons for such a trend is that these modern haircuts allow men to style their hair in many different ways while requiring very low maintenance due to the length of the sides.
As the short sides long top haircut is highly versatile, it's generated many cool men's hairstyles. For instance, you can fade or undercut the sides while on the top, growing out medium length hair to style a pomp, quiff, fringe, side part, slick back, faux hawk, comb over etc. etc. So, let's get a closer look at our options.
Short Sides Long Top Straight Hair
This is one of the most basic haircuts for long straight hair. The sides should be trimmed while the top hair is in medium length. In case your hair is naturally curly, resort to straightening it up with a special spray and a flat iron. Sometimes, straight mens hair styles require a little bit of lift, thus give it a go with a voluminous mousse or gel.
Source: @alan_beak via Instagram
Long Hair Undercut
To give long hair a modern twist, ensure that your bangs are layered and sides shaved. Seeking for a high contrast, get one of the short mens haircuts on the sides, like a buzzed undercut or high fade.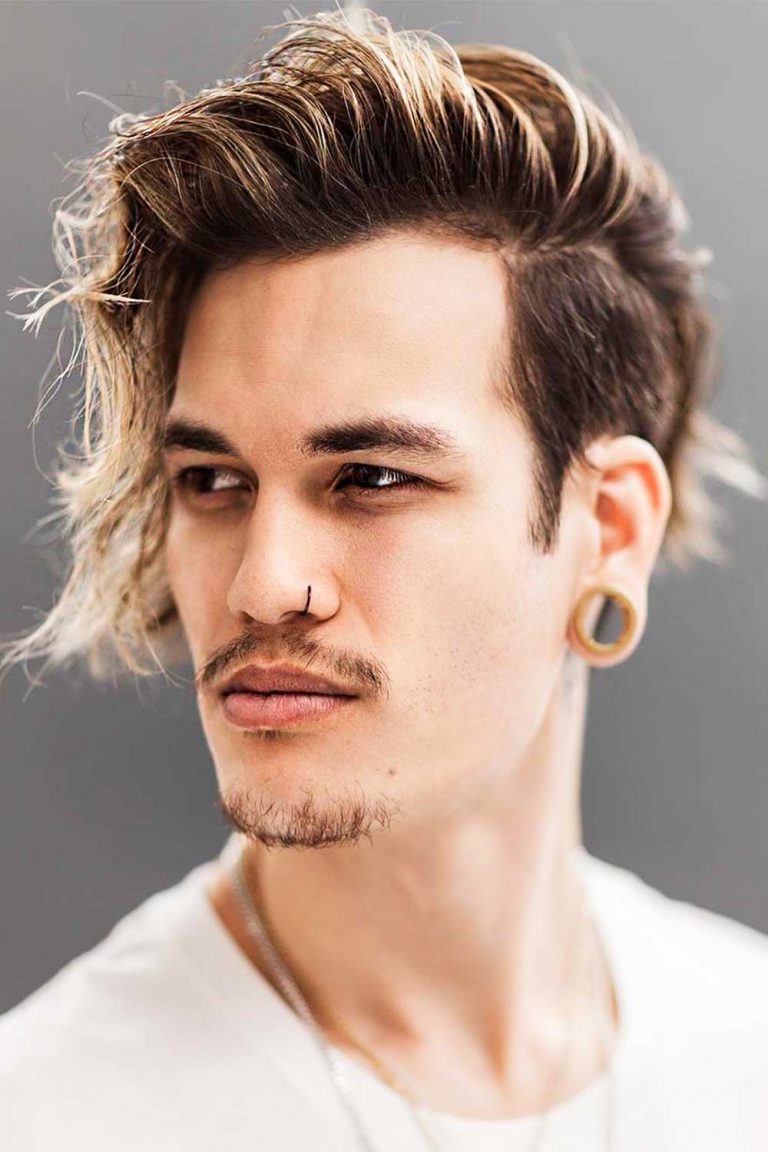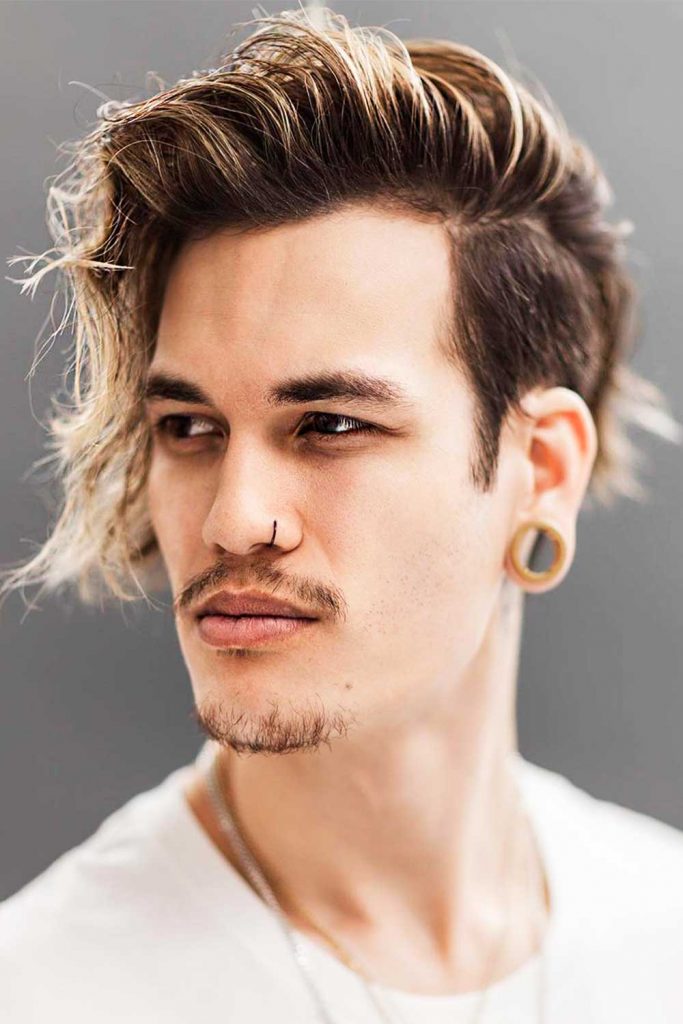 Source: @andrewdoeshair via Instagram
Textured Hairstyles With Bangs
Long hair with side bangs can perfectly frame your face with its textured look despite your hair type. To make men's hair styles textured, cutting your hair in layers or adding some gel is the utmost.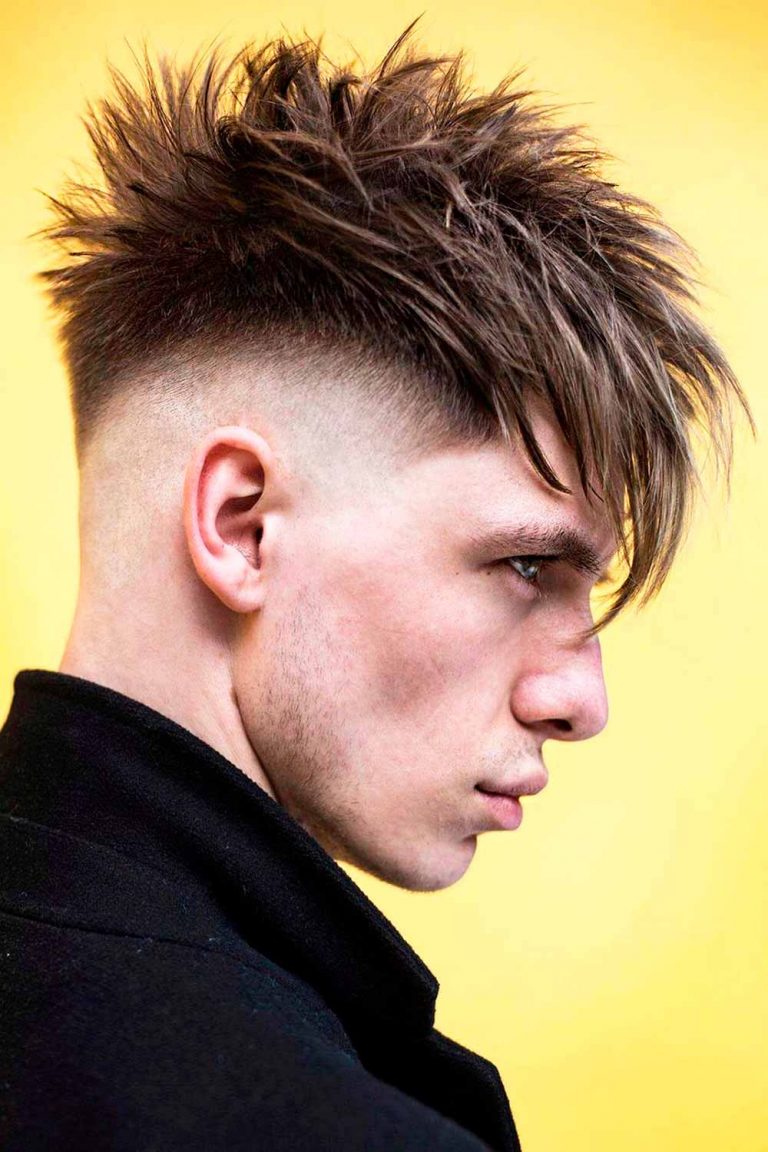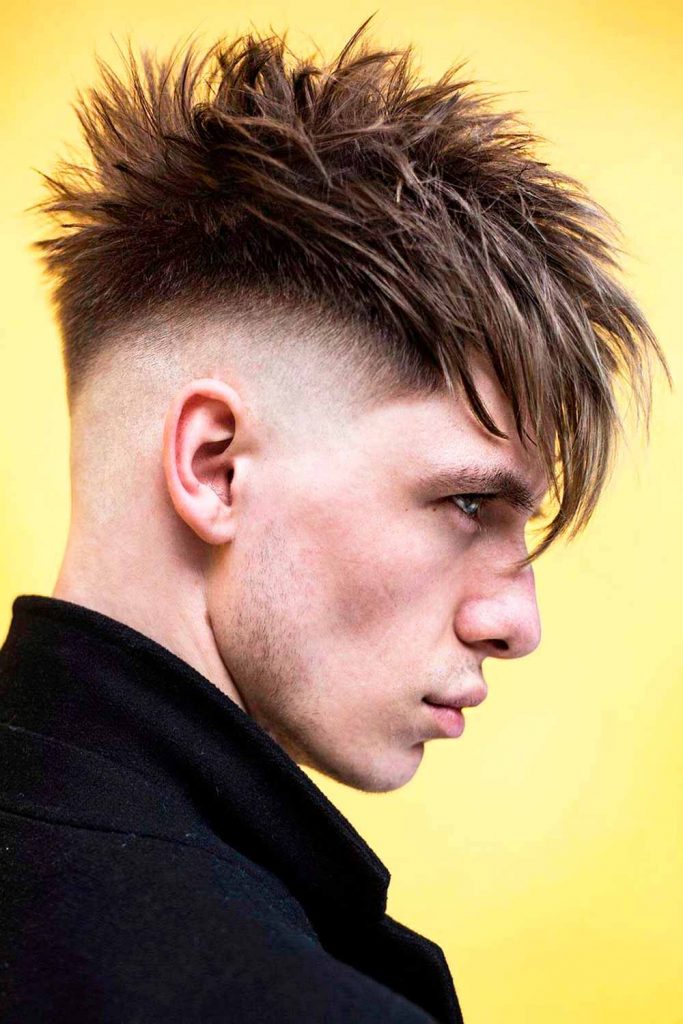 Source: @r.braid via Instagram
Slicked Back Mens Haircuts Long On Top
If you want to give your long hair on top a fresh touch, consider applying some gel and shaping it in a slick back hair style. Thus, you prove that long hair cuts can easily fit a formal environment, as styled in this way, they appear elegant and neat. If you don't want to look too preppy, just pair your slicked back hair with a rugged beard and a handlebar mustache.
Source: @alan_beak via Instagram
i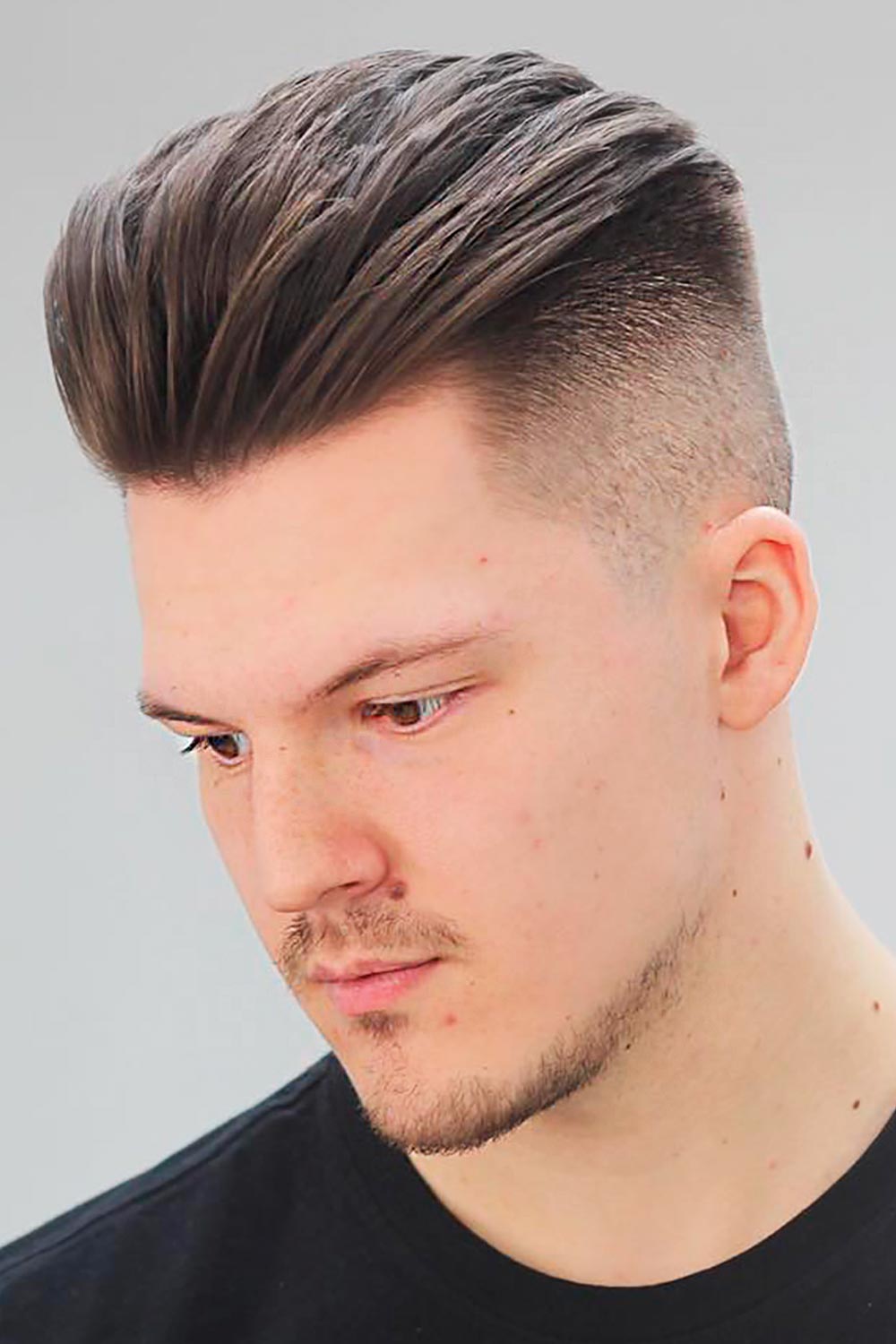 Source: @alan_beak via Instagram
i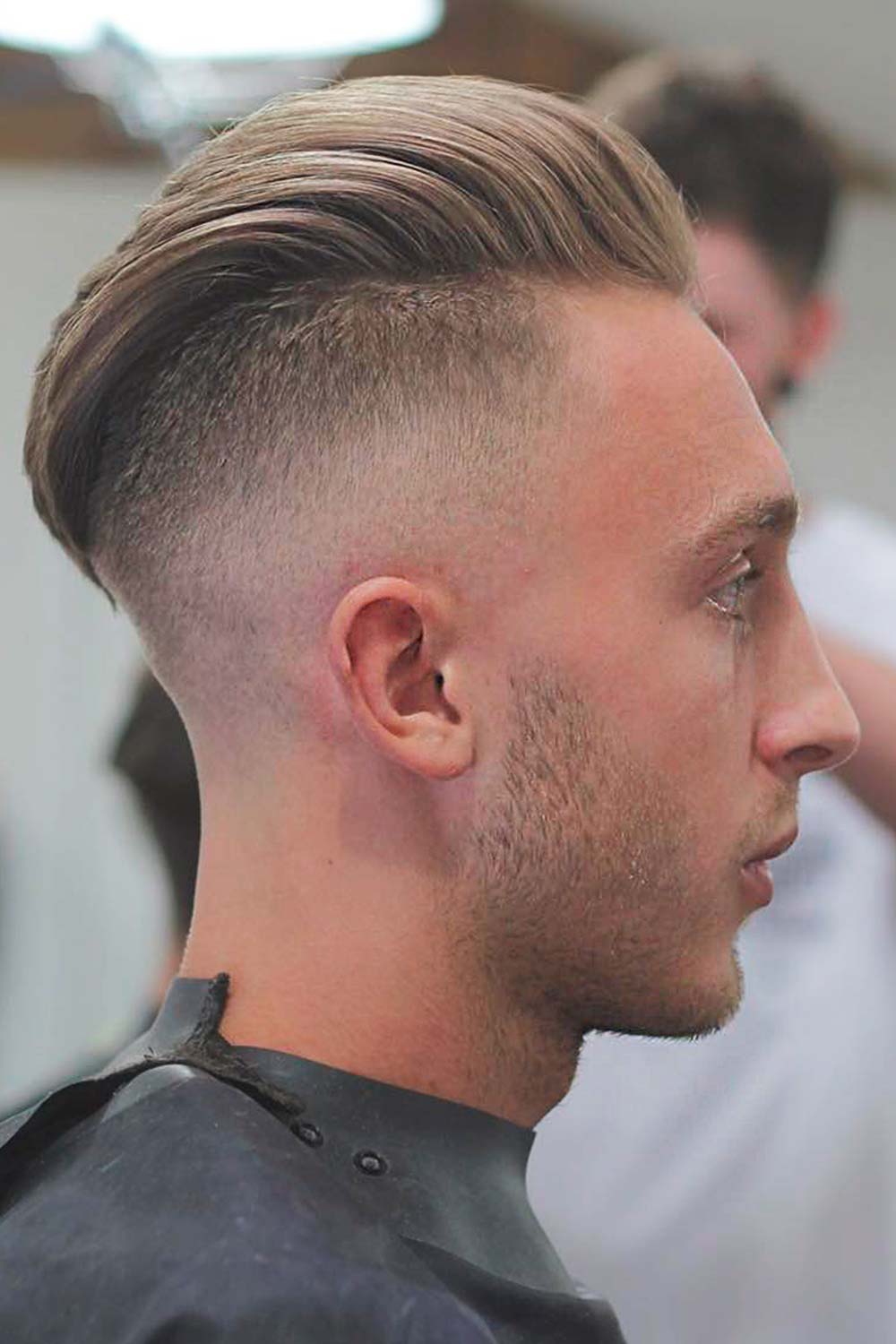 /
Simple Part Mens Short Sides Long Top Hair
When you do not want to go for anything overly elaborate, a simple side part is a perfect choice for your short sides long top men hairstyle. You can make it sharp and defined or effortless and natural. Either way, it will look stunning.
Source: @alan_beak via Instagram
Pompadour With Part And Fade
Such a classic long hair short sides haircut as a pompadour offers you a myriad of styling options. To give your ample top more emphasis, complement your look with an undercut fade. The size of the pomp may vary depending on your preferences.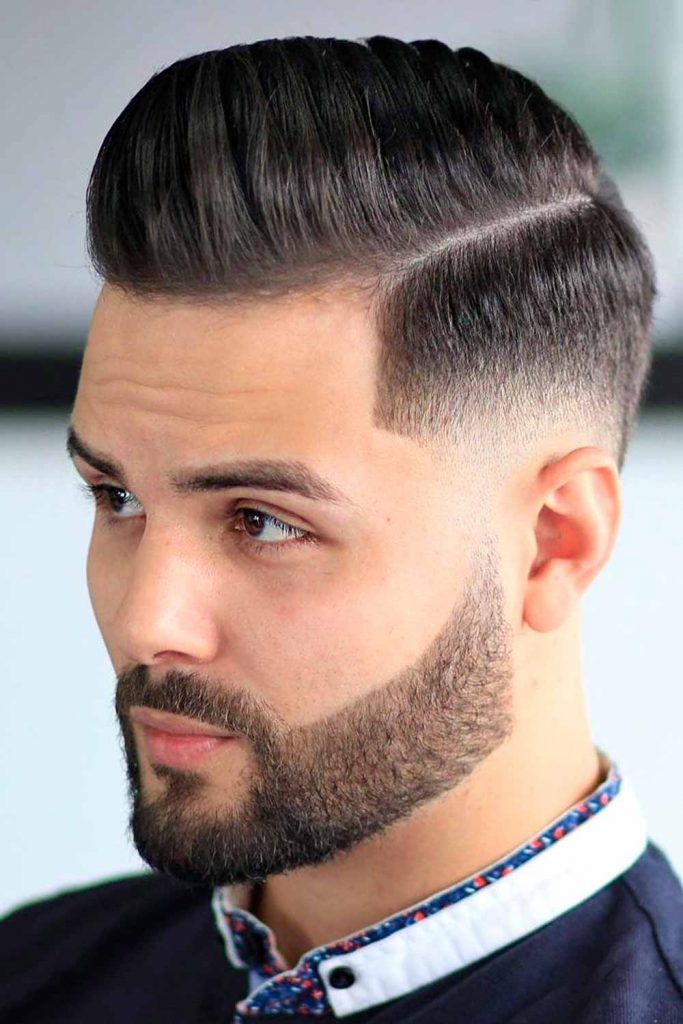 Source: @cheobarberpr via Instagram
Faux Hawk Haircut Short On Sides Long On Top
Interestingly, the faux hawk is one of the most requested and adaptable short sides long top hairstyles for men. You can get the look by pushing the top hair together at an angle to make it look pointy. The sides though require one of the mens short haircuts, like a fade or undercut.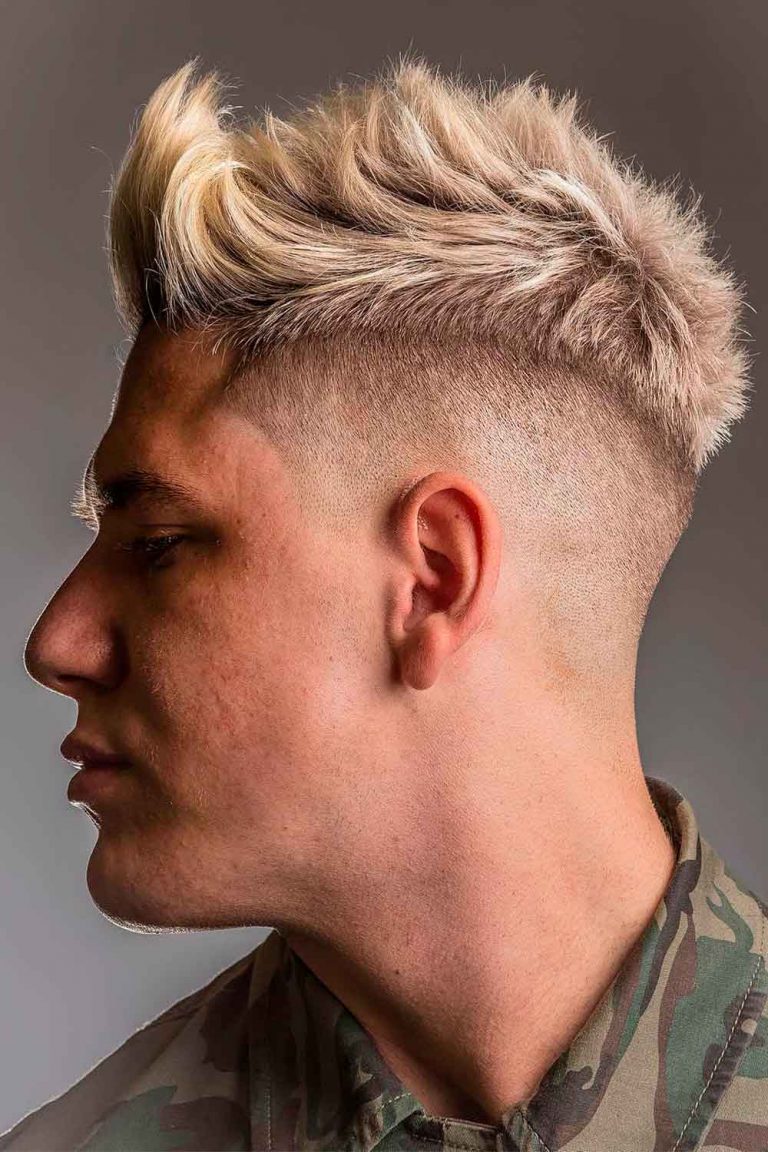 Source: @tombaxter_hair via Instagram
Men's Haircut Long On Top Short On Sides With Bangs
To give your face a more proportionate look, opt for medium hair with bangs. It doesn't require much time or effort to grow out bangs. A little strand of hair hanging over the forehead can be already considered bangs. There are several ways how you can cut your front hair though. You can make it layered, tapered or straight. Anyway, bangs come out fantastic with men's short haircuts.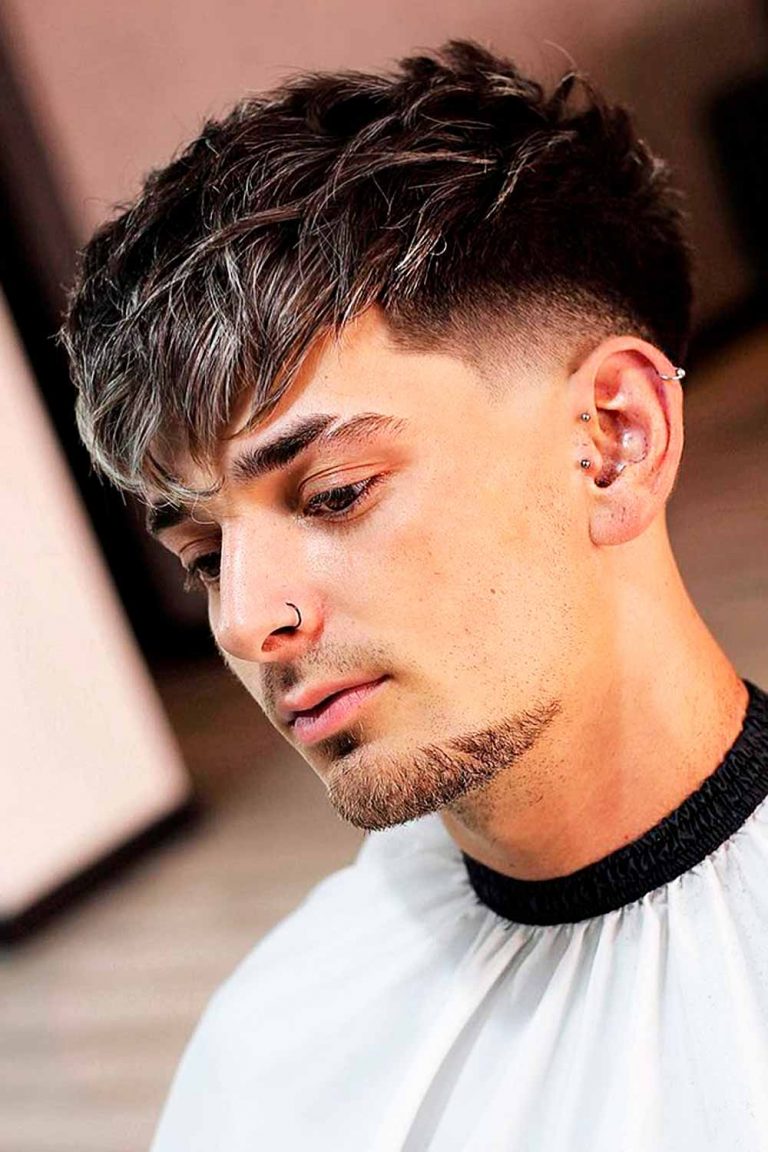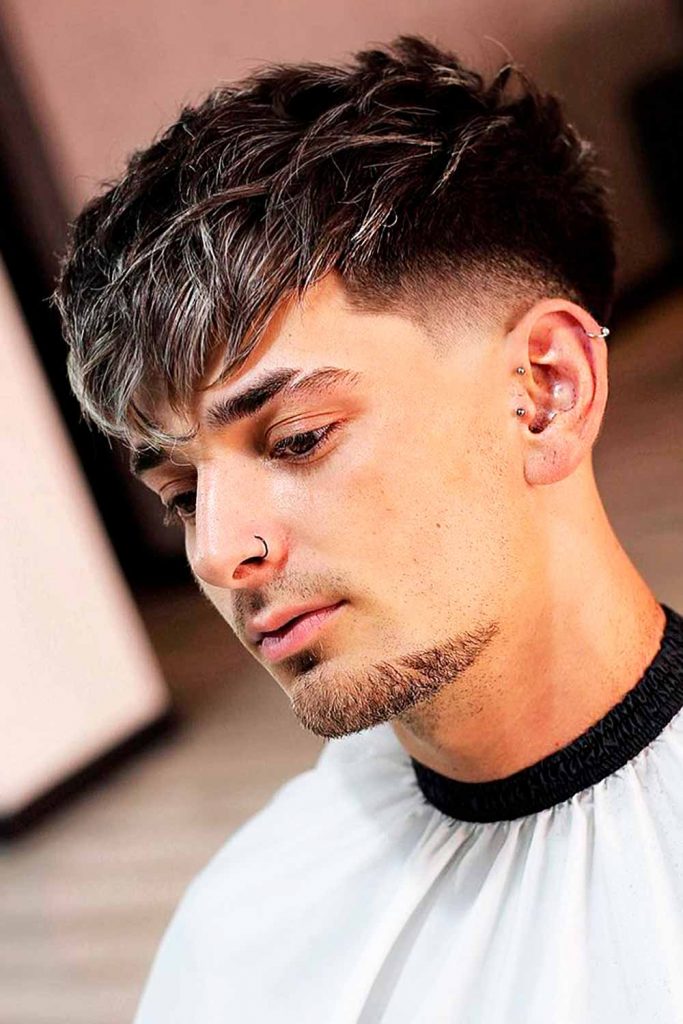 Source: @ryancullenhair via Instagram
Wavy Short Sides Long Top Hairstyles
The disconnected undercut works perfectly on practically all types of haircuts for men. If you have curly or wavy locks, try out the shaved sides long top hairstyle. With your hair texture, it'll look defined and appealing. Brush the hair at the back forward so that the hair on top would come out shorter.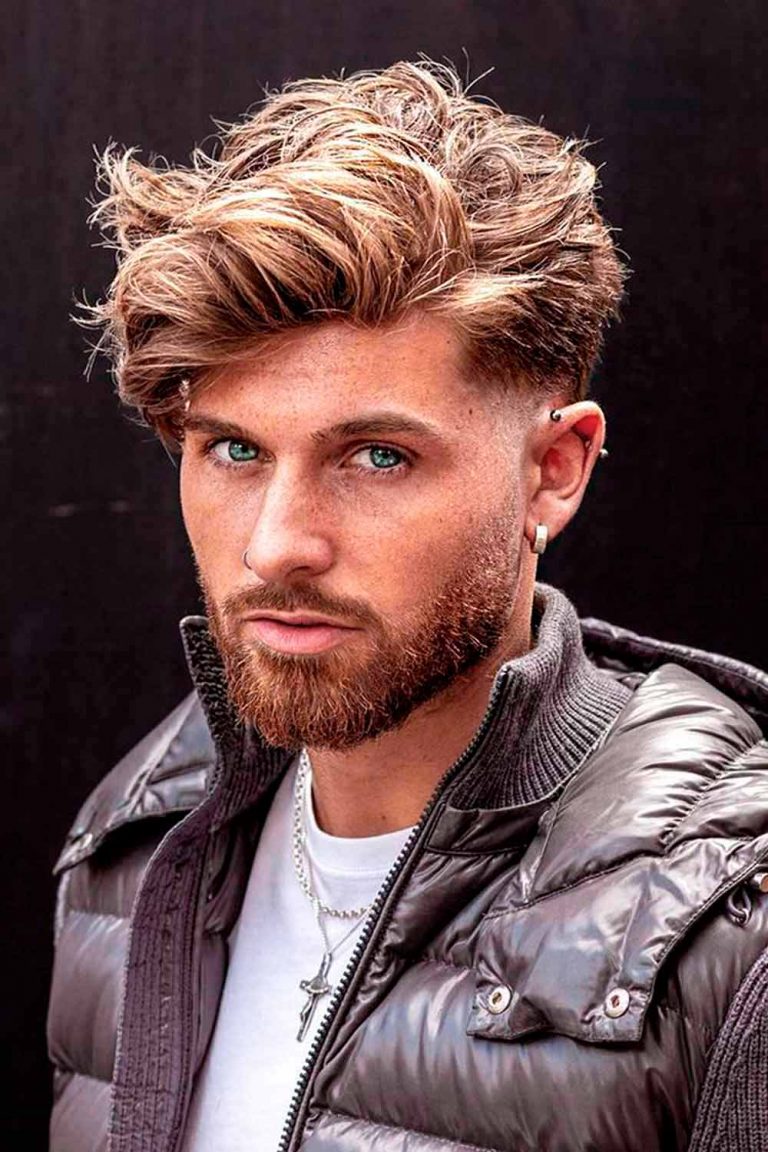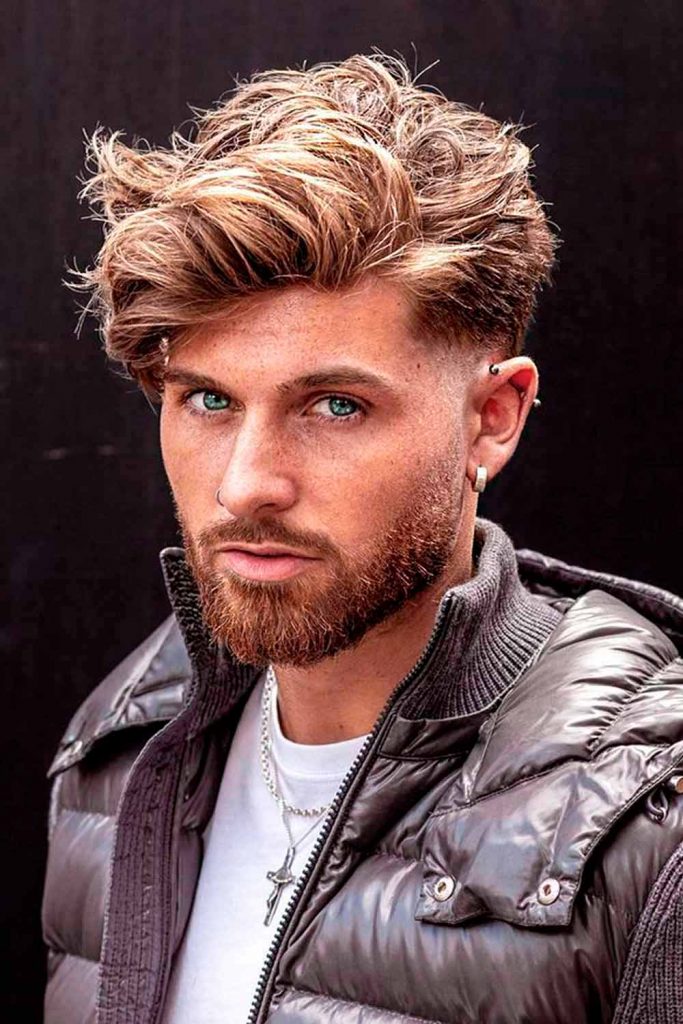 Source: @tombaxter_hair via Instagram
Tapered Pompadour Long On Top Fade On Sides
In order to give you some more ideas on how to style long hair, we've put a tapered pompadour haircut on the list. To achieve the look, the hair should be longer in the front and shorter in the back. This pomp taper haircut helps to take the hair away from the face, showing off your sharp features.
Source: @barberking_kh via Instagram
i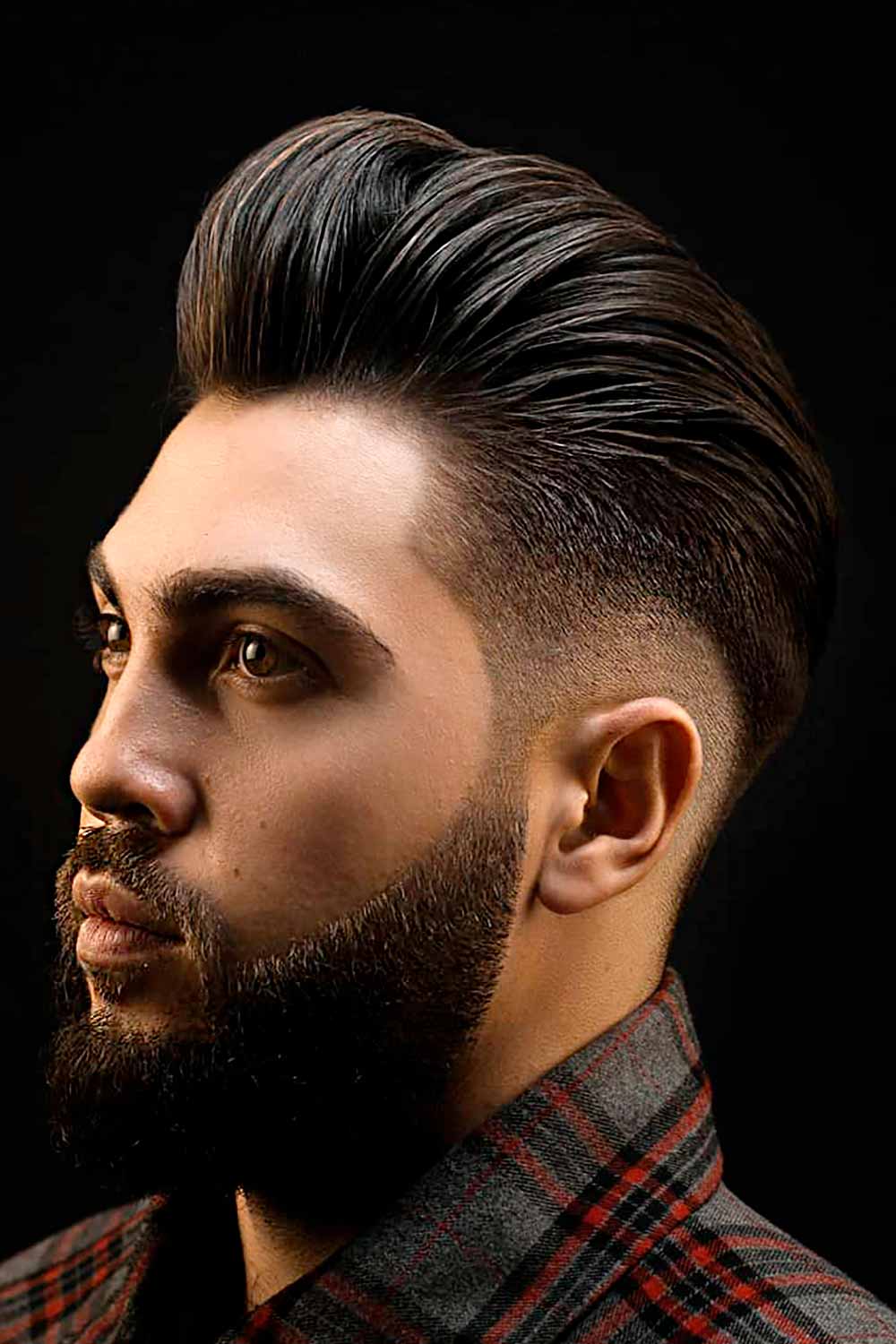 Source: @a.nizhnick via Instagram
i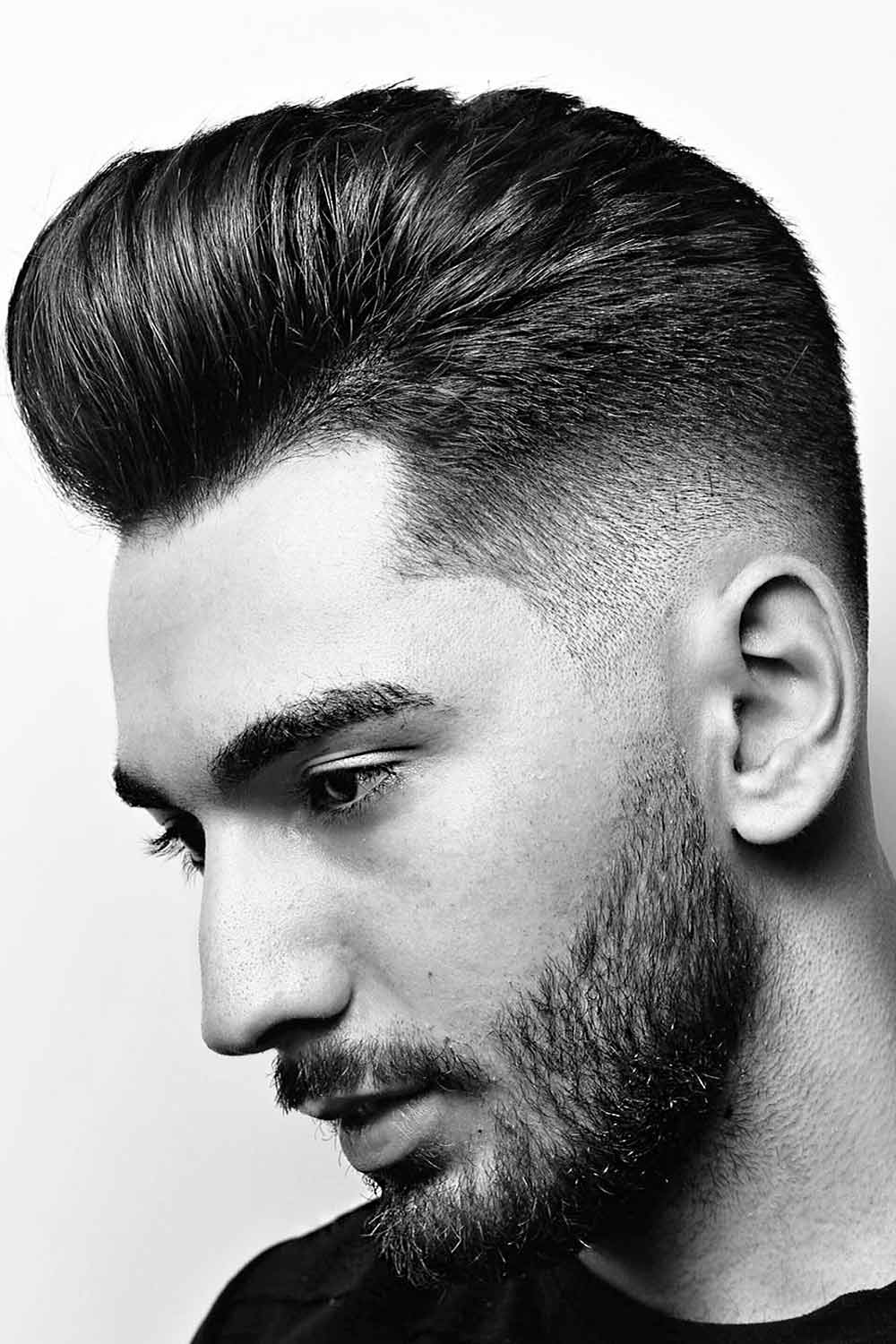 /
Messy Comb Over
If you're bored of short messy hair but don't want to give up on disheveled short male haircuts completely, then the ruffled comb over with shorter sides is exactly what you need. The messy hair men give a relaxed and breezy impression, which is very attractive to women.
Source: @lanedorsey via Instagram
Quiffed Low Fade
There are many ways to cut short back and sides. For a quiff, you can choose a low fade haircut. While it keeps the focus on top, it does not take much hair off the sides, resulting in a reserved and quite professional hairstyle.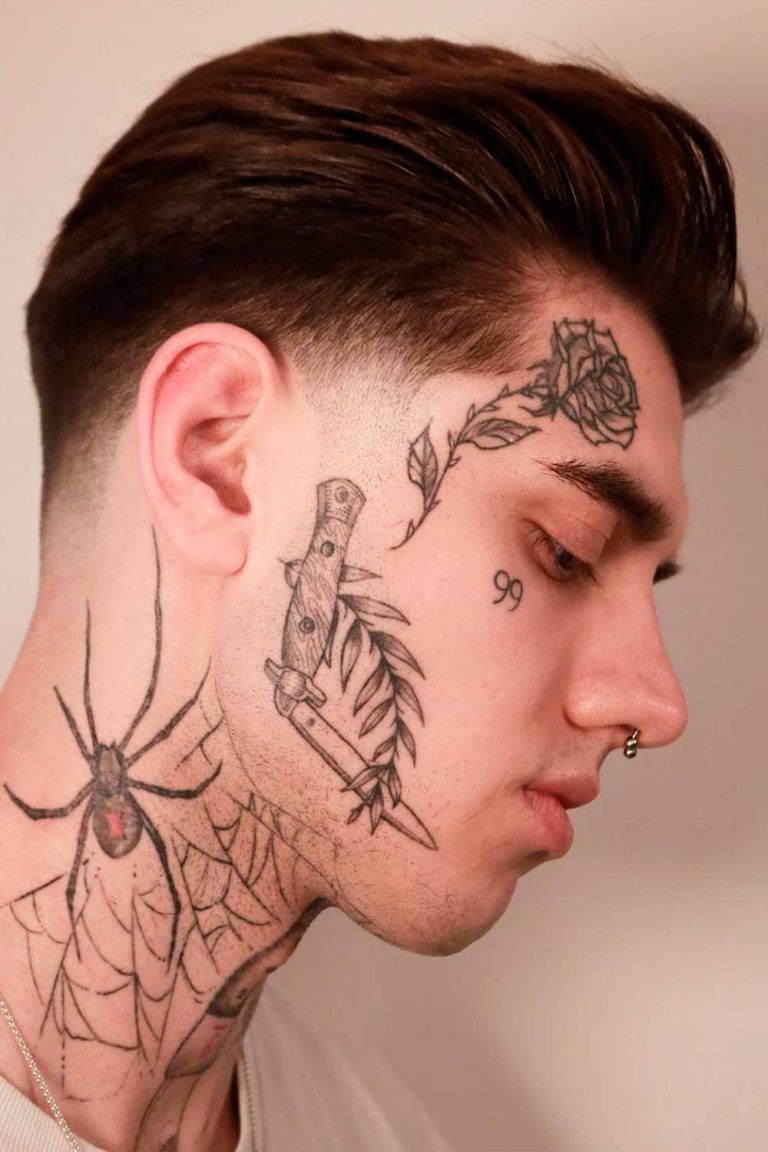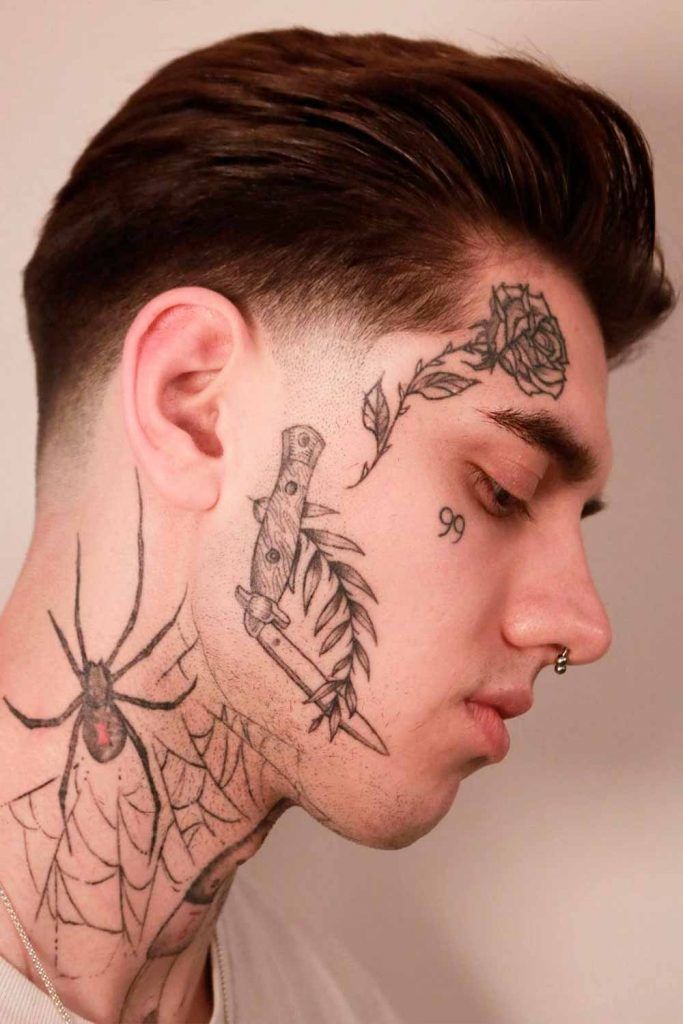 Source: @hayden_cassidy via Instagram
Brushed Up Short Sides Long Top Hairstyles
The spiky hair resembles the faux hawk in the way it's cut. Both of these hairstyles for guys feature cropped sides and lengthy tops. However, to get the brushed up look, the hair doesn't come together. Using a hair gel with the strong hold, you spike up the hair in pieces instead.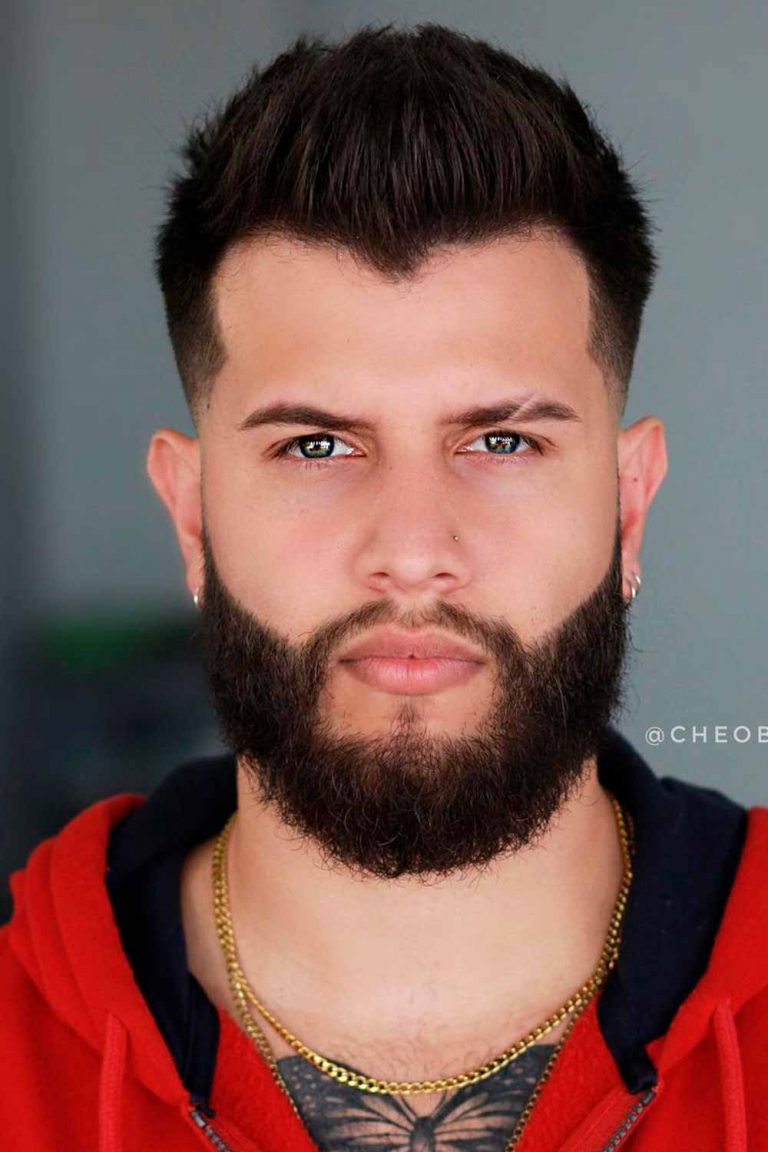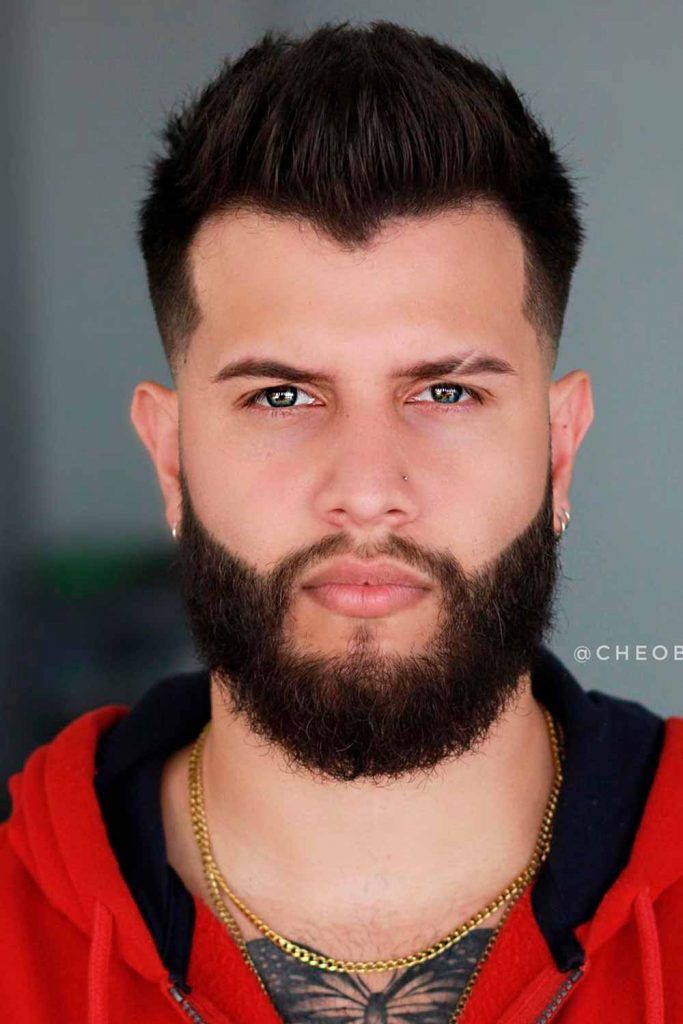 Source: @cheobarberpr via Instagram
Spiky Hawk
A faux hawk allows you to get one of the trendiest mens short hairstyles. No matter how long bangs you've grown, by simply pushing it up, you get the desired texture and dimension.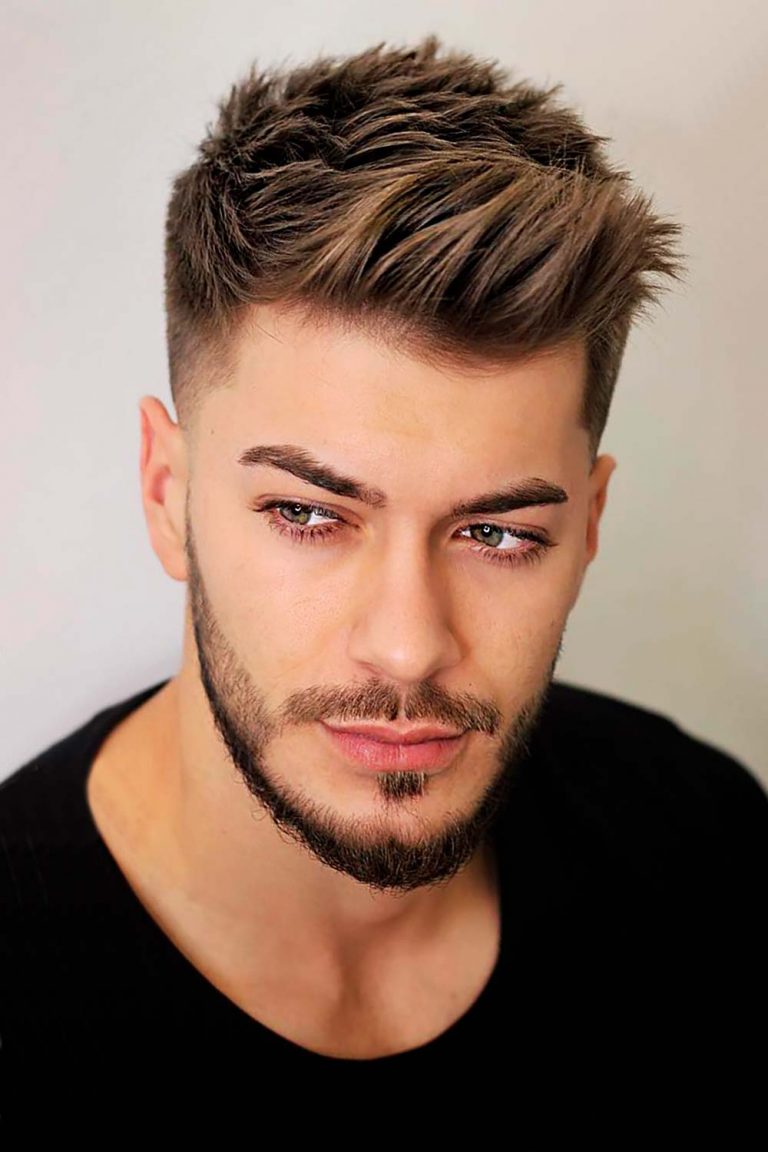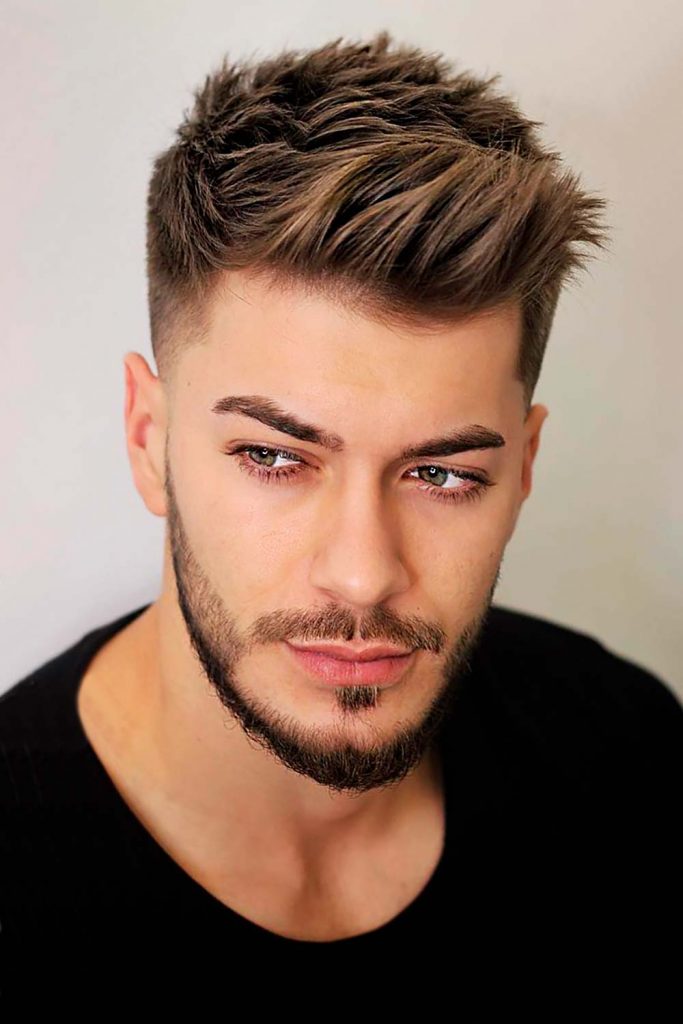 Source: @horatiuthebarber via Instagram
Textured Crop With Wavy Fringe
A stylish way to rock a fringe is to complement it with shortly chopped sides and cut the top in layers. This hairstyle will look even bolder and edgier when you have a wavy hair type. Thus, you can pull off a textured crop with a wavy fringe without making much effort.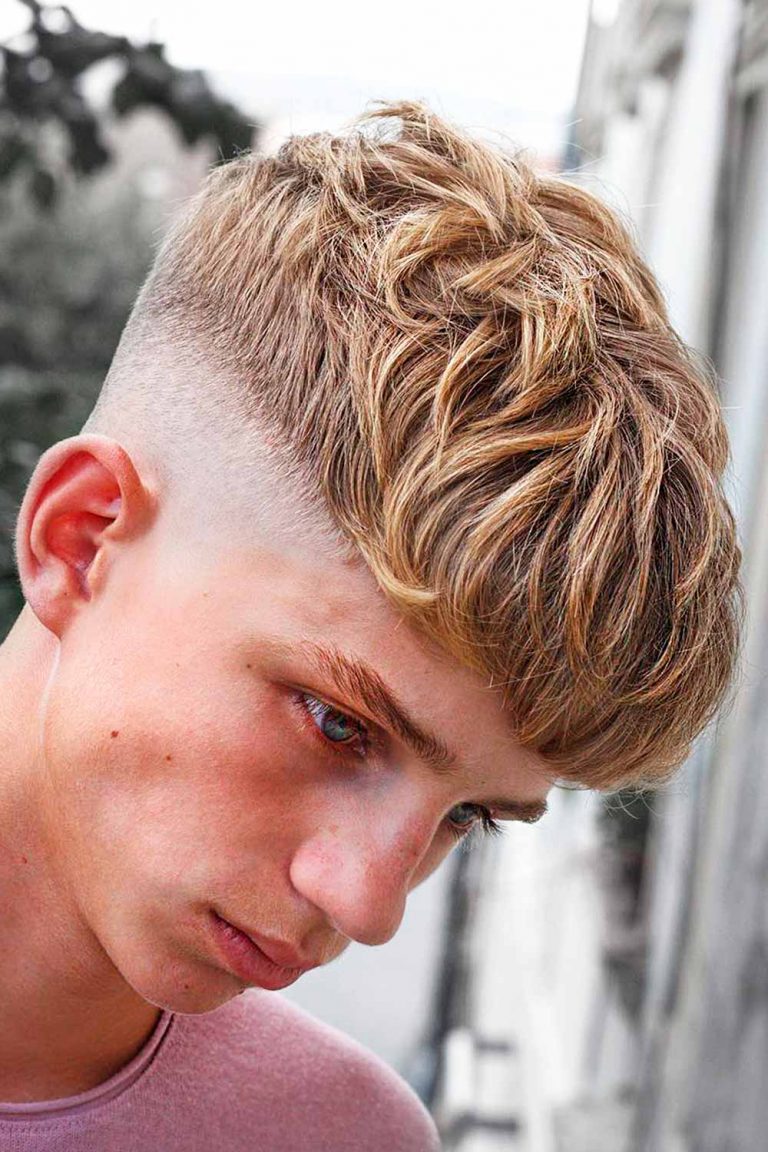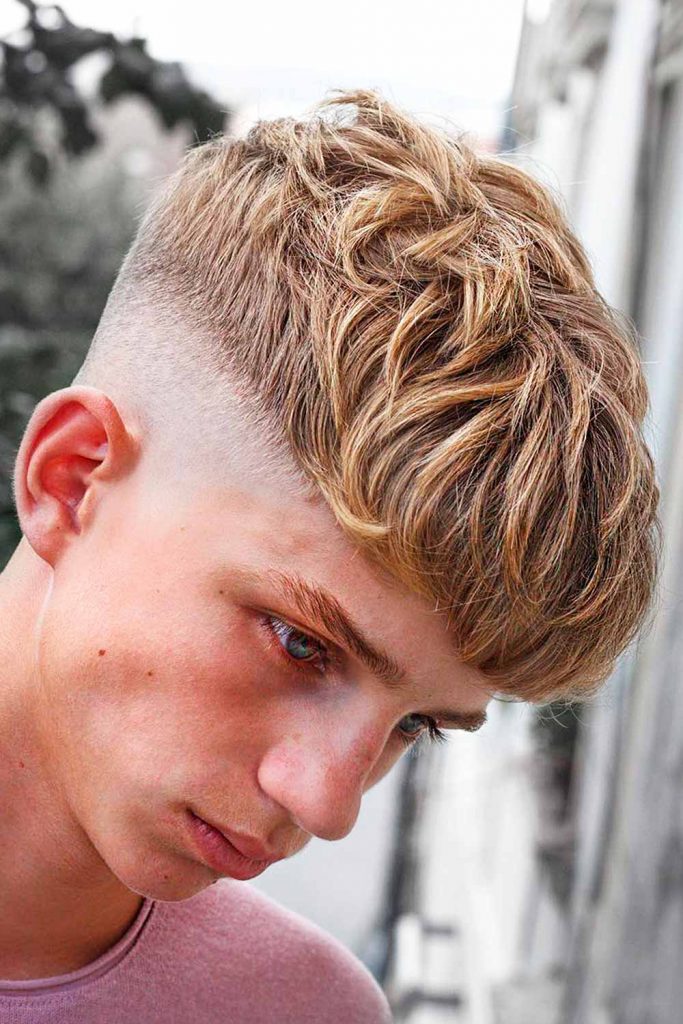 Source: @horatiuthebarber via Instagram
Military Bald Fade
Guys who have to follow office dress code rules can also rock a stylish and trendy hairstyle. Consider a high bald fade on the sides and back, which does not take away much hair from your head thus looking low key and work-appropriate. The top can be then quifed up for a touch a casualness and breeze.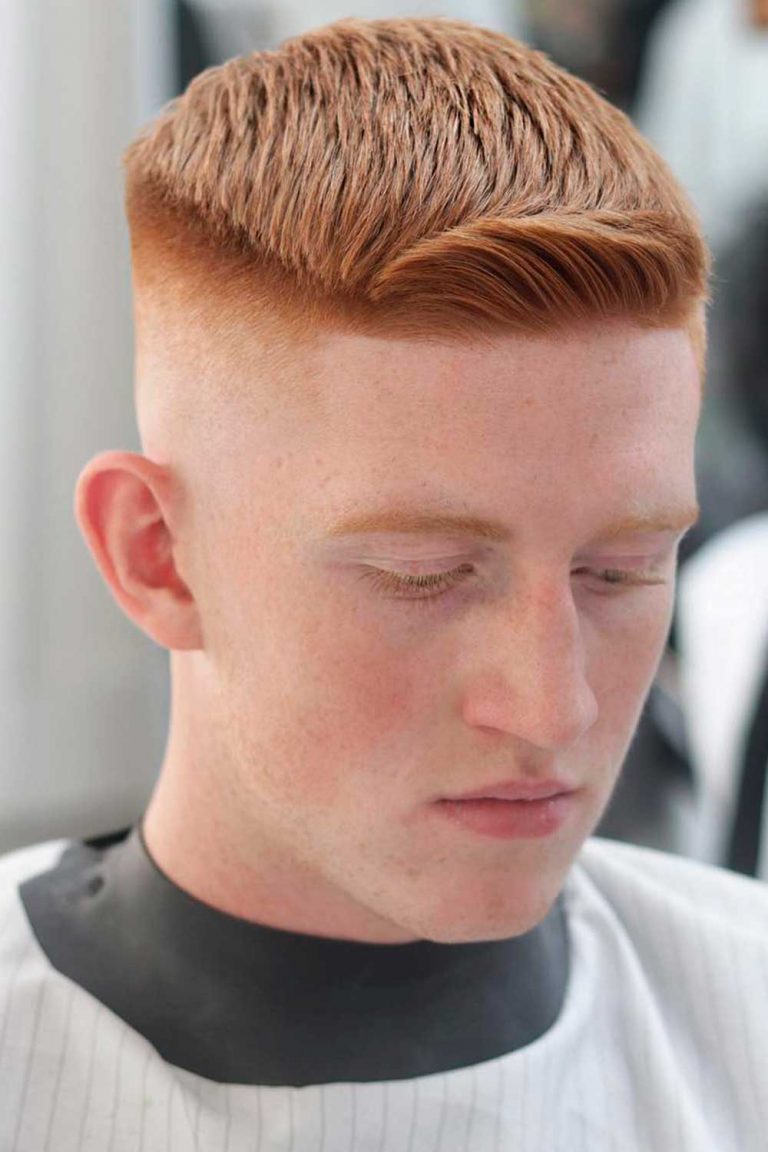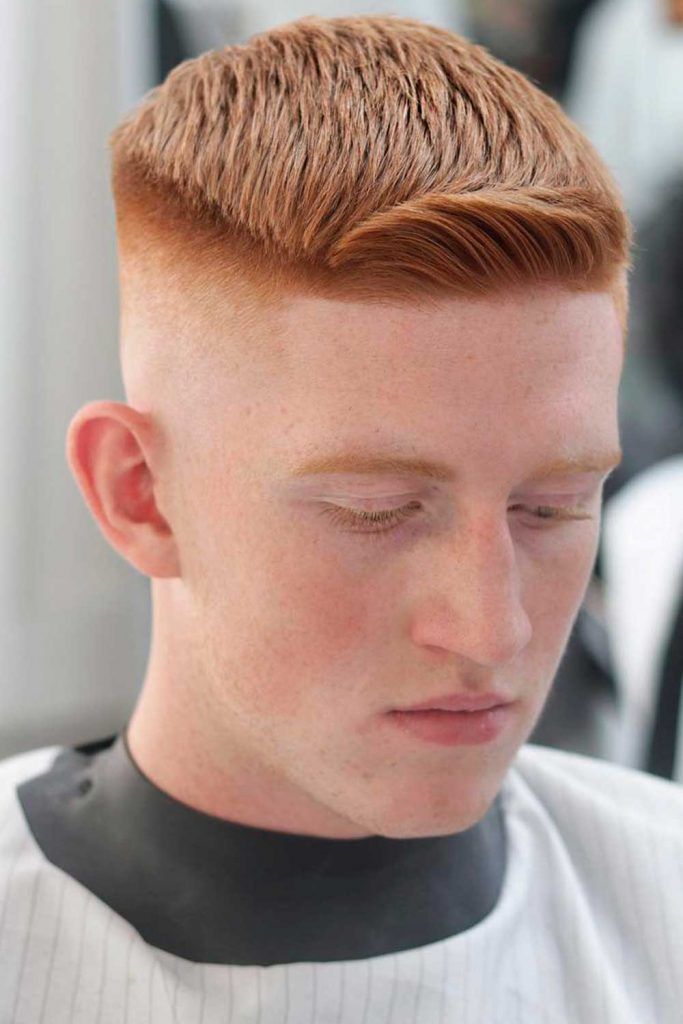 Source: @alan_beak via Instagram
The short sides long top hairstyles give a lot of space for your imagination. You're free to choose the way you want your top and sides to be cut and styled. We hope we provided you with the sufficient number of inspirational ideas to help you decide on the next haircut.
Curly Brushed Back Mens Haircut Short Sides Long Top
When you seek mens hairstyles long on top but short on the sides, a brushed-back pompadour comes to mind. The skillful layering ensures that you can easily pull off both a casual and formal look. Brush your mane back with a touch of styling product – and you are ready for an important meeting. Let your hair loose, and you will immediately fit in every party space.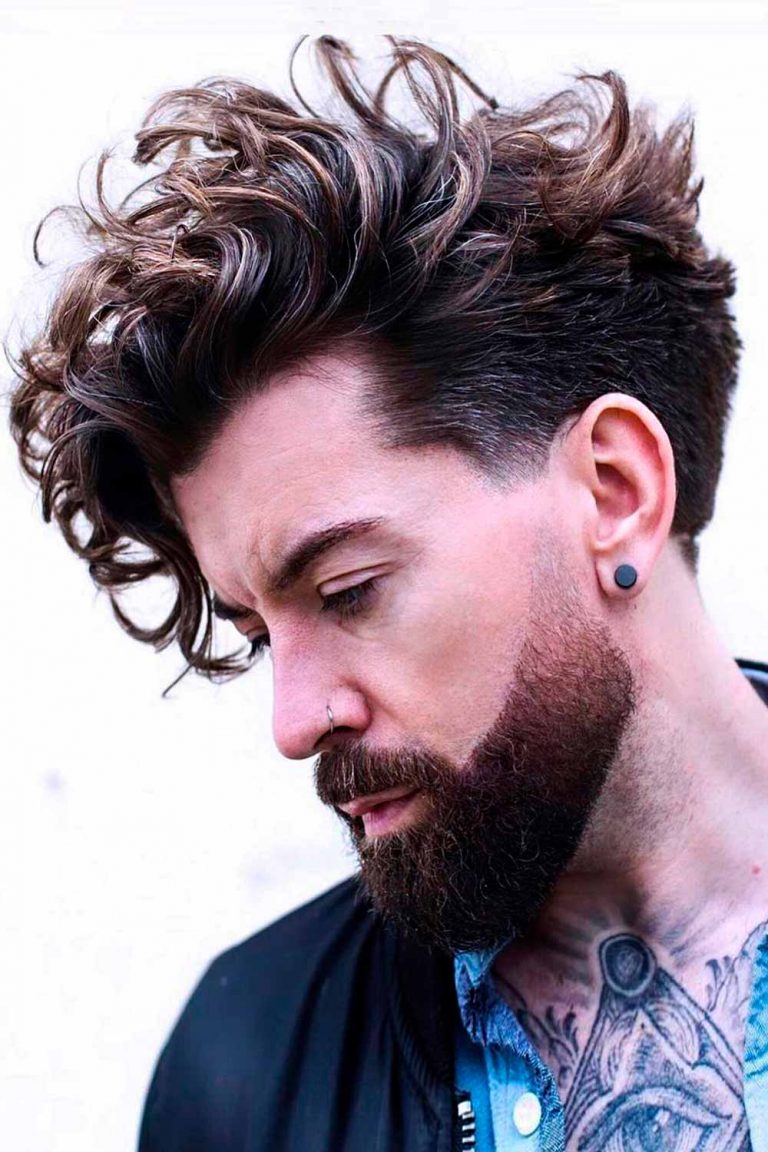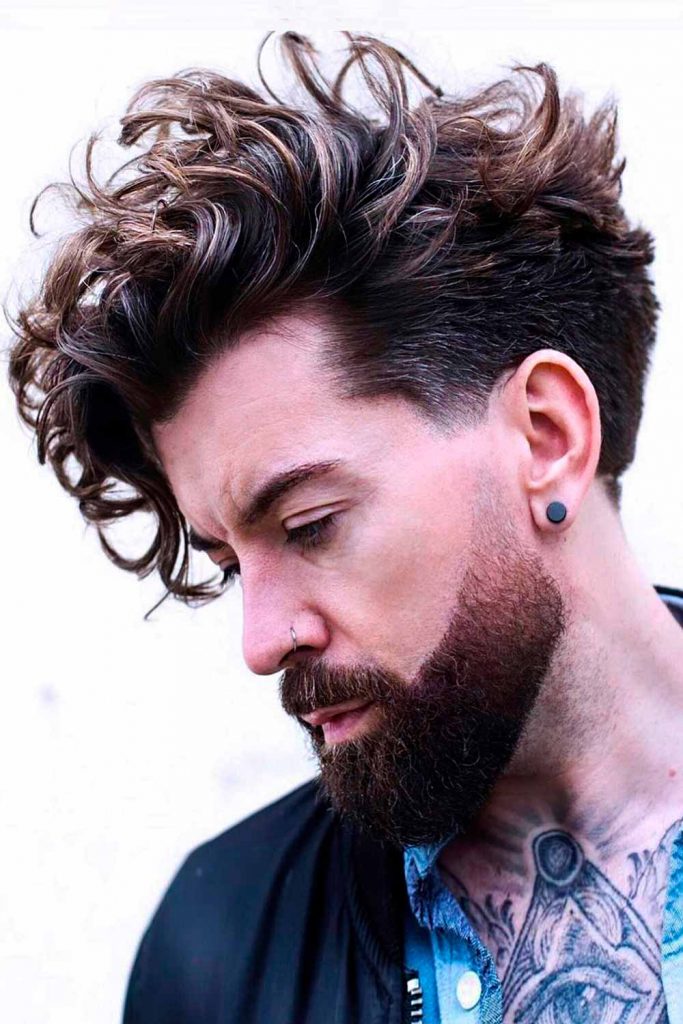 Source: @r.braid via Instagram
Messy Short Sides Medium Top Haircut
Going too long with the top and skin-close with the side isn't an excellent option for all. Thus, we bring another short side long top haircut to your attention: a mid-length top with slightly messy sides. Neat layering enables you to style the bangs to the sides and introduce additional appeal into the look. A casual mustache and a tad outgrown beard will complete your trendy style.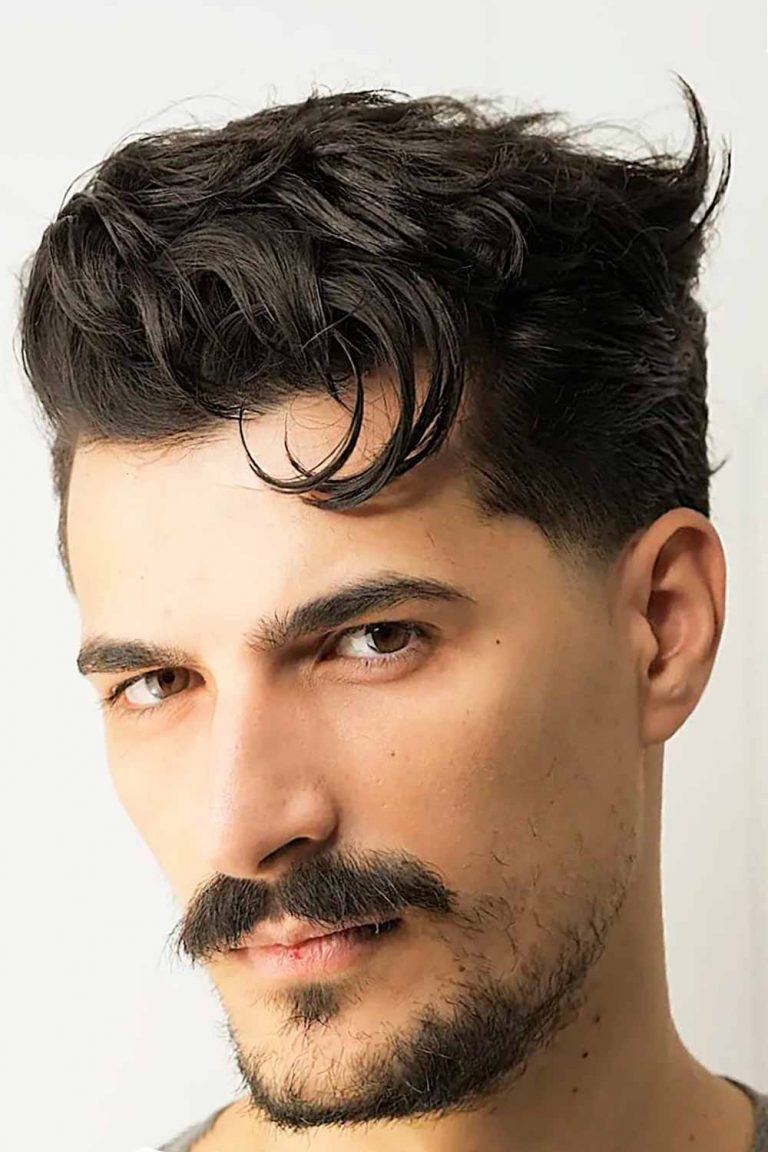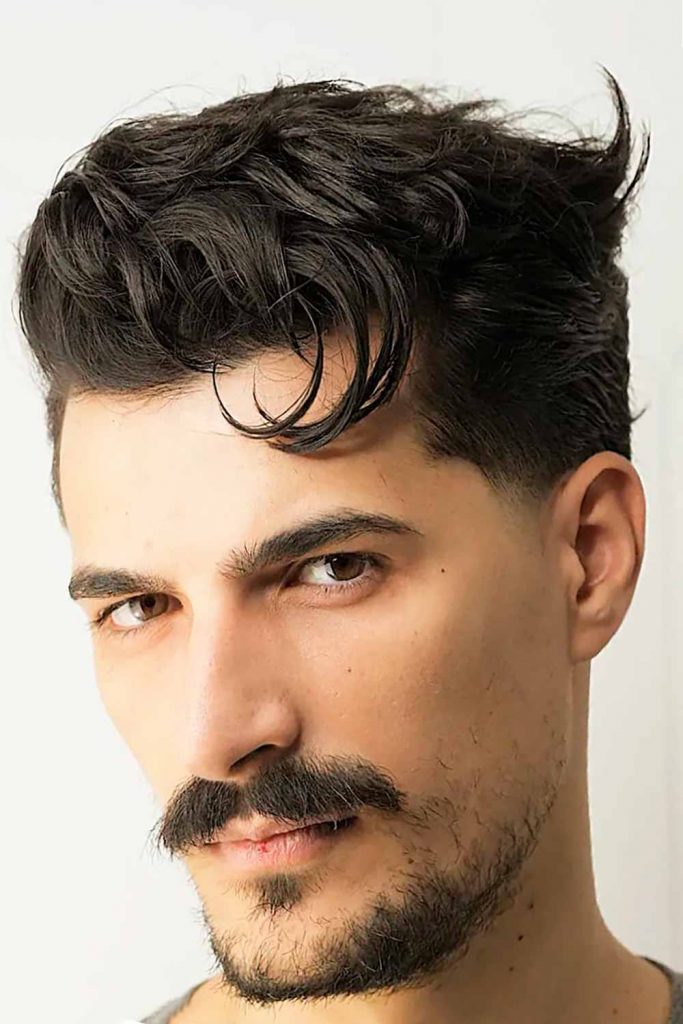 Source: @spukthebarber via Instagram
Brushed Up And Back Longer On Top Haircut
Brushed-up and back cut belongs to the list of undeservingly underestimated mens haircuts short sides long top. It is true that you may need to use your blow-dryer to succeed with the look, but the neat and elegant vibe it projects deserves all the time and effort spent in the process. Well-tapered sides suit the style perfectly. If you don't want to emphasize the transition between the top and the sides, the combo is the one to brood upon closely.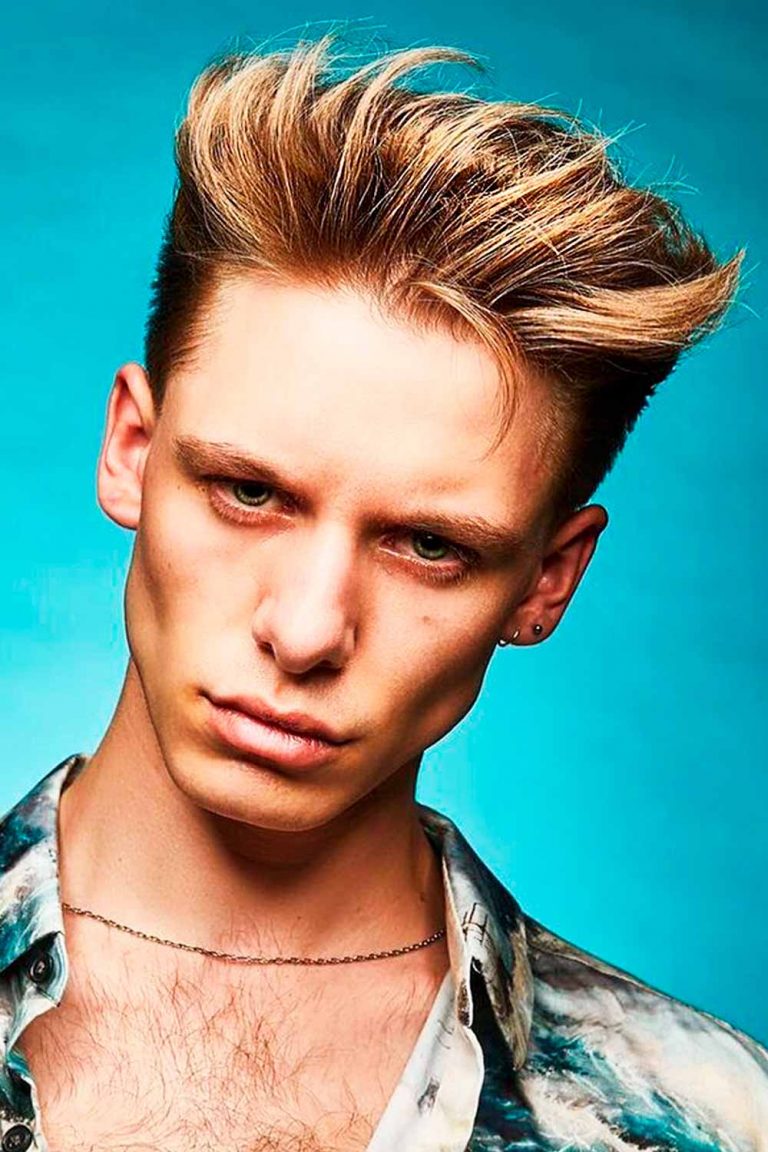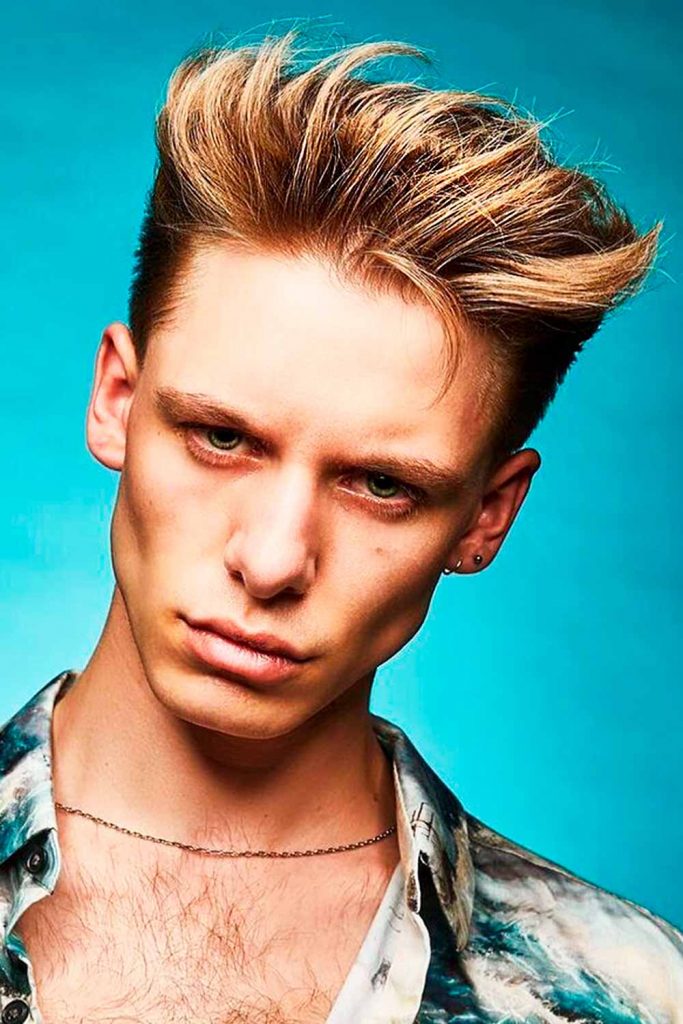 Source: @z_ramsey via Instagram
Short Side With Straight Bangs
With the plethora of mens long hairstyles short sides to pick from, let's not forget that brush-ups and pompadours are the only styles to pursue. There are other options to consider too. For example, should you be willing to add some stylish bangs to your look, an extended and well-layered Caesar cut with low fade sides is the direction to move in. in case you wish to add some more depth and definition to your haircut, run your fingers coated in styling product and make those spiky layers stand out.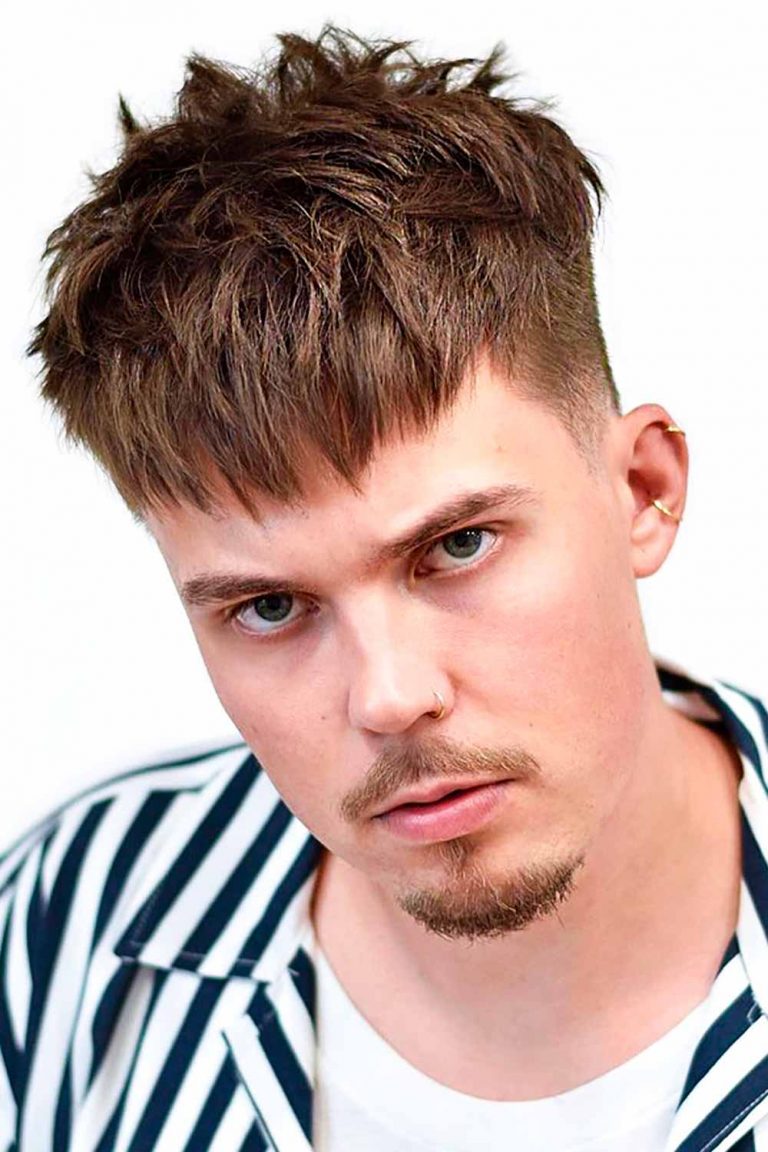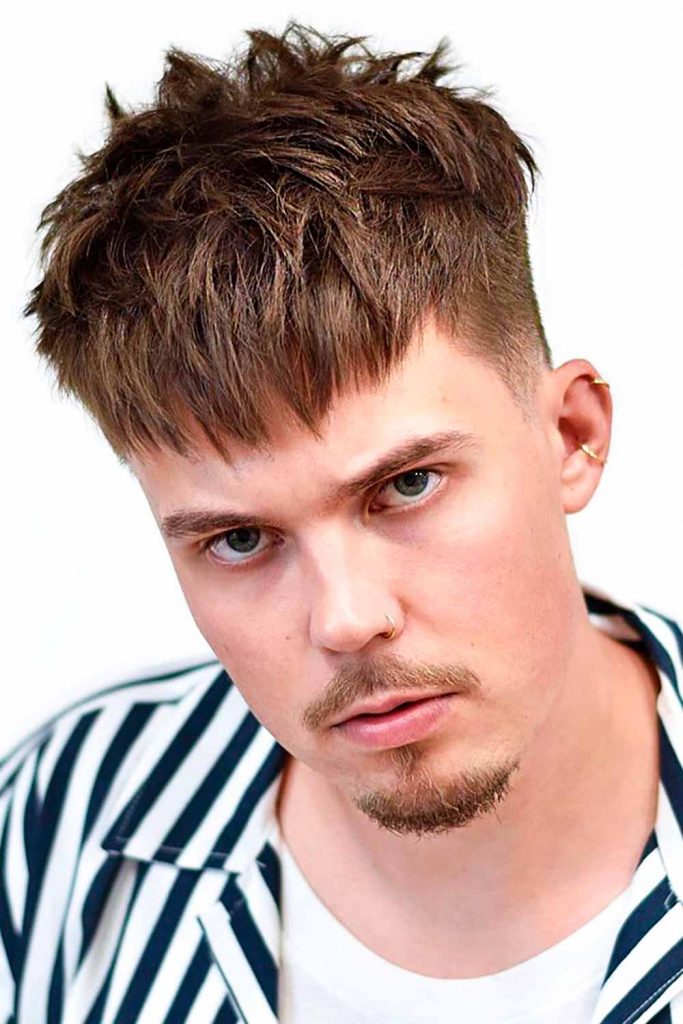 Source: @iisakkinummi via Instagram
Disconnected Undercut
Undercut hairstyles have been in great demand recently because of the striking contrast they help to create. Despite the elaborate appearance, the disconnected undercut hairstyle is among the good haircuts for men who value their time. It doesn't take up much time to buzz the sides and scissor cut the top. Similarly, it doesn't require much effort to maintain and style the haircut.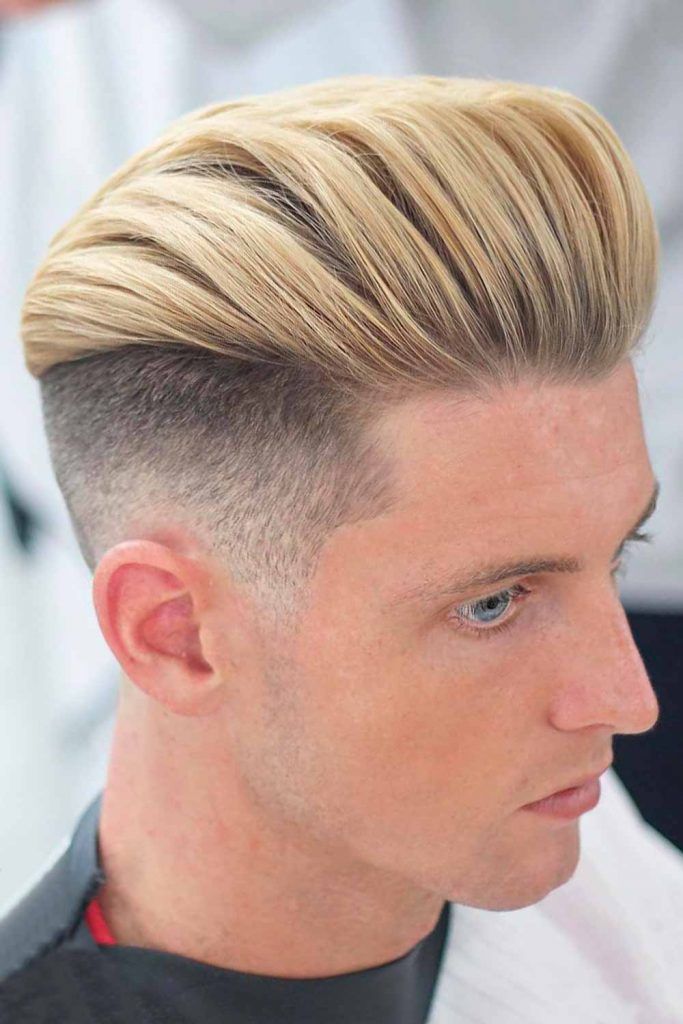 Source: @alan_beak via Instagram
Pompadour Bald Fade With Side Part
If a plain pompadour isn't enough for you anymore, bring in some exciting changes by slicking it over to either side. In this way, you make the side part more defined. For extra sharpness of the men short hairstyles, you can transform your side part into a hard one by shaving in a line of hair. Additionally, you can carve another line below the hard part to set off a high fade.
Source: @silvapeluquero via Instagram
i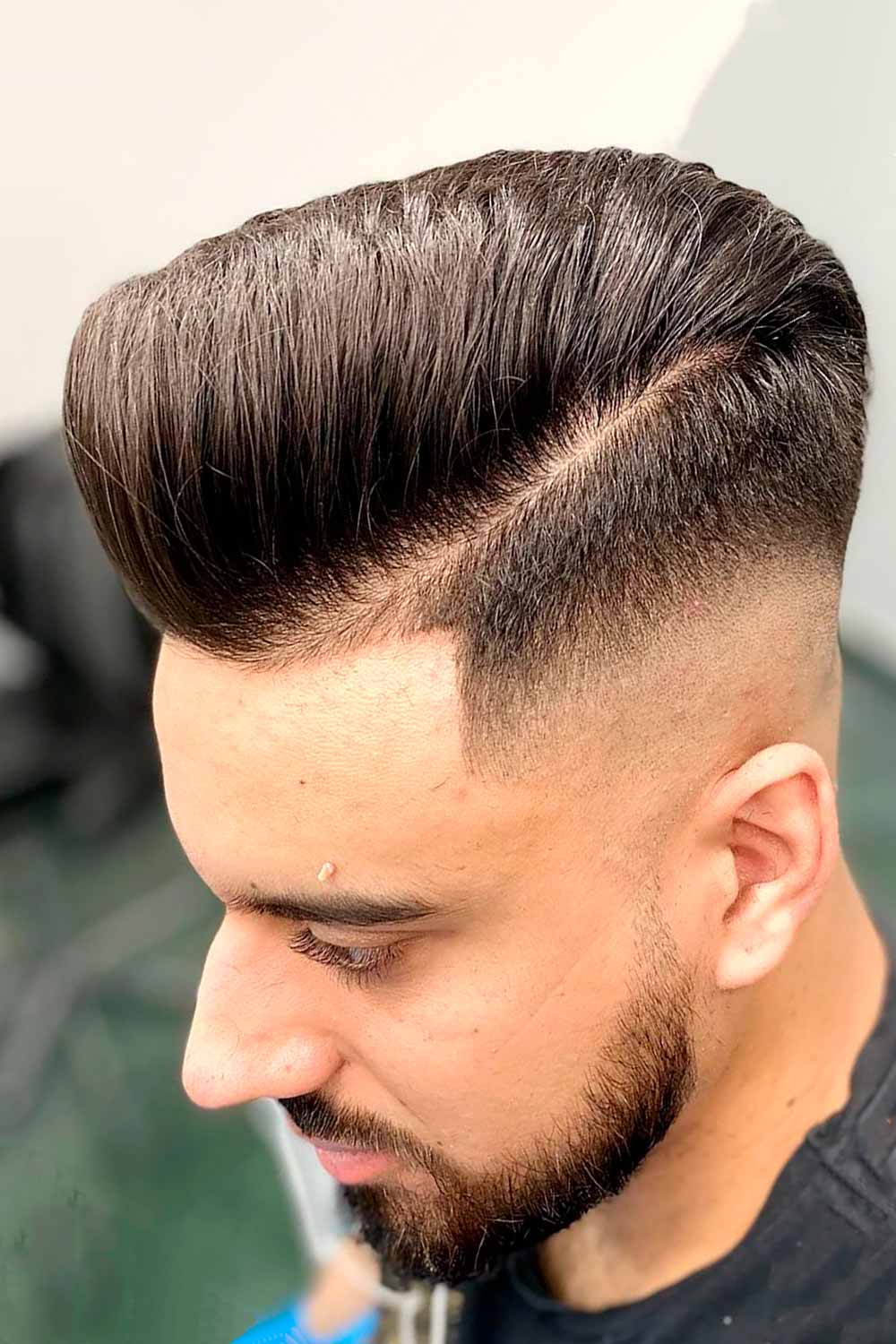 Source: @horatiuthebarber via Instagram
i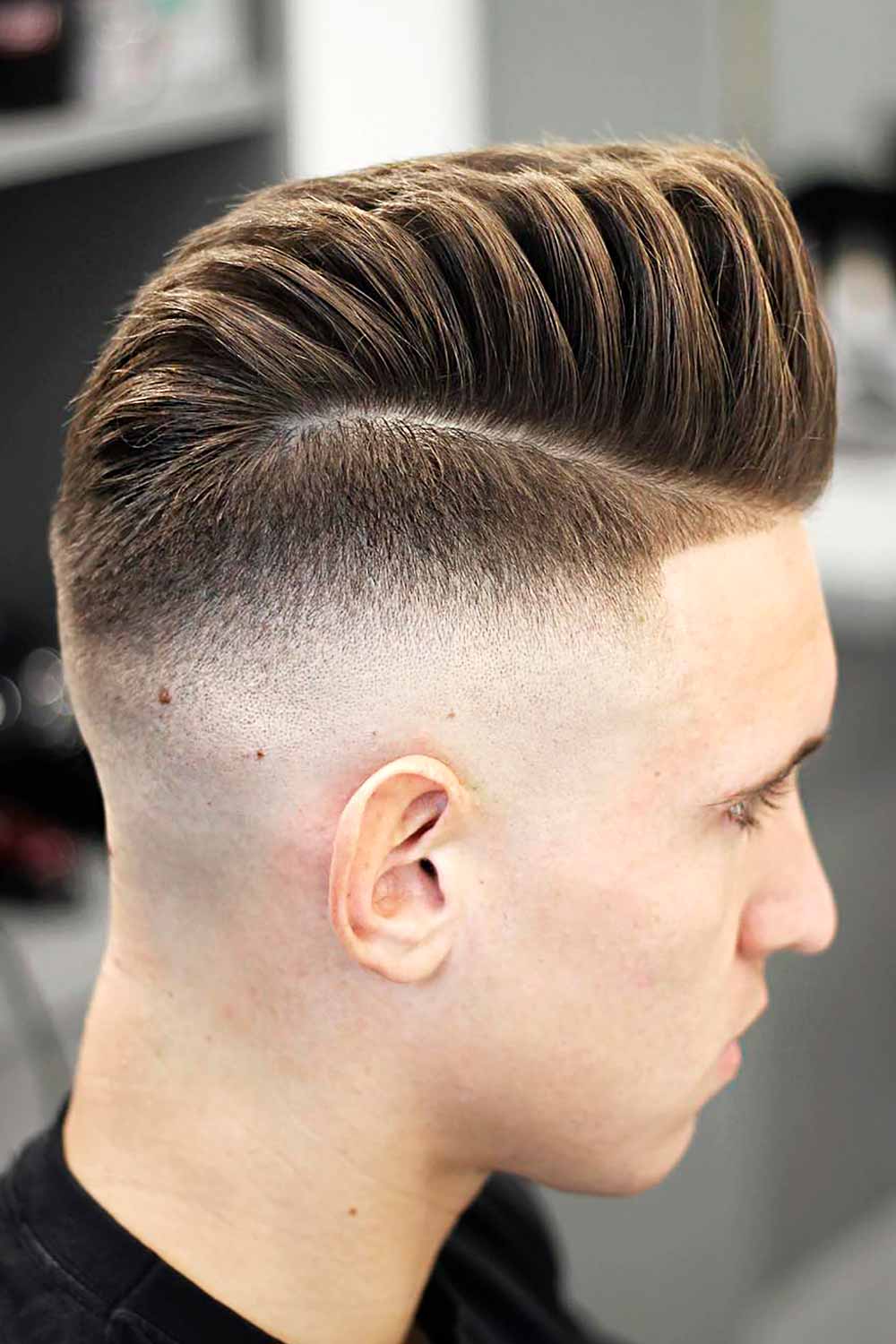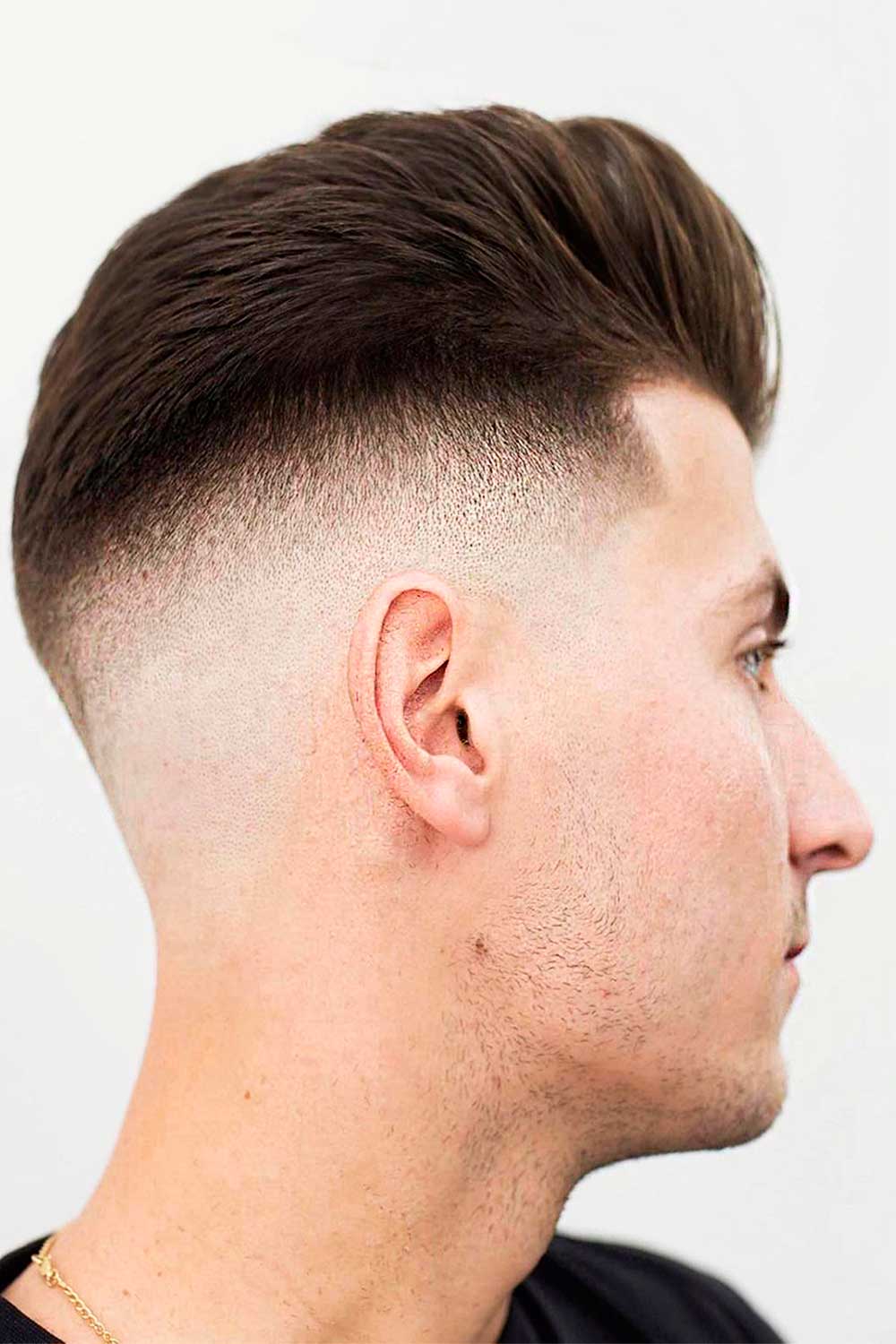 /
High Fade With Textured Spiky Hair
Any kind of fade pairs nicely with a thick top, especially a high one. If you want to give your look more texture and definition, spike up random strands of hair on top with a generous amount of a hair styling product. For an ultimately stylish appearance, complement your hairstyle with a full beard.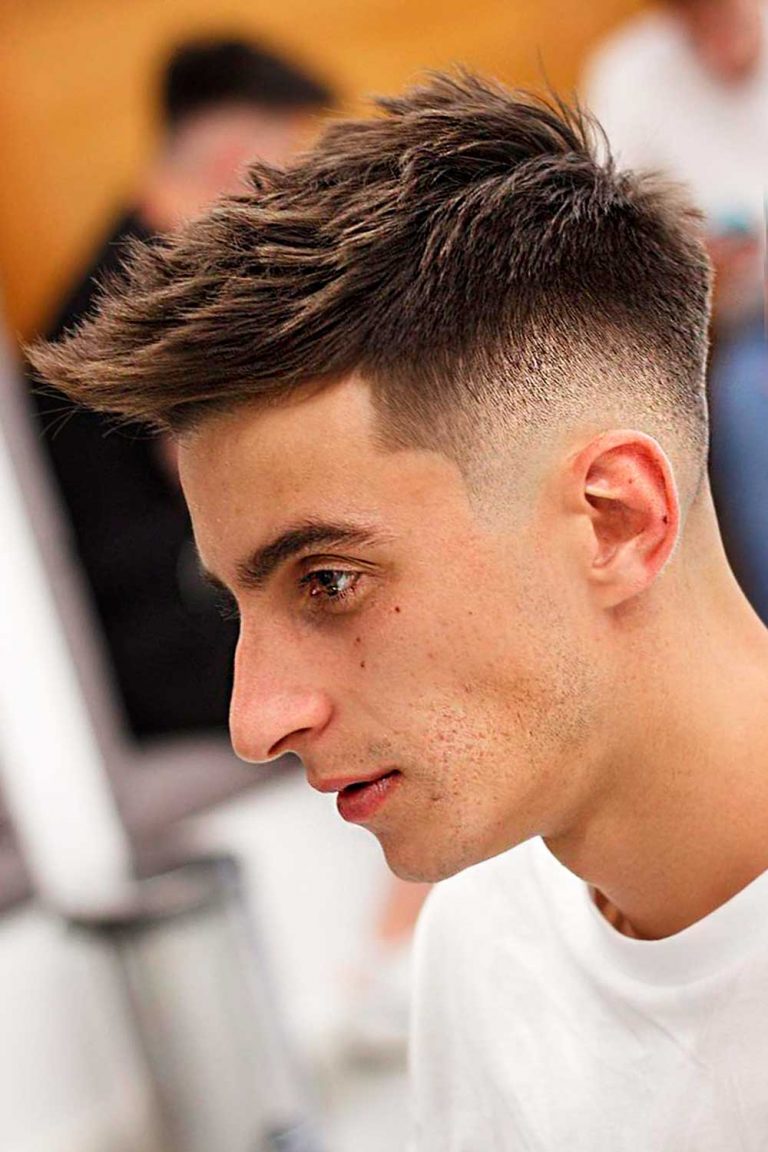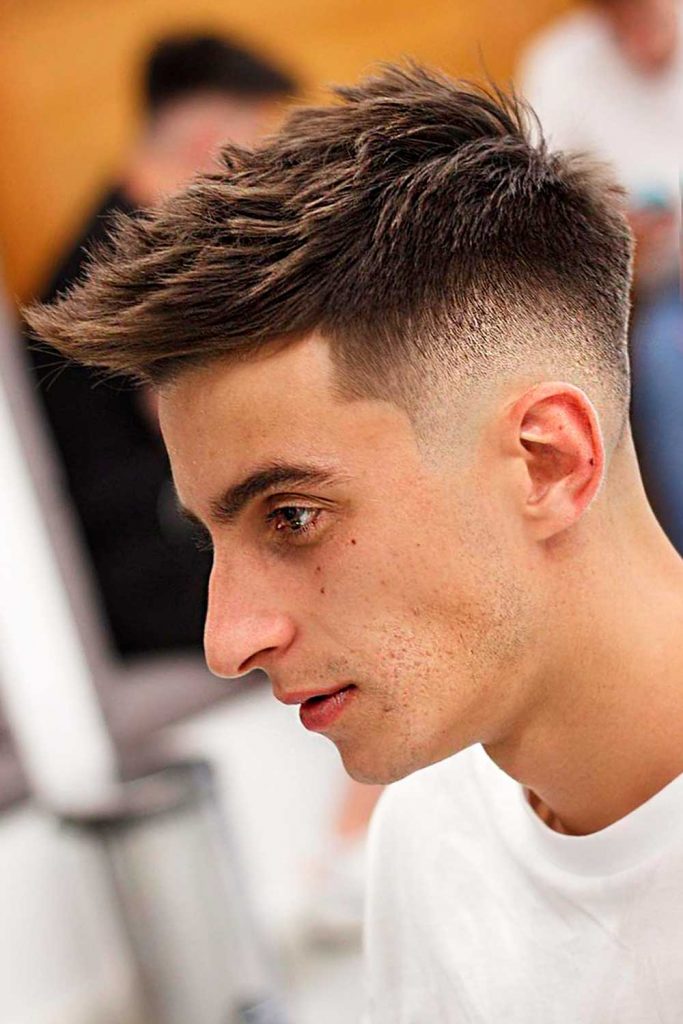 Source: @horatiuthebarber via Instagram
How To Style Long Hair On The Top
Sporting a short sides long top haircut, you still belong to the category of men with long hair. While the sides are easily manageable, the top does require your dedication. However, the result directly depends on the styling product you use. If you go for a comb over fade, you'll want to emphasize the texture of your top hair. Thus, opt for a hair wax or matte pomade. To add an extra sheen and structure to your pompadure fade, choose a shiny pomade with a strong hold. For longer haircuts, go with a light cream or clay.
FAQs
What is the name of the haircut with short sides and long top?
A high pompadour fade is one of the most popular mens haircuts long on top and short on the sides.
What should I tell my barber if I want short sides and back and long top?
When asking your barber for a long on top short on sides haircut, you should specify how long you want the hair on top and on the sides to be. If you are unsure of the length, it is always better to show a picture of the desired haircut. Also, tell them how you are going to style the top and whether the sides need to be faded or tapered.
How do you blend long top with short sides?
There are many ways of how to blend long hair on top short on sides together. Here is one of the easiest and most popular ones:
1. With a comb, lift up the strand of hair on the side below the top section.
2. Holding the comb at an angle toward the head, trim the hair above the comb.
3. Lift up another strand of hair below the previous one and run the trimmer across the comb.
4. Continue doing so until you blend the top into the sides all over the head.