Are you looking to spin a little nostalgia into your look this season? You may have fond memories of days long past when your mom or dad sat you down on the kitchen counter with a bowl on top of your head. From there the kitchen shears went around the circumference of your head, and soon, presto! The bowl cut was born.
While this popular hair style was the base of many bad jokes (just like the mullet) the bowl cut has come back to shine! Here's everything you need to know about this 80's hair style. (Tip: do not try this cut at home).
What Is A Bowl Haircut?
A bowl haircut is sometimes also known as a mushroom haircut. Although it has a unique shape and appearance, a bowl hair style is quite simple in its cutting technique. This medium length hairstyles for men can be worn by men and women alike. Although the bowl style gained popularity decades ago, modern versions of the cut have added more interest and variation to this one-length hair style.
Bowl Cut Haircut Examples
See our photo gallery below.
Classic Bowl Cut
When we are talking about classic men's haircuts, you expect to see something versatile and suitable for everyone. But when it comes to the classic bowl cuts, where everything is straight and clean, it exemplifies a bold, outstanding look that not every man will dare to try. To add a hint of contemporaneity, you can slightly tousle up the top.
Source: @sidsottungacademy via Instagram
Short Bowl Haircut
If styling your thatch every morning isn't your kind of thing, go for a short bowl cut. In addition to being highly convenient and utilitarian, a short haircut for men looks stylish and elegant.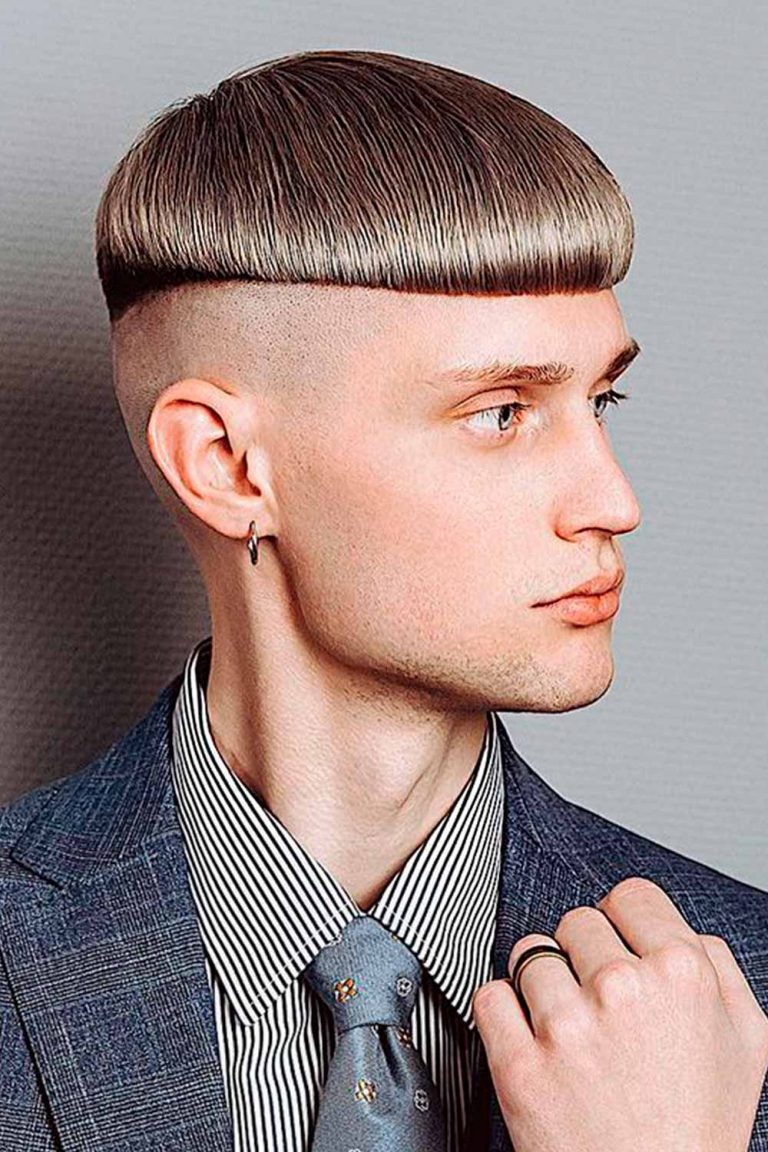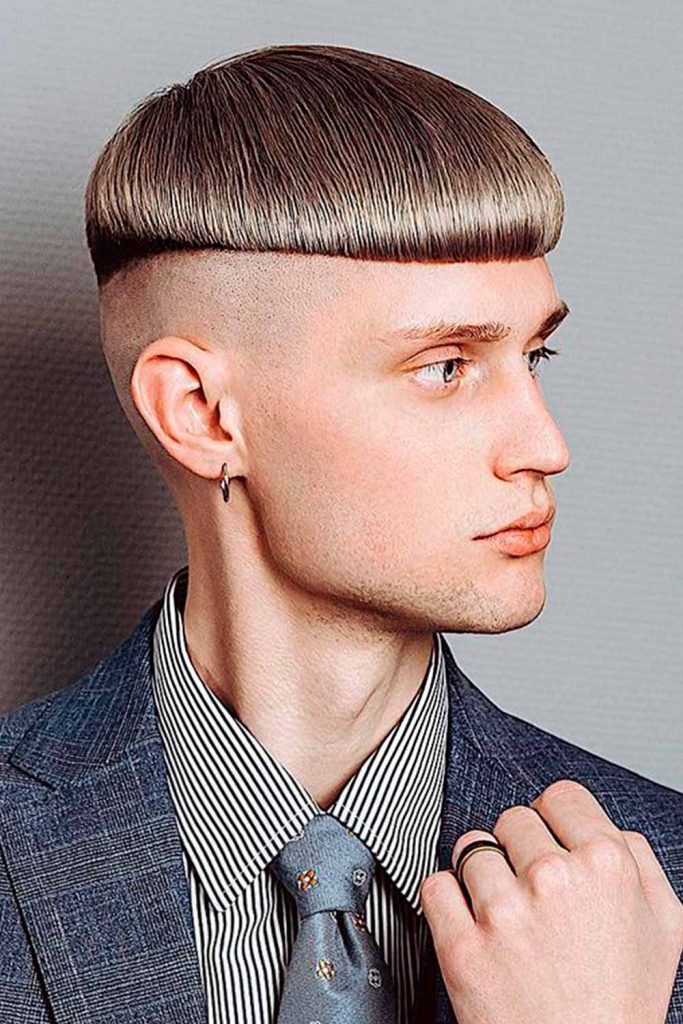 Source: @dima_naiden via Instagram
Undercut + Bowl Cut
It's no secret that an undercut haircut is probably one of the most requested cuts not only among footballers but also among men with any lifestyle. Combining some features of a bowl cut with a disconnected undercut can give a unique and sophisticated style with the cleanly shaved sides and a distinctive, edgy fringe to a wearer.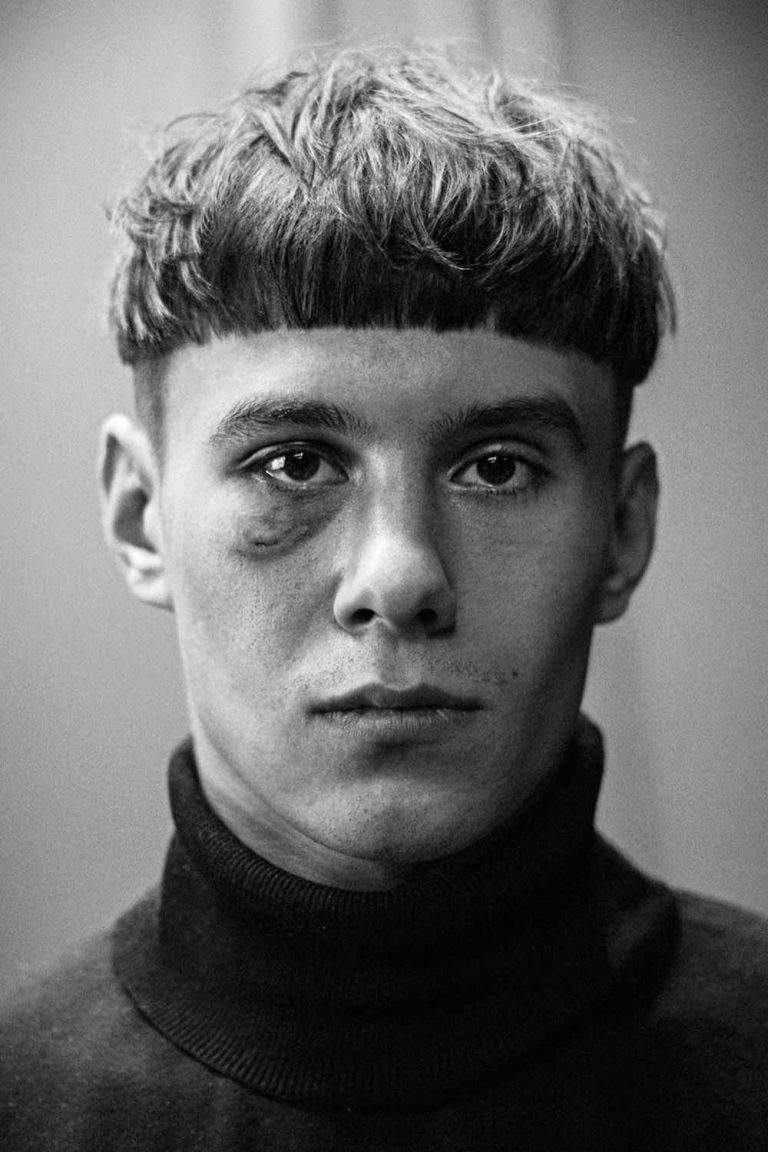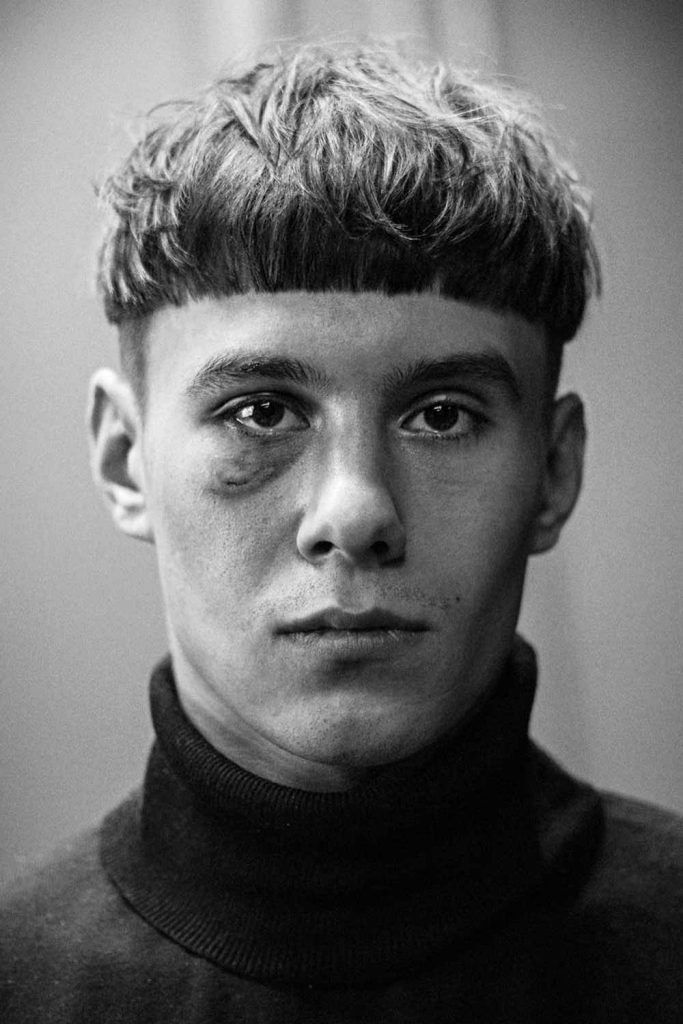 Source: @a.nizhnick via Instagram
Bowl Cut Fade
A bowl cut accompanied by a fade takes the familiar fade haircut to the next level. The fade haircut elements can take place in any area you want, and the most authentic idea for bowl cuts would be a nape fade that smoothly transits from the top to the very back and all over the sides.
Source: @hayden_cassidy via Instagram
Uneven Locks
Uneven locks of hair, added to your bowlcut, can wash away the thin line between the classic and modern variations. They're not literally hair locks, but they stand out and stick from the top and drop on the fringe, grabbing people's attention with their modernity.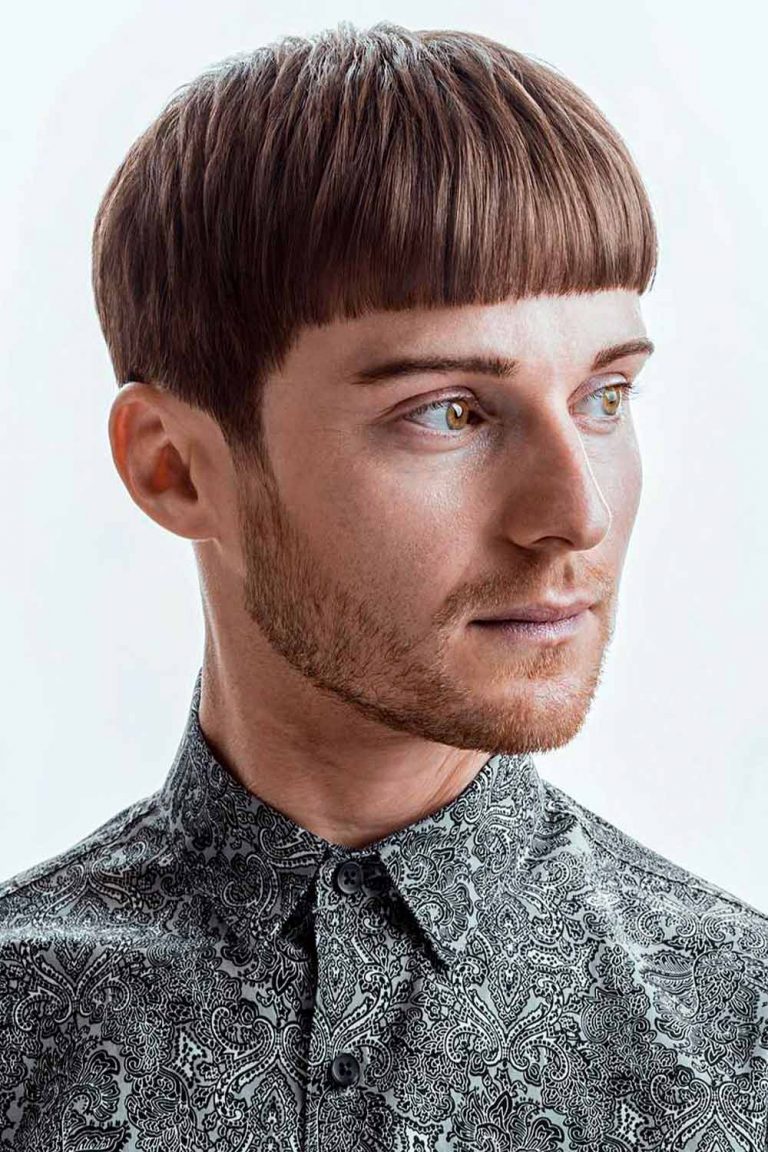 Source: @joth_davies via Instagram
Bleached Bowl
We ourselves can't resist the idea of bleached hair guys from popular music bands popularized these days. A bowl done on bleached hair, where the top is clearly separated from the sides, is all about bold statements. If this style appeals to you, you can also try some platinum hair color, and other ideas of cool blonde hair men find to be stylish today.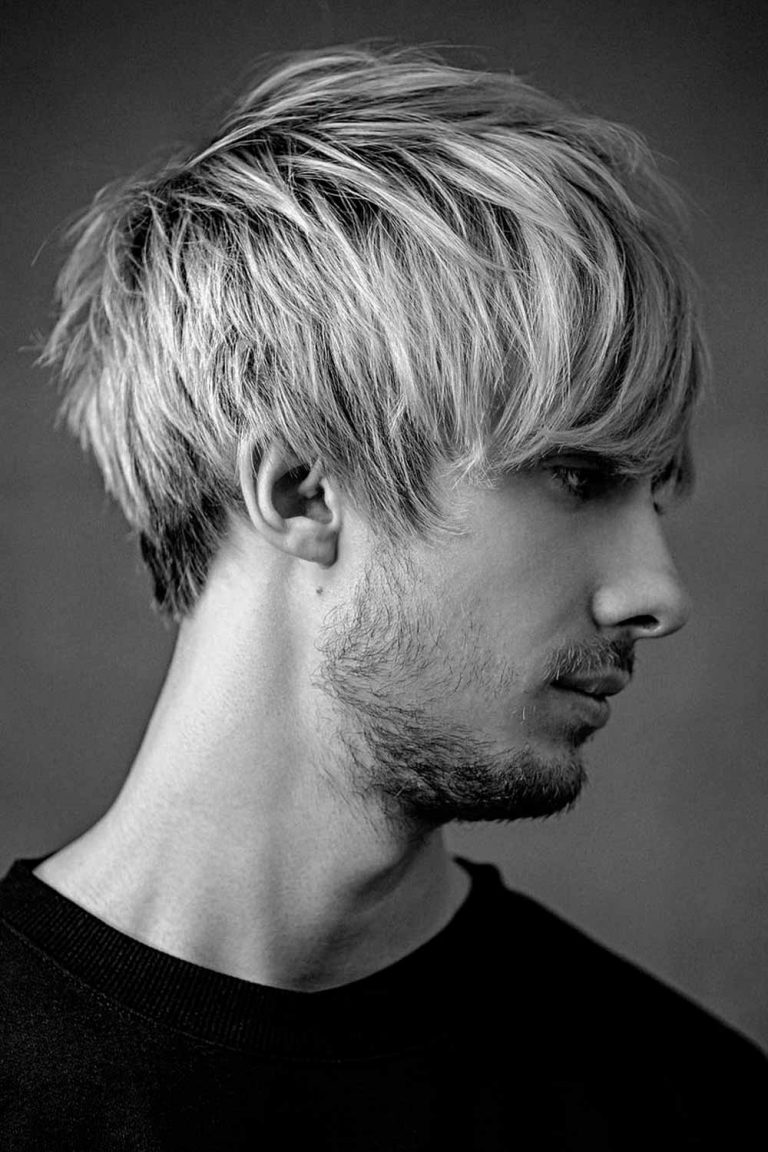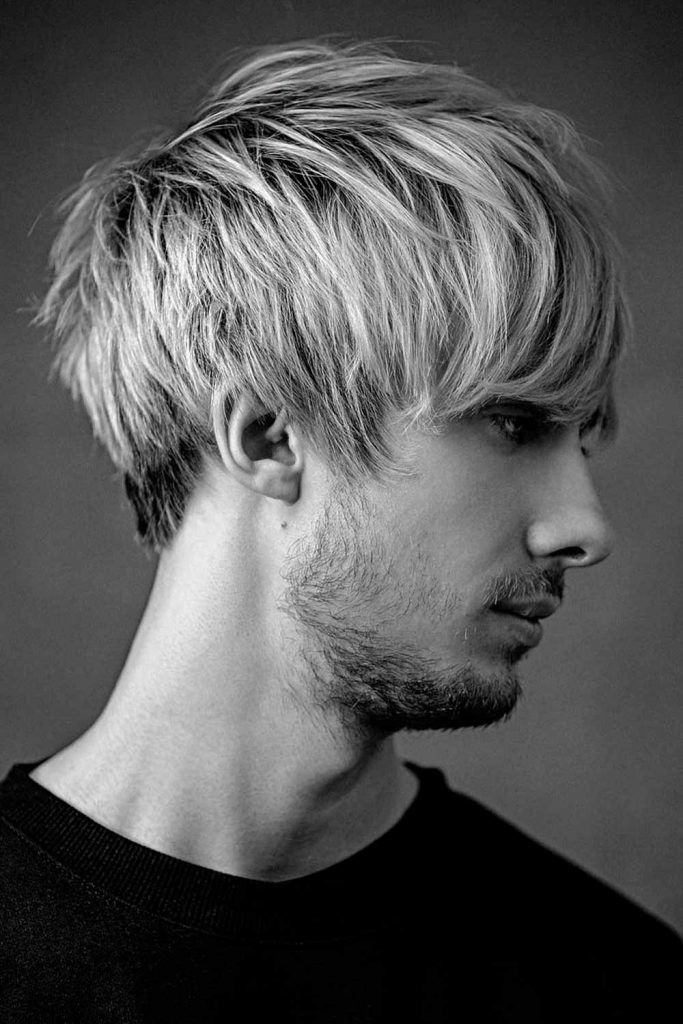 Source: @a.nizhnick via Instagram
Asymmetrical Bowl Hair
There may be more than a bit of asymmetry. Ask the barber to cut the top in uneven layers and emphasize it with a comb over hairstyle. A circle goatee is an awesome accompaniment to such a look.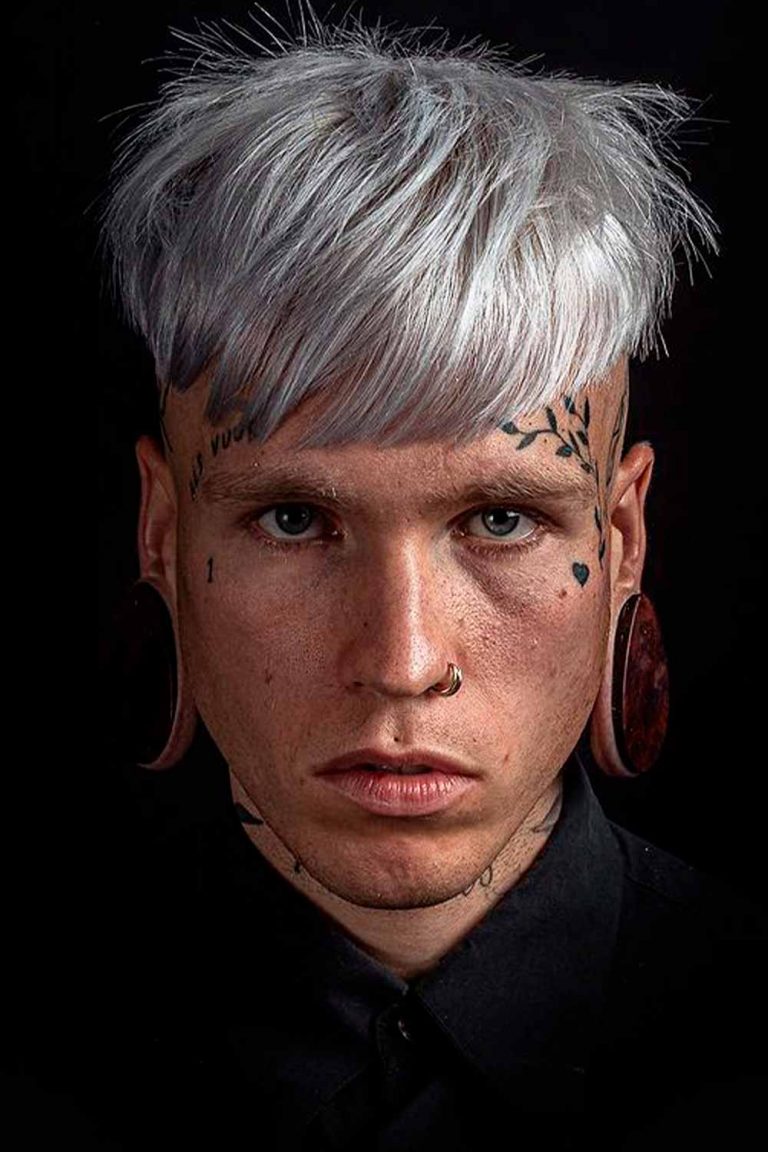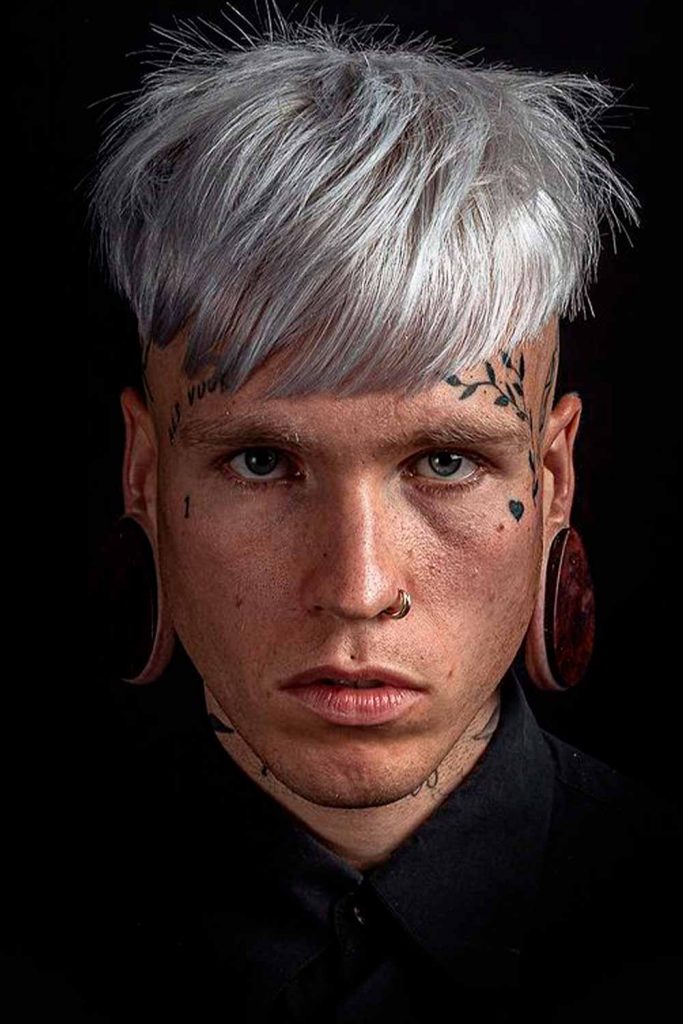 Source: @the_bloody_butcher via Instagram
Casual Mushroom Cut
For those guys who prefer more authentic hairstyles, a mushroom cut is the way to go. Add a bit of texture to the bangs and get a soft fade on the sides to give it a modern touch.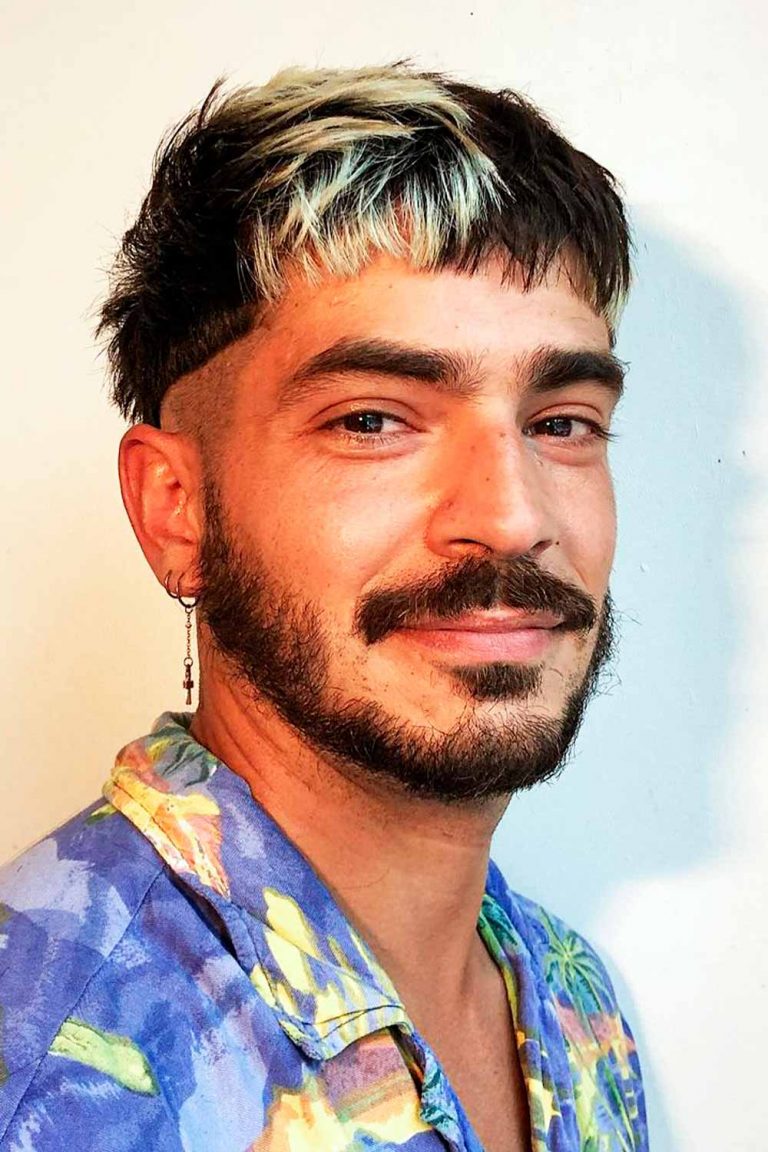 Source: @coiffeurstory via Instagram
Layered Bowl Cut
There's no better way to enhance the natural texture of your hair, adding more volume to it than going for layers. Layered haircuts, whatever they are, give a wearer a bit messy, yet sharp and distinctive looks, which will be a good complement for bowl cuts.
Source: @hayden_cassidy via Instagram
Colored Bowl
Although bowl cut hair already attracts quite a lot of attention, you can enhance the boldness of your hairstyle by dyeing your locks in a bright color, say, pink.
Source: @hairraribarber via Instagram
Clean Bowl
A classic bowlcut is definitely all about clean lines. Though, you can bring it to the modern days by accentuating it with an under shave. To add a bit of a stylish twist, push the fringe to one side instead of letting it hang over your forehead.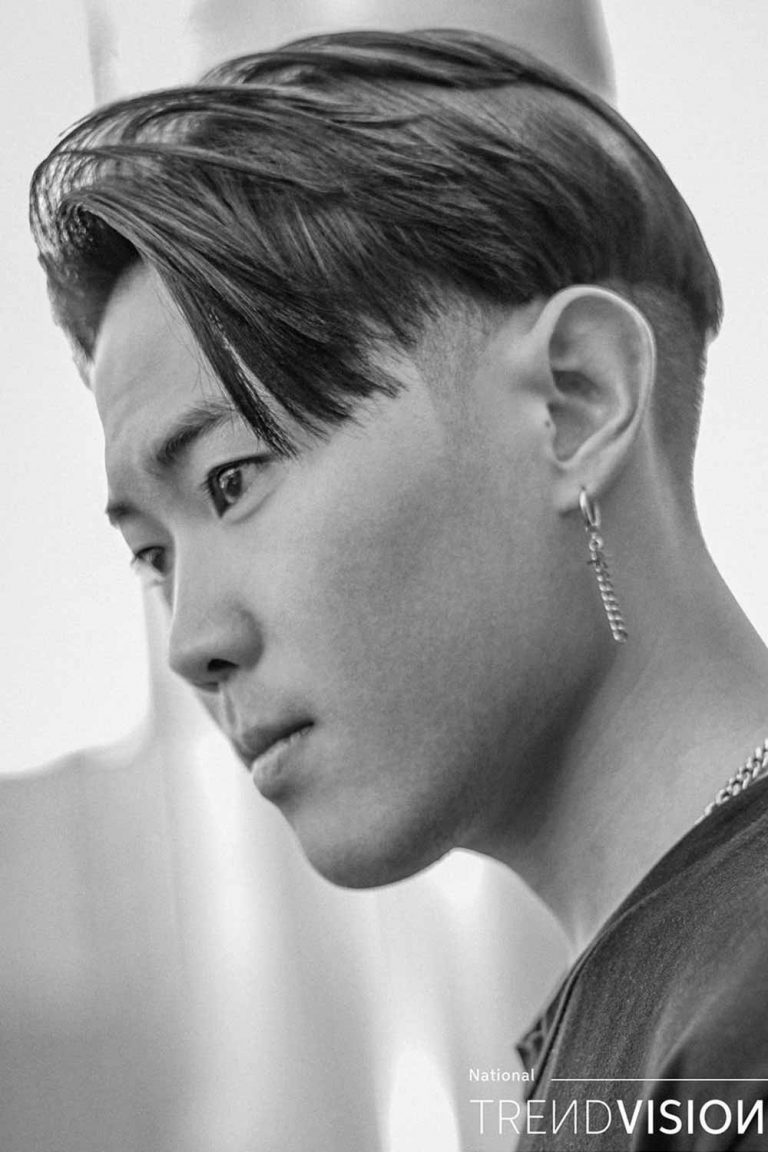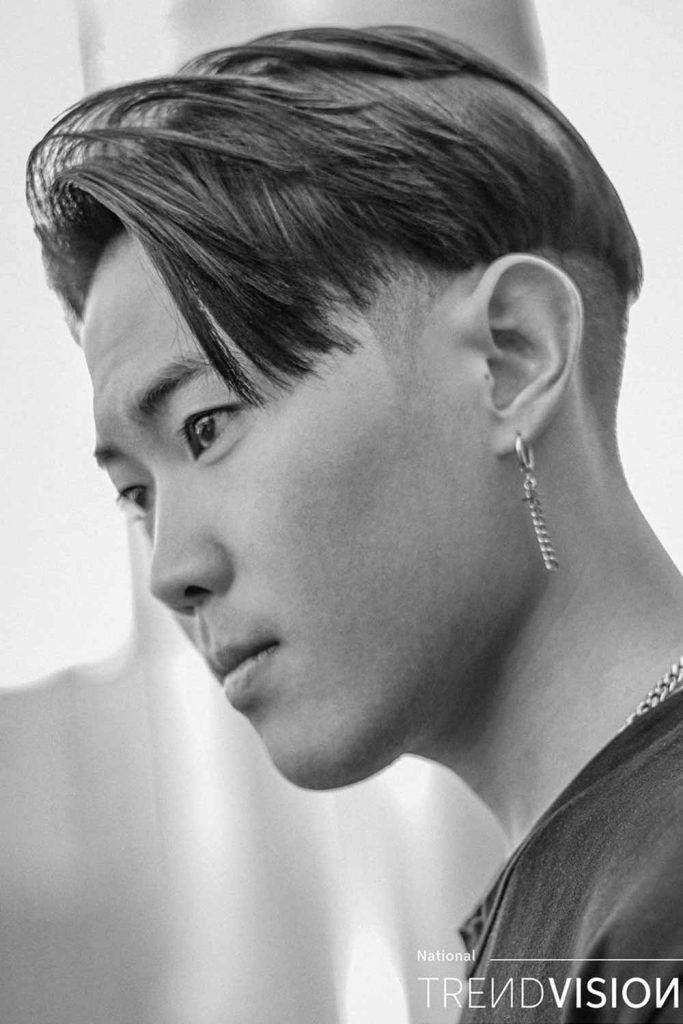 Source: @a.nizhnick via Instagram
EBoy Bowl Cut
So that there are no doubts that you're flaunting a mannish, not a boyish hairstyle, pair your bowl cut with one of the most apparent signs of maturity – middle parting. A curtain bangs are right what you're looking for in your EBoy Haircut.
Mushroom Nape
Once you browse Instagram or Pinterest galleries with the hashtag #bowlcut, you may get surprised by the mushroom cut which is among the top results. And the most surprising thing will be that they actually look awesome if they're cut and styled right. The serious and sleek top that falls around the head is a nice way to make a statement!
Source: @meha_barber via Instagram
Curly Bold Cut
We have good news for guys who deal with natural hair every morning! Bowl cuts are the most convenient haircuts for men with curly hair, especially when they feature neatly tapered sides. To style it, the only thing you need it to moisturize your curls regularly. As for variability, this cut offers you a great choice of curly hairstyles.
Long Bowl
The longer your bowl cut is, the more thickness and shine it can show off. Unlike many long haircuts for men, this easy-going, pop star-like idea preserves the basic size of the cut, adding more length at the back area and leaving the sides and fringe curl inwards.
Modern Bowl Cut
The best thing about modern men's haircuts is that there are no limitations to your creativity. And the same goes for the modern bowl haircut; you are allowed to go against the classic patterns of the cut, playing around with taper, fade and changing the way fringe falls on your forehead.
Oxford Bowl Cut
How about a back-to-uni haircut? The main characteristic of an Oxford haircut is a total neatness and shine on the top. This time it can be more diverse, textured, and fun: just opt for its bowl cut hair version that looks like unintended undercut styled with soft salt sprays.
Caesar Inspired Bowl Cut
Combining two popular haircuts is always a win-win decision! For example, the longer and a bit choppier fringe of a Caesar cut works amazingly with the bowl cut silhouette. If a Caesar haircut doesn't suit your facial features, it can be any layered fringe haircut that can do the framing.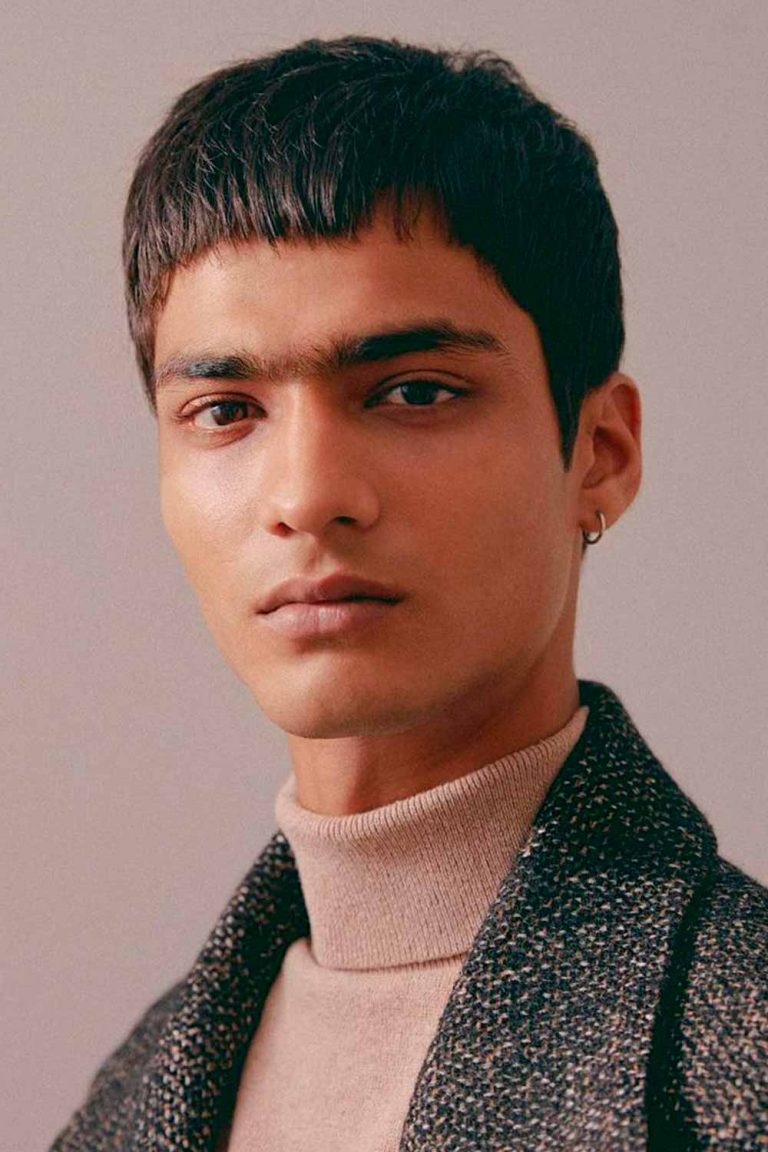 Source: @hayden_cassidy via Instagram
Parted Bowl + Layers
The timeless middle part hairstyles will never lose its popularity. The best thing is, this way of parting can find its place at almost any medium-to-long haircut. Though getting a middle part for a bowl cut is super easy, it gives a very refined and masculine look, emphasizing the best features of a man's face.
Source: @travbeachboy via Instagram
Asian Bowl Cut
Asian bowl cut, as well as Korean bowl cut, comes out very dapper and defined. Thanks to the thick and coarse hair texture, the cut doesn't require any effort to shape and style it. Besides, you can opt for any type of fade on the sides without sacrificing on density.
Silvia Elizabeth Pangaro/Shutterstock
Spiky Bowl
Spiky hairstyles will arguably never come out of fashion. Why don't you try them on your bowl cut? The size and intensity of spikes are fully up to you.
Source: @meha_barber via Instagram
Textured Mushroom Hair Cut
To successfully pull off a bowl cut men should not only look but also feel confident and daring. Otherwise, it may come out ridiculous. If you have all the necessary qualities to ace the hairstyle, then don't limit your creativity – combine incongruous elements, such as this textured two-level undercut bowl cut and a mustache.
Source: @jubei_ma via Instagram
Cropped Fringe
As with a bowl cut the fringe is what really makes a difference, play around with it. Say, crop it a bit unevenly and partner with a scruffy beard.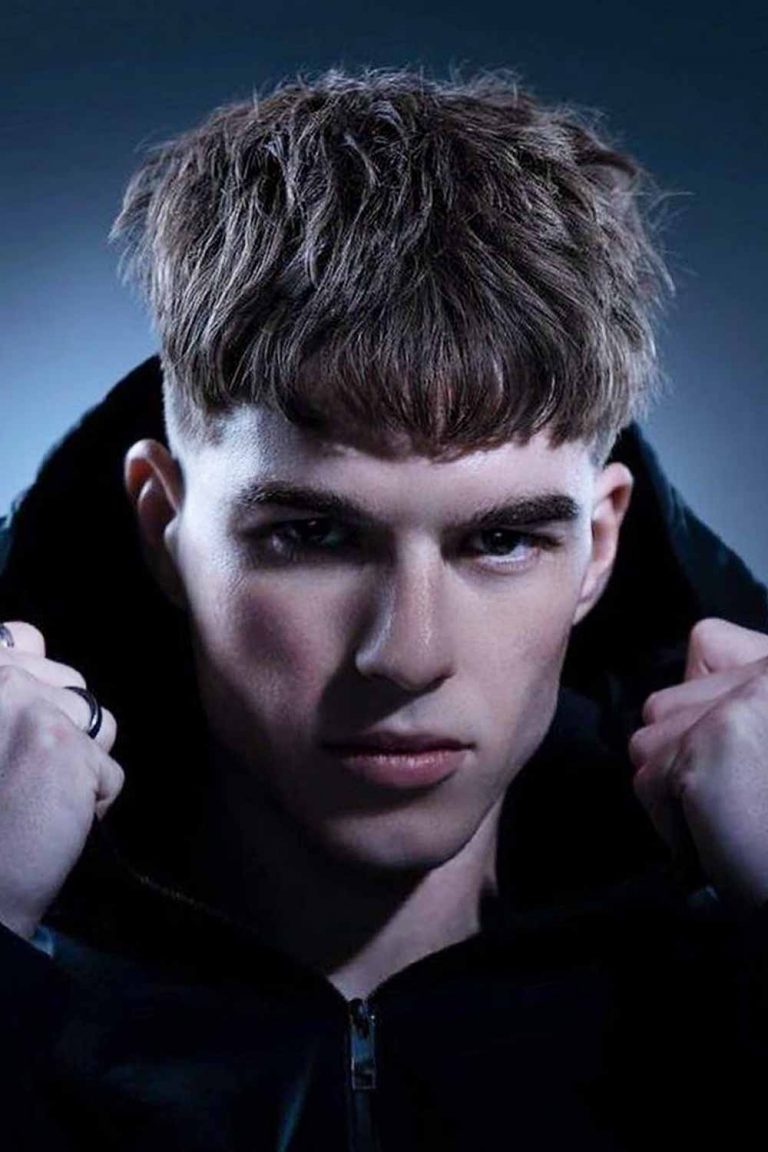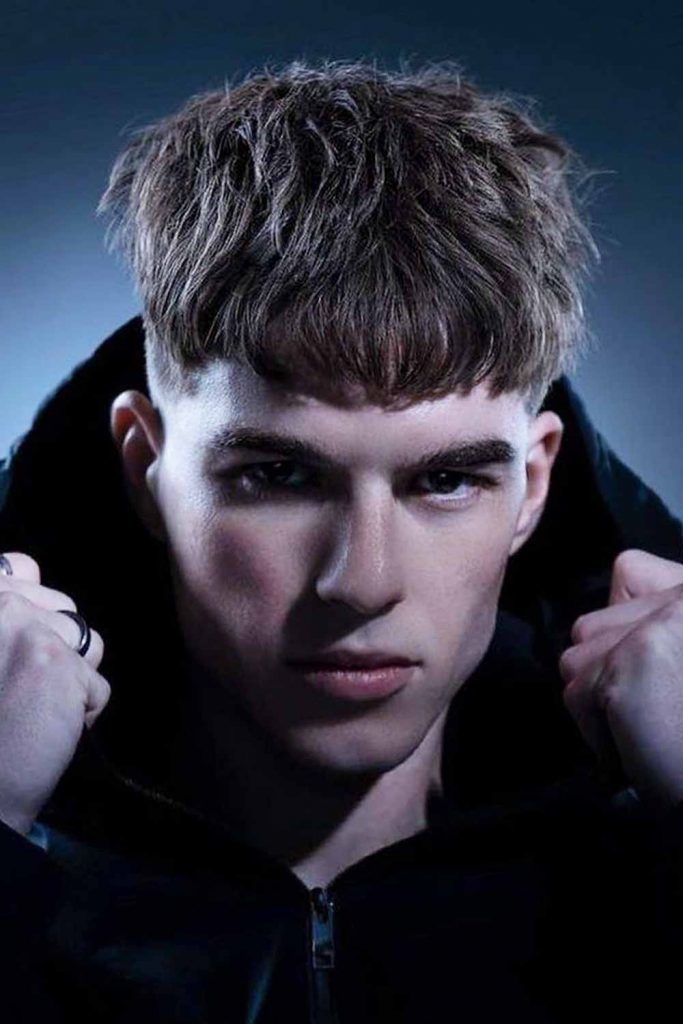 Source: @barbersdream via Instagram
Bowl Haircut For Straight Hair
Those guys who have straight locks should also consider a bowl cut as a haircut of their choice. With such a hair type, your cut will look neat and shiny, thus making a styling process effortless. Just do not forget to maintain the length regularly, as you do not want your tresses to cover the face too much.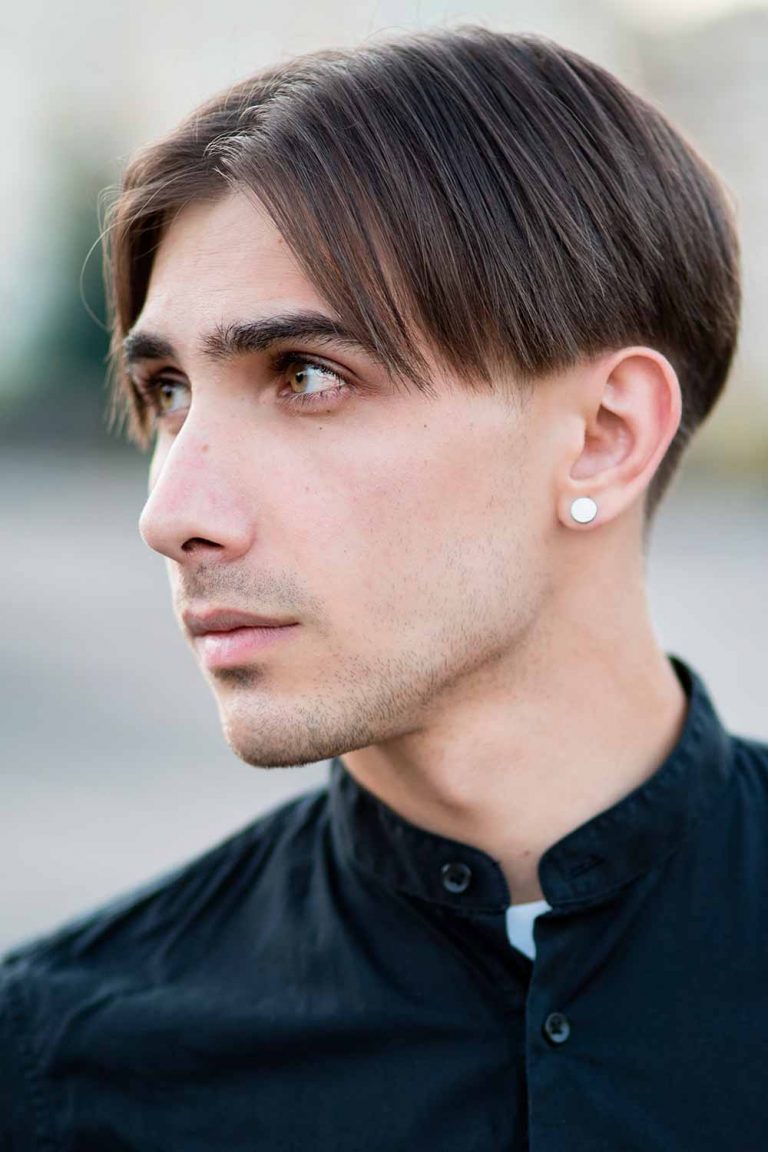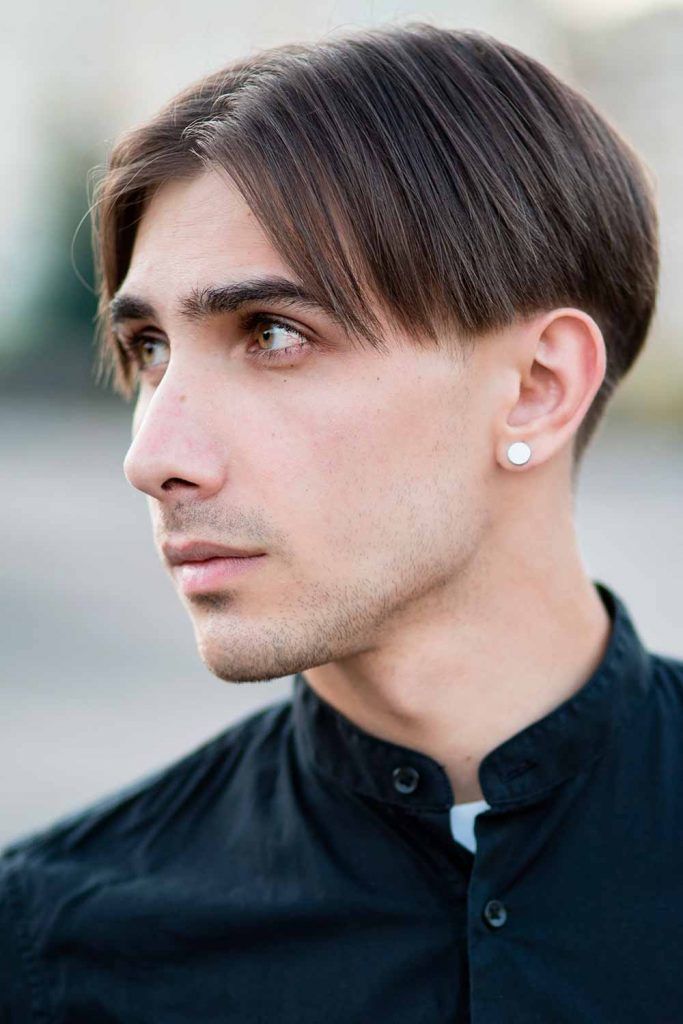 90s Bowl Cut
Even if you have not seen the movie Dumb and Dumber, there is a big chance that you know what Jim Carrey character's hairstyle looks likes. This piecey fringe and a blunt bowl cut give an unforgettable impression. If you are sure that along with a hairstyle you will not get his intelligence, then why not try 90s hairstyles men out?
Chili Bowl Haircut
You cannot confuse a Chili bull cut with any other, as it has a pretty defined shape of… you guessed it – a Chili bowl! Modern and daring, this bowlcut hairstyle is one of the hottest men hair trends today.
Two-Block Inspired Style
A rather unusual take on a mushroom hairstyle is a layered type. Its main difference from a bullcut is that the hair on the sides is curved while in the back, it drops down. So, as a result, it mimics the shape of a baseball cap.
Boys Bowl Cut
A bowlcut haircut is a very popular option for boys and not for nothing. While it does not require much maintenance, it still allows you to show off your kid's hair texture. What is more, a bowl cut does not get in the way when he is playing or running, so he will love its practical side too.
Mushroom Haircut Mullet
Have you ever thought of combining a bowl.cut with other popular mens haircuts? If not, we have an awesome suggestion for you. A bowl cut men mullet is a hair look that will make you instantly stand out in the crowd. When examining it carefully, you may realize that they were meant to be paired together.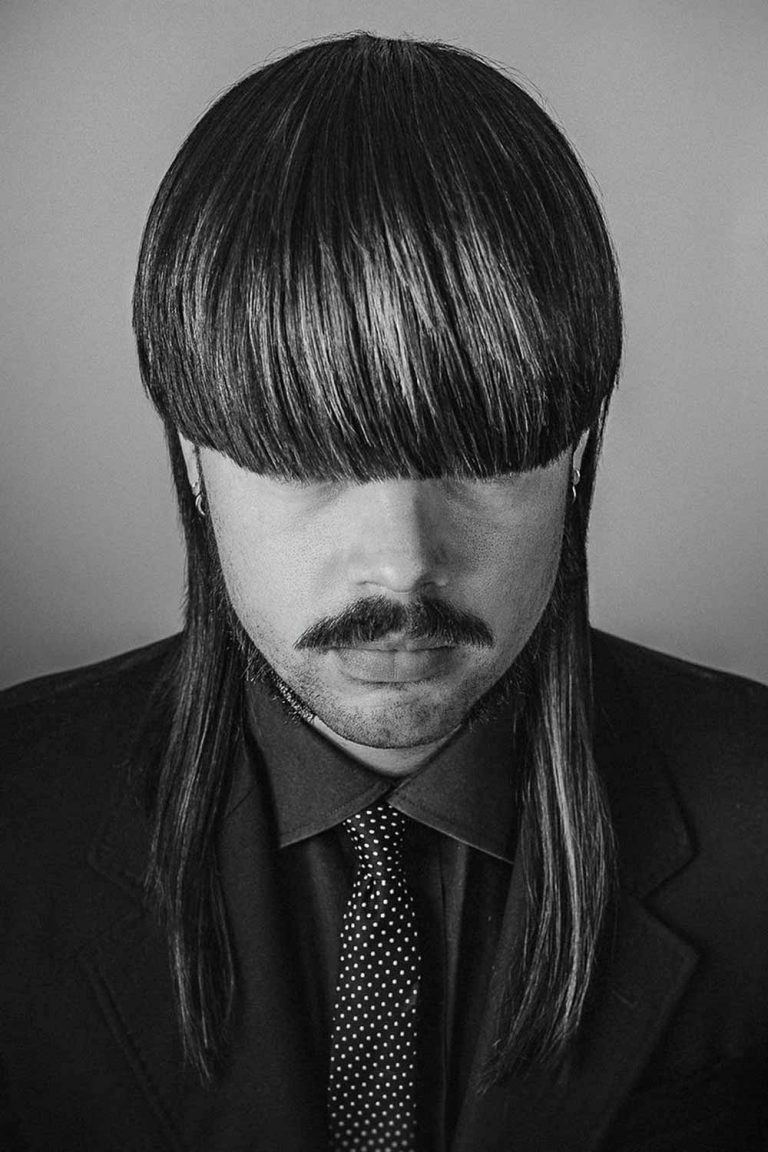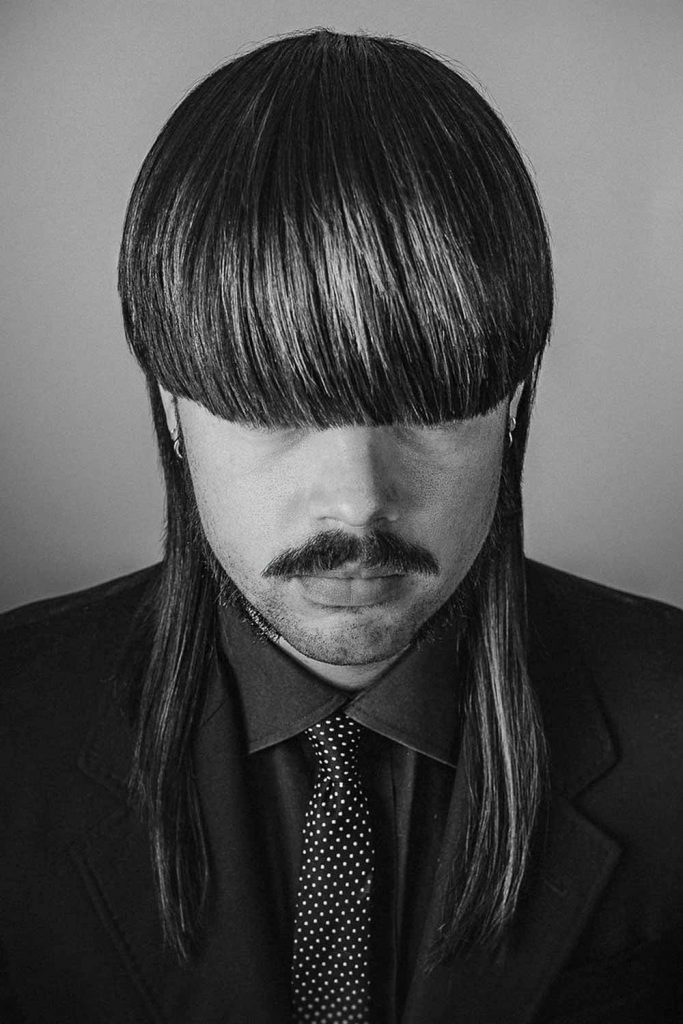 Source: @the_bloody_butcher via Instagram
Curly Bowl Cut Undercut
If you believe that a mens bowl cut is made only for straight hair, we are here to prove you wrong. Those who have a curly hair texture should go for the look too. Moreover, with curls, a mushroom top haircut comes out more defined and edgy, especially when accompanied by an undercut.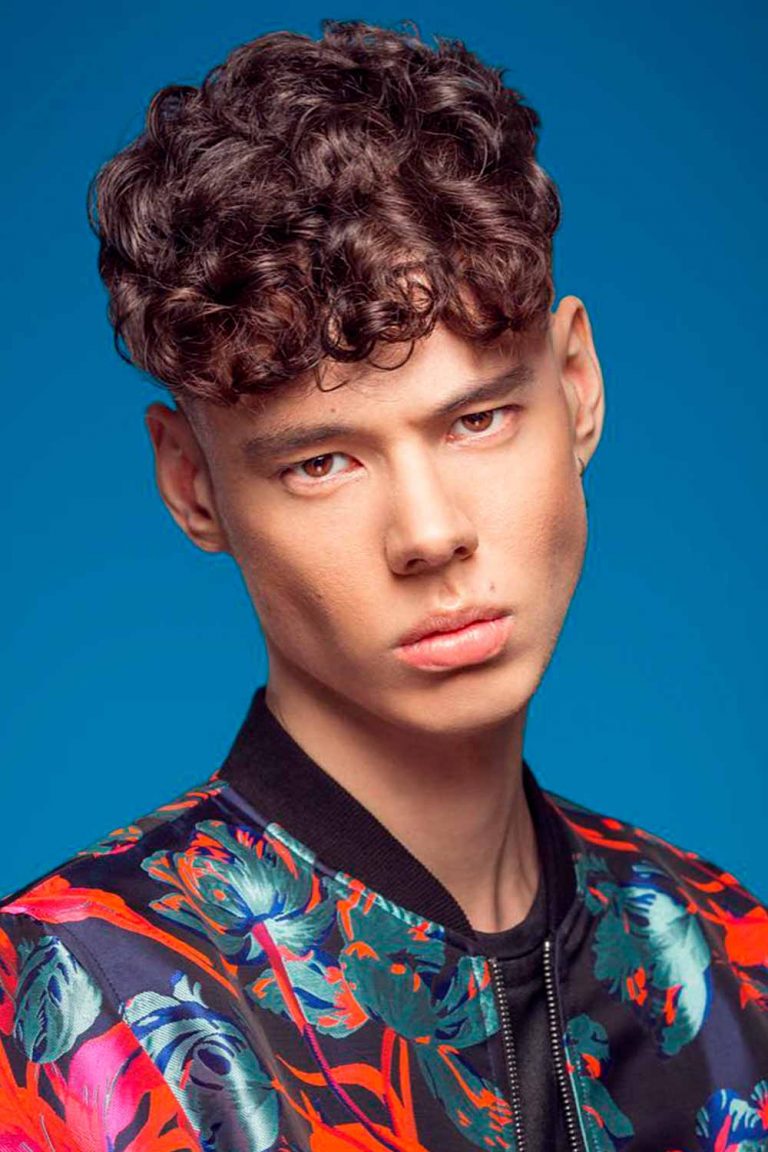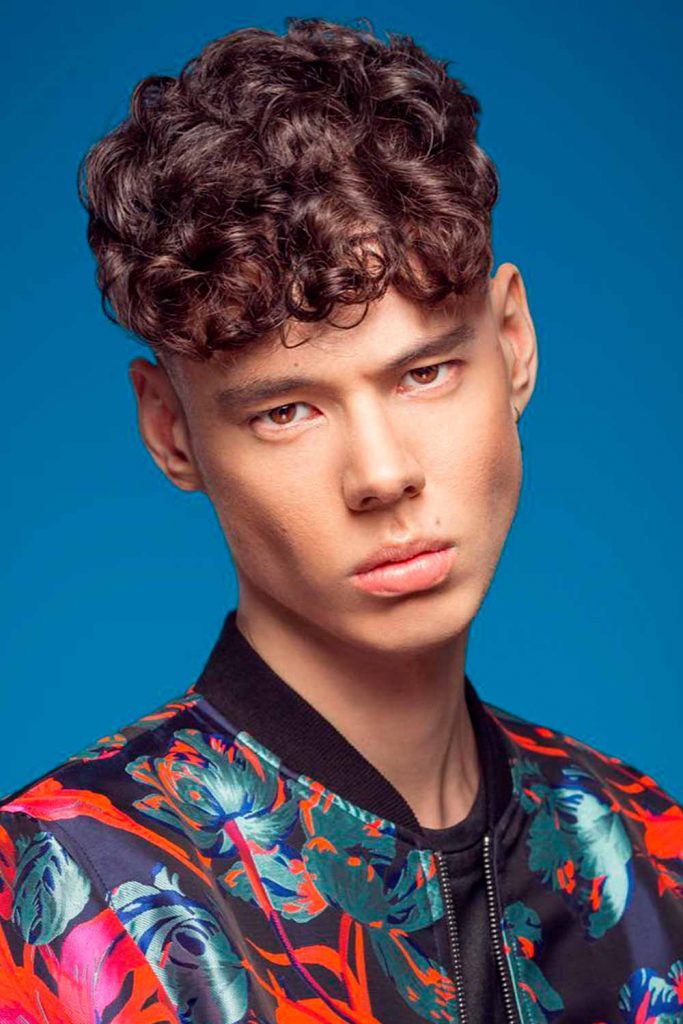 Source: @dexterdapper via Instagram
Long Bowl Cut Blunt Bang
To take mushroom cut hair to another level of boldness, switch it to long bull cut hair with a blunt bang. This is a great way to go for anyone who prefers to keep the focus on their eyes and cheekbones. Styling wise, it is better if the locks are smooth and silky. But a messy bowl cut will also work just fine.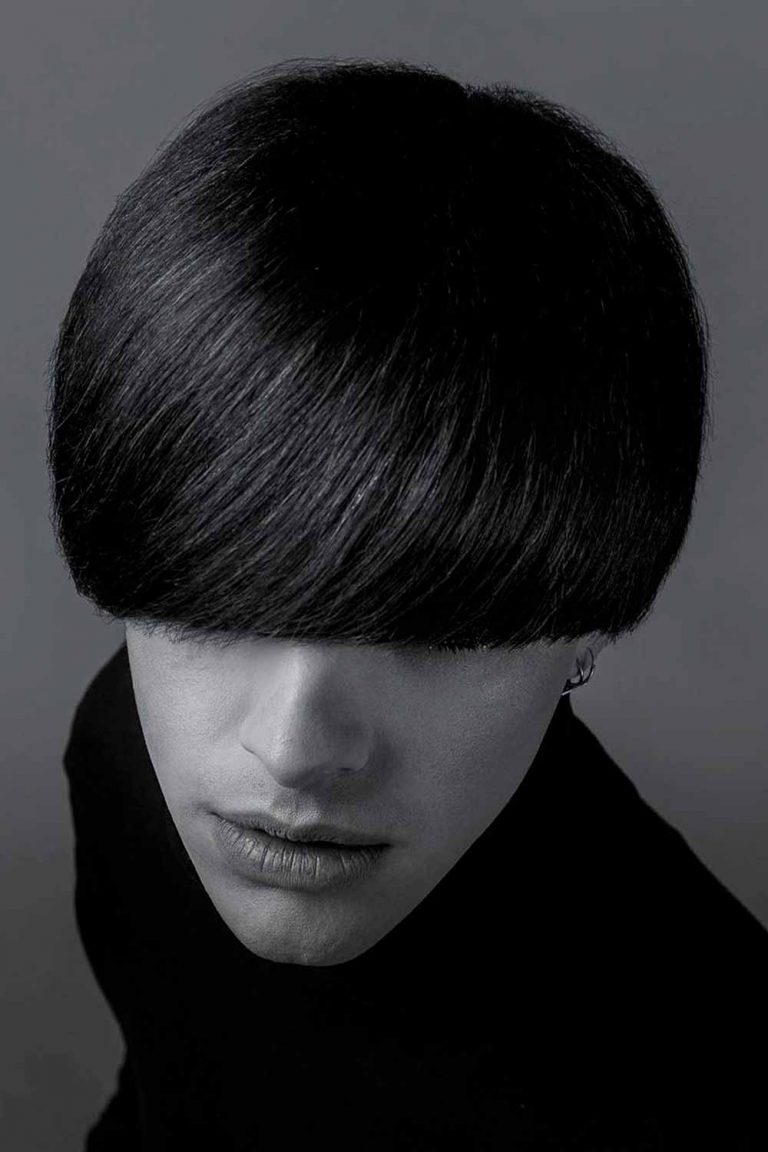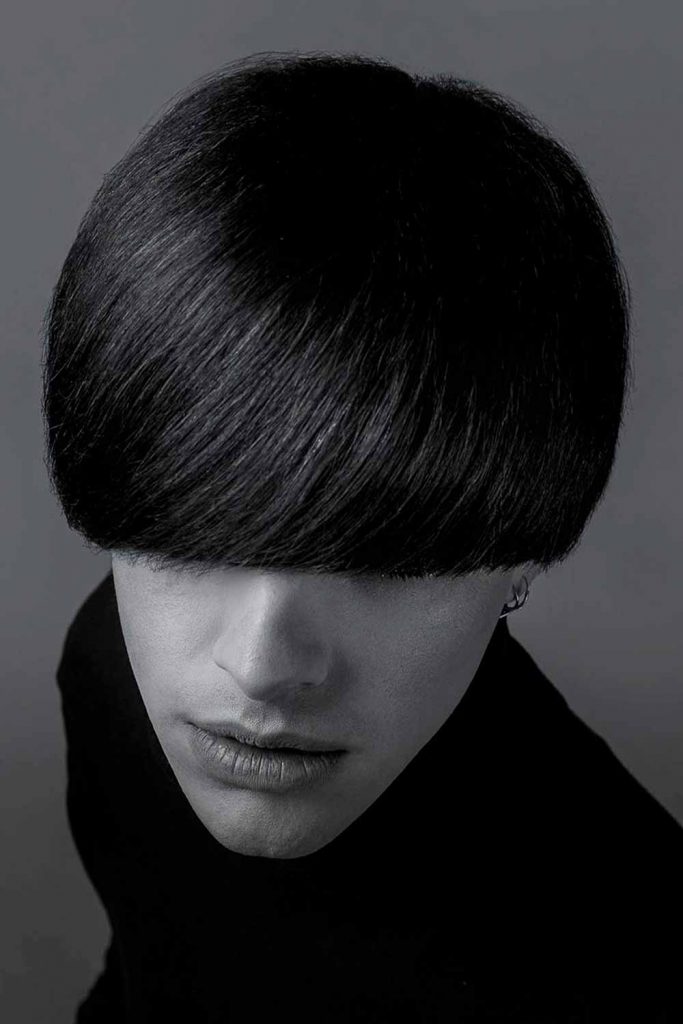 Source: @the_bloody_butcher via Instagram
Undercut Bowl Cut With Layers
To pull off a Chilli bowl haircut, it needs to meet two conditions. First, the top should be textured. And second, the sides and back should feature an undercut haircut. So, feel free to add layers to your bowl, while getting the rest of the hair trimmed short.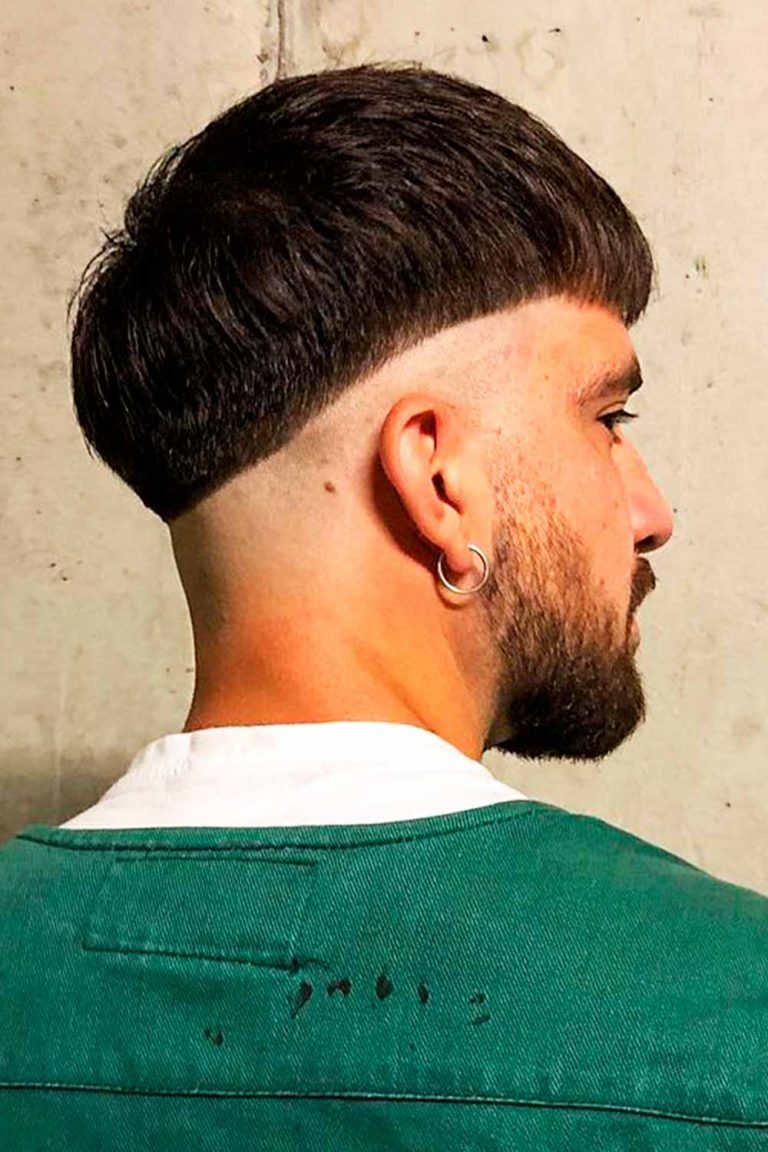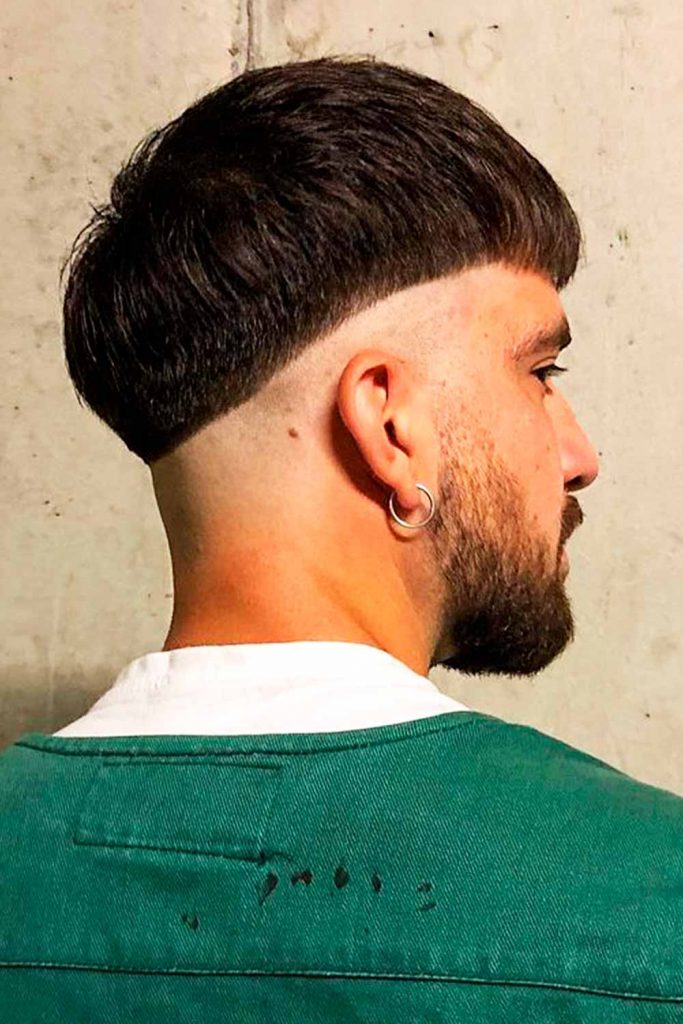 Source: @coiffeurstory via Instagram
Modern Bowl Cut Fade
A blonde bowl cut or brunette, it does not really make a big difference, as both of them look cool and striking. However, to give your mushroom hair a modern feel, you should complement it with a trendy haircut. A fade is a perfect addition to the look.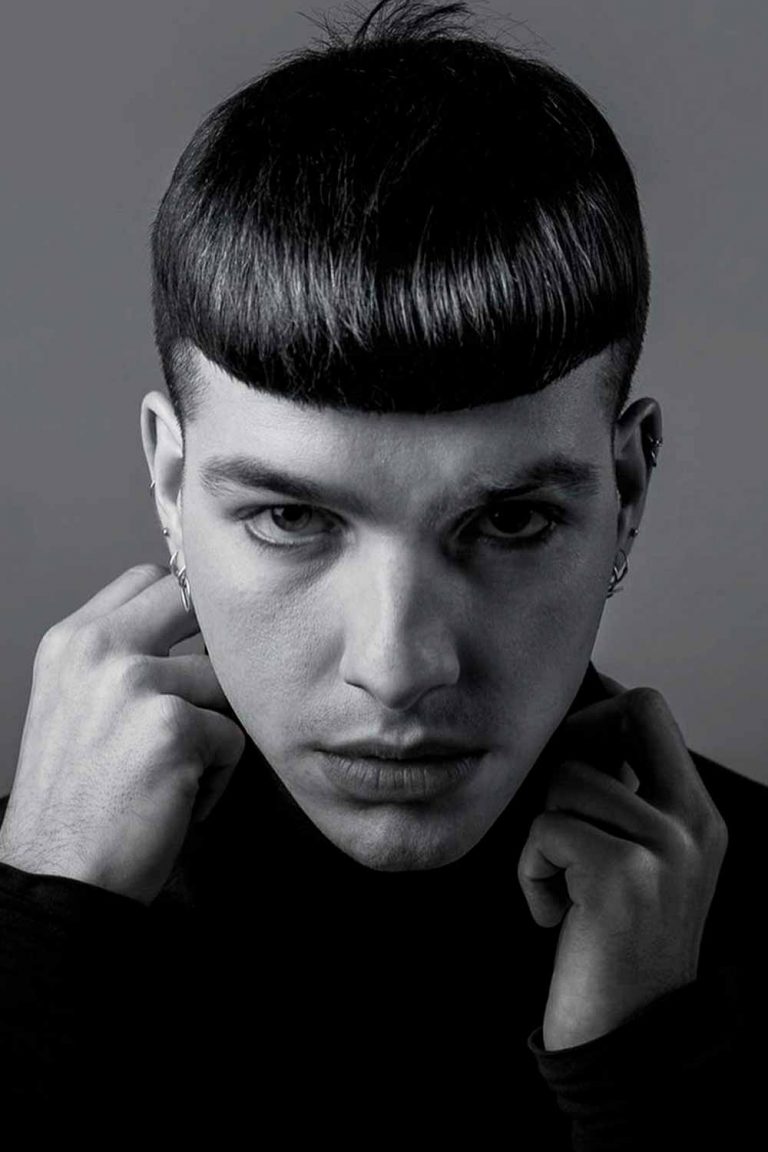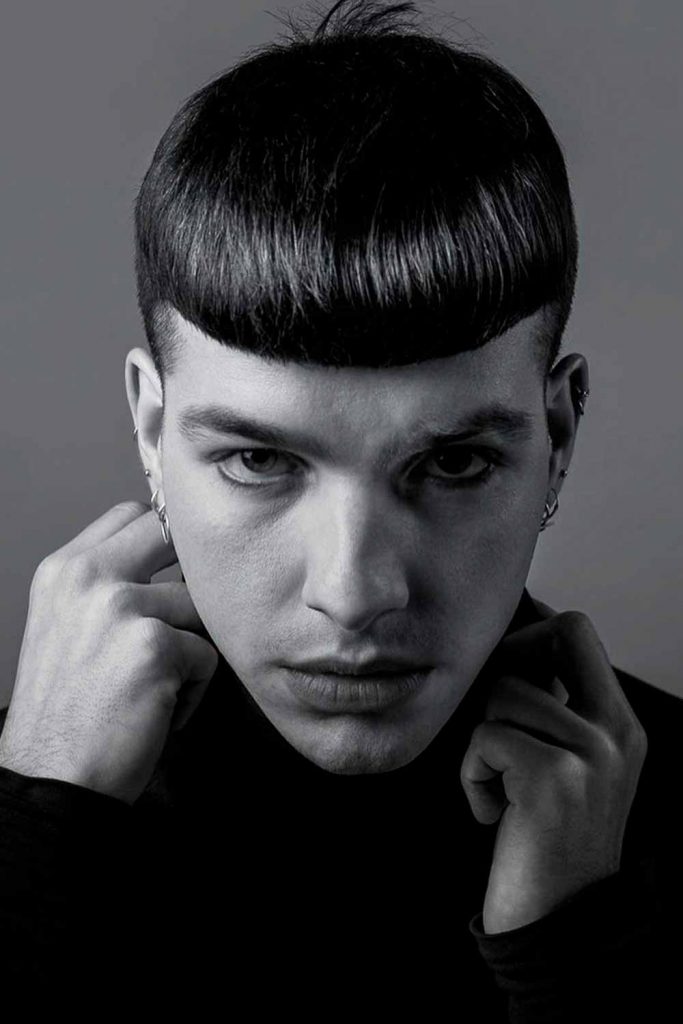 Source: @the_bloody_butcher via Instagram
What Makes The Bowl Cut Iconic?
If you're seeking a new haircut that sets you apart from the pack, why not consider a modern bowl hairstyle? A bowl haircut is ideal for many different hair types and face shapes, especially thin and straight textures. With the right hair products and styling techniques, a bowl hair cut makes an edgy statement that can truly amp up your style.
If you're in between a short and long men's cut, a bowl is a happy medium haircut for men that makes a statement with little effort. Why not try this men's haircut trend and do something different with your tresses?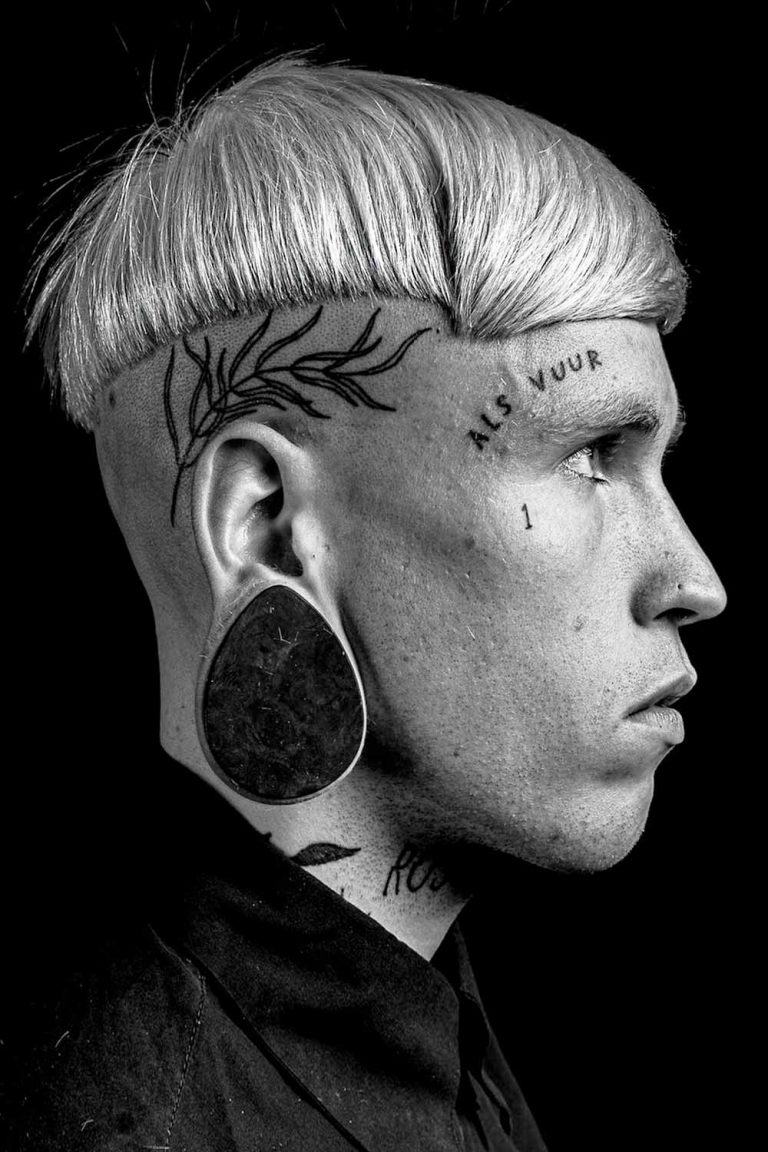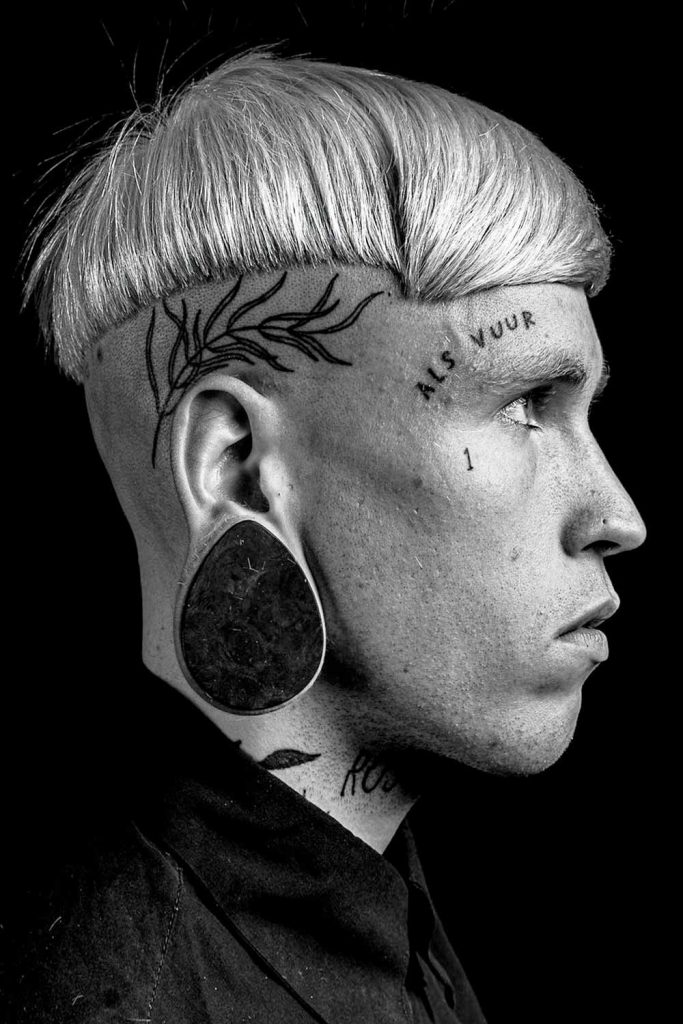 Source: @the_bloody_butcher via Instagram
How To Get The Bowl Cut
While the bowl cut in itself is fairly simple, it's always best to leave haircutting to the professionals. The last thing you want or need is a bowl haircut gone bad. Book a trip to your barber or stylist and consider the following variations of a bowl.
Undercut. Undercuts are back in fashion and work well with a bowl cut. An undercut means the back and sides of the hair will be cut close to the scalp, while the length on top remains. You can think of this as a modern skater haircut, except with a bowl- the frontal area of your style will be cut straight across.
Blunt bowl cut. If you want a standard classic bowl cut, you'll need start with some length all over. If you're ready to ditch the man bun trend but still want to keep some inches, ask your hairdresser to create a uniform shape all the way around.
Source: @kevinelezaj via Instagram
How To Style Your New Bowl Cut
Just because the bowl is simple, doesn't mean you'll be at a loss of styling options. In fact, you can get as creative as you want when styling your new bowl hair. For starters, consider some color or highlights to add dimension to this basic style.
Next, stock up on hair products that work well with your hair type and provide some hold. Pastes, clays and sea salt sprays can take your bowl to new heights. There's no wrong way to style a bowl cut. So long as you're ready to rock something new, there's plenty of workable styling products that can sculpt and shape your trendy bowl 'do.
For tidy looks
Gents who seek neatness will need to provide themselves with a proper styling arsenal. First of all, a brush or comb is essential when blow drying your hair as it will help to create the needed shape. Also, don't forget about hairspray: it will make the sleekness stay in place.
For textured, messy looks
To make your cut express your carefree nature, consider using salt sprays and clays. After washing and conditioning your hair, spritz the fringe or the whole mane with a spray or run your fingers through it with a clay, tousling up the hair. Set the messy finish with hairspray to rock it all day long.
FAQs
What is bowl cut?
A bowl cut is a type of mens haircut where your hair in the front is cut so that it forms a blunt fringe, while the remaining locks are cut the same length as the hair in the front. Because of a striking resemblance to a mushroom's cap, it is also often referred to as a mushroom cut.
When was the bowl cut popular?
Although a bowl cut is popular at the moment, it is not its first time trending. Its first appearance, which earned it a great deal of popularity, dates back to the 1980s.
Can a bowl cut look good?
Sure, it can. Unlike its predecessor, a modern bowl cut does not resemble a mushroom that much. It looks bold, edgy and stylish.
Are bowl cuts coming back?
You can be sure of that. Bowl cuts are making a huge comeback and it does not seem that they are going to disappear anytime soon.
How do I make my haircut look good in a bowl?
So that your bowl cut is on point, remember to follow some simple rules:
– Style it messy for an effortlessly cool look;
– Get a textured cut on top to enhance its definition and accentuate structure;
– Complement your bowl cut with a fade, taper or undercut, which will help you to achieve a trendier as well as cleaner look;
– Apply hair styling products with a shiny finish to add luster to your locks.
What does a bowl cut mean?
It owes its name to the medieval way of cutting your hair to get a bowl cut. They used to place a bowl on the head for guidance and chopped off all of the hair that would exceed the bowl rim.
REFERENCES:
A bowl cut, also known as a mushroom cut is a haircut where the hair is cut short on the sides and back and long on the top.. Source
A usually oddly looking, bowl-shaped haircut. Source