What makes the Mohawk fade haircut extremely popular is its sharp, punkish look. However, despite the whole variety of forms and sizes, the Mohawk designs with a fade should not necessarily be extravagant. Some of them are fairly moderate thanks to the presence of a high fade on the sides. For instance, you can combine a faux hawk, which is also called fohawk, with a classic Mohawk cut and get yourself a tapered Mohawk. Thus, the Mohawk fade is a cut you can really play around with.
A Mohawk Fade: What Is It?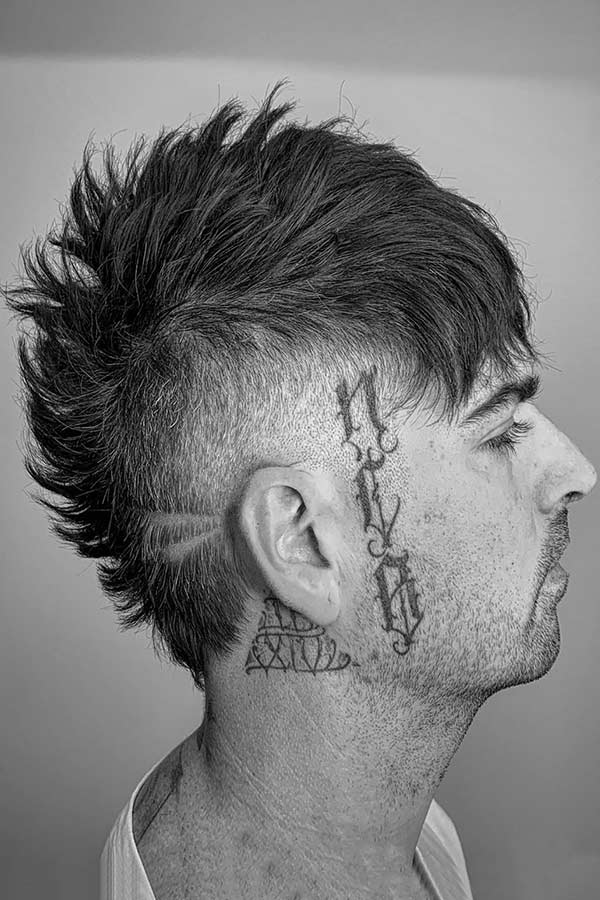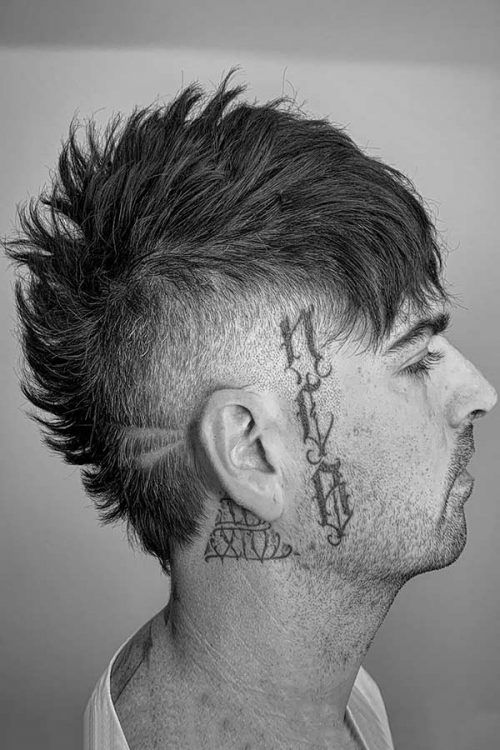 Source: @shrunknheads via Instagram
The main difference between the Mohawk fade and traditional Mohawk is that the former has a high side fade. Thus, the haircut doesn't look so dramatic, yet, the striking contrast is kept. What's more, you can pair this haircut with all other types of Mohawks, just consider the hairEuro Mohawk structure you have. The bonus for choosing the Mohawk fade is the ability to style the hair on the top of your head the way you like – from the disheveled pomp to the Viking Mohawk.
How To Cut A Faded Mohawk?
Source: @f4fade via Instagram
For the positive outcome, you need to know how to cut a Mohawk properly. First of all, you should grow your top hair to the length sufficient for spiking up, that's about 2 to 5 inches, depending on whether you want to have a long or short Mohawk. To achieve a Mohawk haircut fade, your barber or hair stylist will create a high side fade. Other parameters to consider are the length and the width of the future Mohawk.
To create a Mohawk fade, start with tapering the sides. Although to create the most similar to the genuine Mohawk version, you need to have a high skin or temple fade. You're welcome to go for other clipper guard sizes from #1 to #3. Lastly, you will have the top of your hair cut to the length you prefer.
Tips For Styling A Mohawk Fade
Before thinking about how to style a Mohawk haircut, you should pick some trustworthy hair styling products. Even the most sophisticated Mohawk cut will be wasted without the proper hold. If your crest is really wide and long, consider using some wax or pomade with strong hold. In case you have a black Mohawk fade, you can really leave it as it is because your hair holds the shape perfectly itself.
Then just follow these easy steps and you'll get the most of your look:
Wash your hair and dry it with a towel, leaving it a little damp.
Spread the hair styling product all over the crest, ensuring it is stuck up.
Gather your hair in the center, using fingers or a comb.
Blow dry your hair to secure everything in place.
Top Faded Mohawk Hairstyles
The wide range of options available nowadays gives endless opportunities to get the coolest faded Mohawk hairstyle. Not to let you get drowned in the ocean of the Mohawk variations, we suggest using our list of the top faded Mohawk hairstyles.
Dreadful Mohawk With A Burst Fade
Source: @nickthebarber via Instagram
The burst fade Mohawk is achieved when the hair on the top of your head is cut the same length as the hair on the back. But look how the crest stays much longer than the skin faded sides. This combination creates the perfect kind of the mens punk hairstyles. To get really cool Mohawks, add some twists to the crest.
Pompadour Mohawk
Honestly, a pompadour and Mohawk look super-duper cool separately, to say nothing of them combined together. An undercut Mohawk scores with its striking contrast created by the skin-cut sides and long voluminous crest, aka pomp.
Razor Line Mohawk Haircut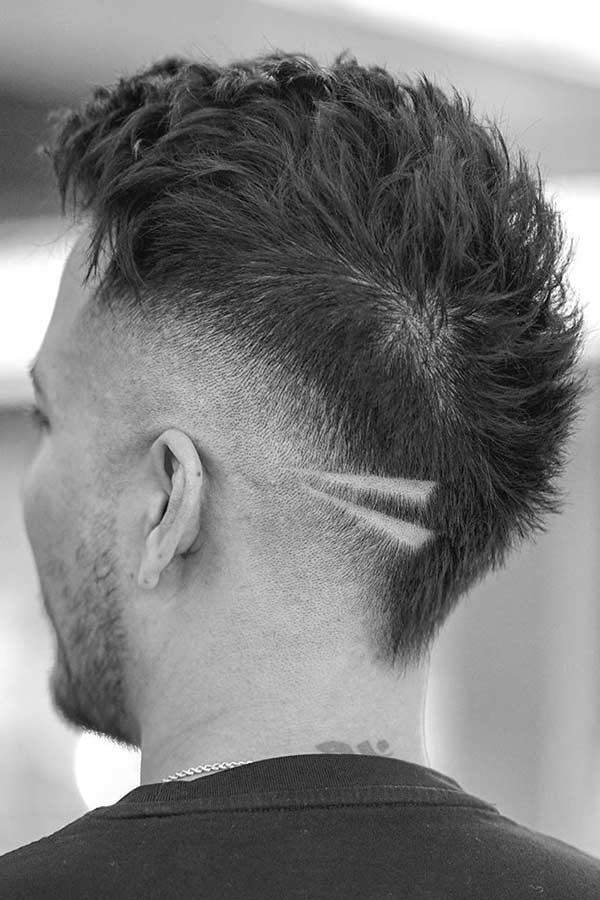 Source: @shrunknheads via Instagram
Another awesome element to add to your burst fade Mohawk is a razor cut line that will create a dramatic outline around your Mohican hair. The razor line can be actually used in many other ways, for example, to create a whimsical pattern on the sides of your head.
Textured High Mohawk
Source: @ryancullenhair via Instagram
This is the kind of a Mohawk fade white guy will happily pull off. You substitute the spikes on your crest for soft curls, thus creating a pompadour. The sides of your head are still cut short with a fade.
Modern Mohawk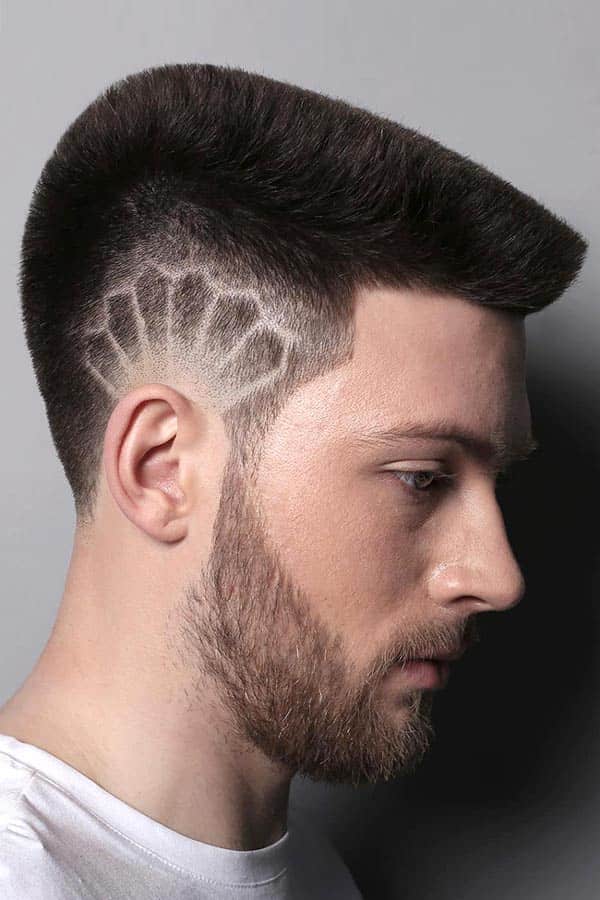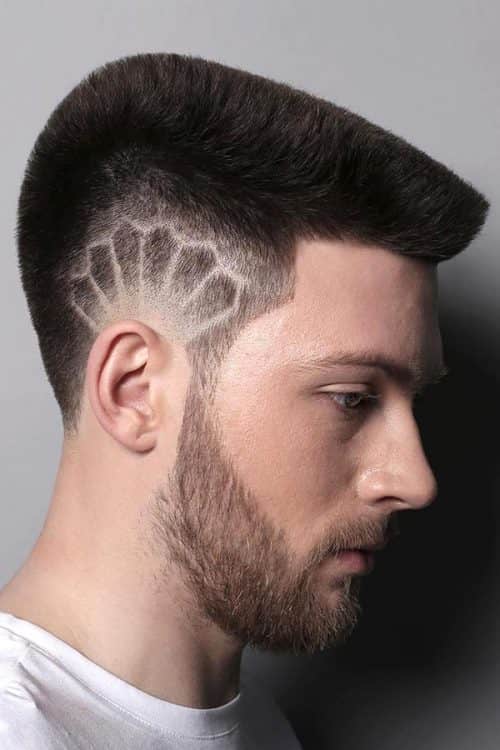 Source: @londonschoolofbarbering via Instagram
No one wants to look outdated, that's for sure. To give your flat Mohawk a modern edge, try adding some tribal haircut design to the sides. Arranged in a semicircle, it can complement the form of your ears or draw attention away from them if you like. Spice up the cut with a sexy, natural-looking beard, and you'll get a really modern Mohawk hairstyle.
Spiky Mohawk
Source: William Moss/Shutterstock
The straight hair fade Mohawk is very easy to style because the hair holds the form perfectly without any additional styling products. The most popular kind of this haircut for straight hair is the Asian Mohawk. You can leave the sides of the head faded or undercut, it's totally up to you.
Curly Hawk With A Bald Fade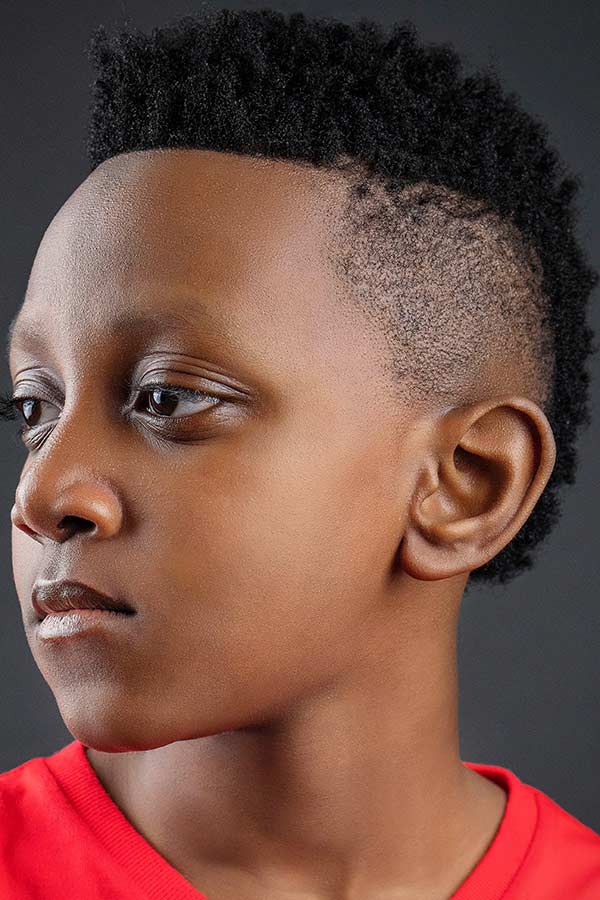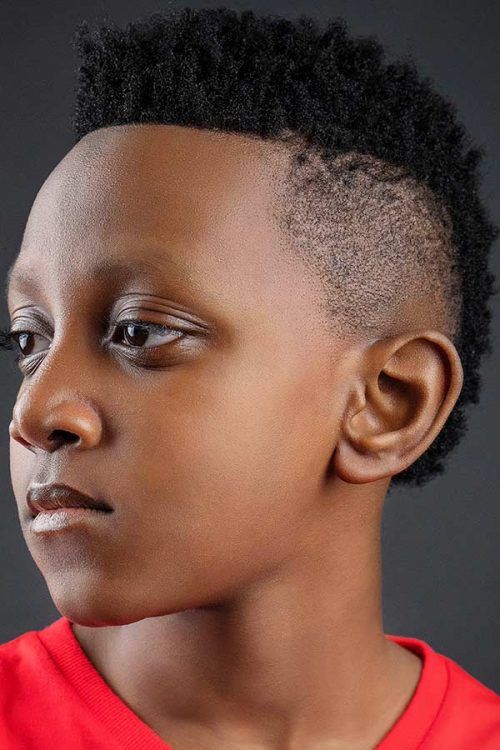 The bald fade Mohawk is an insanely provoking haircut. The whole attention is focused on the crest, while the sides are a bit left out. This is the perfect Mohawk for black guys since their naturally dense curly hair will bring the look to a whole new level. In case you really want to blow the minds of people around, outline the crest with a sideline in a form of the lightning and request the V-cut shape of the nape.
Curly Afro Mohawk With A Hair Tattoo
Source: @f4fade via Instagram
This kind of a curly Mohawk male mod would really appreciate. It's neither too long nor too short, just of the perfect length. To prevent the ordinary mens fohawk from looking too plain, add some classy patterns along the sides, like this carved falling star.
Two-Toned Mohawk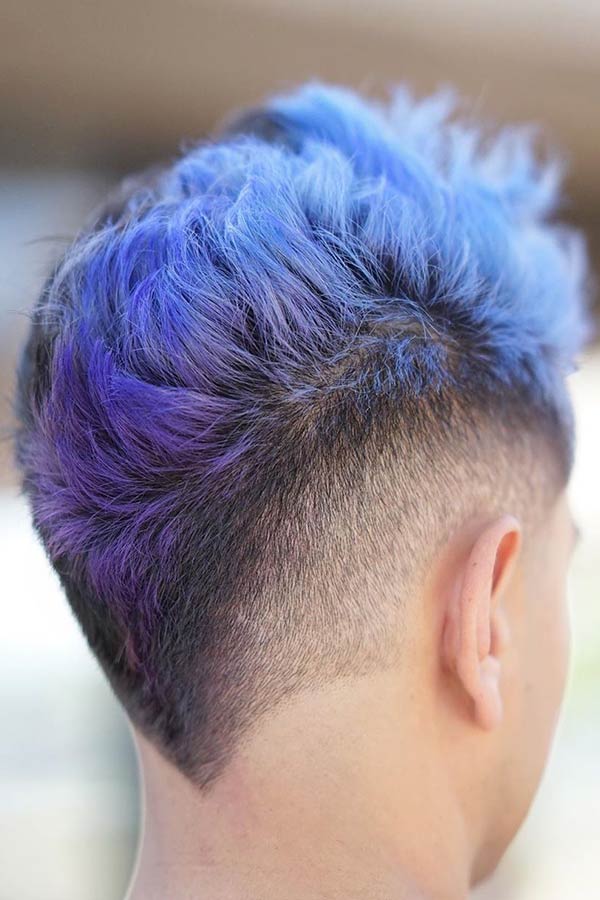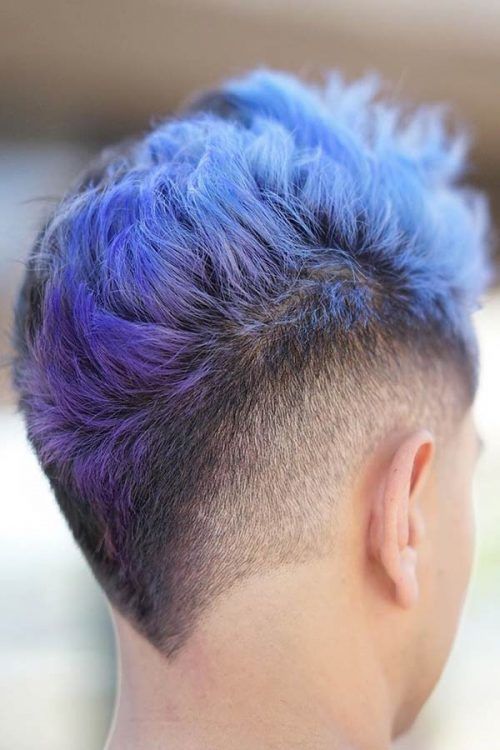 Source: @f4fade via Instagram
It's very important not to overdo the haircut as instead of the edgy hairstyle, you can get kitsch. However, the dyed Mohawk can't look low-grade even if there are two tones involved. The messy faux hawk itself is colored a bit darker, and the hair at the level below is bleached. On top of that, there are some fancy patterns carved on the sides of the head.
Side Parted Mohawk With A Skin Fade
Source: @f4fade via Instagram
This version of a Mohawk is pretty modest. The hair on top of the fade faux hawk is mid-length and the sides have a low skin fade. As an element of the design, enchase two parallel lines on the temple.
Sponge Curls Mohawk
Source: @f4fade via Instagram
Sponge hair has a very expressive look. Even though it is an incredibly enchanting hairstyle, it requires an accurate cut. To make it even edgier, go for a Mohawk fade with design. Don't limit your barber here, let him or her make the most of your look.
Lined Up Faded Mohawk
Source: @f4fade via Instagram
This is the perfect African American hair look because it takes advantage of the natural structure and density of the hair. It is a combination of the low fade haircut and a Mohawk cut.
Swept Back Mohawk Fade
travin_photo/Shutterstock
You may be surprised but the mohawk fade can be easily adjusted to basically any ambiance. If you need to look groomed for a dressy event, you can simply sweep back the hair on the top of your head. In this way, you will transform a casual and ruffian hairstyle into classy and elegant.
Spiky Mohawk Fade
Gerain0812/Shutterstock
As you can tell, the mohawk fade can be rocked in many different ways. It's not always necessary to style it in the shape of a fan. To keep the flair of the cut yet bring a welcome change to it, spike up the hair on the crown with a strong hold product.
Silver Mohawk Fade
Source: @ryancullenhair via Instagram
Two tonsorial trends in one cut seem not enough for you? No problem. Add another one. And another one. You're welcome to combine as many trendy hairstyles as you can pull off. Dyeing your hair in a silver-gray color and adding a hard part to it will certainly make you stand out from the crowd.
Mohawk Fade With Beard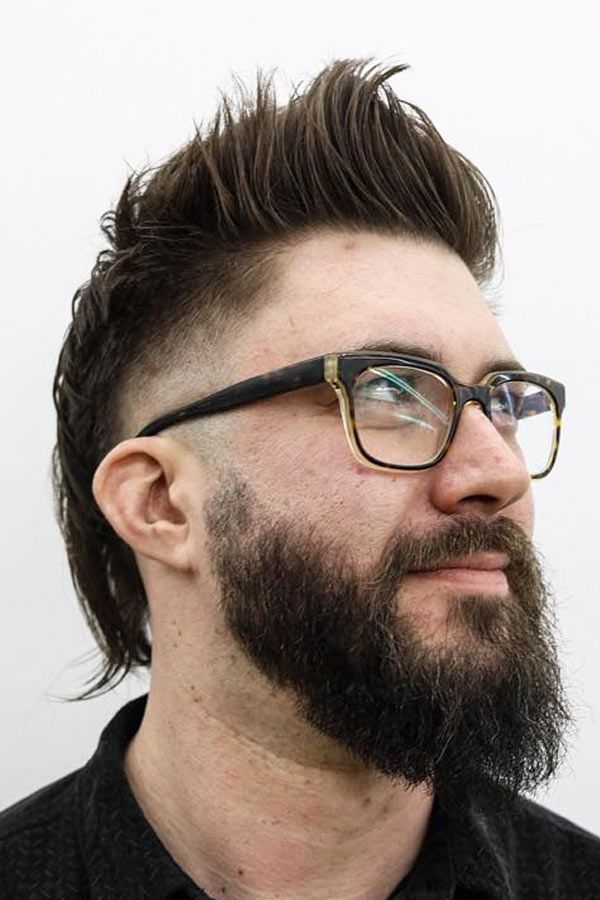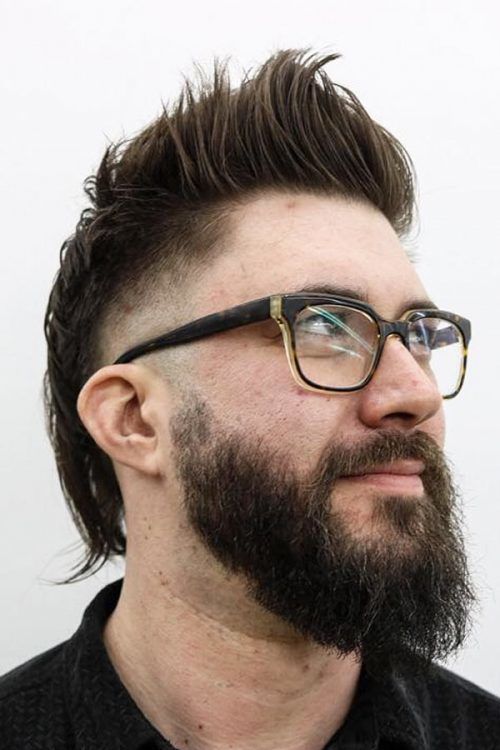 Source: @hairraribarber via Instagram
As the fade bring neatness and cleanliness to your hairdo, even if it's a mohawk, you're free to choose any facial hair style you like without being afraid to look shaggy and unkempt. For the ultimately balanced look, go with the full beard of the same length as your hair on top.
Afro Mohawk Fade
Source: @f4fade via Instagram
If you have the Afro hair texture, it doesn't mean you should waive a mohawk hairstyle. With your kinky coils, it gains and intricate and unusual twist while a fade adds a stylish and trendy touch to it. To complement such a saucy 'do, adorn it with carved in hair design.
Curly Mohawk Fade With Shaved Stripe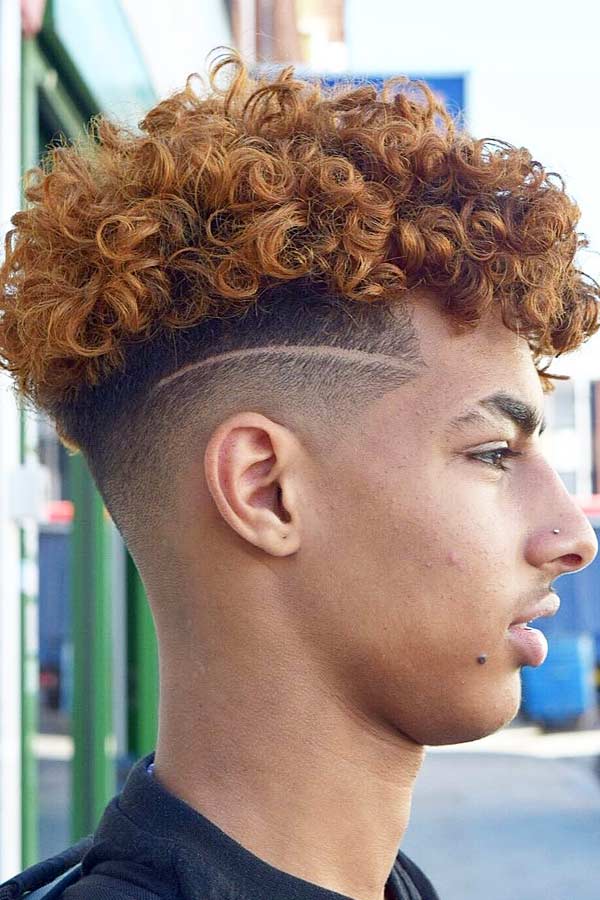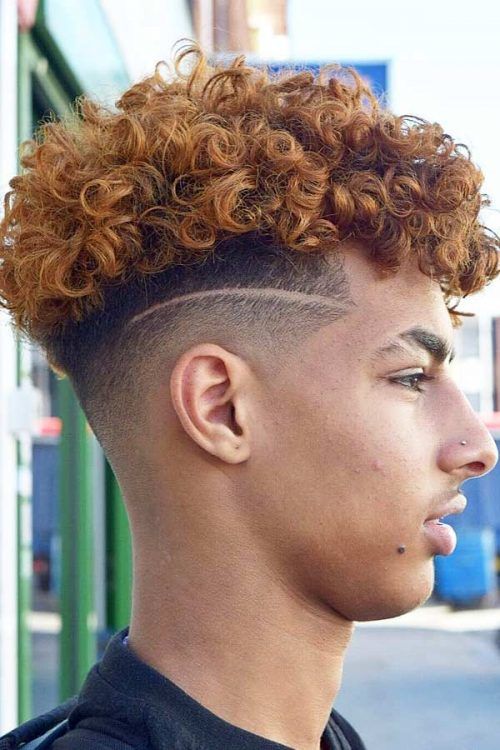 Source: @f4fade via Instagram
This curly mohawk incorporates more hair on top than a classic 'hawk to show off the defined hair texture better. The sides are given a mid skin fade, which is divided in half with a shaved in stripe. For a sharper look, add a line up around the temples area.
Punk Spikes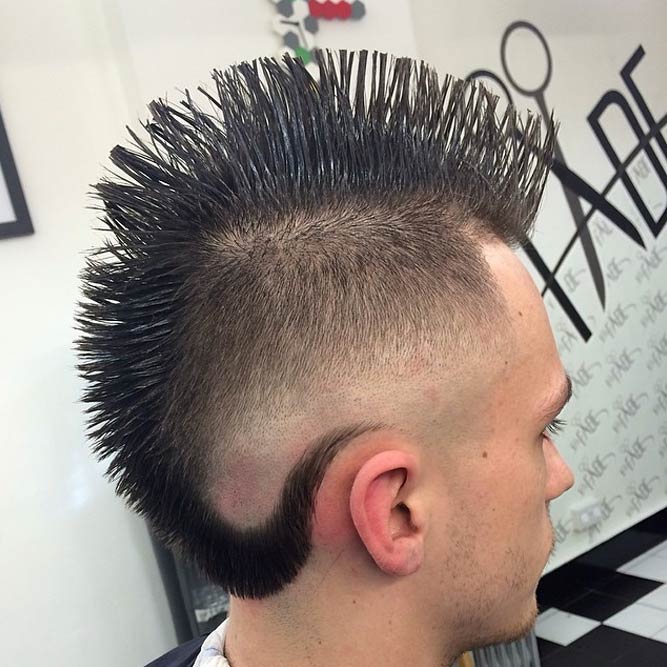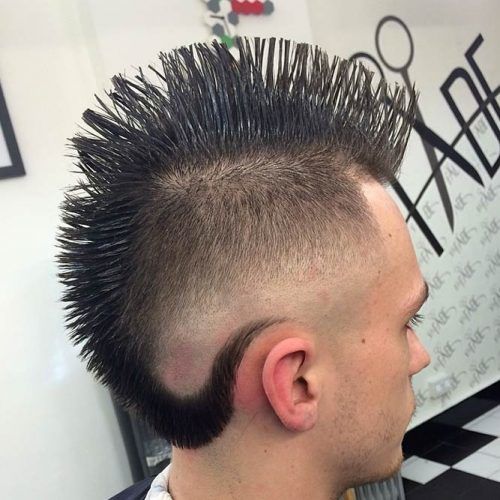 Source: @f4fade via Instagram
Though, if you want to make your hairstyle as artificial as possible, go for a punk mohawk with spikes. It may be not the best choice for an everyday hairstyle. However, it can demonstrate your involvement in the subculture. Want to add an unforgettable touch to it? Ask your barber for hair design. For instance, the mohawk crest that ends with a rat tail won't go unnoticed for sure.
Euro Mohawk
Source: @urednistvo.pricesk.robert via Instagram
If you prefer to get your bangs styled, then you should opt for the Euro mohawk. It features an abundance of hair around the forehead, so you are offered a myriad of styling options. For a more textured and casual look, spike up the locks in the front. In case you are striving for a more elegant and neat appearance, get them brushed forward instead.
High Fade Mohawk
Source: @meha_barber via Instagram
To achieve a really contrasty and bold look, complement your mohawk with a high fade. Apparently, this hairstyle may not fit every ambiance. However, it is so trendy and cool, that you will not go unnoticed for sure. Yet, it allows you to trim your locks atop of the head quite short, so it may become appropriate for a professional environment.
Temple Fade Mohawk
Source: @meha_barber via Instagram
The temple fade hairstyle has quite an unusual shape. It starts from your ears and goes longer toward the top. The pattern it follows is not linear like many other fades have but radial instead. It looks extremely defined and bold itself. However, for added emphasis, you can spike up the hair on top if you like.
A Mohawk fade hairstyle is incredibly versatile and adjustable. You can experiment with the length of the crest, its width, the level of the fade and designs, of course. No matter how exactly you will style your Mohawk fade, one thing is certain – there are no limits!