A bald fade is a trendy haircut that every stylish man needs to be aware of. Along with being trendy, the fade cut is exceptionally versatile, which means that there will be something special for each and every one of you here. Anything on the scale from high skin fade to mid and low will be described here so that the next time you are headed to the hairdresser's you know precisely what you are going to opt for. Now, let's have a closer look at all the available options for you to choose from.
What Is A Bald Fade?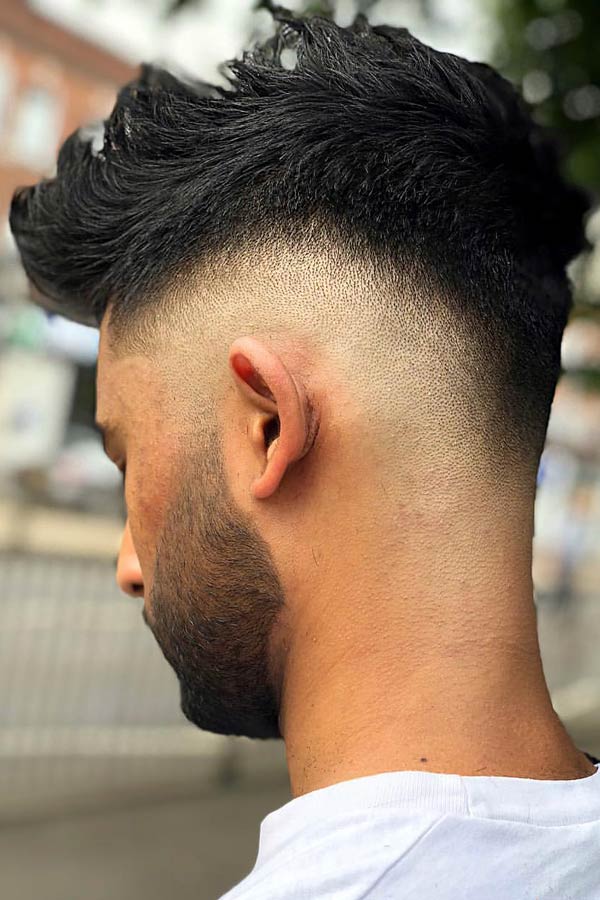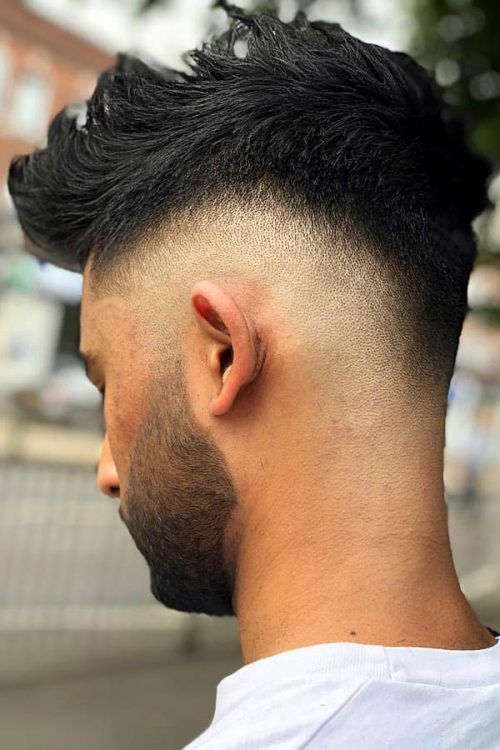 Source: @egobarbers via Instagram
The truth is that unlike all the other cuts, the fade is different in the way of decreasing length. The transition from the longer hair on top of your head to shorter on the sides and back should be gradual. Though, what's special about the bald fade is that it goes down to the zero length, meaning bald skin. Depending on how much hair you want to be left, you decide low, middle or high bald fade it is going to be.
Bald Fade Vs. Skin Fade: What's The Difference?
Source: @alexthegreatvivar via Instagram
If you are confused by the difference between the bald fade vs. skin fade, they are just two separate names for the same cut. As simple as that. So, which one to use is just a matter of your personal preference.
How To Cut A Bald Fade
Source: @egobarbers via Instagram
To achieve a flawless bald fade, you'll require a special skill and a firm hand. So, if you don't possess those two, it's better to book an appointment with your barber and let them do the magic. First, the barber will trim your hair on the sides and back with clippers. Then, using a razor, they'll outline where your bald haircut will begin and shave off all the hair beneath it. Finally, the barber will create a smooth transition from the shaved section to the top hair using clippers with different guard sizes.
How To Get A Skin Fade
Source: @alexthegreatvivar via Instagram
Getting a bald fade haircut is a lot easier than it seems, all you need to do is to find a trusted barber and tell him, or which fade precisely you desire to opt for. Here is the precise description of each and every fade existing.
Low Fade
Source: @londonschoolofbarbering via Instagram
Low skin fade haircut required the least sacrifice to the length. Only the lower part of your hand will be buzzed off, close to the neck while the rest of the hair will be cut decreasingly from the top. You can experiment with the length of your hair on the top as well, so take your choices and figure out which low skin fade works best in you.
Mid Fade Haircut
Source: @hailwormatron via Instagram
Mid bald fade will suit those of you who do not wish to go either too short nor too long with your haircut. The fade starts right in the middle leaving all the fun to the top. What is more, the boldest of you can ask for bald taper fade; such a cut will look sassy and classy on almost anyone.
High Fade
Source: @hailwormatron via Instagram
High fade
was created for those men who do not like to fuss a lot about their hair. All you need to do is to ask for a longer top of the head; this will fit those of you with curly hair and buzz off all the bottom part. It is worth mentioning that pairing bald fade with the beard is the worthy option as well.
Taper Fade
Source: @alexthegreatvivar via Instagram
A taper fade haircut is performed with the use of several tools, namely clippers and scissors. For a bald taper fade, you will also employ a razor. Its main difference from the rest of the fades is in that it leaves a bit more hair atop.
Drop Fade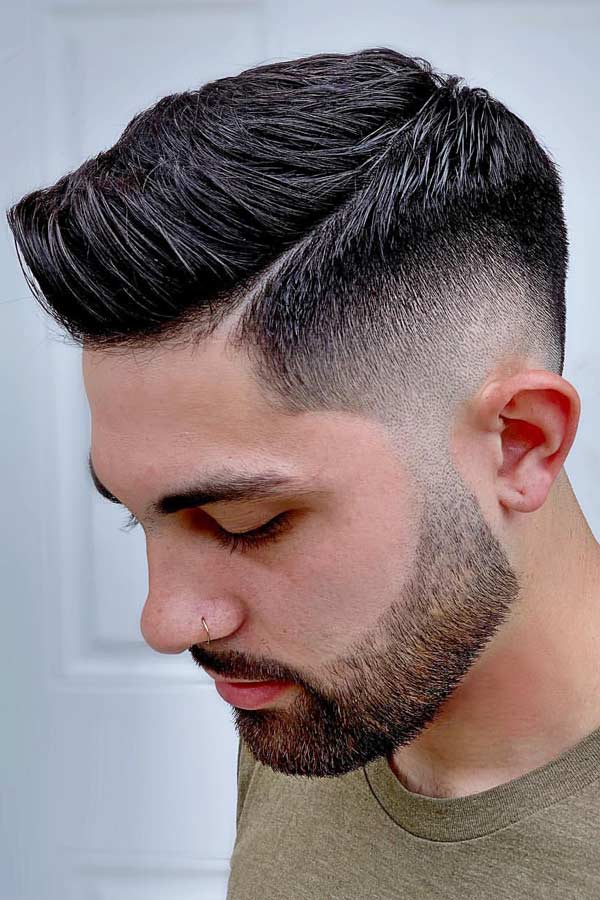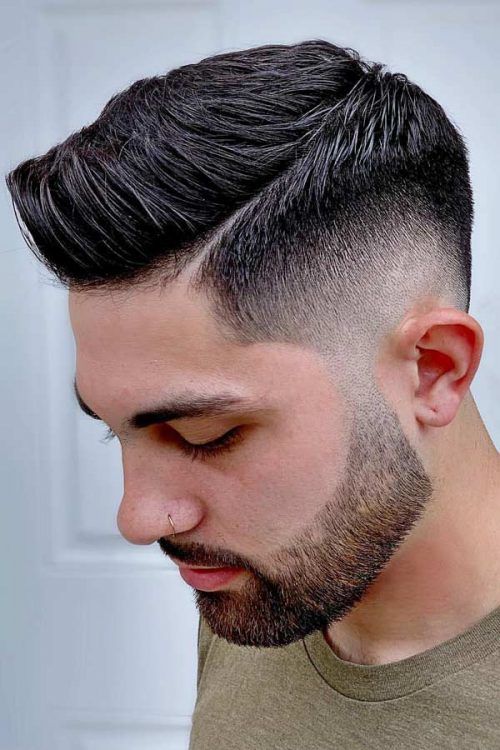 Source: @alexthegreatvivar via Instagram
A bald drop fade haircut takes its name from the way the hair drops behind the ear. It has a multitude of variations as well, including high, low and mid skin fade. Such a cut can masterly adorn any long top short sides hairstyle.
How To Style A Skin Fade
When it comes to styling bod fade haircut, there will be not that much styling for the fade itself while you can play around with the top part as much as you want and we will show you a few trendy options to succeed with.
Bald Fade Blowout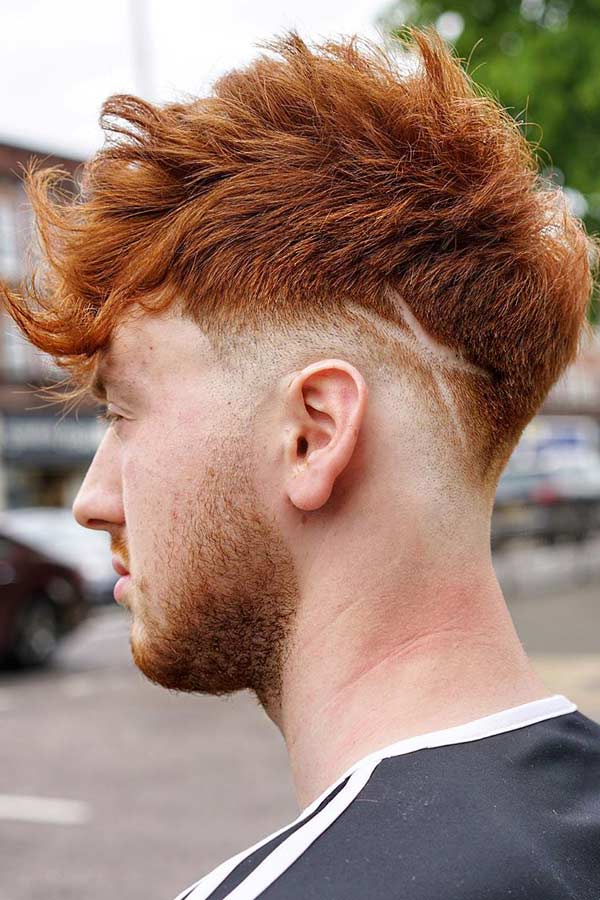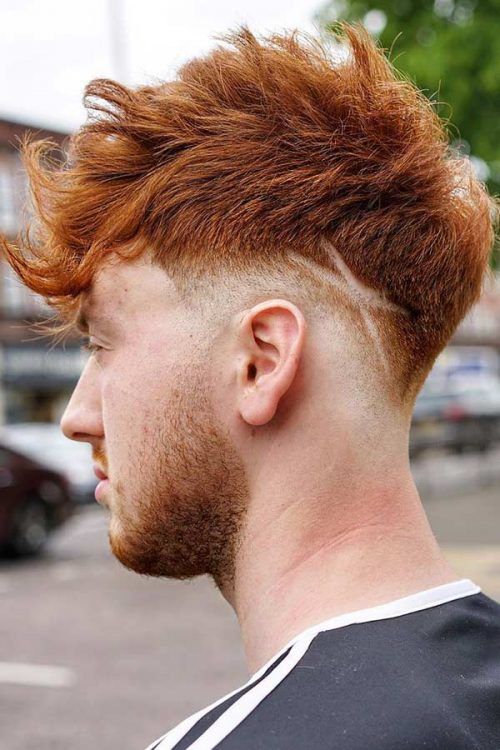 Source: @egobarbers via Instagram
A medium skin fade is a great accompaniment for a blow out hairstyle. It leaves enough hair on top to create the pronounced shape while taking it off from the sides and back to keep it clean.
Undercut With Pompadour
Source: @londonschoolofbarbering via Instagram
Pompadour hairstyle
has been trending for a while not and in case you are already tired of same all look, we have something fresh to share. The thing is that the combination of pompadour and bald fade undercut look absolutely harmonic together.
Styled Back Top
Source: @hairraribarber via Instagram
Bald fade cut with longer top can get messy at times, and that is why you need to tame it somehow. Using your fav hair product to take bald skin fade under control is one of the best not to mention the most stylish ways there are.
Faux Hawk
Source: @groomed_barber_club via Instagram
Cool guys choose faux hawk fade, and there is no wonder why. The truth is that faux hawk haircut I that one cut that simply vibrates with masculinity and sex drive. If that is something you wish to add to your outlook, let nothing stop you!
Dreadlocks
Source: @ninothenice via Instagram
It may seem that dreadlocks and skin fade do not work well together. However, we are here to prove you wrong. You can easily gather up your dreadlocks on the top while showing off your brand new bald fade. Looks super fun and trendy, don't you think?
Side Parted Hairstyle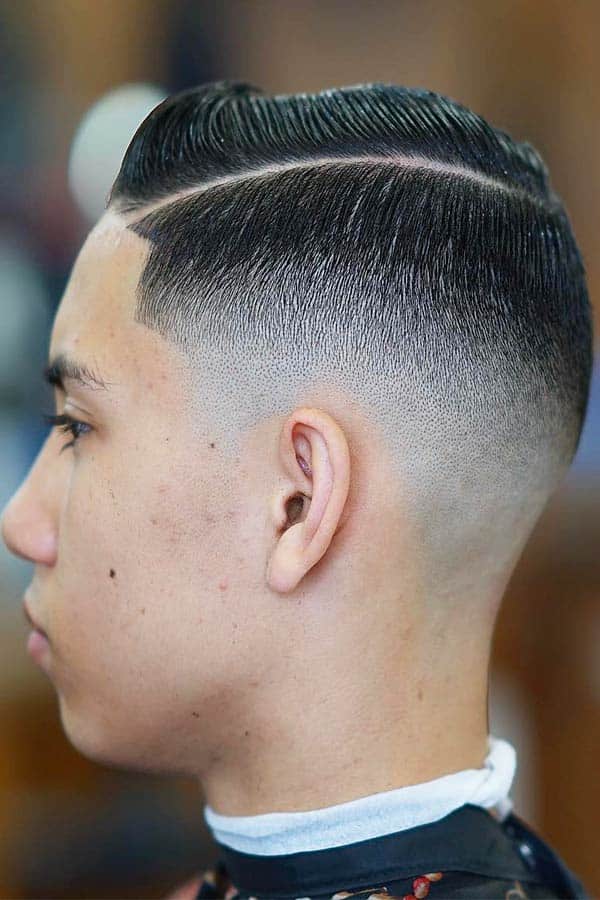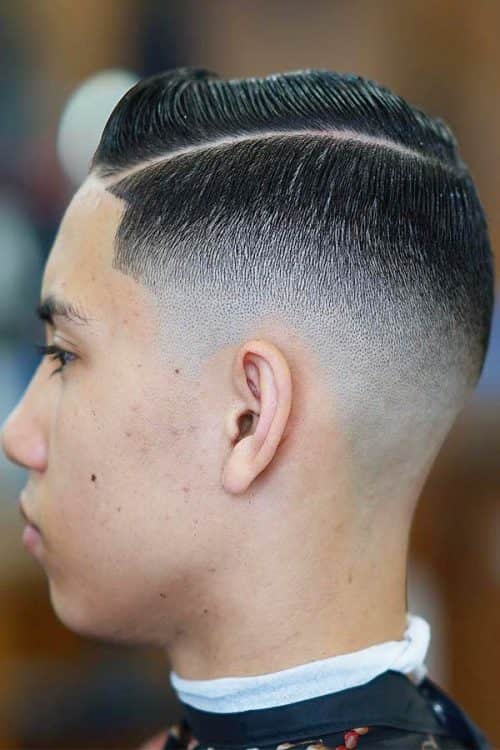 Source: @nickthebarber via Instagram
A side part is one of those things that can add that polished and classic look to your haircut. All you need to use your comb and some of the hair product to succeed with this look, or you can take things even further and add some more volume to your side-parted hairstyle. The choice is yours!
Short Wavy Top
Source: @mikes_custom_kuts via Instagram
Bald fade with waves is one of the short haircuts for men that are pretty debatable since too many men think that combining the two is close to impossible. We say it is not only possible it is merely gorgeous-looking. Just add some wax or pomade to your mane and those tamed locks of your will look super cute and masculine. Don't thank us!
Taper Fade Quiff
Source: @londonschoolofbarbering via Instagram
Quiff haircut is pretty similar to pompadour one with the only difference in length. If you think that you are not ready to put up with extra long hair but some length like 2 or 3 inches is fine with you then quiff it is. You can wear it styled back, or you can add some volume to it and wear it up, whichever choice suits you best.
Slicked Back Blonde Top
Source: @f4fade via Instagram
Fade with the beard is the hottest trend there are these days. That is why if you do not mind granting some extra attention to your look this combination will be the absolute win for you. There is nothing sexier than a full beard, is there?
Buzz Cut Fade And Hair Tattoo
Source: @josiahthebarber via Instagram
In case you are looking for some cool style to add to your look then a hair tattoo it is. Even the highest bald fade will look merely irresistible with such a detail added. Besides, such a hairstyle requires the least maintenance process while it will look gorgeous on even right after you get up from the bed. Think about it!
Afro Bald Fade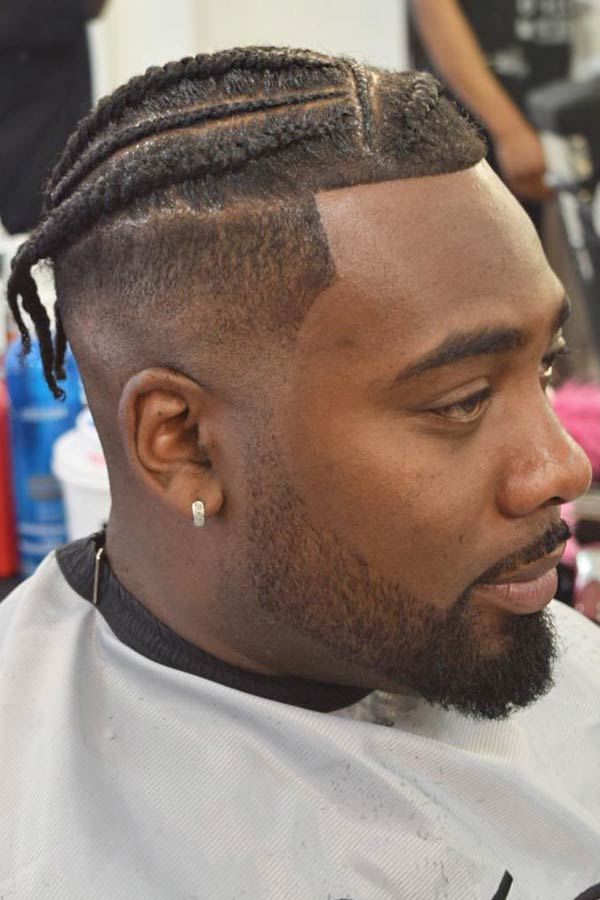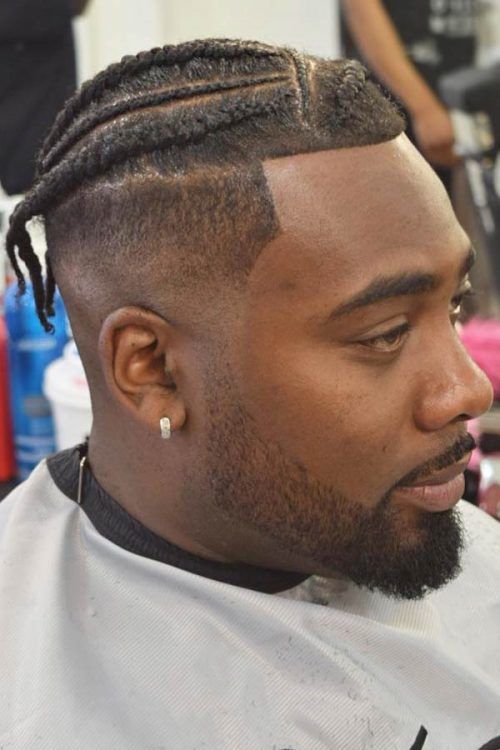 Source: @f4fade via Instagram
If your hair has Afro texture, a zero fade should become your cut of choice. It doesn't really matter, whether you're going to have cornrows or dreadlocks on top while your sides and back are kept in check thanks to the bald fade.
Comb Over
Source: @alexthegreatvivar via Instagram
A bald fade is a great way to upgrade any classic 'do, such as a com over haircut, for instance. A skin fade comb over still comes out sleek and elegant yet stylish and trendy, which is a win-win combo.
French Crop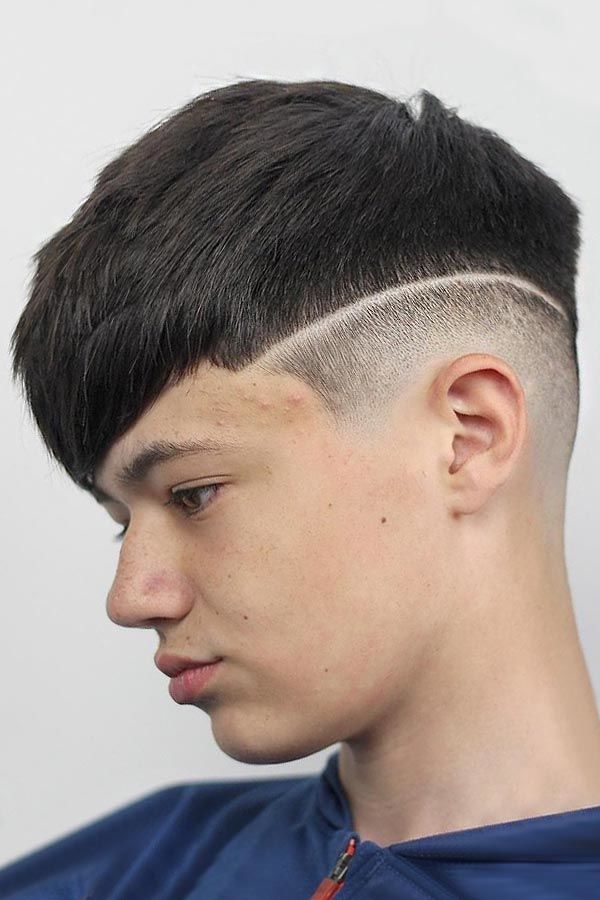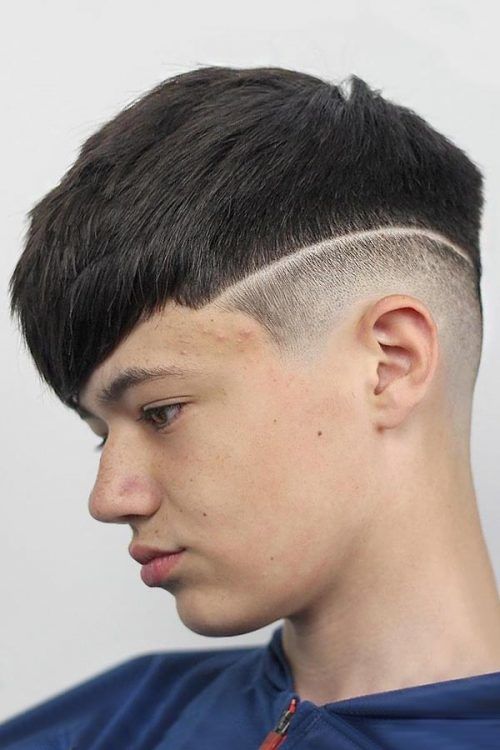 Source: @barbersofbt45 via Instagram
It is true that the French crop haircut Is not something that all men would dare to opt for. However, if you are dying to try out something new, there is no reason why french crop shouldn't be your choice. In case if you are uncertain whether it will suit you – you can always consult your stylist first.
Buzz Cut Fade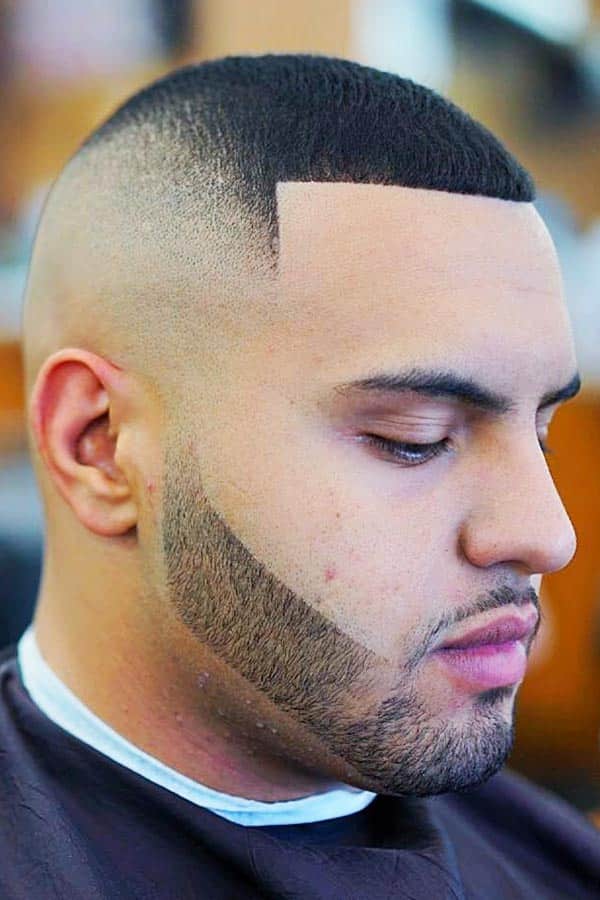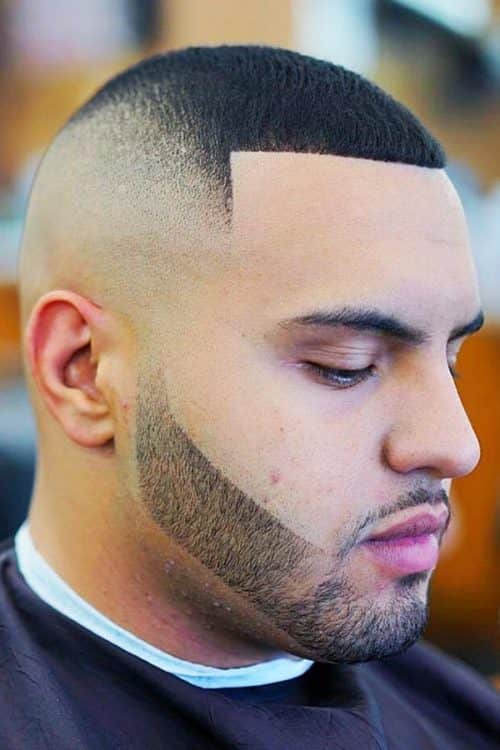 Source: @nickthebarber via Instagram
Buzz cut is one of those hairstyles that requires courage to opt for, especially if it is your time.Yet, correctly done high fade haircut looks fantastic and stylish, have a look yourself!
Curly Top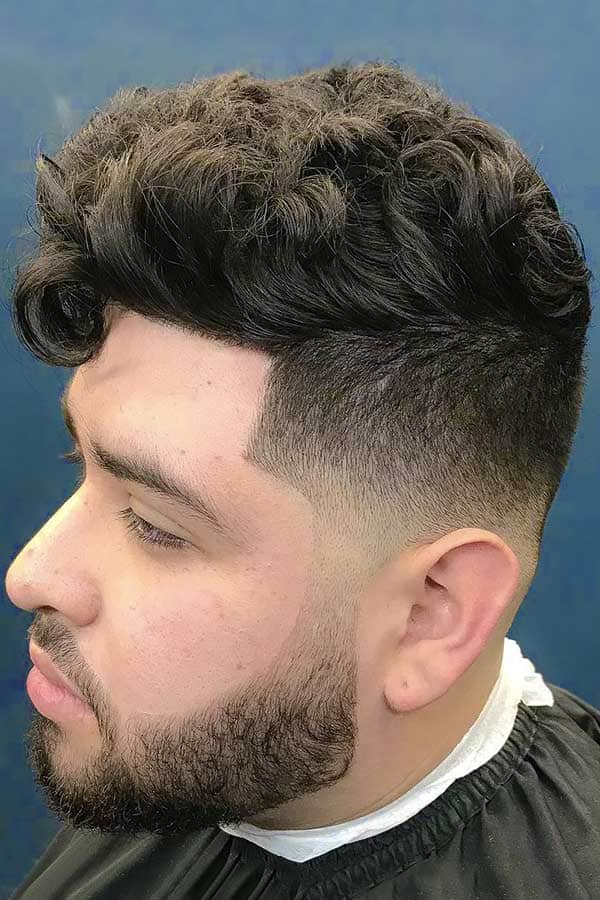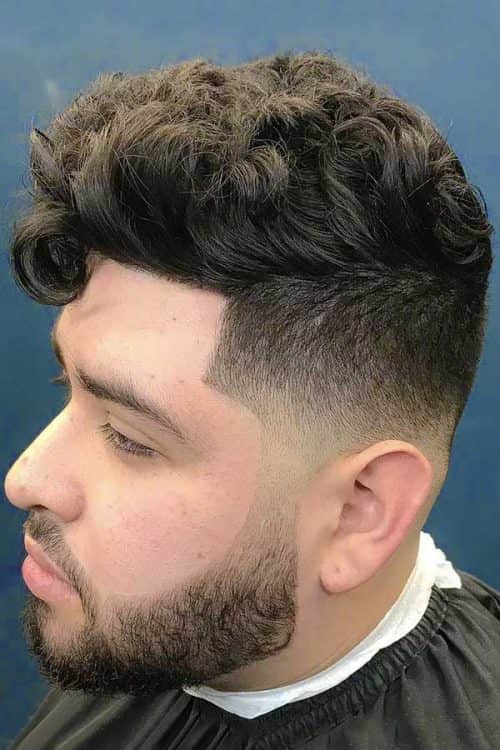 Source: @chadius_maximus via Instagram
Taming curly hair is not that easy even for women but a taper fade with some curls on top looks super cute, we must admit it. Besides, there I nothing that a fair share of hair product wouldn't fix. In case that not an option for you, you can always pull off the messy look, which trendy too.
Undercut Fade With Straight Long Bang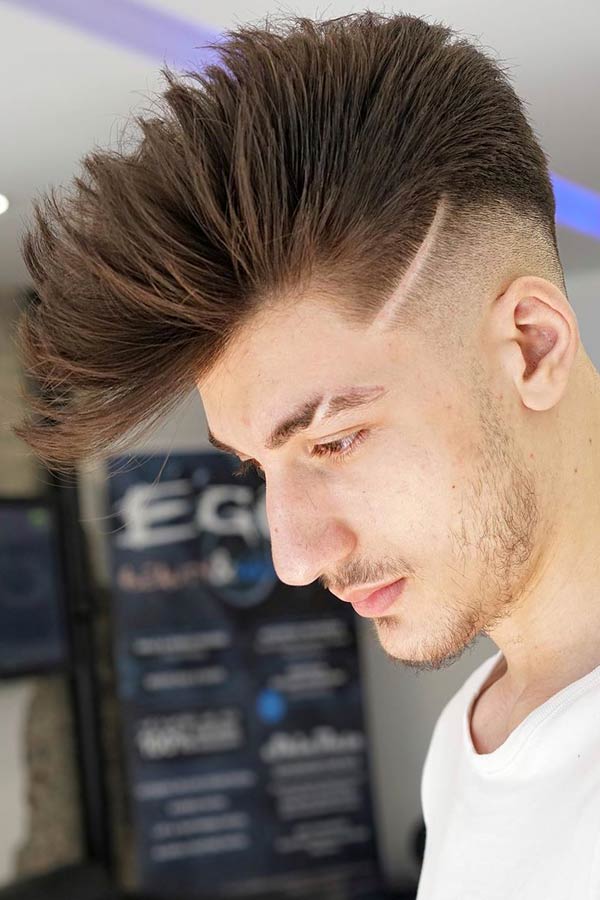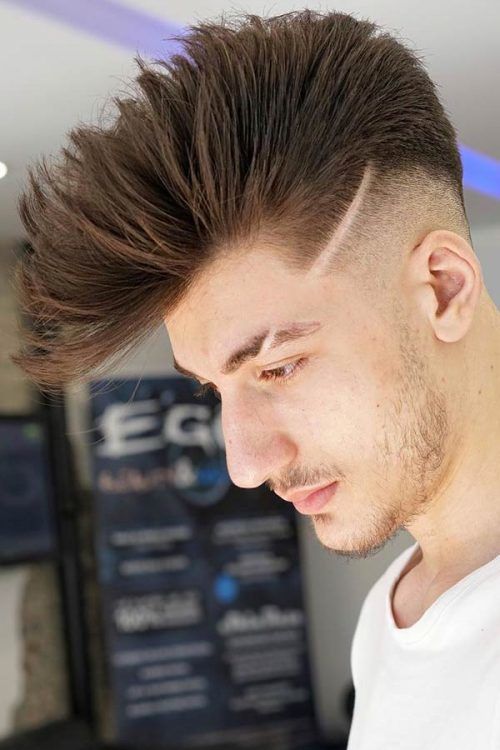 Source: @egobarbers via Instagram
The faded undercut is that one hairstyle when you can pull off almost anything. Long bangs? Not a problem at all just upgrade it with an undercut fade, and you are ready to roll!
High Top Bald Fade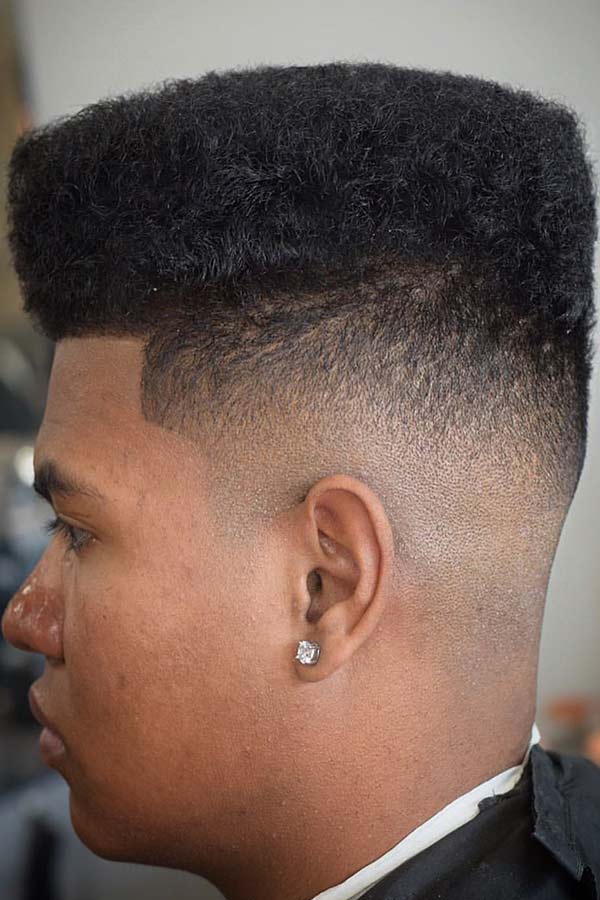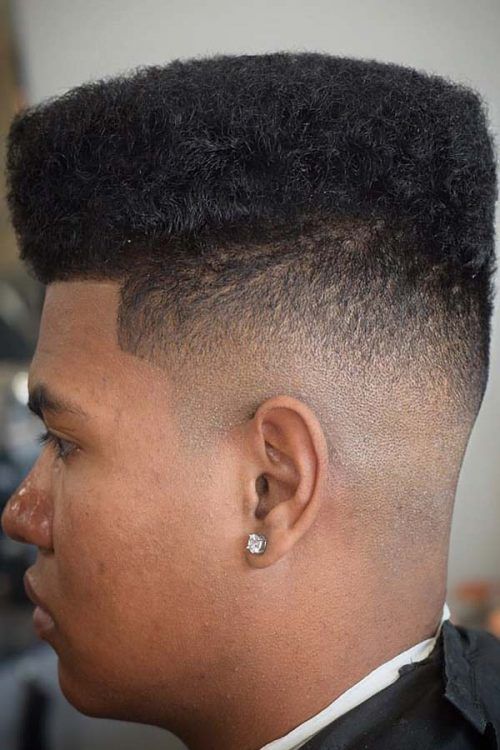 Source: @mikes_custom_kuts via Instagram
The high top fade is a modern take on a classic haircut popular in the '80s. With the bald fade on the sides and back, the hair on top stands out even more, which makes it really flattering for your hair texture.
Bald Fade With Beard
Source: @mikes_custom_kuts via Instagram
Thanks to the 0 fade, any hairstyle will come out clean and dapper. Moreso, even a full beard won't make you look shaggy and unkempt. So, go for this cut if you like to sport your facial hair long.
Fro Curls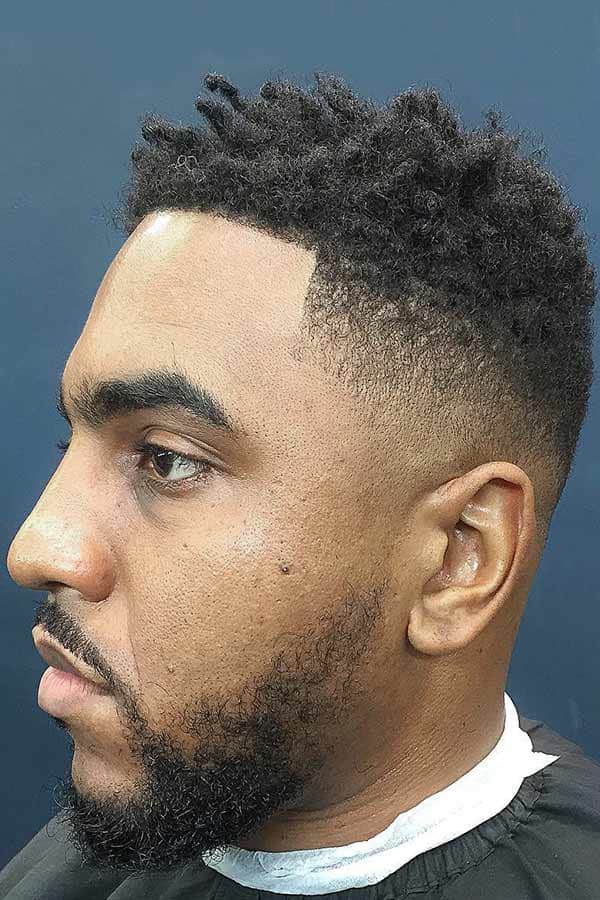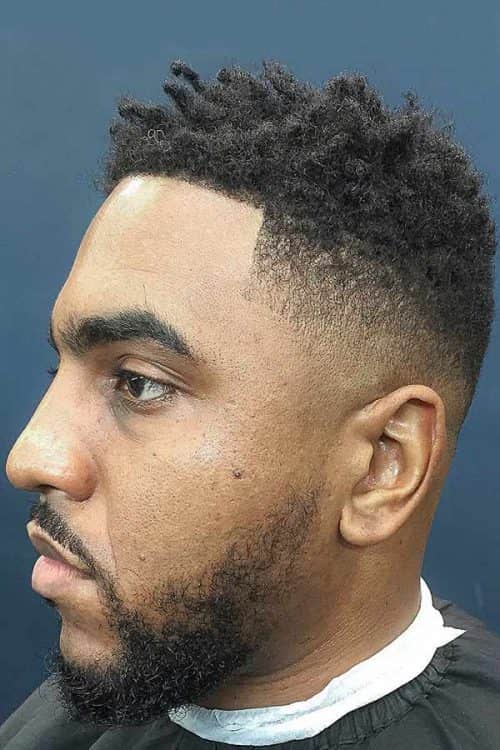 Source: @chadius_maximus via Instagram
Good black men hairstyles are difficult to come up with since there are tight curls to take into consideration in the first place. However, among all the most natural hairstyles to deal with fro curls bald fade would be the best. It takes full responsibility for your stylish and polished look like nothing else. See for yourself!
Full Bald Fade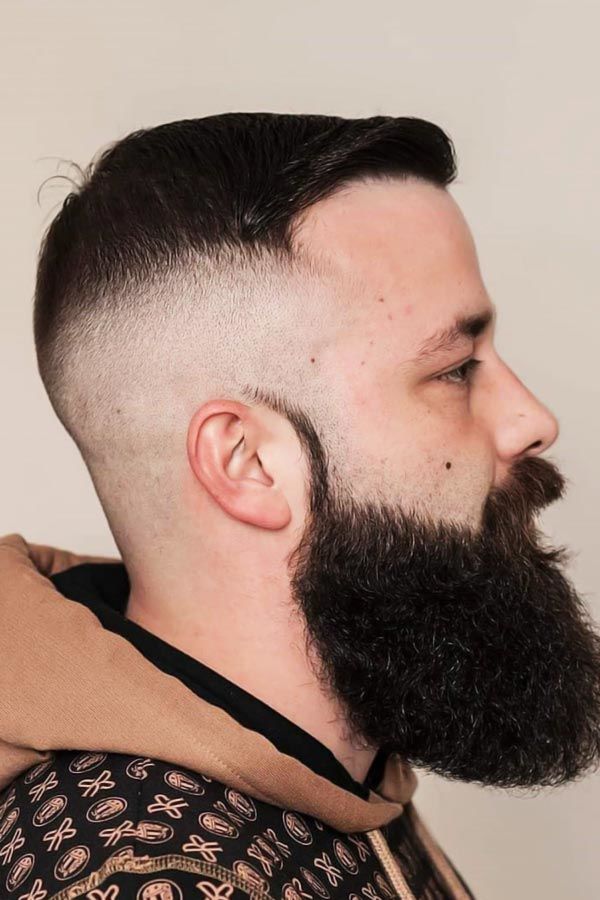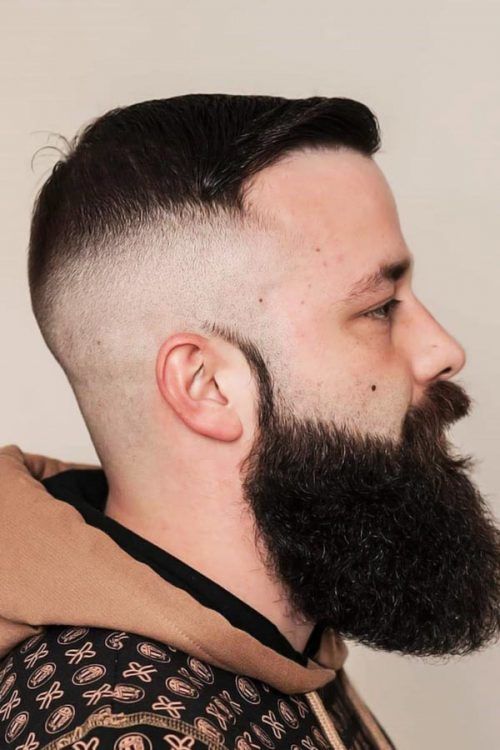 Source: @urednistvo.pricesk.robert via Instagram
A full bald fade is a cut for really daring men, as instead of trimming your hair with clippers, it features shaving it off with a straight razor. This hairstyle will require regular upkeep, so it cannot be called completely effortless. Yet, the look you get is so bold and edgy that it fully pays off.
Slicked Back Waves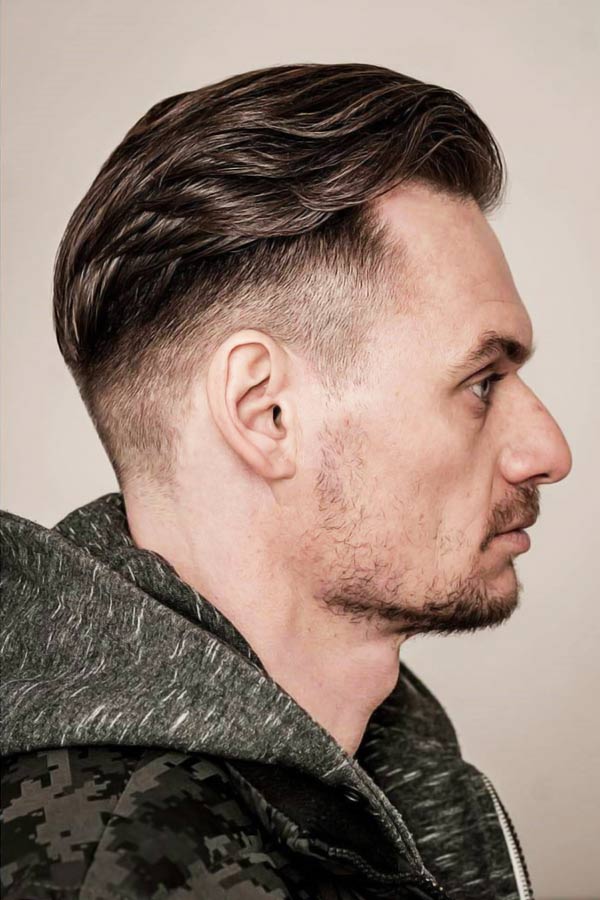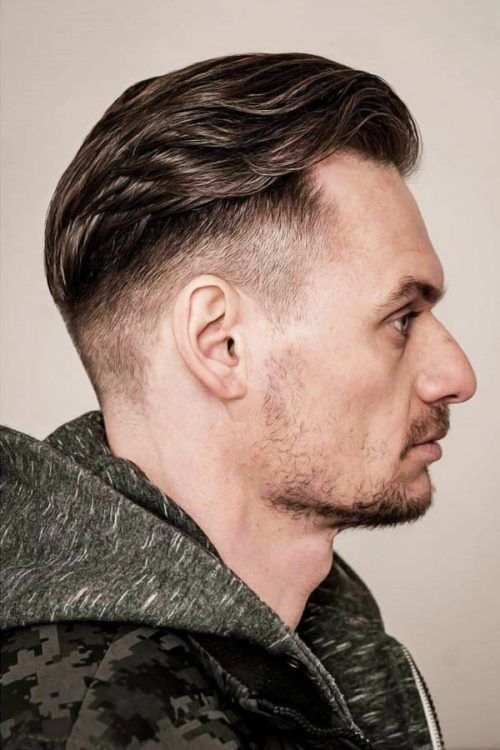 Source: @urednistvo.pricesk.robert via Instagram
With a bald fade, you can easily upgrade any slicked back hairstyle. Even if you have wavy locks, a skin fade on the sides and back will help them look neat and well-ordered. Thus, you will get a low-key yet trendy hairstyle that can be sported to any event, as it perfectly fits any environment.
Bald Fade With Textured Crop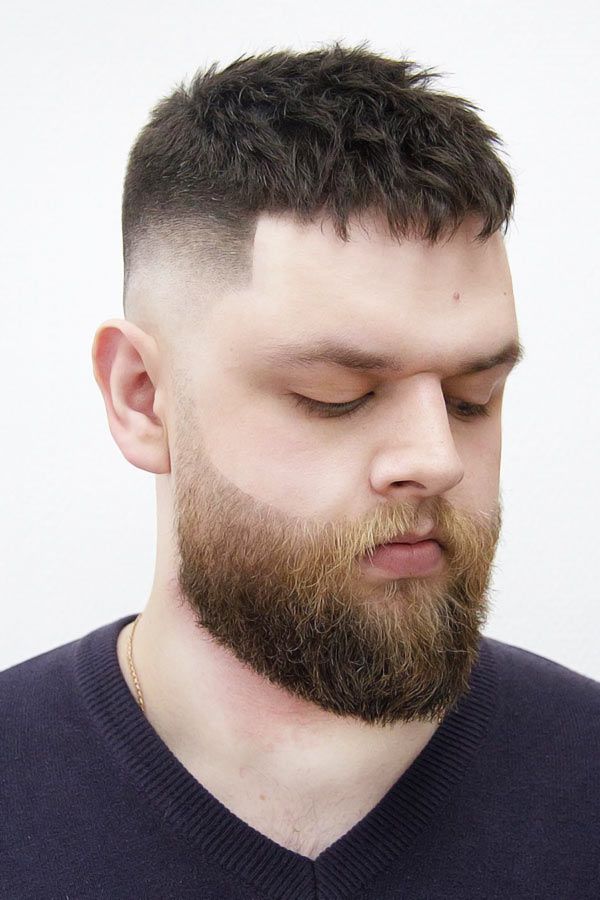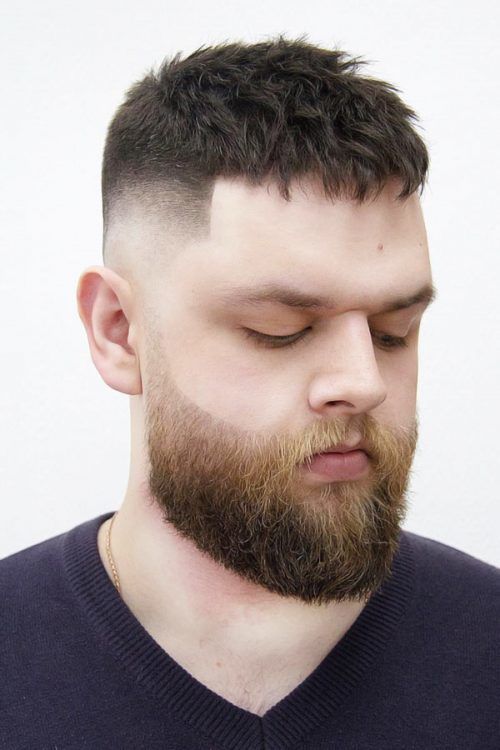 Source: @meha_barber via Instagram
A bald fade allows you to go for a more textured and pronounced look for your hair on the top of the head. Even if you have such a moderate hairstyle as a crop top, a bald fade will give it the required contrast and definition. Just add some layers to the crown and define them with a bead of hair wax or pomade.
Undercut Design
Spiked Crew Cut
Side Parted Straight Top
Afro Texture
Slicked Back Undercut