There is a common misconception that the best old man haircut is a buzz cut or even a clean shaven head. Not only do we not share this opinion, but we are also going to prove it wrong. If your locks have started to turn gray or you have noticed a burgeoning bald spot, it does not mean that you cannot sport stylish and trendy haircuts anymore. Instead, there are plenty of fashionable options that would flatter an older man. Below, we have put together the most worthwhile of them.
Sylvester Stallone's Slicked Back
The majority of older mens haircuts feature long hair on top and there is a good reason behind this. It can be styled in many different ways to disguise one of the most obvious signs of aging, namely thinning locks. So, if you have a bald spot on the crown, slick the hair back and you are good to go.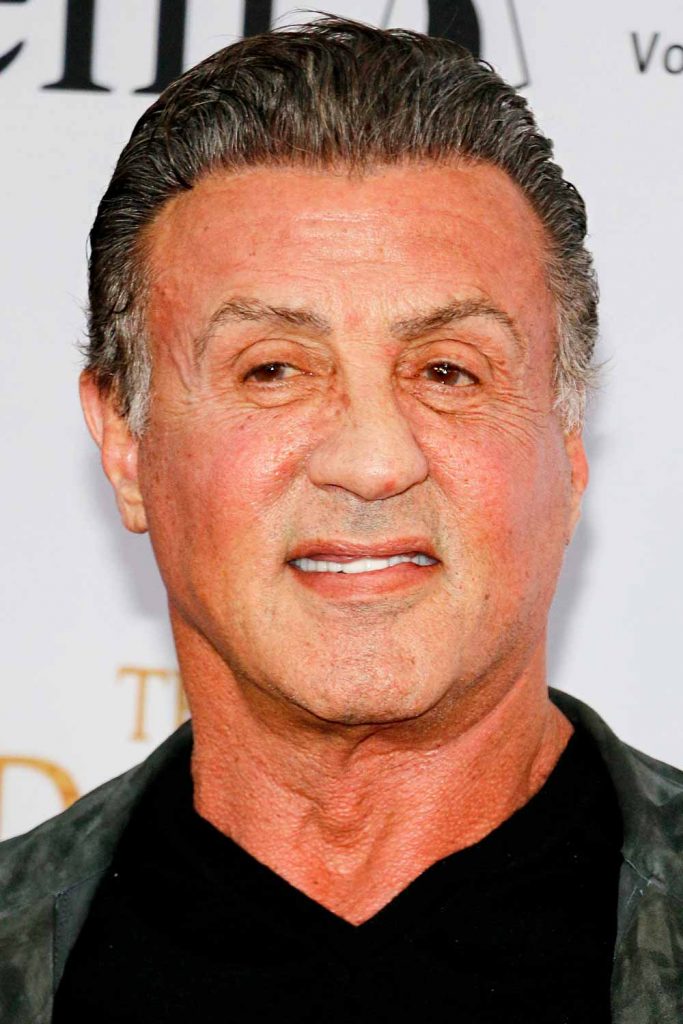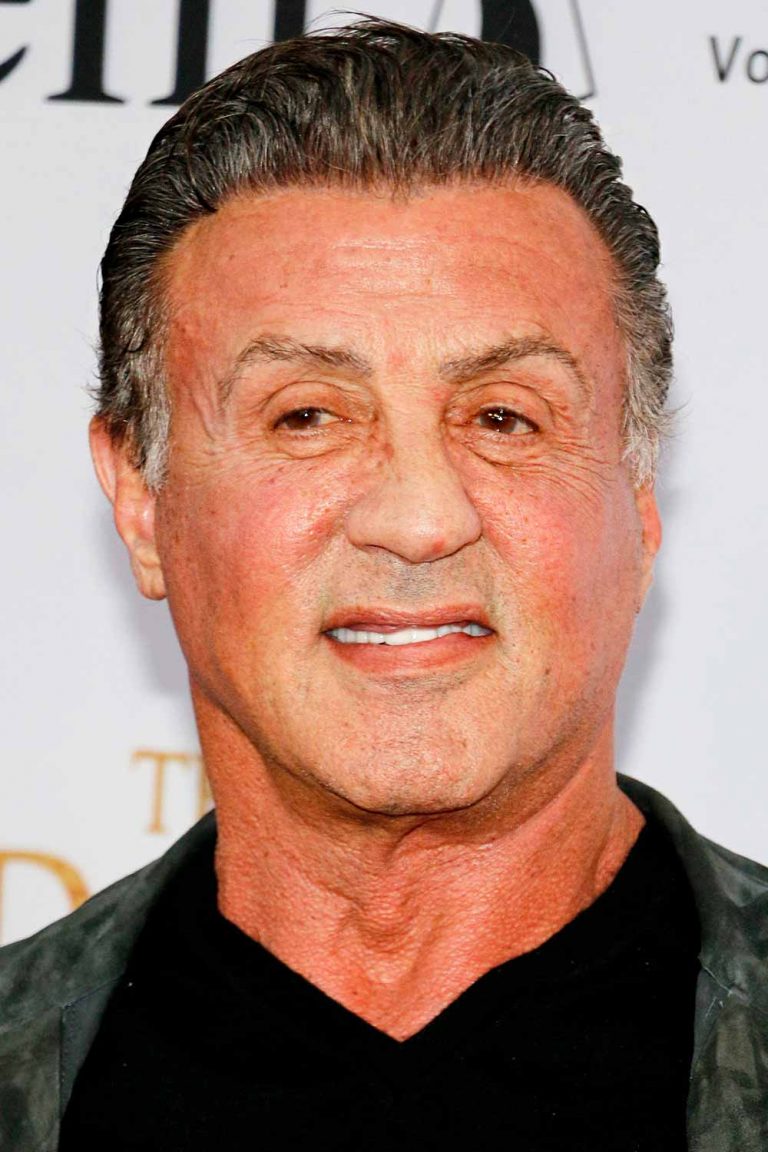 Tinseltown/Shutterstock
George Clooney's Side Part
When they want to look sexy older men should resort to masculine yet elegant hairstyles for men, such as a side part. While it covers up anything you may want to hide on top, it also creates a clean and defined silhouette.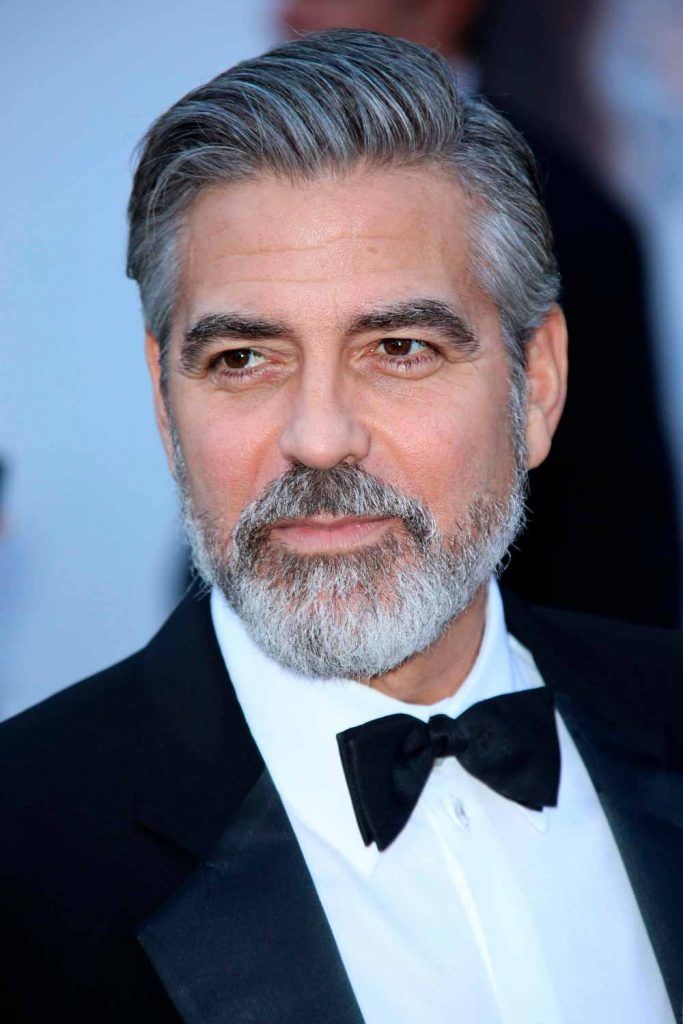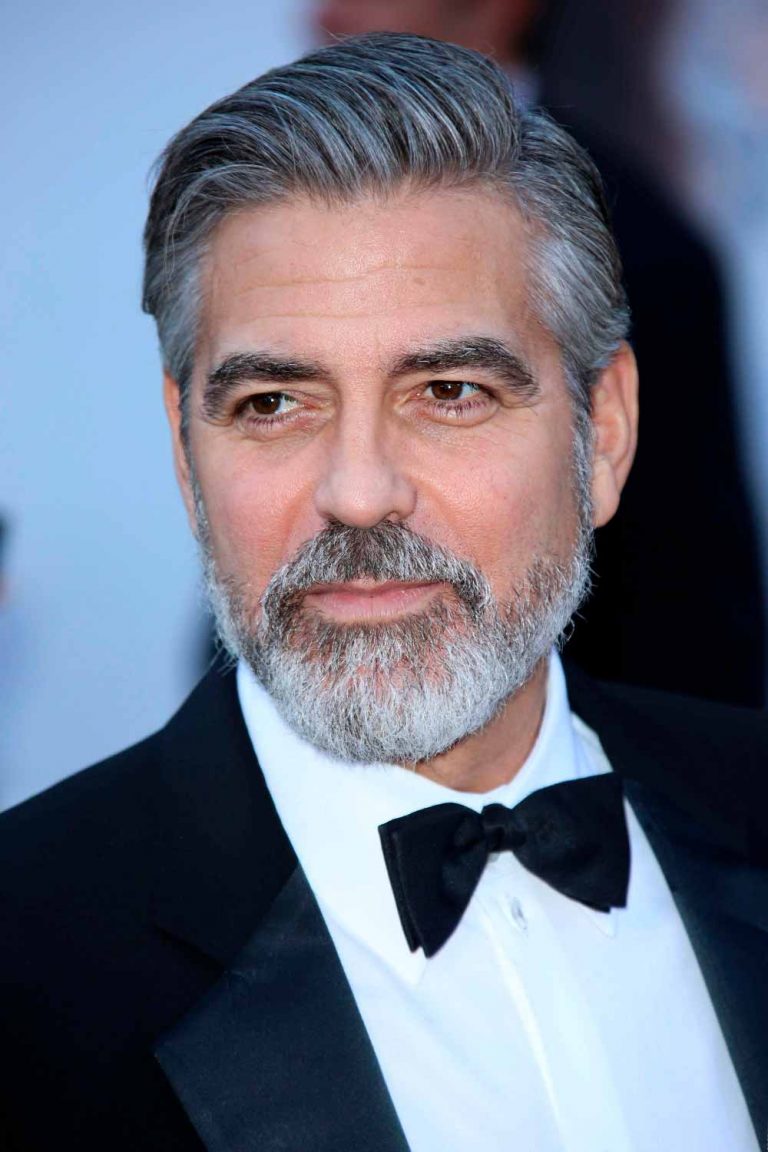 s_bukley/Shutterstock
Nick Wooster's Side Swept Short Hair
Old man hair may not grow as fast as it used to so it can be really challenging to achieve much length on top. No worries though. Even with short haircuts for men, you can still look good. Just sweep it to the side and you are all set.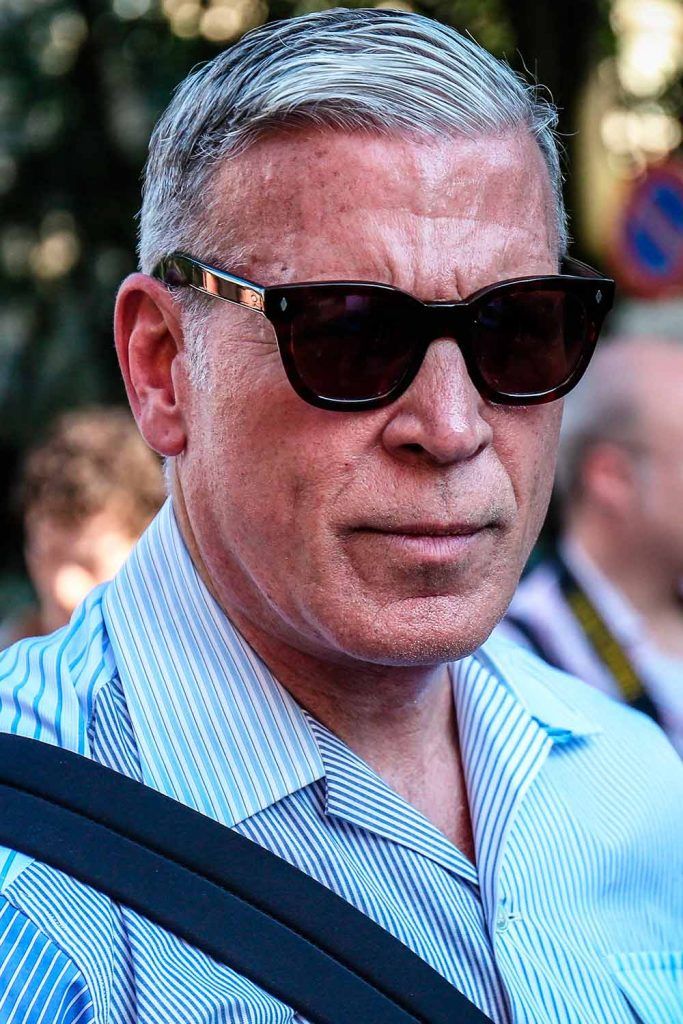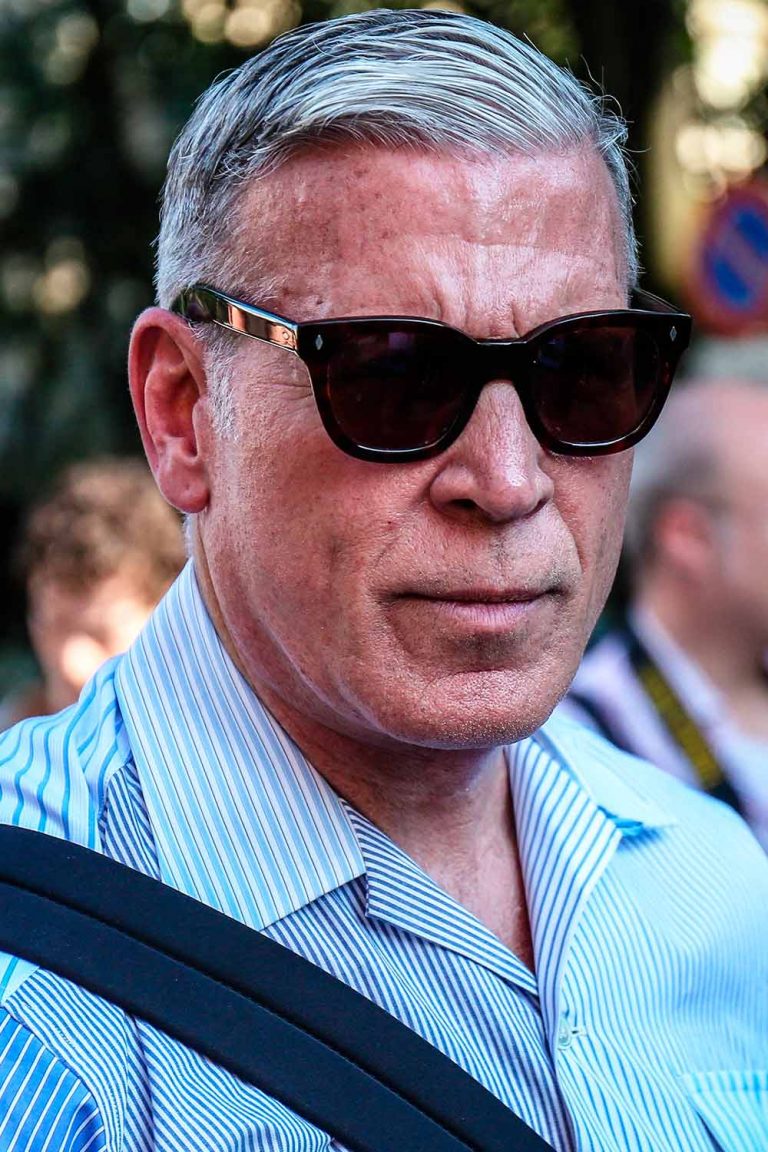 Mauro Del Signore/Shutterstock
Steve Carell's Crew Cut
A crew cut is one of those older men's haircuts that you can never go wrong with. It is low maintenance, practical and versatile. As it works for any hair type and flatters any face shape, you can rest assured that it will look good on you.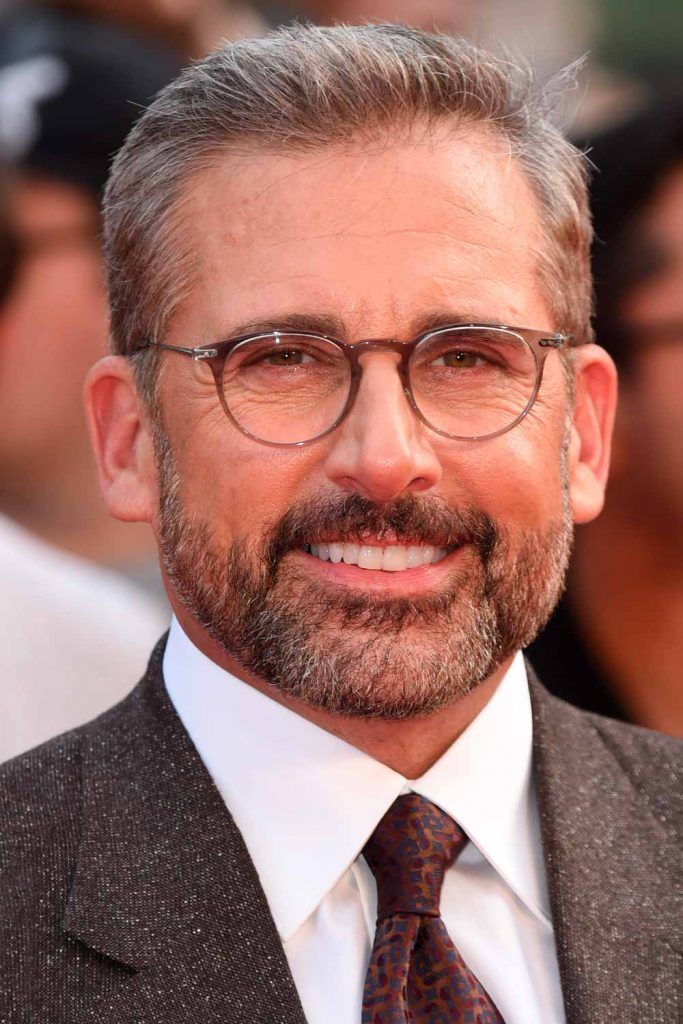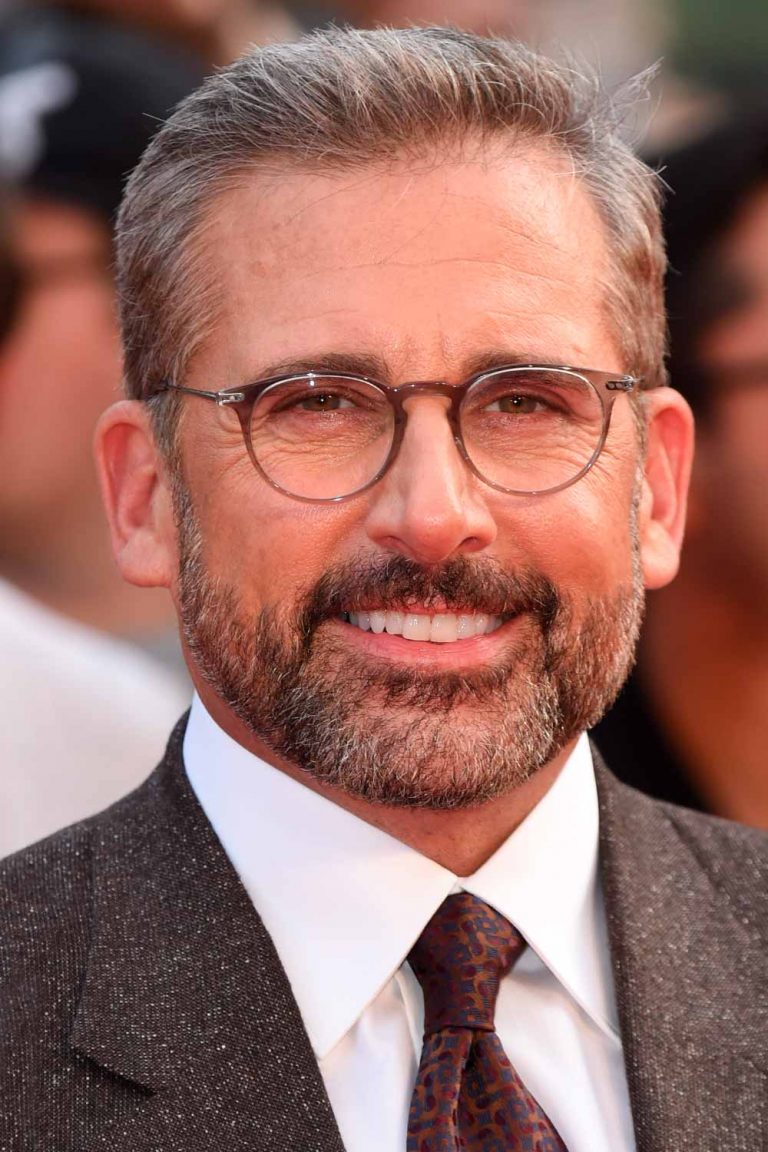 Featureflash Photo Agency/Shutterstock
Hugh Grant's Quiff And Beard
Older men with beards look particularly attractive. So, do not hesitate to grow one if you have enough patience and persistence. While you can obviously pair it with almost all older mens hairstyles, a quiff look especially good with it.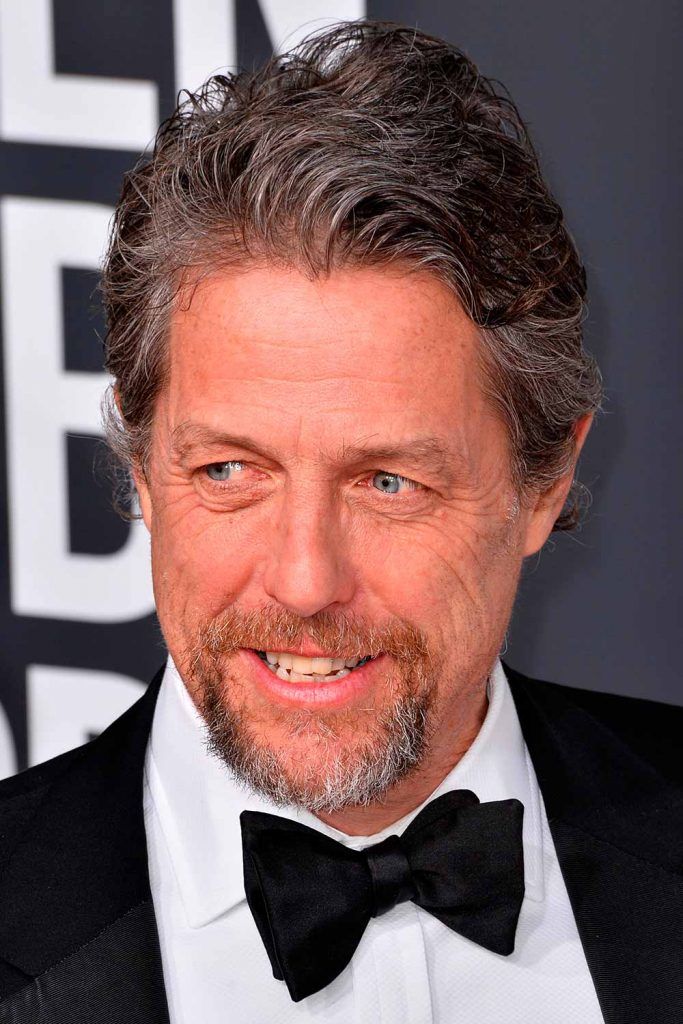 Featureflash Photo Agency/Shutterstock
Jeff Bridges' Long And Curly Hair
Although most haircuts for older mens are pretty short, you can still pull off a long hair look if you like. This is especially true for those who have curly or wavy locks, as thanks to their hair texture, their mane looks more voluminous and ample.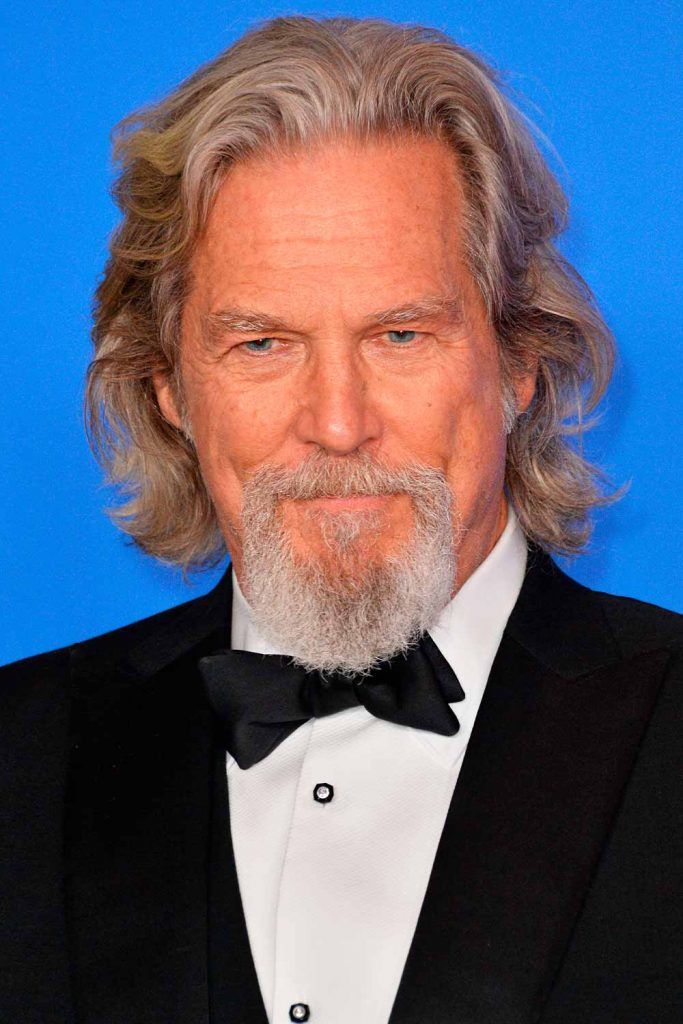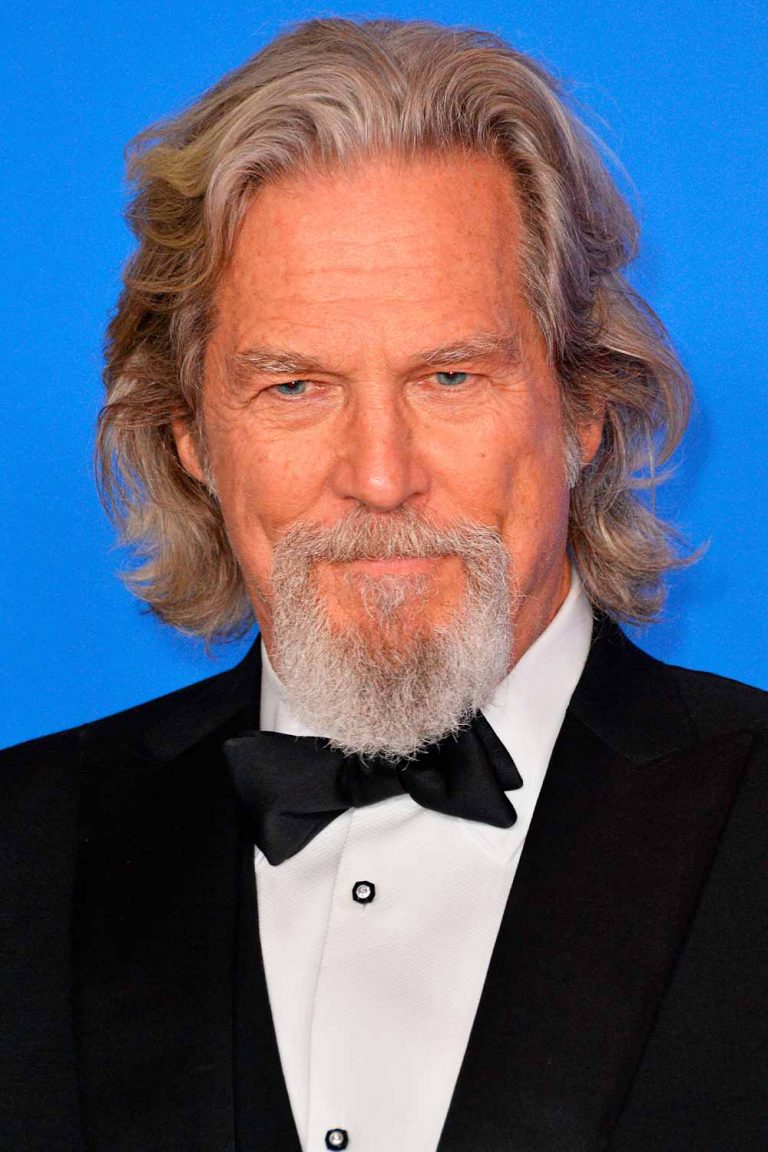 Featureflash Photo Agency/Shutterstock
Kevin Costner's Buzz Cut
When it comes to choosing the best older mens hairstyles thinning hair is one of the primary concerns. So, one of the easiest ways to deal with it is to go for a buzz cut, which makes it a perfect haircut for 50 year old man and older.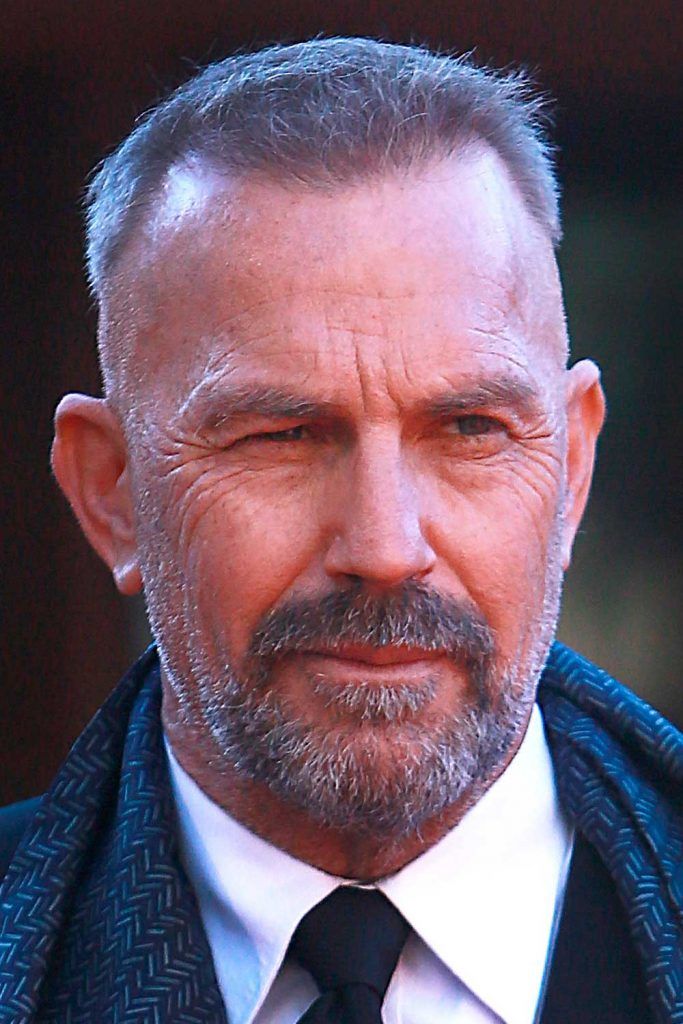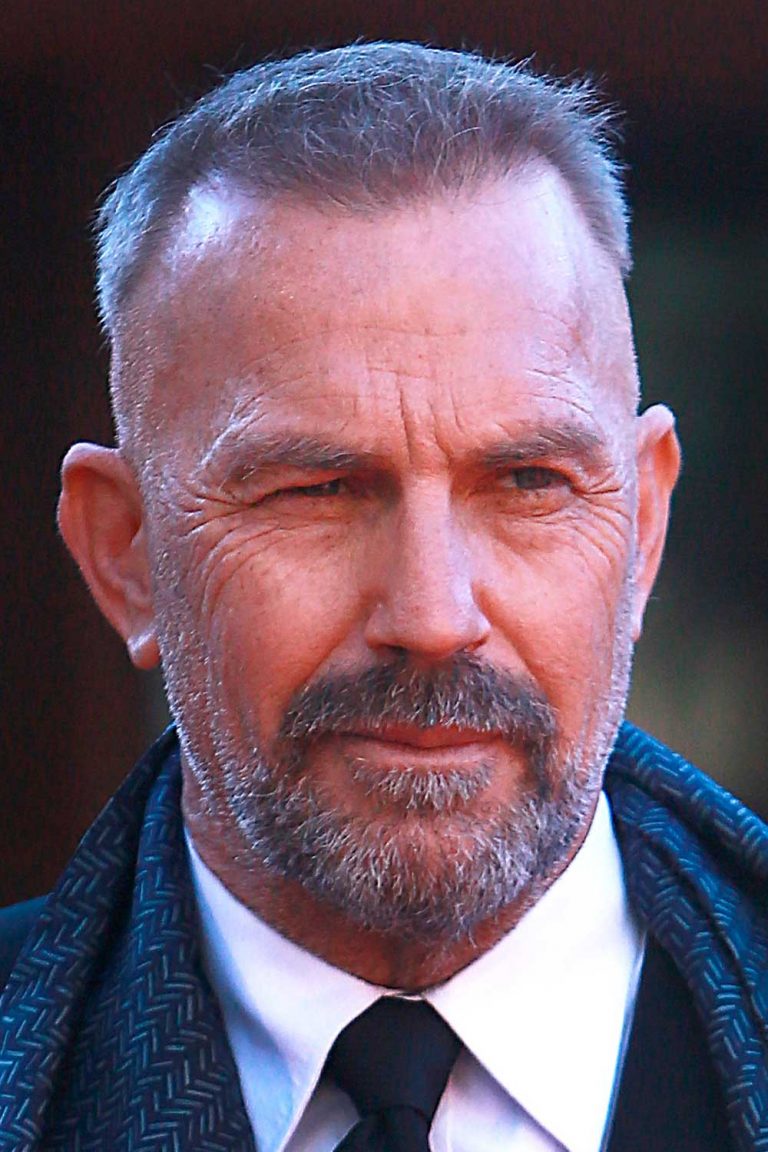 Lucky Team Studio/Shutterstock
John Travolta's Clean Shave
Really good looking older men have nothing to hide and they are not afraid to show off their bald head scalp. That is to say, grab a razor and shave all that hair off.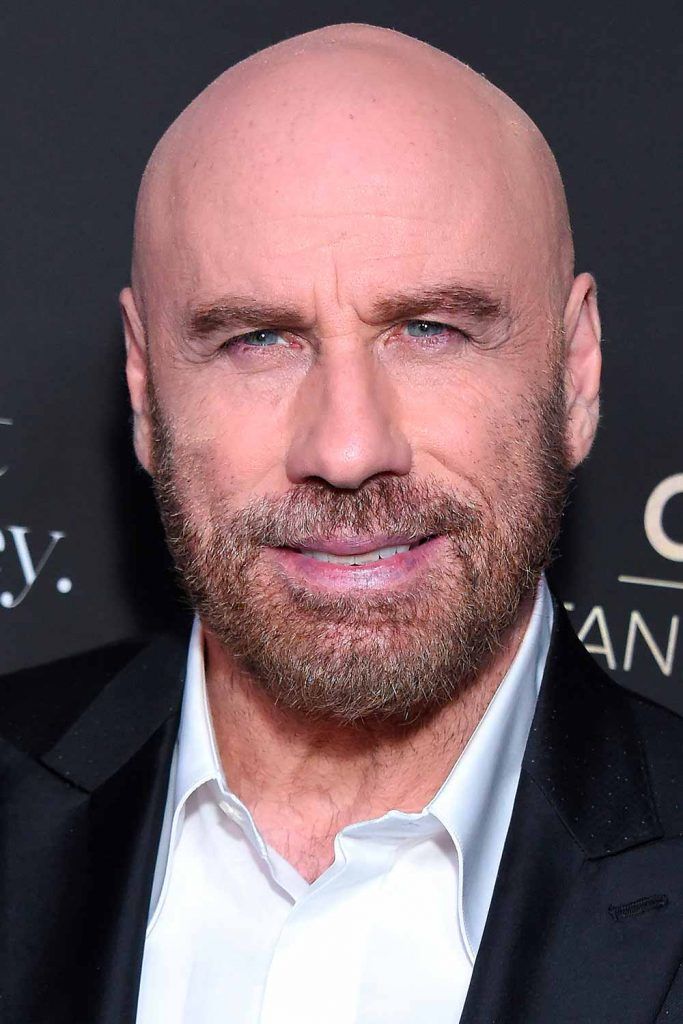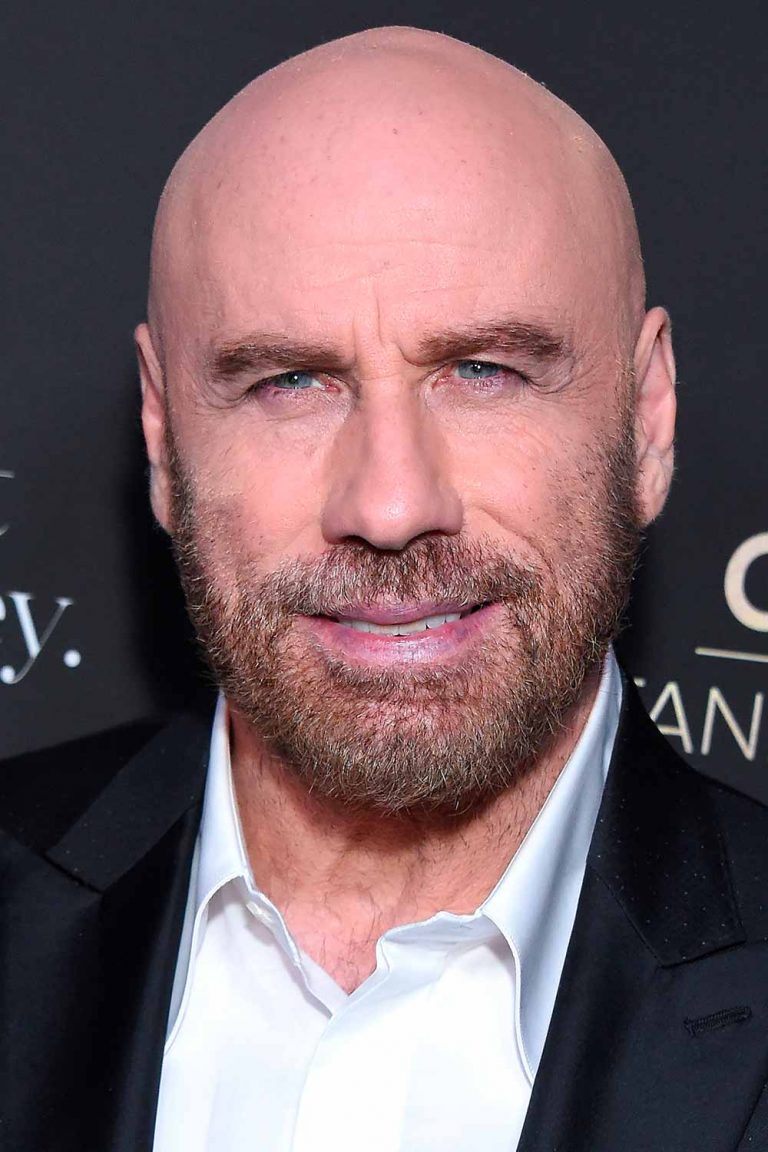 DFree/Shutterstock
Antonio Banderas' Short Wet Curls
Haircuts for men over 50 should accentuate their attractive features while masking any potential flaws. So, if you have naturally curly locks but they are no longer as luxuriant as before, then go for short curls. You can also apply to them some hair gel for a wet finish and an added emphasis.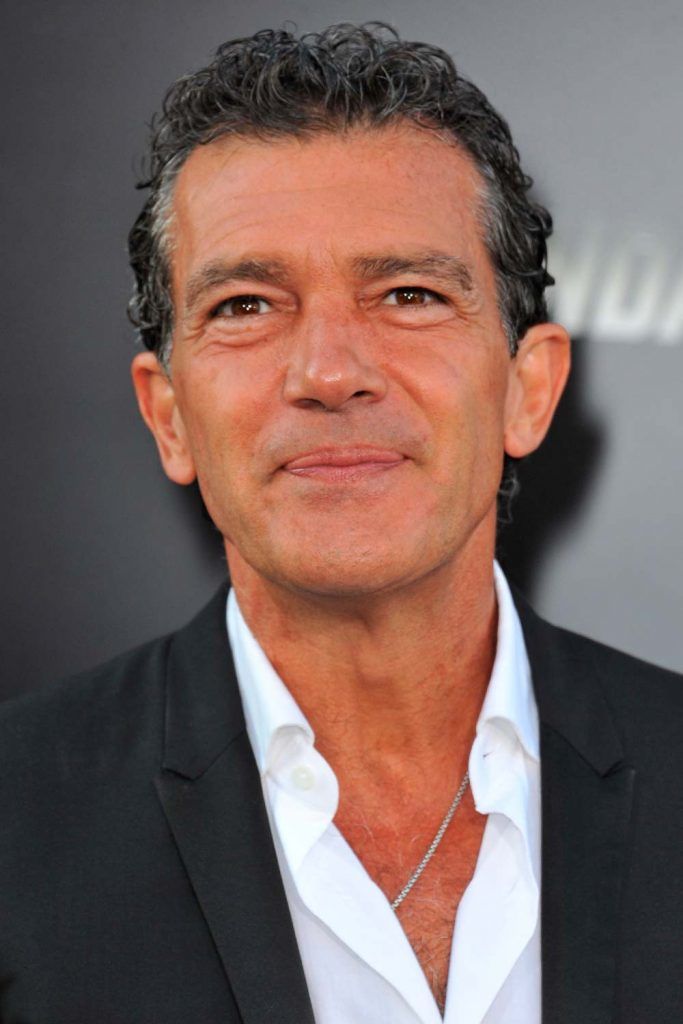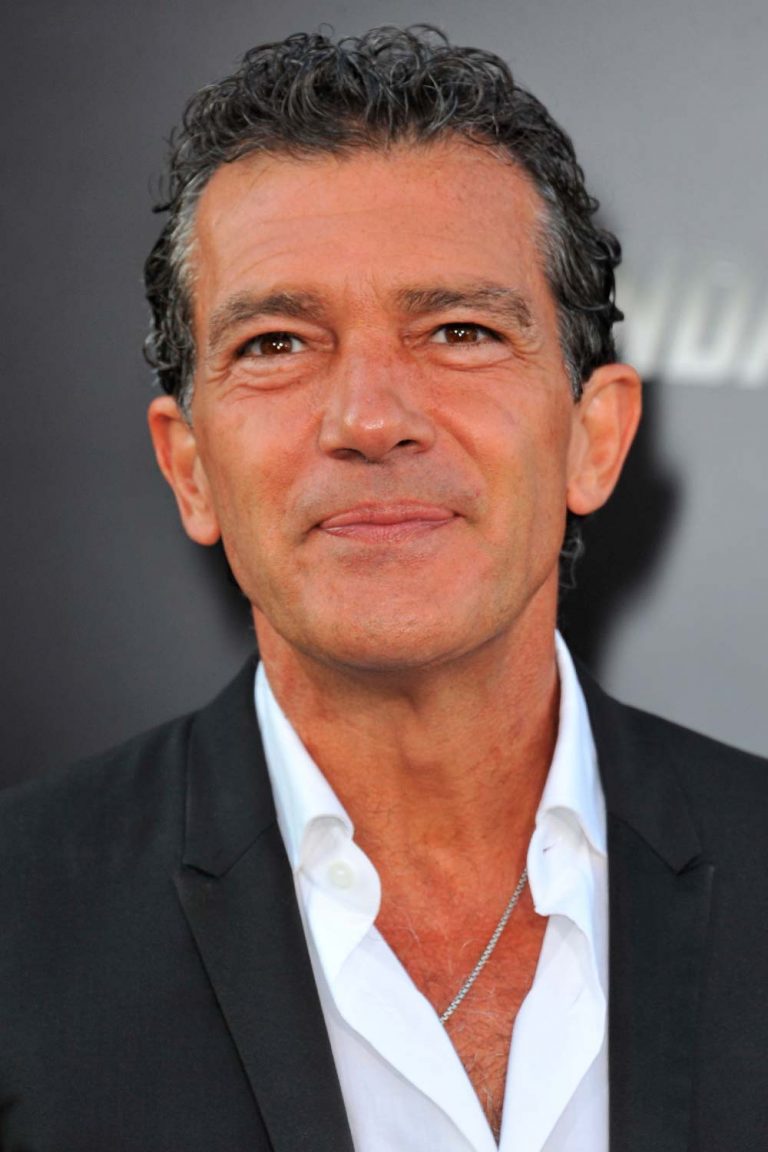 Jaguar PS/Shutterstock
Dolph Lundgren's Long Comb Over
Another great example of complementary hairstyles for men over 50 is a long comb over. Because it looks so neat and elegant, it is a perfect option for formal and dressy events.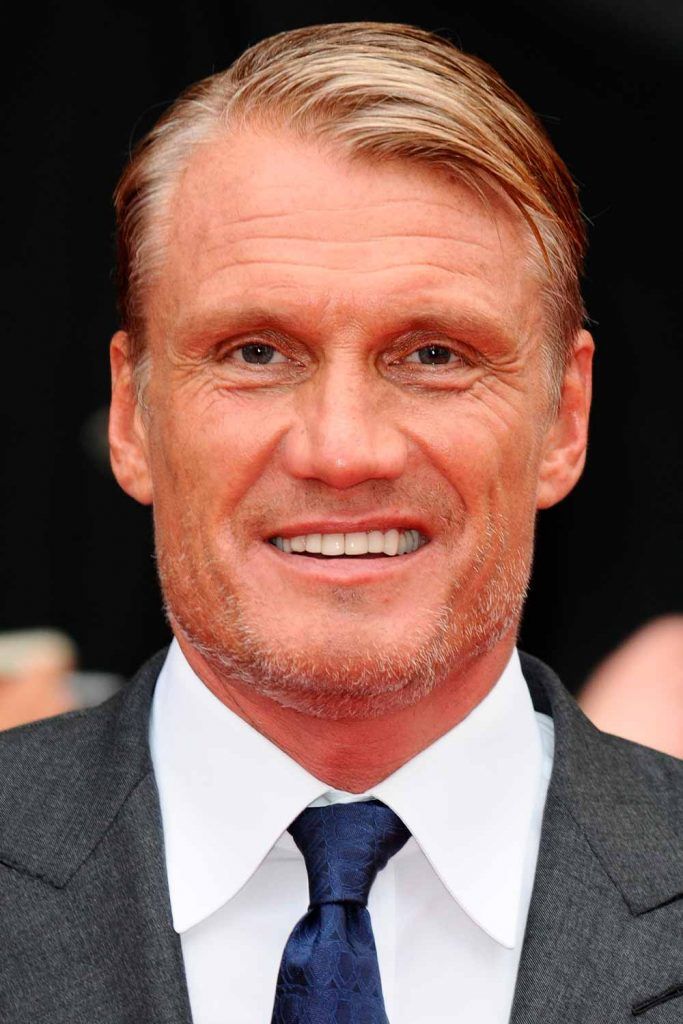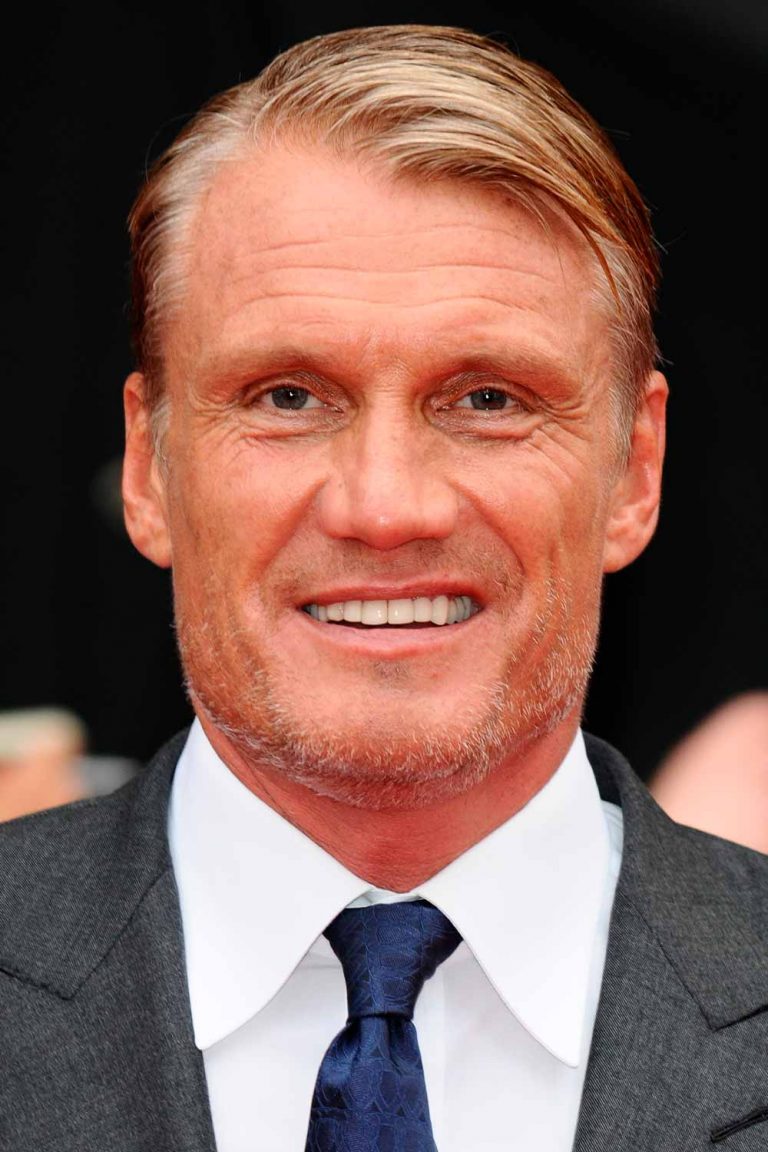 Featureflash Photo Agency/Shutterstock
Rob Lowe's Old Man Fade Haircut
If you are looking for perfect mens hairstyles for 50 year olds, you can never go wrong with Rob Lowe's fade haircut. It is neat, elegant and stylish, which makes it a failsafe option for any ambiance. The top, however, can be styled in any way to match your preferences, be it messy and effortless or sleek and polished.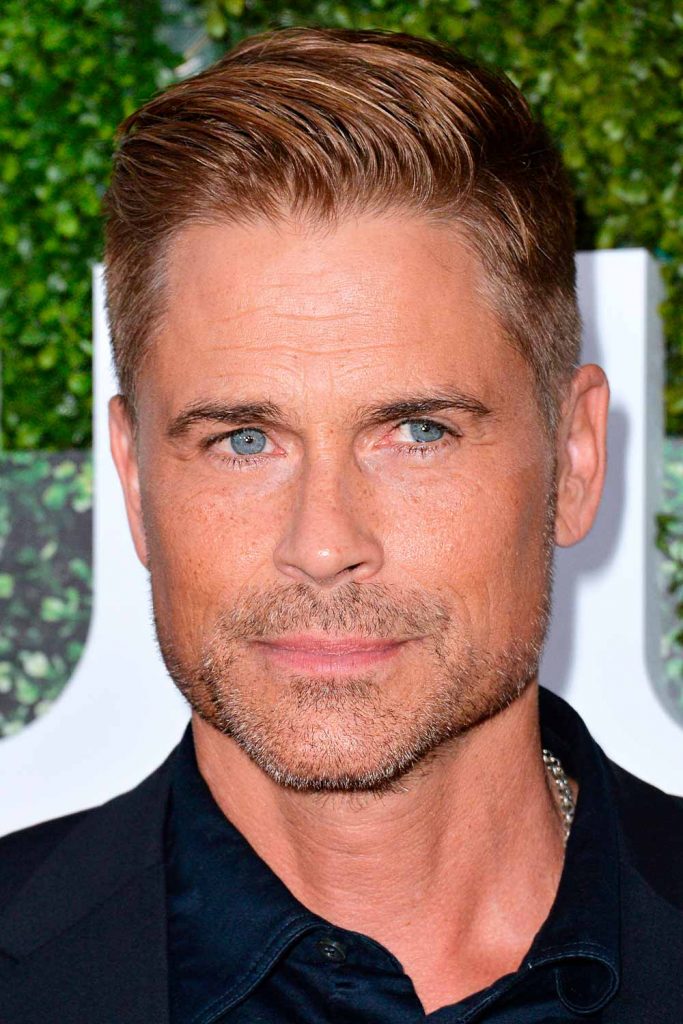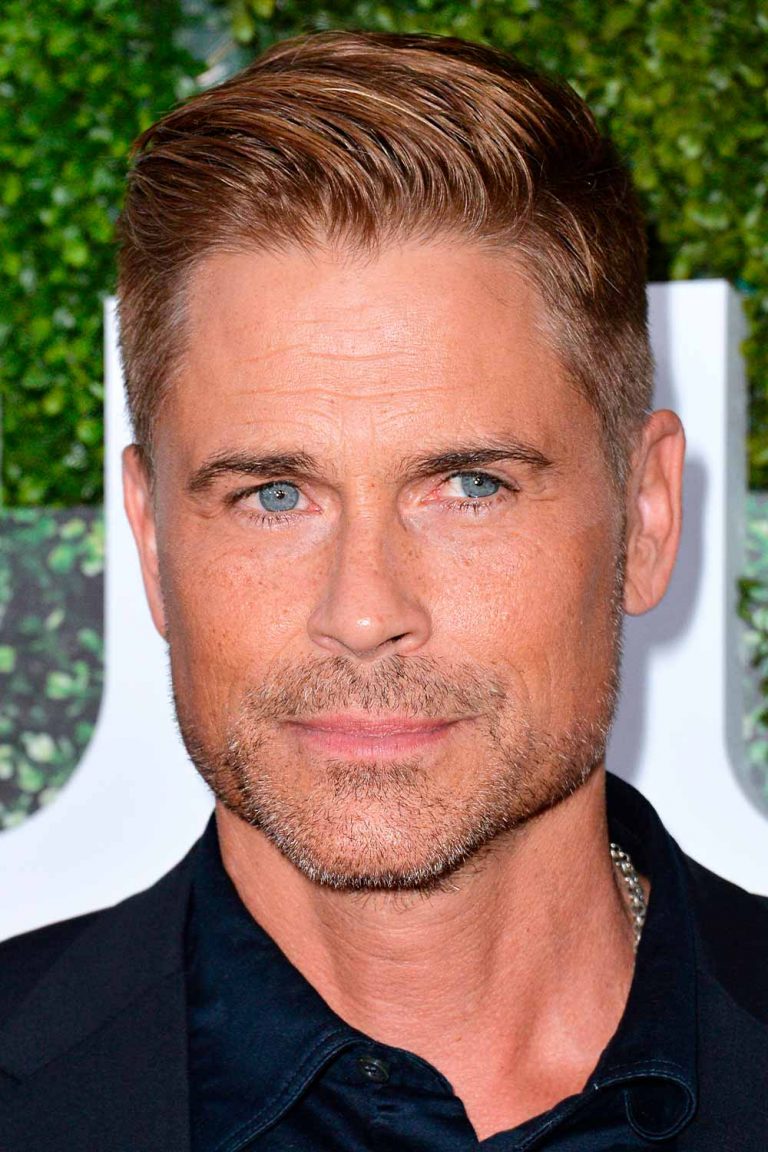 Featureflash Photo Agency/Shutterstock
Mark Ruffalo's Messy Brushed Up Curls
Quite often over 60 mens hairstyles lack volume and body. If naturally you have curly locks, then you should use Mark Ruffalo's hairstyle as a source of inspiration. His brushed up curls look full and voluminous, giving his appearance a youthful feel.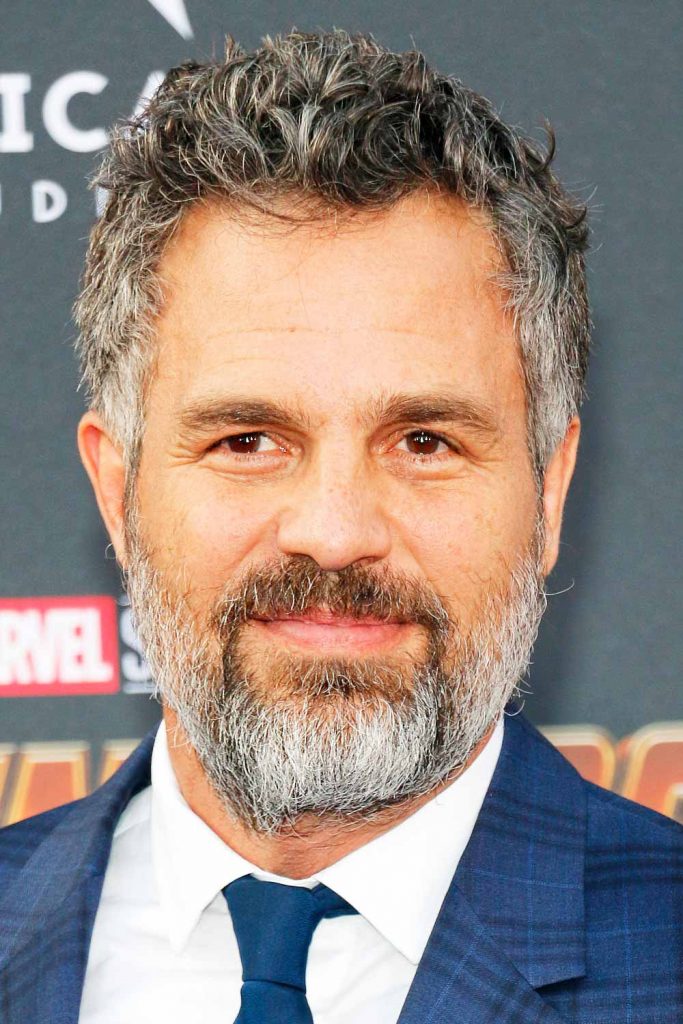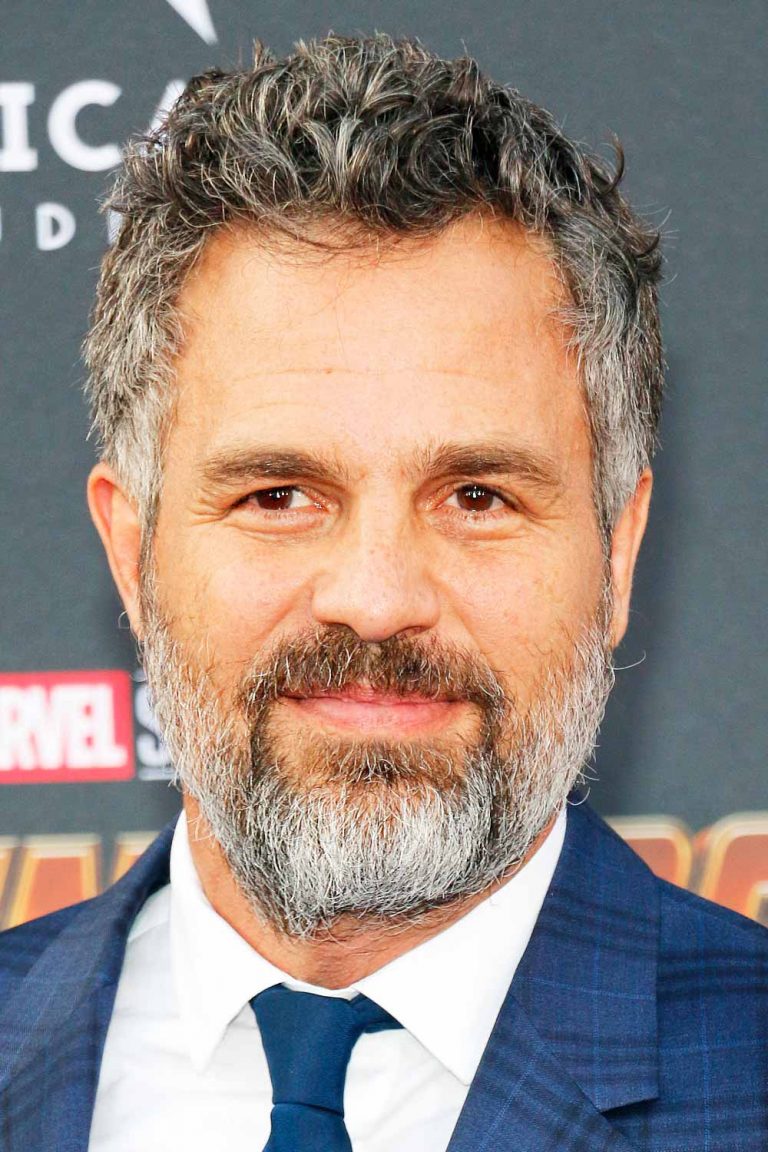 Tinseltown/Shutterstock
Pierce Brosnan's Brushed Back Taper
Pierce Brosnan is the epitome of exquisite taste and elegance. That is why his mens hairstyles for 50 year olds are always a good choice. The iconic actor styles his hair brushed back, which allows him to keep it looking voluminous and polished at the same time. A taper haircut on the sides and back adds a trendy touch to the look.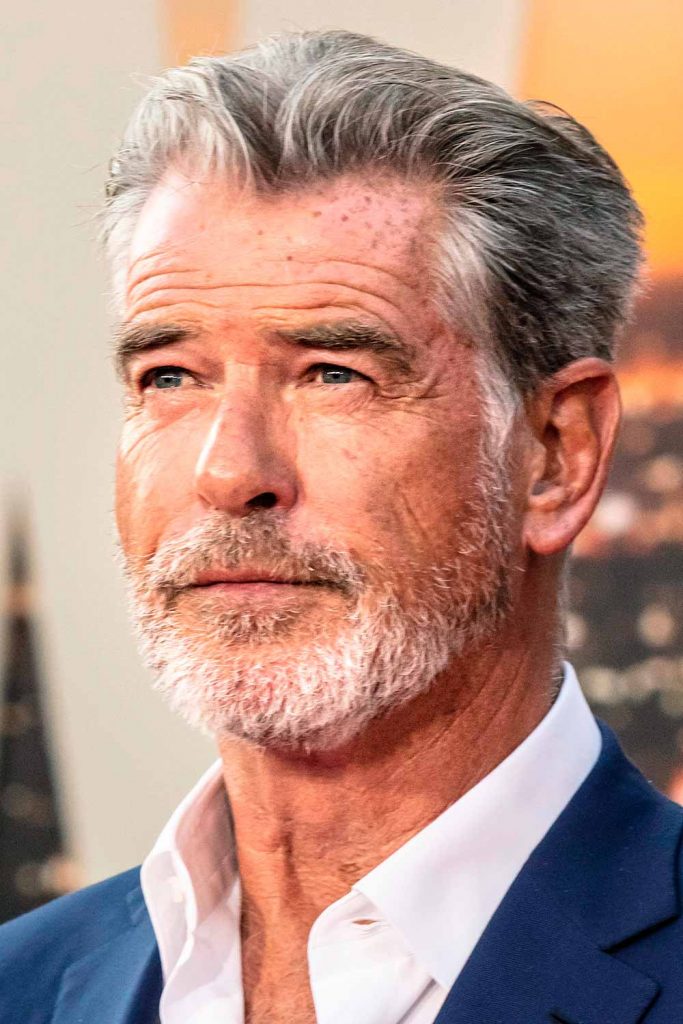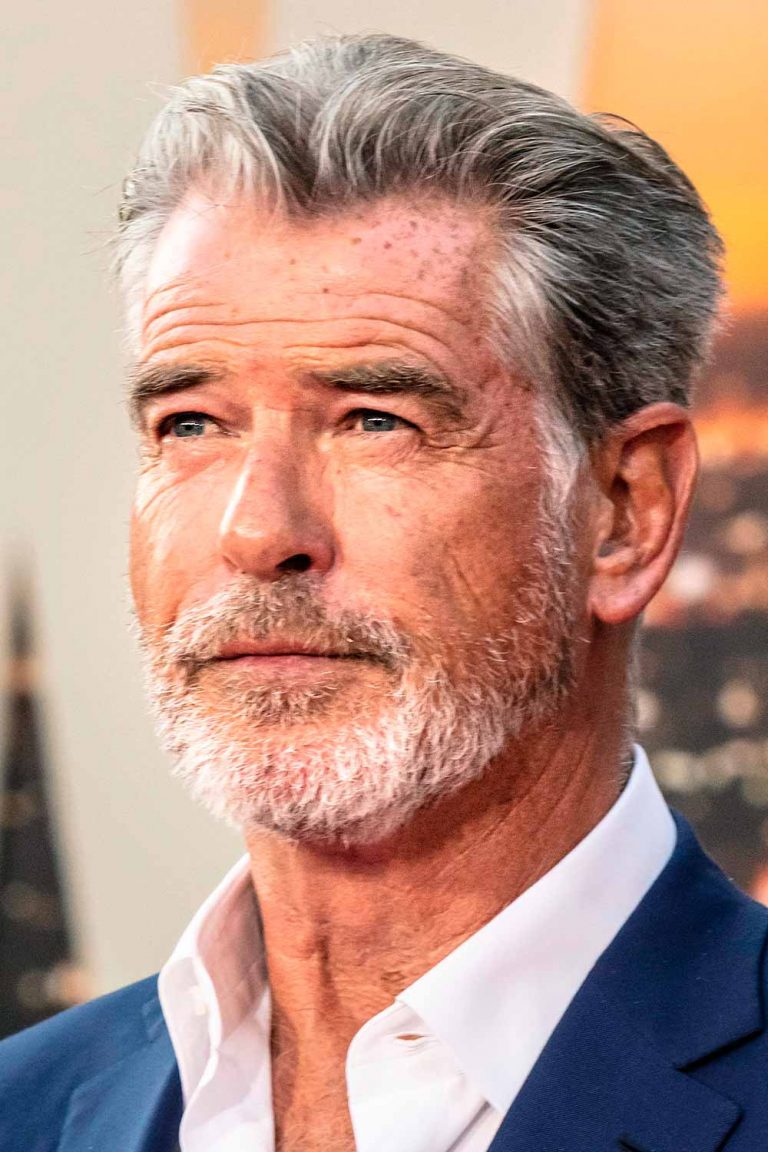 Ovidiu Hrubaru/Shutterstock
Daniel Craig's Ivy League
Daniel Graig chooses to wear his locks in a classic Ivy League haircut. In addition to looking sophisticated and clean, it is also quite easy to maintain. So, no wonder it is one of the most popular mens haircuts for 50 year olds.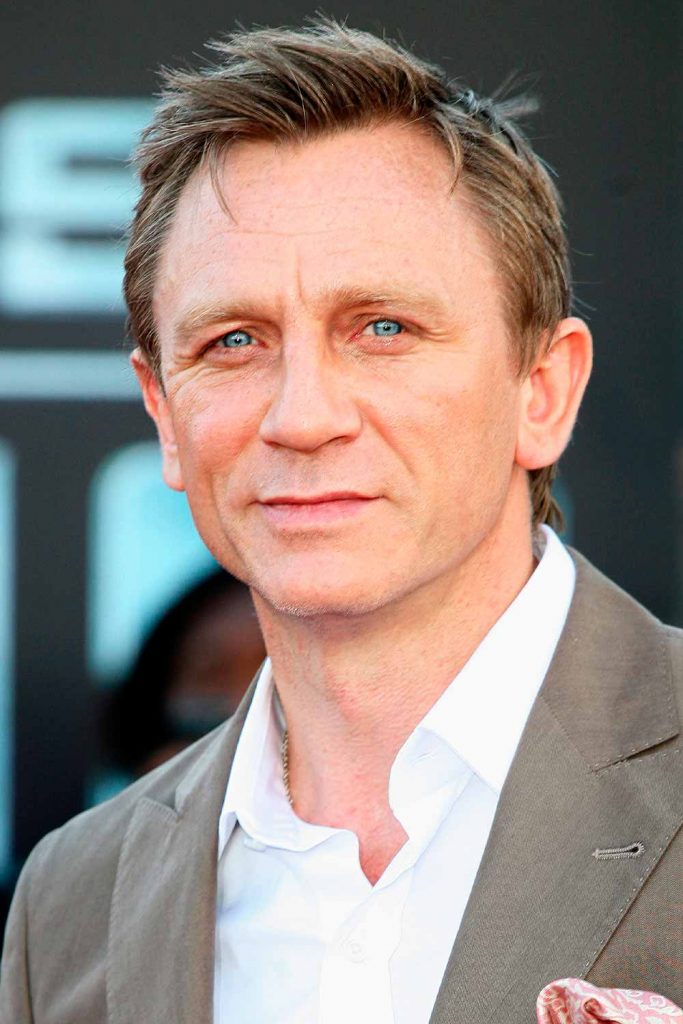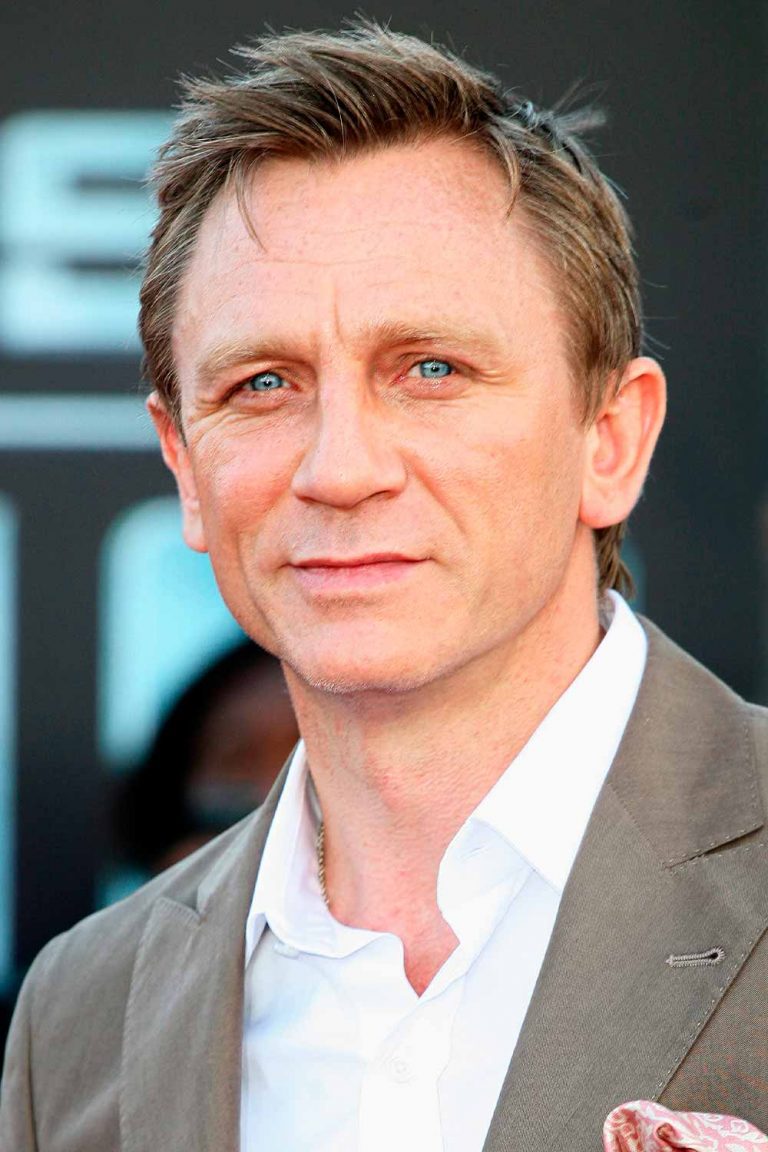 Featureflash Photo Agency/Shutterstock
Matt Damon's Messy Texture
When it comes to the best mens hairstyles 50 year old guys should never forget about texture, especially if you have noticed that your hair has started to get thinner. Style your mane messy with a blob of a texturizing product to enhance the structure of your cut, just like Matt Damon does.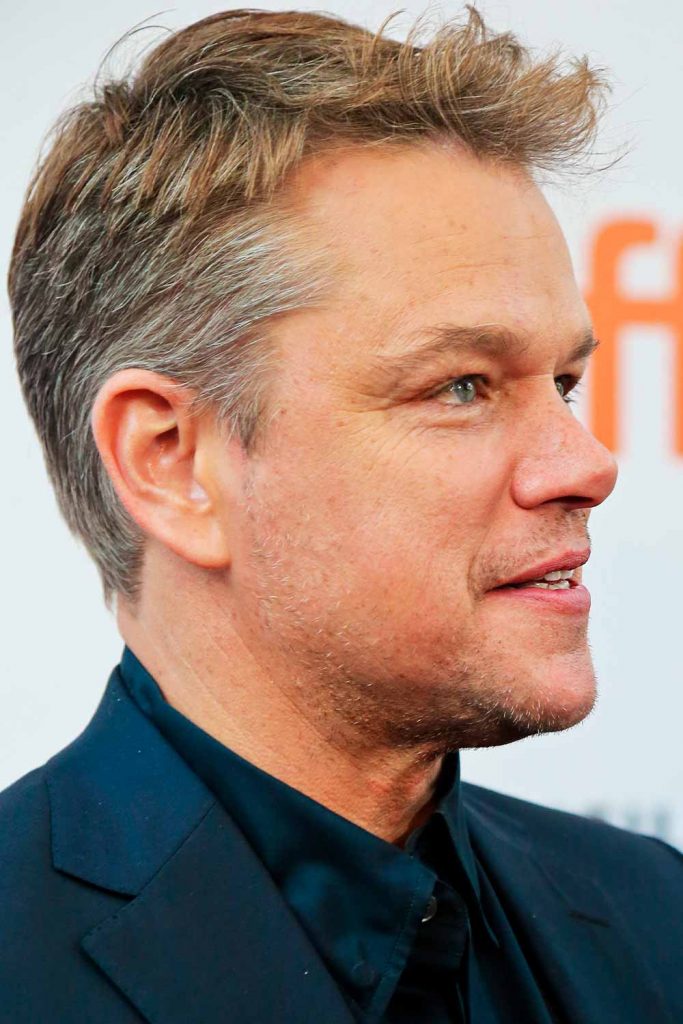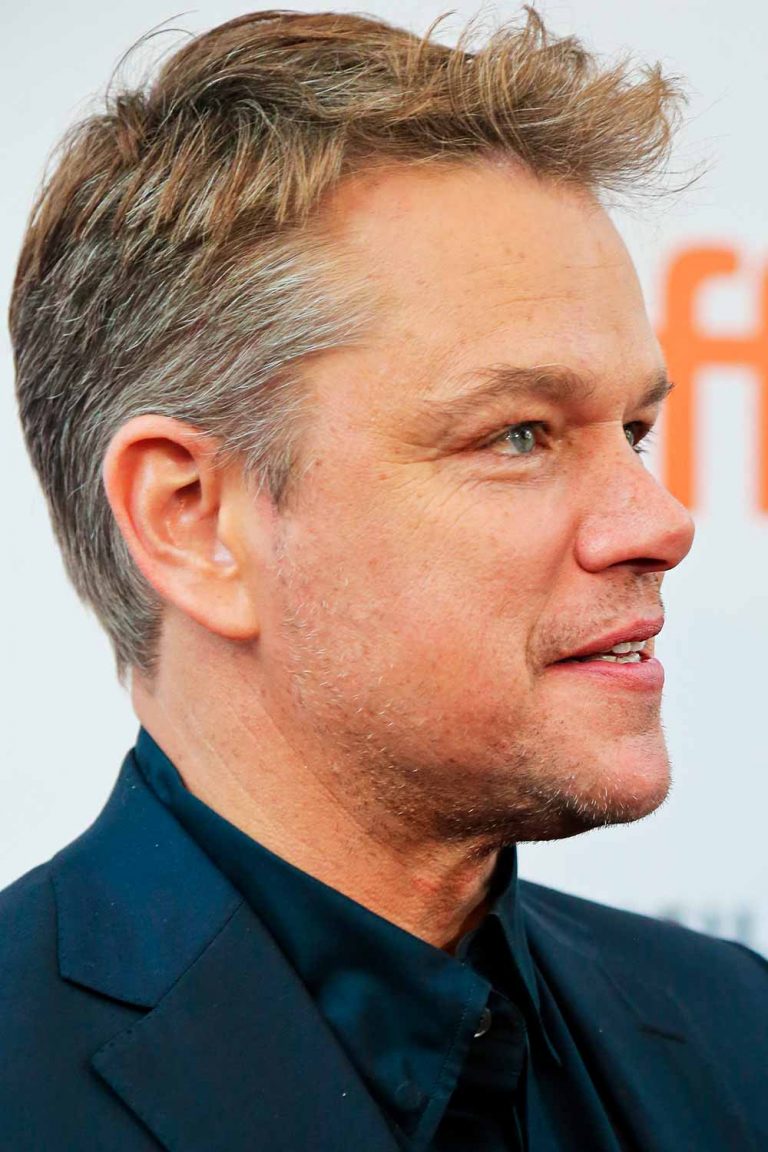 Debby Wong /Shutterstock
As you can tell, an old man haircut should not be boring and inexplicit. There are plenty of youthful and trendy options to choose from. And we are pretty sure that our guide has managed to prove that to you.
FAQs
What haircut makes you look younger?
When it comes to older mens haircuts, it is important that the chosen look be suitable for the shape of your face. Yet, in case your hair has become thin and gray, you should take that into account as well. In general, consider something like a crew cut. Thanks to its shortly trimmed sides and back as well as the voluminous and longish top, your face looks a little bit lifted and youthful as a result. In addition, in this way you can disguise any balding spots. Among other popular rejuvenating hairstyles for older men are a quiff, an undercut, an Ivy League, a faux hawk and a side part.
What is the best hairstyle for over 60?
The best hairstyles for men over 60 are high and tight. Because your hair has most likely become completely gray, all you are left with is embracing your new hair color and making the most of it. Yet, leave quite long hair on top so you could play around with it. In this way, you will visually lift up your face, making it look younger. Consider such haircuts as an Ivy League, undercut, comb over or even a buzz cut.
What is the best hairstyle for over 70?
When you hit 70, you want your hairstyle to be easy to maintain and even easier to style. So, you should stick to haircuts with short on the back and sides and voluminous on top. You can wear it slicked back, combed over or side parted. It will make your face look lifted, thus not focusing on wrinkles.
REFERENCES:
According to hairstylist Rodney Cutler, these are the best haircuts for men over the age of 40. Source
Was this article helpful?