To give their traditional pompadour hairstyle a modern touch, gents opt for the pompadour fade. With its long top and short sides, it creates a really cool look. Questioning what does pompadour style mean? This is a type of a men's coiffure when you comb your hair on top so that it creates an ample bank in the frontal area of your head. Due to its ongoing popularity, the haircut has evolved into many different variations, depending on the hair type and length. No matter what fade intensity and top length you prefer, there's a pompadour style to match your preferences. Have a look at this short roundup of our favorite pompadour hairstyles to best show off yours.
Pompadour Fade Haircut
The modern pompadour haircut is an upgraded version of one of the hottest 50s hairstyles. The classic and contemporary pomps are different from each other mainly in the way they're styled and cut. The traditional pompadour used to be smooth, dapper and brushed back, while the modern one is mostly disheveled and relaxed as well as accompanied by a fade on the back and sides.
Have no idea of how do you fade a pompadour? It is easier than it sounds. You should taper up the sides using a hair clipper with guard size #1 or #1/2. Now wondering how long should your hair be for a pompadour? You should leave enough length on the top of the head so that it will not fall apart when you comb it back and allow for an abundant volume when you blow it dry. In most cases, your hair on top should be 4" and longer.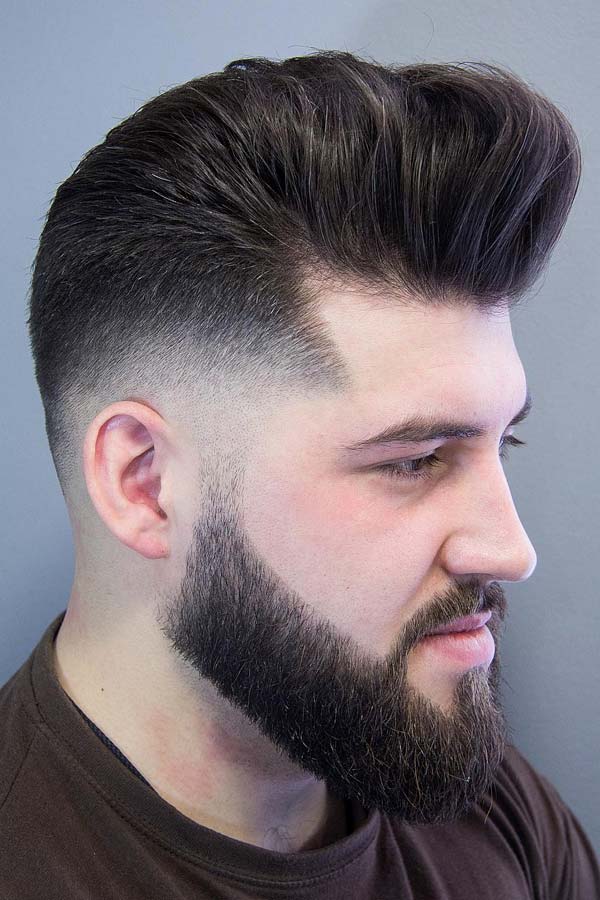 Source: @meha_barber via Instagram
Best Types Of Men's Pompadour Fade Haircuts
For an added dose of contrast to a pompadour fade haircut men resort to various accents, like a hard part, skin fade or a beard. Additionally, skillful barbers manage to transform the pomp not only into mens short hairstyles but also into longer ones. A comb over, faux hawk, slick back, side part or quiff can be easily derived from a pompadour. As for styling products, they stick to those that give little or no sheen finish, such as wax, clay or pomade.
Low Fade Pompadour
The low fade pomp is a staple of highly adjustable male haircuts, as it can be equally sported both in a formal and informal environment. Even though the tapered fade on the sides is low, it still manages to emphasize the voluminous top. Guys with kinky hair would especially appreciate this look, as their hair texture makes it really unique and unusual.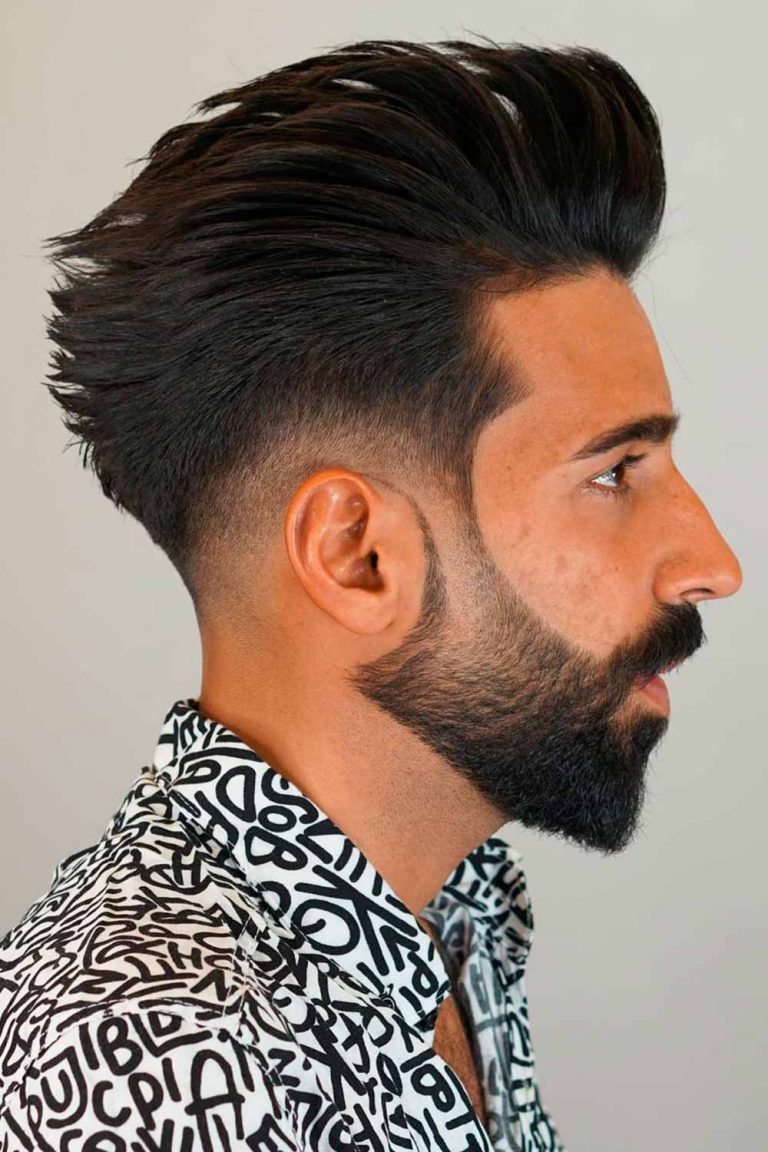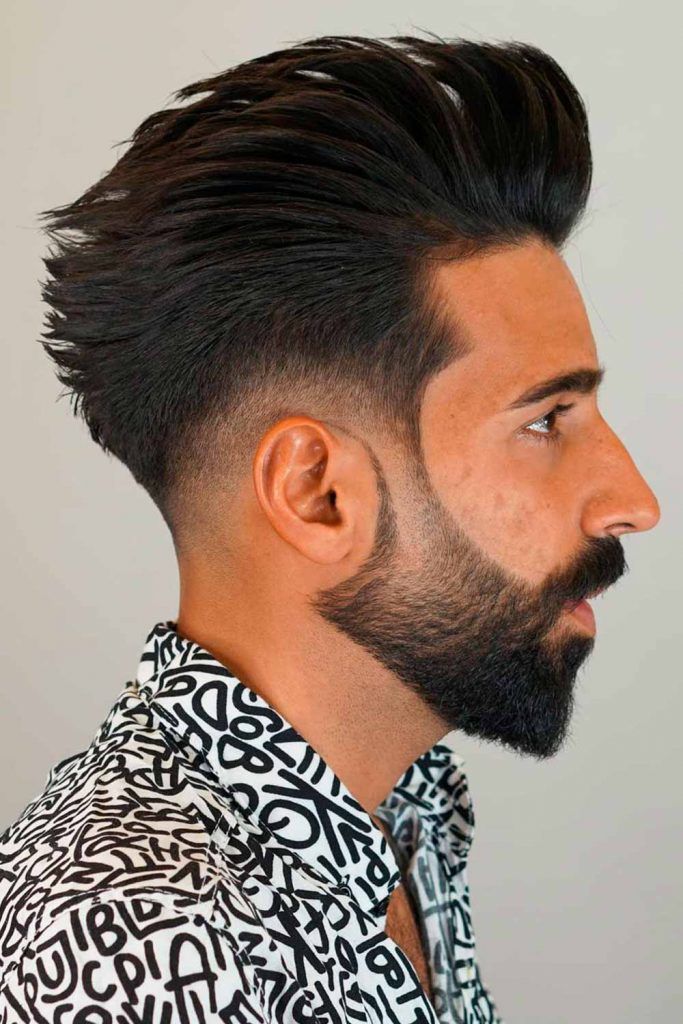 Source: @ahmetaslanhairsalon via Instagram
Mid Fade Pompadour
The mid fade pomp is a more contrasty hairstyle. It gives the look a bit of aggressive and daring touch. With a medium mens fade haircut, guys can successfully go for a shorter length on top.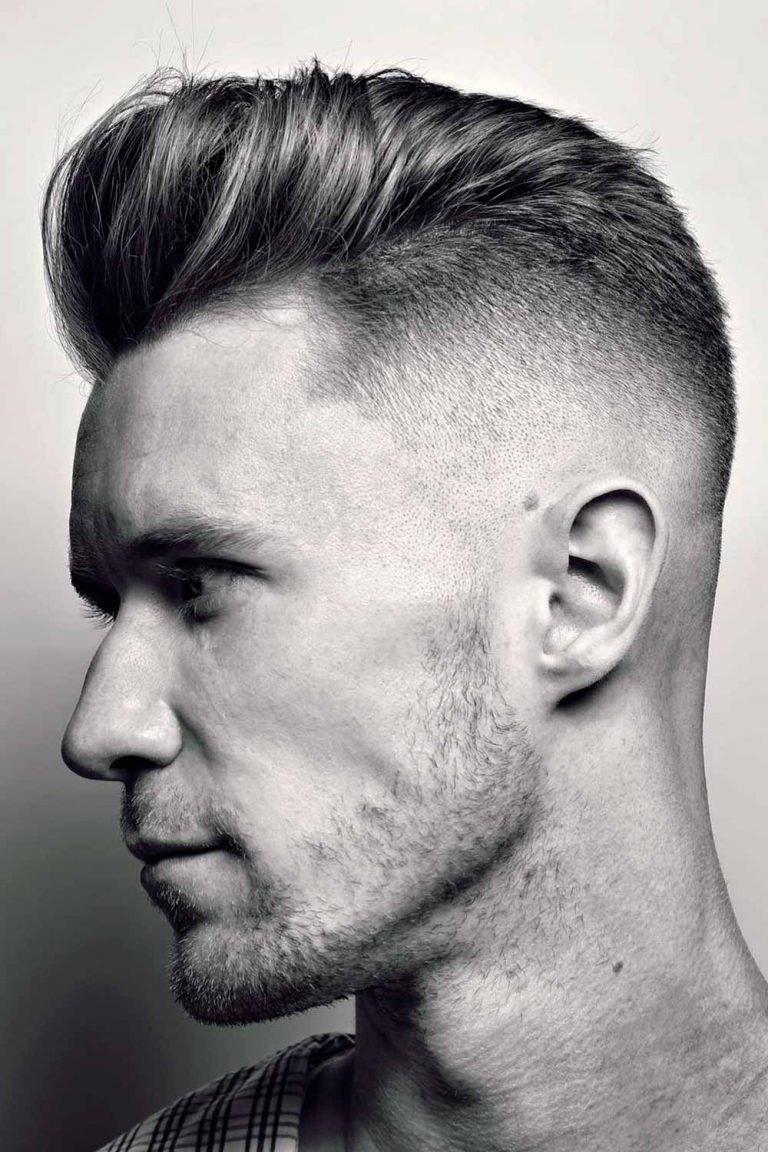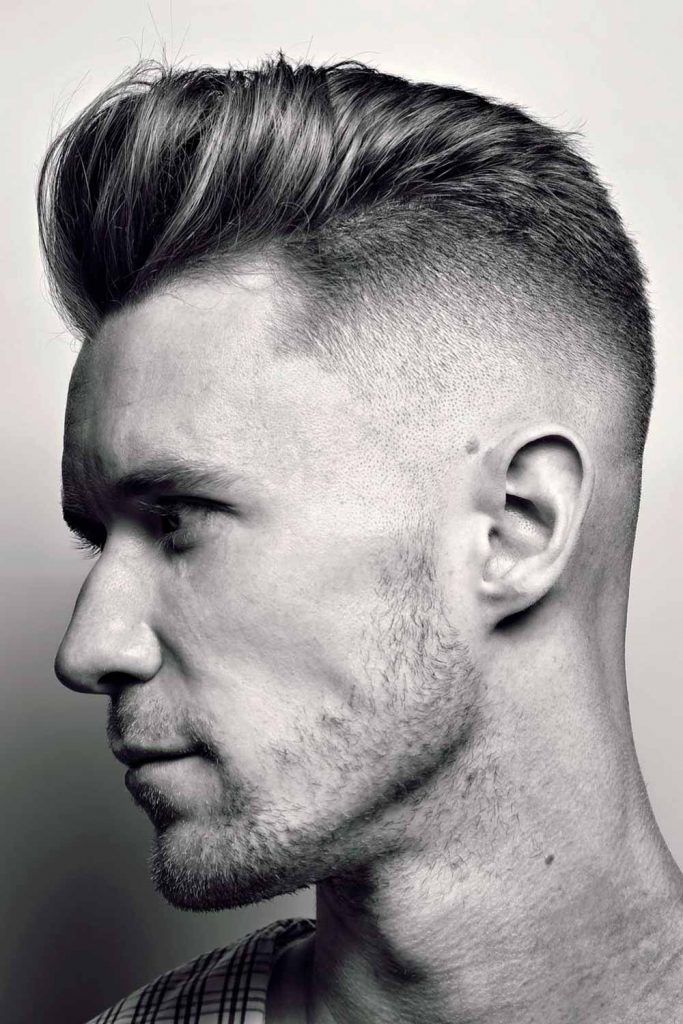 Source: @a.nizhnick via Instagram
High Fade Pompadour
The high fade pompadour belongs to the best mens haircuts of modern days. It creates the base for plenty of hairstyles with long tops and short sides. Instead of a high taper fade, you can ask your barber for a razor one to get a bolder look. It's also not necessary to shape the pomp flawlessly. You're welcome to leave it loose and messy.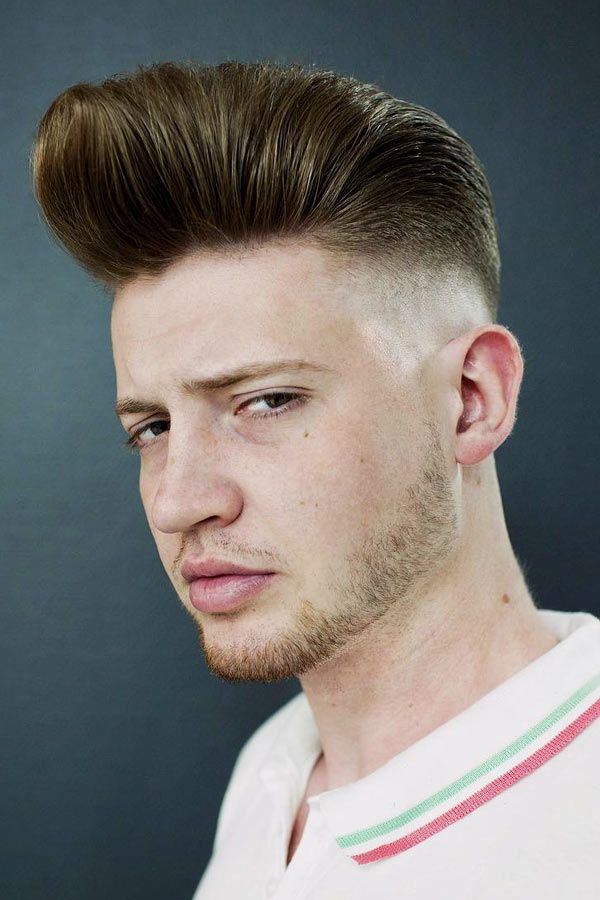 Source: @meha_barber via Instagram
Skin Fade Pompadour
The skin fade pomp, which is also called a bald fade pomp, is worth a special attention due to its stark contrast. No matter what fade intensity you choose, the look remains bold and prominent. Such a superior short fade haircut is meant for a pompadour, as together they create a striking combo.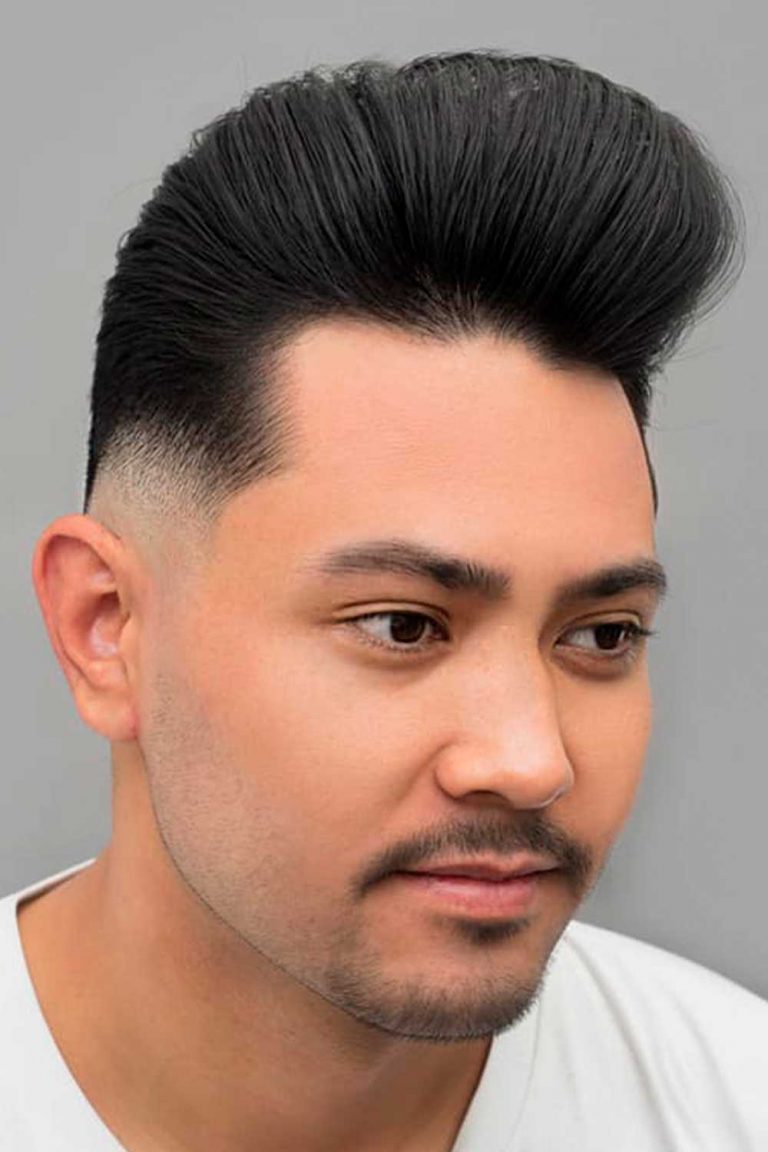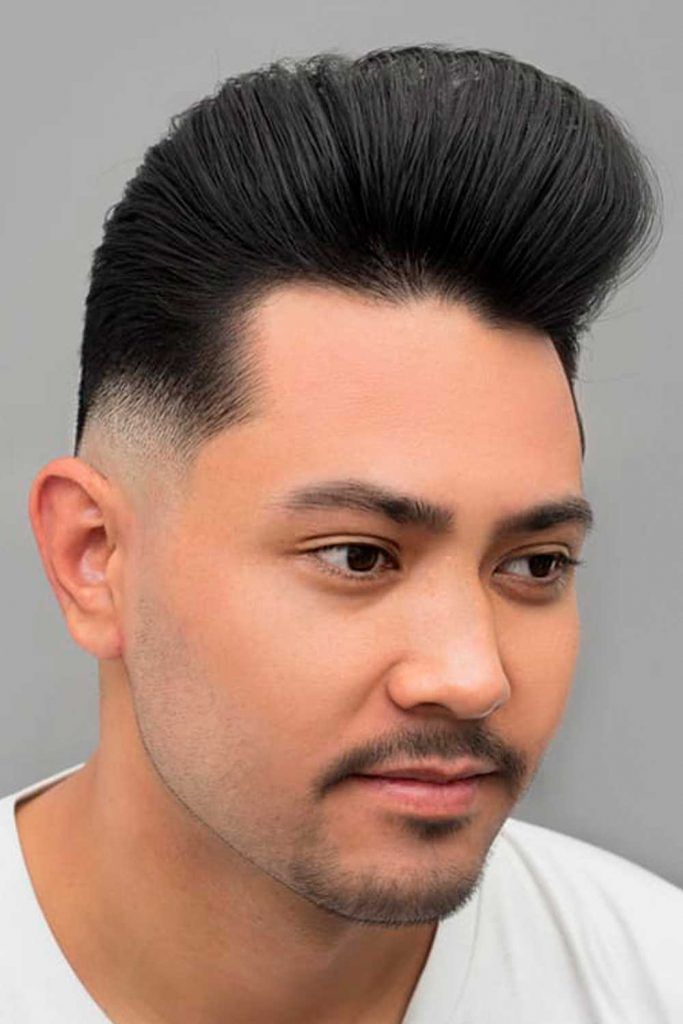 Source: @keller_konturen via Instagram
Razor Faded Pompadour
There's another great way to accentuate the textured top, which is a razor fade. This fade cut allows you to go for voluminous pomp and style it loose and high. Razor fade hairstyles give the sides a neat and clean appearance, creating a contrast with the top. If you still feel like the look is incomplete, finish it off with a carved line on the side.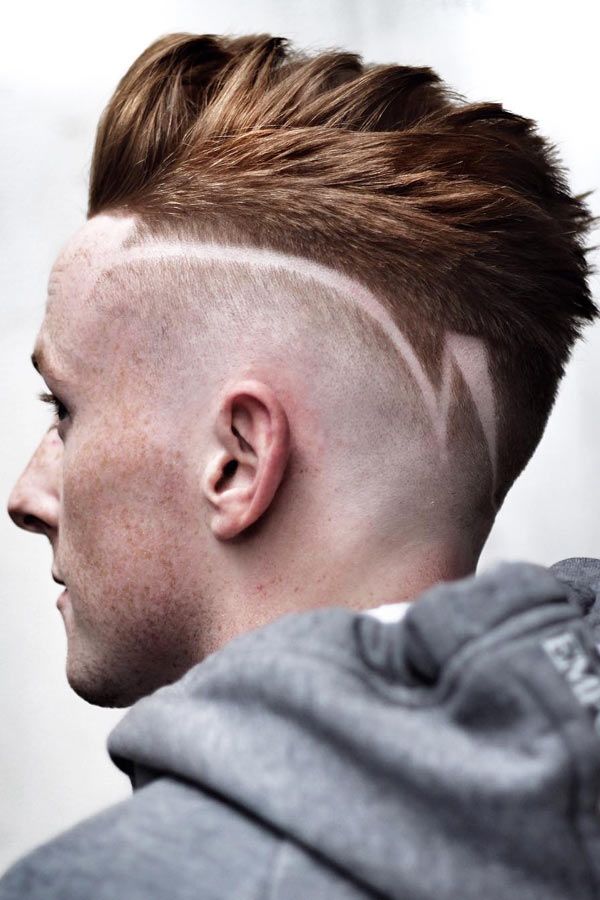 Source: @ryancullenhair via Instagram
Pomp For Wavy Hair
Men with wavy hair bring the pomp haircut to a completely new level. The haircut fade also benefits greatly from the textured look of the curly hair. These men's hairstyles can wear in two ways, either straighten the hair up while blow drying or embrace the natural texture of their locks and leave it to air dry.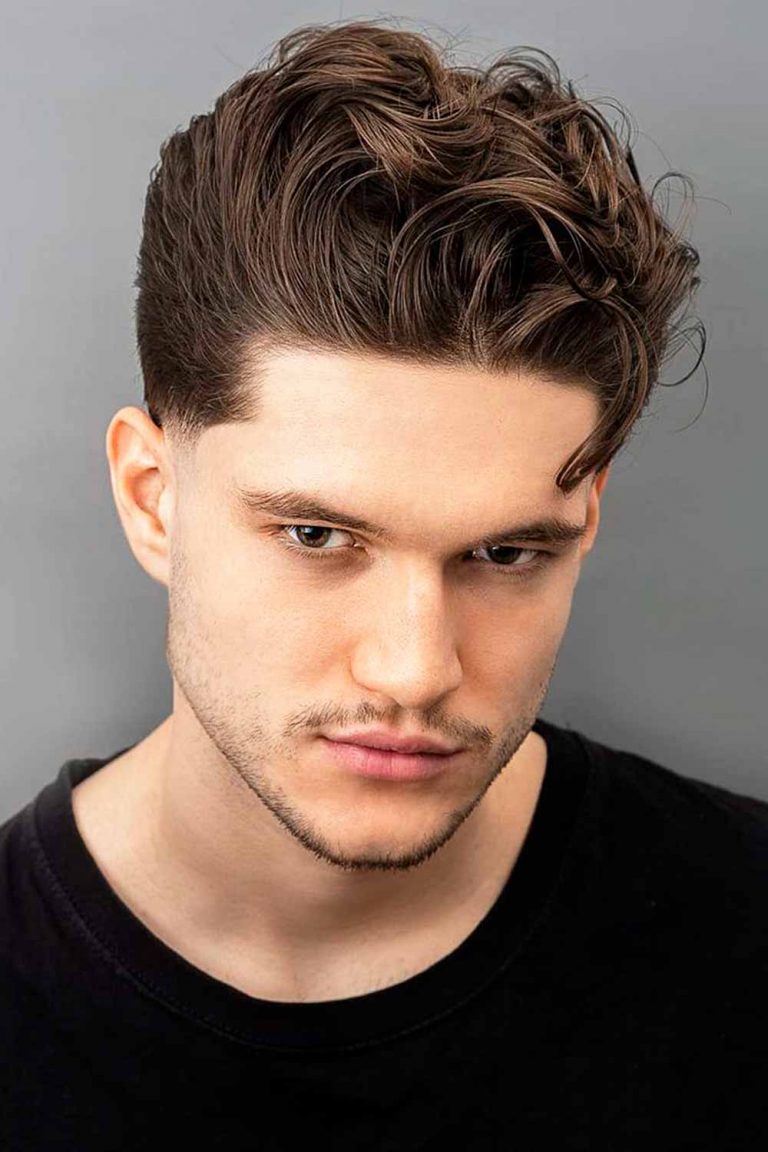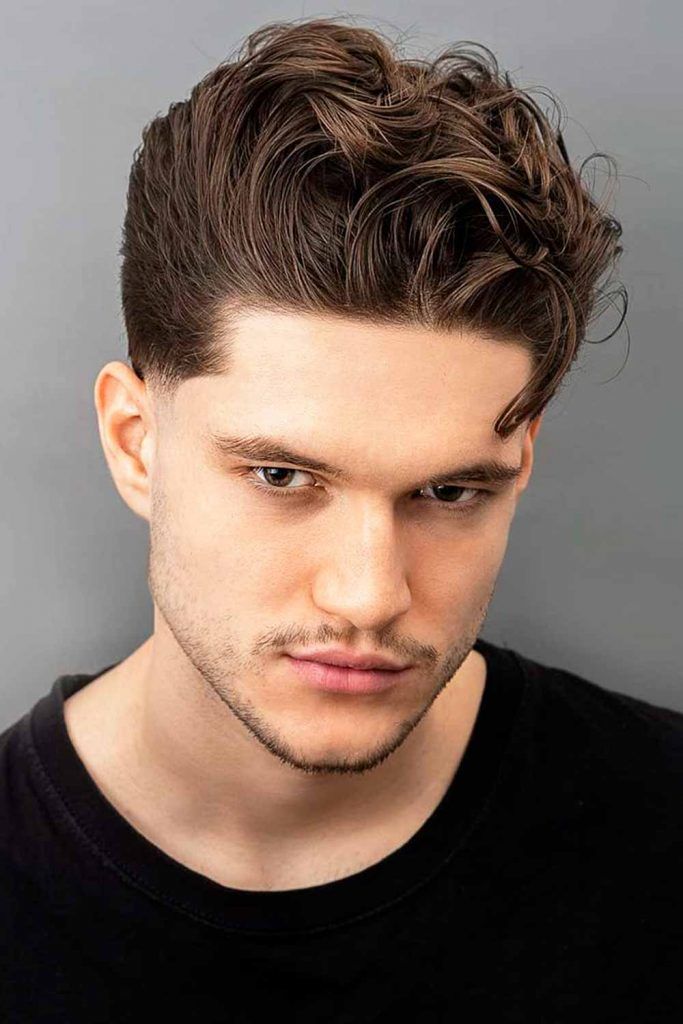 Source: @keller_konturen via Instagram
Side Part Pompadour
To give your hairstyle extra emphasis, go for a pompadour side part fade. It also looks elegant and stylish but with more definition. Choose a high skin fade comb over for a cutting edge appearance or a low shadow fade for a more reserved look.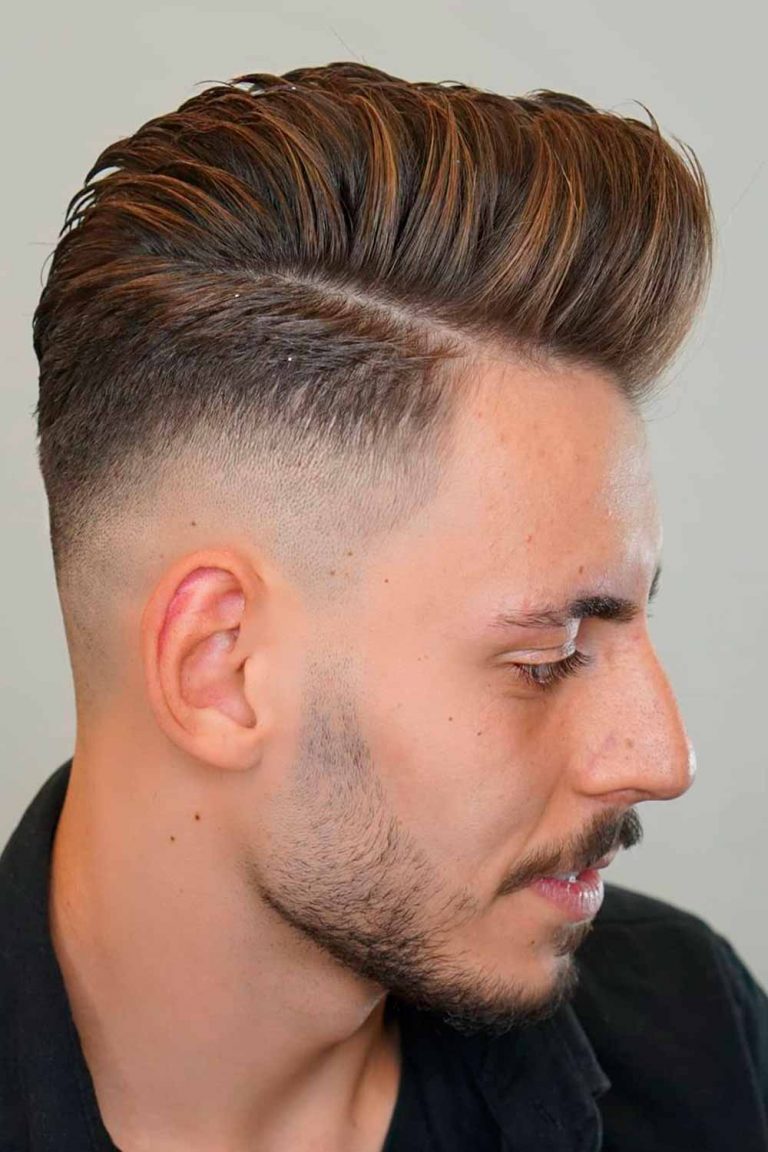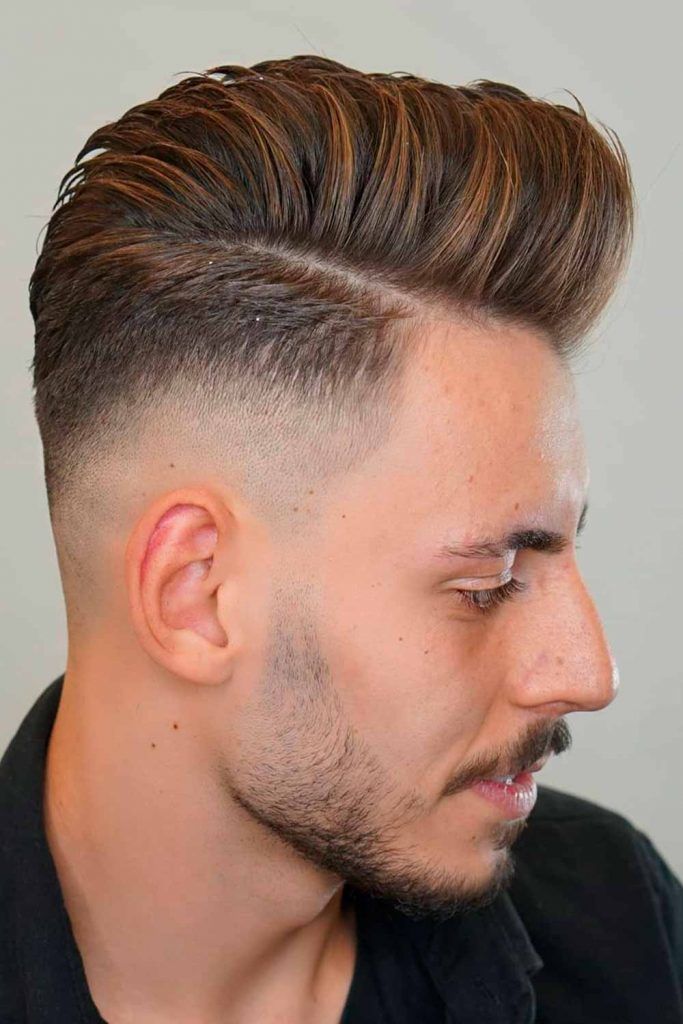 Source: @ahmetaslanhairsalon via Instagram
Loose Pompadour Fade
Although a classic pomp is smooth and neat, when it comes to a pompadour fade, it should not necessarily be the case. Give your hairdo an effortless and casual feel by styling the top a little loose and messy. This works especially well with a medium fade pompadour, as it offers a middle ground between overly bold and modest versions.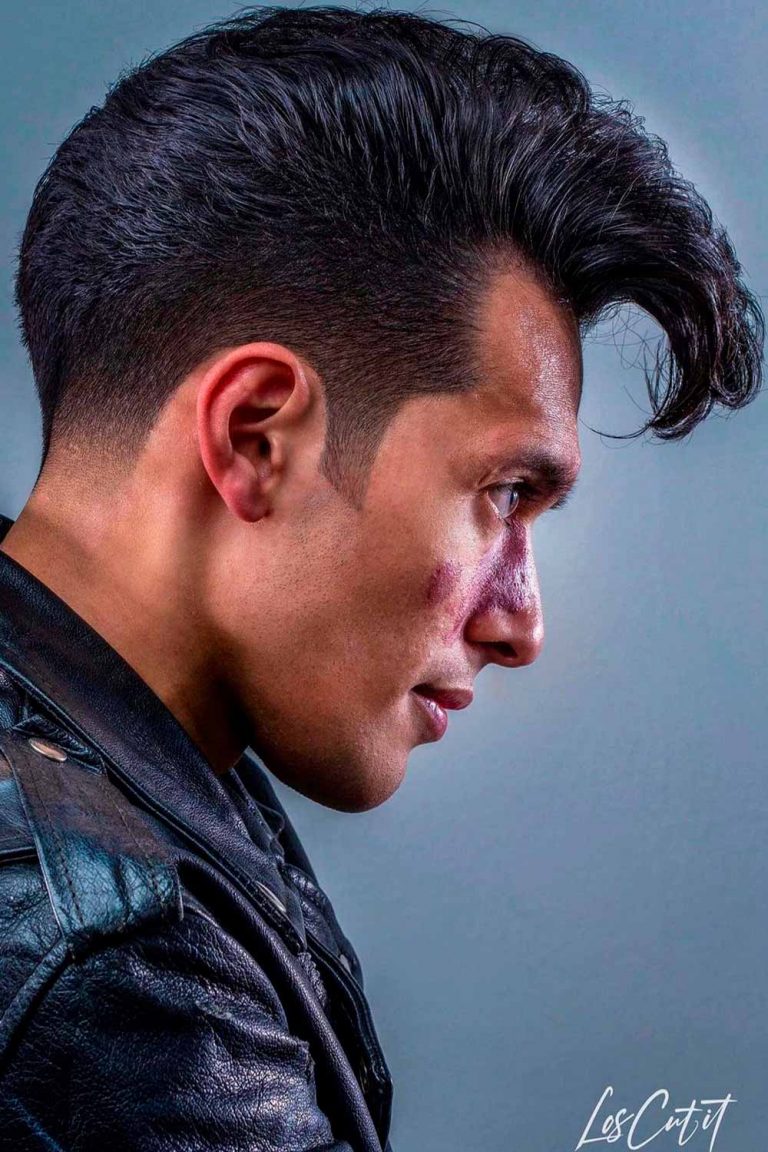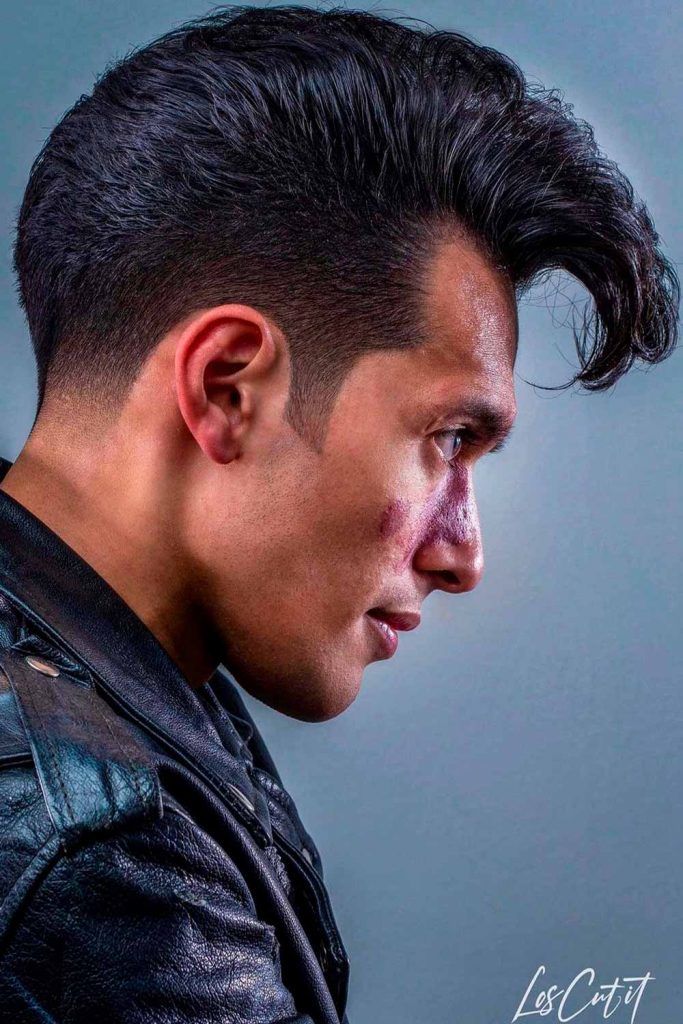 Source: @los_cut_it via Instagram
Burst Fade Pompadour
A razor fade pompadour already looks eye catching and daring. However, you can take it to another level by opting for a burst high bald fade pompadour. Sharp and edgy, it is bound to collect compliments and make heads turn. So, if you want to stand out in the crowd, you can never go wrong with it.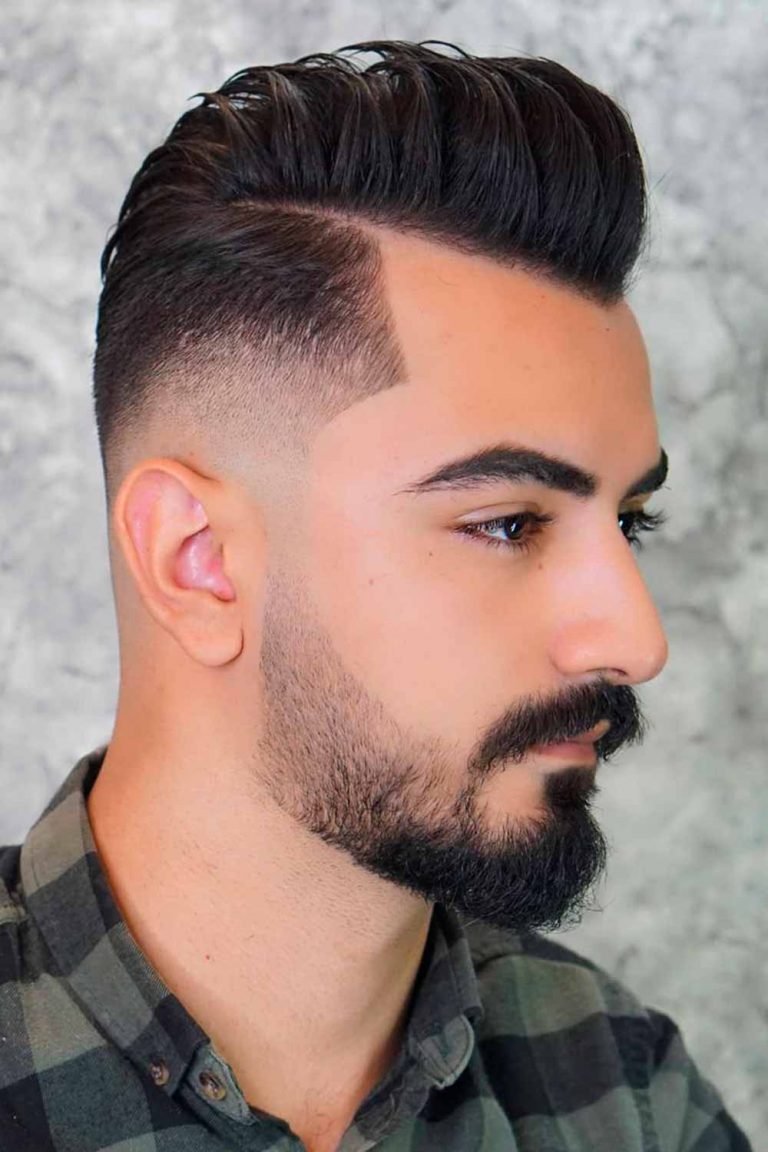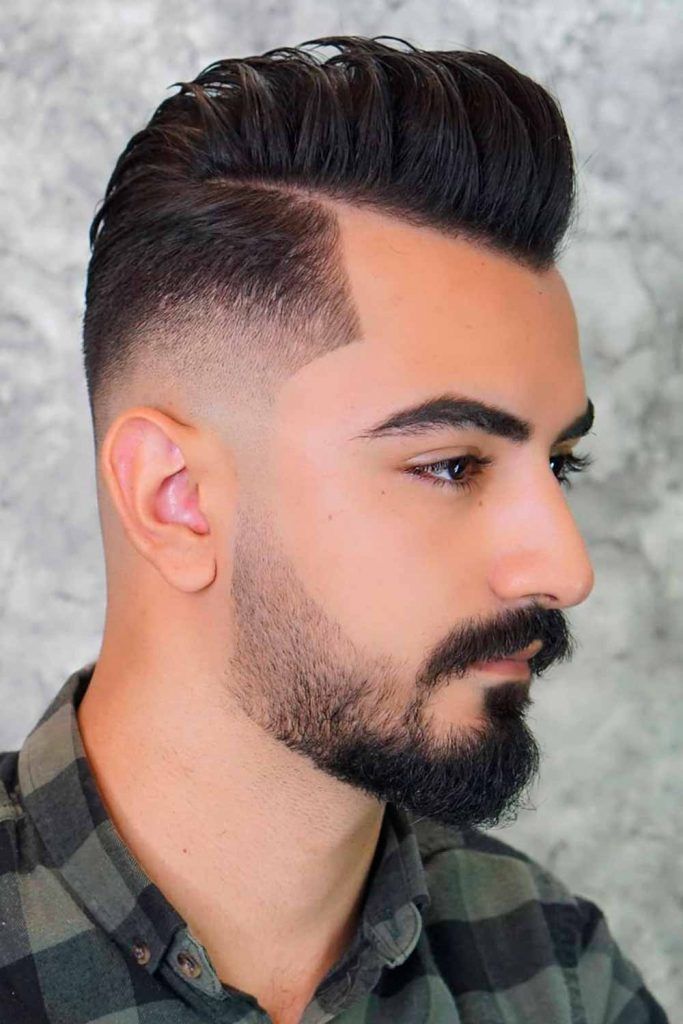 Source: @ahmetaslanhairsalon via Instagram
Pompadour Taper Fade
If you don't like the idea of showing off your scalp, though, still strive for short hair on the sides, the tapered hair can be a great alternative for such instances. It also looks appropriate for senior gents and office workers with a dress code. The sides blend with the top effortlessly, creating a gradual transition. If you want to give your hairstyle a vintage feel, go for greaser hair on top.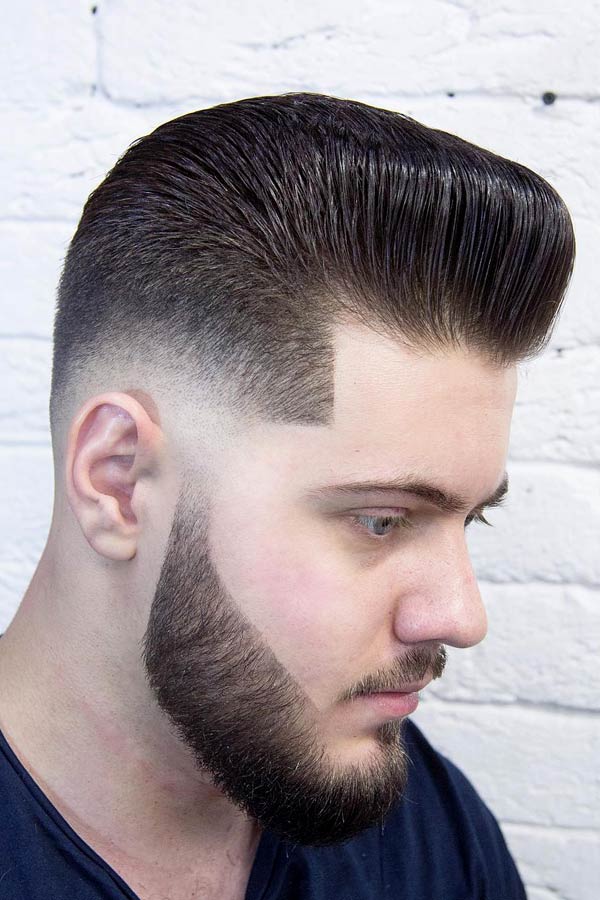 Source: @meha_barber via Instagram
Modern Pomp Fade
The modern pompadour hairstyle remains one of the trendiest men hairstyles for good reason. The back and sides are given an undercut with the high bald fade, whereas the pomp is grown quite long. If you wonder how to style a pompadour in a modern way, unlike Elvis hair, it should be sported loose and rather messy. To complete the look, touch up the pomp with a trusty wax or pomade.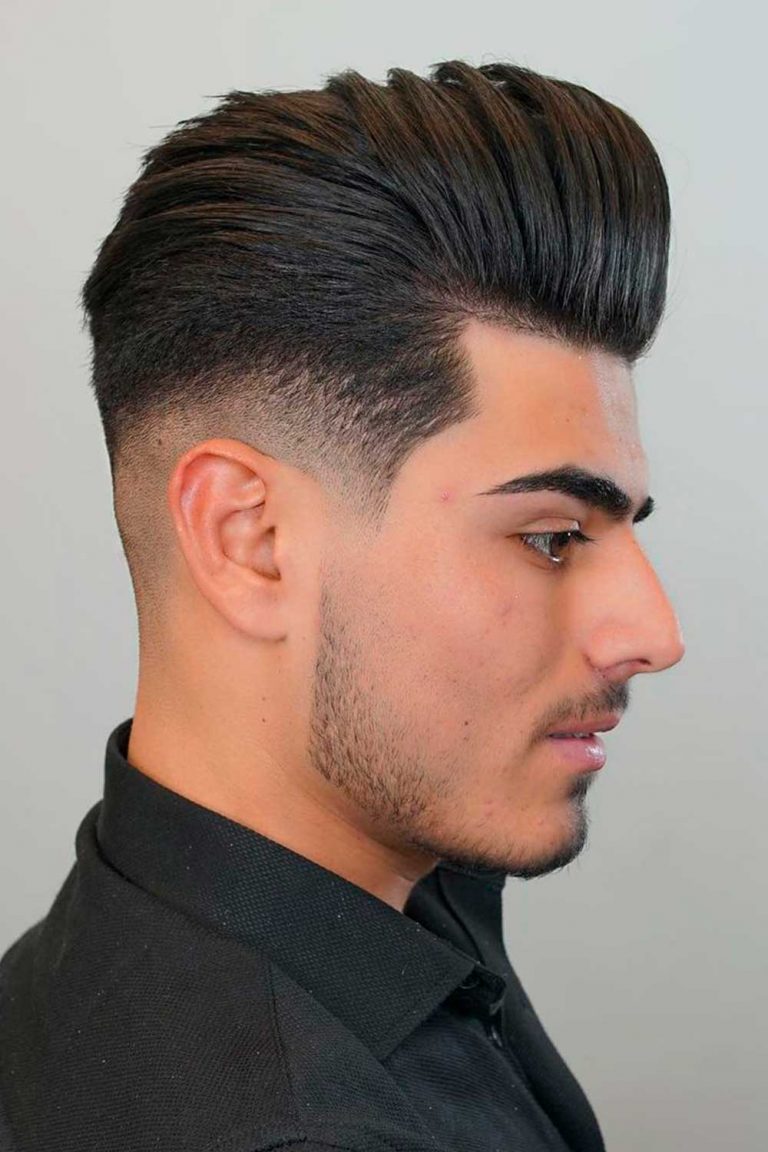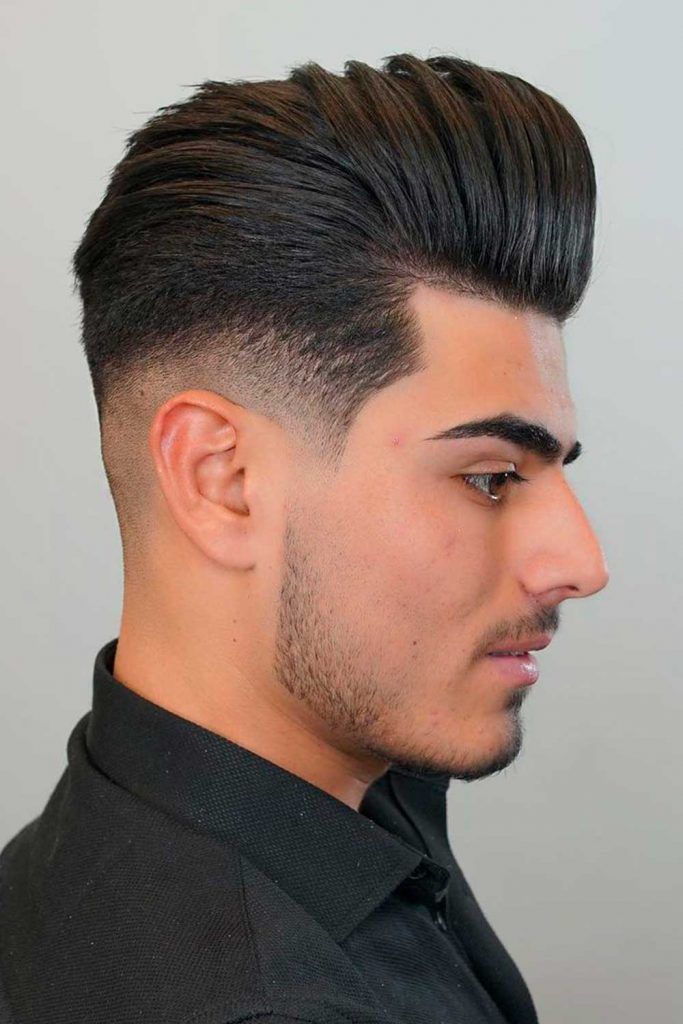 Source: @ahmetaslanhairsalon via Instagram
Parted Pompadour
To take your pompadour to a retro territory, combine two popular vintage guys hairstyles in one. Brush up the front of the hair and divide the top into two sections with a side part. The sides should be tapered with a hair fade that starts low, right behind the ears.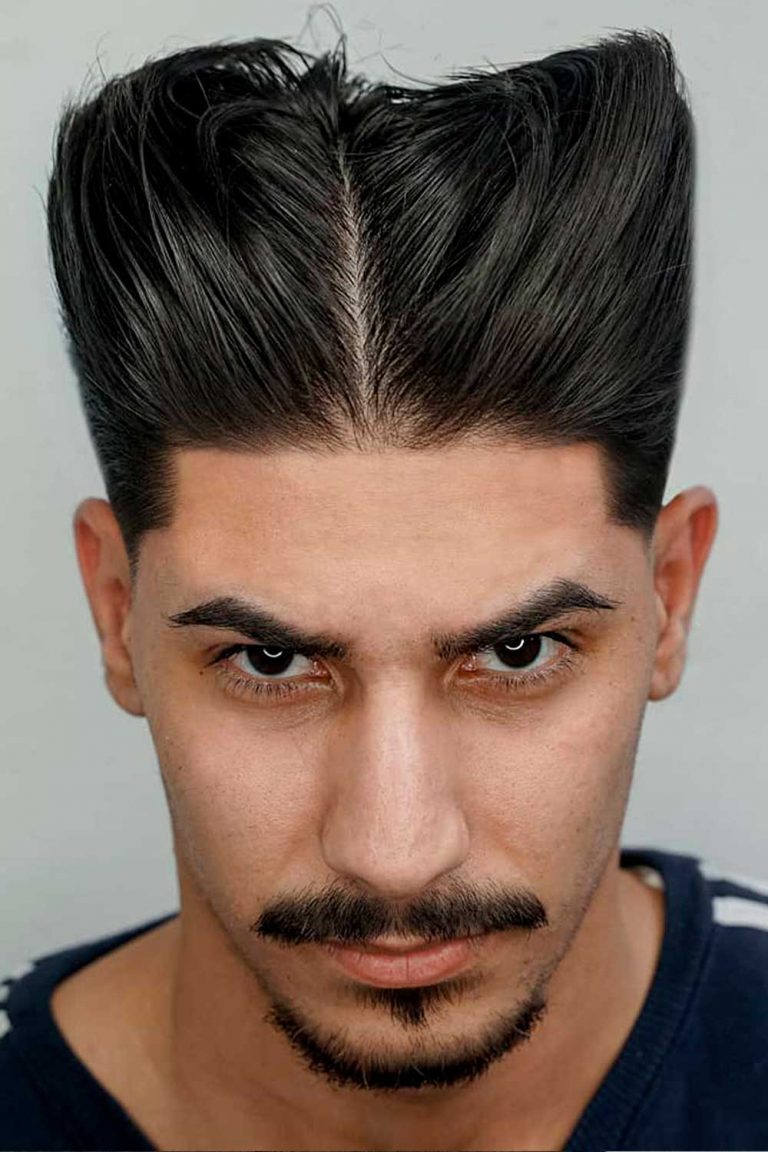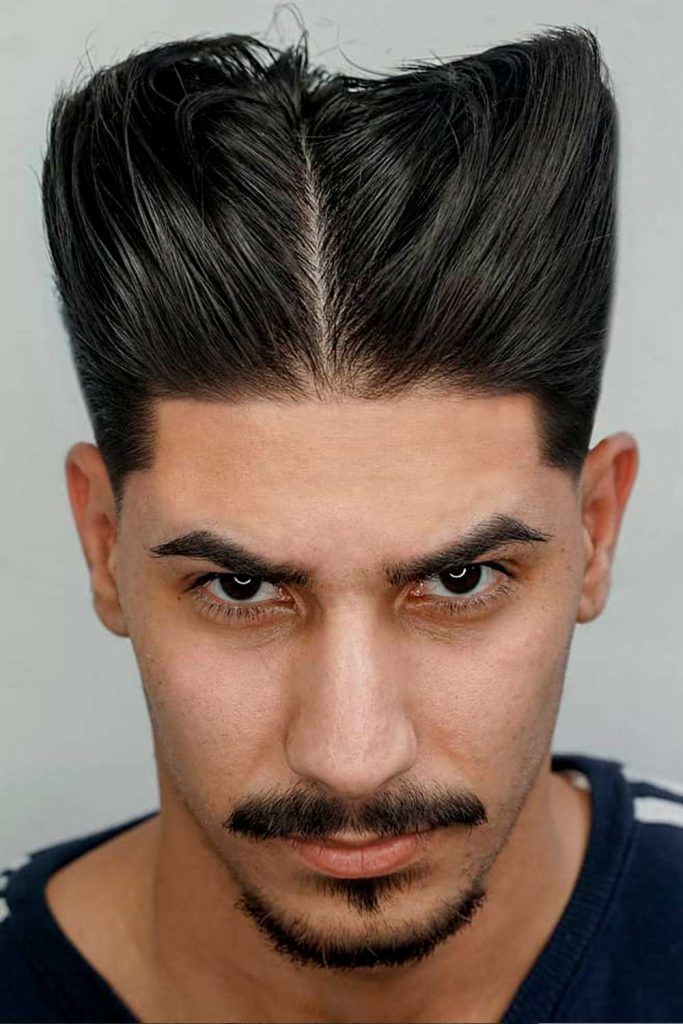 Source: @keller_konturen via Instagram
Pompadour Fade With Beard
Here's another mix of two popular hairstyles for men from different epochs. The classic pompadour is perfectly accentuated with a full beard for a rugged and trendy look while the sides are tailored with an undercut high fade. It's impossible to overstate this look!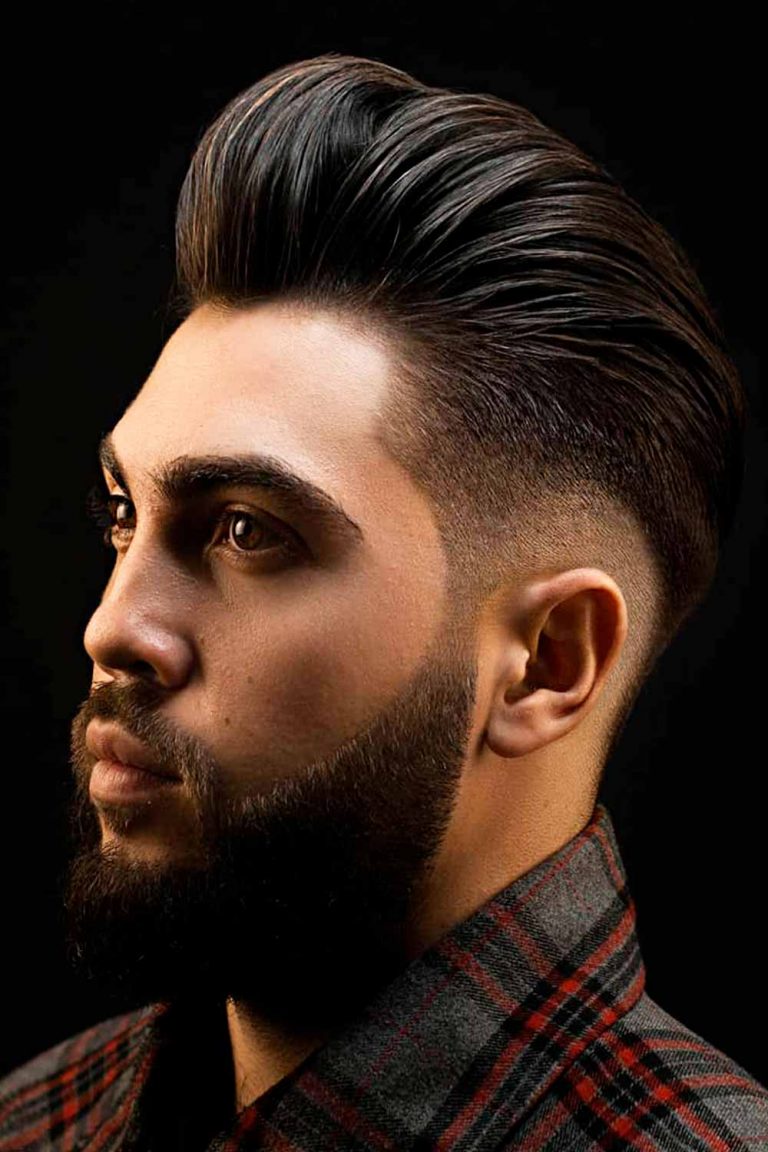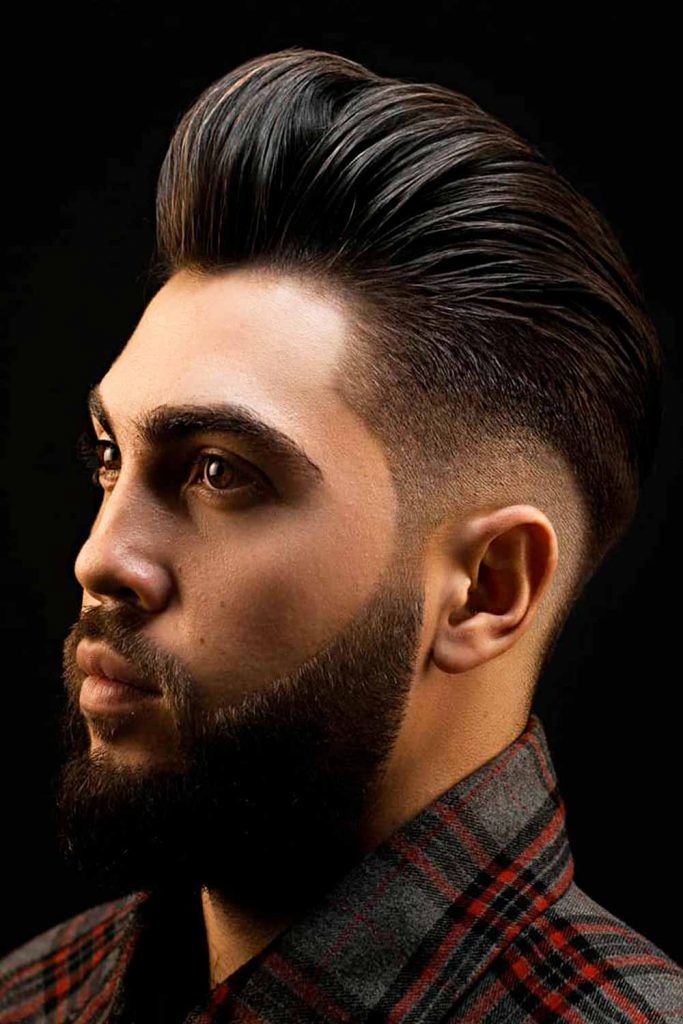 Source: @barberking_kh via Instagram
Textured Pomp Fade
This textured pompadour hairstyle with the high skin fade is an inclination into the modern side. Use a wax, clay or pomade with a matte finish to attain a sassy hipster hairstyle.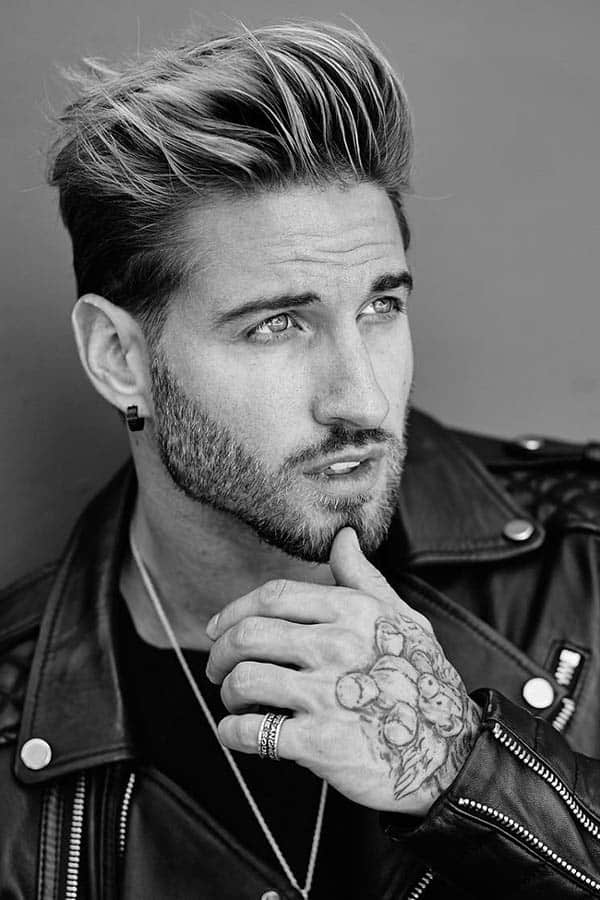 Source: @travbeachboy via Instagram
Pompadour Comb Over Fade
A comb over pomp is one of the greatest mens short hairstyles for thick hair. Giving a very neat style to pompadour hair, it can be paired with various modern and classic mens hairstyles.
The pompadour fade haircut gives you tons of styling options depending on the length of the top and sides. It perfectly blends the old school features into the modern trends. Hopefully, out collection of the trendiest pompadour faded hairstyles has helped you to decide on the most flattering ideas for your cut.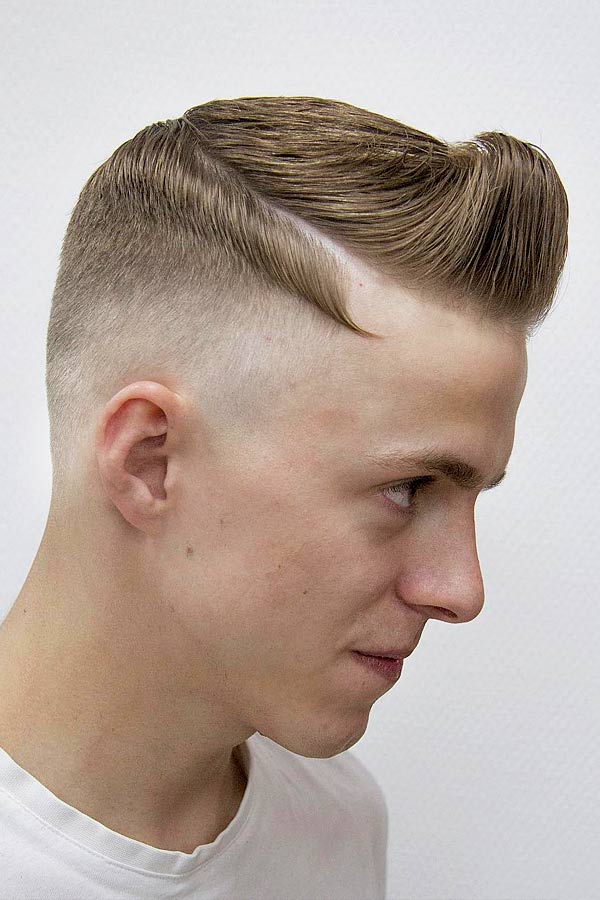 Source: @meha_barber via Instagram
Long Pompadour Fade
When it comes to the length, a pomp can vary from a relatively short to impressively long. If you are leaning toward the latter, then it is unlikely that you will be able to pull it off without a fade. Because it takes away the hair from the sides and back, the top does not look bulky. Thus, you can style it with enhanced texture and ample volume.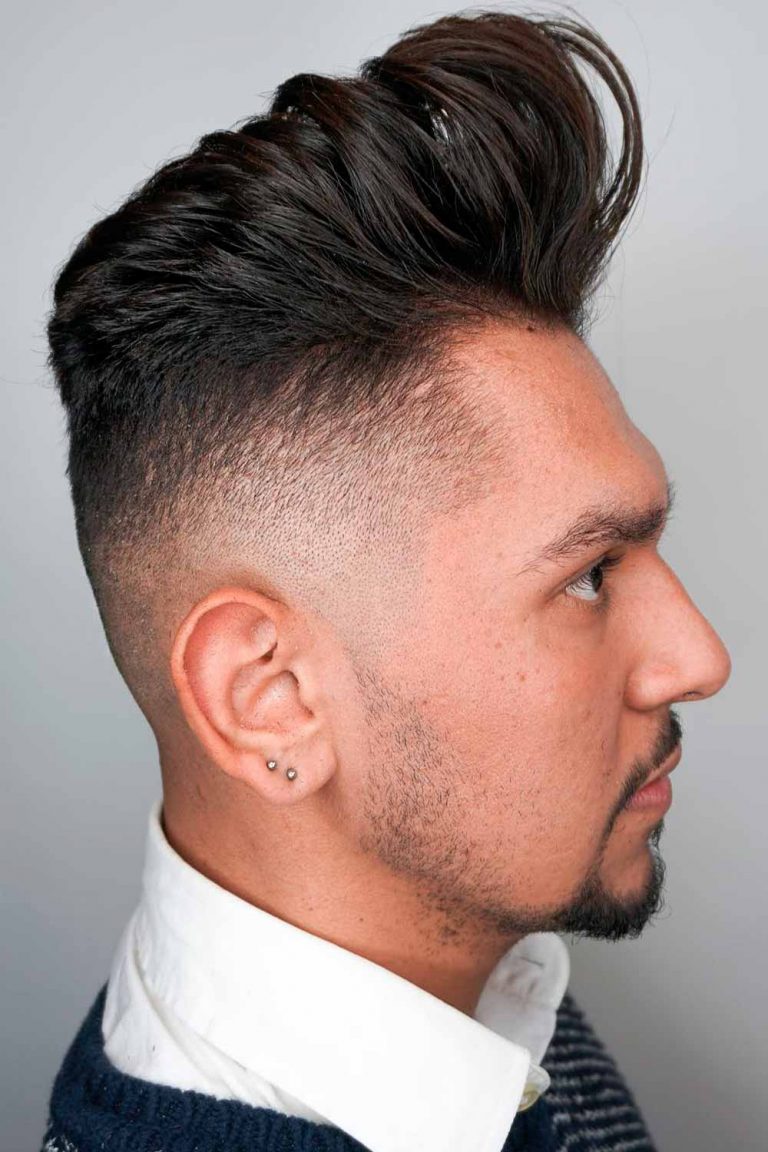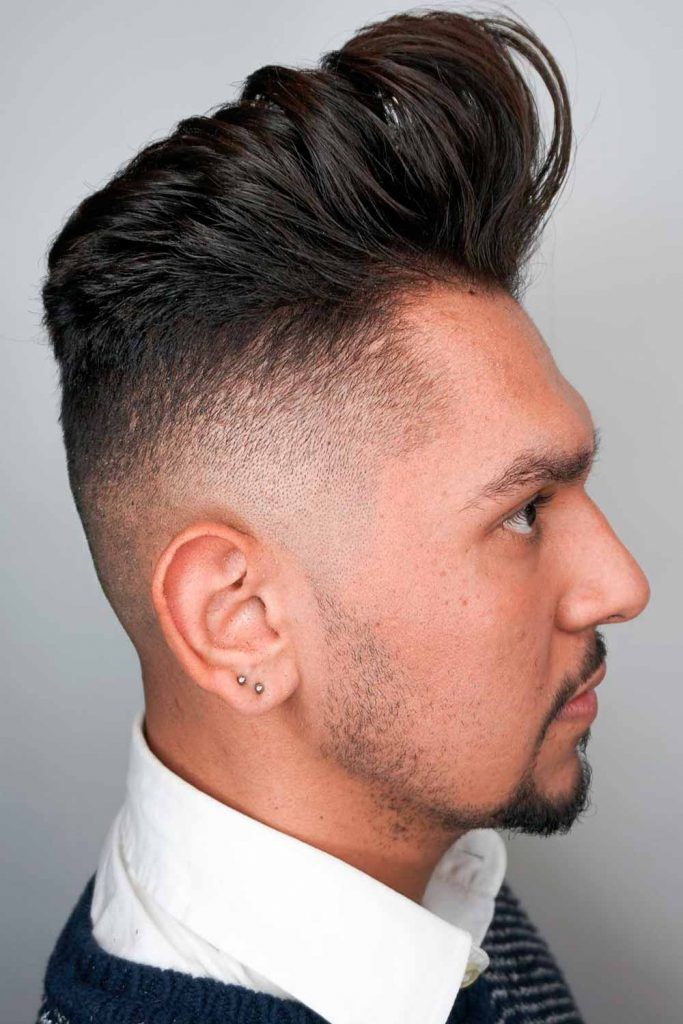 Source: @anthonythebarber916 via Instagram
Hard Part Pompadour
To give your pompadour definition and sharpness, complement it with a hard part. This razor shaved line brings the style to the whole new level, enhancing it with a modern and fashionable kink. On top of that, it allows for a multitude of trendy combos. For instance, if you are aiming for an ultimately striking look, you can go for a high bald fade on the sides. If you are up to something rather moderate, turn to a low taper fade instead.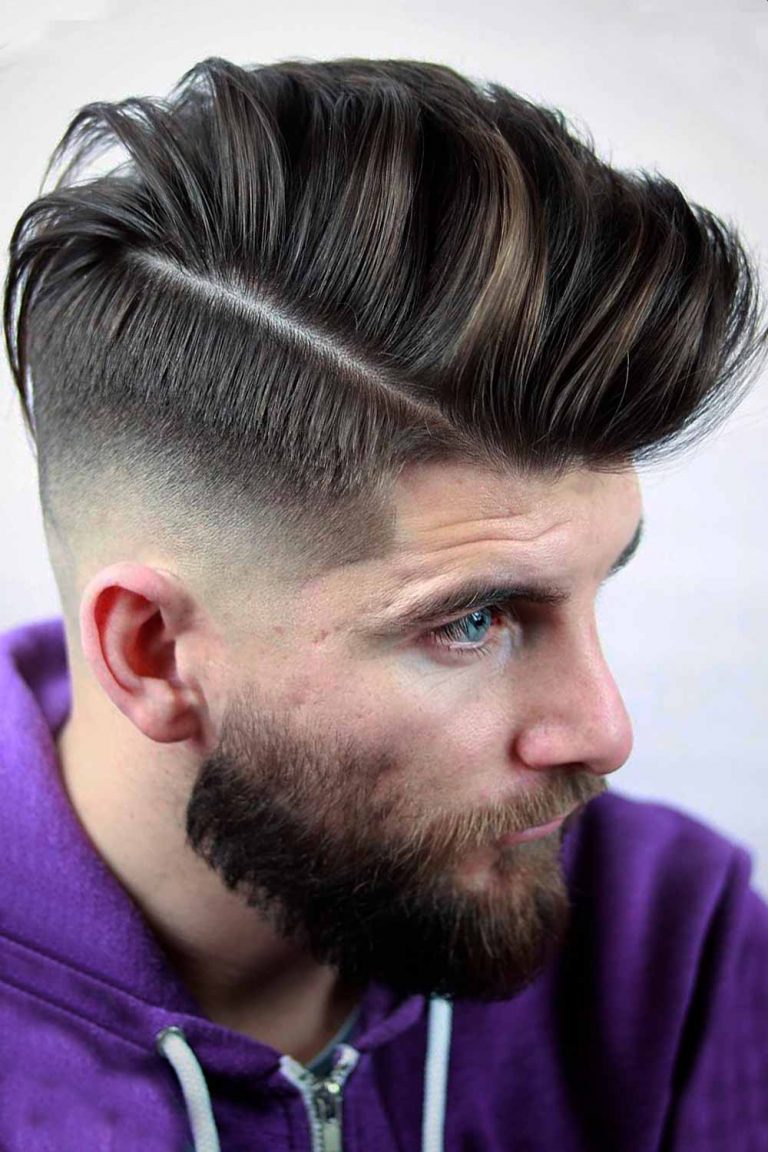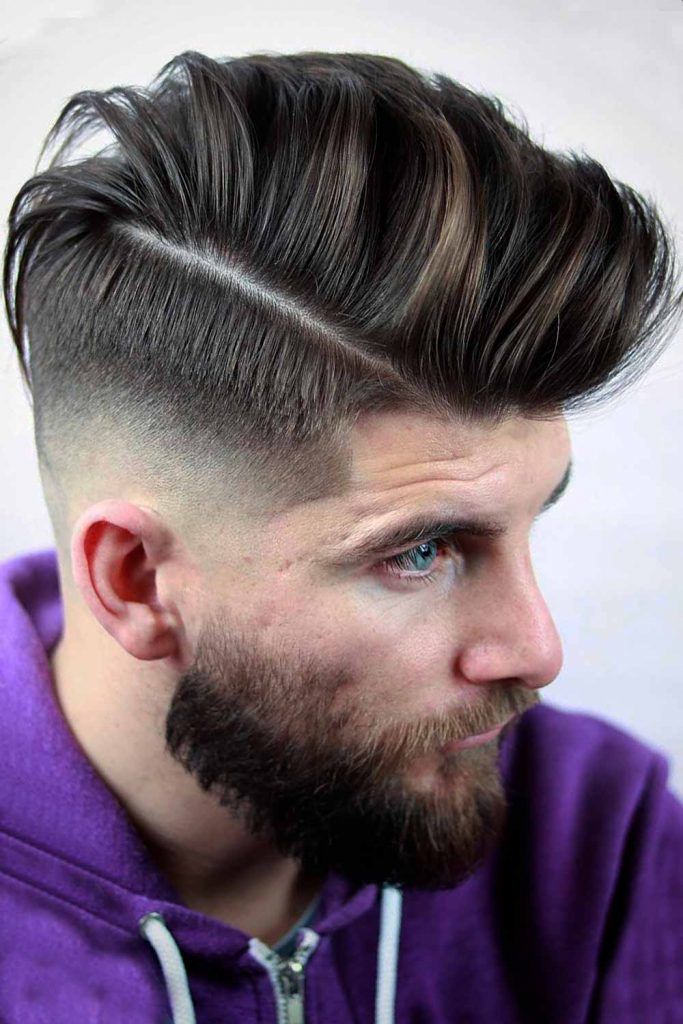 Source: @corneliucrihan via Instagram
Messy Pomp
One of the main differences between a traditional and modern pompadour is its neatness. In the old days, a pomp used to be smooth and elegant, slicked back with a generous amount of hair grease. Today, it usually has a more relaxed and messy appearance, not least thanks to clean cut sides and back.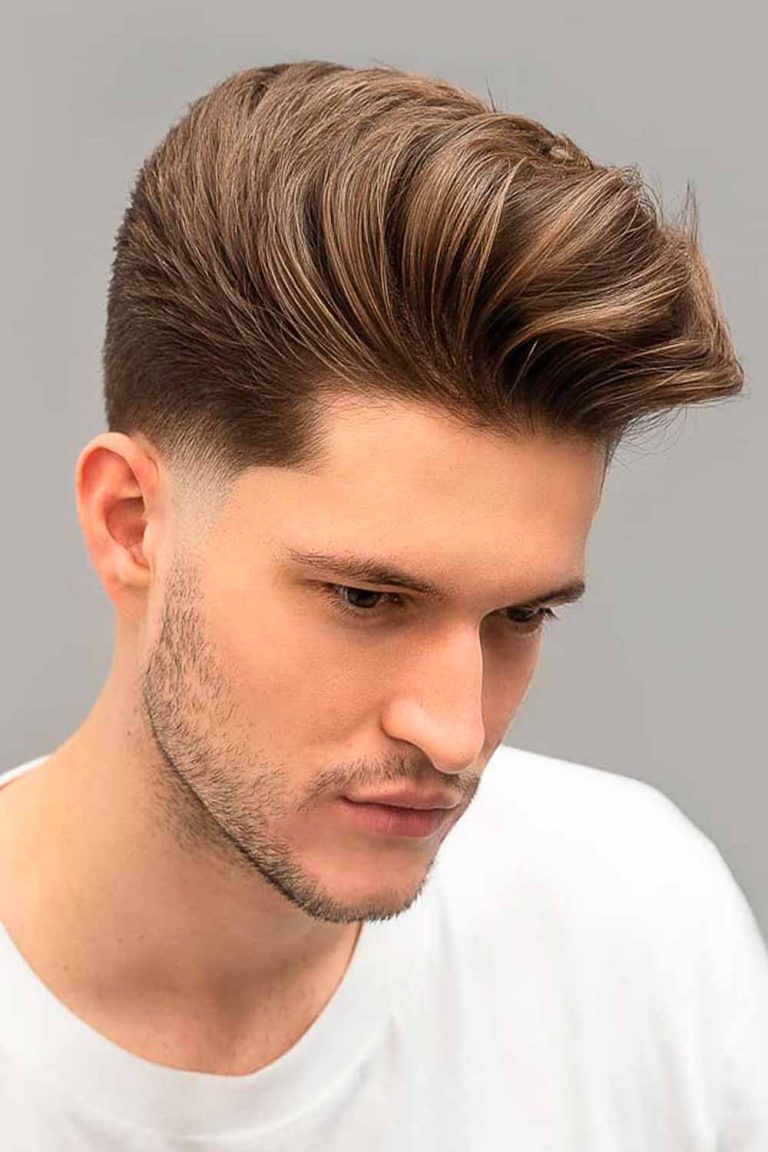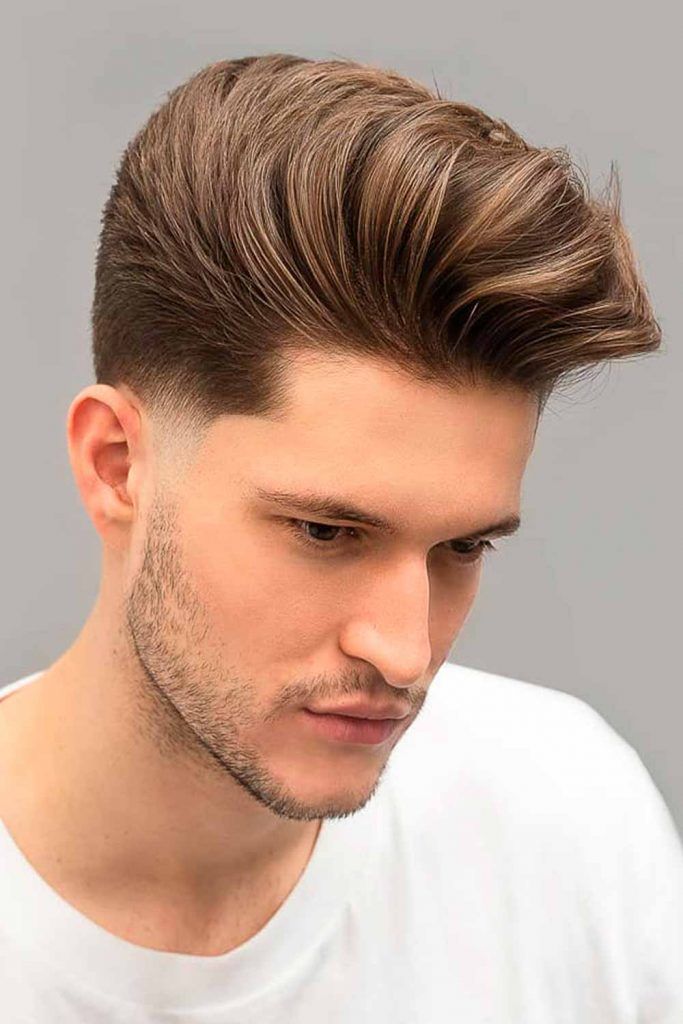 Source: @keller_konturen via Instagram
Pompadour Undercut Fade
One of the most flattering ways to style a pompadour undercut fade is to brush all the hair on the top of the head back. The sides featuring a bald fade allows you to make your pomp the focal point of the look. So that the texture looks natural, this hairdo is styled with the help of a blow dryer. Alternatively, you can employ a hair cream or pomade with a low or medium hold.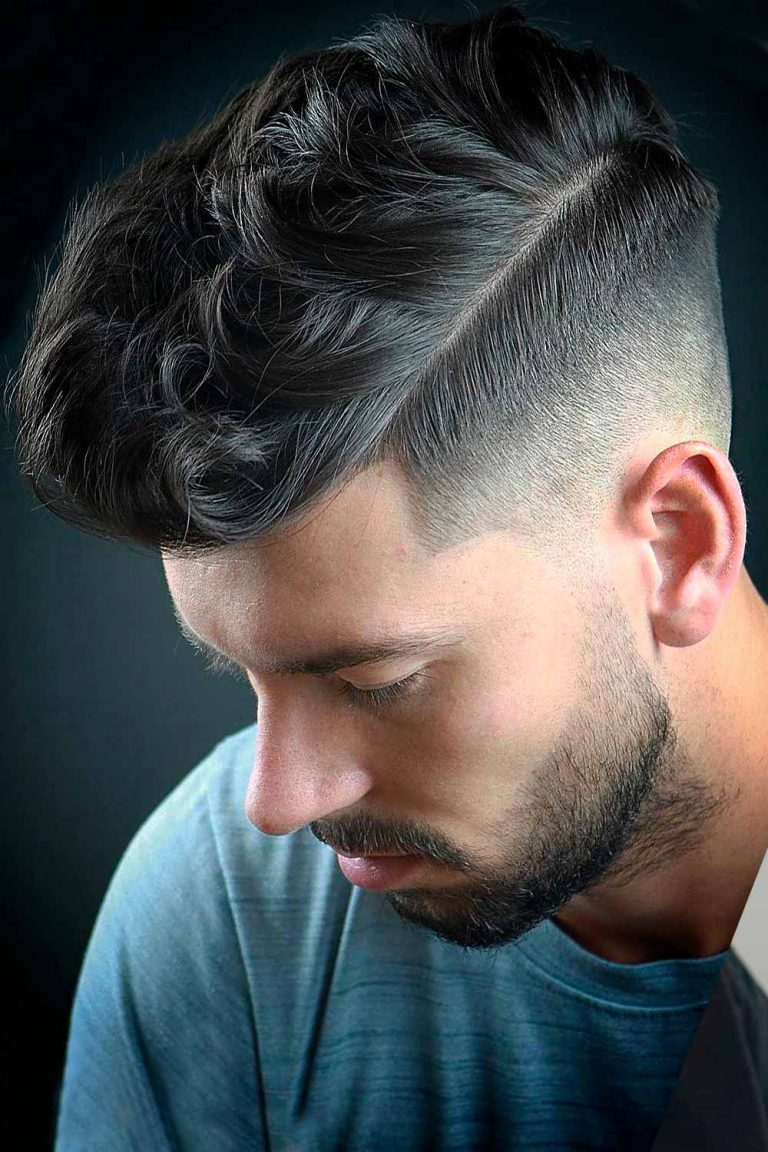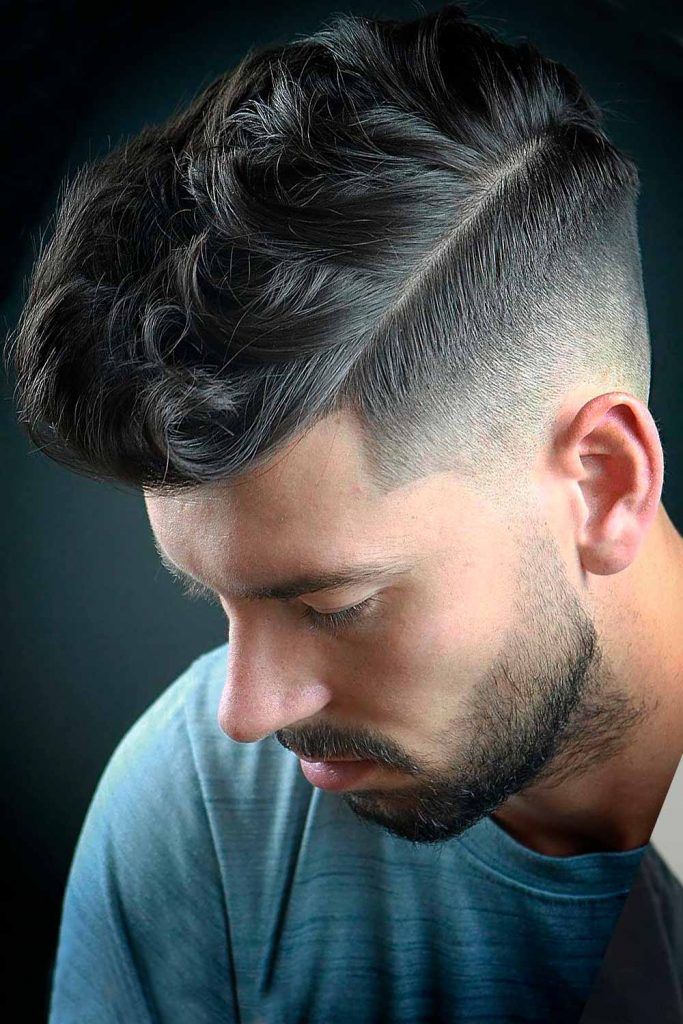 Source: @corneliucrihan via Instagram
Short Pompadour Fade
Thanks to the faded sides, you can go for almost any length on the top of your head and still pull off the look. For a bolder contrast, opt for a high skin fade. For a more low-key appearance, complement the pomp with a low shadow fade.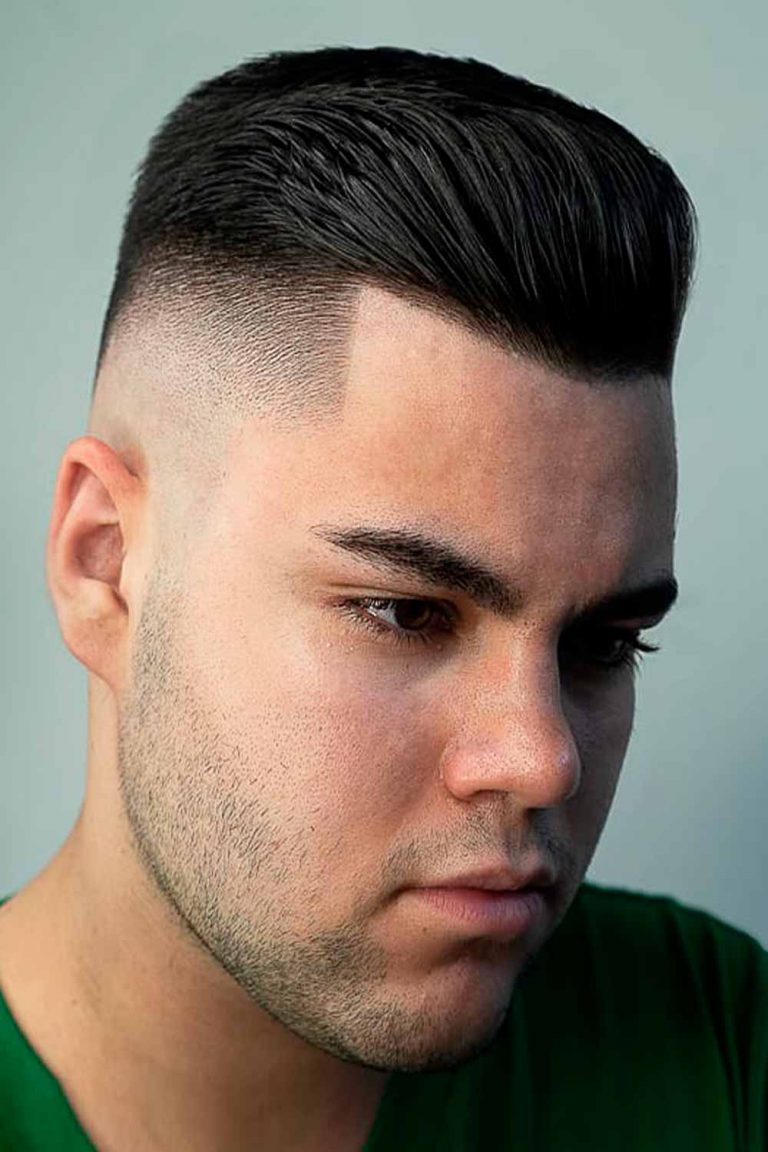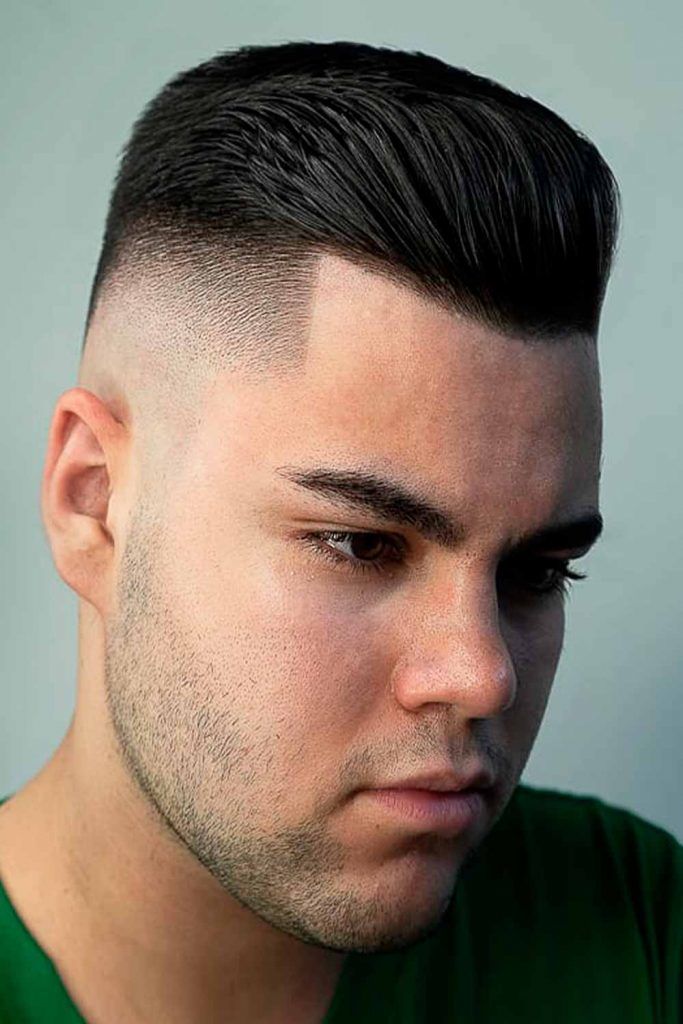 Source: @keller_konturen via Instagram
FAQs
What is a pompadour fade?
When you add to a classic pompadour haircut fade taper, you end up with an updated version of the style. It features a long ample voluminous top with trimmed sides and back. This combo makes up a very high contrast and pronounced look.
How long should your hair be for a pompadour?
Generally, to be able to pull off a pompadour fade, the hair length of your top should be around 3-4 in. This guarantees that you will be able to create a voluminous pomp on top and comb it back so it lays flat. The length of the hair on the sides, in its turn, may vary depending on your preferences.
How do I ask my barber for a pompadour?
To get the desired pompadour fade from your barber, you just need to tell them that you want it. A professional hairdresser should be able to deliver the cut without any difficulties. Though, you need to specify whether you want the sides undercut, faded or tapered. If faded, you will need to choose between a pompadour high fade, medium and low.
REFERENCES:
How to Cut and Style a Pompadour Fade. Source