Caesar Haircut Is The Cut Tested By Time
Certain hairstyles stand the test of time, and the caesar haircut is definitely one of these renowned styles. There is a popular thought that men's haircut number is a lot less versatile than those available for women. Well, to tell you the truth, the numbers may be a little lower, but it certainly does not mean that there is nothing to choose from. That is why today we are going to discuss something as trendy as Caesar haircut and all the things that you are bound to know about this cut. Once you discover this new style, there is no way you will be unable to experiment with your hair every now and then!
What Is A Caesar Haircut?
Source: @ryancullenhair via Instagram
Many of you may wonder why Caesar's name used to name this cut? The truth is that is how ancient the cut is. It is said that Julius Caesar used to wear such a cut to hide away his baldness. The most peculiar thing about this haircut is the fringe that defines it. At first, it may seem that fringe is not entirely what you are looking for, but you should at least give it a try since there is much more to it than just a fringe and it can be suited to all the tastes and preferences.
How To Get The Caesar Haircut
Source: @ryancullenhair via Instagram
The fact is that Caesar cut is more than popular these days that is why when you are headed to the barber's shop your stylist will surely know what you are looking for exactly. But in order to make things clearer, we are going to tell you about a few defining features of this cut. As it has been already mentioned there is a need for a square fringe in front. Usually, the rest of the hair is cut at the same length but not necessarily. This is a pretty short cut, but the length of modern Caesar cut may vary from 0.5 to 3 inches depending on your presences. However, since it is considered to be a short cut it is flattering to most hair types and textures so that you do not have to worry that it won't suit you.
How To Wear And Style The Caesar Haircut
Source: @groomed_barber_club via Instagram
There are men haircut kinds that require a lot of maintenance and that is what scares most men off, since very often men wish to spend as little time on fixing their hair as possible. That is when Caesar cut comes in more than handy. There is nothing to fix apart from working some hair product into your hair. As simple as that, just add some fav wax to your hair and fix the fringe up or smooth it out, depending on the result you wish to achieve. There you go!

Caesar With A Fade
Source: @groomed_barber_club via Instagram
The fade haircut is on the edge of popularity these days, and there is no wonder why since you can easily mix it and match with a great lot of other hairstyles and Caesar haircut is not the exception. In case you are looking for a cut with the lowest maintenance involved then the addition of high fade to the haircut will fix the issue just like that!
Caesar Cut On Curly Hair
Source: @alexthegreatvivar via Instagram
Looking for haircuts for men with curly hair may be tiresome sometime, but not if you know of perfectly short haircuts for men with curly hair and Caesar one is certainly the one you need. Caesar haircuts for curly hair men take care of all the annoying hair at the back while leaving the party at the front. See for yourself!
Wavy Caesar Haircut
Source: @groomed_barber_club via Instagram
Not all the short haircuts for wavy hair as gorgeous as this wavy Caesar haircut. It seems that there is nothing out of place about this haircut. The length, the texture, and the style seem to match each other. Simple perfect!

Textured Crop
Source: @sidsottungacademy via Instagram
There is a time when there is too much or too little volume to deal with, and you are faced with the choice to opt for something suitable but not that trendy or…Or you can choose the perfect French crop with will either add what is missing or will take away the excess volume. Fancy that!
Straight Hairstyle
Source: @f4fade via Instagram
Men's hairstyles for straight hair sometimes may be tricky as well because not everyone is dying to try something too sleek. In a time like these, you can upgrade straight hairstyles with textured fringe and while everything else look sleek and smooth the layered fringe keeps the style and the charm.
Choppy Fringe
Source: @ryancullenhair via Instagram
Short choppy hair is a great option for those of you who are trying to pull off that messy look that I son the edge of popularity these days. What is short choppy layered hair looks pretty sassy no tot mention stylish!

Asymmetrical Fringe
Source: @mikes_custom_kuts via Instagram
Asymmetrical hair is definitely popular among the ladies these days. However, it asymmetrical short hair looks great on men too. That is why if you are looking for something unusual yet trendy then asymmetrical fringe is exactly what you need, besides you can always experiment with shading to add some extraordinary vibe to your outlook.
Caesar Haircut With Surgical Line
Source: @ryancullenhair via Instagram
Grey hair breaks all the records on requesting nowadays. That is why apart from a trendy cut we suggest you think about the trendy coloring as well. What is more an undercut with the surgical line will surely make you look special with this Caesar haircut!
Caesar Haircut On Natural Hair
Natural hairstyles black hair may be tricky to succeed with, but among all the short haircuts for black men, Caesar one is surely the best. Just a mid fade cut and a small fringe will help you achieve that stylish vibe that many are just looking for. Try it out, and you will not regret it!
Small Afro Caesar Haircut
Source: @ryancullenhair via Instagram
Surprising or not, but the Caesar haircut is a perfect solution if you have Afro hair. It creates a neat and dapper impression for your kinky locks and allows for a myriad of different styling options. To give it more edge and definition, pair it with a high bald fade on the sides and back.
Long Top Caesar Haircut
Source: @ryancullenhair via Instagram
The Caesar haircut should not necessarily be short on top. To give your hairstyle more contrast, you can leave the section atop quite long while going for a mid bald fade on the back and sides. A line up along the temples can be used to define your textured top even more.

Sleek Hairstyle
Source: @f4fade via Instagram
In case you want to get a polished and refined look, the Caesar cut also gives you such an opportunity. Simply slick down the hair on the top of your head and enhance it with a high bald taper fade. For an even more neat appearance, trace your hairline with a line up.
Caesar Haircut With Thick Beard
Source: @londonschoolofbarbering via Instagram
Teaming the Caesar haircut with a thick beard allows you to sport two men trends from different epochs. It's really impressive how cool this classic hairstyle looks with a modern rugged beard. In this way, you can rest assured that you won't look overly preppy. Still, your beard should be trimmed and shaped, as you don't want to end up looking shaggy.
Bleached Hairstyle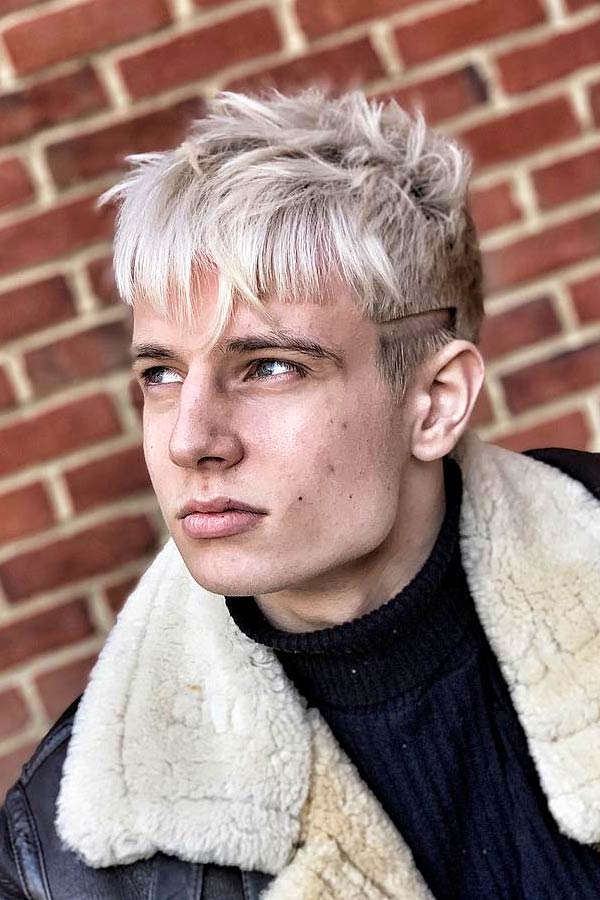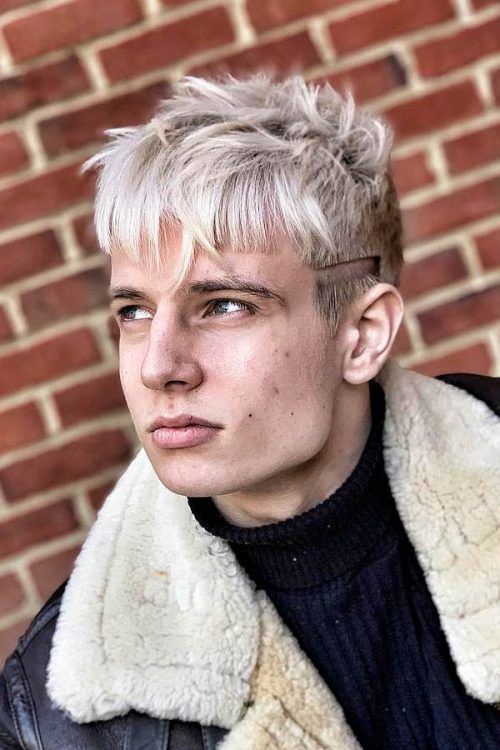 Source: @egobarbers via Instagram
Here's another way to partner classics with modernity. Bleach your hair before going for the Caesar haircut to get an exceptionally eye-catching and sharp look. To emphasize the texture of your hair, style the top in a messy way. Yet, don't go too hard on disheveling your locks. It should not come out looking unkempt.
Caesar Haircut And Head Tattoo
Source: @groomed_barber_club via Instagram
The Caesar cut is also a great way to show off your head tattoo should you have any. If not, then it's a true sign that you need to get one. Mind though that this hairstyle requires frequent upkeep to look its best, so make sure your barber always has free time for your appointments.
Layered Caesar Haircut
Source: @ryancullenhair via Instagram
Layering can help add some dimension and movement to the traditional Caesar hairstyle. Cut the top section of your locks in different levels of layers and stack them randomly. As the hair atop already comes out so bold, keep the sides and back low key. A high skin fade is a perfect option in this case.
Side Swept Bangs
Source: @groomed_barber_club via Instagram
Although traditionally the bangs in the Caesar cut should be brushed forward, you are obviously allowed to style them in whatever direction you like. For an added flair, sweep your bangs to the side. As you can see, even such a straightforward cut as Caesar's can be styled in a multitude of different ways.
Very Short Hairstyle
Source: @egobarbers via Instagram
In case you prefer to sport your hair short, you can also pull off the Caesar's haircut. To give it a go, get the sides and back faded to the skin. This will allow you to have the hair on the top of the head just an inch or two longer.
Bright Color And Hair Design
Source: @f4fade via Instagram
For a modern take on the Caesar's haircut, you are welcome to go for your personalized style. You can incorporate both intricate hair design and dyeing your locks in a flamboyant color. In case you want to add just a stylish touch, get only a section of your hair colored while shaving off several streaks on the side.