There are tons of stylish and flattering haircuts for men with thick hair. But are you sure you know exactly what is thick hair? Or do you confuse density with thickness? Thick hair is when your single hair is thick or wide itself, whereas dense hair means that you have a full head of hair. Now that we have sorted things out, let's find out what's the best haircut for thick hair? No matter whether it is short or long, it is best when your thick hair is cut in layers, which reduces weight while retaining volume. Head over to our guide for a dose of inspo on your next cut.
Hairstyles For Thick Hair
Short thick hair is popular among men who value their time, as it does not require much effort to style and maintain. It is also an easy way to tame your unruly, stubborn thick hair, as when cutting men's hairstyles short, you are guaranteed a neat and clean appearance. There are plenty of stylish short haircuts for men with thick hair. So, let's take a look at the trendiest of them.
If you prefer medium short haircuts, then this describes you as a practical man who still chooses to look stylish and classy. Yet again, short to medium hairstyles are fairly easy to maintain, so opt for them if you are looking for the best haircuts for men with thick hair. To give you some inspiration on medium length hairstyles for thick hair, here are a few trendy ideas.
If you have enough bravery to flaunt long thick hair, then these ideas for haircuts for men with thick hair will really come in handy to you.
Short Crop
A crop is one of the most popular short hairstyles for thick hair, as it allows you to thin it out without sacrificing the ampleness. In this hairstyle, the sides and back are trimmed short while the top is cut in layers. So, why are layers good for thick hair? Because thick hair men tend to experience difficulties with product application, as the texture may easily become matted and sticky, a crop helps them to eliminate this issue. Another benefit of short layered hairstyles for thick hair is that the maintenance is effortless. You can just wash your hair as you would normally do, leave it to airdry and you are good to go.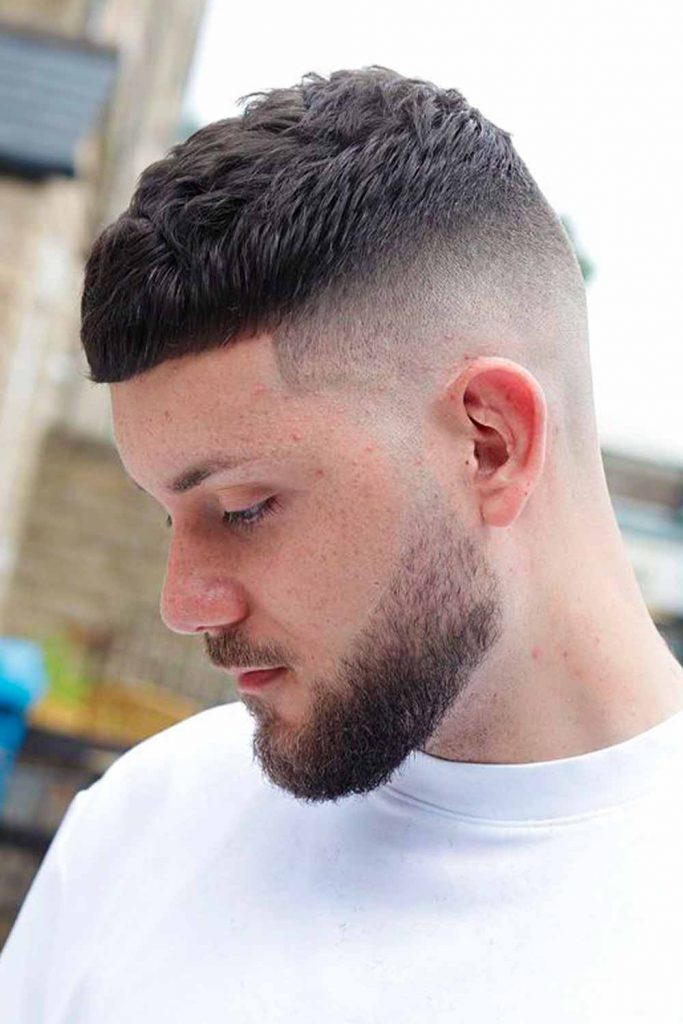 Source: @alan_beak via Instagram
The Undercut Quiff
Are you still looking for a guide on how do I make my hair thinner for guys? Before carrying on your search, try out this expert advice. To thin out thick wavy hair, you should apply special pre- and after-wash hair products that will help you reduce frizziness and dryness. Also, stock up on nourishing shampoos and conditioners to enrich your locks with moisture. Last but not least, choose the right haircuts for thick hair.
A quiff is one of those medium haircuts for thick hair that looks ultimately edgy and contrasty while still displaying the density of the locks. Thus, if you venture on it, ensure that your hair is ample enough. Moreover, when pulled off on curly hair men, it gains an intricate and stylish twist. To get the look, the sides need to be trimmed short whereas the length up top should be retained, focusing on the fringe area.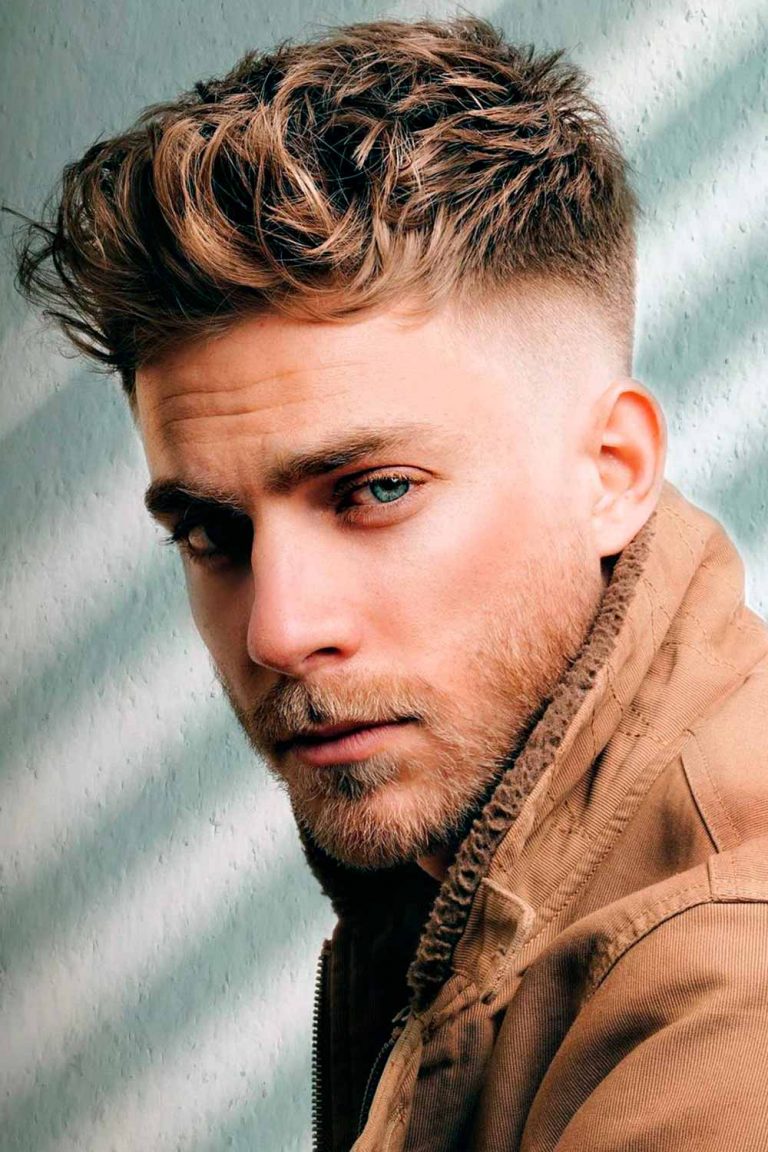 Source: @z_ramsey via Instagram
Surfer Hair
Long haircuts for men with thick wavy hair usually require much determination and time on styling and maintenance. However, it will fully pay you off with admired gazes and compliments you are going to collect left and right. If you gravitate to layered hairstyles for thick hair with a relaxed and breezy flair, opt for a surfer's style. To achieve the needed shape, your shoulder-length hair should be razor-cut in layers. Also, remember to take care of your hair properly during the growing stage so that it looks groomed. For styling, you need to apply sea salt spray to your hair and dry it using a hair dryer with a diffuser attachment or by simply scrunching and leaving it to dry naturally.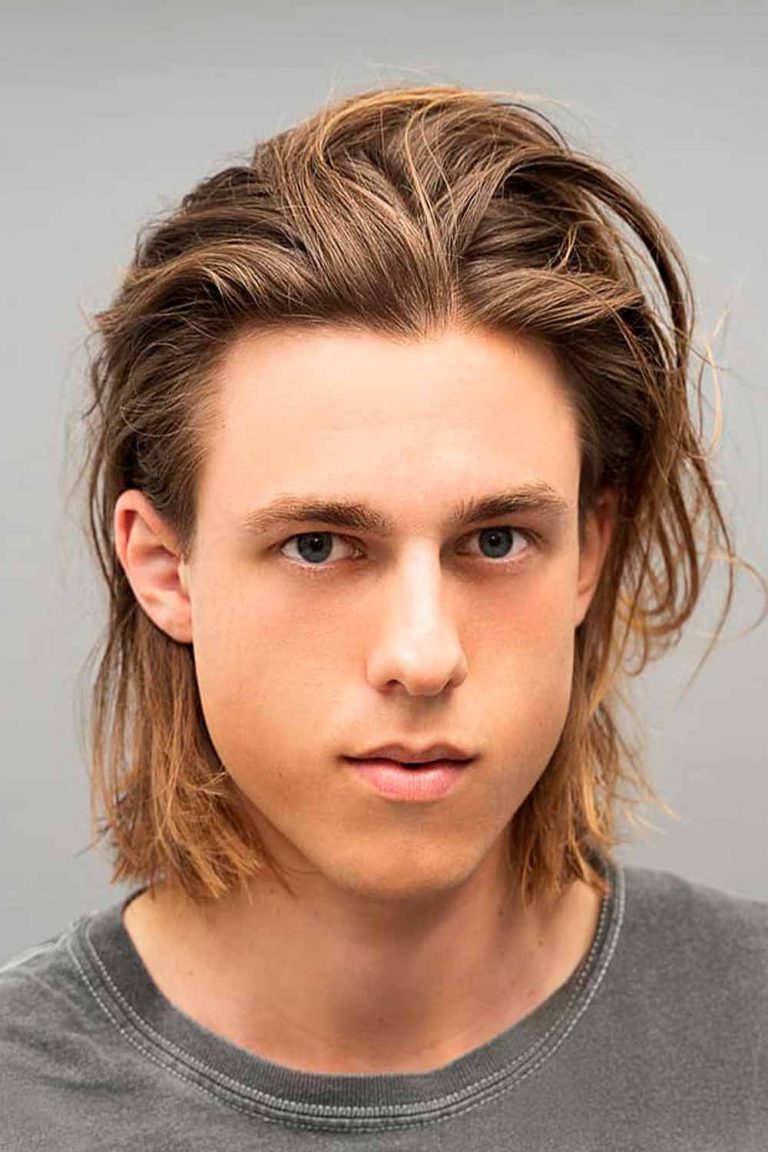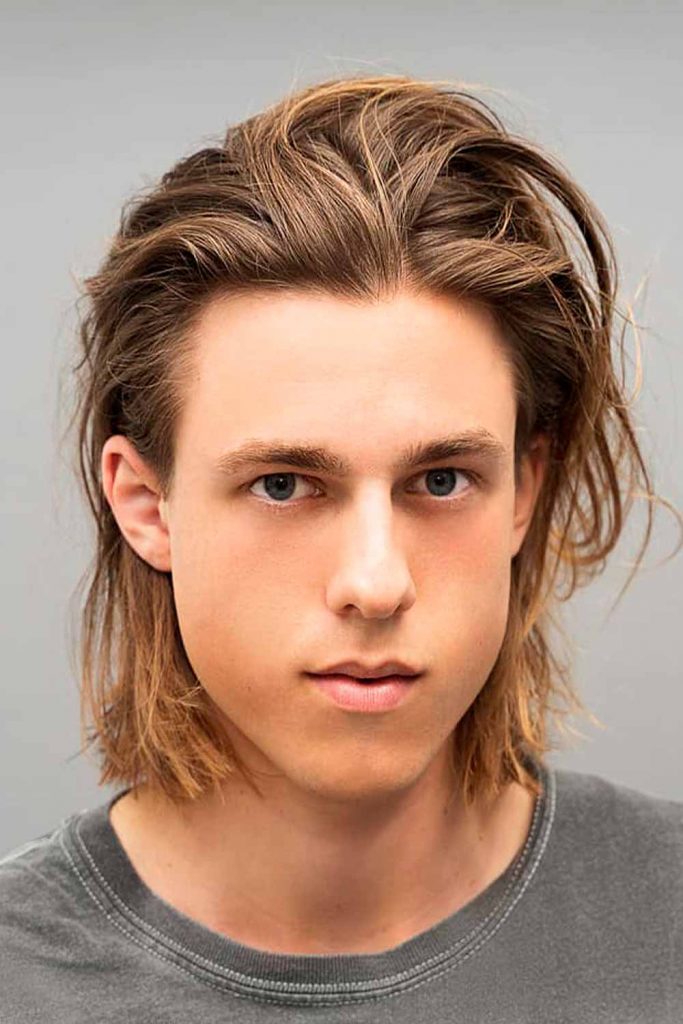 Source: @keller_konturen via Instagram
The Long Sweep And Tuck
Wavy hair men generally find it difficult to push their locks to the side, as they refuse to stay in place. Yet, if you still want to flaunt swept hairstyles for thick wavy hair, then there is a great solution for you. Instead of simply sweeping your thick tresses to the side, tuck them behind one of your ears. To minimize the weight, you want to get a layered haircut. However, make sure not to chop off too much length, as this will have the opposite effect. To style, you need to soak excess moisture from your hair with a towel and generously apply a styling spray. Create the desired shape and let your hair air dry.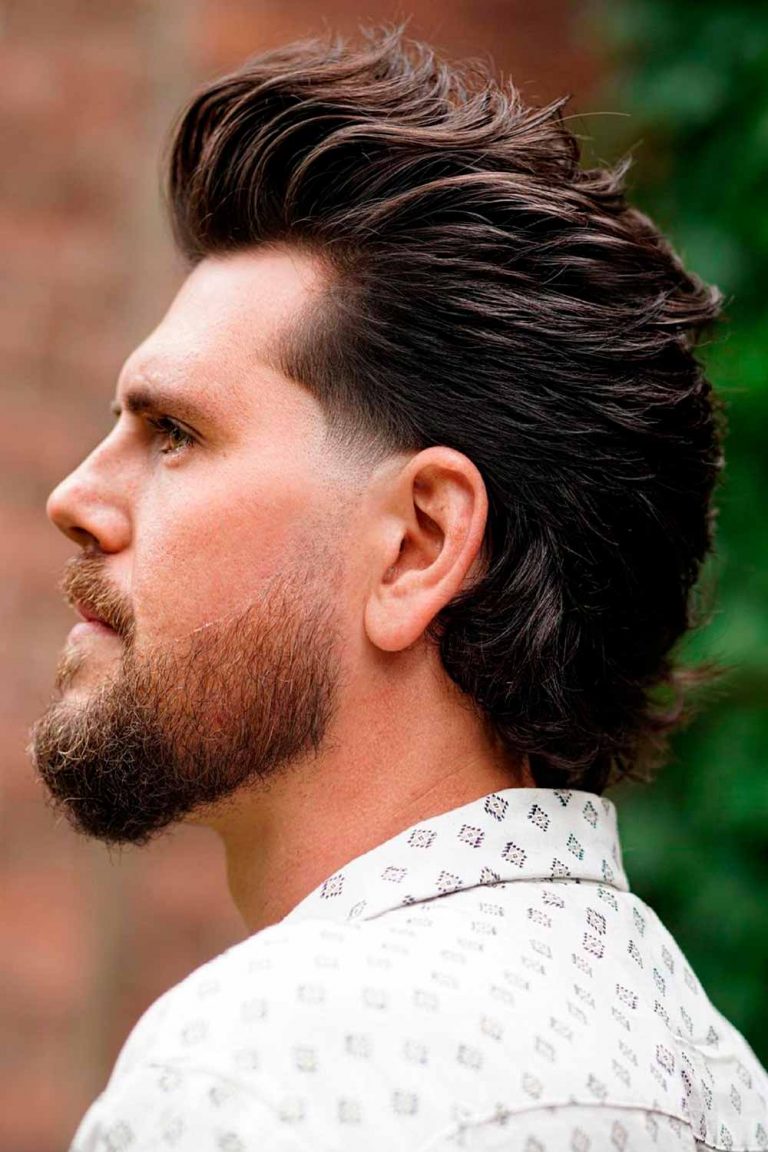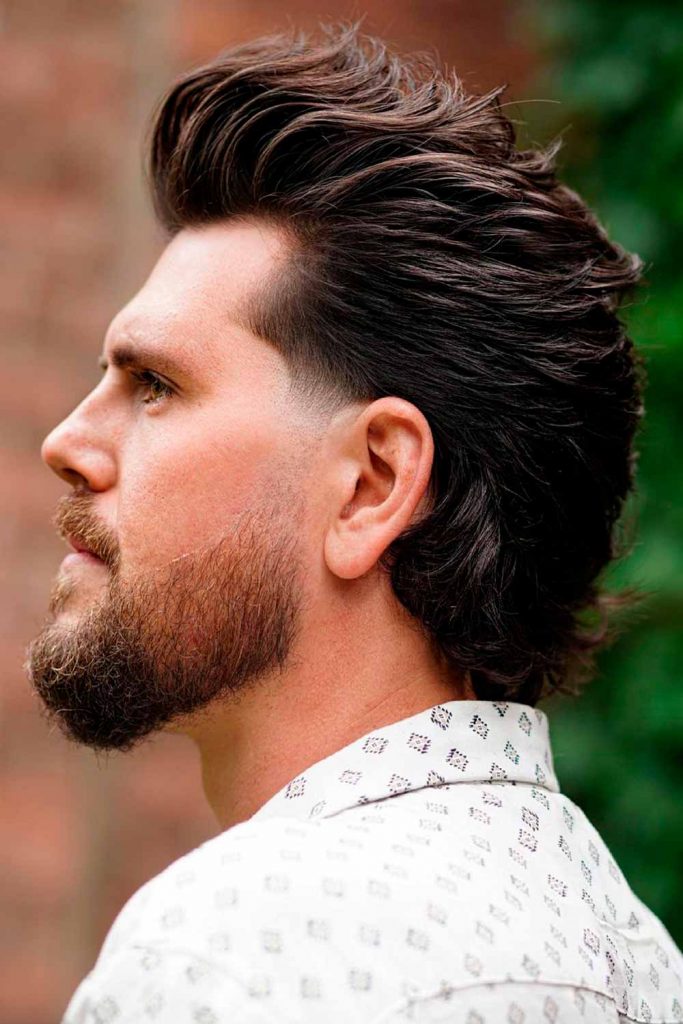 @urednistvo.pricesk.robert via Instagram
Crew Cut Fade
Those who prefer short thick hair mens haircuts should go for a crew cut fade. Being a low maintenance and practical, it is a surefire way to keep your thick locks tamed. On top of that, it shows off your strong facial features like no other.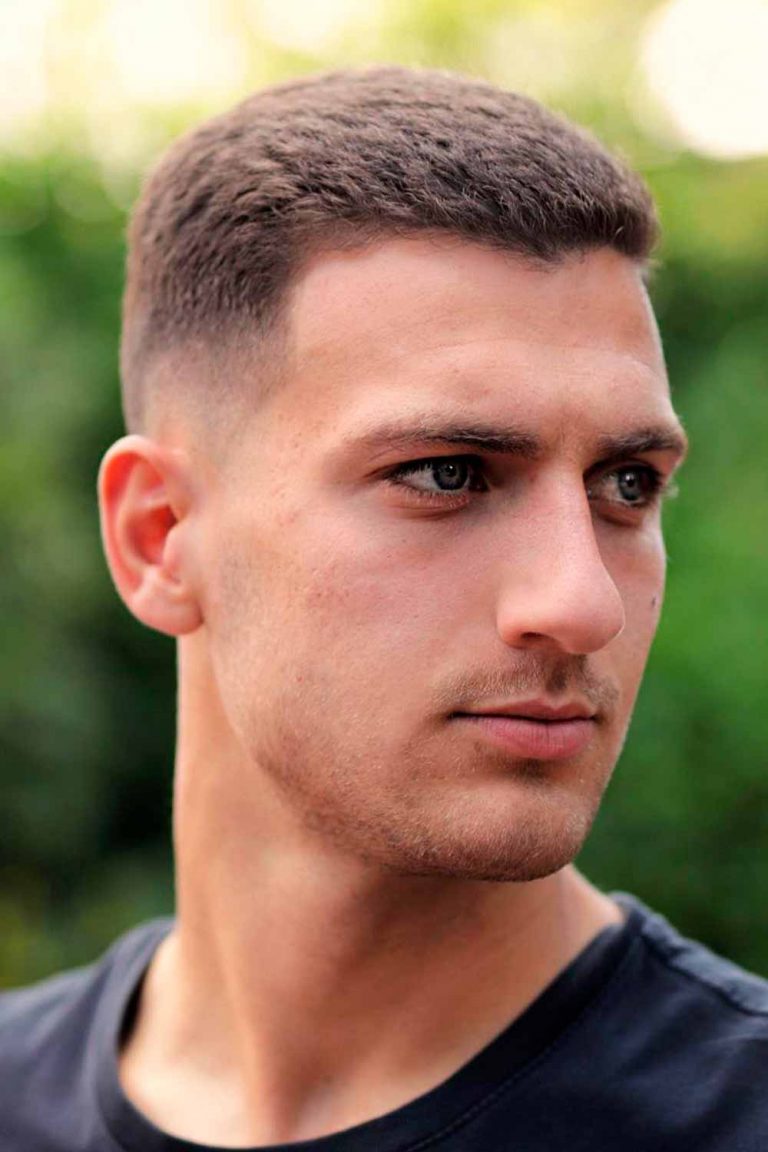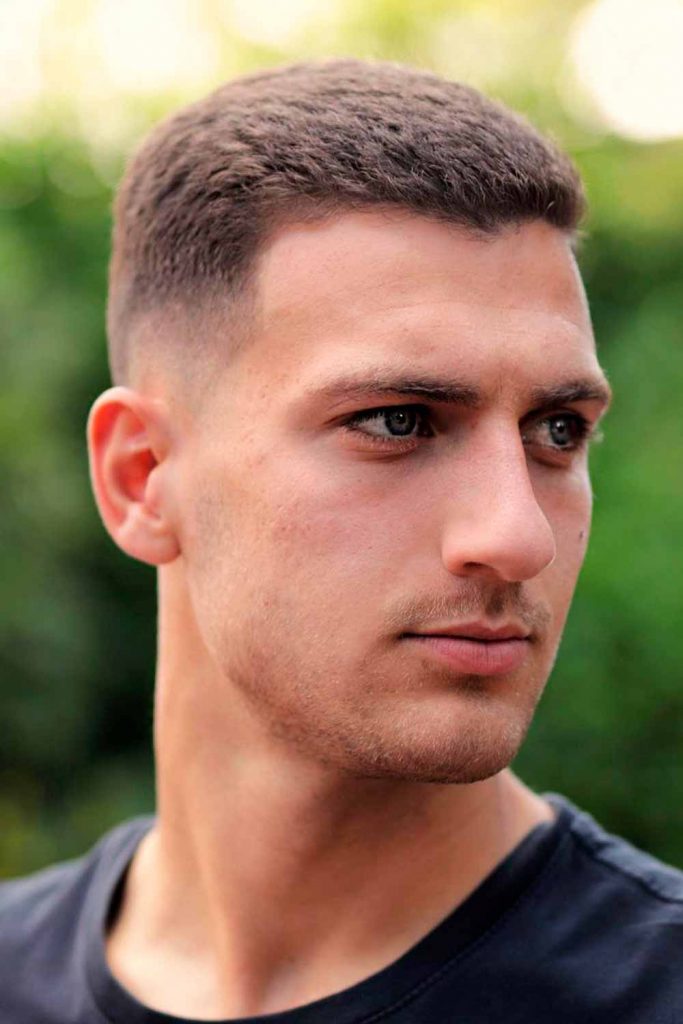 Source: @alan_beak via Instagram
Brush Up And Back
Thick locks are known to hold shape like no other. So, it will not take you much effort to style them brushed up. To achieve the look, you need to push your hair from the front toward the back and you will land a daring and eye catching hairstyle.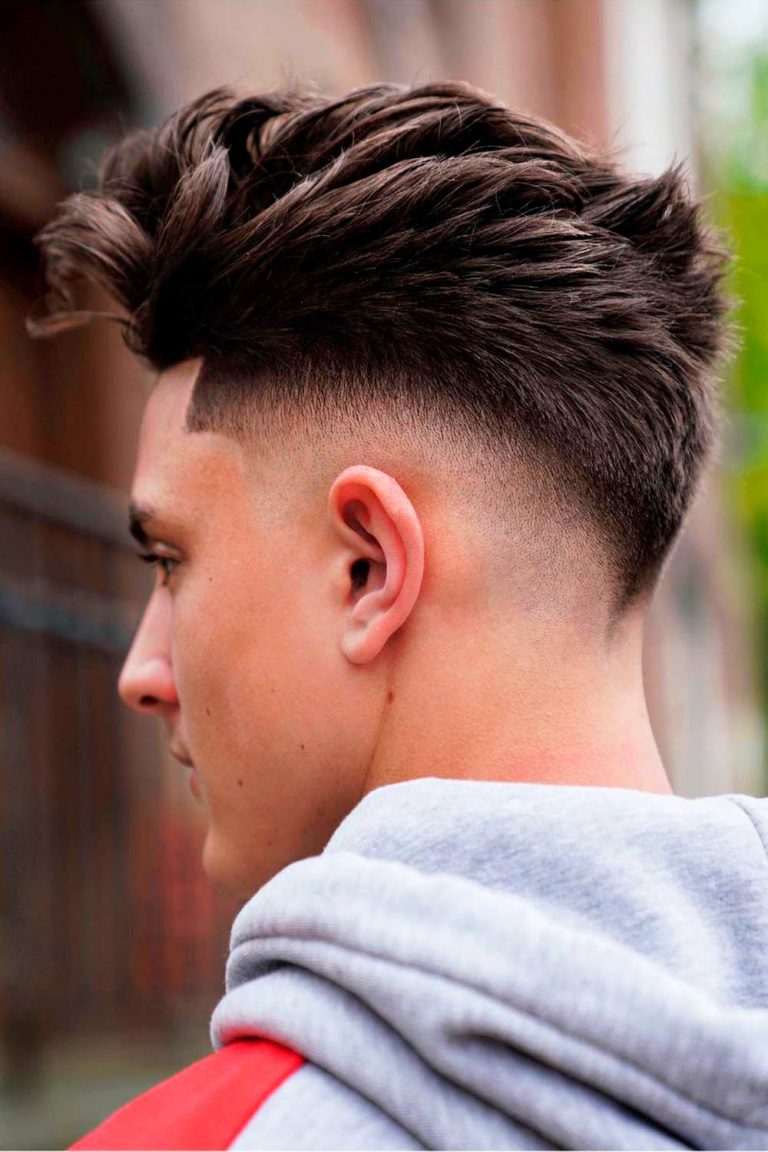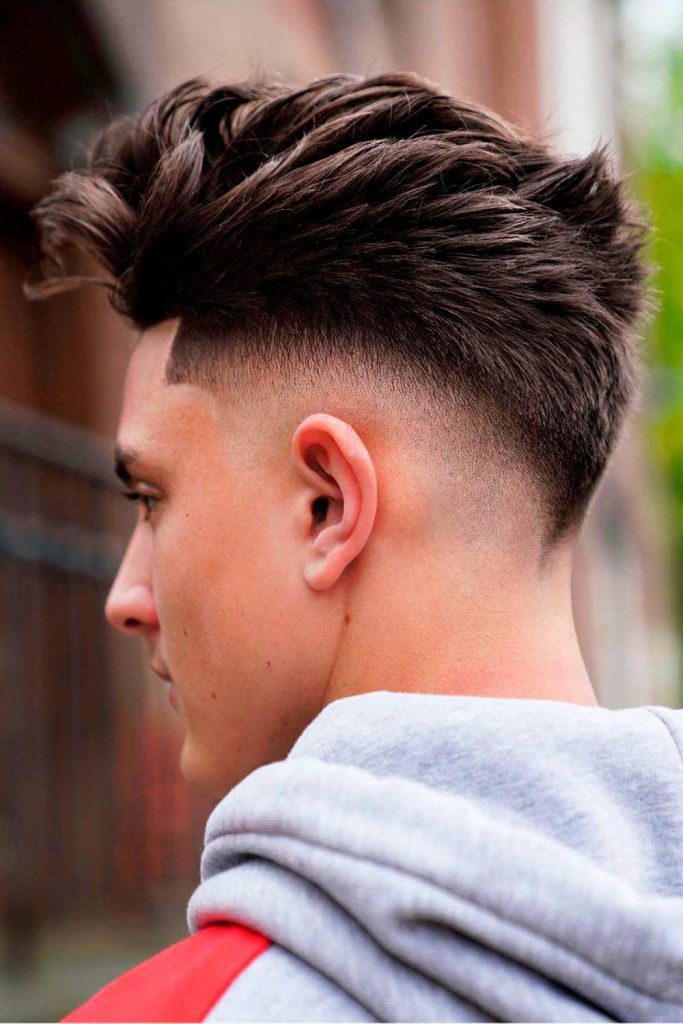 Source: @z_ramsey via Instagram
Long Bang Low Fade
To reduce bulk for thick hair haircuts men should opt for a fade. The type of the fade depends on the effect you want to achieve. As a rule of thumb, the higher the fade is, the bolder result you get. For a moderate and low key hair look, go for a low fade to complement a long bang haircut.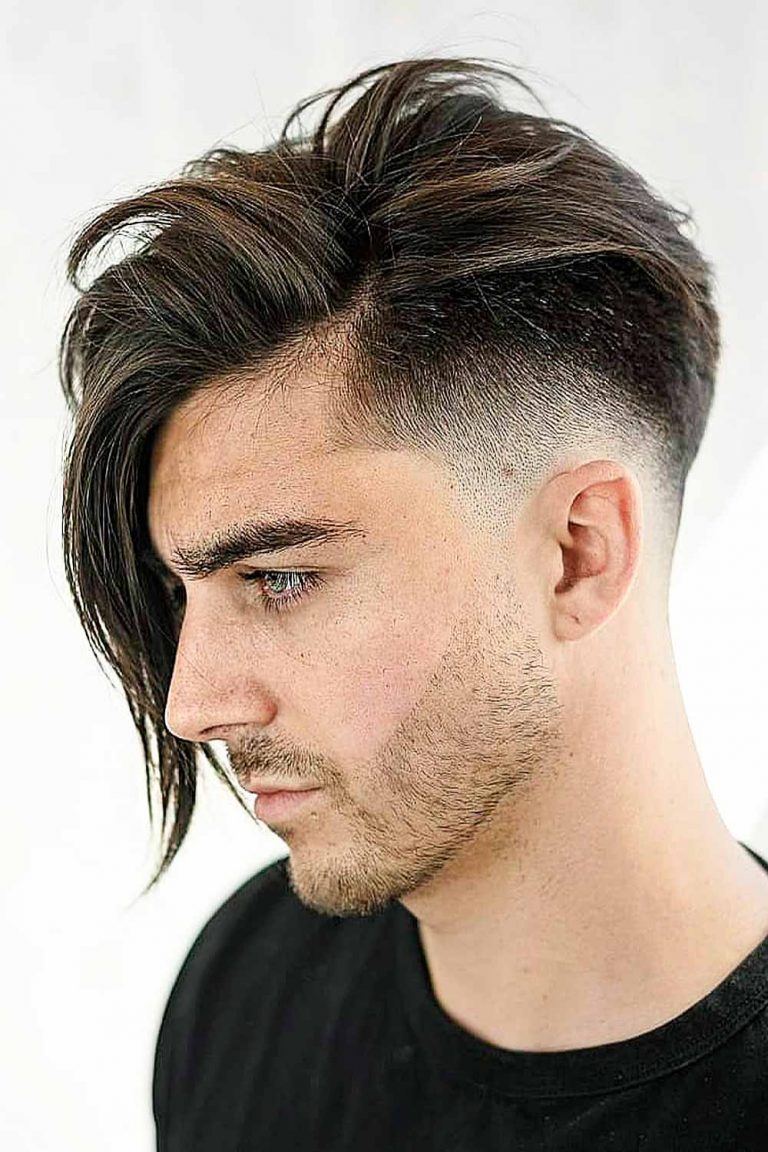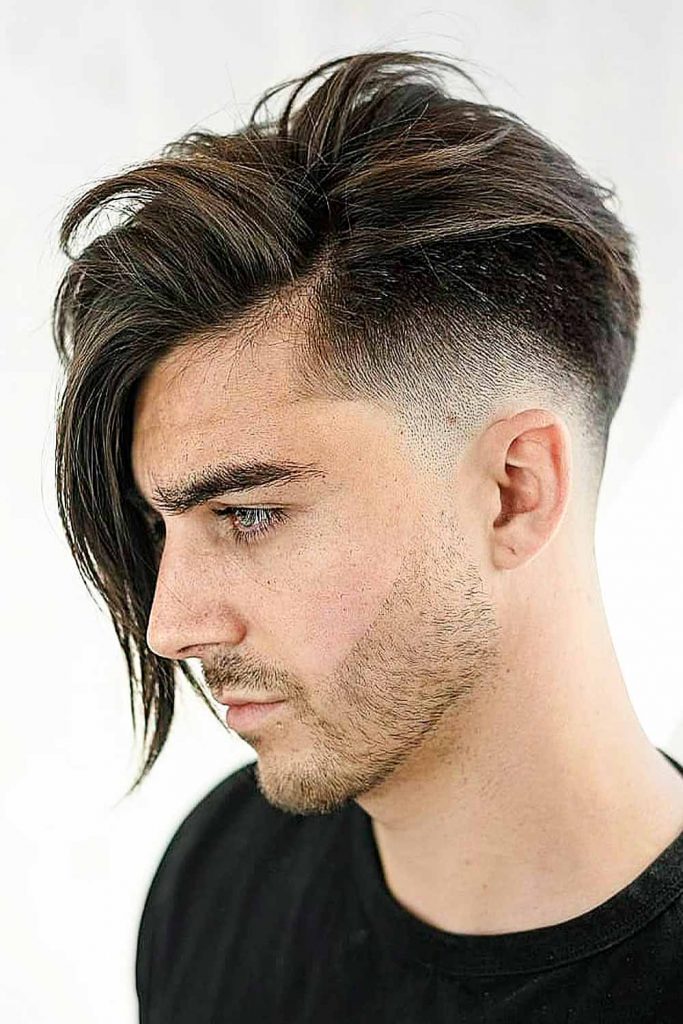 Source: @spukthebarber via Instagram
Classic Pompadour Fade
A classic pomp fade is one of the best hairstyles for men with thick hair. As it implies creating much volume on top, with your hair texture, it will not be a problem. A fade, in its turn, gives hairstyles for thick hair men a neat and dapper touch.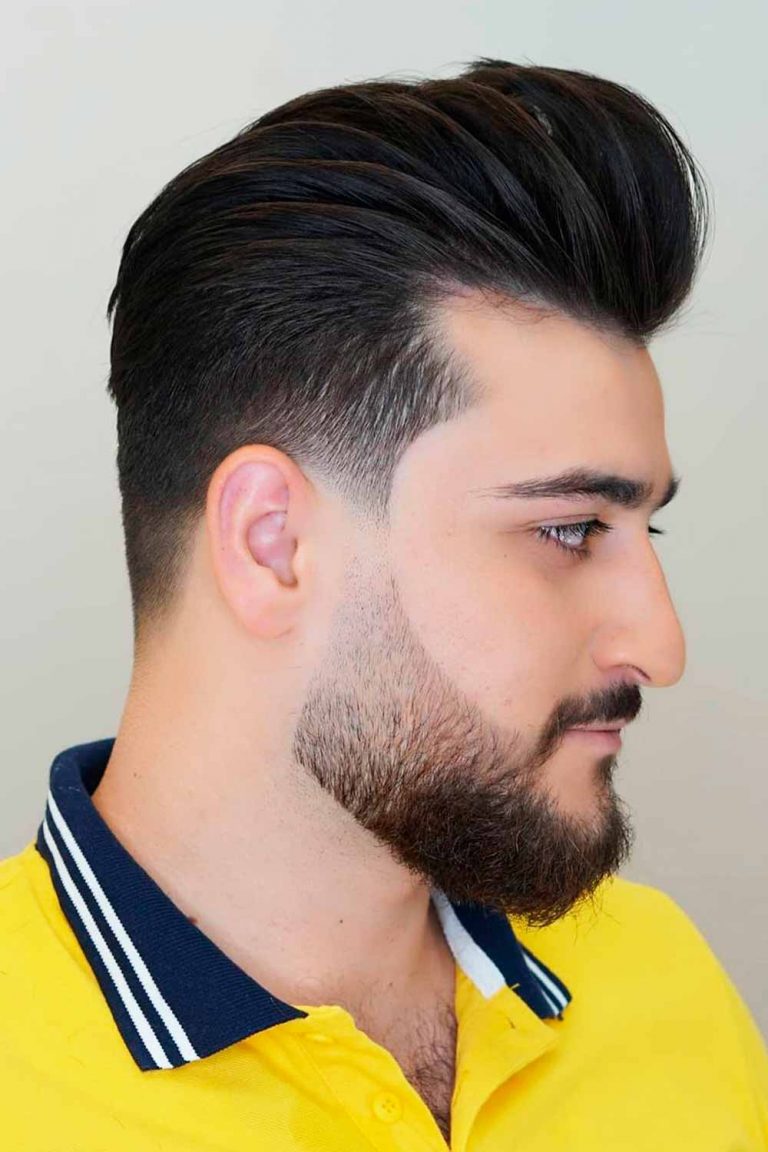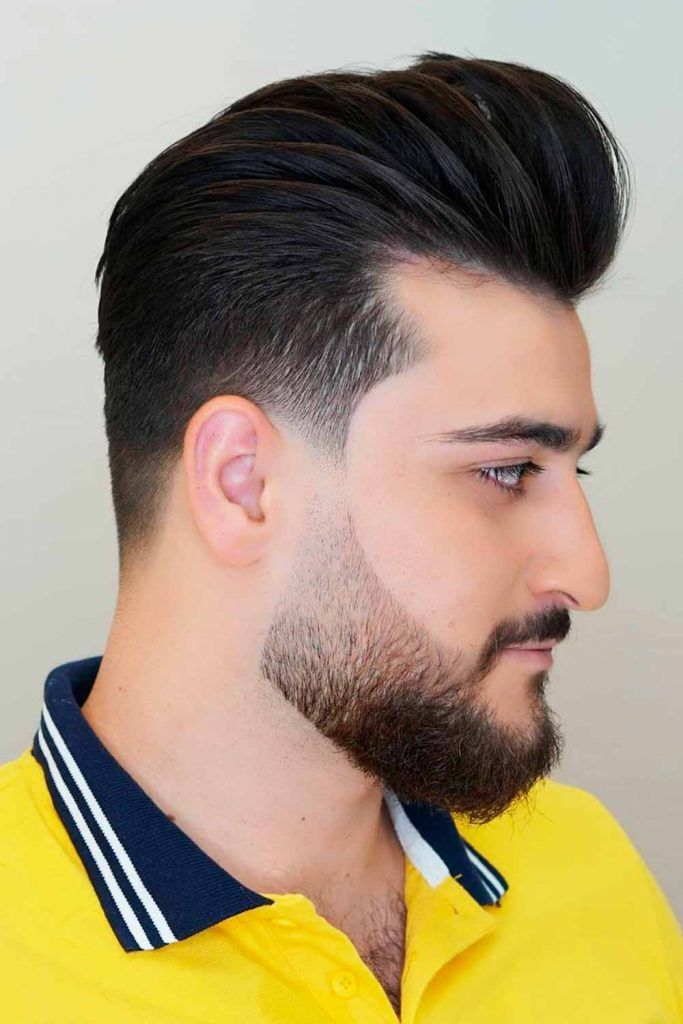 Source: @ahmetaslanhairsalon via Instagram
The Choppy Crop
A modern take on cropped short haircuts for thick hair is a choppy top. It usually features faded sides and back while the top is scissor-cut in different levels of layers. In this way, you will reduce bulk and thickness. Do not forget to chop off the fringe too, as this ensures durability and ease of styling. To maintain such choppy hairstyles for thick coarse hair, just spritz your locks with sea salt spray and allow to dry by tousling them with your hand roughly.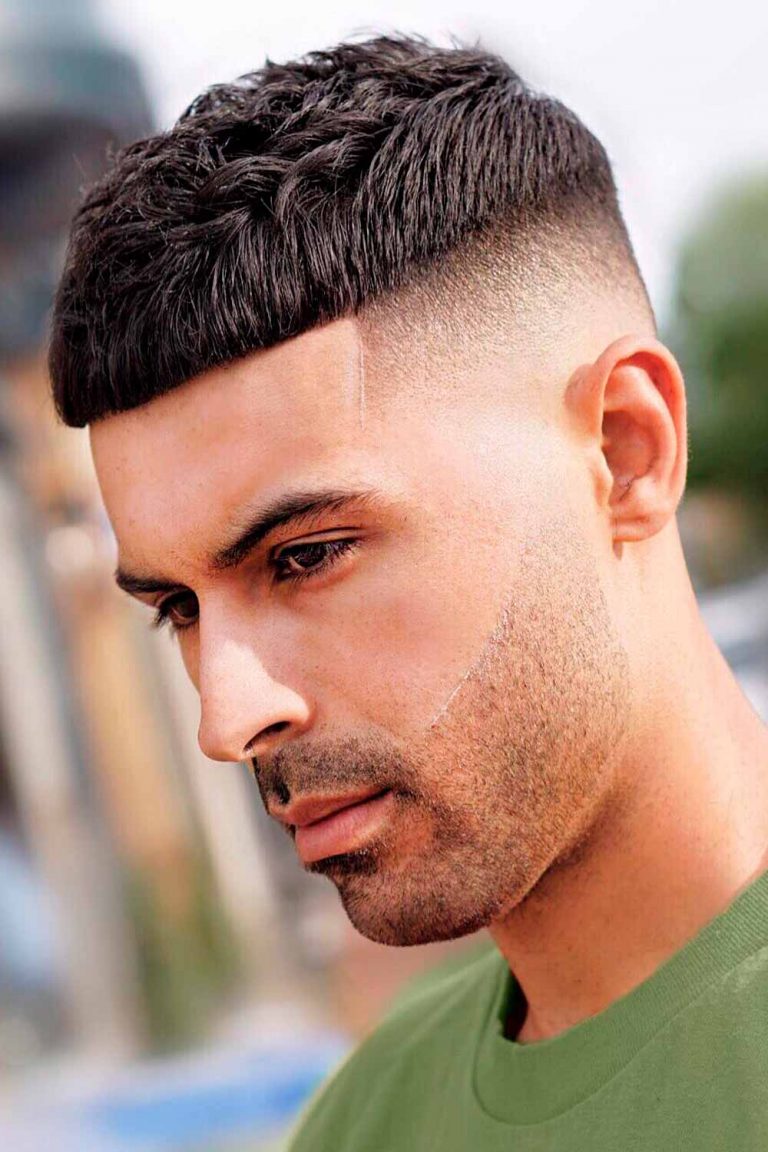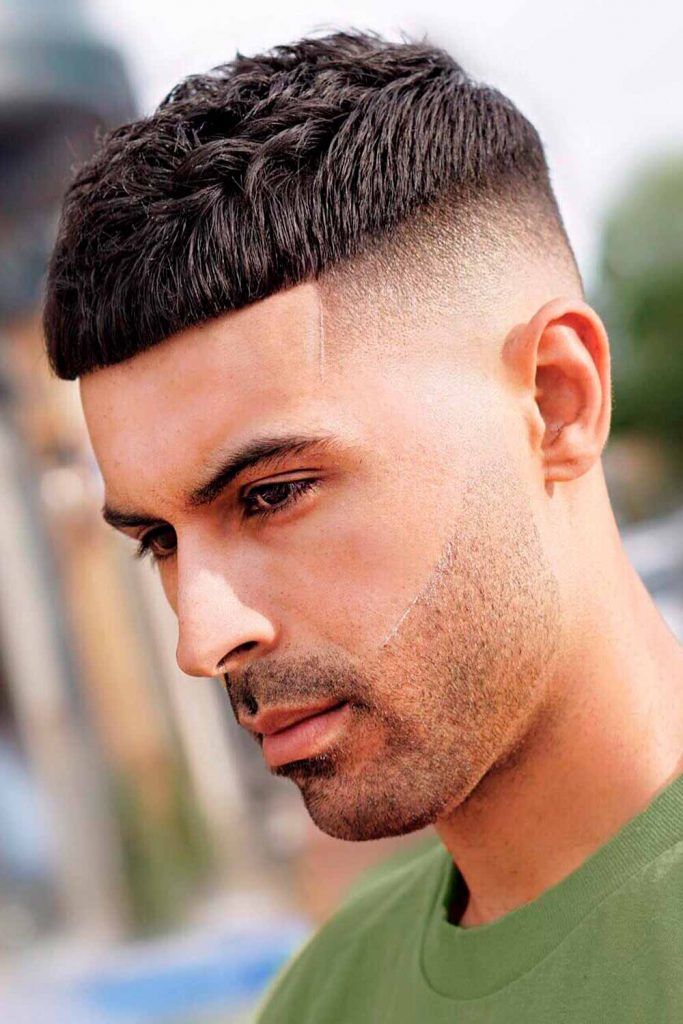 Source: @z_ramsey via Instagram
The Connoisseur's Buzz Cut
Among all short mens hairstyles, a connoisseur's buzz cut is arguably the sharpest. The top is usually cut using a #3 or #4 clipper setting, whereas the sides and back are trimmed extra-short for a bold look. Although this cut will not require any specific styling, you will have to pay regular haircut visits to your barber for upkeep.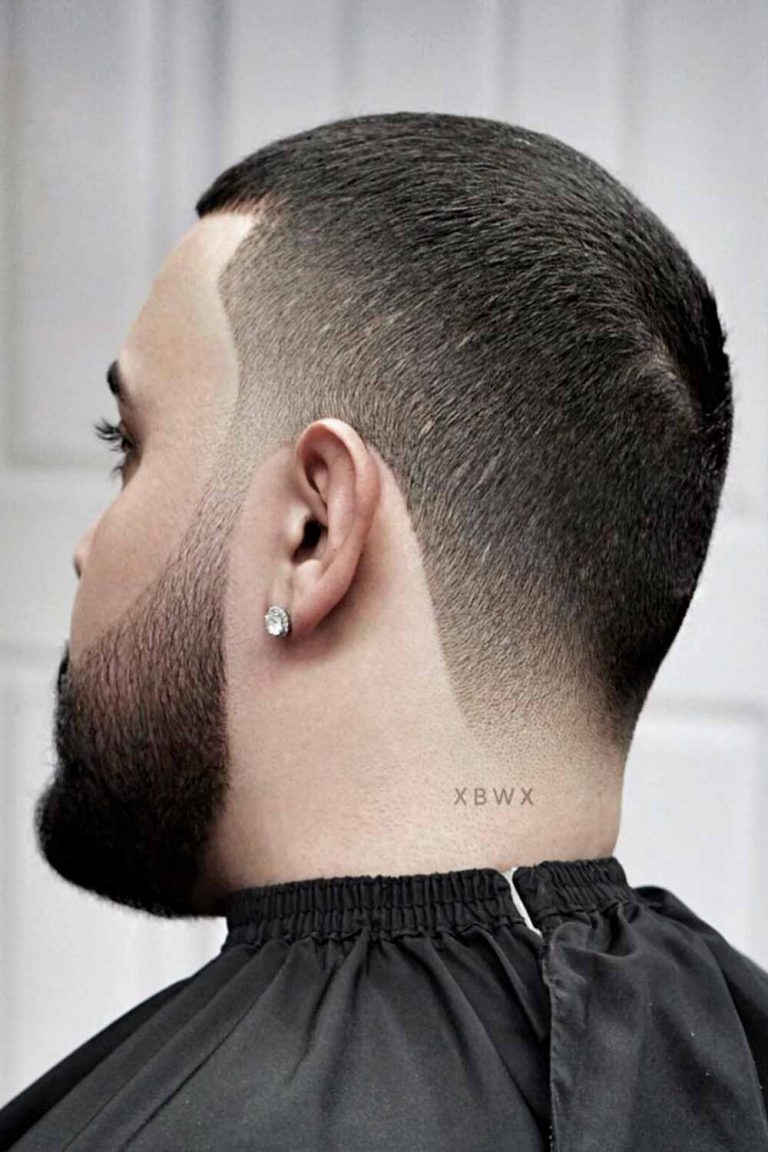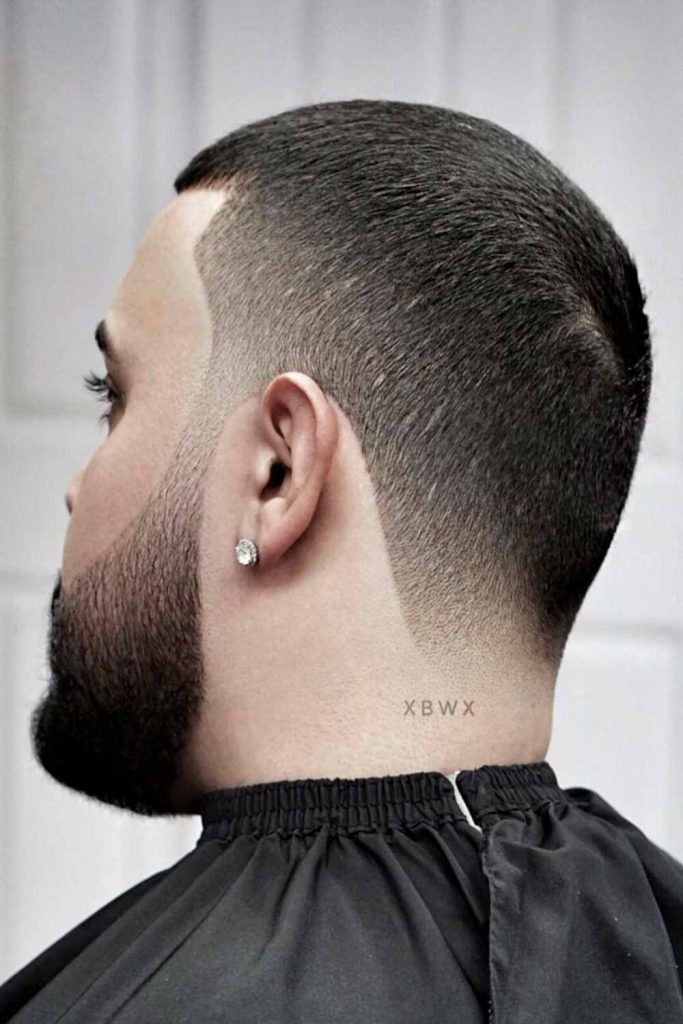 Source: @xbigwesx via Instagram
The Leebo
Are you still struggling with what can I do with thick hair? We have several great suggestions. First, you can use smoothing products, such as hair shampoo, conditioner and mask. Then, rinse your hair with cool water, which will help to avoid frizz, dullness and dryness. Next, employ a hair cream, hair spray and flat iron to keep your locks spick and span. Finally, always ask your barber for the most stylish medium length haircuts for thick hair, such as the 'Leebo'. This look, which takes origins in Legacy Collection by Toni & Guy, is one of the coolest hairstyles for men with thick hair. As the sides are cut shorter compared to the top, it allows you to decrease thickness while retaining the volume. The maintenance of such medium mens hairstyles is fairly effortless. However, if frizz really bothers you, then applying some leave-in conditioner will not hurt.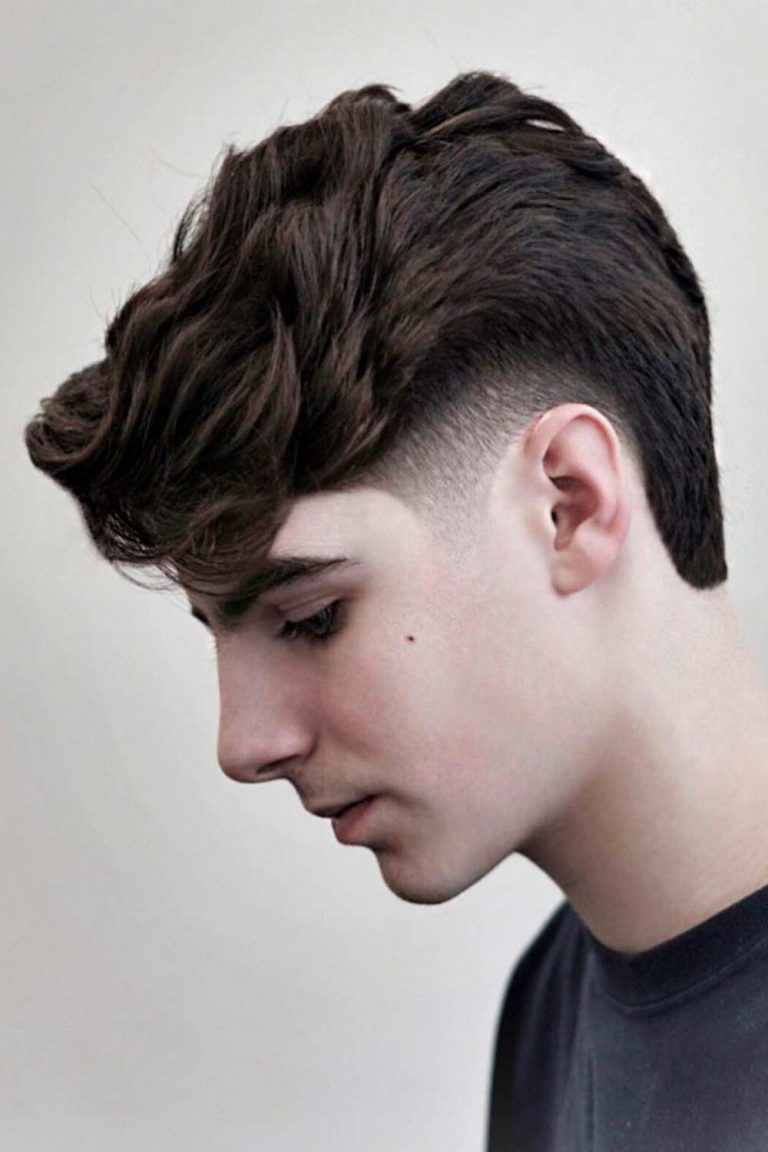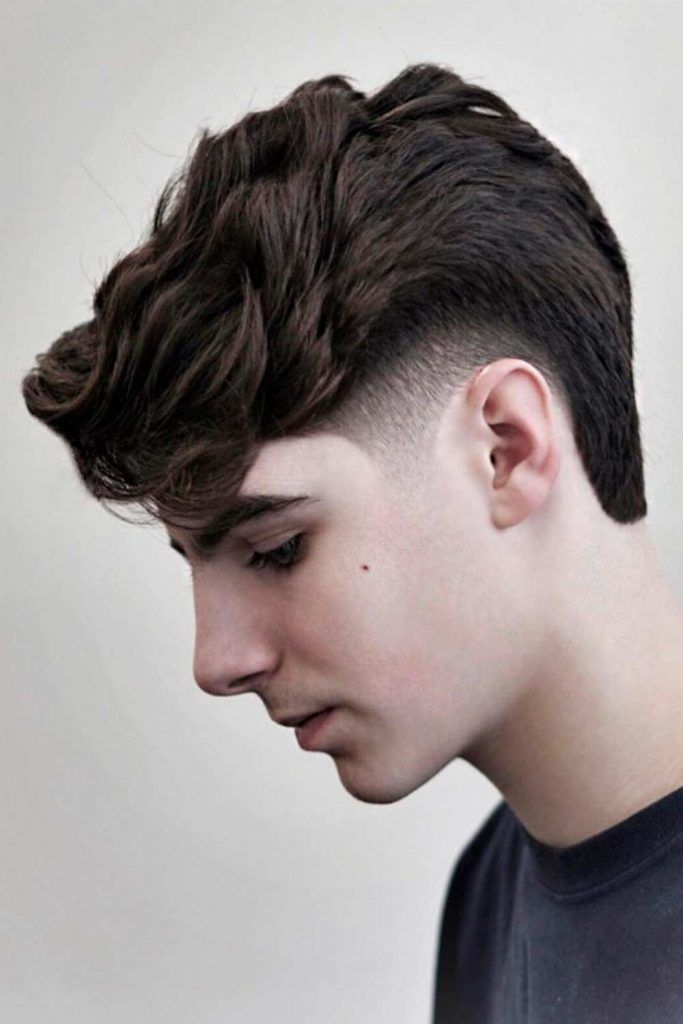 Source: @xbigwesx via Instagram
The Classic Loose Sweep Back
Layered haircuts for thick hair are real saviors. So, if you prefer classic and elegant medium haircuts for men, then go for a loose swept back style. To achieve the desired shape, your barber should give you a textured haircut using shears. The top is cut heavily while the sides and back are graduated, which together makes one of the most dapper medium hairstyles for thick hair. To style it, you will need to apply hair gel with a light hold or hair balm to your wet hair and dry it back with a hair dryer.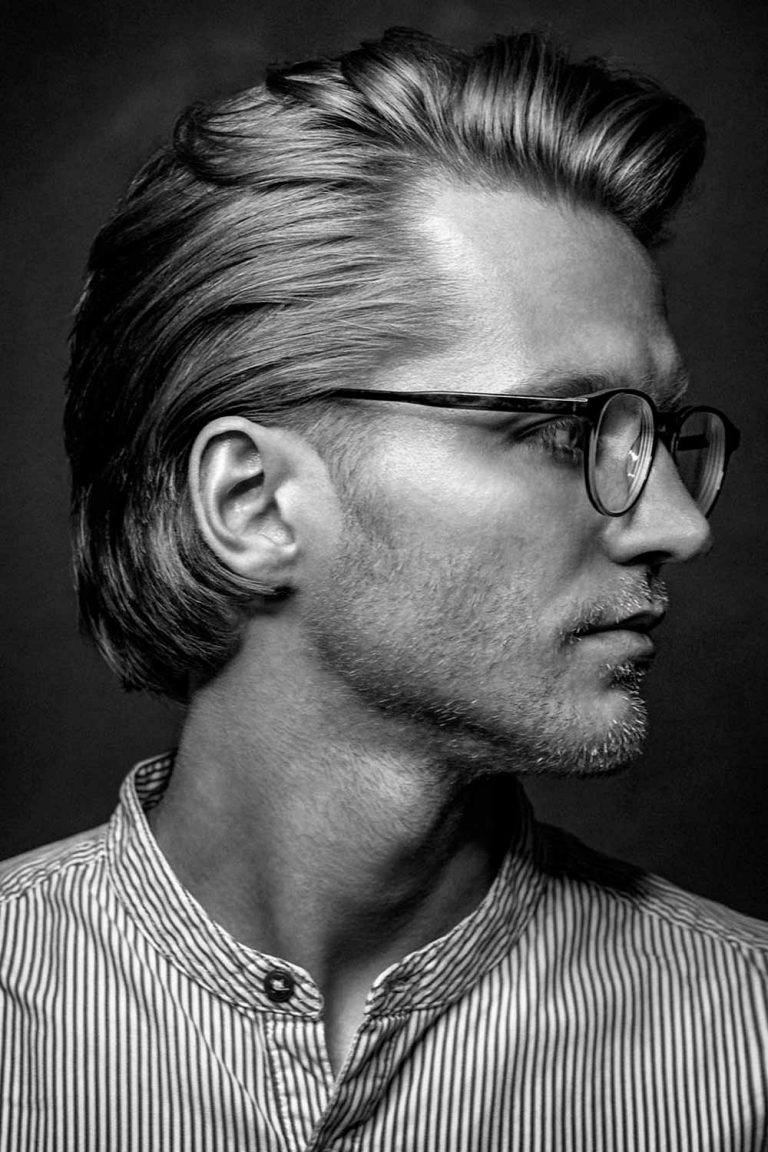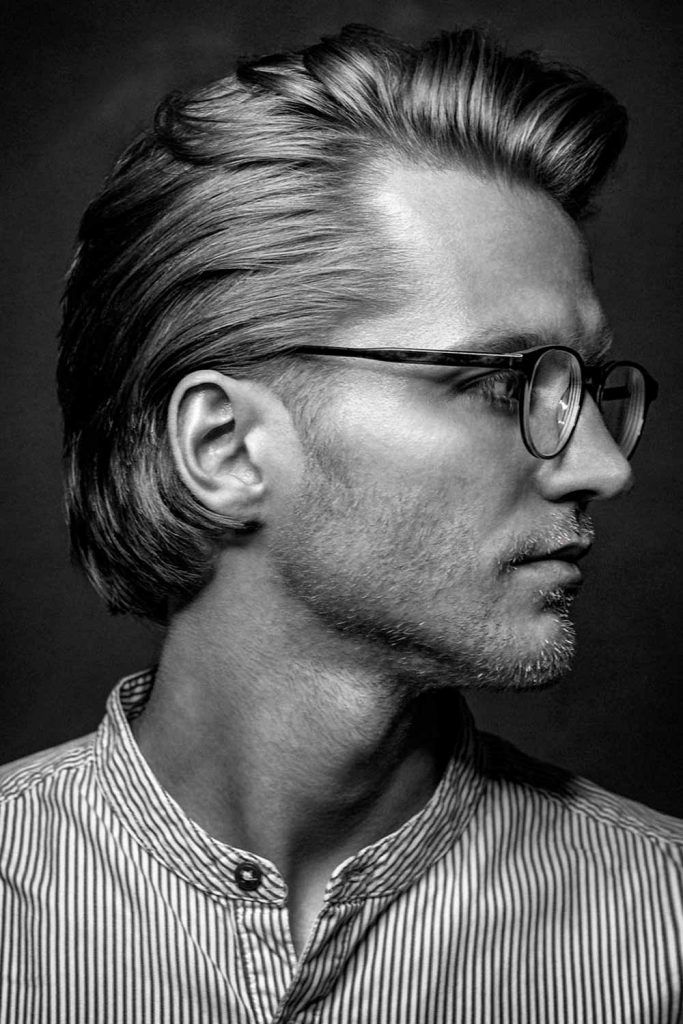 Source: @a.nizhnick via Instagram
Messy Layers
So that the layers in long haircuts for men with thick wavy hair look seamless, you need to tell the barber to give you a cut in two levels. This will create a zigzag pattern that allows removing density from particular areas, such as sides and back. Do not confuse this hairstyle with an undercut though. The latter implies reducing both weight and length, while the former involves only decreasing weight. For maintenance, make a hair conditioner your best friend. It will allow you to keep the locks smooth and sleek. Optionally, you can apply a sea salt spray or light cream for extra separation and structure.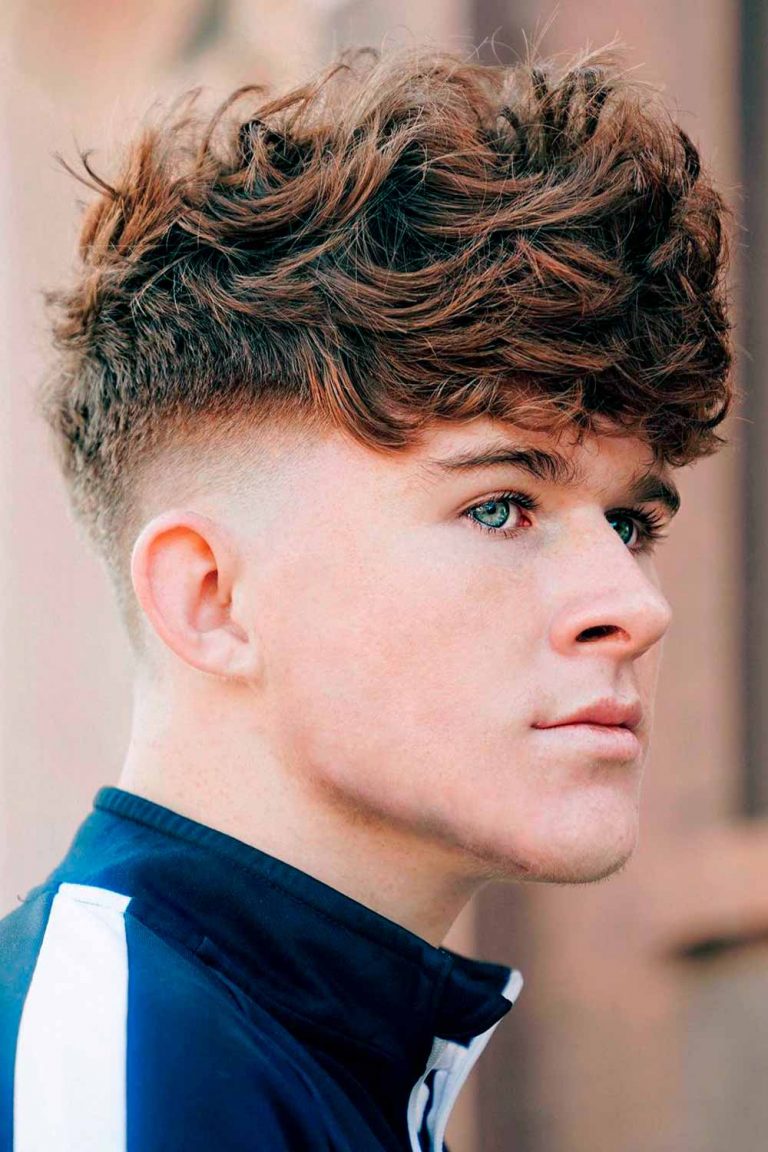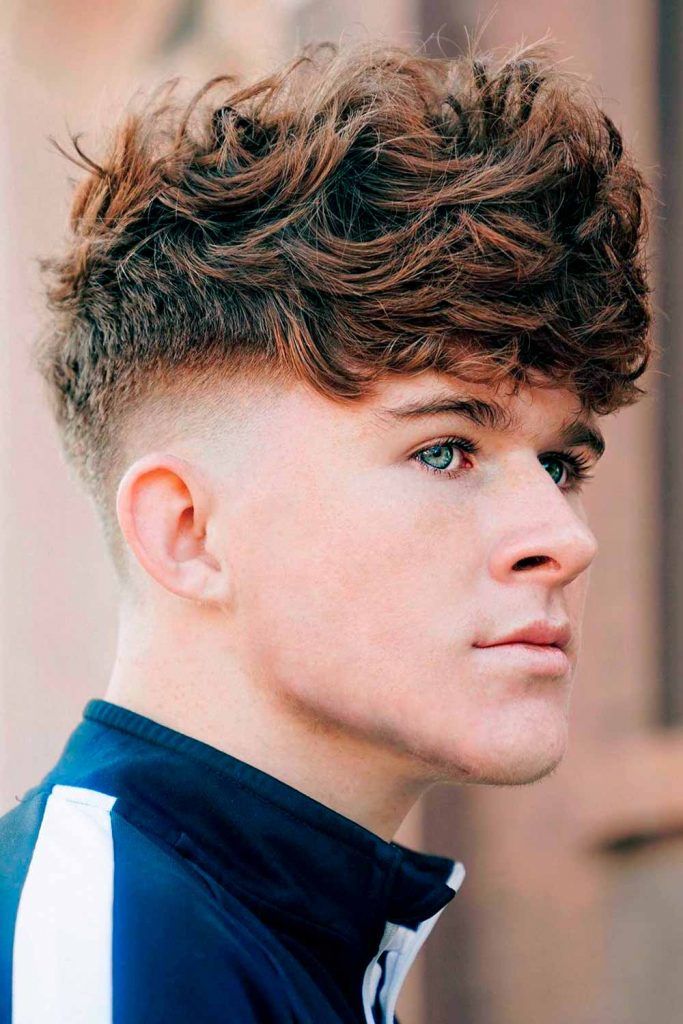 Source: @z_ramsey via Instagram
Thick Curly Hair Men
If your hair is not only thick but also curly, then you have surely won the genetic lottery. There are plenty of breathtaking curly mens hairstyles for thick hair, from curly undercuts to curly mohawks. Just stick to the one that clicks with your style.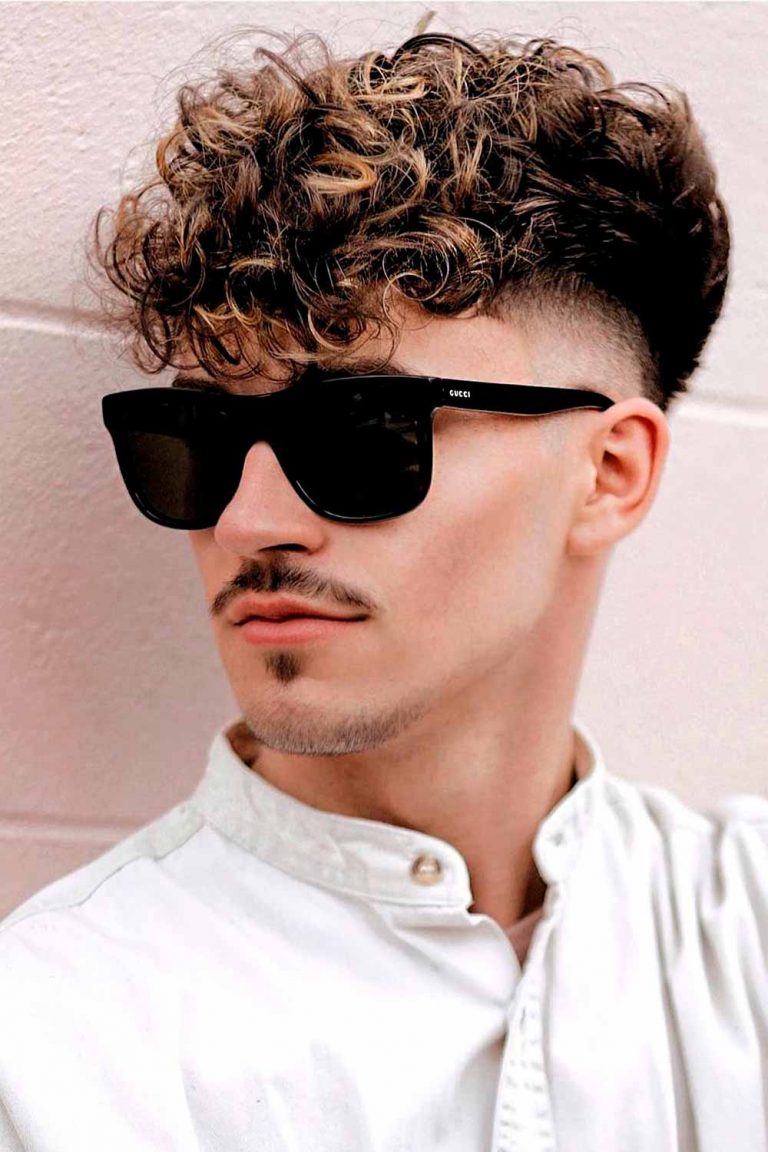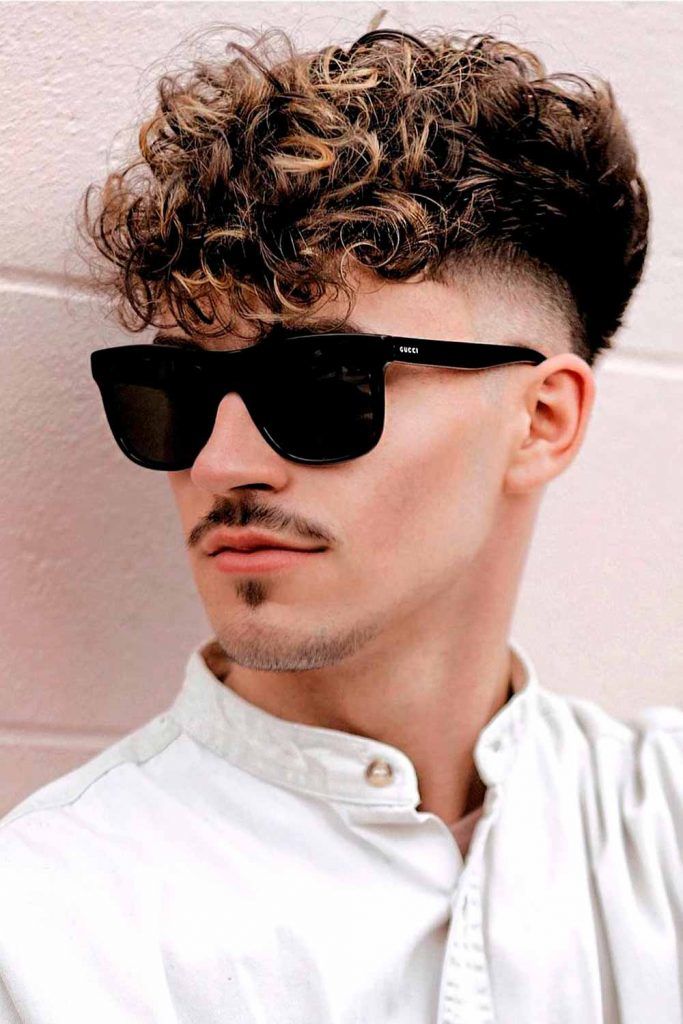 Source: @z_ramsey via Instagram
Mohawk Fade
A fade haircut is made for coarse hair men. As it gradually takes the hair from longer to shorter on the sides, it lightens up your hairstyle and makes the hair on top the focal point of the whole look. So, leave it noticeably longer and you will end up with a stylish Mohawk fade haircut.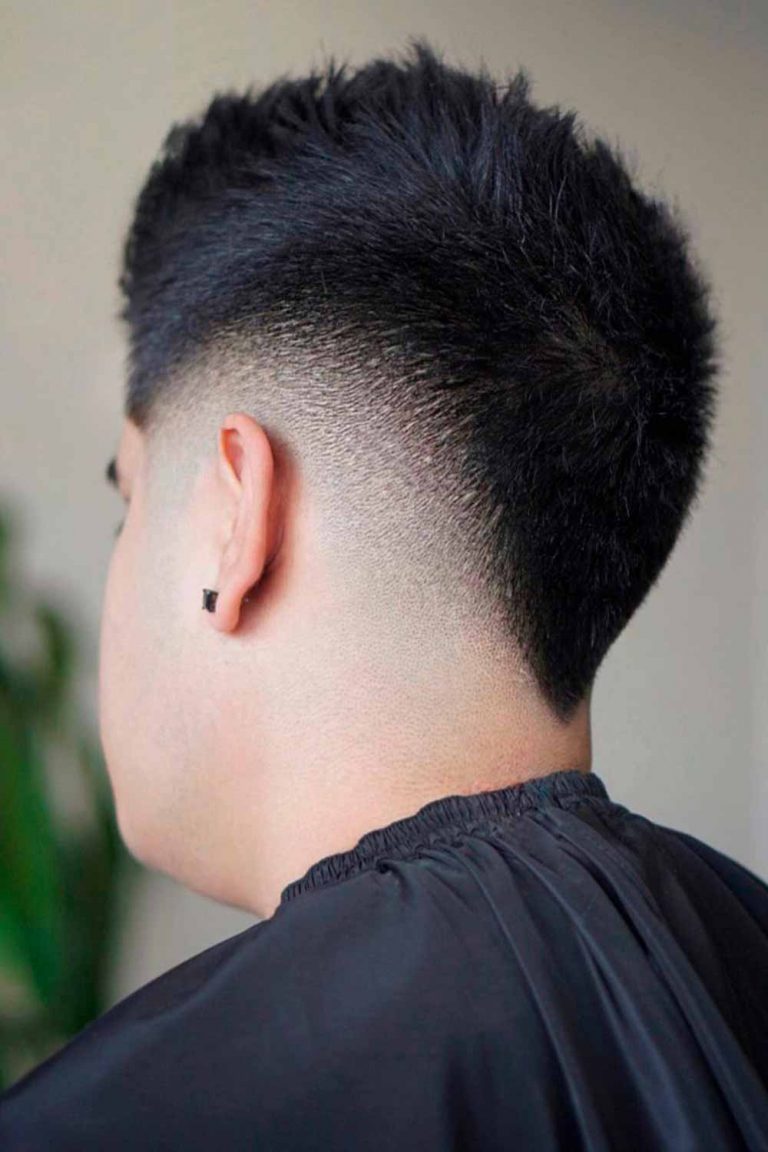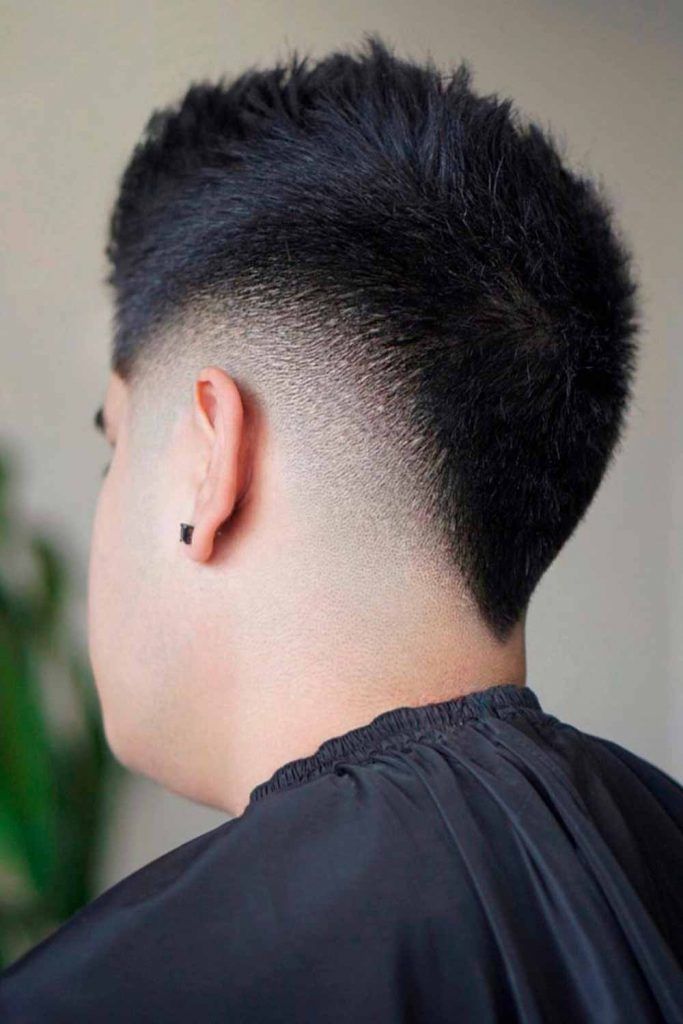 Source: @xbigwesx via Instagram
Side Swept
Side swept haircuts for men with thick hair are a great way to tame their locks and achieve an elegant and stylish look. Just rake your fingers through the strands to accentuate the texture and you are good to go.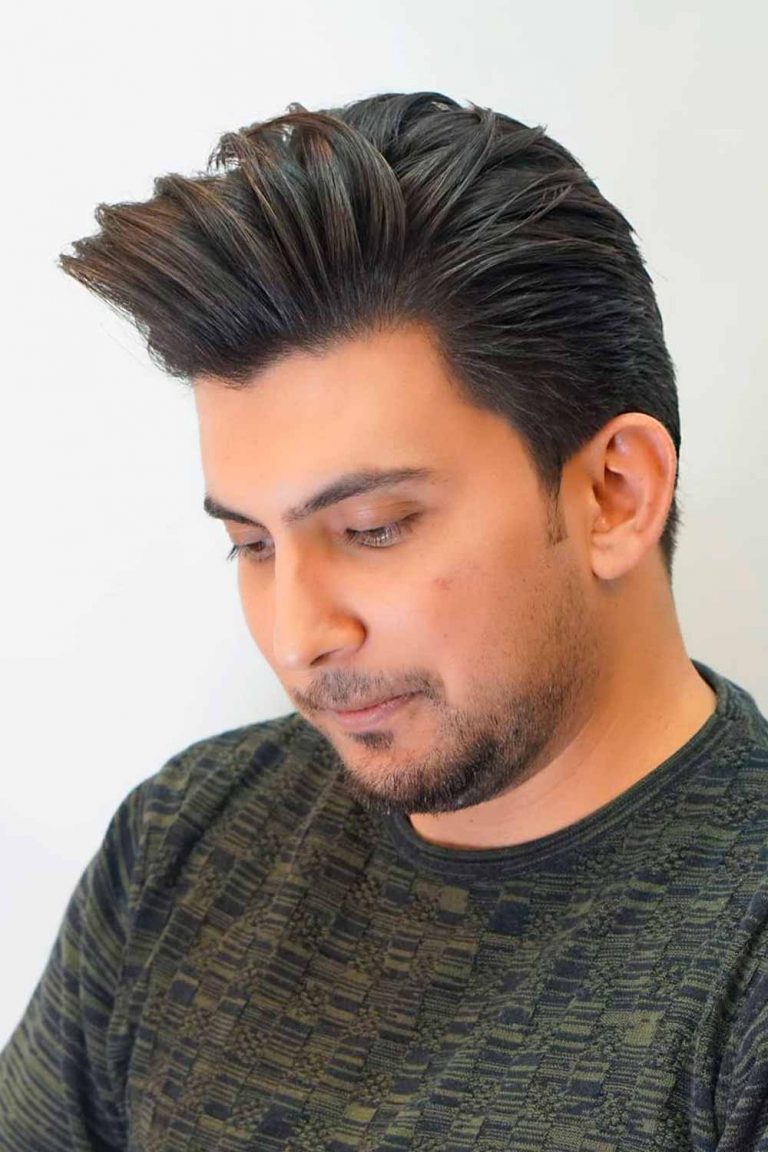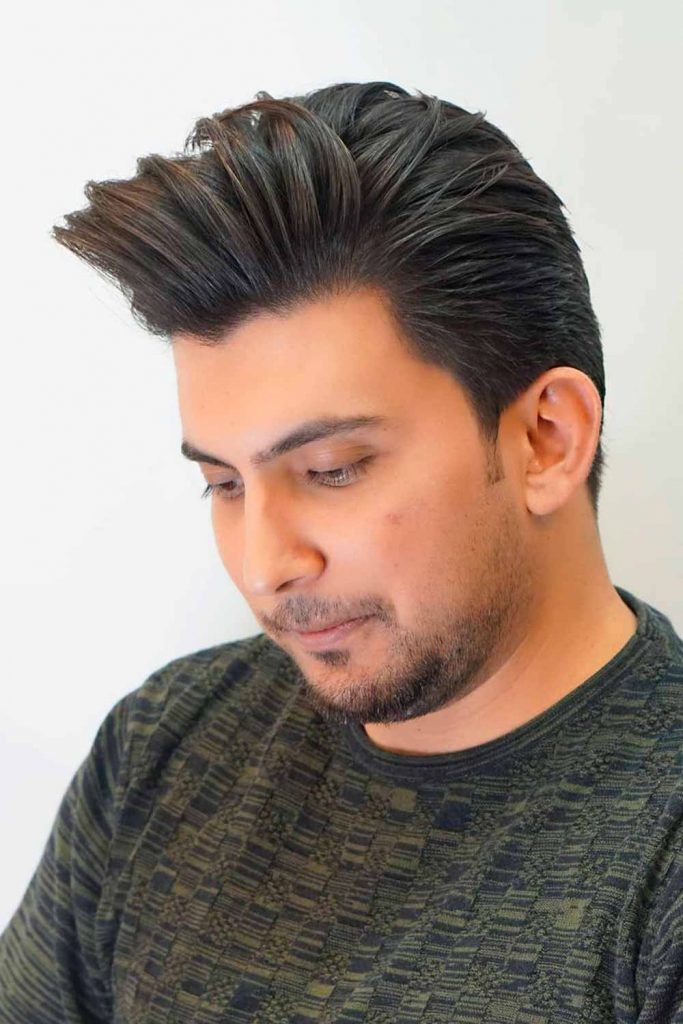 Source: @ahmetaslanhairsalon via Instagram
Wavy & Layered
Like we mentioned earlier, a layered haircut for guys with thick hair is a go to option, especially for curly and wavy ones. When incorporating layers into a men hairstyle thick hair becomes airier and more movable. And waves enhance the structure of the cut.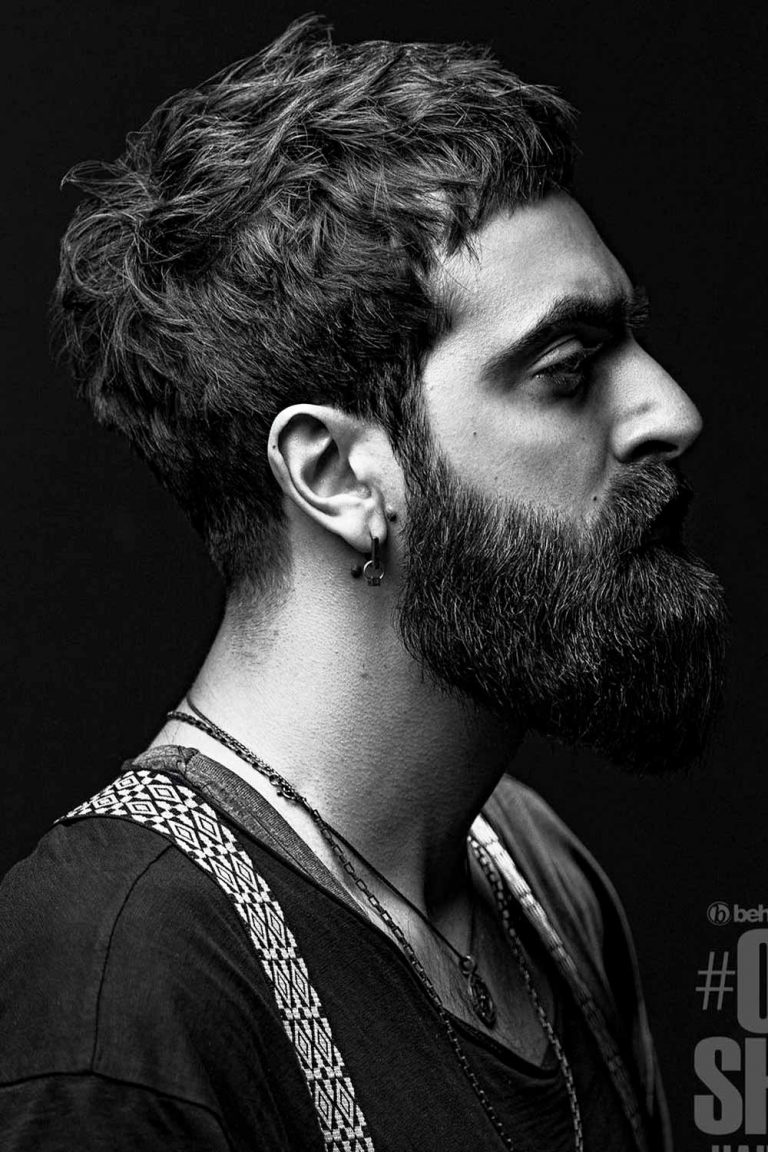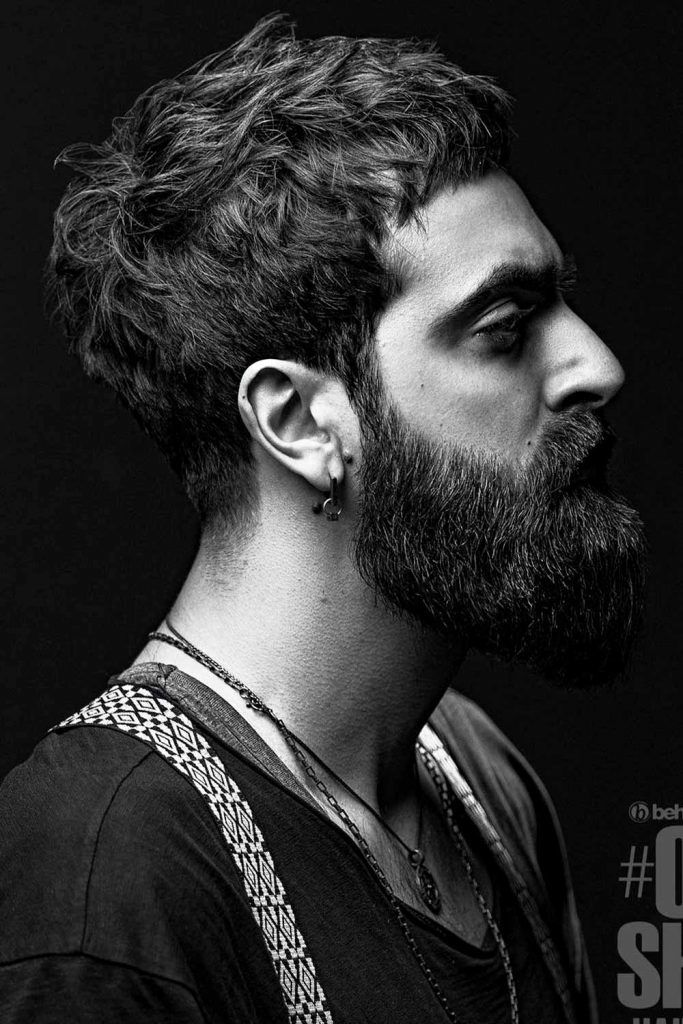 Source: @a.nizhnick via Instagram
Fluffy Hair Men
A fluffy haircut is a great way to show off your hair texture without much effort. To do this, you will need to enlist the help of a volumizing hair styling product and a blow dryer. This hairstyle gives off a relaxed and breezy vibe while allowing you to tame your thick tresses. What a gem!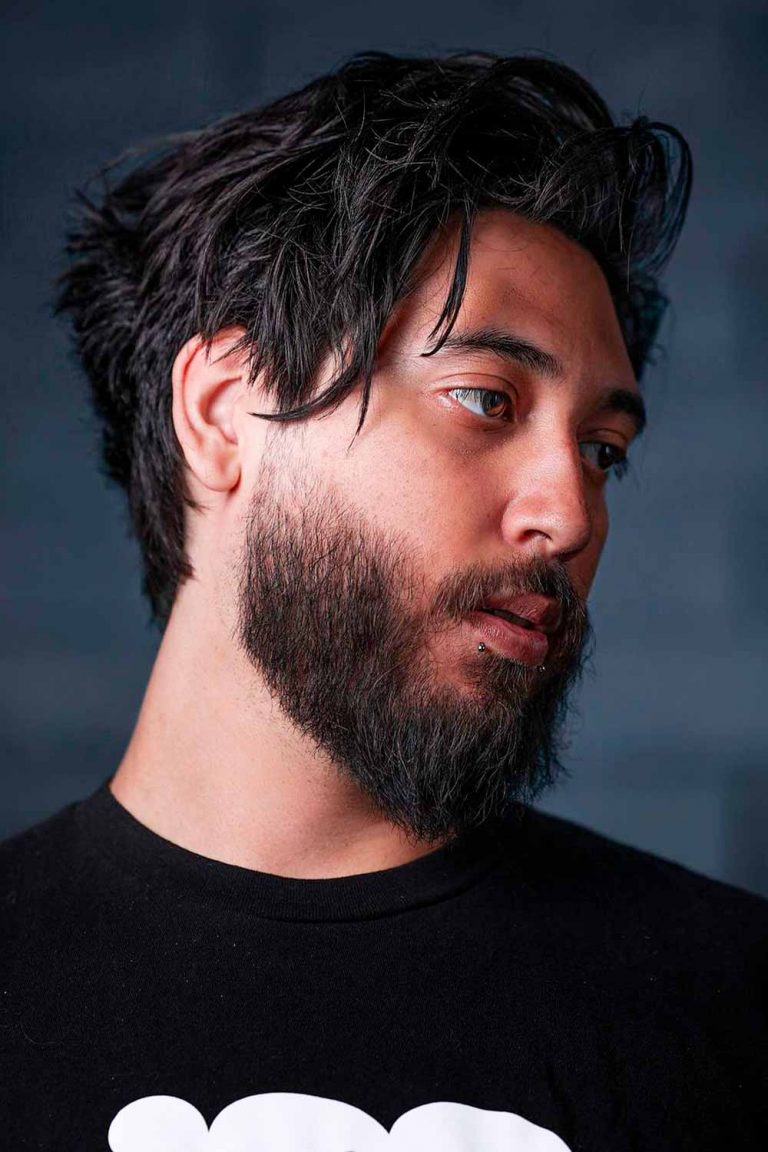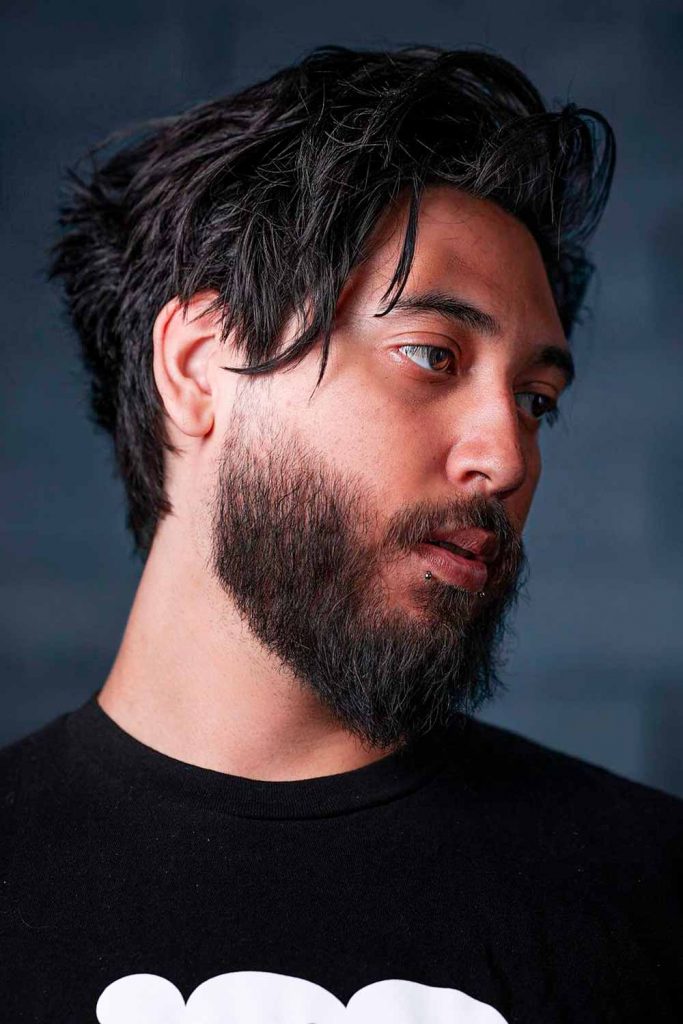 Source: @andrewdoeshair via Instagram
Medium Side Parting
Sometimes, such a simple element as a side parting can take mens thick haircuts to a whole new level. It adds definition to the look, making it more structured. Plus, medium side parted hair looks ship shape, so there is no need to worry that you will give an unkempt impression.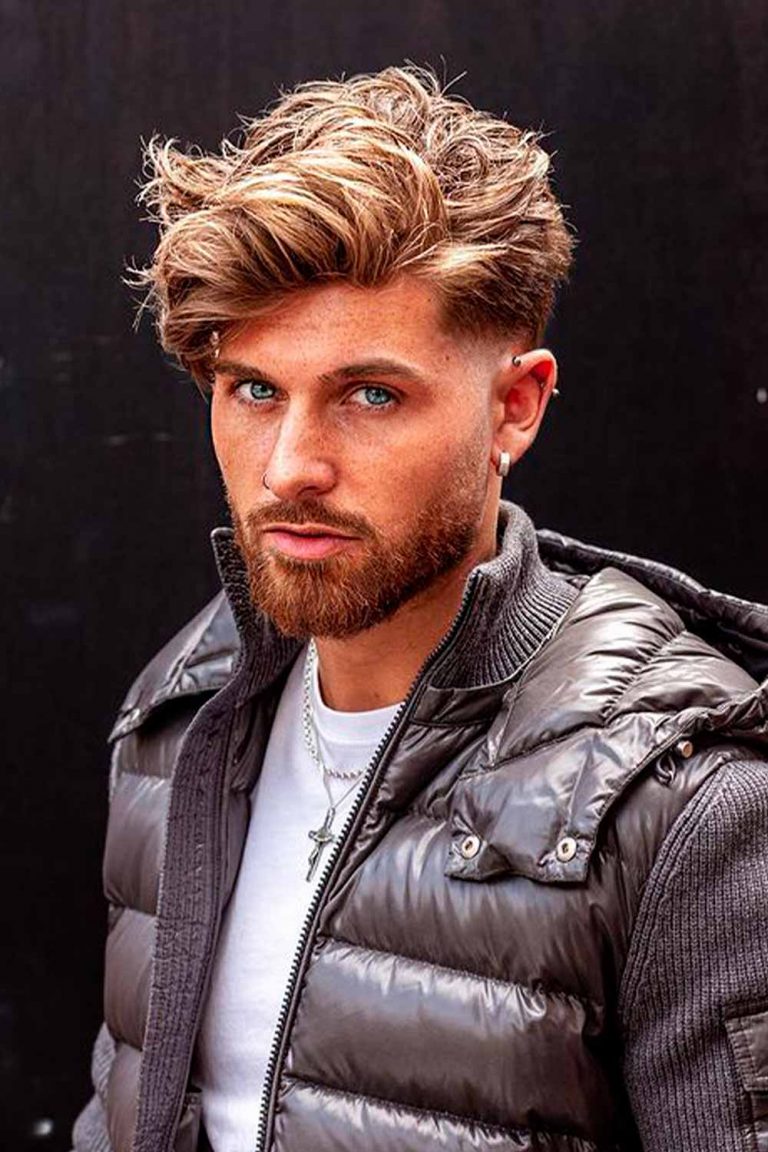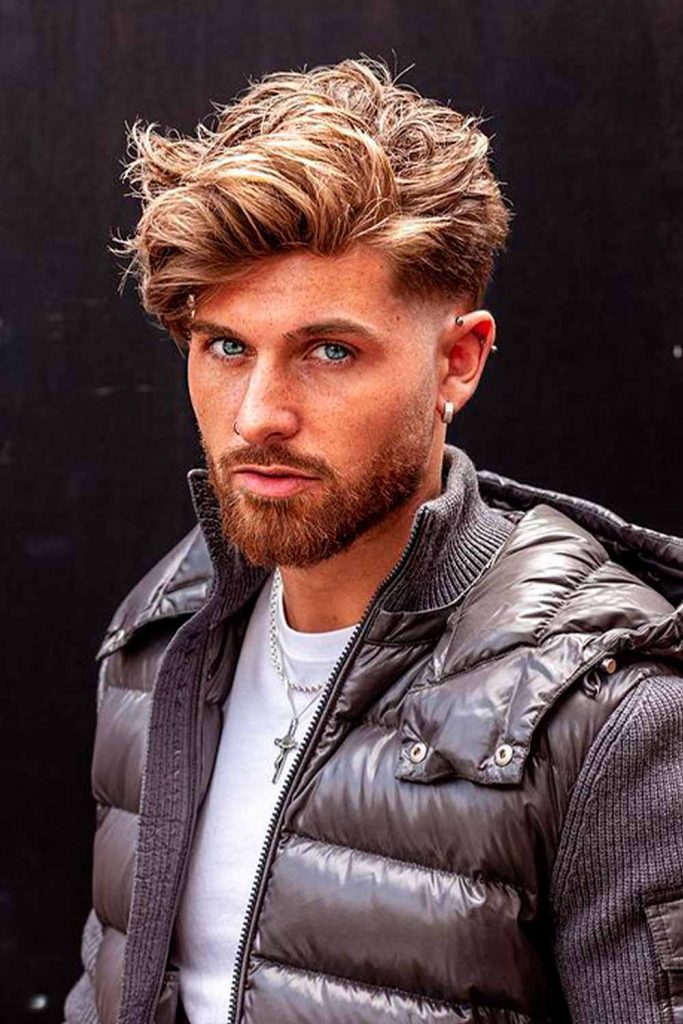 Source: @tombaxter_hair via Instagram
Faux Hawk Drop Fade
There are multiple variations of thick hair cut men can choose to pull off a faux hawk. Though, in case your hair look has to meet the dress code rules at work, pair it with a drop fade on the sides. And do not forget to style the locks on the top of the head spiked up.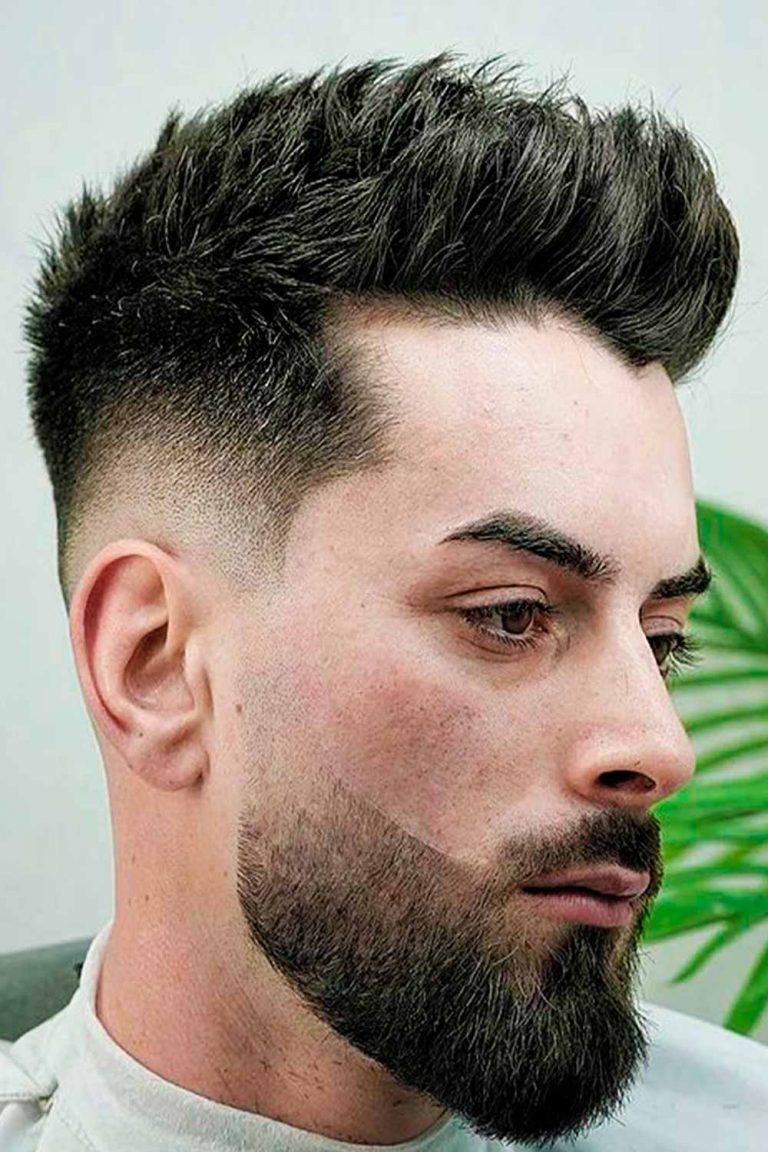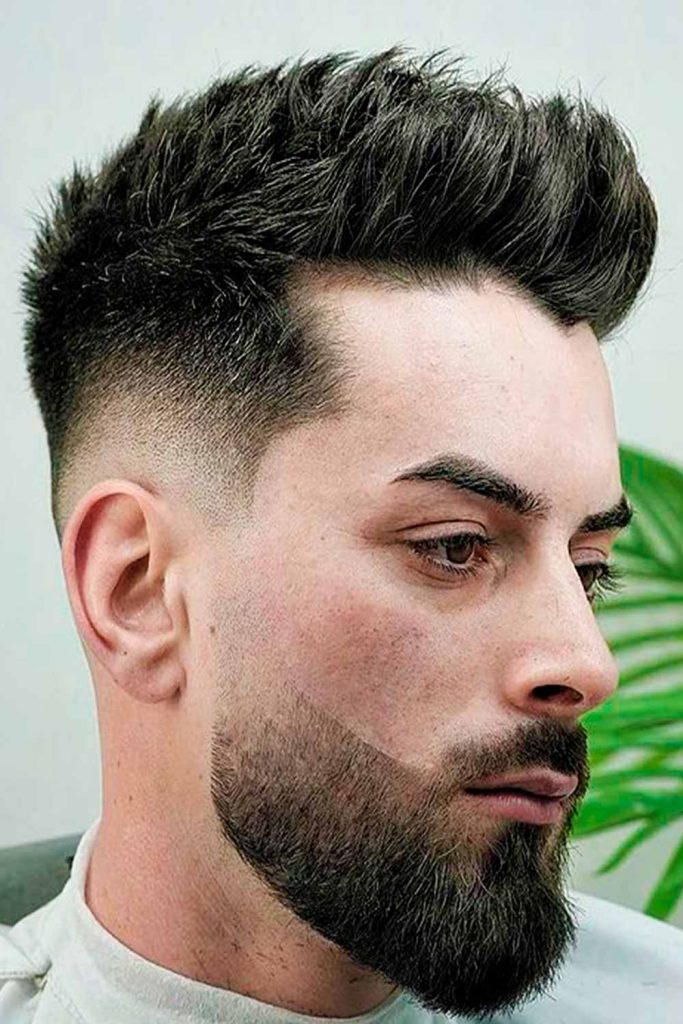 Source: @spukthebarber via Instagram
Slicked Back Undercut
An undercut with thick hair is a match made in heaven. So, you can never go wrong with it. It is up to you to decide how to style the hair on top. Need something refined and polished? A slicked back undercut mens thick haircut is what you are looking for.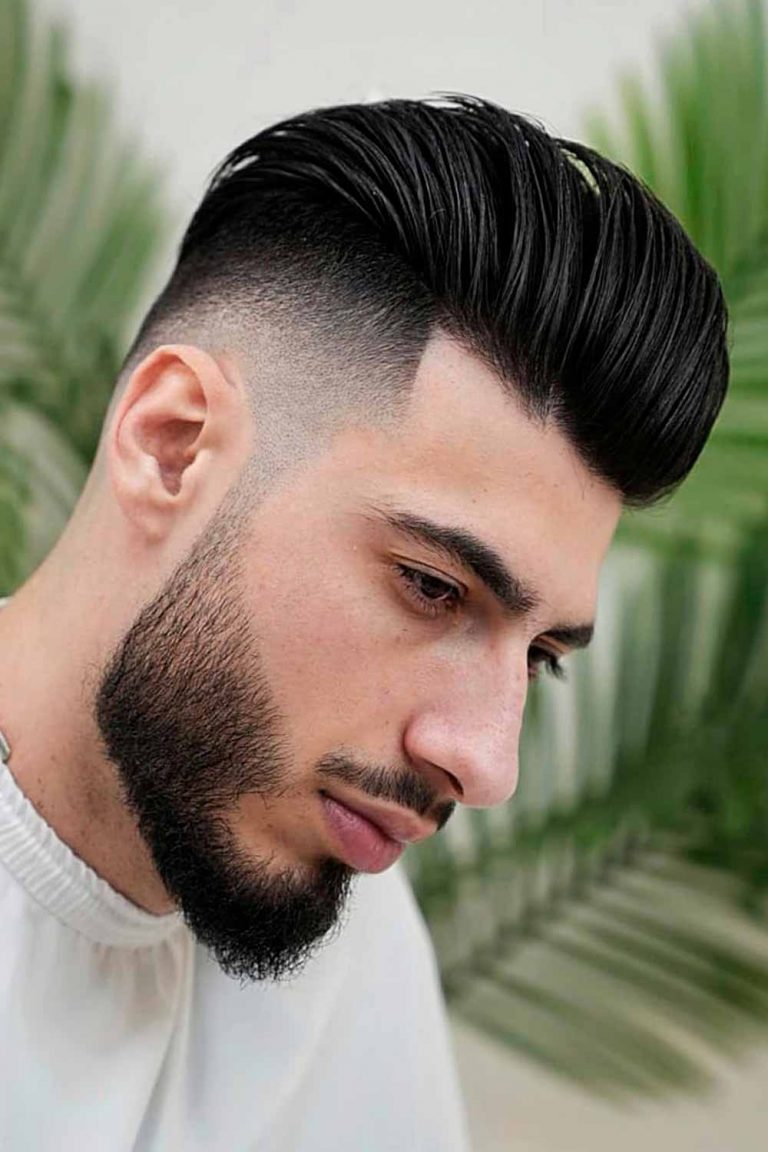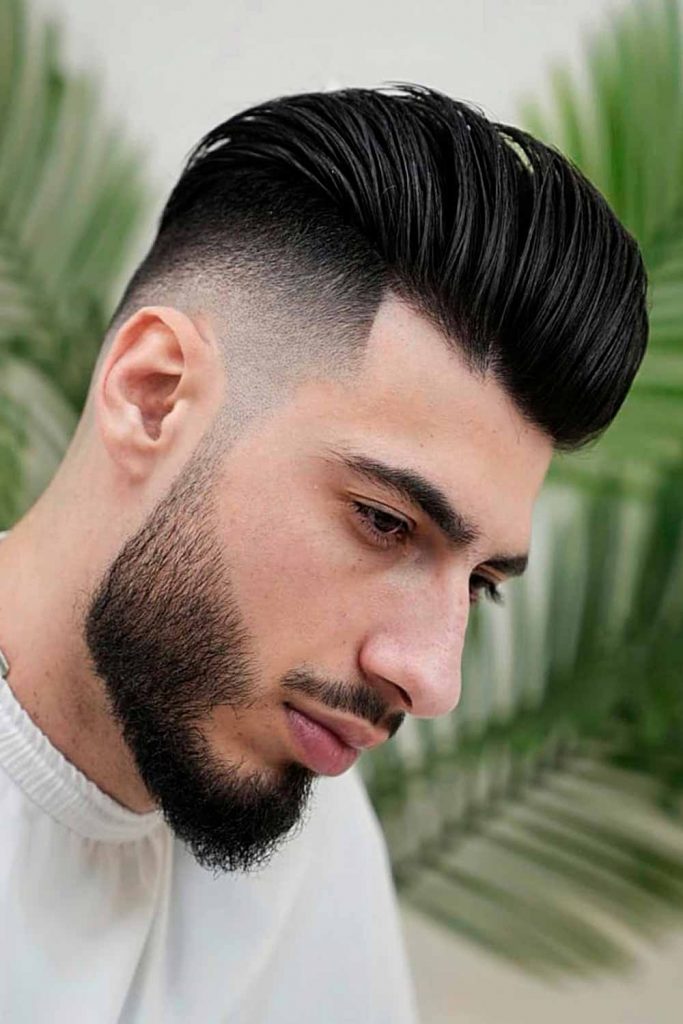 Source: @spukthebarber via Instagram
Classic Side Part Pomp
You should not only embrace your thick locks but also take advantage of it. As such, not every hair texture works for a pompadour, as it requires fullness and volume. But a thick mane is a lucky exception. No wonder a side parted pomp is one of the most popular mens thick hairstyles.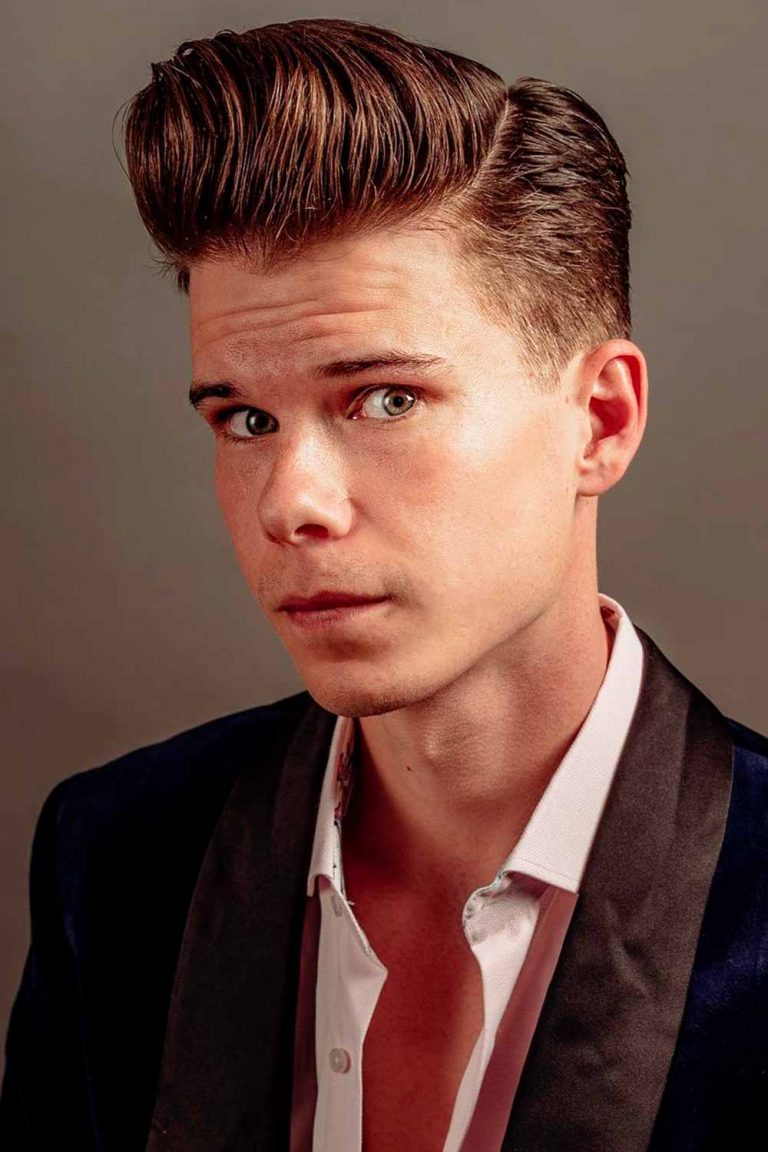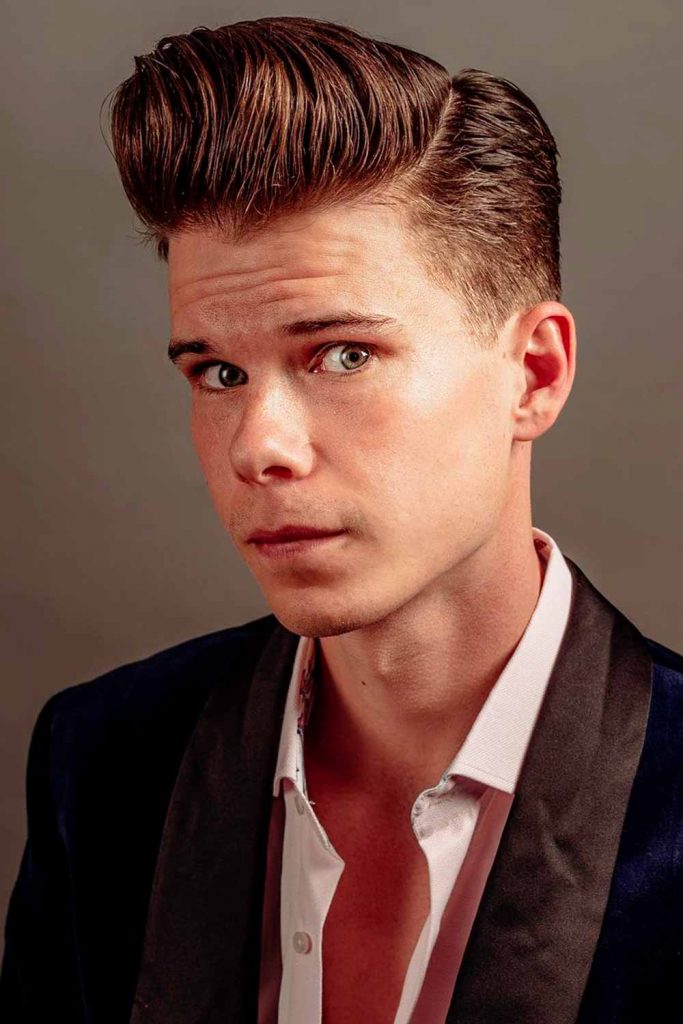 Source: @the_bloody_butcher via Instagram
Short Texture
Short mens hairstyles for straight thick hair may often lack boldness. So that it will not happen, you should add some texture to it. Get a layered haircut on top, which will provide you with the necessary frame. Then you may simply rub in a texturizing hair product and be good to go.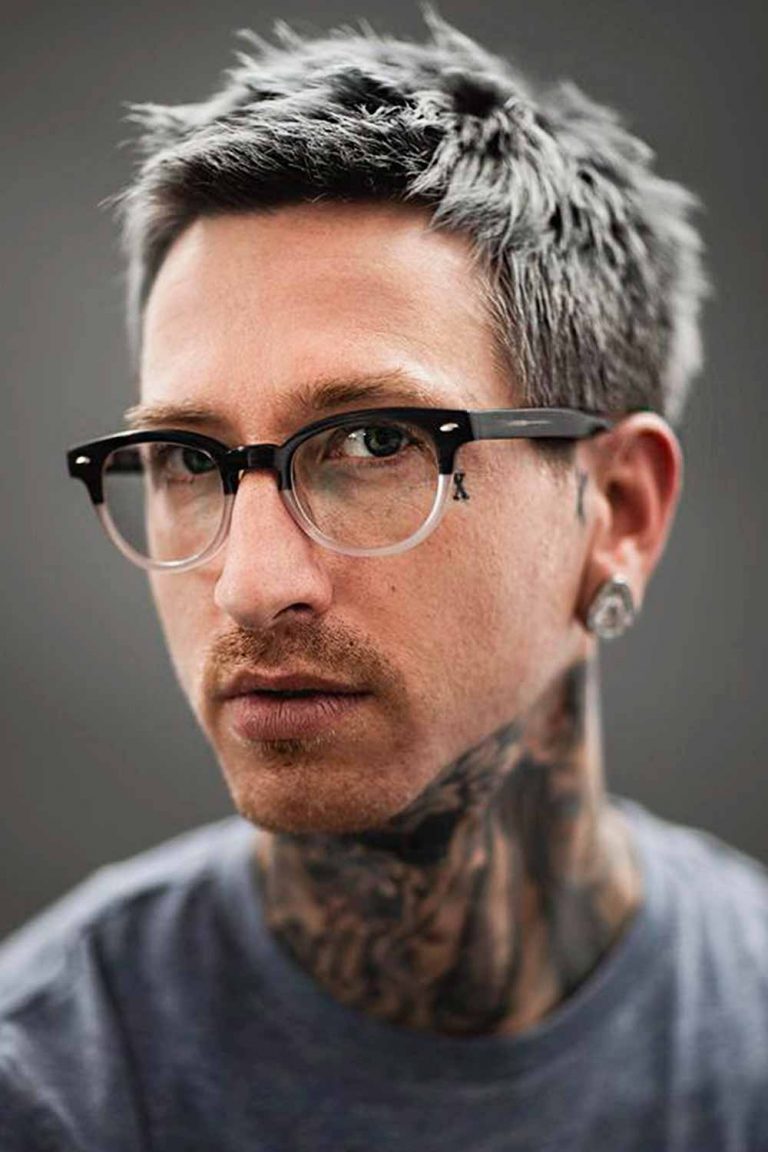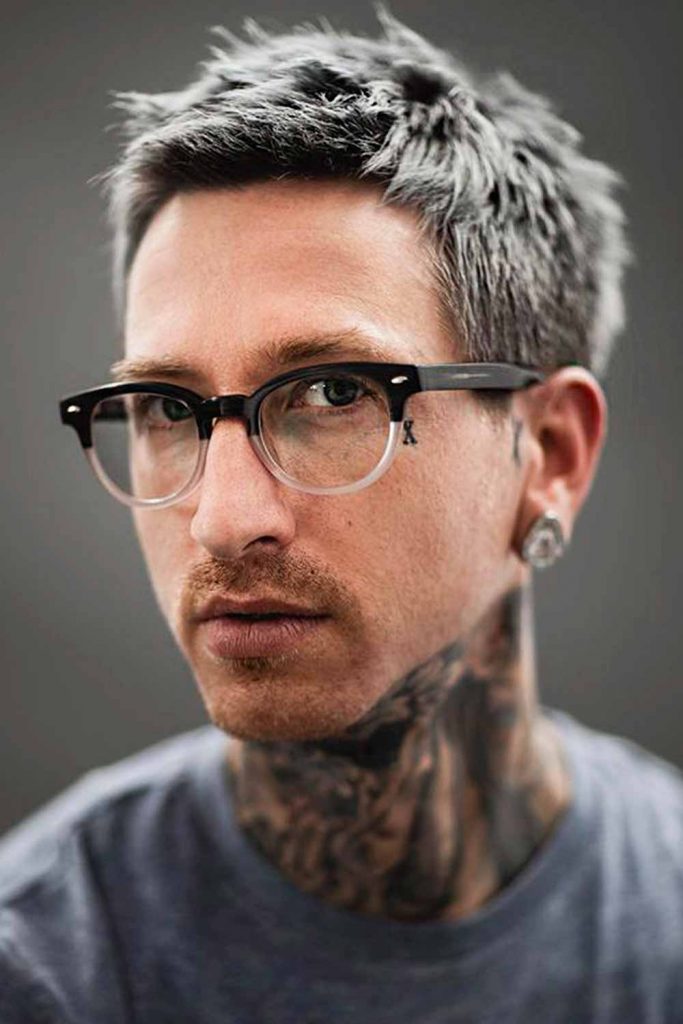 Source: @andrewdoeshair via Instagram
Undercut Long Bang
When searching for the best thick haircuts men often choose a long bang. But it may be a bit tricky to maintain and style. To make your life easier, consider an undercut haircut. As it takes off quite a lot of hair from the back and sides, you may focus on your prominent top and front.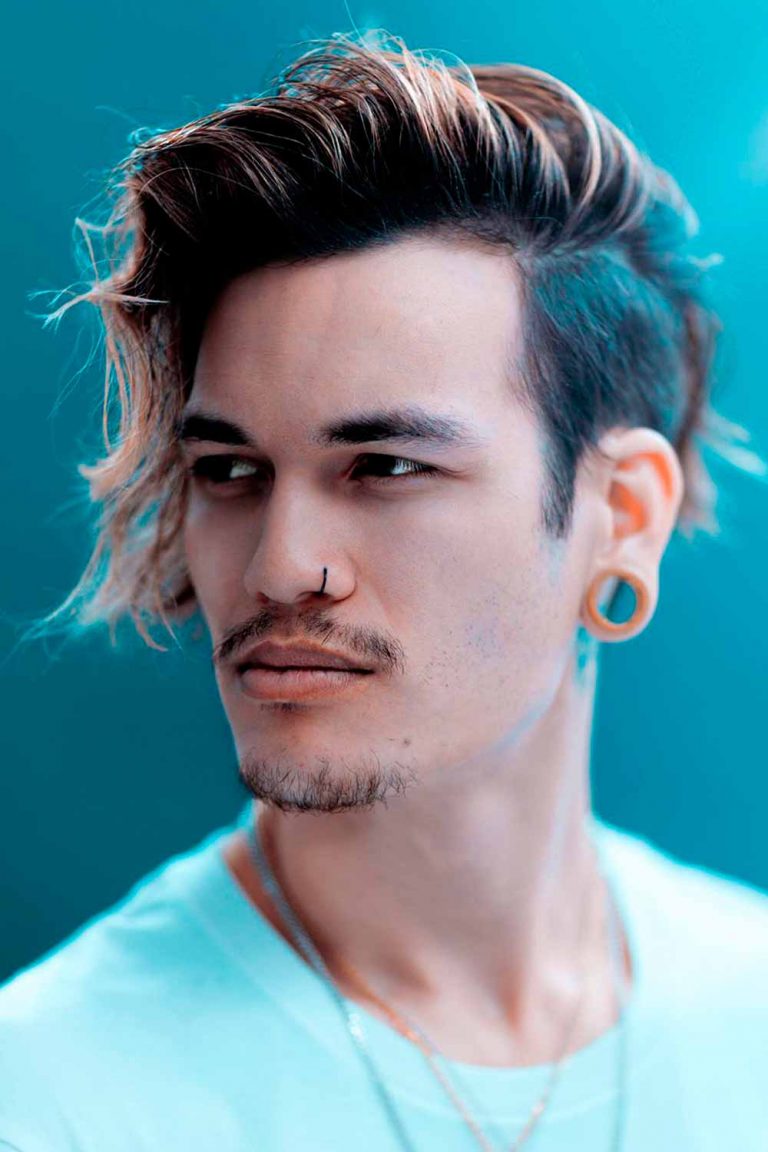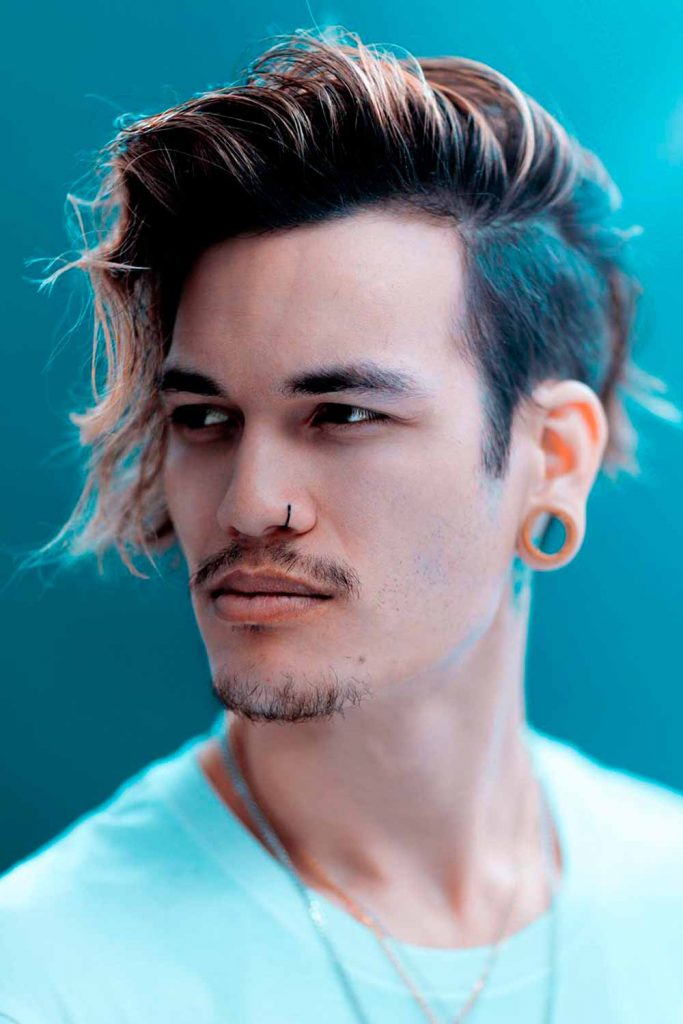 Source: @andrewdoeshair via Instagram
Short Waves Ivy League
An Ivy League is one of the best thick wavy mens hairstyles. It is neat, elegant and stylish. So, you can rest assured that it will look appropriate in any situation. And since your hair texture is so defined, there is no need for an extremely textured cut or styling.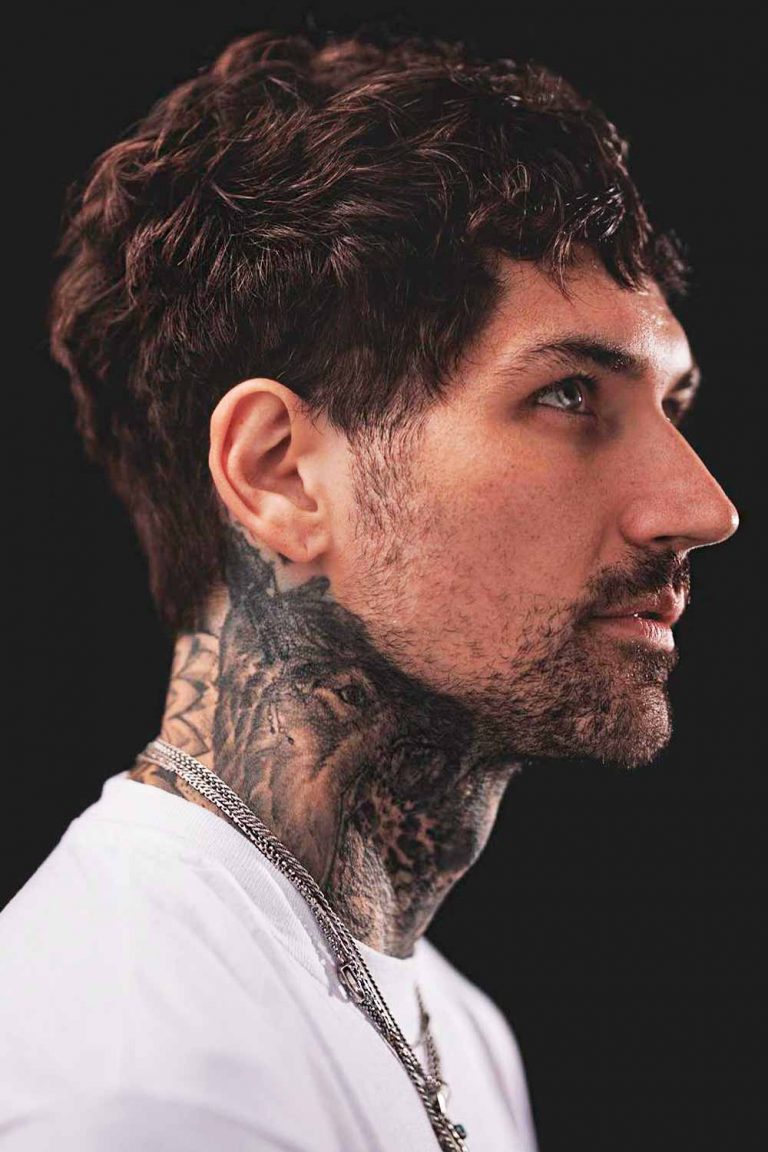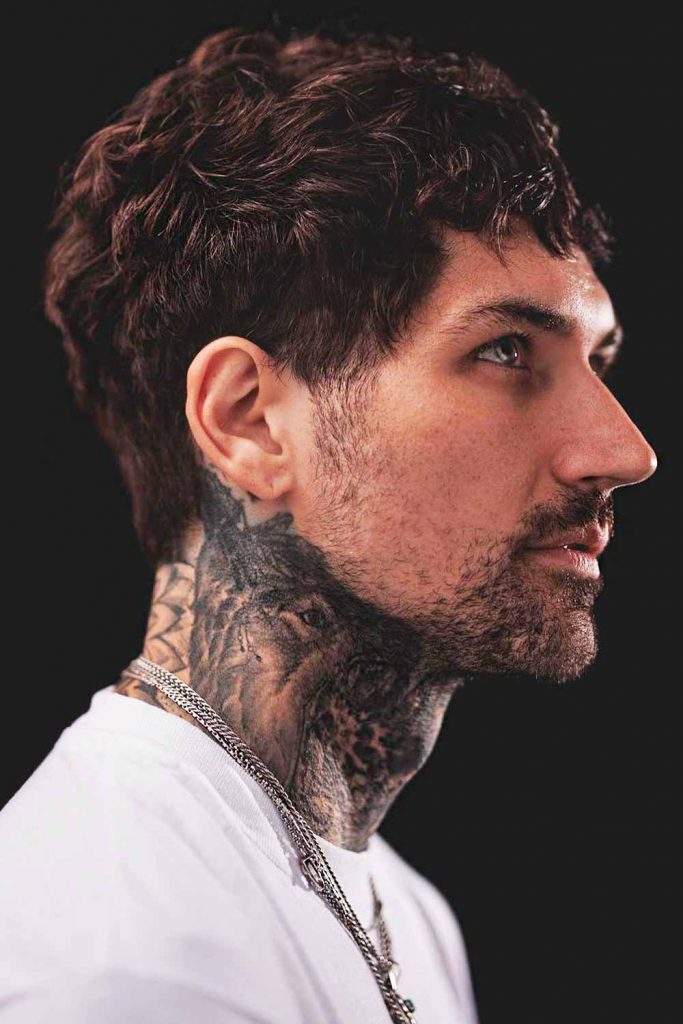 Source: @andrewdoeshair via Instagram
The Best Products For Thick Hair
To properly style haircuts for men with thick curly hair, you will need to arm yourself with a bunch of special hair styling products. Here is a rundown on your essentials.
[/column]
Aesop Violet Leaf Hair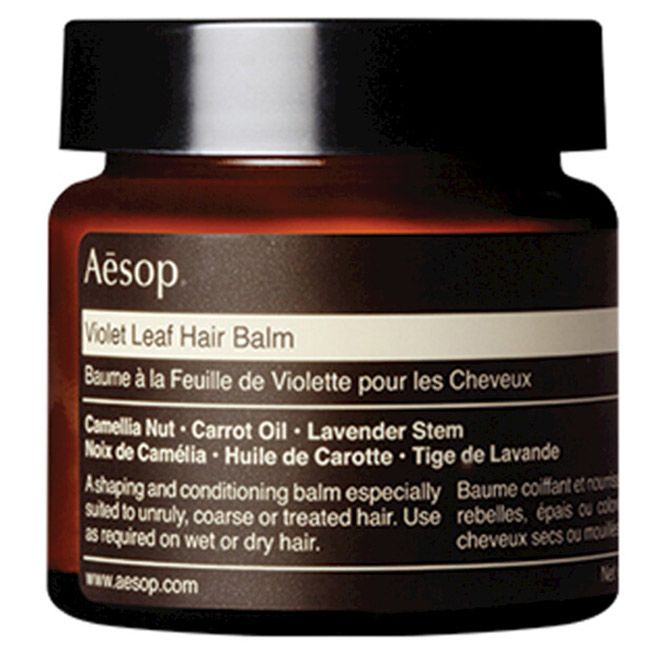 Courtesy of brand
BUY on Amazon
Curly hair men will find this styling balm particularly useful, as it allows you to effortlessly tame your locks while adding a shiny finish without a greasy or sticky feel.
Uppercut Deluxe Matte Clay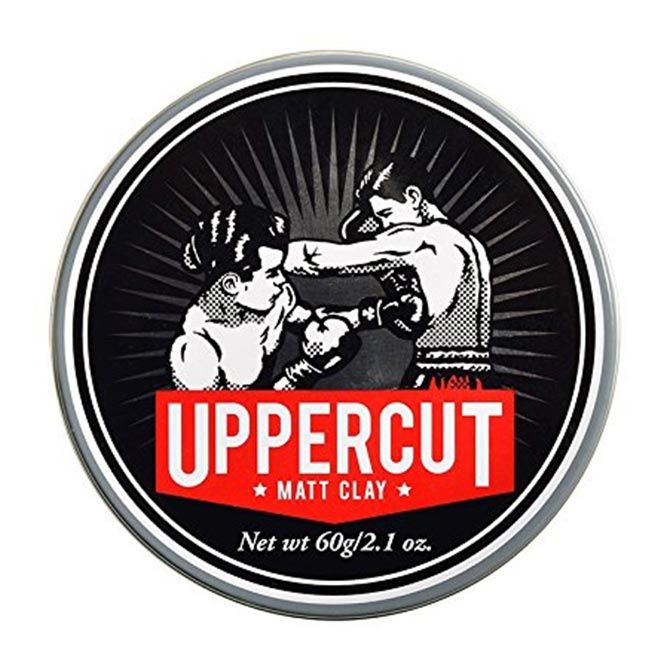 Courtesy of brand
Usually, haircuts for thick wavy hair already have defined texture thanks to a layered pattern. However, this Uppercut Matt Clay, which has a wax base, will help you to enhance the definition of your locks and give them a dry finish.
Aveda Smooth Infusion Styling Creme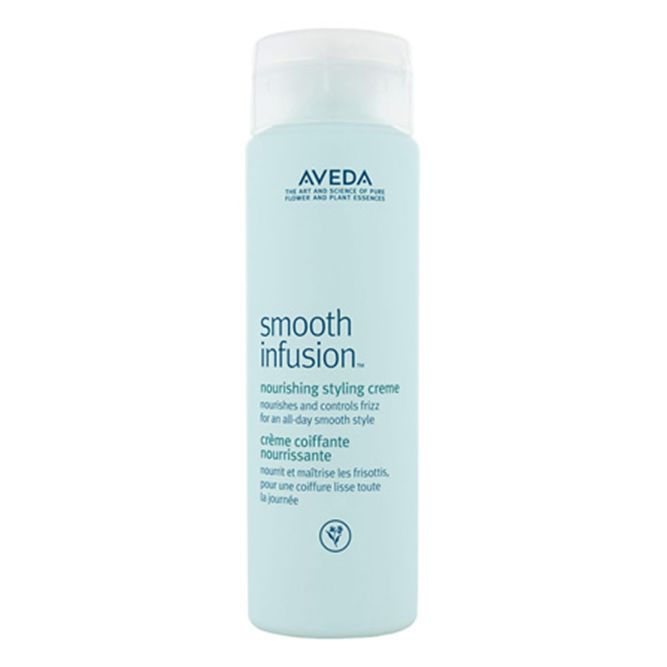 Courtesy of brand
If you want to eliminate frizz and keep your locks hydrated by locking in moistness, then get this Smooth Infusion Styling Creme from Aveda. It is also your best bet if you have a mens short haircut.
Men-ü Muscle Fibre Paste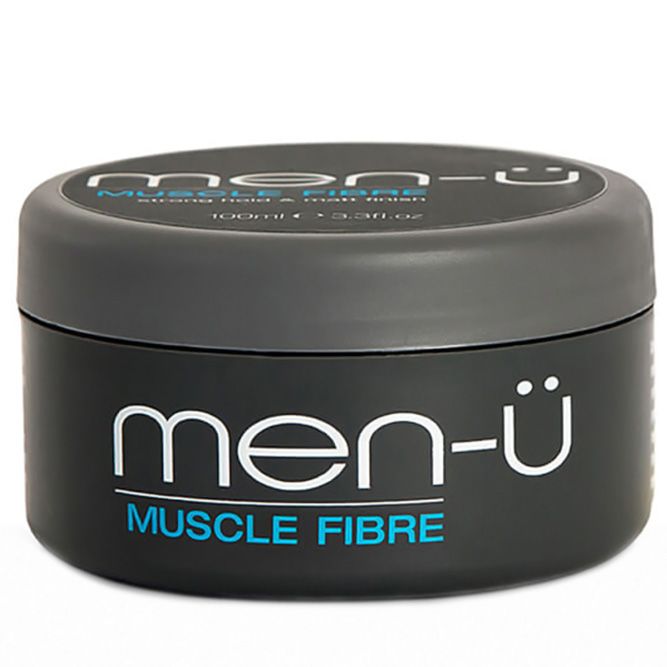 Courtesy of brand
If you have one of those short haircuts for thick wavy hair that are difficult to tame, then you cannot do without this Muscle Fibre Paste from Men-ü. It will help you to keep your short locks in place without looking overly styled, as the hold is not only long-lasting and strong but also flexible.
Kevin Murphy Hair Resort Spray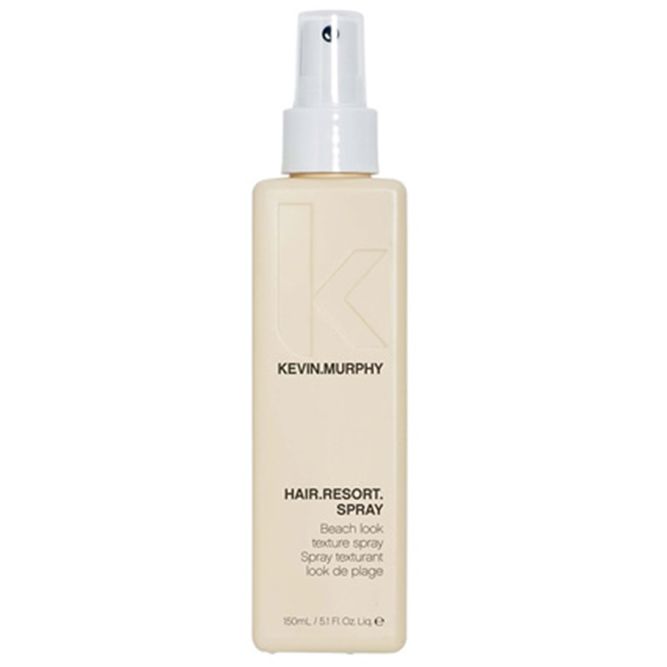 Courtesy of brand
For an added texture and definition to your mens short hairstyles for thick hair, employ this Hair Resort Spray from Kevin Murphy. Do not forget to apply it before drying your locks with a blow dryer and a graphic appearance is guaranteed to you.
Label.m Leave-In Conditioner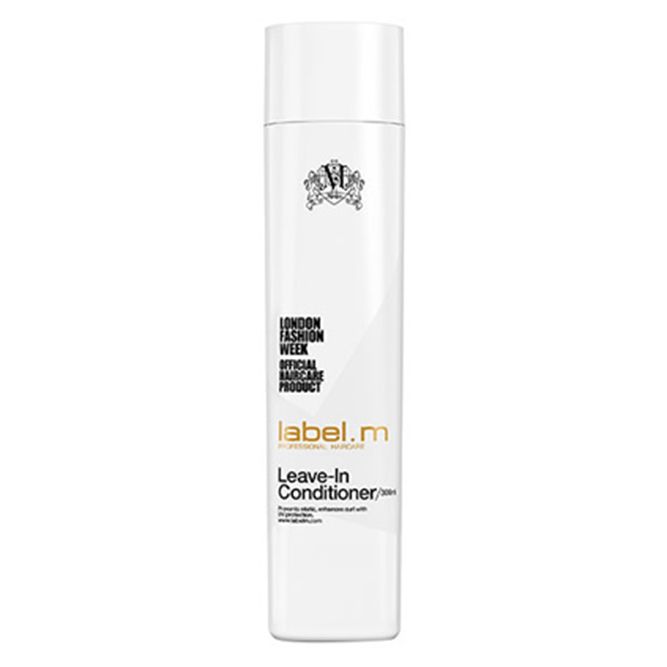 Courtesy of brand
Without this Leave-In Conditioner from Label.m, it is hard to imagine any short hairstyles for thick wavy hair. Not only does it make your fluffy hair slicked and tamed but also soft and malleable.
FAQ
What is a Good Haircut for Thick Hair?
For thick hair men, the best haircut is layered. While it allows you to remove the bulk from your locks, thus making them lighter and easier to manage, it adds texture and definition to them.
Is Thick Hair Good for Guys?
How good or bad thick hair for men is depends greatly on the haircut you are going for. If you are up to a voluminous hair look, then with thick locks, it may be easier to achieve. Longer hairstyles for men with thick hair, on the contrary, may be more difficult to tame.
Are Layers Good for Thick Hair?
Layers can be good for thick hair when they are done properly. Your barber should take into account your hair length and the type and choose the layered haircut style accordingly.
How Can I Make My Thick Hair Look Good?
Here are 5 professional tips that will help you to make your thick mane look its best:
Go for a layered and/or undercut haircut to reduce the weight of your hair.

Apply hair styling products, such as serums and leave-in conditioners, to make your hair look healthy and shiny.

A long hairstyle for men with thick hair may be a failsafe way to stop the locks from sticking out.

Wash your hair with a clarifying shampoo to remove product residue and prevent its buildup, which may weigh your hair down.

Make sure your hair is completely dry before getting outside, as it may cause frizz.
Haircuts for men with thick hair offer quite a lot of versatility. You can choose a style to match any preferences, be it a dapper buzz cut or a carefree surfer's style. We hope that our guide to haircuts for guys with thick locks has helped you out with the choice of a new look.
REFERENCES: