The Flat Top Haircut Has Many Faces: Which One Appeals To You?
In the world of men's fashion, the flat top haircut has changed a lot of roles before showing up with its modern face. You may see it on all members of your favorite hip-hop band when your mood is about to kick it. And if you come across some photos of US military officers, you'll catch them with the same cut. A fascinating variability, isn't it? Fortunately, the modern flat top haircuts do have the ideas in between those extremes.
Modern barbers love being asked for the flat top: it's always a challenging experiment. The most appealing thing about the cut is its virile, masculine look and strikingly neat silhouette. If you're one of those contemporary men who want to show off their machismo, look no further than the flat top. As for details, you can leave them up to us: we will show you how to get, style, and wear the cut!
What Is A Flat Top Haircut?
Though the definition of the flat top appears pretty clear to most men, let's get things super straight. As the name suggests, it's a haircut that features a flat look, getting leveled across the top. Don't get confused if the flat top Instagram or Pinterest hashtag gives you plenty of absolutely different results: it can be any haircut or hairstyle, the point is just to keep the top flat, and sides short or sleek.
How To Cut A Flat Top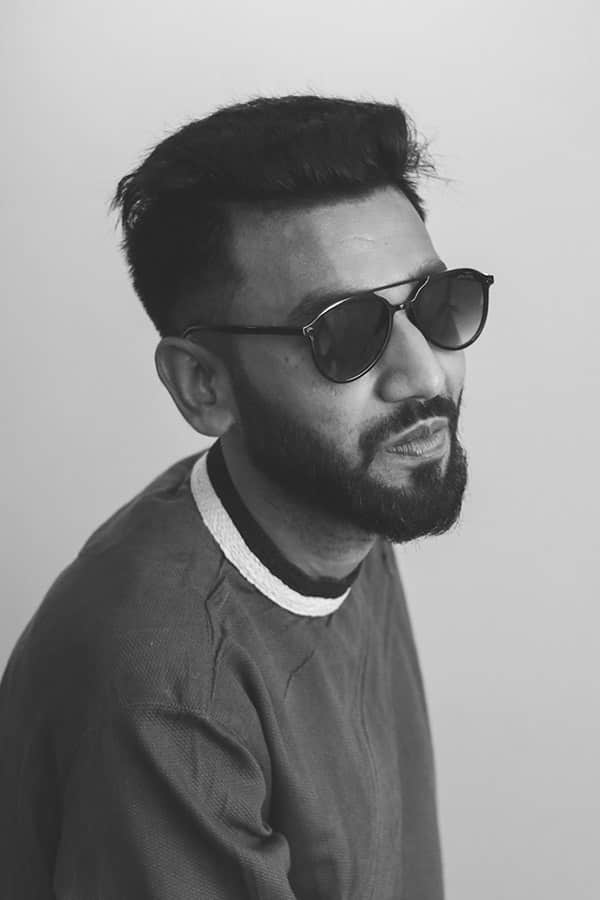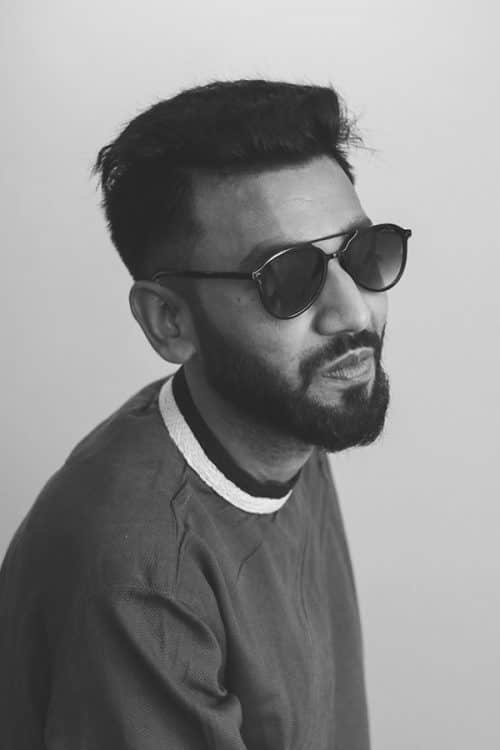 Yes, the appearance of flat top hair looks as if it was achieved with a pair of garden shears. Yet, things are a bit more complicated than they seem. To get the flattop haircut, you'll need to find an experienced barber with a steady hand who has mastered the precision skill. And the truth is, the structure of this cut doesn't follow any classic cutting pattern, so don't dare to get it yourself.
The process usually involves shaping up hair with clippers while drying it up: this work requires thorough approach.
How To Style A Flat Top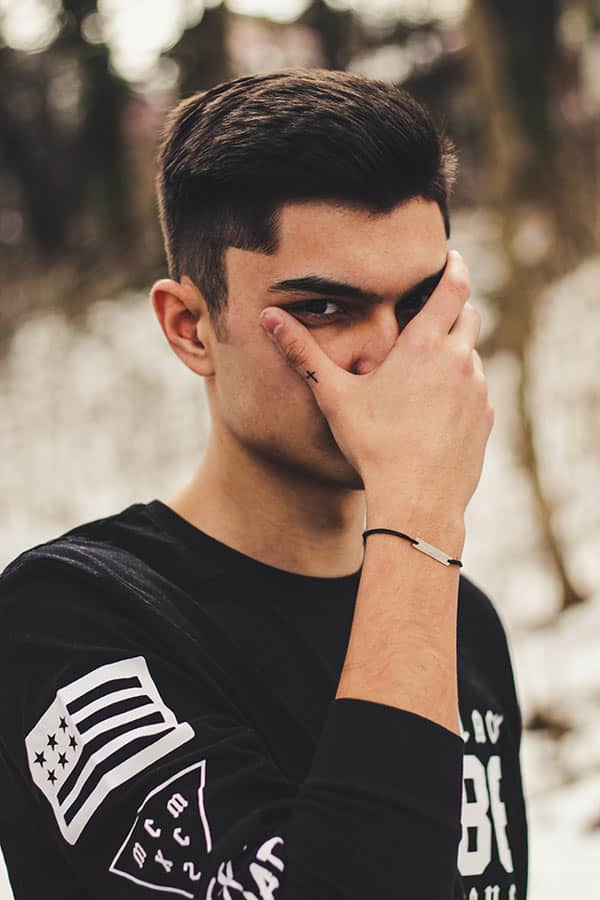 Now, it's time to learn the basics that will help you to maintain your flat tops. Remember that working with high-quality products is not only a way to get the perfect, desired style but also to treat your hair with respect. For non-curly textures, waxes and pomades will come in handy. Of course, curly manes will need the help of strong-hold products and hairdryer. Now, meet the tips!
For manageable work, always start with damp hair.
To get the style, push your hair up with one hand and work the product into it with the other.
Comb or blow dry your hair up and to the back.
If you work with curly, kinky hair, don't start without a high-hold product.
Some Interesting Ideas Of Flat Top Haircut
In the inspo-part, the flat top wants to show how different it can be. Get to know the versatility of this masculine cut before calling your barber. There is a plethora of ideas you'll want to copy!
Classic Flat Top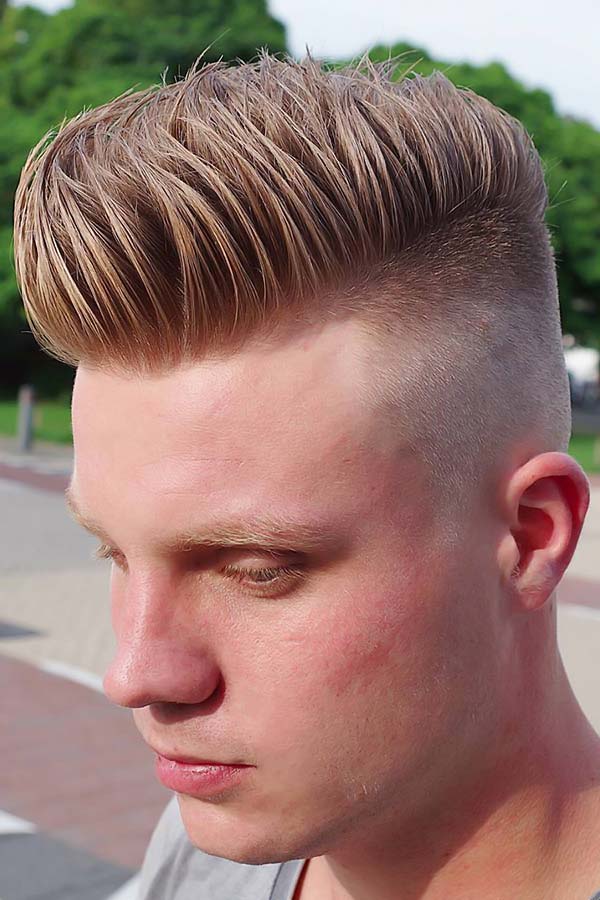 Source: @mensworldherenkappers via Instagram
For appreciators of classics, here comes the very first version of the flattop haircut. The perfectly flat top and cleanly shaved sides give a severe, action-ready look.
Textured Flattop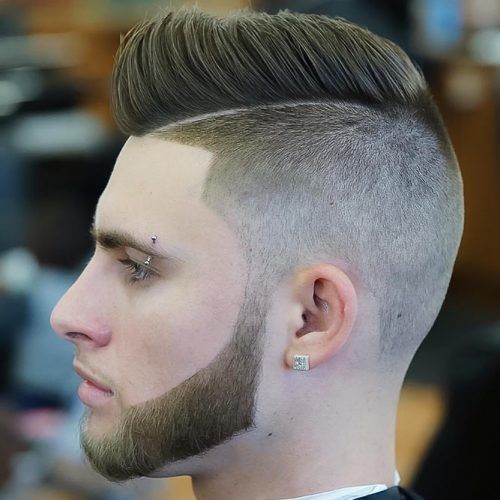 Source: @nickthebarber via Instagram
This is how a modern touch of textured hair gives a fresh take at the flattop. Blonde hair men sport proudly looks ravishing with a bit of lightweight wax applied to neaten up the top.
High-Top Fade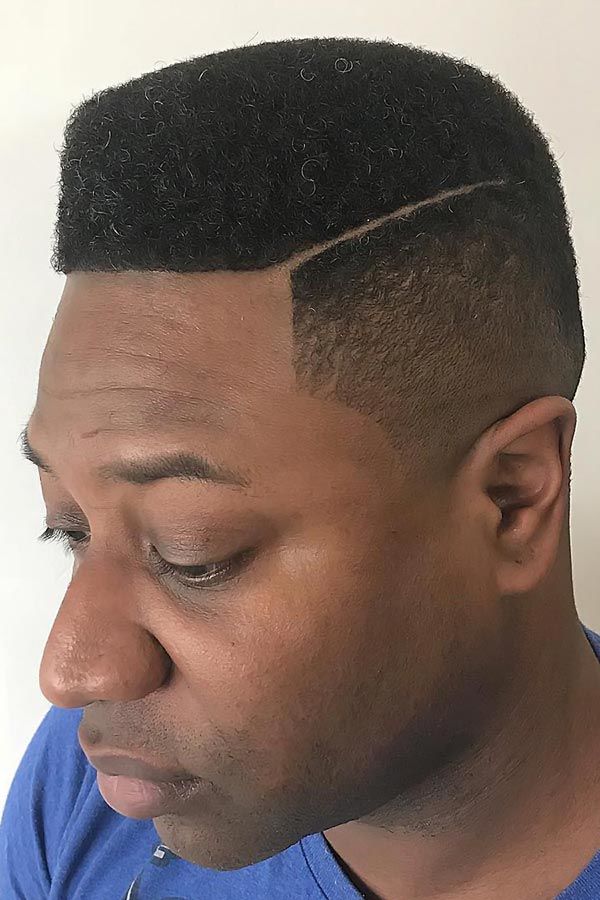 Source: @chadius_maximus via Instagram
The hip-hop lovers will not be able to resist the flat top fade. As one of the most authentic black men haircuts, the high top haircut features a clean fade, a precise shaved line, and the accurate top that keeps the perfect balance.
Classic Military Crew Cut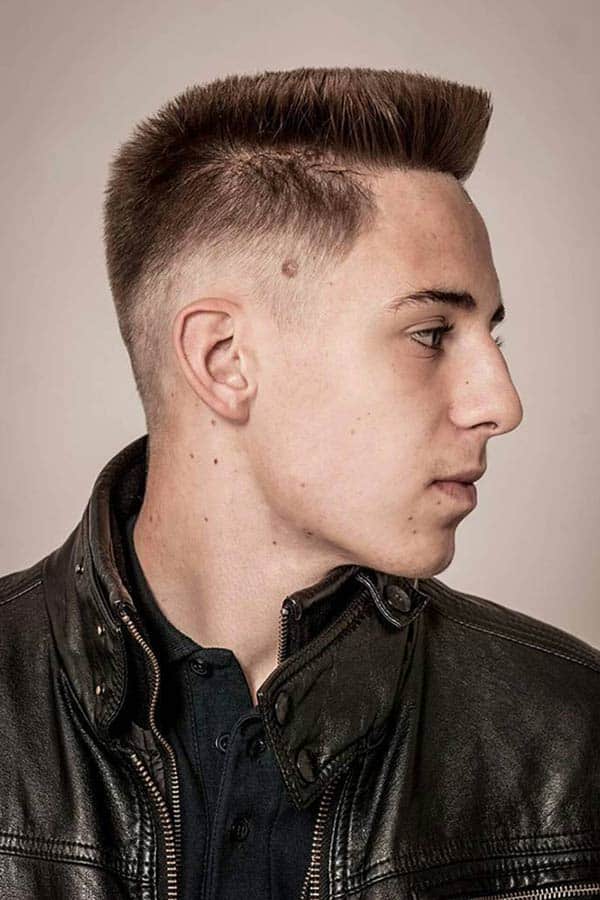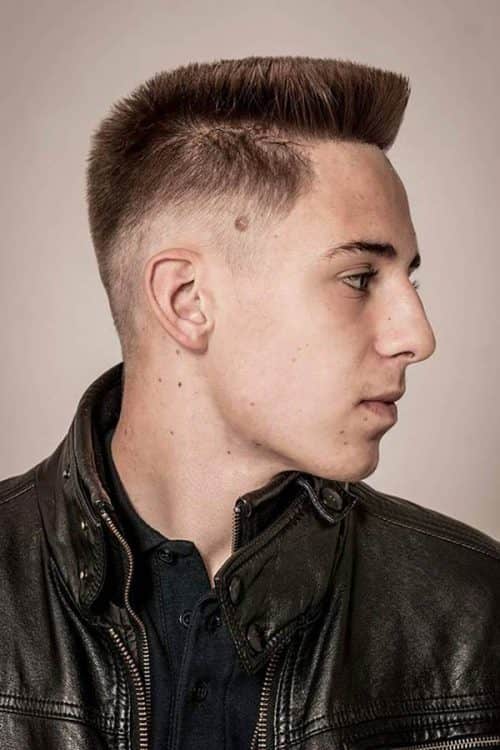 Source: @urednistvo.pricesk.robert via Instagram
The military flat top haircut is the beginning of the flat top popularity. It's simple, tight, and clean: everything a real man needs. As you can see, the top of this military haircut has a perfectly square shape, which awesomely elongates the overall silhouette.
Pompadour Flat Top
Source: @alexthegreatvivar via Instagram
Can't imagine the flat top as an elegant and sophisticated style? Let this pompadour show you the refined side of the flattop. All the main characteristics of the pompadour hairstyle are present: and even though the top is flat, it's still voluminous.
Flat Top With Angled Front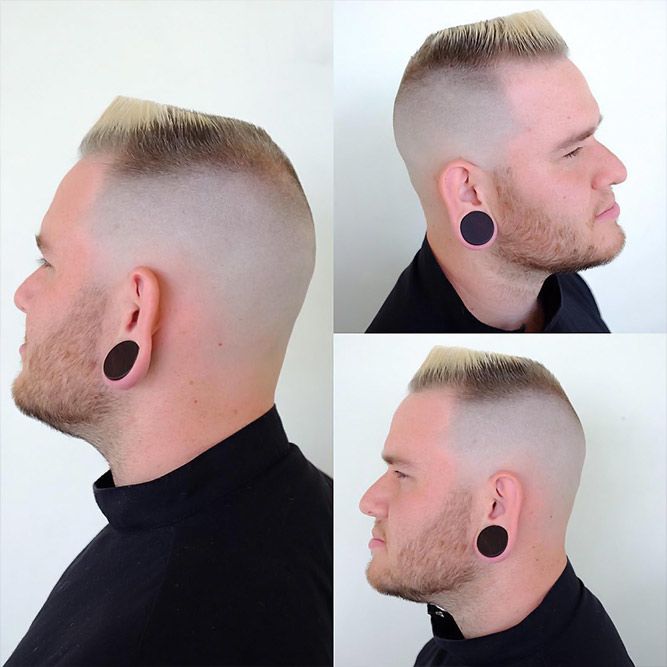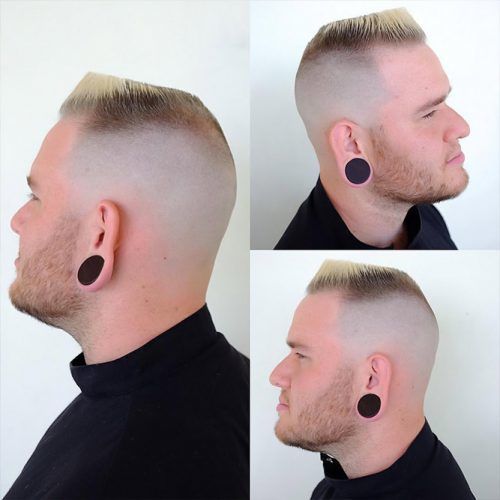 Source: @fernthebarber via Instagram
Love jumping from one extreme to another? This super edgy and contrastive flat top knows how to stand out in the crowd of short haircuts for men. Simple, daring, unique: isn't that enough?
Flat Top Hawk
Source: @alexthegreatvivar via Instagram
Yes, there's always a place for a flat top, even in the Mohawk hairstyle. Such a sharp, angular shape is a staggering way to customize the bold and forceful hawk.
Black Faded Flat Top
For men with natural hair, a high top fade haircut is nothing but a must. Not only does the high top hair tames the unruly texture but also gives a neat, well-defined body.
Angular Flat Top Haircut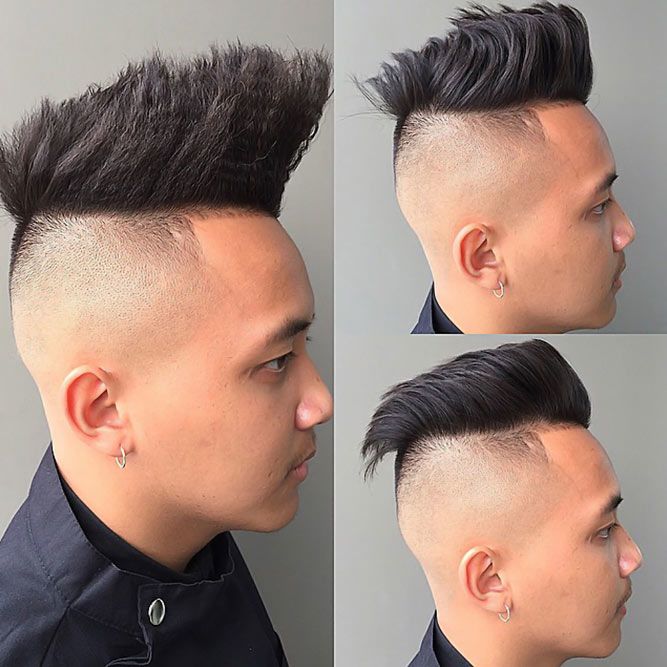 Source: @fernthebarber via Instagram
How about you to angle up the flat top? Most black men haircuts are meant to keep a wearer comfy with his hair. And this idea isn't all about the convenience; it's one of the haircuts for black men that want to be in the spotlight.
Rockabilly Flat Top
Source: @hailwormatron via Instagram
At first sight, the silhouette of this style may seem to be too curvy to be a flat top idea. But once you have a closer look at it, you will see that the rockabilly hair men wore decades ago is absolutely flat at the top. Don't be afraid to mix popular styles!
What role of the iconic flat top cut would you like to try on? Now you see that there's an idea for any hair type, length, and image. Since you know how to style and sport this epic cut, it's time for a barbershop appointment!