Are you looking for a new hairstyle? We highly recommend considering a fade haircut black men pull off so perfectly. Even though it's quite elaborate, with a talented barber, the result will be impressive. It's a great way to freshen up your style as well as get a really trendy and cool look. So that you won't be disappointed, we've gathered the most creative and flattering fade haircuts.
Modern African American hairstyles allow your imagination to go as far as possible. Personalize your black men haircuts with shaved in creative patterns or simple lines and different fade intensity.
Low Fade Haircut Black Man
If you need something that looks work-appropriate or you just like to leave quite a lot of hair on the back and sides, then a low fade haircut is your way to go. This kind of a mens fade works perfectly for any hairstyle, from a short curly top to a full men bun.
Source: @rusty_fred via Instagram
Clean High Fade
To make your hairstyle look bold and contrasty, it is hard to think of a better option than a high fade haircut. It will help you to accentuate your hair atop to the limit. If you want to create a prominent silhouette and look taller, opt for a high top fade.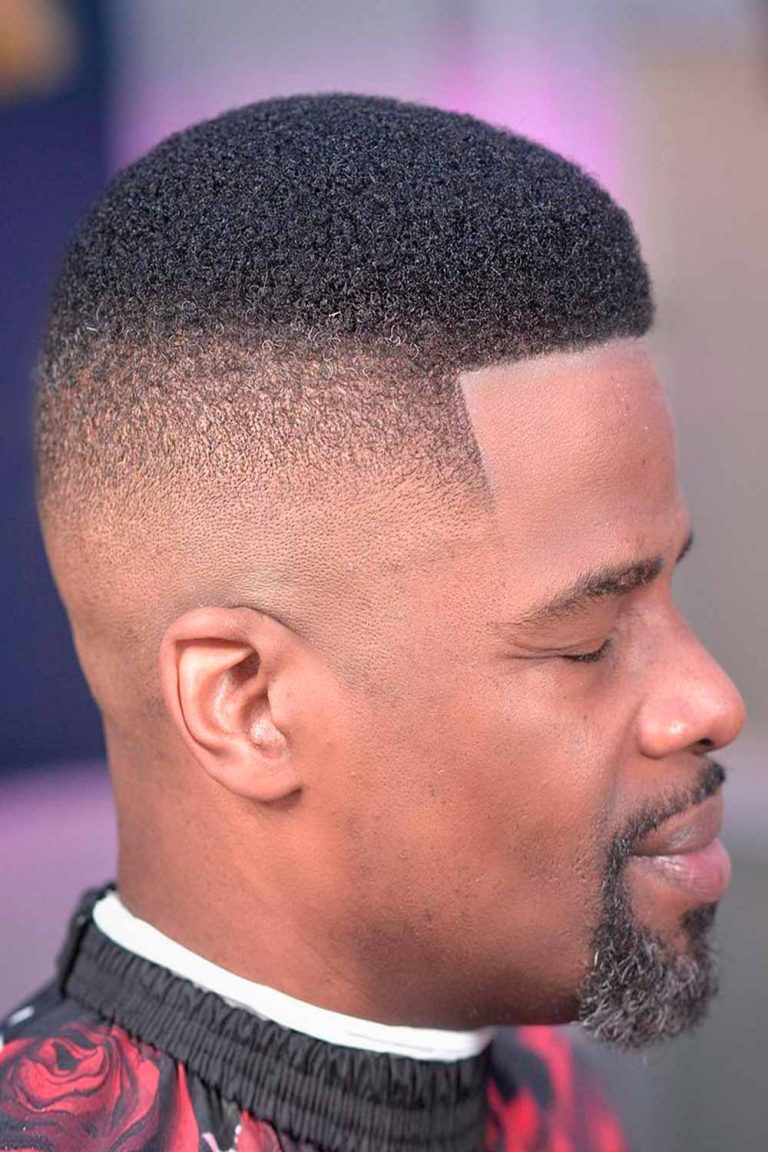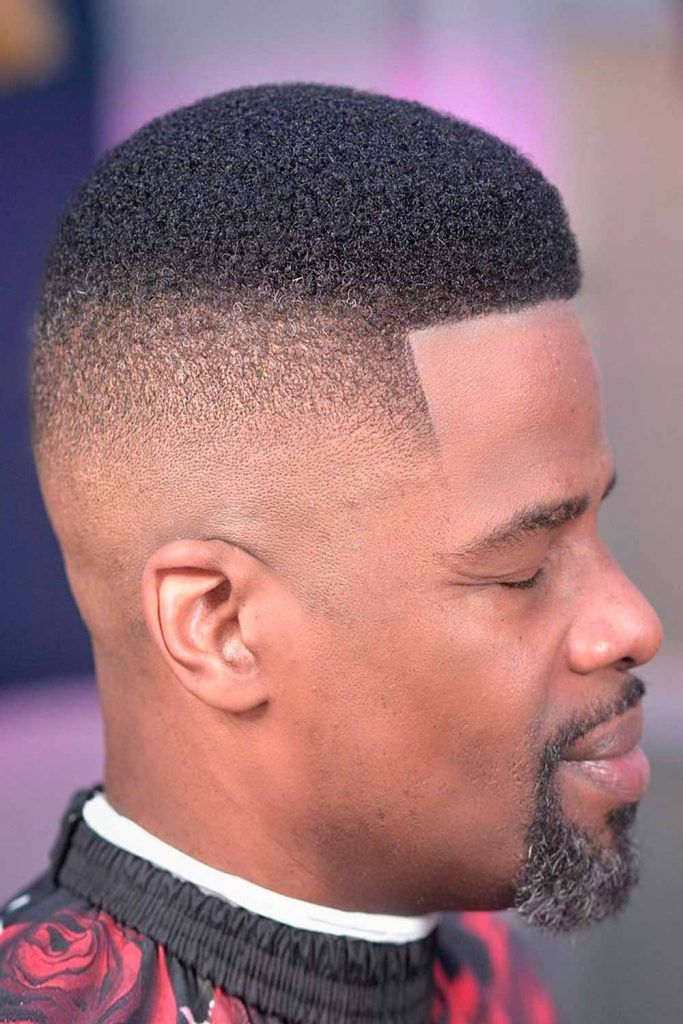 Source: @sirpaulcharles via Instagram
Mid Fade Haircut Black Men
Guys who choose a medium fade most likely prefer the golden mean in every sphere of their life. A mid fade haircut looks perfectly balanced and suits most if not all situations. As for the hair on top, you are free to choose a style that matches your preferences best.
Source: @mikes_custom_kuts via Instagram
Taper Fade
A taper fade haircut appears much smoother than just a traditional fade cut. The transition in hair length is gradual, so the style does not seem overly sharp. If you want to make it edgier, consider leaving longer hair up top. This look will be a great option for men with any lifestyle.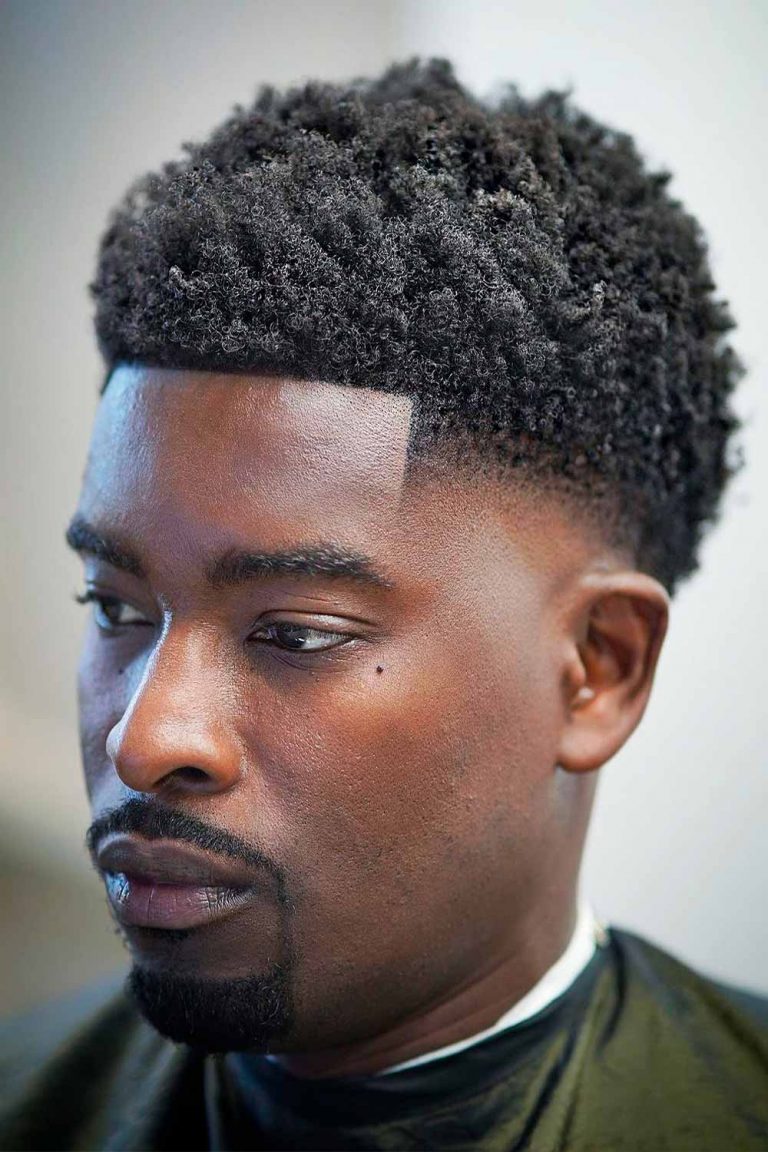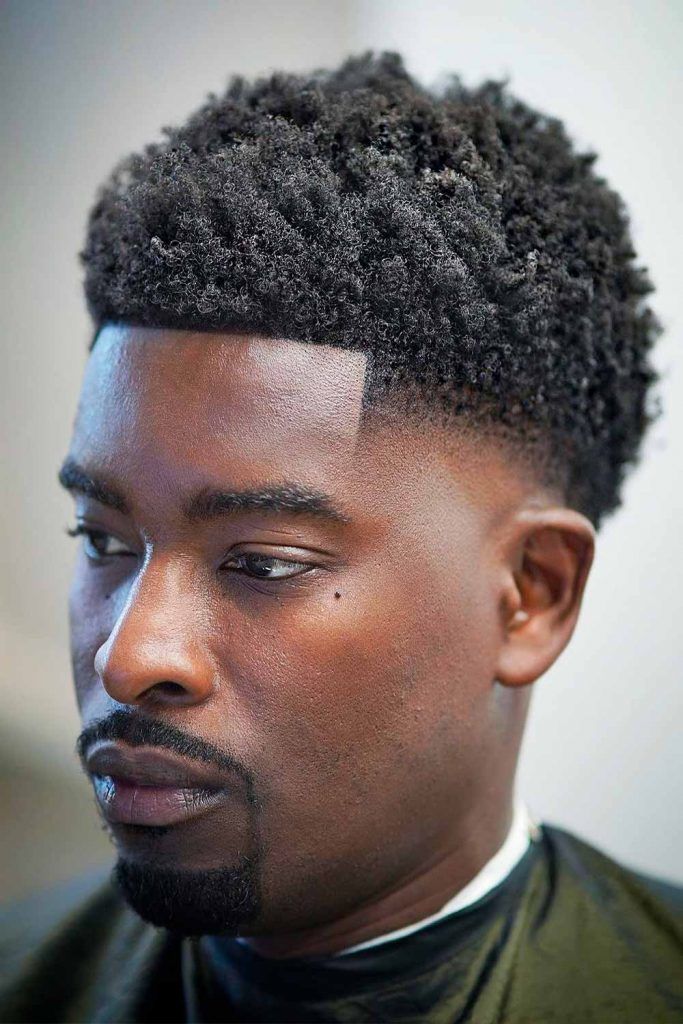 Source: @nickthebarber via Instagram
Bald Fade Black Men
Although a skin fade is not a haircut for everybody, it is definitely worth your attention. An Afro fade is one of the most popular choices for men with kinky hair for good reason. It allows your unruly locks to appear neat and clean. Besides, it keeps the focus on the top, which helps to create a bold look.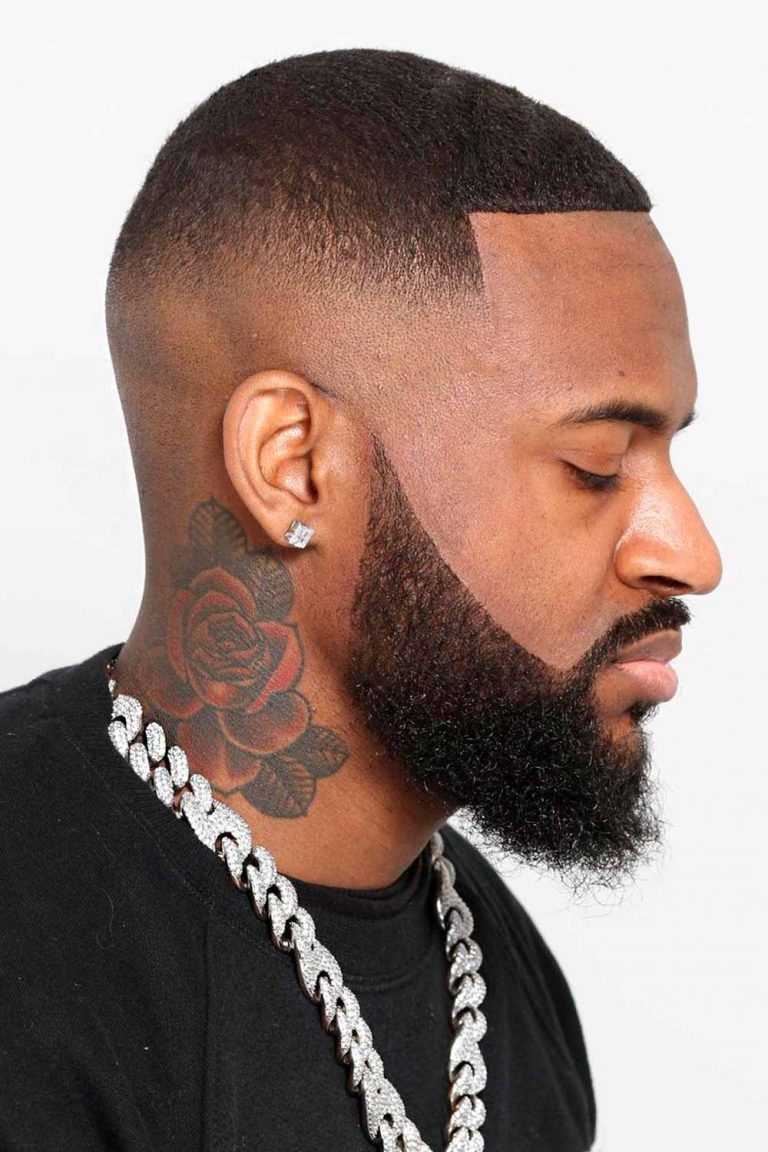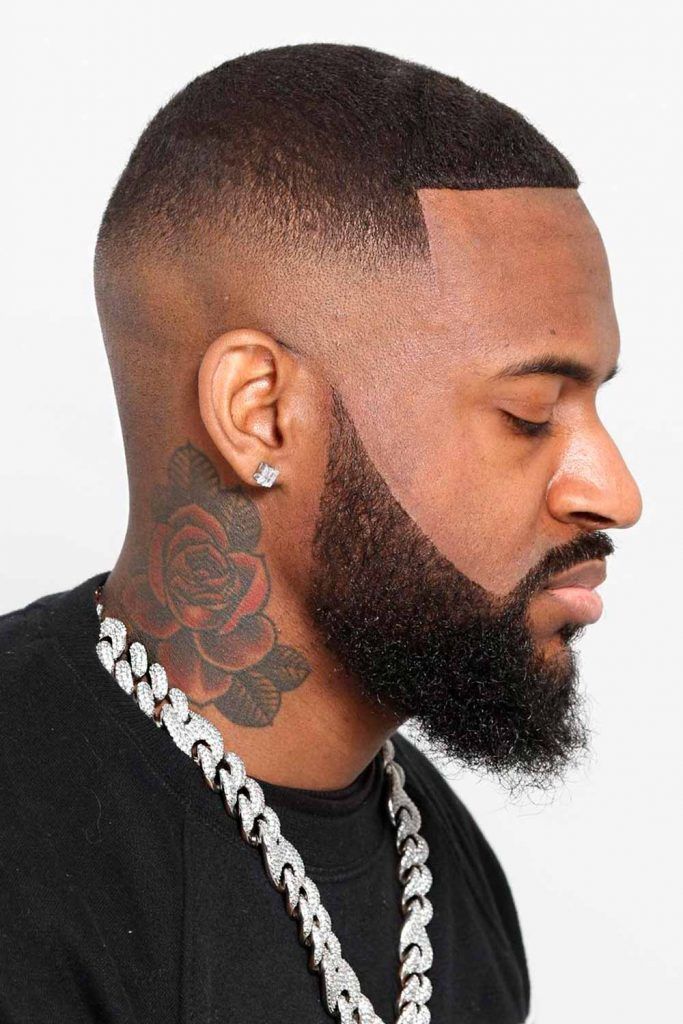 Source: @adrianfanus via Instagram
Temp Fade Haircut Black Men
A temple fade is a common accompaniment for many black haircuts. It goes right from the hairline close to the temples. It belongs to the shortest cuts, which does not make it in the least bit less stylish. A good idea will be to pair it with an edge up for a sharper outline near the edges.
Source: @hayden_cassidy via Instagram
Afro Drop Fade
A curved around the back and sides cut is called a drop fade. It is also often paired with a lot of popular black hairstyles, as it gives a fashionable and cool vibe to your look. It can easily spruce up all black mens haircuts thanks to the unconventional and intricate shape.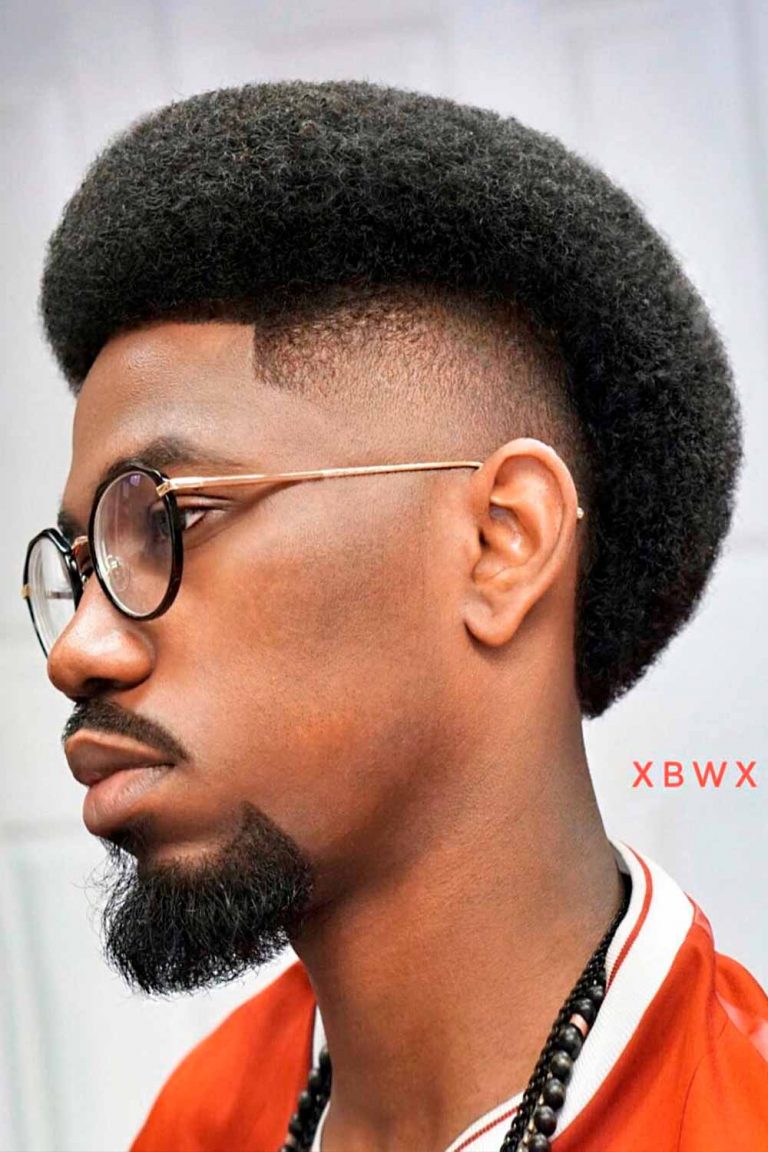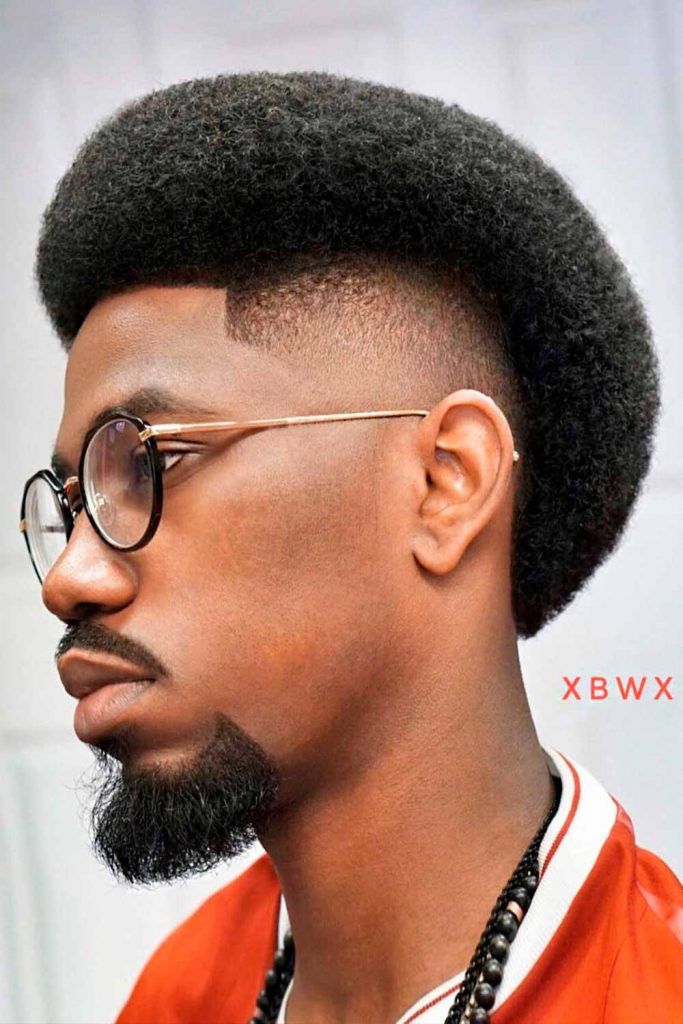 Source: @xbigwesx via Instagram
Curly Top Faded Sides
As the name implies, a curly hair fade is all about your afro hair curls. It has several options, depending on the type of fade, which helps to vary the intensity of the contrast between the top and sides.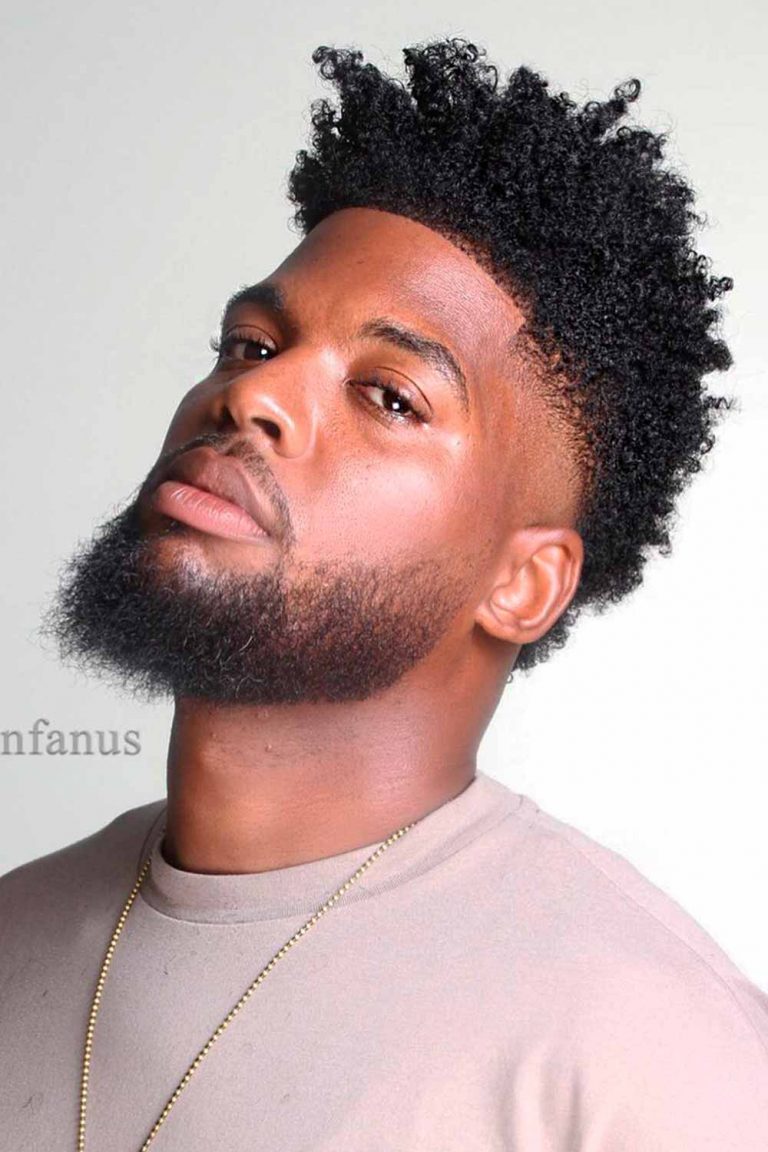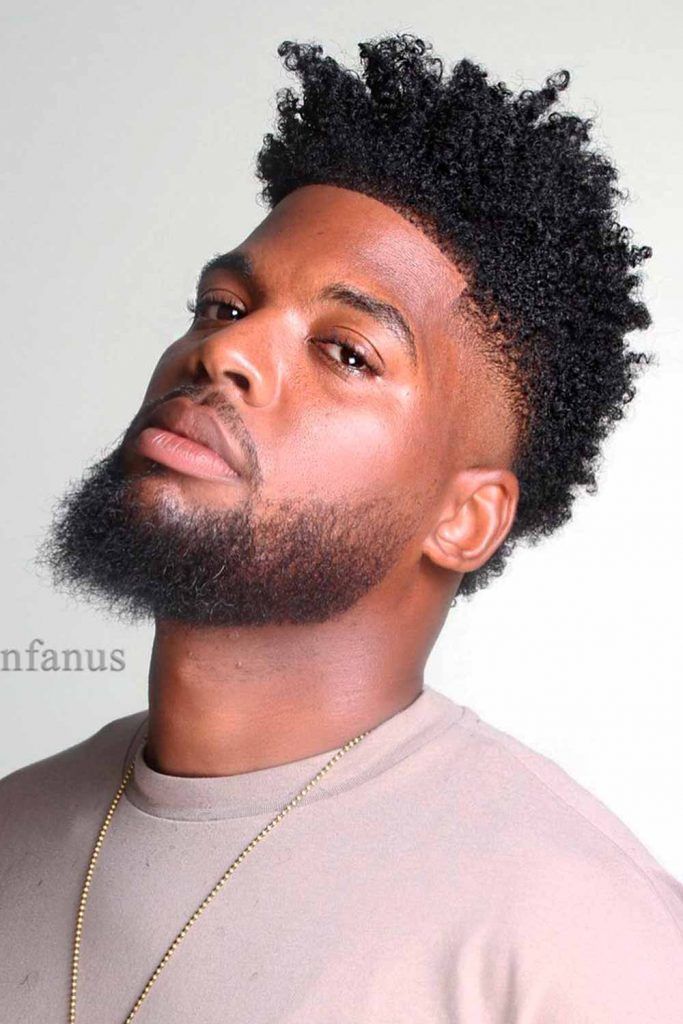 Source: @adrianfanus via Instagram
High Top Fade Haircut Black Men
The high top fade is often called a box haircut thanks to the neat and edgy profile it takes. Even though it has a vintage air, the high top fade remains one of the trendiest black men hairstyles.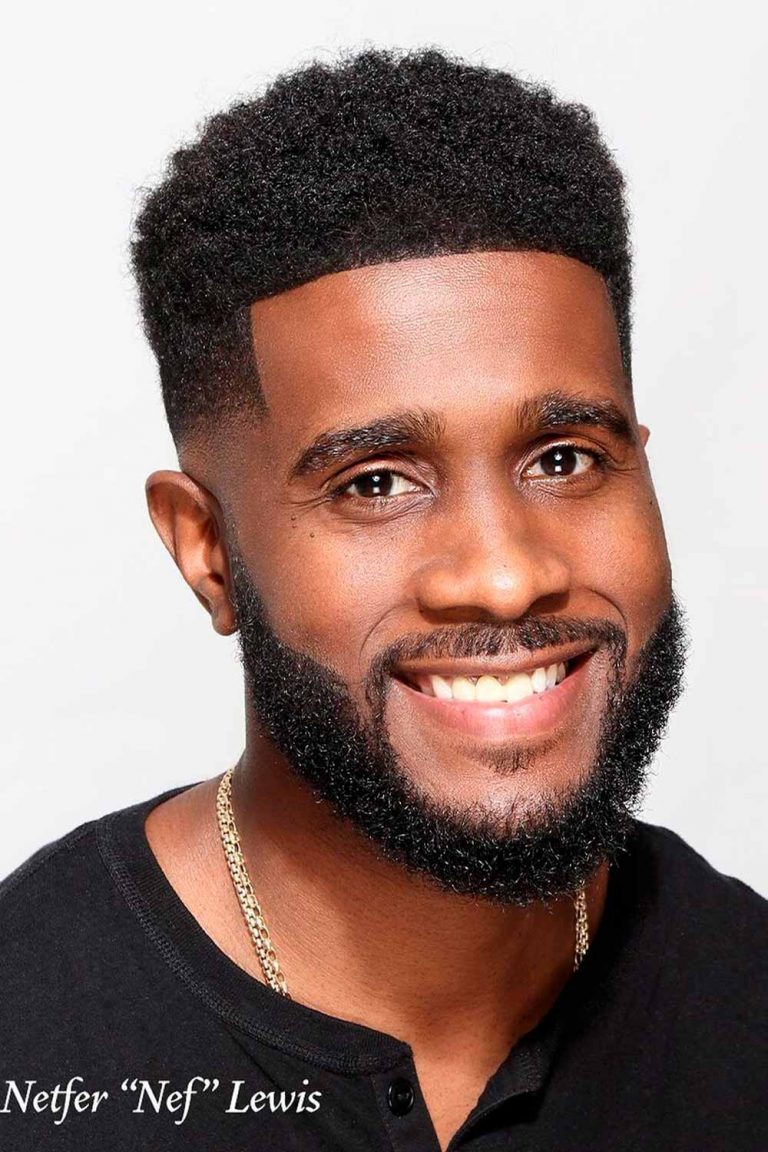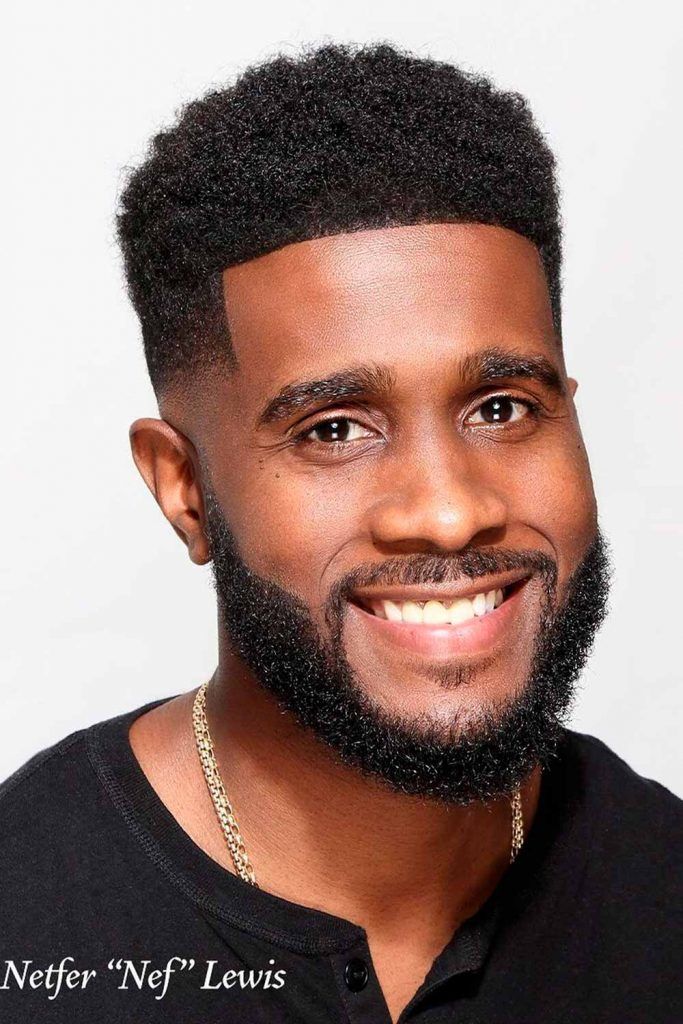 Source: @adrianfanus via Instagram
High & Bald And Curly
This curly fade is for guys who like to stand out in the crowd. It features completely bald sides and a high curly top, which creates a high contrast and eye catching look.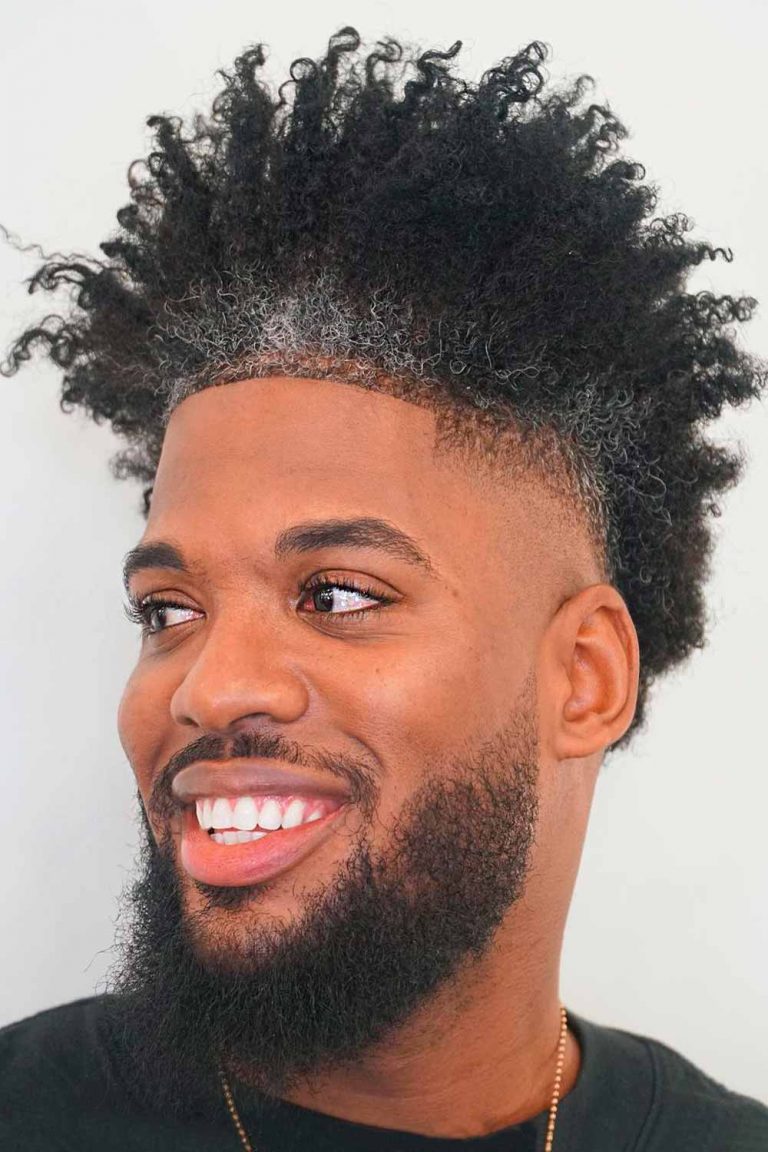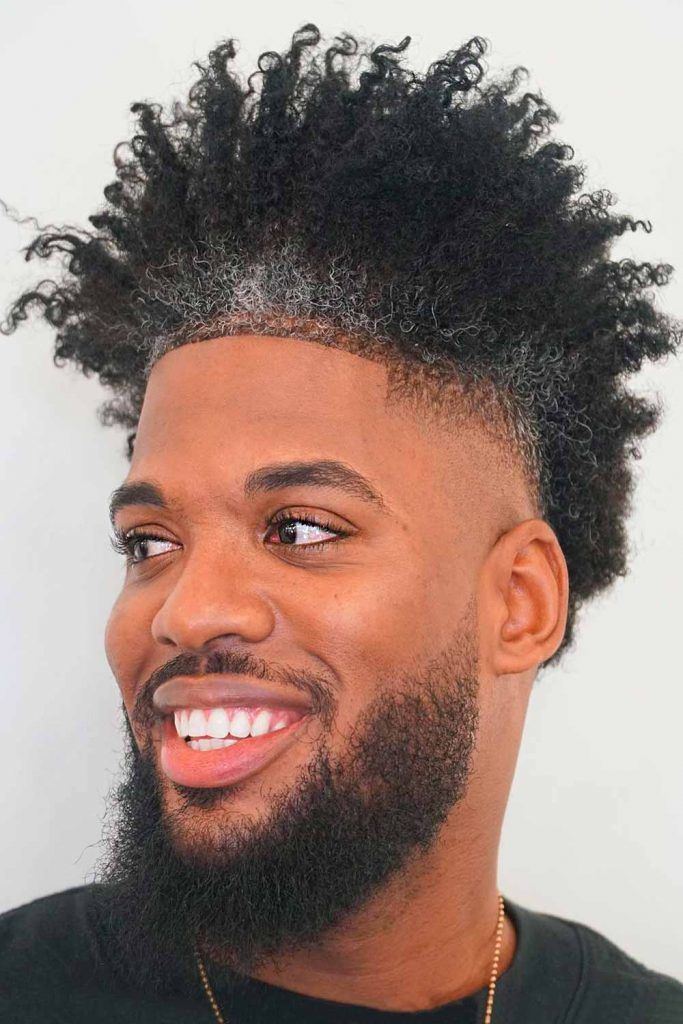 Source: @adrianfanus via Instagram
Blowout Haircut Fade
With a taper fade black men can go for any hairstyle on top, even the most prominent. So, if you are looking to add some volume and height to your top, consider a blowout taper fade Afro.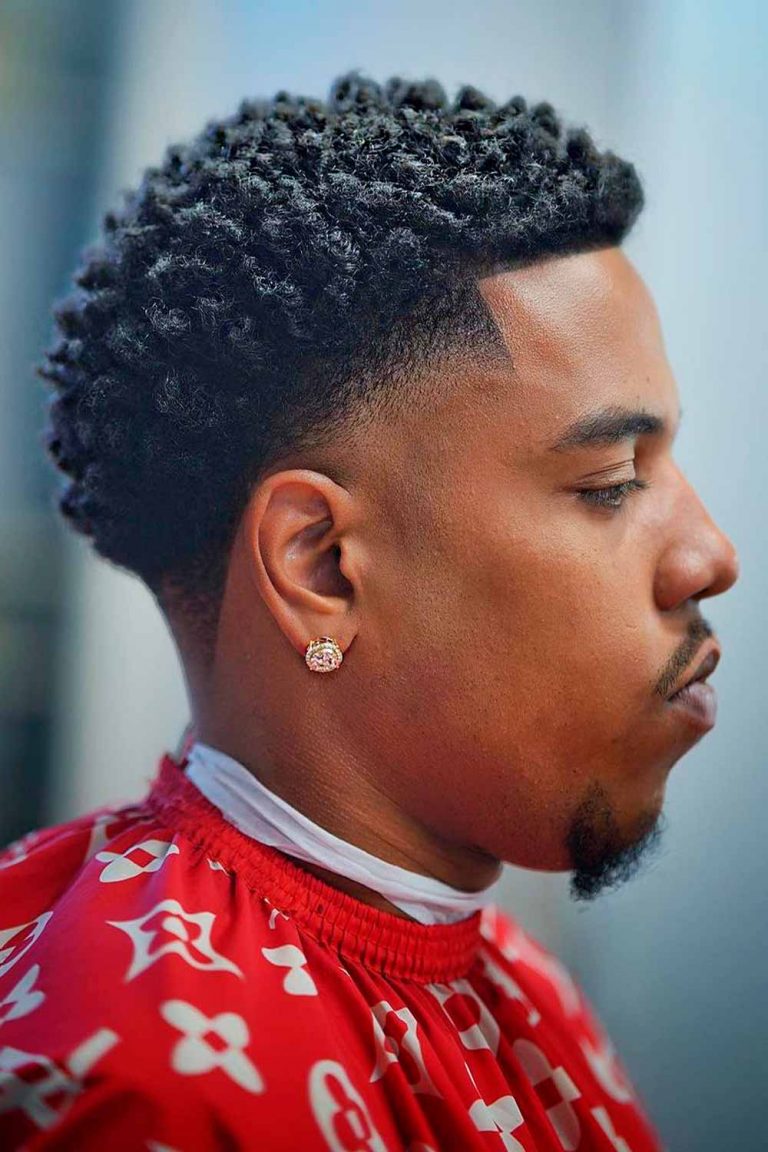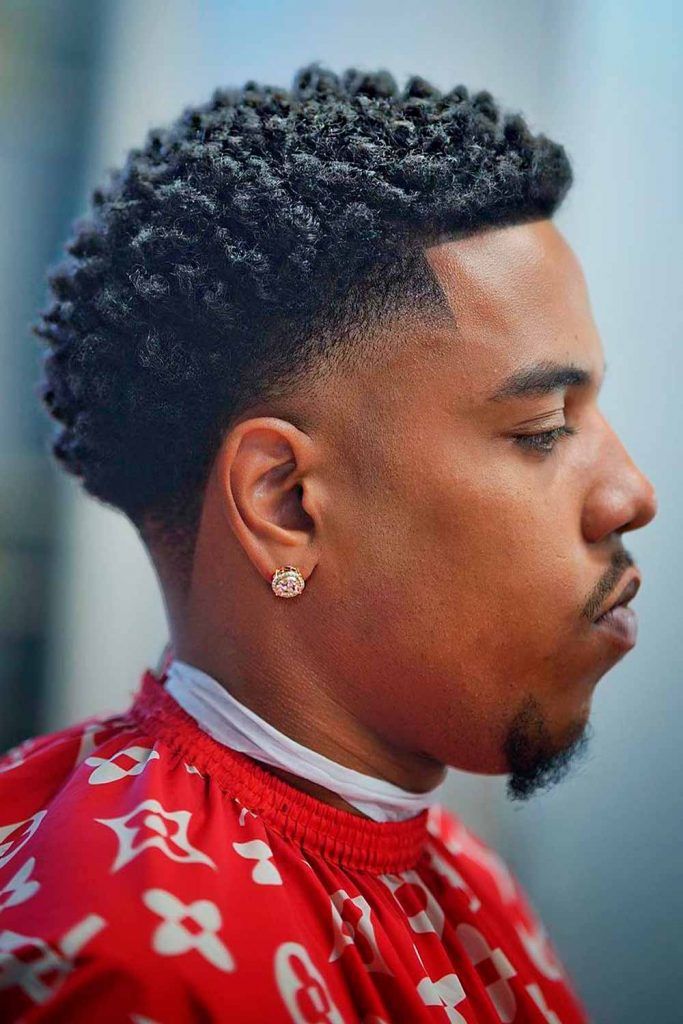 Source: @nickthebarber via Instagram
Fade, Curls & Design
If you are no stranger to being in the center of attention, then this curly fade haircut with a hair design is made for you. Remember though that it needs regular upkeep so that the pattern looks sharp.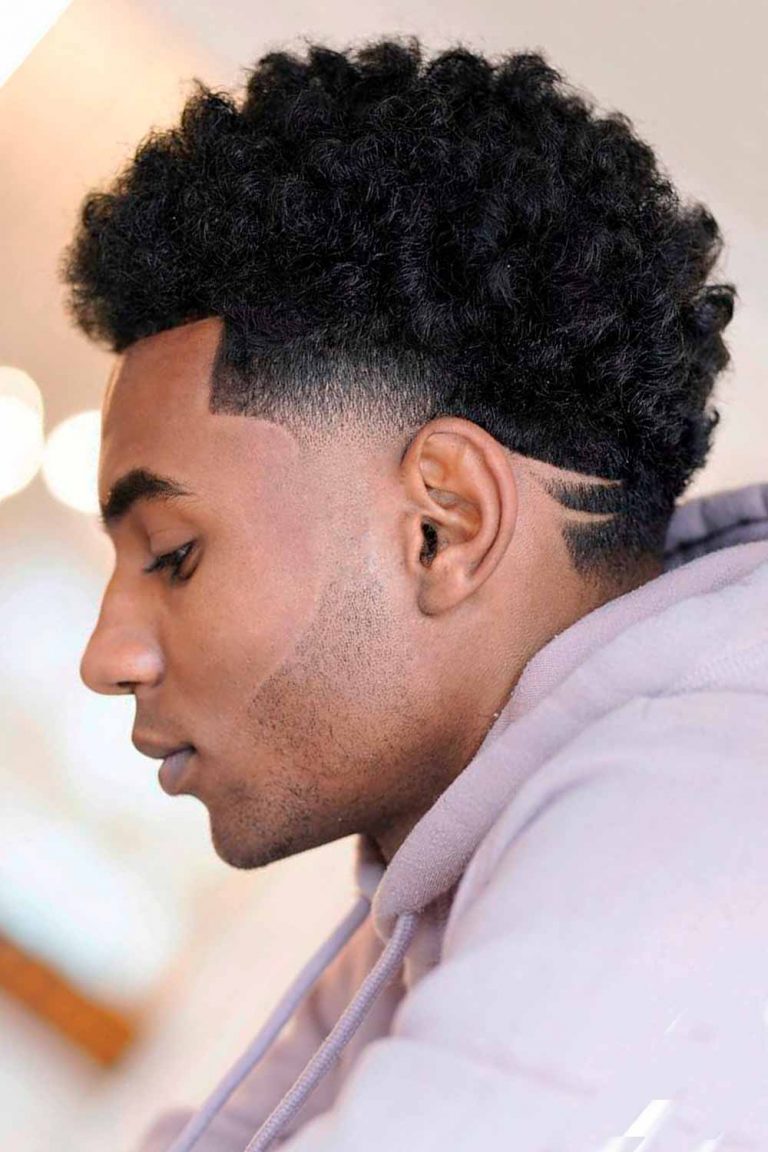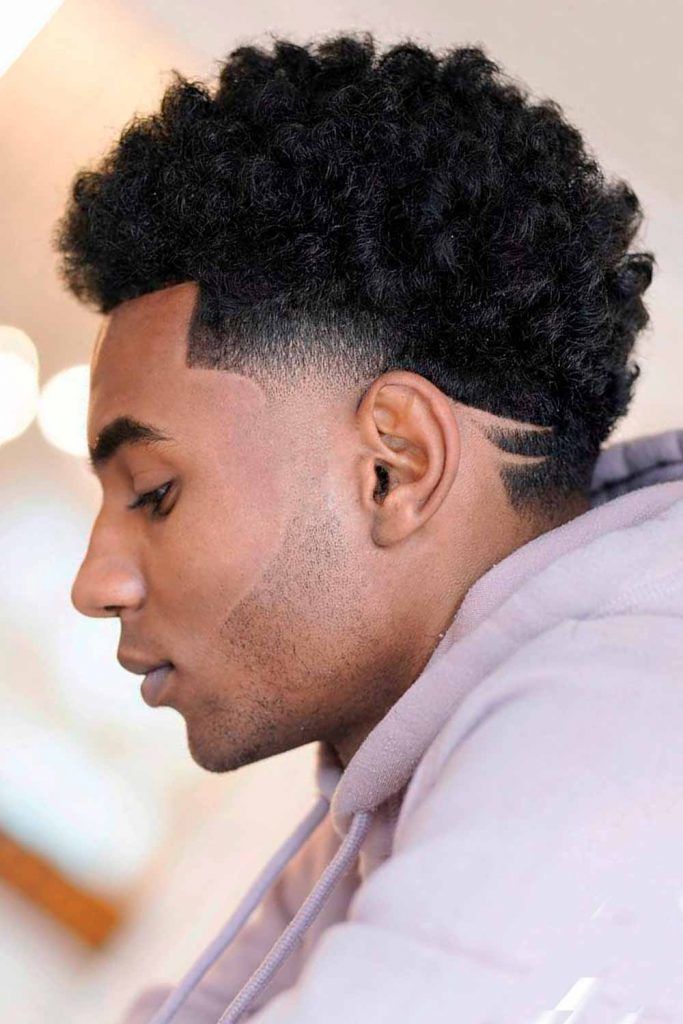 Source: @z_ramsey via Instagram
Faux Hawk Fade Haircut Black Men
One of the best classic black male hairstyles is a faux hawk fade hair cut. You're welcome to pair different lengths of the top with various intensity of the fade.
Source: @glassboxbarbershop via Instagram
Sponge Twists
If you want to get a really staple look, go for sponge twists hair on top and a fade haircut on the sides. No matter what fade you're going to choose– high or low, skin or burst, – your hairstyle will come out refined and exclusive.
Source: @f4fade via Instagram
Mid Temple Fade
To accentuate the splendor of your kinky curls, you should grow them out. However, with the growth, they can fall down on the sides and back. To prevent this from happening, consider one of the fade hairstyles. By partnering a mid temple fade with tight coils, you get one of the neatest black men haircuts.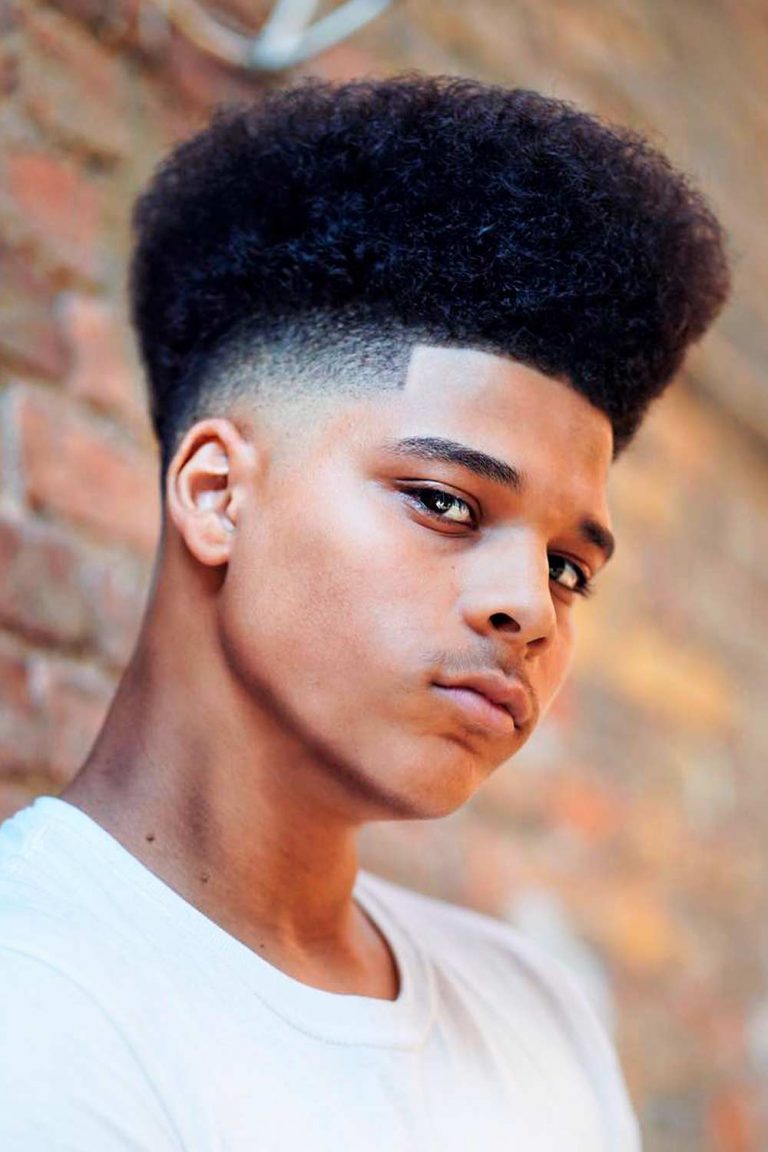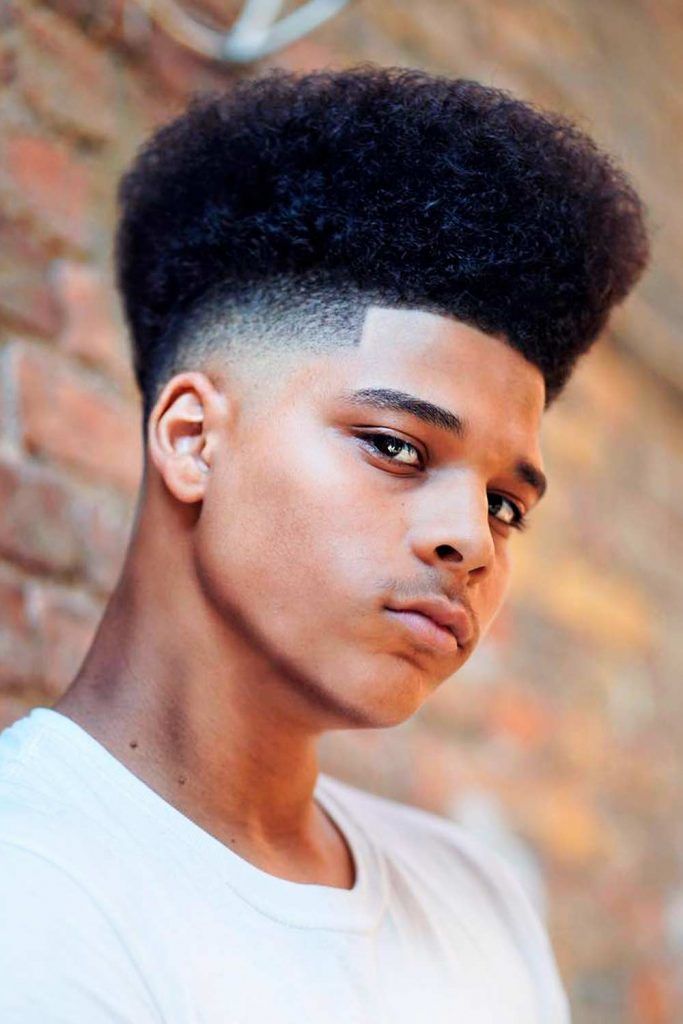 Source: @f4fade via Instagram
Short Fade Haircut Black Men
Even though the vast majority of afro hairstyles for men feature length and volume, a good way to freshen up your style is to go with one of the short haircuts black men typically pair with various types of fade.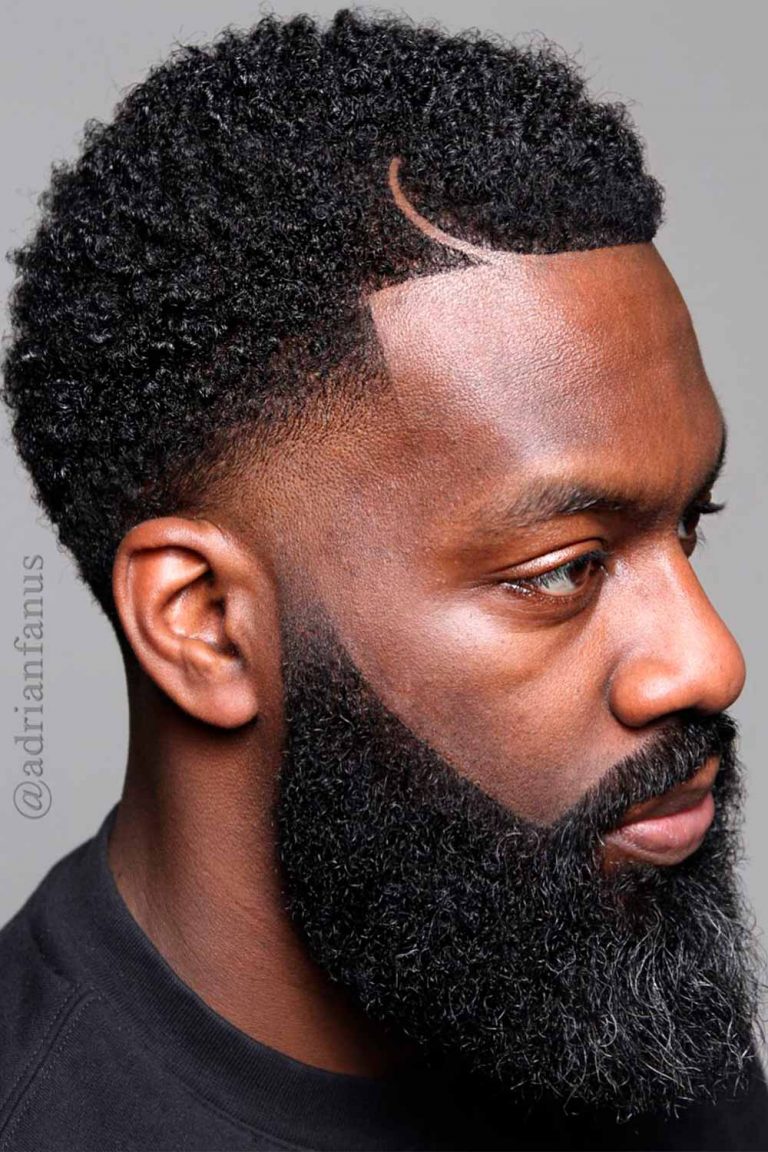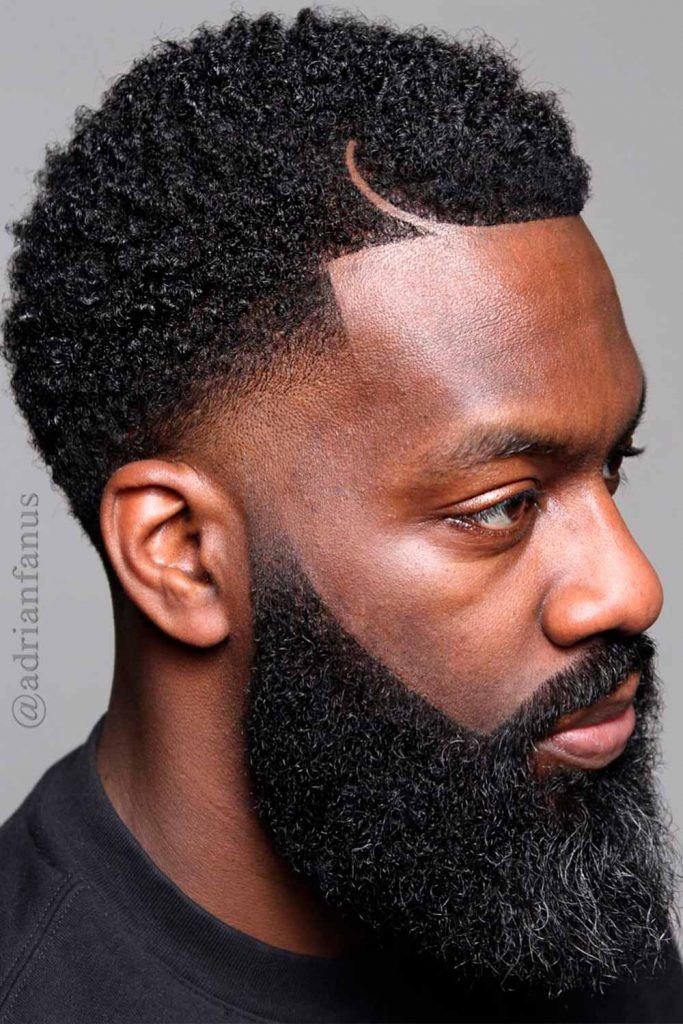 Source: @adrianfanus via Instagram
360 Waves + Fade
Accentuated with waves haircut requires quite a lot of effort as well as tools and styling products. As the top is quite elaborate, give the sides a short fade, thus achieving breathtaking afro fade waves.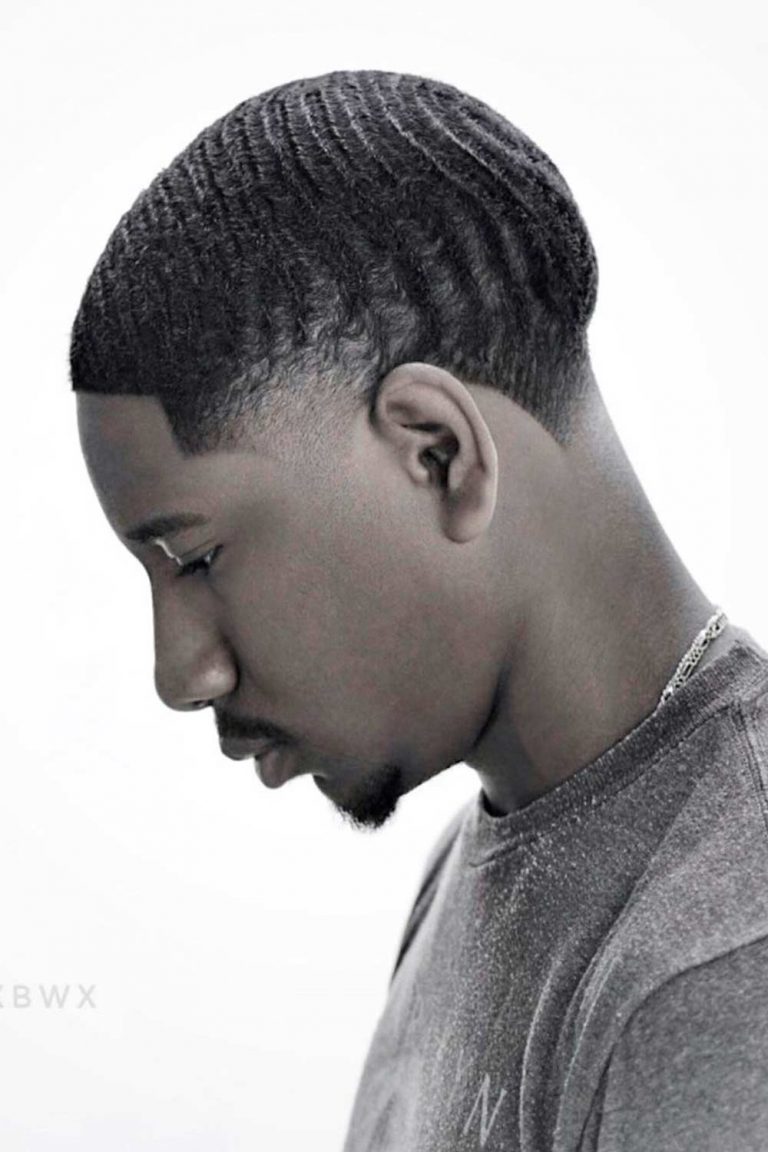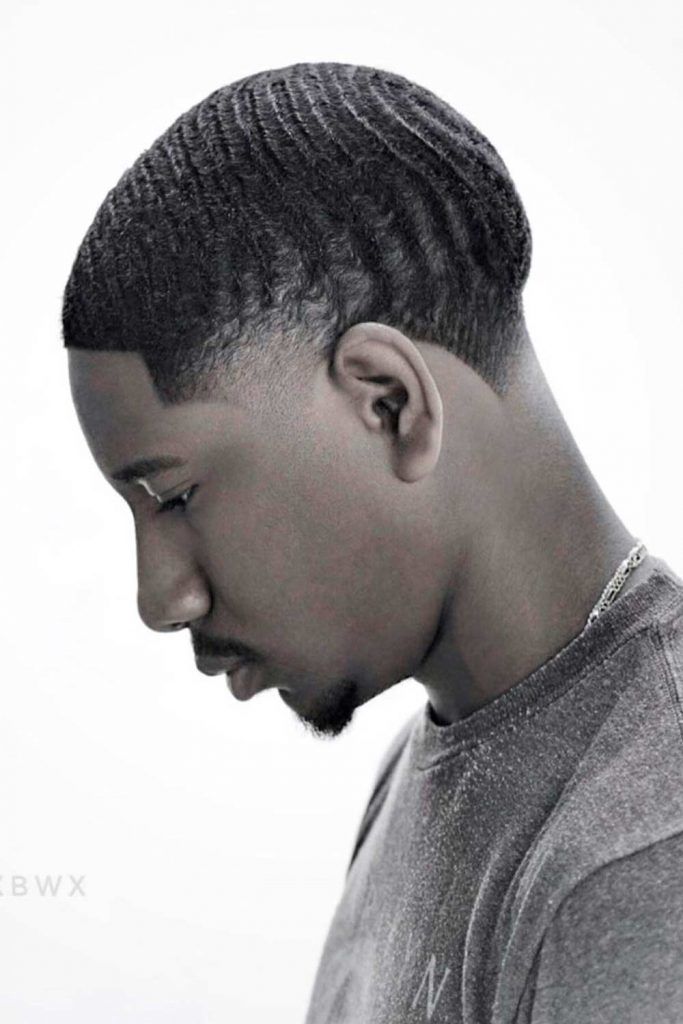 Source: @ xbigwesx via Instagram
High And Tight Fade Haircut Black Men
A high and tight fade is one of the most requested hairstyles among black men. Even if it's low maintenance, it still requires regular upkeep to look flawless and edgy.
Buzz Cut And High Fade
Do you play sports or have a dress code at the office and look for a really clean and neat hairstyle? A buzz cut with high fade is right what you need. It's an easily manageable fade haircut that a lot of black men give preference to.
Source: @mikes_custom_kuts via Instagram
Drop Fade And Short Hair
A real gem of short black hairstyles is a drop fade haircut men perfectly complement with a curly top. What gives the cut a unique look is that the curls follow the fade line.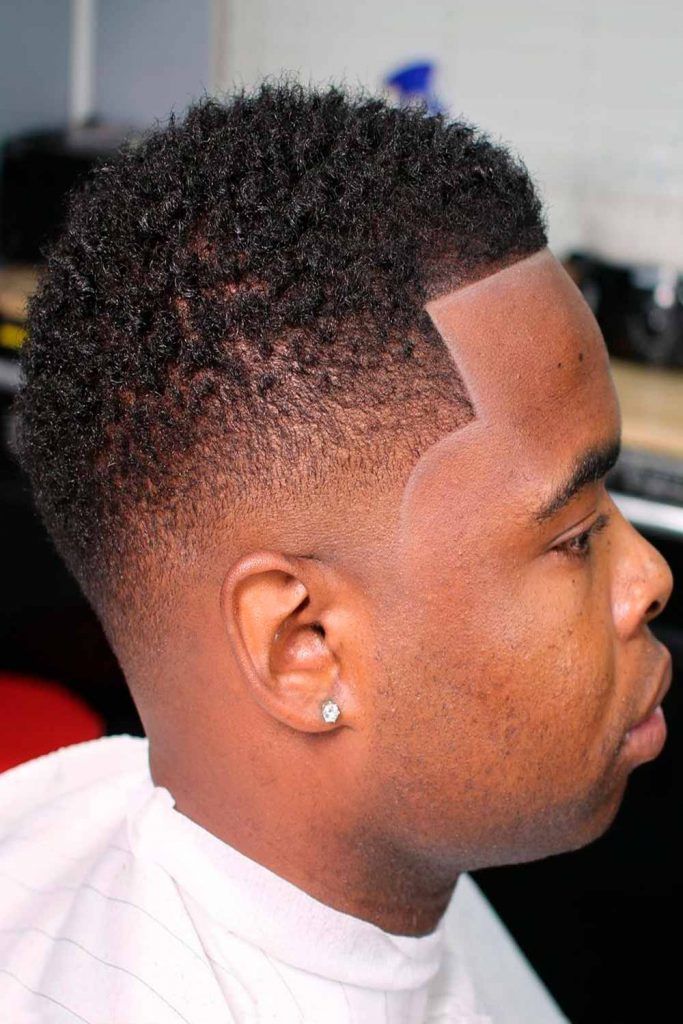 Source: @cool_cutz via Instagram
Buzz Cut And Shaved Line
What a great way to make African American short hairstyles even bolder than they are! The top is buzz cut, while the sides are high faded. To pull everything together, pair the buzz fade with beard, line up and hard part.
High Top And Mid Fade
Long haircuts for black men have been trending for quite a while now. As there's a lot of volume on top, don't leave the sides and back too long. A mid fade haircut is a perfect choice.
Source: @nickthebarber via Instagram
Fade Frohawk
The faded Mohawk on top with intricate hair designs on the sides looks daring and exciting. Note how flattering the star-shaped carved design comes out with a mid fade.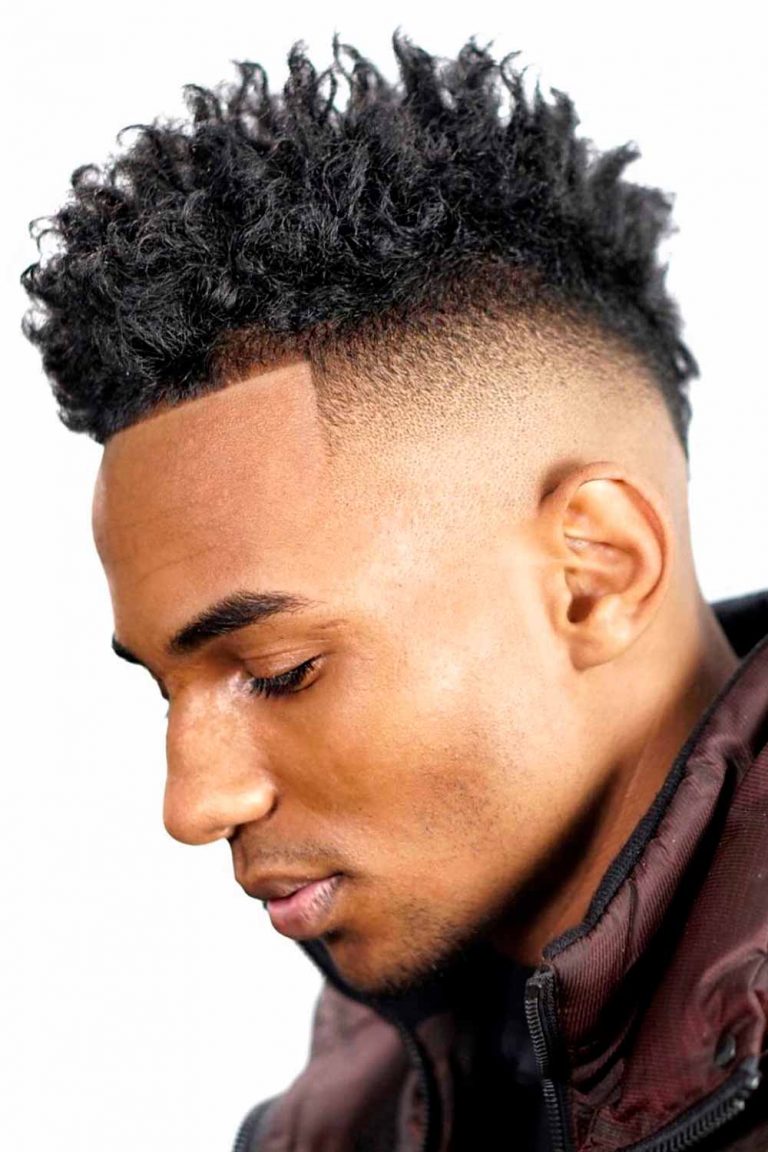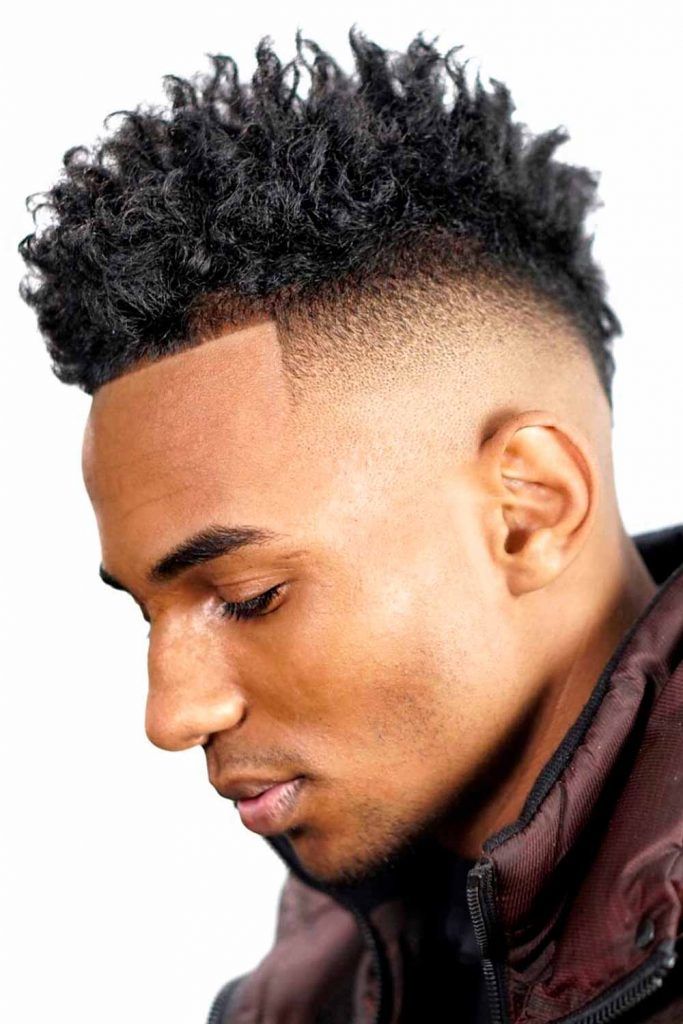 Source: @z_ramsey via Instagram
Patterned Skin Fade
A fade serves as the perfect canvas to accentuate mens hairstyles with shaved-in patterns. After a couple of weeks, your skin fade haircut will require upkeep, as the contrast between the skin and hair will fade away.
Source: @f4fade via Instagram
High Fade And Sponge Curls
If you're up to contrasty black men haircuts, a high fade with a sponge curly top is an ideal option.
Source: @f4fade via Instagram
Flat Top
Flat tops are still very popular among Afro guys and if you are one of its fans, why not upgrade it with a fade haircut black man style? Because your top is so impactful, faded sides will help you to achieve balance.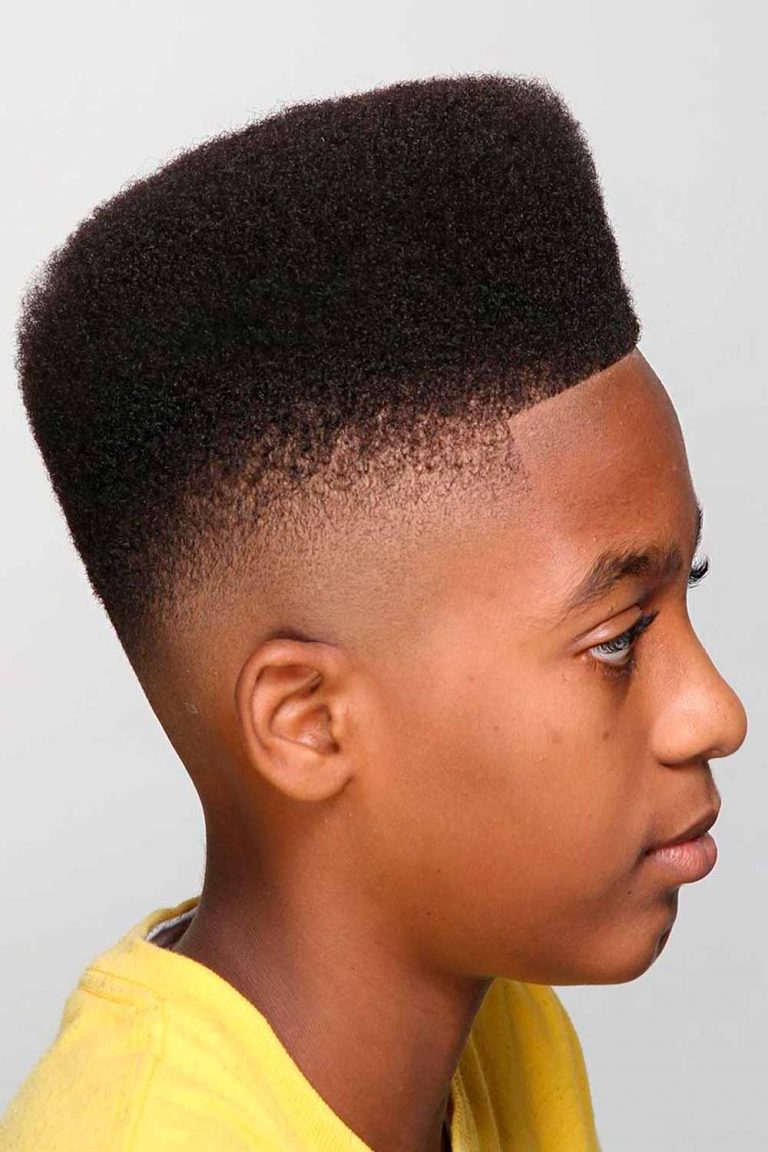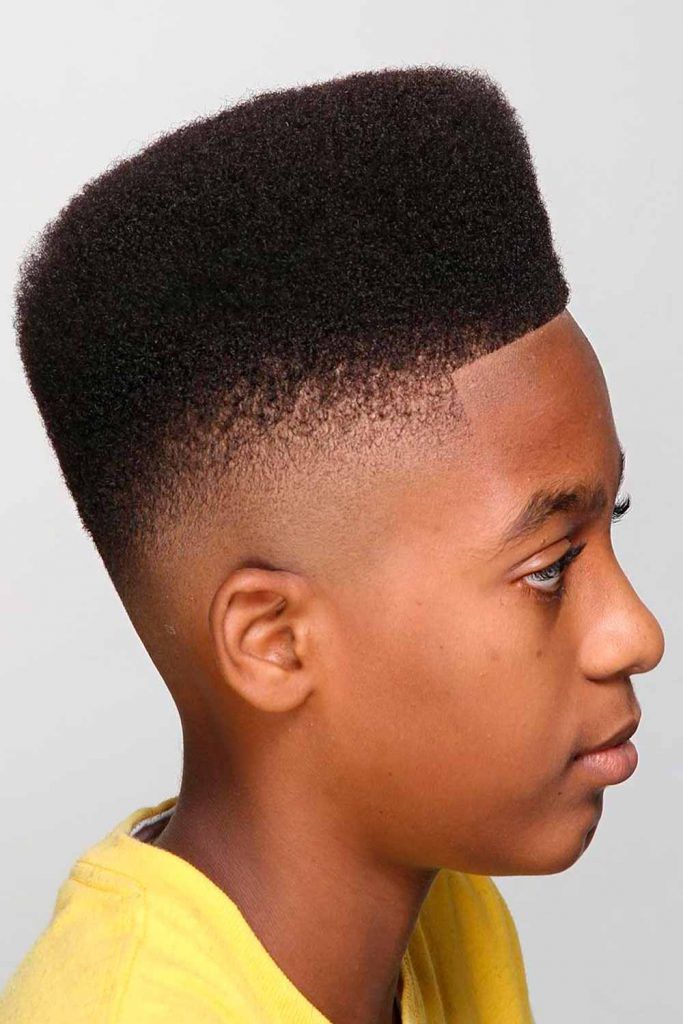 Source: @adrianfanus via Instagram
Dreadlocks Undercut Fade
If dreads are your haircut of choice but you got a bit tired of them, do not shave them off completely yet. Try to remove bulk with a low fade black men haircut first and in case it does not help, you can either change the boldness of the fade or go for a buzz cut.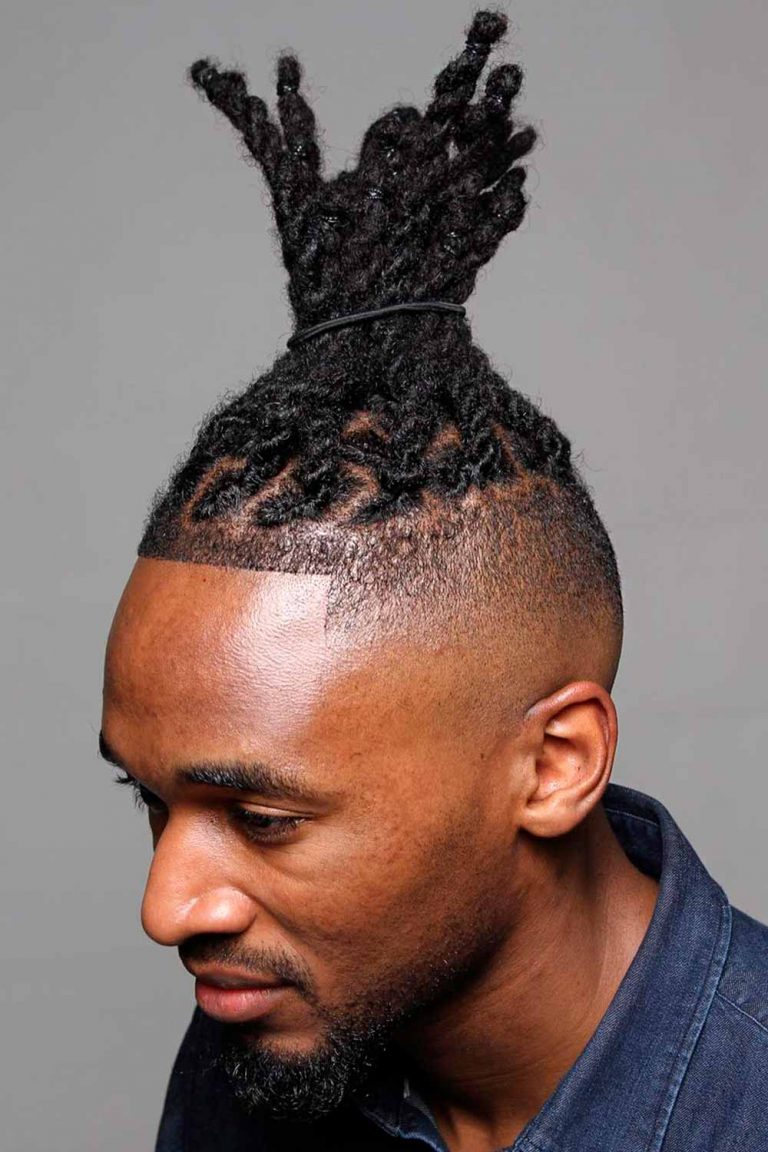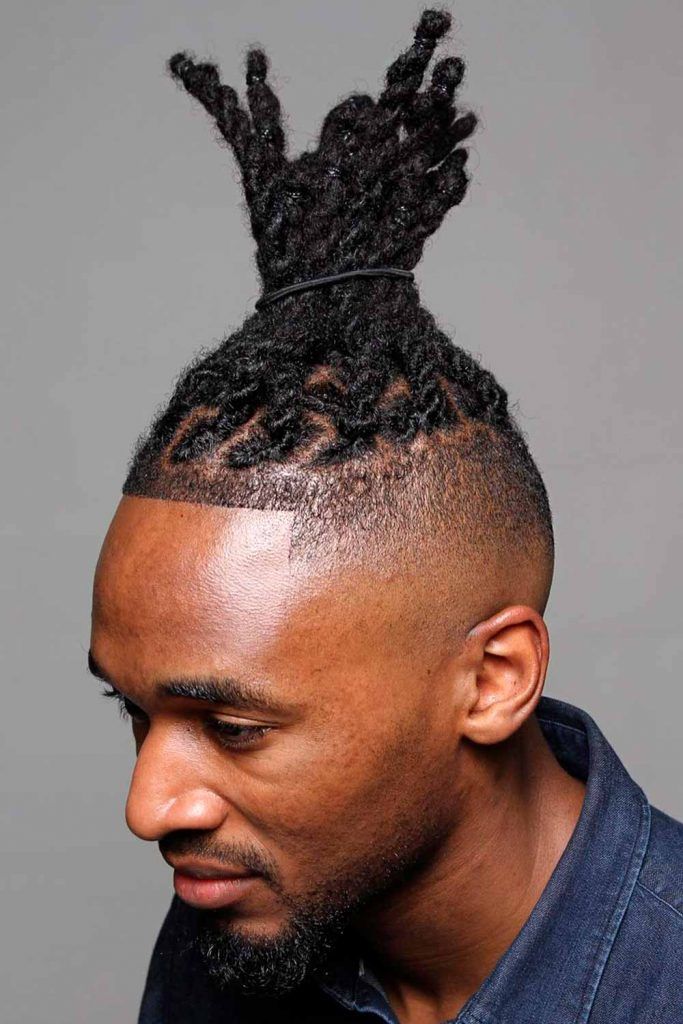 Source: @adrianfanus via Instagram
Blonde High Top Hairstyle
Source: @mikes_custom_kuts via Instagram
Line Up + Low Fade Haircut Black Men
Source: @f4fade via Instagram
Two-Toned Faux Hawk + Hair Tattoo
Source: @cuttzbycuz via Instagram
Natural Texture + Skin Fade
Source: @w_k_o via Instagram
Skin Fade + Surgical Line Fade Haircut Black Men
Source: @nickthebarber via Instagram
Long Top Short Sides Fade Haircut Black Men
Source: @nickthebarber via Instagram
Rounded High Top With Hard Part
Braided Top + Skin Fade
With the fade haircut black men can create many different hairstyles. Depending on the length and texture of the top, give your sides a fade of various intensity and shape. We hope our compilation of the best fade haircuts for black men has helped you choose the style that matches your tastes.
FAQs
How do black men fade their hair?
There is a difference between fading Afro hair and Caucasian. Both fades start in the back at the hairline and go upward. The clippers should move with the grain so that there is no irritation or ingrowns. For a smooth and gradual transition, the hair should be faded in small portions with the help of guidelines cut in it and various sizes of guards. To create a perfect Black fade, it is better to employ electric clippers. A razor blade or shears with a comb will not give you the same result.
How do you fade an Afro?
Here is a quick guide to a fade haircut black men can do at home:
1. Take an electric clipper and cut the guideline for the shortest portions of the fade. If you are going for a bald fade, the hair beneath this line should be clean shaven.
2. Attach guard size #1 and create another guideline. It should be about 1/2 inch higher than the previous one. Make sure your black fade haircut is uniform in length and symmetrical.
3. Switch the guard to #2 and repeat the previous step. Continue fading the hair until blending it into the Afro top.
What does a fade haircut look like?
When looking at the frontal side of the fade haircut black guys wear, you will hardly tell its difference from the high and tight as well as short sides and back haircuts. However, from the profile view, it features the iconic faded finish.
Are fades still in style in 2021?
With their neat and crisp silhouette, black men fades are timeless. So, there is no doubt that they are still in fashion. Moreover, for a modern fade haircut black men have created many stylish variations, so you will easily find a trendy look to complement your haircut.
What is a taper fade black male?
A taper fade black male haircut is a popular way to give your Black hair an updated look while keeping it low key and reserved. Unlike a bald fade, an Afro taper features short hair at the bottom, which gradually increases in length and blends into the top.
REFERENCES: