There is a good reason why a middle part hair men style has reemerged as a fashion trend Eboy haircut and does not seem to go away anytime soon. It adds a hundred points to your appeal and does not leave anyone indifferent. Plus, it offers you multiple styling ways, from simple and low key to elaborate and intricate. If you are not sure what style to choose, you have come to the right place. Our guide contains the coolest middle part hairstyles men ideas for every taste.
Wet & Styled Curtain Bangs Men
In addition to a curtains hairstyle, you can adopt another popular 90s hair trend, which is wet hair. Together, they make up very attractive and stylish medium hairstyles for men. To achieve it, you need to apply a hair gel with a wet finish and allow your hair to air dry. If it comes out a bit messy, no worries. This adds extra flair to the look.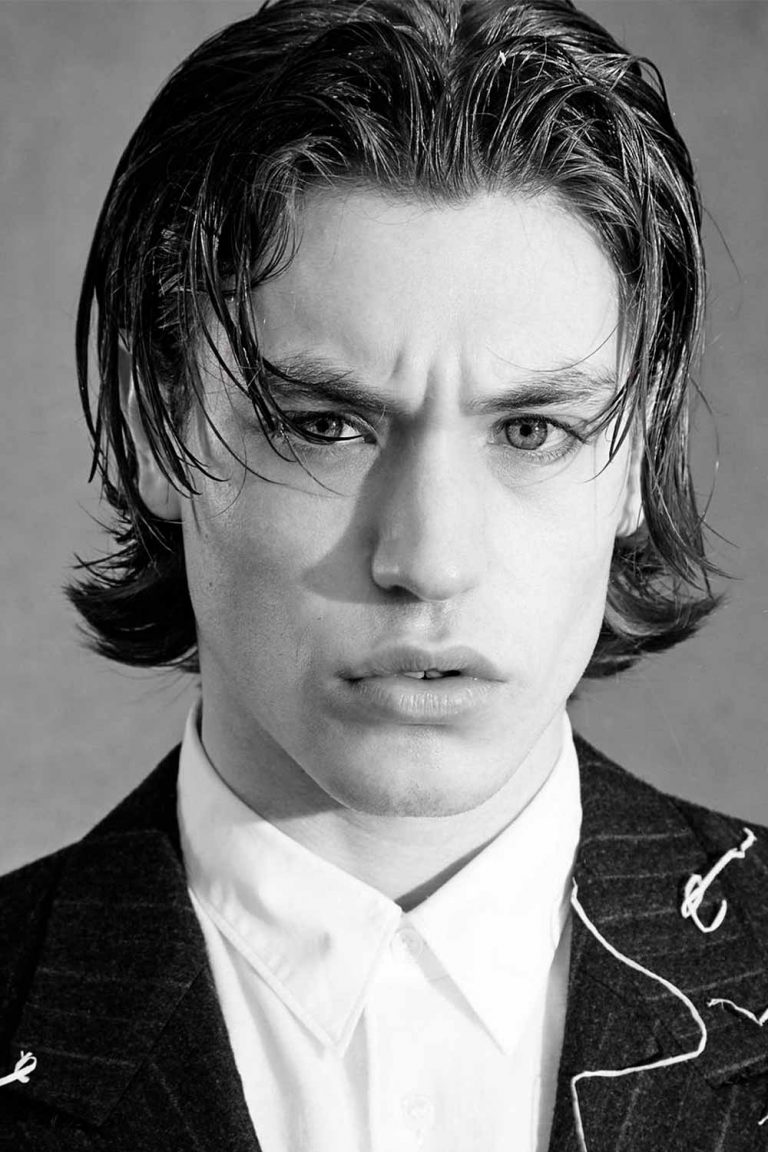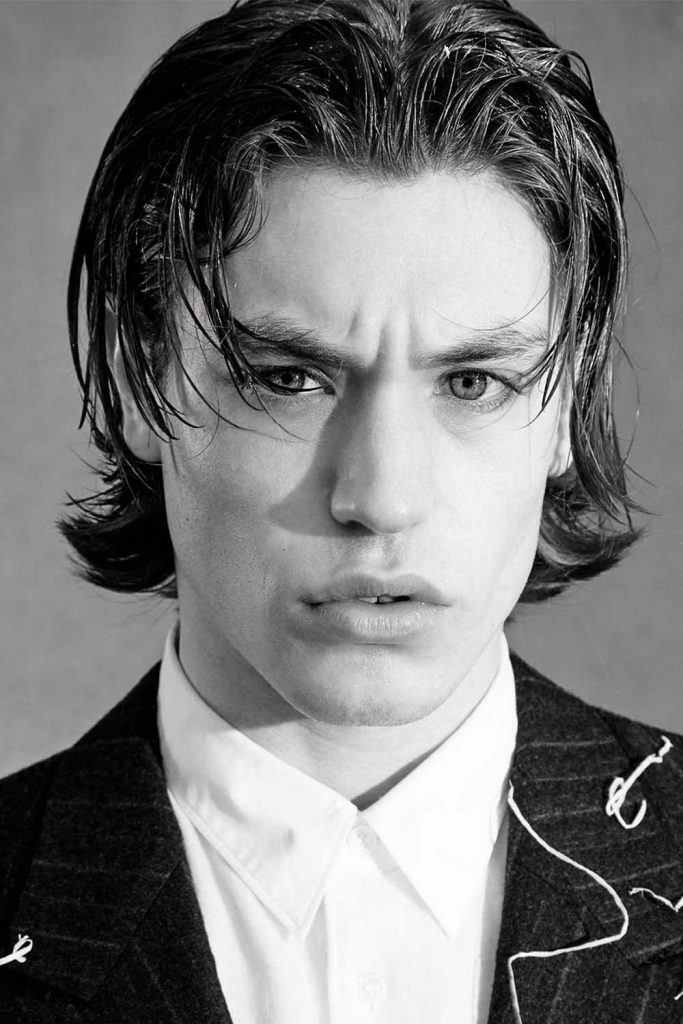 Source: @hayden_cassidy via Instagram
Long Middle Part Hair Male
Are you a fan of long tresses? There is a middle part hair men cut for you too. So that the strands do not drag your face down visually, it is better to add some volume to them. You may do this with the help of a powerful blow dryer and a round brush.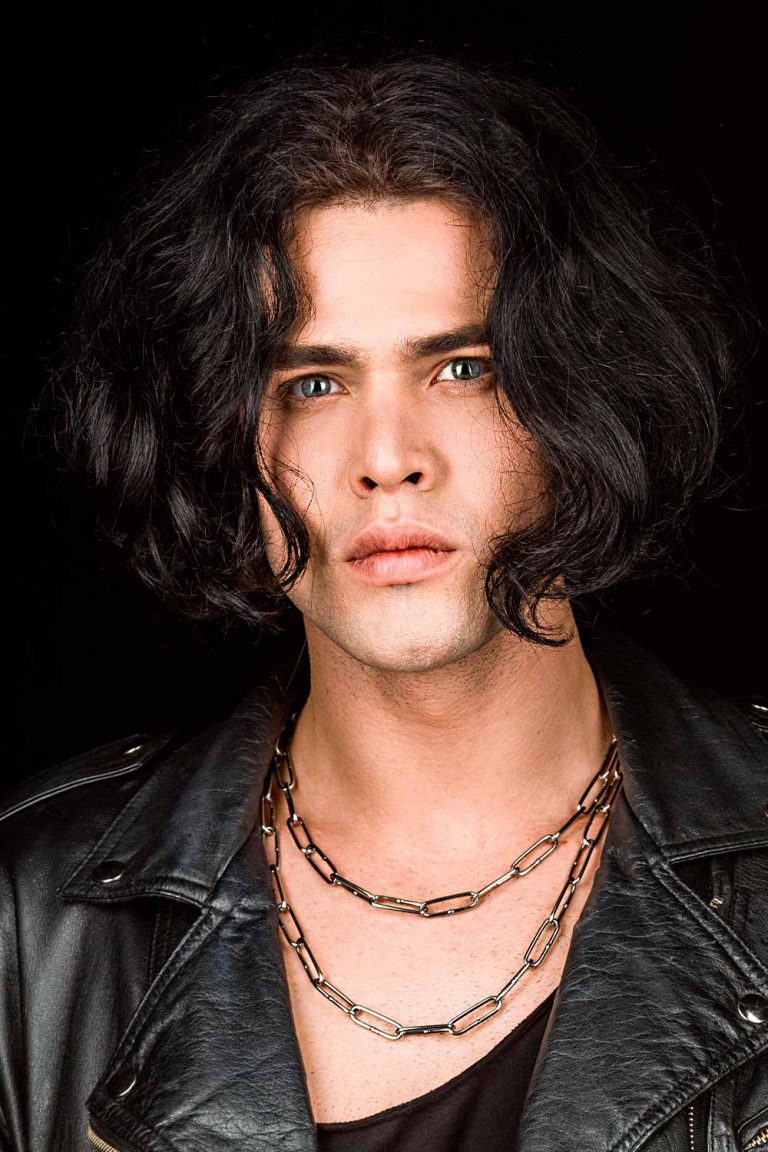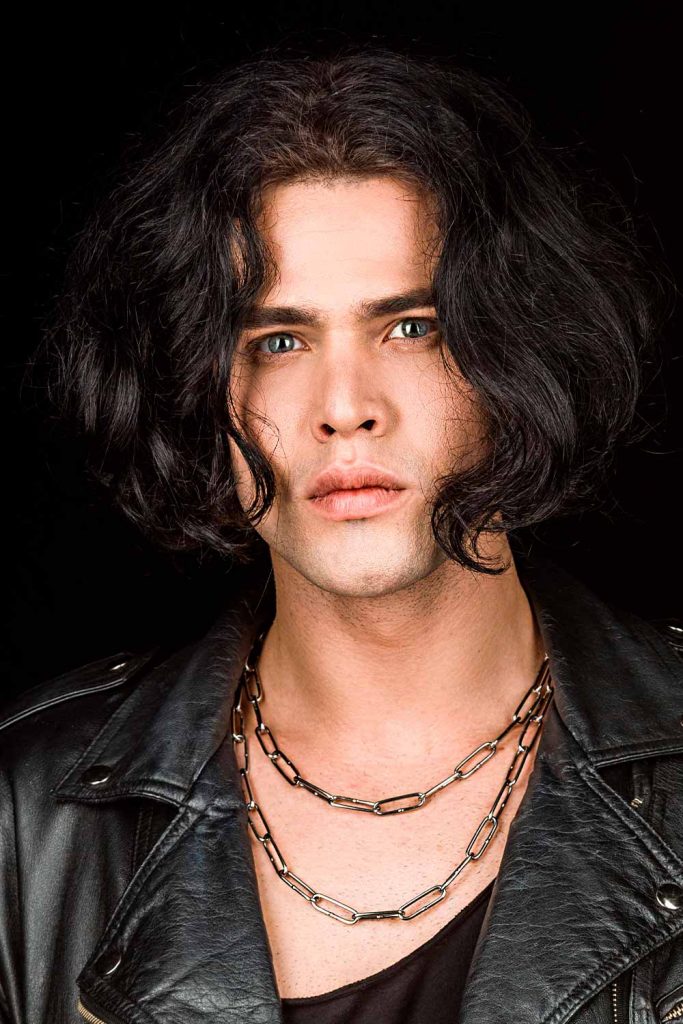 Straight Mens Curtain Haircut
Middle part hairstyles are made for straight hair. Hardly any other hair texture will give you the same curtain haircut effect. So, if you would like to get an authentic look but naturally you have wavy or curly locks, then you will need to straighten them beforehand.
Source: @andrewdoeshair via Instagram
Short Middle Part
When it comes to a curtains haircut, there are no restrictions in terms of length. As soon as your hair can be curled down on the sides, you are welcome to go for the look. A short middle parts hairstyle actually looks pretty neat and fresh.
Curly Middle Part Mens Hairstyle
For curtain haircuts male curls are also a wonderful foundation. The haircut seems more structured and prominent on curly hair men. For added emphasis, you may apply a texturizing product to your strands and style them with a diffuser attachment. Though, keep in mind that curly hair requires more time to grow. So, you will need to be patient.
Wavy Middle Part
To get perfect curtain hair men with wavy locks need to get the right haircut first. So, tell your barber that you are planning to style your hair parted in the middle so that you could end up with the wavy middle part male hairstyle everyone will feel envious of.
Middle Part Undercut
With an undercut middle part looks more defined and high contrast. Besides, it makes your hair easier to style and maintain so you can never go wrong with it. Yet, to keep your middle part bangs in the spotlight, do not forget about regular upkeep.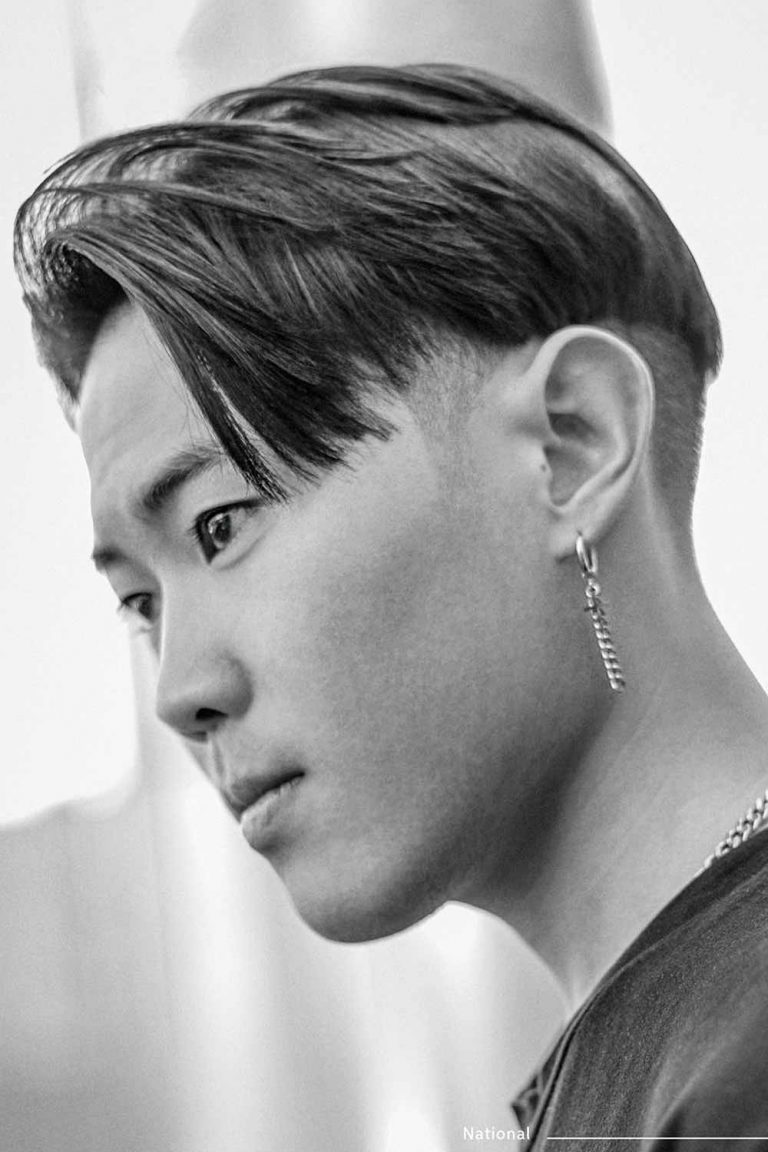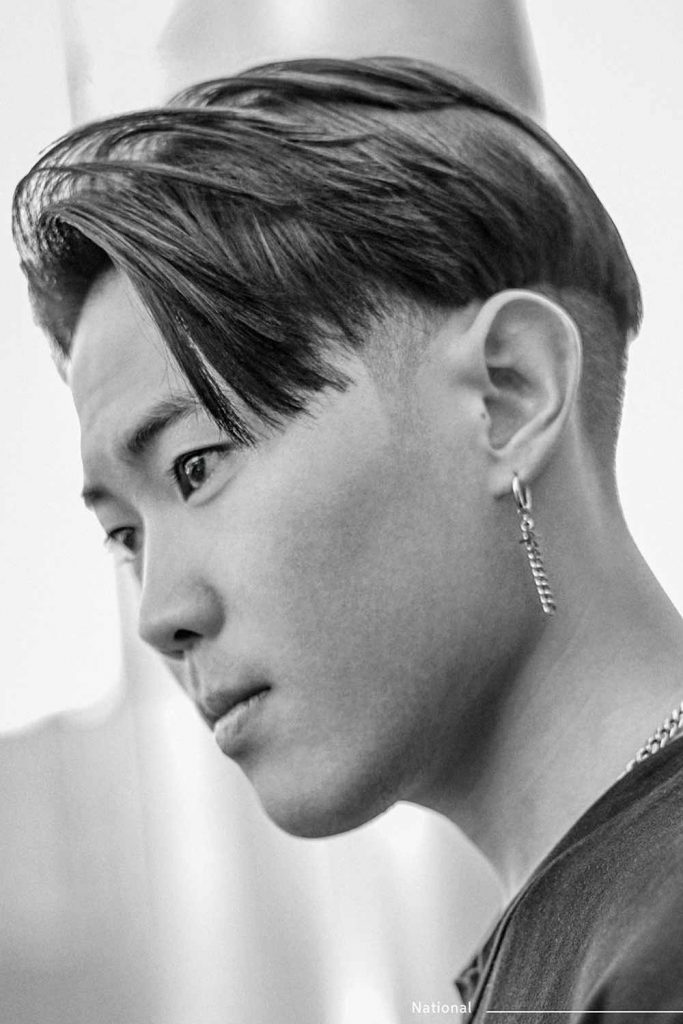 Source: @a.nizhnick via Instagram
Middle Part Fade
With a fade curtain haircut still looks quite bold and prominent. Though, it is not as striking as an undercut men middle part. This makes it softer and more wearable, which is a perfect option for guys who have to abide by dress code rules at work.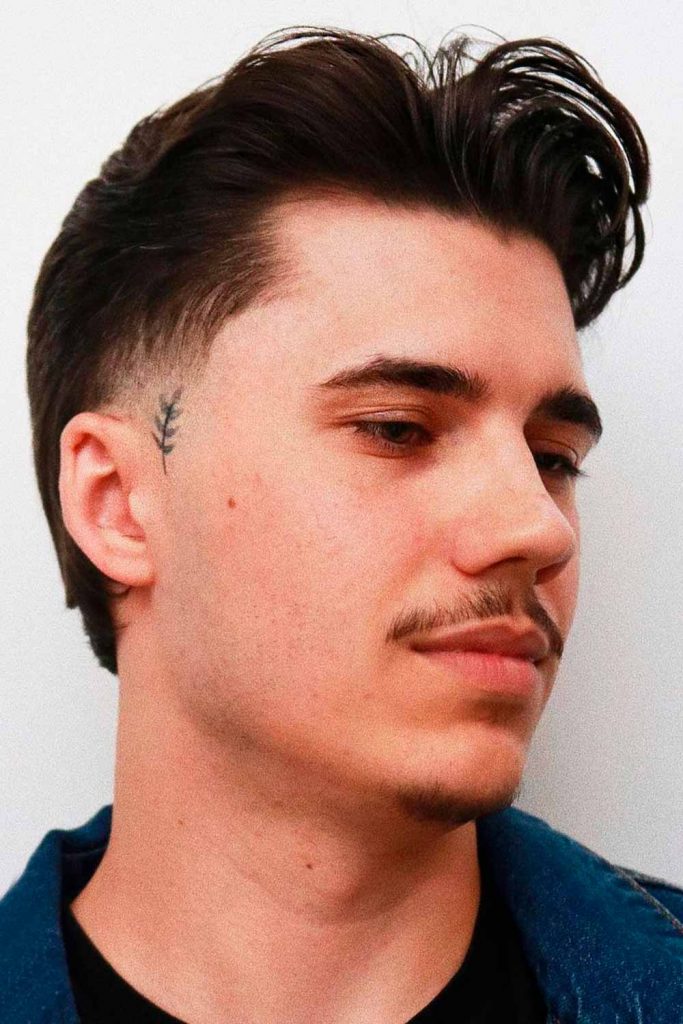 Source: @hayden_cassidy via Instagram
Curtains Hairstyle With Mustache
A mens middle part style can be enhanced with a bit of facial hair. In case you are not a fan of a beard, you can get away with a mustache. There is a wide range of options to choose from, depending on the impression you want to make.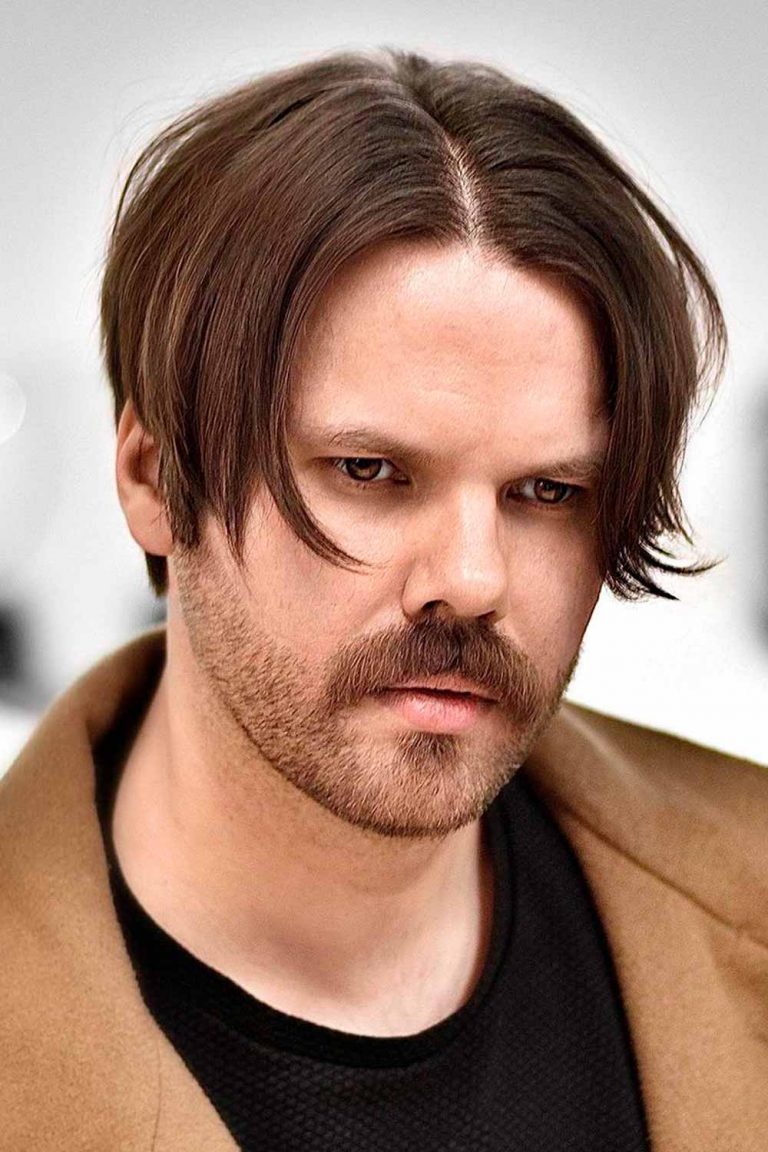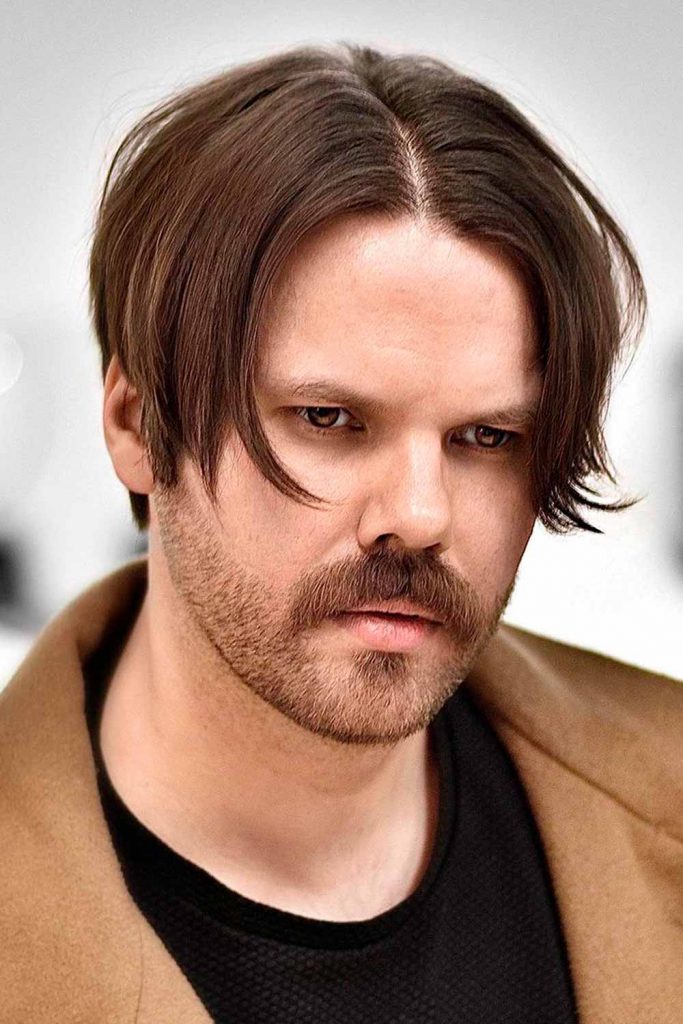 Source: @andrewdoeshair via Instagram
Fluffy Hair Men Middle Part
Even though a middle part mens haircut is traditionally styled on straight locks, it does not mean that it will not work with other hair textures. Instead, waves or curls will give a men's haircut with bangs an intricate twist. Fluff up your parted hair to make it more voluminous and ample.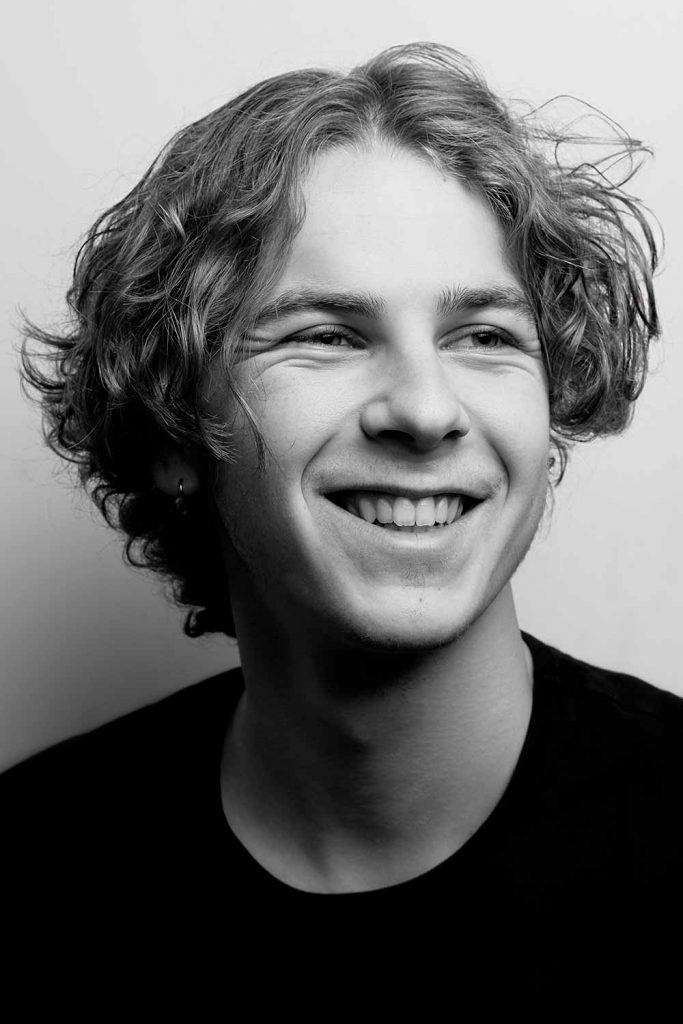 Men's Shag Haircut
Even though a middle part mens haircut is traditionally styled on straight locks, it does not mean that it will not work with other hair textures. Instead, waves or curls will give a men's haircut with bangs an intricate twist. Fluff up your parted hair to make it more voluminous and shaggy haircut.
Source: @andrewdoeshair via Instagram
Curtain Bangs With Side Part
For modern guys middle part is not the only way to pull off curtains hair men style. If a middle part does not suit you, you are welcome to switch it to a side part. To make the most out of their curtain haircut men should choose the side that they consider more flattering.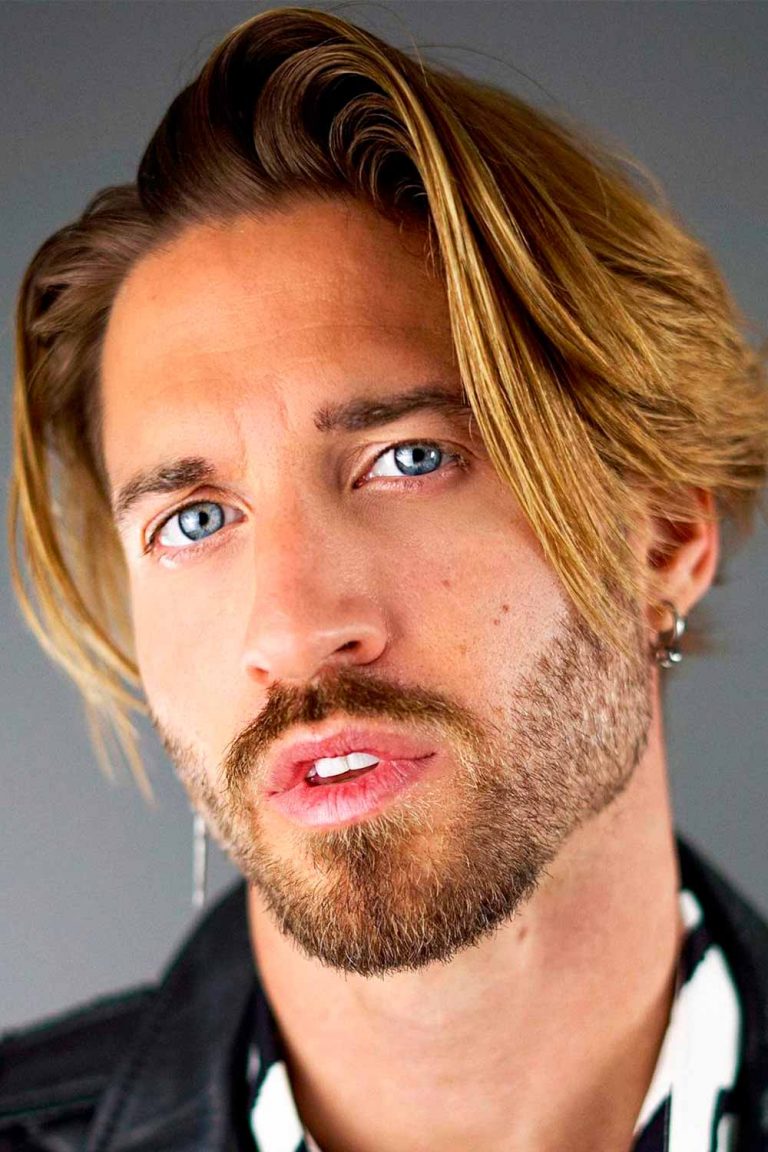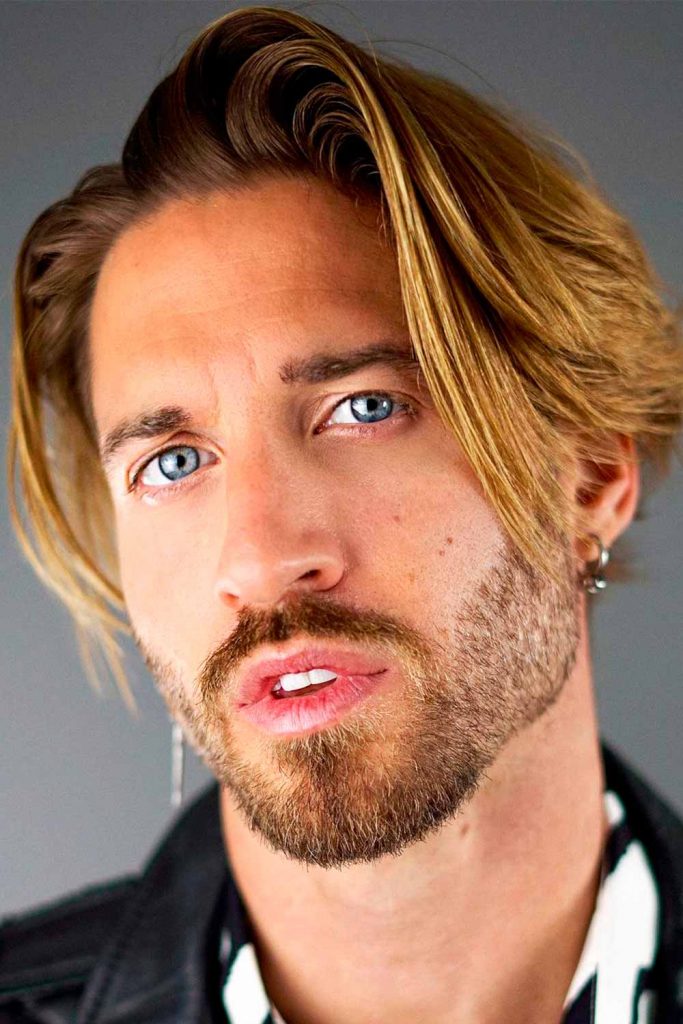 Source: @travbeachboy via Instagram
Low Taper Middle Part
​​Tapering is a fail proof alternative to fading or undercutting. A taper fade middle part looks appropriate in any ambiance and matches every outfit. So, if you are looking for a hairstyle that would allow you to knock on any door, this is your way to go.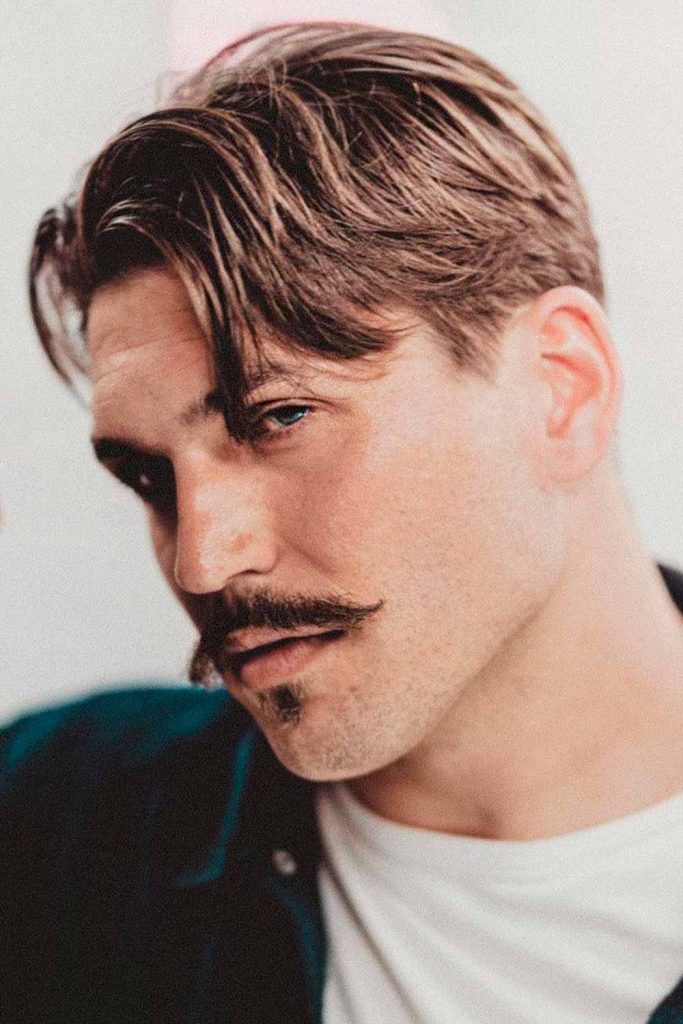 Source: @andrewdoeshair via Instagram
Messy Middle Part
Messy hairstyles have moved over, if not ousted, smooth and sleek ones. As such, do not be afraid to style your curtain haircut male look with tousled and disheveled strands. In this way, you will give your appearance a casual and effortless vibe.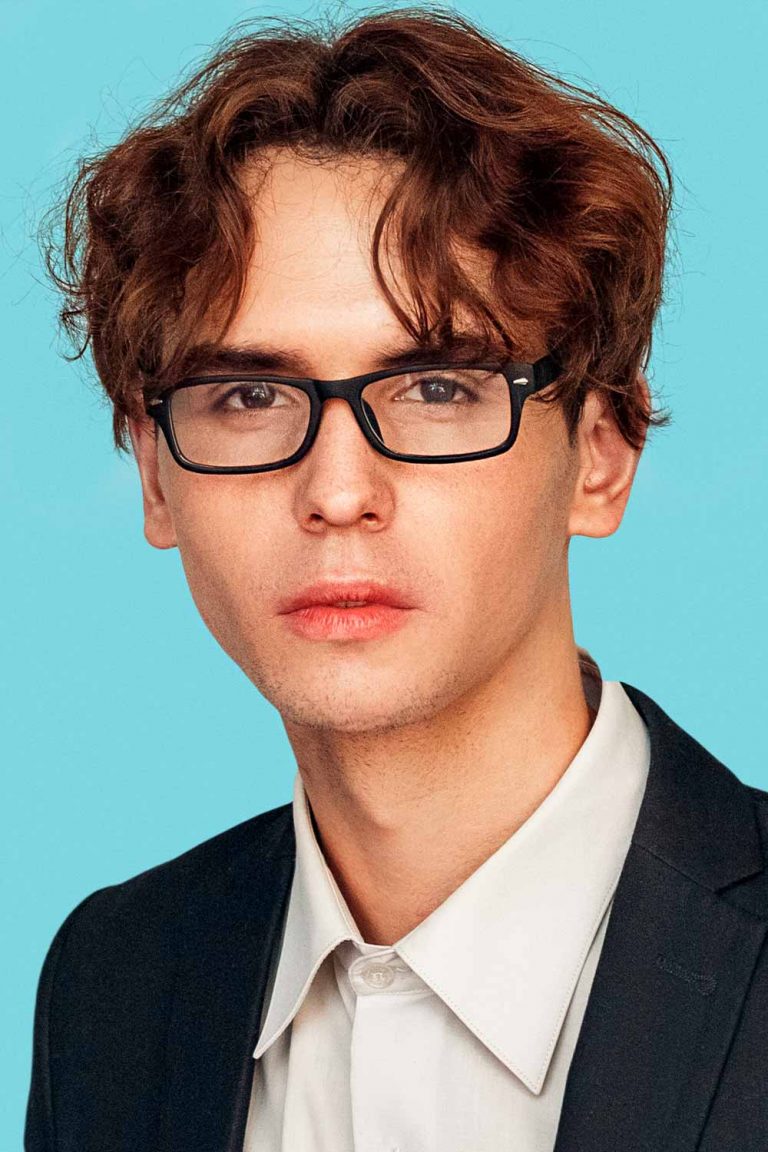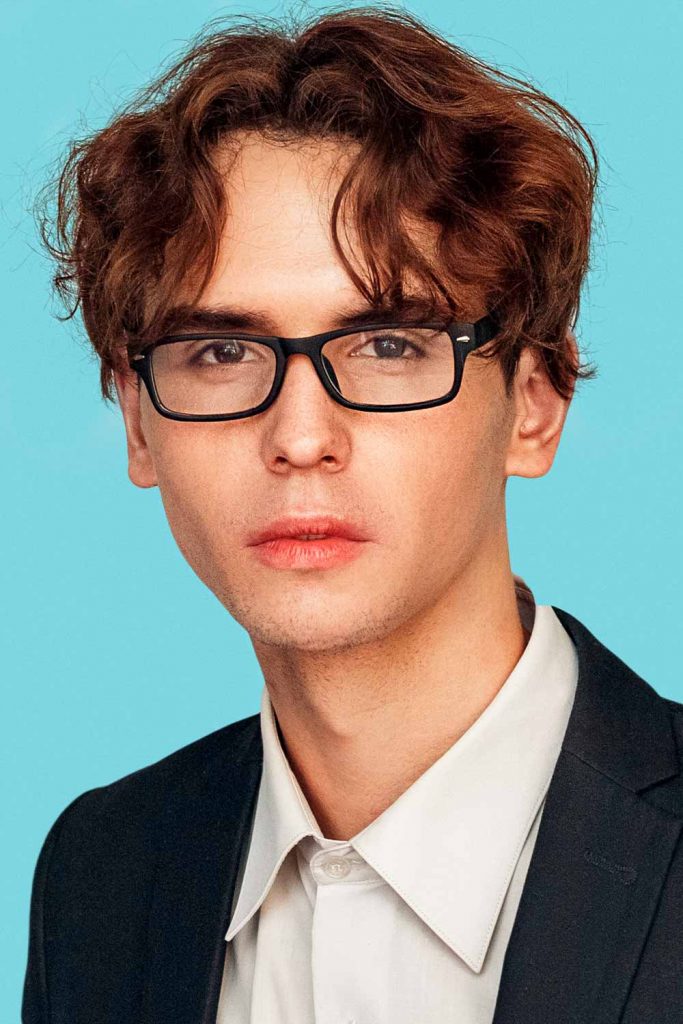 Split Haircut
Of course, a split hair men cut is not for everyone. Yet, it is a sure bet for guys who like to stand out in the crowd. It looks very unusual and edgy. To make the parting so sharp, use either a fine tooth comb or a rat tail comb. Secure the hair in place with the help of a styling product.
Source: @coiffeurstory via Instagram
Flow Middle Parts Men
A flow haircut is a trademark hair look of real heartthrobs. Just like a curtains hairstyle men love so much these days. So, why not combine them in one look? With a flow middle part haircut men seem to look like a magnet for the admiring gazes of passersby.
Long Straight Middle Part Hair Men
With middle part hair guys can grow their mane pretty long, even if it is straight. Let your tresses end where you want to place an ultimate accent, be it your cheekbones or chin. Styling wise, you do not have to be overly innovative. Divide the hair into two equal sections in the middle and you are all set.
Source: @joshconnollybarber via Instagram
Clean Middle Part Mens Haircuts
Although the middle part hair is often styles tousled, this is not always the case. Whenever you need to look groomed and sophisticated, go for a clean middle part haircut. A hair pomade or wax will help you to achieve the desired finish.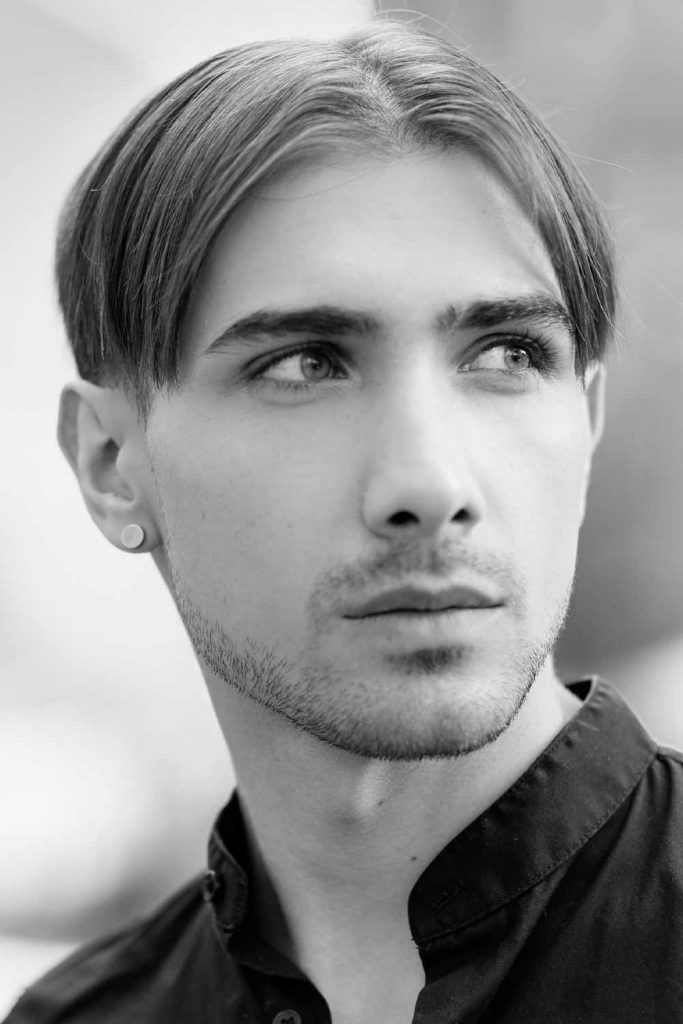 We hope, our collection of the best middle part hair men ideas has infused you with some inspiration. Now, you should know exactly what you want when visiting your barber next time. After all, you can always experiment with your hair, trying a different variation of the look each time.
FAQs
How do guys part their hair in the middle?
For a middle part boys comb all their hair back first and then using a fine tooth comb, divide the hair on top into two equal parts. To do this, hold the top section with one hand and slide the comb toward the back where you want the part to be. Let go of the top and allow the hair to fall to the sides naturally. Pull the strands with your fingers and apply a tad of a hairstyling product.
Is a middle part in style for men?
The middle part men hairstyle has made a huge comeback from the 90s and now it is one of the trendiest hair looks for men.
Is a middle part attractive?
A middle part hair male style is universally flattering. It looks good on any face shape, making your features more chiseled and attractive.
How do I ask my barber for a middle part?
To get middle part hairstyles men should tell the barber that they want a curtain hair bang in the front and an undercut haircut on the back and sides. Ask them for a really short haircut, one inch and shorter, for more contrast.