If you like a mullet, then a mullet fade will most definitely come to your taste. It is modern and trendy, so you may not be afraid that you will look outdated. Besides, it suits all hair textures and types. So, no matter whether you have straight thin locks or a coily thick mane, there is an option for you too. Our guide will tell you more about how to get mullet fades and what are the best ways to wear them.
What Is A Mullet Fade
A mullet fade is a modern take on a classic mullet. It also includes short hair in the front and noticeably longer hair in the back. Yet, the sides are faded, not simply trimmed. This gives your hair look a neat and stylish finish. Your haircut comes out effortlessly bold and edgy thanks to a high contrast between the sides and the rest of the hair. One of the best things about it is that it is suitable for any hair type and texture. What is more, there are many ways to pull off the look, so you will not feel limited in styling.
Source: @cheobarberpr via Instagram
i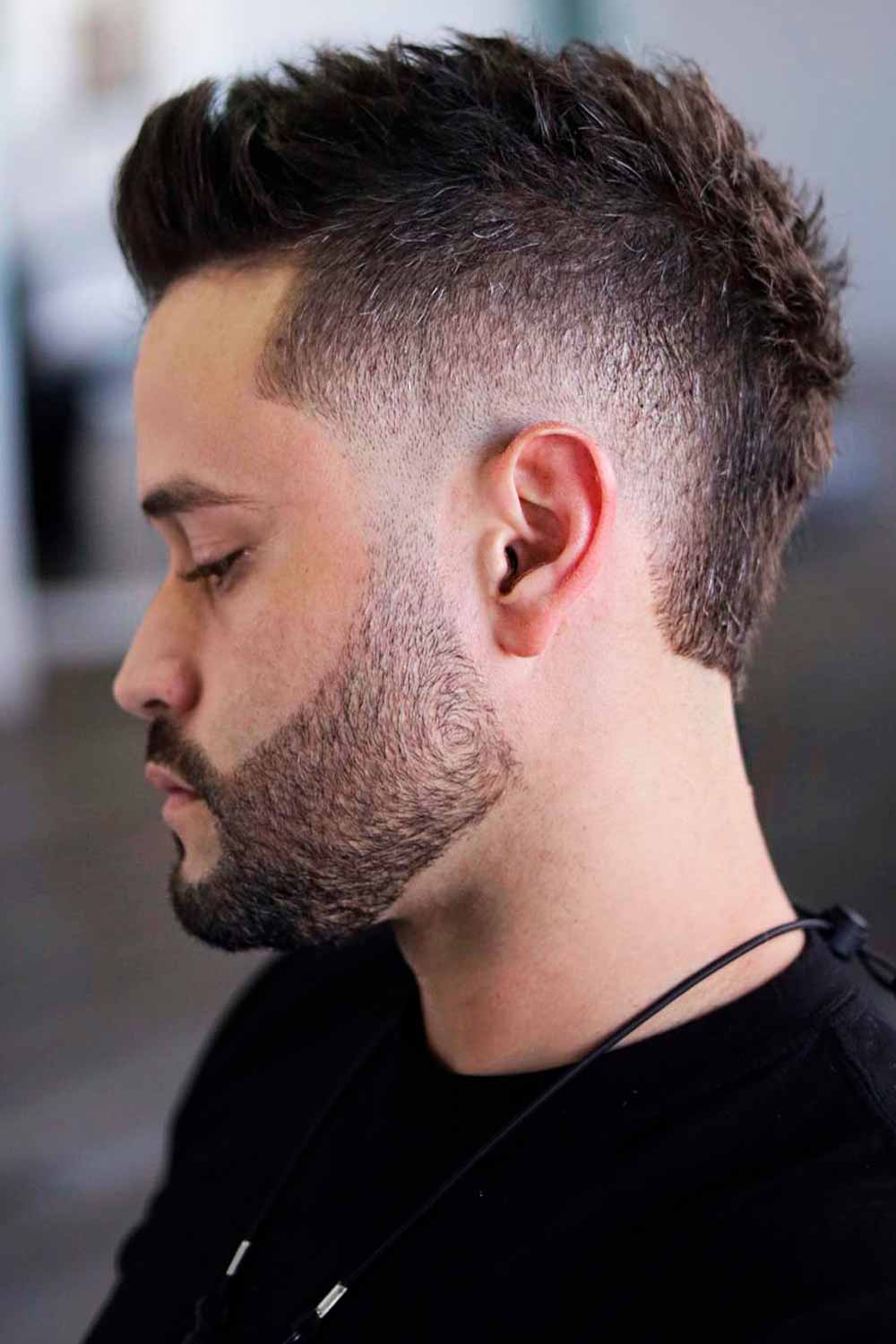 Source: @horatiuthebarber via Instagram
i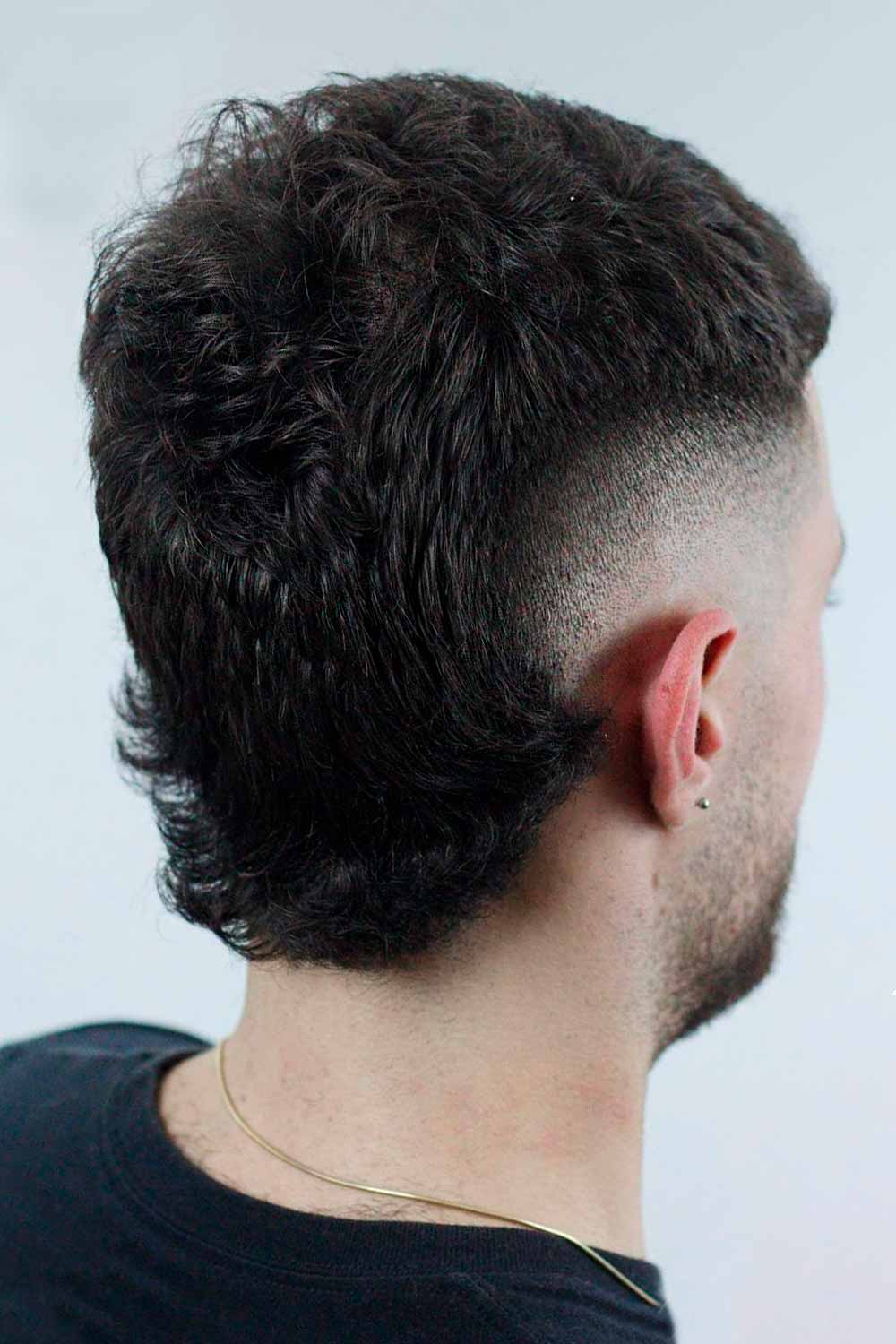 Source: @edouardclipperhand via Instagram
i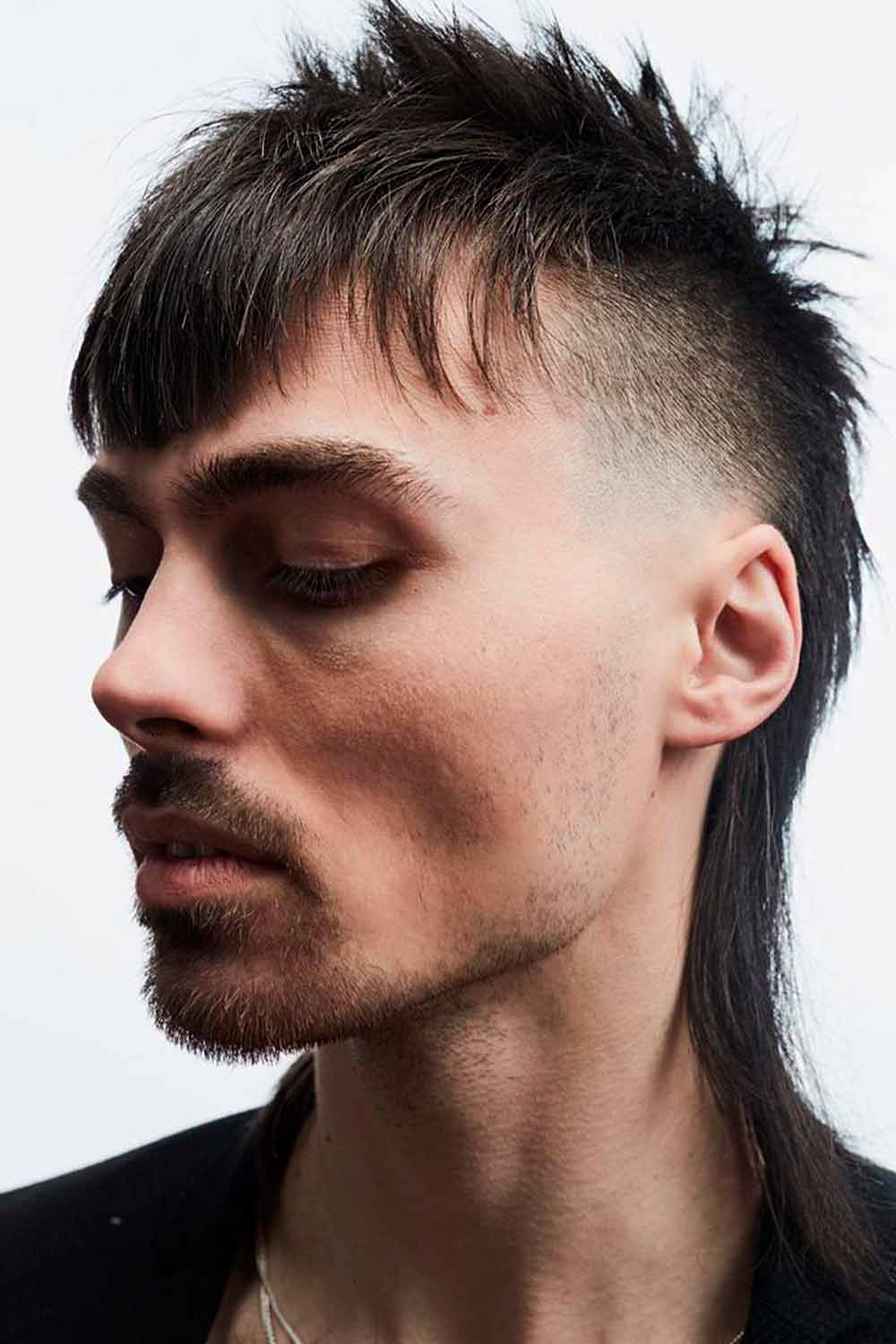 /
How To Fade A Mullet
You can actually fade mullet haircut in a wide variety of different ways, from a taper fade mullet to a burst mullet fade. Yet, if this is your first time doing the cut, below you can find a tutorial for a basic mullet with a fade haircut.
Start by separating the hair on top from that on the back with a parting that crosses your head from ear to ear through the crown.
Create another parting that starts above the temple area and connect it to the previous parting. Now you got the hair on your head divided into blocks.
Cut the hair above the crossing lines using the scissor over finger technique. Make sure the back is longer than the top.
Take a comb and a pair of clippers with no guard and a closed lever. Place the comb right above the ear and trim the hair below the comb.
Open the lever on the clippers and trim about half an inch upward. You can use the comb again as the guide.
Close the lever and blend the shorter section into the longer.
With the help of a foil shaver, get rid of the visible line where the hair blends into your skin.
Attach guard #1 and while the lever is open, trim half an inch upward once more.
Switch to guard #1.5 and blend the hair on the sides into the top.
Using the clippers with 1/2 attachment, smooth out any uneven areas.
If there are any dark patches, lighten them up with the tips of the shears.
Outline the edges using a close cutting trimmer.
Faded Mullet Hairstyles
If you are looking for the trendiest ideas for a mullet haircut 2023, you are sure to find them here. To infuse you with a dose of inspiration, we have collected the most flattering and popular mullets below.
Modern Mullet Fade
To give modern mullets 2023 vibe, you need to get your sides faded. What it is going to be – a high fade, medium or low is up to you. Regardless of your choice, you can rest assured that your hairstyle will make you stand out in the crowd.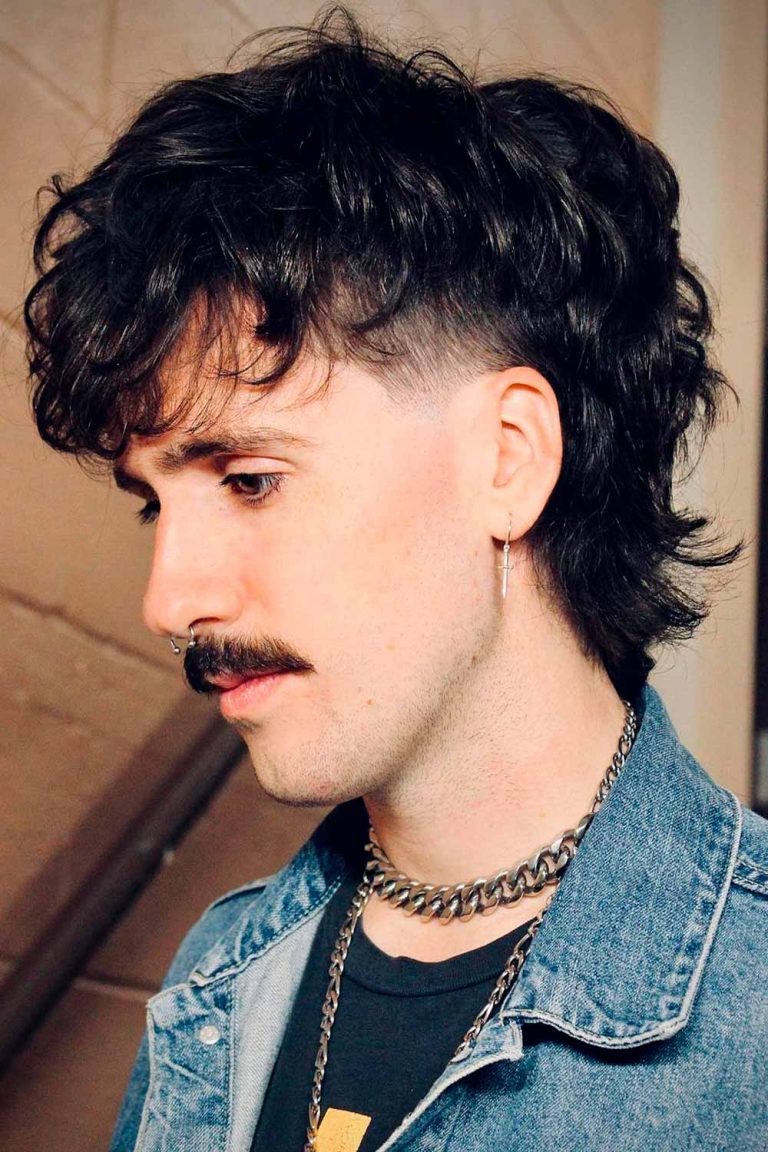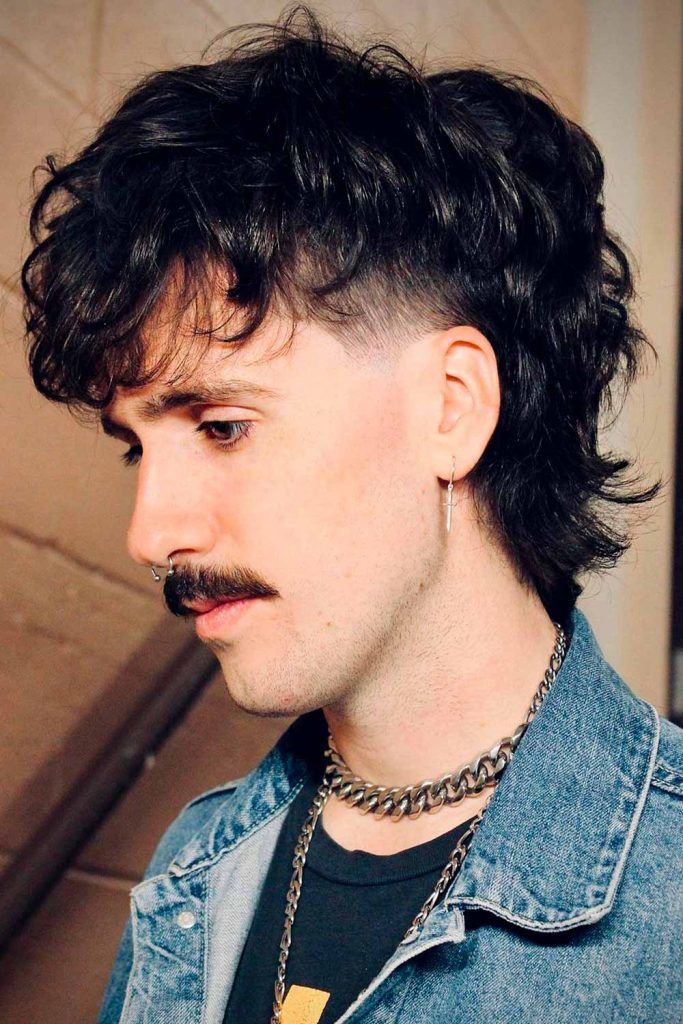 Source: @alexthegreatvivarvia Instagram
Taper Fade Mullet
A mullet taper fade seems more reserved than a regular faded mullet. As the hair on the sides decreases in length very gradually, you end up with a pretty low-key haircut. This is a great option for guys who are seeking an office-appropriate version of the mullet.
Source: @fernthebarber via Instagram
Mohawk Mullet
A mullet has many things in common with another popular men's haircut – a mohawk. They both feature a wide strip of hair that goes from the forehead to the neck, while the sides are much shorter. So, why not combine these two cool hair looks into a jaw-dropping mohawk?
Source: @mikes_custom_kuts via Instagram
Flat Top
If you do not shy away from haircuts that have a powerful vintage feel, then you may like a flat top. While it looks good with basically any hair type, guys with kinky locks will find it the most flattering.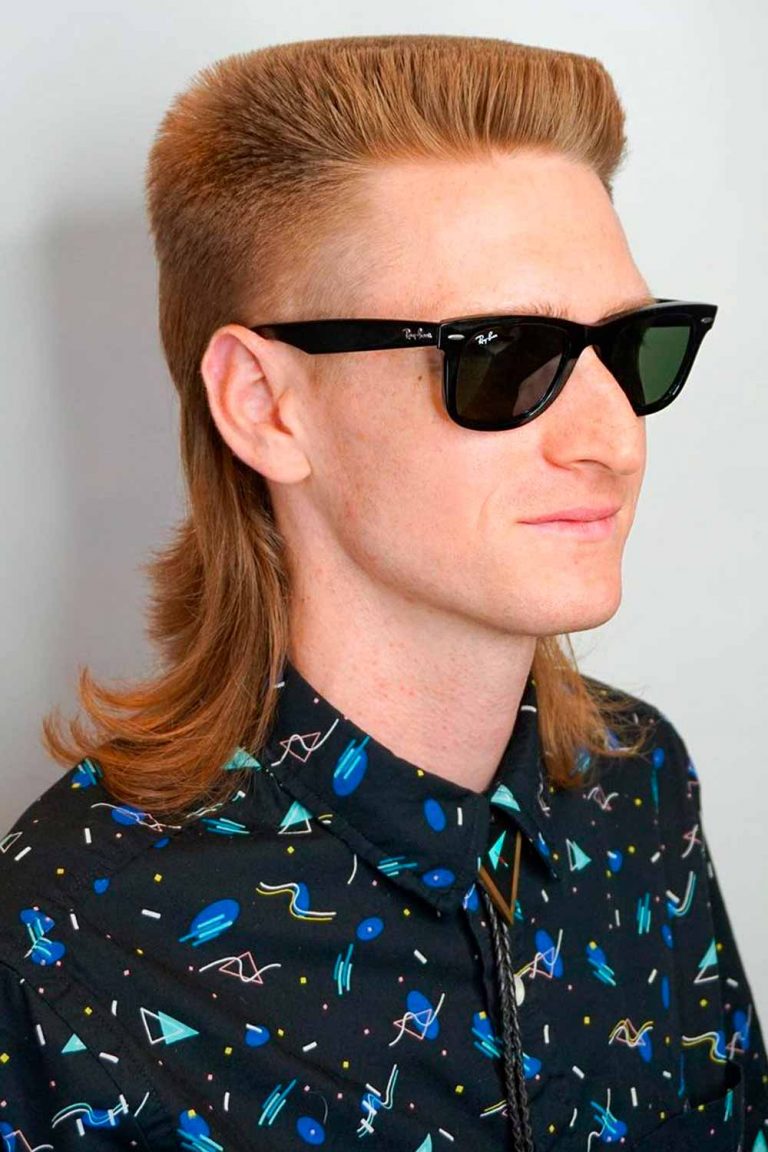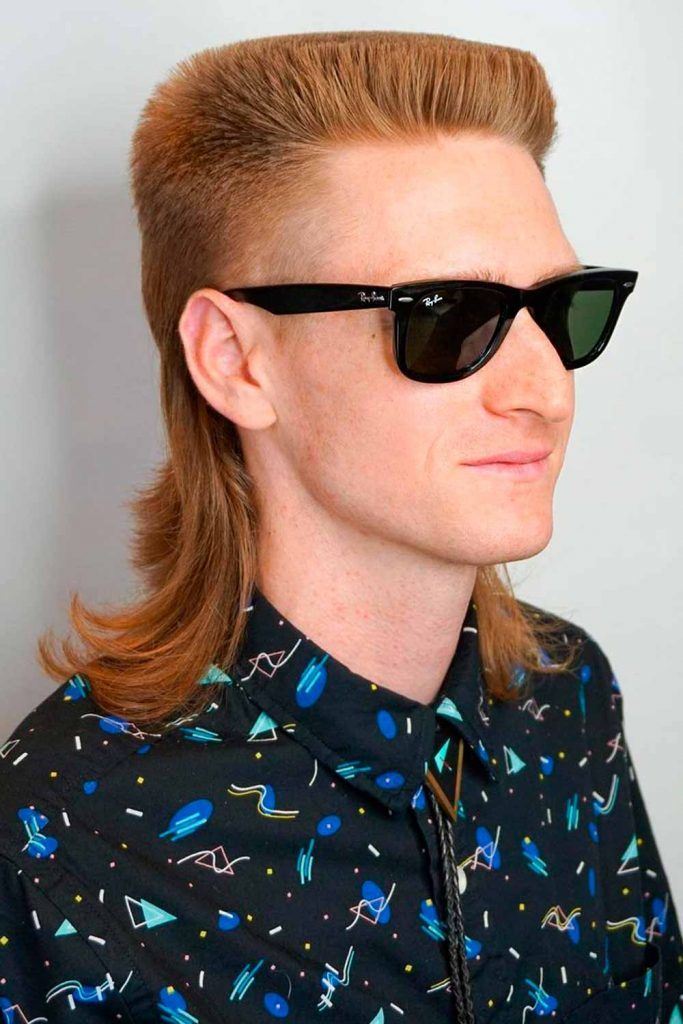 Source: @anthonythebarber916 via Instagram
Faded Mullet Lines Design
Give your mullet haircut fade a trendy twist by adorning it with a hair design. If you do not want to go for anything overly elaborate, then several simple lines shaved in your temple area are your way to go.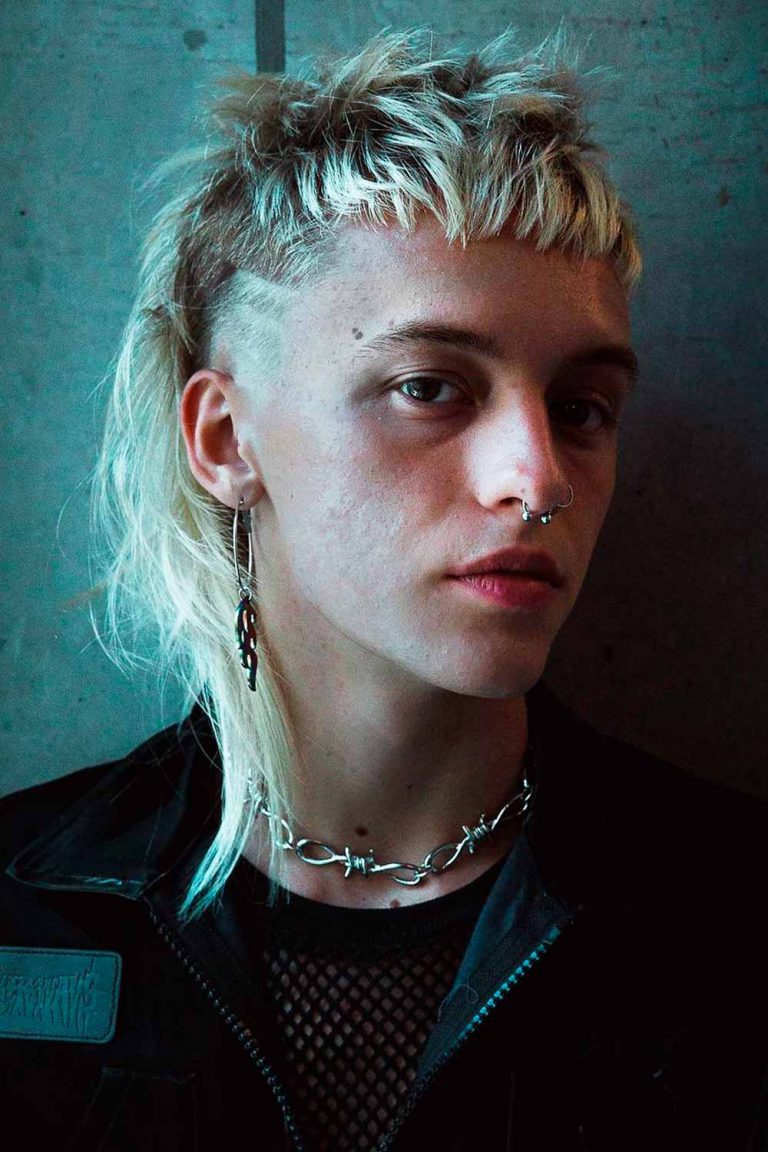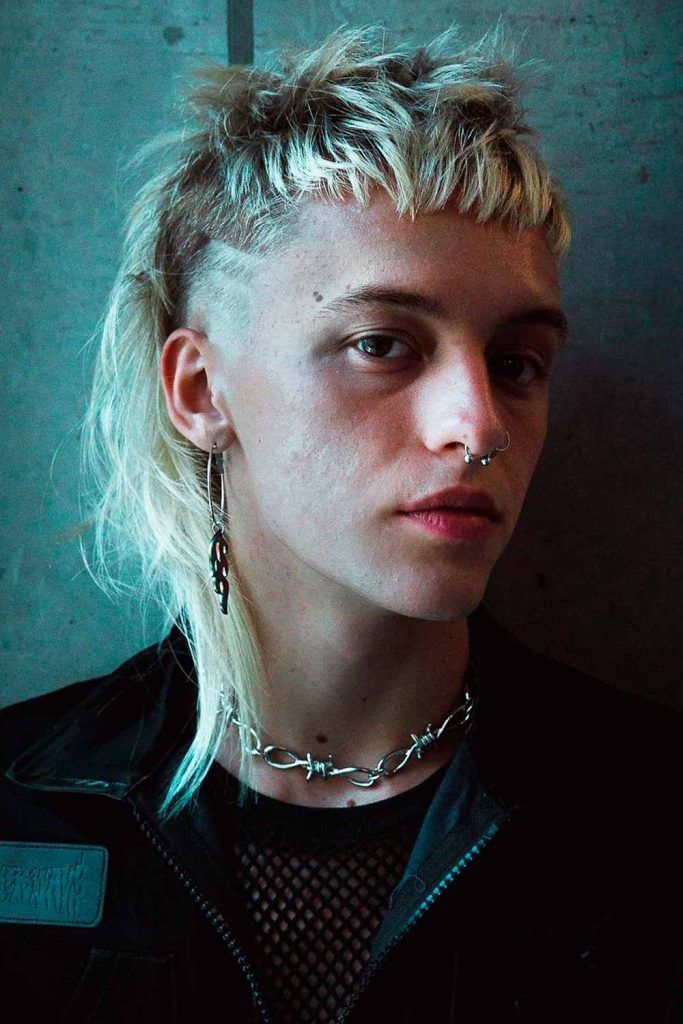 Source: @joeltorresstyle via Instagram
Brushed Back 70s Hairstyle
Although a mullet was at a peak of its popularity in the 80s, you can seek inspiration for it in the decade before. The brushed back top, trending in the 70s, is a great way to style your haircut when you want something simple yet sophisticated. A low taper fade mullet works amazingly in this case.
Source: @a.crowleyy via Instagram
Permed Mullet Faded Sides
There is something really appealing in a curly hair mullet fade. Yet, if you naturally have straight locks, do not get upset. You can get your hair in the back permed for a more defined and eye-catching look.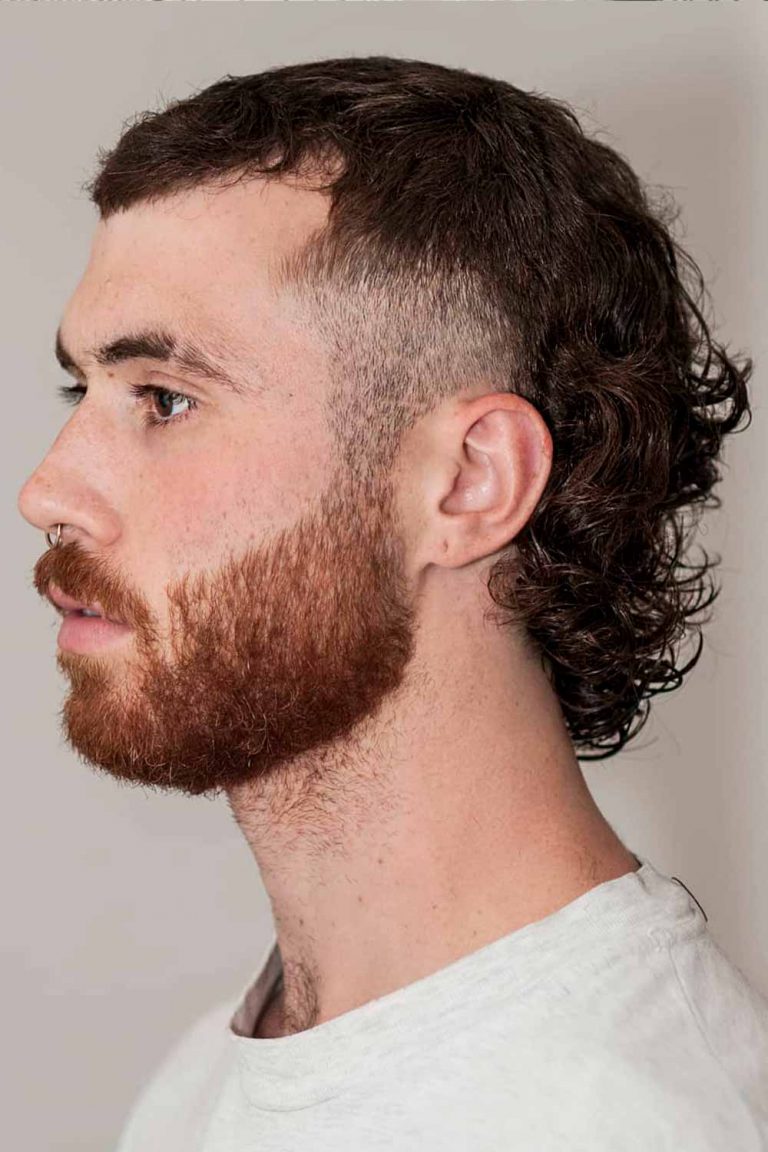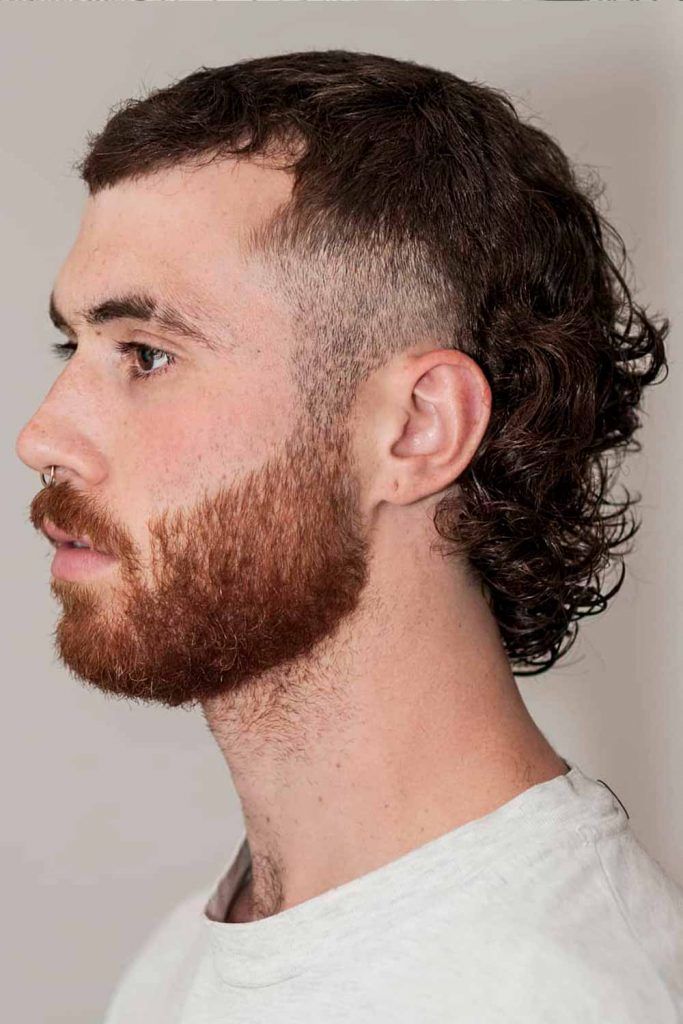 Source: @urednistvo.pricesk.robert via Instagram
Drop Fade Mullet
Take your mullet to another level of boldness by teaming it with a drop fade. This popular combo creates a neat and sleek appearance, thus being suitable for any ambiance.
Source: @mikes_custom_kuts via Instagram
Skin Fade Mullet
In case a mullet with taper fade seems not enough for you, then you can enhance the look by going for a skin fade. As it suggests fading the hair into the skin, you will end up with a sharp and edgy look. So, you can rest assured that it will not go unnoticed.
Source: @a.crowleyy via Instagram
Short Mullet Fade
If you think that a mullet requires growing your hair long, we are here to prove you wrong. A short hair mullet fade looks as stylish and fashionable, as its longer version, but it can be achieved much easier and faster.
Source: @barbersofbt45 via Instagram
Punk Mullet
Thanks to its edginess, a faded mullet is an awesome alternative to a mohawk. Thus, it is one of the signature hair looks of the modern punk subculture. To make it even bolder, you can dye your hair in a bright or even neon color.
Source: @noblandhair via Instagram
Crop Top Mullet Fade
Versatility is another characteristic that makes mullet fades so popular. The top, back and sides can be cut in many different ways, thus resulting in a wide range of various hair combos. So, for an added definition and movement, you can incorporate layers on top and make it cropped.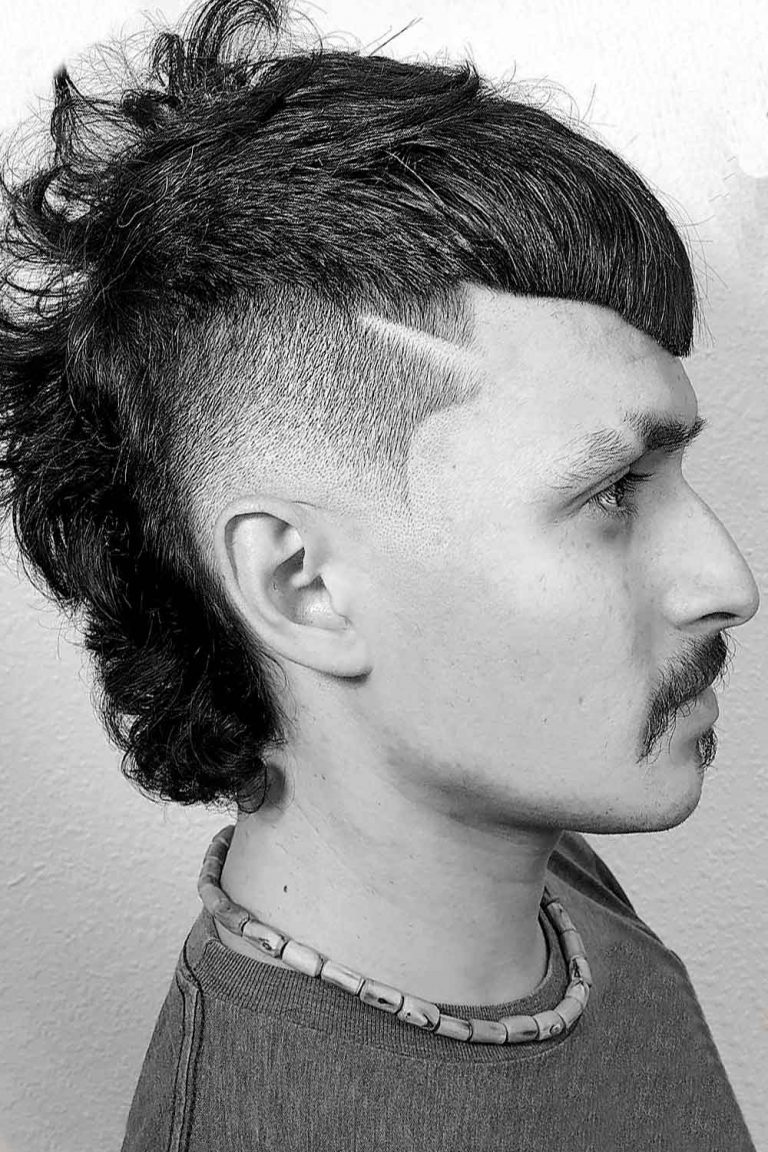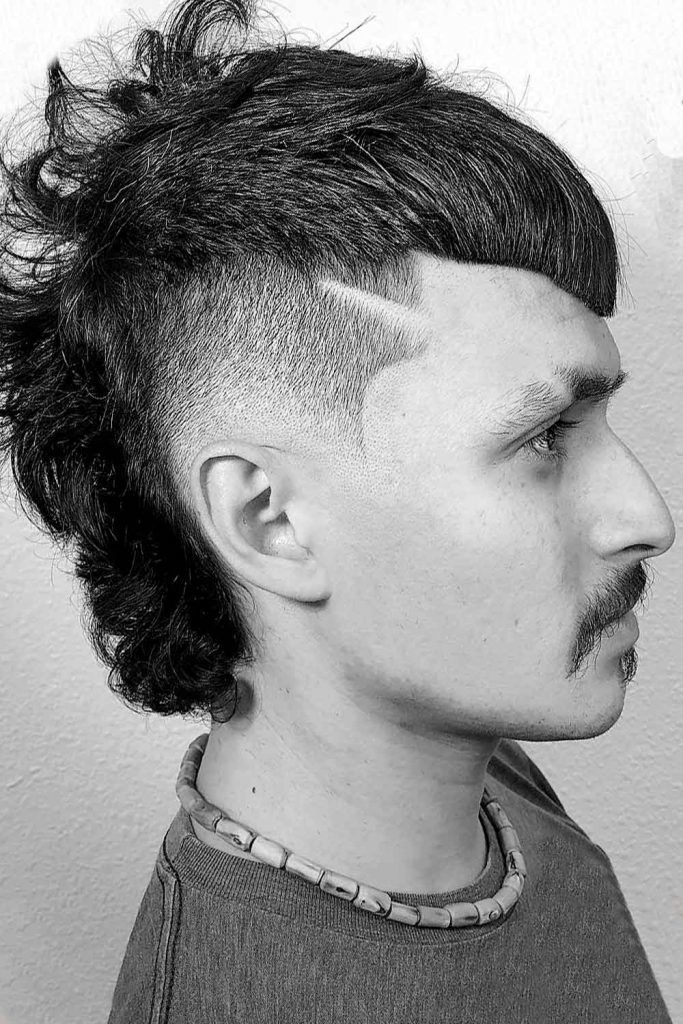 Source: @a.crowleyy_ via Instagram
A mullet fade is a fashionable and up-to-date way to wear an original party in the back business in the front look. As you can see for yourself, the haircut can be customized to match your preferences and needs. Hopefully, you have managed to pick the look that resonates with you.
FAQs
What is a fade mullet?
A mullet fade is a modern cut that features faded sides with a shorter top and a longer back.
How do you fade a mullet?
Here is a quick way to incorporate a fade haircut into a mullet:
1. Using clippers with a zero attachment, create a line above the ear. This is going to be your first guide.
2. Trim all the hair below the first guide line.
3. Attach guard #1/2 and trim the hair upward an inch from the first guide line. Now you got the second guide line.
4. Trim the hair below this line too, blending the shorter hair into the longer.
5. Switch to guard size #1 and repeat steps 3 and 4.
6. Do the same for the other side.
7. Define the edges with a zero attachment clipper.
Is a burst fade a mullet?
In its essence, a burst fade is not the same thing as a mullet. Yet, they can be paired together. A mullet is a haircut that has a short front and long back, whereas a burst fade is a way to cut the hair on the sides by creating a smooth transition from shorter hair to longer and following the natural curvature of the ear.