What are your main requirements for Black boys haircuts? We bet it is a neat and trendy appearance as well as ease of maintenance and functionality. If we hit the spot, there is some great news for you. The following guide contains numerous ideas of little Black men haircuts for everyone, ranging in style, length, and complexity. Now all you have to do is to decide what hair makeover he is going to have when visiting the barbershop next time.
*We may earn money from affiliate links on this page. Please check out our disclosure policy for more details.
Classic Taper
When you are not up to overly elaborate little black boy hair cuts, a classic taper haircut comes in. With its clean sides and back, it leaves plenty of room to play around with the style of your hair on top.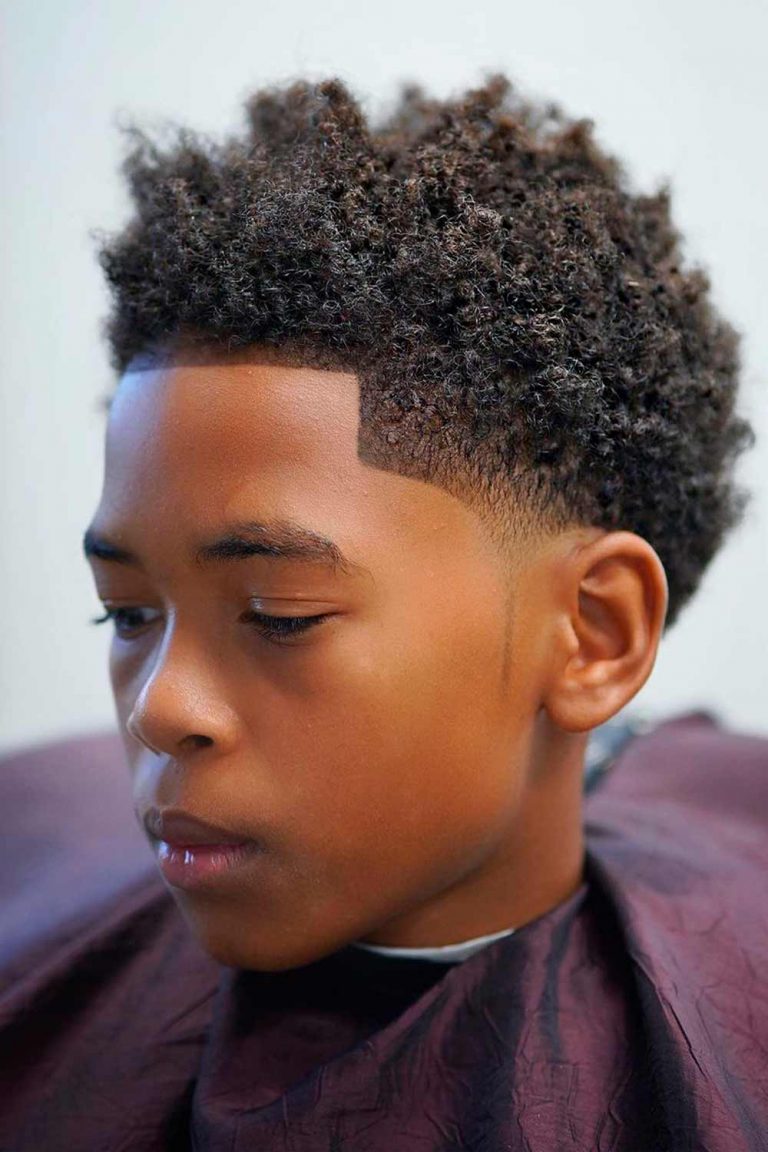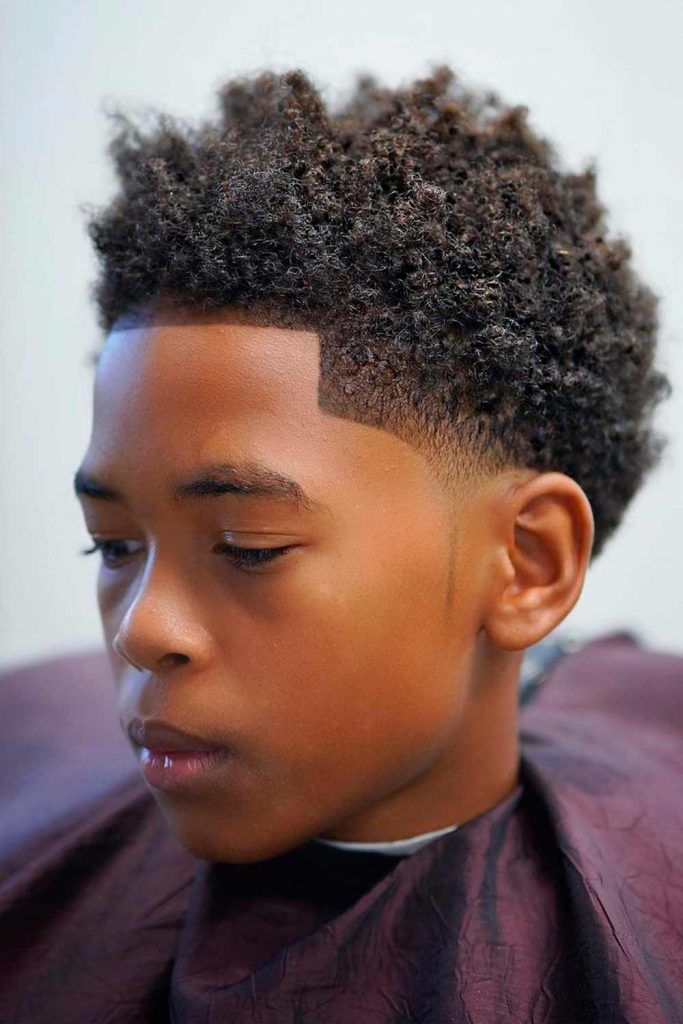 Source: @nickthebarber via Instagram
Short Curls And Hair Design
To keep your kid's kinky locks tamed, consider one of the short boys haircuts. Buzz cut the sides and shave in a quirky hair design right behind his ear while leaving the top a bit longer to show off the unique texture.
Source: @nickthebarber via Instagram
i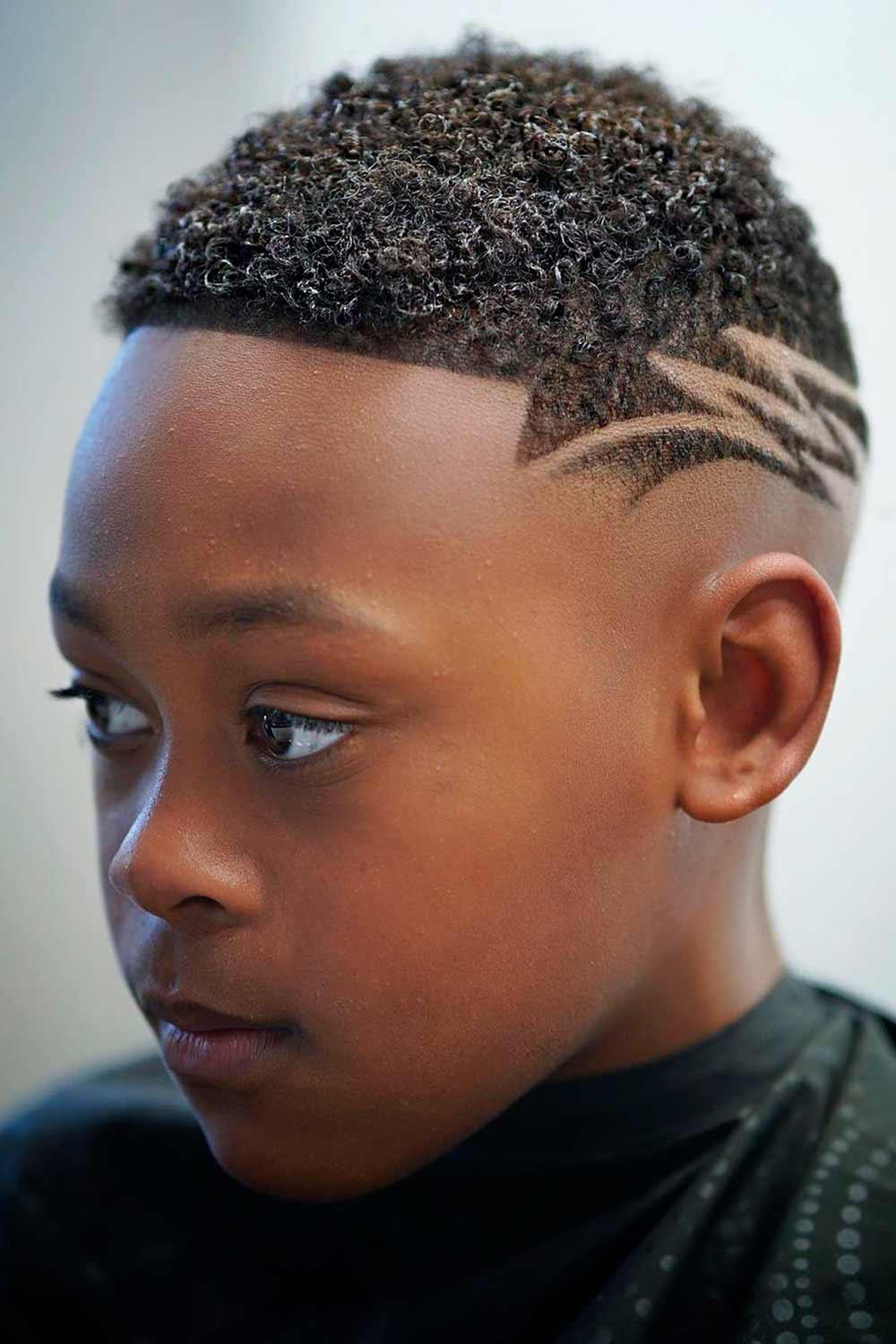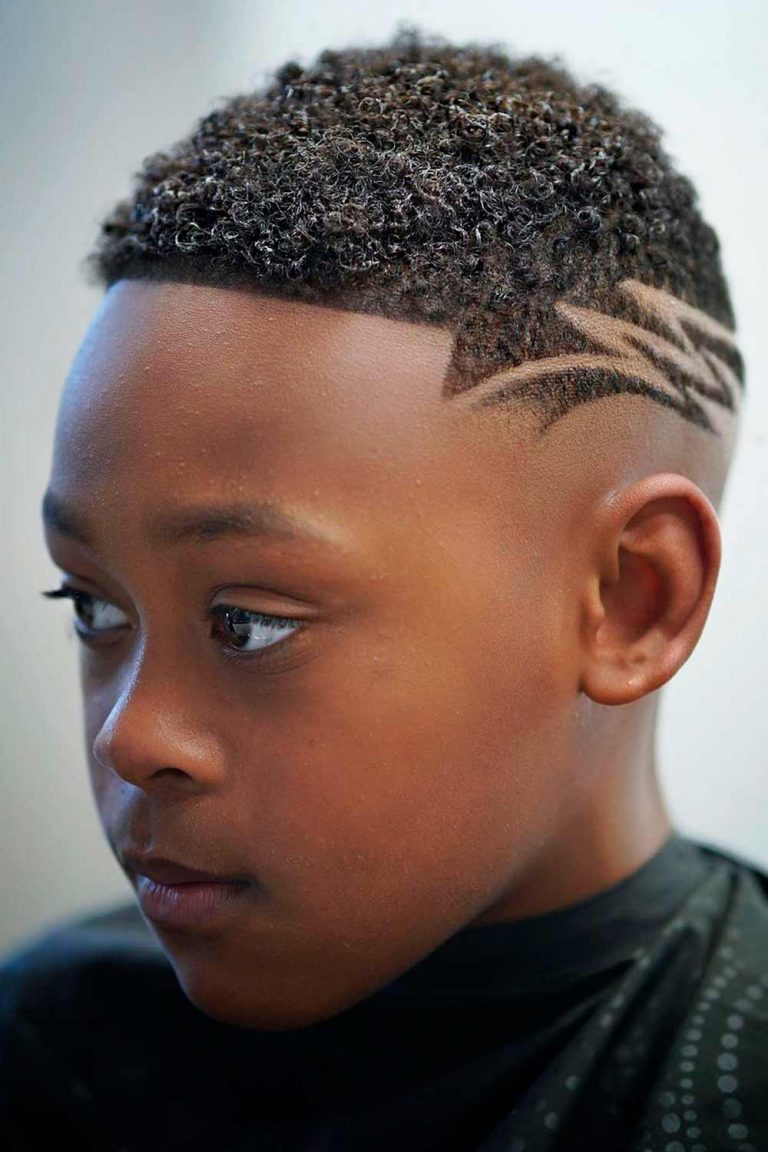 Source: @los_cut_it via Instagram
i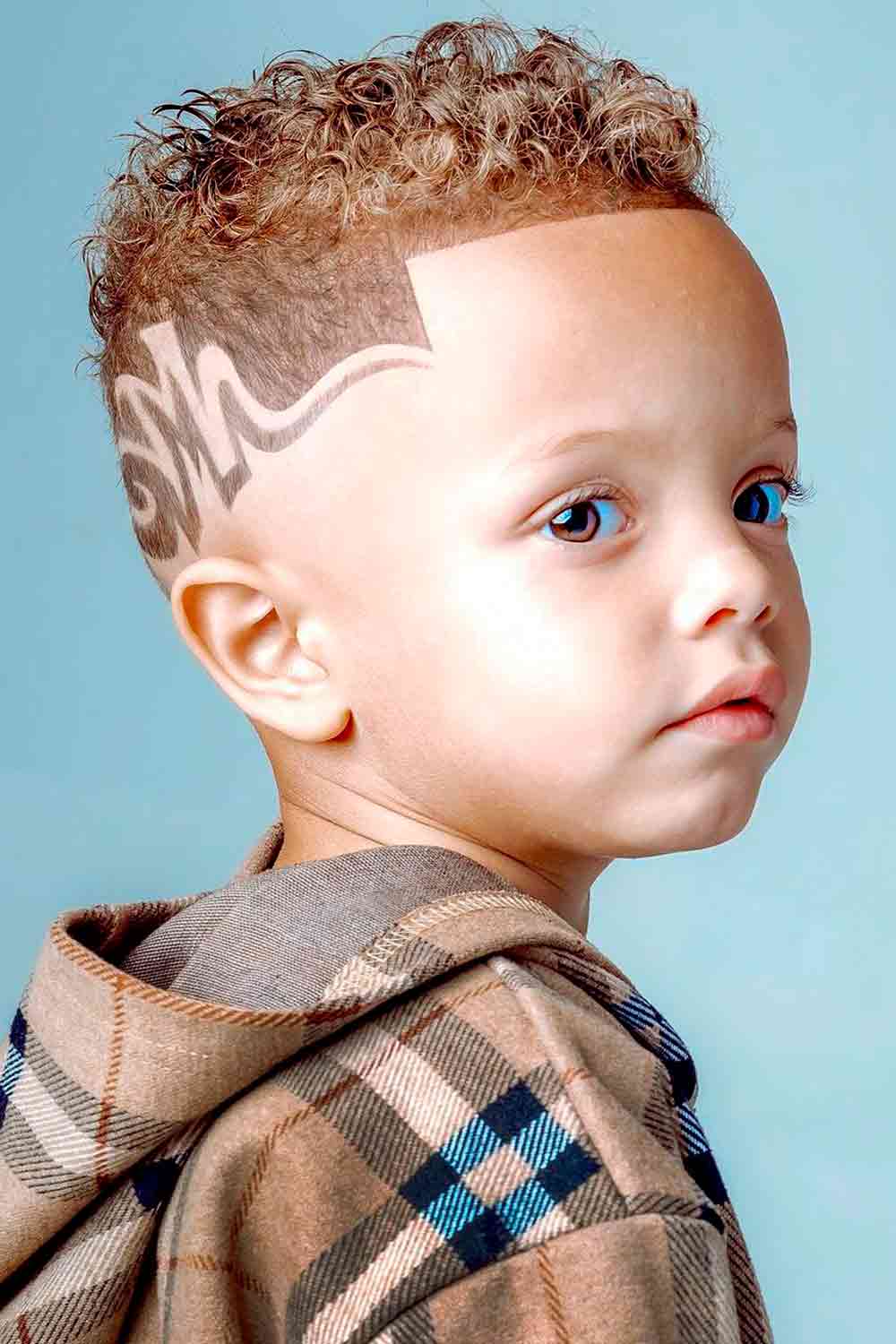 Source: @los_cut_it via Instagram
i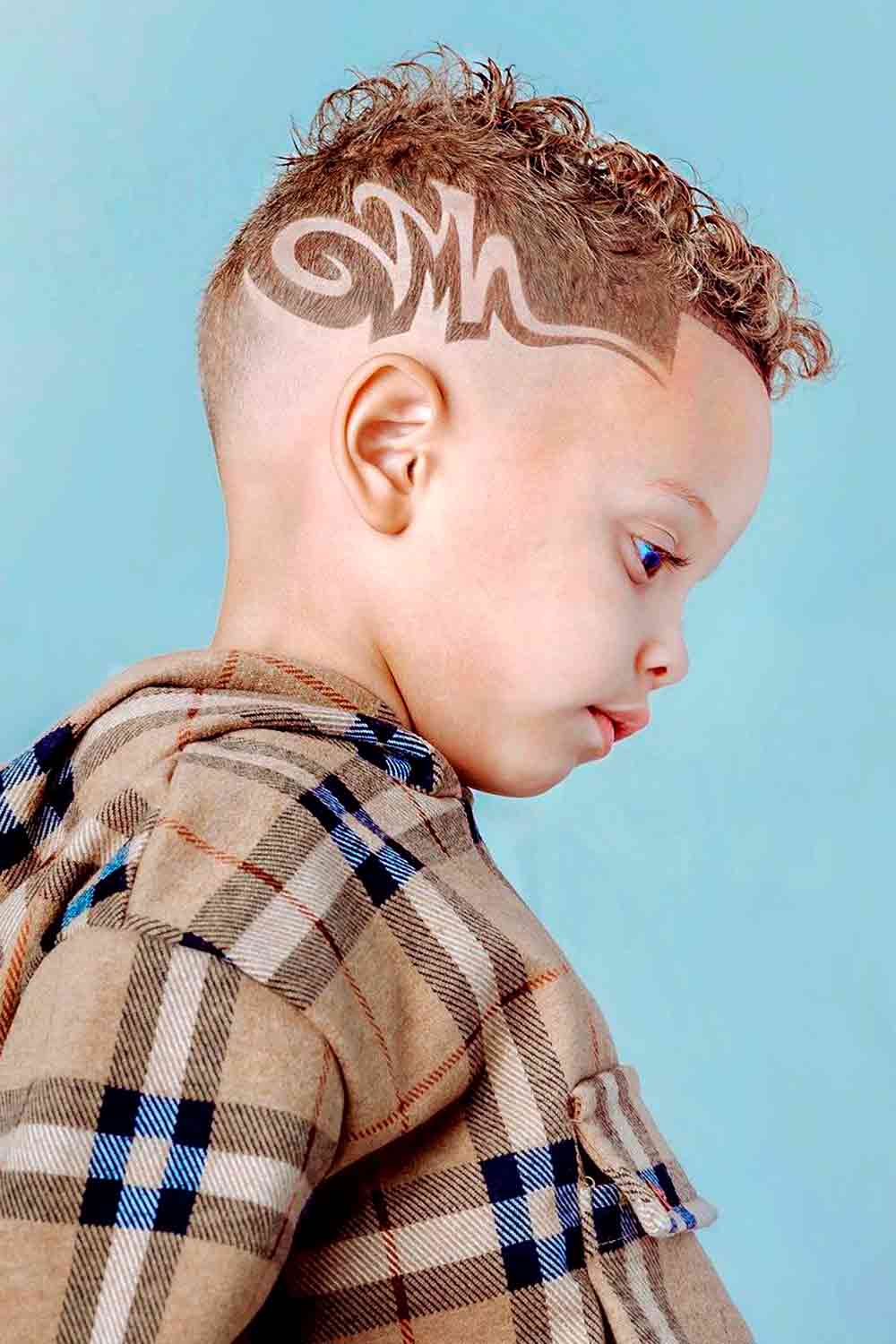 Source: @los_cut_it via Instagram
i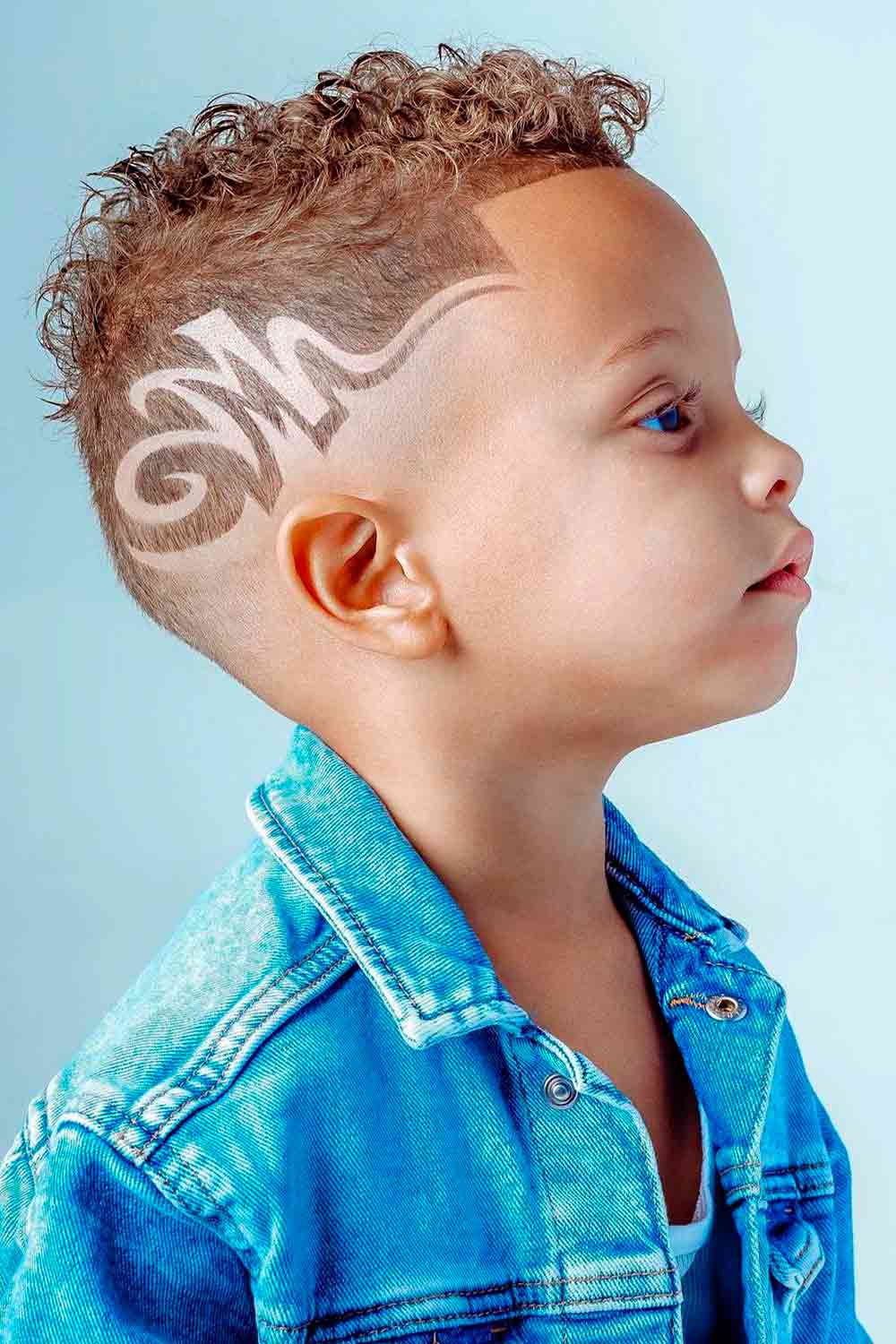 /
Faded Sides With Shaved Line
When a fade does not seem like enough for you, resort to black boys haircuts designs. A carved in line on the sides looks sharp and bold. Thus, it guarantees that your champ will stand out in the crowd.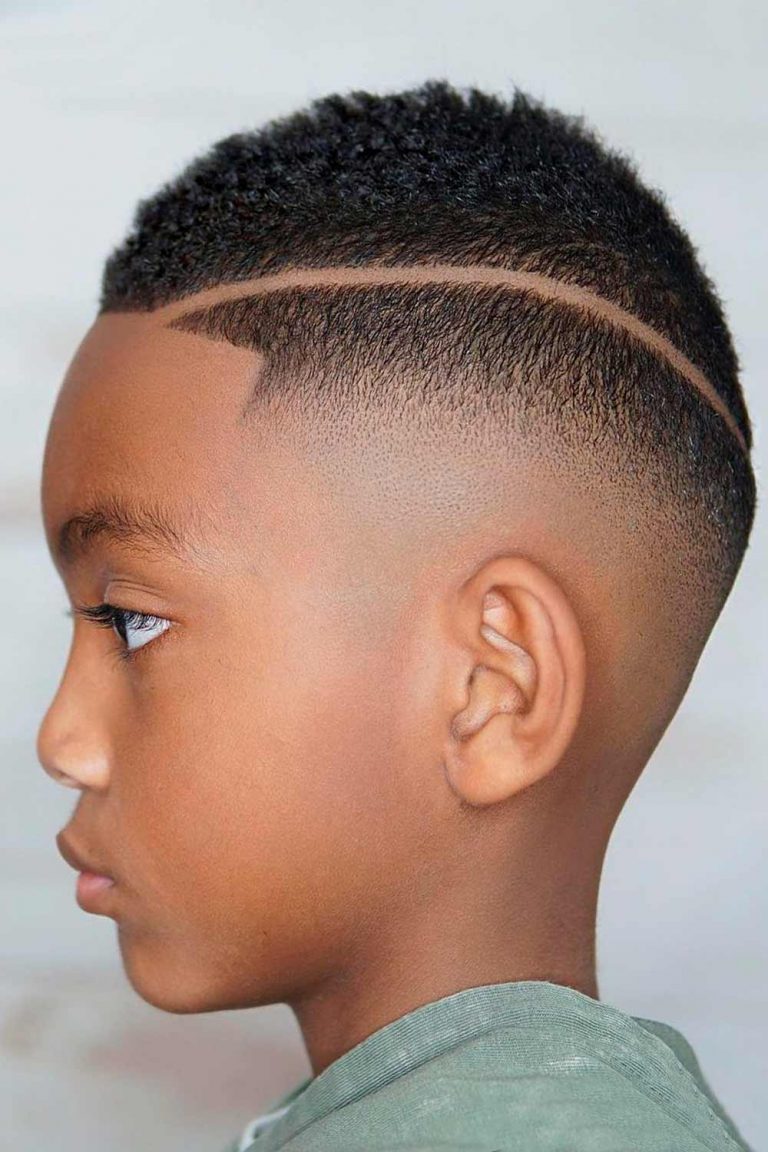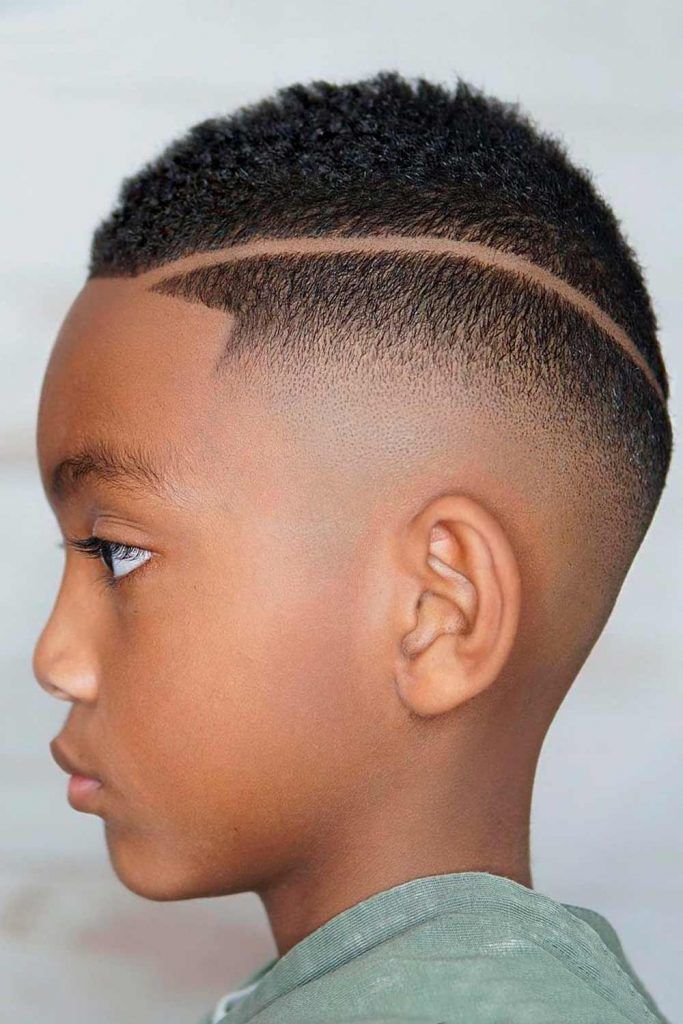 Source: @nickthebarber via Instagram
Sweet Afro
Sometimes low key Afro haircuts for black boys are more than enough. Sweet and natural, they allow your little fella to show off the beauty of his kinks.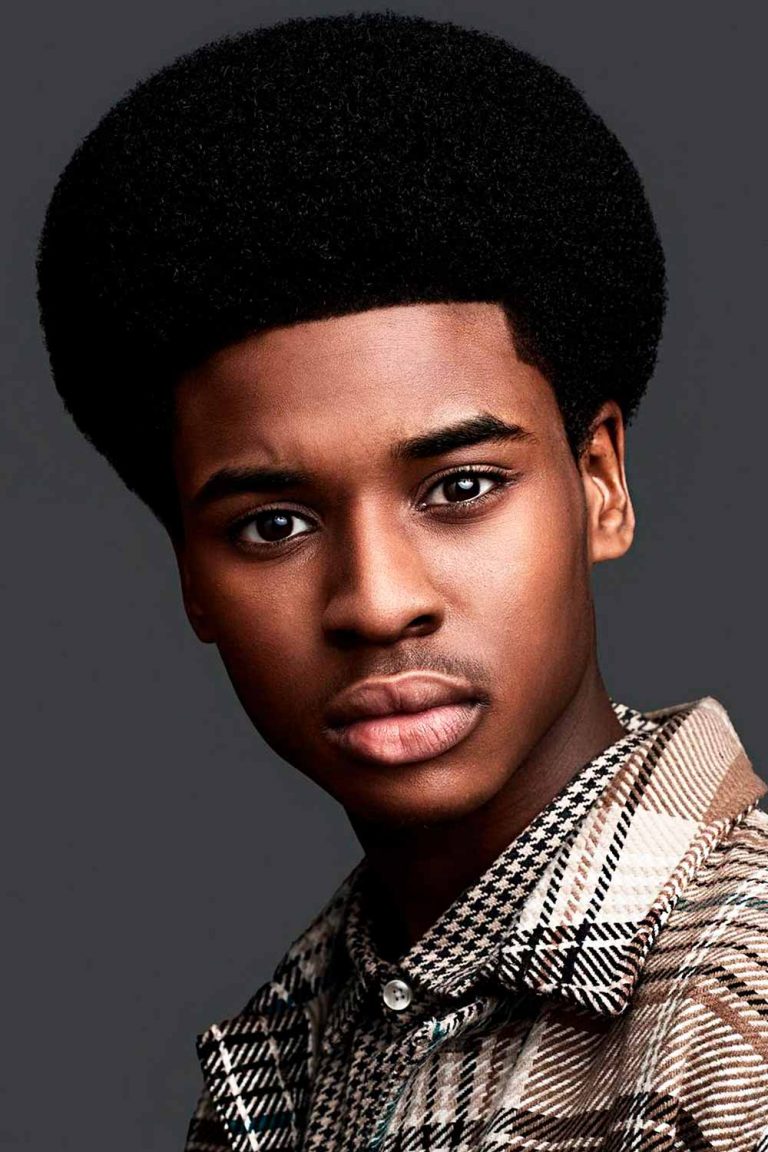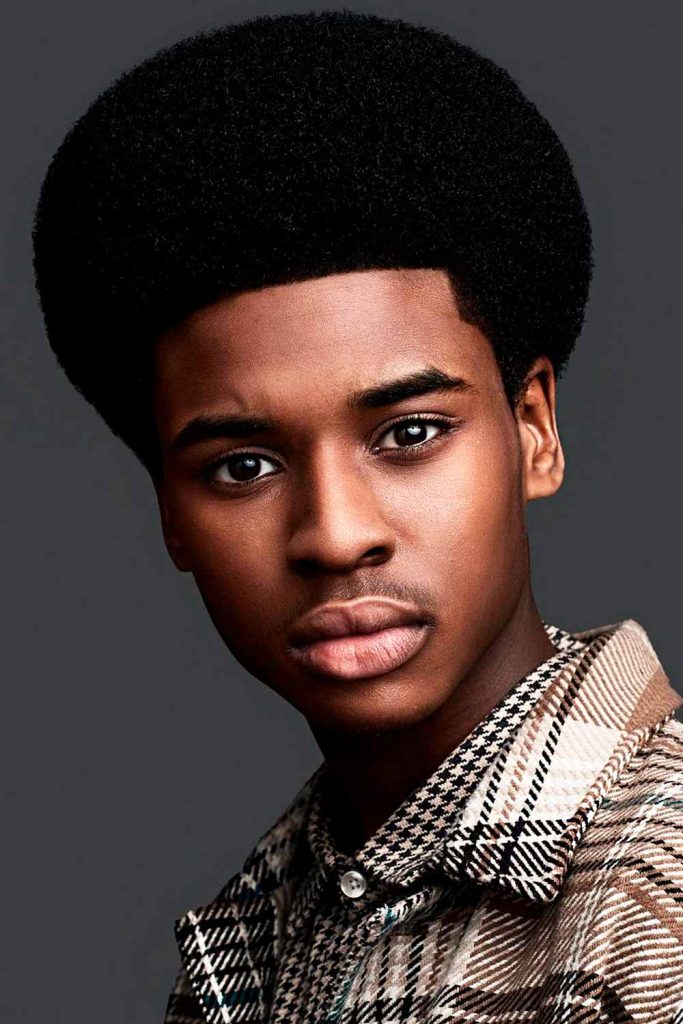 Source: @dexterdapper via Instagram
Flat Top Black Boys Haircuts 2023
If you're looking for really cool haircuts for boys with a coiled mane, go for a flat top. It does have a light air of the 90s, but a high skin fade and a line-up give it a modern and stylish turn.
Source: @keller_konturen
via Instagram
i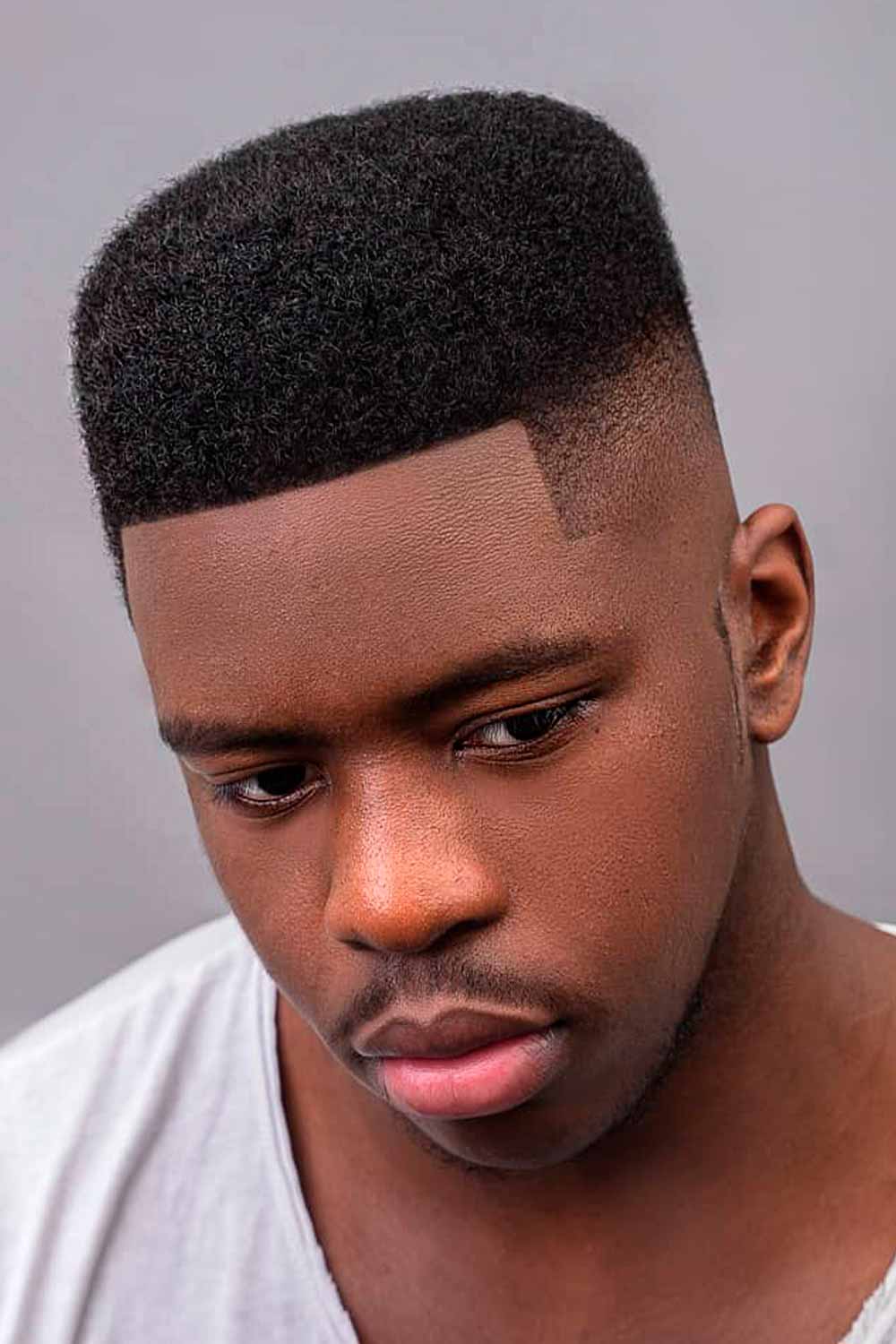 Source: @frankdabarber via Instagram
i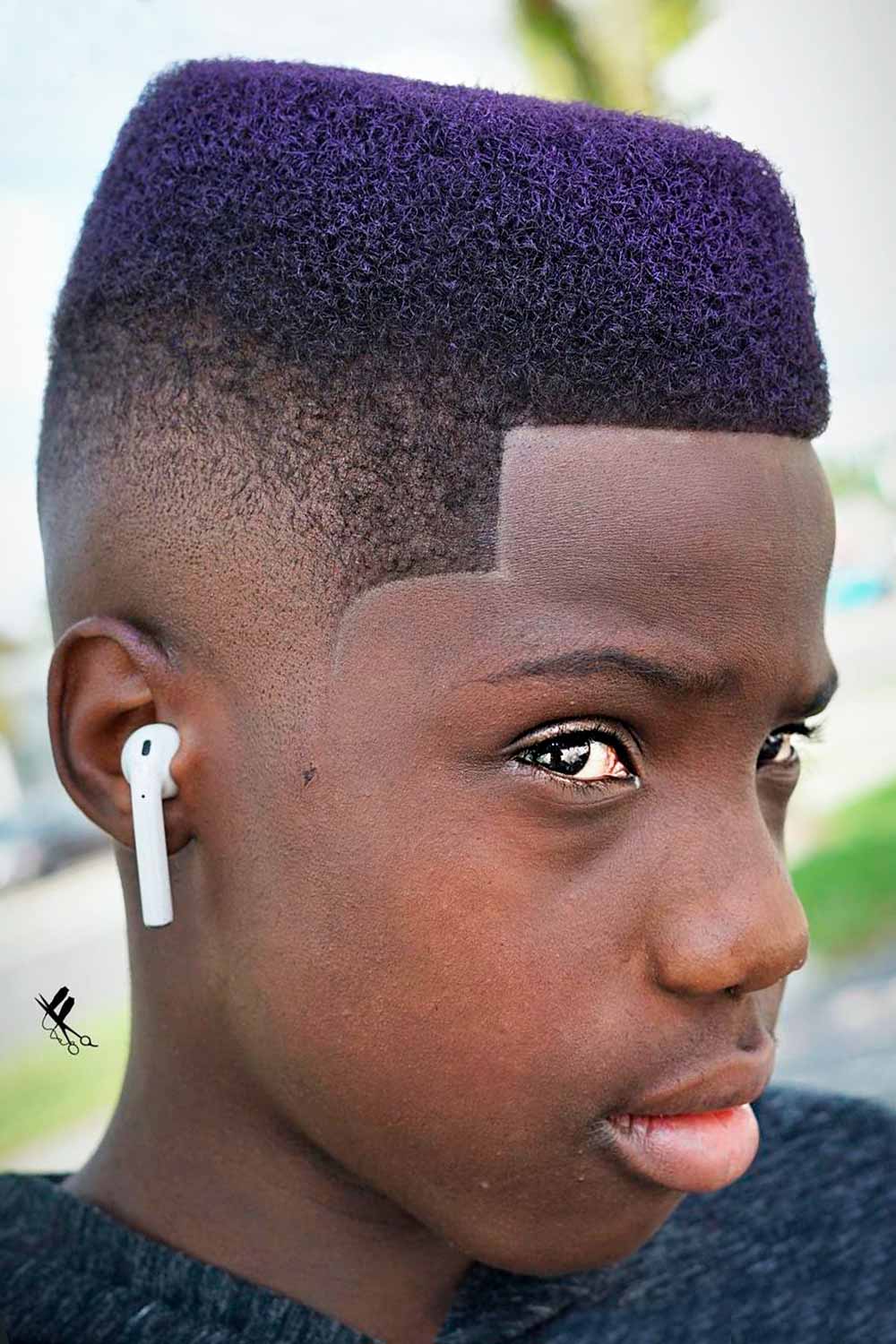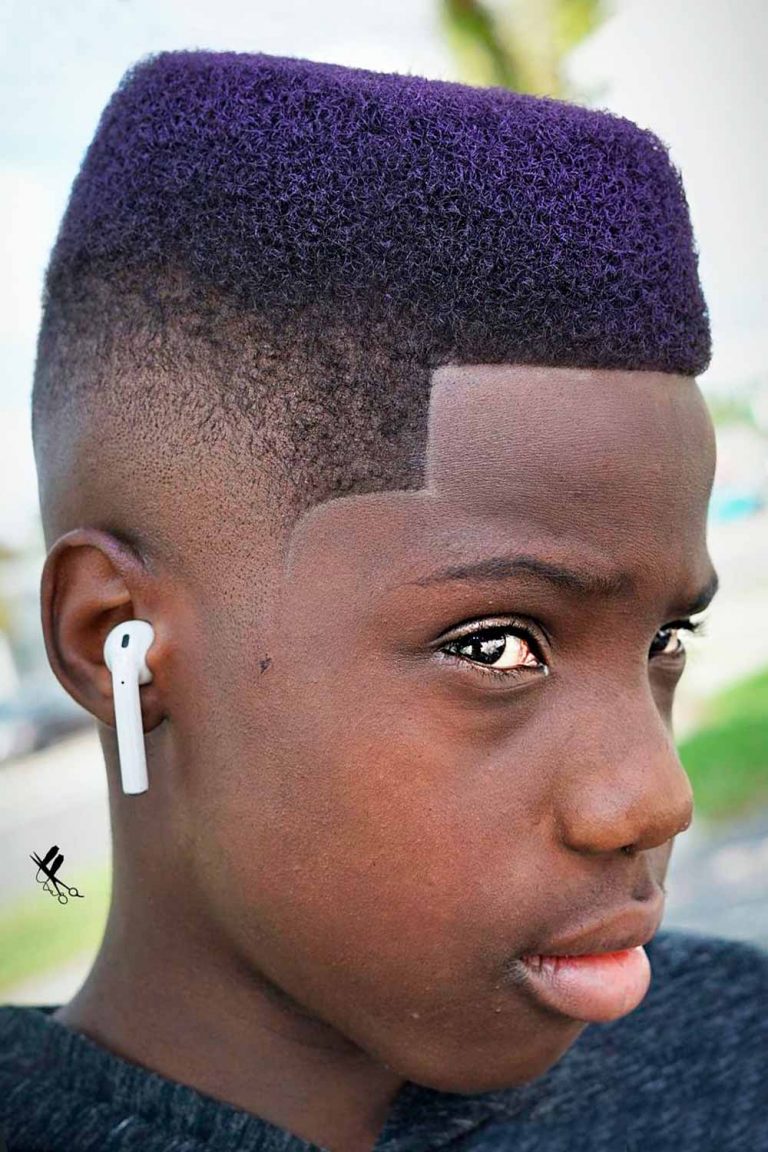 /
Symmetrical Line-Up Black Kids Haircuts
An easy way to create a clean profile for your kid is by complementing his haircut with a line up. Thanks to the symmetry, such black boy haircuts look really cool and balanced.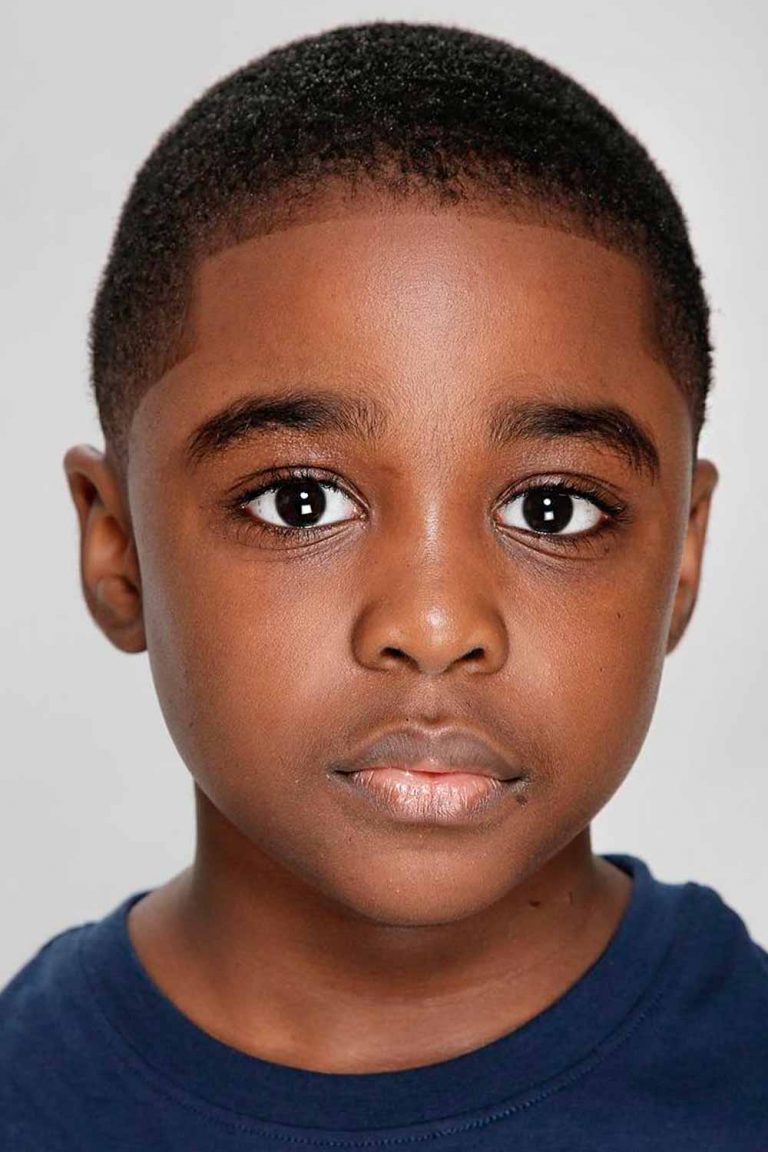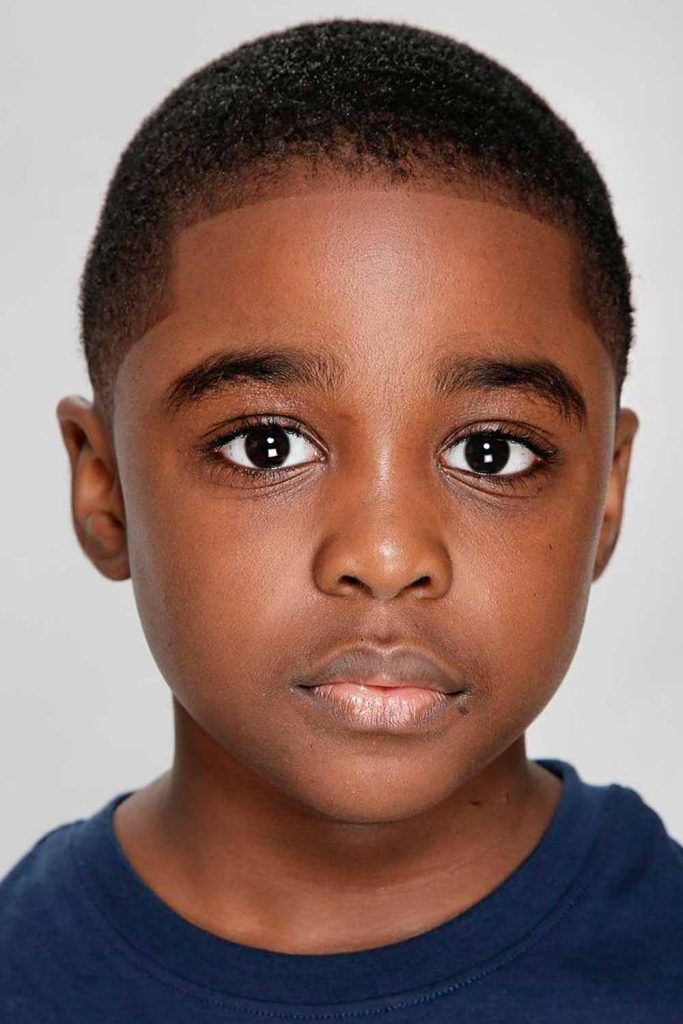 Source: @adrianfanus via Instagram
Curly High Top Fade Hairstyles For Black Boys
Fading helps to accentuate the majority of black boy hairstyles. Thus, you don't have to be overly creative when it comes to styling the top. Simply making it high and textured is more than enough for this black men fade haircut.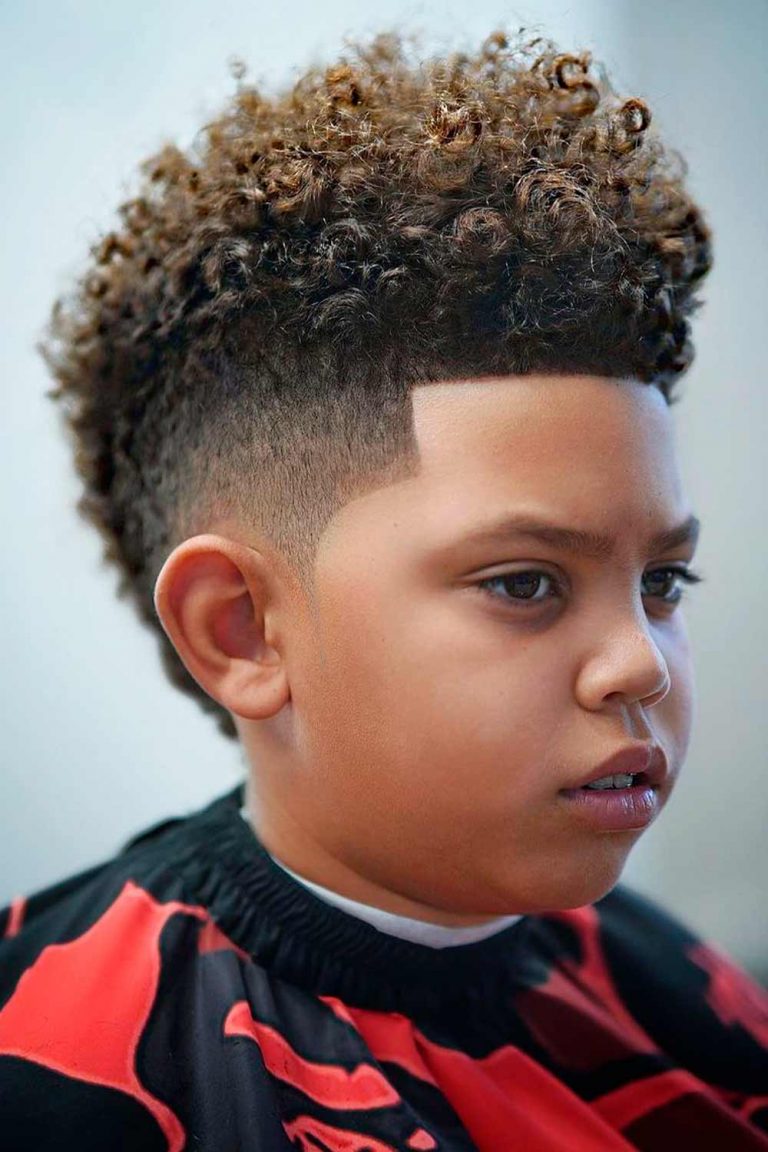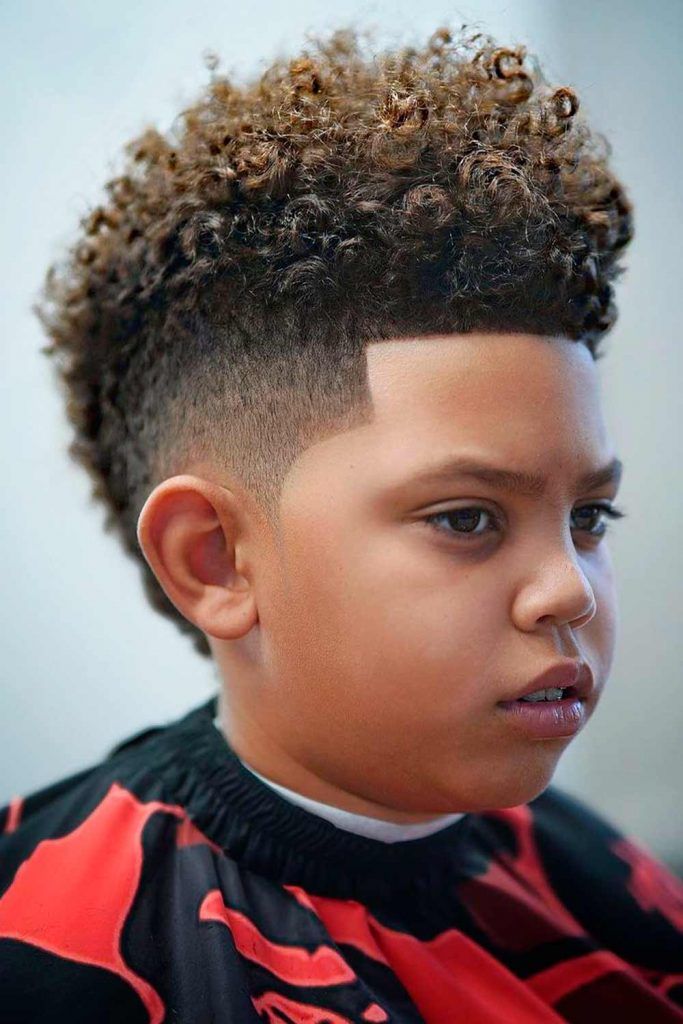 Source: @nickthebarber via Instagram
Asymmetrical High Top Fade
Notably, side swept short black hairstyles come out as polished and dapper you want them to be. The hair texture though makes them more vivid and dimensional, thus don't go with a lot of hair styling product. For added emphasis to your high top fade, pair it with a hard part and a line-up.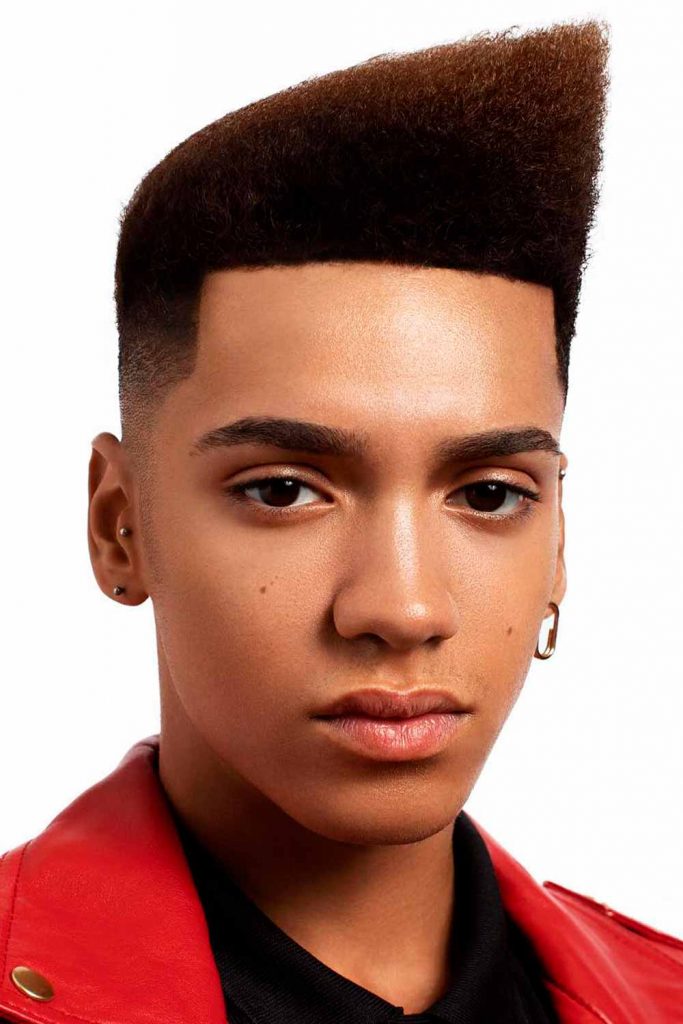 Source: @dexterdapper via Instagram
Taper Black Boy Haircuts
A little softer and more reserved than a fade, a taper is another great addition to Blackboys haircuts. Since it is so low key, it perfectly fits a school or college ambiance. Yet, it does not mean that your kid is going to look overly preppy. The style remains cool and trendy.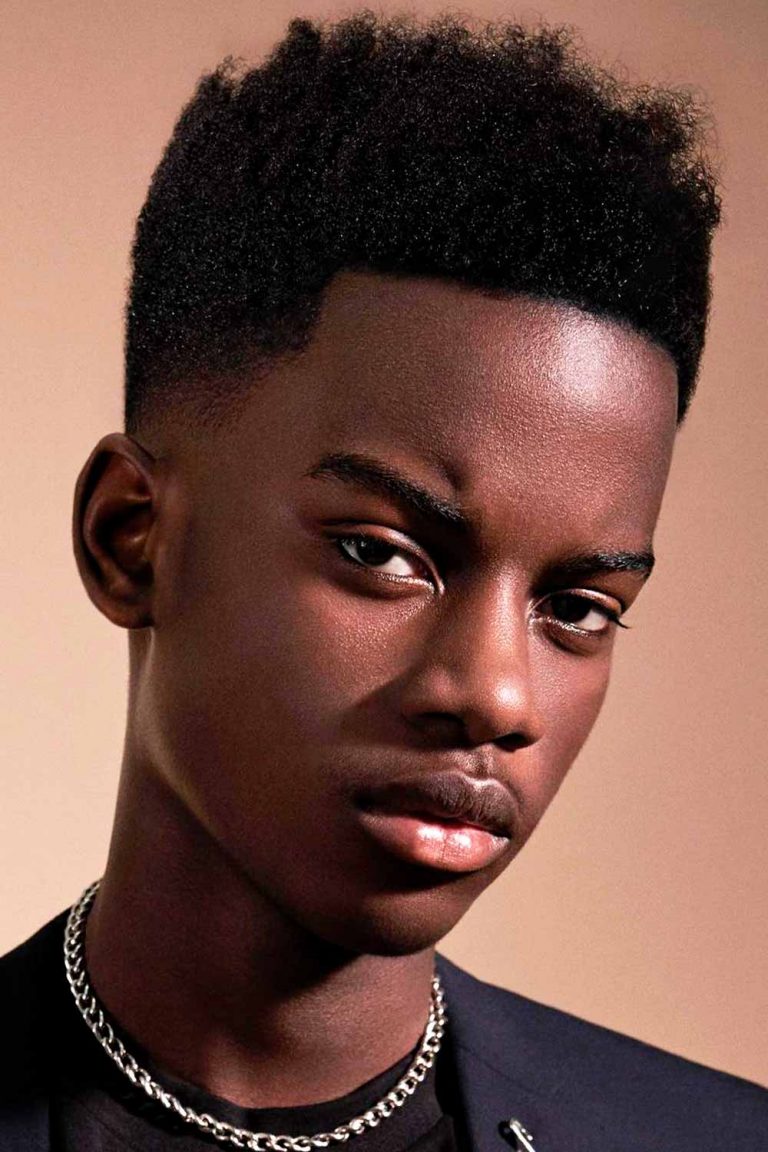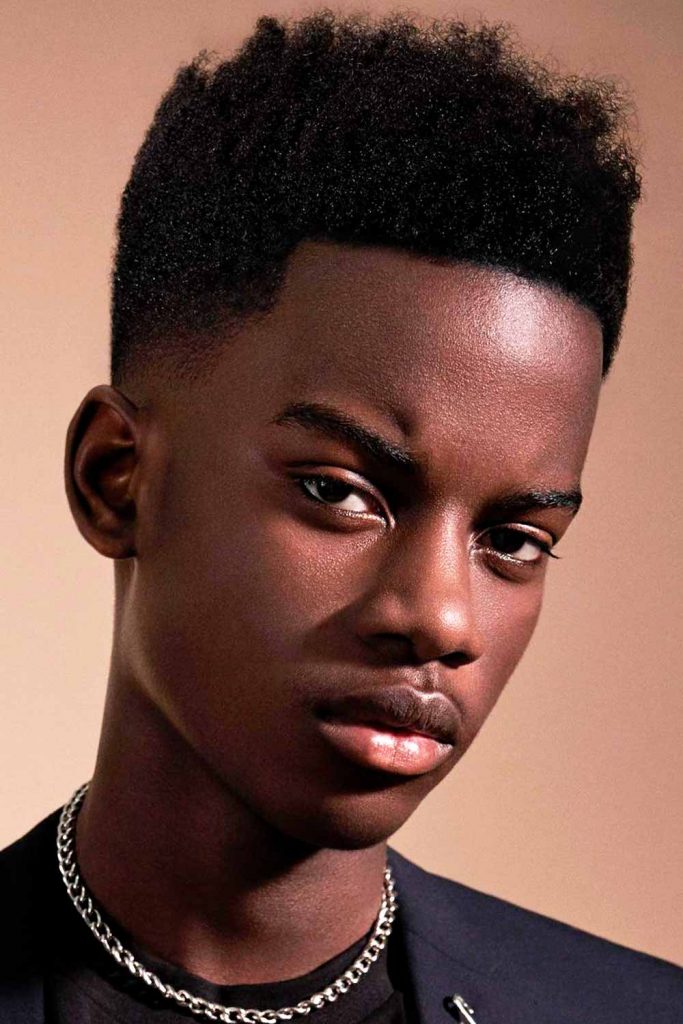 Source: @dexterdapper via Instagram
Black Boy Haircuts Fade
To tame his unruly locks, you can accompany Blackboy haircuts with a fade. Because it takes the hair off the sides, maintaining the rest of the mane becomes much easier. For the top, choose a haircut that resonates with your kid and matches his style. A flat top or a curly Afro will work just fine in this case.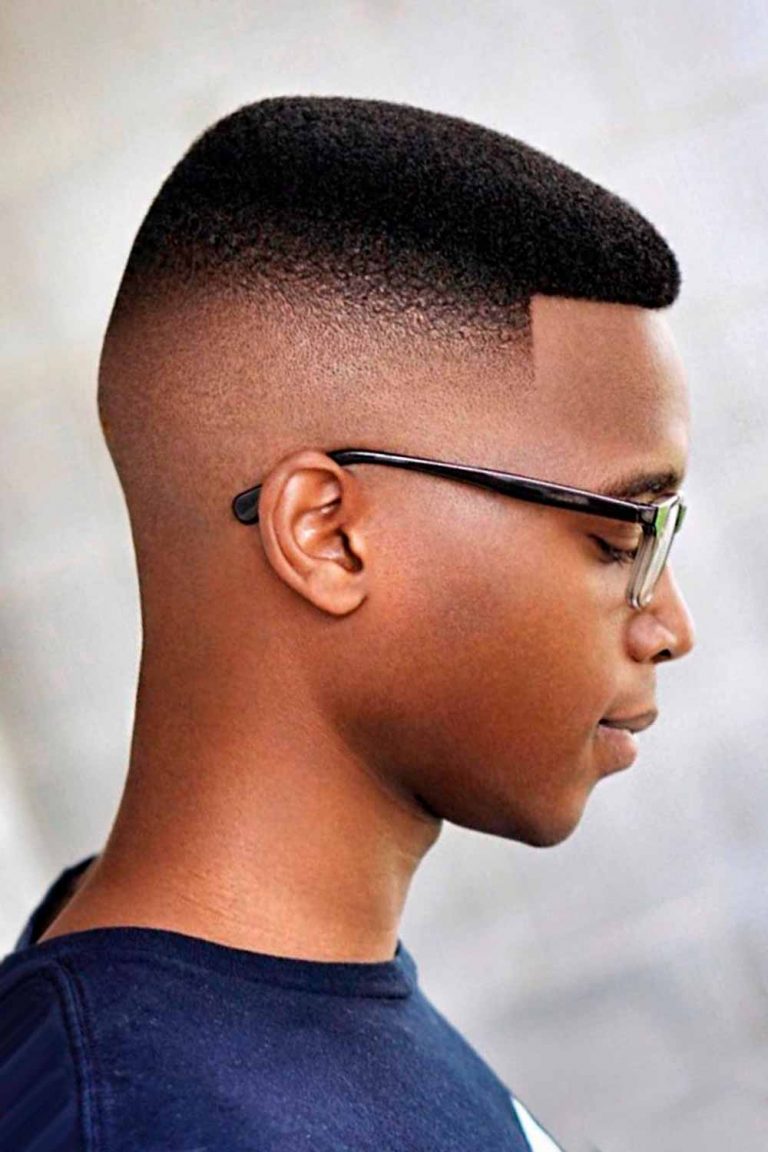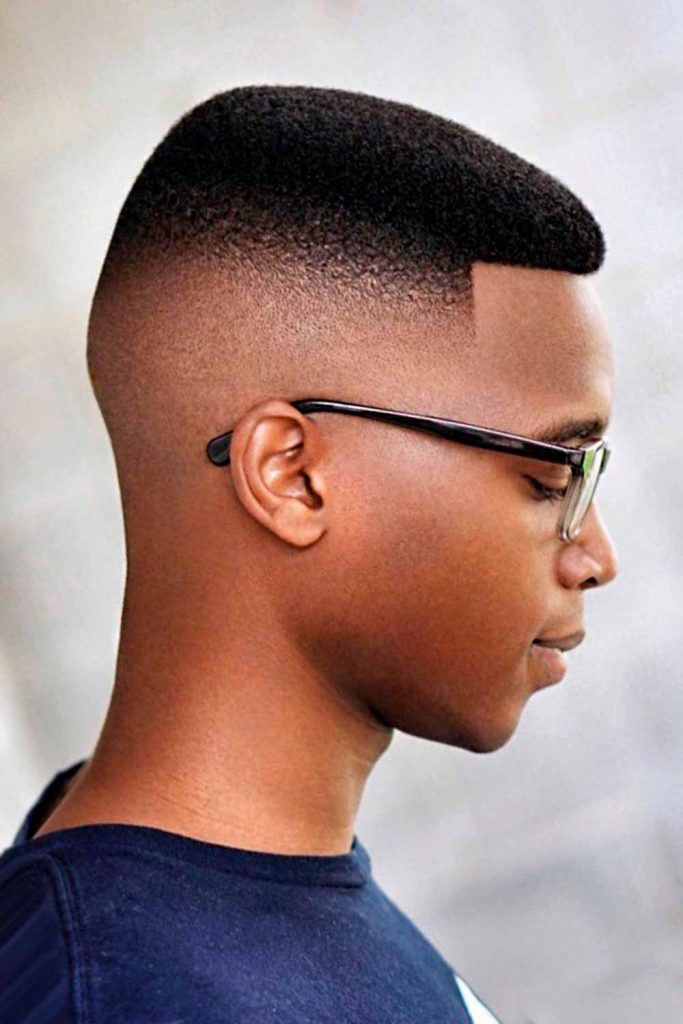 Source: @ xbigwesx via Instagram
Curly Mohawk Fade Black Boys Haircuts
Highlight the rebellious temper of your champ with a staple of daring boys hair styles. A curl hair looks sharp and edgy while a skin fade and a line-up makes it seem neat and clean mohawk fade.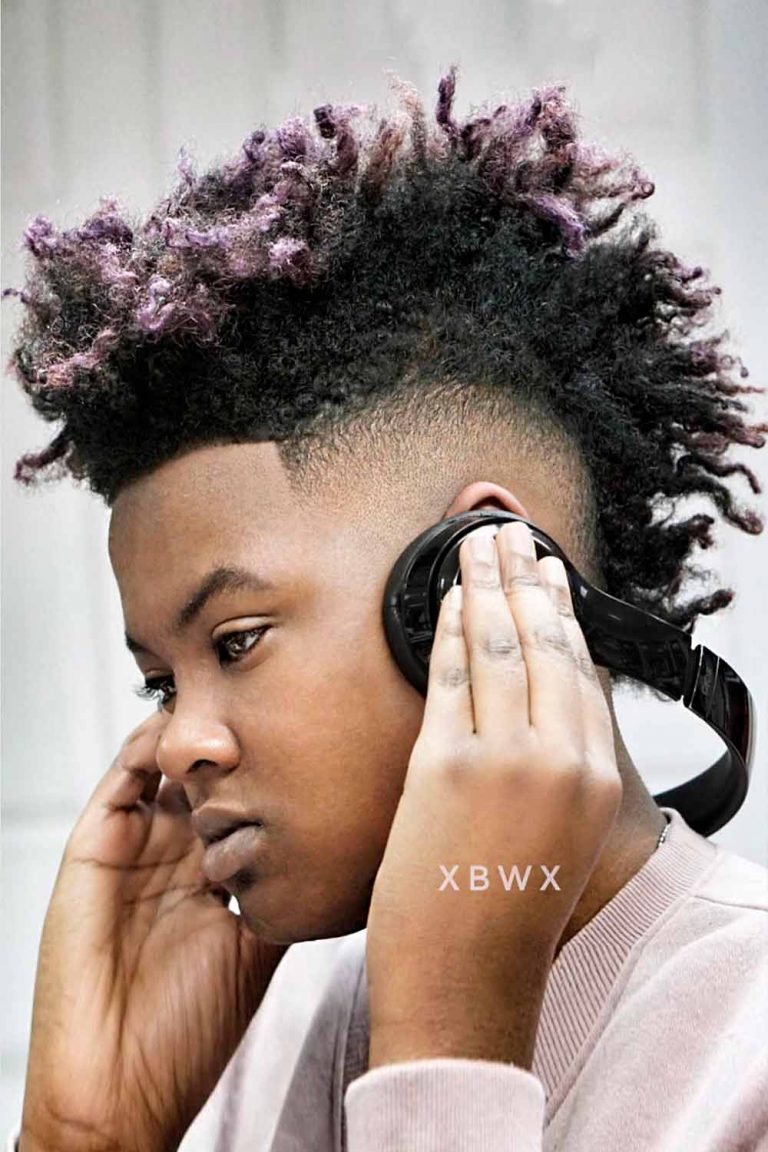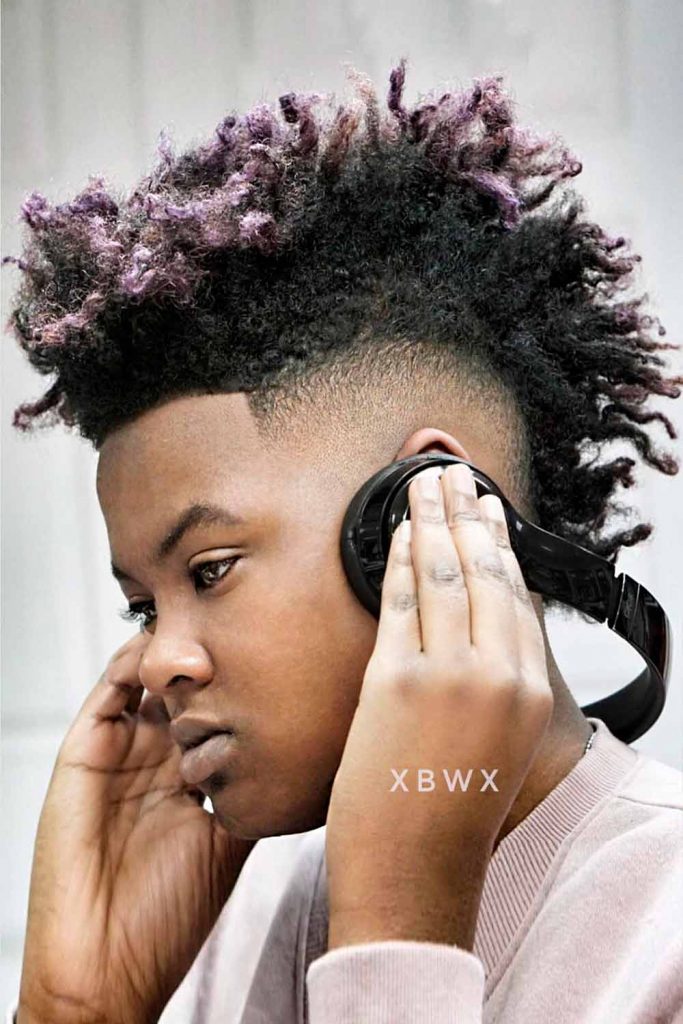 Source: @xbigwesx via Instagram
Wavy Fade Black Boys Haircuts
A quick and easy way to spruce up a black boy's hairstyle is to complement it with a fade. It comes out especially flattering when the style of the top is intricate and textured. For instance, you can enhance the wavy top with a high skin fade. In this way, you will effortlessly make it the focal point of the whole look.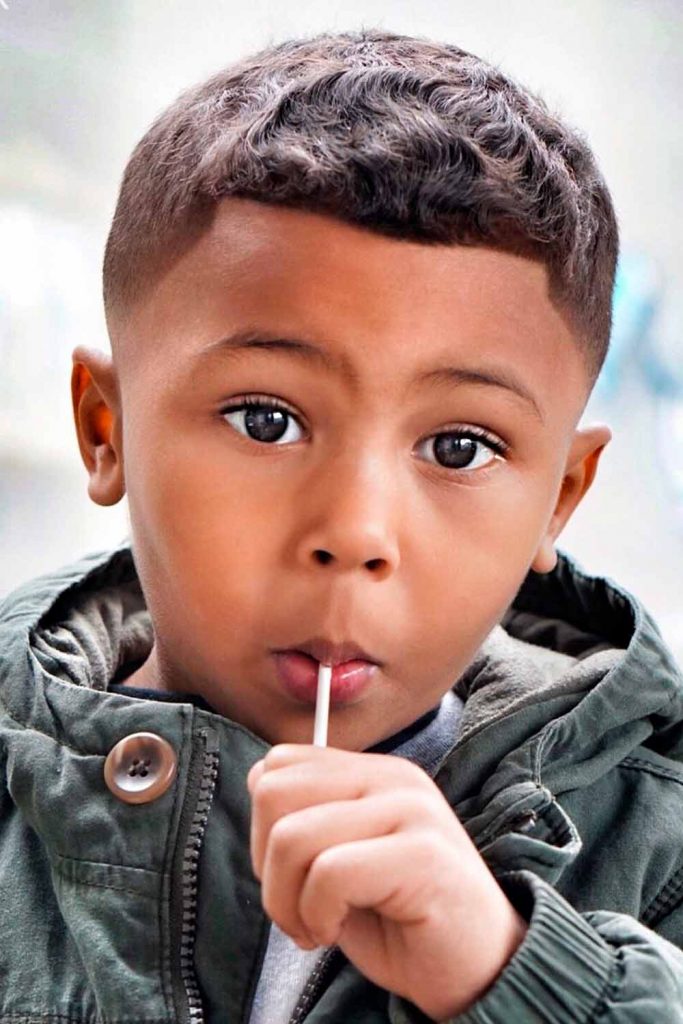 Source: @xbigwesx via Instagram
Burst Fade
Also known as the South of France or Usher haircut, the burst fade impresses with its wide mohawk on top. Ultimately, one of the best hair cuts for boys to get.
Source: @xbigwesx via Instagram
i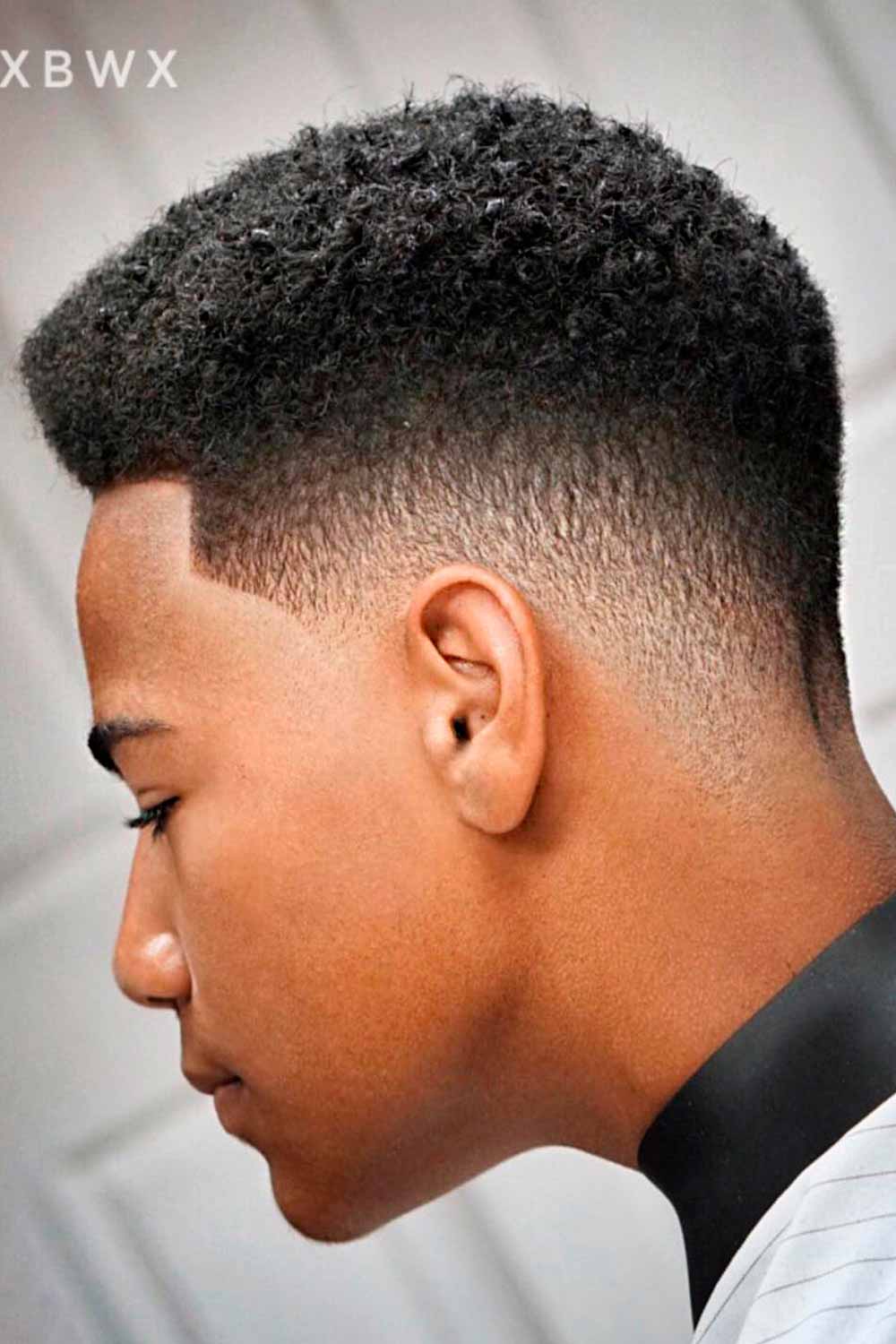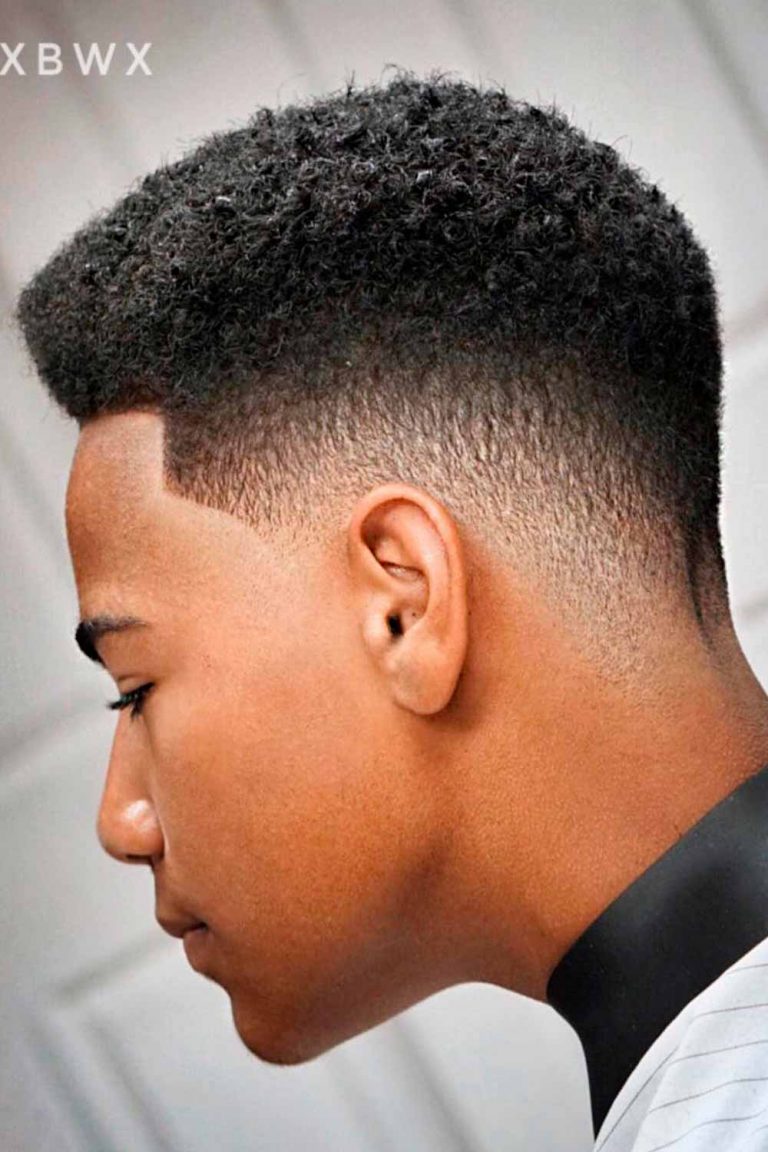 Source: @xbigwesx via Instagram
i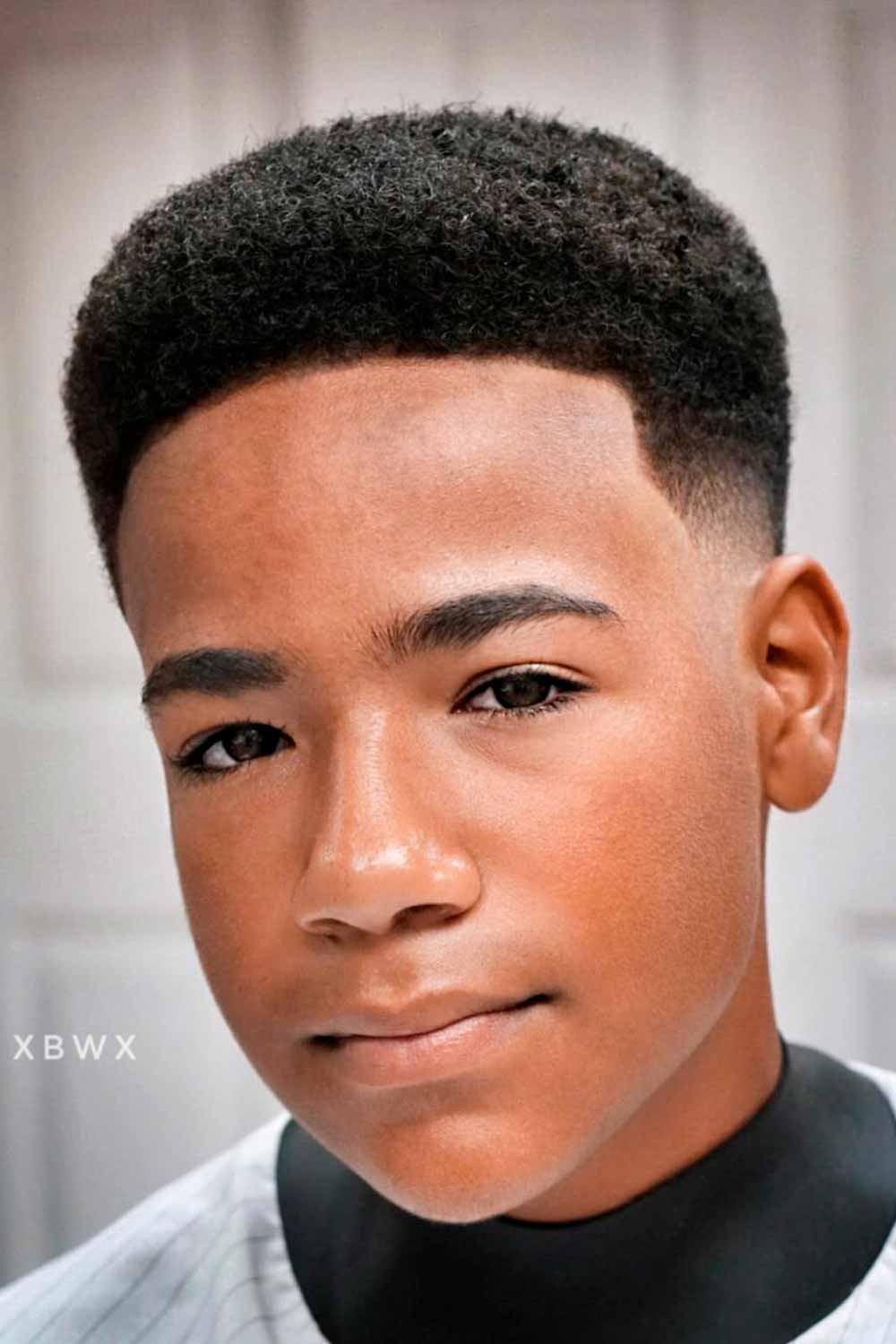 /
Bald Fade & Hair Art
You can never go wrong with the ocean waves hairstyle for black kids. Not only does it keep they unruly kinks look neat and tidy but it also helps to accentuate their hair texture and pattern. Besides, it becomes a perfect canvas for the most intricate hair designs, which will instantly make your kid stand out in the crowd.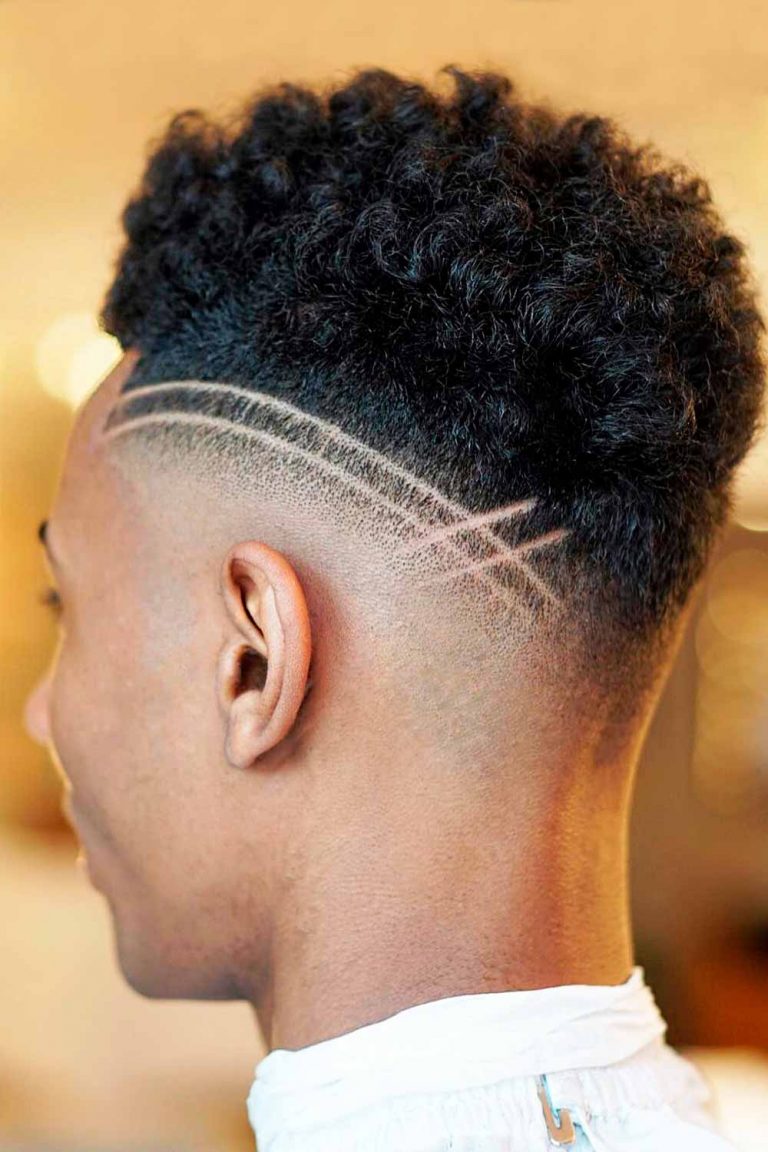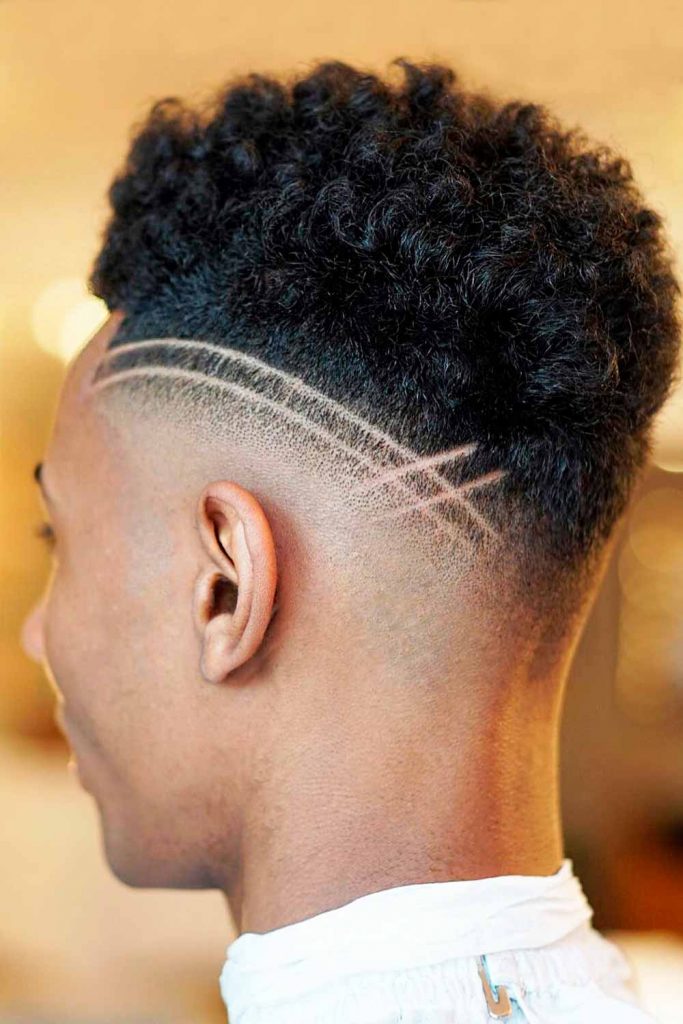 Source: @z_ramsey via Instagram
Chunky Twists Black Boys Haircuts
If you are reluctant to take off too much hair from the top but still want to give your boy's hair a clean appearance, then take a look at this cool hairstyle. It features chunky twists on the top, which allows you to keep his disobedient coils in order, and temple fade on the sides and back for a dapper look.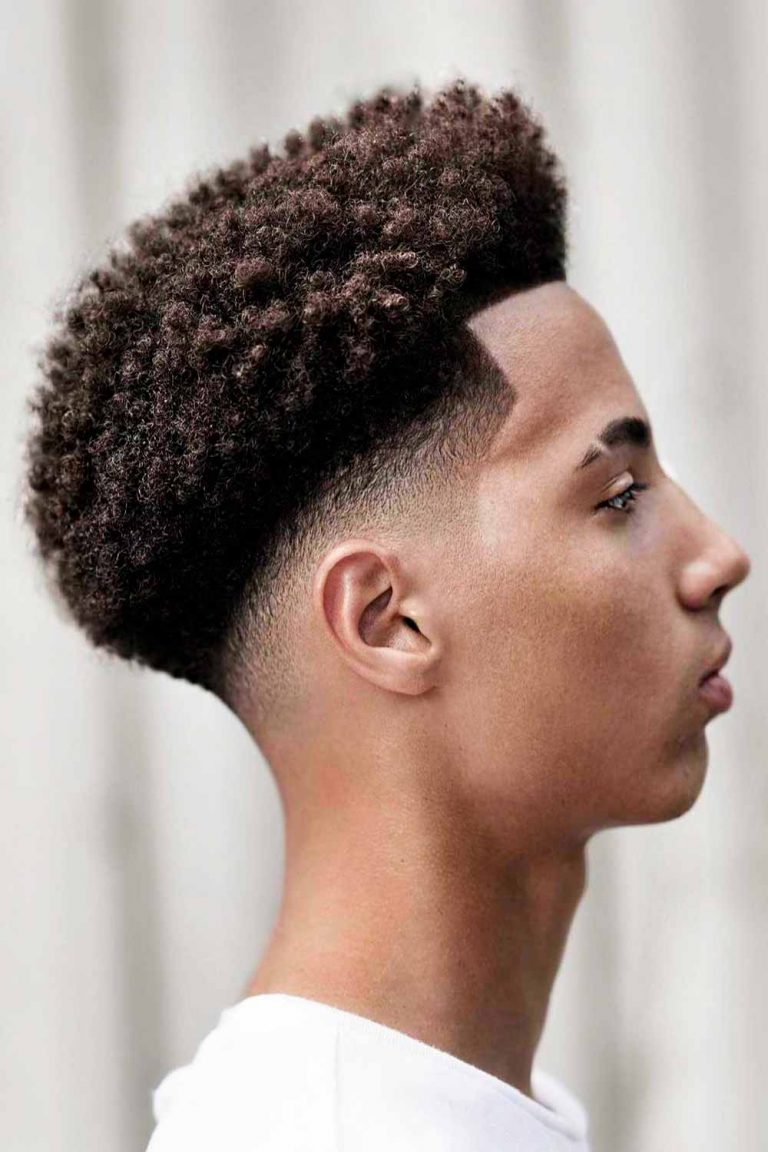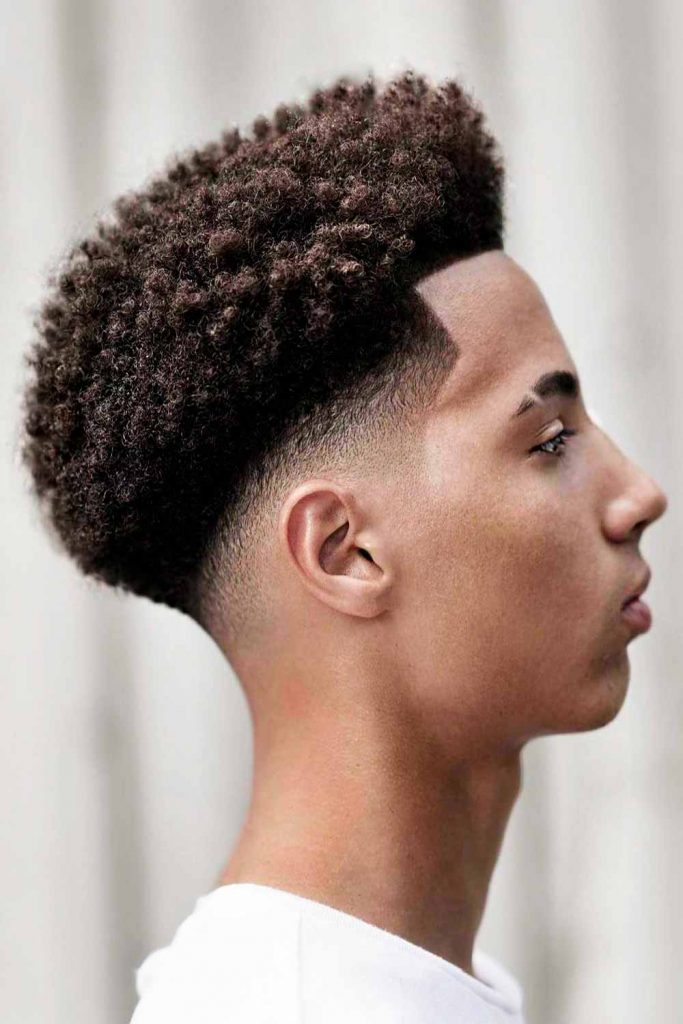 Source: @xbigwesx via Instagram
Expanding Haircut
Although it is advisable not to use a lot of hair styling products on young boys' hair, a blob of hair gel will not hurt for sure. Apply it to the locks on the top of the head to enhance their texture and give some definition. To keep the focus on the top, go for a high skin fade on the sides and back, which will also add contrast and sharpness to the look.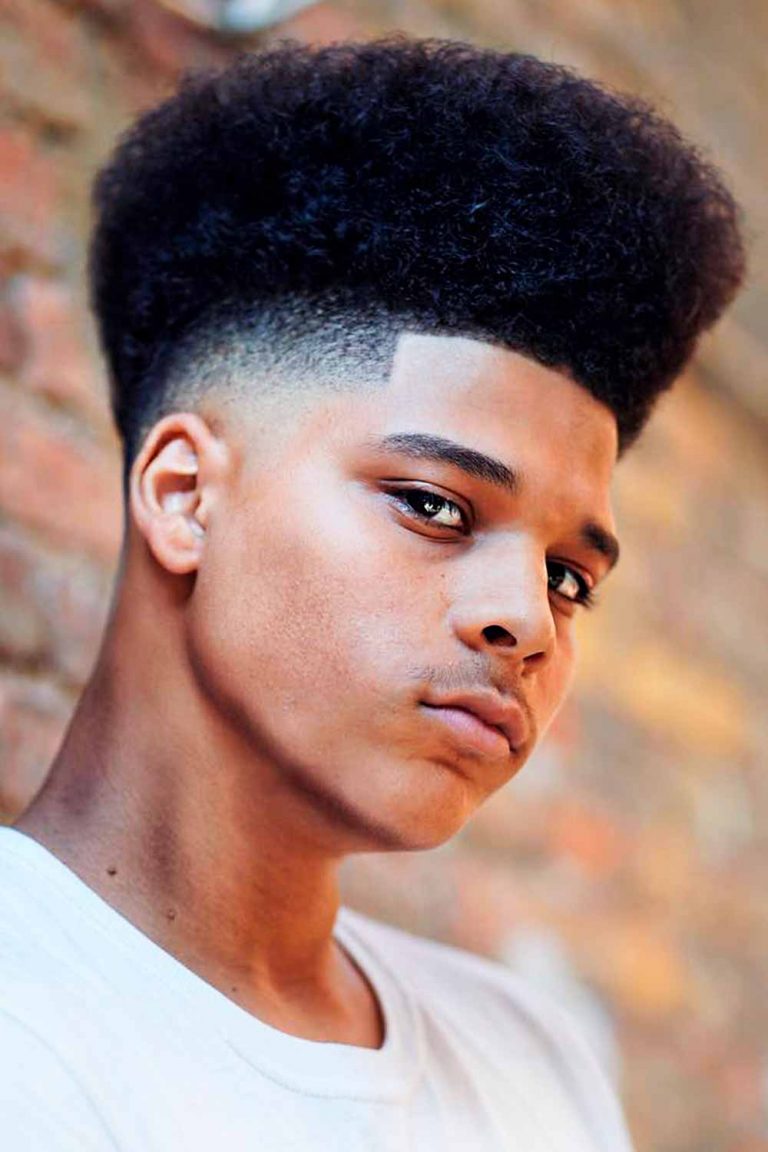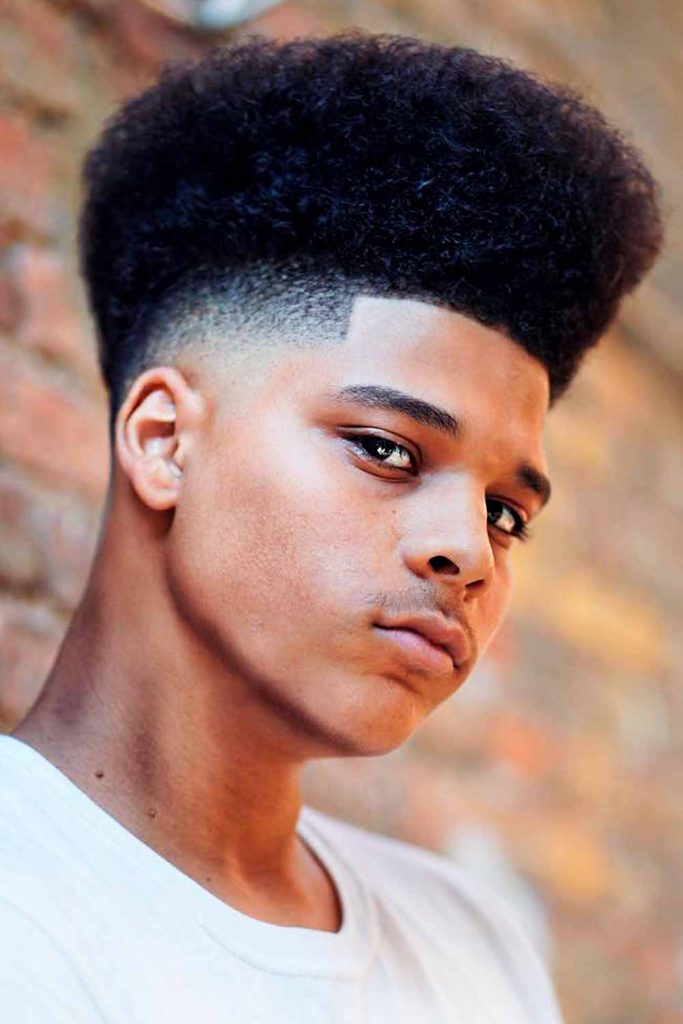 Source: @ z_ramsey via Instagram
Undercut Curly Top
All sorts of undercut are a great accompaniment for a curly top. As it removes quite a lot of hair from the back and sides, a fade gives your kid's hair a spick and span look. Besides, because it is quite versatile, you can adjust it to any ambiance, from a low shade fade for a school-appropriate look to a high skin fade for summer holidays.
Source: @cuttzbycuz via Instagram
Rounded Top
This clean and simple bald fade give it a neat appearance. Such a haircut does not require absolutely no maintenance, which is why it is so popular among hairstyles for black kids.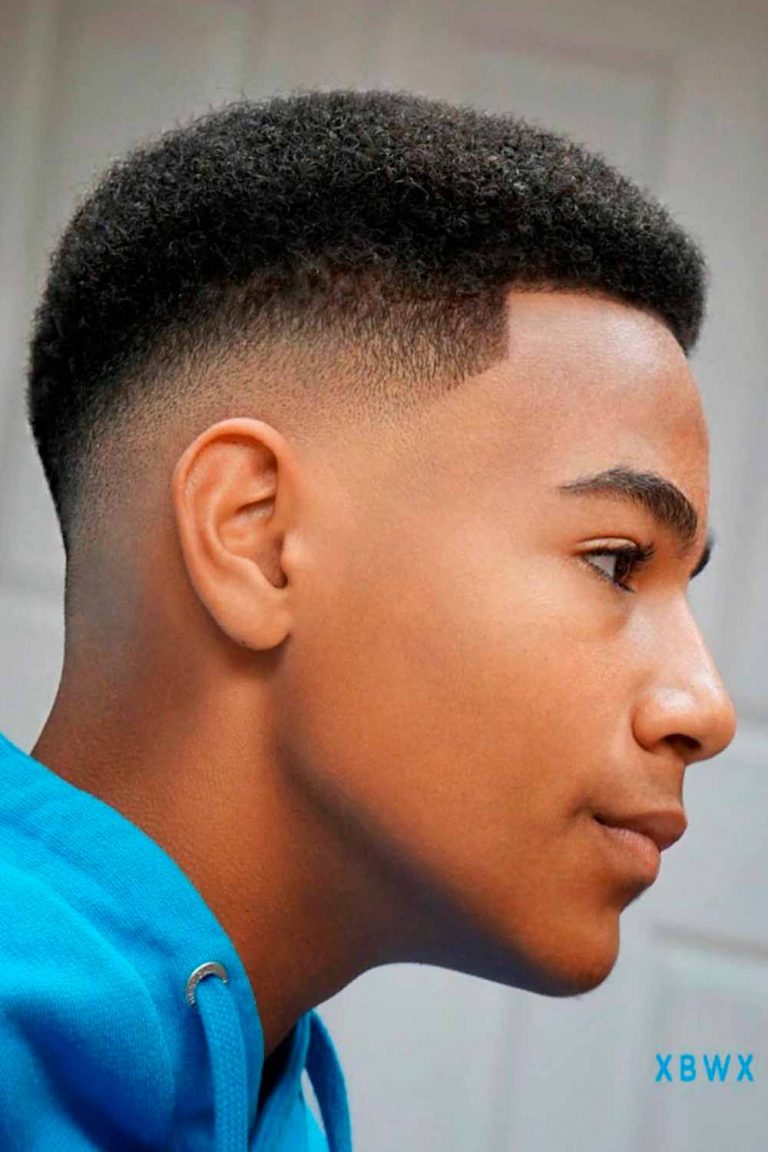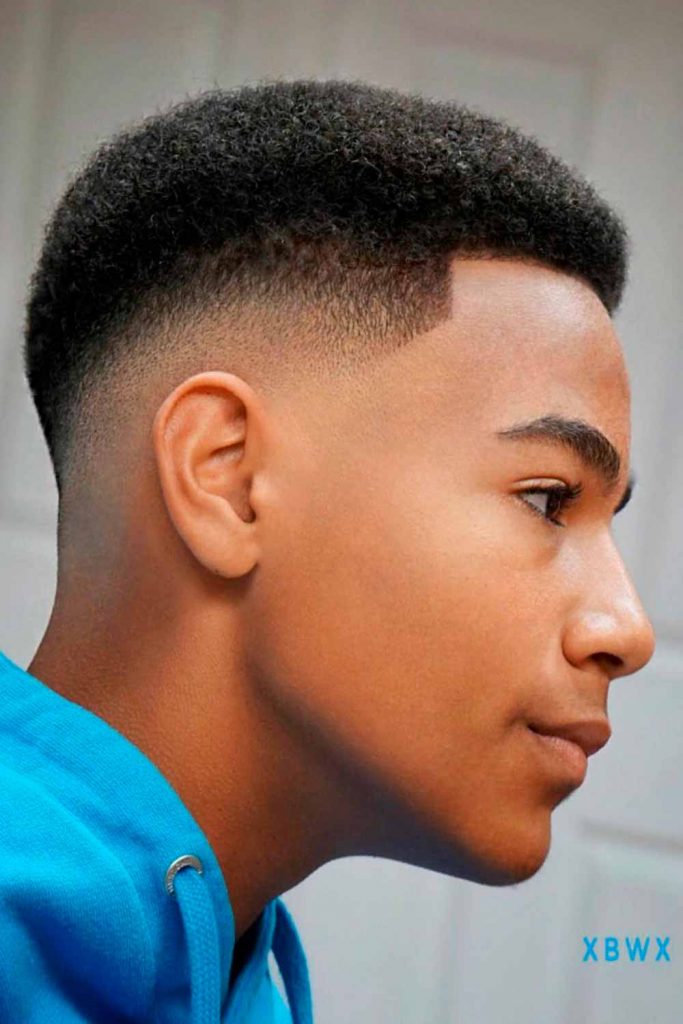 Source: @xbigwesx via Instagram
Short Sides Long Top
We don't know about you but short sides long top little boys haircuts are one of our favorite for their unbelievably low maintenance and stately look. If your little one doesn't have any specific preferences yet, try out this excellent batch of 10 year old boy haircuts.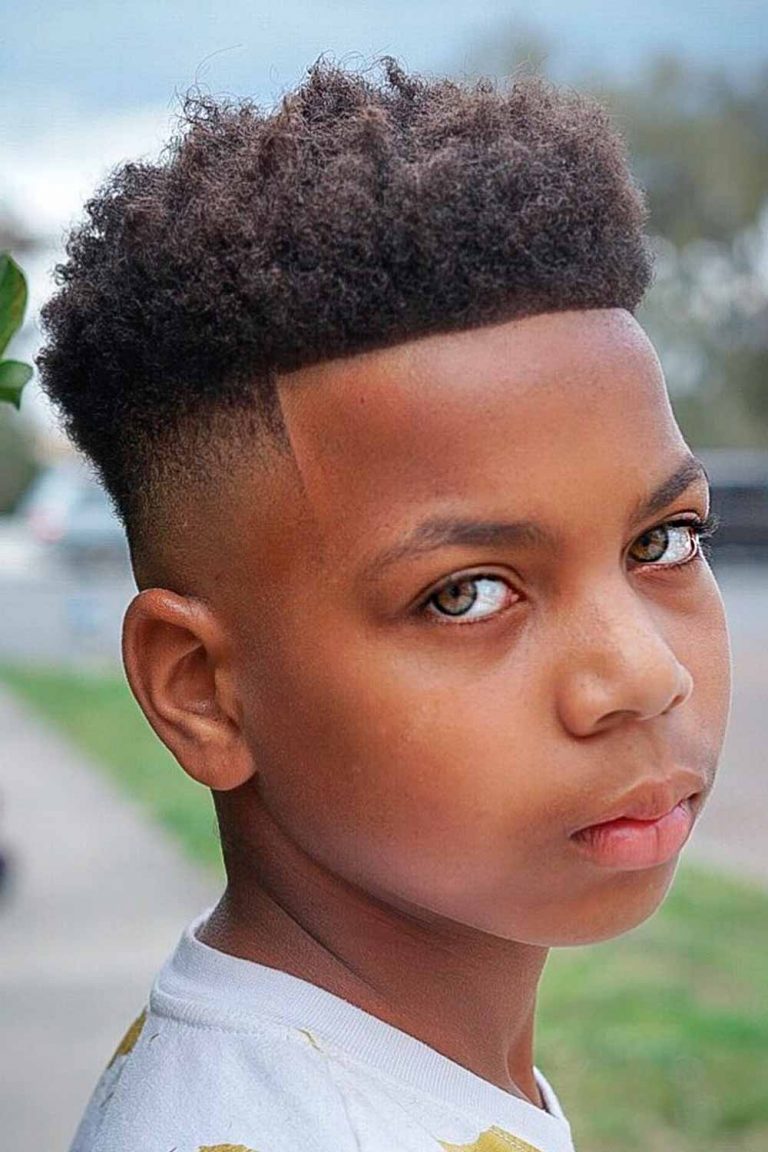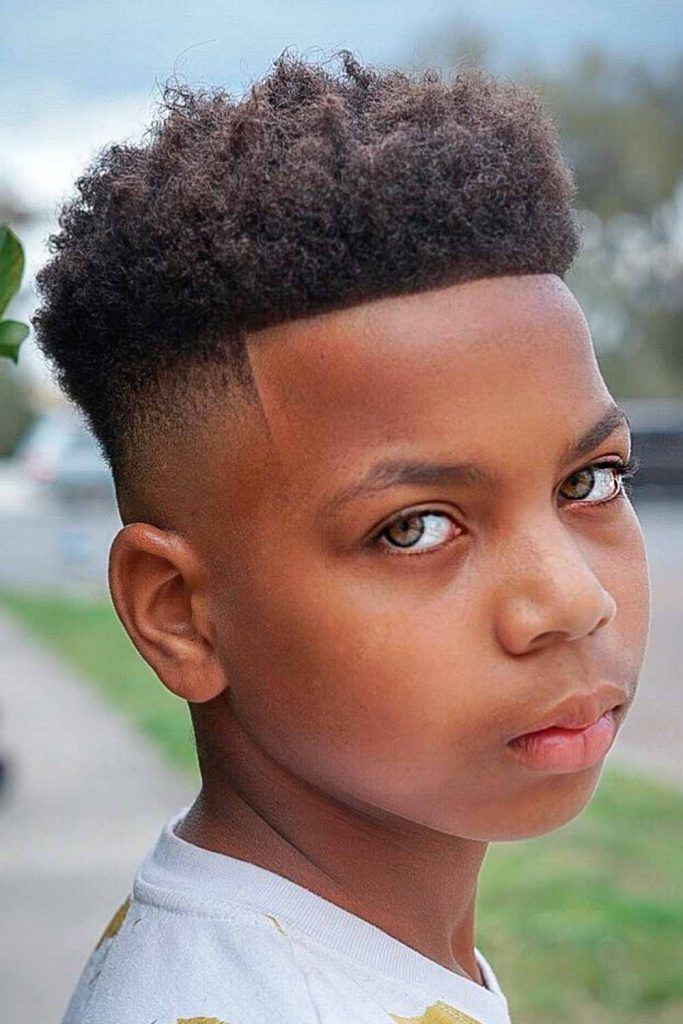 Source: @frankdabarber via Instagram
Bald Fade + Cornrows
Now, this is an option for really fashion forward guys, as it requires a bit of effort and even bravery. However, it fully pays off. An undercut bald fade with cornrows belongs to those black boys haircuts that never go unnoticed.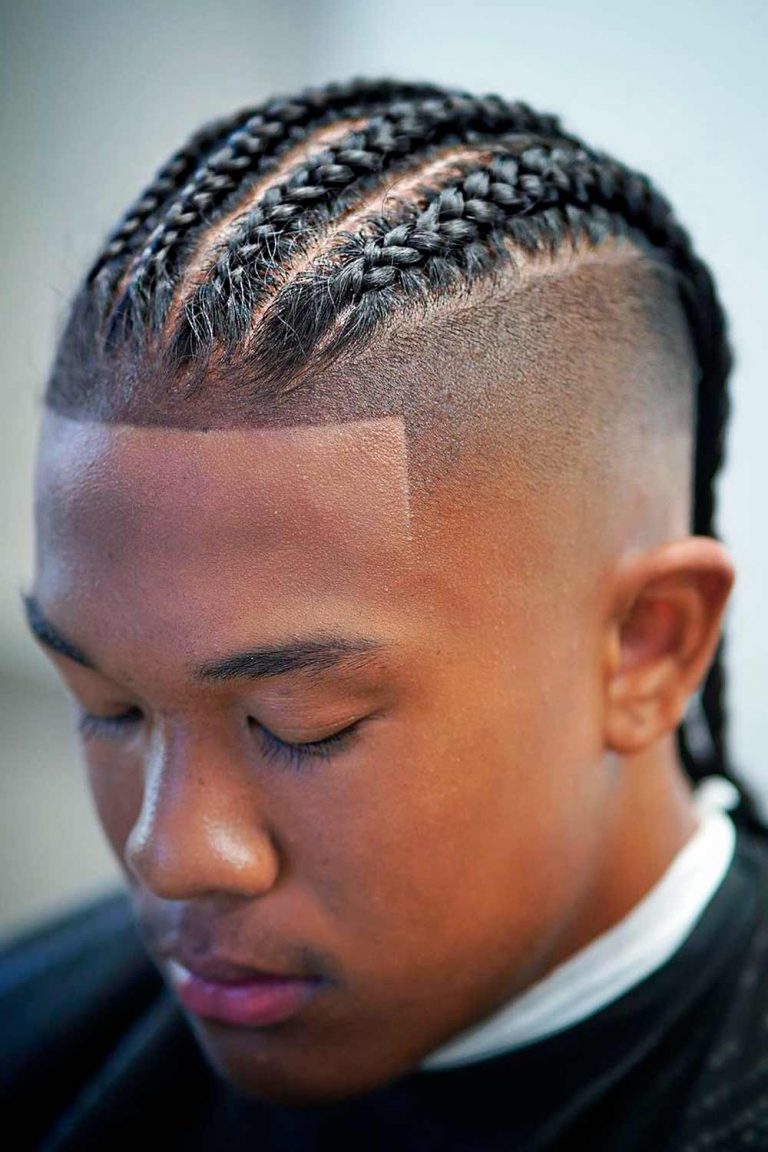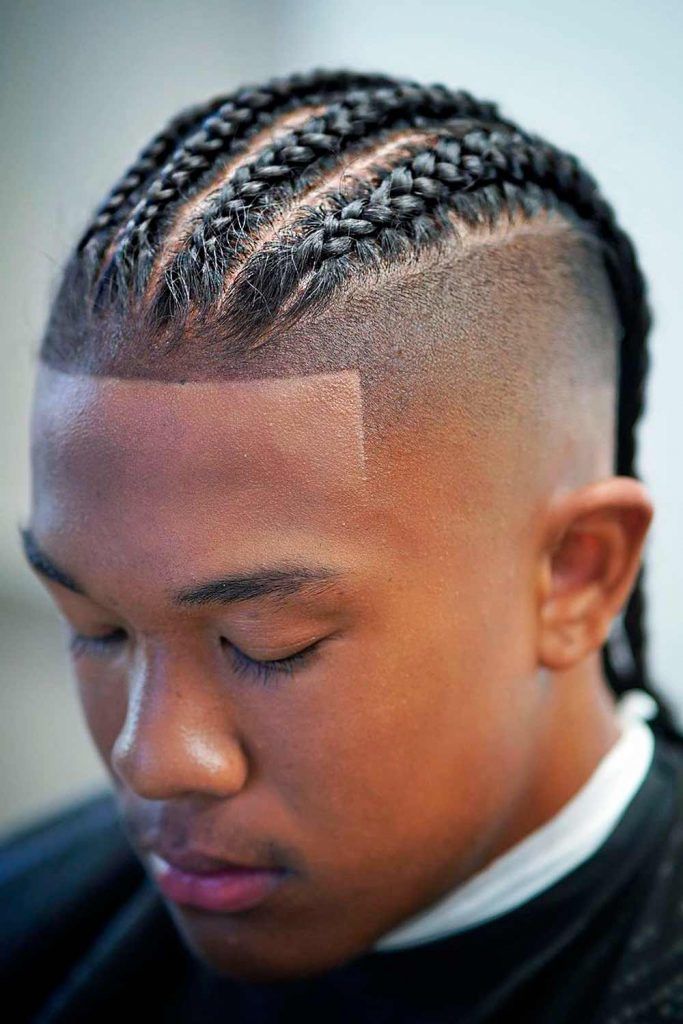 Source: @nickthebarber via Instagram
Medium Curls
Bouncy mid curls appear lively and dynamic, just as your kid is. Remember though to take care of them properly.
Hair Twist
Hair twists are said to be one of the trendiest black boys haircuts 2023. So, if you want your little mod to hop on trend with his hair look, wait no longer to get his kinks twisted.
Buzz Cut
You want to keep it simple, as your tough little guy doesn't have time to mess with styling his locks. In this case, consider a buzz cut, which doesn't require any maintenance. As the style itself is quite modest, you can partner it with line-up and fade haircuts for boys.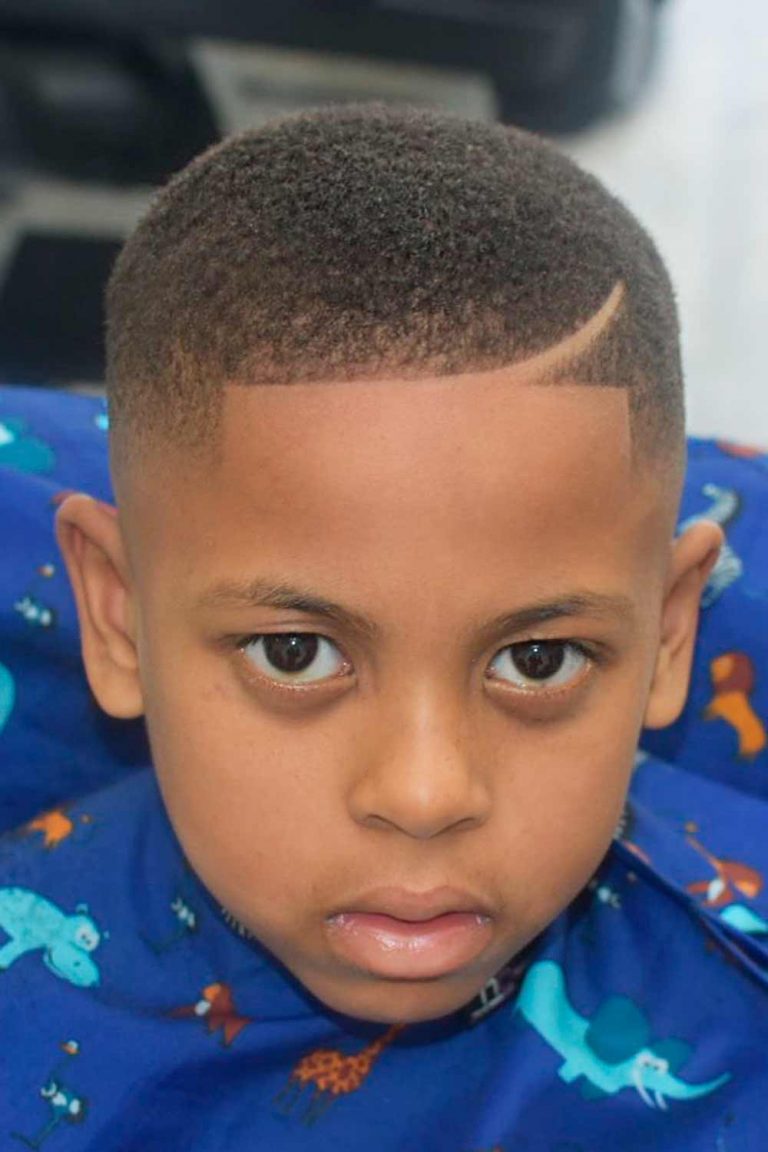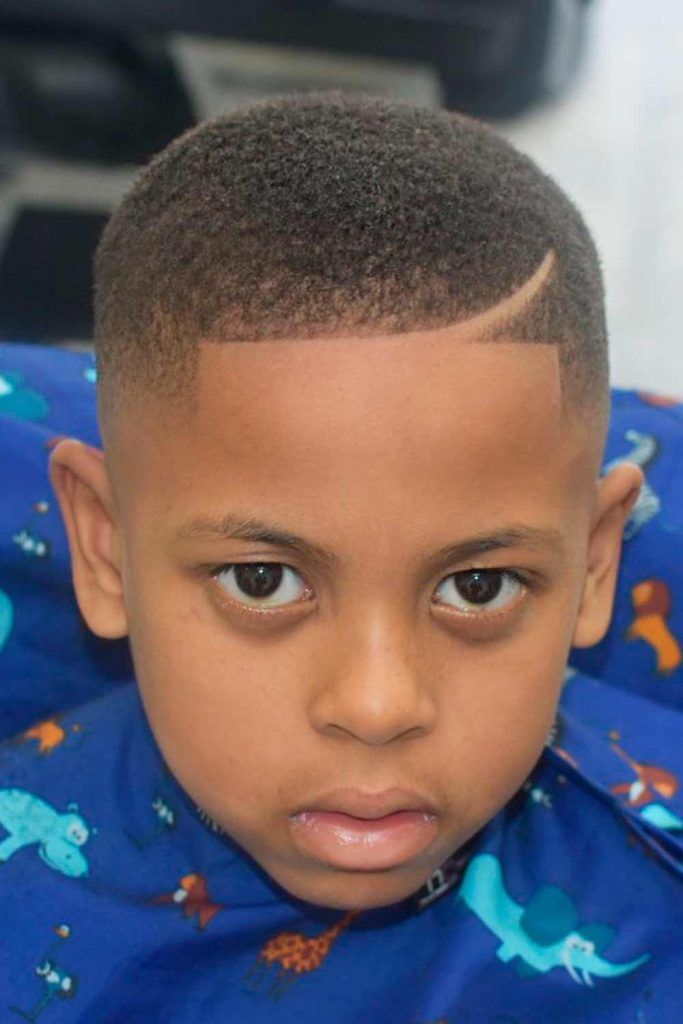 Source: @josiahthebarber via Instagram
Blow Out Flat Top
A flat top is one of the most popular haircuts for little black boys. However, you can upgrade it a bit by combining with another trendy hairstyle for black boys – a blow out haircut. Together, they create a voluminous and eye catching look.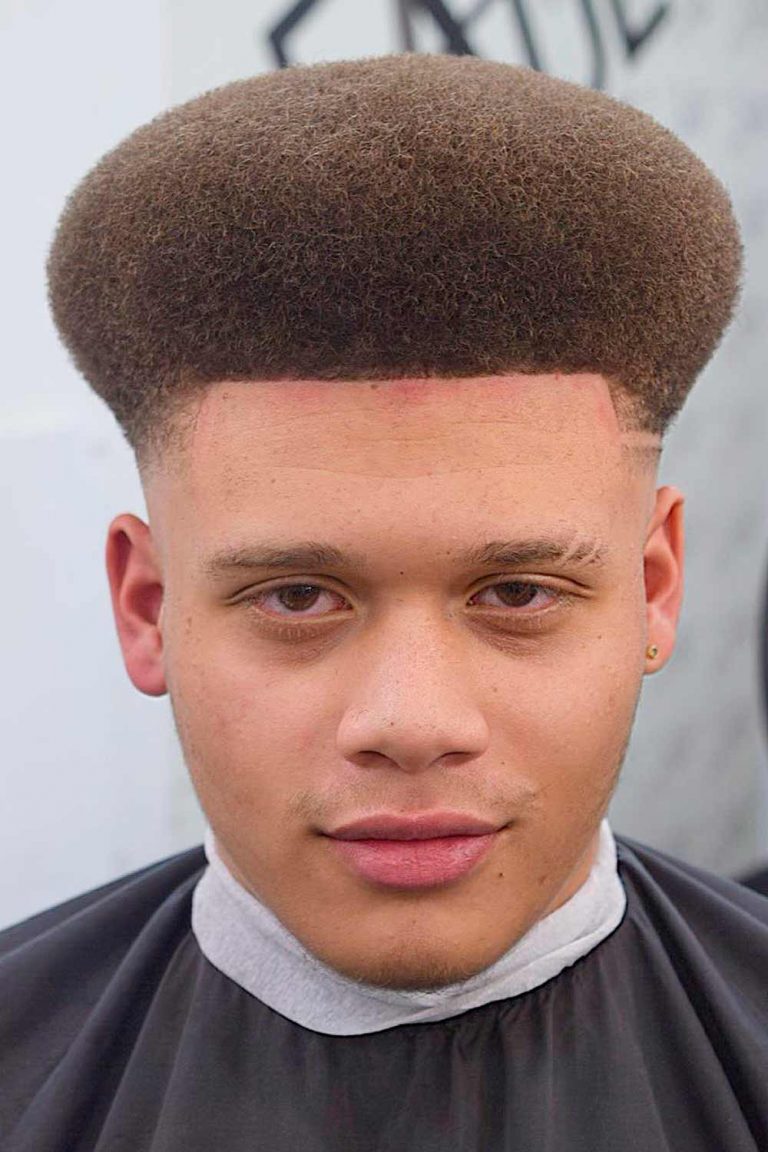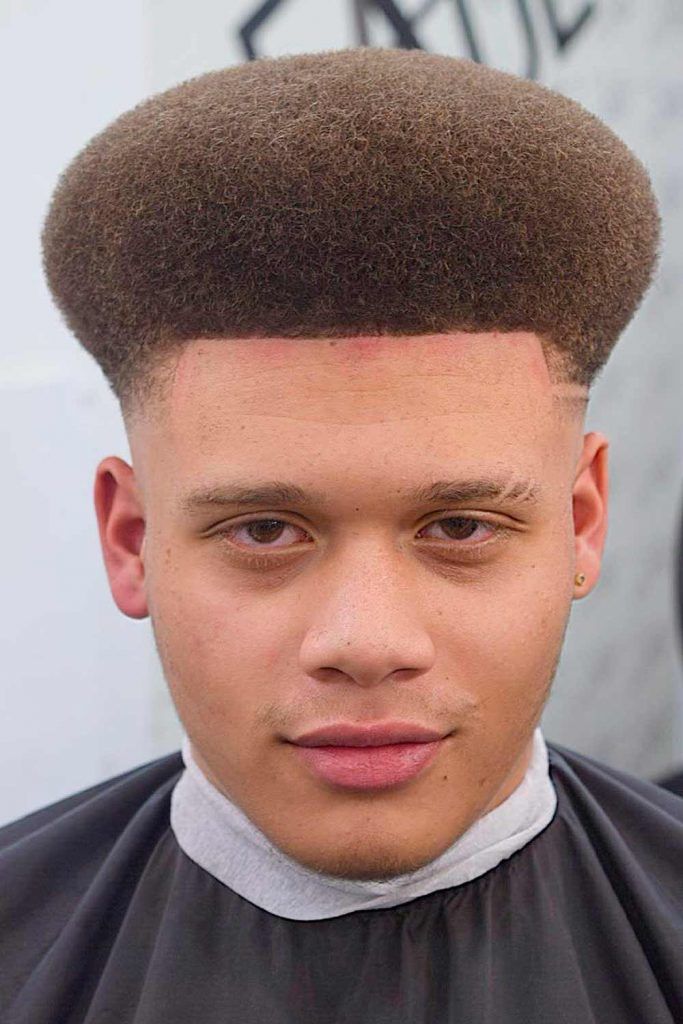 Source: @f4fade via Instagram
Box Braids
Box braids are considered one of the staple black toddler hairstyles. So, you can never go wrong with them. In addition to keeping your kid's unruly locks tamed, they also add a trendy twist to his appearance.
Kinky Curls
Let your kid just embrace his kinks and flaunt them the way they are. This effortless and carefree hairstyle will give your child the feeling of freedom and independence, which is especially important at his age. Just make sure he keeps them clean and gets a fresh cut regularly.
Faded Mohawk With Design
Another great boys hair cut is a mohawk fade. When the sides are cut this short, the wiry mohawk on top becomes a focal point.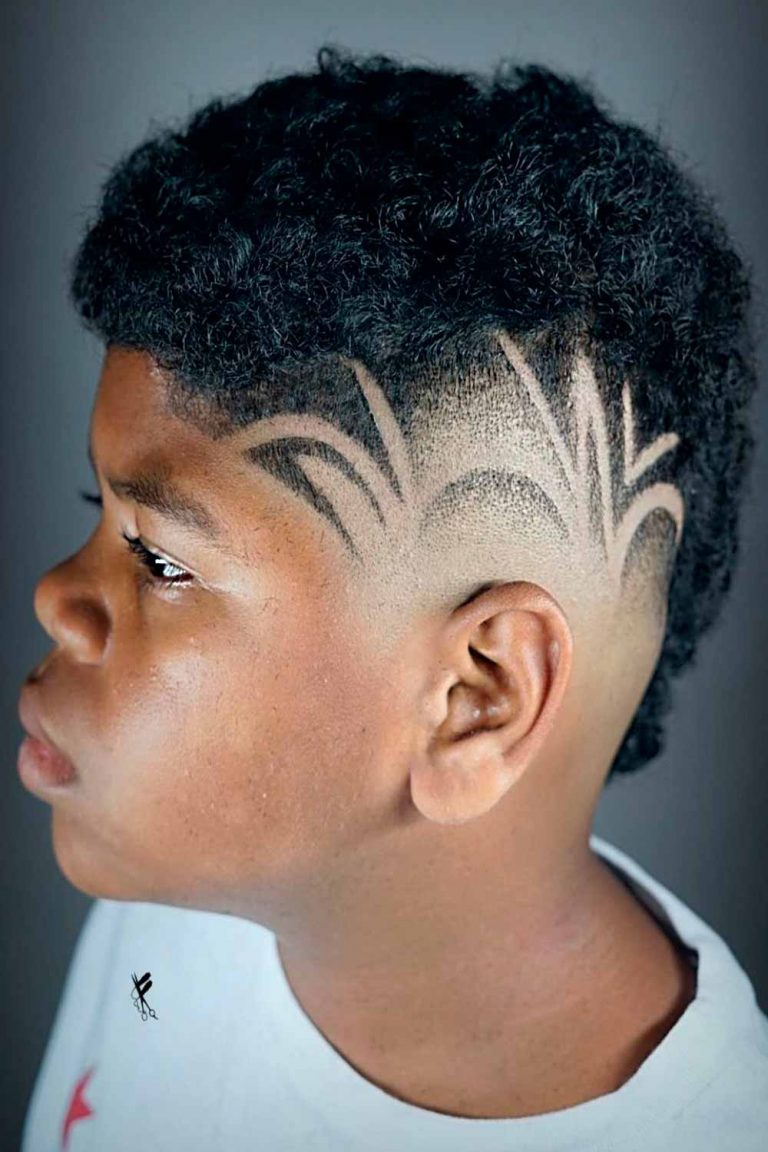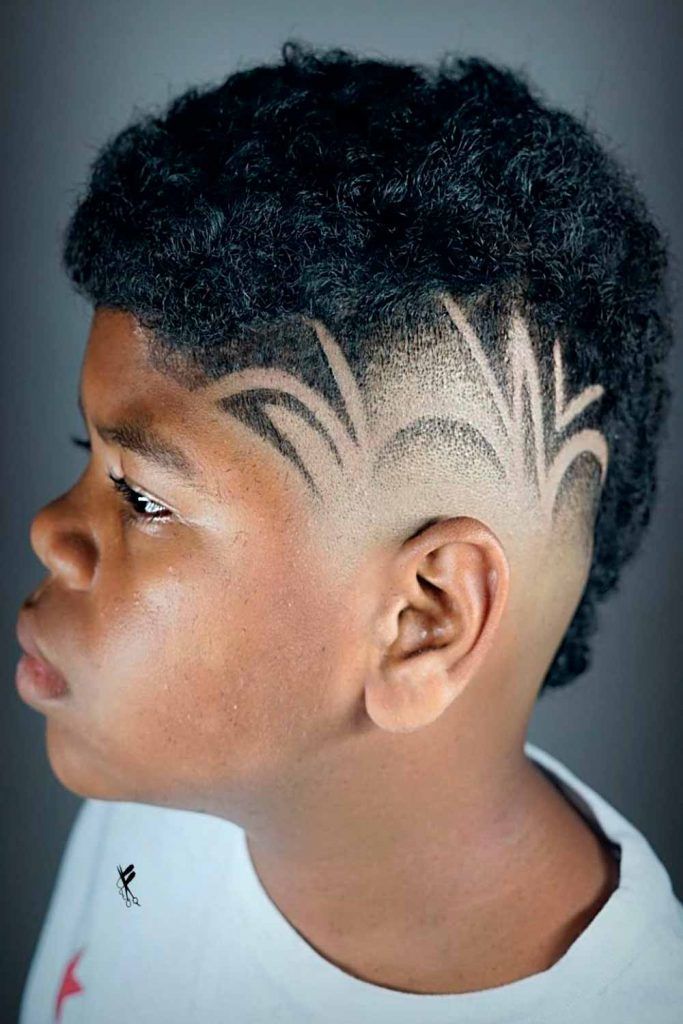 Low Fade Little Black Boy Haircuts
A fade is one of the most popular Black boys haircuts 2023 and not for nothing. It allows you to create a neat and clean silhouette without the haircut looking too bold, especially when you opt for a low fade Blackboy haircut. The top, however, can feature any style you like, from a Frohawk to 360 waves.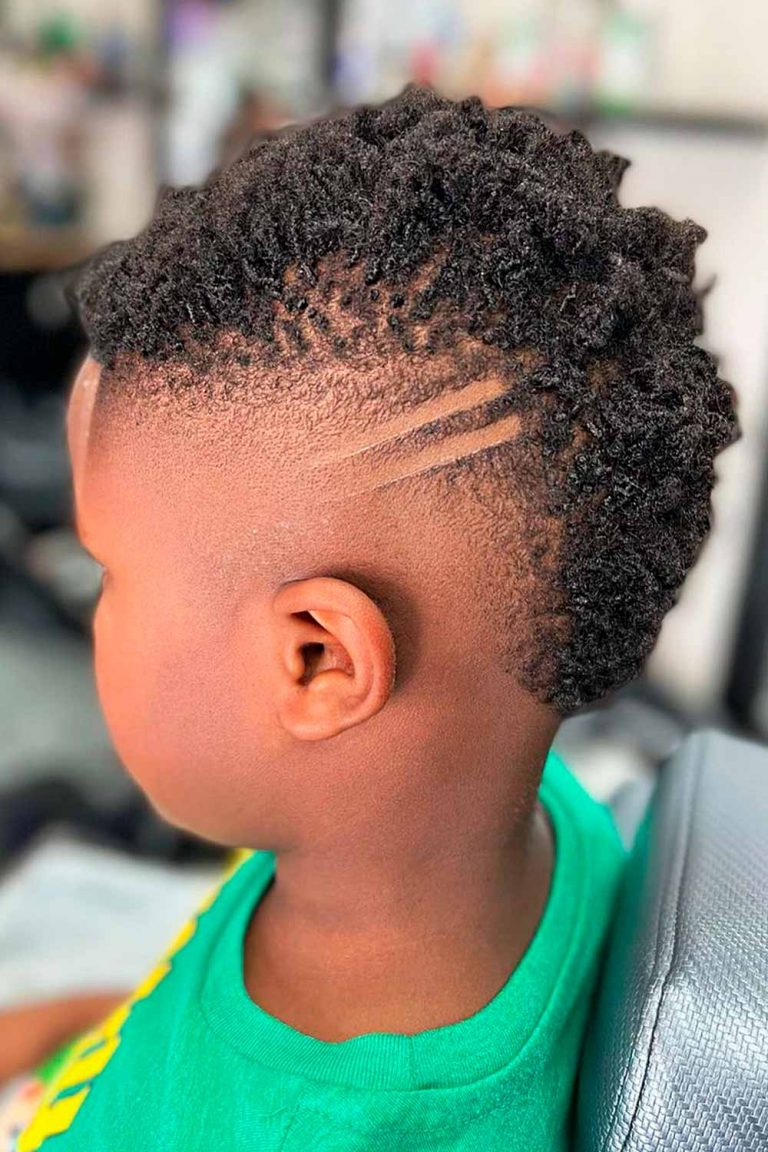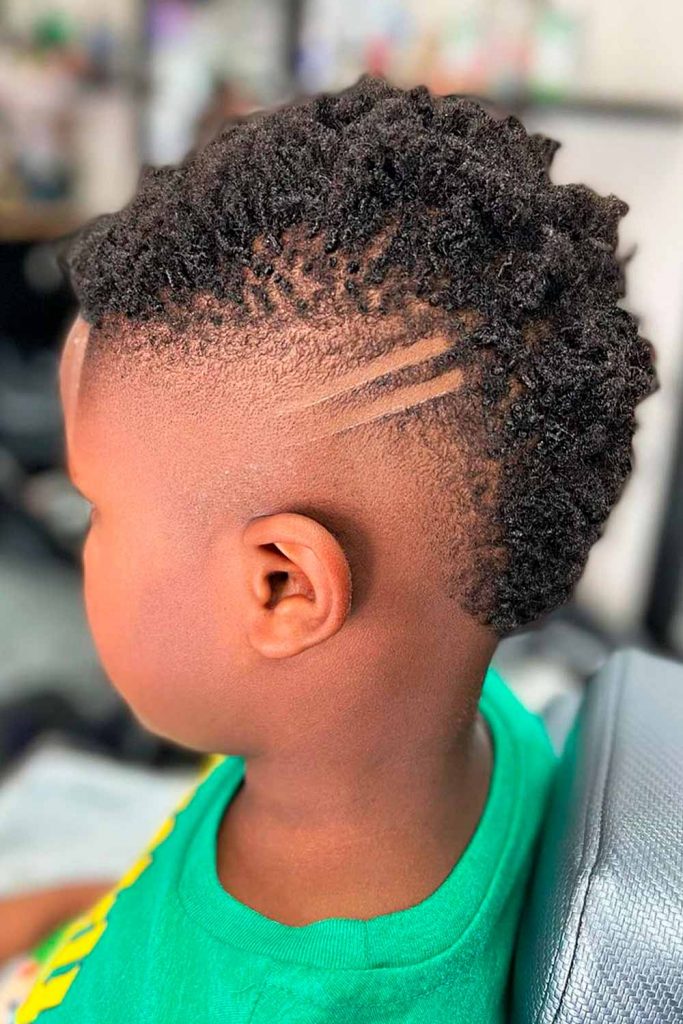 Source: @ledanieljames via Instagram
Mid Fade
A little black boy fade haircut is always a good idea, especially if it is a mid fade. The golden mean that he can flaunt equally successfully to the school and to hang out with his friends.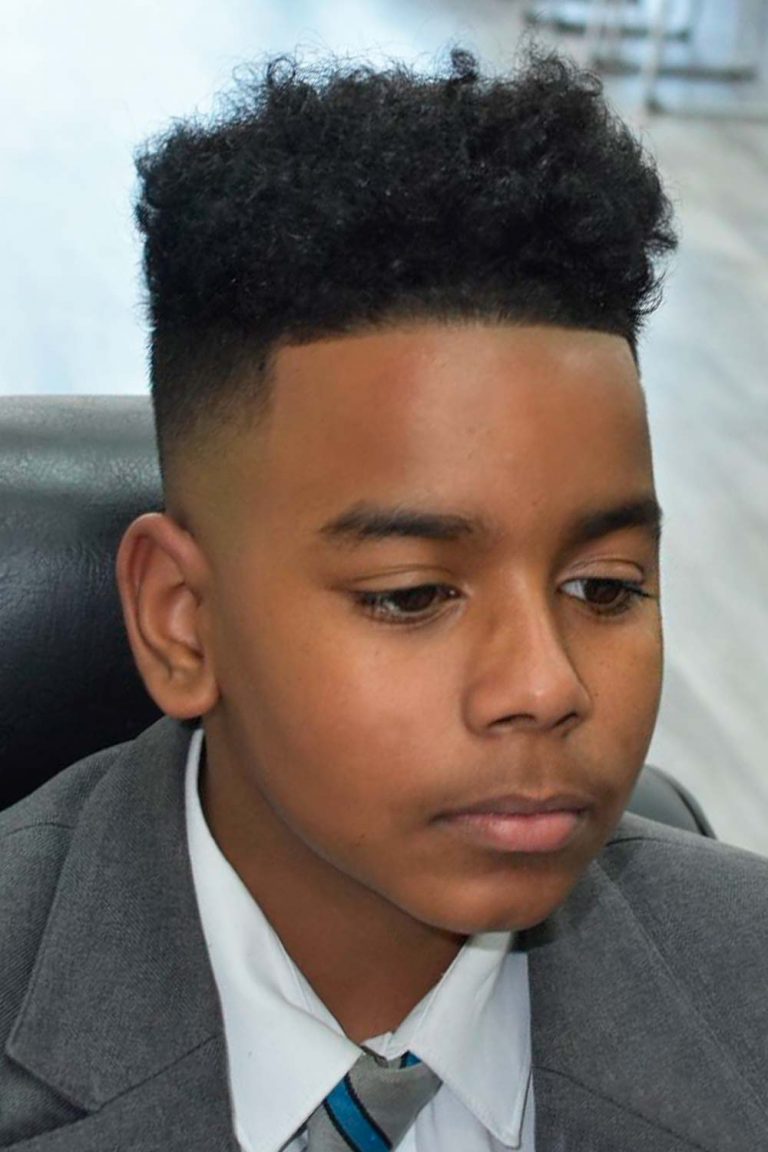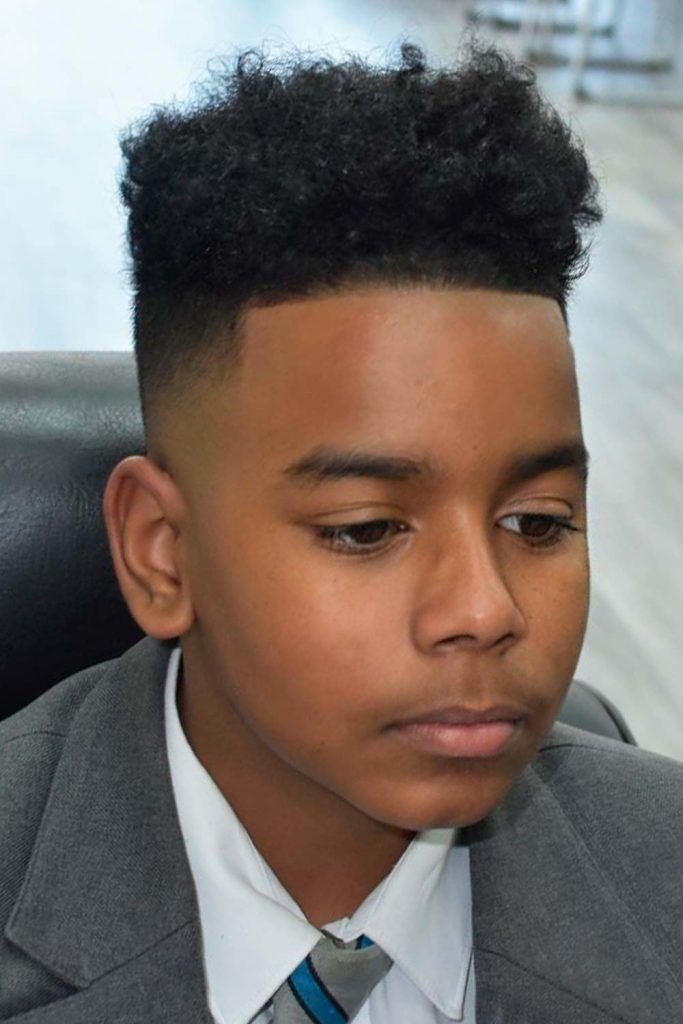 Source: @josiahthebarber via Instagram
High Top Black Boys Haircuts
To take advantage of your little man's hair texture, stick to a high top haircut for boys. Follow a simple rule: the longer the hair on top is, the shorter it should be on the sides. For enhanced contrast, undercut the top with a shaved-in linear design.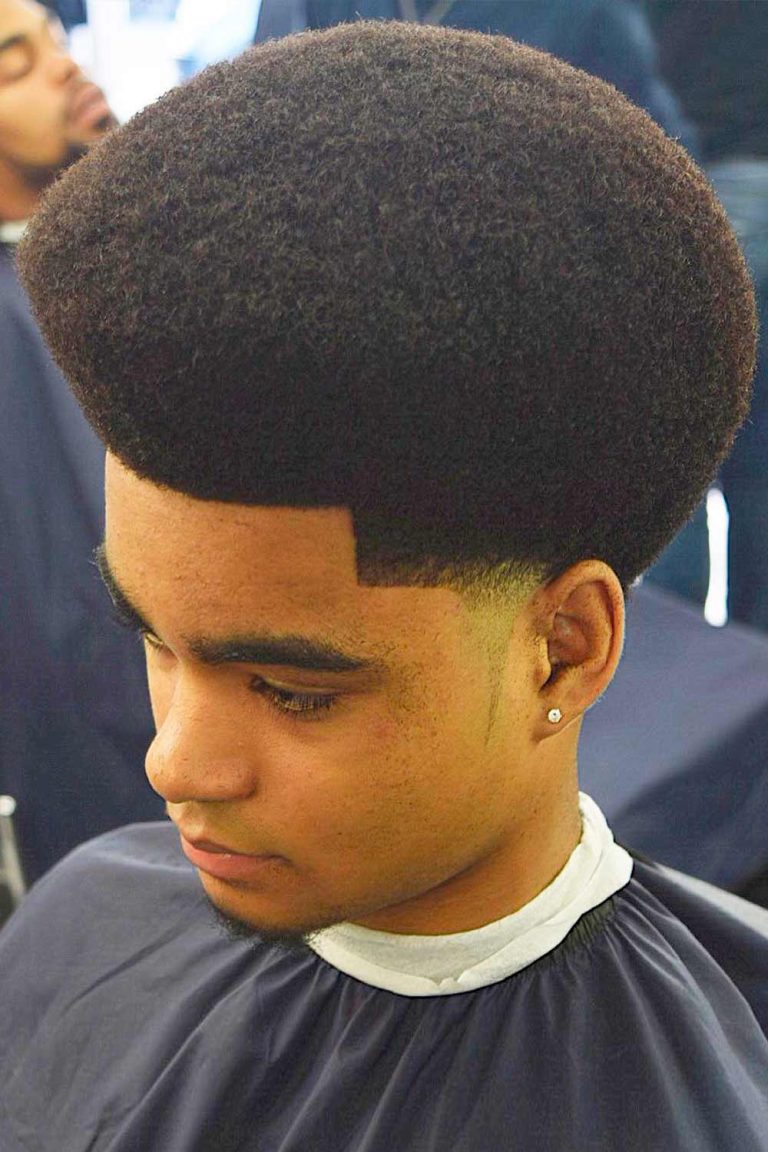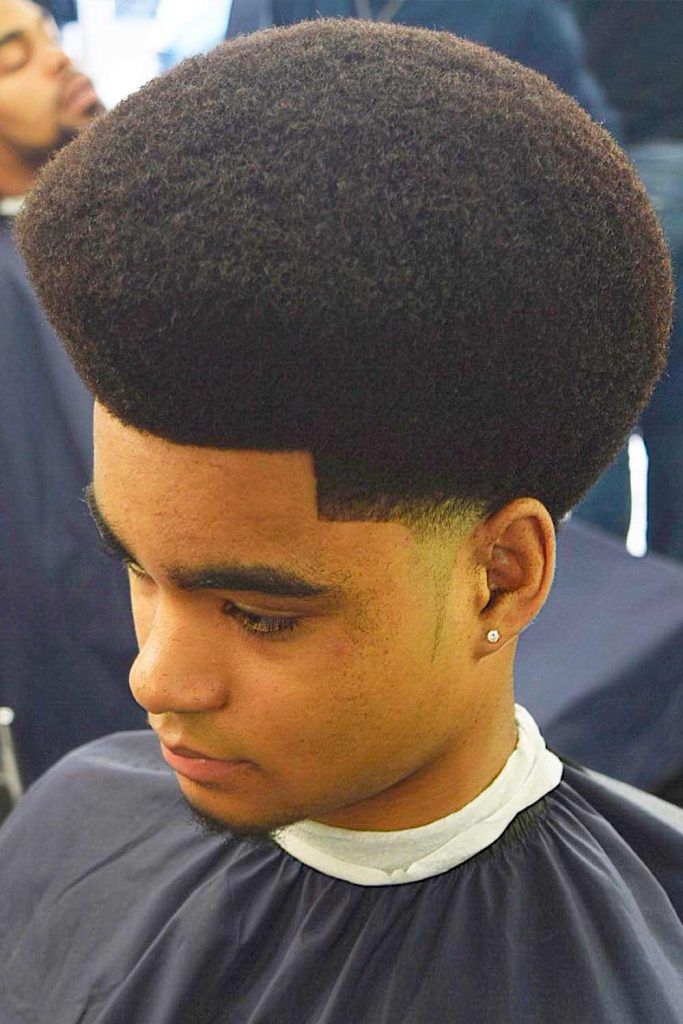 Source: @f4fade via Instagram
Buzz Cut With Hair Tattoo
A buzz cut can sometimes look too drastic and stiff on little boys. Thus, bring in some fun elements, like a short fade haircut on the sides and a shaved-in hair tattoo on the top.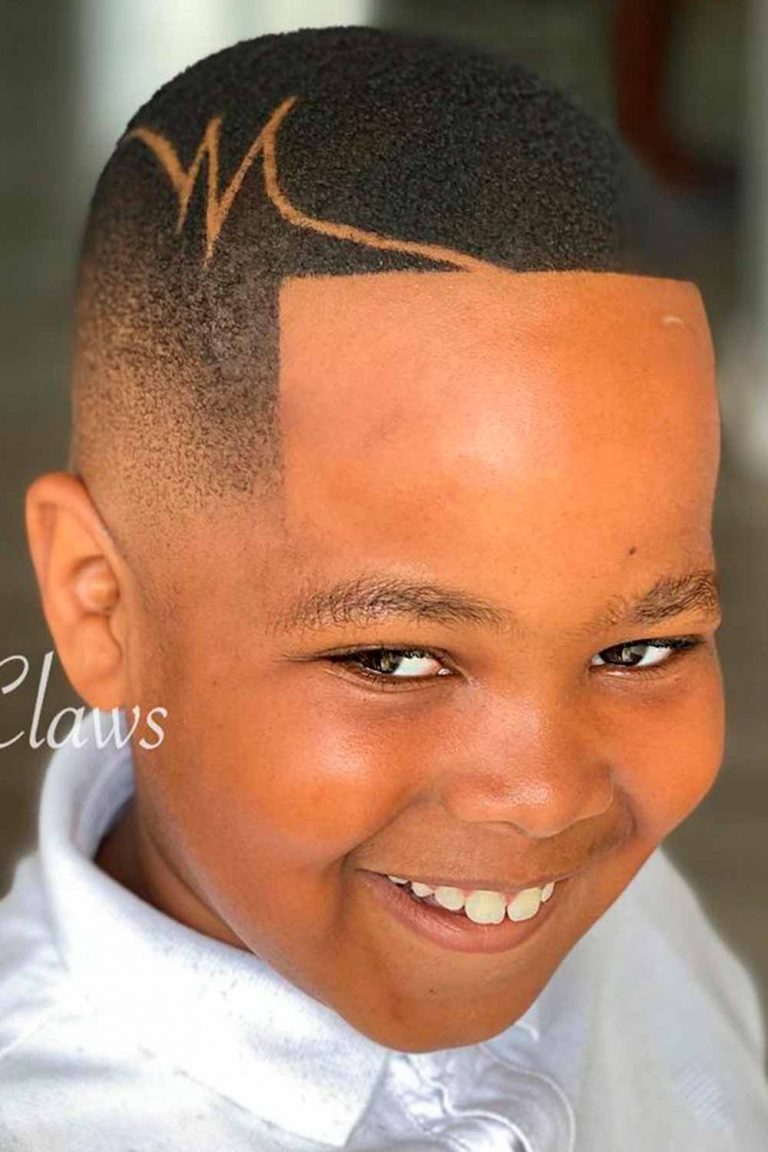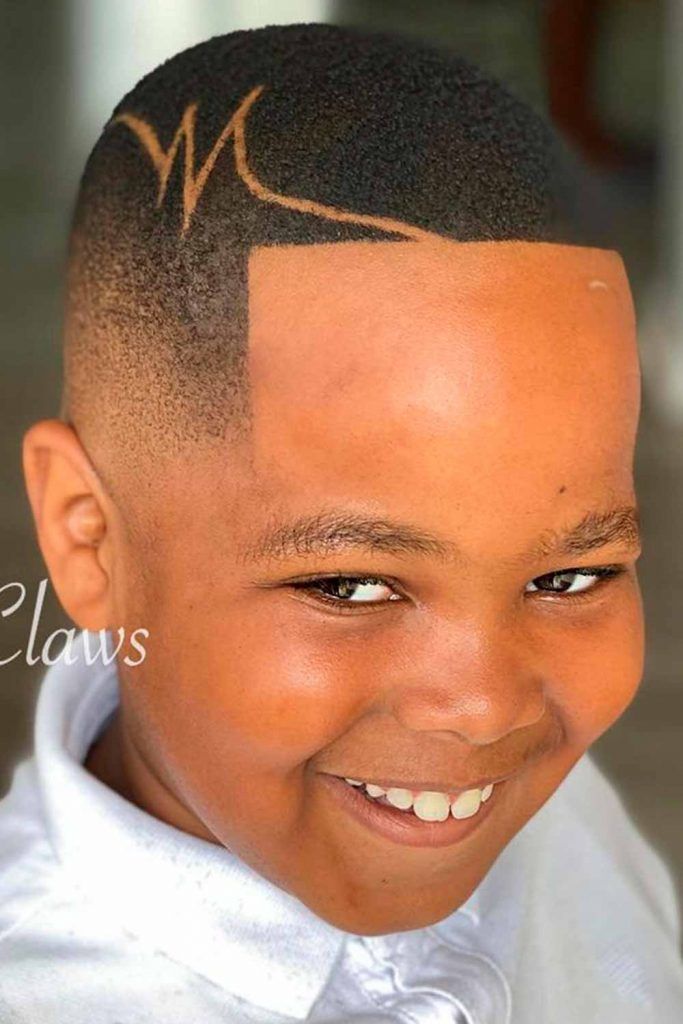 Source: @fancy_claws via Instagram
360 Waves Black Boys Haircuts
360 waves are obviously not one of the quick and easy black boys haircuts. Unlike a faded mohawk or buzz cut, it requires quite a lot of time and effort to get this amazing texture. However, if you're ready for such a commitment to a hairstyle, remember that it totally pays off.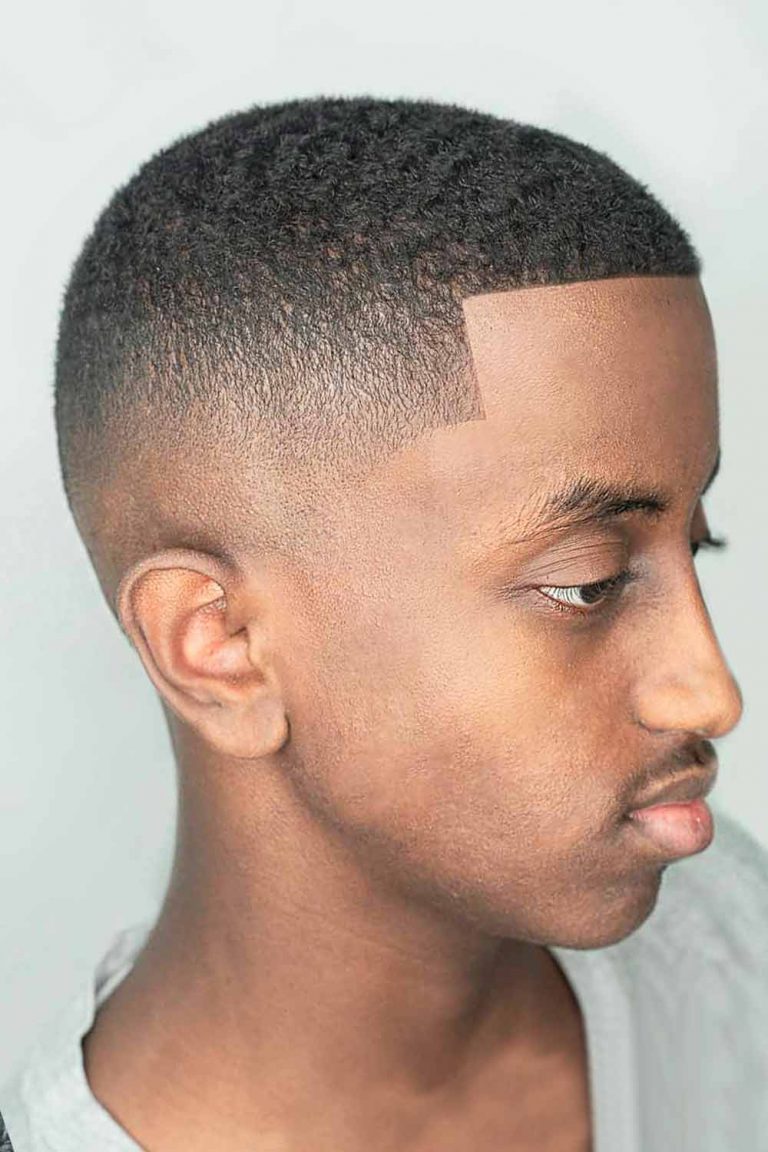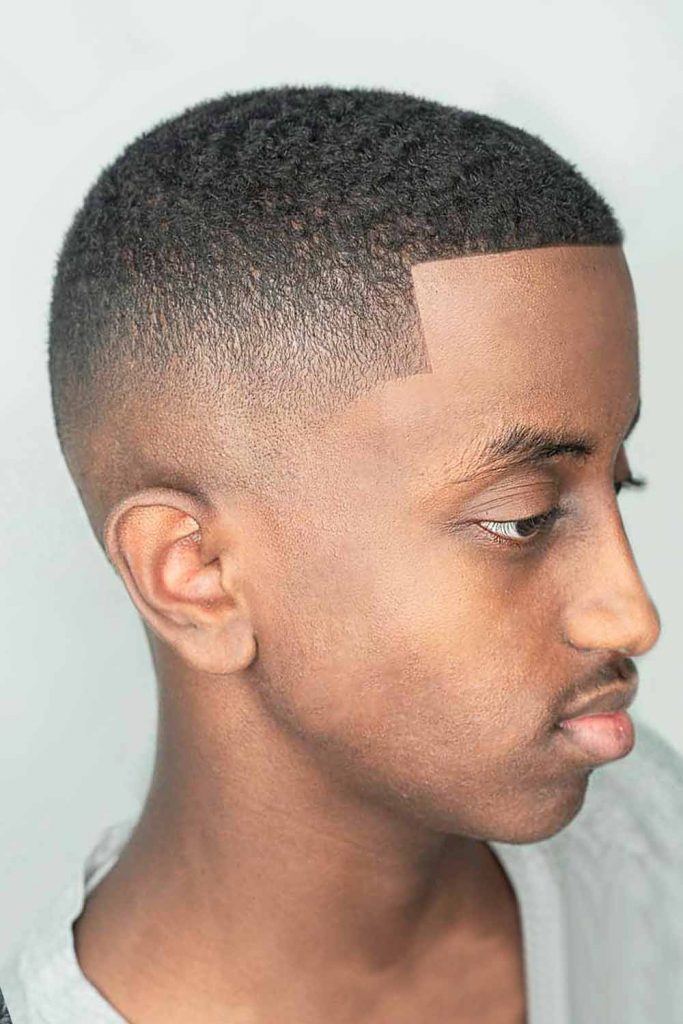 Source: @keller_konturen via Instagram
Undercut And Top Knot Black Boys Haircuts
This 'do features several swag black haircuts in one, namely a faded undercut with a line-up, a top knot and a hint of color.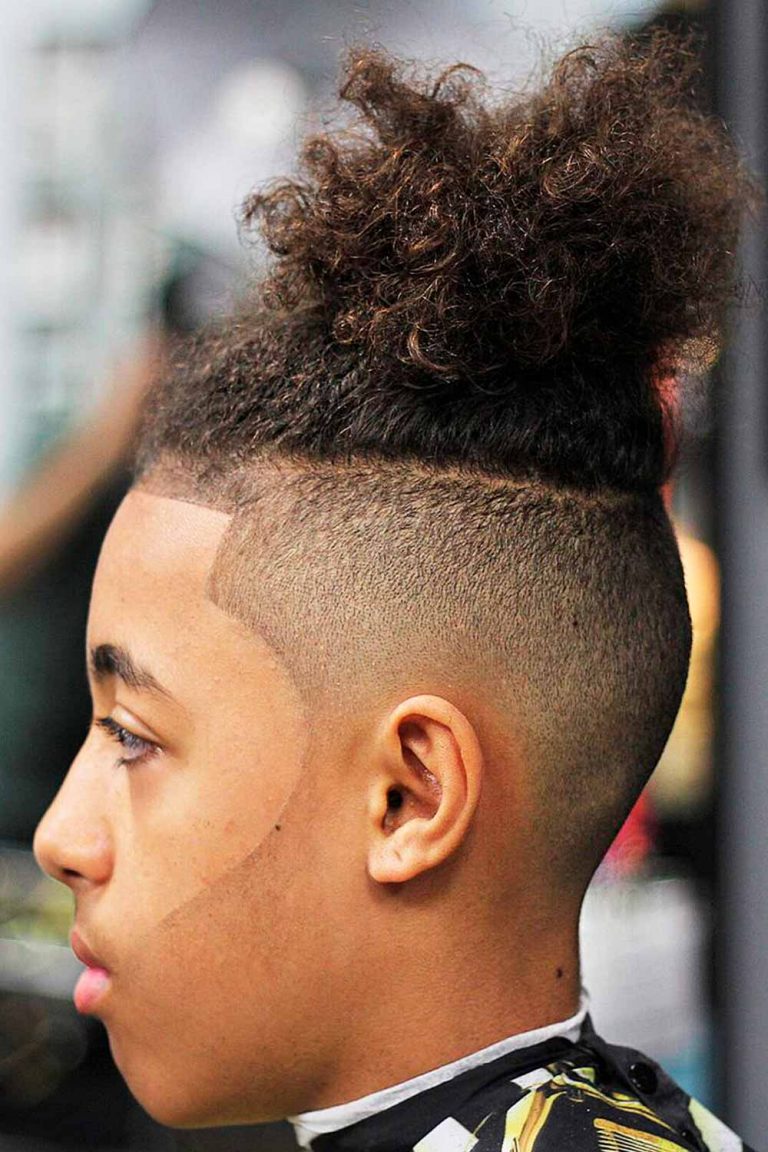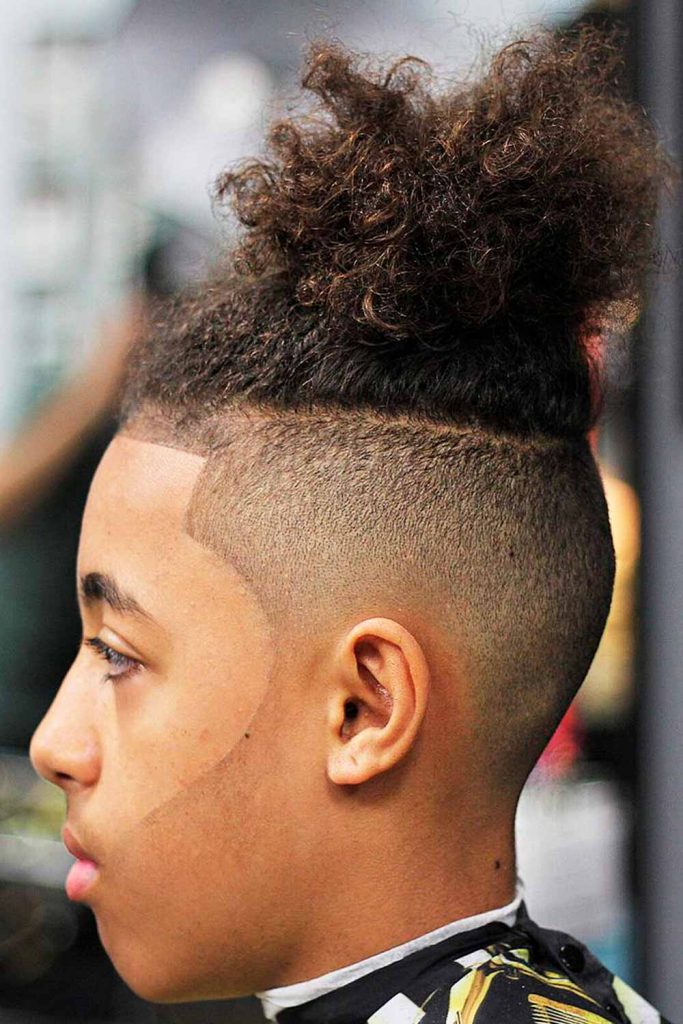 Source: @shawn_barbz via Instagram
Short Dreads And Fade
At some point, your kiddo will be ready for more complex teen boy haircuts that require much time, attention and effort. Dreadlocks are one of such black boys haircuts. No matter how you style them or how long they are, dreads look amazing themselves.
Black Boy Braids
This is another great example of the teenage boy haircuts with many requirements. However, the final result is so good that overweighs all the hassle. The braided cornrows allow you to play with texture, pattern, length, shape and accents, which makes your boy's hair highly versatile braids for men and boys.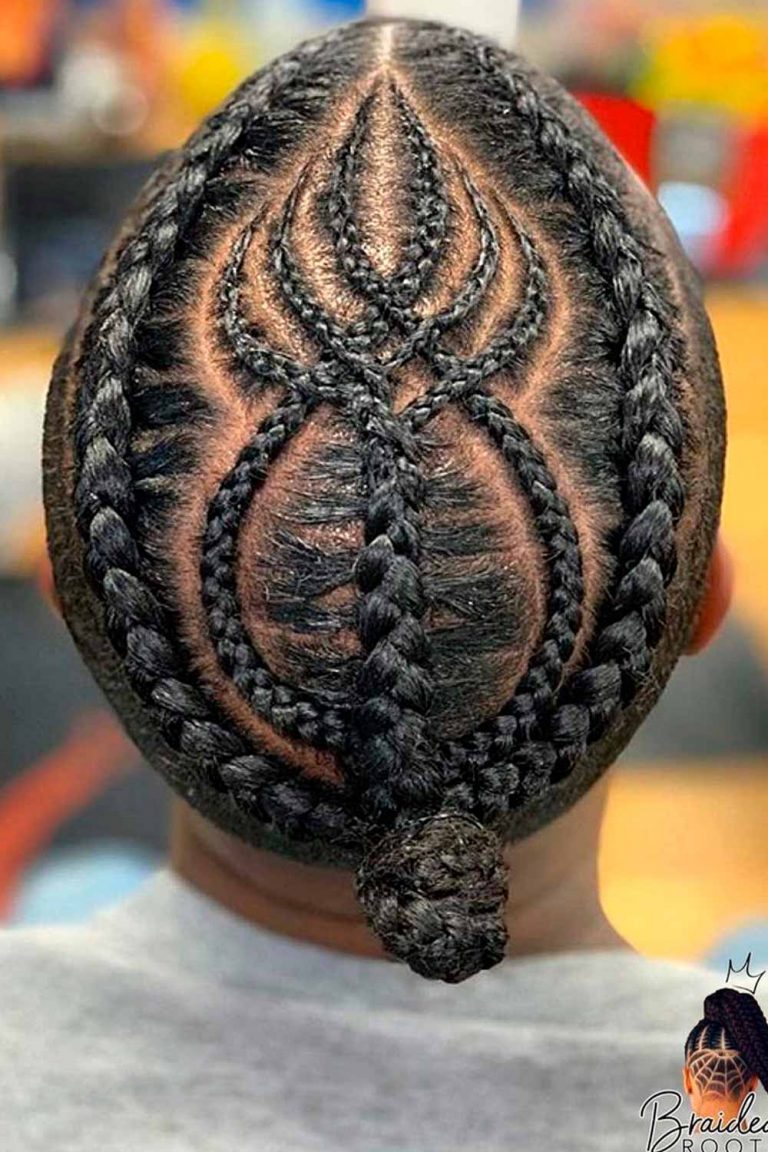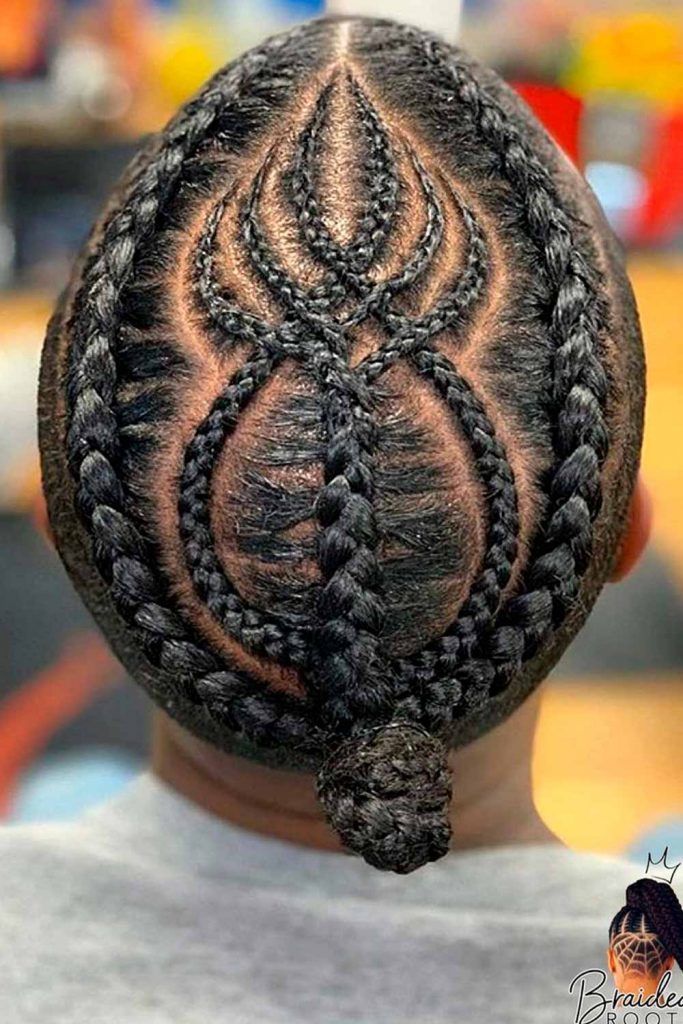 Source: @braidedroots via Instagram
Two Strand Twist Boys
Believe it or not, a two strand twist will never go out of style. It's among those medium hairstyles black hair gives an unexpected twist.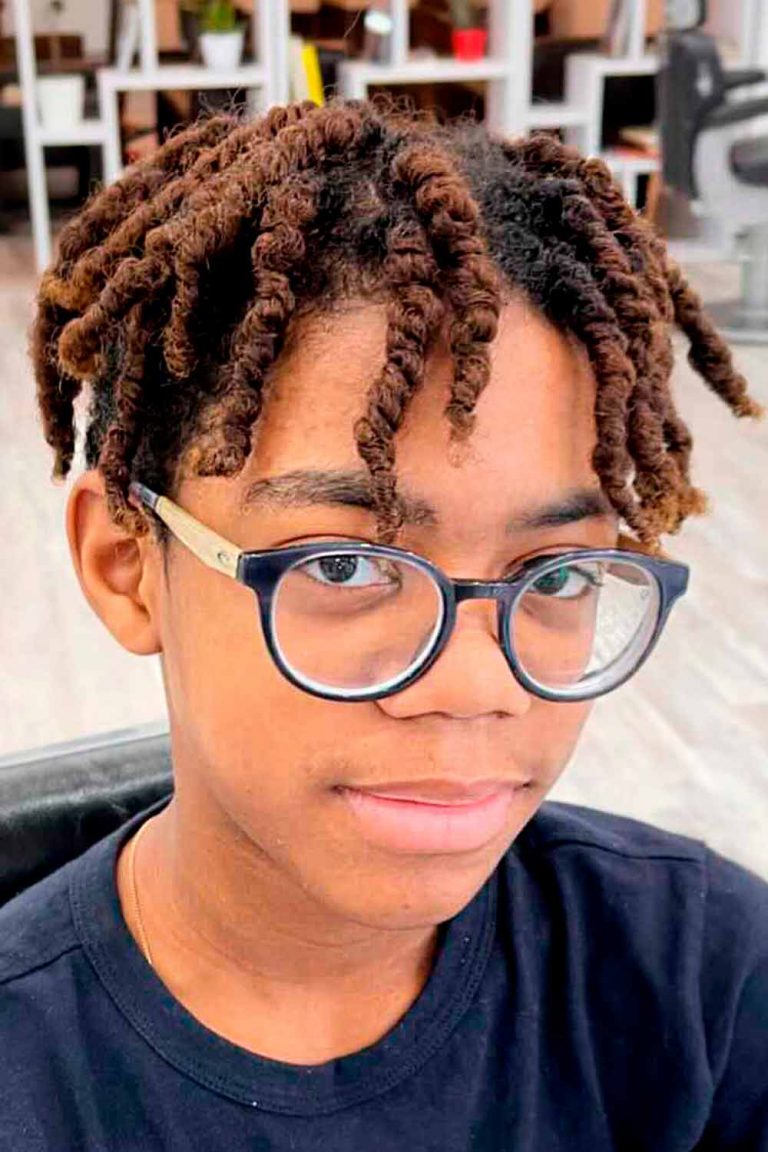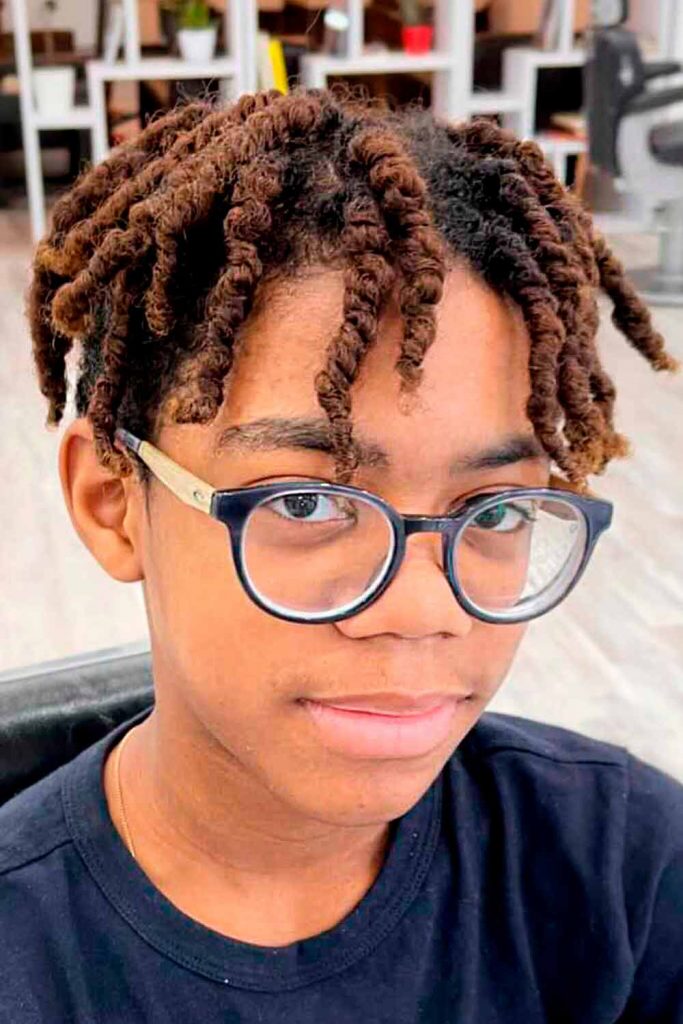 Source: @adrianfanus via Instagram
Today, black boys haircuts give as much versatility as the adult ones. It's totally up to you to decide how to cut and style your kid's ringlets. And with our inspiring collection, we hope you will never lack ideas.
FAQs: Black Boys Haircuts
How black boys cut their hair?
Mohawk is one of the most popular ways for black boys to cut their hair. Here is how to get it:
1. Protect his clothes from cut hairs with a drape.
2. Attach the ¼ inch guard to the clippers and trim the hair on the sides and back, leaving the hair on the crown intact.
3. Brush up the hair on top to eliminate any tangles and shape up the future mohawk.
4. Attach the 1 inch guard to the clippers.
5. Trim the hair on the top of his head, starting from the sides and working your way up to the center of the head.
6. Run the clippers through his hair on top, moving from the back to the front and the other way around.
7. Switch to the ¾ inch guard and trim the hair on the sides of the hair on top, leaving the middle part intact.
8. Attach the 1/8 inch guard and clean around the edges.
9. Apply a tad of a styling product to accentuate his hair texture.
When should I cut my black baby boy hair?
It is up to you when to cut your black boy's hair. However, African American boys traditionally get their hair cut for the first time before or as soon as they turn one. Though, keep in mind that if you cut your boy's hair before he turns two, his hair texture may become coarser while the curl may get more tight.
How do I take care of my black baby boy hair?
There are several rules to follow in order to take good care of your baby's hair.
1. Use a shampoo that is free of sulfates and is specially made for the hair of African American boys.
2. Make sure to wash your boy's hair 1-2 times a week to keep it clean. However, do not overdo it so that not to make his hair overly dry.
3. Treat his locks with care, as together with his scalp, it is still very sensitive.
4. Apply a sparing amount of hair oil after every wash to seal moisture inside his locks.
5. Keep an eye on your baby's hair for any changes, as at some point, it may become too dry and coarse. This will be a signal that you should start to moisturize his locks with a special product.
6. Try not to style your baby boy's hair until he is at least six months old, as over styling may result in hair breakage near his hairline.
7. If your baby's hair is patchy around his nape, no worries. This is only because babies tend to sleep on the back. As soon as he begins to sleep in other positions, this issue will vanish on its own.