No matter if you're a soccer fan or not, you've almost certainly heard of Cristiano Ronaldo haircut. This football player has been popular with the crowds not only for his skillful performance on the field but also for his outstanding hairstyle. And even though his gameplay will be most likely appreciated only by true football connoisseurs, the way CR7 styles his hair is definitely worth everyone's attention. For this very reason, we've picked out the most prominent Ronaldo's haircuts to inspire your next look.
Classic Comb Over. October 2022
Going classic is never a miss. Polished and neat comb over allows you to sport it during the most intense football matches without worrying about your look. What helps men's short haircuts to sit flawlessly is a sheer amount of a stronghold gel.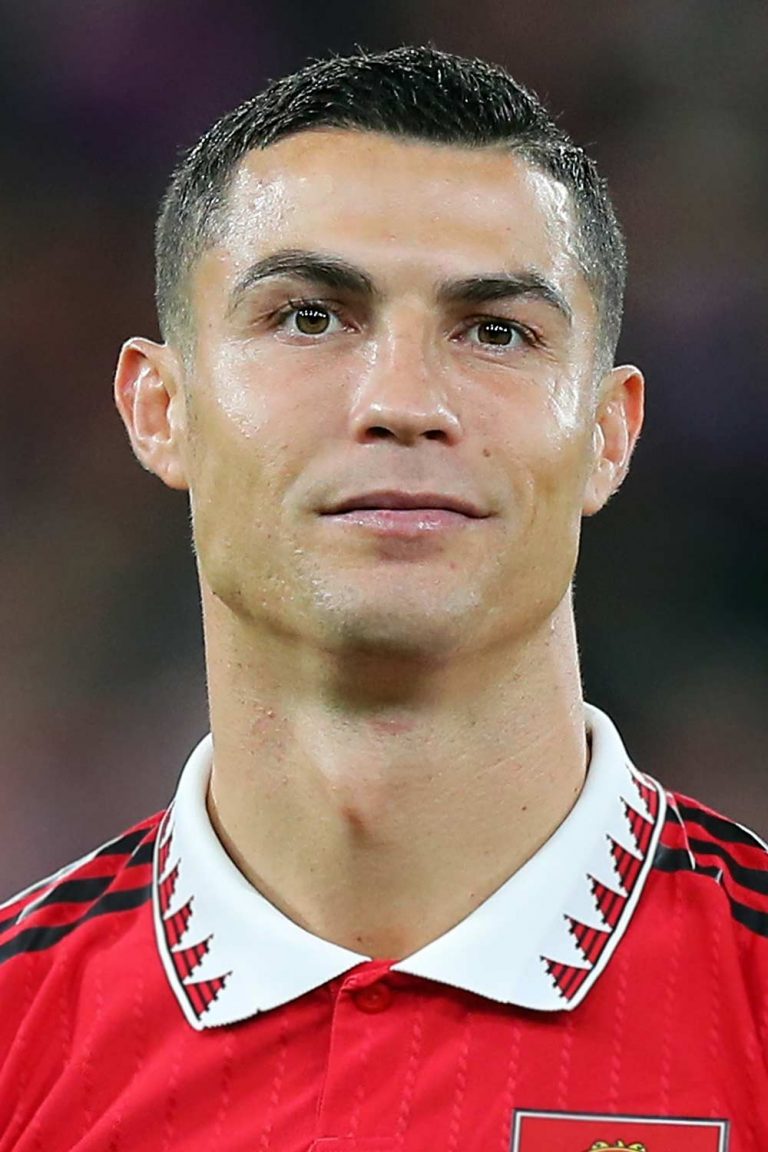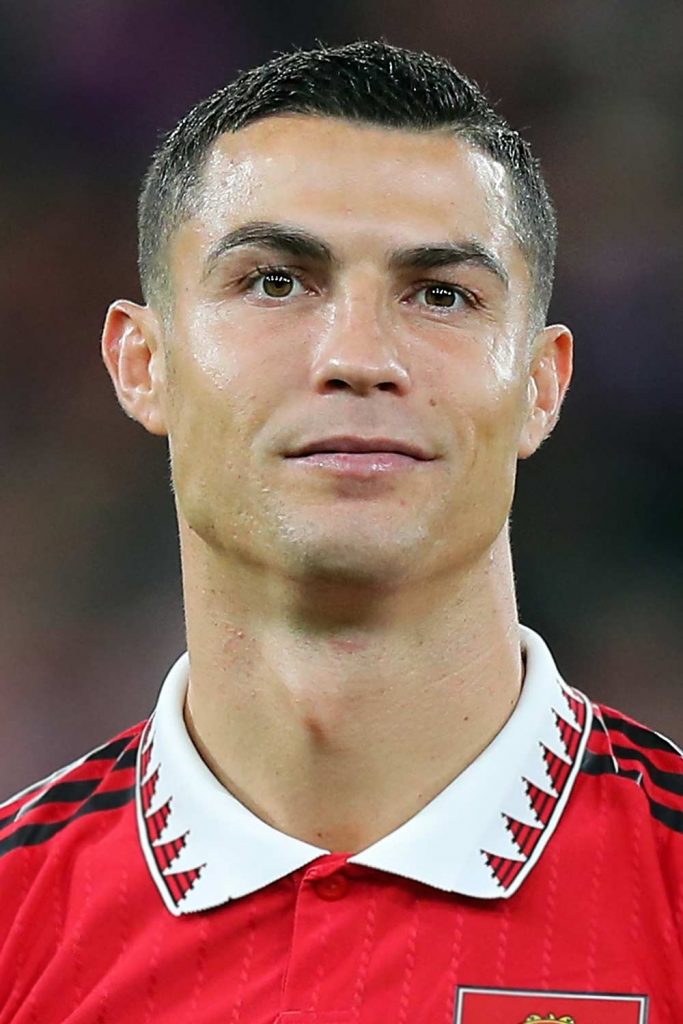 Source: Stefan Constantin 22/Shutterstock
Drop Fade Haircut. March 2022
The fade haircut has emerged as a timeless trend in men's grooming, and one prominent figure who has wholeheartedly embraced this stylish look is none other than Ronaldo. Known for his exceptional skills on the football pitch, Ronaldo's choice of the drop fade has only further cemented its status as a go-to hairstyle for men seeking a fresh and polished appearance.
View this post on Instagram
Wavy Slick Back. February 2022
When it comes to setting trends in the world of men's hairstyles, Christiano Ronaldo is undoubtedly a trailblazer. The wavy slick back is one such style that Ronaldo has effortlessly made his own, elevating it to new heights of allure.
The wavy slick back combines two classic elements: the natural waves of the hair and the sleek, swept-back look. It exudes a perfect blend of elegance and casual charm, making it an ideal choice for various occasions, from red carpet events to casual outings.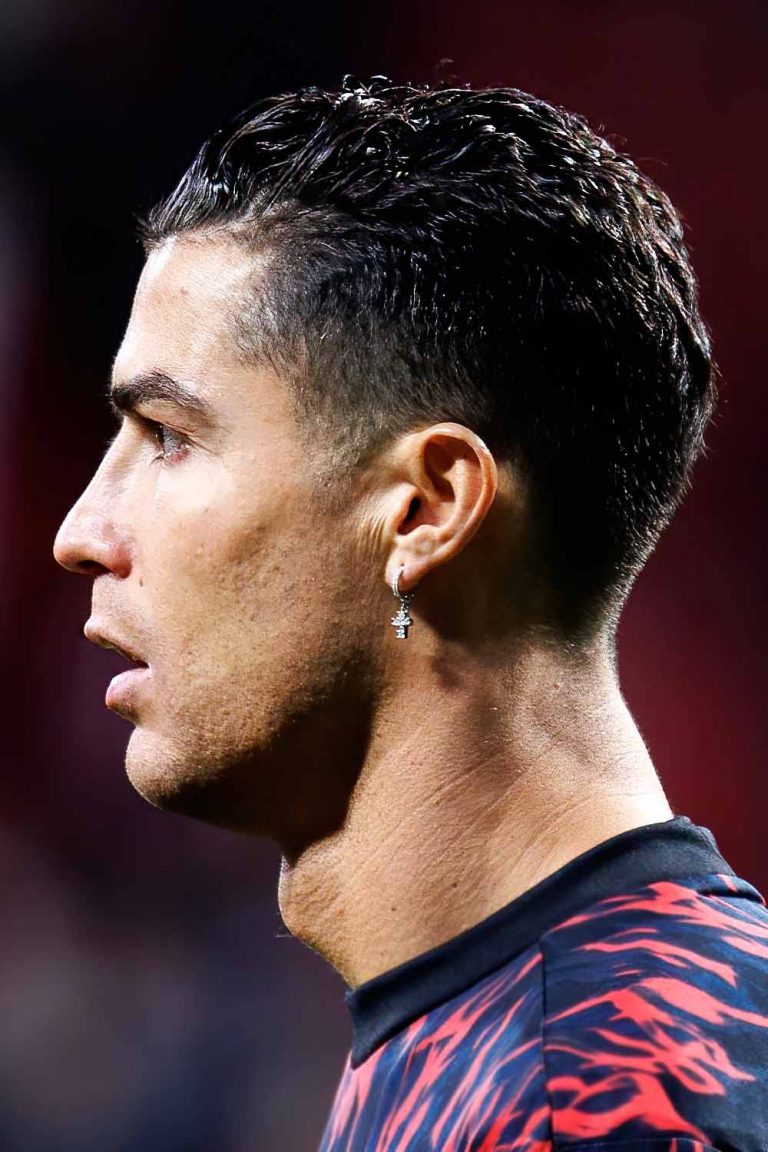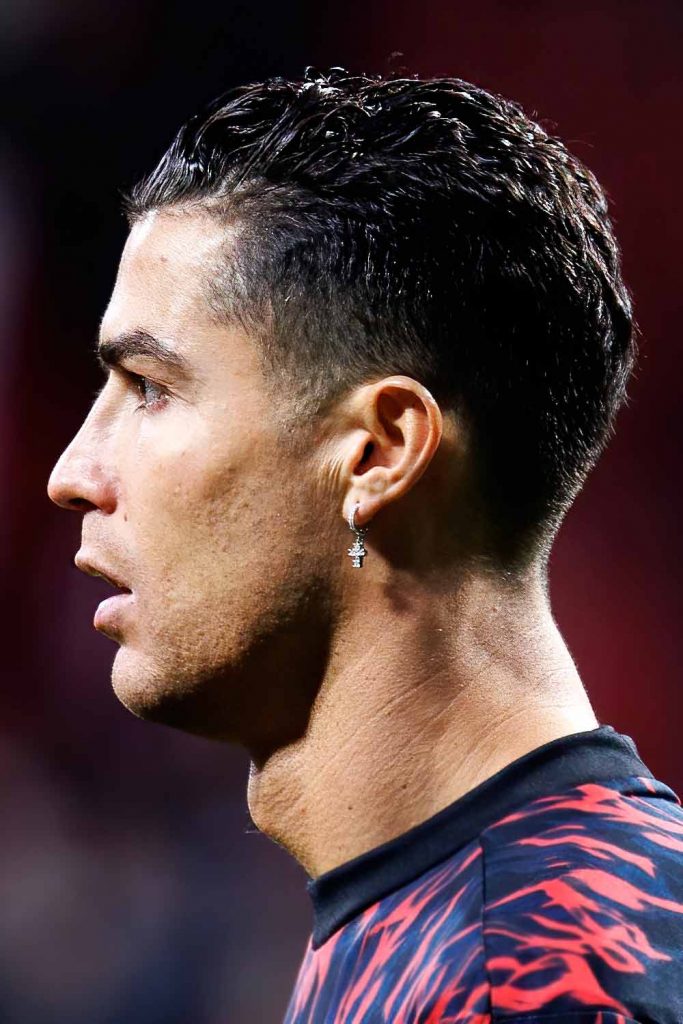 Source: Christian Bertrand/Shutterstock
Side Hard Part. December 2021
The side hard part involves a distinct shaved line along one side of the head, creating a bold contrast between longer hair on top and shorter sides. Ronaldo's interpretation of this style showcases his penchant for precision and attention to detail.
View this post on Instagram
Crew Cut Fade. October 2021
In October 2021, Ronaldo introduced to the world a rather short haircut, compared to other Cristiano Ronaldo hairstyles, of course. A crew cut fade that the Portuguese striker is sporting looks stylish and fashionable. Besides, it is low maintenance and practical, which is what you usually look for in a perfect sports haircut.
View this post on Instagram
High Pony And Undercut. February 2020
Believe it or not, but a man ponytail is also recorded into Cristiano's hairstyle look book. Although it is not as prominent and abundant as you would expect it to be, it still has the right to exist. Yet, it looks like the soccer legend simply took away his overgrown top from the face so that it would not impede his vision. Nevertheless, the undercut sides give the look a stylish and dapper appearance.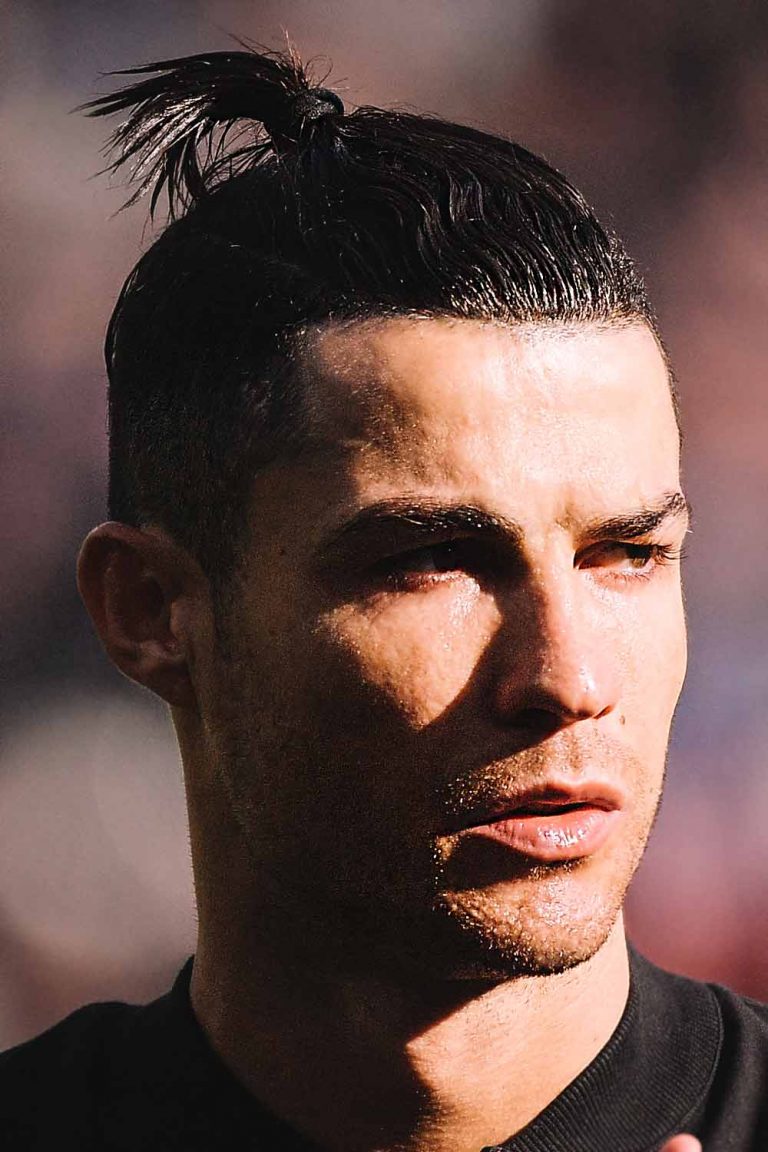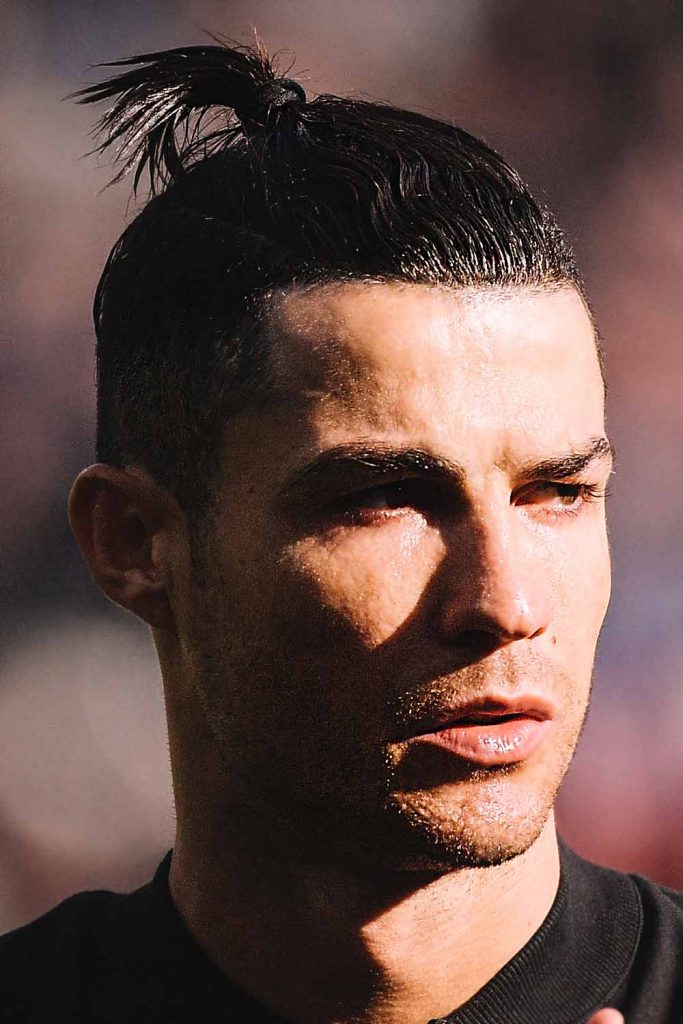 FTPhoto/Shutterstock
Curly Hair with Long Side Bang. May 2020
The curly hair with long side bang showcases Ronaldo's confidence in embracing his natural curls. This hairstyle celebrates the beauty and uniqueness of curly hair, and Ronaldo's adaptation of it exudes an air of carefree charm that complements his charismatic personality.
View this post on Instagram
High Bun. May 2020
When it comes to setting trends in men's grooming, soccer star is no stranger to pushing boundaries. Among his many stylish choices, the High Bun has become a standout, showcasing a whole new level of effortless elegance.
The High Bun is a classic hairstyle that has transcended gender norms, and Ronaldo's adaptation of it exemplifies its versatility. With his daring spirit, he confidently rocks this chic and fashionable look both on and off the football field.
View this post on Instagram
High Curly Top. June 2020
In the realm of men's hairstyles, few have the ability to turn heads like Christiano Ronaldo. Among his diverse grooming choices, the High Curly Top stands out as a bold and striking look that showcases his daring approach to style. The high curly top combines the beauty of natural curls with the confidence of a high-rise haircut.
View this post on Instagram
Short Pompadour + Undercut. October 2019
Even though the pompadour haircut was initially worn be women, many men have proved it to be a true virile style. Cristiano Ronaldo haircut features a short pomp combed over to one side and separated from the sides with a hard part haircut. Product-wise, Cristiano opts for a hair gel, and he doesn't skimp on it for sure. This 'do is no exception.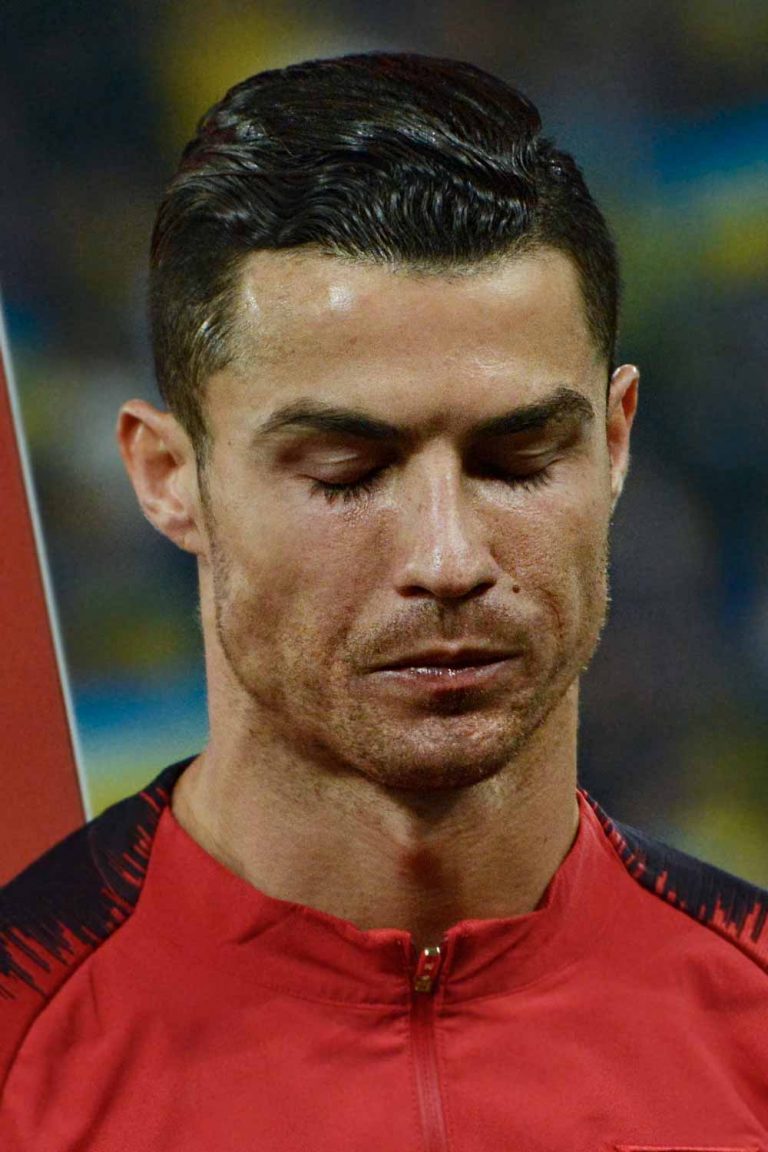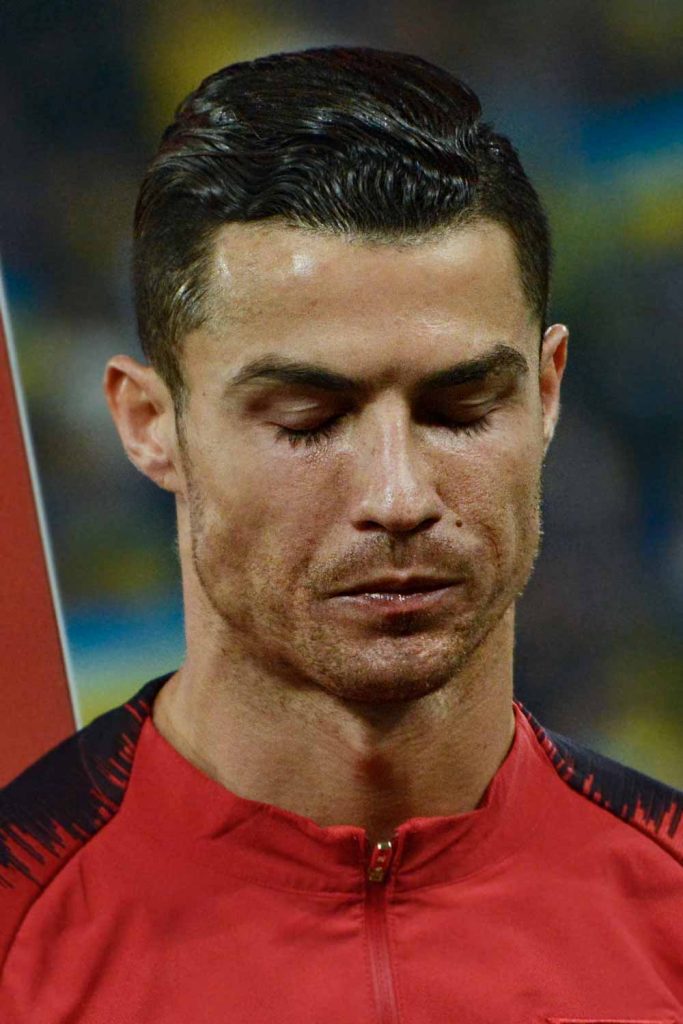 Review News/Shutterstock
Wavy High Top Fade Cristiano Ronaldo Hairstyle. July 2019
Modern haircuts for men teach us to make the most out of our natural features. If you have curly and thick thatch like Cristiano's, you may simply style it high and tight fade by raking your fingers through the top using a bead of a hair product. It's easy, stylish and elegant at the same time.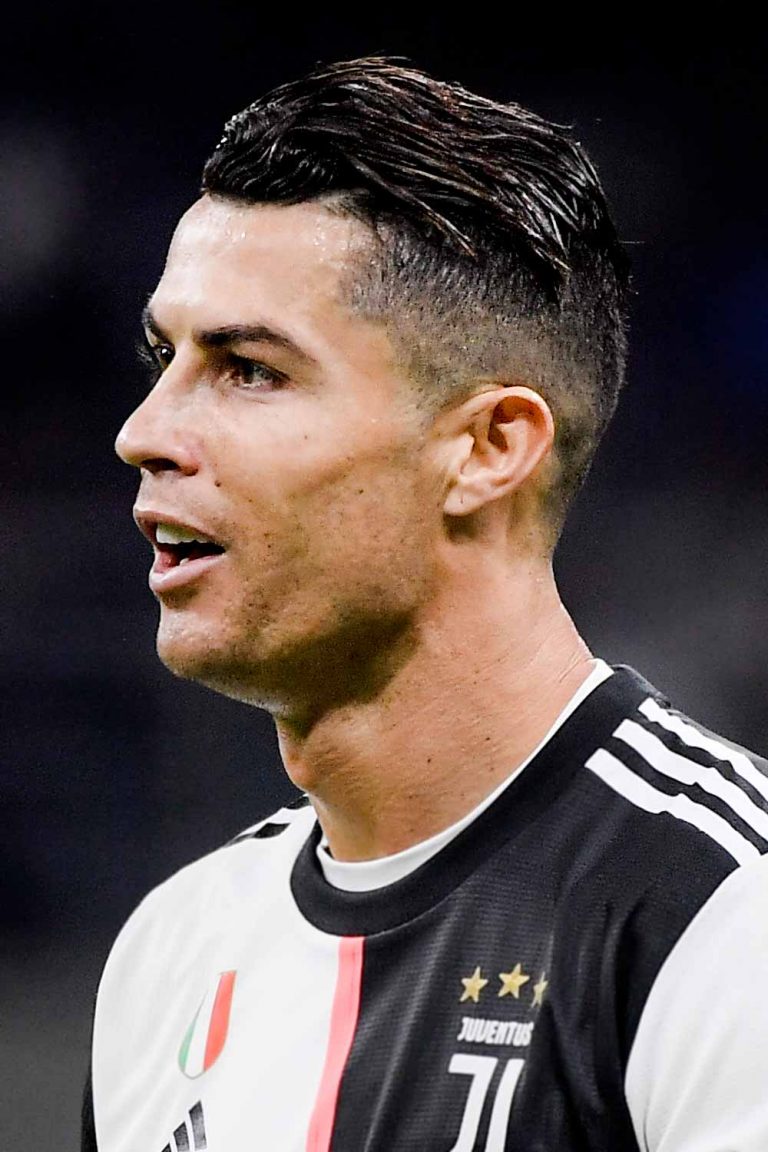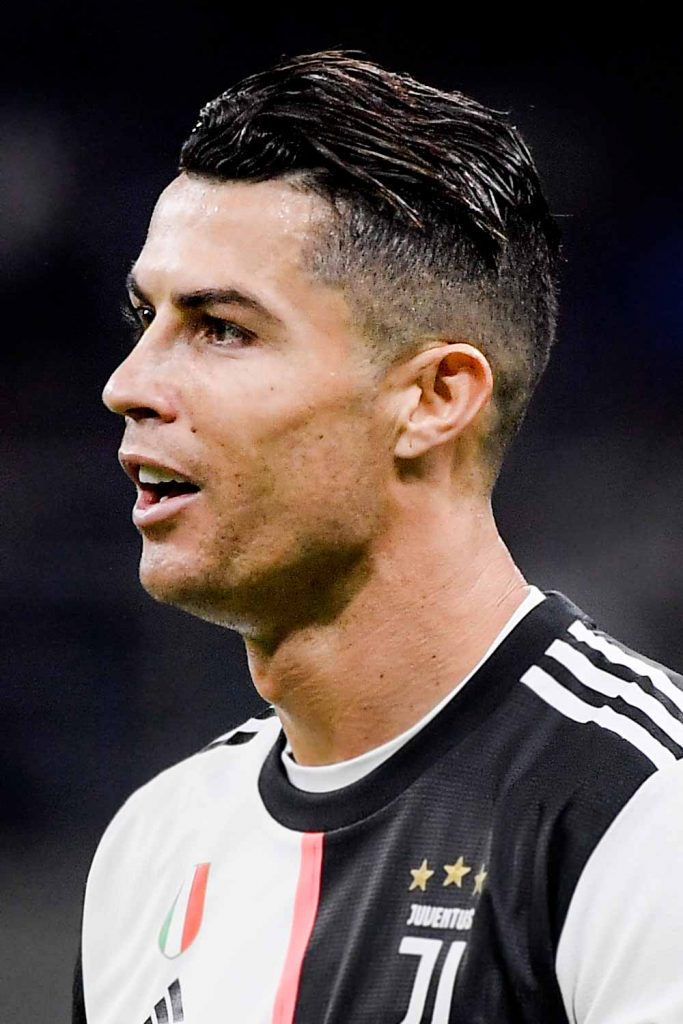 FTPhoto/Shutterstock
Short Side Swept Haircut. June 2018
With an Ivy League haircut, it's hard to tell whether you're looking at the sports celebrity or a Harvard student. Such short hair cuts combine trimmed sides with a longer top combed over to either side. A side part is as important for this cut as a football for the game.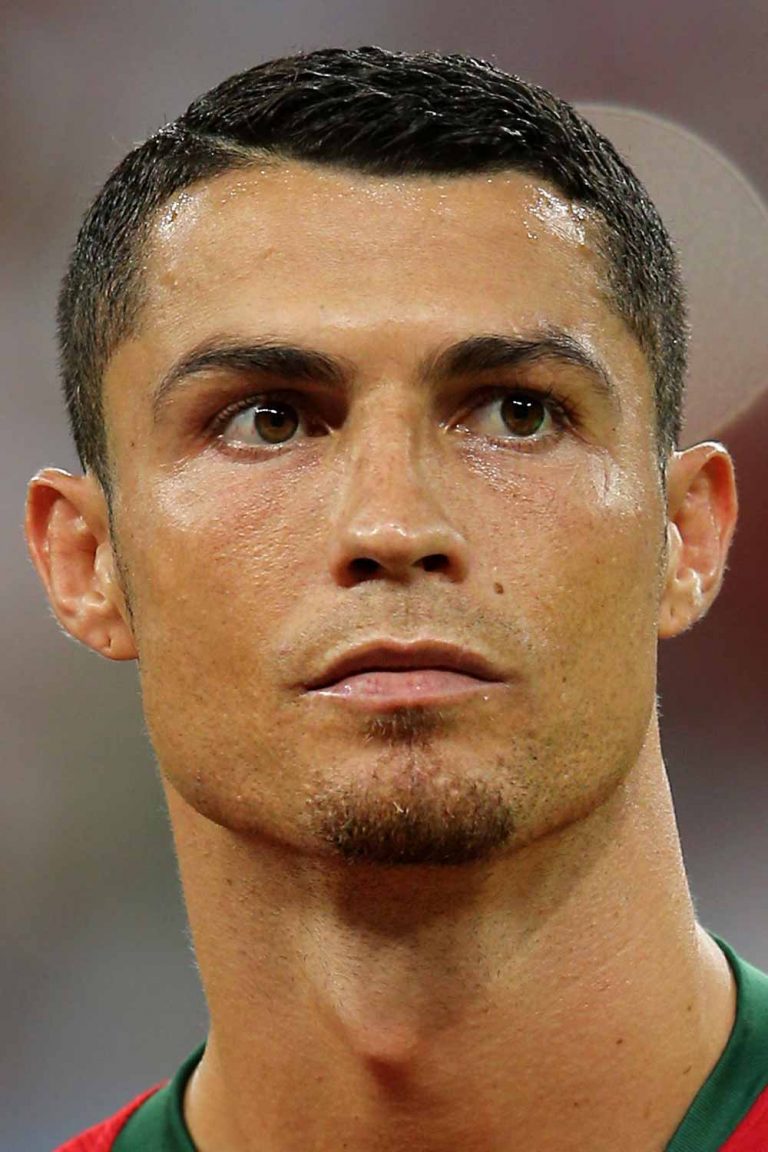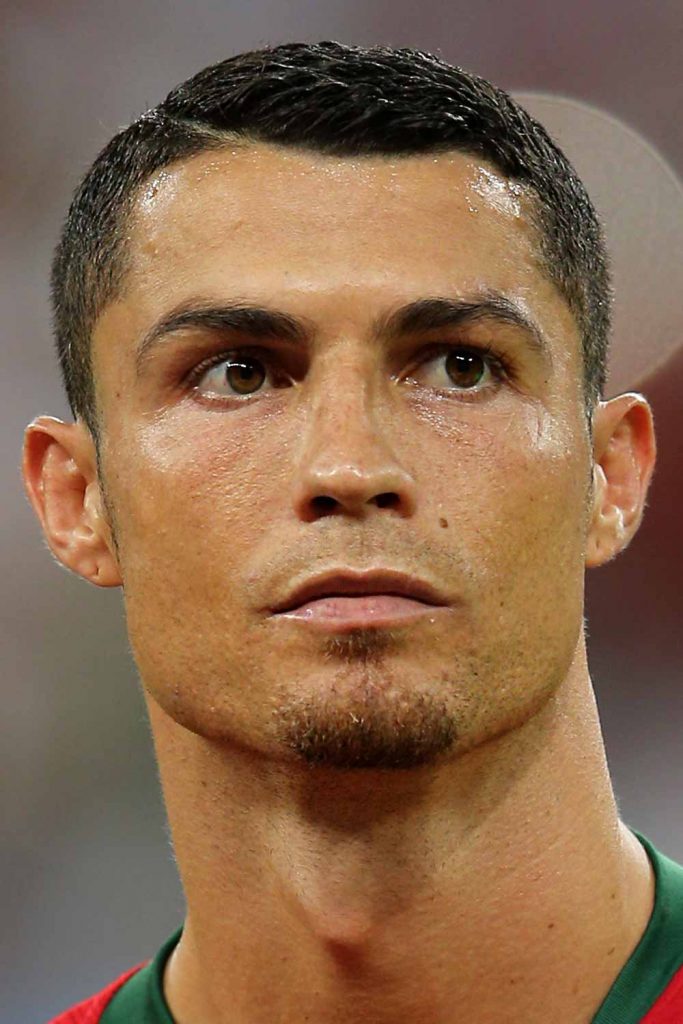 Marco Iacobucci EPP/Shutterstock
Curly Blonde Highlights. May 2018
When it comes to making a statement with his hairstyle, Christiano Ronaldo never shies away from experimentation. One look that perfectly embodies his lively and dynamic personality is Curls with Blonde Highlights, a daring combination that adds an extra layer of flair to his already magnetic presence.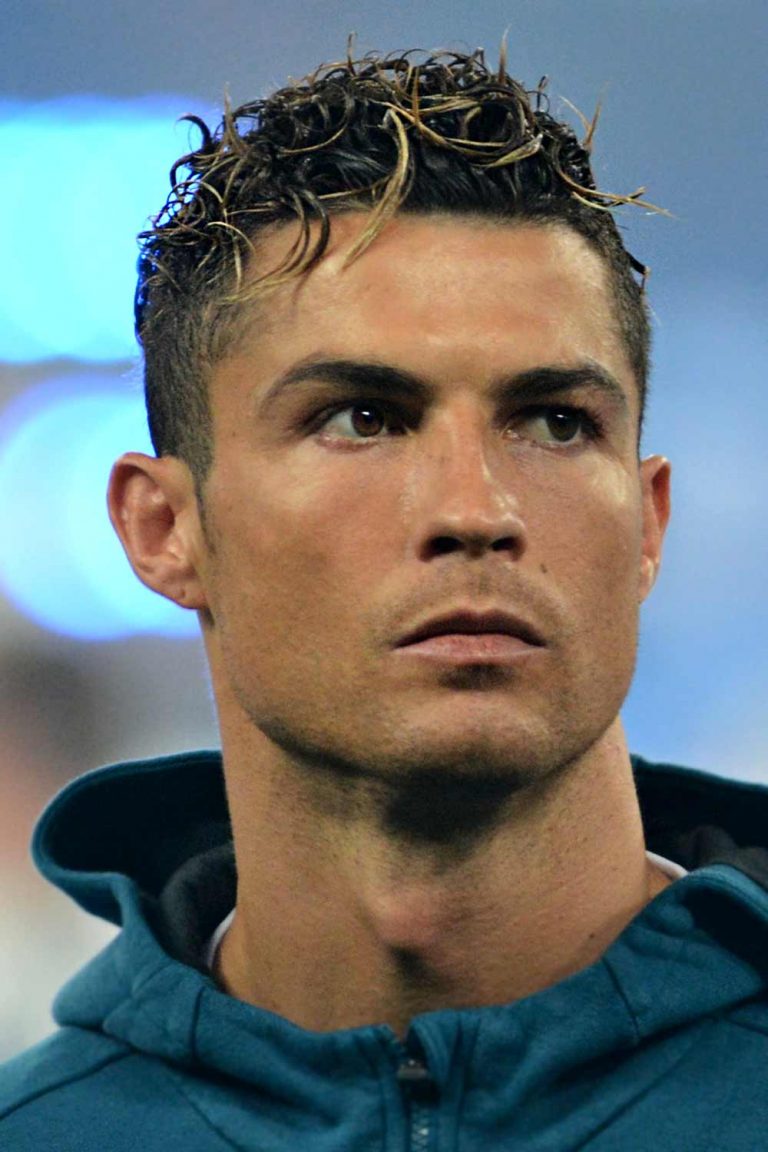 Source: Review News/Shutterstock
Golden Wavy Top. March 2018
From time to time, Ronny plays around not only with medium haircuts for men and their styling but also with coloring. Cristiano likes to add golden highlights to the top section of his hair for added volume and depth, which looks incredibly complimentary on wavy hair men.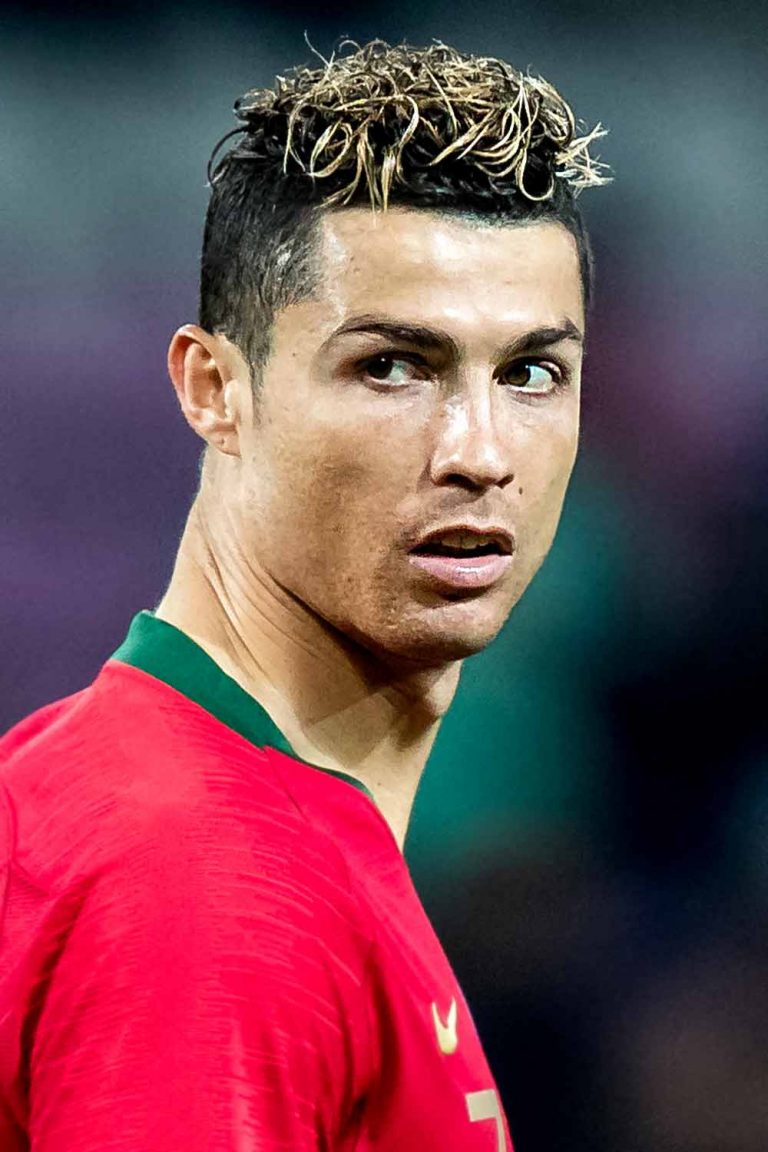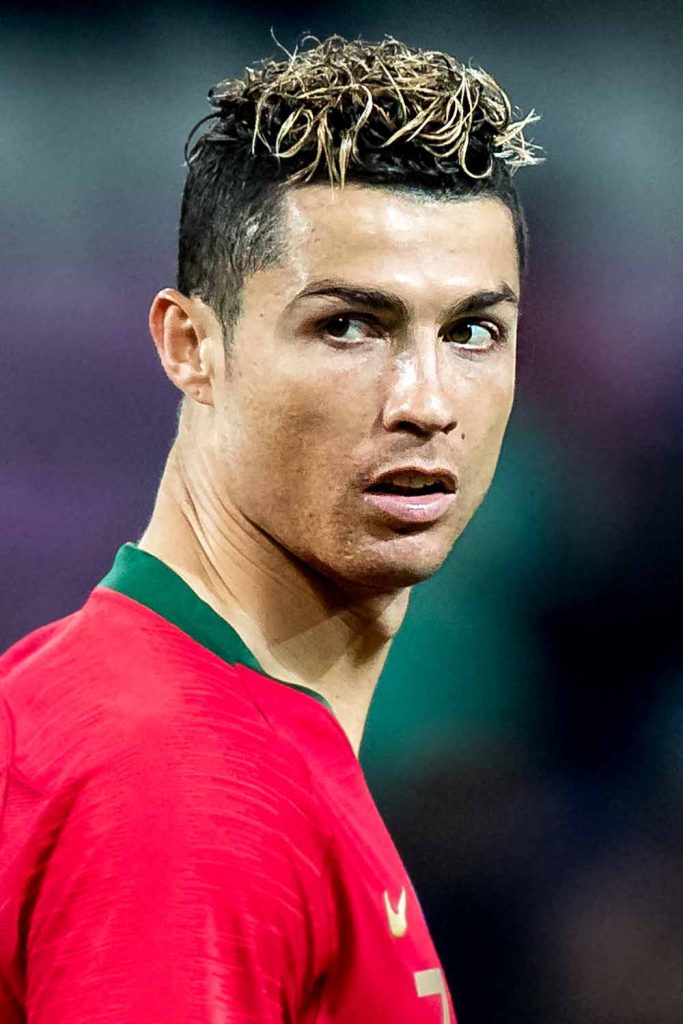 kivnl/Shutterstock
Slick Back CRr7 Haircut. September 2017
Football stars, like any other celebrities, also often attend formal events. The slick back hairstyle gives a neat and clean appearance that perfectly suits the formal ambiance. To embellish the look with his personal signature, Cristiano adds golden highlights to the top. Sleek and brushed back haircut styles for men are unimaginable without a generous amount of a styling product. In our case, gel, of course.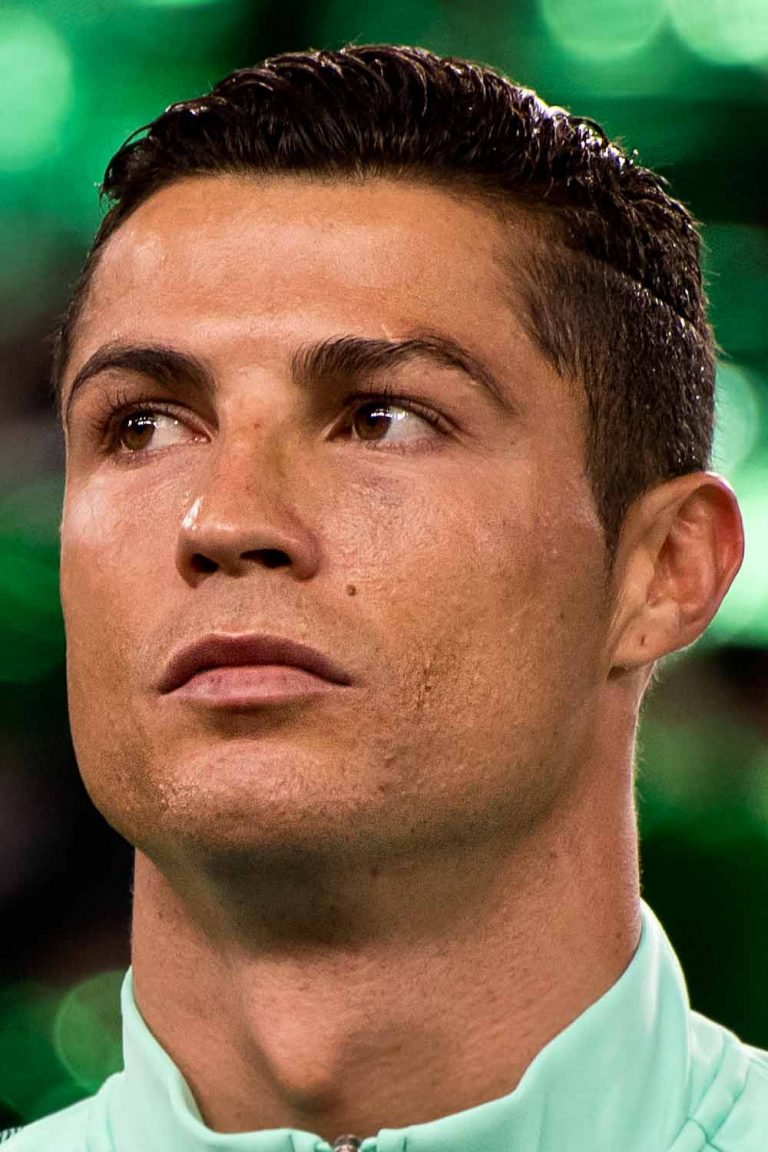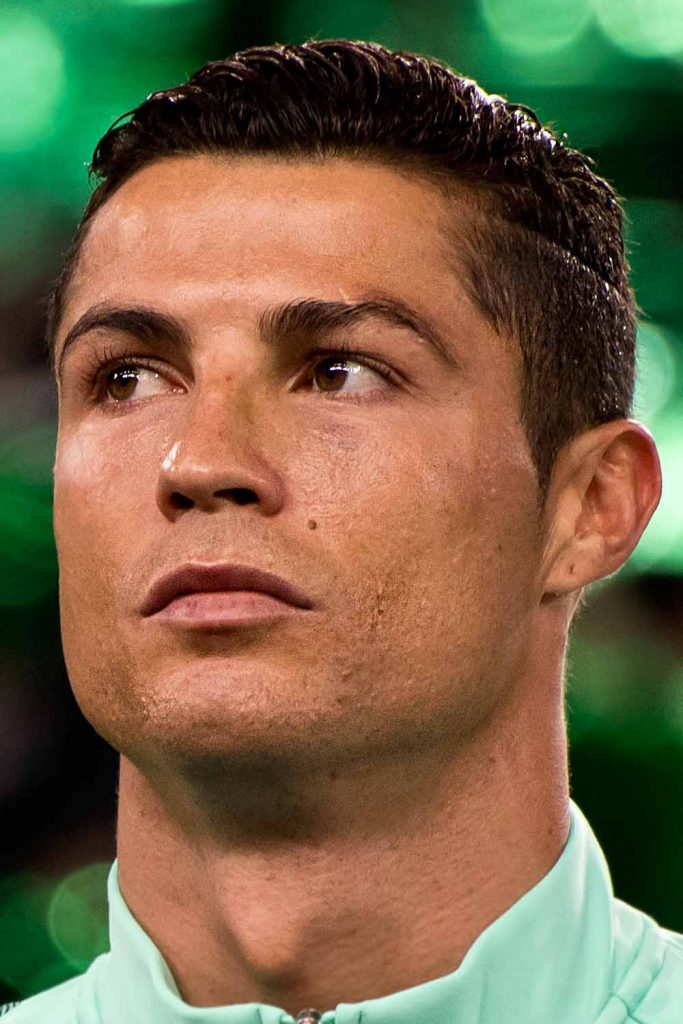 RMilan/Shutterstock
Buzz Cut. Ronaldo Hair In June 2017
Not all Ronaldo's men haircuts are medium in length with an extensive top. Sometimes, he chops all his locks off, sporting a classic military buzz cut. However, as he always adjusts the hairstyles to his individual style, the top is cut a couple of inches longer than the rest of the hair and a shaved in line is added to one side, which creates additional contrast.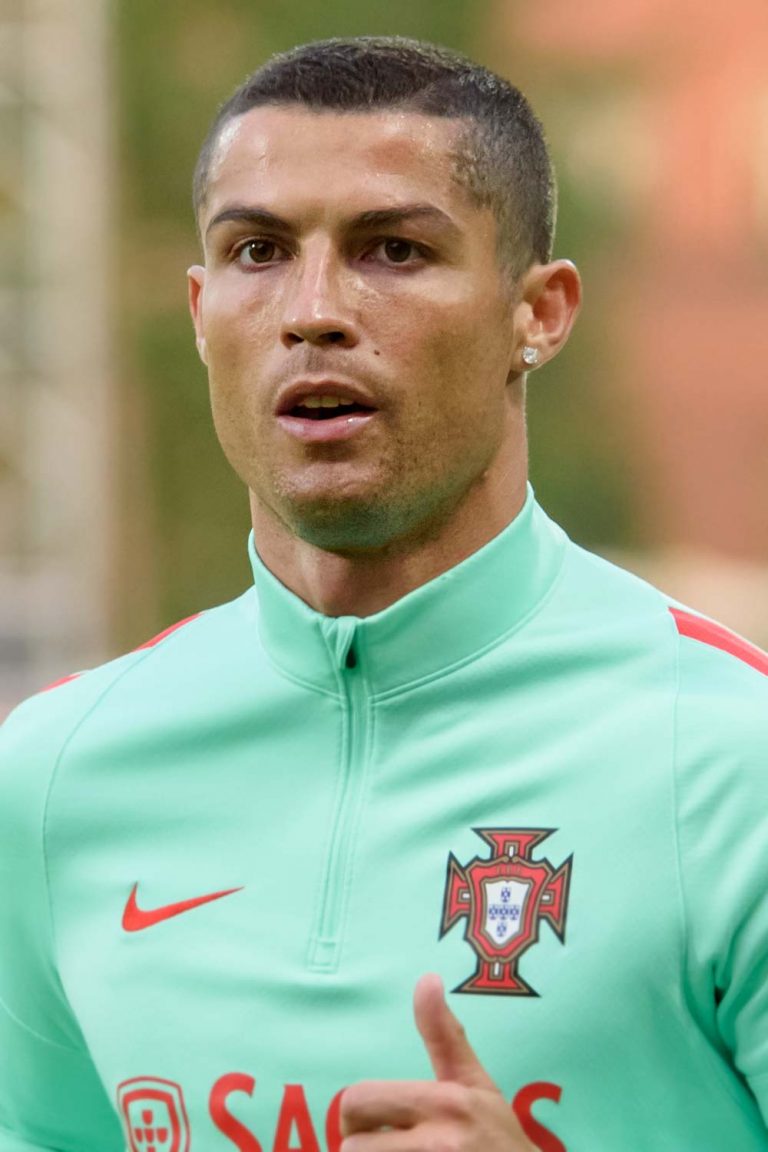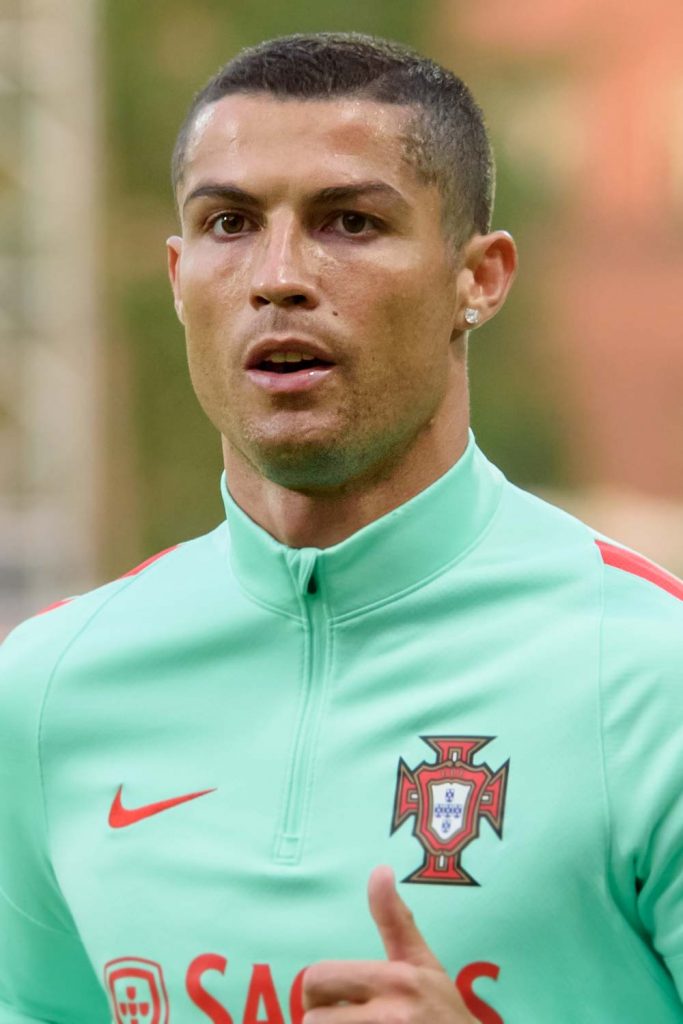 Gints Ivuskans/Shutterstock
Slicked Quiff. May 2016
If you do not know what to do with a quiff, look at Ronaldo. He seems to have tried every quiff style existing. To achieve a sophisticated and polished look, slick the quiff back using a generous amount of a hair styling product with a strong hold and wet finish. Pay attention to how the faded sides help to keep the focus on the refined top.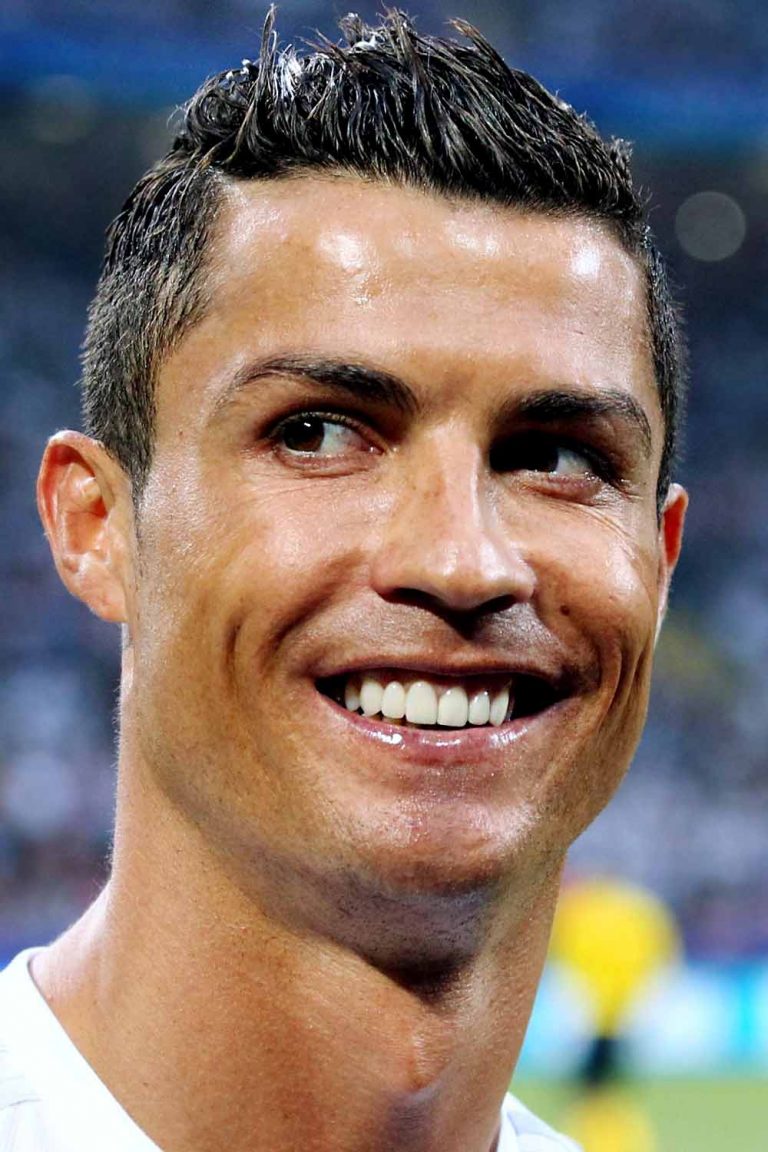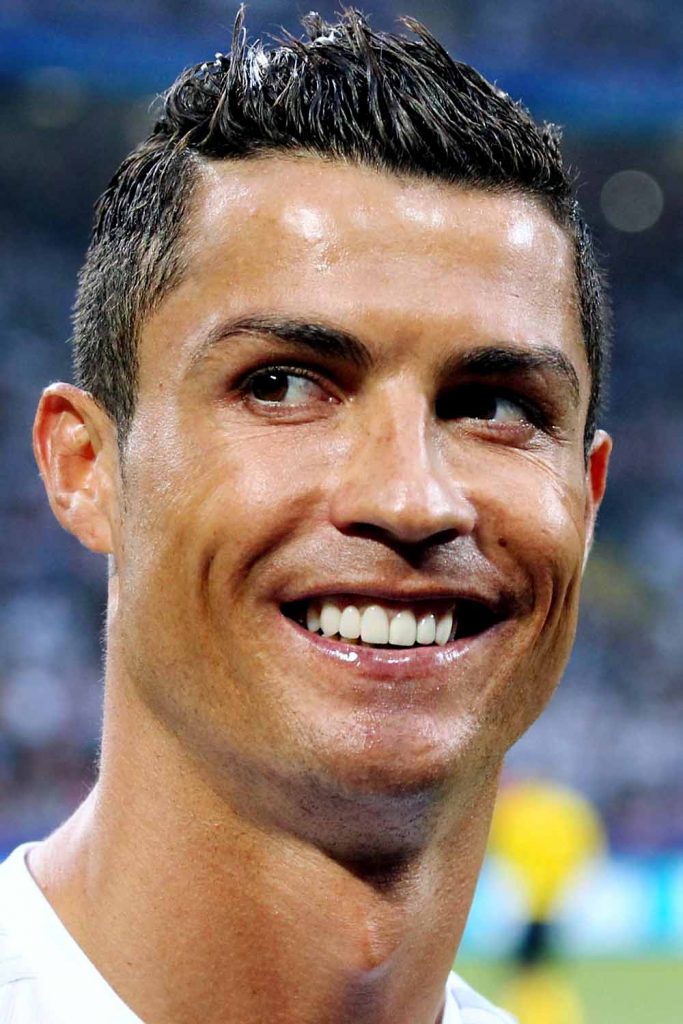 Source: ph.FAB/Shutterstock
Spiked High Top. November 2015
Spiky hair can make you look a lot younger, which CR7 successfully exposes. This hairstyle is also a great option for guys with round face shape, as thanks to the high top, it visually elongates the face. To keep all the attention on the spiky top, buzz the sides and back very shortly.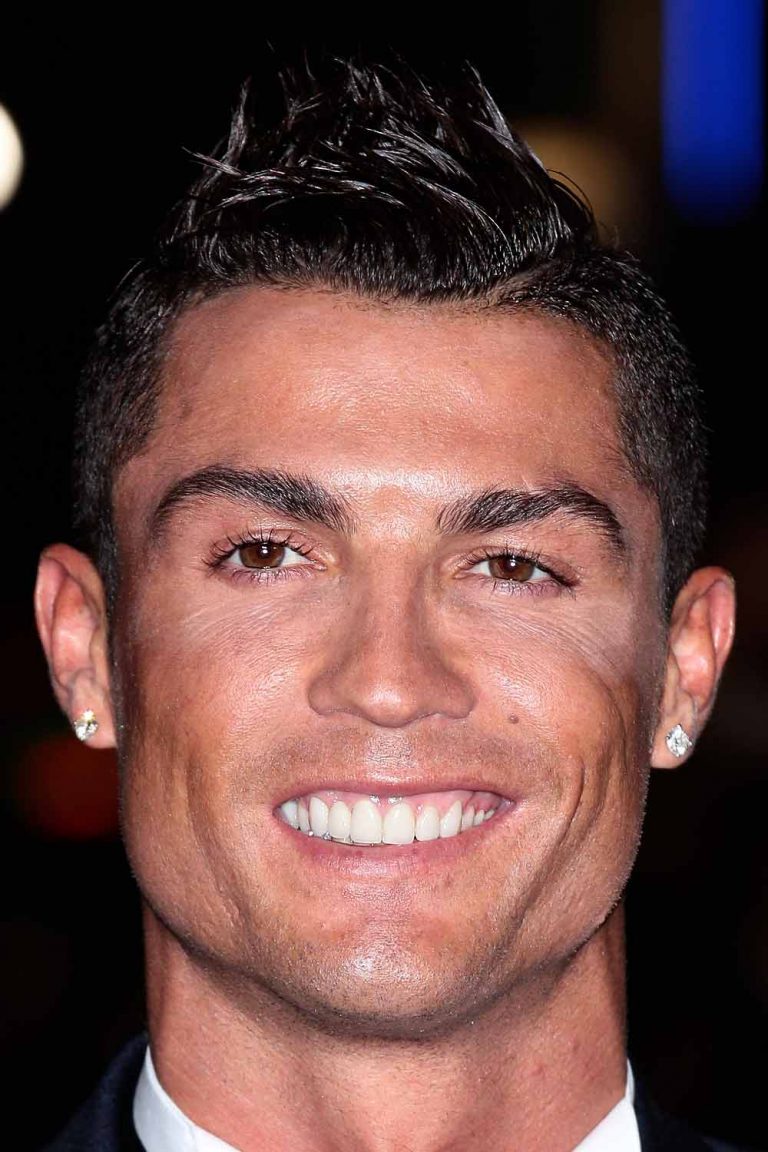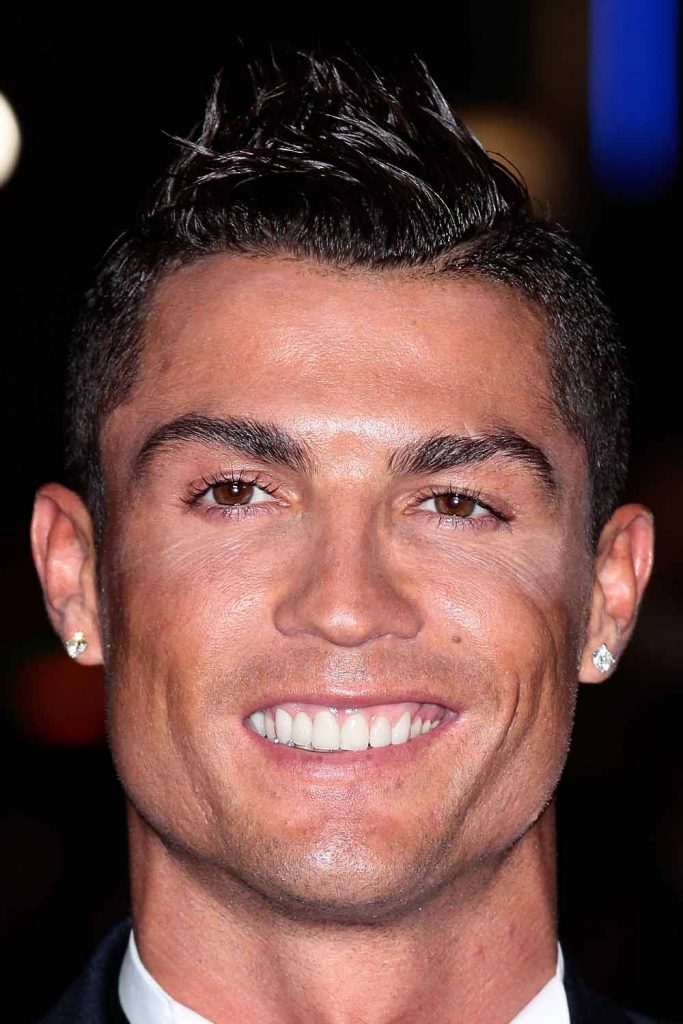 Twocoms/Shutterstock
Undercut + Hard Part Cristiano Ronaldos Hair Cut. June 2014
This is a bolder version of a faux hawk haircut. It features an undercut and a hard part on each side of the head. The top is pushed back and secured with a hair gel for a textured and refined look.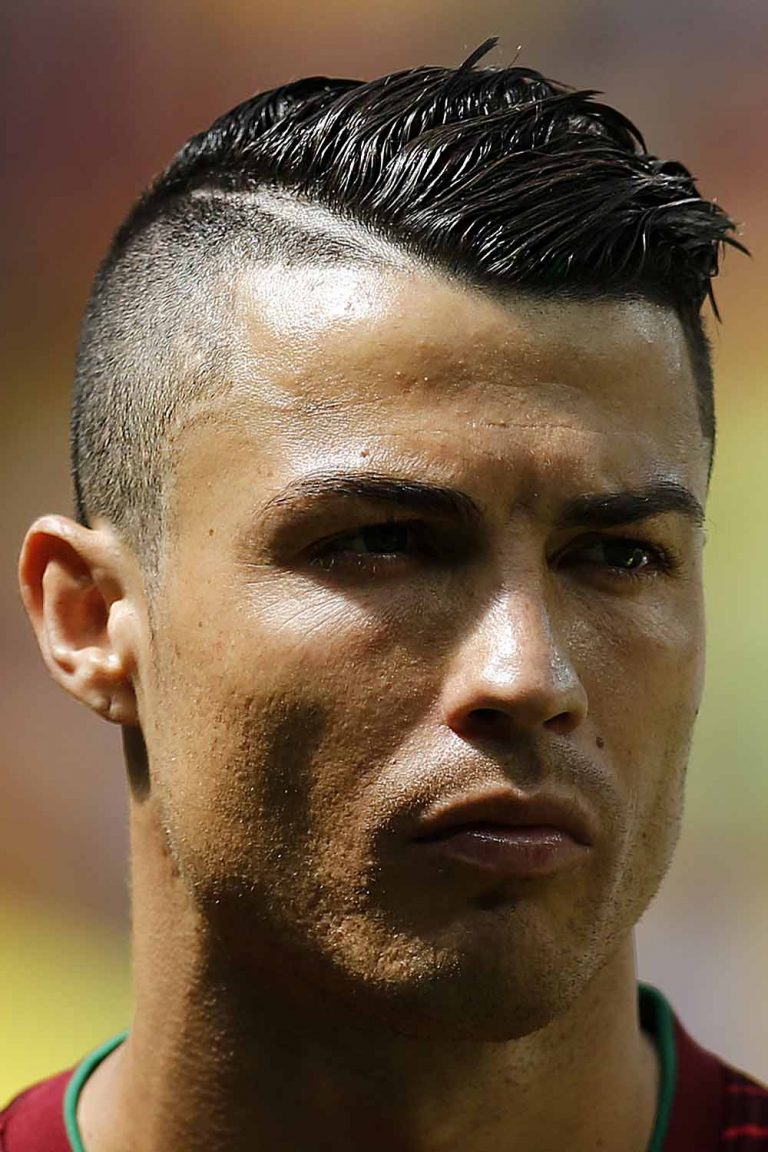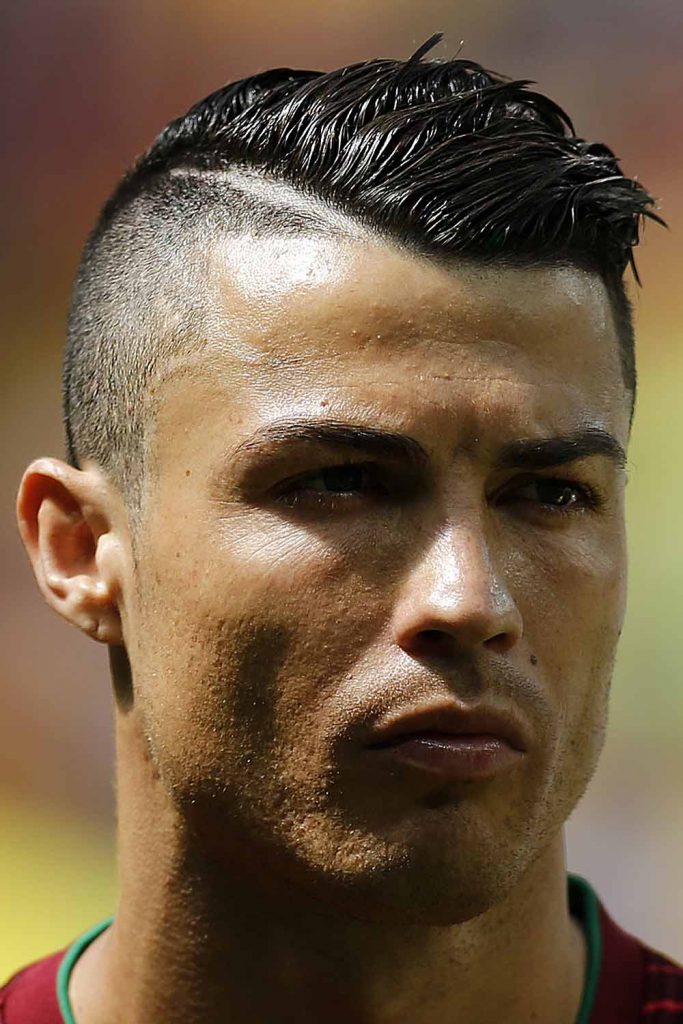 AGIF/Shutterstock
Messy Spikes. Ronaldo Haircut In November 2010
Arguably, nobody knows more ways of styling spiky hair than Cristiano does. This time he goes for long unkempt spikes on top. To achieve messy hairstyles men with naturally curly and spiky locks like Ronaldo's should simply gel them and let dry tousled. To make the top a focal point of the look, you can pair it with a disconnected undercut.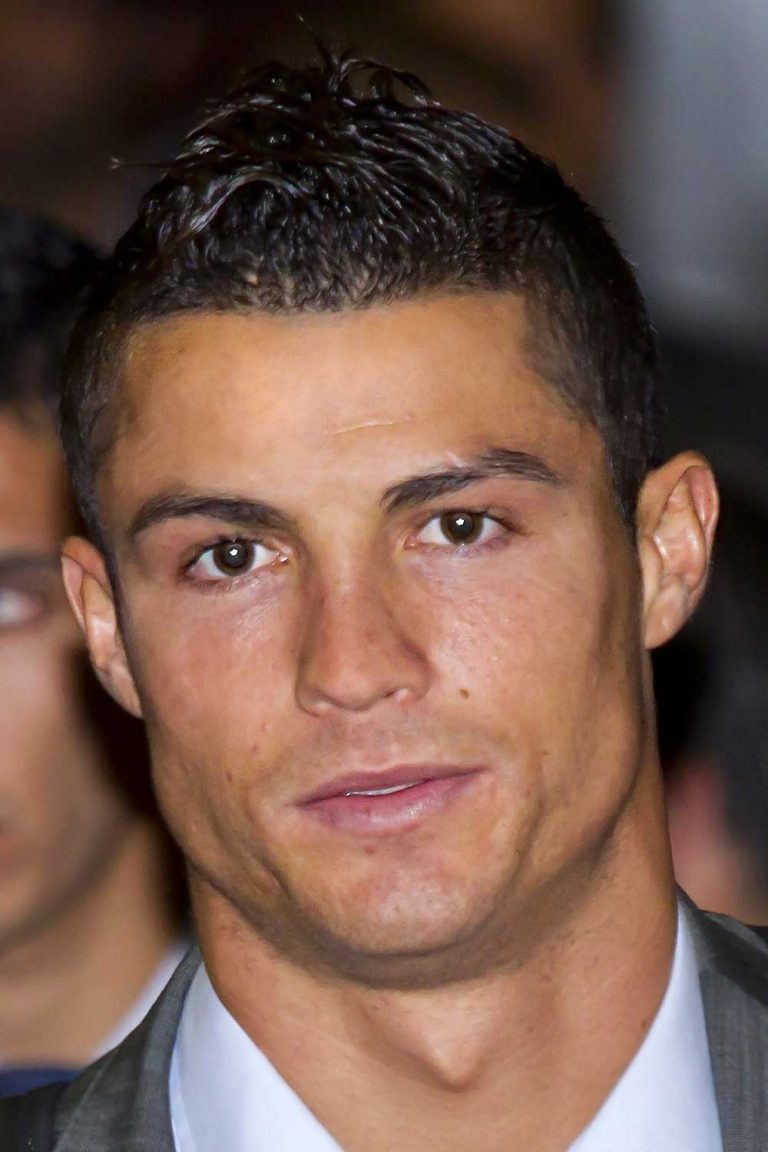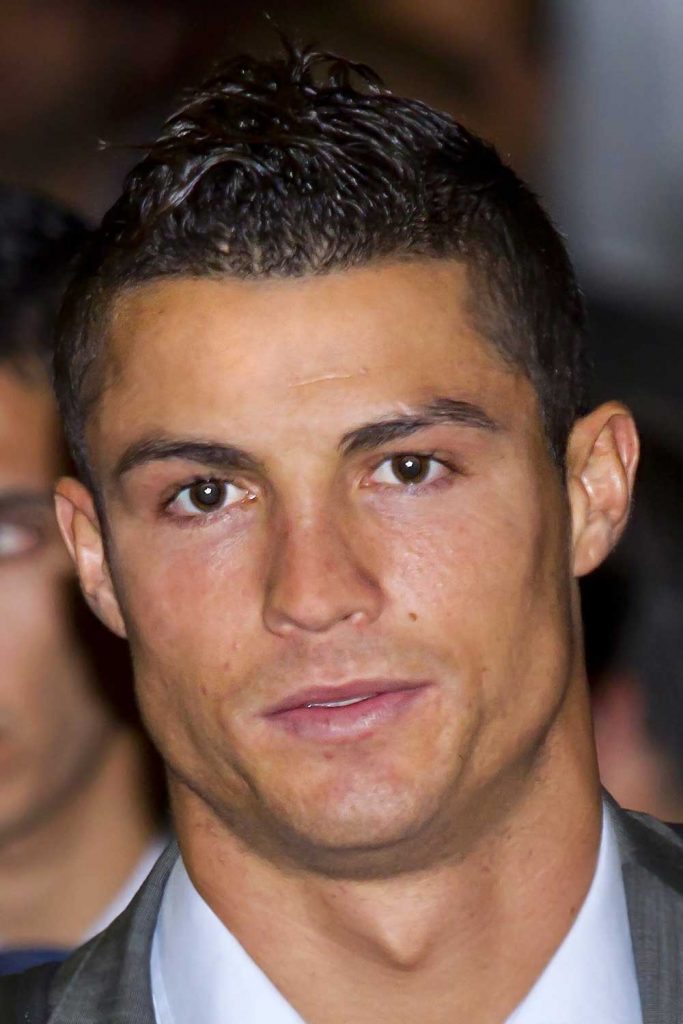 Natursports/Shutterstock
The Mohawk. February 2009
Ronaldo often plays around with a Mohawk. However, he never goes after a traditional one, sporting its different variations instead. Here, he has a high top molded up into a point and set with a dime-sized amount of a styling product. The sides are given a high tapered men's haircut, which helps to draw attention to the hawk.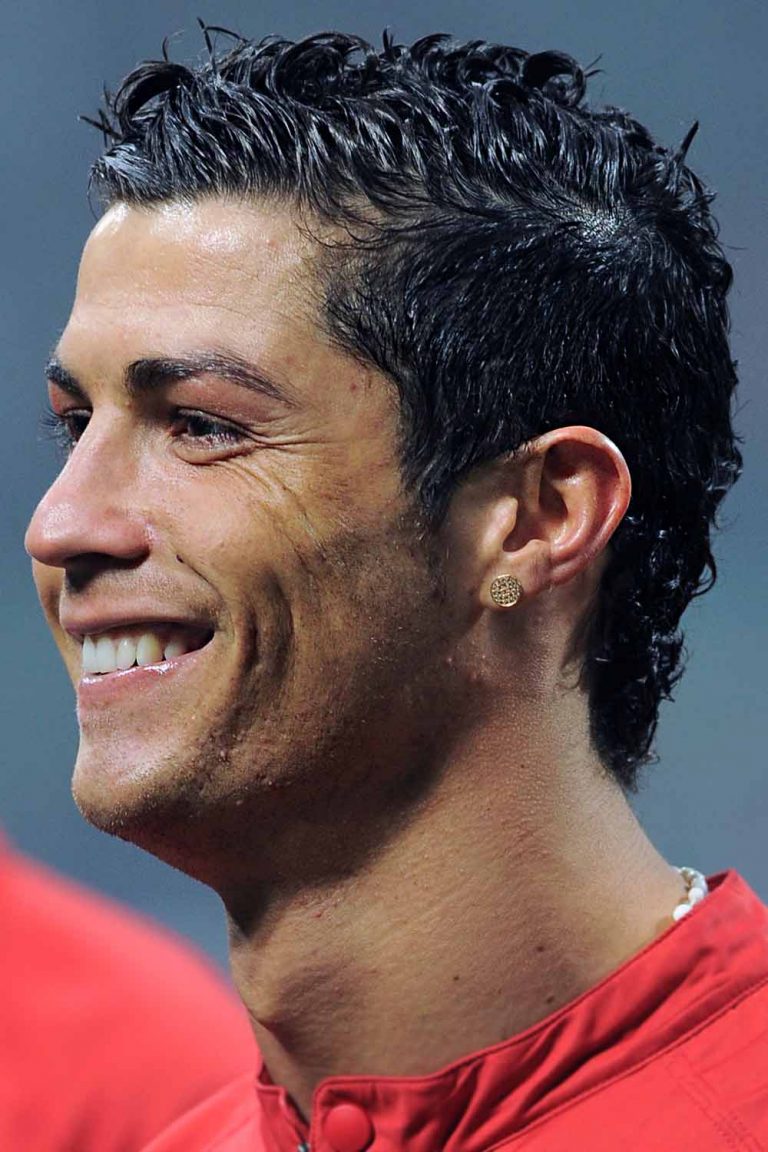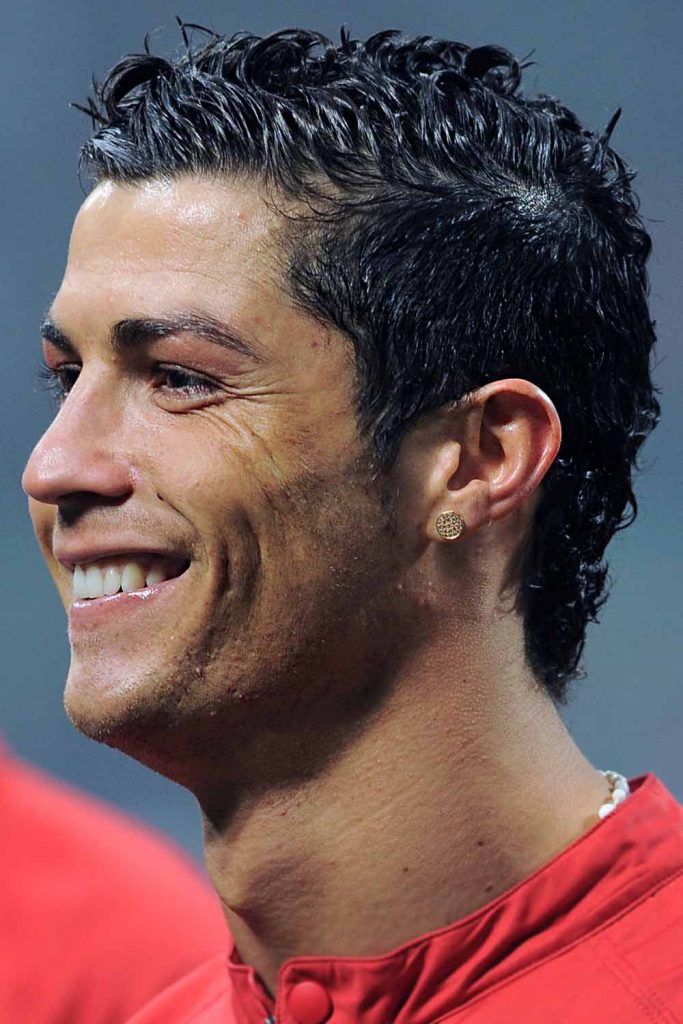 Fabio Diena/Shutterstock
Short Spikes. Ronaldo Haircut In July 2008
When his short haircut starts to grow out, CH7 immediately go for styling it. The short spiky top looks boyish and super cool paired with trimmed sides and back. This hairstyle is great for any occasion, from a Red Carpet event to a workout in the gym. Don't forget about the portion of the product for extra texture and hold.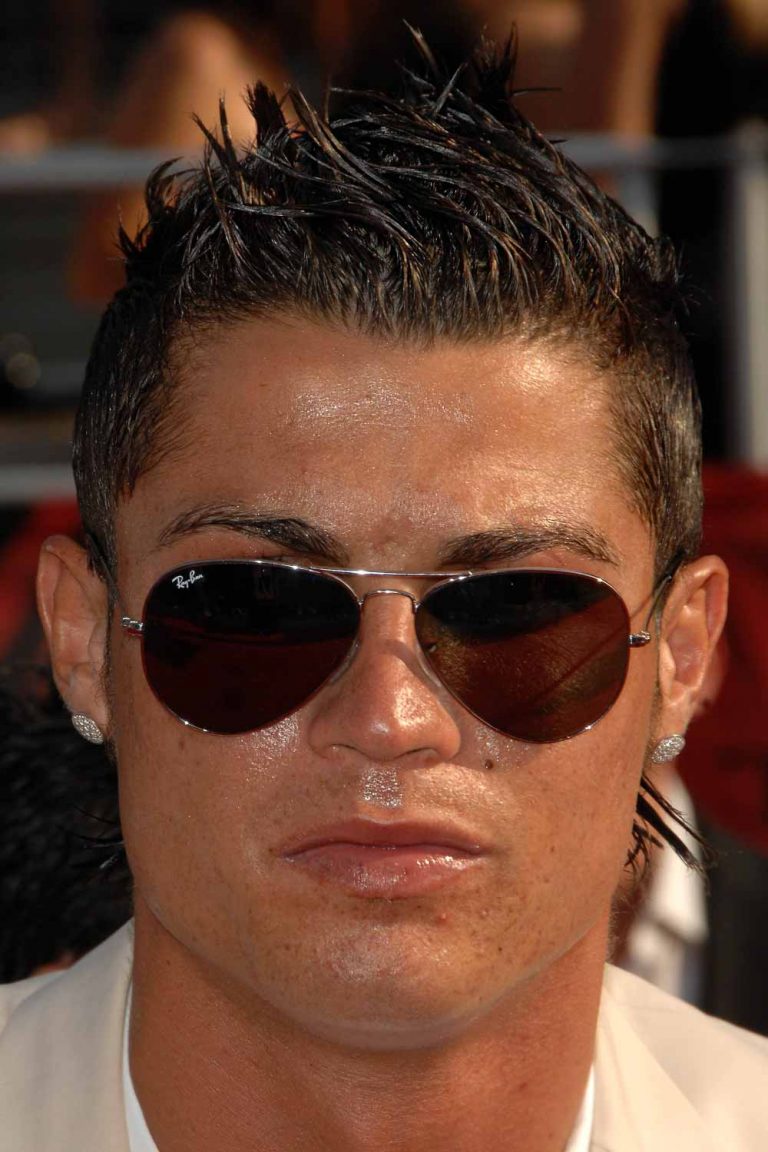 s_bukley/Shutterstock
Messy Layered Hairstyle. August 2007
Ronaldo often sports his hair messy for good reason. Such a hairstyle is much easier to maintain when running 90 minutes on the football field. To give it a sophisticated touch, the football player styles his locks side-swept. Thanks to the heavy layering, it effortlessly looks multidimensional and ample.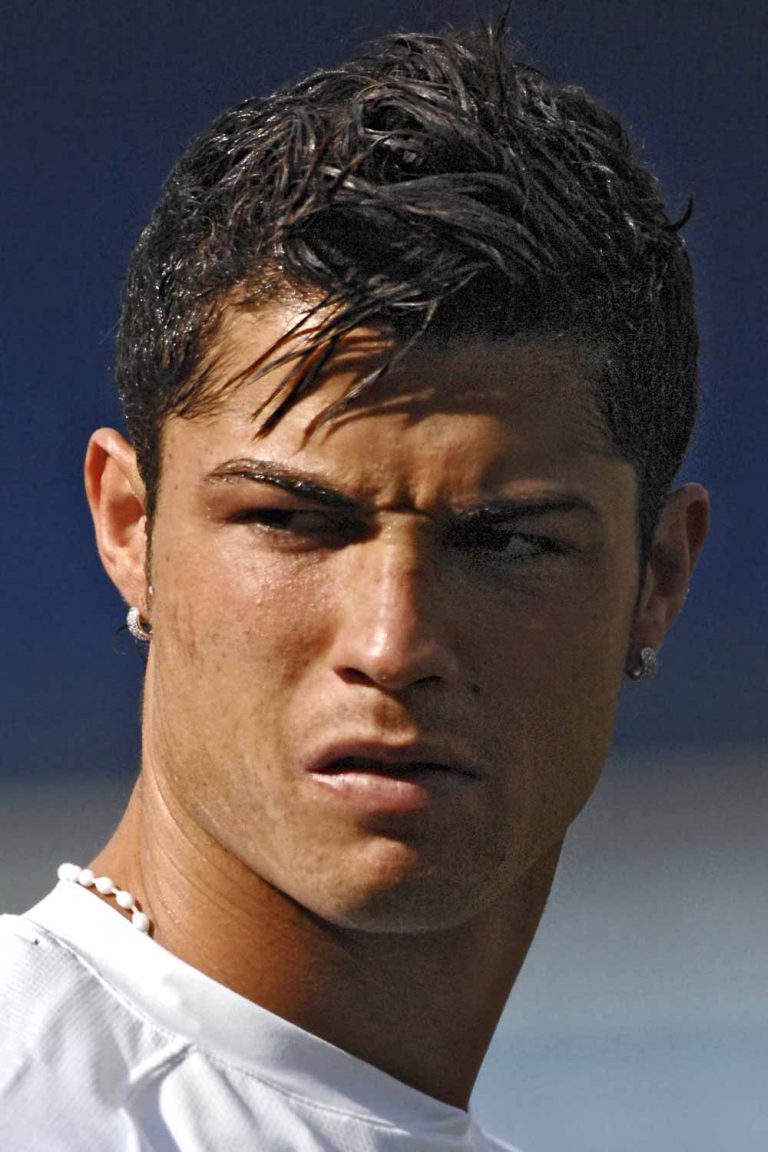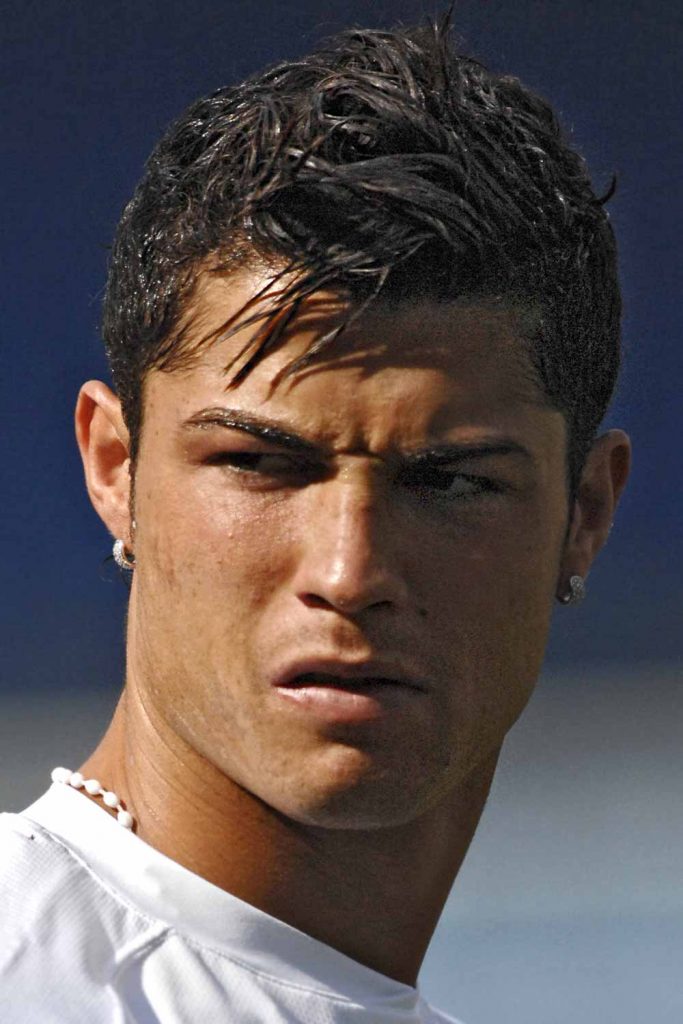 photoplanet.am/Shutterstock
FAQs
What is Ronaldo's haircut called?
Ronaldo often chooses to rock his hair either short or medium long. The common feature of all his styles though is how the hair bends. Yet, you can say pretty confidently that a spiky fauxhawk is his signature look.
Who is Ronaldo's barber?
Cristiano Ronaldo hair was entrusted to celebrity hairstylist Ricardo Marques Ferreira. As they collaborated for many years together, he was often referred to as "Ronaldo's hairdresser."
Why did Ronaldo get that haircut?
Like the majority of Ronaldo hairstyles, that specific haircut was not only a fashion statement and a way to stand out in the crowd, but it also allowed the soccer star to draw away the attention of the media as well as funs from other issues, such as injuries, etc.
What does Ronaldo use in his hair?
For styling, CR7 is known to use pretty much hair gel or water-based pomade, such as Suavecito, which gives his locks a glossy finish and ensures they will stay in place during a 90 minute football match. Being the brand's ambassador, the football star claims to use Clear shampoo to keep his hair clean and dandruff free.
How do you do a Ronaldo haircut?
Here's a quick tutorial on the new Ronaldo's hairstyle:
Divide the hair with a side part.
Attach a 1½ guard comb and trim the hair on the sides, moving from the bottom toward the top, and stop once you reach the side part.
Attach a 3¾ guard comb and work your way up from the neckline toward the crown.
Using scissors, blend the hair on the back of the head into the hair on top.
Scissor cut the top, leaving it anything between 2½-3 inches long.
Using the trimmer with no attachment, carve the line along the side part and two parallel lines behind the ear.
Blow dry the hair and style it to the side with the help of hair paste for an added texture and wet finish.
What does Ronaldo's hair look like?
His most iconic hairstyle features a comb over on the top and an undercut or fade on the back and sides. However, because the top is elongated, it allows the soccer superstar to easily transform it into a spiked up or slicked back look.
Draw inspiration for a new haircut from a celebrity's look is always a smart move. Especially, when it concerns such a known for his outstanding hairstyles football star Cristiano Ronaldo. We handpicked his most attractive and popular 'dos, which won't take you long to recreate.
REFERENCES: