You will hardly surprise anyone nowadays with perm men hair. Women are not the only ones who like to experiment with different hair textures, trying on this, that and the other. So, if you've always wanted to have curly or wavy locks, it is high time to make your dreams come true. To answer all of your questions regarding hair perm, we have prepared this guide. In addition to giving you insight into the matter, it will provide you with a dose of inspo on the best male perm styles. So, what are you waiting for?
What Is A Perm Men?
Before diving into the best men perm hair styles, it makes sense to define what is a perm. This is a hair procedure where you apply chemicals to your hair in order to alter its natural texture and make it curly or wavy.
Source: @reza_jax via Instagram
Best Perm Hairstyles For Guys
Now that you know whats a perm and how to get wavy hair, it is time to overview the best perm hairstyles.
Fringe With Perm
Basically, all curly hairstyles work with mens perm. So, if you want to keep the focus straightly on your top, a fringe is one of the best options.
Source: @reza_jax via Instagram
Curly Faux Hawk
Those who think that for a faux hawk you should necessarily have straight locks have not tried to sport it curly. Not only does it look as prominent and edgy but it is also pretty easy to style, as your hair is much more eager to hold the shape.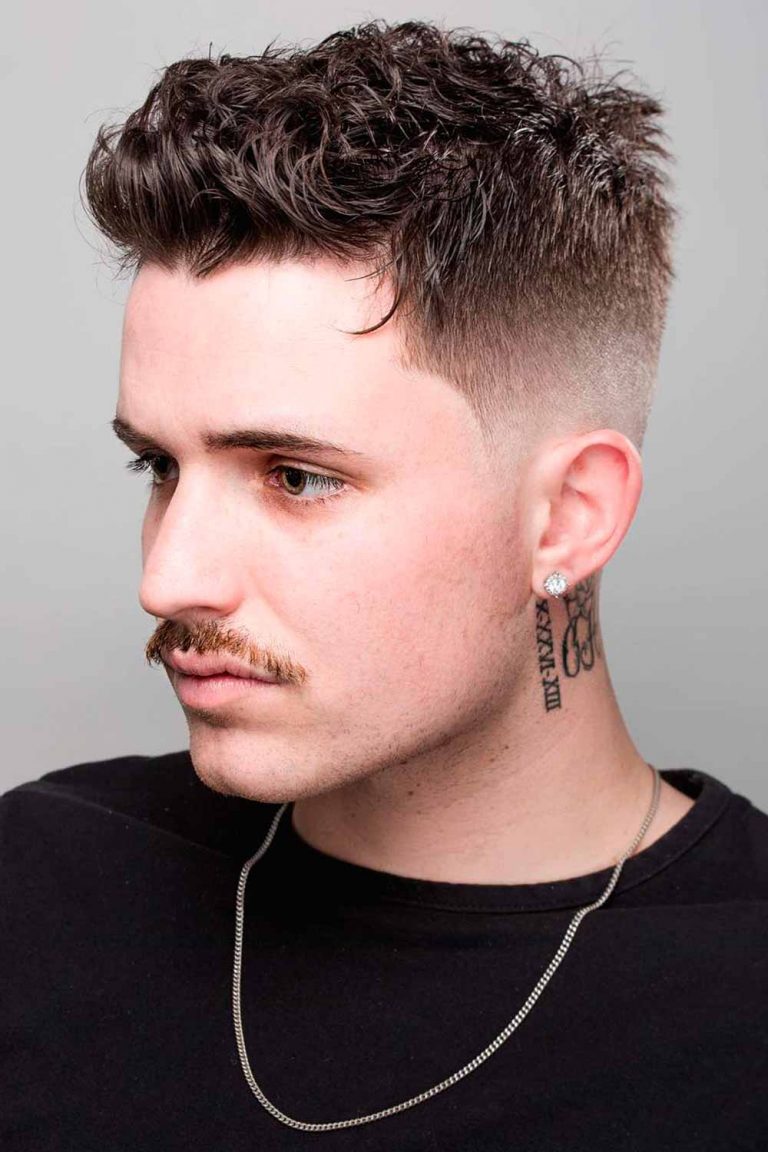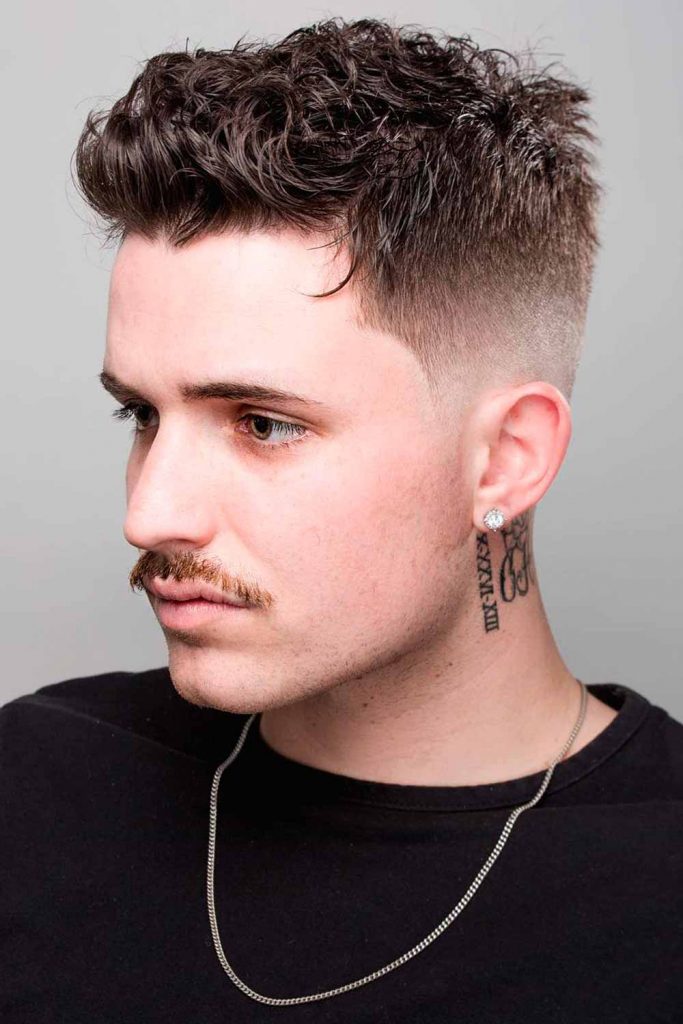 Source: @andrewdoeshair via Instagram
Wavy Perm
One of the coolest things about man perm hairstyles is that you can play around with the curl pattern. If you want to add just a bit of texture to your locks, opt for wavy hair men.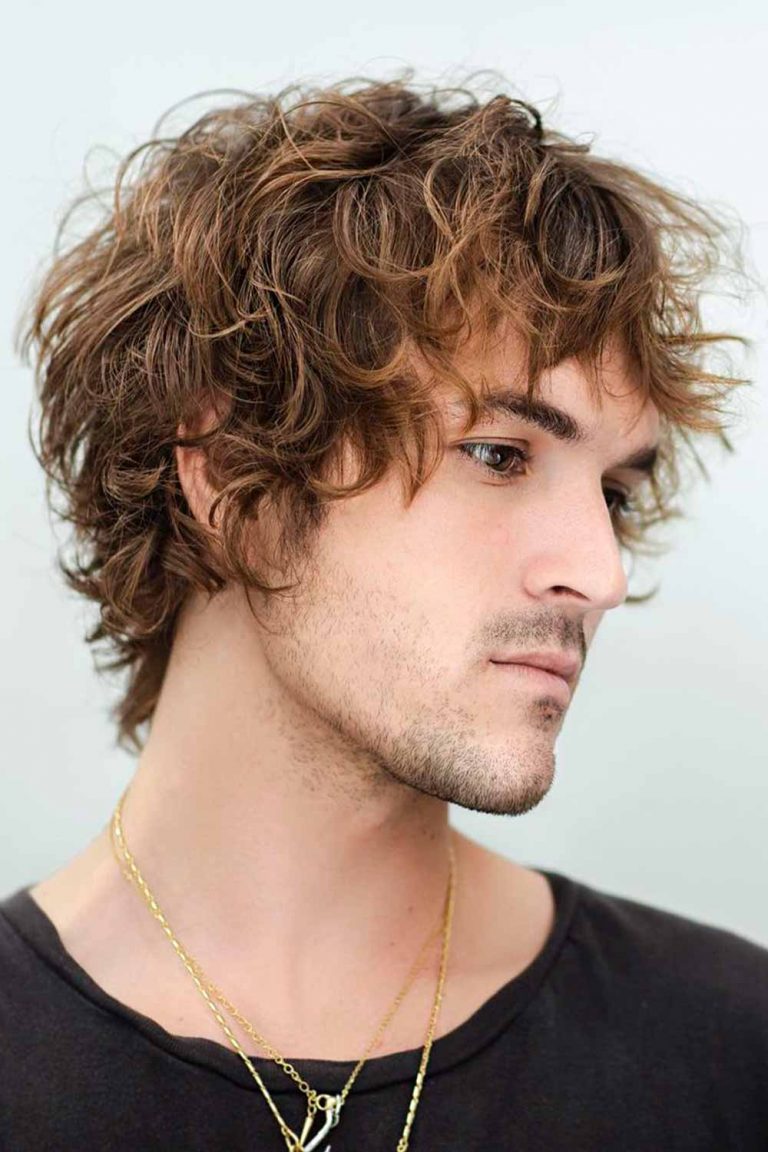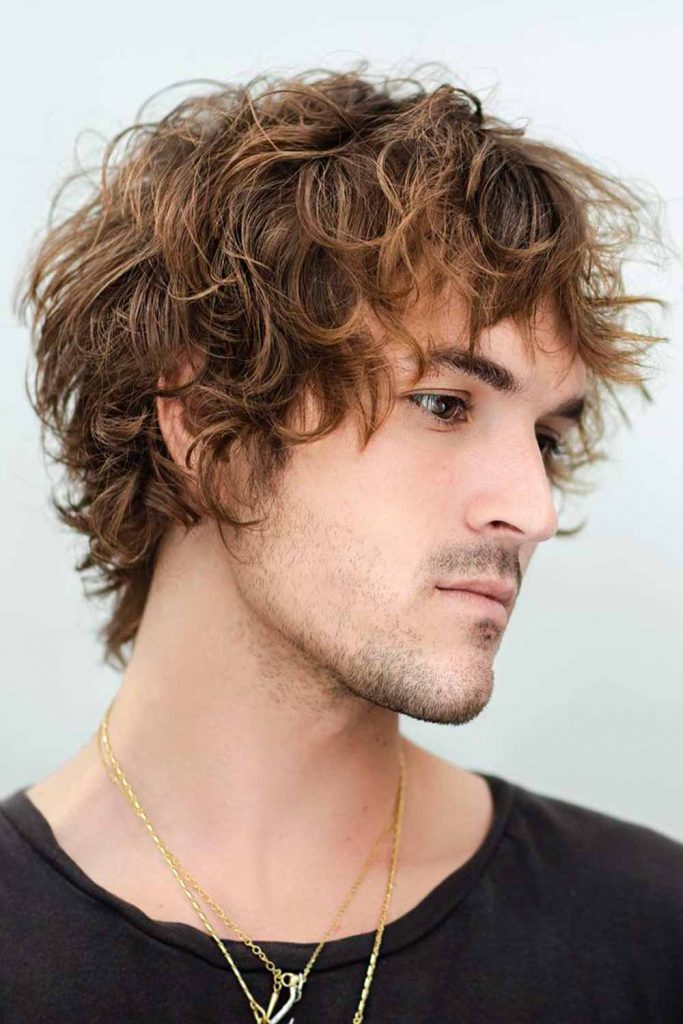 Source: @andrewdoeshair via Instagram
Modern Male Perm Undercut Fade
To give the hairstyle a modern feel, complement your perm with fade on the back and sides. For ultimate contrast and boldness, opt for an undercut fade haircut. Not only will it make your hair appear more intense and prominent, but it will also ease the maintenance.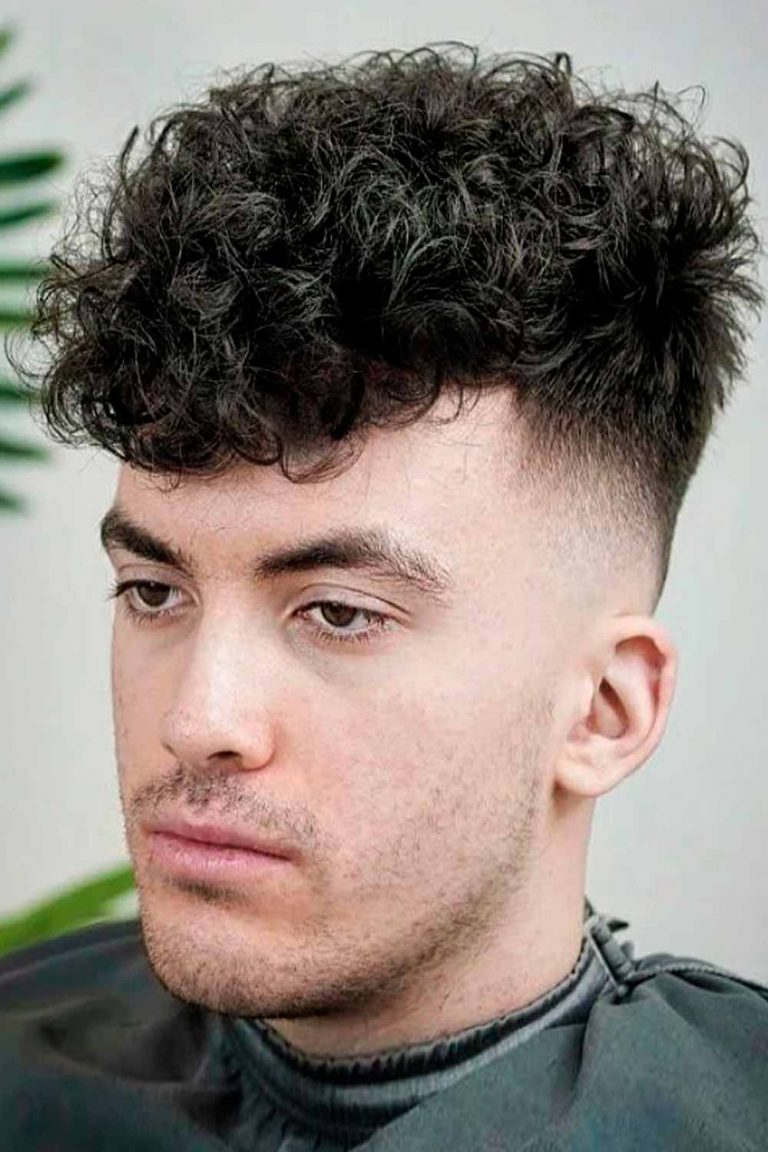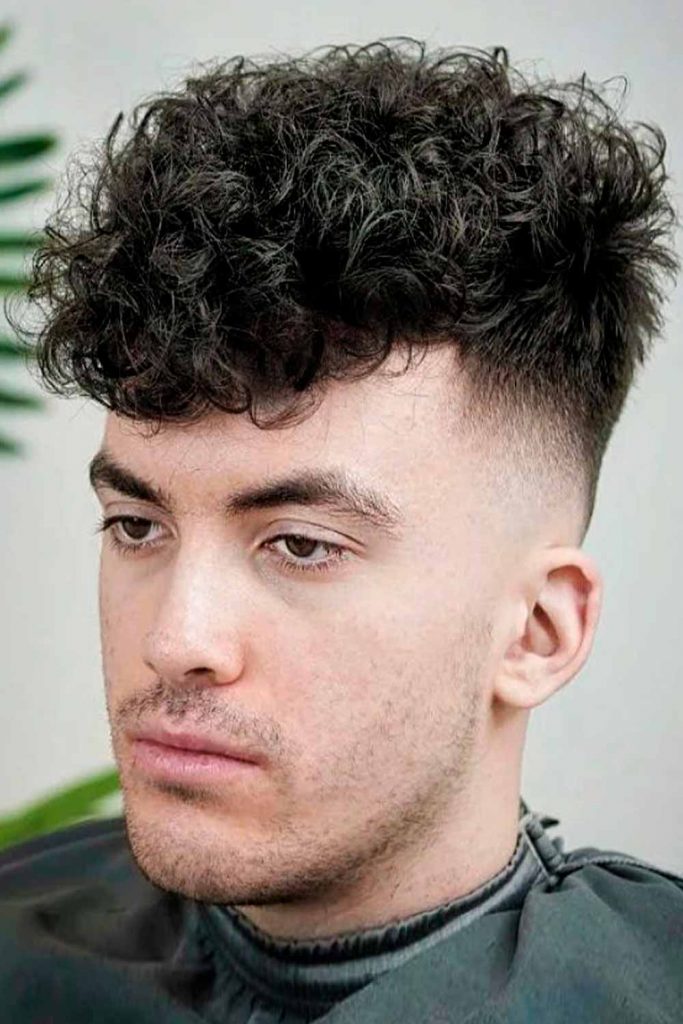 Source: @spukthebarber via Instagram
Brushed Back Bleached Curls
Guys who choose to stand out in the crowd should take a closer look at bleached mens perms. As they already come out quite striking and pronounced, there is no need for intricate styling. Simply brush your curls back and you are good to go.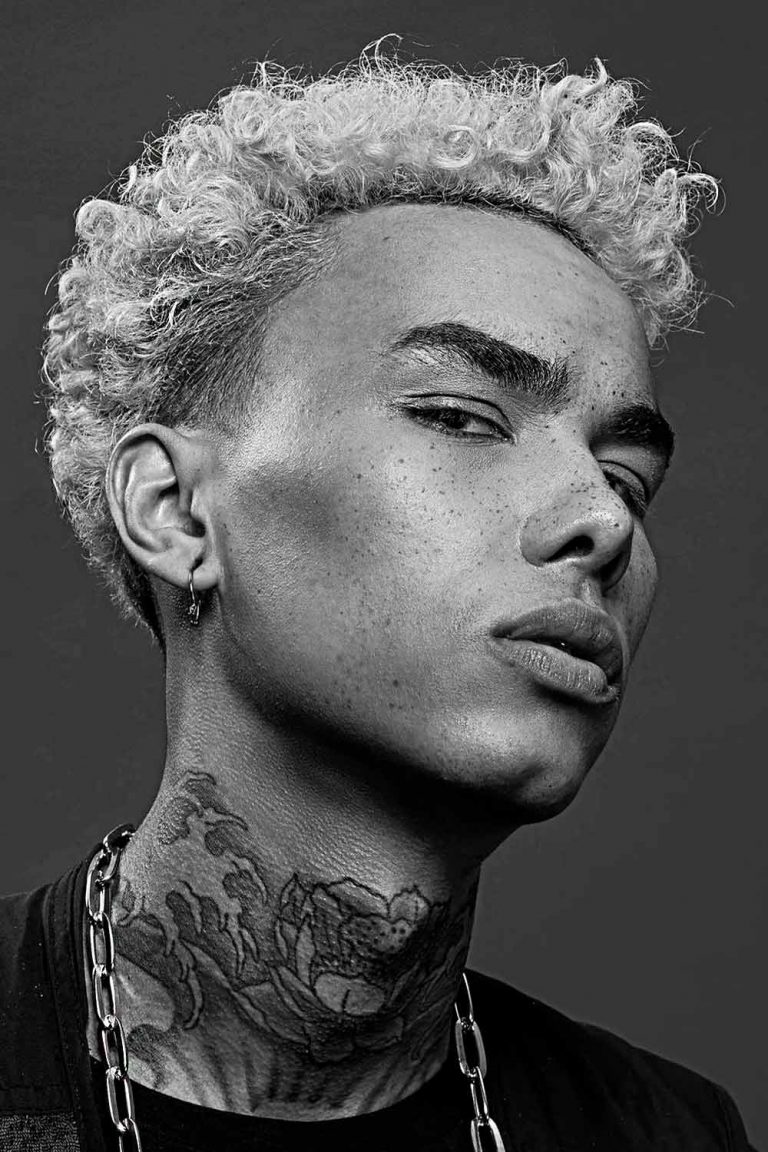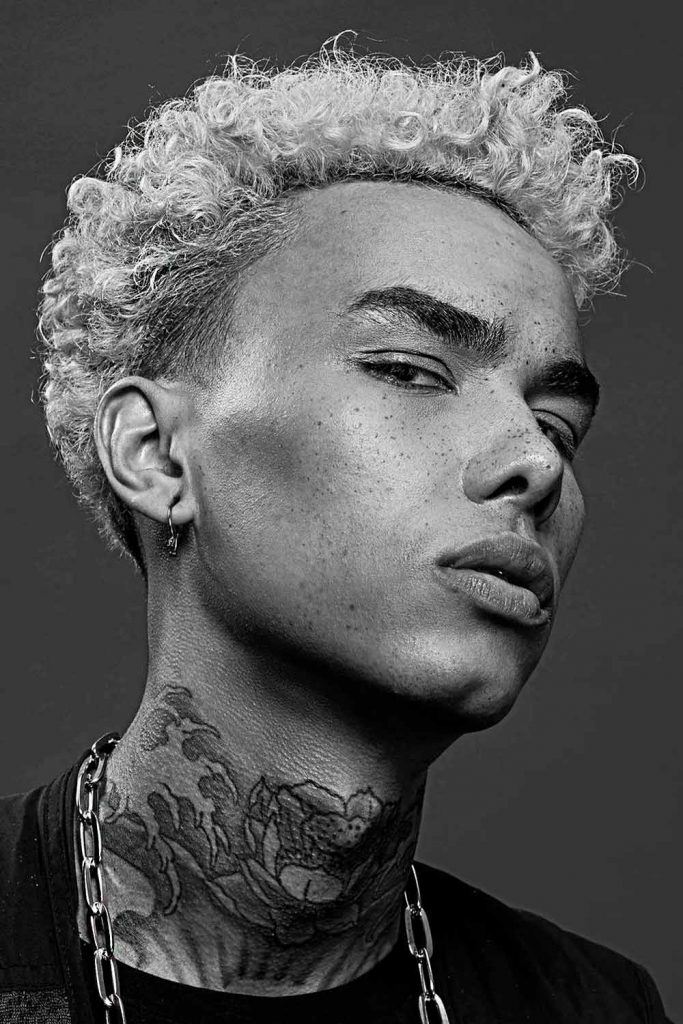 Source: @dexterdapper via Instagram
Tight Curls Perm
However, if you have decided to venture out for a tight perms men hairstyle, go for it! You can rest assured that your hair look will not go unnoticed.
Source: @nickthebarber via Instagram
Highlights Bald Fade
In case you are not ready to commit to all out bleached perms for guys, highlights are your way out. In addition to creating a multidimensional and defined hair look, they also help you to take your curls to the center of attention.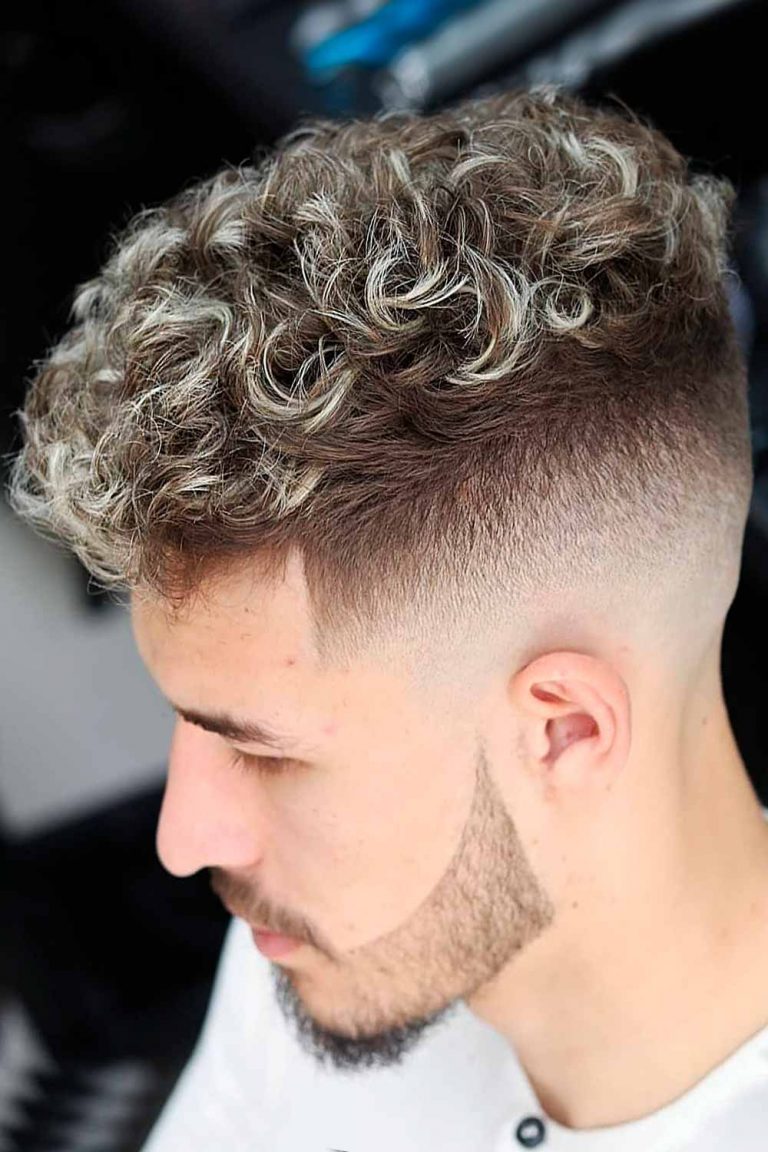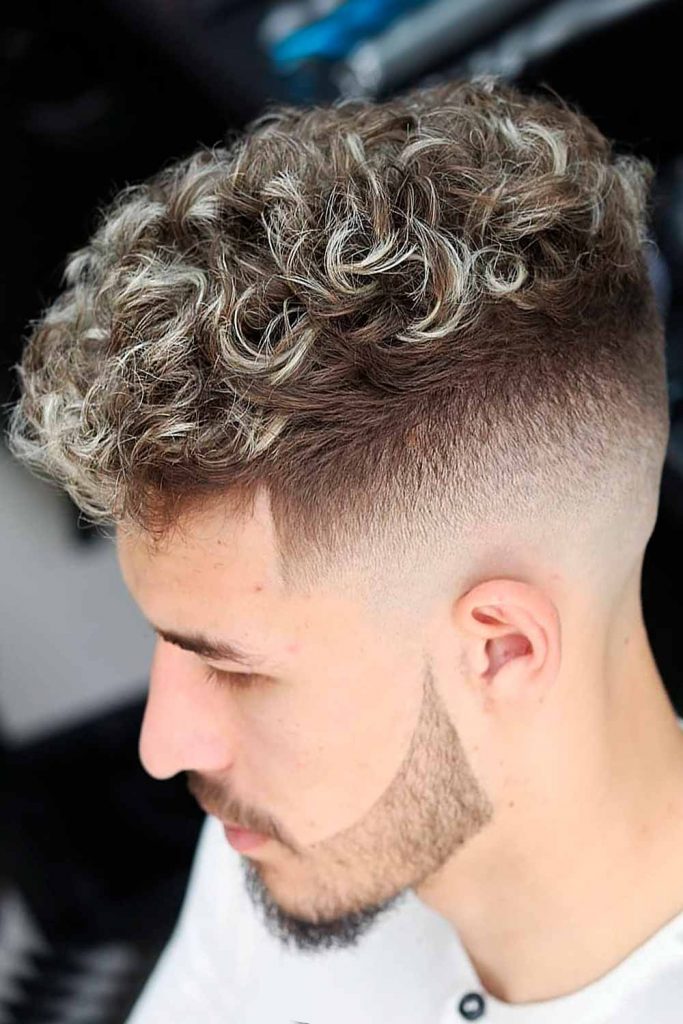 Source: @spukthebarber via Instagram
Korean Perm Men
Because Korean hair is naturally straight, you sometimes may want to give it a bit of texture and that is when a perm hair guys style comes into play. You do not have to go for an overly tight perm men hairstyle though. Just enhance it with a subtle curve and you are good to go.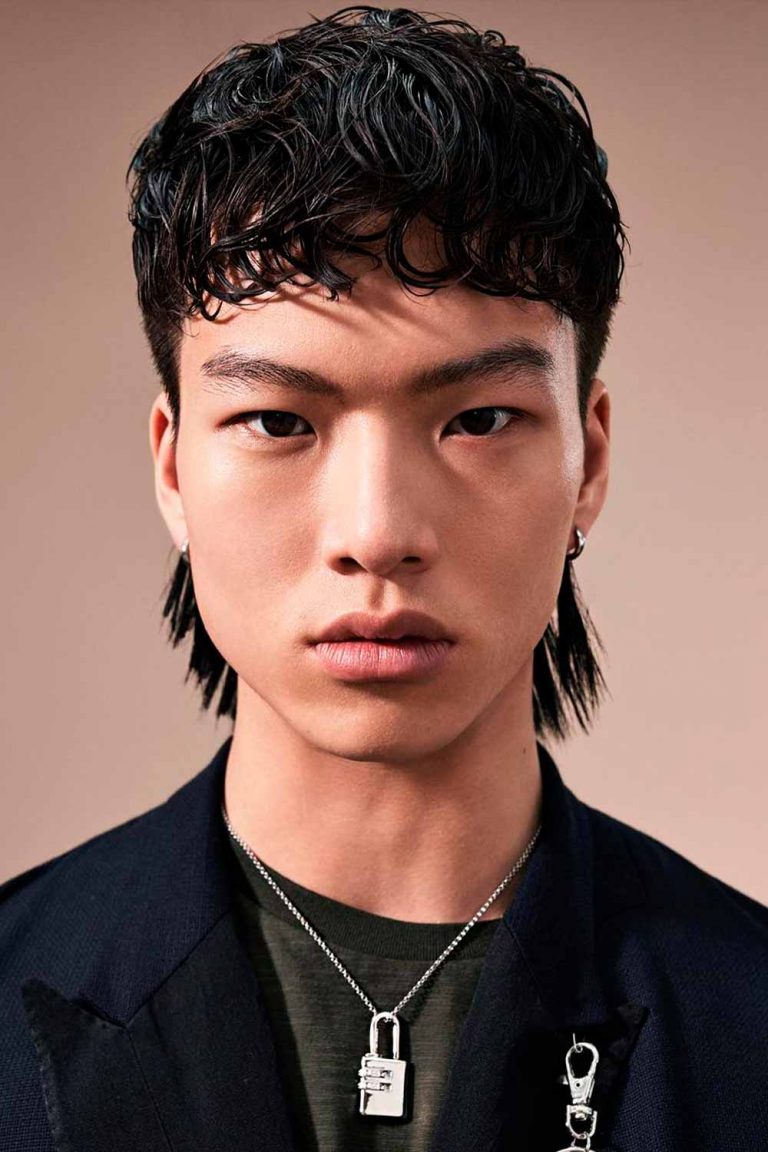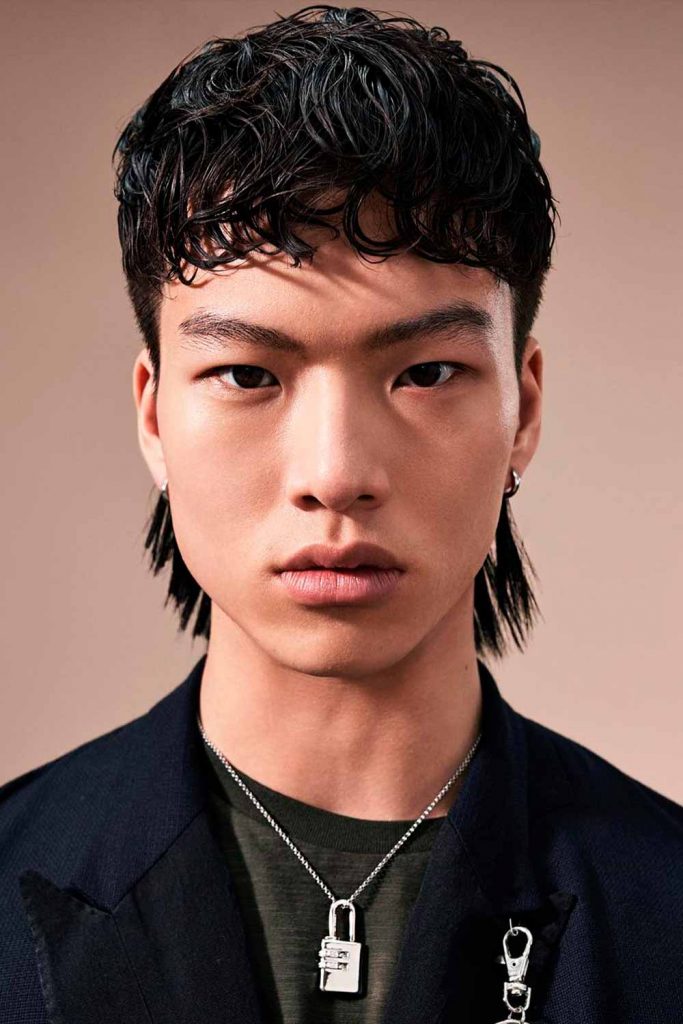 Source: @dexterdapper via Instagram
Long Hair With Perm Men
A perm does not always mean tight curls. It also allows you to create relaxed waves hair men styles. This is an especially preferred option for gents with long tresses, as it does not sacrifice their length.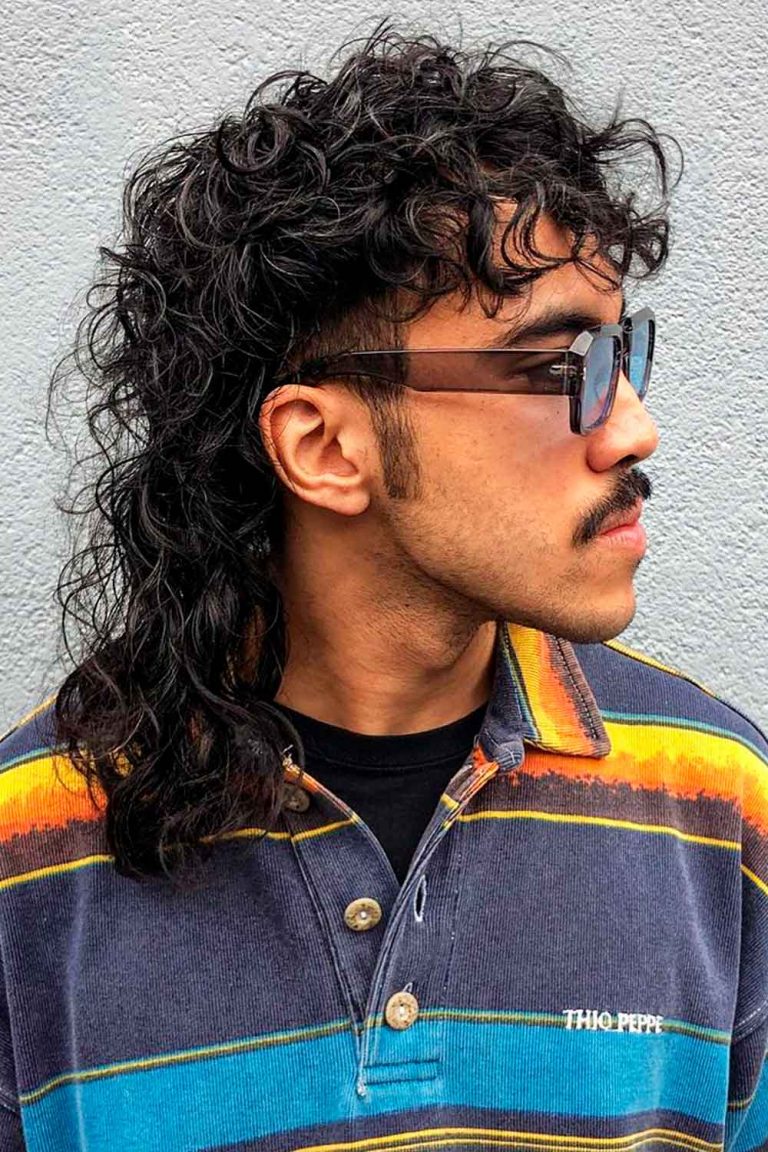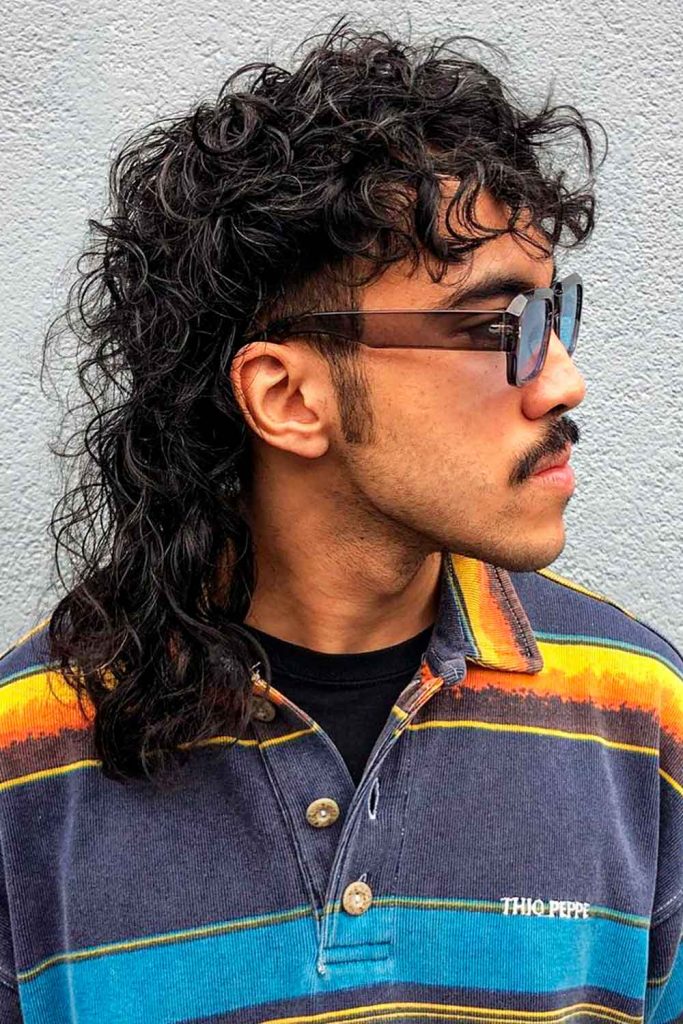 Source: @coiffeurstory via Instagram
Jelly Roll Hair
To pull off the jelly roll hairstyle trending nowadays, your hair should be curly or at least wavy. If it is straight naturally, then you can get away by getting short perms on top. Once your hair texture is prepped, apply a generous amount of a hair product and style the hair to your liking.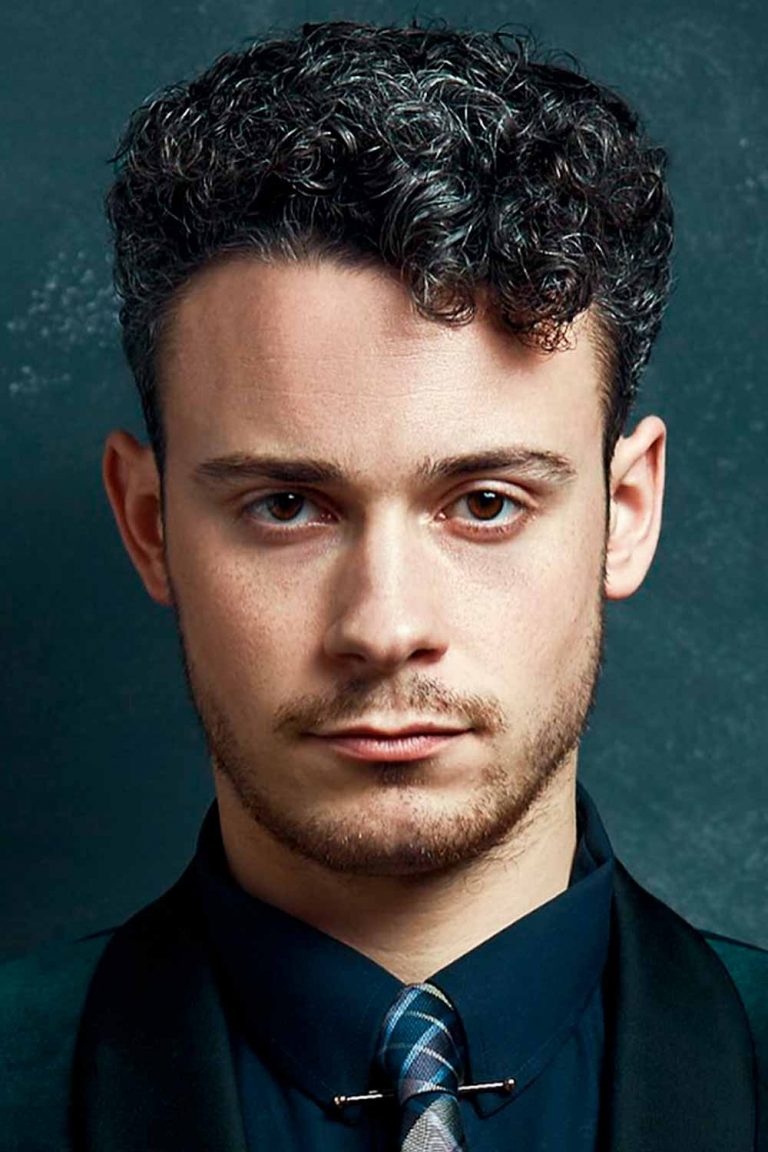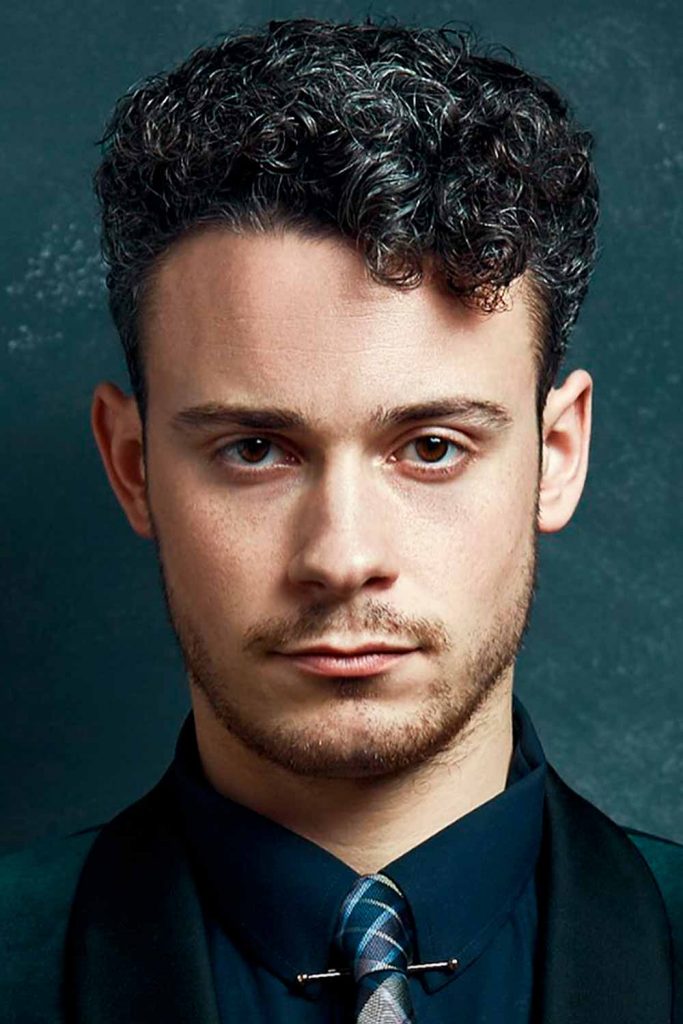 Source: @joth_davies via Instagram
Permed Undercut
With undercut perm styles men get quite a lot of benefits. On one hand, you keep the focus on your curls without taking much effort and on the other hand, it makes your hair much easier to maintain and style. Do not forget to touch up the haircut regularly though to keep it fresh.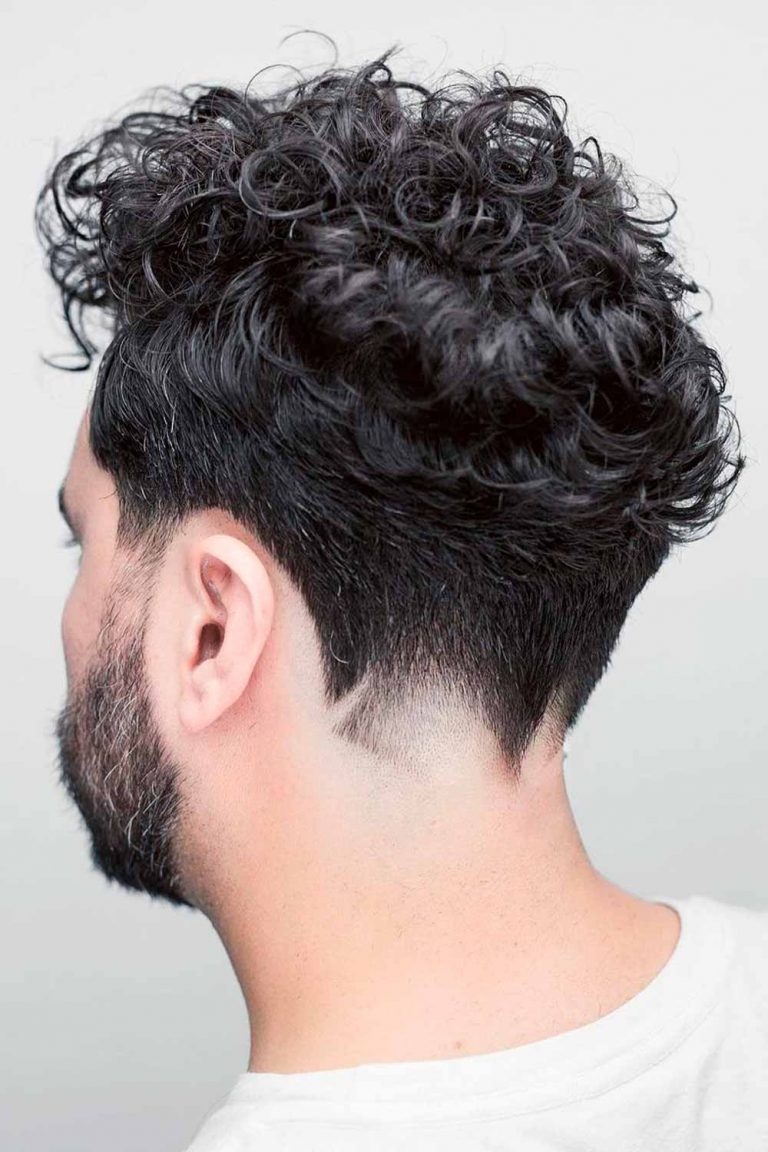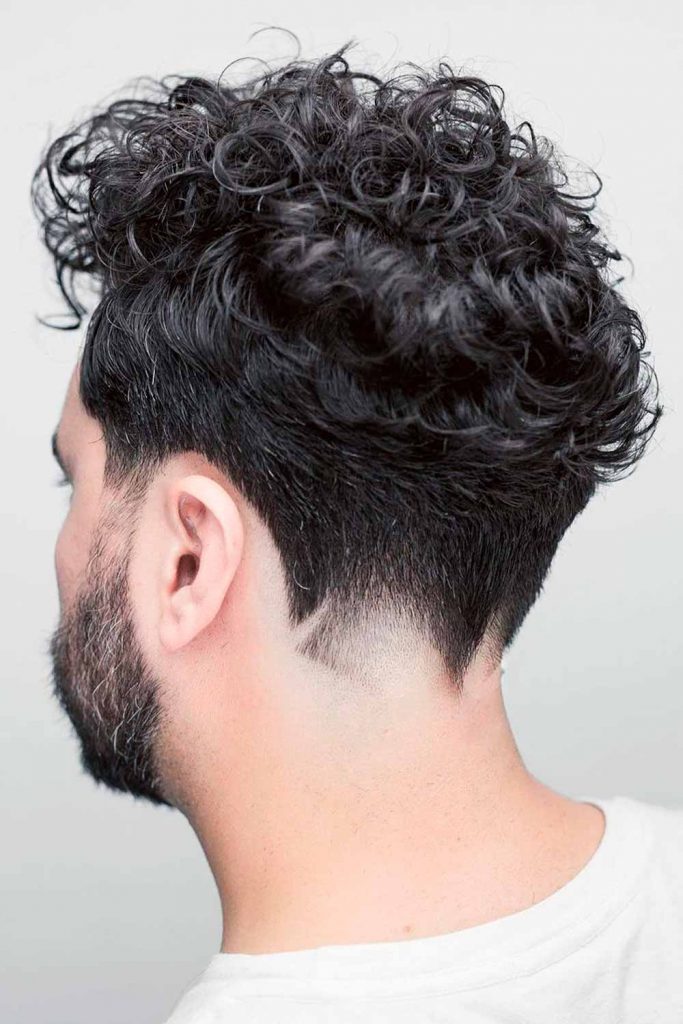 Source: @andrewdoeshair via Instagram
Comb Over Perm Hairstyle
If you have always considered a comb over a hairstyle for straight hair men, we are here to prove you wrong. A curly perm will redefine this classic hairstyle and give it a trendy touch.
Perm Men With A Mid Fade
A fade haircut is a surefire way to take your perm men hair to the center stage. By going for a higher and lower fade, you can adjust the level of boldness of your perm haircut.
Source: @egobarbers via Instagram
Permed Mullet
With wavy perm men can give any haircut an intricate twist and a mullet is no exception. The top and back featuring perms on guys easily attract attention and make you stand out in the crowd. For added emphasis, apply a bit of a texturizing product to your permed mullet.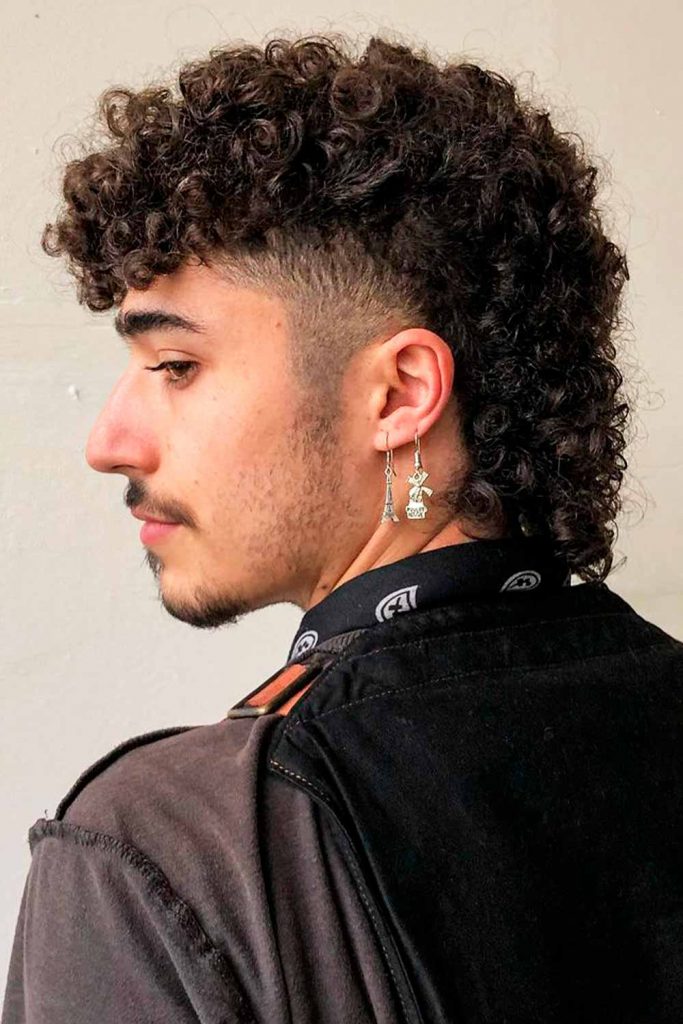 Source: @coiffeurstory via Instagram
Short Textured Perm Fade
A fade haircut allows you to go for as prominent hairstyle on top as you like. As it incorporates short hair on the sides, the top becomes the focal point of the look. This makes a permed hair men fade a perfect option for guys who choose to be in the spotlight.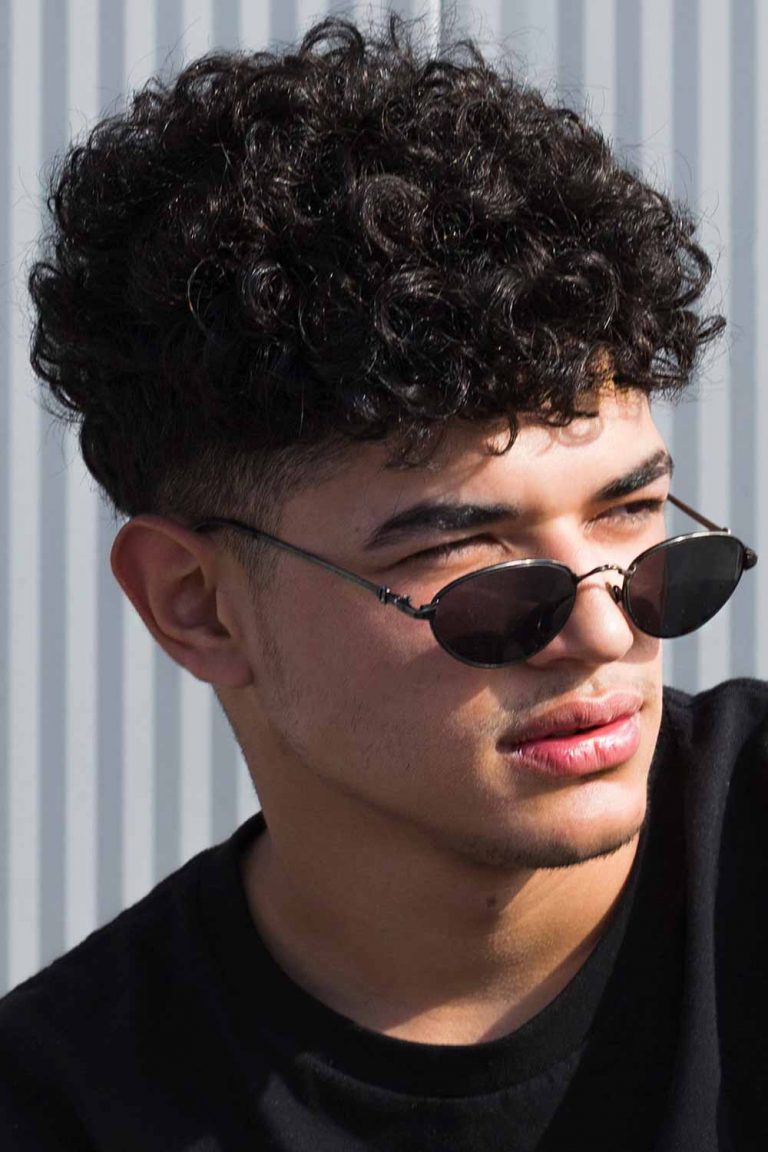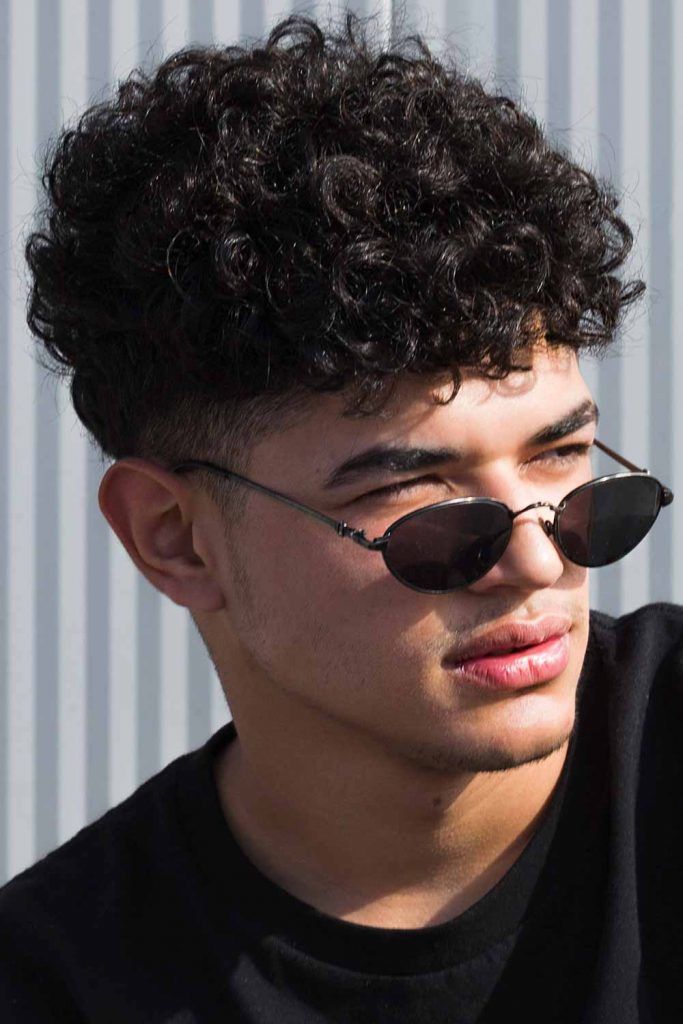 Loose Curls Perm
If you are not ready to commit to tight curls yet, then you should take a closer look at a loose perm men style. Its main attraction is in its relaxed and effortless flair, which we are almost sure you will love to the core.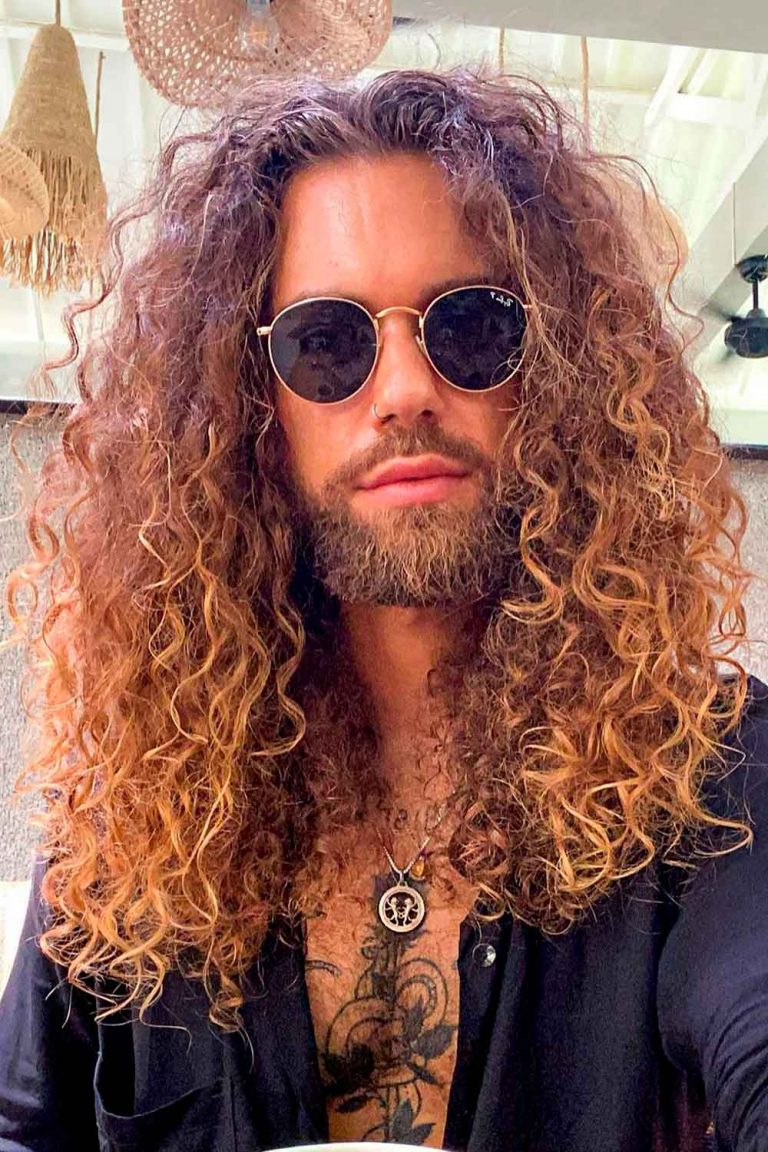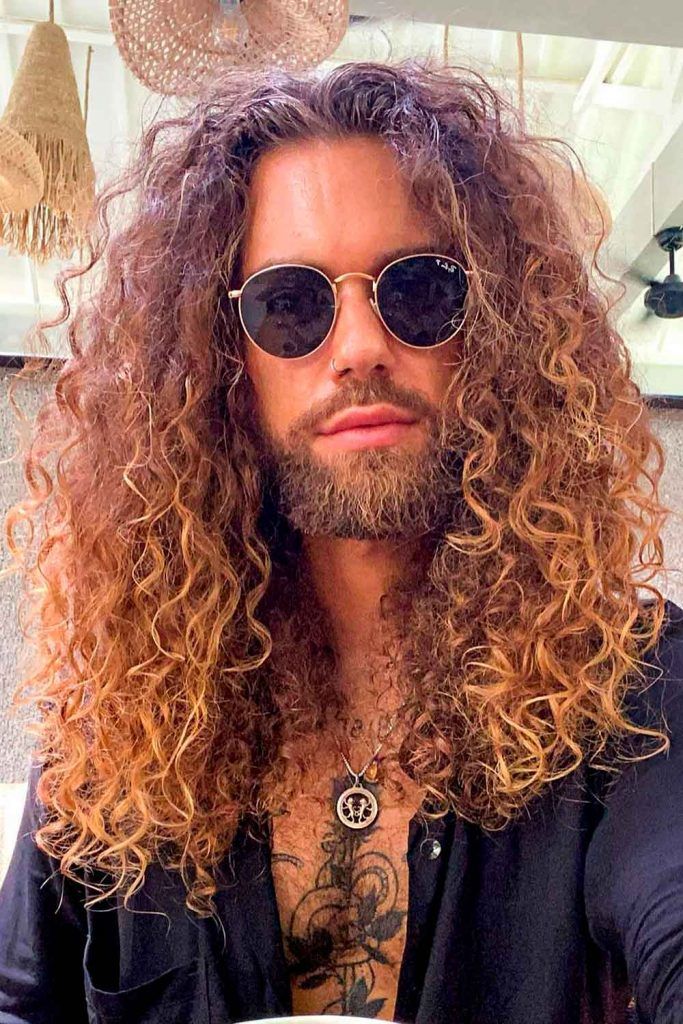 Source: @hank_ge via Instagram
Permed Man Bun
It is a known fact that some hairstyles are literally made for mens wavy hair and a man bun is no exception. Yet, if your hair texture is far from curly or wavy, a perm will help you out.
Volume Perm
If you are still questioning yourself, should I get a perm male hairstyle, then this look will surely convince you. Men with perm appear more attractive and stylish. Besides, this voluminous perm will disguise your thinning hair should you be dealing with it.
Source: @sidsottungacademy via Instagram
Bleached And Permed Hair
There is something really enchanting in blond wavy hair guys. Though, if you were born with dark straight tresses, you can still channel this look. Just get your mane bleached and permed and you are guaranteed to rake in the compliments.
Perm With Pompadour
Give your pompadour a modern take by getting a loose curl perm on top. It will add a fashionable and effortless vibe to your look as well as allow you to save time on styling.
Source: @shrunknheads via Instagram
Short Hair With Perm Men
One of the best things about perm styles is that they are not limited in terms of length. So, even if you have pretty short haircuts for men, you will still end up with a sharp and defined look.
Caesar Cut With Perm Men
Perms for short hair are as amazing as for long one and a Caesar cut proves it with ease. Traditionally, you would get a textured cut on top for this look. But a perm creates an even more pronounced and defined appearance.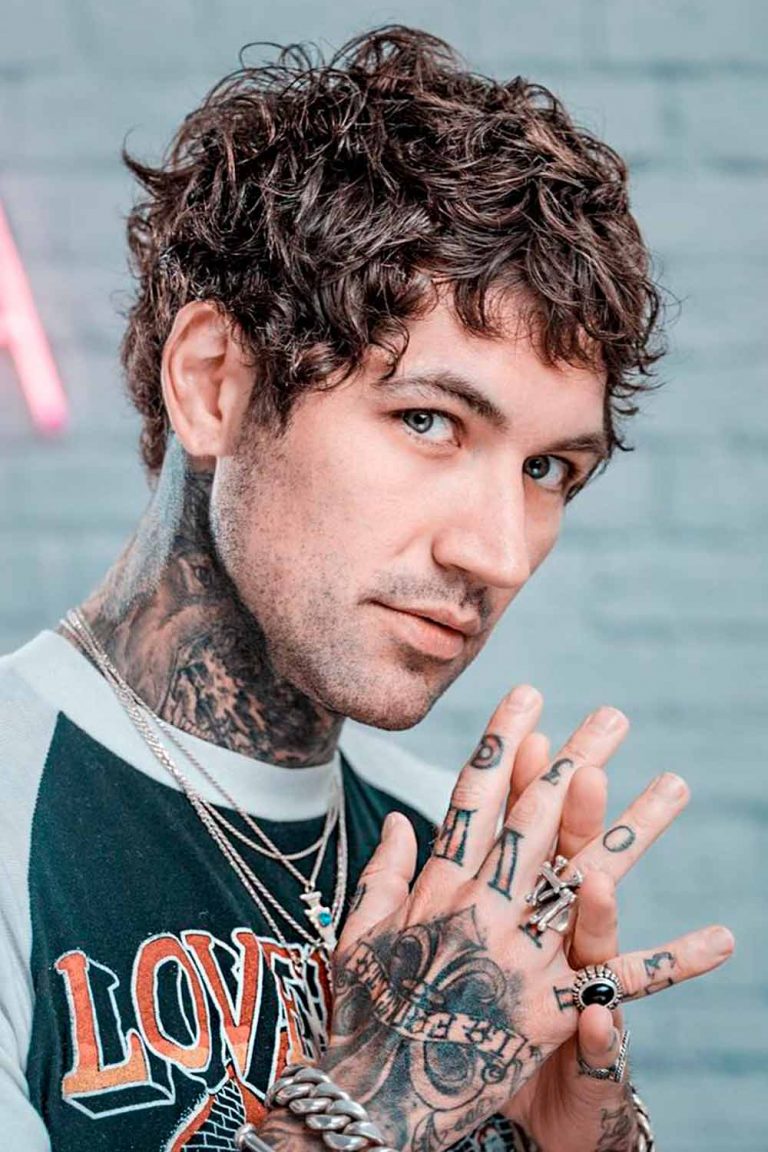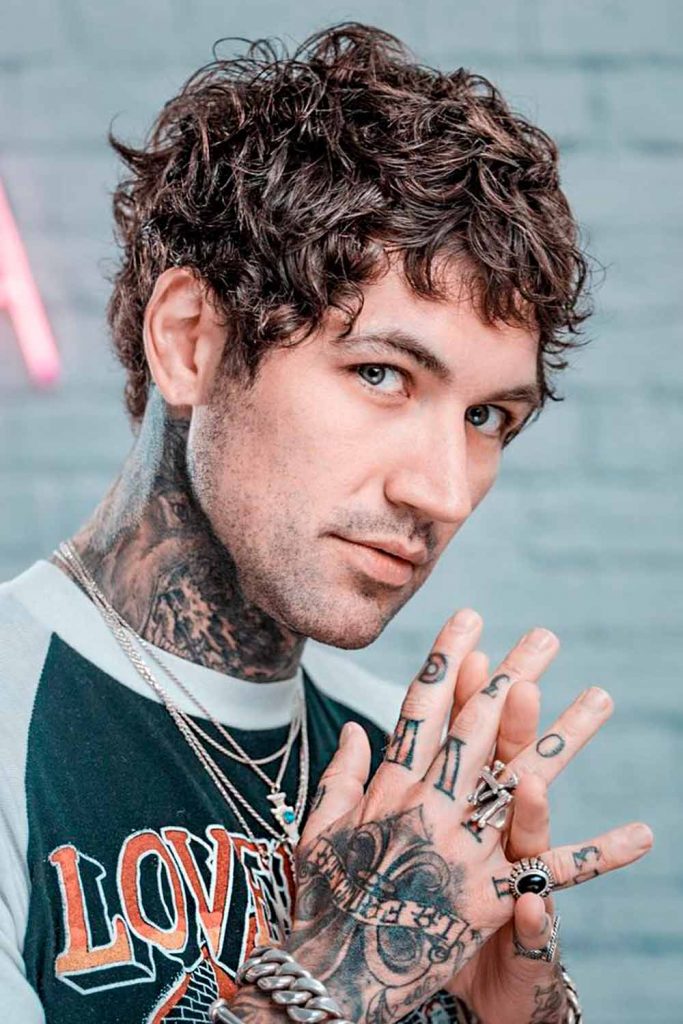 Source: @andrewdoeshair via Instagram
Perms Boys
Perm on guys looks cool and appropriate no matter their age. Boys permed hair has a playful and carefree vibe. So, if your kid is asking for a perm boy hairstyle, you should not say no to him. What is more, you can experiment with the hair length, as perms on guys work perfectly for both short and long locks.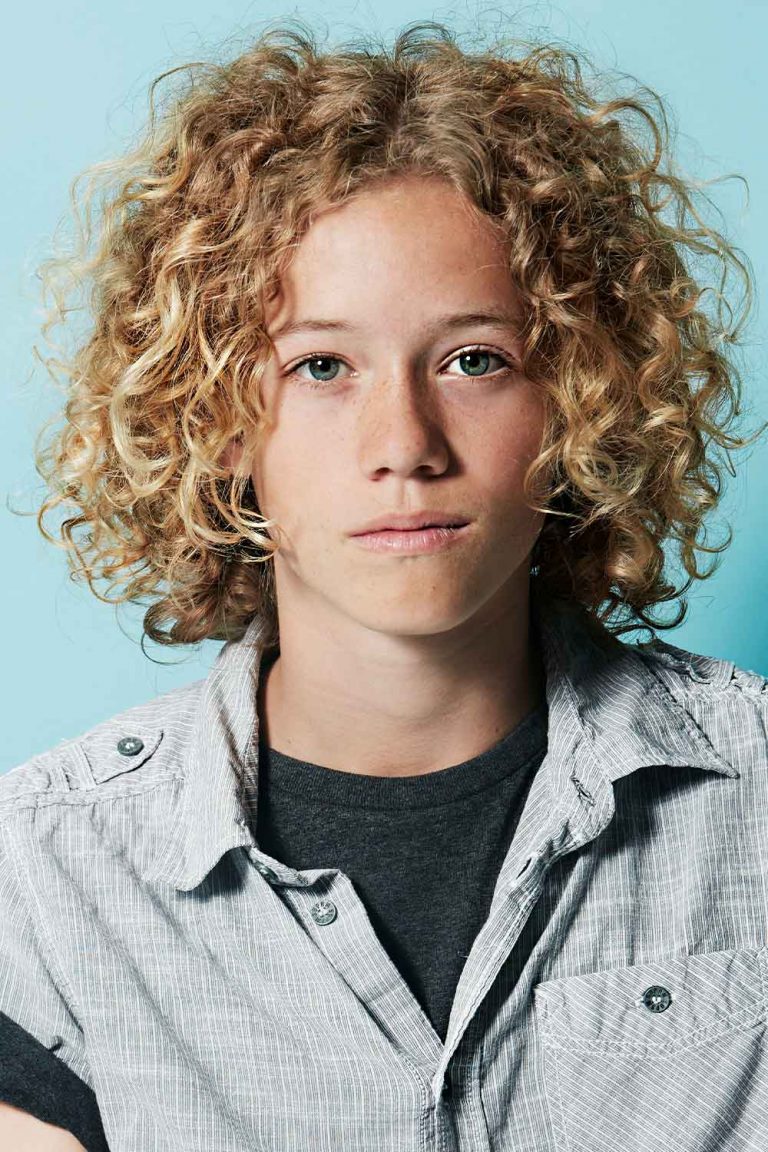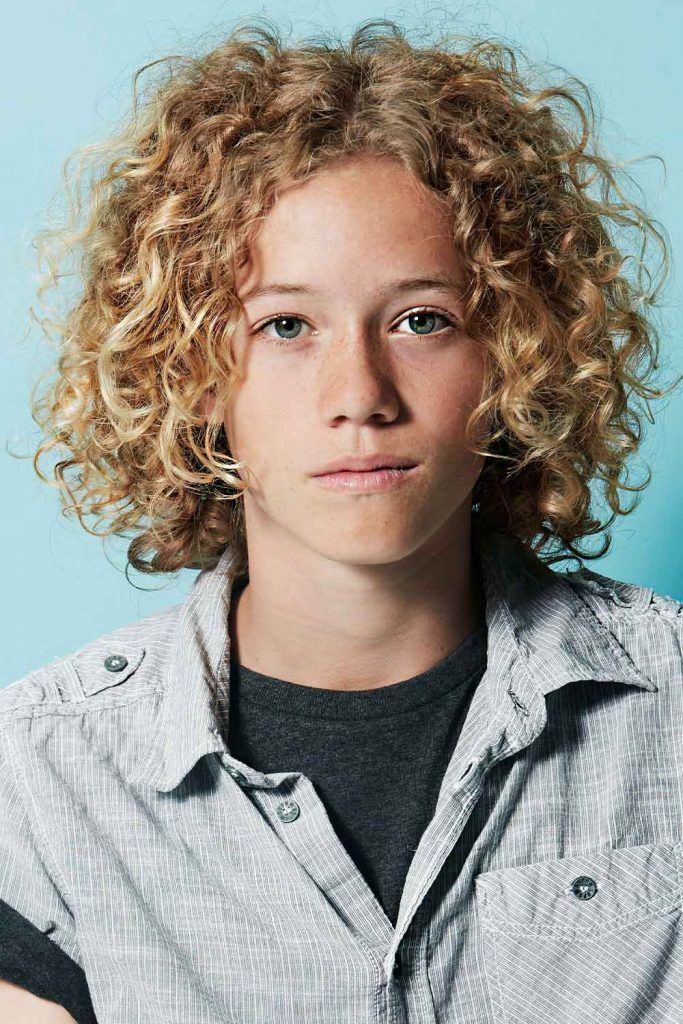 Slicked Back Perm Men
For some guys with perms, simply pushing their hair back is more than enough. For a more sophisticated and elegant appearance, you can even slick your tresses back.
Source: @ryancullenhair via Instagram
Wet Curls
While it may seem that it is impossible to make perm hair more noticeable, defining it with a side part makes a world of difference. In addition to giving your tresses separation and outline, it will also help to restore balance in your face proportions.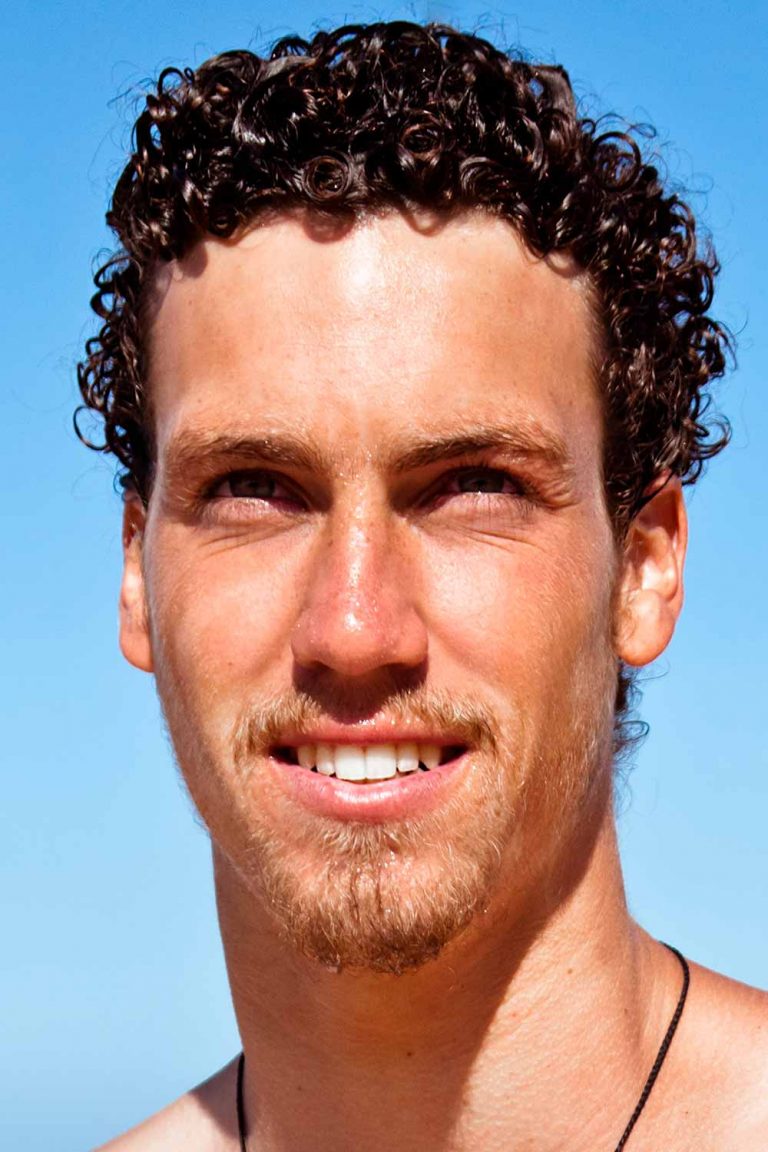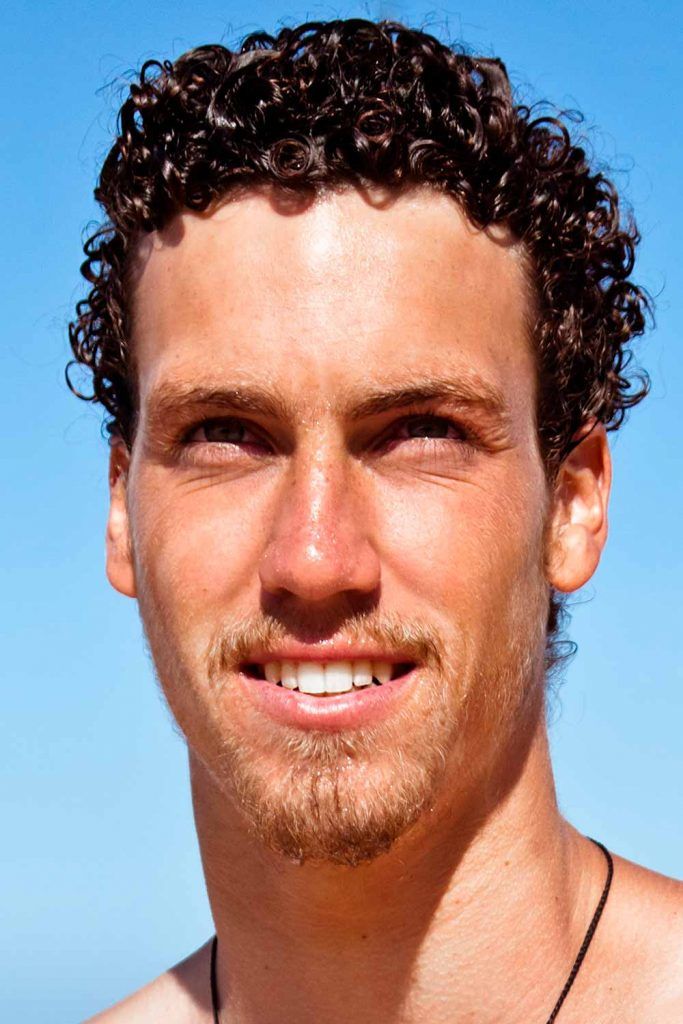 Curly Bob
You will be pleased by the fact of how differently a bob looks when permed. First of all, it creates an impression of an abundant mane. Thus, it is a perfect option for guys with thin hair. Second of all, it makes you look eye-catching and charming permed mullet.
Middle Part With Perm Men
There is hardly a better way to pull off a middle part hairstyle than getting a perm. While it keeps the hair away from the center of your face, thus revealing your masculine facial features, it shows off your hair texture.
Perm With An Undercut
Get your perm to the highest level of boldness by complementing it with an undercut. As it takes off the hair from the sides and back, a prominent top becomes the focal point of the whole look.
Source: @f4fade via Instagram
Medium Length Perm Men
Although perm haircuts come in all lengths, there is something special about a mid length perm men hair look. It allows you to show off your newly gained hair texture, while not requiring as much maintenance as the long mane.
Curly Perm Hair Crop Top Fade
An undercut perm allows you to take the intricate top to the center stage. Besides, it requires less styling than a full head perm, thus being pretty low maintenance.
Source: @ryancullenhair via Instagram
Types Of Perms For Men
Generally speaking, there are two main types of perms, hot and cold. Let's explore both of them.
Source: @ryancullenhair via Instagram
Hot And Cold Perm: Perming Techniques And Key Factors To The Outcome
The hot perm implies using an acidic solution on your locks and heating them afterward so that disulfide bonds break. You will be able to give your strands any shape you want, including curly and wavy. In the cold perm, you break disulfide bonds using an alkaline solution that contains ammonium thioglycolate. After you are done with changing your hair's protein structure, you apply a neutralizer solution to normalize the pH balance and restore the bonds in your hair.
Of course, the technique is not the only thing that makes these two perms different. The cold perm requires a bit more maintenance from you compared to the hot perm with the identical curl level, but it causes less damage to your locks. Yet, the hot perm does not lift the roots as much as the cold one due to the temperature limitations. However, you can get your roots lifted by resorting to rooted perm if you like.
There are several aspects that contribute to the result you will get with your man perm. They are as follows:
What chemical solution to apply.
If you have coarse and strong locks, then it is better to turn to an alkaline solution. Thin hair guys should opt for an acidic one.
If you are aiming at taut curls of the same size, go for small rods. The way you actually wrap the hair is also very important how. So, the endpapers you use affect directly how loose or tight the ends of the curls are going to be.
Fancy Perm Designations
Of course, there are special names for different perm men styles, such as:
A type of the hot perm highly popular nowadays. The curls are soft and the ends are loose. That is what you get after around four hours.
Another hot perm type. As you apply a higher temperature for several hours, the result lasts longer and is more pronounced.
A hot perm type that will take you around three hours. The waves are loose and cascading, which is perfect for a short hair perm.
As the name implies, this is a classic version of the cold perm that will take you around three hours. How intense your curls are going to be depends on the size of perm rods you use.
With this type of the cold perm, you will get defined and pronounced curls or taut spirals in around five hours.
This type of the hot perm will make your hair straighter over the ears and curlier on the lower half.
What's Different About Modern Perms?
The main difference between the modern perm and the traditional one is that nowadays hairstylists take different approaches to creating wavy or curly hairstyles for men. Instead of old-style perm rods made of plastic, they employ any tools they can come up with, from fabric to rollers or even own fingers. Thanks to this creative approach, you get various curl types: waves, coils, ringlets etc.
Do Modern Perms Cause Hair Damage?
You have probably heard many times that perming hair makes it damaged, weak and brittle. While it is true to some point, this is not necessarily the case. When done unprofessionally, hair perm can really bring very negative consequences to your mane's health. Also, when your hair is already chemically treated, for instance, dyed or bleached, perming it may be tricky. Thus, you should keep in mind all these factors and several others, which is why it is better to entrust this task to a pro.
How Long Does A Perm Men Last?
When pondering should I get a perm or not, it is important to take every detail into account. And what should not be overlooked is how long does a perm last. The lifespan of a perm for men largely depends on their hair length. Short permed hair usually lasts around 3-4 months, depending on how often you cut it. For those who prefer to wear longer locks, a male perm may endure around 6-8 months. Even when your tresses grow out, you still get a dashing hairstyle with straight roots and wavy or curly ends.
How Should You Style And Care For A Perm?
Obviously, permed hair requires special care. So, if you want it to look healthy and last longer, your hair care products should be specially designed for men perm. Look for those that will make your locks more hydrated, elastic and flexible.
As for styling, you should really take it easy on it. Ideally, to make the most of their perm men should simply allow their tresses to dry almost completely and employ a hair dryer with a diffuser attachment to give the curls definition and bounce. If you feel like using heating tools, such as a curling wand or hair straightener, remember to keep them at a low temperature, not higher than 300ºF.
How To Style A Perm Men
When choosing the best way to get perm hair men should take into consideration their natural hair texture. Curly guy hair allows you to get a mens perm pretty easily, as it initially has the required texture. Nevertheless, you can enhance the curls by applying chemicals. Straight and even wavy hair men will want to resort to thermal and chemical procedures and then wrap their strands around perm rods.
Perm men hair is your go-to option if you have naturally straight tresses and want to try on something different. As you can tell, there are plenty of ways to get it as well as a myriad of permed hairstyles to choose from. We hope that our guide has helped you to decide on your next hairstyle.
FAQs
How long do perms last for guys?
If you postpone your new hair look because you are unsure of how long do perms last, we have good news for you. Generally, a perm can last from four to six weeks.
How much is a perm for guys?
The price for a guy perm depends on many reasons, such as the location of the salon, the professionalism of the stylist and many others. An average guys perm cost can be anywhere between $30 and $150.
What is a perm for a guy?
Perm hair for guys does not particularly differ from perm for women. You simply get your hair texture converted from straight to wavy or curly with the help of chemicals.
Do perms ruin your hair?
Perm for guys hair can be harmful when done in the wrong way. Also, if their hair is already damaged, then by getting a perm men can make things worse. On top of that, you should not forget to take care of your hair after the procedure, using special hair products.
REFERENCES: