A pea coat is no longer an item of clothing worn by marine sailors. It has integrated into the men's fashion world and does not seem to leave anytime soon. It is a garment of choice for men with a good taste who prefer a rather classic style. Although this coat has some notable features, such as a cropped length and double-breasted cut, there are a plethora of various models to select from. To help you out with your choice, we have compiled this full guide to pea coats.
The Origins Of A Pea Coat
Similar to other male garments, a peacoat takes its origins from the military fashion. It appeared as a means of the British Royal Navy supply. At first, petty officers were known to wear it as their uniform. But after WWII, the navy pea coat was introduced to the wardrobe of non-military men.
As for the name meaning, there are several theories. Two of the most popular are as follows. One states that it comes from the shortened form of "petty officers coat." Another claims that it originates from the word that was used in the 1500s to describe naval jackets for men, which is "pijjekker" in Dutch. Despite the name divergence, the design of the peacoats has not changed drastically over time.
Q: Are pea coats warm?
A: While a classic pea coat is not particularly warm, you can opt for the one that is made of top-notch wool should you require additional weather protection. Just remember to put on a scarf and a hat, as a peacoat does not have a hood or high collar to keep your head warm.
The Pea Coat Diversity
Of course, a modern mens peacoat has many different design options. Let's look at the most popular types of coats for men below.
The Classic Pea Coat
elenovsky/Shutterstock
When opting for a classic pea coat men should expect that it is going to be double-breasted and cropped. The section at the hip area is a bit flaring, so it allows for freedom of movement. Classic pea coats are considered one of the best mens winter coats thanks to the massive collar they have that is aimed at protecting your neck from cold winds. The most common version has a notch lapel. However, sometimes you can find a men peacoat with a shawl collar too.
The Bridge Coat
Mikhail Turov/Shutterstock
As the name implies, these men jackets were initially worn by those officers whose location was on the bridges of the ships. What makes it different from a classic pea coat mens wear is its length. This coat finishes at your thighs or knees, which makes it a bit similar to an overcoat men commonly know. The cut and the type of collar are the same as in the classic version. Though, you may still find brass buttons on some of bridge pea coats.
The Single-Breasted Peacoat
Mehmet Cetin/Shutterstock
Despite the fact that traditionally a classic mens pea coat has a double-breasted cut, sometimes it can be single-breasted and features a single button row. This pea coat is not as dressy as the bridge one and it resembles a worker men's jacket a bit.
Choosing The Right Fit
Source: @raqieb.balaydin via Instagram
As it is highly important that when wearing winter coats men feel warm, a pea coat is made to both fit closely and flair at the hips. So, the coat should gradually become narrower from the collar to the waist and then get wider toward the hips again. The length of the coat should not cross your hips much so that you would be able to move easily. Thus, when trying out a mens overcoat, go for the one that is the size bigger than yours, as you are going to wear it over bulky winter clothes. Also, do not fasten the lower button. As for such accessories as a scarf, it is better to take advantage of the high collar instead.
The Best Budgetary Peacoat Brands
Source: @reza_jax via Instagram
Now that you are more than fashion savvy in terms of peacoat mens wear, it's time to choose the best article that will not hit you in the pocket.
Q: Who made the original pea coat?
A: It is actually pretty hard to tell for sure who contrived a pea coat, as there are several versions. Some say it to originate in the UK. A British navy uniform seller, Mr. Edgard Camplin, created a special coat for petty officers, which was named a Petty Coat or simply a P. Coat. Another version claims that the name pea coat derives from pijjakker, which is a Dutch word for a coat made of coarse material and a jacket. Others believe that a pea coat, which was a uniform for reefers, was adopted by the US Navy from the Royal Navy of Britain. Finally, there is thought that a pea coat comes from "the Prince of Wales Jacket", which was featured in one of the issues of the Tailor & Cutter, a popular in the 1900s English trade magazine.
Superdry
Courtesy of brand
BUY on Amazon
A navy mens peacoat from Superdry will impress you with its high quality and classic design. It has a double-breasted cut with two rows of buttons respectively. The cuffs also feature buttons and the sleeve has the logo of the brand on it.
Alpine Swiss
Courtesy of brand
BUY on Amazon
If you need a perfect wool jacket for winter, then you should definitely look up for one from Alpine Swiss. They make their men's coats of wool blend. Their style is classic, thus they fit you perfectly. For an added military touch, the shoulders are complemented with epaulets. Also, the pea coat from Alpine Swiss features two outside and two inside pockets.
Chouyatou
Courtesy of brand
BUY on Amazon
The Chouyatou overcoat mens fashion offers garments that are made of a wool blend of high quality. The closure is double-breasted and button fly. The sleeves are long and complemented with three buttons. The collar is classic with a lapel that is turned down. The pockets are both inner and outer with the latter being side slant. On top of that, the pea coat features thickened lining to keep you warm in the winter.
Tommy Hilfiger
Courtesy of brand
BUY on Amazon
A classic black peacoat from Tommy Hilfiger is always a good choice. The closure is double-breasted while the collar is notched. The side pockets it contains are slanted.
BGSD
Courtesy of brand
BUY on Amazon
If you are looking for something with a classic fit, then BGSD has a lot of options to offer you. Their pea coats are made with additional space around the waist and chest areas. They have a double-breasted cut and both inner and outer pockets. The lining is insulated with polyester.
Nautica
Courtesy of brand
BUY on Amazon
A perfect winter jacket for men has a double-breasted closure with two rows of navy buttons. The side pockets are vertical and the lapels are notched. And it is all about pea coats from Nautica.
Flatseven
Courtesy of brand
BUY on Amazon
The Flatseven men jacket is known for its high-end quality and outstanding design. It incorporates slant pockets and double-buttoned closure. The cut is classic, double-breasted.
A pea coat is a perfect item of clothing to add to your wardrobe. No matter what style you prefer, casual or formal, this coat will suit any ambiance and situation. And with our comprehensive guide, you are bound to look your best in your brand new peacoat.
You Asked, We Answered
Q: What is the difference between a pea coat and a trench coat?
A: The main difference between the two is that a pea coat offers you more warmth and versatility compared to a trench coat, while the latter is a perfect option to wear in the rain. With a pea coat, you can channel both a dressy and a casual outfit with equal success, whereas a trench looks more suitable for a pair of chino trousers or a suit.
Q: Are pea coats fashionable?
A: When putting together an outfit with a pea coat, you can rest assured that you will look stylish and tasteful. This is one of those classic outwear items that never go out of fashion. In addition to a trendy look, you will also find it exceptionally practical and comfortable, which also resonates with the values of the modern fast-paced world.
Q: Should I buy a coat one size bigger?
A: On the one hand, you can go for a pea coat that is a size bigger to wear it over a thick sweater or several layers of clothes in the winter. However, remember that it is a rather slim fit kind of outwear. So, if you are planning to throw it over a light cotton shirt, then it is better to choose the right size.
Ideas For Wearing A Pea Coat
So, now you may want to know how to wear a p coat. As this is originally a marine article of clothing, you should stick to this theme at least until you feel confident with it. A perfect company for mens wool pea coat is a pair of chinos or jeans and a Breton jumper. Also, you may find that a roll neck in white or navy colors accompanies winter coats for men flawlessly.
When pondering the question of the color solution for the pea coat, do not limit yourself to navy only. A burgundy, camel, khaki green, gray or even black pea coat also makes up a great choice to go for.
For bottoms, you are offered multiple options, from wool and corduroy pants to pinrolled jeans. As for the footwear, here you should take into account what style you are channeling and depending on that pick out from brogue shoes, rigid boots and casual sneakers.
Q: What do you wear with a pea coat?
A: Although a pea coat has a rather smart appearance, it does not mean that you should wear it with a suit or a blazer only. Instead, it looks best when paired with something more casual, such as jeans or khakis accompanied by a sweater and canvas sneakers, or business casual, like wool trousers, a dress shirt or a turtleneck and a pair of brogues or leather boots.
Source: @kamilnizinski via Instagram
Source: @ kevinelezaj via Instagram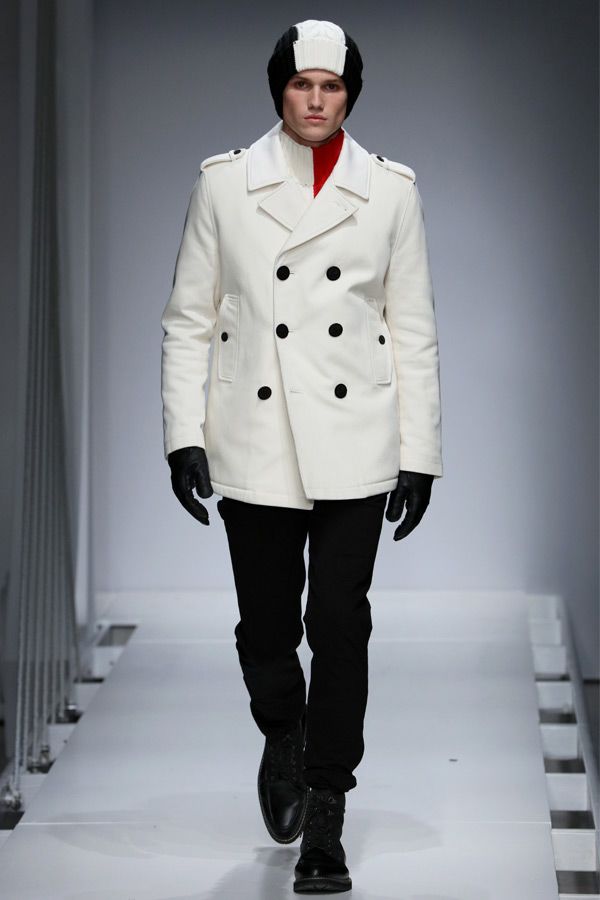 Source: FashionStock.com/Shutterstock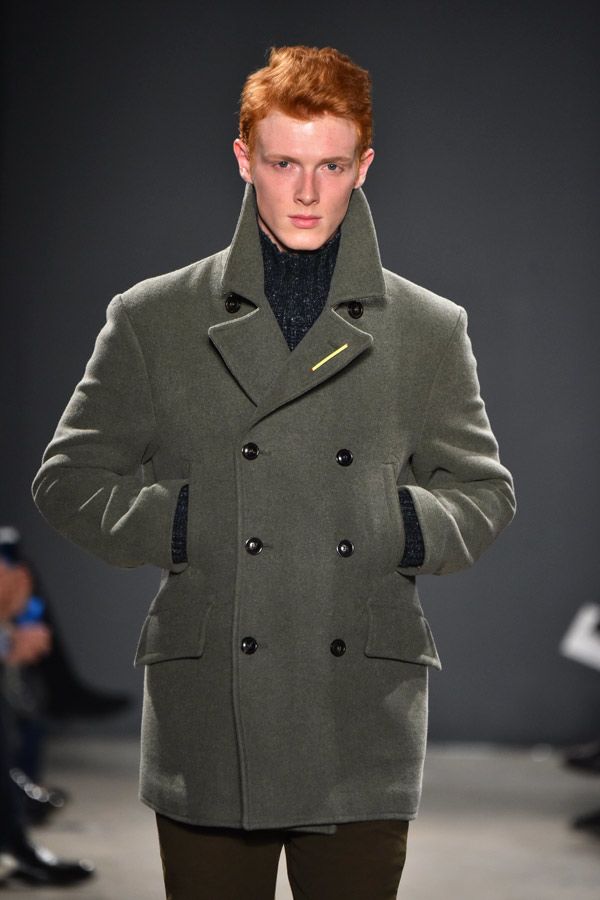 Source: FashionStock.com/Shutterstock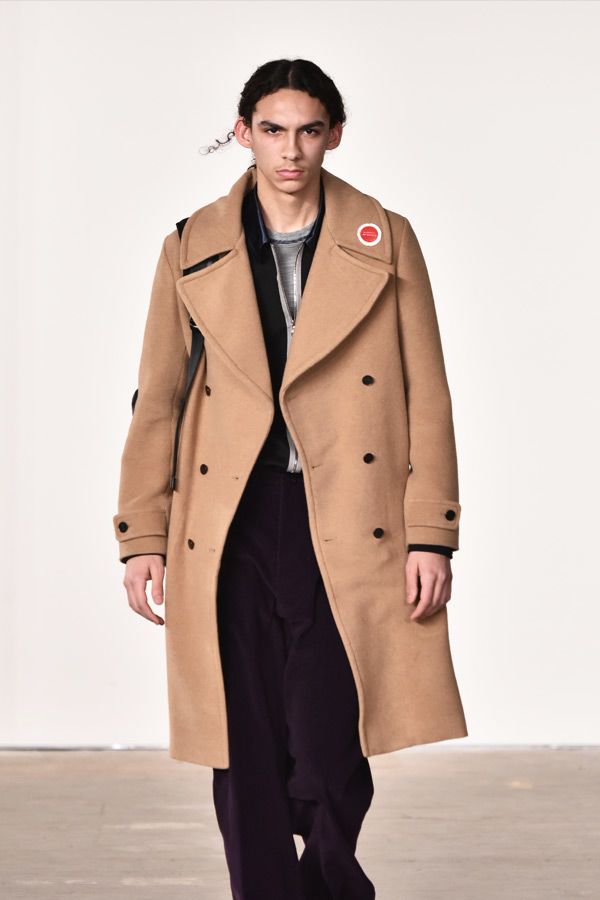 Source: FashionStock.com/Shutterstock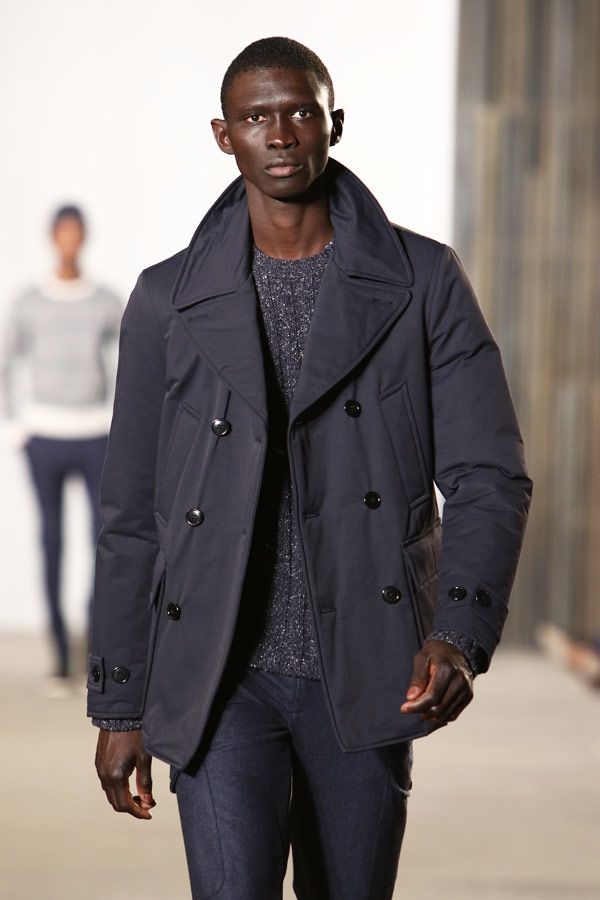 Source: FashionStock.com/Shutterstock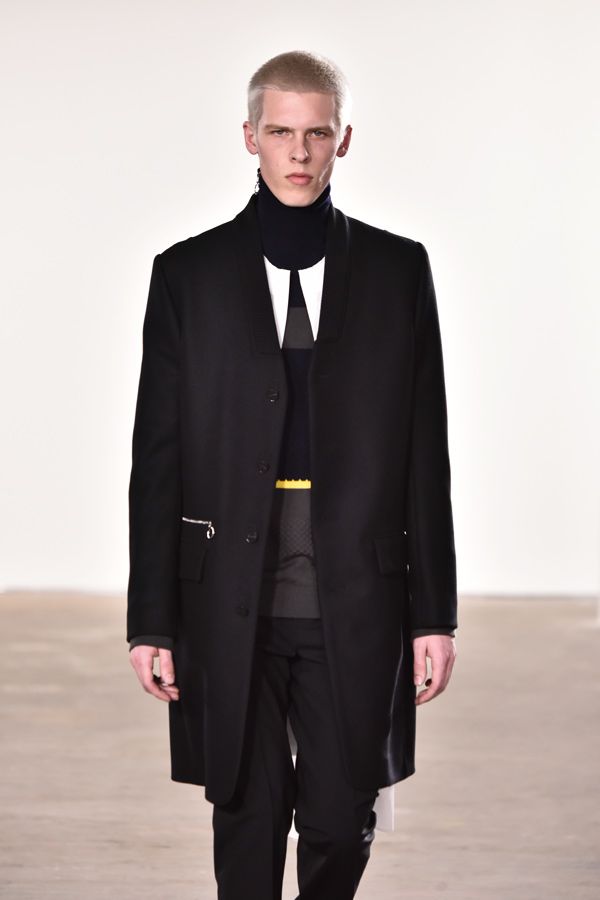 Source: FashionStock.com/Shutterstock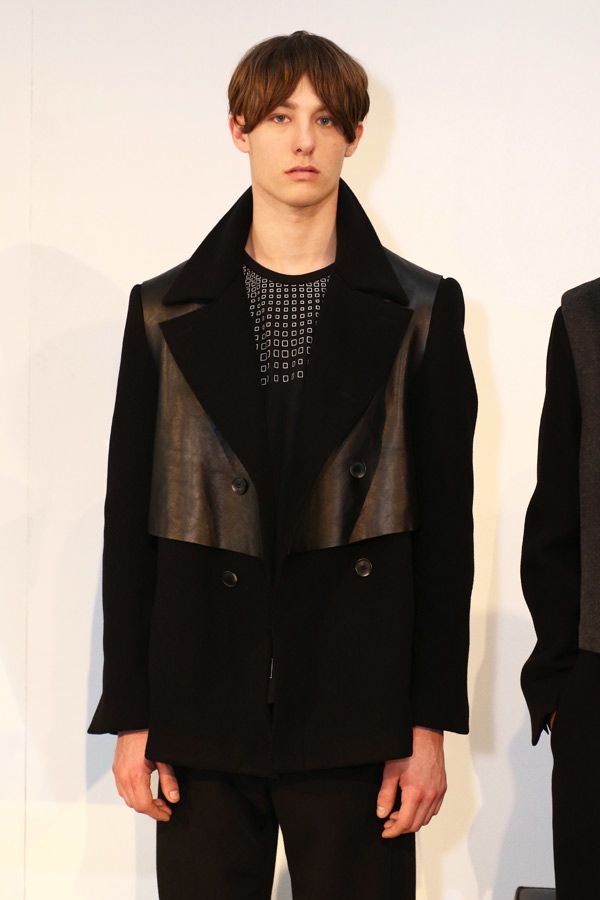 Source: FashionStock.com/Shutterstock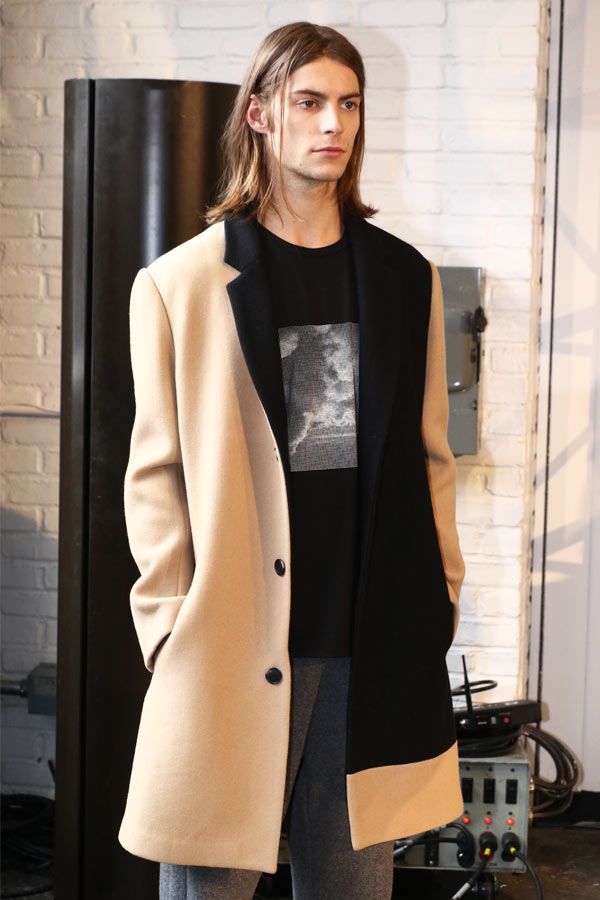 Source: FashionStock.com/Shutterstock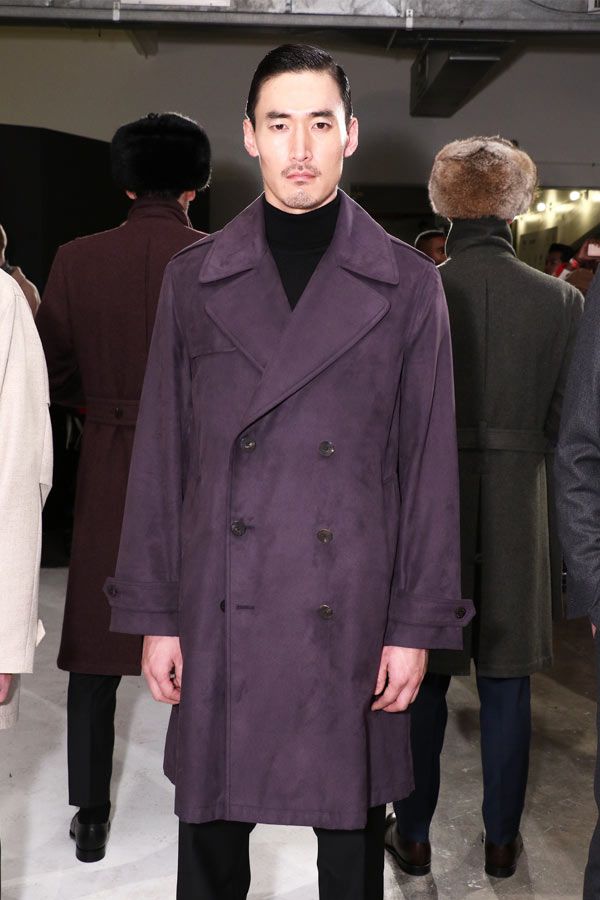 Source: FashionStock.com/Shutterstock
REFERENCES: