To tell the truth, a romphim isn't a completely new piece of clothing introduced to the fashion world. Rather, it's a blast from a not so recent past. You can spot it flaunted in the 60s movie "Goldfinger" by Sean Connery, who played the one and only James Bond 007. Though, it seems that people back then weren't ready for such daring men's attire yet because only nowadays it's gained so much popularity. If you want to find out more about this trending item of men's wardrobe, you've come to the right place. To give you the idea of what a male romper is and provide you with some visual examples, we've compiled your personal guide to a male romper.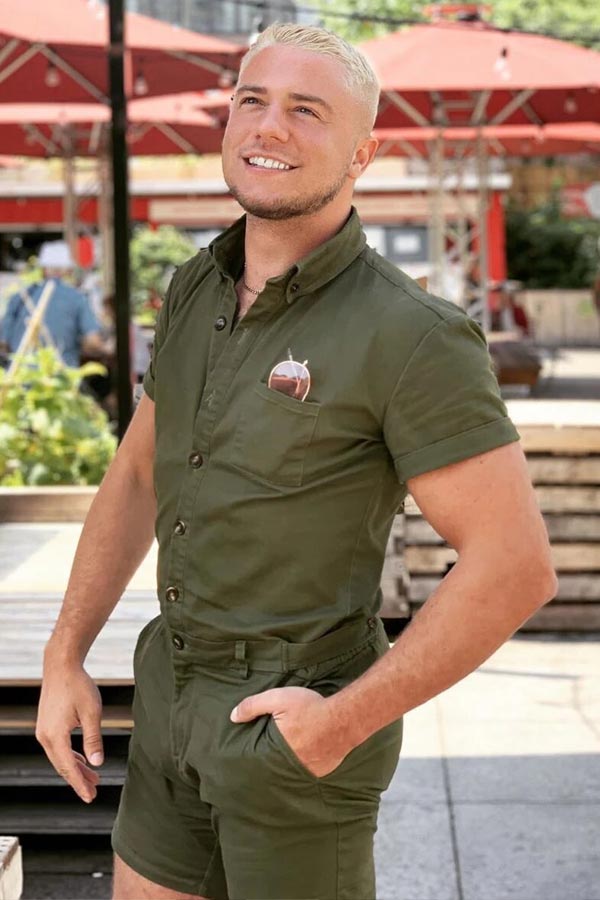 Source: romperjack.com
Where Did It All Start?
If you know what a romper is, then it won't be hard for you to guess that a romphim is a male version of a romper. Although the fashion designers of different time periods had already attempted to integrate this attire into a male wardrobe, it wasn't accepted by the public until 2017. The campaign called KickStarter presented a "male romper" in Milan, Italy. Due to the lack of masculinity in this phrase, the founders decided to call it "RompHim" for extra emphasis on the male inclination. The founders claim that they created rompers for men so that they would be able to look stylish and not to experience any discomfort in terms of versatility and fit.
So, what is a romper for men? It's an outfit that combines a shirt with shorts in one or two pieces. Generally, rompers have a pocket at the front, a zippered pocket at the back, a fly front zipper, deep pockets on the sides and waist tabs that can be adjusted.
Shopper's Guidance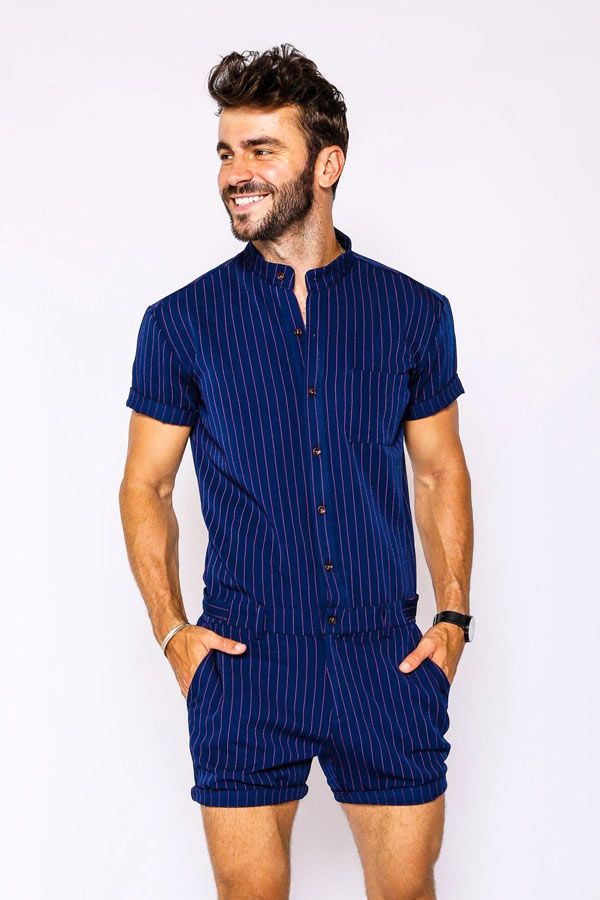 Source: romperjack.com
So, here are the main points you should consider before buying a romper:
1. It's fashionable.
For sure, you don't meet men sporting rompers every day. Although this attire is so trendy, a lot of guys don't feel fashion-forward enough to pull it off and thus shy away from it. Even if you're one of those front runners who are not afraid to stand out from the crowd, you should be ready that others may not approve your fashion tastes and even laugh or poke fun at you. Never mind them. Just like people in the 1960s, they're not ready yet.
2. It's unisex.
Although rompers are more popular among women, wearing a romphim won't make you less masculine. So, let this question not bother you. If the idea of wearing a men's romper make you cringe or nervous, you may be not ready yet too.
3. It's utilitarian.
If you're searching for an outfit that will provide your look with much contrast, then a romphim isn't your way to go, as it creates quite a uniform appearance. So, it's better for you to choose something else then.
4. It's revealing.
However, even if you're fashion-savvy enough to try on a mens romper, it doesn't mean that you'll be able to pull it off. Unless you have a well-sculpted body or are genetically blessed with a perfect bone structure, you should set aside wearing a romper until you improve your physique.
How To Choose The Proper Fit
The success of pulling off a mens romper depends not only on how to wear a romper but also how to choose it. Thus, apart from being fashionably and physically advanced, it's important that you be able to find the proper size for your very body measurements. Even though you can find almost all sizes of a romphim for sale, from S to 2XL, this info can be rather misleading. What you should consider are the width of your chest and waist and as well as your height.
Hence, if your measurements are the lowest point of the size, the outfit will sit freer and lengthier. If it's at the highest point, it will feel tighter. So in this way, you can adapt the size of your romper dress depending on the desired fit. Besides, in some rompers, a waist can be adjusted, so it's a good idea to take a closer look at those.
The Trendiest Romphim Outfits
Now that we've given you enough info on a romper for men, it's time to take a look at the funkiest options you can sport this season.
Zesties Classic Male Romper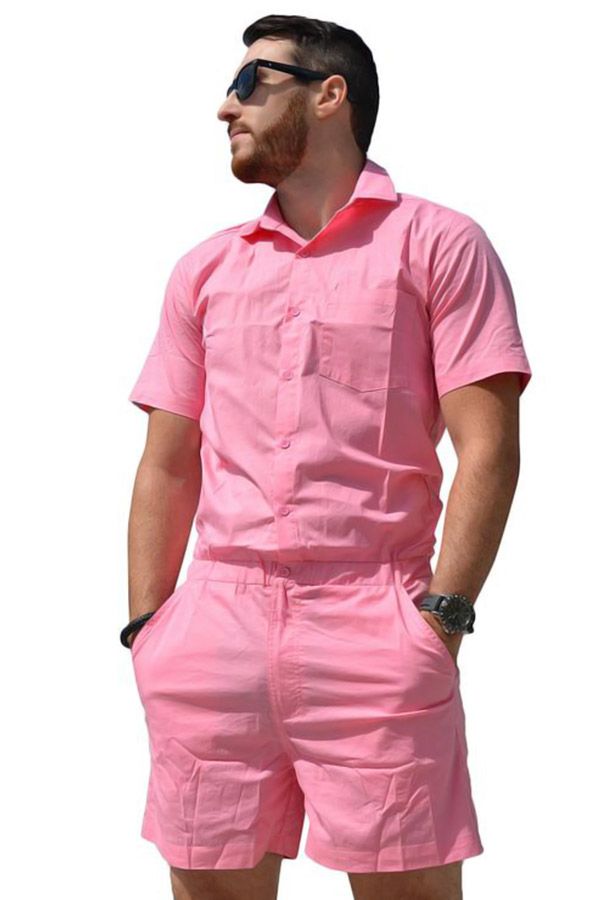 Courtesy of brand
BUY on Amazon
This romphim kills two birds with one stone. And by birds, we mean stereotypes. Not only will you don a romper, which is considered women clothing by some, but you will also have it in a pink color, which is also very often called feminine. However, if you're a real hunk, a pink romphim won't impede your virility at all. And deep front pockets allow you both to store your goodies and to keep your hands there for a careless and breezy appearance.
Zesties Premium Male Romper
Courtesy of brand
BUY on Amazon
Do you want to emphasize your exquisite sense of humor in addition to your progressive style? Instead of solid color fabric, opt for patterned one. Zesties romphims offer a wide range of different prints to express your personality, from eggplants to constellations while front and side pockets as well as an adjustable waist make it extremely practical.
Zesties Designer Male Romper
Courtesy of brand
BUY on Amazon
This romphim will surely keep all eyes on you not only because it's so debatable item of clothing. The pattern it features creates the illusion of a dimensional print, thus refusing to let you look away. The rest of the key features are present – side pockets to keep your personal stuff, a front pocket and zipper for added convenience.
RomperJack Mens Romper
Courtesy of brand
BUY on Amazon
A romphim from RomperJack will make you stand out not only from the crowd of non-romper-wearers but also from the crowd of the guys in rompers. It features a row of buttons at the front, which creates a striking and eye-catching appearance, and thigh-length shorts with two deep side-pockets for your personal belongings and carefree postures.
Peach Male Romper By Charlie Romper
Courtesy of brand
BUY on Amazon
In case you find pink a bit too feminine color that you won't be able to pull off, go for something that leans toward neutral, such as peach, for example. A peach romper is a great choice for hot summer days and nights, as it brings out warm undertones from your tanned skin. Moreover, it perfectly combines stylishness with convenience thanks to side pockets and a front zipper.
Male Romper – America (Zestie)
Courtesy of brand
BUY on Amazon
With this male romper, you can rest assured that you will not go unnoticed. Despite having a patriotic pattern, it will look suitable not only for the Fourth of July party but for any other occasion you are headed to. As it is made of high-quality durable and breathable cotton with the addition of spandex, it provides you with an extremely comfortable feeling during wear.
Male Romper – Pistolero (Zestie)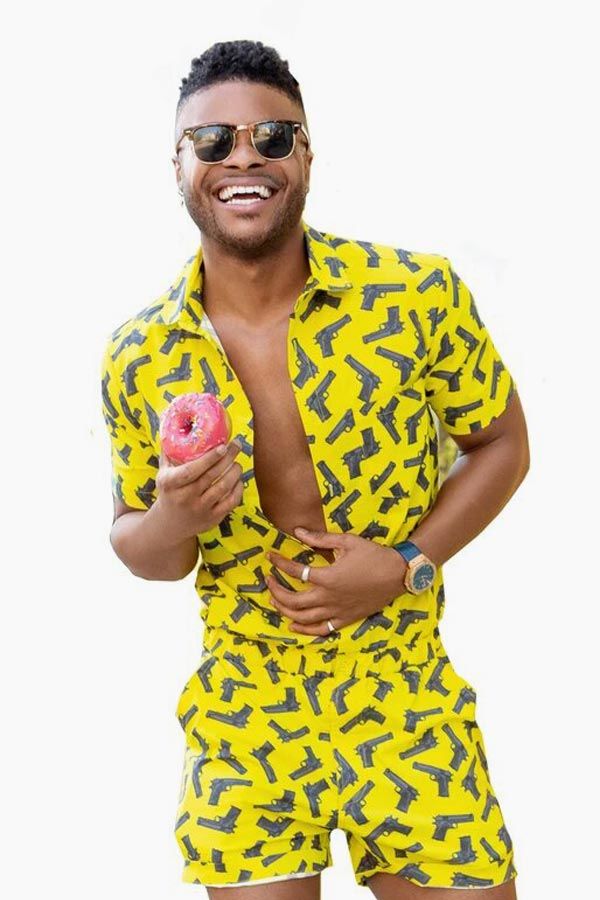 Courtesy of brand
BUY on Amazon
Searching for a romper that would complement your tan? Guess what? You have found it! This yellow romphim with a gun pattern will enhance the deep color of your skin and look striking against it. Besides, it has an exceptionally comfortable fit for added confidence and flattering leg length to show off your muscular legs.
Mens Rompers Jazzy 90s Paper Cup Printing Jumpsuit (Raisevern)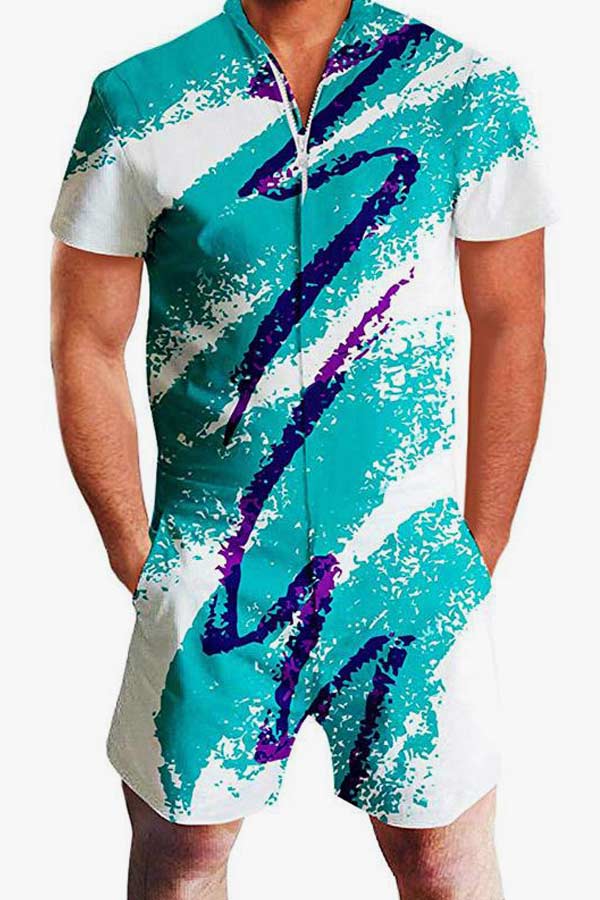 Courtesy of brand
BUY on Amazon
If you prefer a graphic design, then this romphim with 3D print will be to your liking. It is suitable for quite a few occasions, including daily and casual time, traveling to beaches and tropical islands, theme parties or night outings. Apart from an eye-catching appearance, it also has an elastic waist, side pockets and a zipper closure.
Men's Rompers Zipper Galaxy Universe Space Printed Jumpsuit (Raisevern)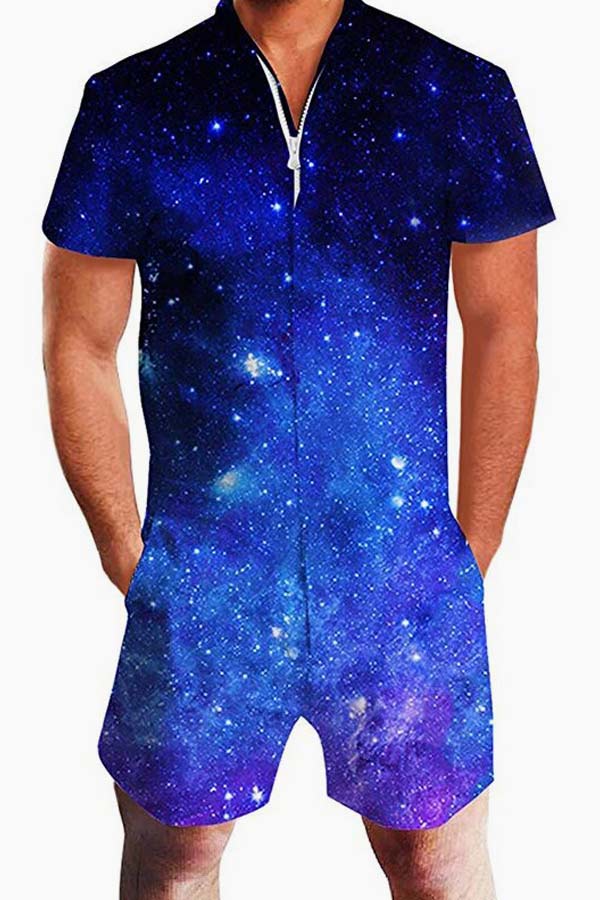 Courtesy of brand
BUY on Amazon
Galaxy print seems to never lose its relevance. It undeniably looks out-of-this-world on most clothes and a male romper is no exception. Not only is it eye-catching and hypnotizing thanks to its 3D print but it also offers you ultimate comfort thanks to its perfect tailoring.
We sincerely hope that all your doubts you might have head before reading our guide have disappeared. As you can tell, romphims have nothing to do with femininity when sported by really hanksome men. As the saying goes, "clothes don't make the man."
FAQs
Do straight guys wear rompers?
As today's rompers do not have gender segregation, they do not have it in terms of sexual preference too. Thus, anyone is free to wear this trendy item of clothing without implication.
When did rompers become popular?
As a kids' item of playwear, rompers became popular at the beginning of the 20th century. Half a century later, women incorporated them into their leisure, beach and evening wardrobe. In 2006, rompers reemerged as a women's fashion trend and since then have never disappeared. However, not until 2017, was a romphim, also known as the Male Romper, introduced to the world.
Are rompers onesies?
While rompers and onesies do have very much in common, they are not the same thing. An adult onesie (don't confuse it with an infant one) is a one-piece loose-fitting outfit that features long sleeves and legs, while an adult romper is basically a short-sleeved and short-legged onesie.
What kind of shoes do you wear with a romper?
The kind of shoes you pair with a romphim fully depends on the style you are channeling. Although loafers and sneakers work best for this, you can even complement your outfit with boots of any length, from ankle to tall ones.
What do you call a male romper?
There are quite a lot of names for a romper worn by a man. The most popular ones are RompHim, public onesie and bro romper aka bromper.
REFERENCES:
A romper suit, or just romper, is a one-piece or two-piece combination of shorts and a shirt. Source