Teen boy haircuts offer as much versatility as the haircuts for adult guys. They come in different styles, lengths, and forms to flatter any hair texture, face shape, and lifestyle. Teenage is arguably the best time to experiment with your hairstyle, as you can go as wild as you want without being frown upon (well, as long as your school statute allows, of course). If you need some assistance with keeping up with the current hairstyle trends, we stacked a broad collection of the best haircuts for teens.
Nick Jonas' Side Part Teen Boy Haircuts
If you're looking for the cut to rock during your graduation speech, this is it. Side parted boys' haircuts still have the air of formality and smartness, so why not to make use out of it?
DFree/Shutterstock
Zayn Malik's Short Spiky Haircut
As we mentioned earlier, spikes definitely run the world of cool haircuts for boys. Try out a different cut of the same style. Drop fade the sides to the skin and cut the top in different levels of layers.
Featureflash Photo Agency/Shutterstock
Liam Payne's Comb Over Fade
Here goes another black tie haircut for boys that doesn't sacrifice style. A sleek comb over with a mid bald fade gives your look a refined and dapper flair. For added emphasis, define your hairline with a line-up.
Featureflash Photo Agency/Shutterstock
Noah Schnapp's Crew Cut
The coolest teenage boy haircuts combine ease of maintenance with an edgy appearance, which makes a crew cut one of your best options. Sophisticated and classy, it will never go out of style.
Featureflash Photo Agency/Shutterstock
Timothee Chalamet's E Boy Haircut
It was inevitable that the great rise in the popularity of the digital world would affect fashion. Thus, a new iconic hairstyle was born. An E Boy haircut features long curtain bangs that frame your face and a center parting. So, if you want to hop on trend, this is your surefire way to go.
Tinseltown/Shutterstock
Jaeden Martell's Loose And Combed Back
Haircuts for teen boys can retain the refined aesthetic of their adult counterparts, yet they make it with a much effortless and relaxed feel. Thus, you can style your hair combed back while leaving the strands on top loose.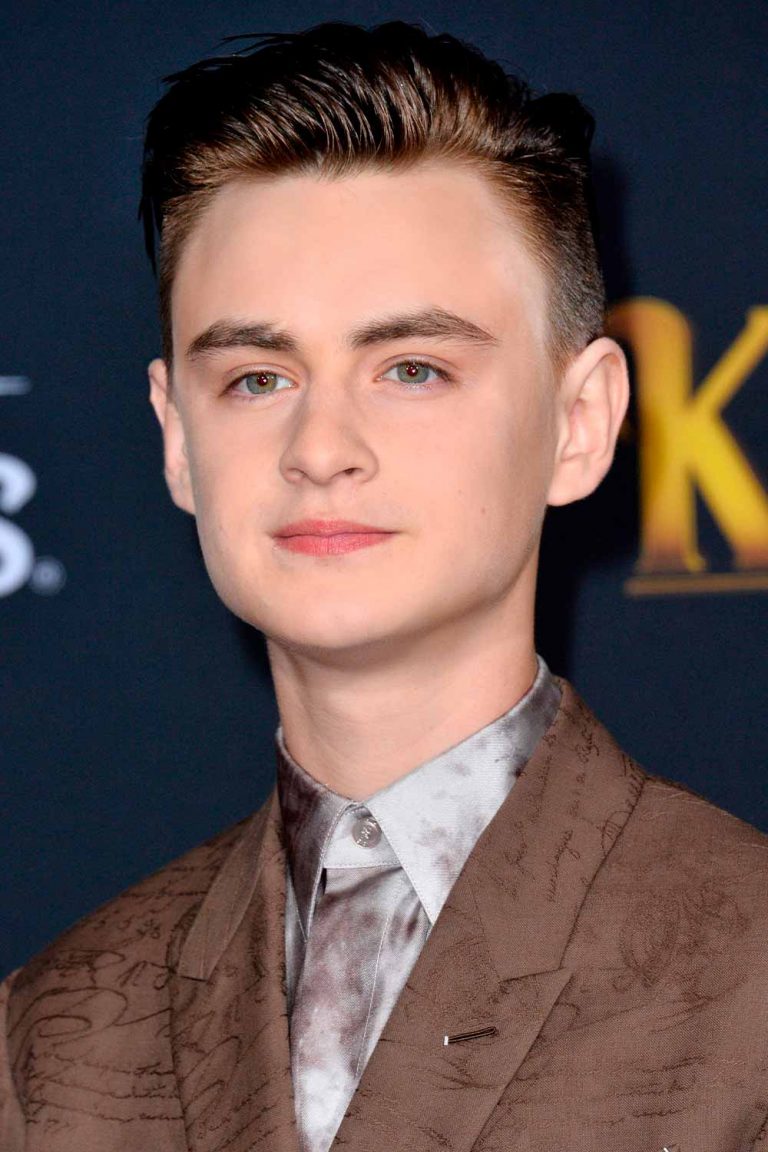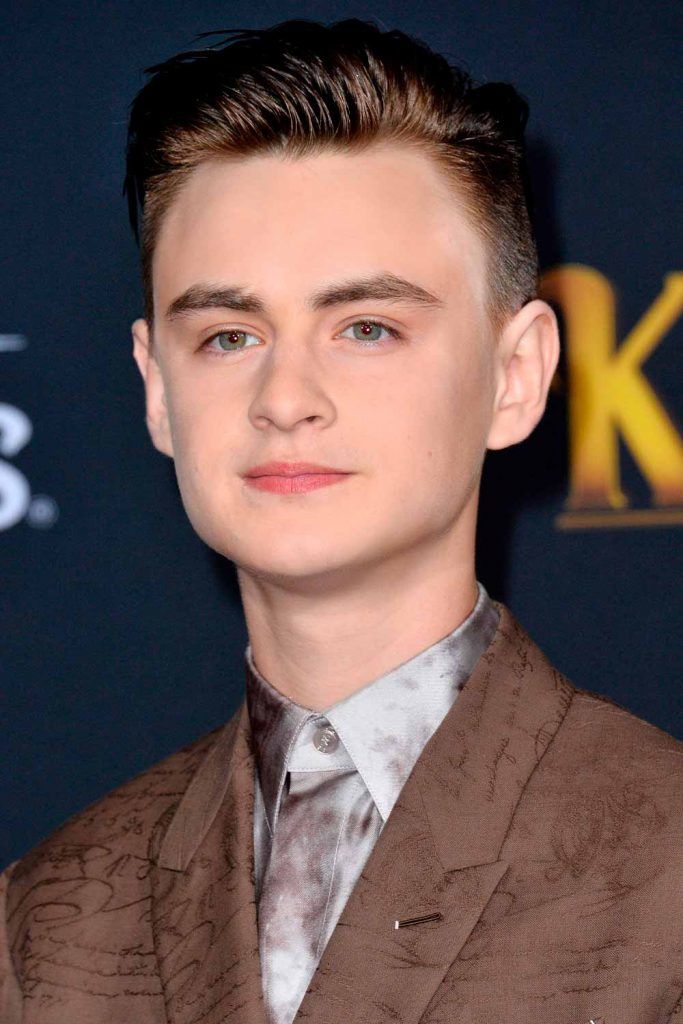 Featureflash Photo Agency/Shutterstock
Austin Butler's High Volume Haircut
If you naturally have thin locks, then a voluminous teen hairdo is your way to go. To get the look, simply blow dry your hair with a blob of hair mousse and a hair dryer and you are good to go.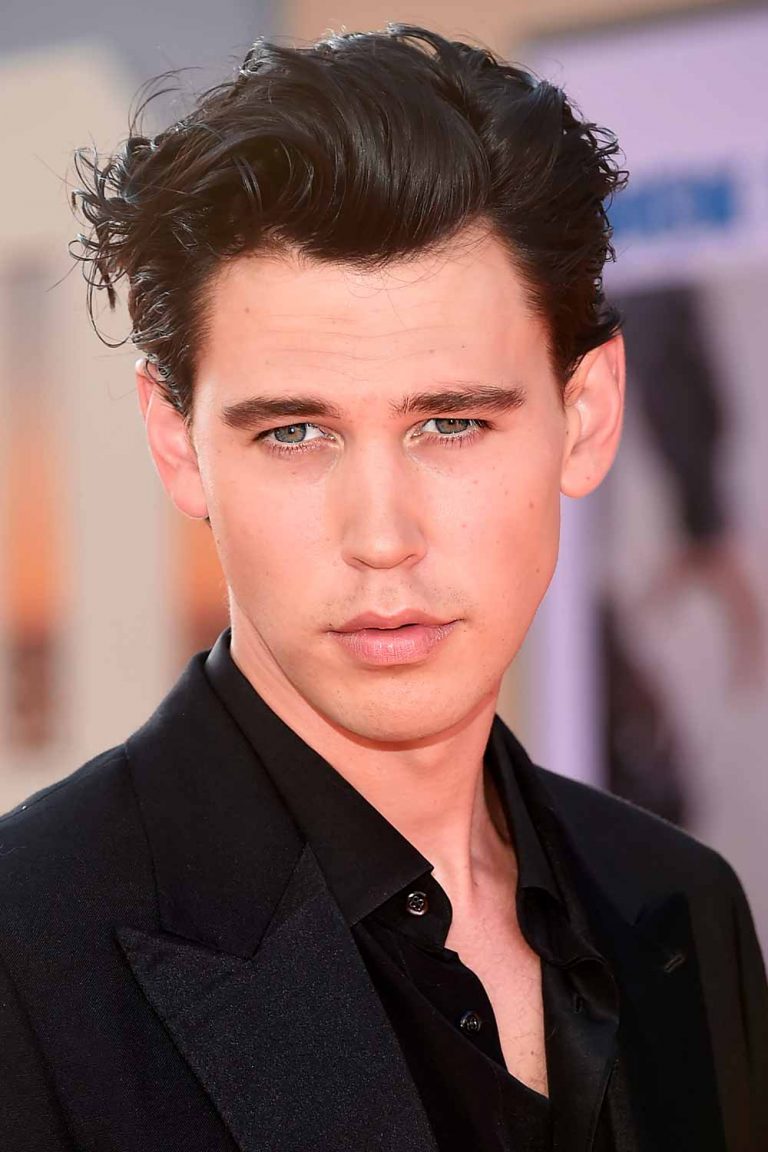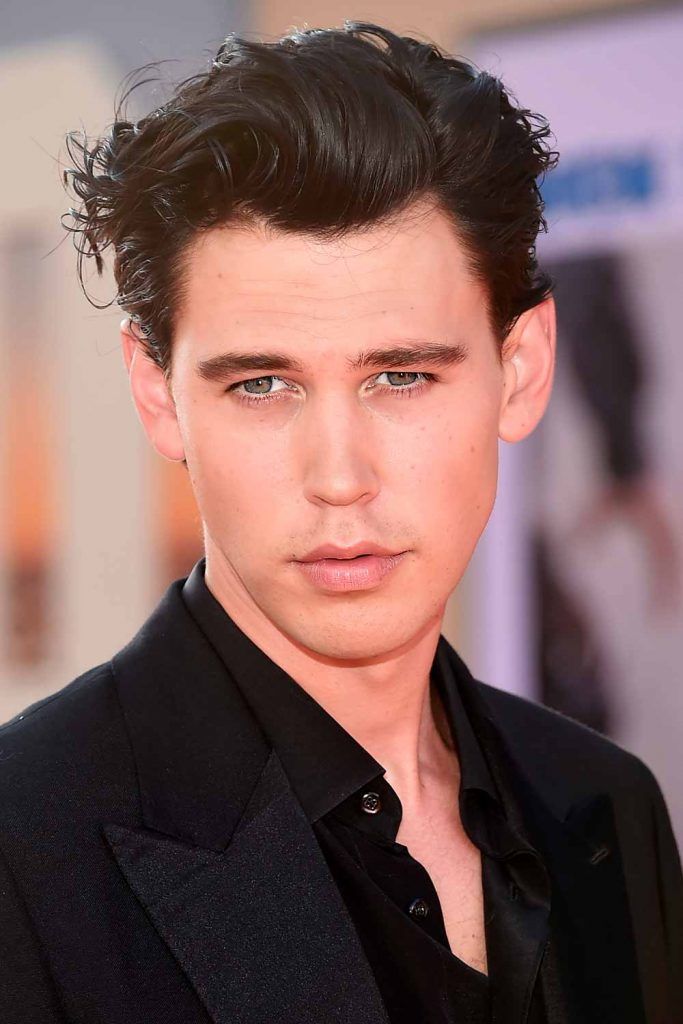 DFree/Shutterstock
Shawn Mendes' Wavy Shag
Guys with wavy locks should embrace the natural texture of their hair and go for this dreamy teen boys hair style. All you need to do is to allow your shag to grow a little.
Kathy Hutchins/Shutterstock
Tom Holland's Buzz Cut
A buzz cut is one of those teen boys haircuts that while being low maintenance, have plenty of impact. Moreover, it makes you look more masculine and mature.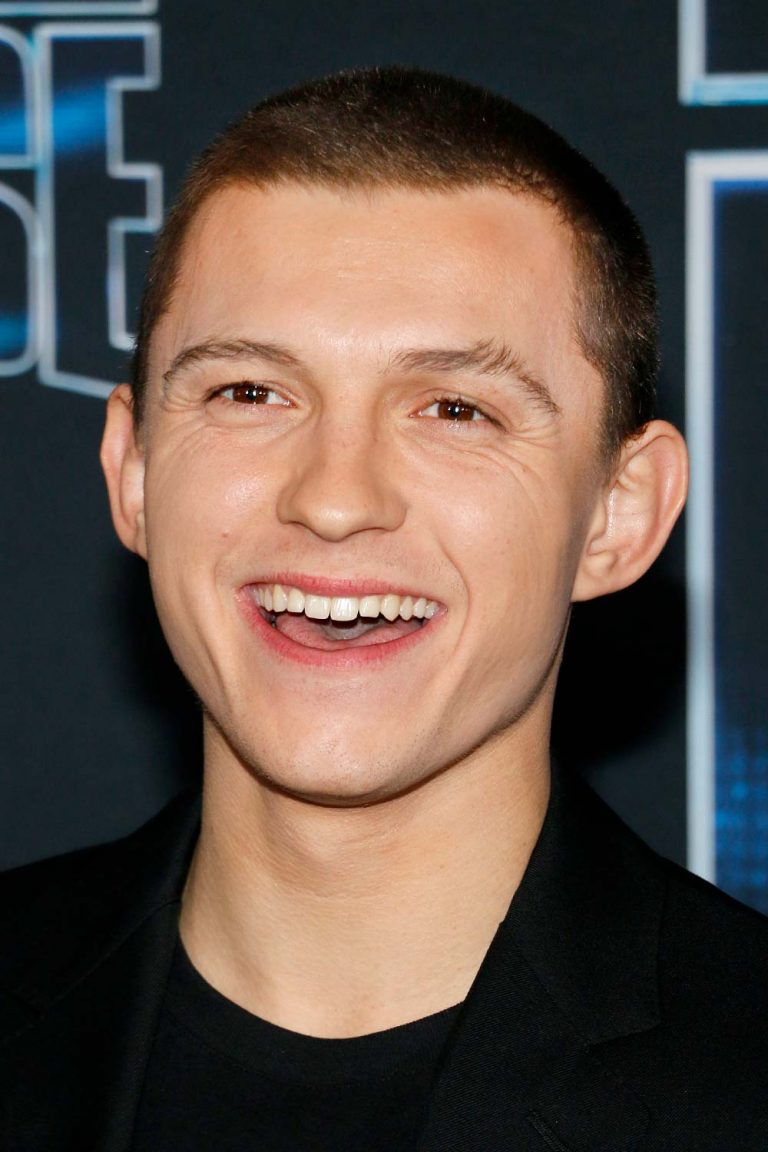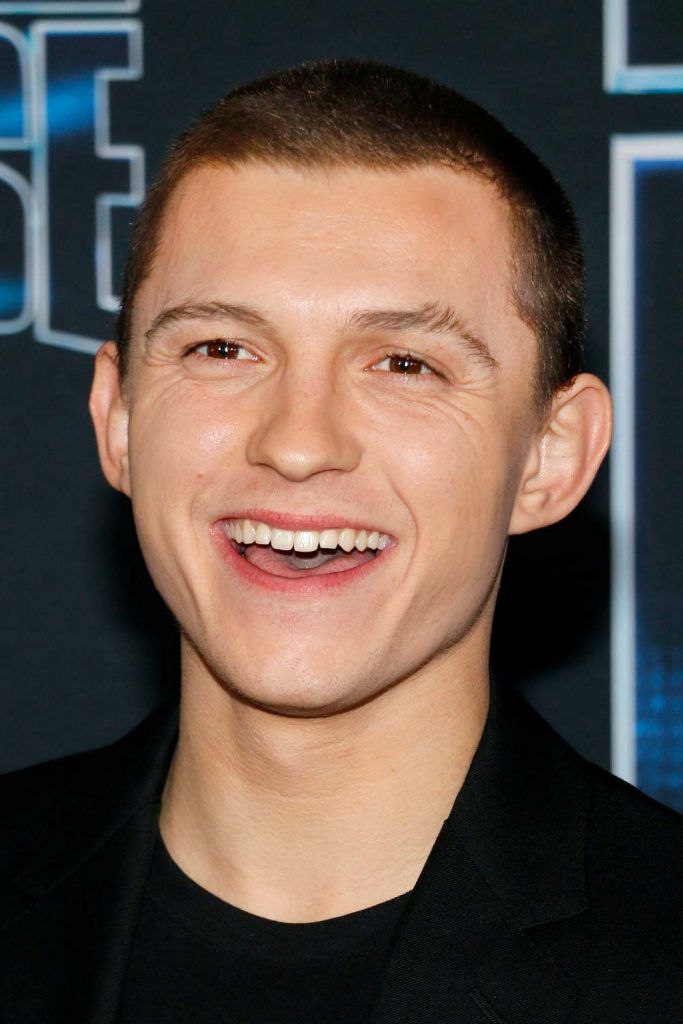 Tinseltown/Shutterstock
Finn Wolfhard's Perfect Tousle
Do you think that shaving off your curls completely is the only way to tame them? Think again. On the contrary, growing your locks long and accentuating their hair texture is a much better idea.
DFree/Shutterstock
Skater Haircut
A skater boy haircut has an effortless and breezy feel, which makes it so attractive. Yet, to sport it, you should not necessarily be riding a bike or board. You can wear a skater boy hair look just for the sake of it. To pull off skater hair, you need to get a mid length cut accompanied by bangs. Style it a little messy, sweeping the bangs to the sides so that they do not obstruct the view.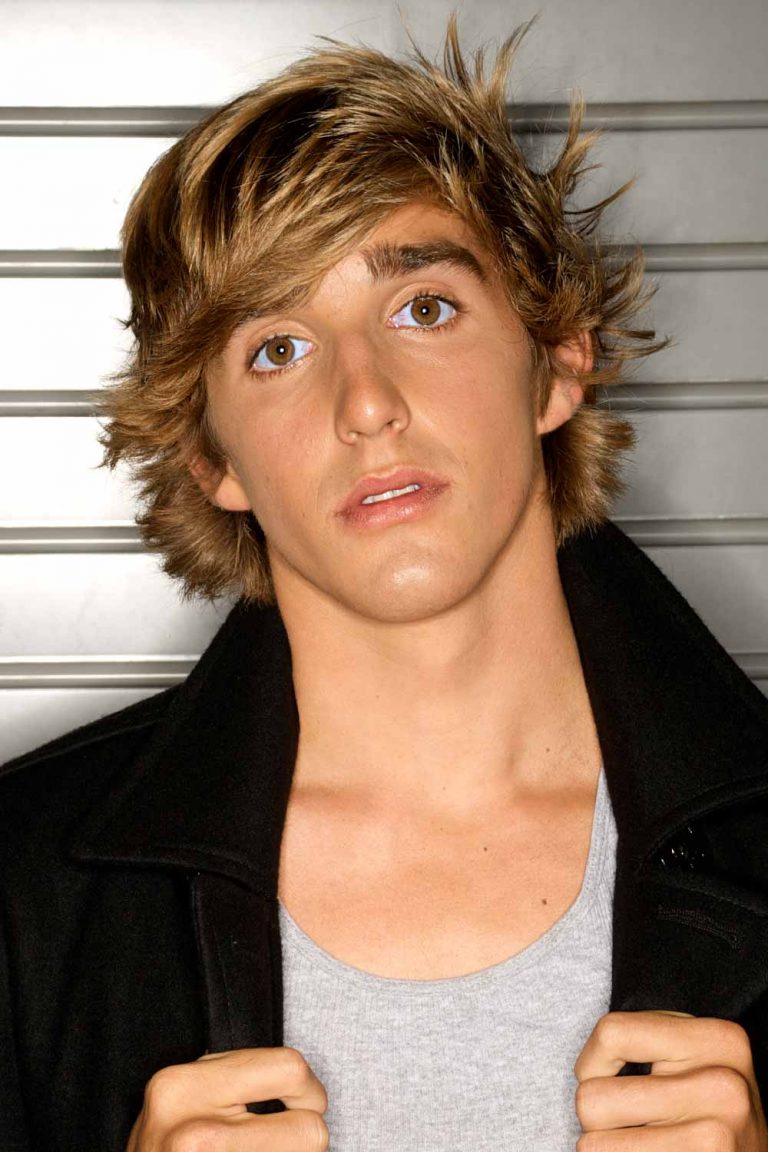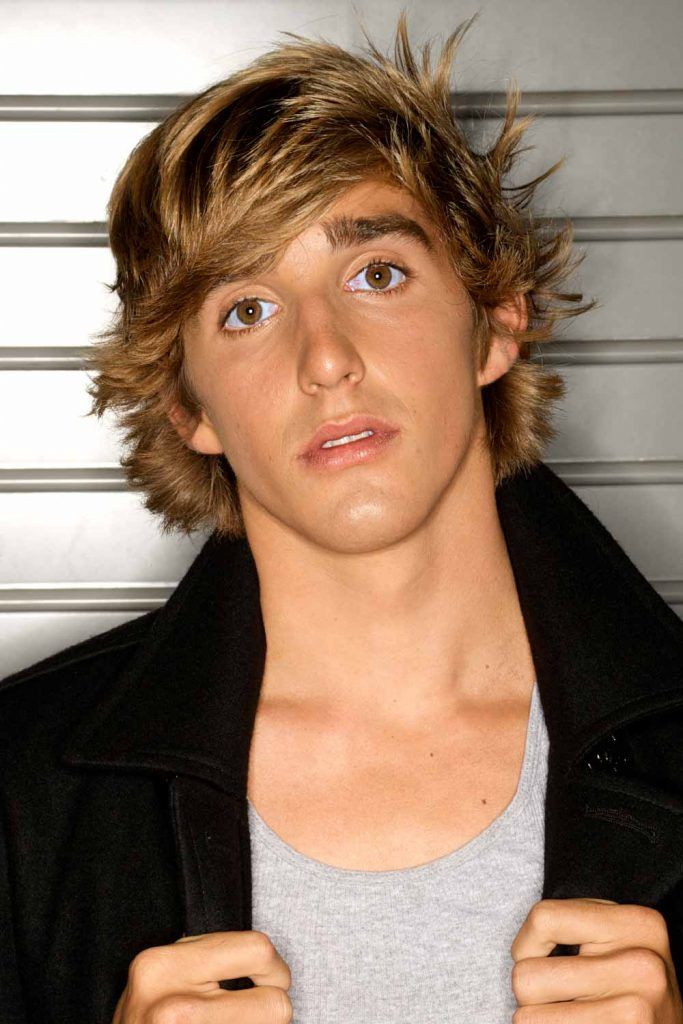 Quiff Teen Boy Haircuts
The quiff hairstyle is great at accentuating both short and medium boy hairstyles. By styling it in a different manner, you can get a whole new look. Push it up if you want to appear not only trendy but taller as well.
Source: @ryancullenhair via Instagram
Messy Hair
This is the hair style boys opt for most of the time. No matter of the cut, you can make your hair look stylish and cool by simply tousling it with your hand. A young mens haircuts is a real savior for those lads who prefer giving themselves extra five minutes of sleep in the morning rather than grooming the locks.
Source: @alexmapeli via Instagram
Curly Crop Tenn Boy Haircuts
Cropped young haircuts for men are highly versatile, as they work for any hair type. Although wavy or curly crop is a bit heavier, it's as fancy as a straight one. Moreover, the texture makes it more defined, so keep the sides simple and clean, like a drop fade.
Source: @alexthegreatvivar via Instagram
Spiky Texture + High Fade
Spikes are by all means one of the best hair cuts for boys. They give you that devil-may-care look, which illustrates teenagers perfectly, especially when paired with a short fade haircut on the sides.
Source: @ryancullenhair via Instagram
Harry Styles' Side Fringe Mid Length
A fringe haircut is a great example of how to cut boys hair for a classy yet low-key look. Even though this boys hair cut may sometimes look too preppy, with the right styling, it can come out very flattering. The easiest way to transform your fringe is to push it to the side and let hang loose.
Featureflash Photo Agency/Shutterstock
Haircut With Bangs
Teen boy haircut with bangs have reemerged as a fashion trend and this time, aren't going to disappear that easily. They offer various styling options, from messy to sleek. You can go somewhere in the middle by brushing your bangs forward so that they hang over the forehead and raking through them with the fingers covered in a styling product, like a wax or pomade.
Source: @ryancullenhair via Instagram
Tousled Texture
Tousled boys hair styles are always a great option for those guys who gravitate to styling their hair on the go. Get your top cut in uneven layers and push its front section up at the forehead. On the sides, you can employ a mid skin fade disconnected from the top with the side line design.
Source: @ryancullenhair via Instagram
Dylan Sprouse's Long Straight Fringe
Not everybody can avoid looking overly preppy when pulling off classic teen haircuts with a straight fringe. However, with a long messy fringe you won't have this issue, as it looks nifty and saucy no matter what. Just ensure that the length exceeds or at least, touches your brows for a high-profile look.
DFree/Shutterstock
Undercut For Teenage Guys
Undercut boys hairstyles, thanks to a striking contrast they create, keep everyone's eyes glued to your locks. The faded undercut disconnects the top from the sides making the look even bolder.
Source: @ryancullenhair via Instagram
Pomp Hawk Teen Boy Haircuts
Here's an awesome way to combine two extremely opposite teen boy haircut. An elegant pompadour with a bold mohawk makes up a perfect saucy and mod combination.
Source: @ryancullenhair via Instagram
Mid Length Haircut
Even though dreamy and romantic teen boy haircuts aren't as popular as ruffian ones, they still have their followers. Boys long haircuts look most attractive wavy and windswept, so don't skimp on styling.
Source: @meha_barber via Instagram
French Crop Teen Boy Haircuts
A French crop is one of those cool haircuts that offer you low maintenance along with a stylish appearance. To achieve this gold standard of cropped haircuts for boys, you should have the fringe blunt and the top feathered. On the sides, you're welcome to go with a high fade for added contrast.
Source: @ryancullenhair via Instagram
Milo Manheim's Messy Fringe
If you have always shied away from a fringe because of its overly preppy appearance, we have good news for you. A fringe can look trendy and cool. You just need to style it in the right way. To give it a relaxed and breezy flair, dishevel the fringe with your hand and spritz with hair spray for enhanced texture.
Source: @fernthebarber via Instagram
Wake Up Blond Mohawk
Do you want the haircut to emphasize your ruffian and savage side of personality? In this case, try out this modern take on a classic mohawk style. Unlike an original version, the sides are not shaved but faded to give the cut a softer and more contemporary look. Although you can style it however you want, a bedhead style gives this cut a carefree and snappy air, especially when you have your locks bleached.
Source: @ryancullenhair via Instagram
French Crop With High Fade
As the focal point of a French crop is the hair on top, you can accentuate it even more by complementing with a fade on the sides and back. In case you do not want to make it overly sharp and bold, then opt for a low shadow fade. If, on the contrary, you want to get an edgy and contrasty look, go for a high bald fade instead.
Source: @ryancullenhair via Instagram
Pompadour
A pompadour is a classic hairstyle that will never go out of fashion. When choosing it, you can rest assured that your look will radiate elegant and smart vibes no matter what outfit you are going to wear, without going to extremes, of course. To give this timeless hairstyle a modern twist, pair it with a fade cut on the back and sides.
Source: @meha_barber via Instagram
Low Bald Fade
Fades are very popular teen haircuts and not for nothing. They give you a clean look and take the hair on top to the center stage.
Source: @ryancullenhair via Instagram</span
Textured Curly Undercut
Guys who have wavy or curly locks should pay special attention to this hair look. Being pretty easy to style and maintain, this curly undercut effortlessly shifts the focus to your textured hair up top. Additionally, you can enhance your curl pattern by applying a texturizing hairspray or mousse to the top.
Source: @barbersofbt45 via Instagram
Disconnected Undercut
Striving for a bold and edgy teenage boy haircut? Then it is hard to think of a better option than a disconnected undercut.
Source: @egobarbers via Instagram
Cornrows
Although cornrows are not among the easiest hairstyles for teen boys, they are definitely worth the effort. Besides, you can play around with them as much as you like. Thin cornrows and thick, plain and intricate, twists or braids, there are loads of teens hair styles to choose from.
The High And Tight
Although a high and tight haircut originates from the US army, it is now hugely popular far beyond the pale of it. This clean-cut wash-and-go style requires zero to low maintenance and styling, which makes it a perfect option for school or college.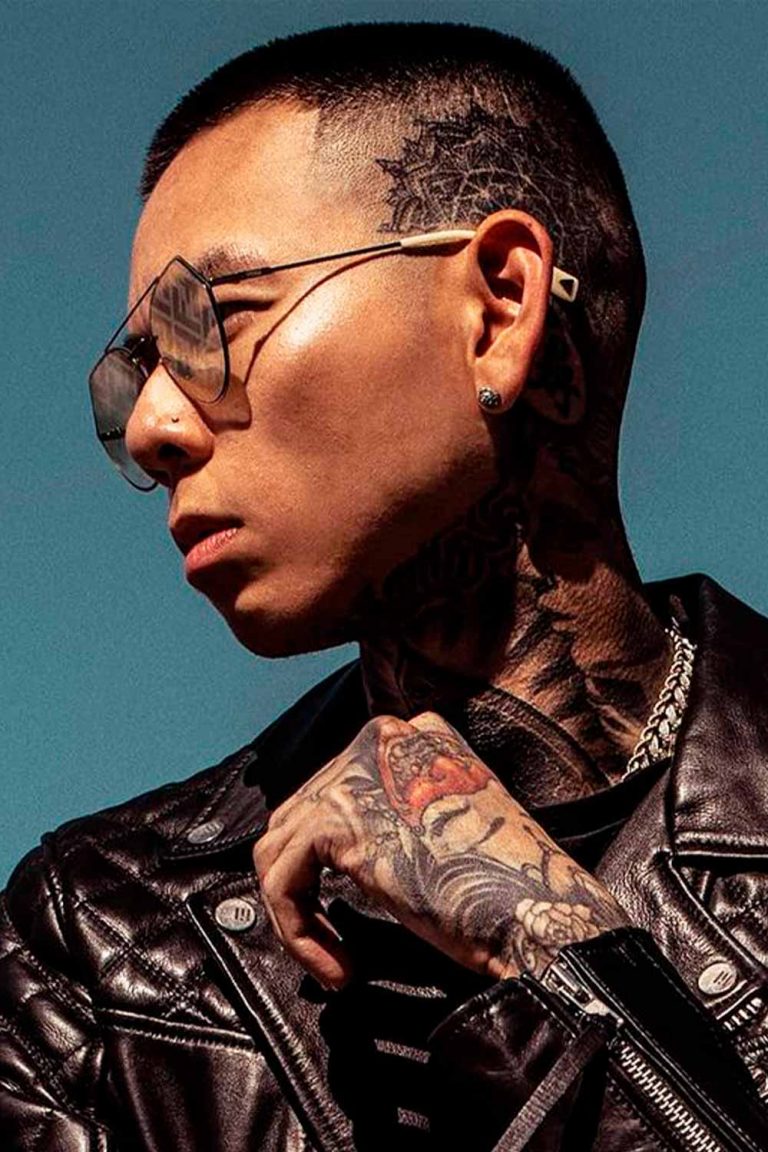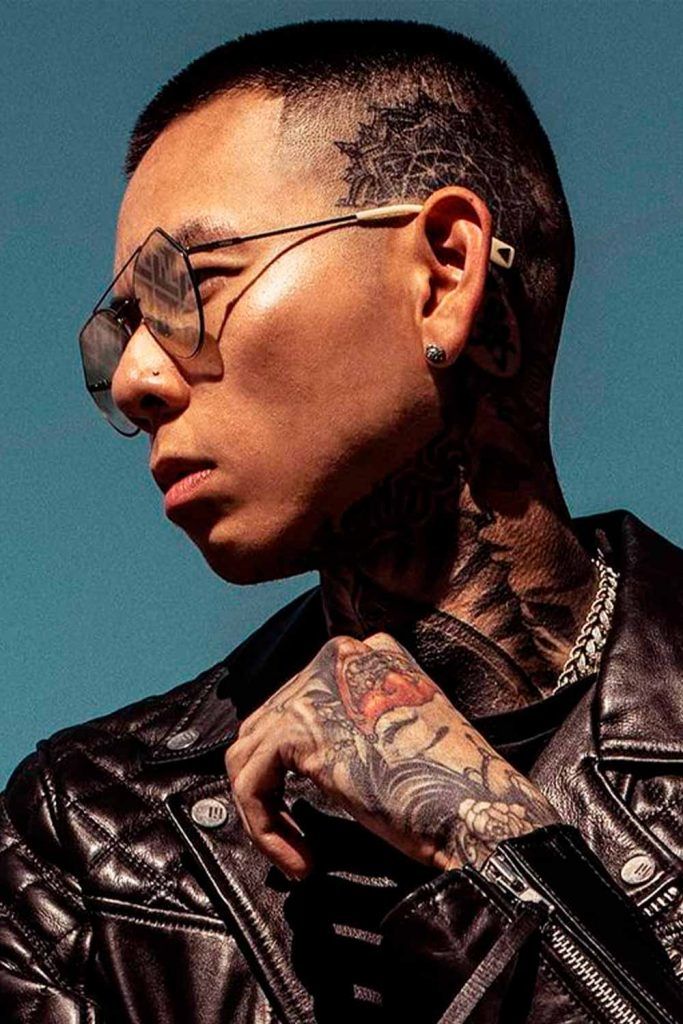 Source: @lanedorsey via Instagram
Straight Fringe Teen Boy Haircuts
Did you know that a straight fringe can also look cool and fashionable? It is all in the styling and your attitude. When drying your hair, simply apply a bit of a hair styling pomade or wax to the front section of your hair. This will give it a little bit of separation as well as make it look more pronounced and stylish.
Source: @meha_barber via Instagram
Vertical Teen Boy Haircuts
Not every guy will be able to pull off a vertical haircut successfully. However, if you want to win the name of a really fashionable and stylish guy among your friends, then you should give it a go. It will require some effort and time on your part to style the cut and maintain it. However, all your exertions will fully pay off with a skyrocketed level of popularity and admiring gazes of your classmates.
@urednistvo.pricesk.robert via Instagram
Party In The Front
If you have naturally thick hair and want to thin it out a little while giving a trendy appearance, go for a layered cut with a textured front. One of the best things about it is that the styling will not take you much time in the morning. Yet, this hairstyle with the party in the front will deffo make you look awesome.
Source: @ryancullenhair via Instagram
Wispy Dreams
To achieve this haircut, a barber will need to pair shears with clippers. The look features a textured, wispy top that fades into clean-cut sides and back. The heavy layering on top and blended sides of this cut will allow you to stand out in the crowd without hassle.
Source: @hayden_cassidy via Instagram
Teen boy haircuts are always cool and creative, as at this age, every change of the style is welcome. Besides the look, the cut should offer low maintenance and high versatility so that you could easily transform it into another style once you need it. With our collection of the best cuts for teen boys, we expect you to keep your hair in pace with fashion.
FAQs
How should a teenage boy style his hair?
There are no limits when it comes to teen hairstyles, except for the school dress code. So, unless it is forbidden, a teen boy can style his hair as daring and bold as he likes.
What hairstyles do teenage guys like?
Among the most popular hairstyles for teen boys are all kinds of fades, tapers, spikes as well as polished and refined hair looks.
What haircut should I get guy?
When choosing the best teenages hairstyles, you should take into account such factors as your face shape, hair type and personal style. Thus, your haircut should flatter your facial features and disguise any potential flaws.
What haircut should I ask for?
Ask the barber for a teenage boy haircut that suits the shape of your face and the type of your hair. Also, make sure to find out any tips they can give you on how to maintain and style the cut between the appointments.
REFERENCES:
Have no new ideas about men's hair styling? Find out the latest and trendy men's hairstyles and haircuts in 2020. Source