When it comes to little boy haircuts, many parents can only come up with a buzz cut and a bowl cut. But did you know that there are a lot more haircuts for little boys than those two? If not, you have come to the right place. In the guide below, we have collected the coolest and trendiest boys' haircuts with any hair type and length. Thanks to it, your regular barbershop visits will turn from a nightmare to an exciting journey.
Side Brush
When a special occasion is knocking at the door, it's the time when your little boy can look like a real man. Little boys haircuts have become a form of self-expression, so if your kid likes to stand out, this gentleman's haircut look will do the trick. Transform his undercut into a voluminous flowing quiff by creating a clean side part and brushing the top with some wax on.
Source: @alan_beak via Instagram
Boys Crew Cut
When searching for not just practical but cool cuts for kids, you won't go wrong with classics. And the timeless crew cut that men of all ages wear as one would be the perfect pick for your kid. Just like in the adult version, the boys' crew cut features short sides and slightly longer hair on top. While being simple, this cut will make your kiddo feel comfy with his hair, especially if it's thick. Besides, if his father sports the cut too, your boy won't resist!
Source: @alan_beak via Instagram
Shortened Texture
A short and textured toddlers hair cut comes out looking chic while requiring little to no maintenance and styling. Your little champ may simply tousle his locks on top himself to accentuate the strands and give them a messy finish.
Source: @alan_beak via Instagram
Curly Undercut
There is a myriad of baby's hair styles for curly hair. Since it may be quite tricky to tame, you want something practical and edgy at the same time. A curly undercut will give you everything you are looking for in a perfect curly kids hairstyle.
Source: @alan_beak via Instagram
Scissor Haircut
Children are often afraid of hair trimmers because of their buzzing. That is why many parents prefer scissor hair cuts for kids. Besides, they come out textured and defined. So, you will not need to spend much time styling or maintaining your kid's hair.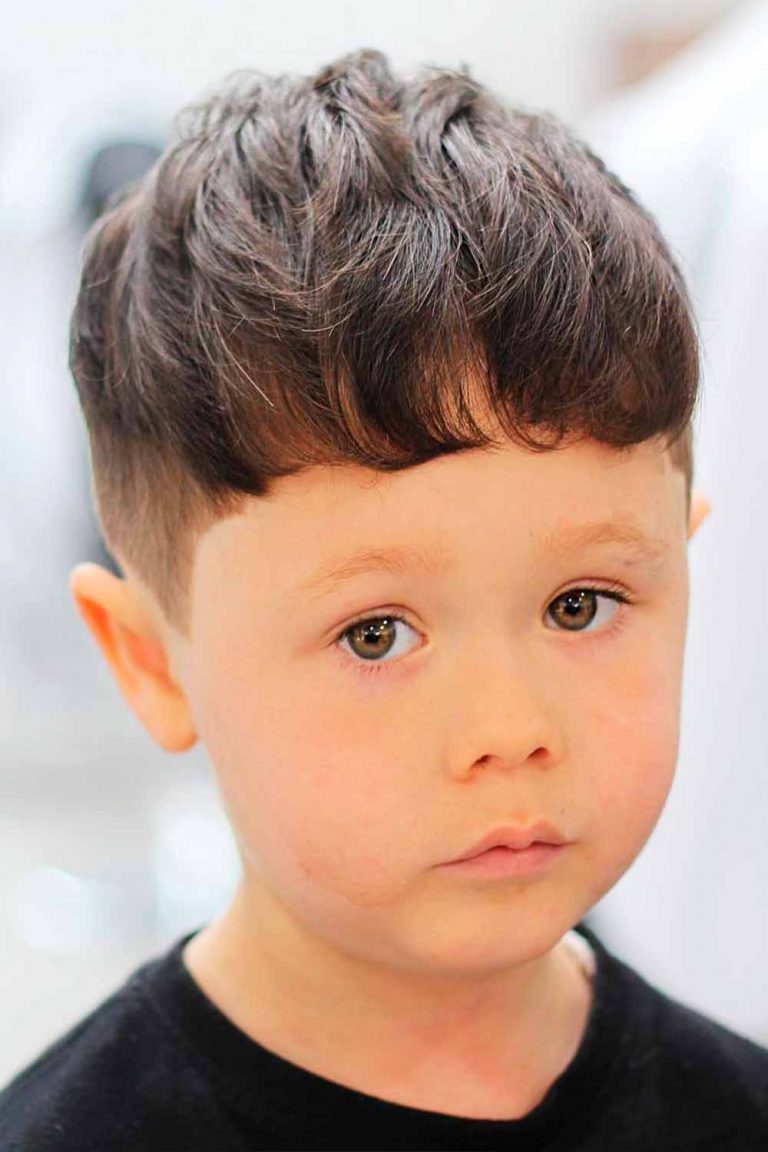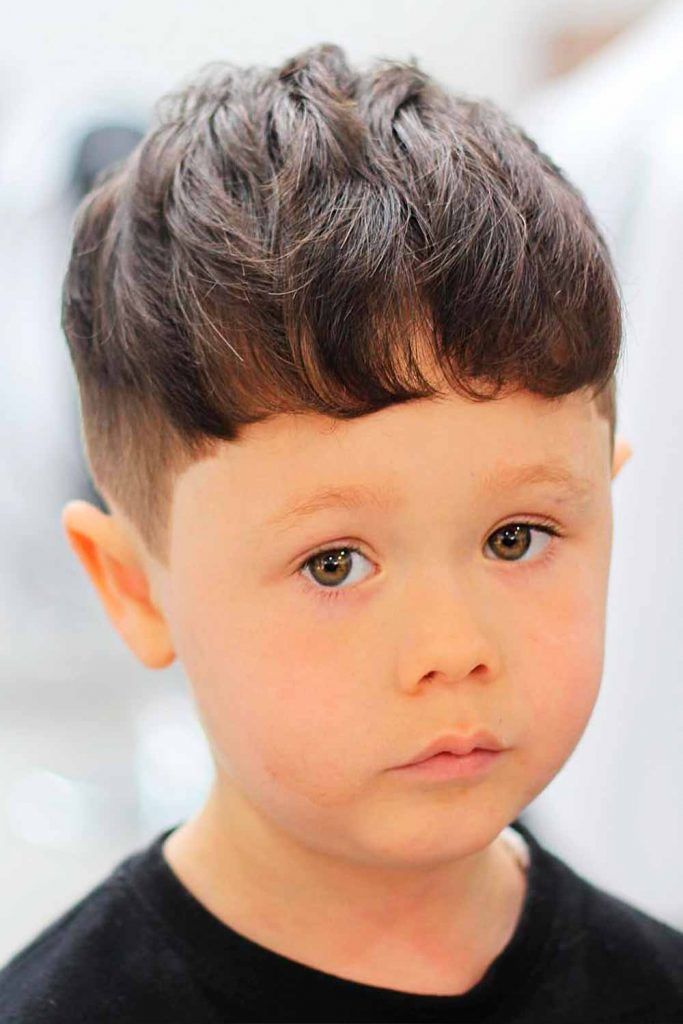 Source: @alan_beak via Instagram
Short Side Swept Hair
The fancy little boy hairstyles with the trendy side sweep can't do without the right haircut. And the main reason why such styles are so popular with both boys and men lies in the endless variety of ways to pull it off! Here, for example, the look is created with a classic crewcut done on fine hair. The side-swept hairstyle makes the hair appear fuller, giving the kid a cool dapper look.
Source: @mikes_custom_kuts via Instagram
Side Part Quiff
Need something elegant and polished for your little gent? A quiff is a very popular todler haircut. It does not require much effort to turn it into a sophisticated hairstyle if your kid prefers to wear it messy. Just define the hair with a side part and smooth it out for a clean silhouette.
Source: @mikes_custom_kuts via Instagram
Spliced Up Nice Little Boy Haircuts
If your kid has naturally straight hair, then there is a cool way to accentuate its texture. Go for a razor-cut all around the head to incorporate layers and pay special attention to the bangs. You need to splice them up so that they do not reach the eyebrows around half an inch or so. For styling, apply a blob of a hair mousse to the towel dried hair and blow dry it using a brush.
Source: @alexthegreatvivar via Instagram
Party In The Front 2 Years Baby Boy Hair Style
Made for thick hair and bright personalities, the party in the front would be a nice addition to shakedown boys! This little boys haircut focuses on a lively texture that falls forward with its choppy layers adding tons of movement and cutting off the extra weight. The sides must be tight and short, gradually flowing into a longer well-chopped front to keep the perfect balance between stylishness and practicality.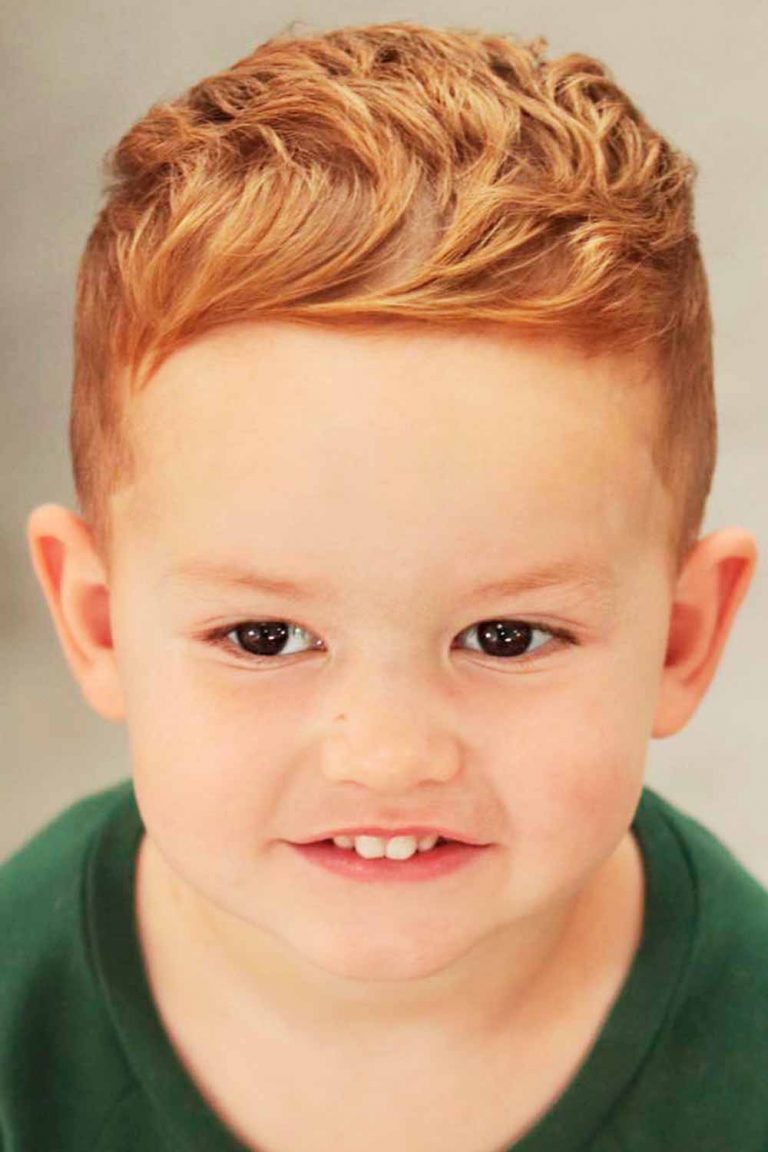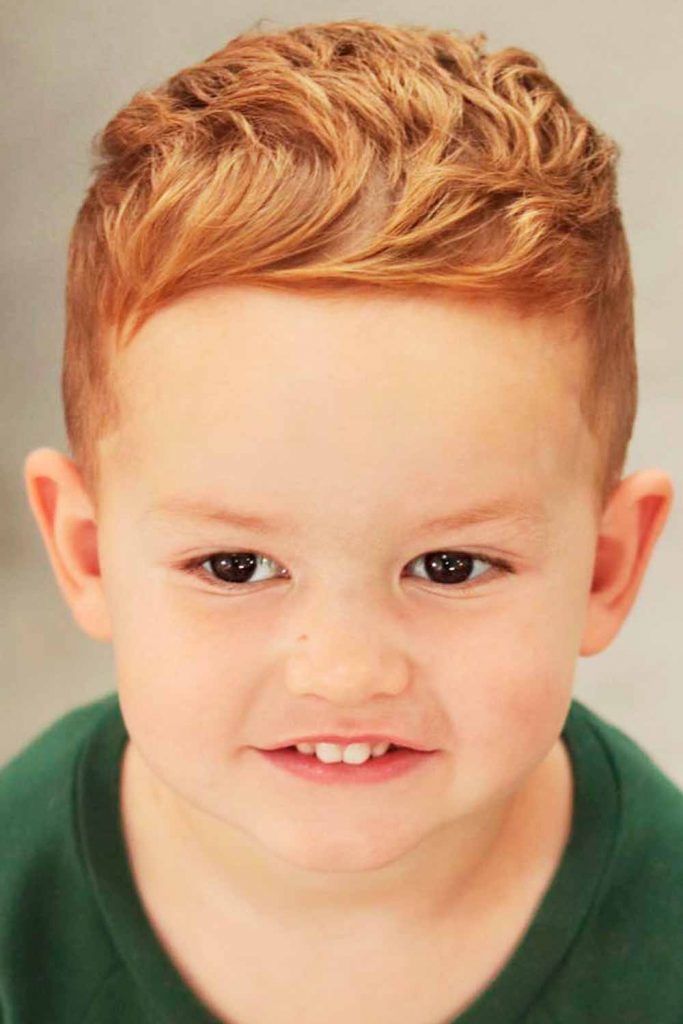 Source: @alan_beak via Instagram
Top Knot Undercut
Boys with naturally straight hair on the head should grab every opportunity to show them off. Long haircuts for kids work best in this case. There's no need for complex baby haircuts. As the hair texture is so eye-catching that it won't be left unnoticed even sported simply loose. Ask the barber to cut your boy's sides and back in even layers and add a little of hair mousse to highlight the texture.
Source: @alan_beak via Instagram
i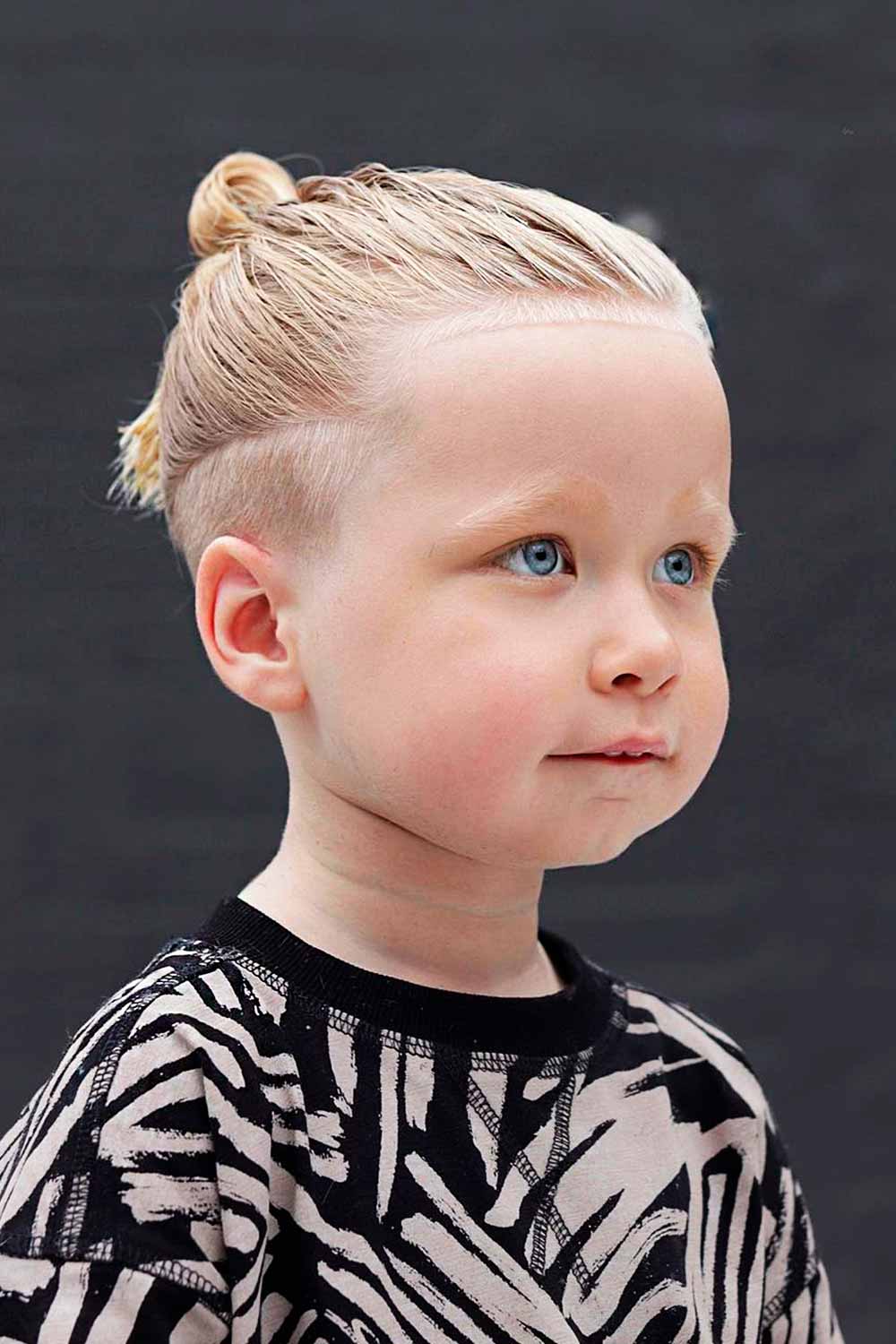 Source: @alan_beak via Instagram
i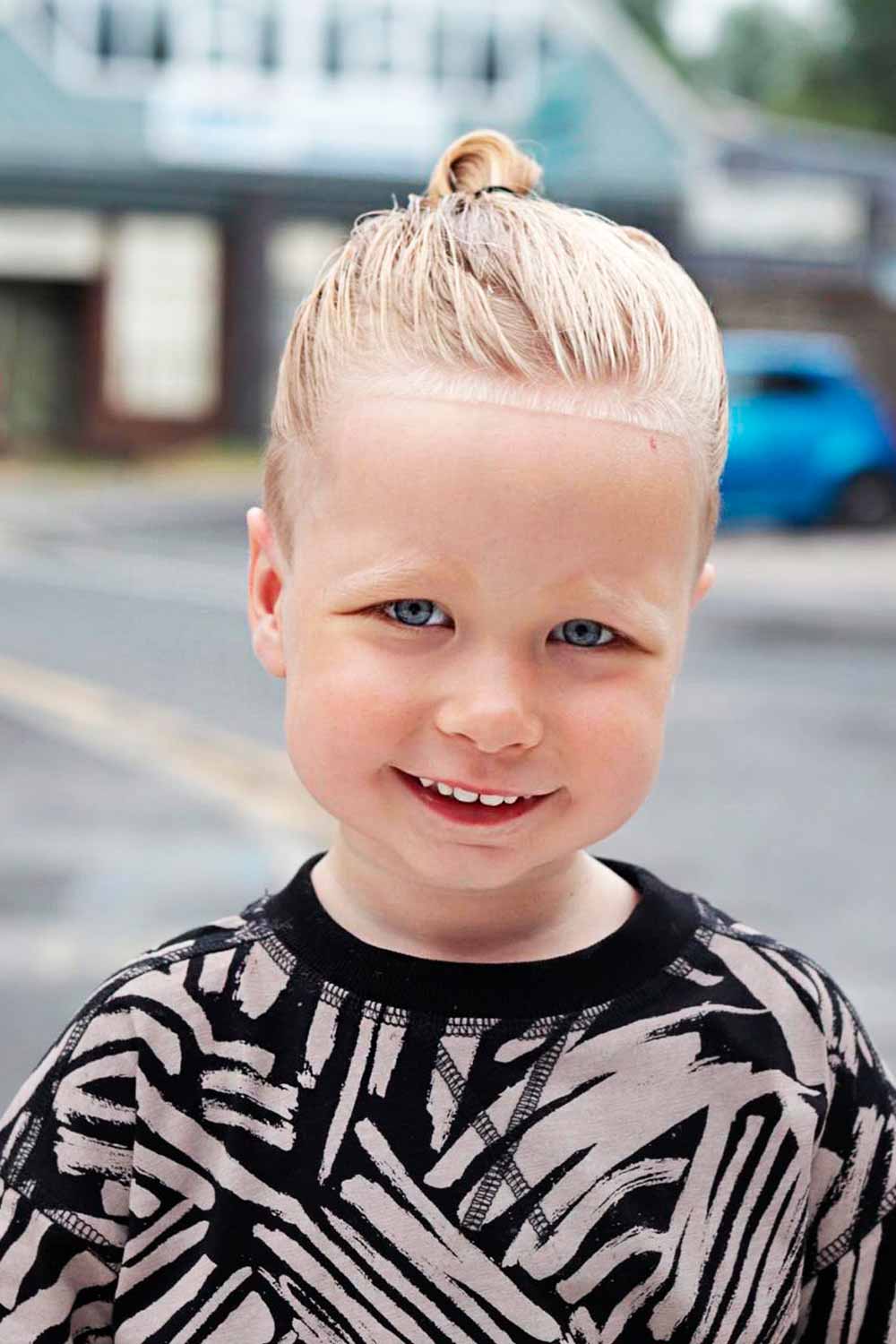 Source: @alan_beak via Instagram
i
/
Mixed Toddler Boy Curly Haircuts
When it comes to toddler haircuts boy curly hair may be the most difficult to tame. Yet, no worries. Mixing several cuts in one look is a surefire way out for you. Get the sides faded or tapered while leaving enough hair on top to show off the intricate texture of your kid's locks.
Source: @ birdcobarbers via Instagram
i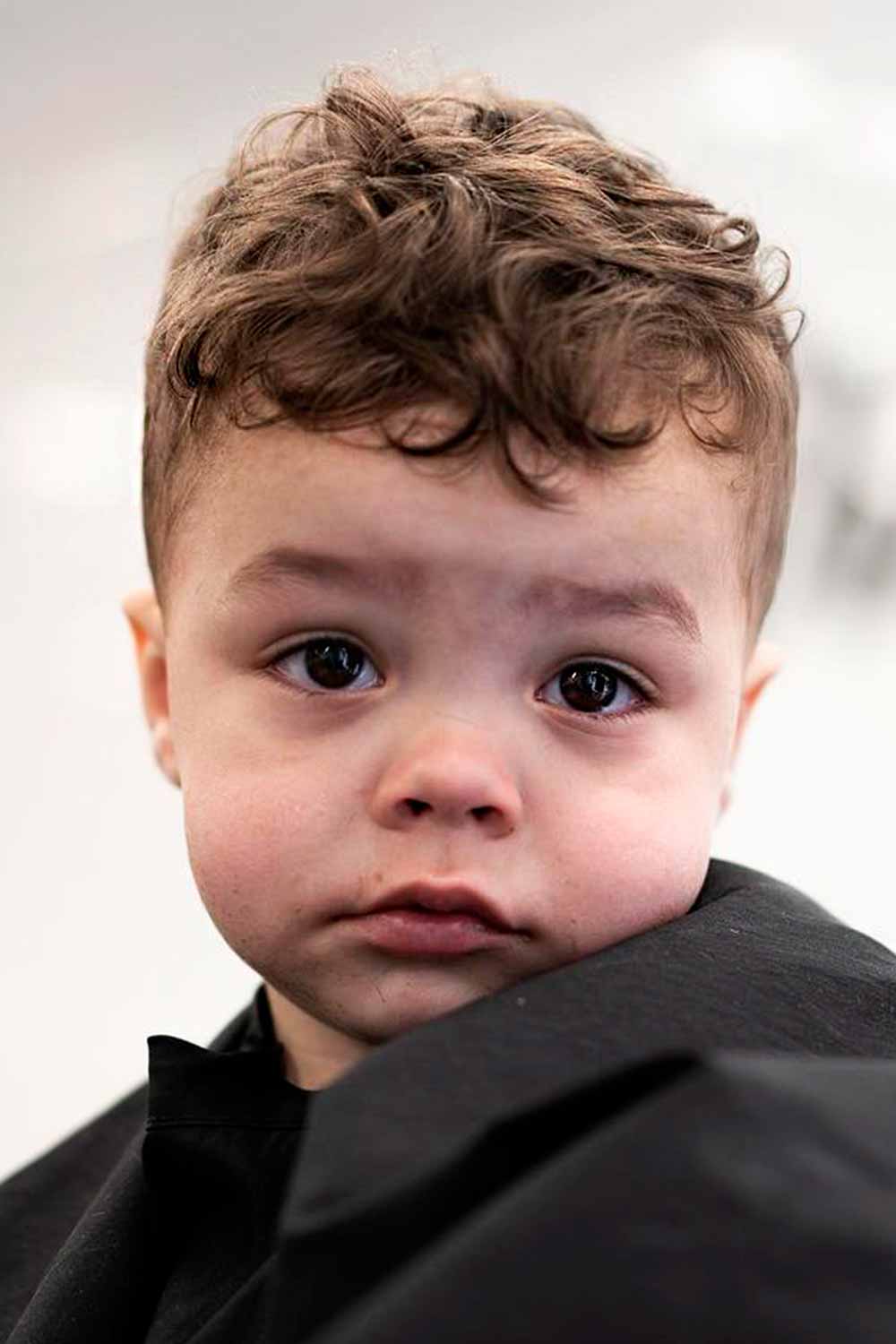 Source: @joshconnollybarber via Instagram
i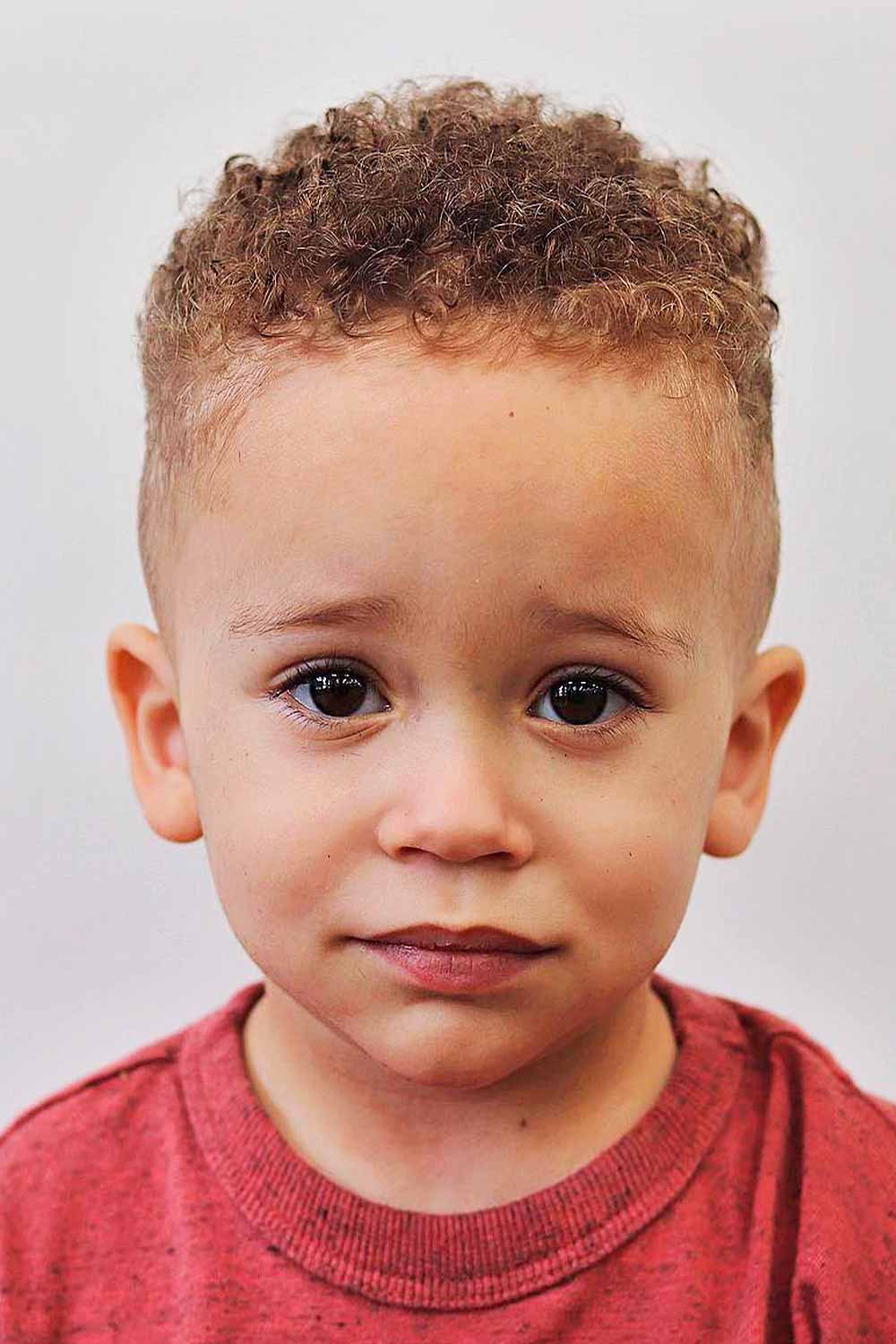 /
Side Swept Long Bang Toddler Hair Cut
A bang is one of the most popular kids haircuts for boys. It is pretty easy to manage and looks appropriate in any ambiance, be it for school or leisure. You may just switch up styling from messy spiked up to refined side swept and vice versa and he is good to go.
Source: @andyfadepro via Instagram
i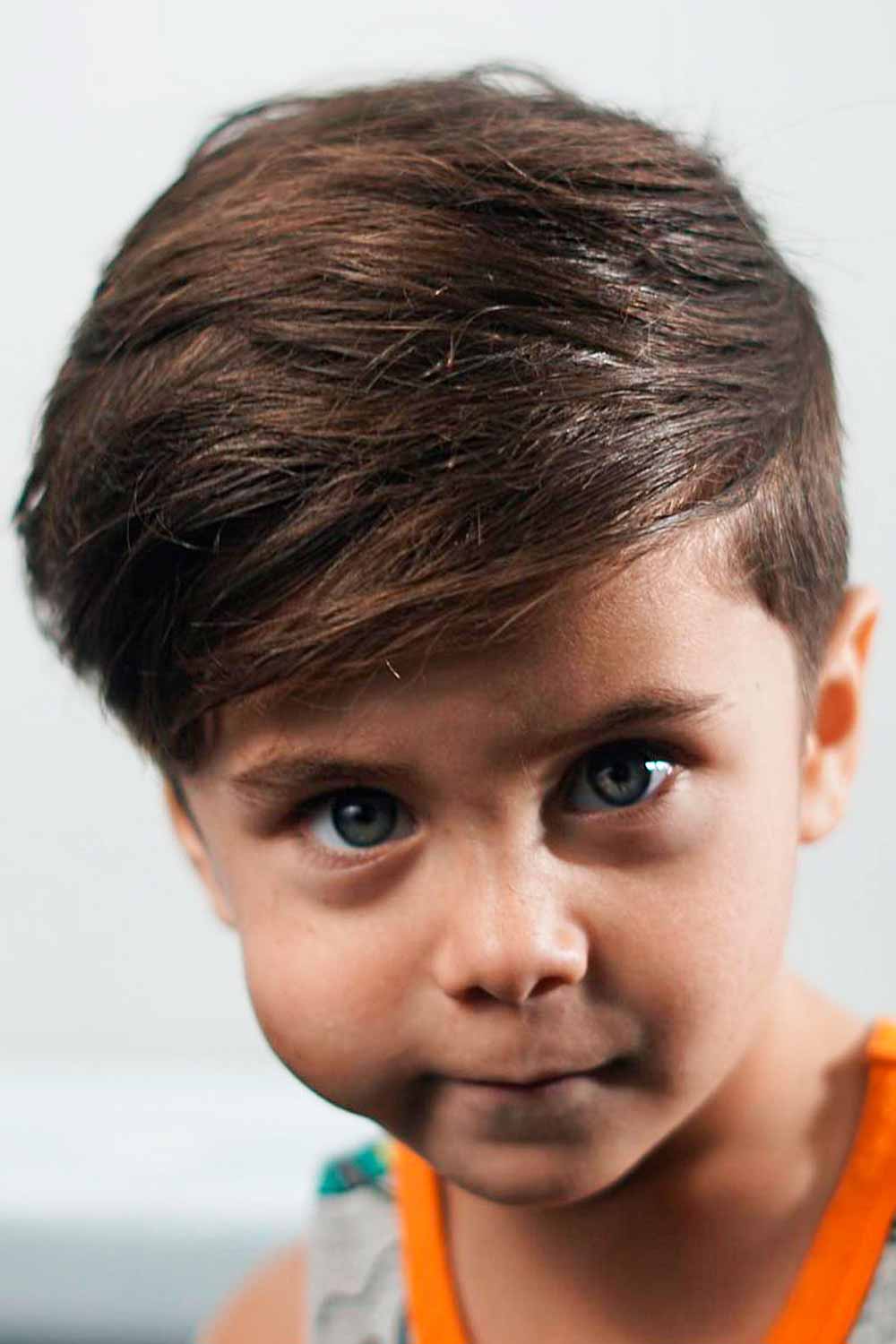 Source: @andyfadepro via Instagram
i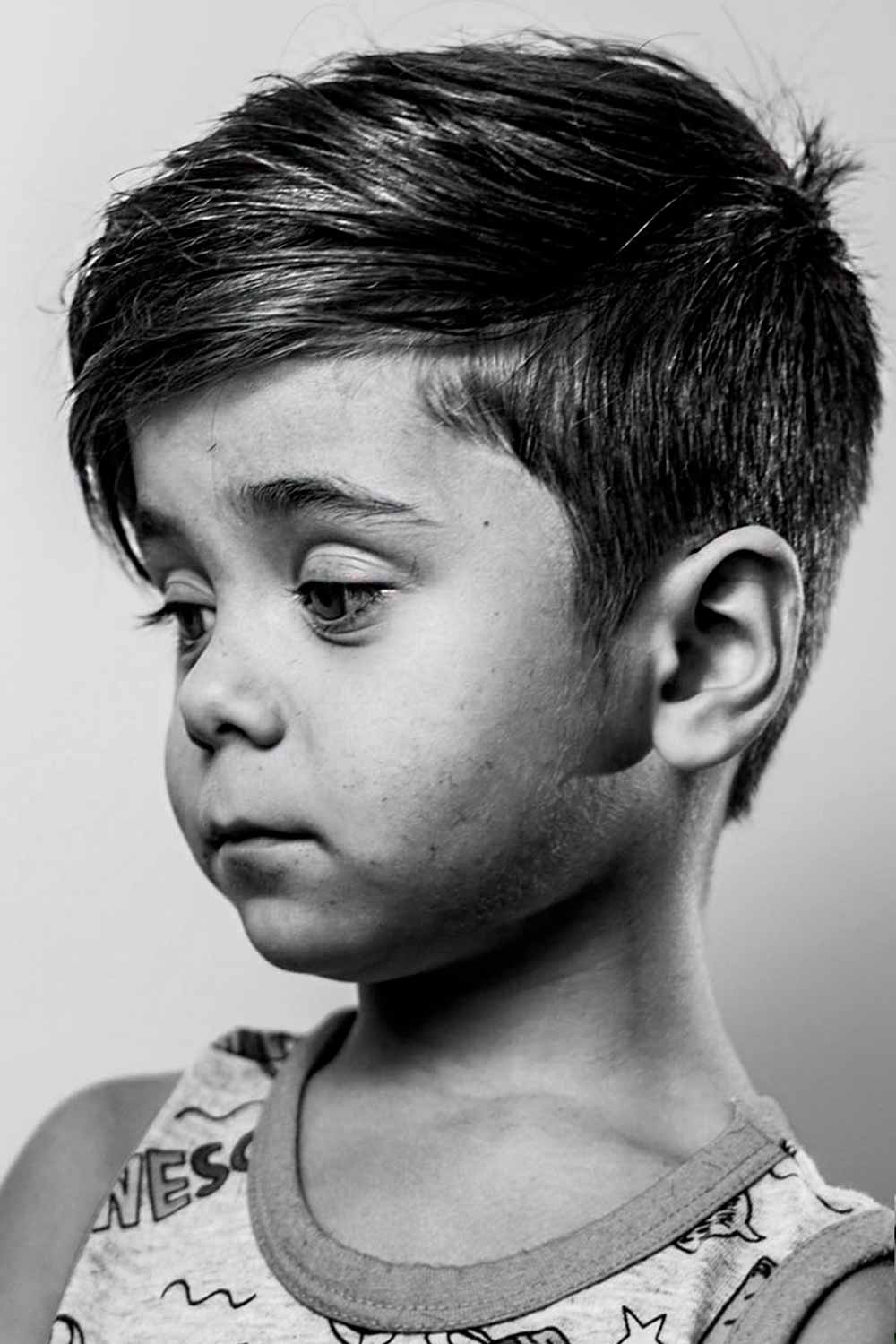 /
Layered Caesar Little Boy Haircuts 2023
The 2023 trendy toddler boy haircut is all about texture and layers. As such, if you have a fashion forward kid, he will love a layered Caesar cut. In addition to looking stylish and cool, it is quite versatile. Complement the look with one of the short fade little boy haircuts to give it ease of maintenance.
Source: @joshconnollybarber via Instagram
i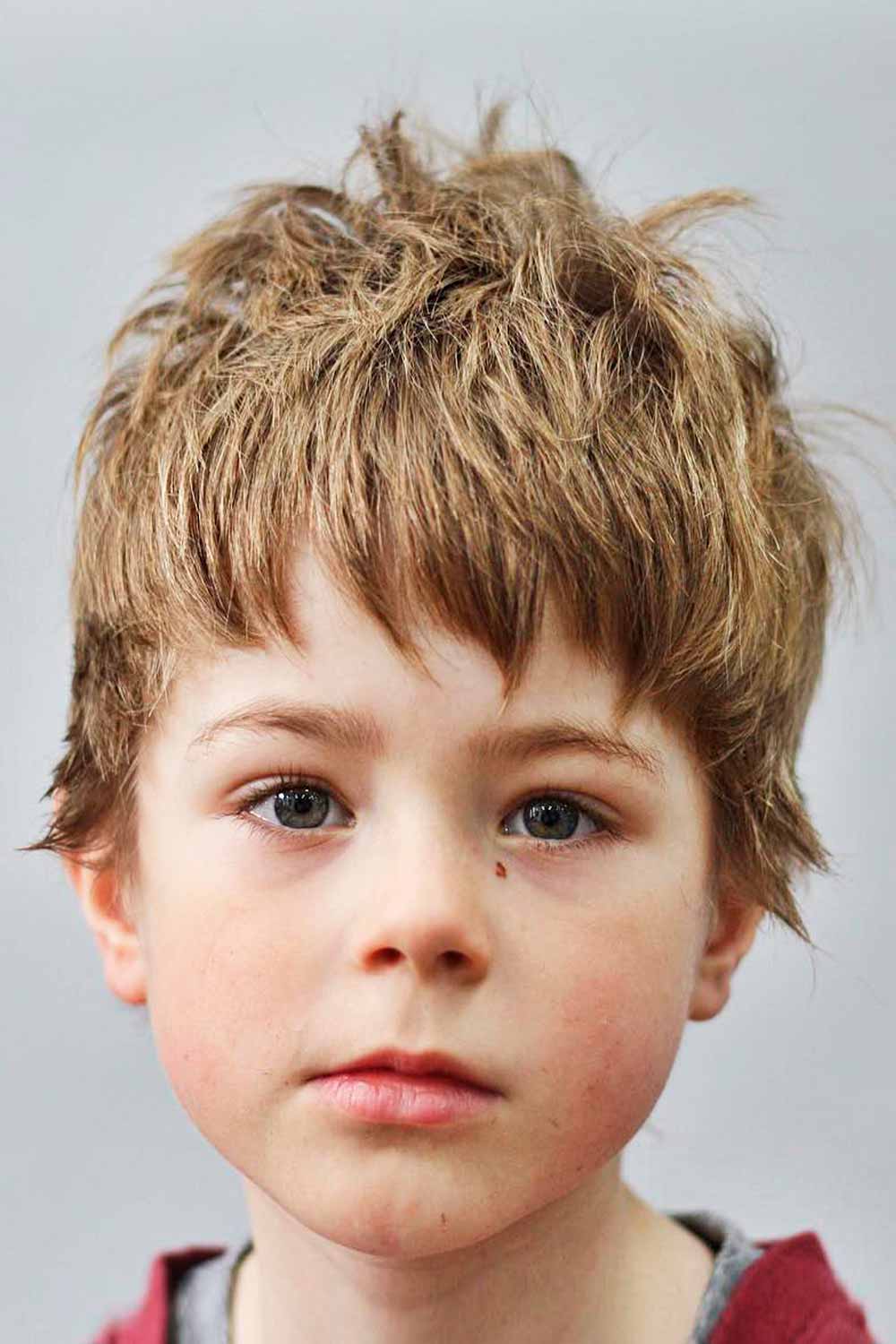 Source: @joshconnollybarber via Instagram
i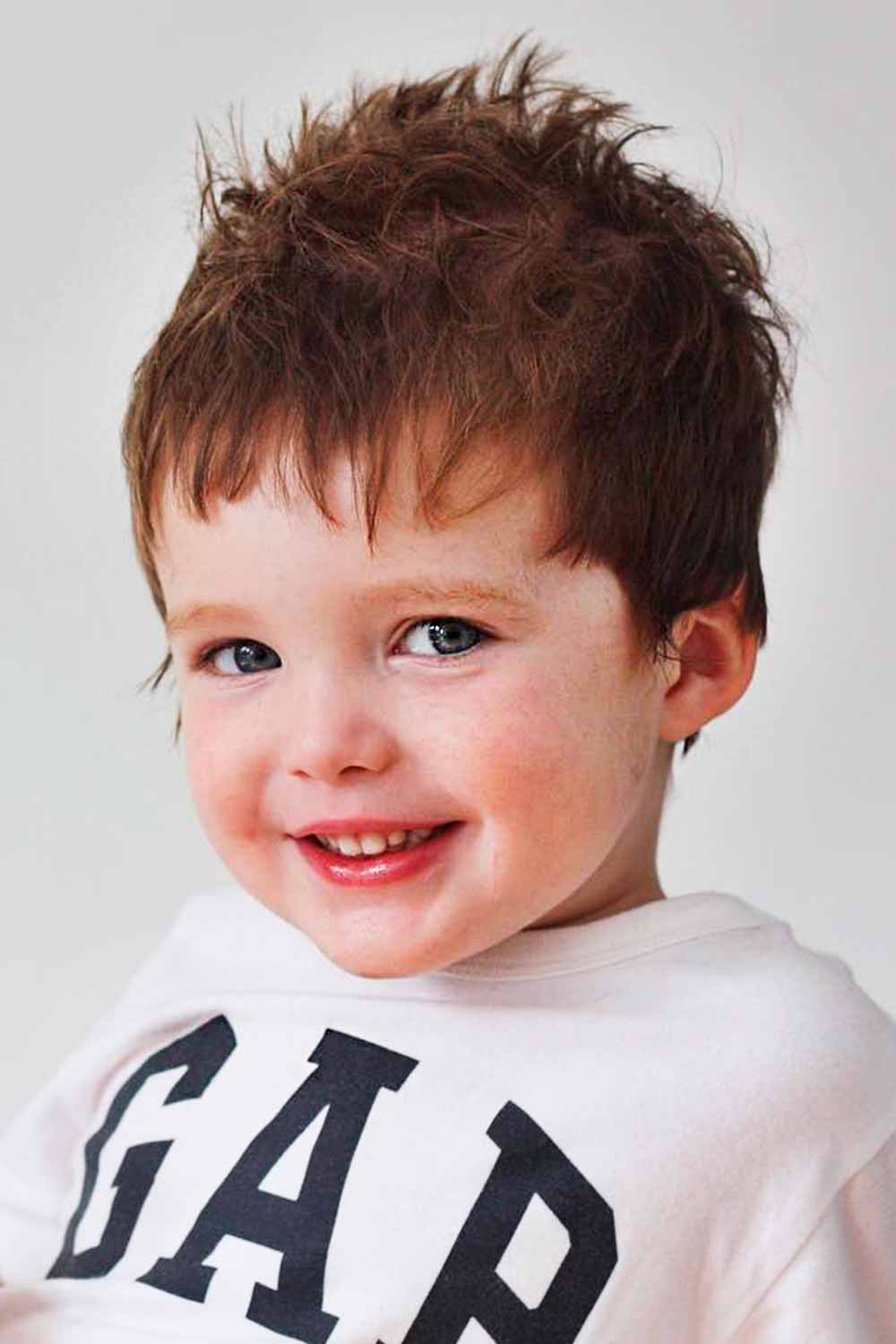 /
Low Fade Taper Toddler Boy Haircuts
If you are looking for short low maintenance toddler boy haircuts, you can never go wrong with a low fade taper. Since it takes off pretty much hair from the sides, it does not require much effort to keep your kid's hair looking neat and tidy. The styling is also quite easy, though it very much depends on the way his hair on the top is cut.
Source: @andyfadepro via Instagram
i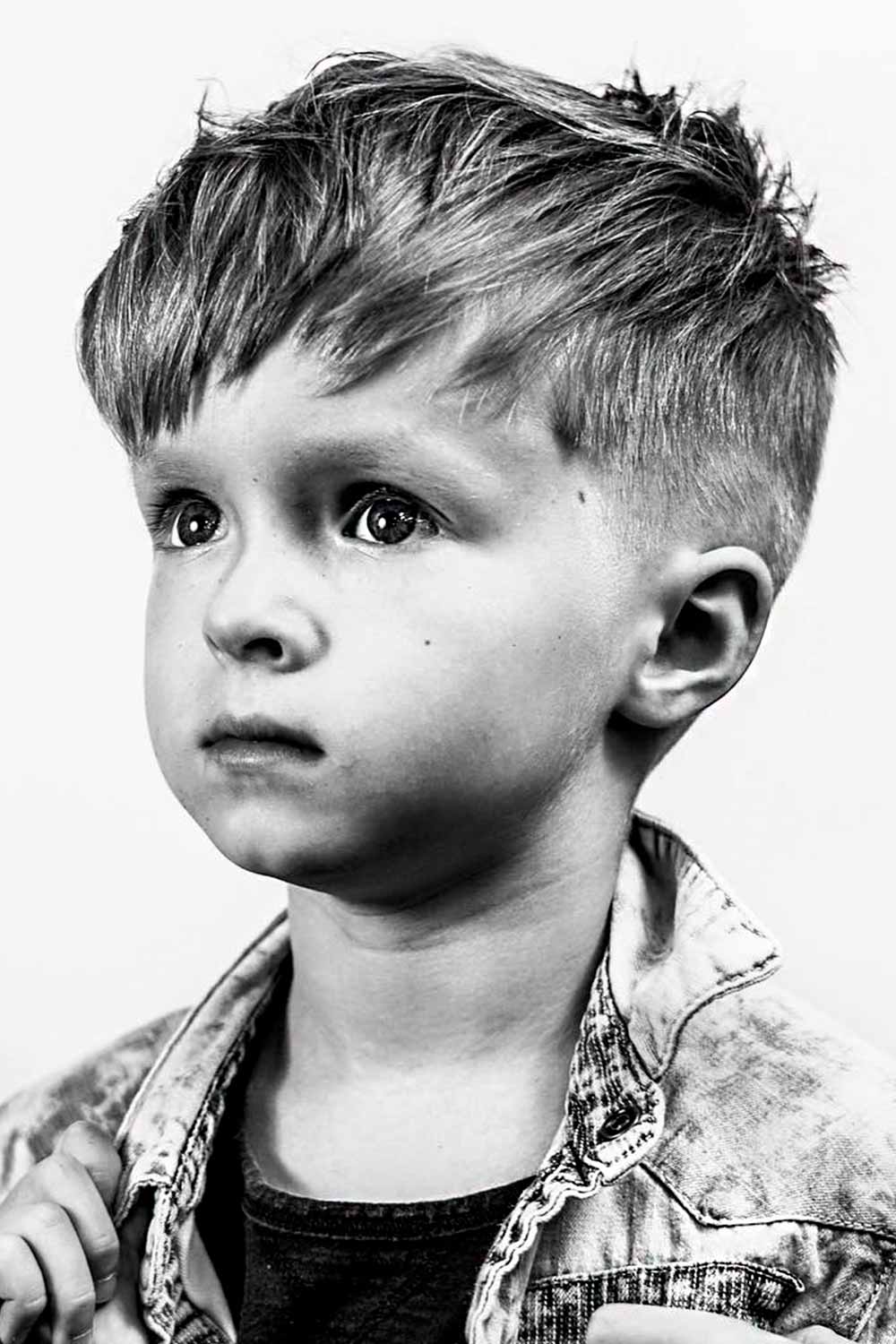 Source: @andyfadepro via Instagram
i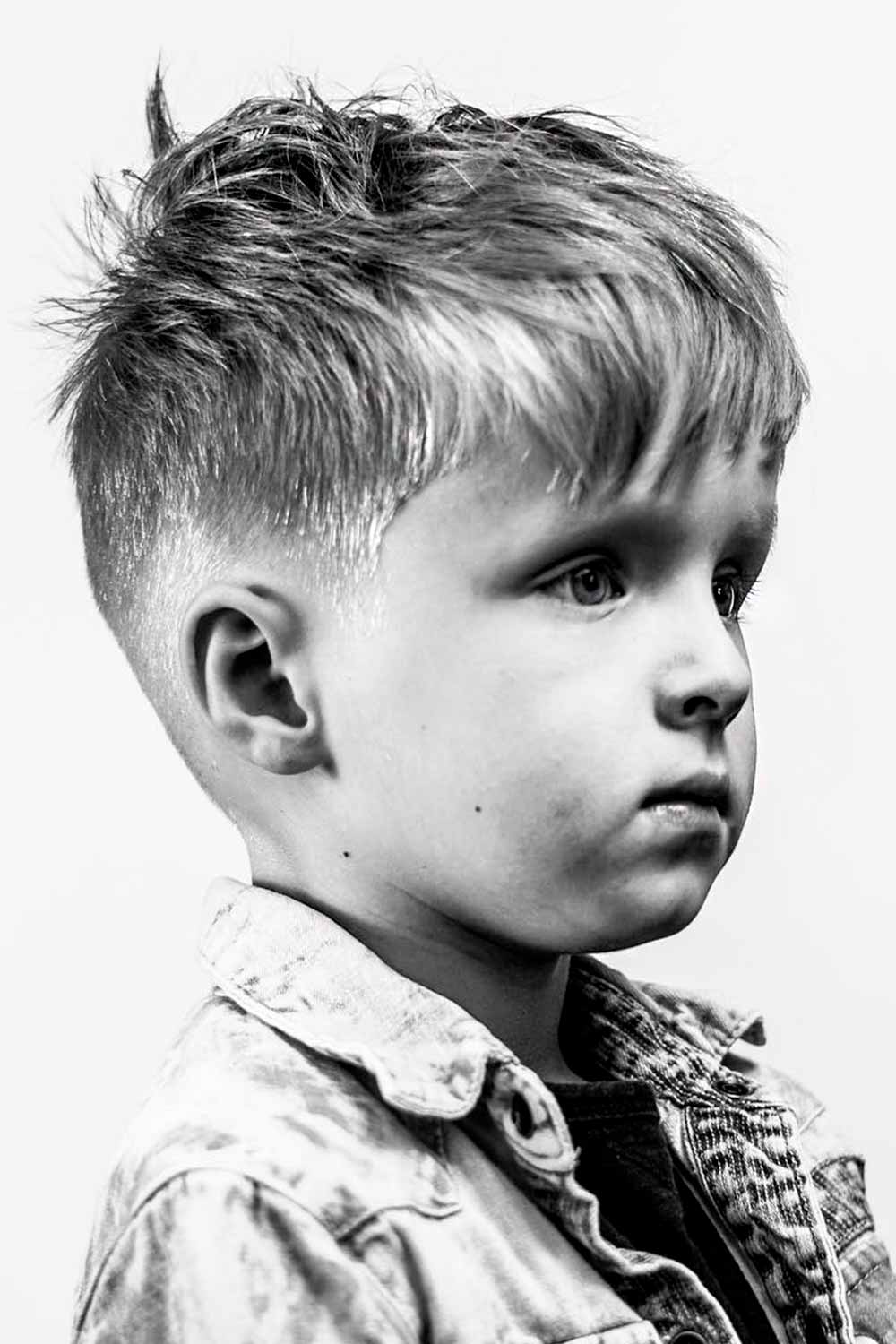 Source: @andyfadepro via Instagram
i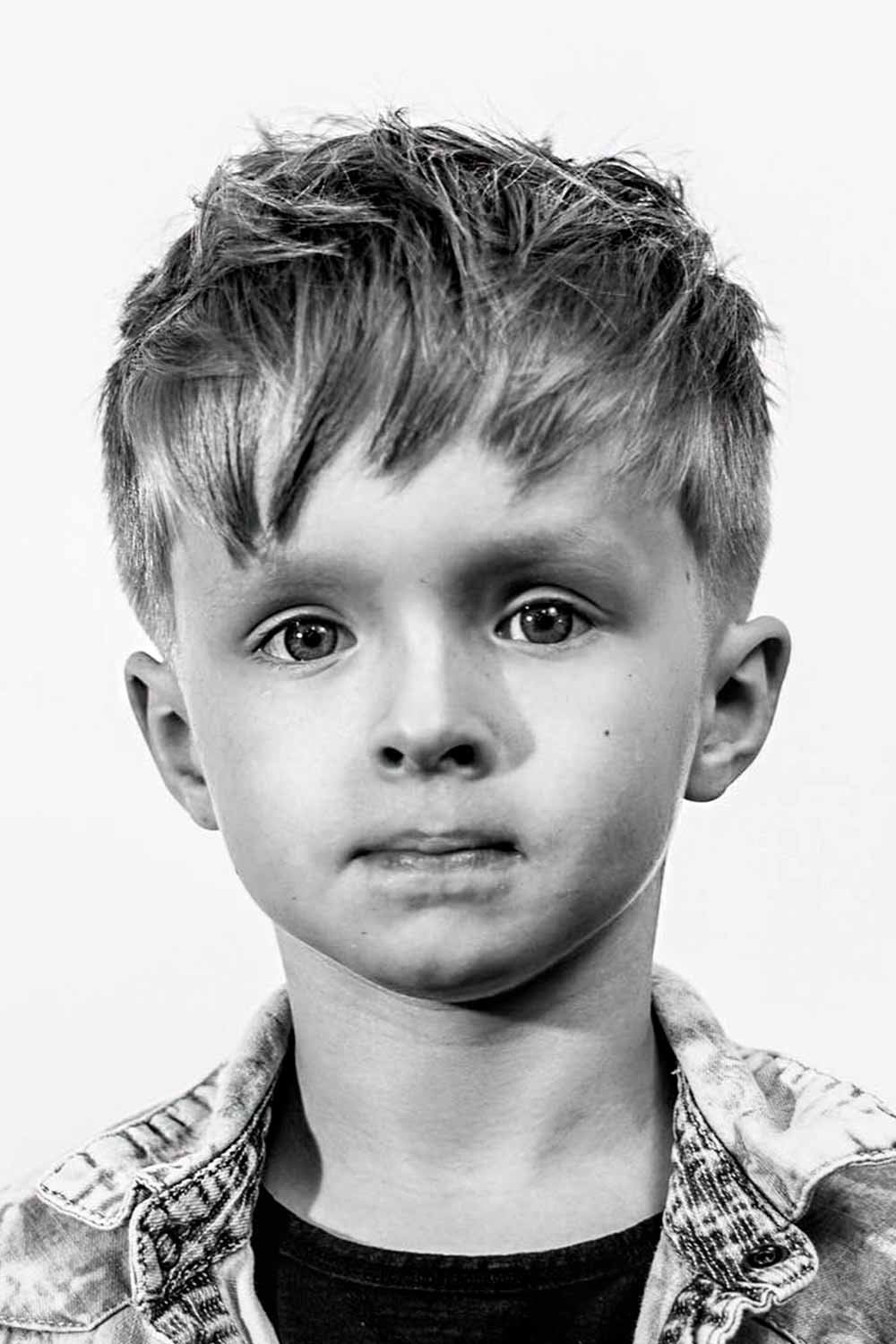 /
Medium Length & Spikes & Fade
With a fade little boy haircuts look neat and tidy, especially when they are medium long. As such, it allows you to style his hair on top however you like. To accentuate his rebellious personality, get the top spiked up.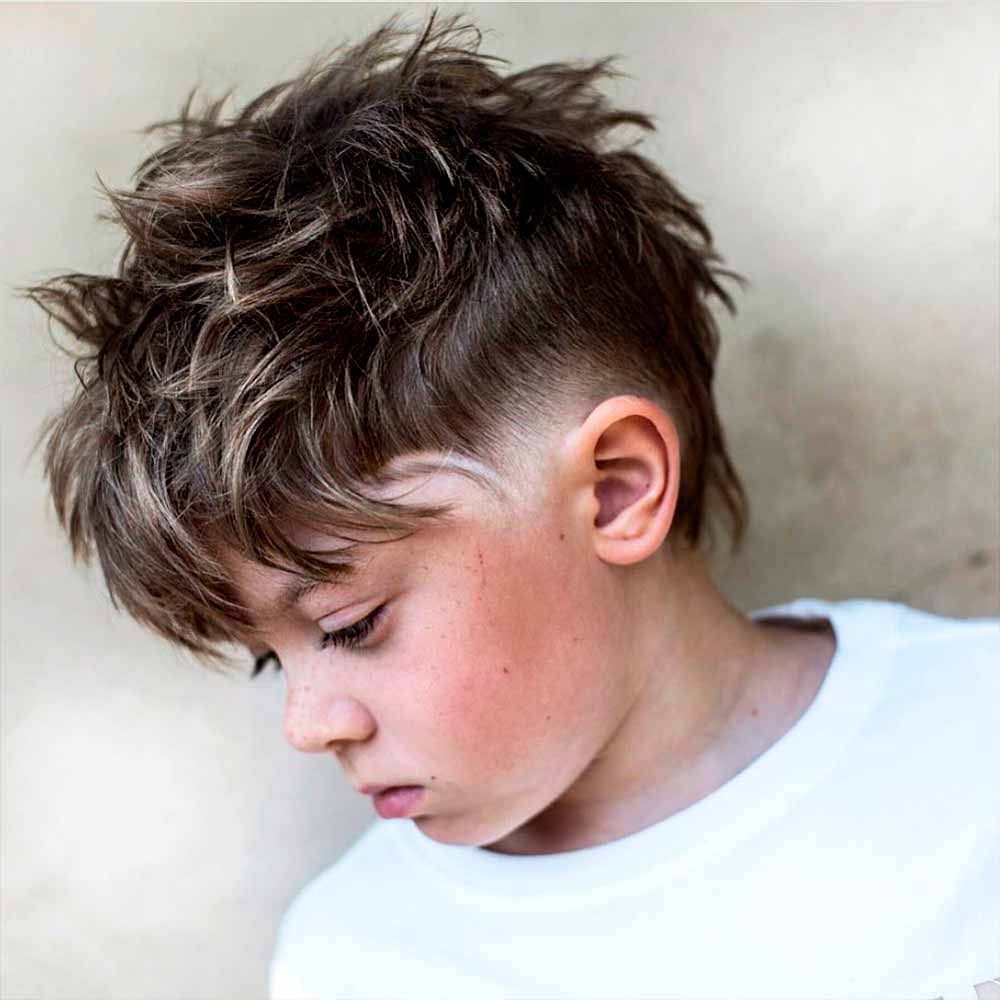 Source: @r.braid via Instagram
Textured Ivy League
This hairstyle is a daring take on several classic haircuts. It features an Ivy League paired with a crew cut. For extra separation, the front area of the hair is spiked up and slightly disheveled. On the sides, you can get a fade, an undercut or a taper. Alternatively, just trim them shorter than the top.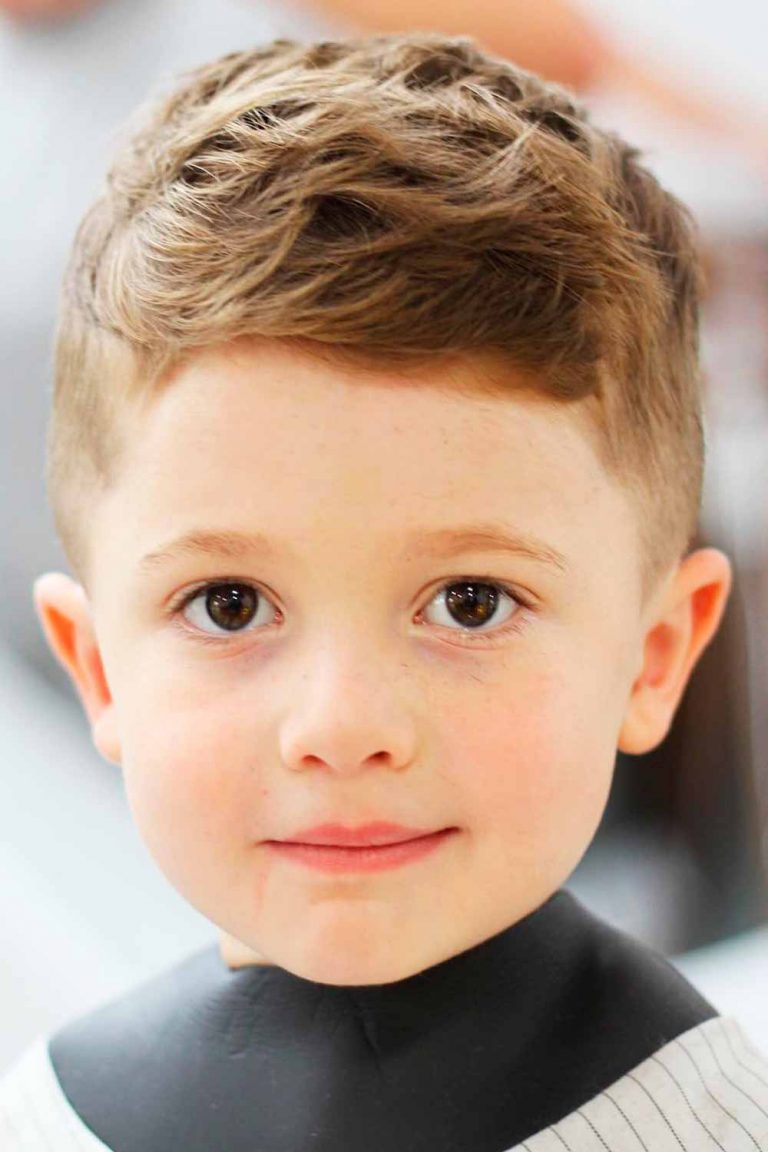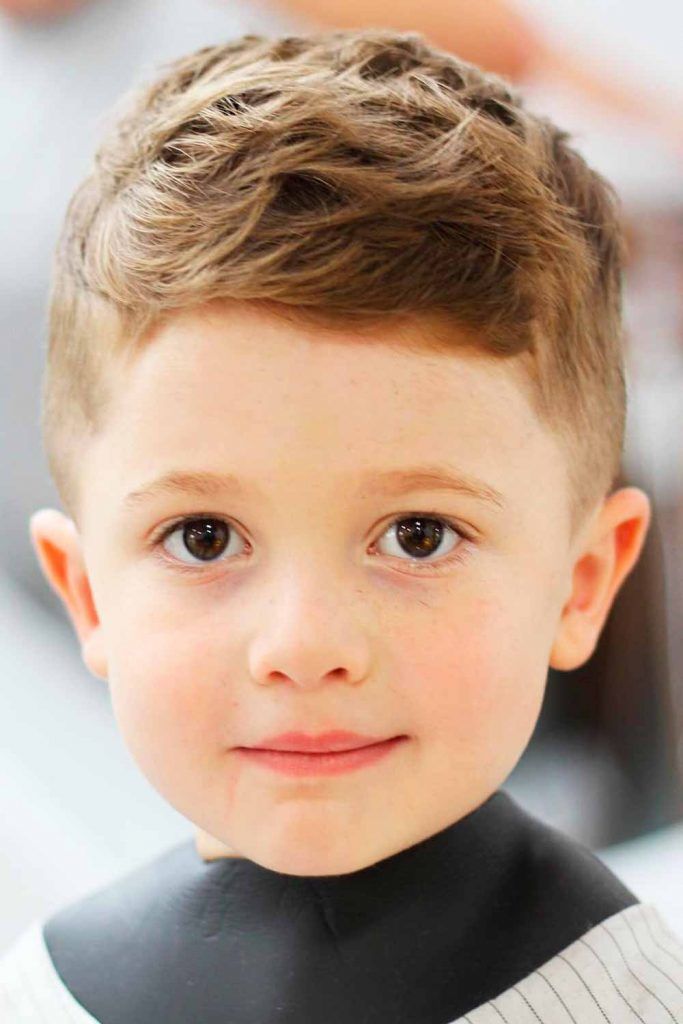 Source: @alan_beak via Instagram
Slick Back Little Boy Haircuts
Your little fellow likes looking slick and smooth? Then why don't you give him a corresponding haircut? Slicked back hair is achieved by growing the top hair long and leaving the sides medium in length. To style your boy's haircut, you need to slick back hair with the help of a strong hold wax or gel.
Long On Top, Short On Sides
The short sides long top haircut is not only one of the most popular men's hairstyles but the boy's as well. Such little boys haircuts are suitable for basically any hair type, from fine to thick. Again, it gives you multiple styling options. So it's up to you to decide which of toddler hairstyles your little dandy will sport.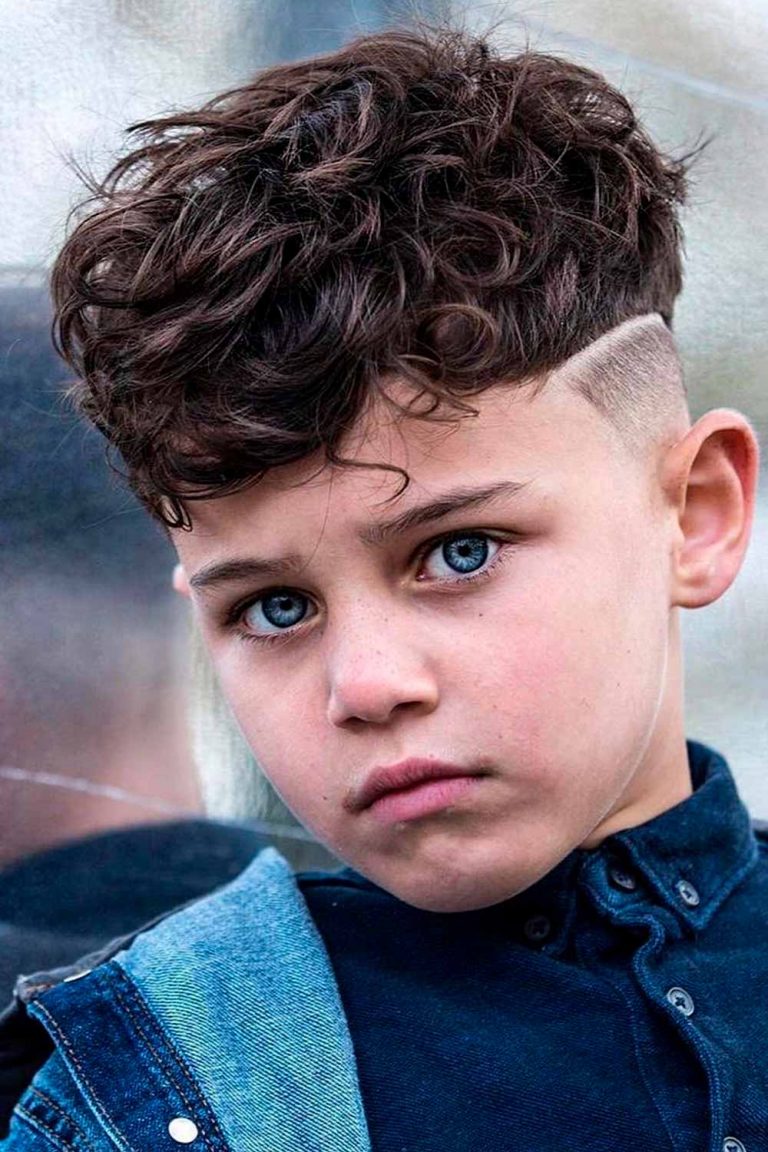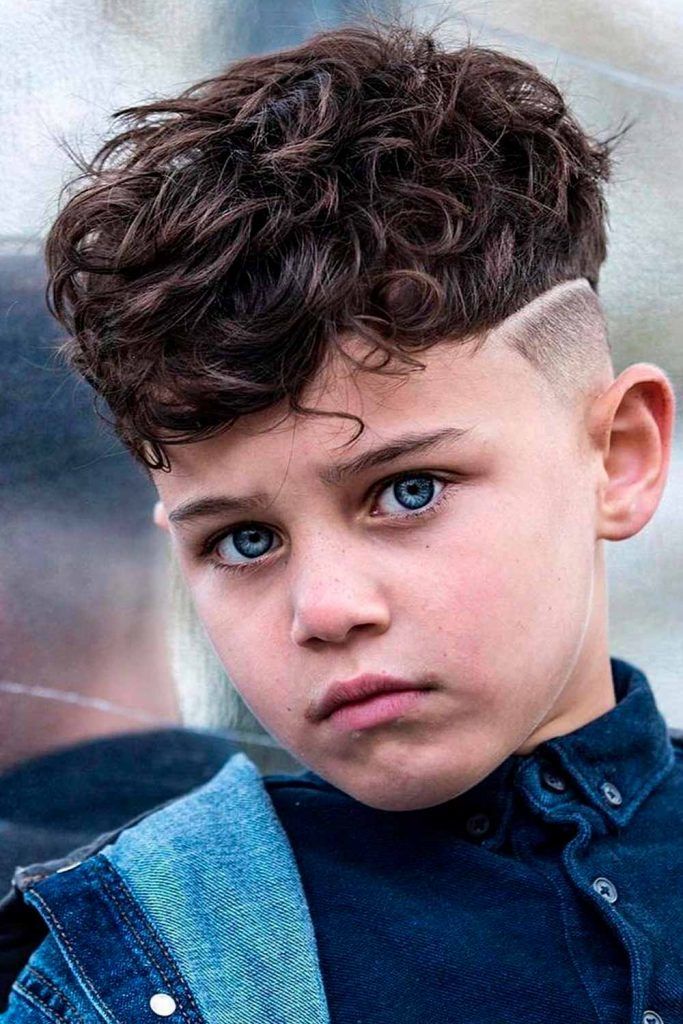 Source: @r.braid via Instagram
Straight Layered Little Boy Hair Cuts
In case your little pal has naturally straight hair and doesn't want to do anything complex with it, try to play around with layers. In this way, you'll add a texture, shape and dimension to his hair. To enhance the effect, apply some gel and tousle the hair with fingers or leave it as it is.
Source: @alan_beak via Instagram
Side Part + Hard Part
Does your little fella find it difficult to manage his thick and dense mane? Then it is time to get a new haircut that helps to thin out the hair without sacrificing its bulk. Opt for a shortened texture hairstyle, which features clean cut or shaved sides and heavy layering on top. A restrained hair design will add a stylish twist to this look.
Source: @alan_beak via Instagram
Layered Fringe Sun's Hairstyle
All sorts of fringes will work well for your kid. As it provides an elegant and refined appearance, a fringe is a perfect haircut for kindergarten or school. Yet, it is so versatile that to give it a relaxed and casual feel, you just need to tousle the locks with a hand.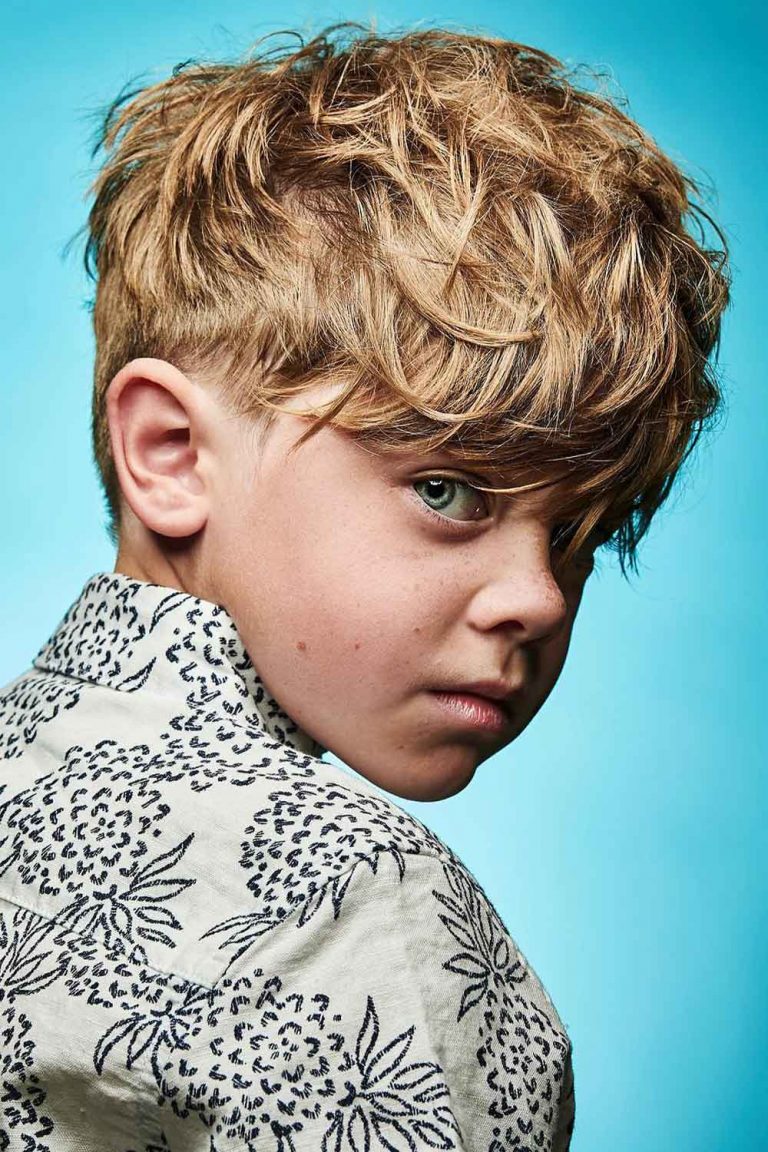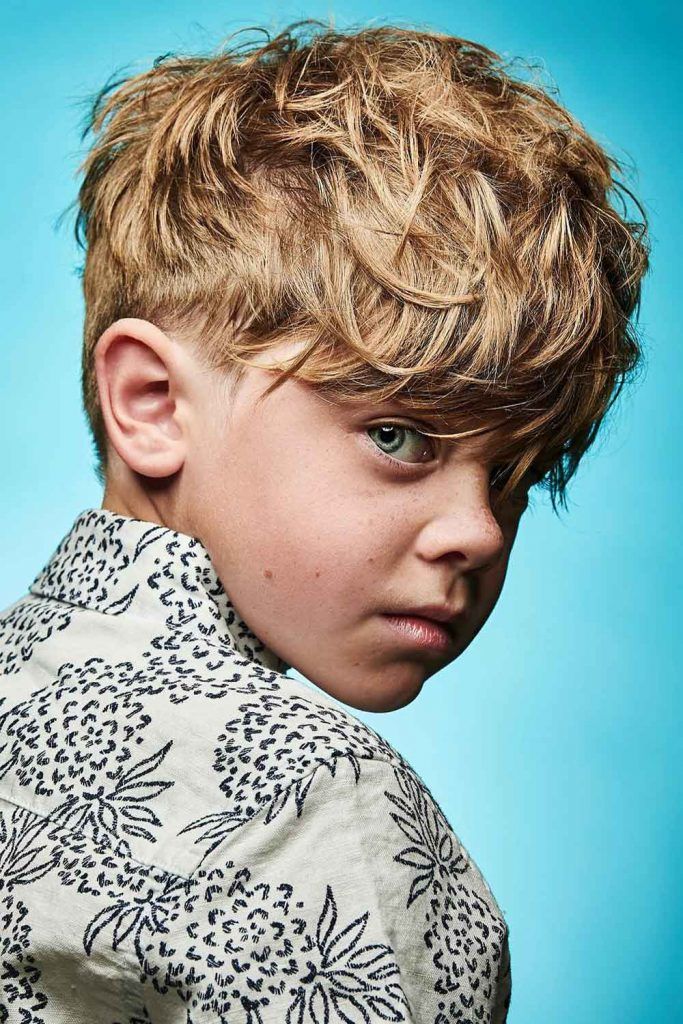 Source: @r.braid via Instagram
Side Part Haircut For Little Boy
If you can already trace the gentleman manners in your sport, it's time to try on a kid's hair style that matches his personality. A side part haircut works great for little gents with both thick and thin hair. First, ask a barber to give your kid a long top, short sides haircut. And then, divide his hair into two section with a side part. Apply some gel or mousse to this toddler haircut for added texture and fixation.
Source: @dima_naiden via Instagram
i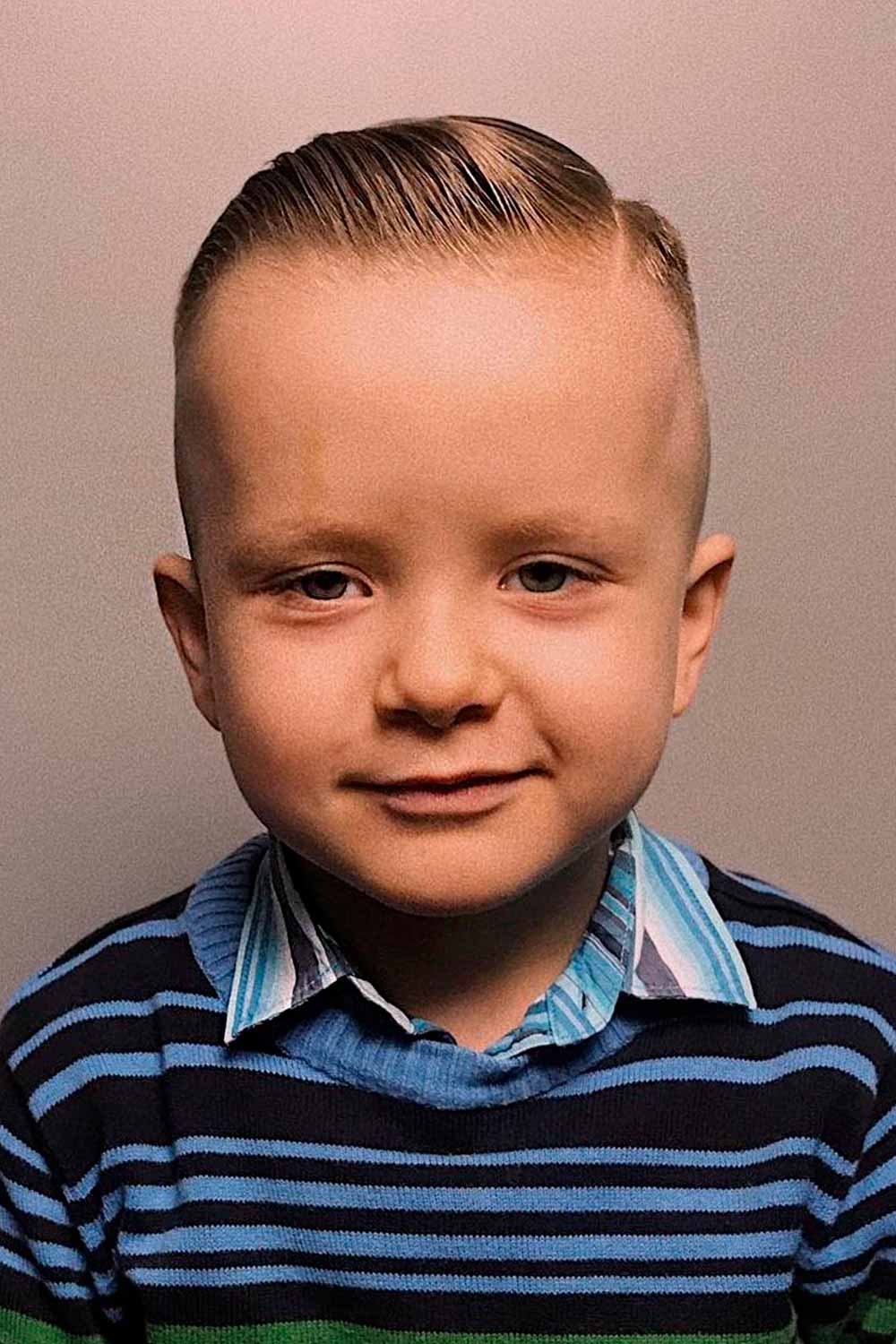 Source: @dima_naiden via Instagram
i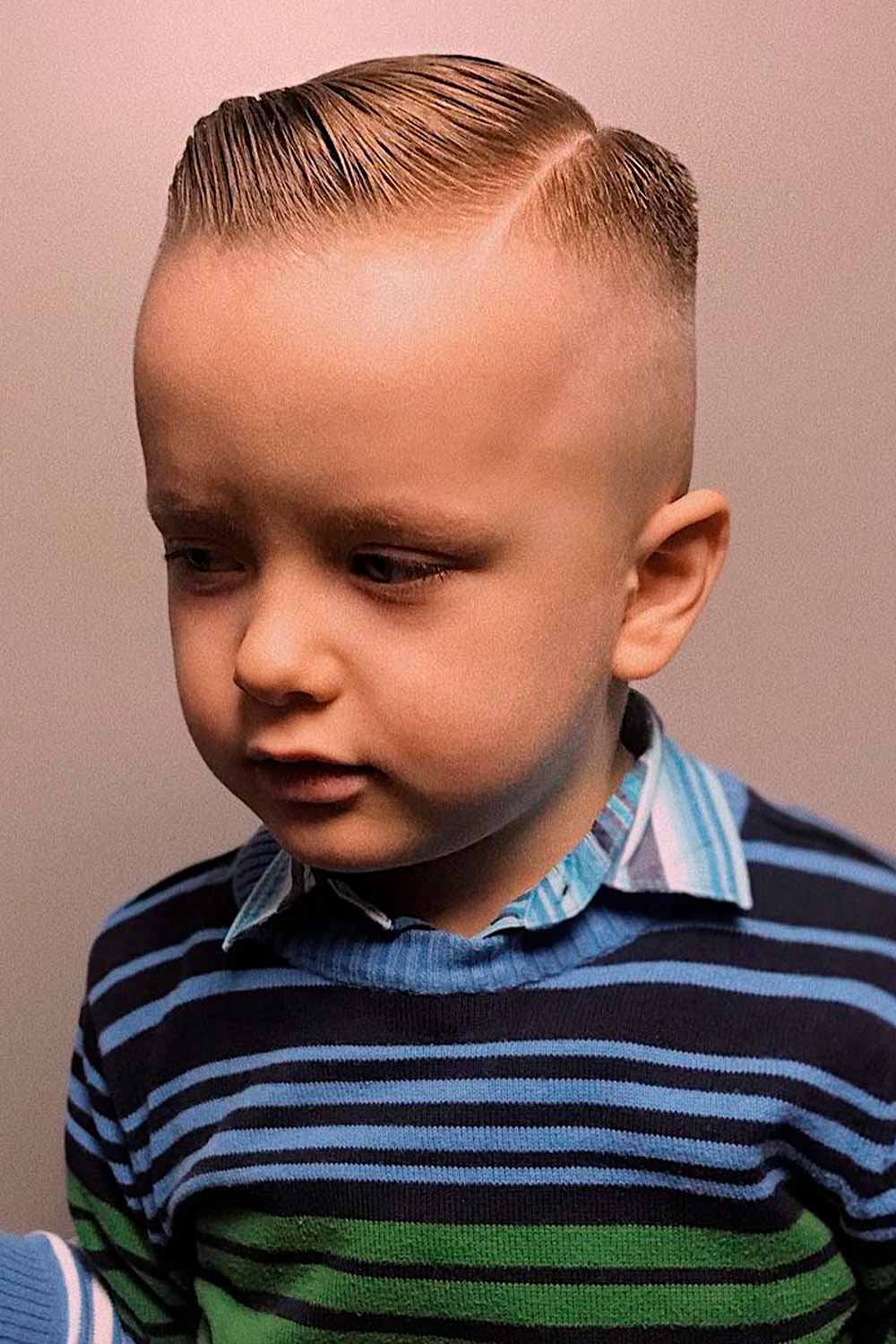 /
Short & Spiky Little Boy Haircuts
To achieve the opposite effect – show the rebellious side of your kiddo with a little boy haircut, – go with spiky hair. Spiky kid hairstyles are easy to get and low maintenance. For the best result, your little one should have a full head of straight and dense locks. Your barber will trim the sides short and leave the top longer. For styling purposes, use some hair gel to create the spikes.
Source: @tombaxter_hair via Instagram
Beach Waves Cute Kid Hairstyles
Such kids hair styles are a nice option for those little guys who are neither into long nor into short hair. However, it comes out most flattering for the boys with a dense curly or wavy thatch. You can style it using a light mousse for a more relaxed look or spike your boy hair up with a strong hold gel.
Little Boy Haircuts Faux Hawk
Faux Hawk baby boy haircuts can emphasize the inclination of your little star into the rockabilly side. To achieve this cool haircut for little boys, the hair on the sides should be trimmed quite short and high. Whereas the top hair should be left noticeably longer. Apply some gel to the top section of the hair and push it together at a small angle so that it would appear pointy.
Pompadour Kids Hair Cut
Is your son a rising hipster? Don't head off his self-expression. Instead, encourage it with some nice kid haircuts. A pompadour sits perfectly on almost any hair type, especially on straight thick hair. You want the boy's hair to be trimmed on the sides so that as it moves up, it gradually becomes longer. The top of the hair though should be left much longer than the sides to make the desired contrast. To style such long on the top, short on the sides haircuts for boys, create the volume atop the head by teasing the pomp. As a final touch, apply some mousse, gel or hair wax to tame any flyaways.
Source: @alan_beak via Instagram
Boys Buzz Сut
If you're looking for some easy peasy hairstyles for kids that don't have much time for styling, a buzz cut is a perfect option for you. It comes in different lengths and shapes, depending on your personal preferences. You can pair it with a fade, undercut, or hair design. These really trendy haircuts are known for their low maintenance, hence you don't really need a lot of styling. If your little man chooses a longer buzz cut hairstyle, then you'll probably need to apply some gel or mousse for extra texture.
Short & Textured Toddler Hair
Short and textured kids hairstyles are perfect for those boys who have naturally dense locks and struggle to deal with cowlicks. These boys hair cuts don't require much maintenance or styling. At the most, some gel with loose hold.
Source: @mikes_custom_kuts via Instagram
Baby Punk
With a proper attitude, punk hairstyles can look appropriate on little cute boys. You will want to get the sides buzzed short and the top scissored long enough in order to be styled. To style punk toddler haircuts, apply some gel and mold the hair up into a point.
Source: @cheobarberpr via Instagram
Mohawk Babys Hair
Wouldn't your little guy look adorable with one of Mohawk toddler hairstyles? We bet he would! The kids Mohawk suits best those little rockers who feel like they have outgrown the plain faux hawk. To get the look right, the sides should be shaved. Off while the top of the head should be either trimmed or scissored, depending on the length you go for. To style the Mohawk, you can leave it hanging at the side or style upward with the help of a strong hold wax or gel.
Source: @r.braid via Instagram
Slick Back Fade Toddler Boys Haircuts
A fade haircut is a suitable option for those juniors who are okay with the sound and motion of clippers. It requires some time to create a gradual transition from shorter to longer hair on the sides. If you did overcome the fear of clippers or didn't really have one, you're offered a wide array of various toddler haircuts.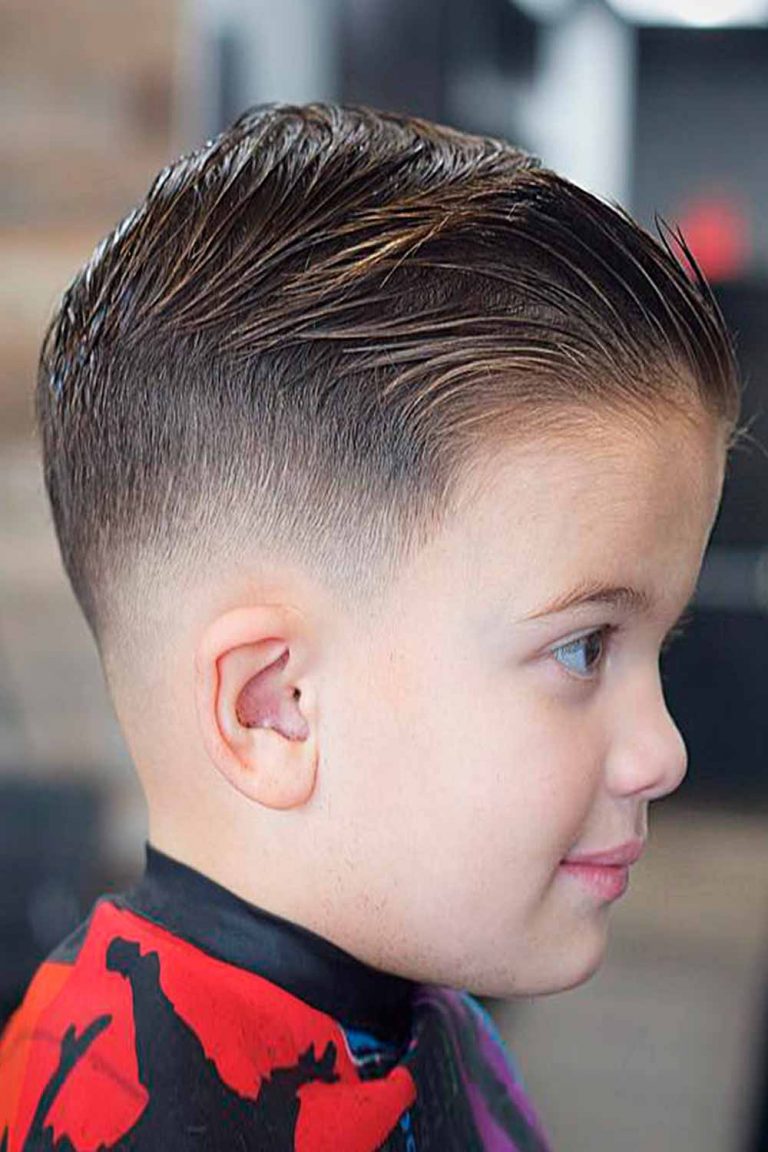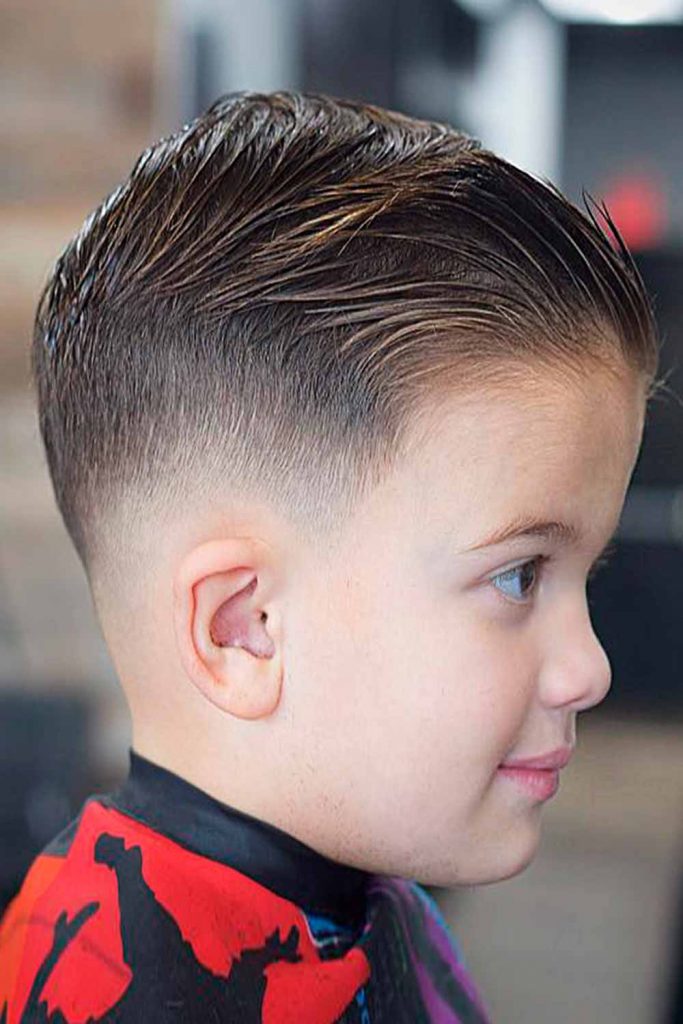 Source: @mikes_custom_kuts via Instagram
Quiff Little Boy Haircut
This toddler boy haircut is highly convertible, as it can be derived from a taper cut with added length and styling. To achieve a striking contrast, the sides should be faded or undercut. With the quiff pushed back, toddler boy haircuts can appear exquisite and daring.
Source: @alan_beak via Instagram
i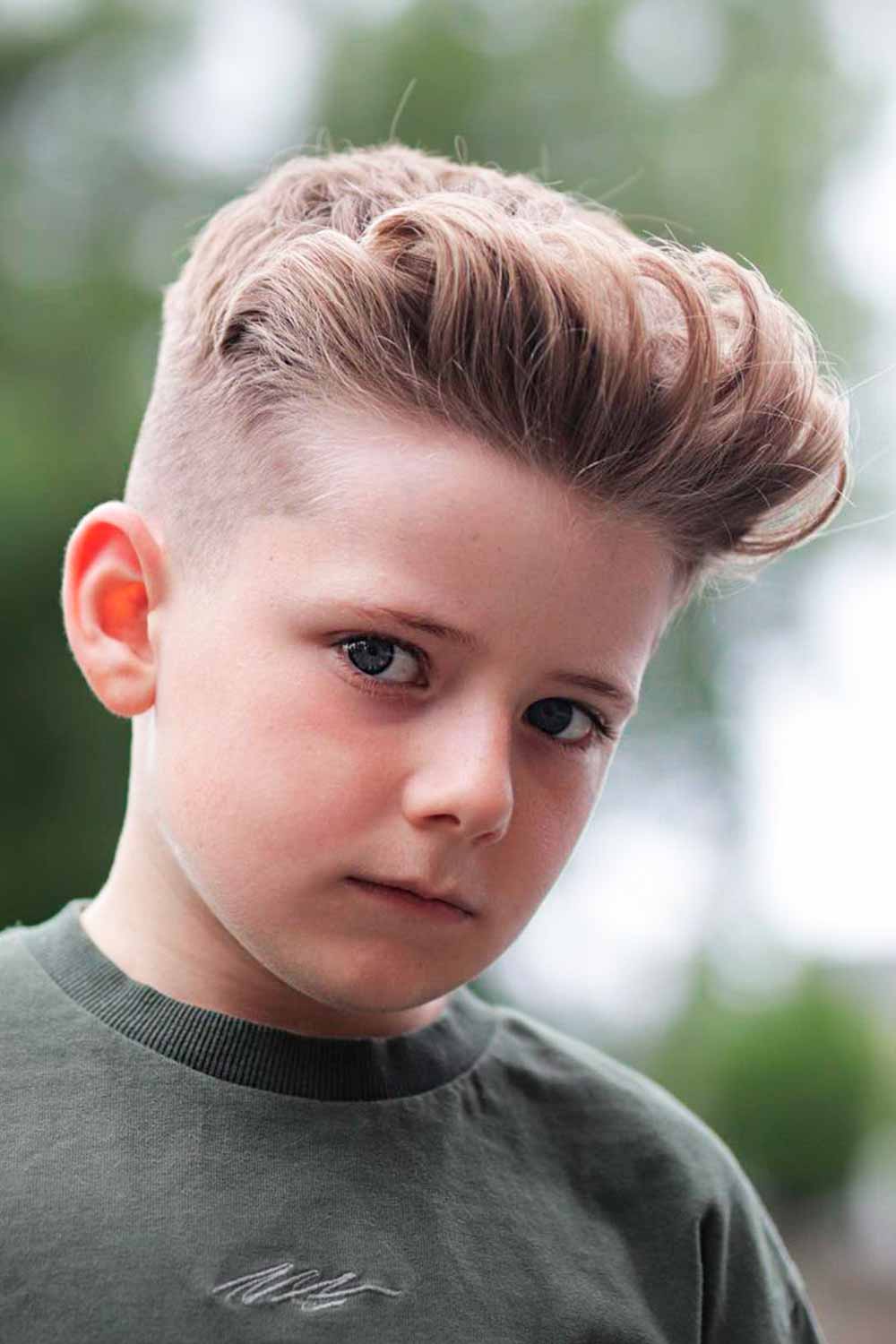 Source: @alan_beak via Instagram
i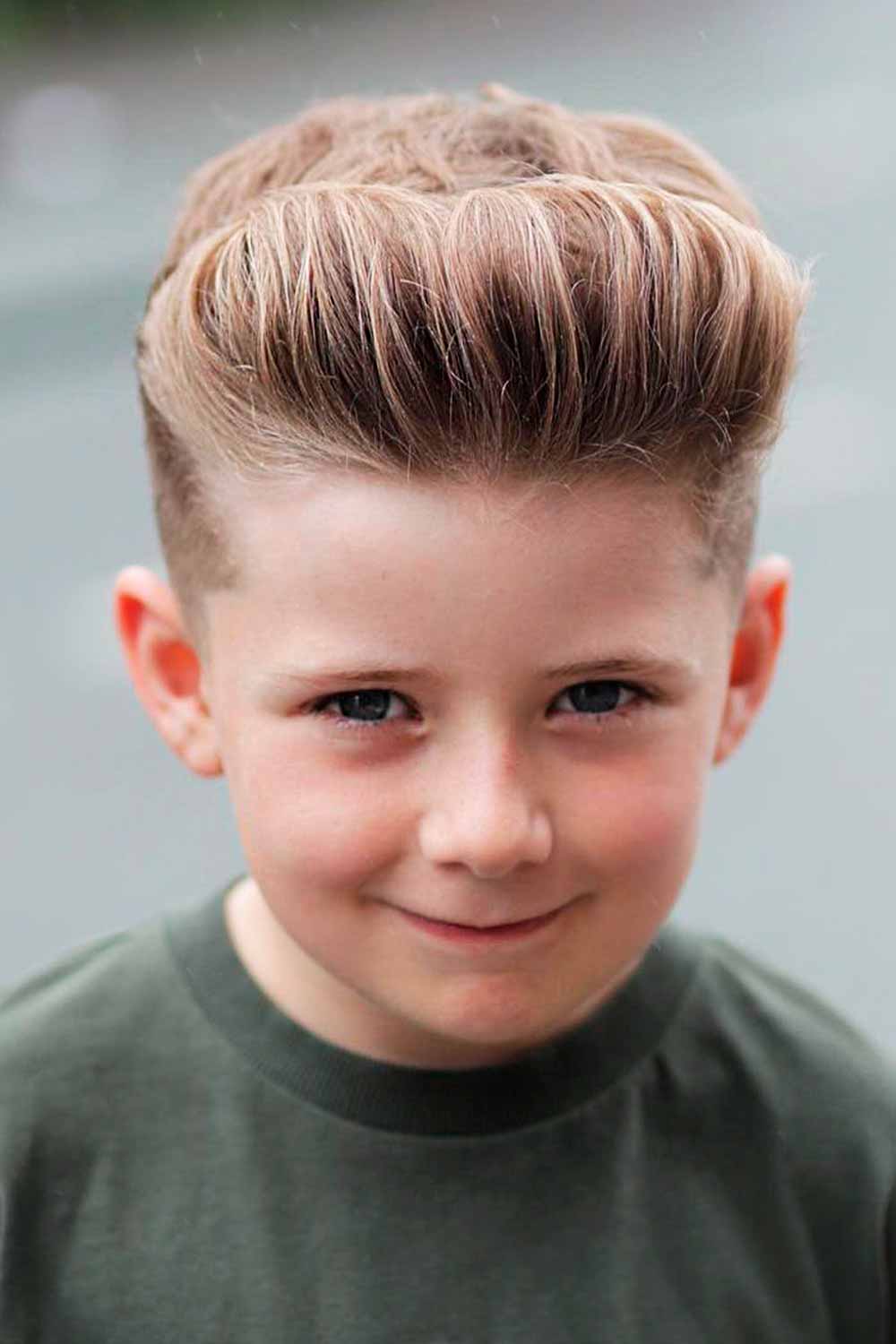 /
Afro Haircut For Your Child
If you are looking for an effective way to tame the unruly locks of your little mod, then consider this Afro hairstyle. Although it takes away quite a lot of hair from the top, it still allows him to show off his intricate hair texture, while the faded sides give the look a neat and sharp appearance.
Source: @nickthebarber via Instagram
Disconnected Cut Toddlers Hairstyles Boy
A disconnected undercut guarantees your little guy an edgy and bold look thanks to the striking difference in length between the hair on the sides and top. Because the transition is abrupt, this hairstyle already attracts quite a lot of attention. Thus, the styling can be pretty simple.
Kids Bob Haircut
Believe it or not, but a bob is one of the most popular toddler boy hairstyles. It is fun and playful, which is exactly what boys at this age like. Also, it will allow him to show off his hair texture, while not getting in the way during games.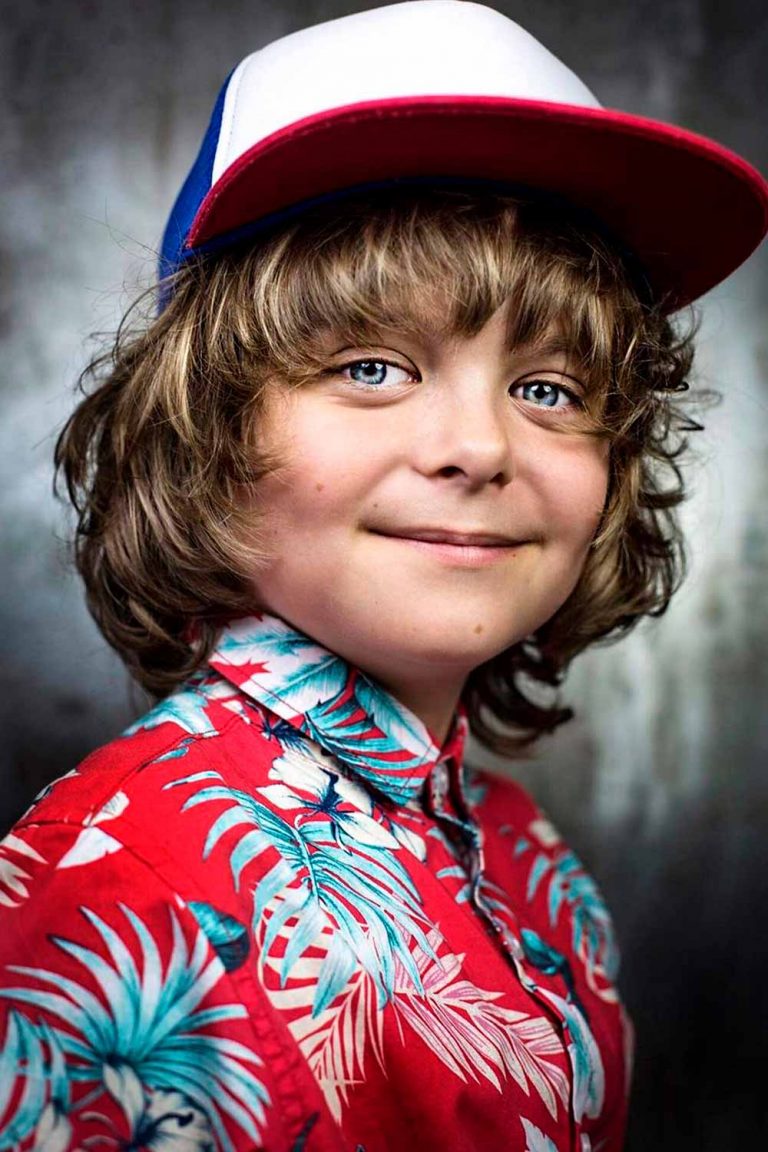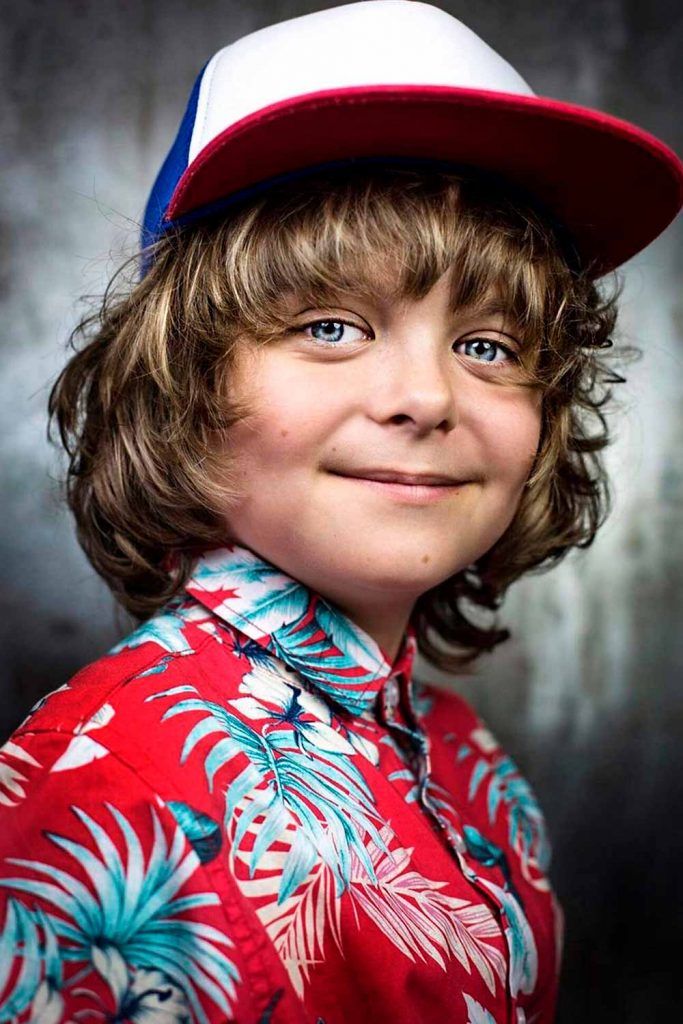 Source: @r.braid via Instagram
Wispy Dreams
Sometimes toddler hair cutting may become a nightmare for parents. But when you opt for easy toddler hairstyles with a cool twist, this does not apply to you. That is why a wispy bangs haircut with plenty of texture is a very good idea.
Source: @alan_beak via Instagram
Textured Mini Quiff
If your champ is not a big fan of elaborate haircuts because they require quite a lot of time and effort for styling and upkeep, then get him this low maintenance haircut. Despite being so easy to keep in check, the textured mini quiff looks trendy and eye-catching.
Source: @alexthegreatvivar via Instagram
Faux Hawk Fade Easy Toddler Hairstyles
Does your little rocker like to show off his ruffian side? Then allow his hairstyle to help him. A faux hawk is a socially acceptable variation on a classic mohawk. Thus, by getting it, you can rest assured that your little boy will collect only admiring gazes, not judgmental ones.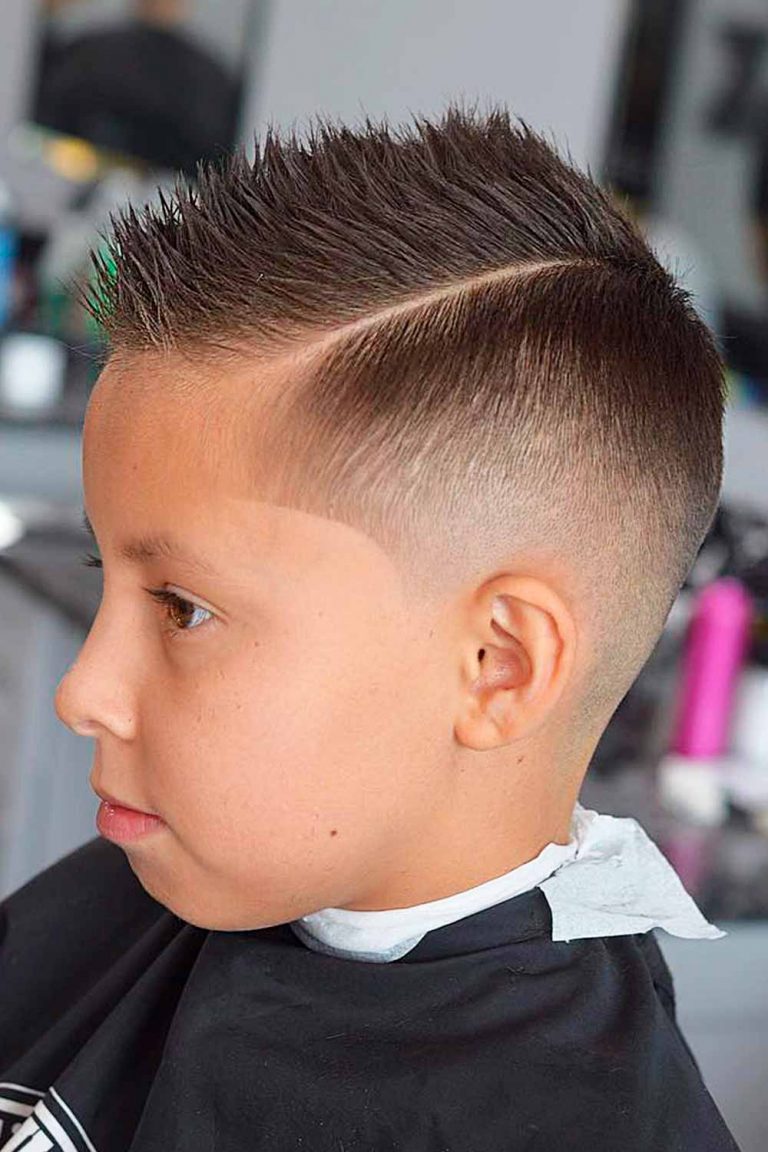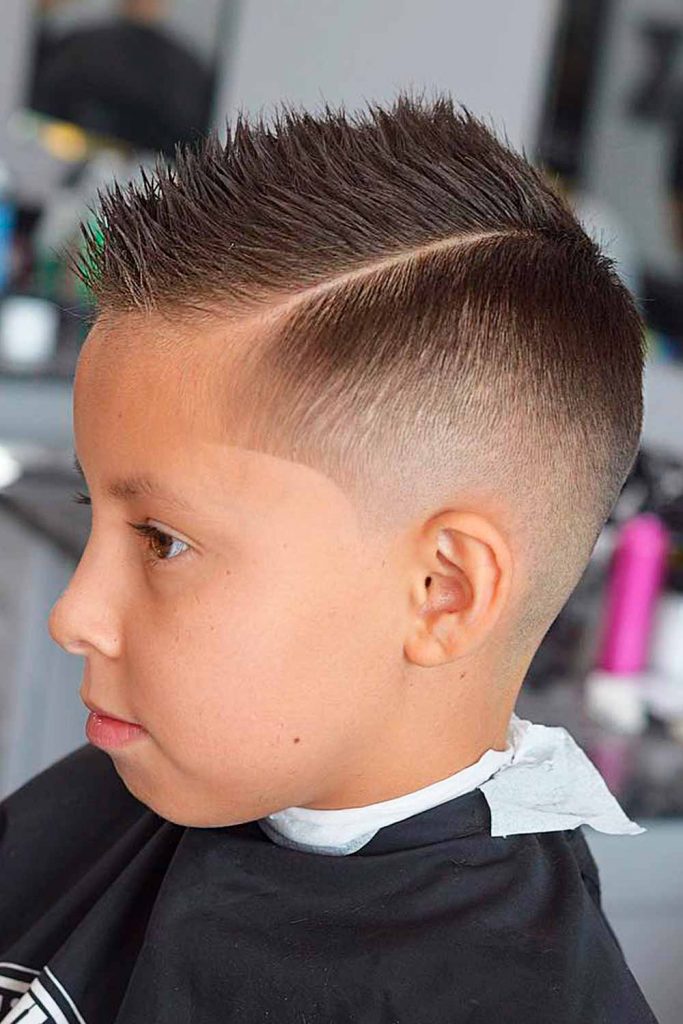 Source: @mikes_custom_kuts via Instagram
Red Curly Little Boy Haircuts
Curls are both a blessing and a curse, that's true. However, boys' curly hair can become a real disaster if you don't find the right haircut that will tame those unruly locks. And this is where one of the latest little boys haircuts 2023 has prepared for kids' fashion comes in! It's fun, stylish, and lightweight in terms of texture. Ask the stylist for layers so that the curls are not heavy and form defined spirals.
The Mop Top Little Boy Haircuts
The long and textured mop top is a fantastic haircut for kids who have fine to medium hair types with a slightly wavy texture. Paired with layers, this cut will enhance the natural wave of your kiddo, giving him a cute boys long haircuts with a textured feel that won't bother the eyes. The cut usually involves tapered sides that gradually transit to a longer top, so you can rest assured his hair will be in place.
Long And Layered Toddler Haircuts
If your little man is blessed with waves and he enjoys wearing them long, you can give him this groovy and modern look that will keep his locks out of the way. Although it has something in common with the mop top, this kids' hair cut has a more textured and tidy feel. To get the look, ask the stylist for razored ends all around the edges: it looks awesome when the top gives a soft fringe to boy's hair.
Low Taper Fade Baby Boys Haircut Styles
Here comes one of the coolest kids haircuts boys of today will be asking for this year. In fact, it embraces all the modern twists that barbers add to men's haircuts: a smooth low fade that transits to tapered sides and gives a funky layered feel on the top. Undoubtedly, that's a dream haircut for boys with super thick hair: besides a hip modern look, it also whips the texture into good shape.
Source: @mikes_custom_kuts via Instagram
Long Fringe Little Boy Haircuts
Parents who want to cut their boys haircuts short should really focus on the fringe today! Not only does this element give a cute finish to the look of the kid but it can also add a fashionable feel to your little mod. The best thing is, it can be as long or short as your kid desires, as well as adapt to anything from fine to super thick and curly textures.
Spliced Up Toddler Haircut
How about one more way to spice up little boys haircuts with bangs? This angled and textured haircut will work wonders for straight-haired kiddos. Opt for razored layers on the edges of your kid's bangs to get that sharp and dramatic vibe in the hair. As for the sides, there's nothing like a fresh and clean tapper that smoothly connects with a touched sharp finish on top.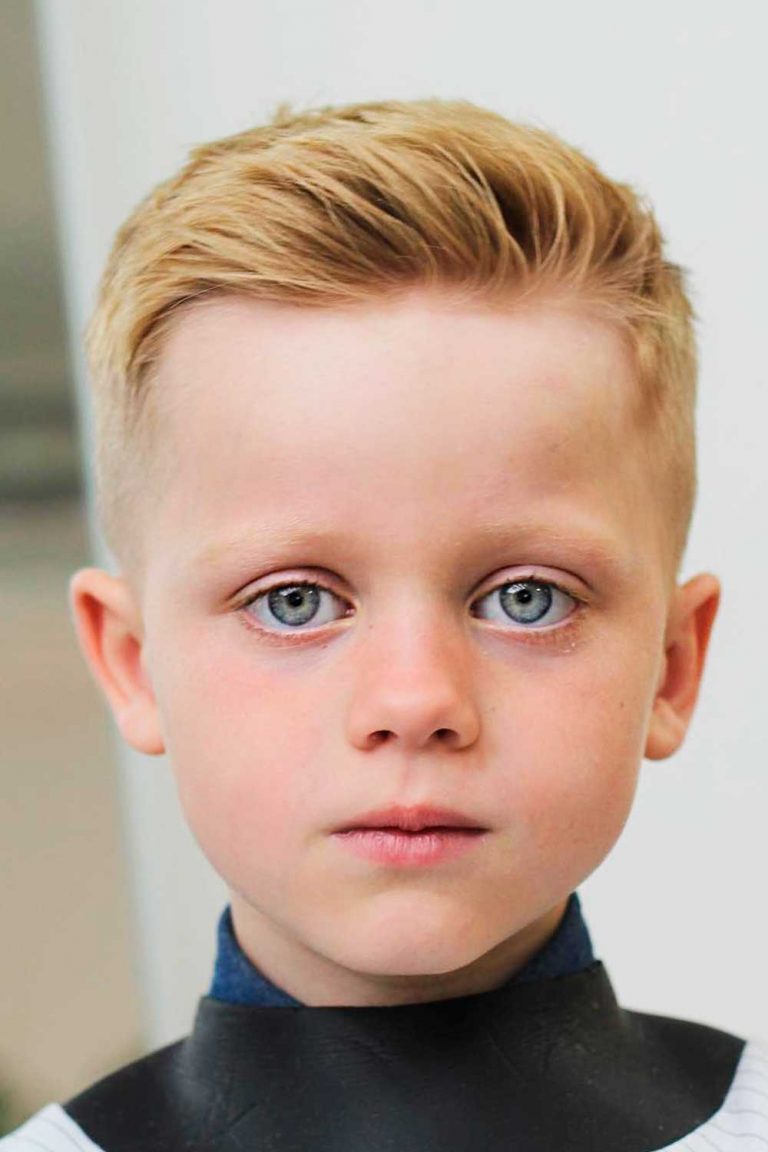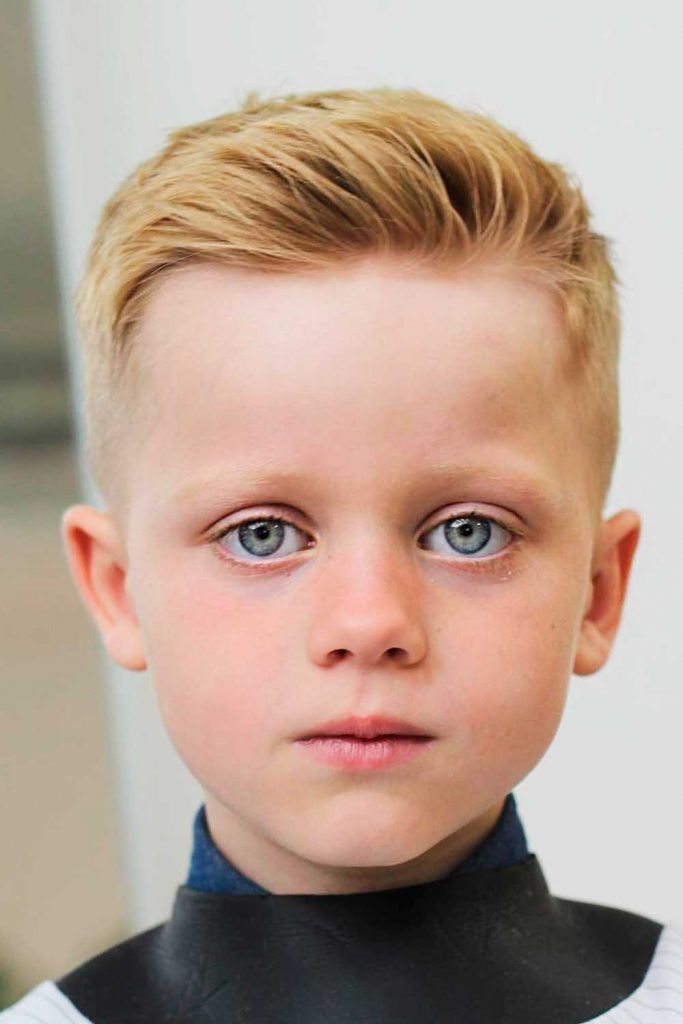 Source: @alan_beak via Instagram
Bowl Cut Inspired Haircuts For Little Boys
A bowl cut is still a very common 1 year baby boy hair style. However, not all parents find it very flattering. If this applies to you, then you can opt for a modern variation of the look. It is more elongated in the back and does not resemble a mushroom as much.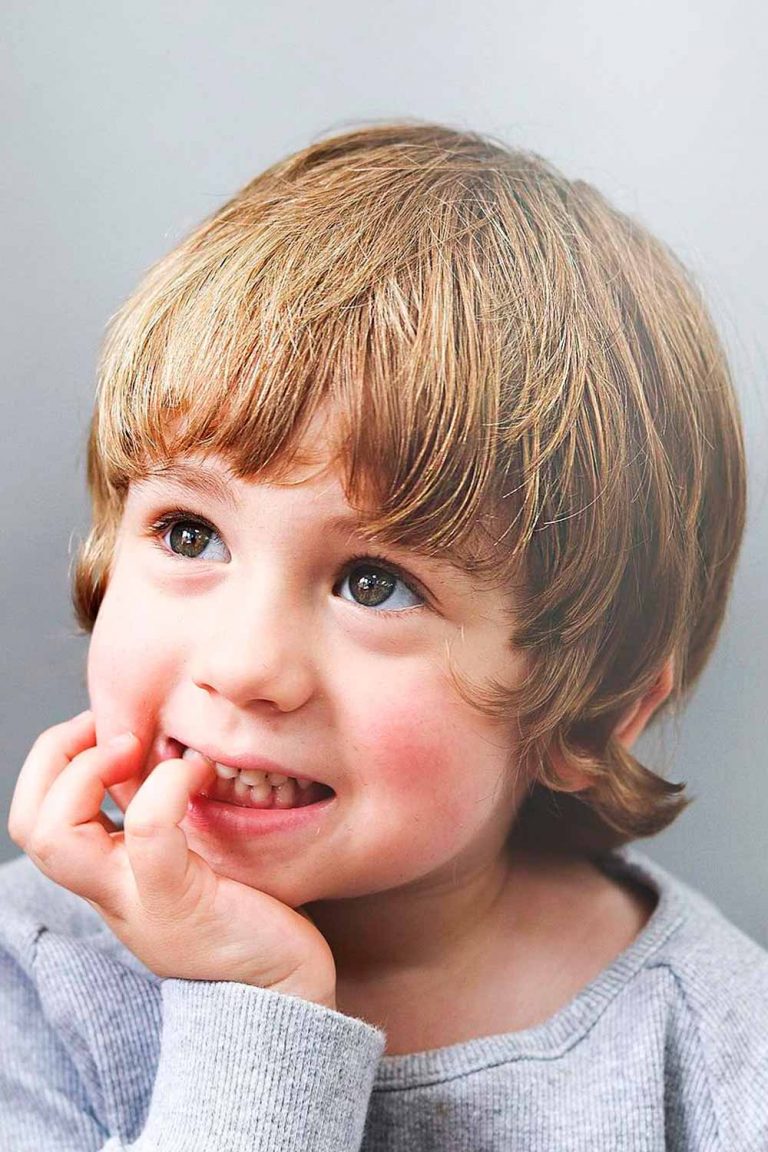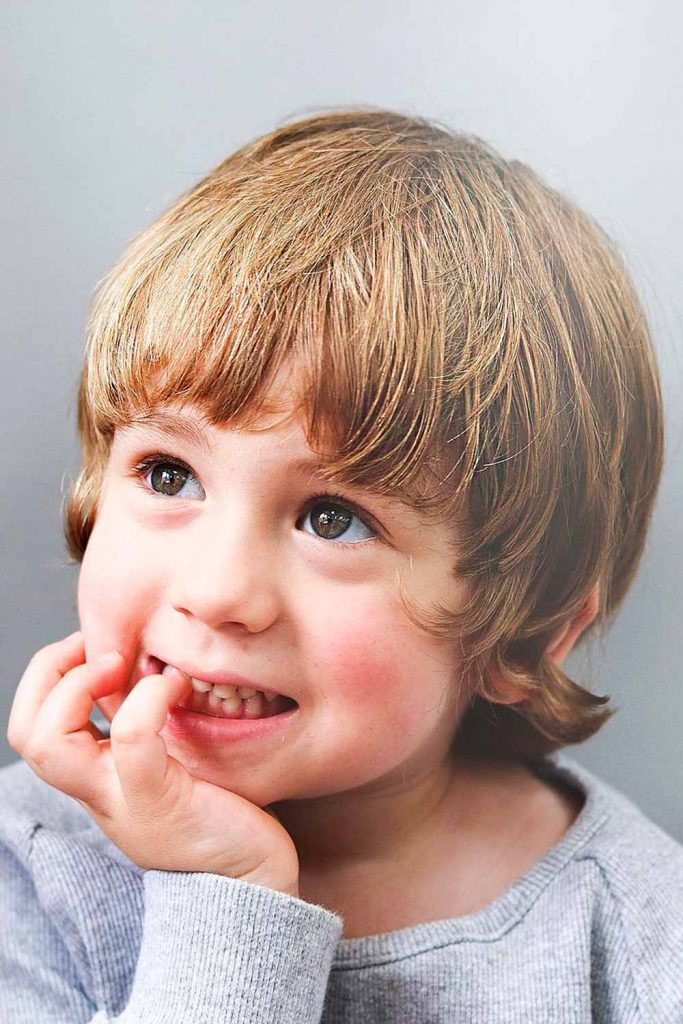 Source: @joshconnollybarber via Instagram
Sooner or later, your little boy will become grown-up enough to determine his personal style. Your task as a parent and friend is to encourage his identity search and advise on every choice. Selecting the perfect little boy haircuts is a great way to start his self-identification.
FAQs
What is a little boy haircut?
Little boy haircuts do not differ drastically from their adult versions. However, the most popular ones are those with short sides and a long top, as they offer versatility paired with a trendy appearance.
How do you cut a little boys hair cut?
Here is a quick step by step tutorial on one of the best ways to cut little boys hair:
1. Attach guard size #2 to your clippers.
2. Trim the hair on the back, moving the clippers from the bottom toward the top of the head in an upward motion away from the scalp.
3. Run the clippers around the ears and stop at the temple area.
4. Moist the hair on the top of the head.
5. Take a small upright section of hair and holding it between your fingers, cut all the hair that exceeds the finger level with scissors. Repeat for the whole parietal ridge.
6. Comb forward the hair in the front, hold a small horizontal section between your fingers and cut the fringe using scissors.
7. Comb up the hair on the top of the head, place a small section of hair between your fingers, holding them parallel to the head, and cut the excess hair that sticks out behind the fingers. Repeat for the whole top.
8. Repeat the previous step but this time, hold the hair perpendicular to the previous direction of the sections.
9. Blend the hair all around the head using a comb and clippers with no attachment.
10. Clean up the neckline, around the ears and temples with the help of a hair trimmer.
How do I cut my 2 year old boy's hair?
Should you decide to cut your two year kid's hair, follow this tutorial:
1. Separate the hair on the top of the head and secure it with a hair clip.
2. Attach the #2 guard to the clippers and trim all the hair on the back and sides.
3. Switch to the #1 guard and run the clippers along the lower part of the sides and back.
4. Spray the hair on top with water and comb it up.
5. Wedge the strand of hair from the top of the head between your fingers and cut it to the desired lengths with shears.
6. Continue doing so until all the hair on the top is even.
How often should a little boy get a haircut?
If your kid has a short haircut, then you should visit a barber for upkeep once in 4-6 weeks. For longer haircuts, this period can be extended to 8-10 weeks.
REFERENCES:
Men's haircuts range not only in style and length but also in the ambiance they suit and impression they give. Pick your perfect cut in the following guide. Source