Like the majority of Korean trends, the two block haircut has instantly become iconic. Thanks to its popularity, it has set off plenty of different variations, which makes this Asian hairstyle grossly versatile. It's tailored to fit any ambiance and personal style, ranging from sleek and formal to messy and casual. So, if you have booked an appointment with your barber for the nearest future, it's high time to choose the two block cut you're going to ask for. Browse our photo gallery for the trendiest inspiring ideas.
_We may earn money from affiliate links on this page. Please check out our disclosure policy for more details.

What Is The Two Block?
A two block haircut showcases the trimmed or shaved back and sides of the head while leaving the top long and styled as desired. Originally developed in Korea and has become a household name in fashion, this Korean haircut is similar to undercut where the back and sides of the head are cut very short.
It has been very famous in KPop male hairstyles and if you are thinking if you should get one, the answer would be yes! With its stylish and comfortable cut, it would be hard to refuse, especially when you are a person of fashion and comfort.
There are so many ways to style the two block mens 2023 haircuts. Check out what we have in store for you below!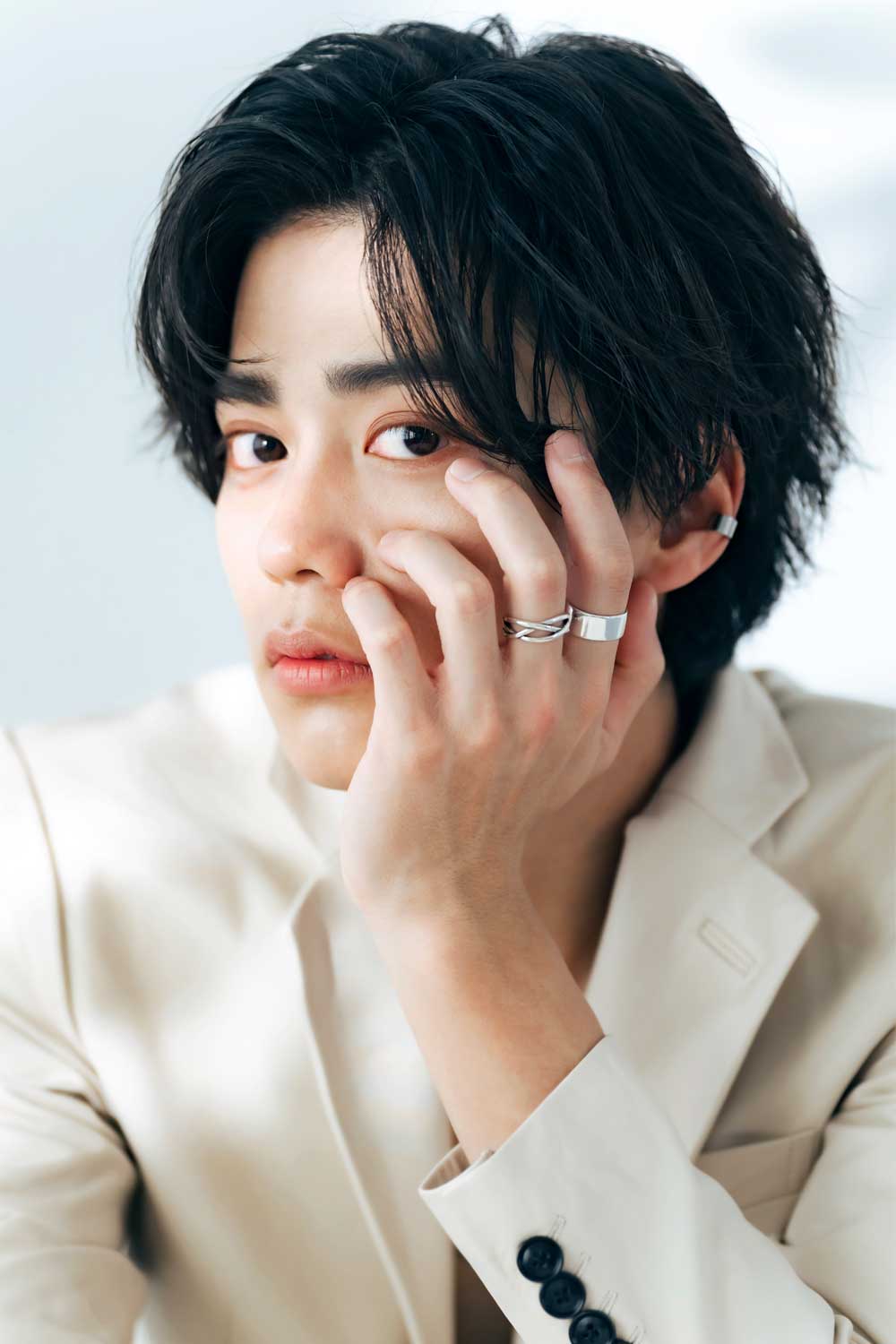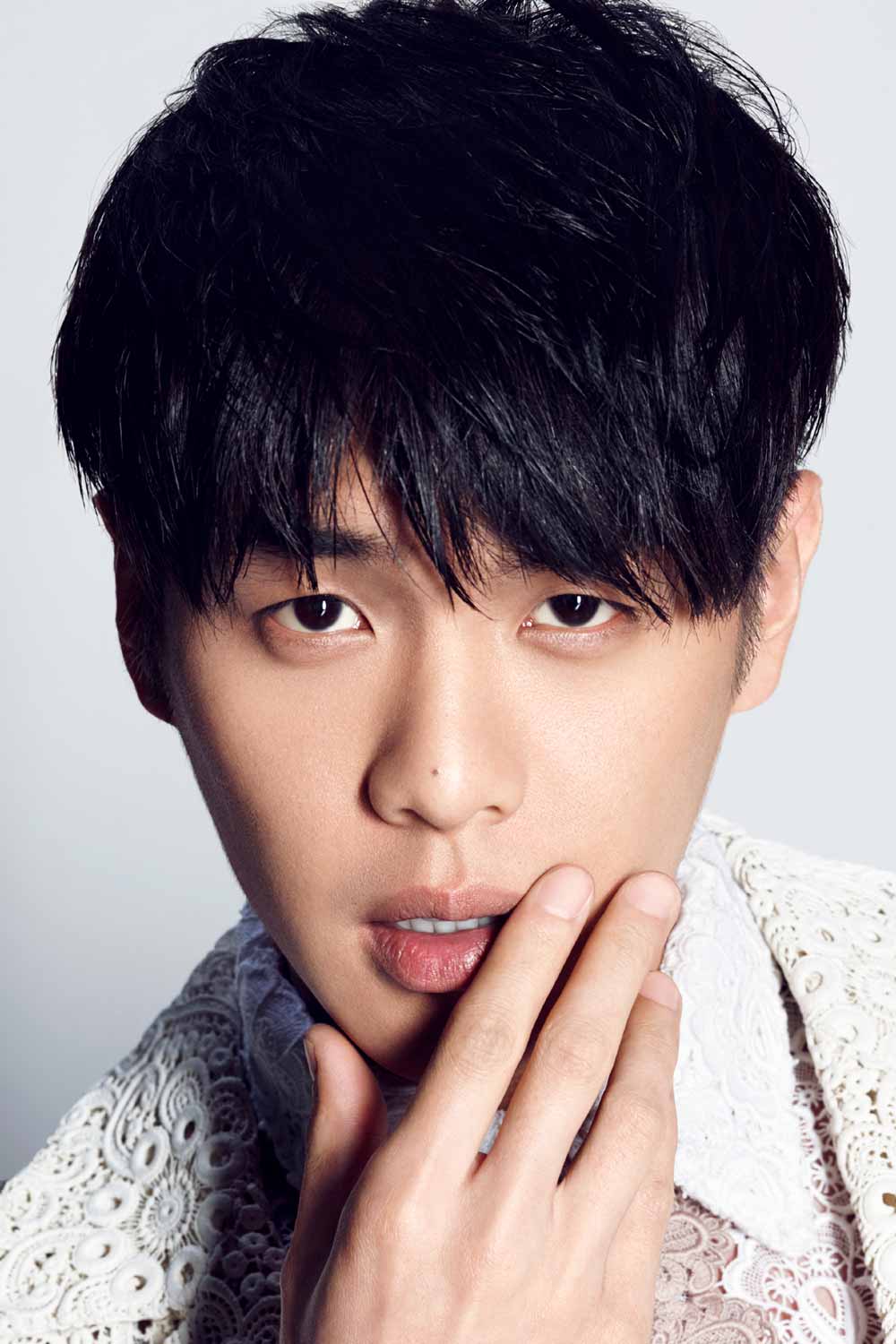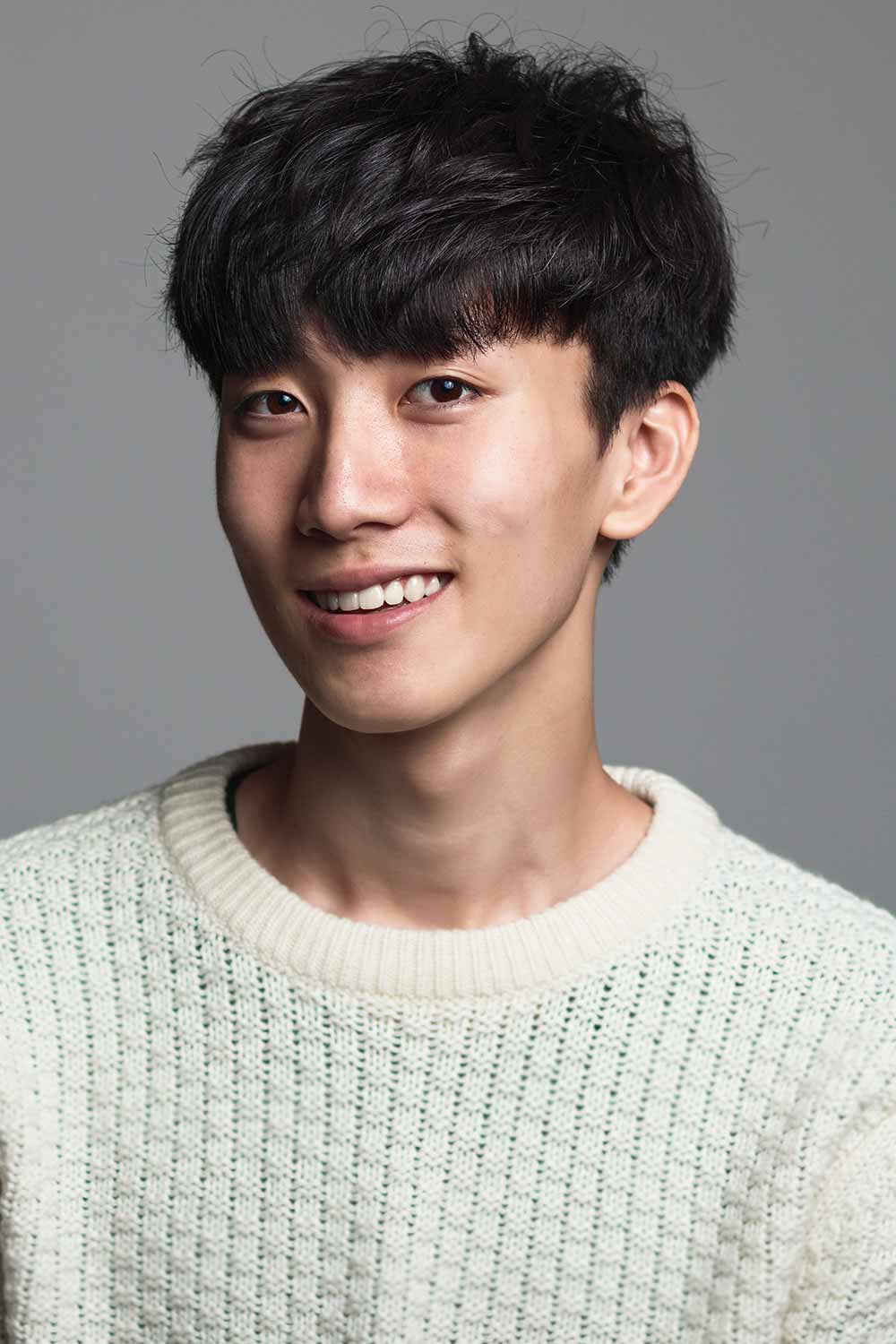 /
Popular 2 Block Haircuts To Try
Getting a two block haircut will need clippers – not scissors. Don't worry, hairstylists know that. If you are in, two of the popular styles for this cut are the separated undercut and the slicked back.
From the sides, the separated undercut lets your crown hair pulled up and an undercut will generally have it isolated. The slicked will show more of your professional and formal side, especially when you are in the corporate world. It's a Korean boy haircut that has been making huge waves these days.
Brown Two Block Haircut With Side Part
Nothing is really bad when it comes to hair colors and if you have naturally black or brunette hair, it would be more ideal to get a subtle and effortless brown shade for your two block haircut. Keep the back and sides of the head as is and apply a lighter shade of brown that can stand out of your natural hair color for a great blending.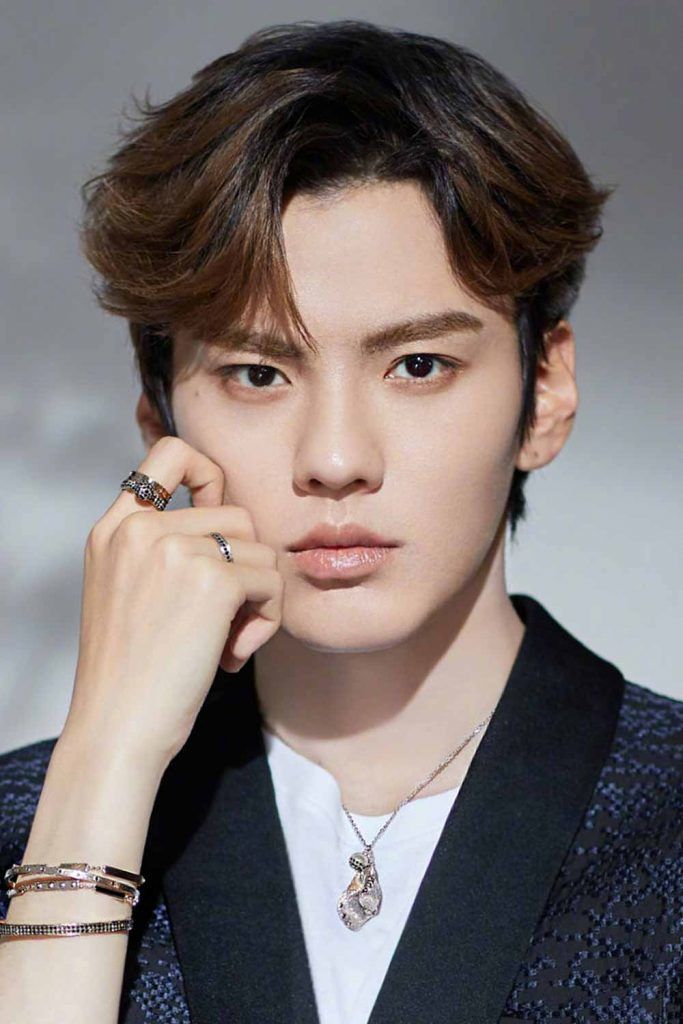 supermodel/Shutterstock
Two Block Undercut
For the most part, you can hardly call KPop hairstyles conventional. They're unique and elaborate and not everybody will manage to pull them off. However, if you dare to channel them, it will pay you off with compliments you'll get left and right. Try out, for example, this edgy and contrasty separated two block haircut.
supermodel/Shutterstock
Sharp & Textured Two Block Haircut
The majority of KPop hair styles has very defined and edgy texture. This can be achieved thanks to the right cut, of course. Ask your barber for a two block trending mens hairstyles 2023 with tapered sides and back and feathered hair on the top. This hairstyle has all the chances to become your signature look.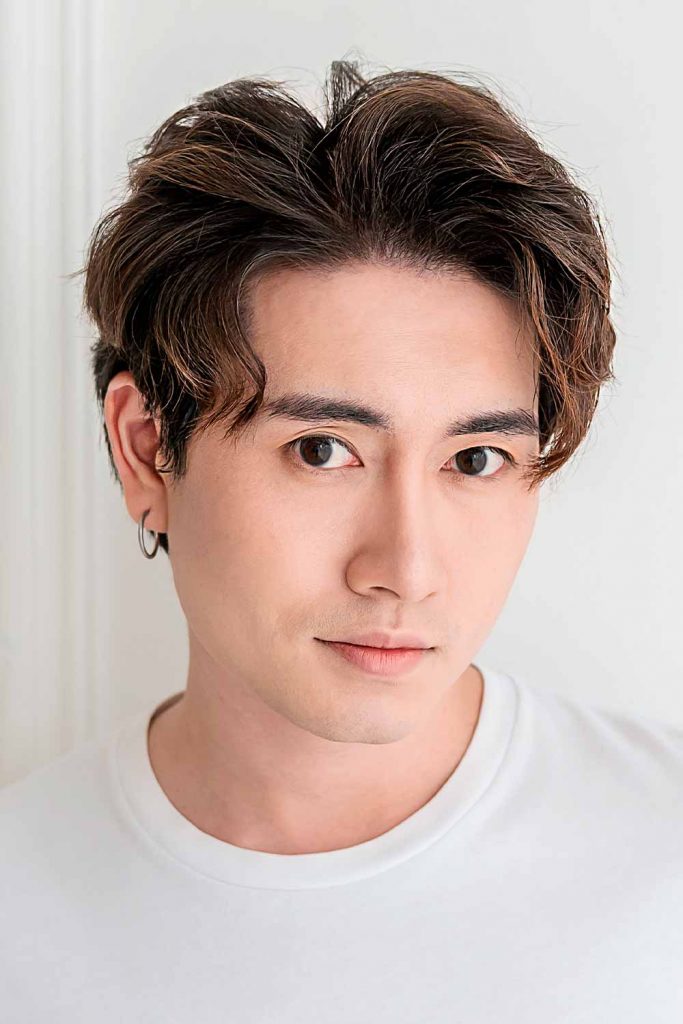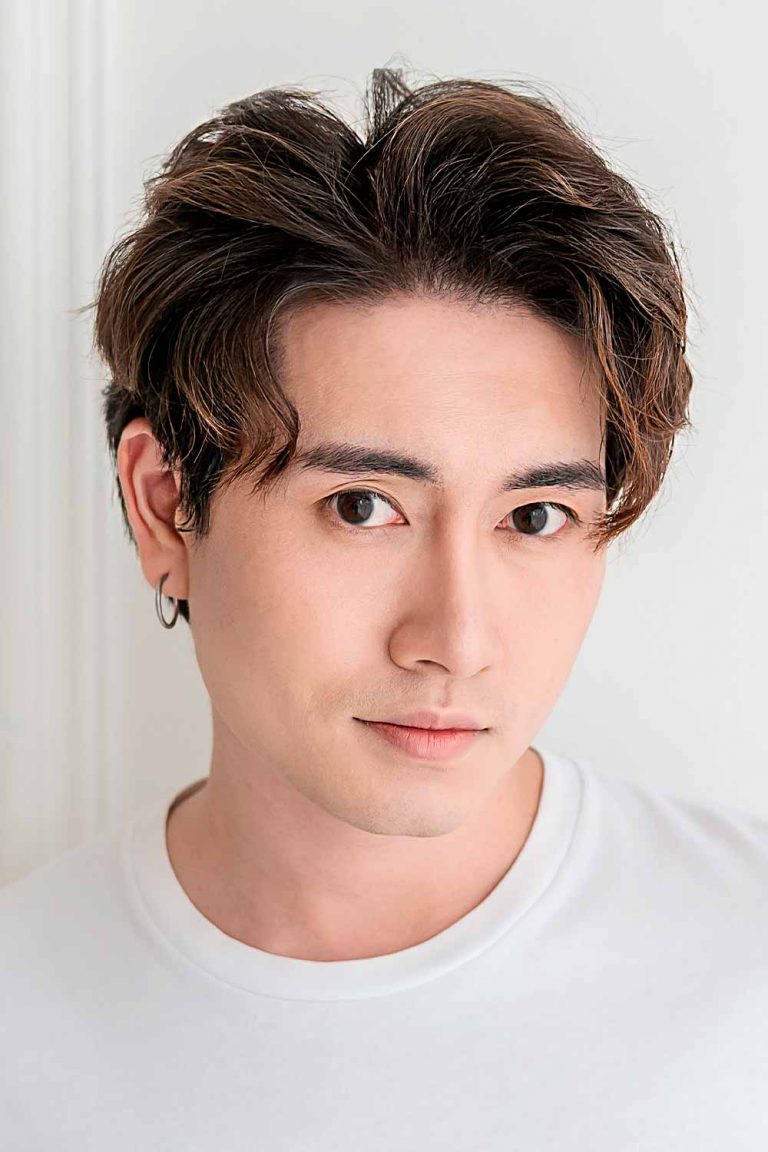 Two Block Haircut With Straight Bangs
Another benefit of a two block cut is that thanks to the straight bangs it features, it can help to frame your face as well as to disguise a too prominent forehead should you have one. As the hair on top is rather low-key, you are free to choose any cut you want for your sides and back – from a bald taper to a drop fade.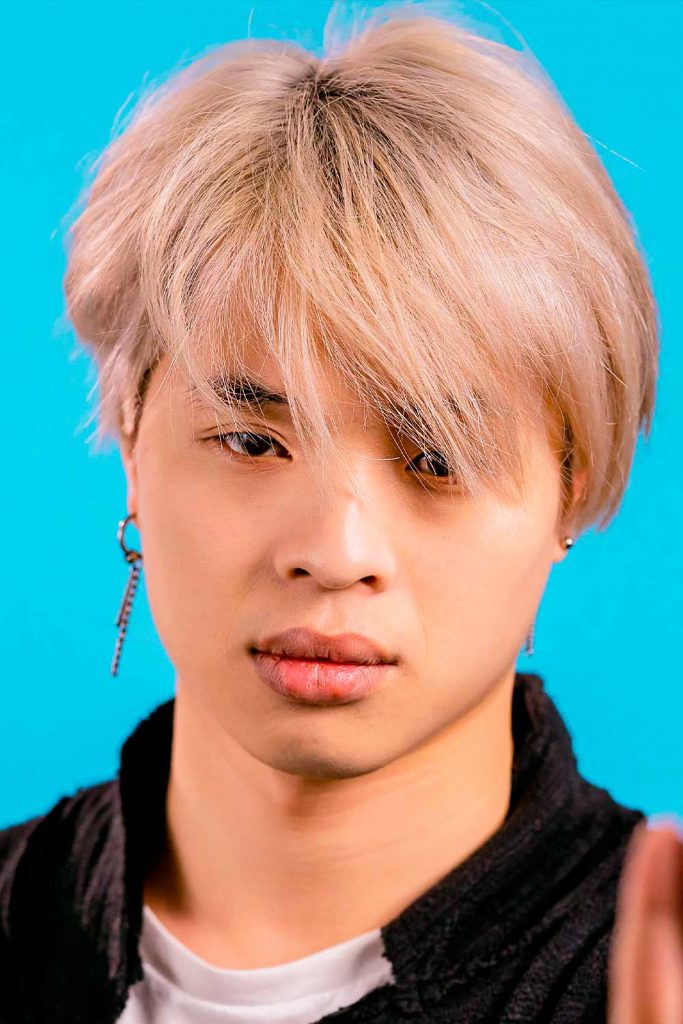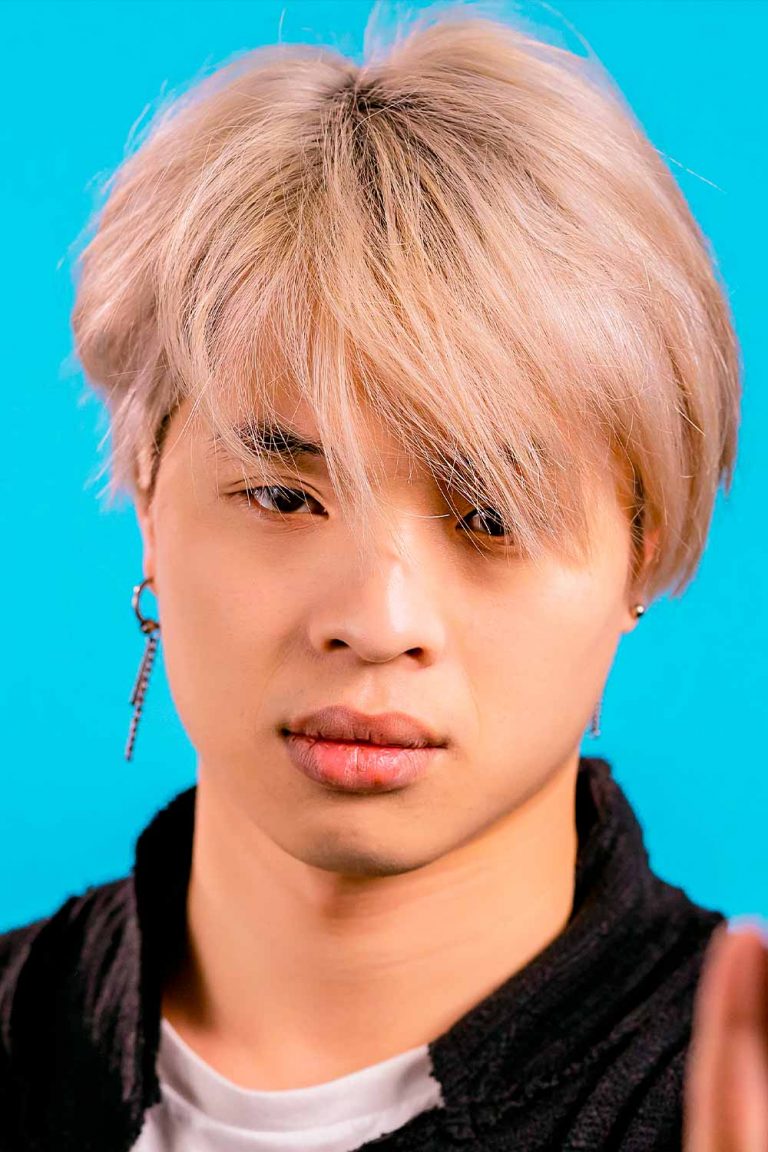 Slicked Back Blocked Hair Cut
Here's another gem of elegant Korean hairstyles. The slicked-back hairstyle actually doesn't require any specific cut. However, a two block haircut provides a perfect base for it, as the trimmed sides allow for the slicked-back hair on top to stand out even more.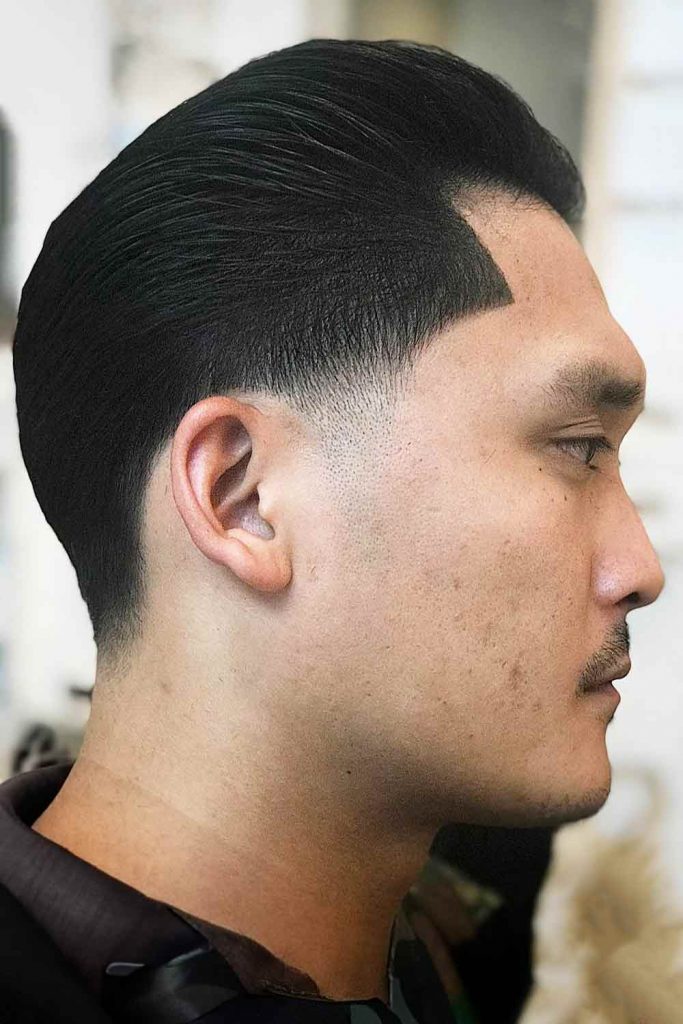 Source: @catchafade__ via Instagram
Extended Fringe K Pop Hair
The good thing about getting a two block 2023 men's haircuts is that it can be styled in so many ways. Maintaining the shaved and trimmed back and sides of the head, the extended fringe would be perfect for adventurous men! The choppy layers in the front with a fringe that slightly covers the eyes and the entire forehead speaks huge!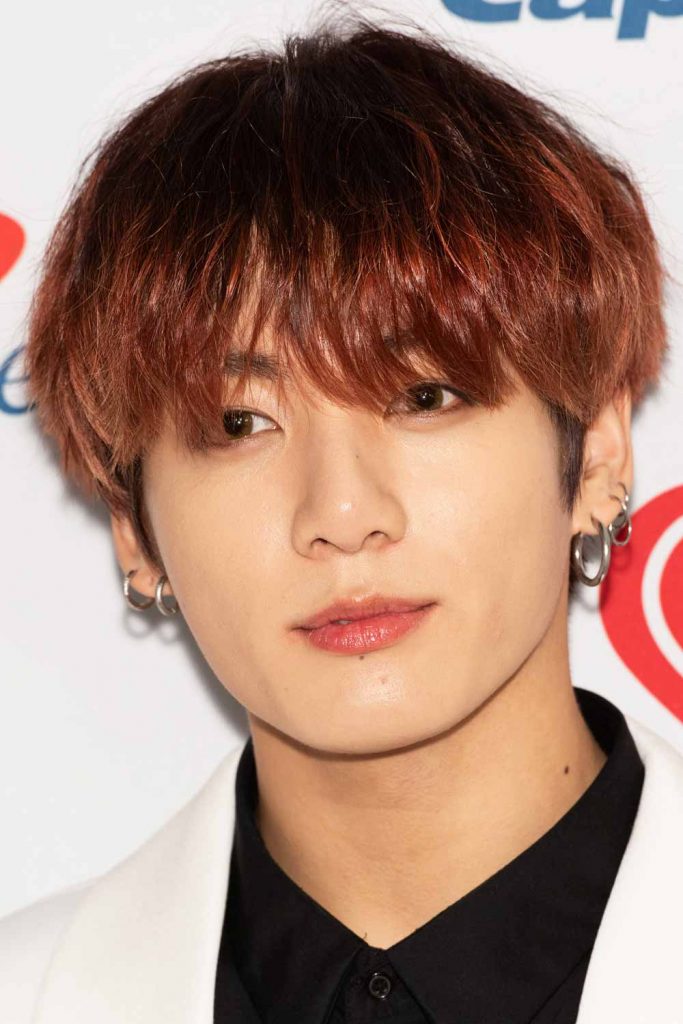 Silvia Elizabeth /Shutterstock
Spiky Two Block
A spiky two-block haircut is perfect for men who love messy and voluminous hairstyles. You can use some styling products, like pomade or clay to achieve a voluminous look with the top being long enough so it doesn't get in your face when you wear it out of bed during these hot days!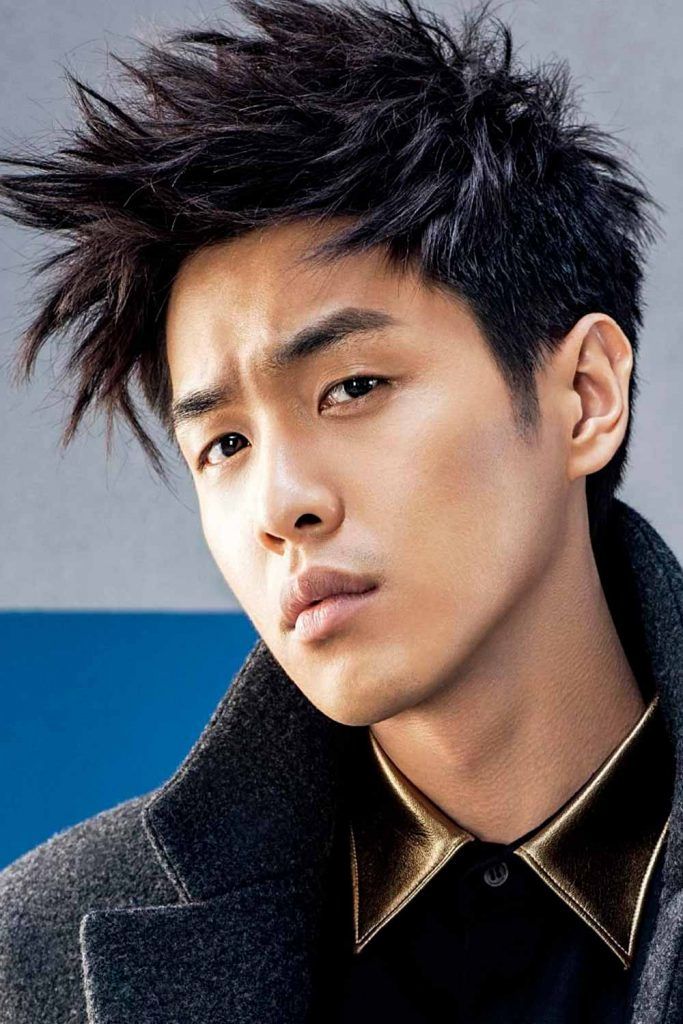 supermodel/Shutterstock
Silver KPop Hairstyles Male
Who says men can't dye their hair silver? With two block haircut, any hair color will do, but silver will definitely turn heads!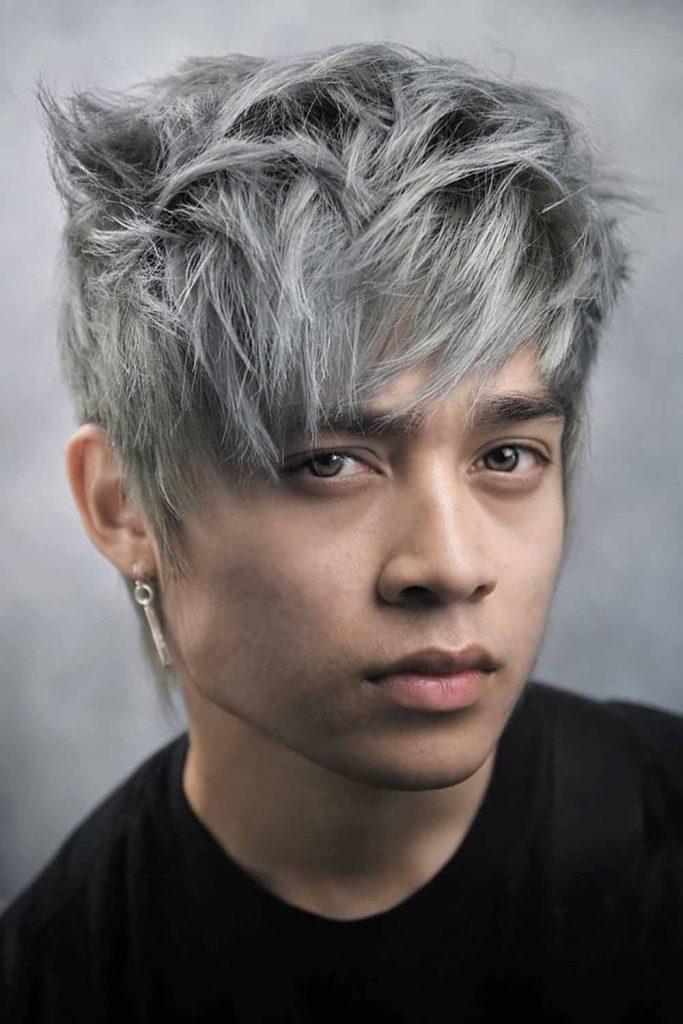 Source: @spukthebarber via Instagram
Messy KPop Hair
If you love to keep your two block 2023 men's hairstyles in medium length, ask your hairstylist to style it in layers to maintain the fun vibes that it brings! This will define your personality while keeping it cool and stylish.
supermodel/Shutterstock
Short & Straight KPop Hairstyle Male
Messy hair don't care! The line is famous among men and women who love showing off their messy hairstyles. Certainly, the two block haircut isn't exempted from this! So, if you like it tousled and stylish at the same time, making it look one isn't hard!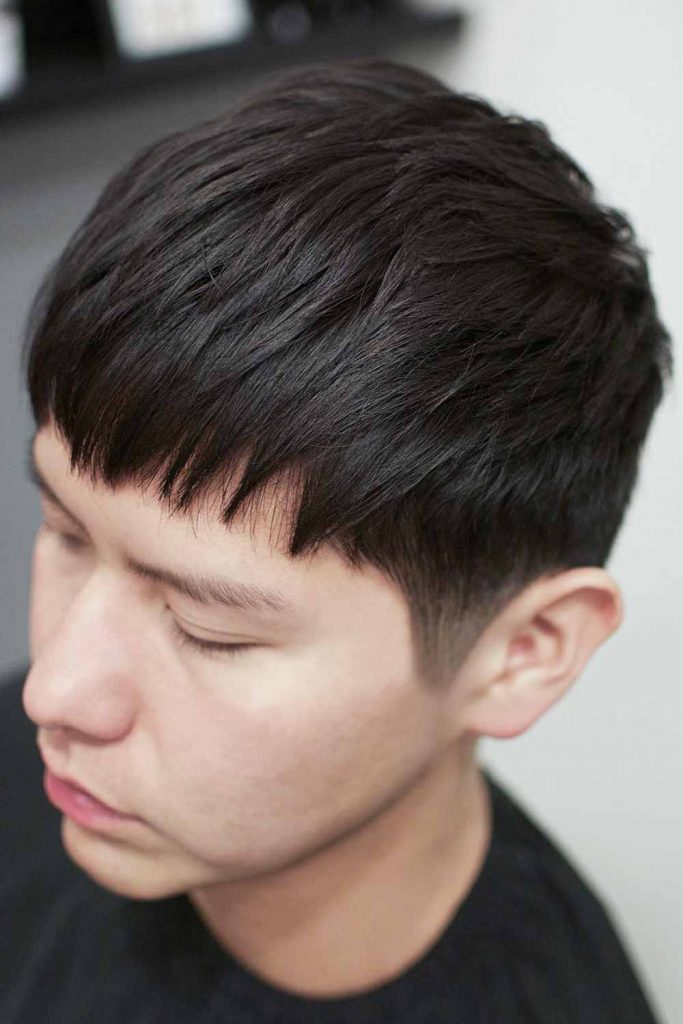 Source: @johnny_snips via Instagram
Korean Two Block Cut With Highlights
Rather than a specific shade of hair color, the reddish hues are a trend that also looks great on two block haircut. But highlighting your hair with blorange – a famous shade from the mixture of blonde and red would make it even more equally exquisite and stunning!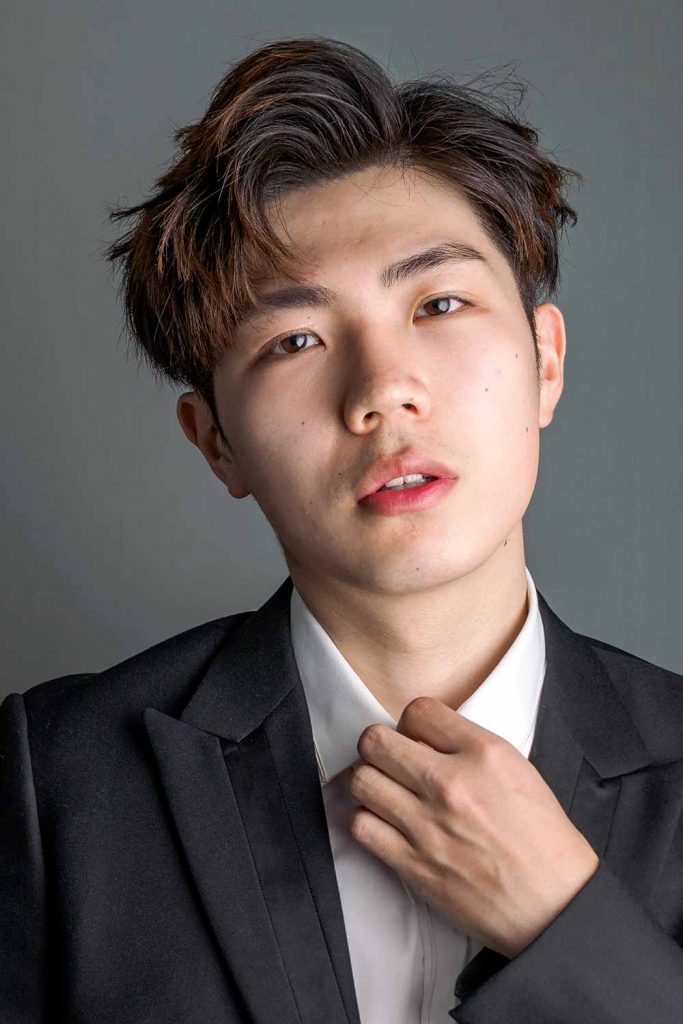 Middle-Parted 2 Block
The two block haircut is a modern twist of the famous undercut that many men (even women) love. If you were born in the '90s, a middle-parted style creates a modern vibe for you. It doesn't have to be prim and proper, but it can simply make the haircut fresher that stands out with the others.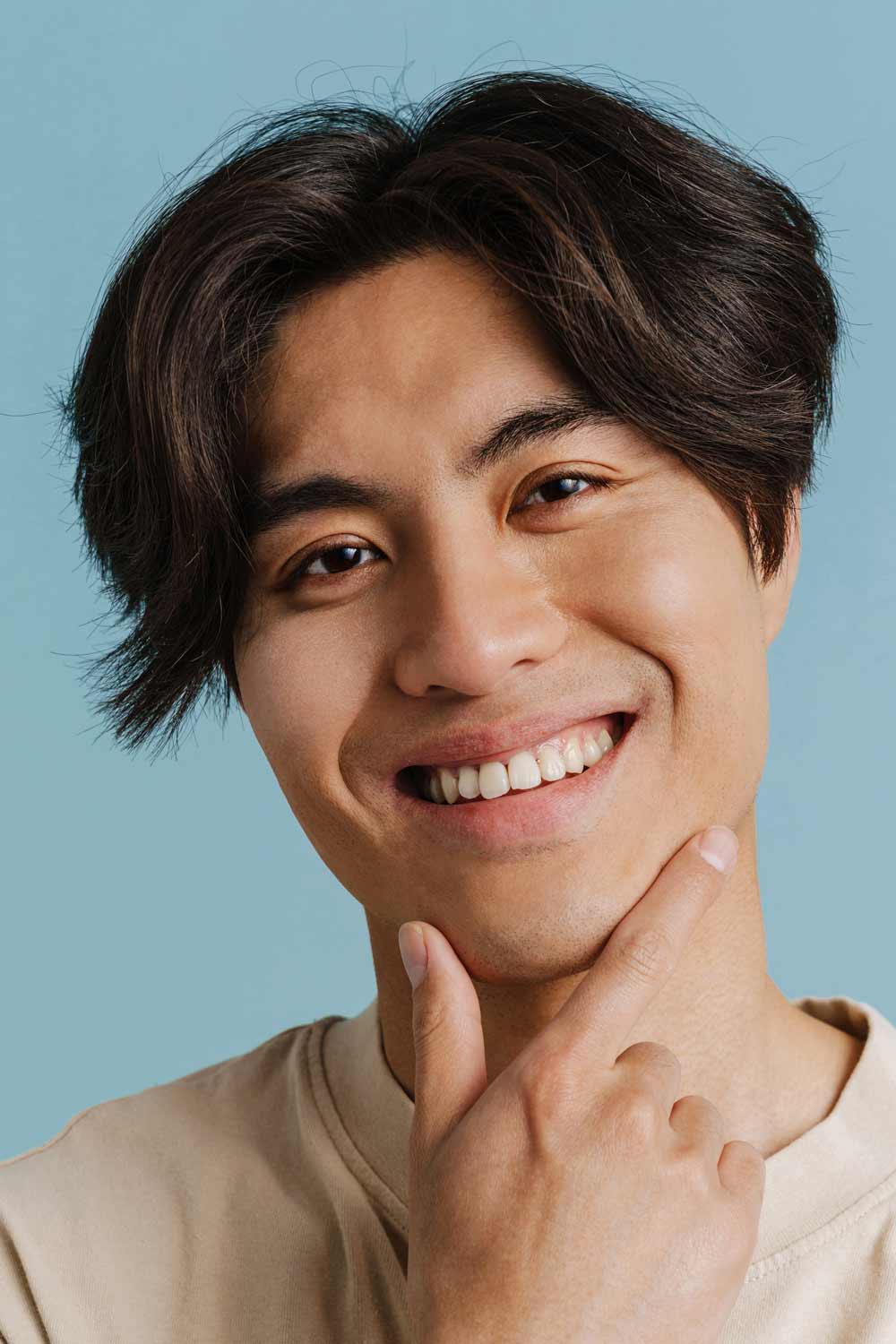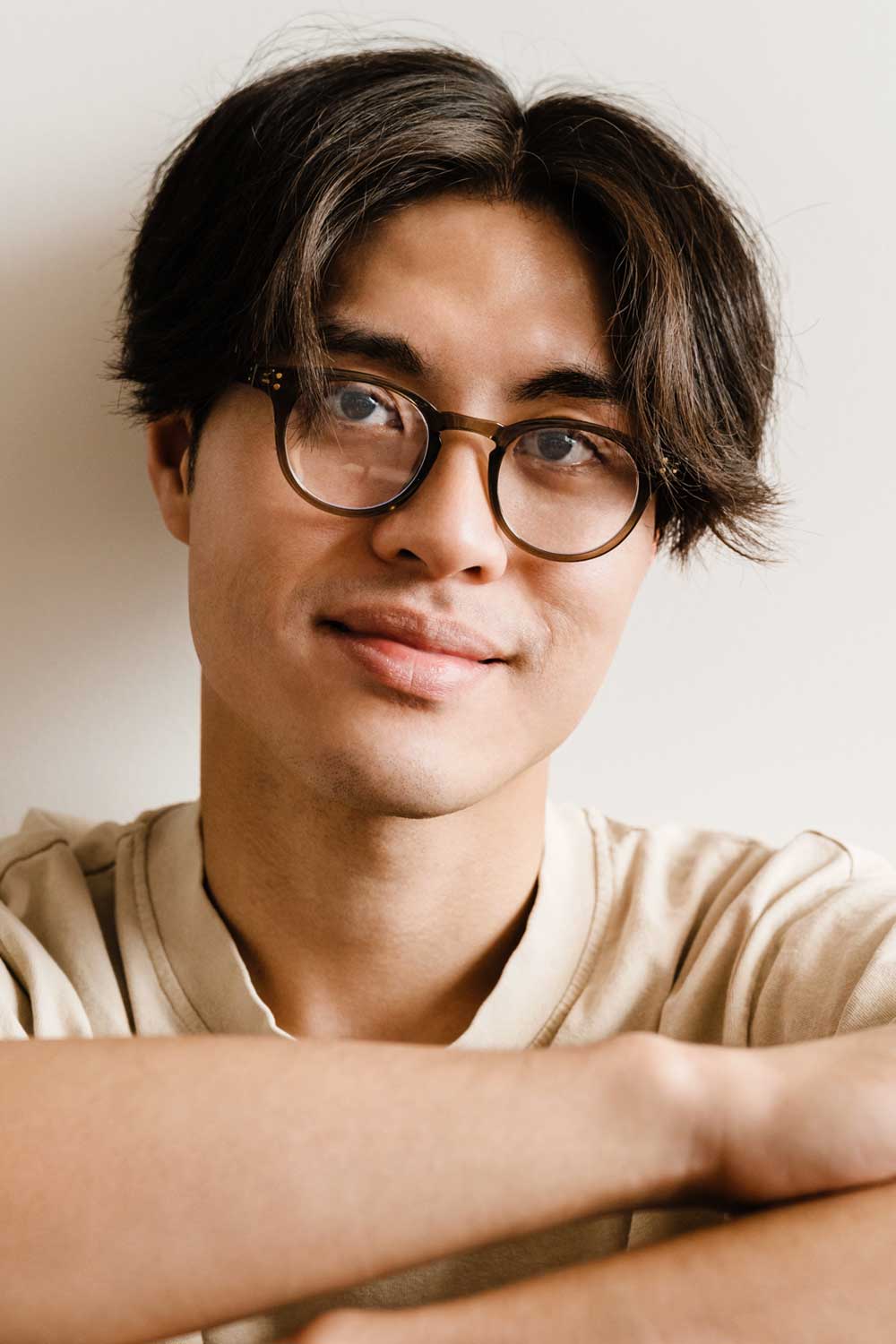 /
Long KPop Haircut
While the two block haircut becomes more famous these days among Koreans and KPop fans, you can make it more fascinating by maintaining the top long with the back and sides still trimmed. Many Korean men love this style as it keeps them look more fashionable and playful.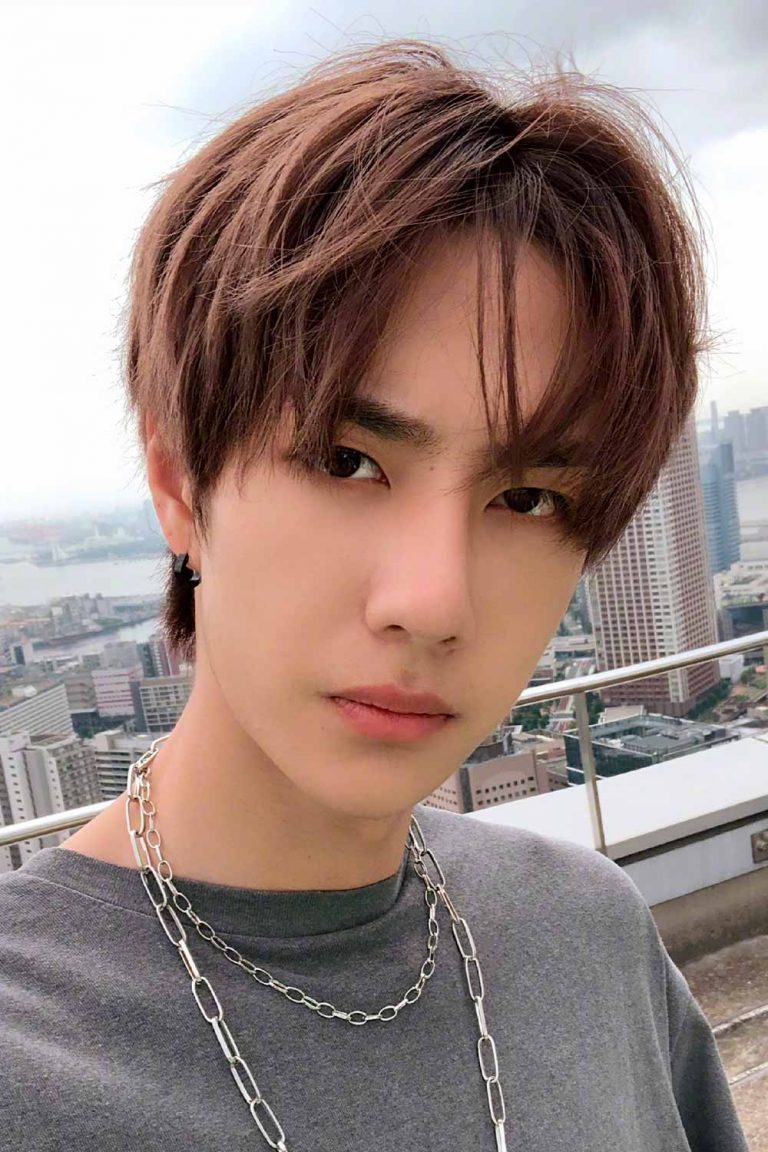 supermodel/Shutterstock
Two Block Hair With Rounded Bang
If you are hoping that the two block haircut can offer you both a professional and casual look, you are definitely right! With a rounded front fringe that covers your entire forehead and partially covers your eyes, you can rock this style with ease!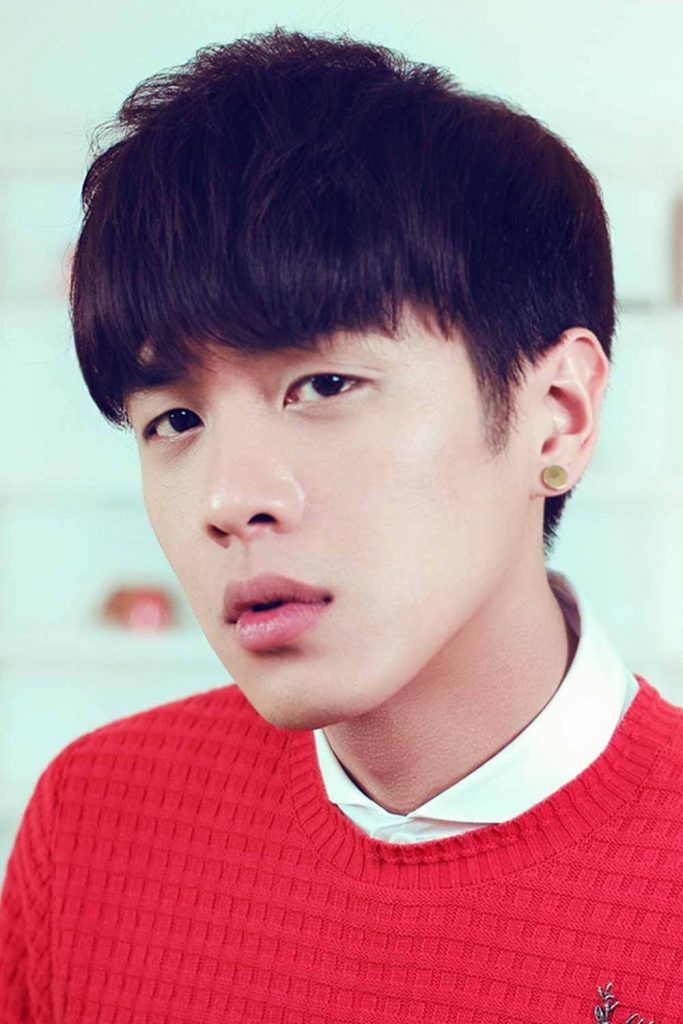 supermodel/Shutterstock
Side Swept + Texture
This one is an updated version of two block haircut that offers both fun and cool side of your personality. The textured fringe definitely gives a modern twist to this haircut while making it look fresh with highlights. You only trim it regularly to maintain the look.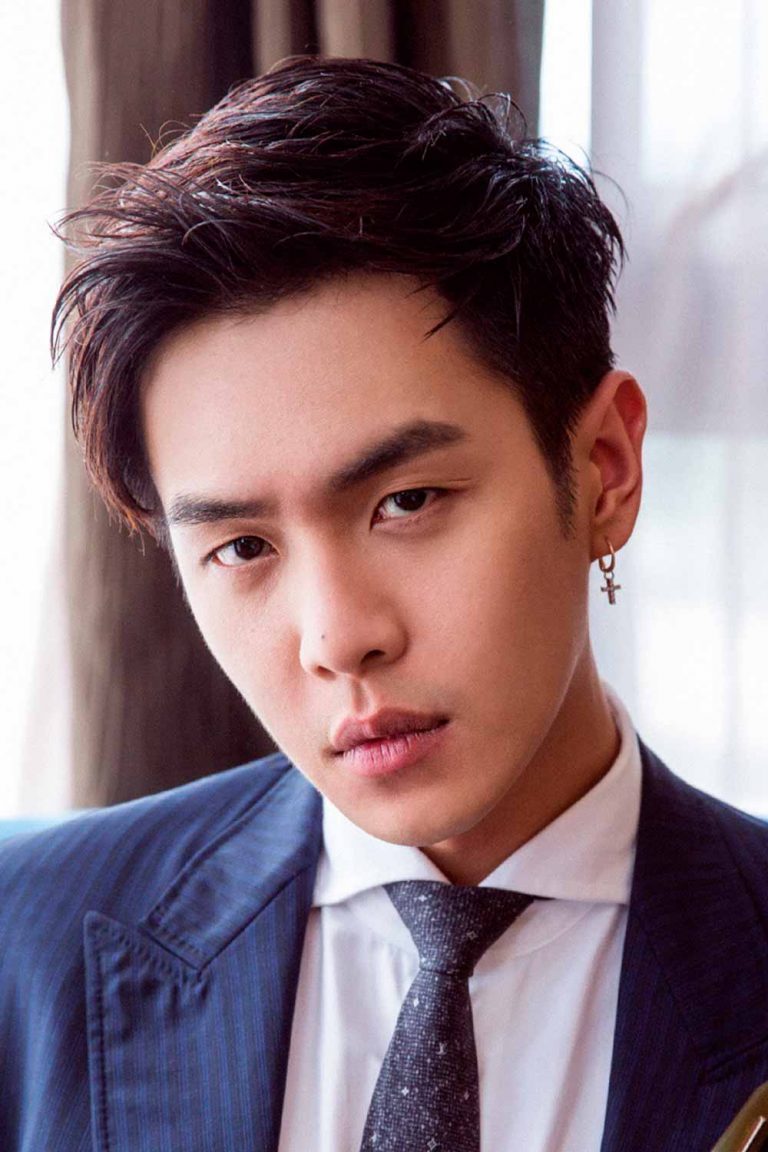 supermodel/Shutterstock
Blue & Layered
With two block haircut, you can do a lot of things like layering your crown and leaving a fringe for face-framing. If you have thick hair, you can do a lot of layered styles, but if you have thin hair, keep it low with layers to maintain the fashion. Highlight or color it with light blue to make it look livelier and more fashionable.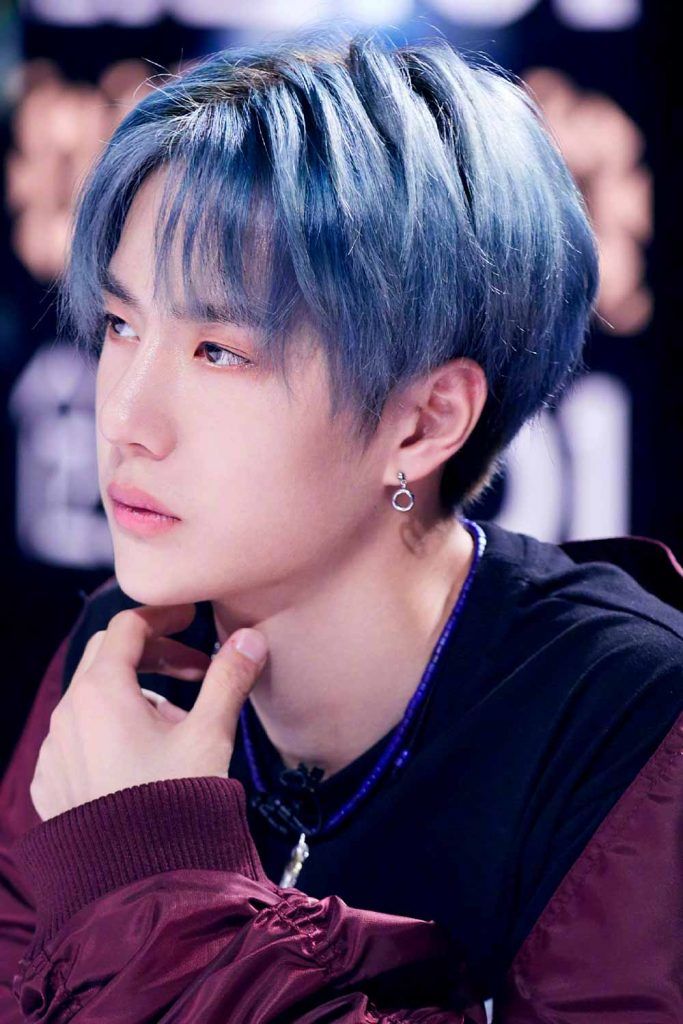 supermodel/Shutterstock
Asymmetrical Voluminous Styling
One good thing about the two block haircut is that it can give many styling options, including the asymmetrical tresses. This goes well with shaved back and sides while keeping it stylish and more defined for your head of hair. Just apply a hair pomade to achieve this look.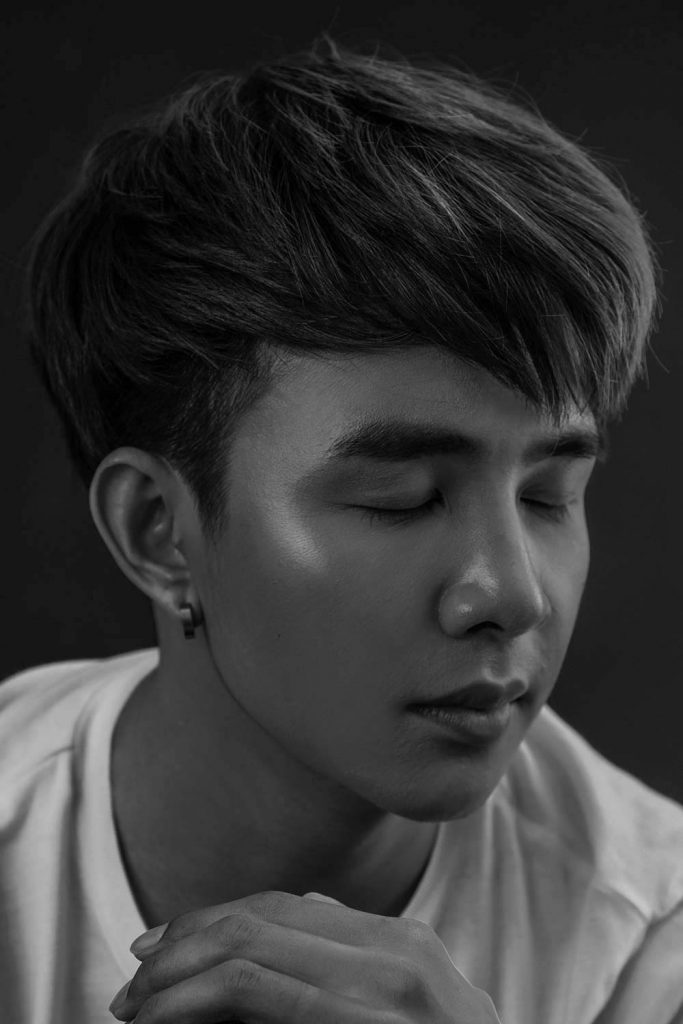 Two Block Haircut With Side Part
Such a popular Asian hairstyle as the Korean bowl cut can be easily given a formal and elegant flair when flaunted with a side part. To make the most out of your side parted hairstyle, ensure that your locks on top are long enough to hold the shape and find out on which side it looks most flattering.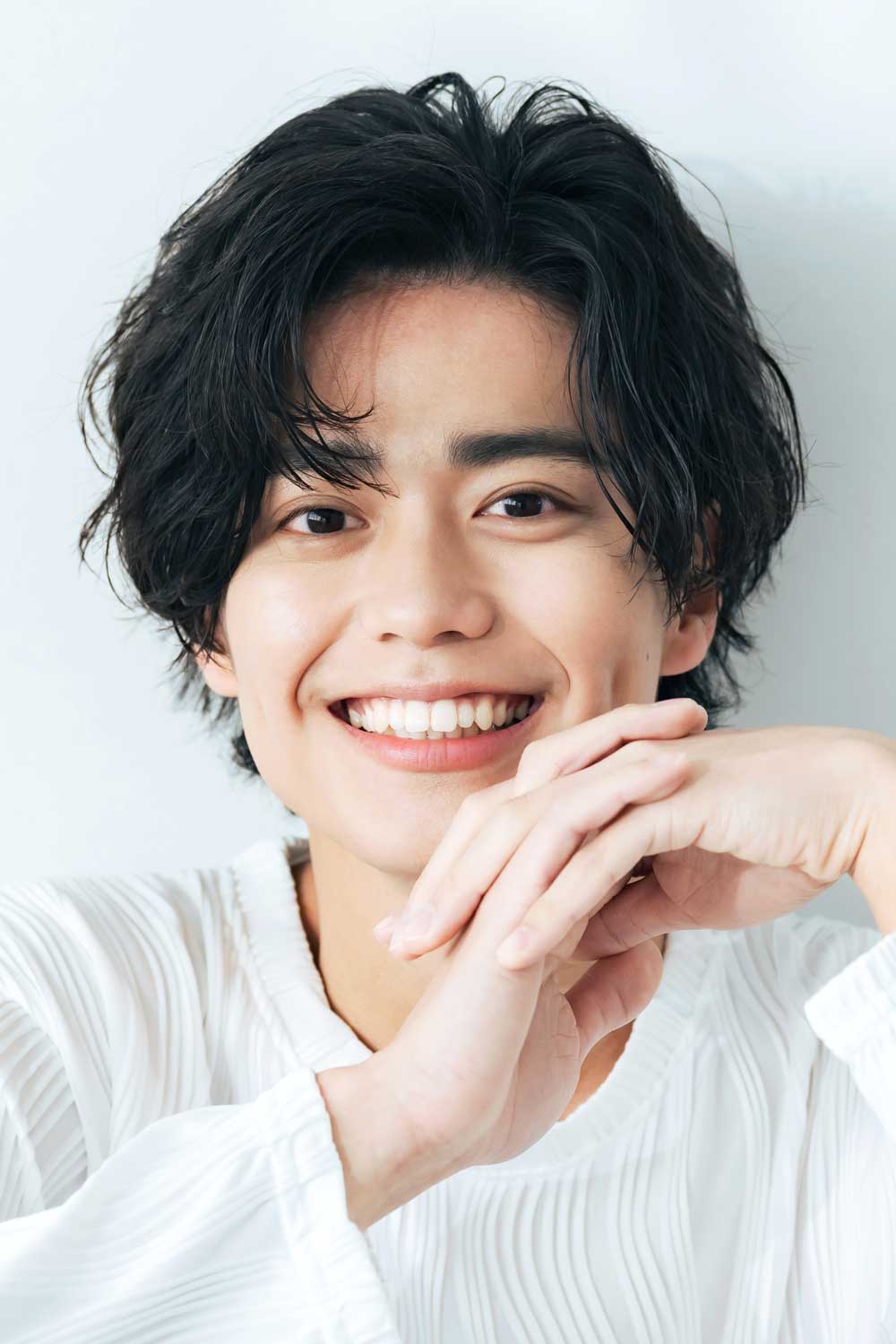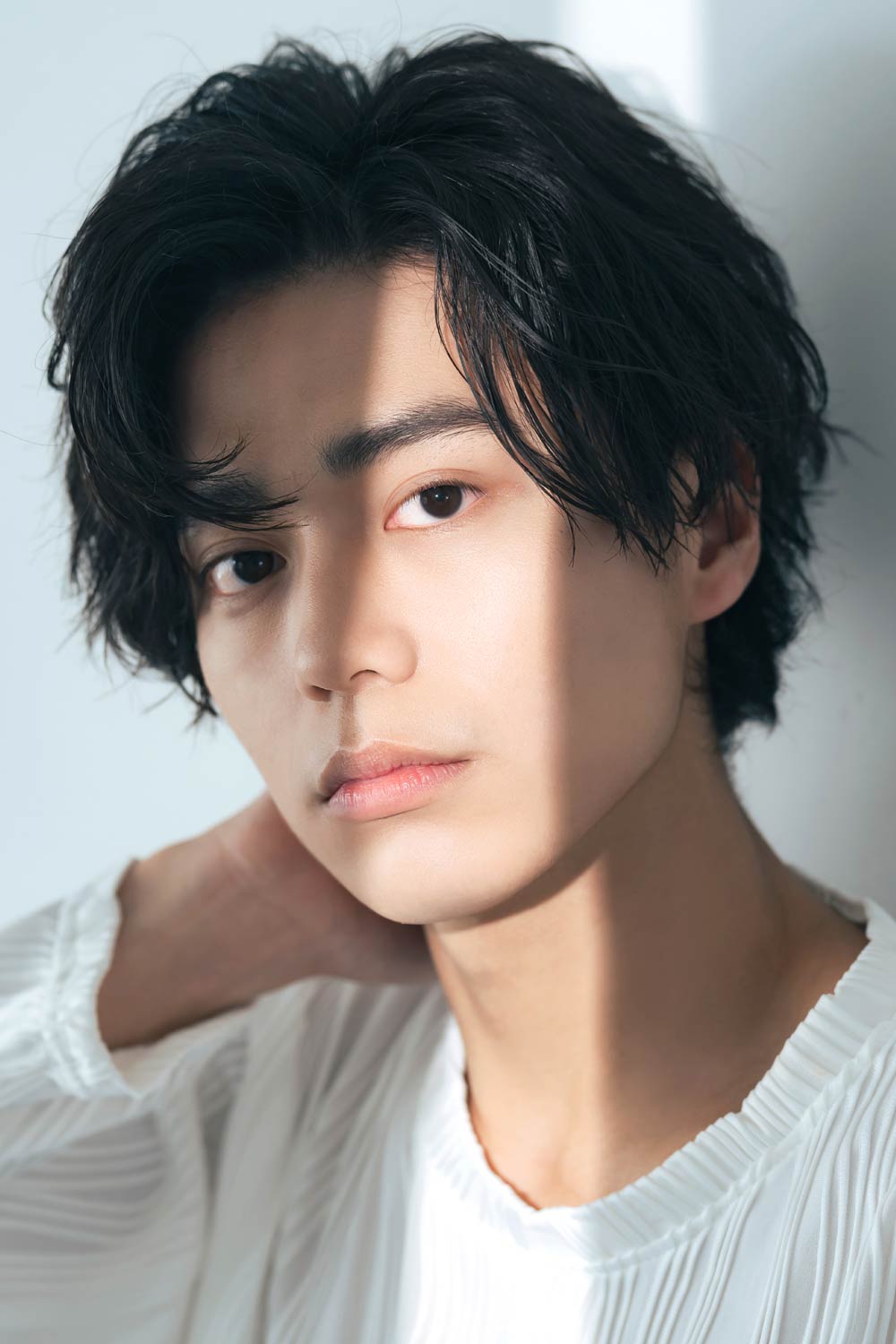 /
Medium Two Block Haircut + Layers
If you want to add texture and definition to your Asian men haircut, you can never go wrong with cutting it in layers. The medium length hairstyles make it low maintenance and easy to style while the layers add movement and precision to the look.
supermodel/Shutterstock
Long Two Block Haircut + Disconnected Undercut
If you have enough will and time, you can grow out the hair on top quite long. This will only enhance the contrast and create even more boldness of the look. However, it's better to keep the sides as short as possible so that your hair doesn't look shaggy.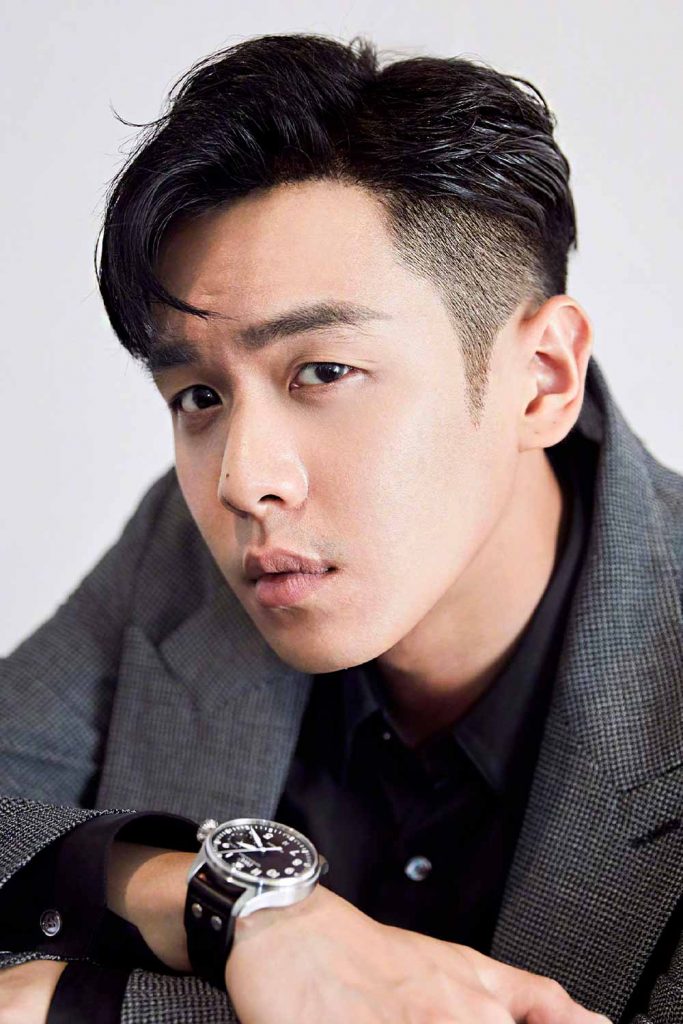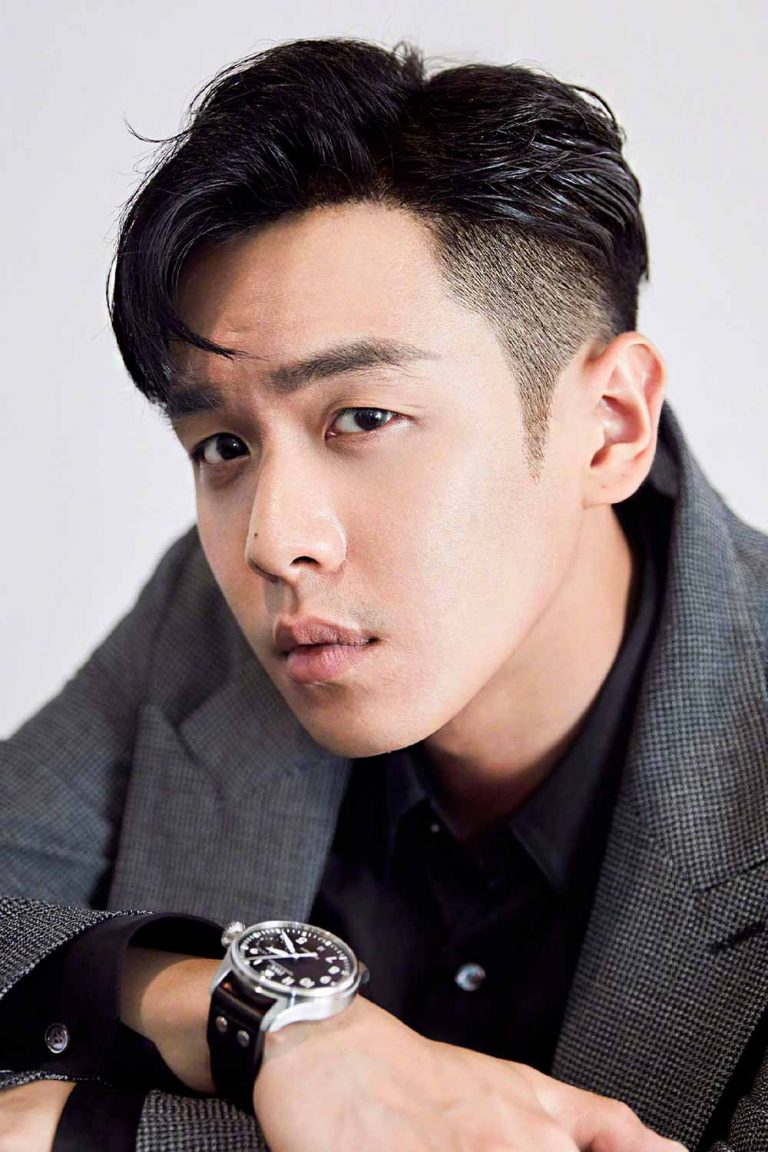 Source: @fernthebarber via Instagram
Medium & Wavy Two Block Haircut
For guys with wavy and curly hair, the Korean two block haircut can become very beneficial. Thanks to the trimmed or even shaved sides, it brings all the attention to your hair up top. Hence, make sure you have enough length to show off your defined hair texture.
supermodel/Shutterstock
Tousled & Thick Medium Two Block Haircut
As a rule of thumb, Asian men hairstyles often come out thick and heavy. To give them an airy touch and lighten up a little bit, consider a tousled medium two block haircut. It allows you to make the most out of your dense locks yet gain a stylish and breezy look.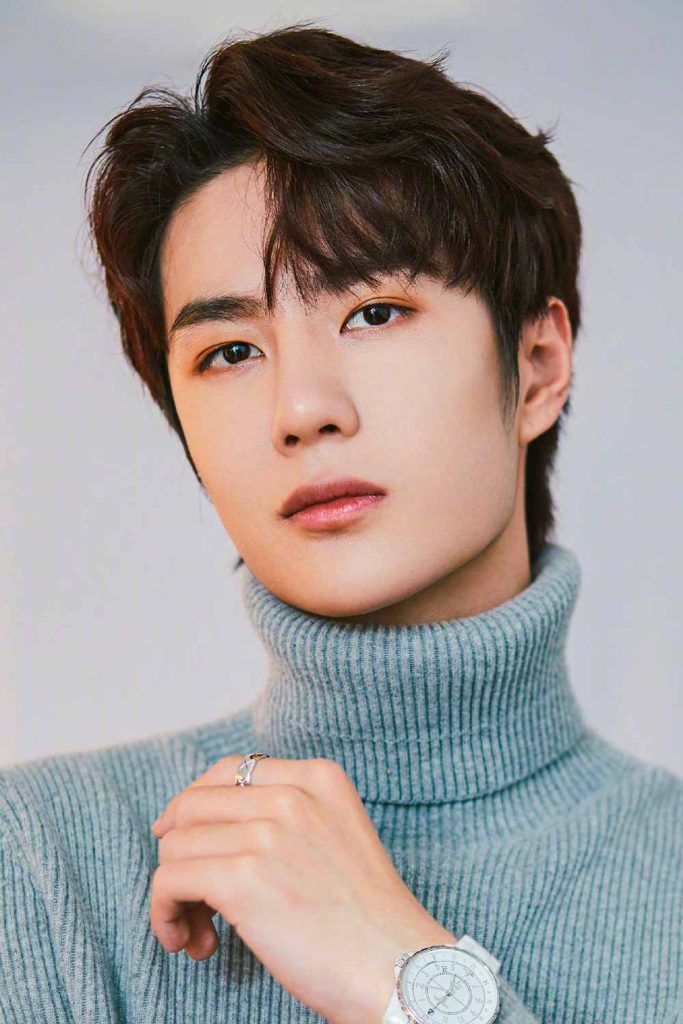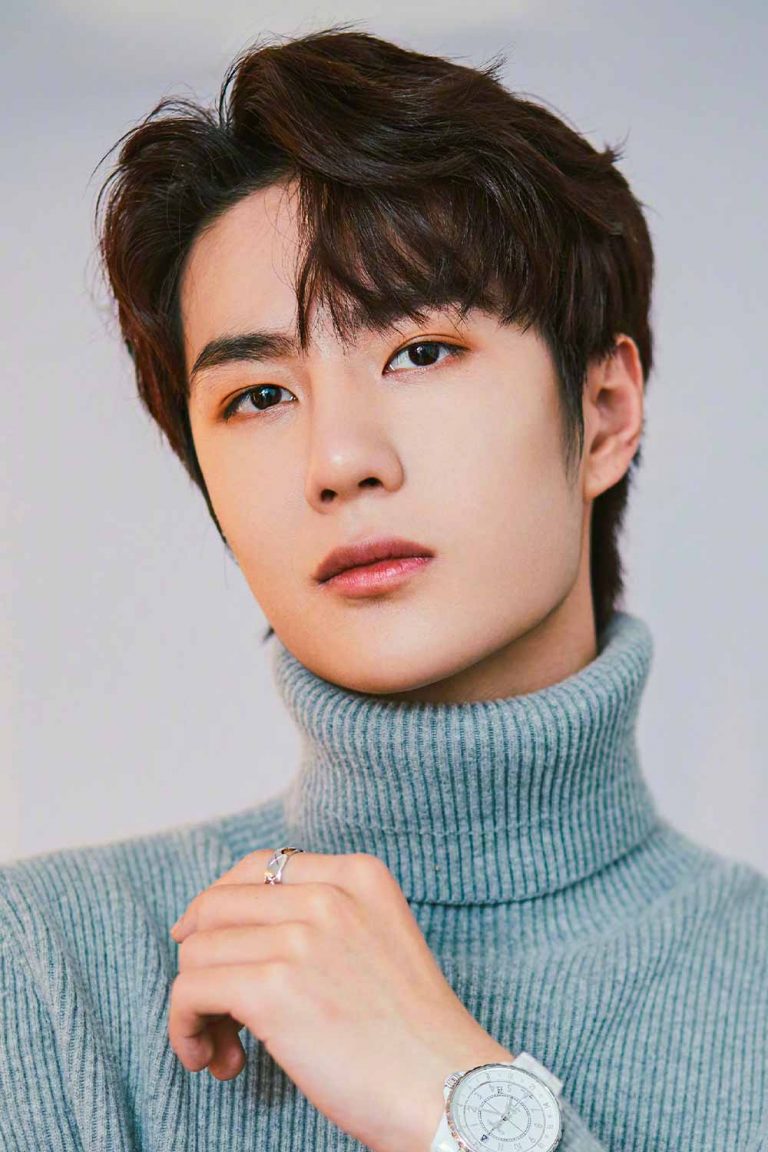 supermodel/Shutterstock
Edgy & Short Two Block Haircut
This hairstyle is made for really fashion forward guys. It features trimmed sides with an abundance of hair on the top and back of the head. For a fancy twist, you can push the front section of the hair to the side. And to give your hairstyle the ultimate boldness, opt for dyeing the locks on the crown in dirty blonde.
supermodel/Shutterstock
Sleek & Straight & Parted Two Block Haircut
Asian hairstyles look exceptionally flattering when styled sleek, as thanks to the hair texture, you won't need to make much effort to straighten your locks. You'll only need to use a blob of a hairstyling product and a fine-toothed comb to get this dapper and saucy look.
supermodel/Shutterstock
Effortless Brunette Two Block Haircut
There are several ways of how you can achieve a high contrasty look with the help of a 2 block cut. In case you don't feel like spending much time styling your hair, you can play around with its color. To get a bold yet natural look, dye your top hair two shades lighter than your natural brunette hair color. This technique will help your hairstyle gain more depth without much effort from your side.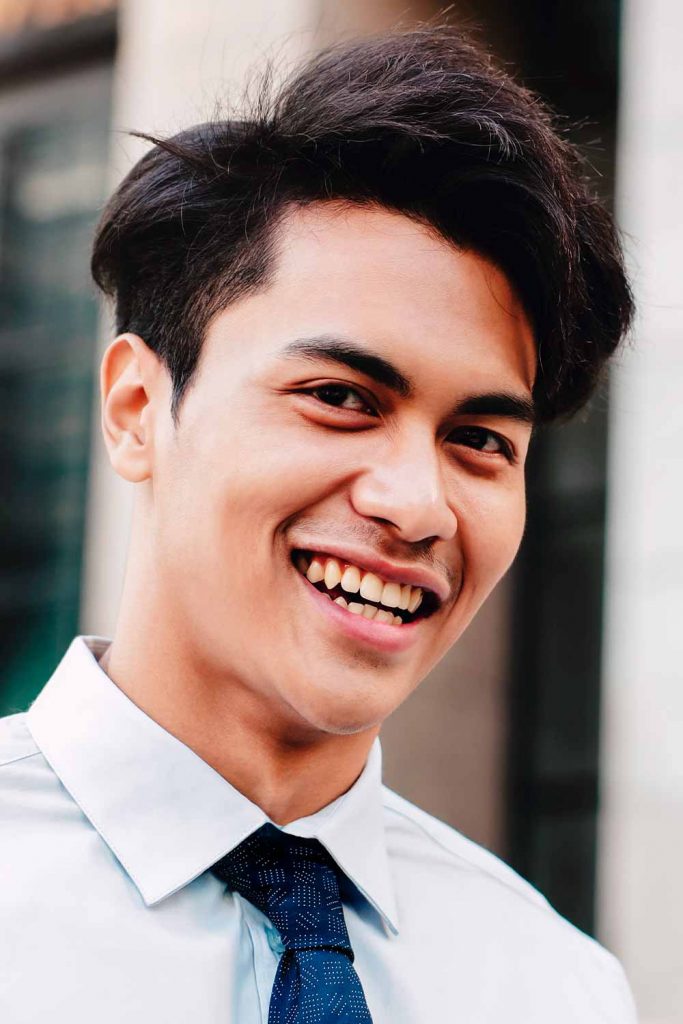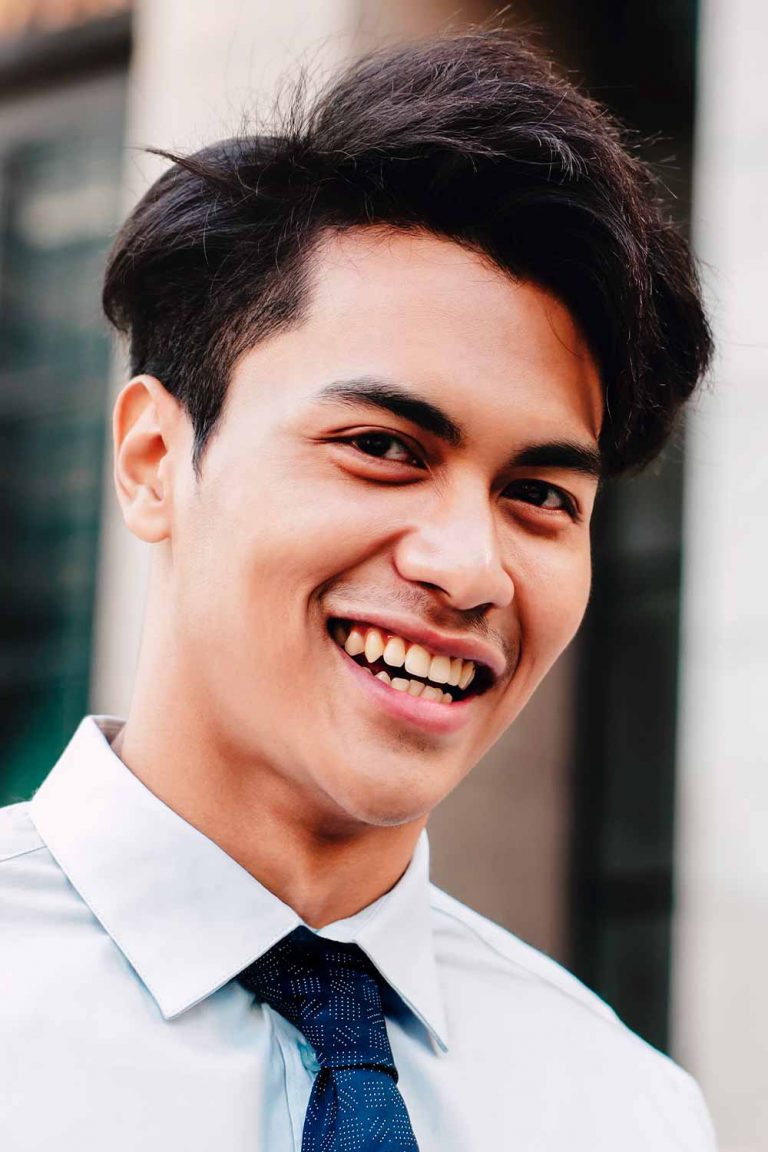 Middle Part + Volume
To turn a trendy and casual 2 block haircut into classic and elegant, you need to make only one simple step – to slick the hair on the top back. If you pair it with an undercut, you can rest assured that you'll be a welcome guest at any event, including the Red Carpet.
supermodel/Shutterstock
Middle Part Undercut
A vital solution for when you want to accentuate an undercut two block haircut is to complement it with an Asian middle part. By dividing your hair in the center, you give it definition and structure. Thanks to the natural texture of your locks and the way they are cut, you will not have to make much effort when styling them in the morning or maintaining the look during the day.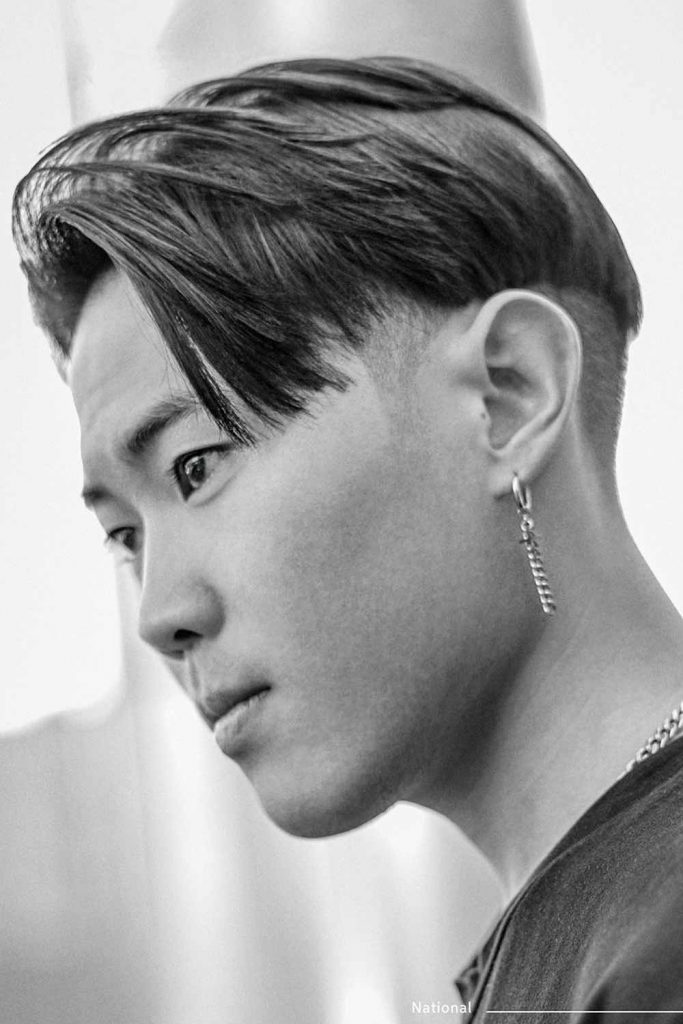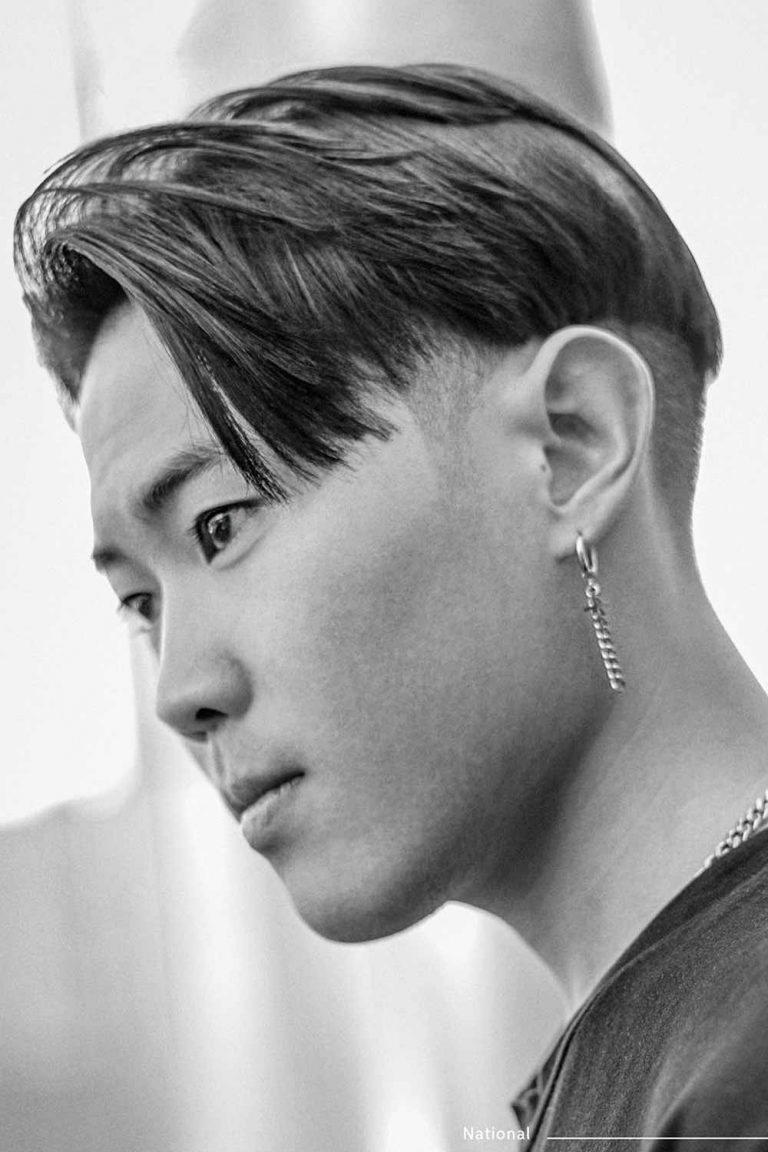 Source: @a.nizhnick via Instagram
Short Korean Two Block Haircut
To nail a two block haircut men do not have to grow their hair very long. If you prefer practical haircuts, feel free to get a short Korean 2 block haircut. So that the top comes out striking against the rest of the hair, trim the sides and the back very short. A bald high fade will provide you with the ultimate contrast.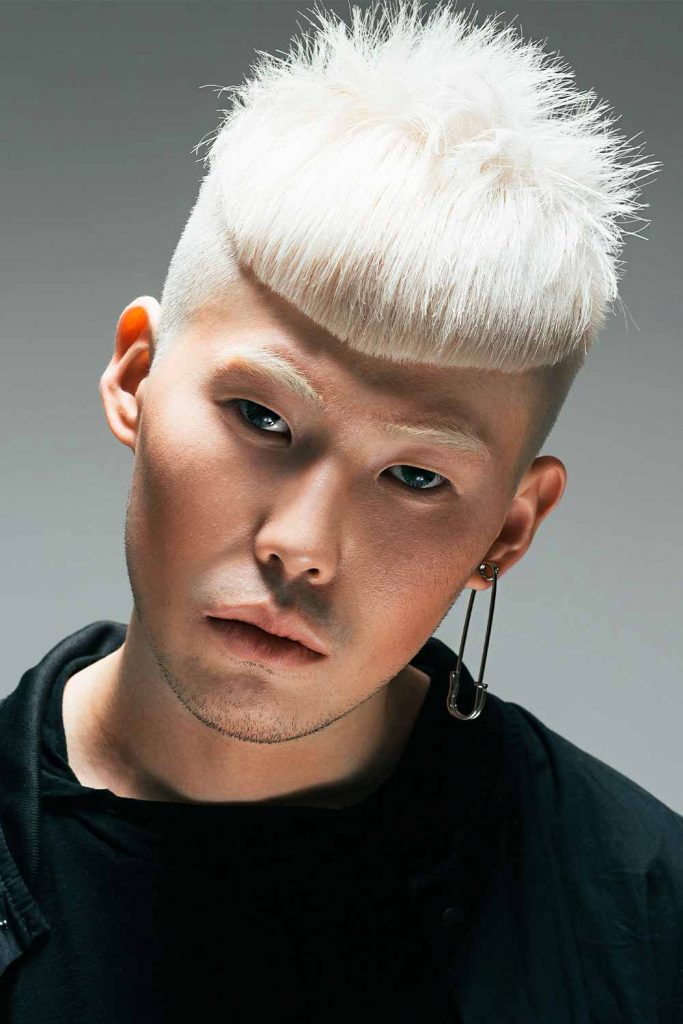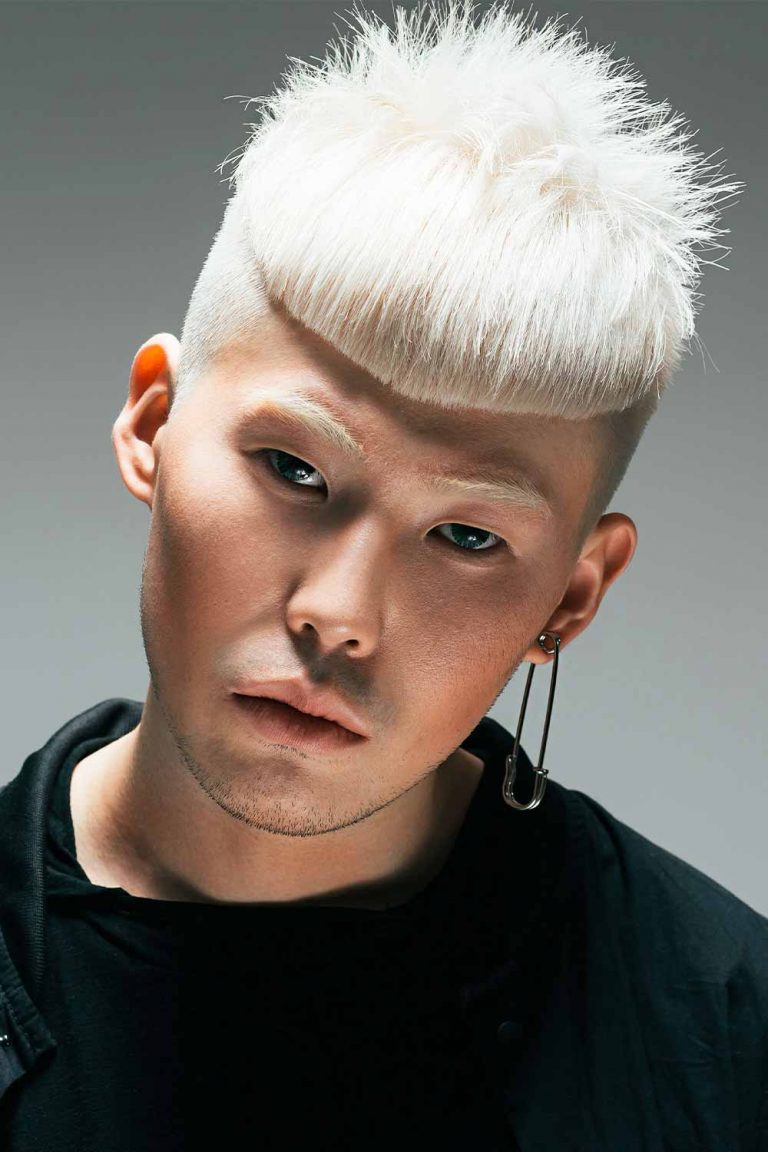 The No-Style Hairdo
The Asian bowl cut is that one Korean men hairstyle that requires zero styling. You may style it if you want, of course. However, it's not necessary at all, as its shape is already quite defined. One thing that you should take into account though is that the length of the top and sides shouldn't be too contrasty.
supermodel/Shutterstock
Effortless Brown Two Block Haircut
For a casual and relaxed look, go for a simple two block hairstyle. It seems more attractive when pulled off on brown locks, as the color allows for an additional emphasis on the texture of the cut. To enhance the effortless vibe the style gives, dishevel the locks with a touch of a hairstyling product.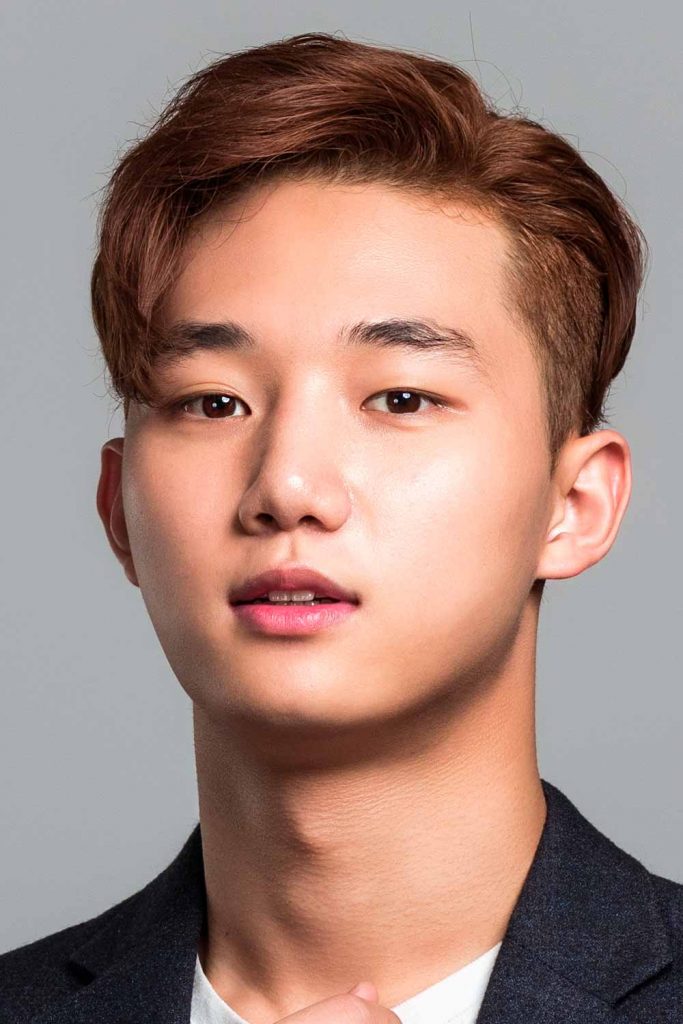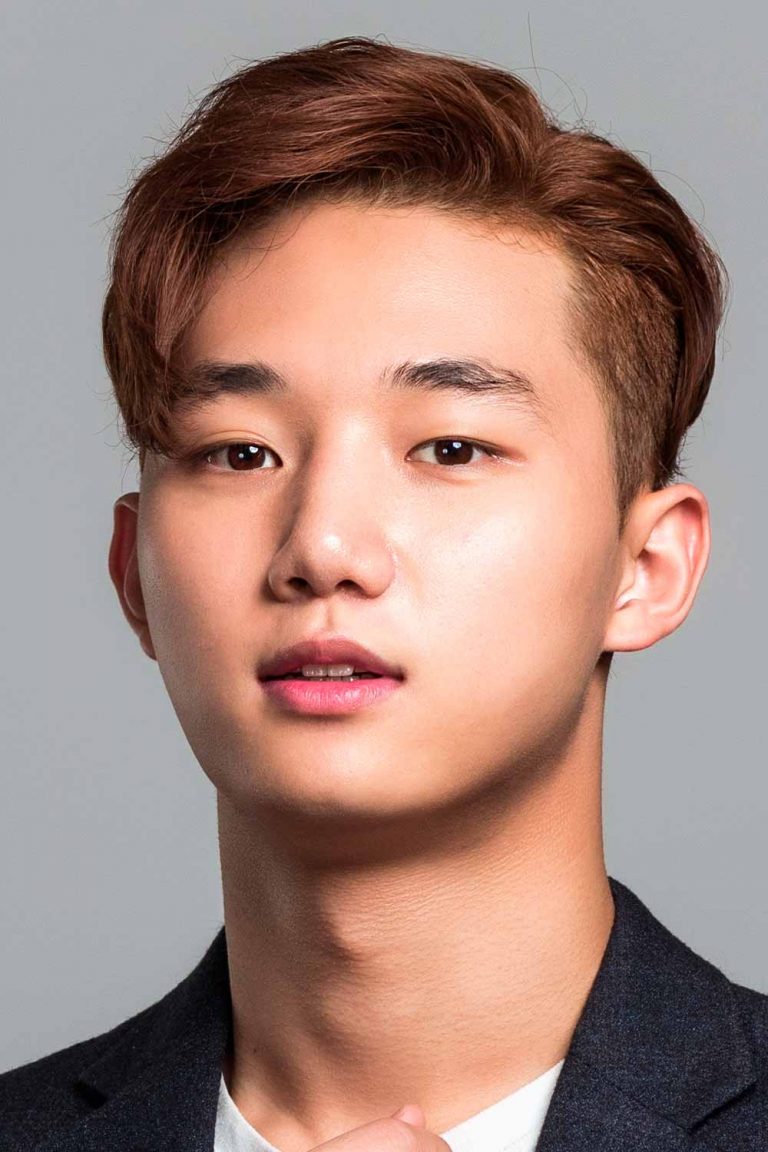 Disconnected Undercut Slicked Back
A disconnected undercut is a great way to give a two block haircut a modern touch. No matter what type you will choose, you can rest assured that your hair will look contemporary and stylish. If you want to make it seem more elegant, push the locks on the top of your head to the side and secure with a spritz of a hair spray.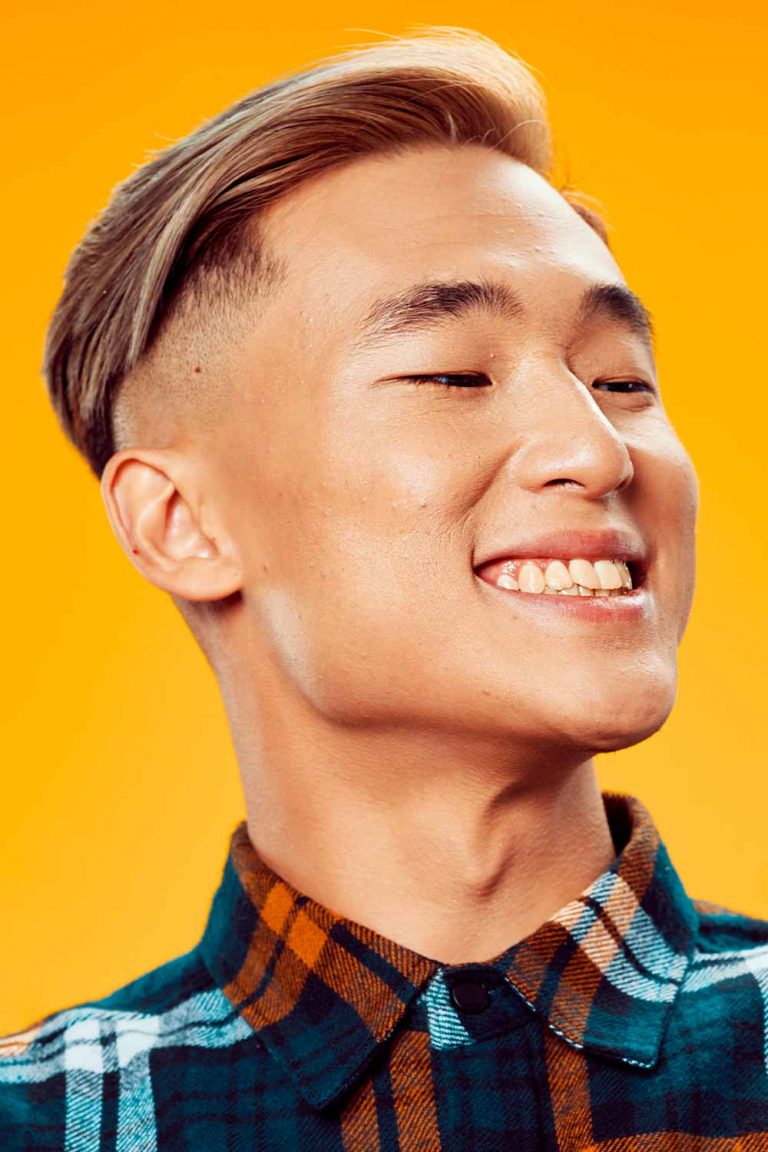 Side Swept Two Block Haircut
A two block haircut can vary in length drastically from long to short. If you are looking for something easy to maintain and style, go for a side swept bang. It has a number of advantages over a long one, as it suits all situations and saves you quite a lot of time on styling in the morning.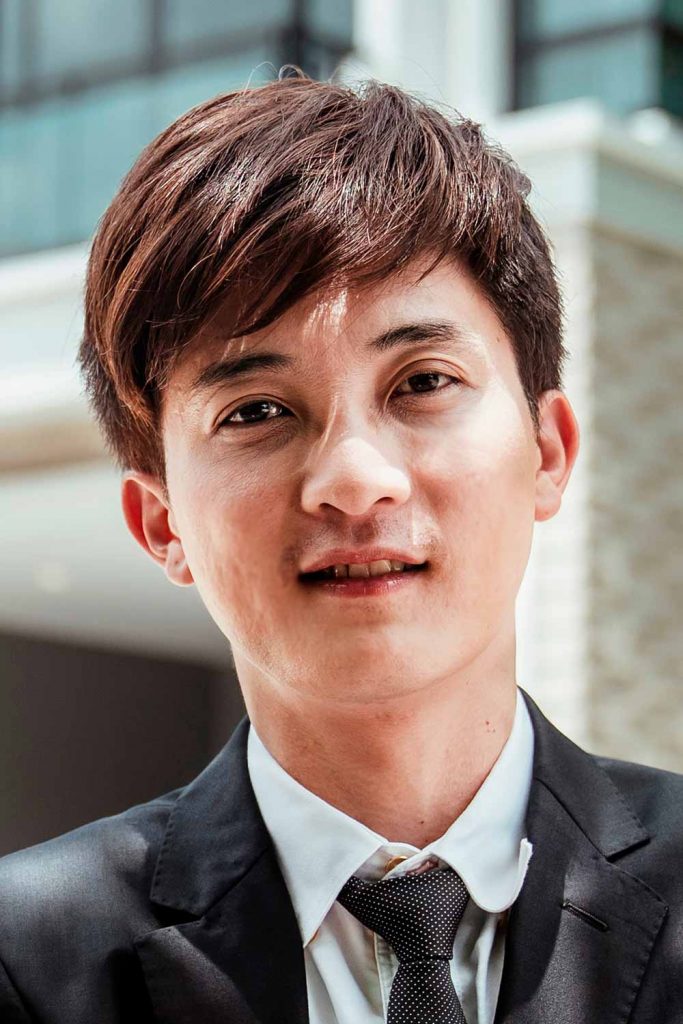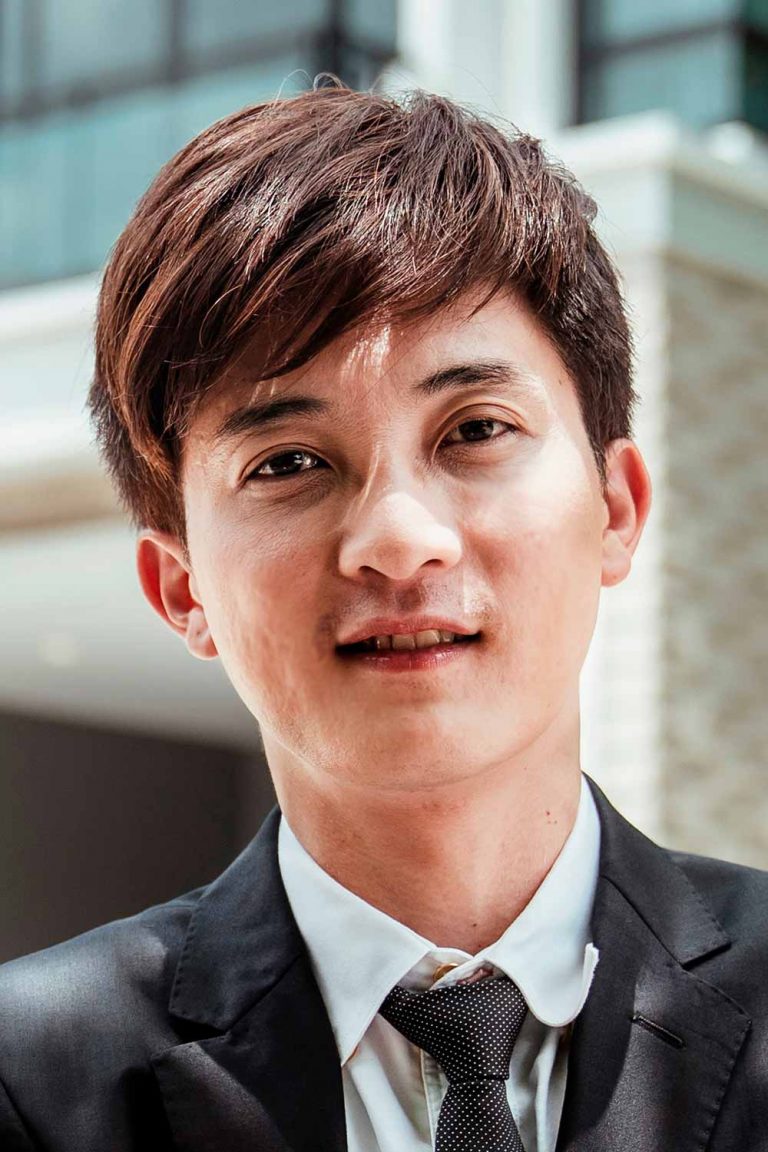 Source: Kang Sunghee/Shutterstock
Asian Taper Fade
The Asian taper fade, often associated with the "two-block haircut," is a contemporary hairstyle that has surged in popularity in recent years. The two-block haircut, originating from South Korea, is characterized by its distinct contrast between the shorter sides and back and the longer, more prominent top section.
Source: @alexthegreatvivar via Instagram
i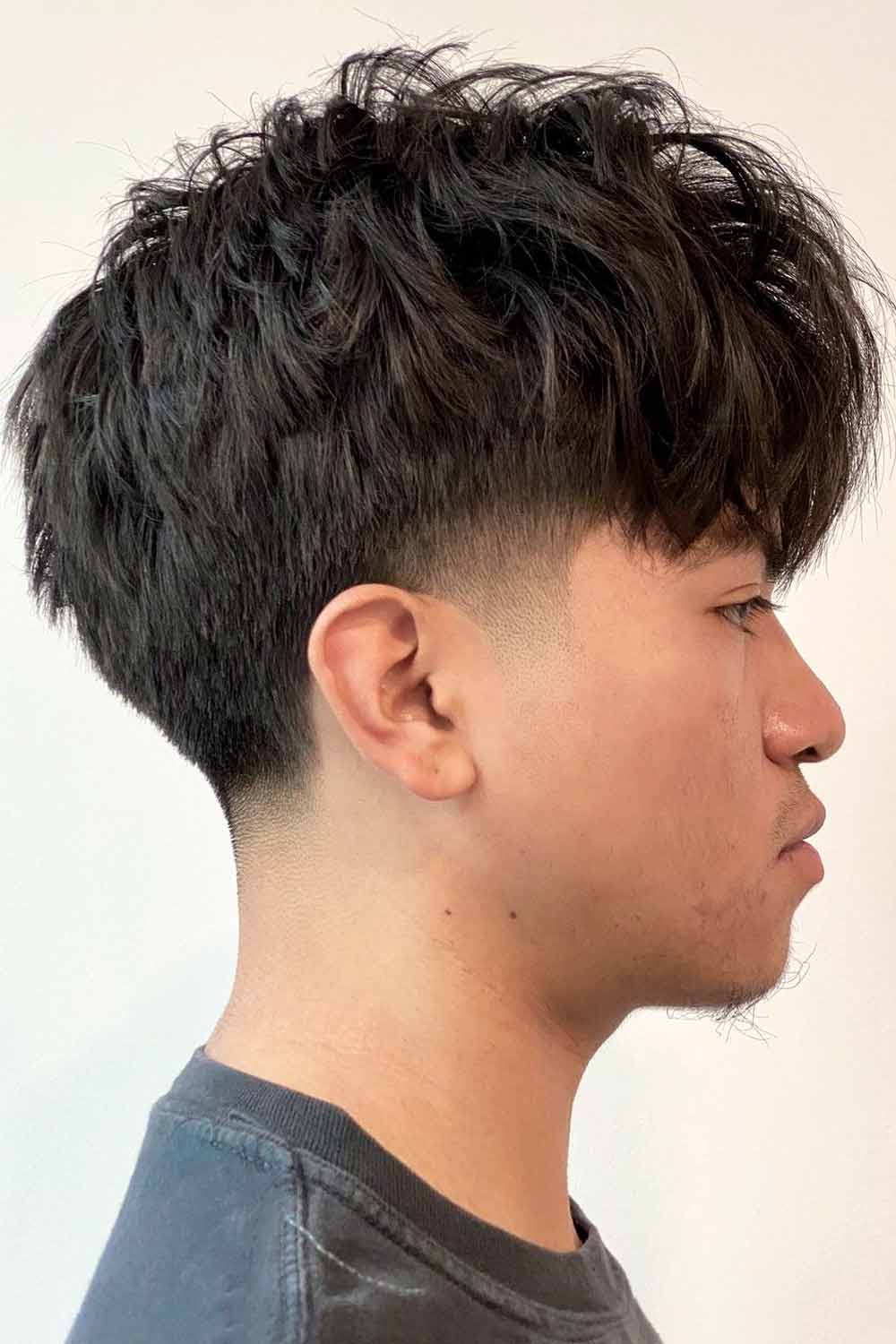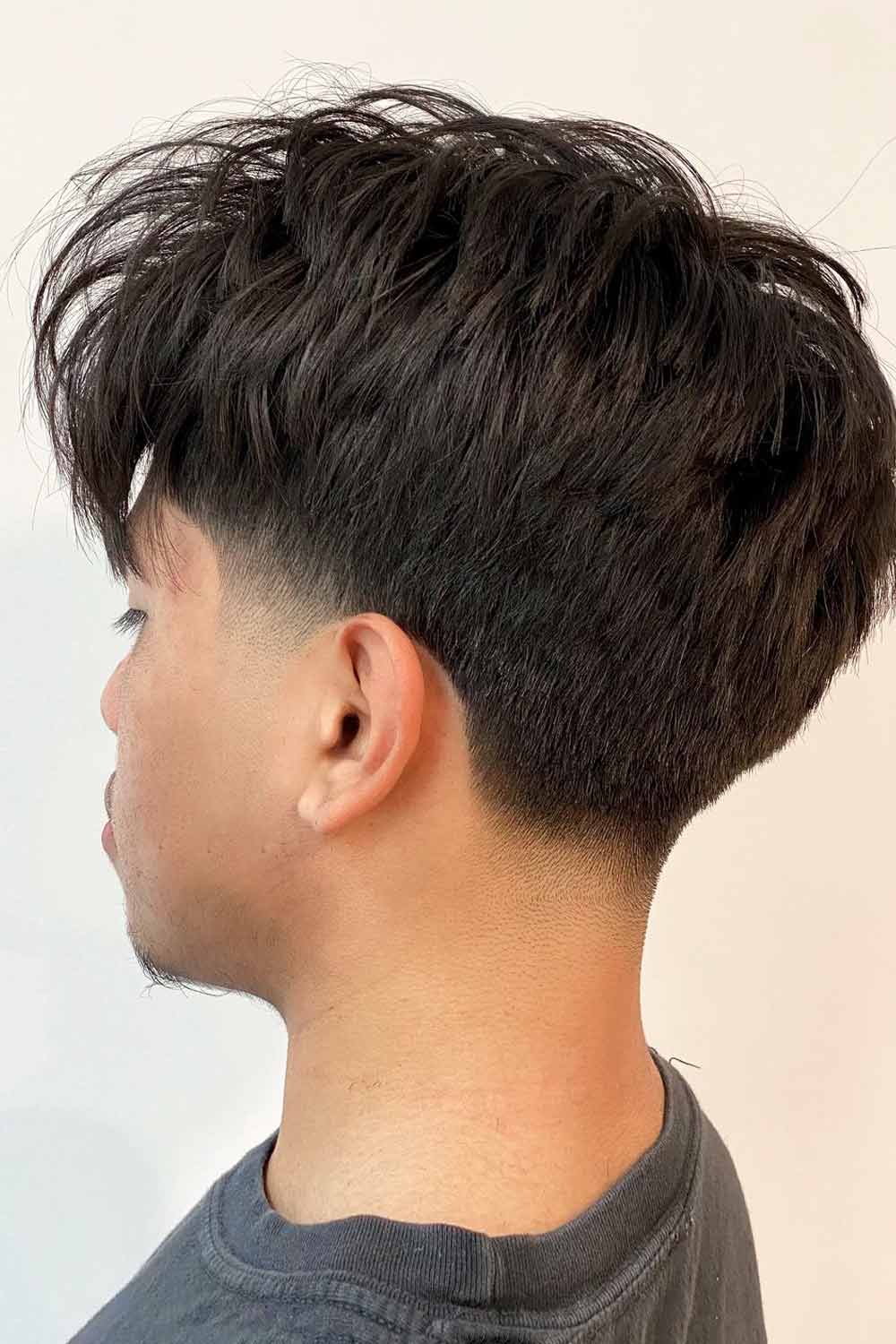 /
Two Block Middle Part for Wavy Hair
The Two Block Middle Part for wavy hair is a trendy and stylish hairstyle that combines the classic two-block haircut with the charm of a middle part. This hairstyle is particularly well-suited for individuals with naturally wavy hair, as it embraces and enhances their hair's unique texture.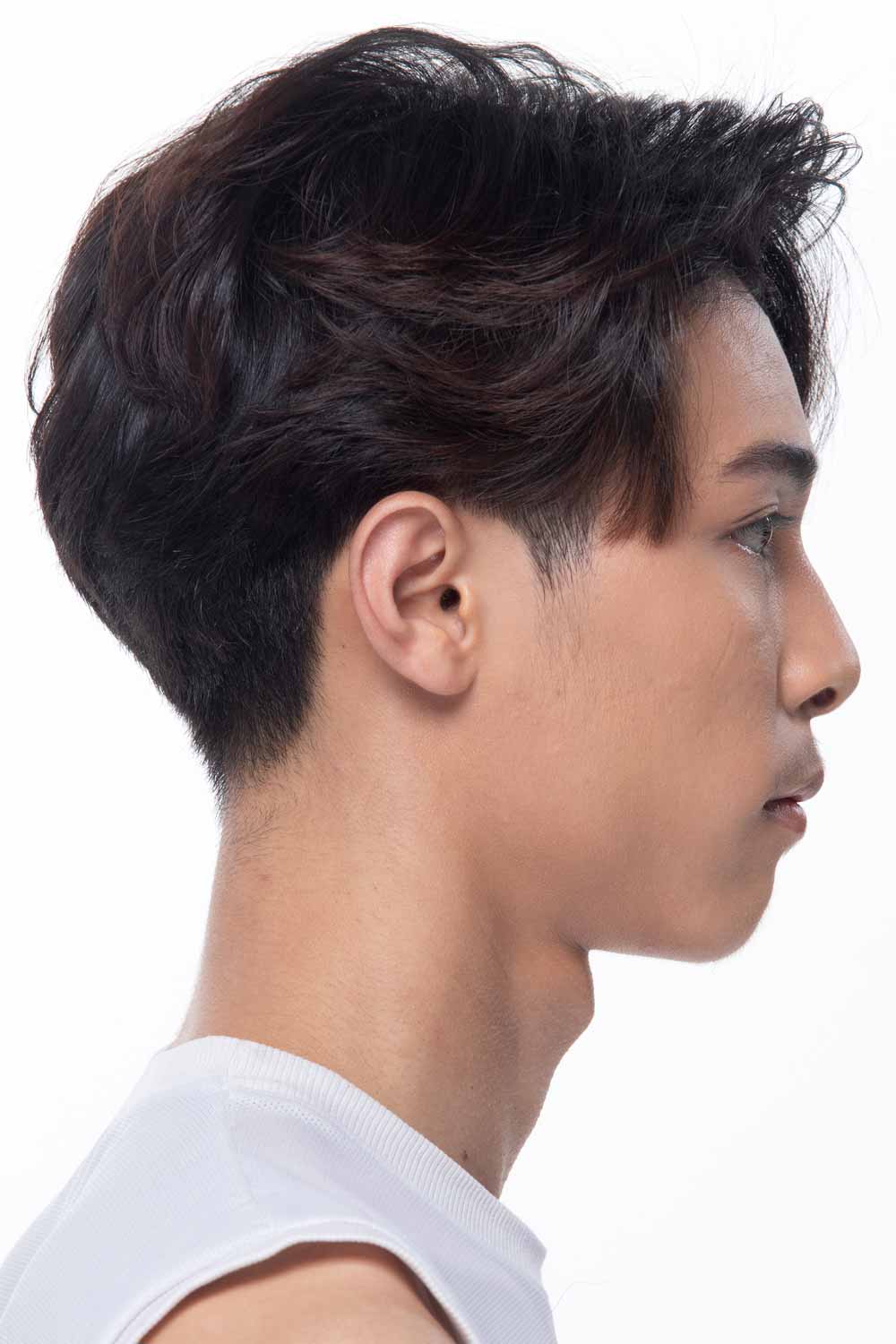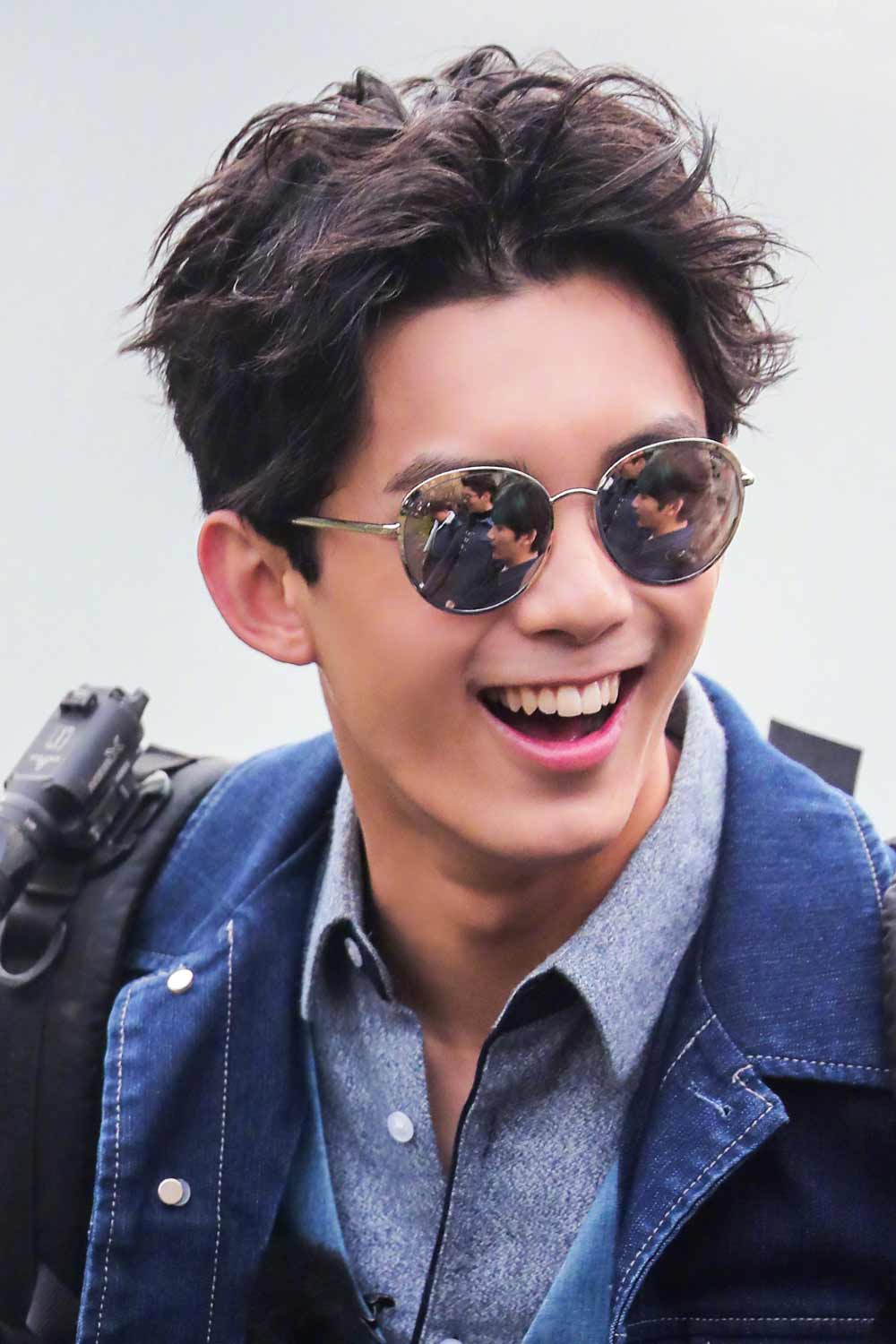 /
How To Ask For A Two Block Haircut?
As soon as you decide to get a two block haircut, ensure that you talk to your hairstylist about the length and style that you desire. It would even be better if you bring a sample photo of the 2023 men haircuts with you to successfully achieve the look. It's going to be exciting to get one!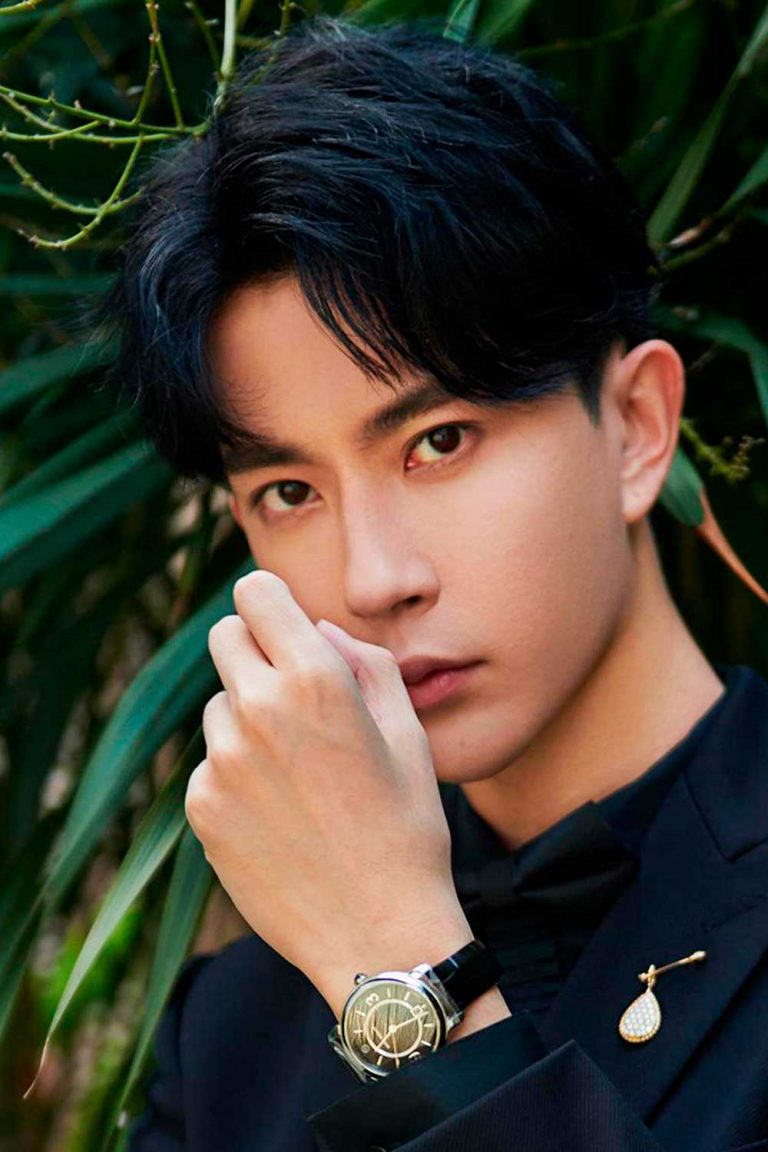 supermodel/Shutterstock
How Do You Grow A Two Block Haircut?
If you love your two block haircut, but you want to grow your medium length hairstyles men, you can still do it by maintaining the trimmed back and sides of your head. It's a great way to keep it neat and clean while it's growing. There are many men who are doing the same and still enjoying the beauty of these 2023 haircuts men.
How To Style KPop Haircuts
Styling the two block haircut wouldn't be such a pain. There are many styling options as long as you have the good hair products like the Layrite, and Kenra Platinum Texturizing Taffy. You can even maintain the back and sides shaved or trimmed on your own if you have a trimmer so you don't have to take a trip to the salon all the time. You only need to blow dry it a little and style it using a small amount of wax. It's very low maintenance that it doesn't break the bank.
With the multitude of Asian hairstyles men don't have any options other than to look trendy and fashionable. A two block haircut is one of the most popular 'dos thanks to its versatility and relatively low maintenance. If you still haven't decided what your next cut is going to be, it's high time to choose one of the two blocks we picked out for you.
FAQs: Two Block Haircut
What is the two block haircut?
A two block is a male haircut that features shortly trimmed or even shaved hair on the back and sides with a top being noticeably long.
How do you tell a barber with two block haircuts?
To get your barber to give you the desired two block haircut, here is what you should tell them:
1. Make sure they know what a two block haircut is.
2. If they are hesitant, tell them that it is an upgraded version of an undercut haircut. Though the undercut part should not exceed the level of the eyebrows.
3. The sides can be anywhere between 1.5 and 3.5.
How do you cut your hair with two blocks?
To cut a two block haircut yourself, stock up on the following products first:
– Clippers with different attachments.
– Fine tooth comb.
– Water spray bottle.
– Scissors and thinning shears.
– Self cut system or an extra mirror.
Now follow the next steps:
1. Moist your hair using the water spray bottle and comb it through to eliminate any knots and tangles.
2. Attach 1/8 inch guard to the clippers and starting from the hairline, work your way up to the parietal ridge. Trim all of the hair on the lower back of your head and sides.
3. Using scissors, cut the hair above your ears.
4. With the help of thinning shears, lighten up the ends for added volume and texture.
How do you grow two blocks?
To grow a two block haircut, you need to make sure that your hair on top is long enough to fall down. So, once it reaches your brow level, you are good to go. As for the sides and back, you can trim them short during the whole time of growing out the top.
REFERENCES:
All seen and heard of the two-block haircut, a popular men's hair trend. Today we'll dive deeper into the hairstyle and its characteristics. Source
K-pop is a genre of popular music originating in South Korea. Source
Was this article helpful?