The abundance of prom hairstyles clearly shows how important it is to choose the look that will perfectly suit your physical features and personal preferences. It allows you to match your teen boy haircuts to your face shape, hair type and lifestyle. This is the evening when everything should be perfect. At all costs, you don't want your hair to draw your attention away from collecting unforgettable memories. So that you rock this special evening and look awesome in the graduation album, here is the collection of the best men's hairstyles for the prom we handpicked for you.
Side–Parted Prom Hairstyle
Slicked hair styles for men are always a great choice for the prom. They look elegant and stylish and don't deflect attention away from your face. To try something new, go with a slicked to the side hairstyle instead of slicked back. As it requires a side part, you can add more definition to your whole look, especially when opting for a hard part.
Hot Eboy Haircut
An eBoy haircut is a male teen hair style that does not seem to lose its relevance anytime soon. Thus, if it resonates with you, why not choose it as your men prom hairstyle? Also known as curtain bangs, it draws attention to your eyes and makes cheekbones stand out.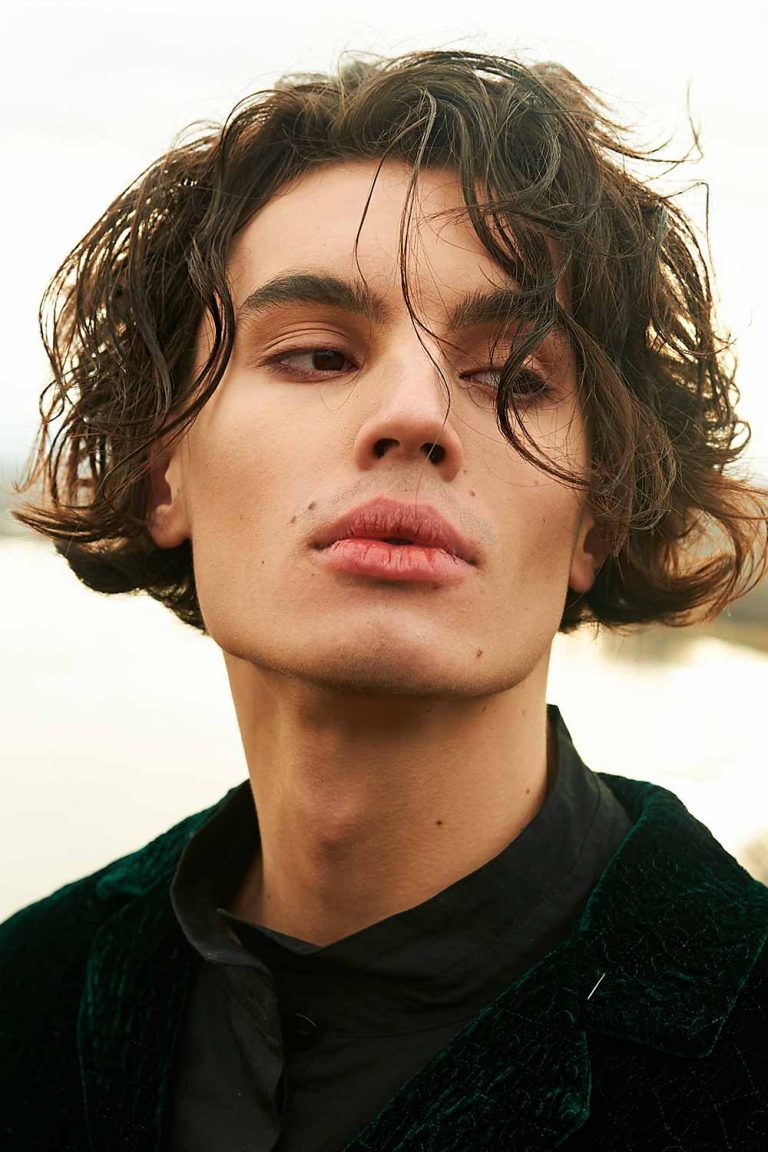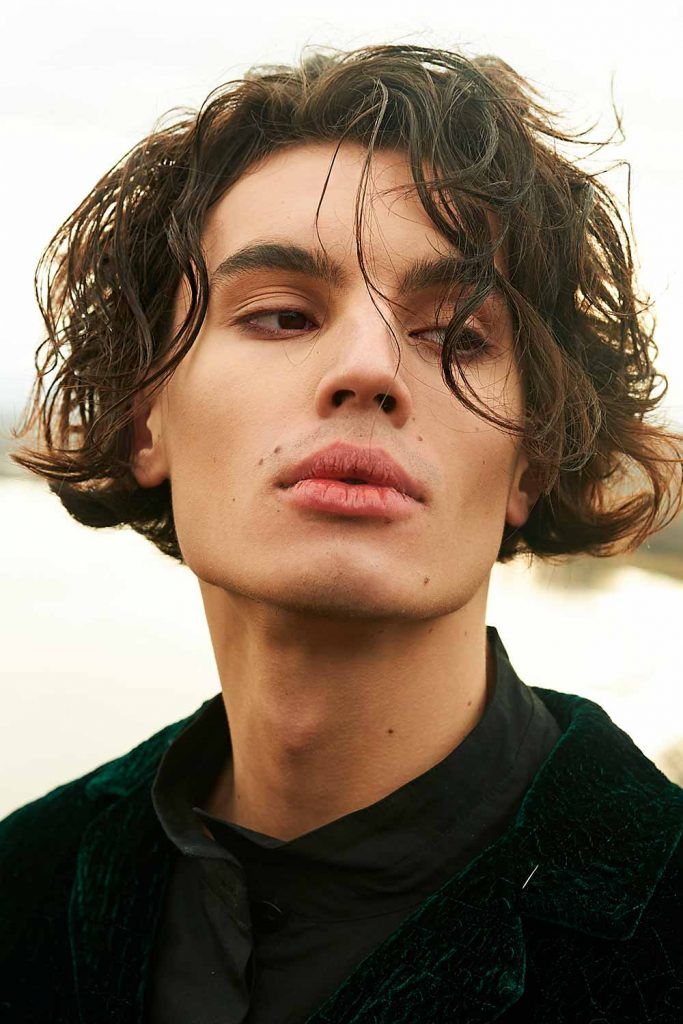 Short Navy Quiff
If you want to showcase your sharp masculine facial features, choose from short navy popular mens haircuts. They don't require much maintenance nor will you waste time on styling. This haircut is a great option to look up to. With its short sides and a slightly longer top, this haircut delivers edgy and professional appearance, which highly beneficial for your future study.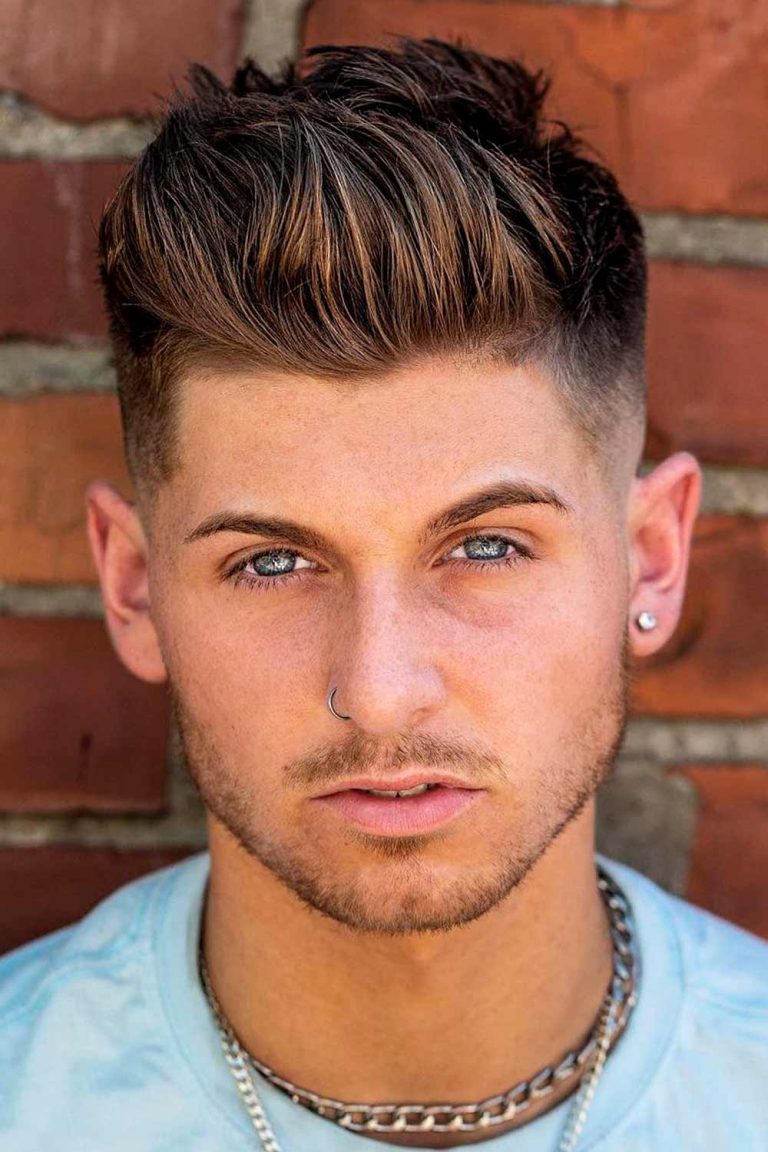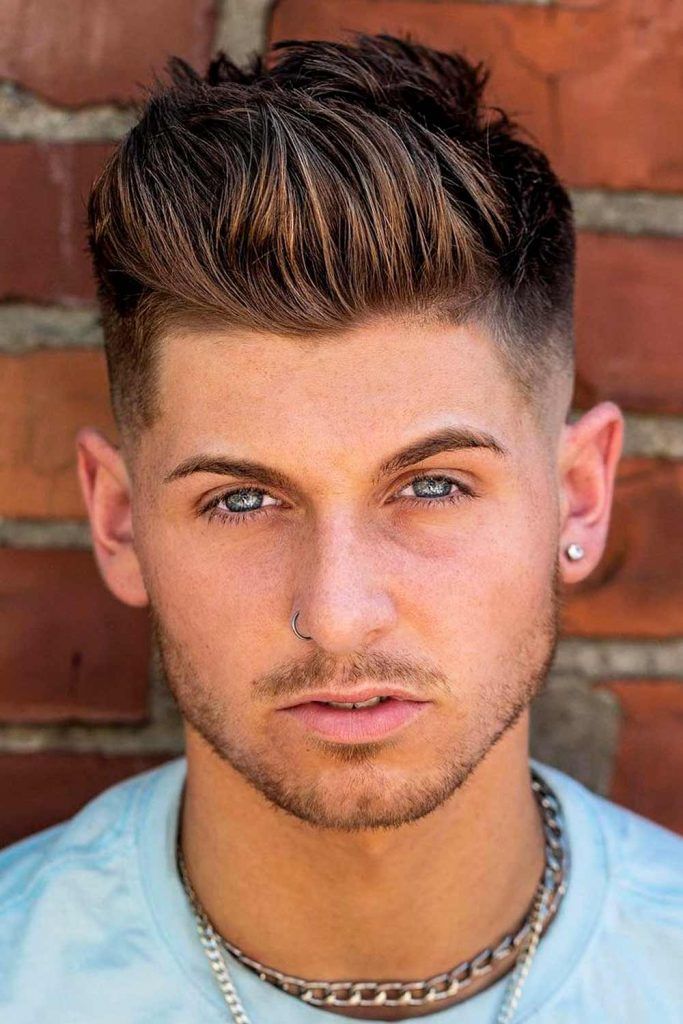 Source: @tombaxter_hair via Instagram
Layered & Curly
A quick way to enhance men short hairstyles is to cut the strands in different levels of layers. The main advantage of the layered men hair styles is that they create an impression of the full head of hair whereas, in reality, you may have quite sparse locks. It would be better if your hairstylist created layers with the help of a razor. In this way, you won't get blunt cutting and thus, your hairstyle will gain definition and movement.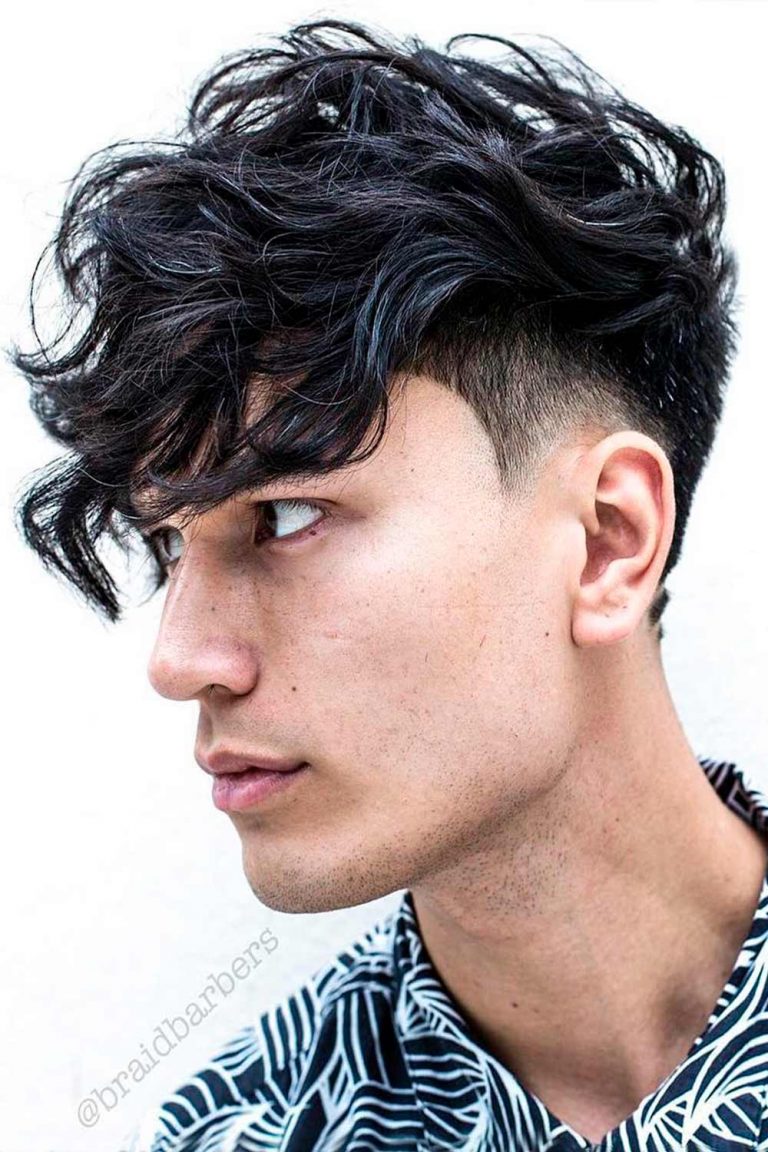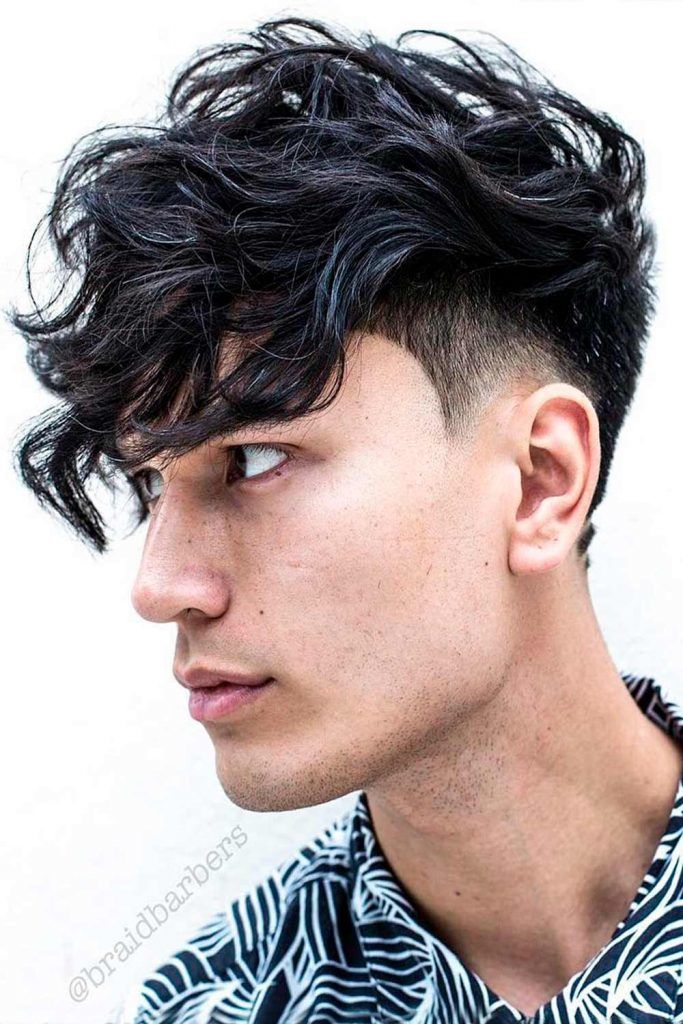 Source: @r.braid via Instagram
Brushed Up Formal Hairstyle
This straight brushed up medium hair style isn't that formal to be sported during your final exams, but for the prom night, it's a great option. Note though that such textured mens haircut styles look exceptionally beneficial on thick thatch, whereas thin hair can give you the opposite effect.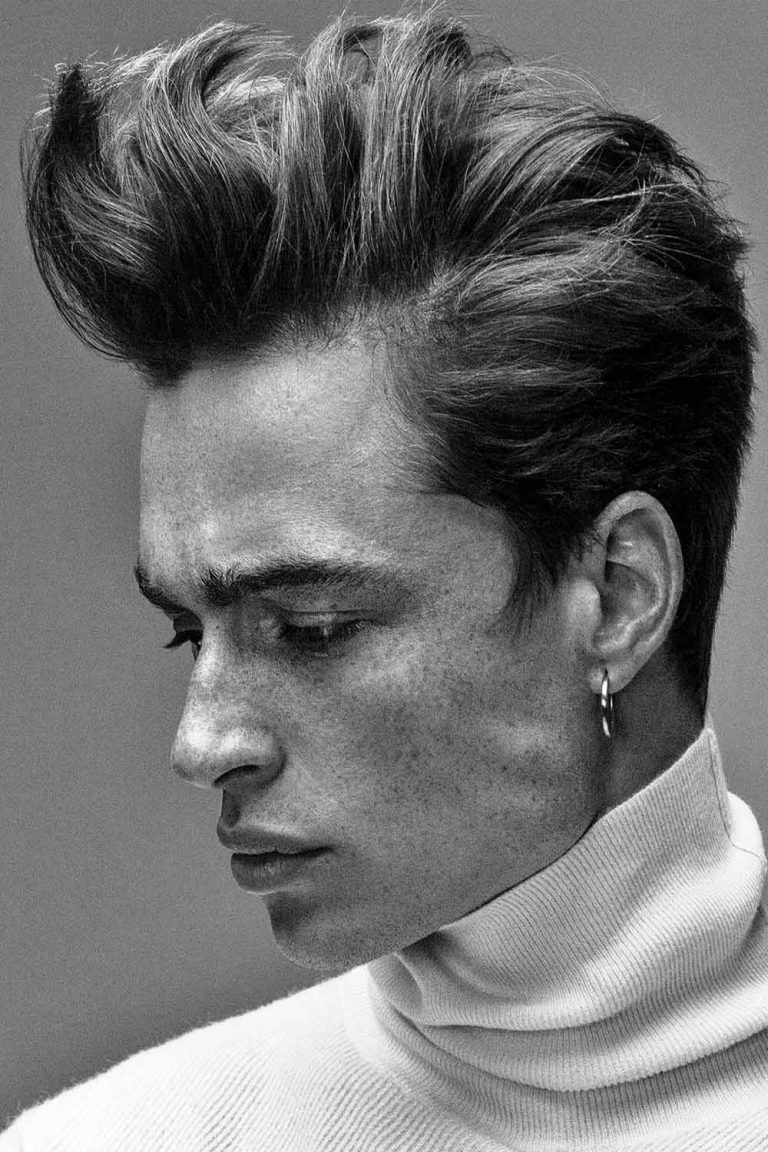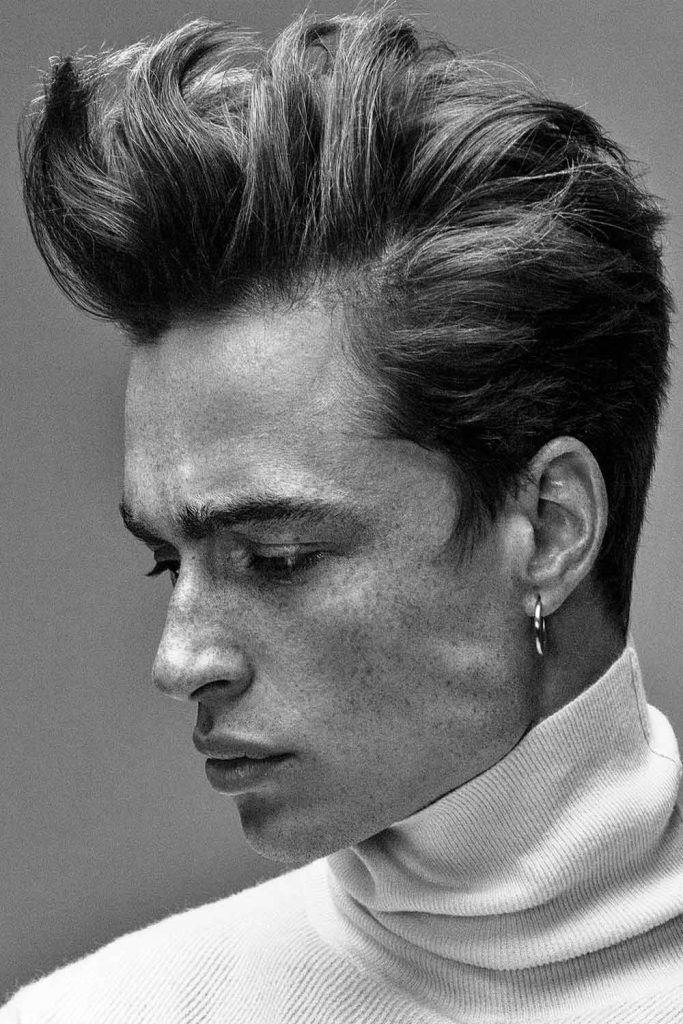 Source: @sergeyshapochka via Instagram
Pretty Boy Sleek Parted Layers
To give your layered haircut an elegant and refined touch, sleek it back and divide with a side part. Thanks to the fashion your hair is cut, the strands are stacked up on the head with a prominent separation, while the part enhances the definition and boldness of the look.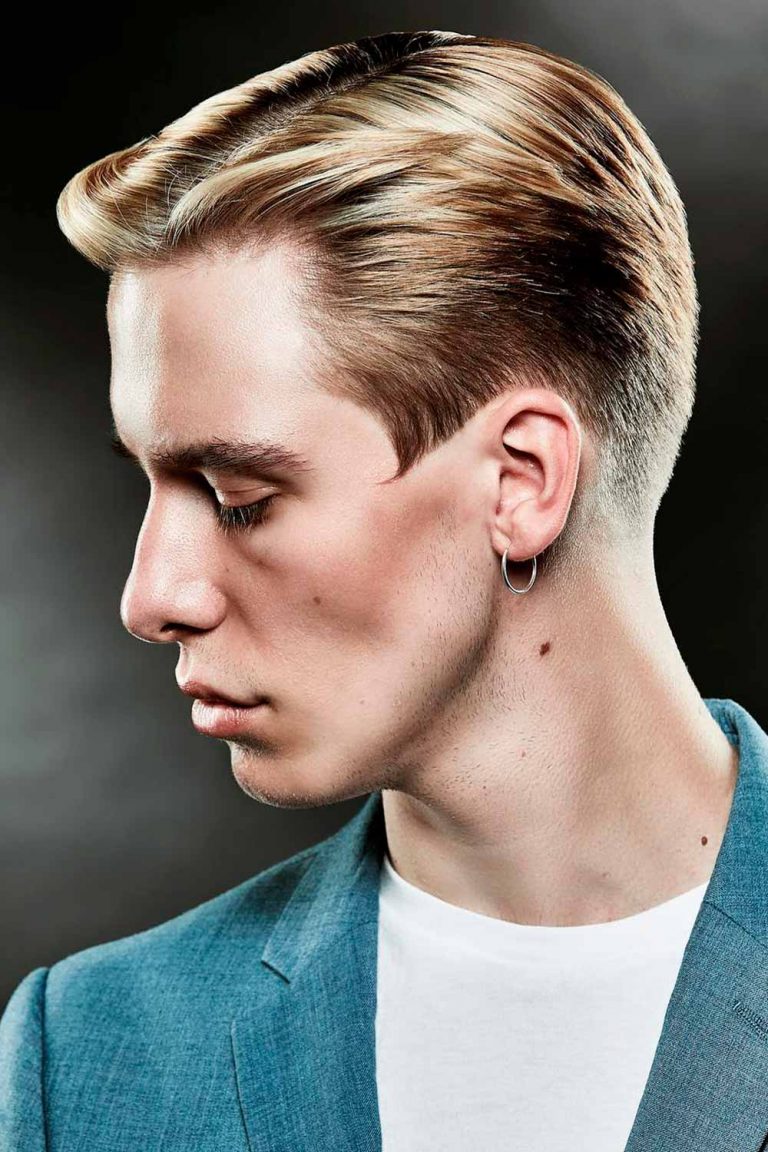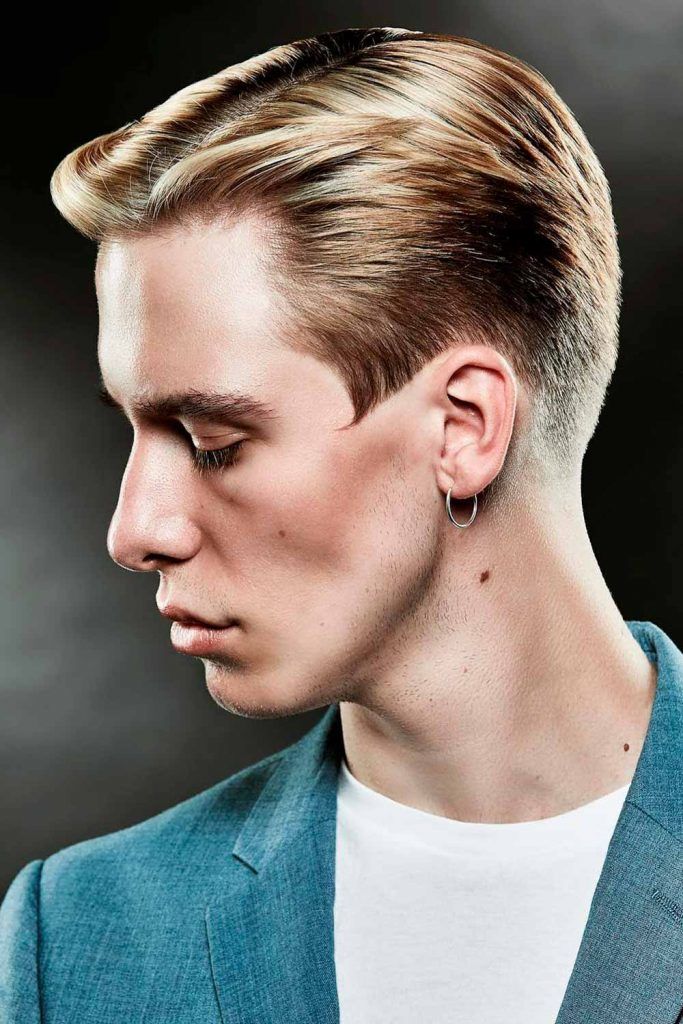 Source: @

r.braid

via Instagram
Wild Faded Texture
If you have thick locks, then you should take a closer look at textured hairstyles. They allow you to reduce the bulk of your tresses without sacrificing their ampleness. This kind of haircuts looks especially cool when complemented with a fade on the sides and back. If you are aiming for a really bold look, then opt for a high skin fade cut.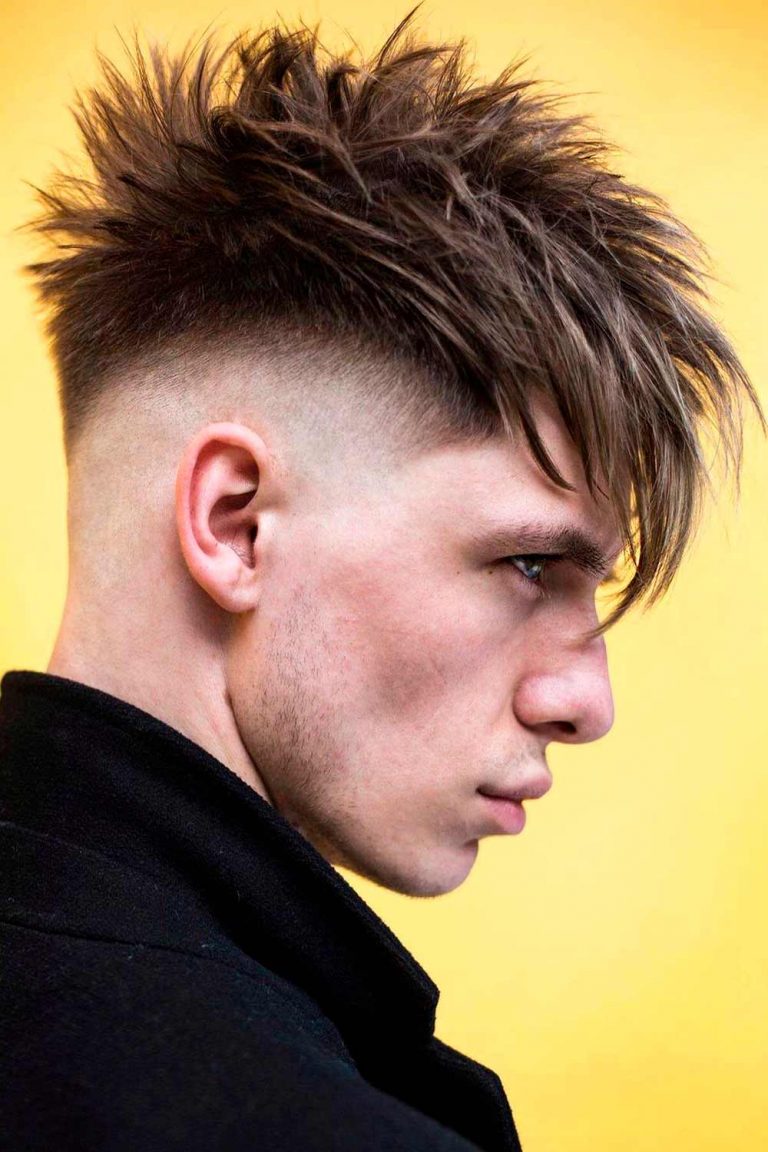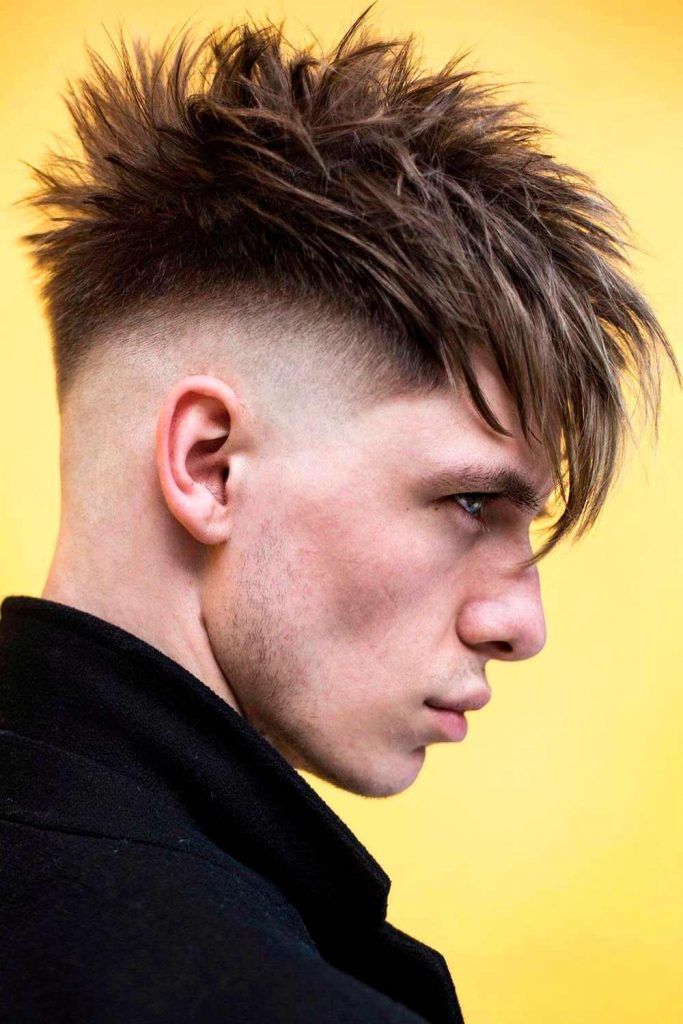 Source: @r.braid via Instagram
Brushed Up Undercut
Gents with medium length locks will highly appreciate this hairstyle. A mid brush up gives your hair a refined and suave aesthetic. As the top takes the center stage, it is a good idea to get the sides faded or even undercut for a more contrasty and sharp appearance.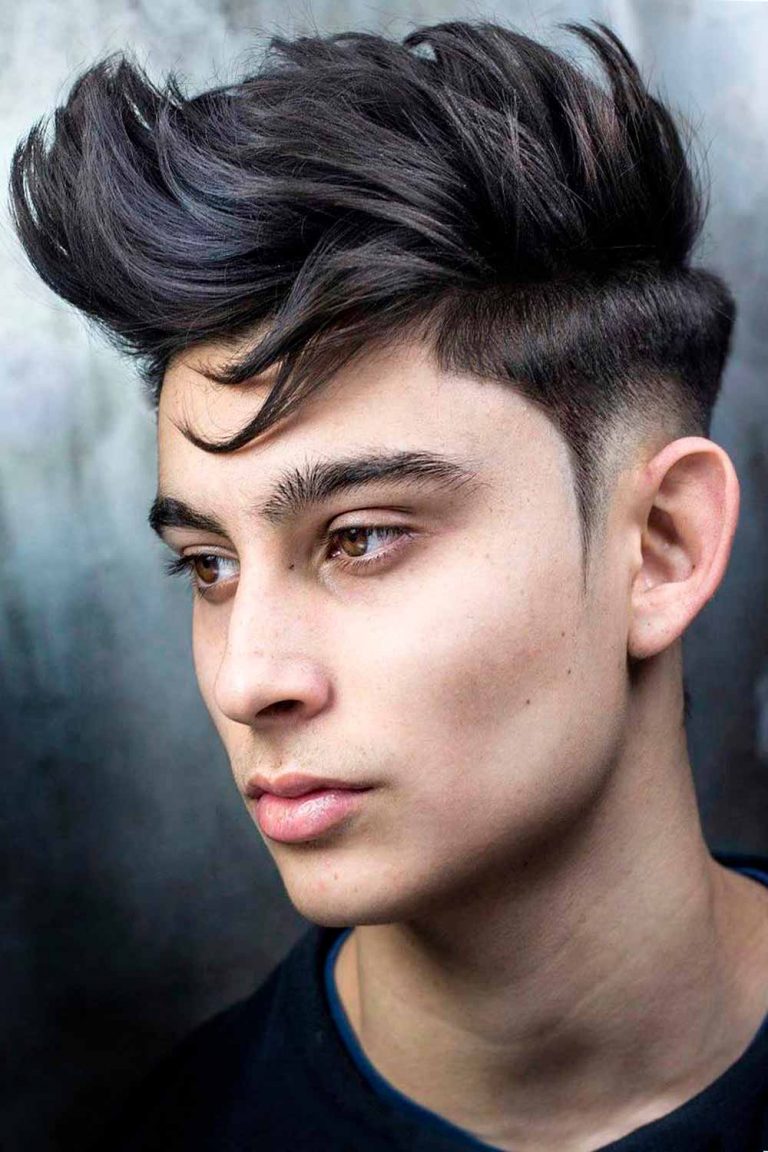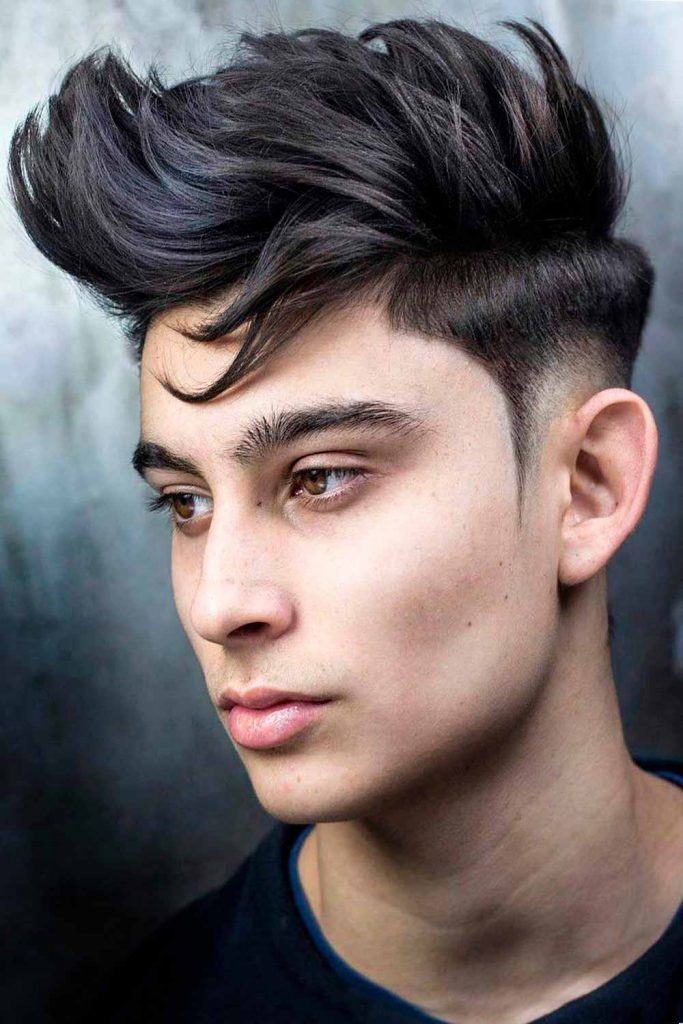 Source: @r.braid via Instagram
Brushed Back And Textured
If you are a devotee of elegant and sophisticated hairstyles, then it is most likely that this look will come to your liking. Although all the locks are brushed back, it does not make the hairstyle flat or plain. Thanks to the defined texture of the top, it maintains an ample and pronounced appearance.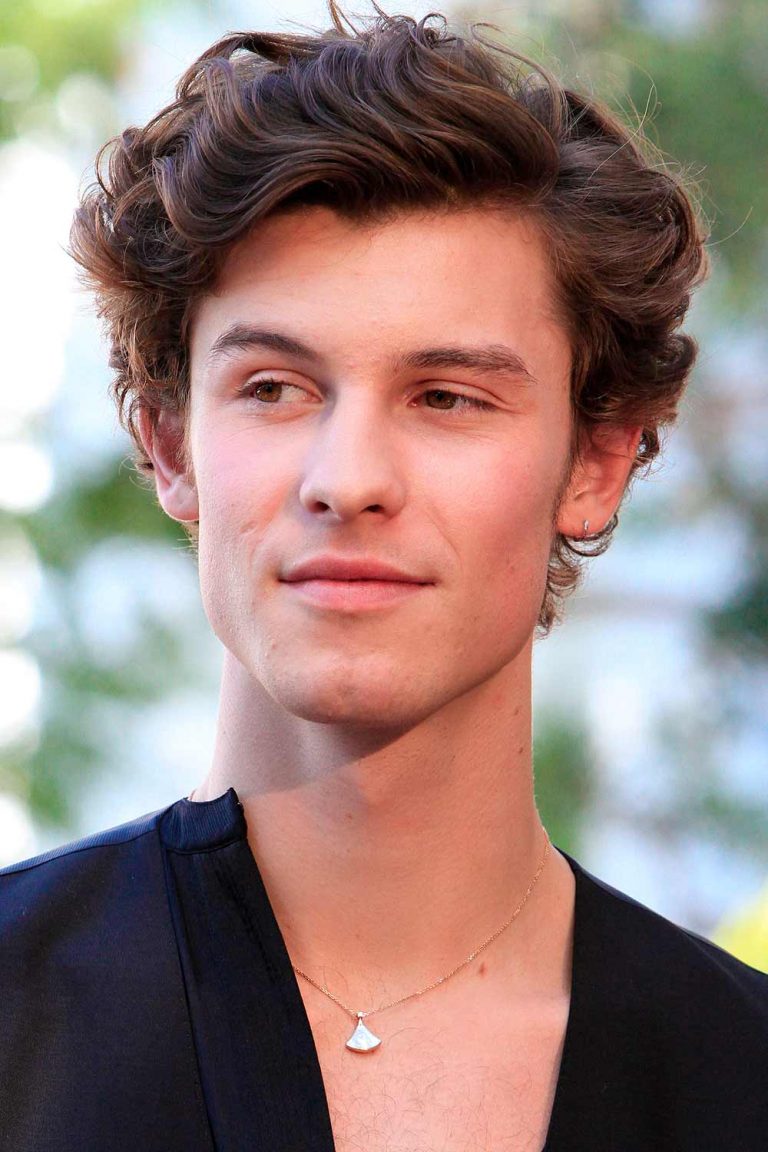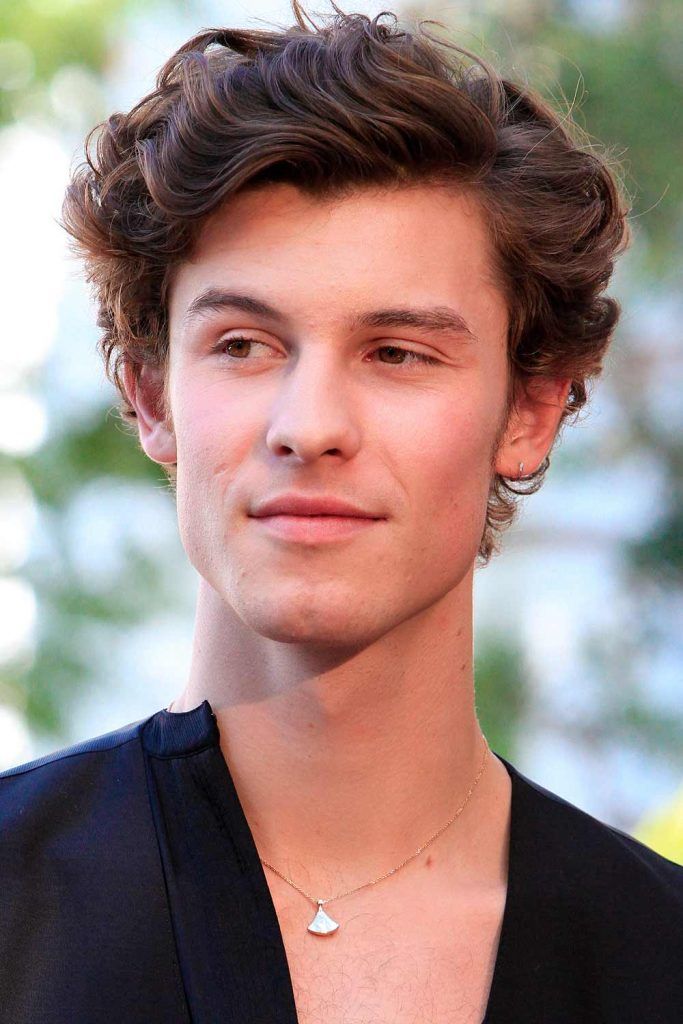 Kathy Hutchins/Shutterstock
Modern Cowlick Prom Hair Men
Luckily for all of us, nowadays we no longer need to try to disguise our unusual features, accentuating them instead. So, if you have a cowlick in your hair, then you can style it in a modern effortless way, which the majority of modern teenage boy hairstyles follow.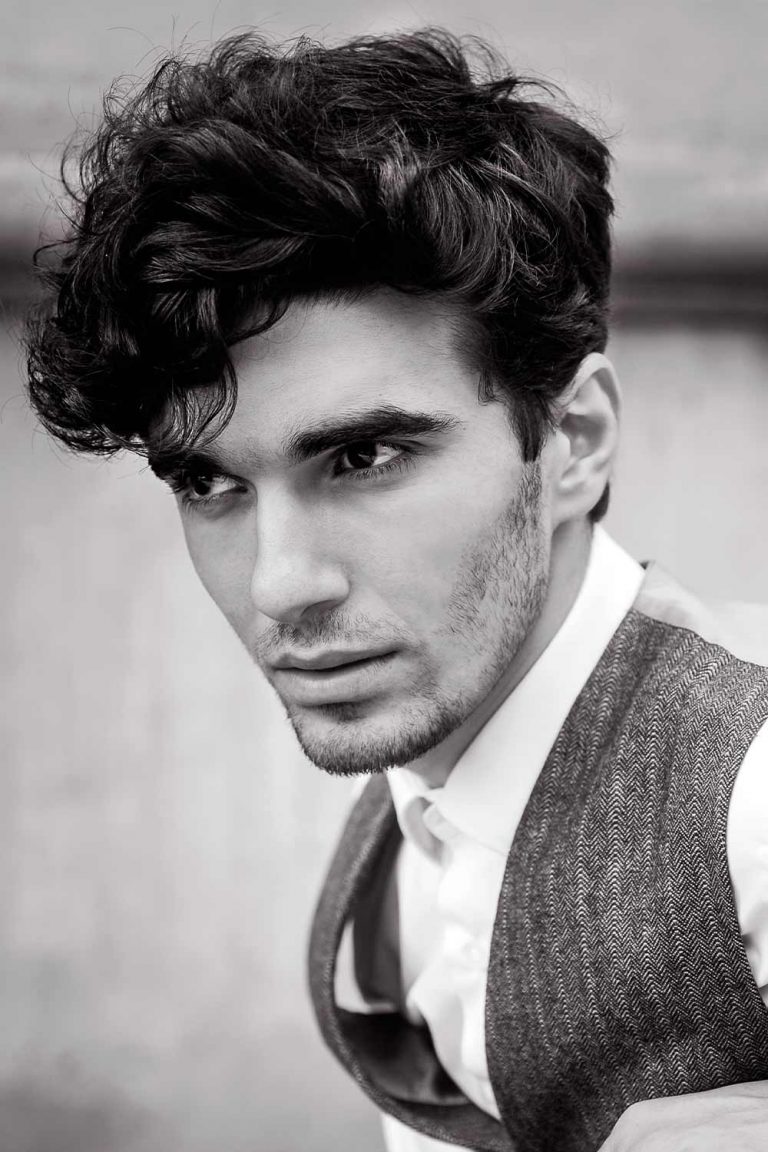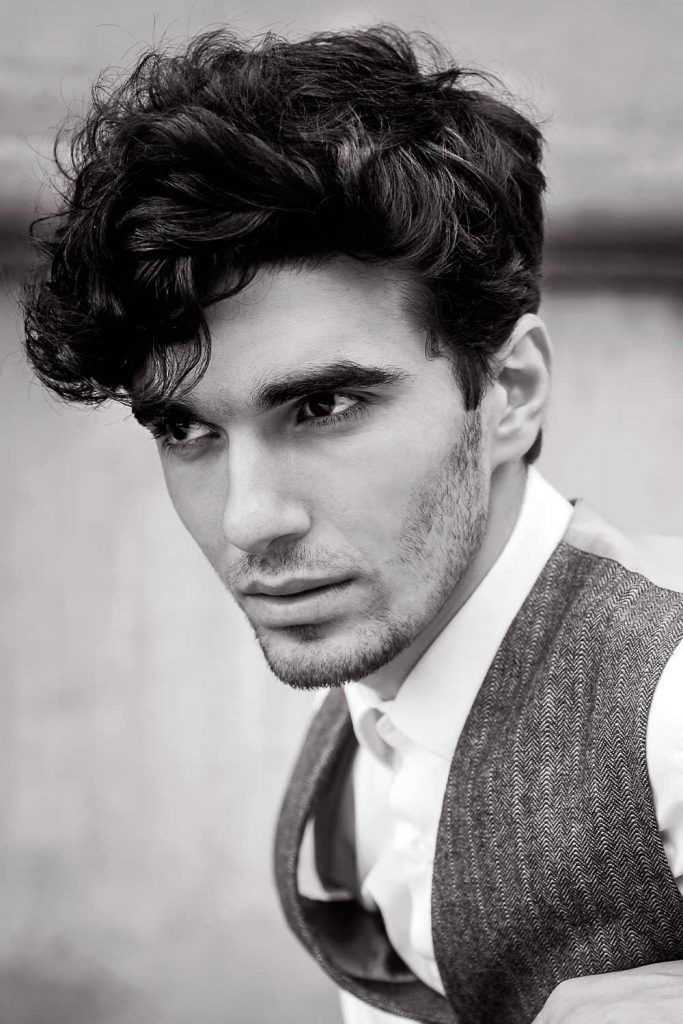 Sleek & Wet Bob
Do you lean toward longer prom styles for guys? Then a bob haircut is your surefire way to go. As the prom is a rather dressy event, make sure your bob will pass for a mens formal hairstyle. To achieve this, you may want to style it smooth and sleek.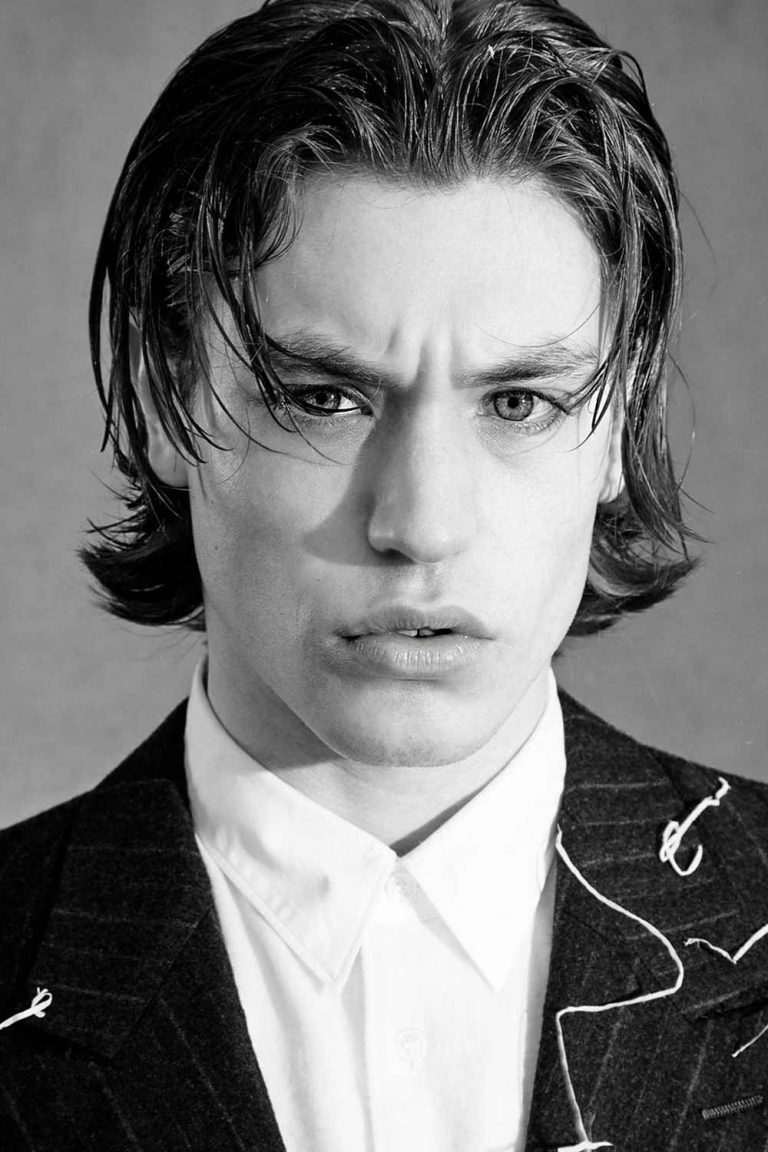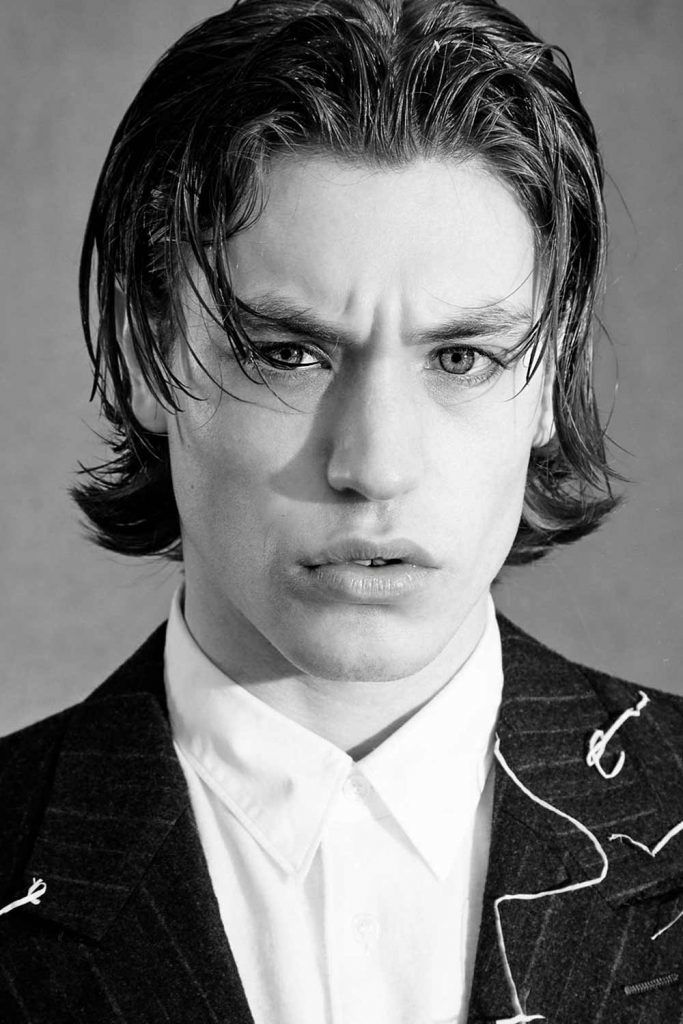 Source: @hayden_cassidy via Instagram
High Taper Fade
What we appreciate in modern prom hairstyles is the fact that they are not only trendy and chic but also practical. This basically means that you are going to be able to wear it afterward as well. For this reason, we really like a high taper fade as a prom hair men style. Contrasty and bold, it suits both casual and fancy atmosphere.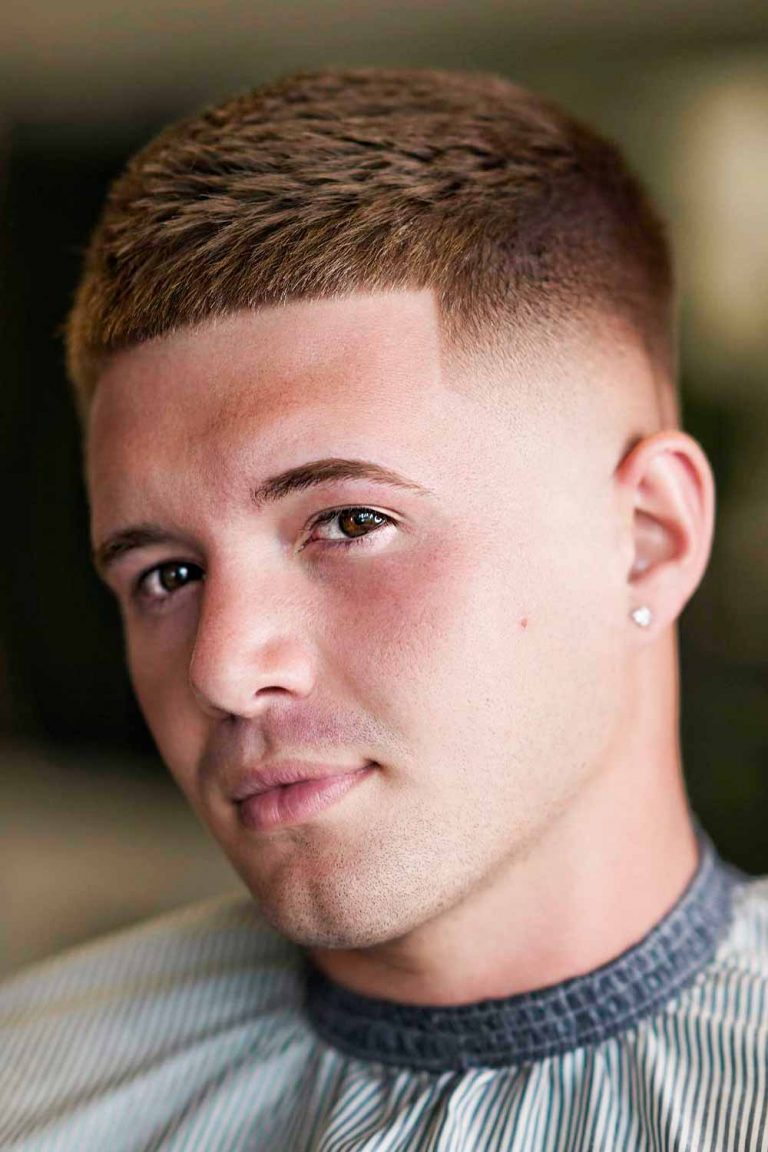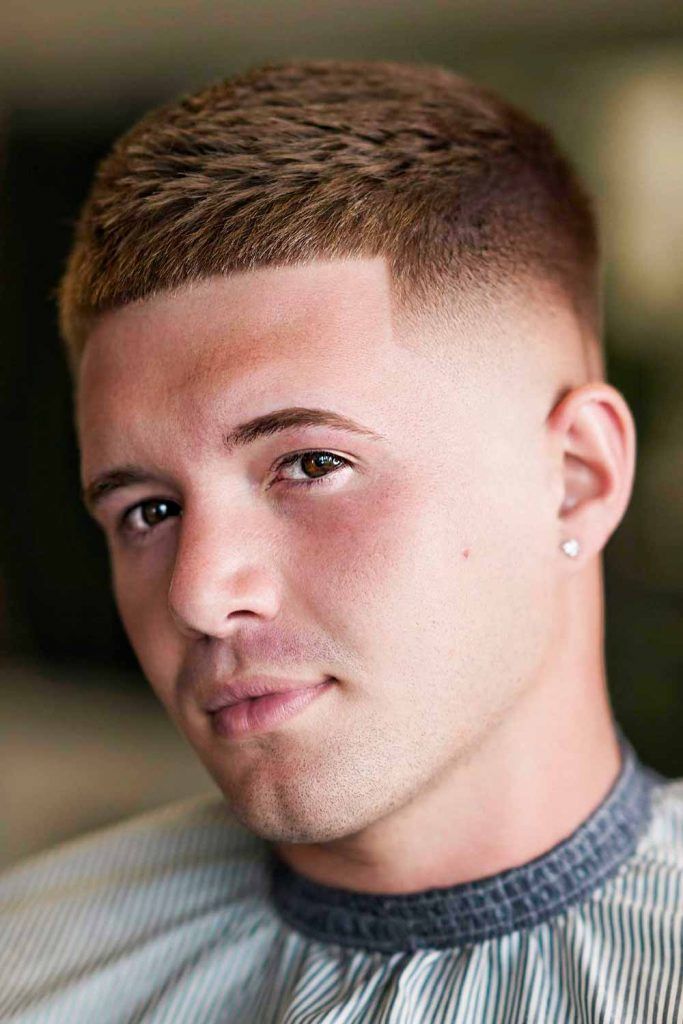 Source: @xbigwesx via Instagram
Tomboy Spiky Hairdo
If your school has a hair dress code to follow, the prom is the time you may break it with a clear conscience. You can easily transform basically any of traditional short hair hairstyles into modern and edgy by simply adding spikes to the top. This move will give you a significant advantage should you decide to vie for the title of the best prom hairstyles for short hair.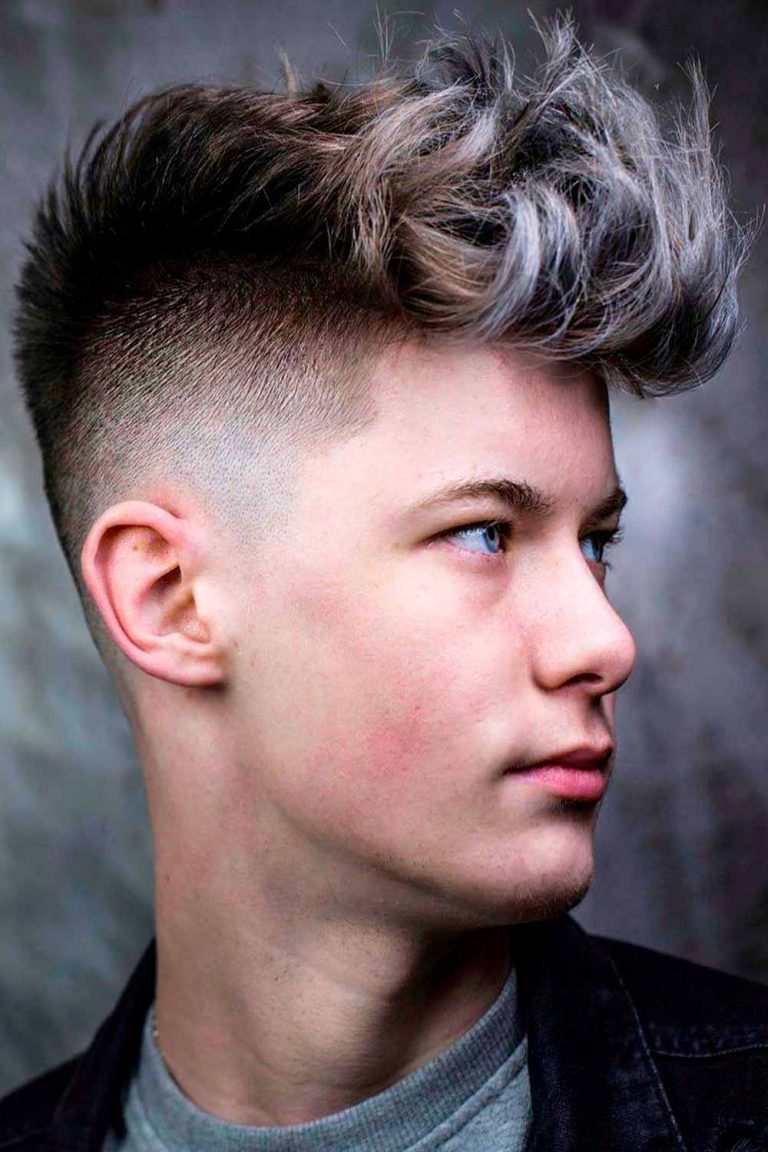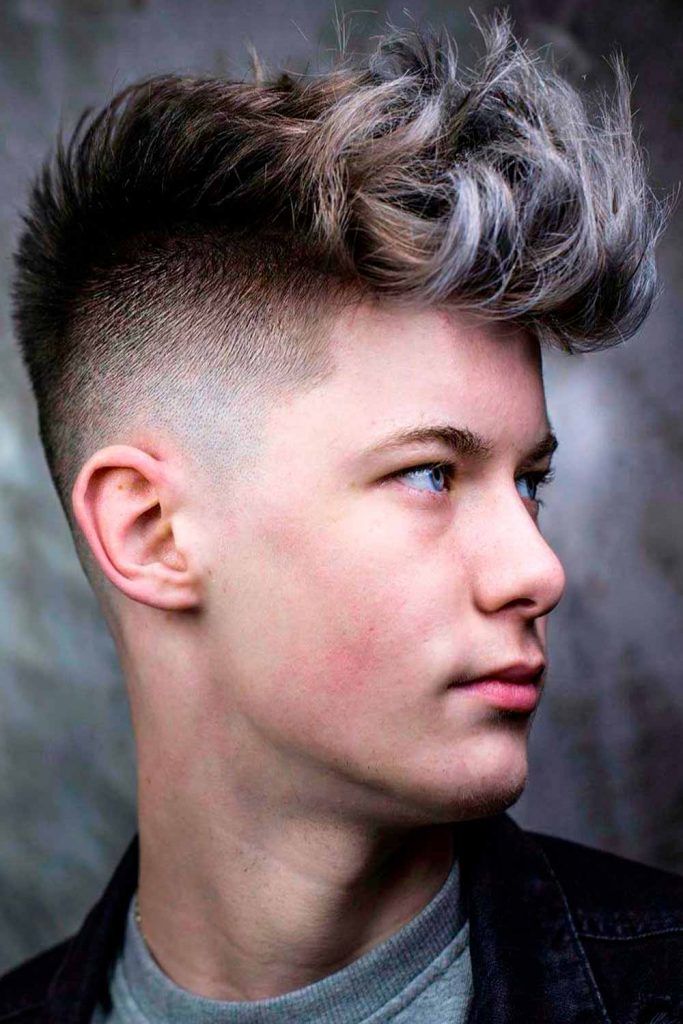 Source: @r.braid via Instagram
50s Style
No matter whether your prom is going to have a theme or not, a retro hairstyle guarantees you being in the spotlight. The best period to draw hairstyle inspiration from is arguably the 1950s. For example, this stylish and chic 50s hairstyle with a straight or curly strand falling over your forehead will make everyone gasp.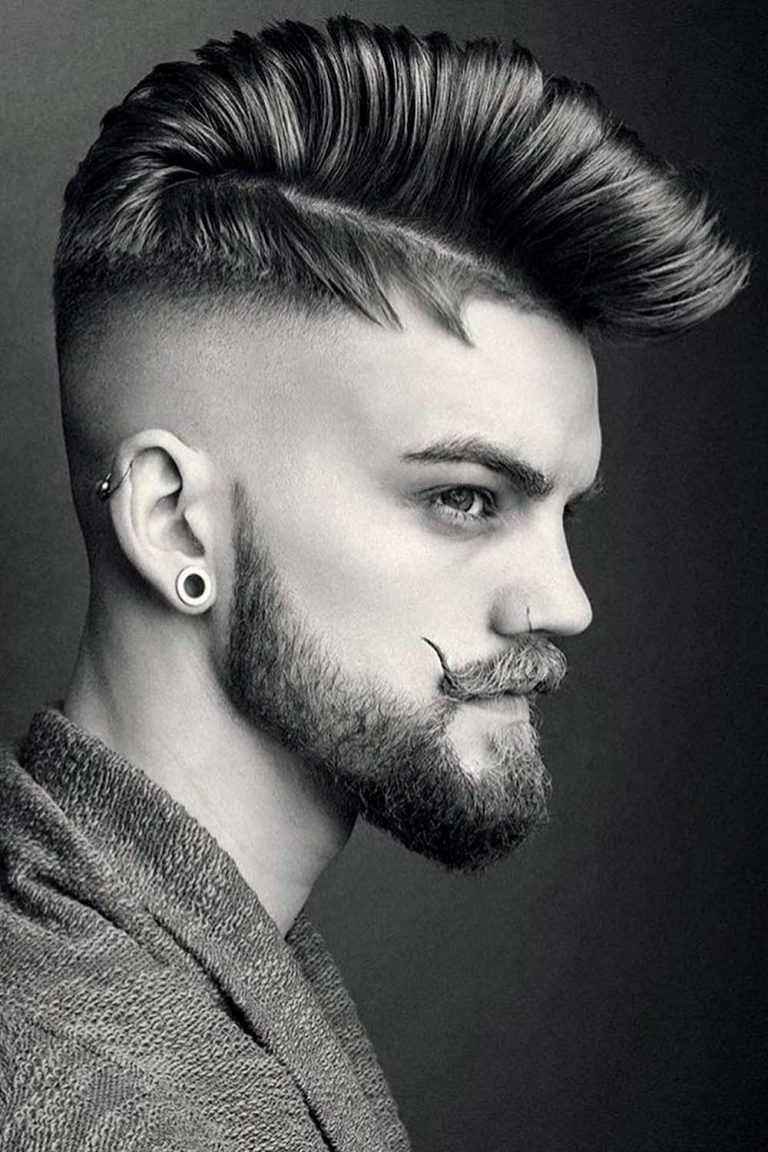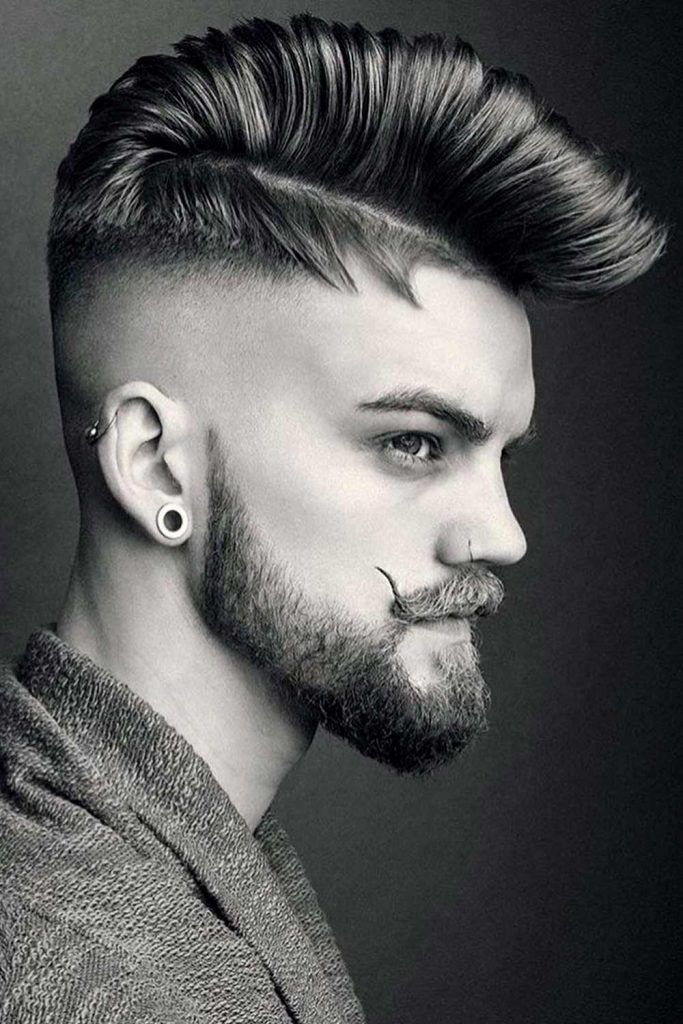 Source: @r.braid via Instagram
Prom Pompadour Fade
It's never too early to start cultivating a good sense of style, especially when it concerns mens hair. The pompadour fade will certainly help you in this endeavor. It's a sure bet that this elegant and dapper prom hair style will make you the Prom King if not literally then among your friends.
Bad Boy Side Quiff
If you gravitate to mid length haircuts, it won't take you much effort to pull off one of the most attractive Hairstyles for prom. To achieve a neat and clean appearance, go for a high fade on the sides while leaving the top of medium length. Divide the top into two sections with a natural side part and push them back. Now, you're ready to rock the dance floor.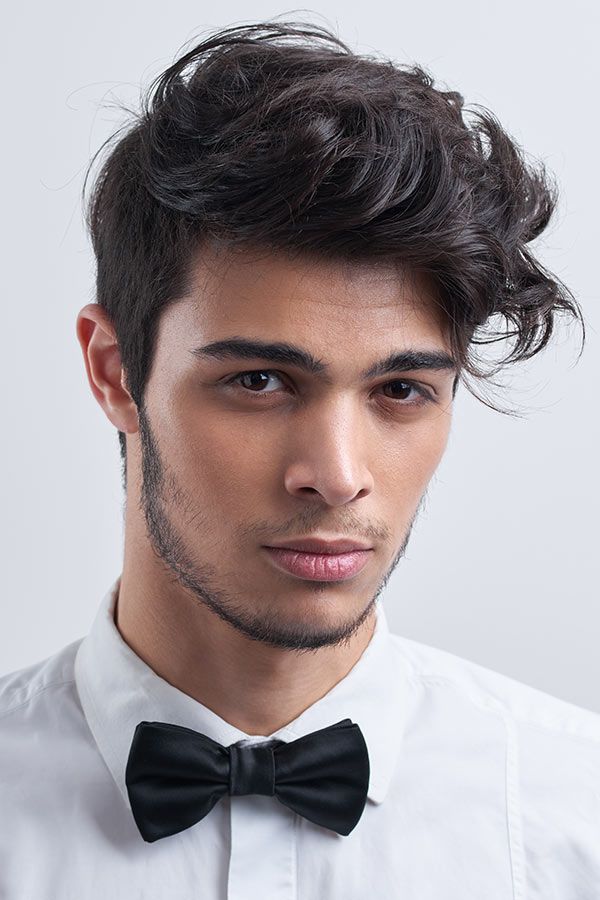 Good Boy Side Swept
Short haircuts for men allow many different styling options. If you have a long fringe, you can get away with an extremely fancy hairstyle. Brush it forward so that it covers your forehead and push it a bit to the side. For an added definition to their layered hair styles men usually employ a touch of a styling product.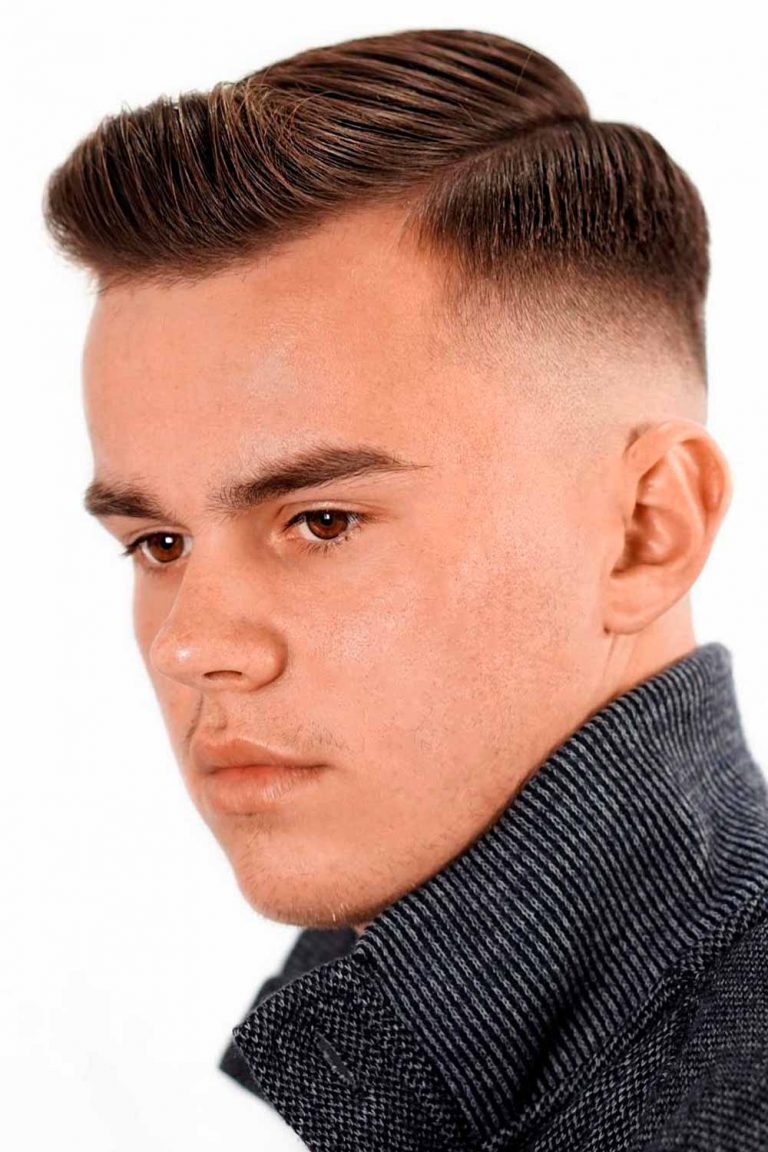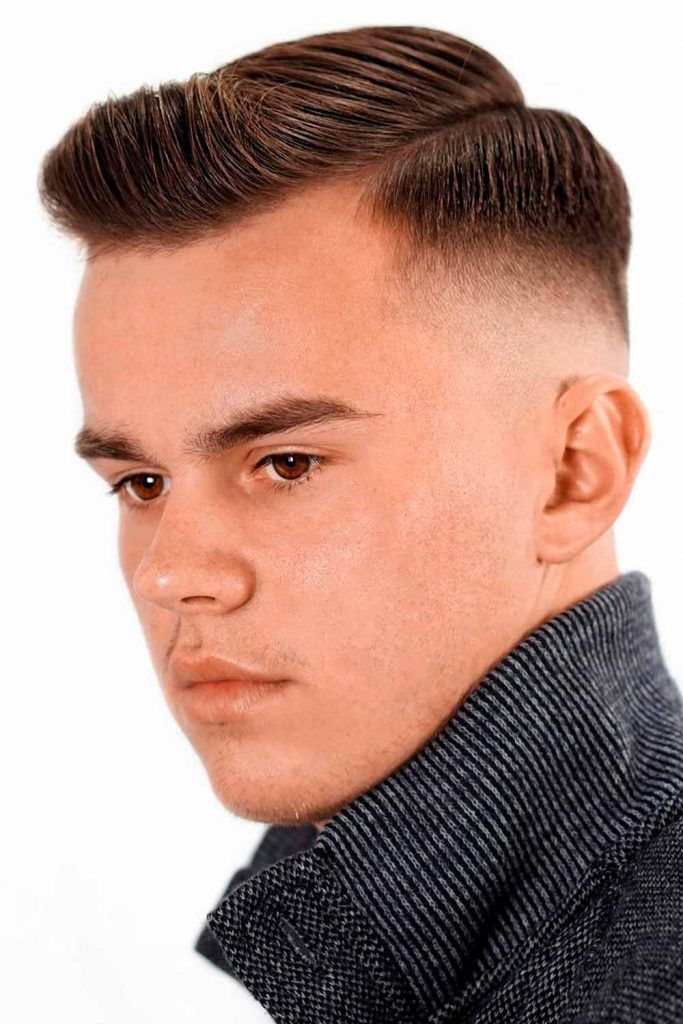 Source: @z_ramsey via Instagram
Cool Faux Hawk
The Faux Hawk is the perfect hairstyles for men who want to wake up their inner rocker. The hair should not necessarily be pinched up at the center. You can style it in the funnel shape for a more unusual and eye-catching appearance.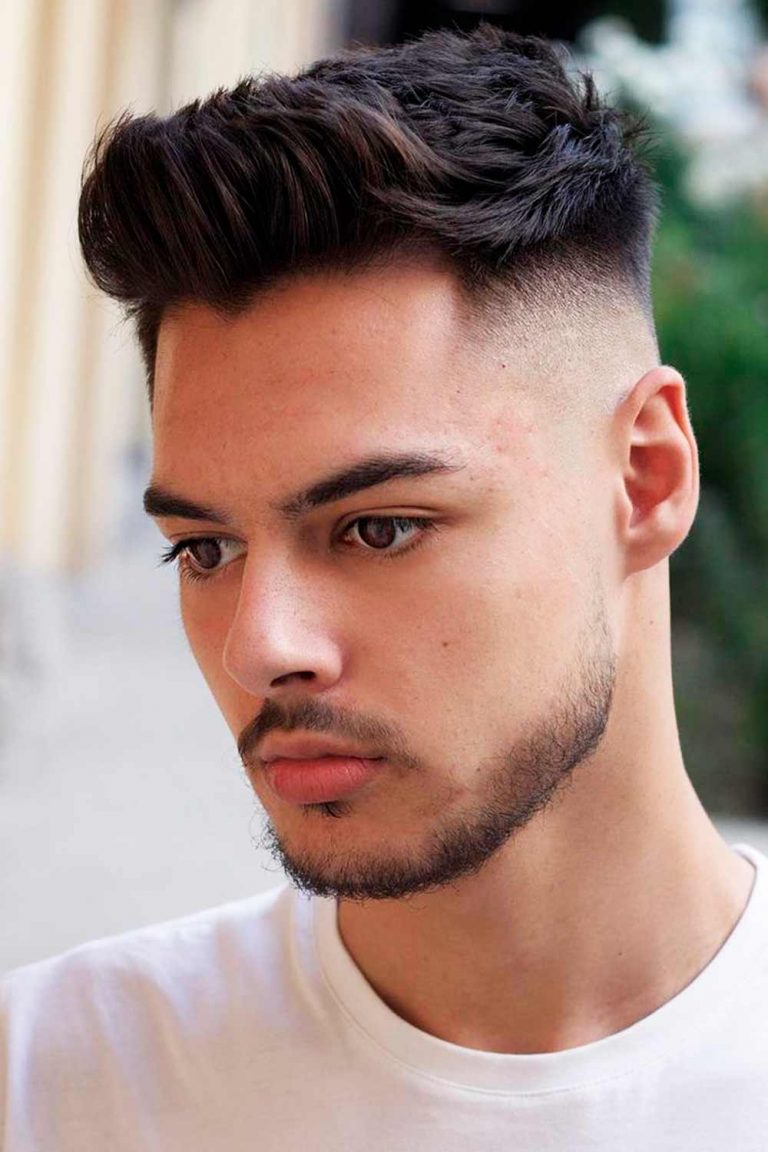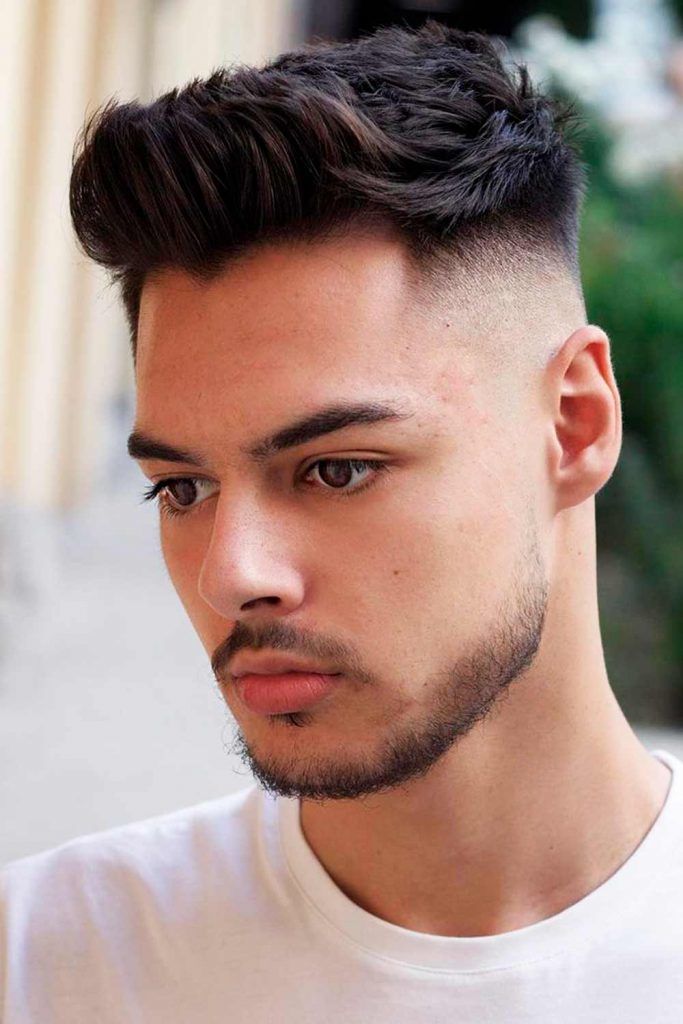 Source: @horatiuthebarber via Instagram
Undercut With Crazy Highlights
With the undercut, you can complement any short or medium hairstyles. The type of fade and the style of the top are totally up to you. You can have the hair atop cut in even layers and then slicked back. This creates a very edgy and textured look of any of the men's haircuts. For added emphasis, go for a line-up around the forehead and temples.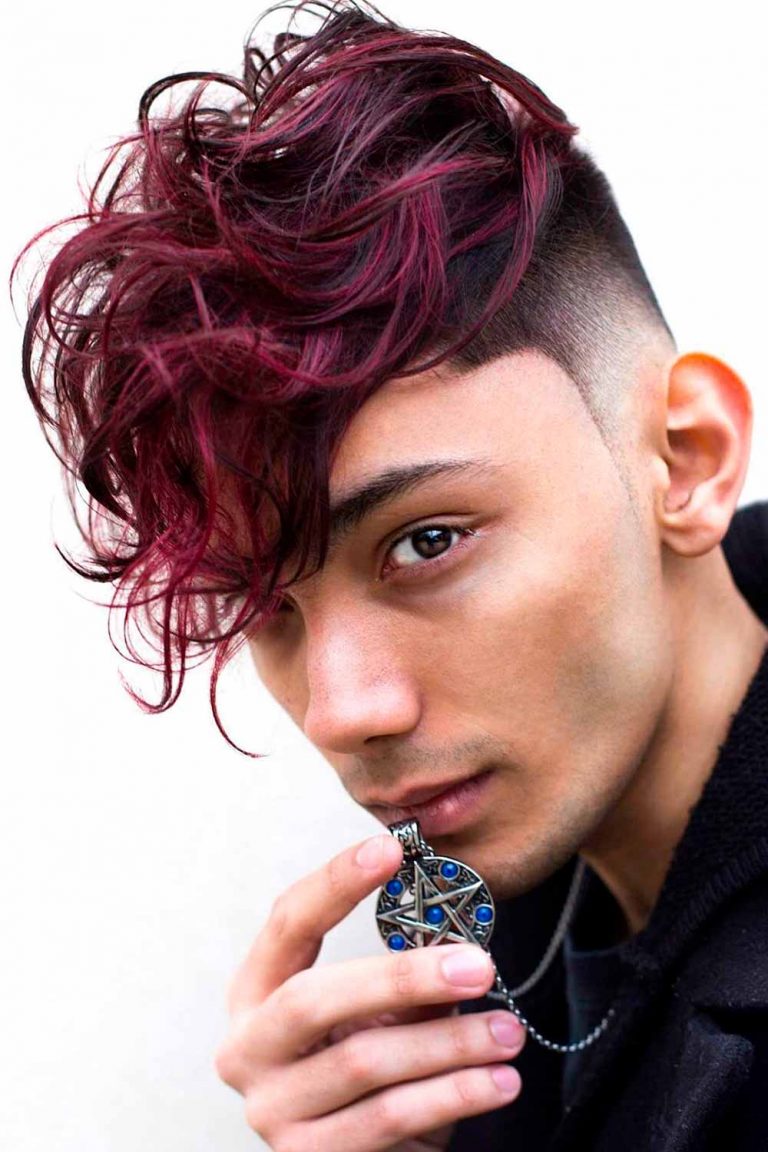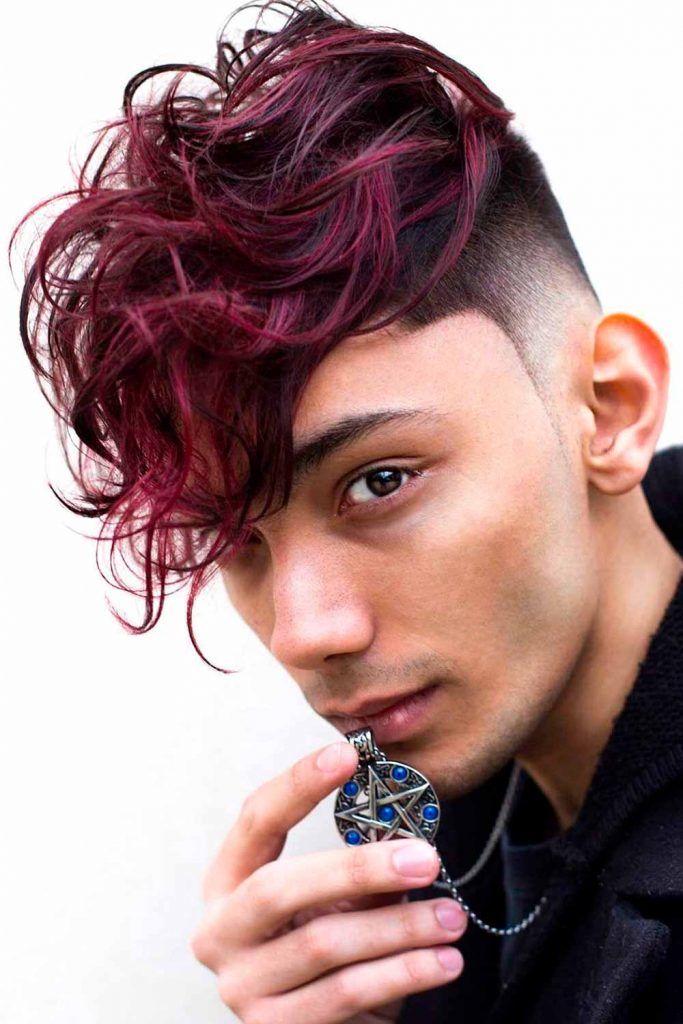 Source: @r.braid via Instagram
Pomp Star
The classic pompadour hairstyle is a true win-win solution when it comes to choosing prom hairstyles. To nail the look, short hair men should let their hair grow for a while and then do a bit of combing. Tease the front section of the hair a little and comb it back, as well as the sides. Slick the hair on the back of the head down to the neck. Secure everything with a syling product and you're done!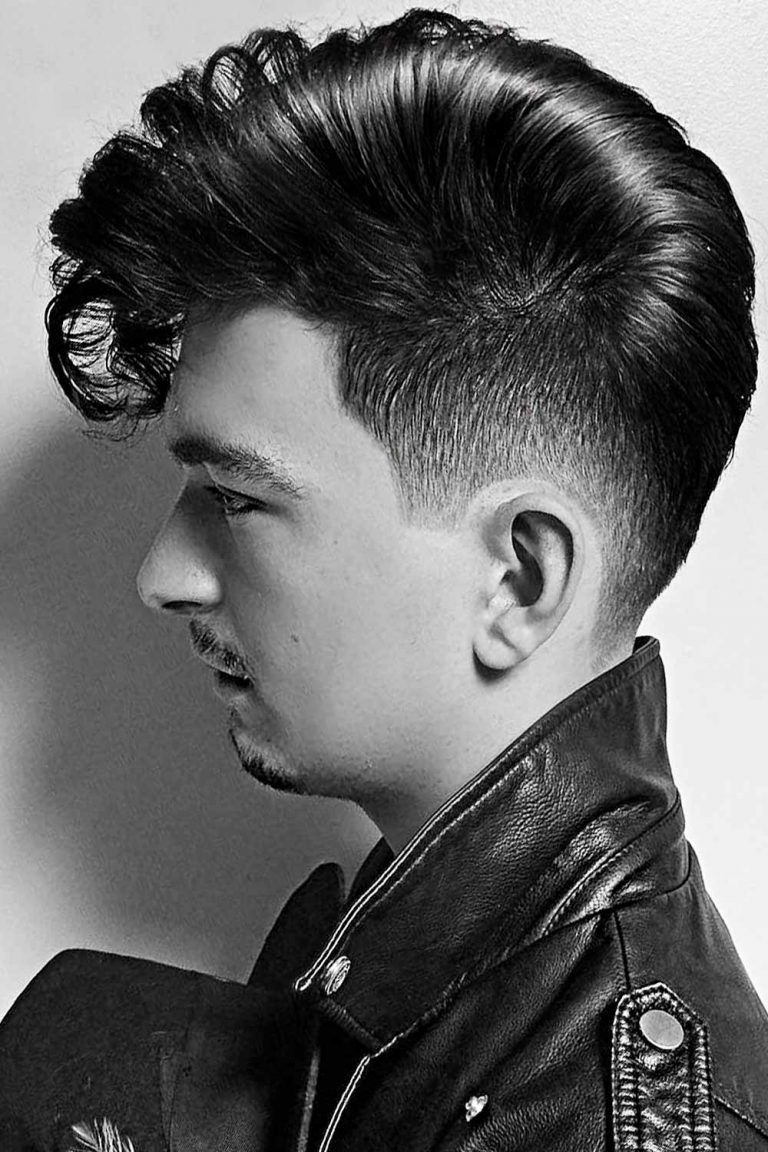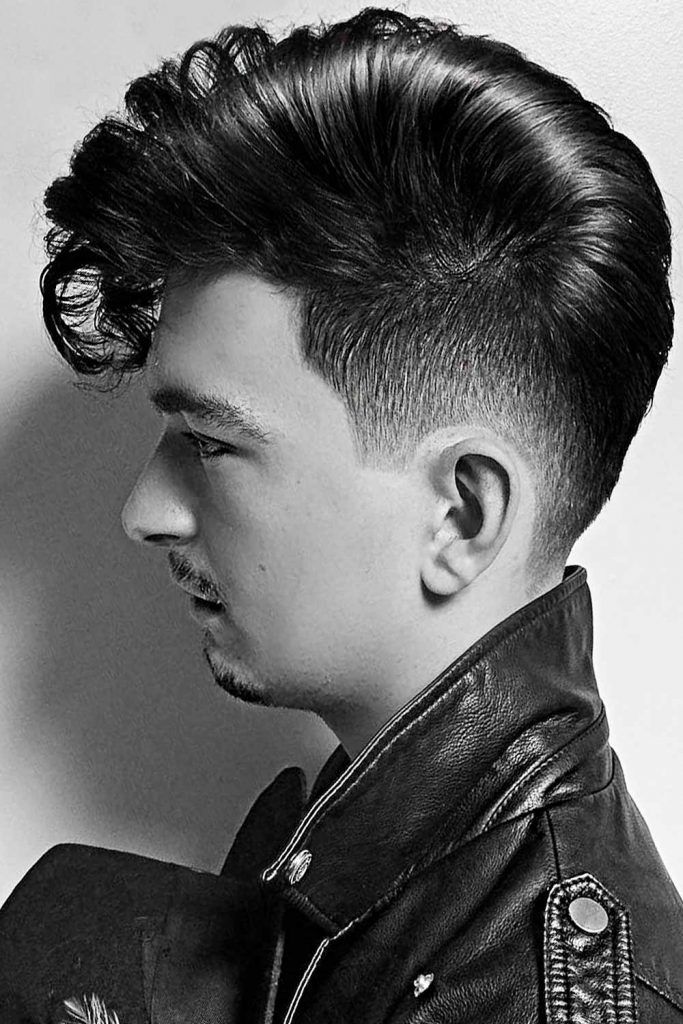 Source: @mikeyyyyyyy_ via Instagram
Fiery Spikes
Are you more after easy prom hairstyles? Then you need to get the right cut first. There are the haircuts men choose when they want a look that can be restyled effortlessly to suit any environment, from casual to formal. The quiff will give you exactly what you're looking for. It brings a formal ambiance to the look if styled with a good deal of a product and on the contrary, if you tousle the strands with a bead of wax, you'll get a very casual and careless hairstyle.
Source: @alexmapeli via Instagram
Slick Back Calm
The prom hairstyles have basically no limits. Thus, if you want to go with one of the very formal hairstyles or choose from extremely casual medium length hairstyles, you'll make the right choice by all means. The slick back hairstyle is a staple look for those guys who prefer smart and clean look without much effort. Just for the medium length, you'll need a bit more of a styling product.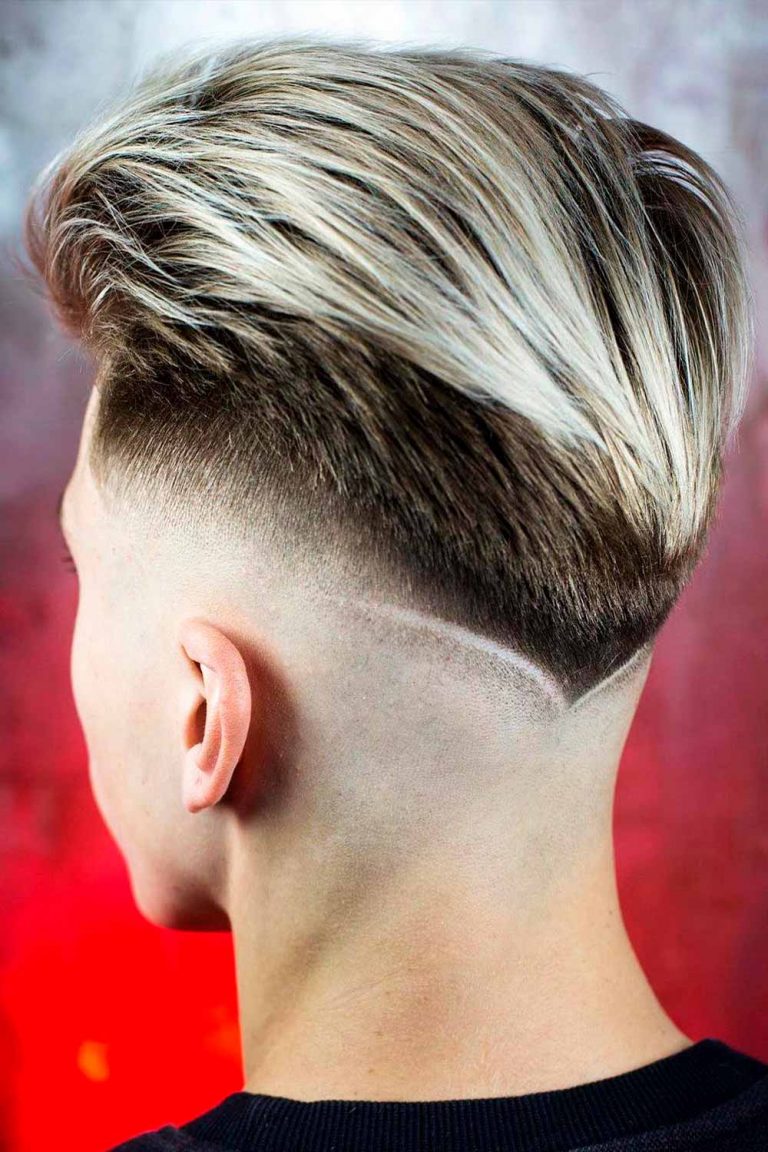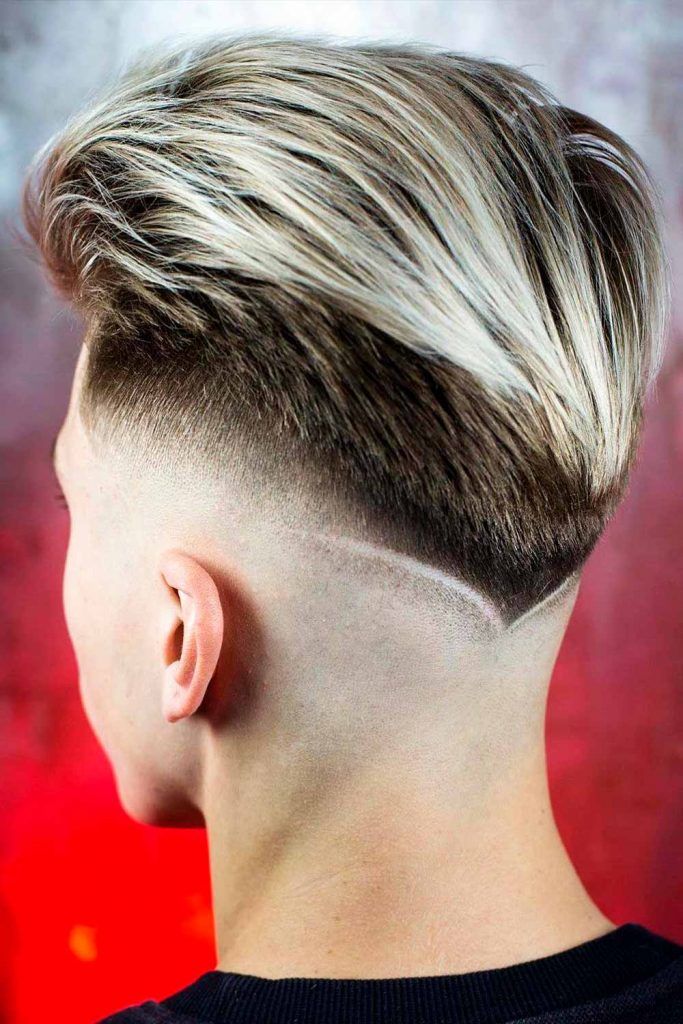 Source: @ r.braid via Instagram
Hipster Man Bun
Speaking of ultimate casualty. If you want to own this evening, then a man bun is the style you should resort to. You can actually have one of the faded mens haircuts on the sides, however, the top should be long enough to be tied into a bun or at least a knot.
Medium Prom Guys Hair
Basically, any mid length hair works great for prom. It demonstrates your commitment to the style, meaning responsibility, the ability to stick to the grooming routine, thus discipline, and the whole seriousness you take the impression you give with. And, as you know, your appearance speaks for itself.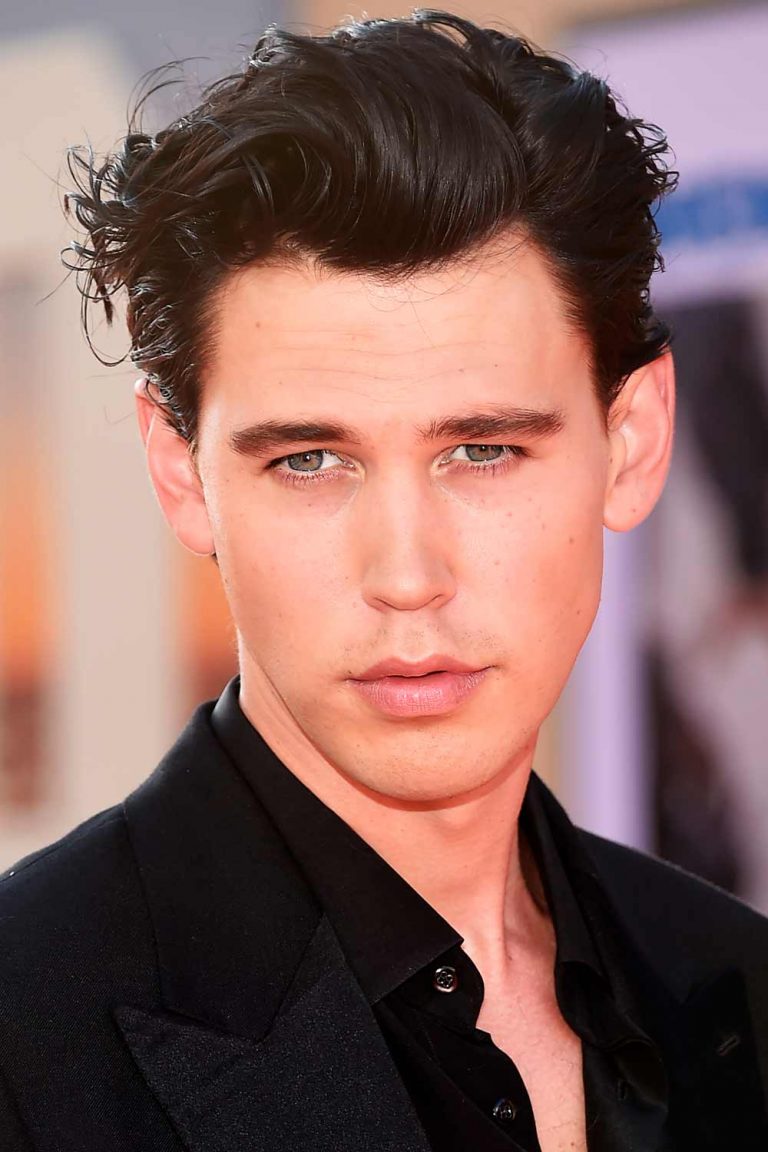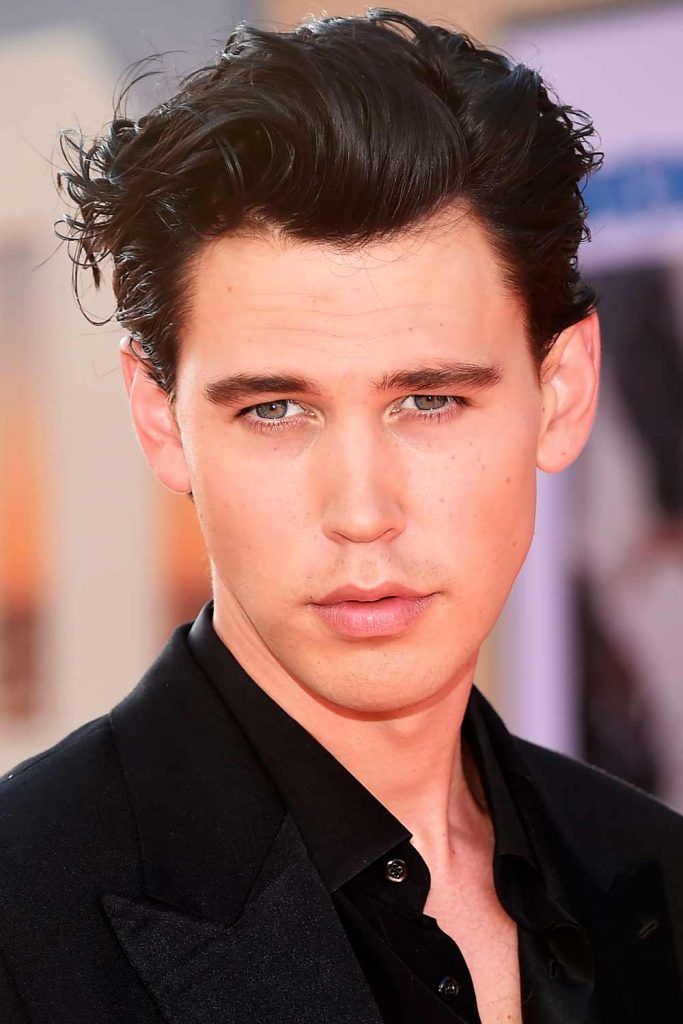 DFree/Shutterstock
High And Greasy Bro's Fade
No matter how much hair gel you are going to use, you can rest assured that this hairstyle will come out dapper and fancy. Guys with unruly and coiled locks will find that exploiting hair gel makes a world of difference to their mane. To keep the focus on top, go for a high bald fade on the back and sides.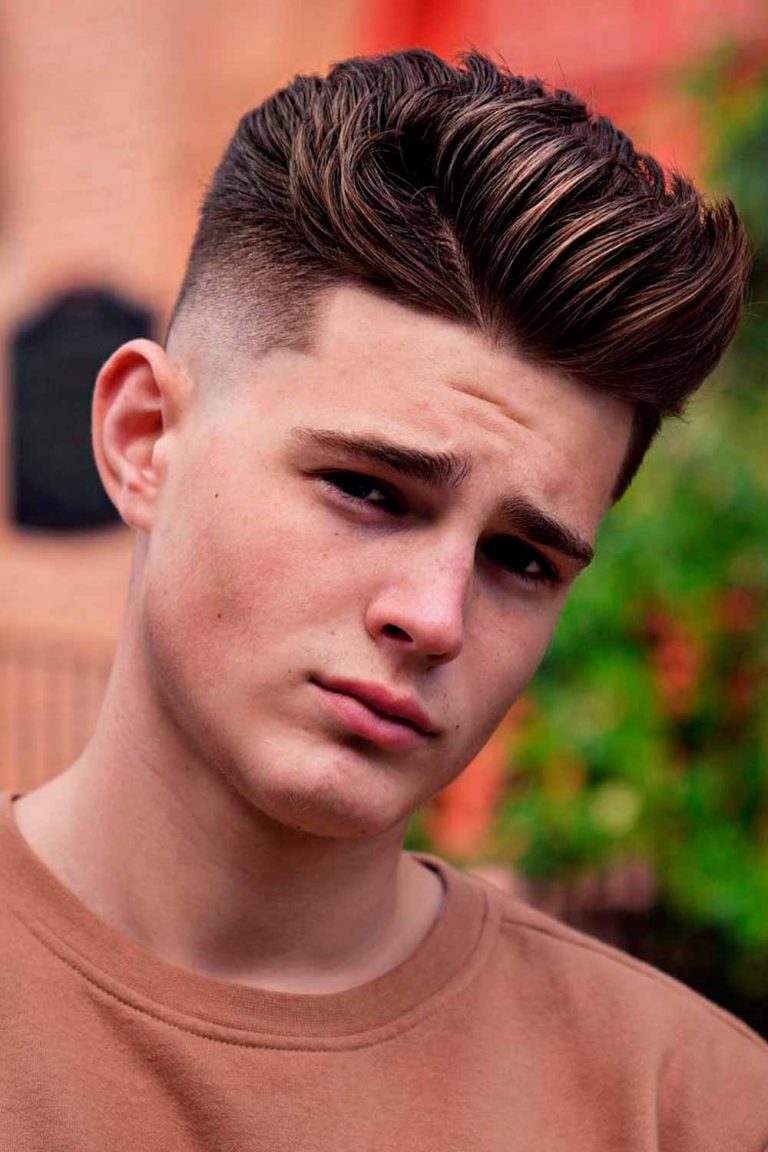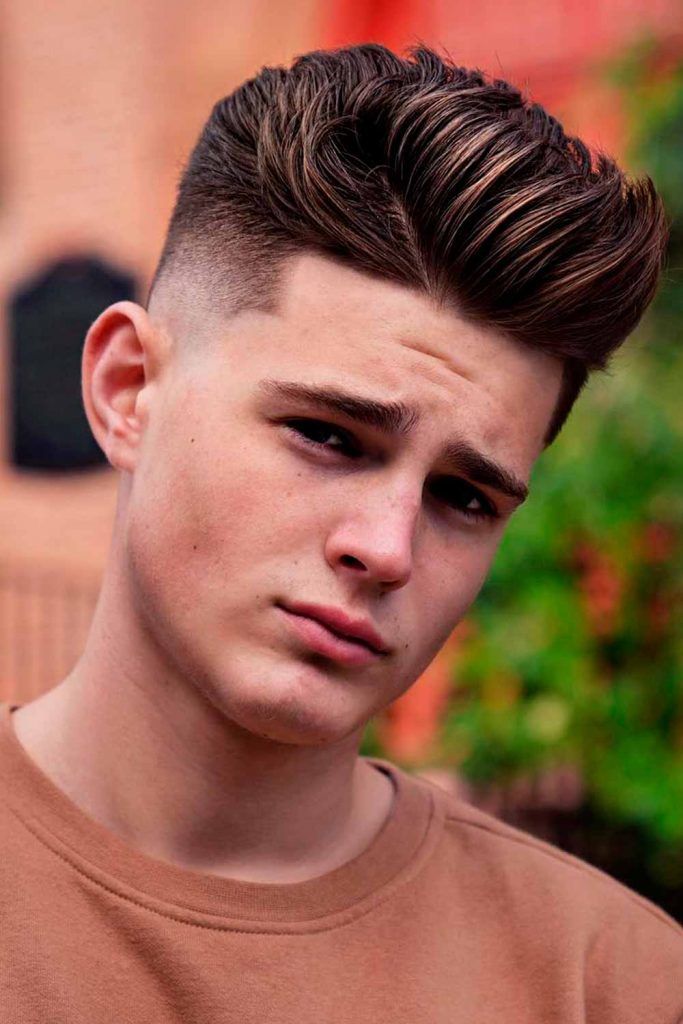 Source: @z_ramsey via Instagram
Mullet Inspired
A mullet seems to have made a huge comeback lately. Of course, it is not the same we remember it with business in the front, party in the back. A modern mullet is elegant, stylish and tasteful. Thus, if you want to draw inspiration from this vintage hairstyle, take a peek at this cool idea.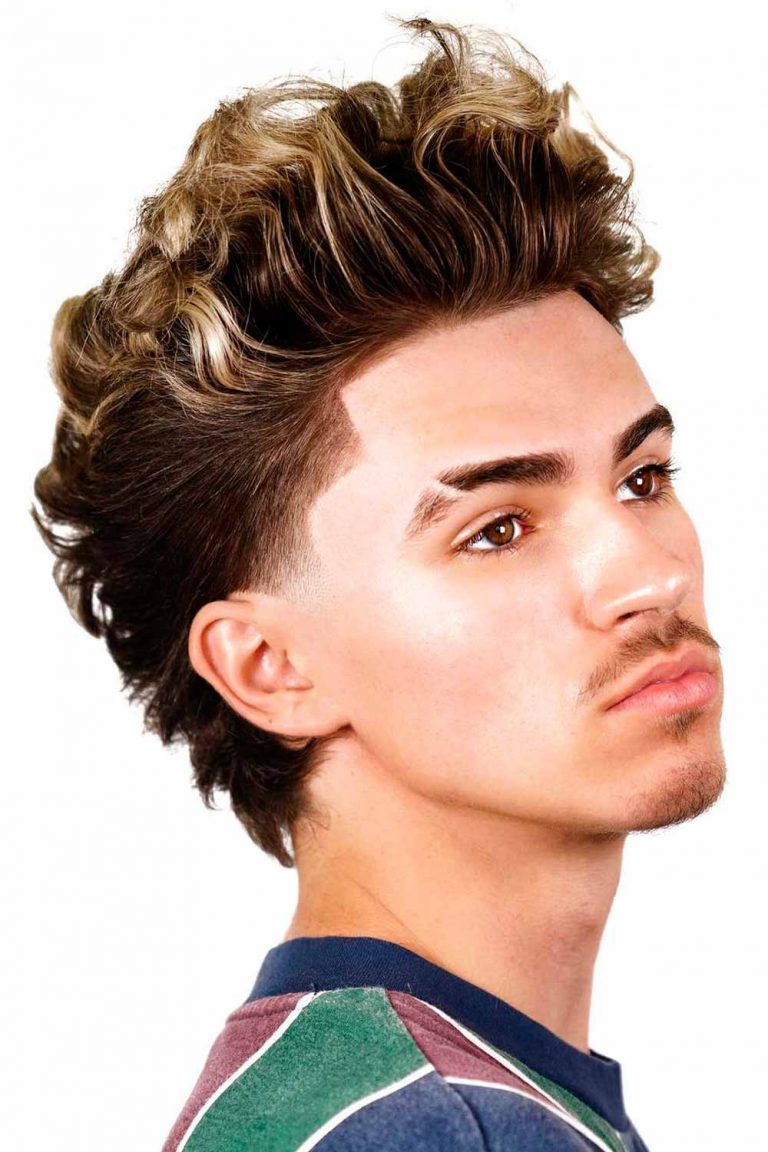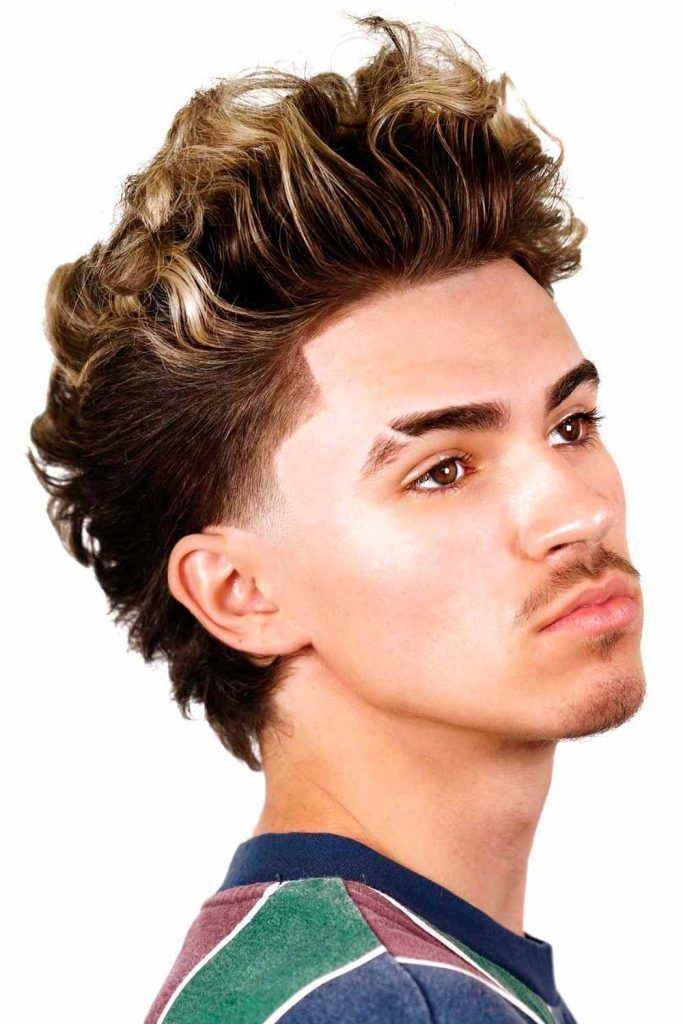 Source: @z_ramsey via Instagram
All Over Spikes
If everybody has known you as a good guy with a preppy hairstyle throughout your school years, then the prom is your big break, or at least your hair's. Style your locks in a ruffian manner by spiking up the strands all over the head. For an added boldness and prominence, get your tresses bleached.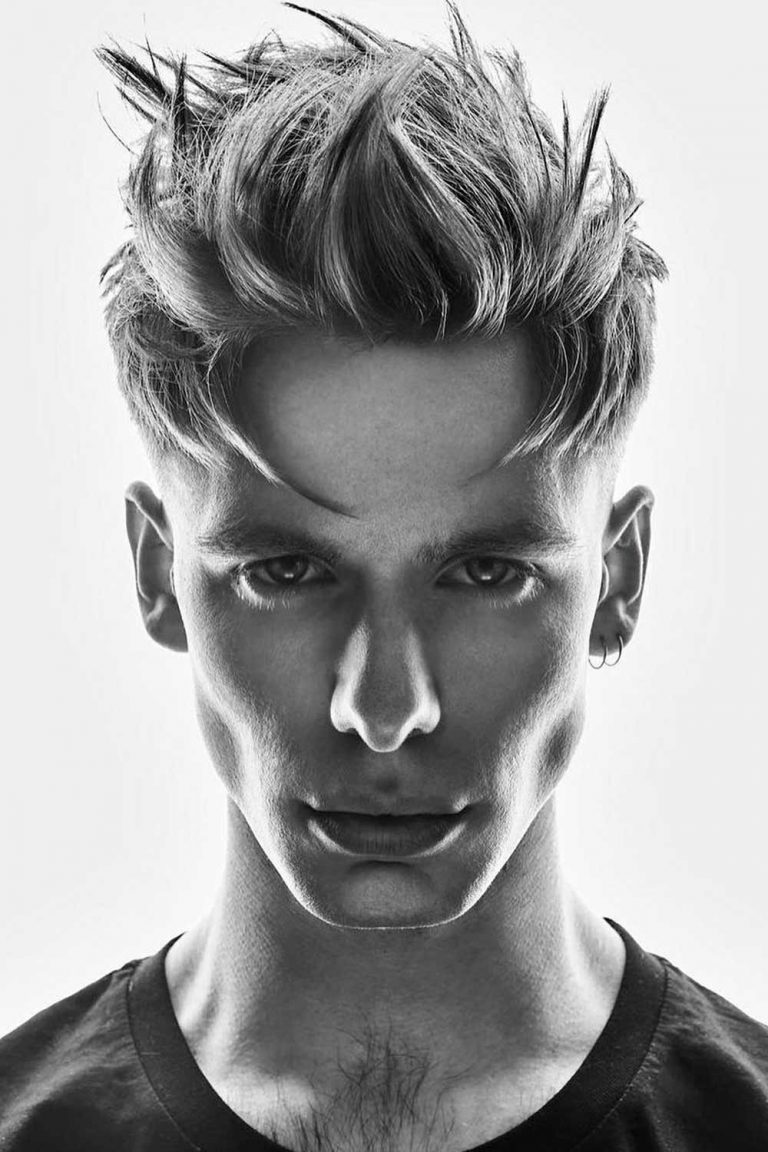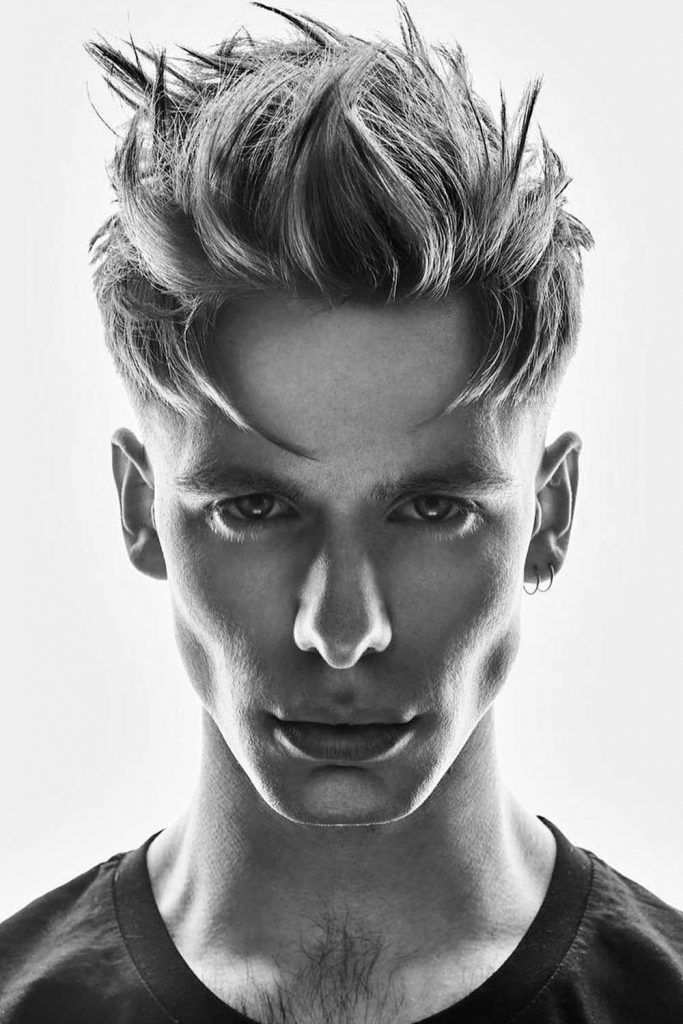 Source: @r.braid via Instagram
Pointed Bangs
Bangs are an extremely versatile hairstyle. Thus, opting for them, you are instantly offered a multitude of styling options. If you want to pull off a daring look for the prom, push the bangs to the side and style them pointed. For a mysteries touch, make sure to leave quite a lot of hair on top so that it covers your eye a bit.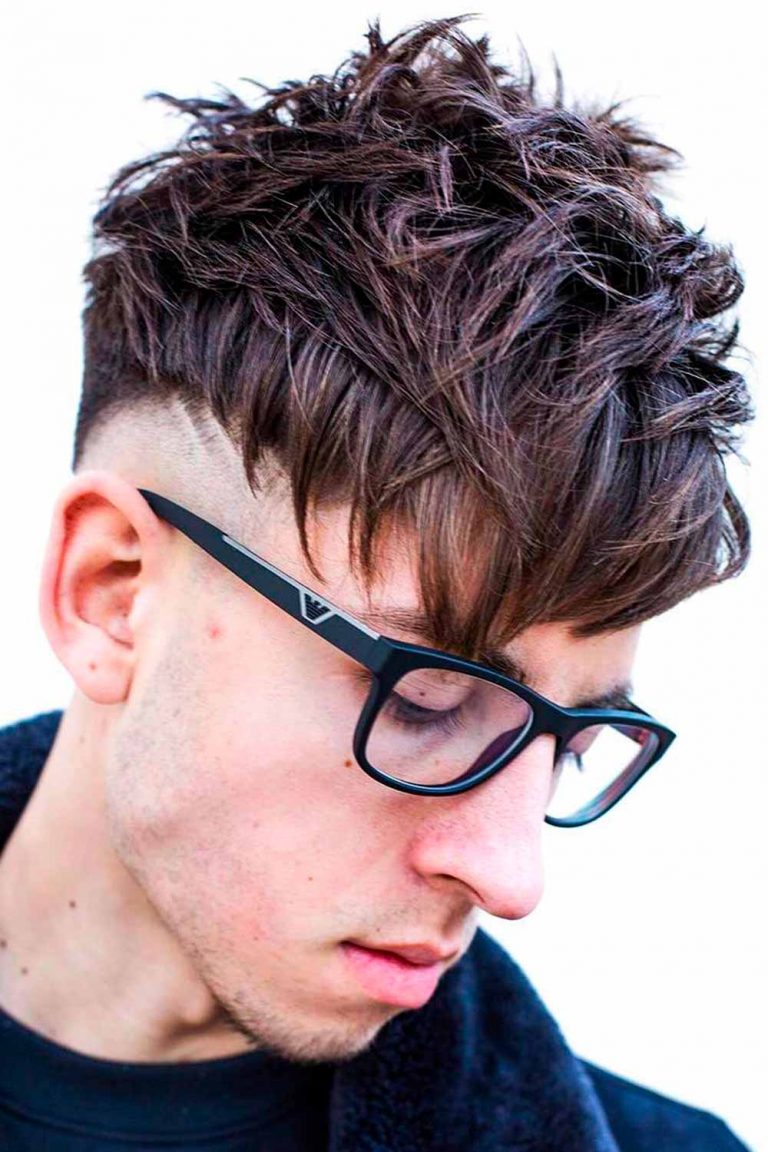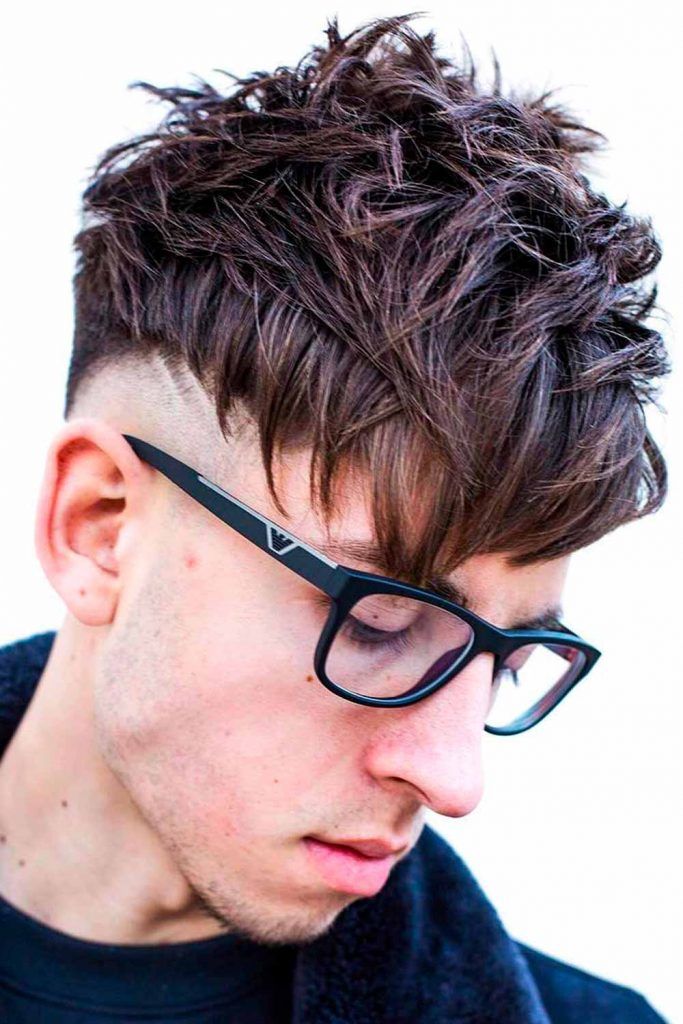 Source: @r.braid via Instagram
Combed Back Layers
A combed back look is one of those formal hairstyles men can never go wrong with. It is elegant, sophisticated and suits almost any ambiance. That is why it is considered one of the best prom hairstyles for men. To give it more definition and structure, you can get a layered haircut first.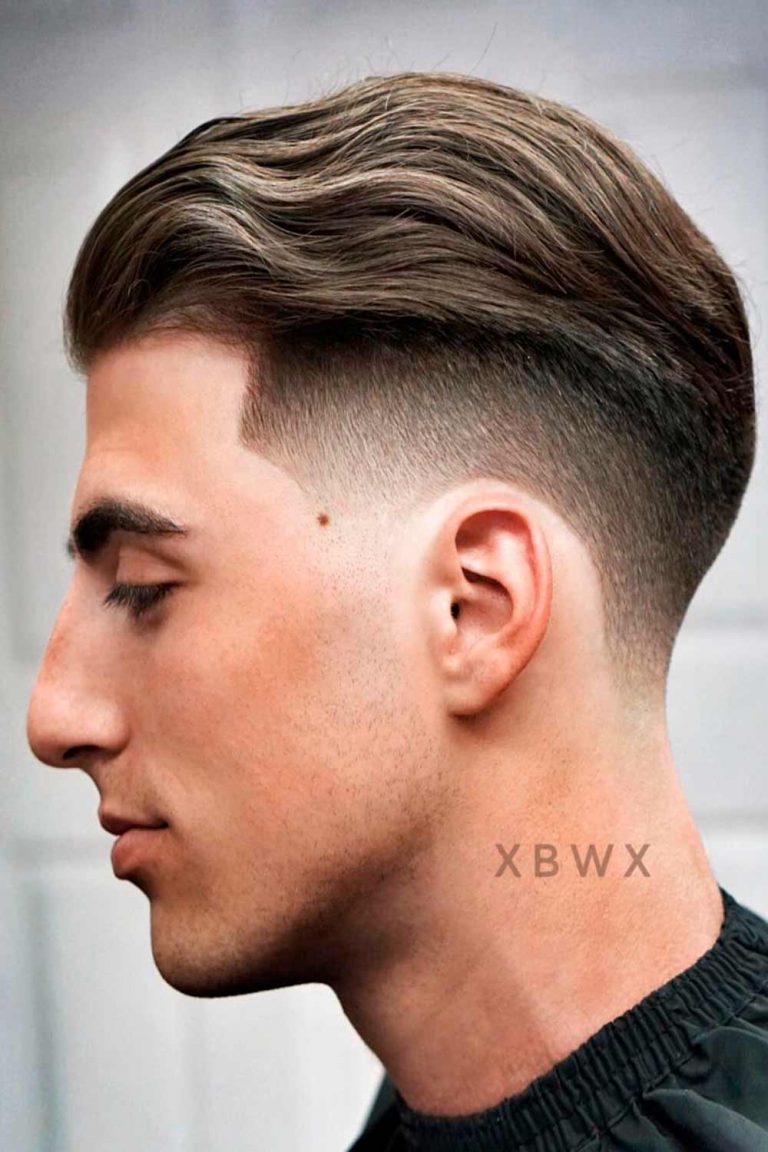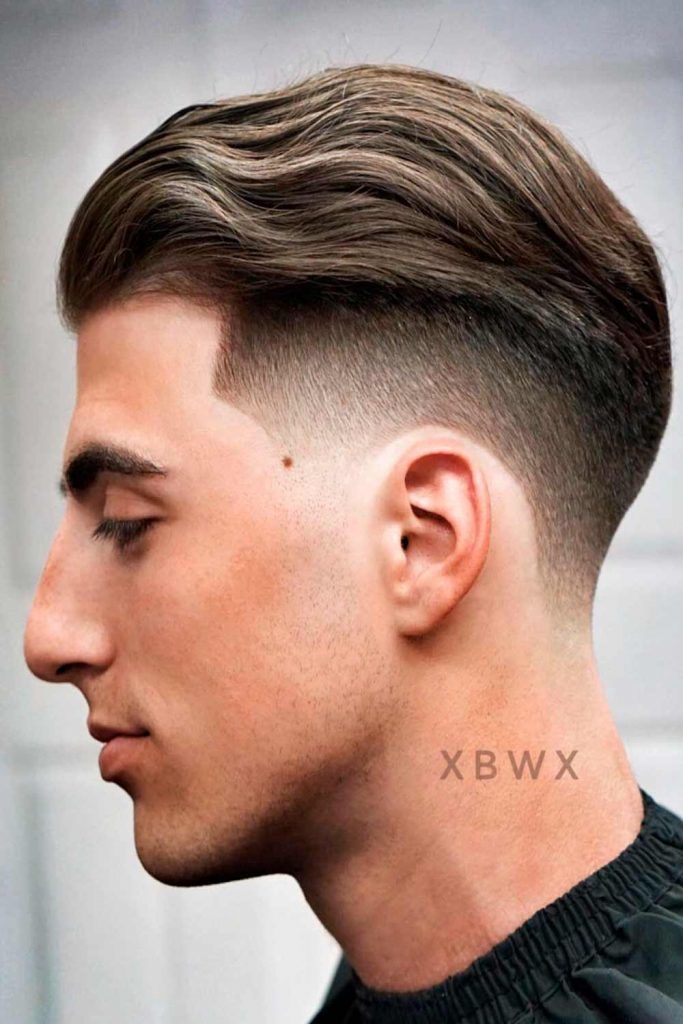 Source: @xbigwesx via Instagram
Shaggy Look
Styling prom hair for guys should not require much effort or time. That is why a shaggy look has a reputation as one of the best prom styles for men. Besides, it comes out exceptionally flattering no matter what face shape or hair type you have.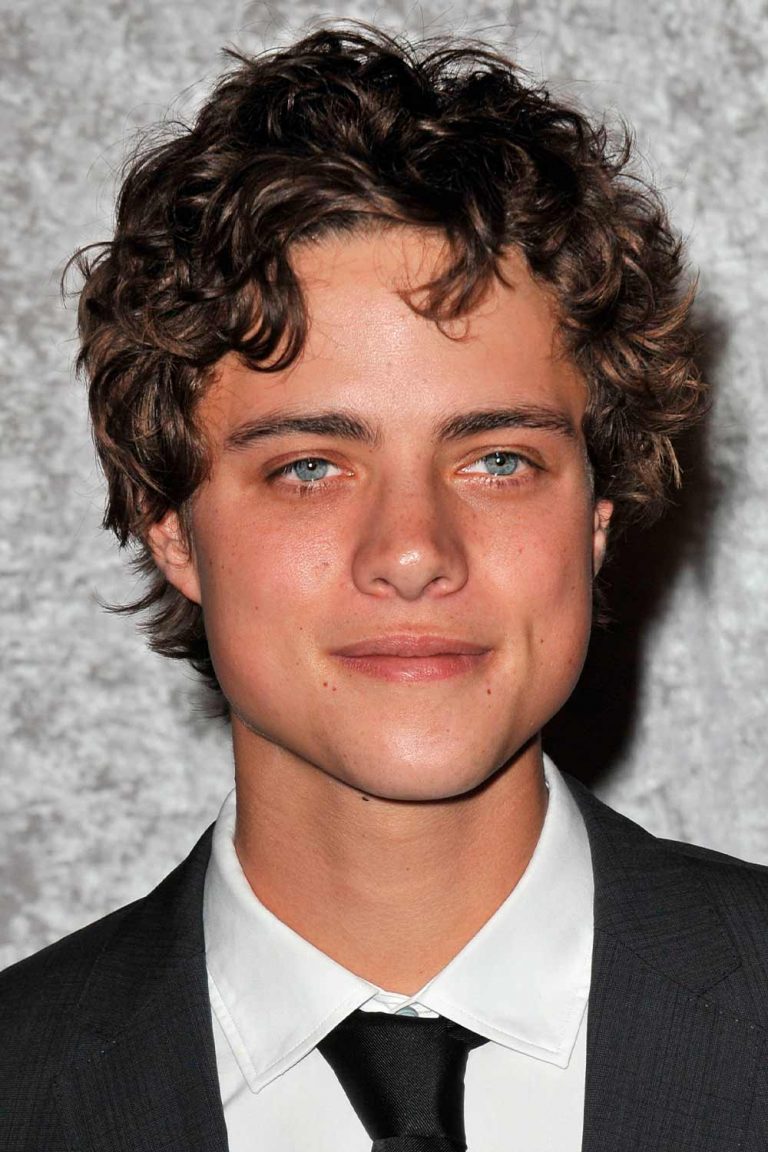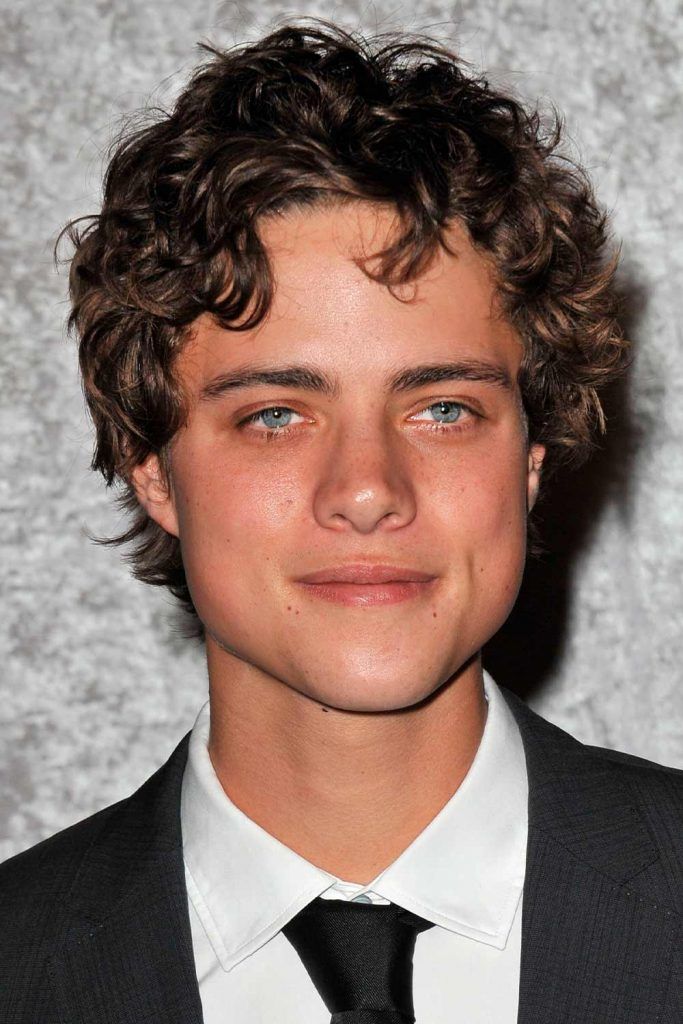 Featureflash Photo Agency/Shutterstock
Sleek Combed Quiff
Not everyone would be able to pull off such a polished hairstyle. However, if you have enough bravery to do it, you can rest assured that it will not go unnoticed. Yet, don't forget to arrange a meeting with a hairstylist, as this 'do requires quite a lot of pro skills and a steady hand.
Source: @meha_barber via Instagram
Excellent Student Ivy League
If you have never been a good boy in class, why don't you try on this role at the prom? Maybe, you will like it so much that it will encourage you to reconsider your priorities. Anyway, back to the hair. The style features an ivy league haircut accompanied by a high fade on the back and sides, which adds a trendy flair to the look.
Source: @meha_barber via Instagram
Classic Side Part
You can never go wrong with such a classic hairstyle for your prom as a side part. It comes out elegant and refined no matter what attire you are going to flaunt. Besides, there are plenty of ways to pull off this look. We suggest opting for ample side-parted bangs, styled using a generous amount of a hair product with a glossy finish for an ultimately polished and defined appearance.
Source: @sidsottungacademy via Instagram
Tapered Curls
If your hair is naturally curly, then it is a really good idea to enhance it with a tapered cut on the sides and back. This will help to keep your curls looking spick and span while not removing too much hair. Thus, you will end up with a flattering yet quite conservative look.
Source: @alexthegreatvivar via Instagram
Caesar Bang
A Caesar cut is a timeless hair look that you will not confuse with any other. However, if pixie bangs are what makes you refrain from it, then we have good news for you. It is not necessarily to chop off your locks in front so short. You are free to go with longer bangs as long as you trim them well. What else we like about this cut is that it flatters any hair texture.
Source: @ryancullenhair via Instagram
Layered Bowl
A bowl cut does not always look preppy and geeky. Instead, it may seem pretty stylish and trendy when tailored in the right way. Adding layers gives this hairstyle dynamics and structure, thus taking your prom look to the next level. Moreover, you can adjust it depending on your preferences and tastes, choosing from light to heavy layering.
Source: @thomasdavenport via Instagram
Flat Top Prom Guy
A flat top does not sound like a prom hairstyle to you? That is because you have been styling it wrong all this time. Try out a little bit different approach and you will look at it from a different angle. For instance, you can make it a bit more breezy and carefree by raking through the hair on top with your fingers covered in a hair styling product.
@urednistvo.pricesk.robert via Instagram
Hot Jewfro
Guys with jewfro locks should feel incredibly lucky, as they can pull off a myriad of hot hairstyles without any effort. All you need to do is to run a blob of a hairstyling product through your tresses and style them in a relaxed manner.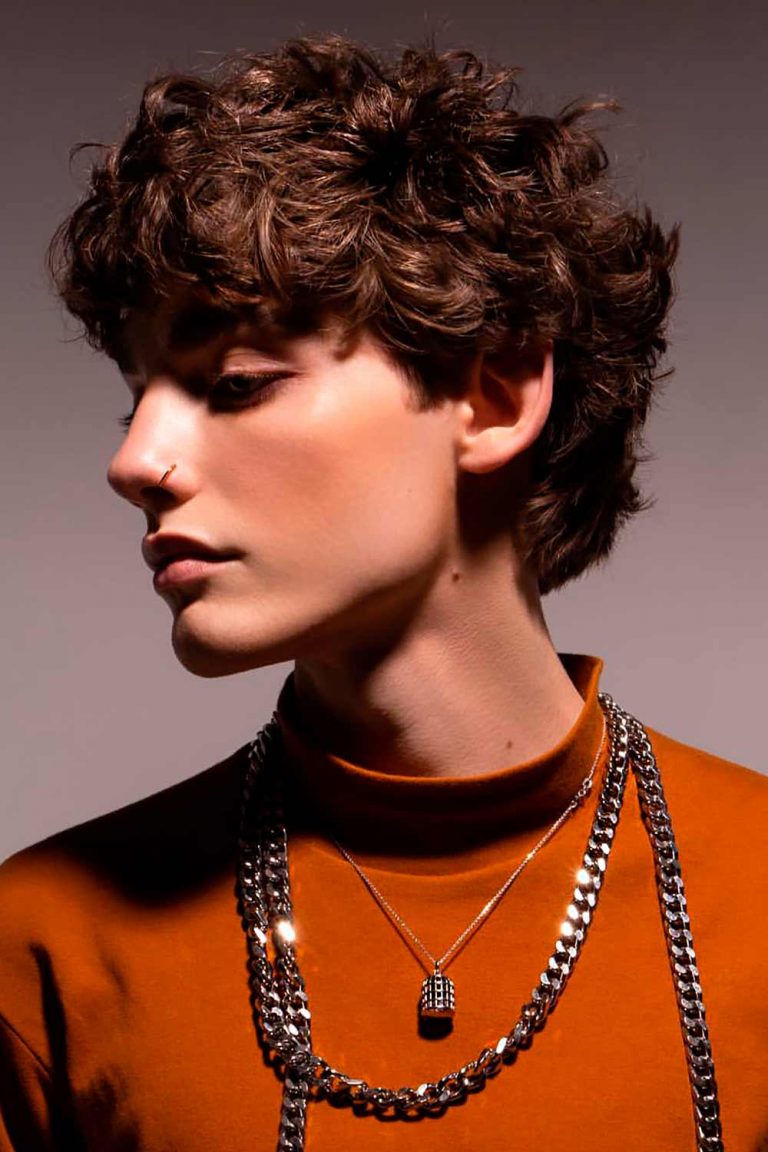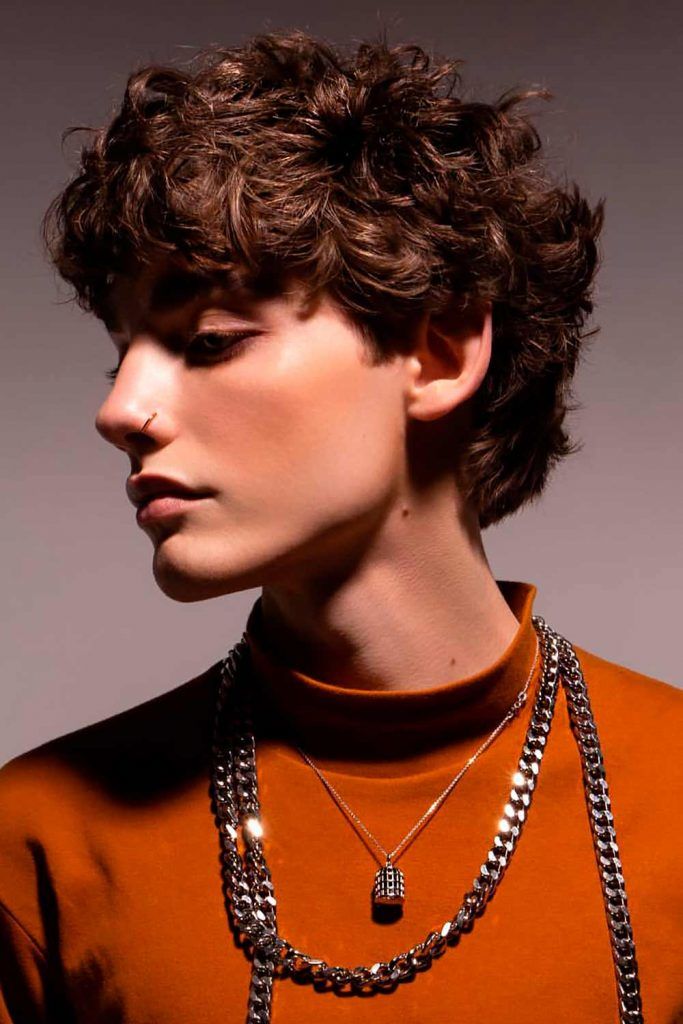 Source: @meha_barber via Instagram
Short And Sleek Occasion Hair
Even if you have short hair, you can still achieve a sophisticated and elegant look for the prom. Just sleek back your locks on top using a generous amount of hair pomade or wax and you are good to go. This is a hairstyle of choice of those men who prefer to look neat and tidy. A side part can give it extra definition and flair.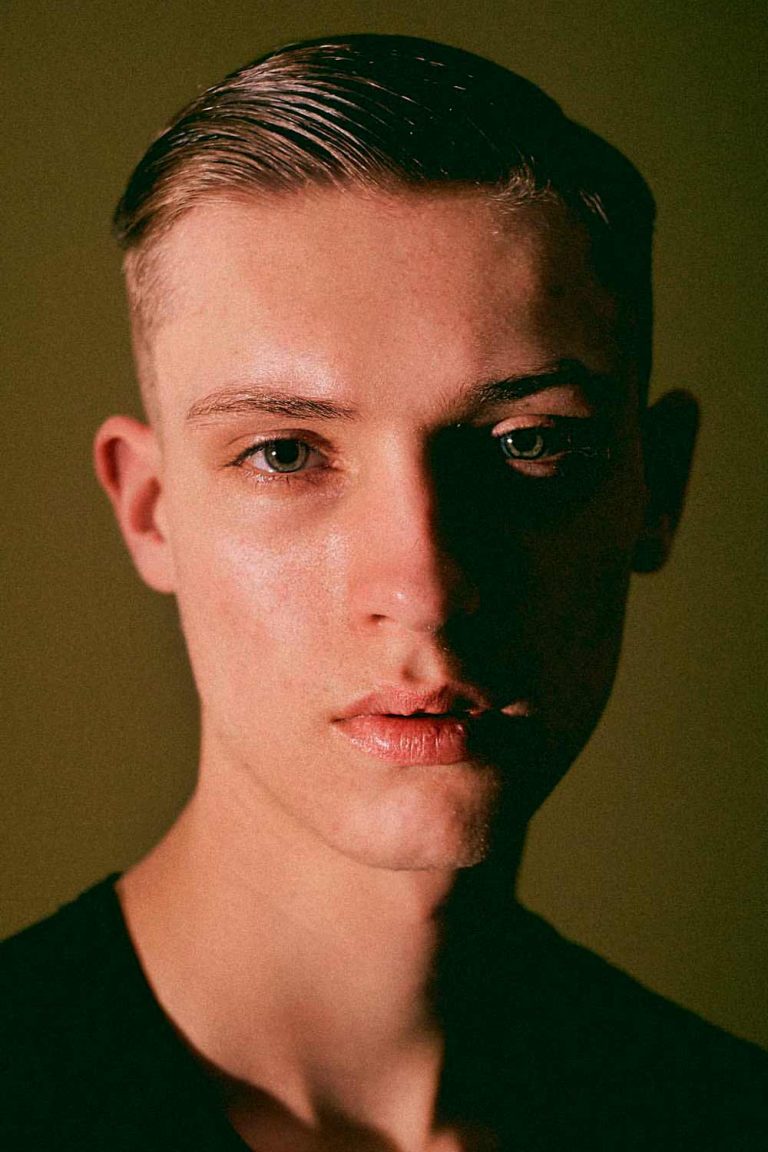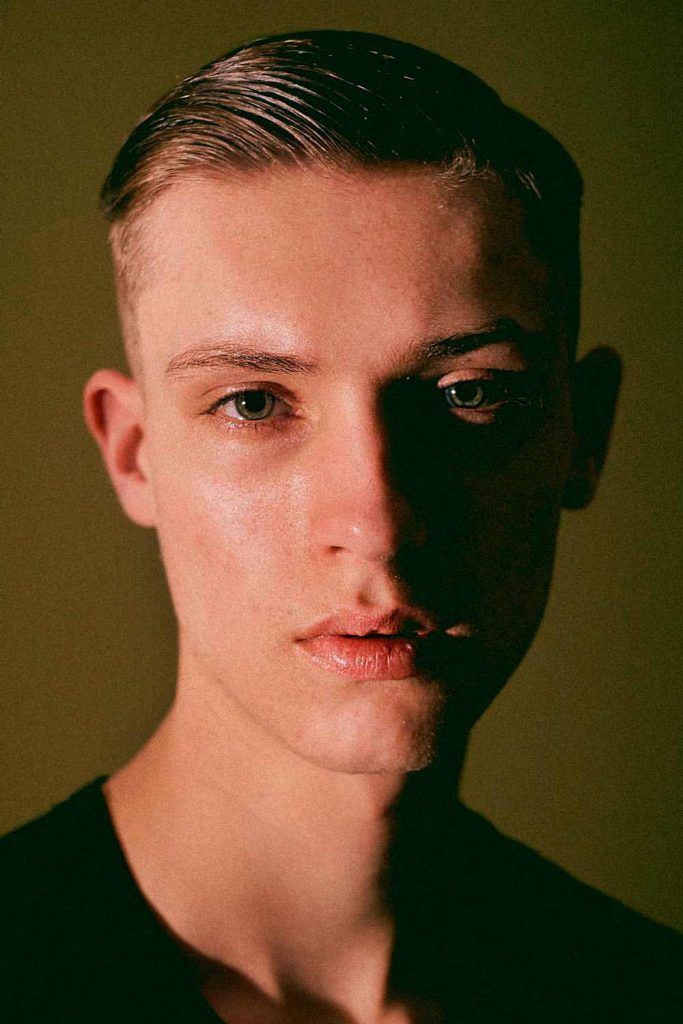 Source: @hayden_cassidy via Instagram
Medium Slick Back Quiff
A quiff is actually a really versatile hairstyle. You can wear it in many different ways, depending on the occasion. If you are heading to the prom, then you most likely want your hair to look dapper. Thus, go for a slicked back medium length quiff to have all eyes on you all night long.
Stylish Grey Curls
A gray hair color will arguably never go out of style. At least, not in the nearest future. Hence, should you consider yourself a fashion-savvy guy, then it pays to dye your mane gray for prom, especially if you have the curly hair pattern. Silver curls look stylish and daring, instantly guaranteeing you a place in the spotlight.
Source: @ryancullenhair via Instagram
Faux Hawk Event Hairstyle
If you have not had a chance to show off your ruffian and rebellious side during school years, then the prom is your big break. Go for a hairstyle that will speak for itself, such as a faux hawk. To achieve it, the hair on top should be cut noticeably longer than the sides and back and styled so that it forms a peak. Besides, for a stylish and bold twist, you can complement it with a fade or taper cut.
Source: @hayden_cassidy via Instagram
Short Pomp
A classic pomp is one of the best prom hairstyles for guys. It is neat, elegant and refined. Yet, if you want to add a modern twist to it, go for a shorter cut on the top and complement it with a fade or taper on the sides. While looking trendy and cool, it does not require much maintenance and styling.
Straight Half Ponytail
Are you a true devotee of long tresses and reluctant to sacrifice them for the sake of your prom? So don't. Instead, you can take advantage of them and end up with a really stylish and fashionable hair look. Tie the upper section of your hair in a half man ponytail while leaving the rest of your locks to fall freely. This hairstyle works best on straight locks, so make sure to straighten them if your hair texture calls for it.
Slicked Back Undercut
Although there are plenty of ways to pull off an undercut, a slicked back style is one of the most popular. And not for nothing we must say. In addition to looking dapper and polished, it effortlessly creates a bold and pronounced appearance thanks to the difference in length between the top and the sides.
Mid Length Curls
If you have naturally curly strands, then the prom is the best time to show them off. Yet, to nail this look, you should take care in advance and grow out your curls to a medium length. And when the time comes, you just need to enhance their bouncy texture with a blob of a hair styling product and you are good to go.
Highlighted Bangs
If none of haircutting prom ideas for guys appeal to you, then you can get away without making drastic changes to your hair look. Just add highlights to the bangs and you are guaranteed to be in the center of attention all night long.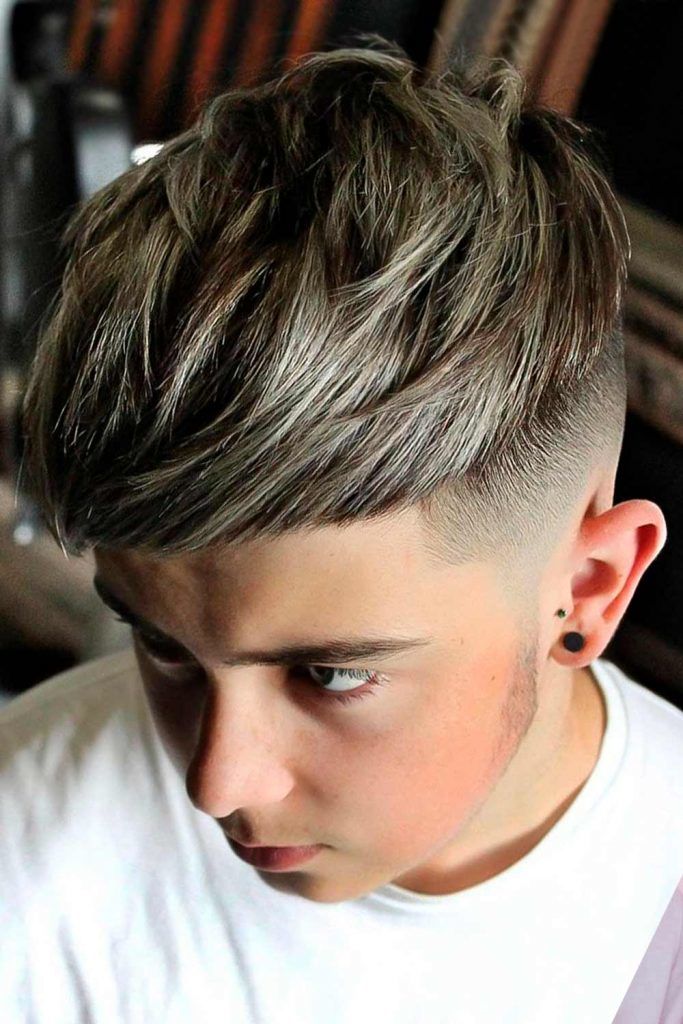 Source: @ryancullenhair via Instagram
Middle Parted
Traditionally, homecoming styles for guys have a rather formal and classic vibe, which makes a middle parted hair look one of the best men prom ideas. So that a prom haircut for guys does not come out overly preppy, style your locks a little messy for a carefree touch.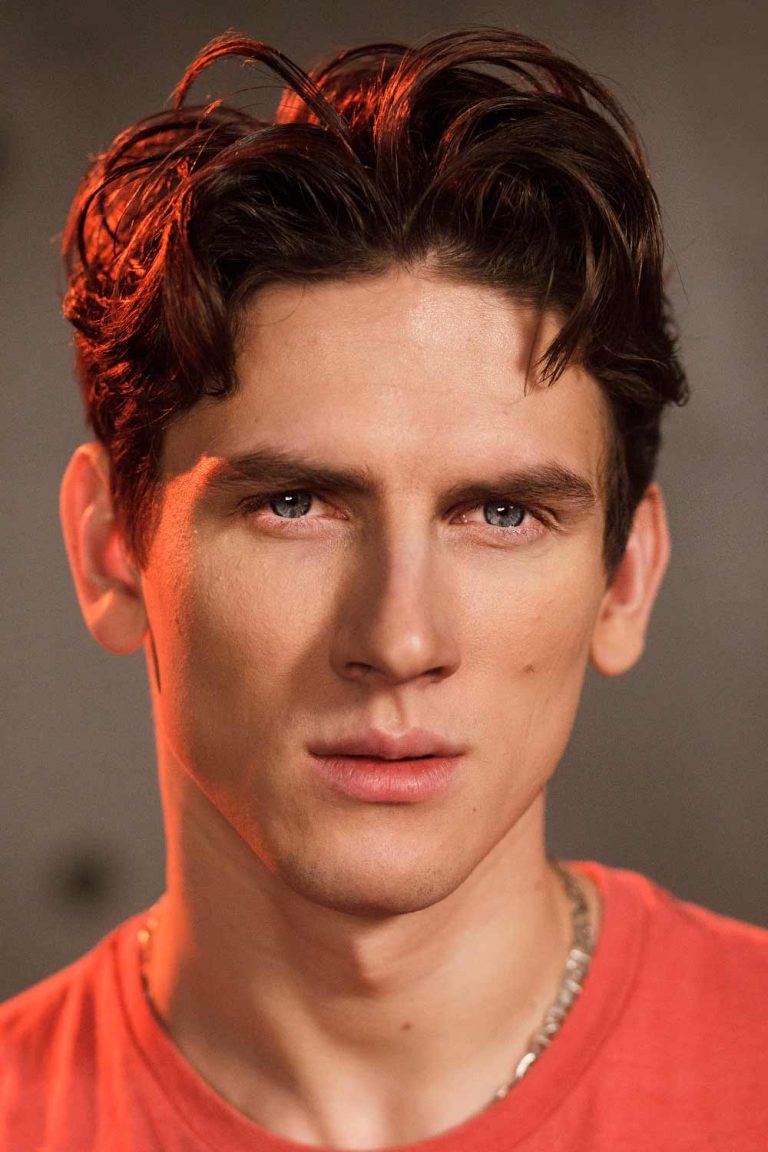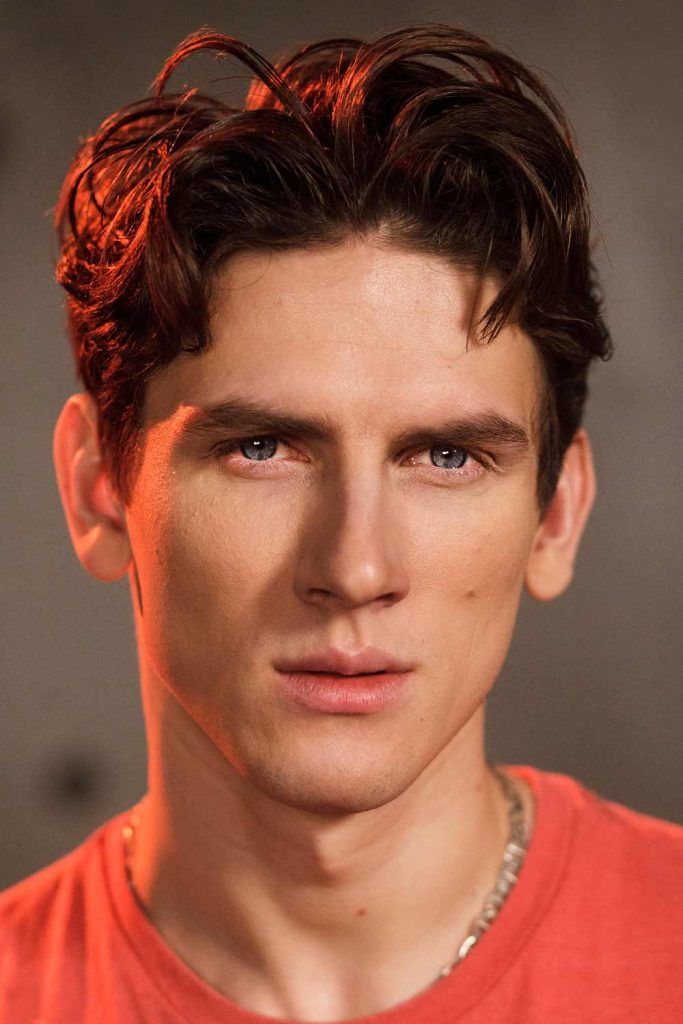 Long Slick Back
With long prom hairstyles men can easily achieve a very sophisticated and elegant appearance. Simply slick your locks on the top of the head back and you are ready to win the prom night.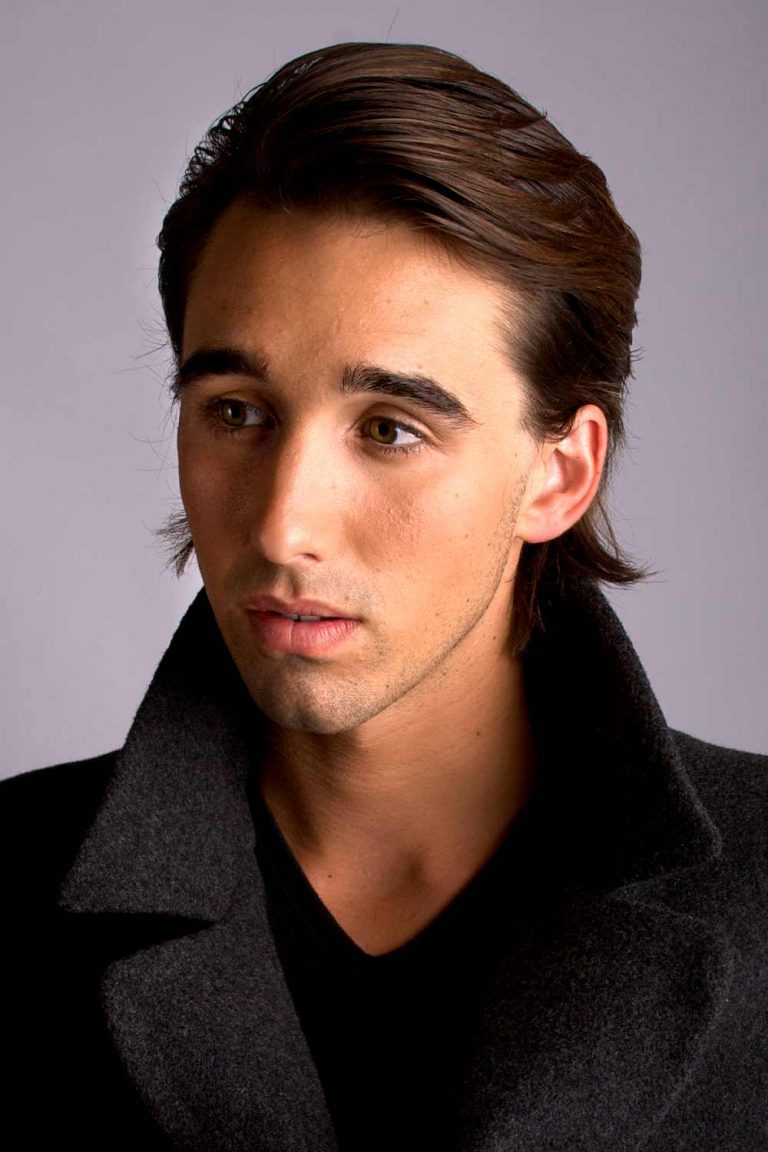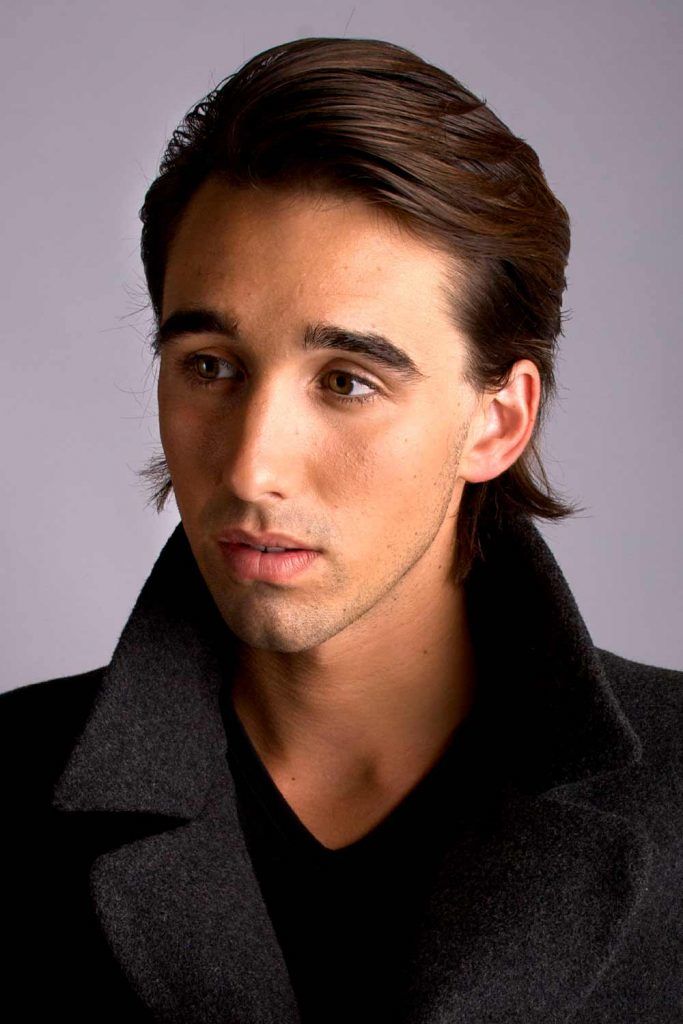 Long Comb Over
Another great prom hairstyle teenager approved for long tresses is a comb over. While it does not require intricate styling, the final look is worth the title of the Prom King.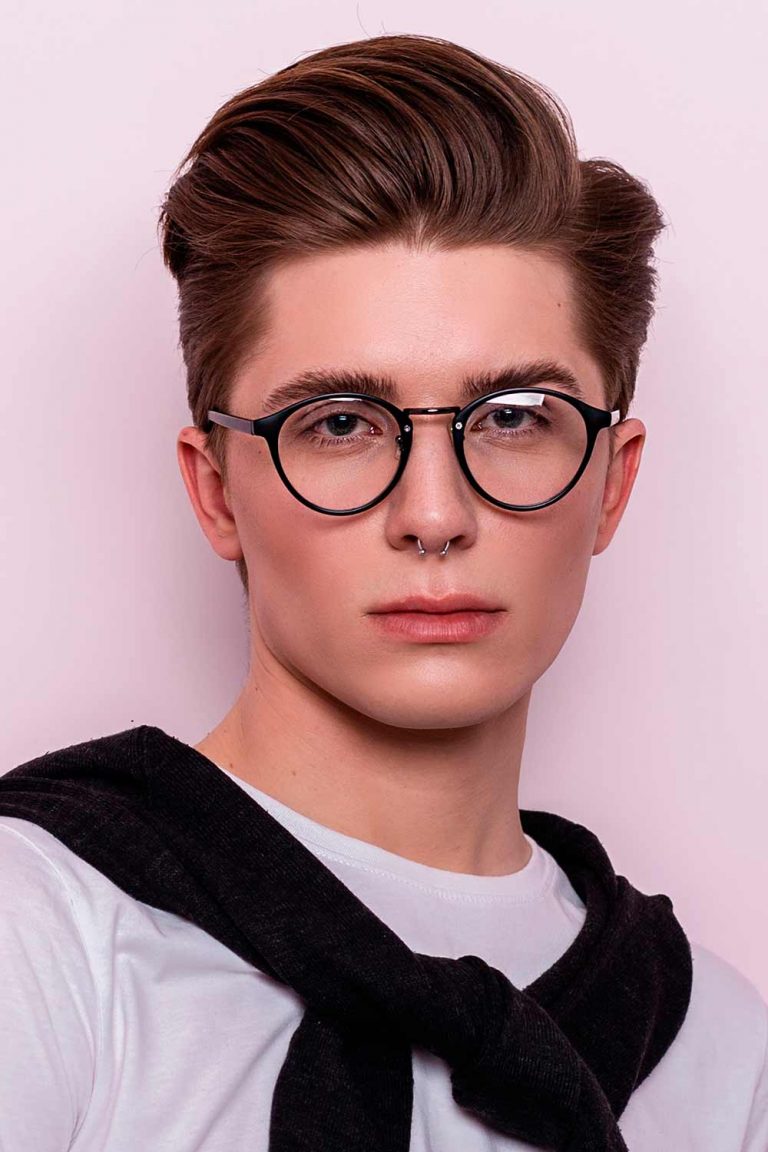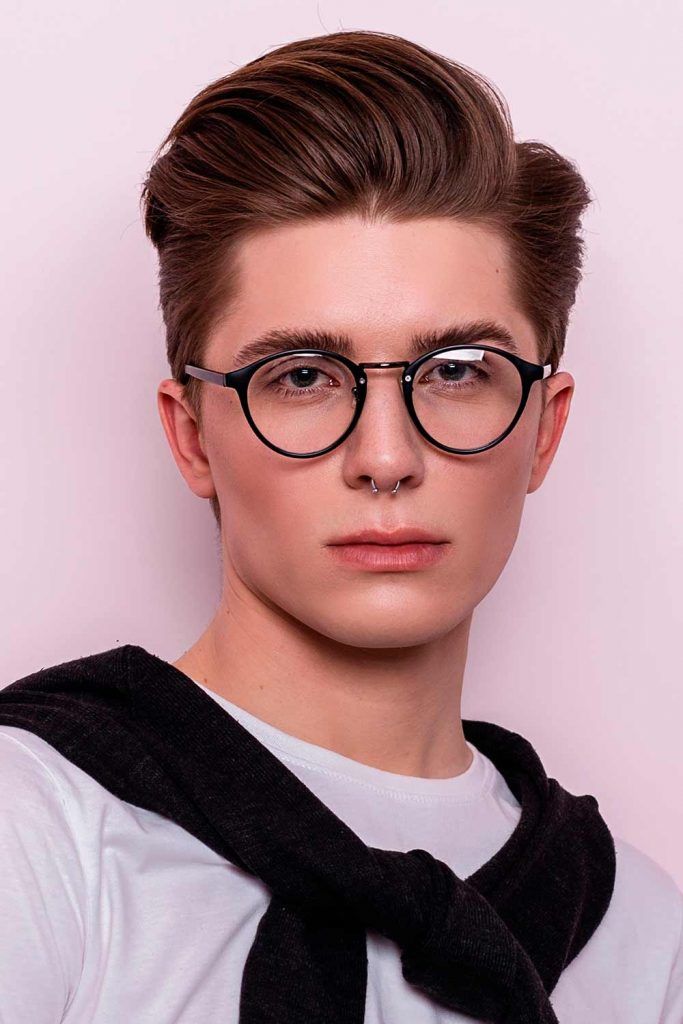 The prom is a very important event in your life. It's a milestone that separates your childhood from adulthood. That's why you want every detail to be perfect, including your hairstyle, as it's equally likely to either save your look or totally ruin it. Thus, we've compiled the collection of the best prom hairstyles for you to choose. Use it responsibly.
FAQs
How should I do my hair for prom men?
Generally speaking, any formal hairstyle for mens locks will work just fine. Yet, one of the best mens prom hairstyles is a long comb over. If your hair is currently short, then it is high time to start growing it since you will need some length to keep the style in place. And this is actually the hardest part, as the styling itself is pretty effortless. You will just need to comb your hair on top to the side and secure it with a product.
What is the best hairstyle for prom on short hair men?
A pomp is another popular prom hairstyle men can never go wrong with, as it is elegant and sophisticated. While it can work for any hair length, it is actually one of the best short hair boys prom hairstyles. Thanks to an ample volume in the front, a pompadour creates an illusion of a full head of hair.
What is the best hairstyle for prom on medium hair men?
As a rule of thumb, when it comes to medium long men prom haircuts, there are almost no restrictions. A mid length prom hairstyle for men is a wonderful opportunity to prove that you are a responsible, determined and disciplined person since you can follow a certain routine to achieve such a luxurious mane.
What is the best hairstyle for prom on Long hair men?
Among all prom hairstyles for guys with long hair, a combed back layered haircut is arguably the best. No matter what the theme of the prom is, you can rest assured that your hair will look appropriate. Besides, it will not take much time and effort to nail the look. Simply, work the styling product into your strands on the top of the head and comb them back.
REFERENCES:
A promenade dance, commonly called a prom, is a semi-formal dance or gathering of high school students. Source