Do you really struggle to find some perfect black men hairstyles to pull off the afro hair that Mother Nature awarded you with? Even though it is visually attractive, it gives you much trouble to manage? Don't worry. We have collected the most flattering ideas to give your hair the ultimate look. No matter whether it is kinky, curly or coily, you will come up with the style that will make every day yours.
Save Your Natural Texture
Source: @f4fade via Instagram
In case you prefer more natural hairstyles, you are welcome to go with it. However, remember that you will need a really good styling product and natural hair care to give your textured hair the kempt look. Pay special attention to oily or buttery products as your hair is prone to getting dry and thus frizzing. Coconut oil or Shea butter will help you to keep your locks moisturized and natty. Also forget about hair products with sulfate in because they will make your hair even drier. What you shouldn't forget is heat protection since when you're using a blow dryer, the protector doesn't let it damage your hair. And lastly, opt for a hair pick instead of a brush, because it helps to keep the structure of your hair taut.
Add Bright Colors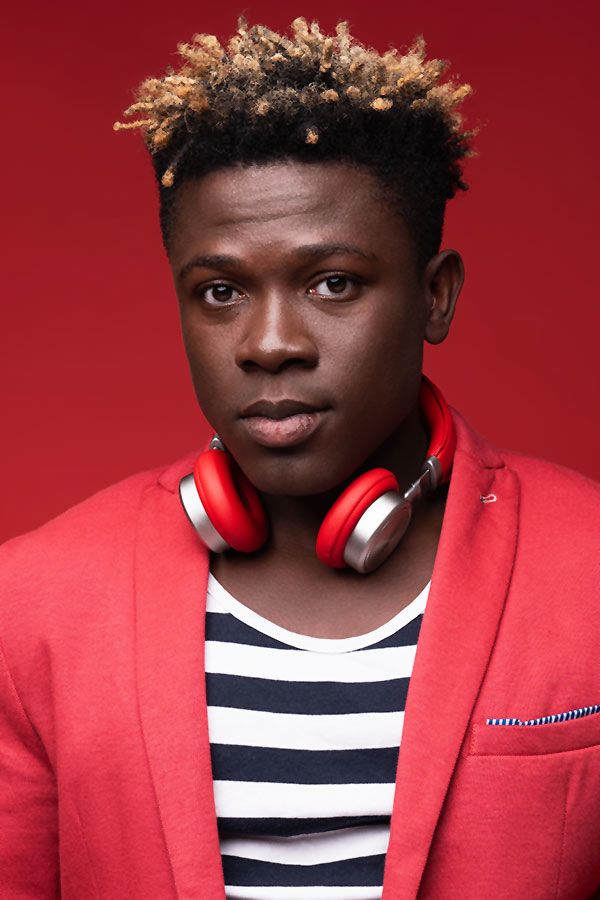 One of the best ways to voice your personality is through the hair look. If your black natural hairstyles sometimes seem a bit dull to you, brighten them up by adding a hint of color. If this is your first time coloring, maybe it would be better to confide in the hands of a professional because you risk damaging your hair with the bleach and dyes. With proper care, your hair health won't lose, but your hair look will win.
Hairstyles For Black Men
It's hard to think of other hairstyles as varied as an afro. The unique hair texture is what gives the black men haircuts so many options for new creations. Feeling up to hair look changes? Here are some ideas worth trying.
The Short Afro
Source: @lanedorsey via Instagram
Short haircuts are extremely popular among black men because of the freedom and tons of styling options you get with them. First and foremost, the short afro is the basis for short natural hairstyles. Moreover, having your hair cut is good for its health because the dead ends will be chopped.
Waves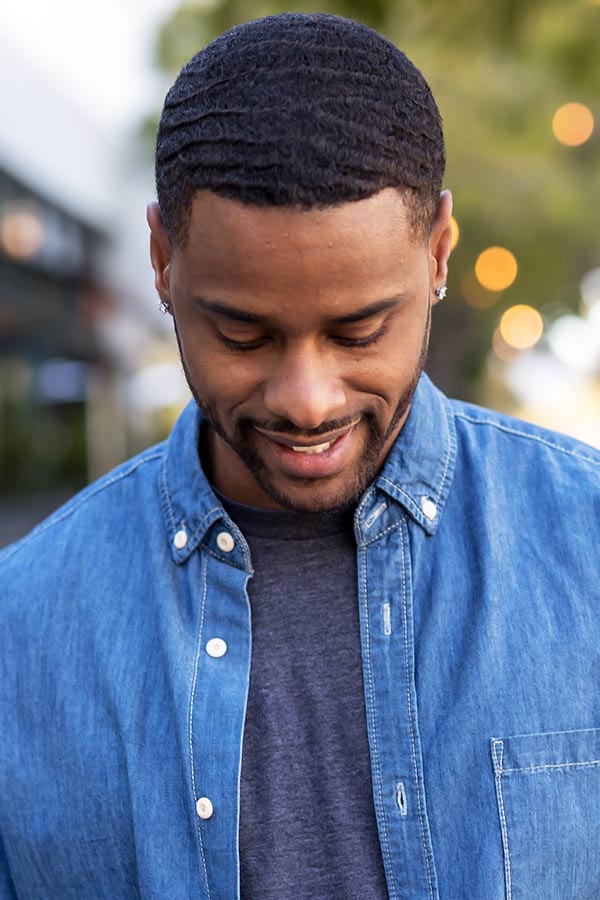 In case you are looking for natural hairstyles for short hair, wavy hair is a very nice option to consider. To balance the defined texture of the black men hairstyles, add a taper fade to the sides and back of your head. Mind you, such black hair styles are highly adjustable to any age.
High Top Dreads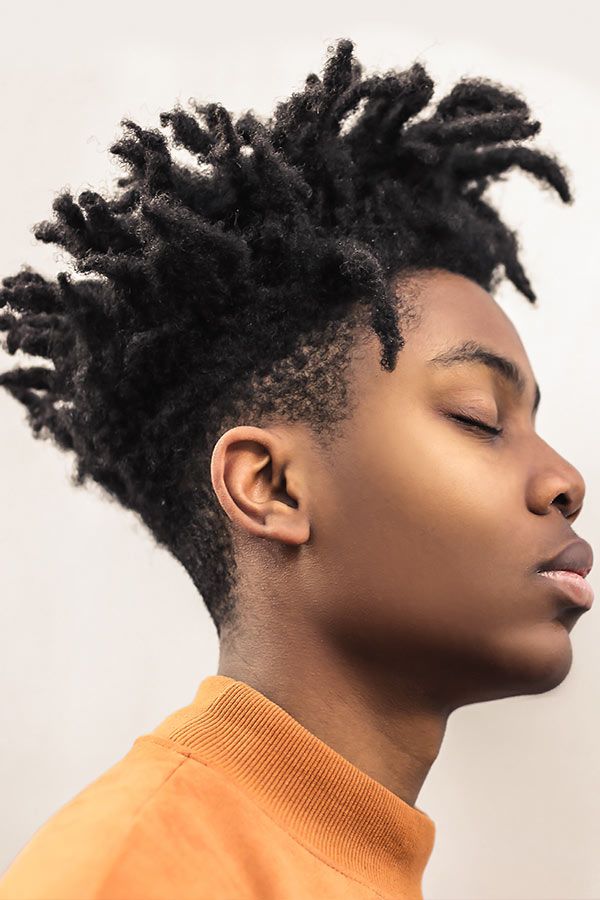 Here's another haircut idea that makes natural hair styles pop. To get the most of this look, your hair should be no shorter than one inch long. Also, you will need some moisturizer with styling properties, such as pomade or holding spray, and a sponge itself, of course. To keep the focus on top, go with a fade on the sides and back of your head.
Spiky Afro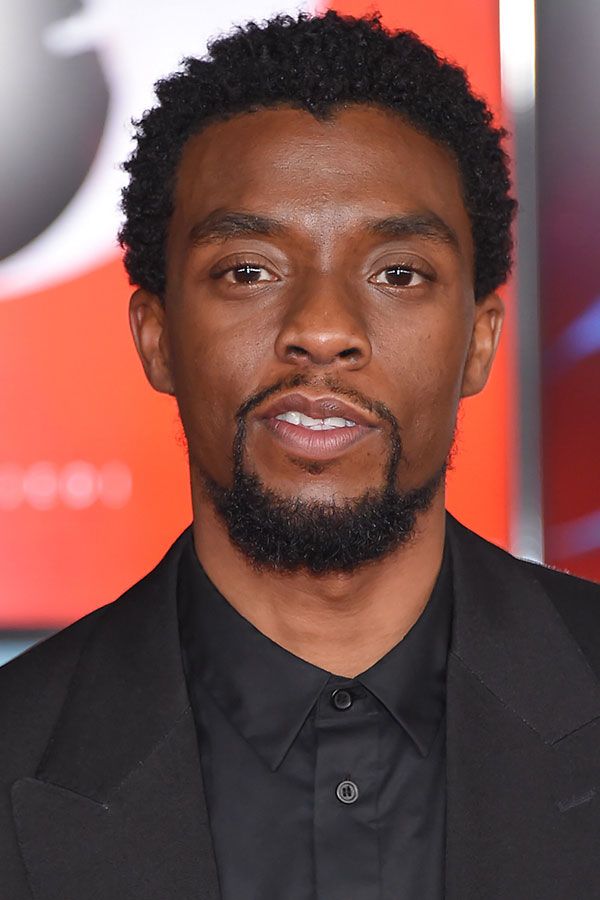 Source: DFree/Shutterstock
As a matter of fact, spiky hair looks unbelievably funky. Moreover; it is one of the black men hairstyles men can recreate themselves. Just cover your fingertips with some styling product and twist individual strands around them.
Frohawk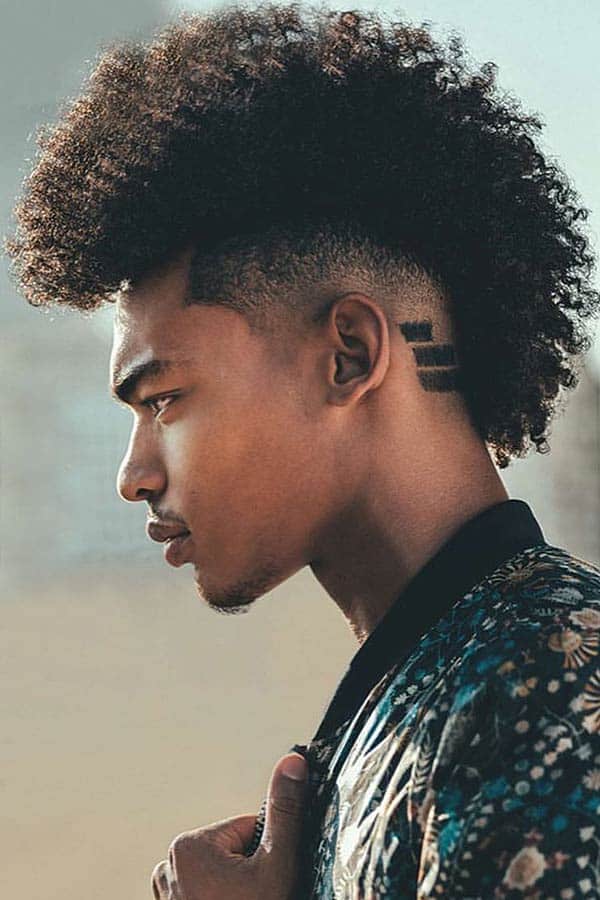 Source: @fernthebarber via Instagram
We wouldn't be talking about afro hairstyles if we ignored the Frohawk. The name combines two words – afro and Mohawk the same way as the haircut combines two black men hairstyles. Basically, you just buzz short your hair on the sides leaving the crest on the top and back of your head.
Shaved Or Faded Afro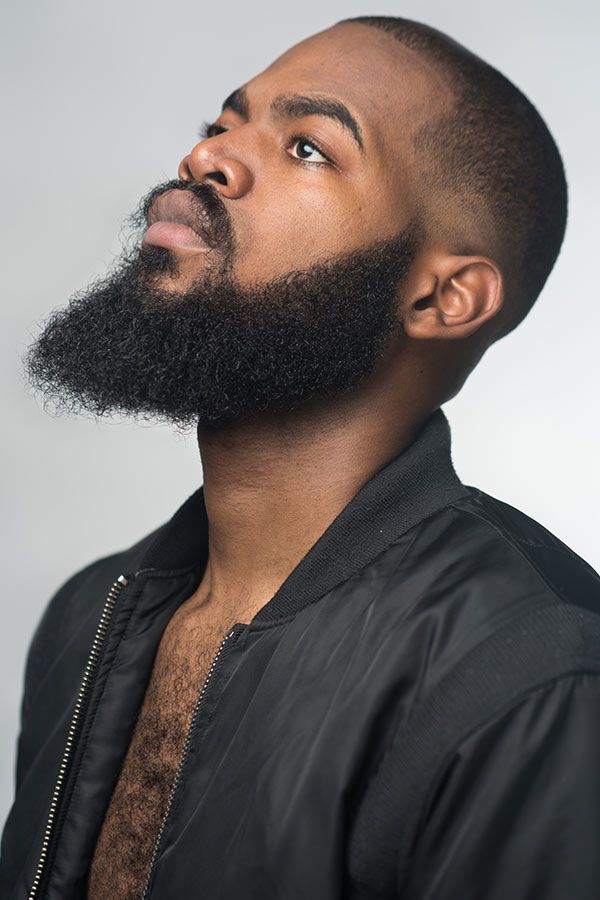 When you opt for short black male hairstyles, you can diversify them with some fun elements like shaving or fading. You can style the hair on top the way you like and complement it with a high-, mid- or low-level fade haircut or a shaved part.
Flat Top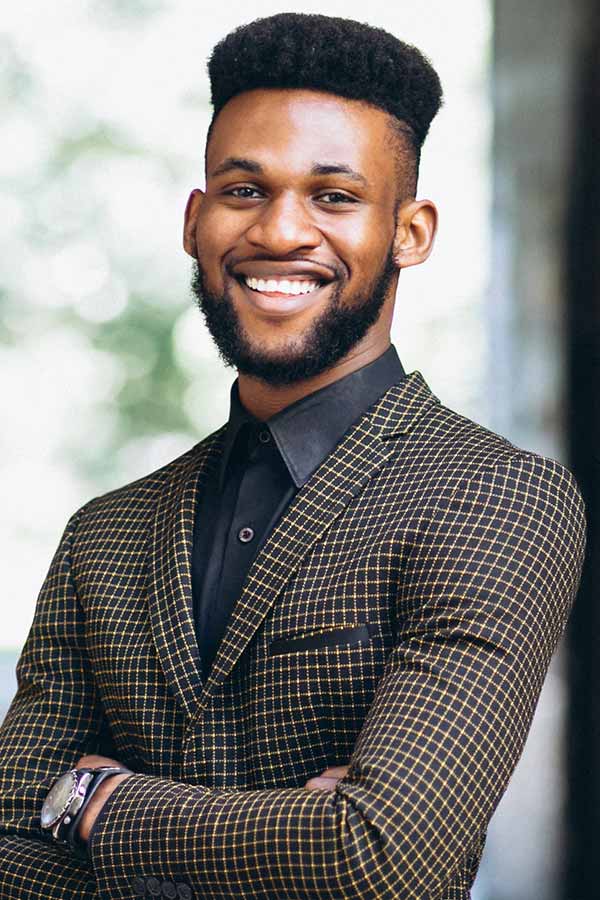 There is a stereotype that a flat top hairstyle is an aftersound of the 1990s. But don't jump the gun as with a bit of your effort, this afro look can be completely up-to-date. A line-up and a high skin fade wash out all the doubts regarding its irrelevance, making the flat top one of the fanciest and trendiest black men hairstyles.
Braids
Source: @nickthebarber via Instagram
By all means, braids are the timeless example of hairstyles for natural hair, dating back as far as 3000 BC. They not only make the look refined and sophisticated but also keep the natural moisture of the hair. A man braid has this ultimate edge that catches the eye immediately. You can bring the braids to the whole new level with the help of cornrows. They will give your hairstyle geometrical definition and startling intensity. To make the effect even stronger, use a special styling product that will help your braids look sleek and your hair stay healthy.
Medium Dreadlocks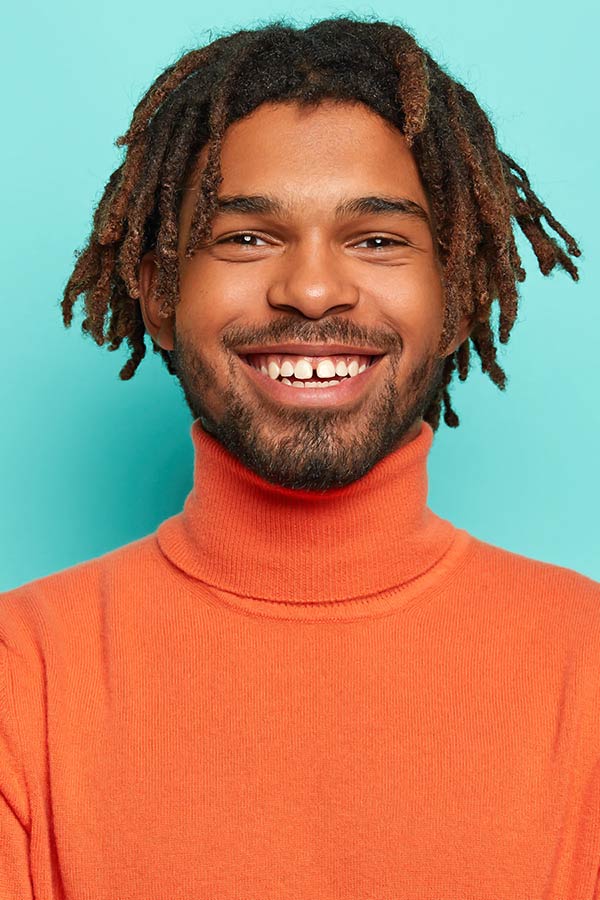 Dreads are a bit more complex than the regular braids as they imply prolonged wearing. At the same time, unlike other black hairstyles for men, they save you a bunch of time and money. However, ensure that you found a true professional; otherwise, your funds will be completely wasted. After you have had the job done, it's time to think about some trusty hair styling stuff. Regard a dreadlock wax as a go-to product, and also check up on the PH balance and the amount of sulfate in your shampoo.
Jewfro Curls
Source: @trendz_populaire via Instagram
With Jewfro hairstyles, almost everything is up to nature. Your task here is just not to stand in its way and maintain your curly hair properly. For the proper maintenance, it's important to choose the right product. If your hair isn't too wild, coconut oil will do. For more whimsical hair, you'll need to consider something like a wax or pomade.
Man Bun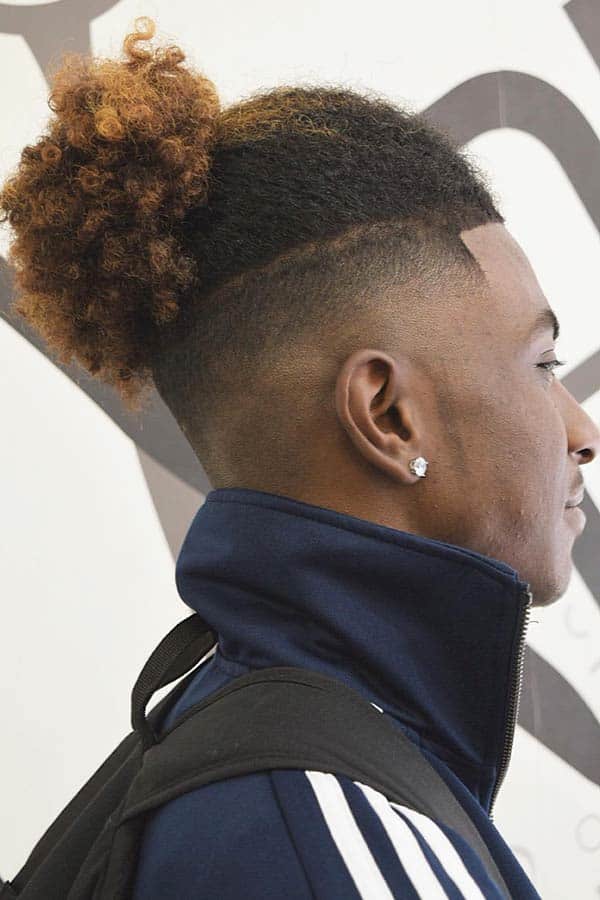 Source: @f4fade via Instagram
A man bun will be highly appreciated by those who prefer to wear long hair in a casual, breezy yet elegant manner. There are many different kinds of man buns, but this is the most basic way how to do it. Just gather your hair up into a tight ponytail, wrap it around the base and secure the ends with some hairpins. Add a skin-fade with a line-up to give the hairstyle the cutting edge.
Twist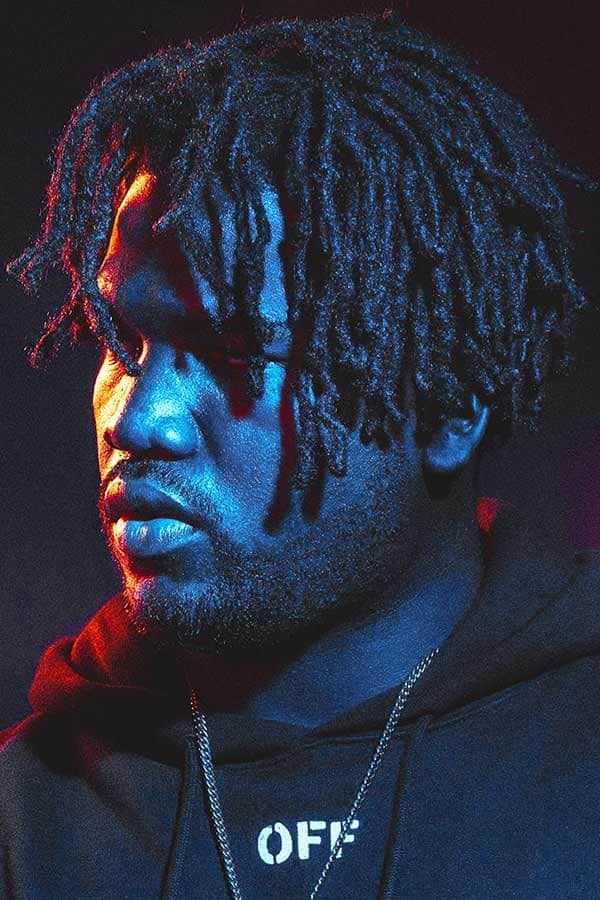 Source: @lanedorsey via Instagram
If your hair is ear-length, you should definitely try the twist hair look. It's better not to twist out the locks yourself but rather arrange with a pro to do it. Again, utilize only high-quality hair styling products for the best result.
Long Top Short Sides
Source: @nickthebarber via Instagram
It is always safe to go for a long top short sides hairstyle when you have such an elaborate hair texture. In this way, you will effortlessly make your hair look dapper and neat without sacrificing on the style. You can get the sides faded or tapered or both for a more stylish appearance while leaving enough hair on top to show off the texture.
Line Up
Source: @f4fade via Instagram
A line up is arguably a must for most if not all black men hairstyles. It adds definition and clean lines to the look in a blink of an eye no matter how you are going to have the rest of your hair cut. Another great thing about a line up is that it can not only go along your hairline but also outline your facial hair.
Mohawk Style With Hair Tattoo
Source: @nickthebarber via Instagram
With such a coily hair texture, a mohawk hairstyle gains a new turn. However, you don't have to limit yourself to it only. Let something else, such as a hair tattoo, add boldness to your hairstyle. What design to choose is fully up to you. However, make sure it reflects your personality accurately.
Blonde High Top Hairstyle
Source: @smashthalegend via Instagram
Having a cut is not the only way to make the most out of your hair texture. For added emphasis on the spiral shape of your coils, you can dye the tips of your hair on top. This not only will add an intricate touch to your hairstyle but will also create extra contrast.
Beard & Bun Of Dreads
Source: @ninothenice via Instagram
In case you have decided to tie your dreads in a trending men bun but are afraid that it will impede your masculinity, complement it with a true sign of men power in terms of appearance – a beard. Besides, there is no big difference whether you will go for a full coarse beard or a thin strip of facial hair. You can rest assured that your virility will not get hurt.
Short Hair With Hard Part
Source: @f4fade via Instagram
For those guys who prefer short black men hairstyles, there is a trendy option too. Chop off the hair all over the head first and then complement it with a hard part. Note though that it should not necessarily follow a traditional way. You can show off your creative side by directing the parting across your head starting from the bend of the hairline and landing somewhere at the nape.
Skin Fade And Surgical Line
Source: @fernthebarber via Instagram
A skin fade is always a great option to accompany black men hairstyles. It helps to add neatness to the look and keep your unruly locks tamed. For more definition, carve a surgical line that outlines the hair on the top of your head. And finish off the look with a line up along the temples and forehead.
Medium Afro Curls With Low Fade
Source: @f4fade via Instagram
If your hair is coily enough to hold the shape when being of medium length, then we don't see any reasons for you to go shorter. Medium Afro curls look flattering and intricate, especially when paired with any type of fade. Should you prefer to leave more hair on the head, opt for a low skin fade with a line up.
Blonde Pony With Dreads
Source: @f4fade via Instagram
Although dreads already appear quite eye-catching, there are a few win-win ways how to make them stand out even more. One of such ways is dyeing your dreadlocks in blonde. With this color solution, your hair pops against your skin, creating a high contrast look. Thus, even if you decide to pull your hair into a ponytail, it will not take away from the boldness of your look.
Long Natural Curls
Source: @grahamsnaturalcurls via Instagram
There's arguably no better way to embrace your coiled hair texture than wearing your long locks loose. However, to pull it off, ensure that your hair is moisturized and nourished for its best look. As for the style, it doesn't require much effort. Simply leave your hair air dry after washing and it will create the perfect shape itself.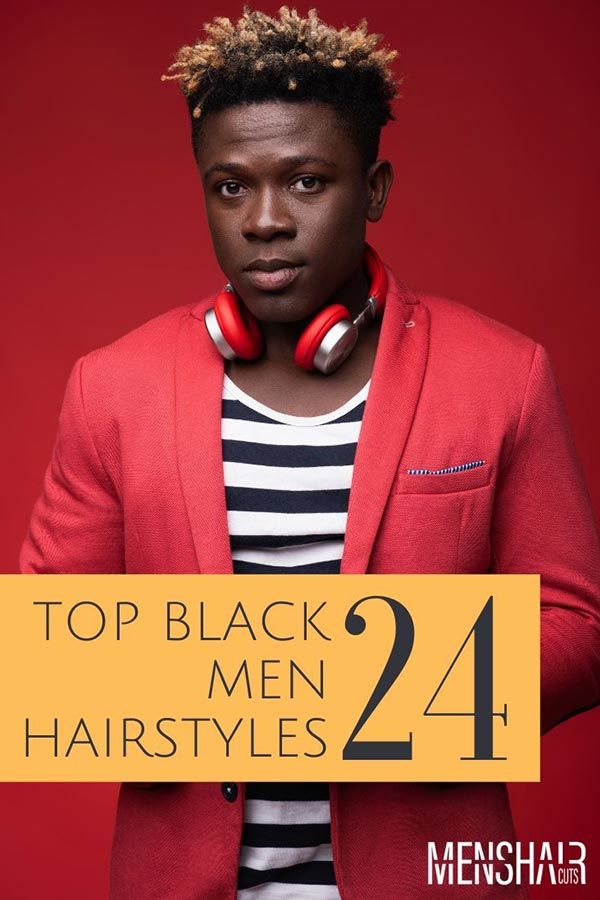 We strongly believe that with our top-list of black men's hairstyles you won't have any doubts regarding the number of hair look options the afro hair offers. Give every hairstyle a try and embrace the one that you'll find the most alluring. From now on, you'll be able to make your haircuts extremely versatile and fancy, won't you?