Temp fade, which is obviously a shorter version of the "temple fade" is having a great visual impact in the men's fashion world. Nowadays, the expression "beauty is in the details" is as relatable as never before: stylish gents just can't do without a precise, neat finish. And that's the reason why the fade is so popular these days.
Not sure how does a temp fade look? In this type of a faded cut, the hair on the temples is tapered so that it goes around the ear, adding to your hairstyle a fashionable and unusual twist. The top is usually styled in an intricate manner, as the fade allows you to keep the focus on it.
One of the most impressive things about the temp fade haircut is that it has many names and many faces. You may come across a fade that features a hairline carved out in a rectangular shape with a "brooklyn fade" tag. Yes, this is the cut that can actually be different: it not only has a wide choice of its variations but also can be customized based on your own needs.
Men who want to complete their style with a clean, detailed finish will appreciate today's compilation of the popular fade cuts: anything from low temp fade to high temp and more is here to upgrade your style.
What Is A Temp Fade?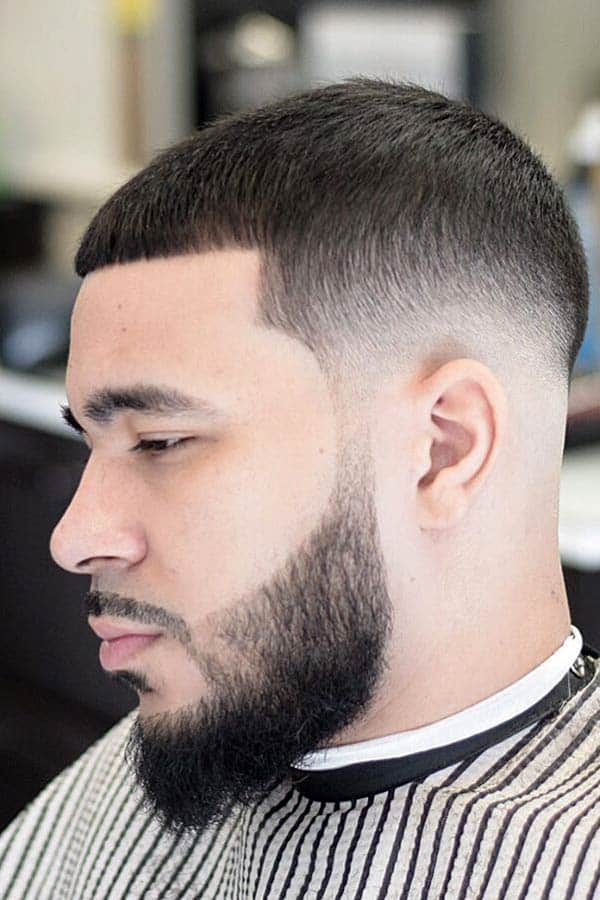 Source: @f4fade via Instagram
First off, let's get things straight about the terminology: what does temp fade mean? A temp fade haircut, or brooklyn fade, if you please, is not just a particular kind of men's haircuts. For example, if you see an afro temp fade, it means that it's a cut that is finished with a sharp profile. In other words, your temples will be outlined with a line up or shape up. Remember: it's an accentuating touch to your present cut. Also, there are no texture and length restrictions: this fade can suit any man.
Q: What's the difference between a temp fade and a taper fade?
A: In a taper fade, the hair is tapered down all-over the back and sides, whereas, in a temp fade, you thin out the temple area only.
How Did The Temple Fade Become Popular?
So, where did it all begin? Meaning, when did a temp fade have its big break? Here is a counter question: what made you think it did? Although this hairstyle has a lot of advantages, it is not that widespread in tonsorial fashion. The thing is that men more often complement their hairstyles with such popular cuts as a taper fade, a bald fade or a drop fade.
One instance of rising interest in this haircut is when Pauly D, a DJ from the Jersey Shore reality show, accompanied his signature blowout look with it. Not that it has become viral since then, but many more men have started to request it from their hair stylists, especially those who have afro hair.
How To Get A Temp Fade?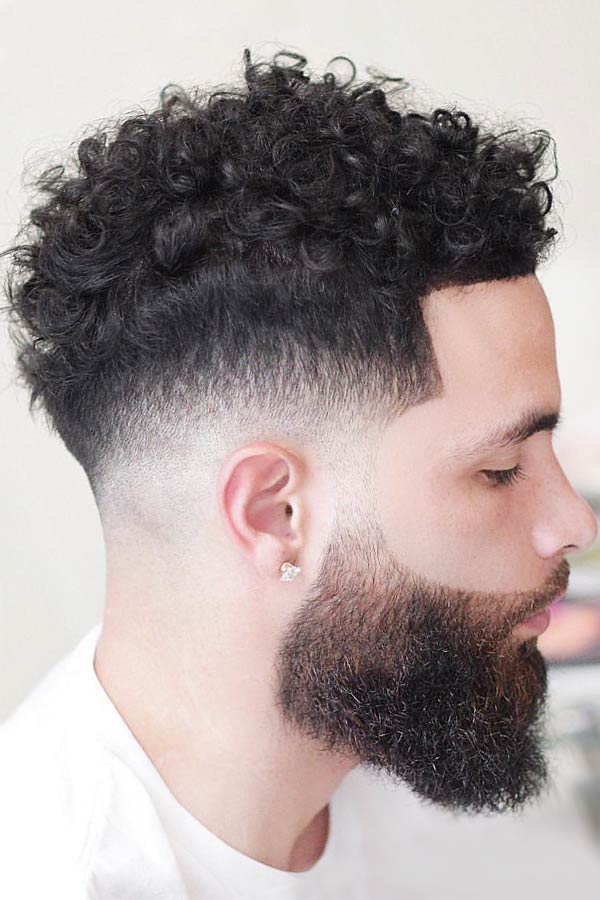 Source: @sirpaulcharles via Instagram
No wonder you'd like to find out how to cut a temp fade: making your style even better is always quite tempting. Yet, getting a temp yourself can be tricky, so we suggest you to go to your barber first. The truth is, the temp has a lot of variations, and your task is to show your barber what you want the cut to be exactly, letting him line up hair. Then, you can easily maintain the work at home with a razor or styler.
Key Temple Fade Styles And How To Get Them
Although a traditional hairstyle to pair with a temp fade is afro, there is a myriad of other styling options for every taste and hair type. Let's take a look at the most flattering combos and the best ways of getting them.
Temple Fade + Short Crop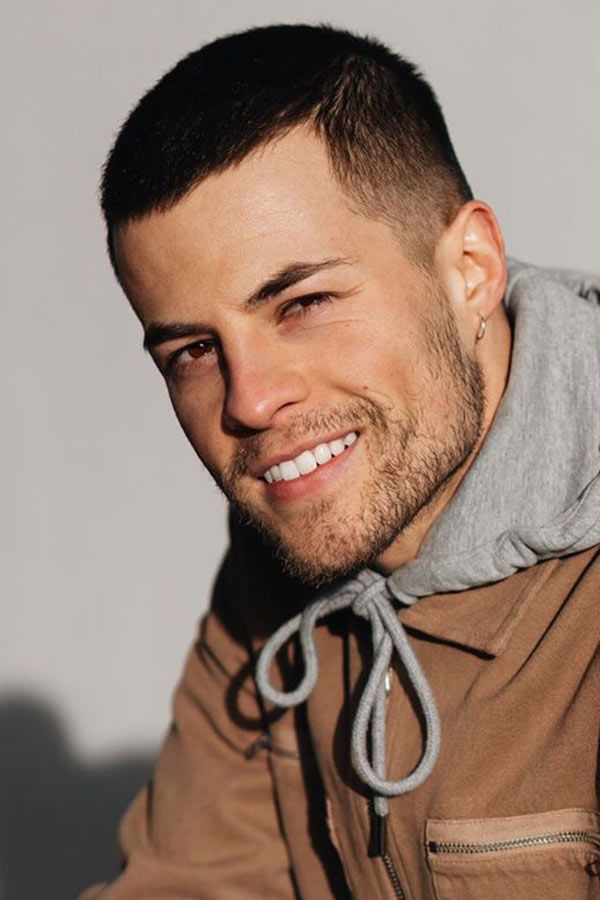 Source: @kevinelezaj via Instagram
A short crop has made a huge comeback lately thanks to its grandiose appearance on Peaky Blinders. Yet, many guys shy away from this cut because of its sharp look its blunt front creates. To soften it up and give a modern flair, a crop top is complemented with a temp fade. The fade length can be anywhere between bald to guard size #0.5, while the length of the hair on the sides is up to you. Make sure though it creates the contrast with the top.
One of the best things about this cut is styling. After you have washed your hair, towel dries it to remove excess water. Then, scoop a generous amount of a hair paste with a matte finish, rub it between fingers and run them through your locks, brushing them forward.
Temple Fade + Pompadour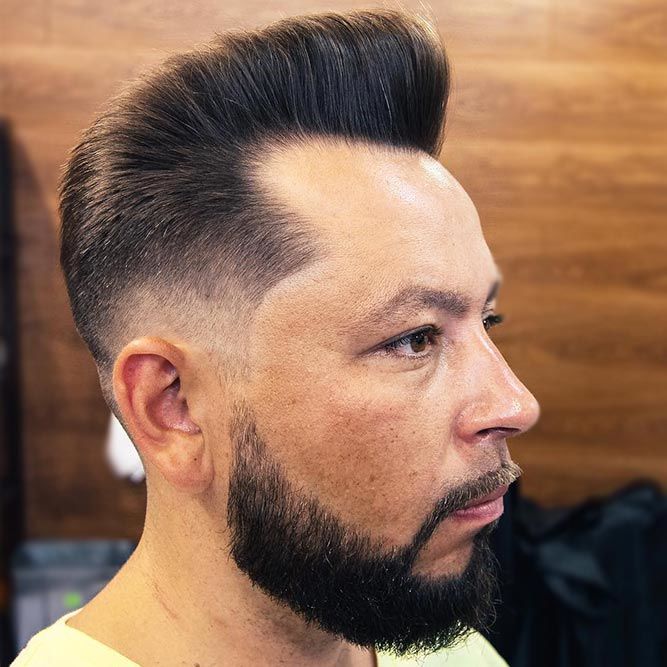 Source: @meha_barber via Instagram
Although pomp is a timeless hairstyle, it may sometimes look a bit old-fashioned. To give it a modern vibe, pair it with a temple fade on the sides. When it comes to length, there are several options. You can ask the barber to scissor cut the sides an inch long or clip down the back and sides using grade size from 2 to 4. You can also fade down the sides so that they blend into the beard or whiskers.
Despite not being particularly easy to style, you can rest assured that all the effort fully pays you off. To create an abundant volume in the front, generously spritz your head with a sea salt spray before you blow dry it. Then, direct the stream of hot air in a diagonal orientation to your crown. For a finishing touch, apply a bit of a hair pomade to the strands, eliminating flyaways and smoothing the strands toward the neck nape.
Temple Fade + Short Afro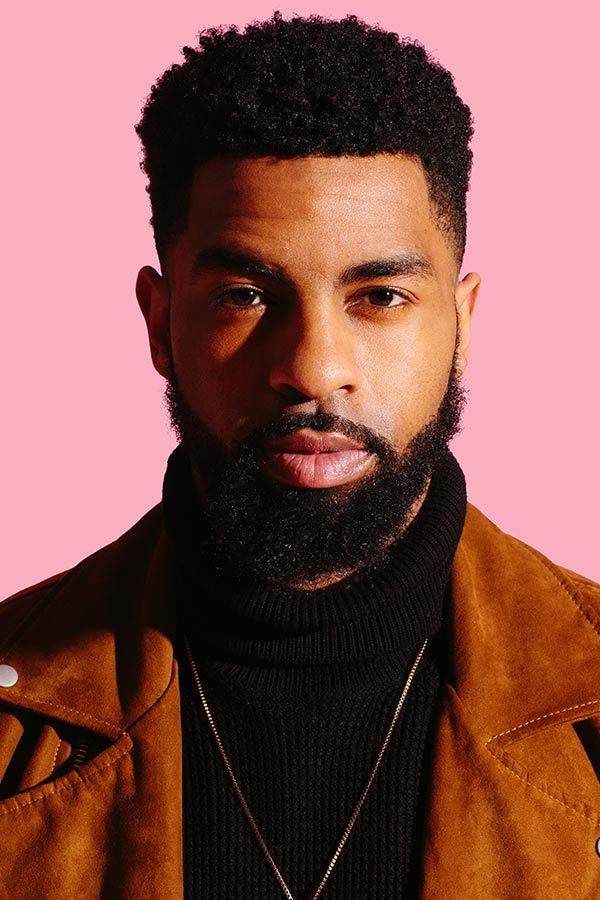 Should you be looking for a more moderate version of a blowout, then take a peek at a short afro. Besides, it will make your face look slimmer on the sides in case you have too prominent cheeks. The temp fade starts at the top of your ear and goes down to your hairline. The afro, in its turn, is cut within an inch of the scalp to look flattering and attractive. It is advisable to grace the frontal part of each ear with a skin fade or taper, accompanied by a line-up.
As this is an extremely short hairstyle, it does not require any styling. Though, regular upkeep is fundamental.
Temple Fade + Slick Back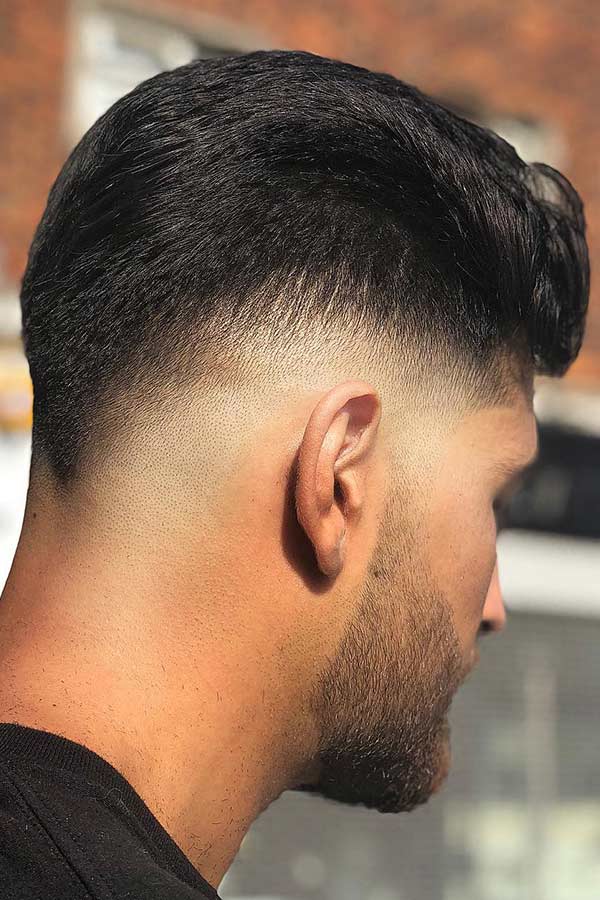 Source: @egobarbers via Instagram
Those who are in for an elegant and refined hairstyle should definitely consider a slick back temple fade. The fade should be focused on the temples on the same level with ears. You then want to blend it into the hair on the back and top of your head. You should take care to leave the sufficient length on top to be slicked back in a descending way.To style this cut, you will need a product that will give your hair foundation, such as volume powder or sea salt spray. Use it liberally while your locks are still wet and blow dry them shaping in the desired way. To finish off, apply a bead of a matte paste and be ready to pay a visit to the hairstylist in about a month.
Best Ideas For Temp Fade Haircut
Now, let's cut a long story short and show you the most iconic and popular temp ideas. It's your turn to get inspired: the well-groomed and super defined contemporary looks are here for you.
Low Fade Haircut
Source: @londonschoolofbarbering via Instagram
Here's a perfect decision for men with thick textures: the curly temp fade haircut. As you can see, it's a simple one-length cut, yet, the added low temp fade creates perfect length graduation, making the lines very significant.
Short Blowout Haircut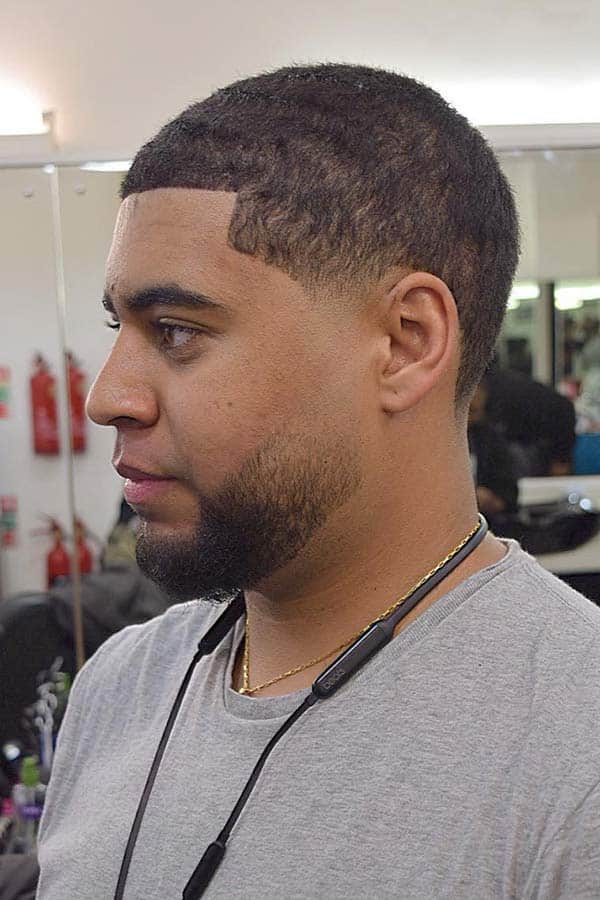 Source: @f4fade via Instagram
If you're wondering how short fade haircuts look like, this blowout will satisfy your curiosity. This time, the temp gives a defined outline on the front while keeping the blend of texture very well-groomed, nicely melting with facial hair.
Mid Temple Fade Cut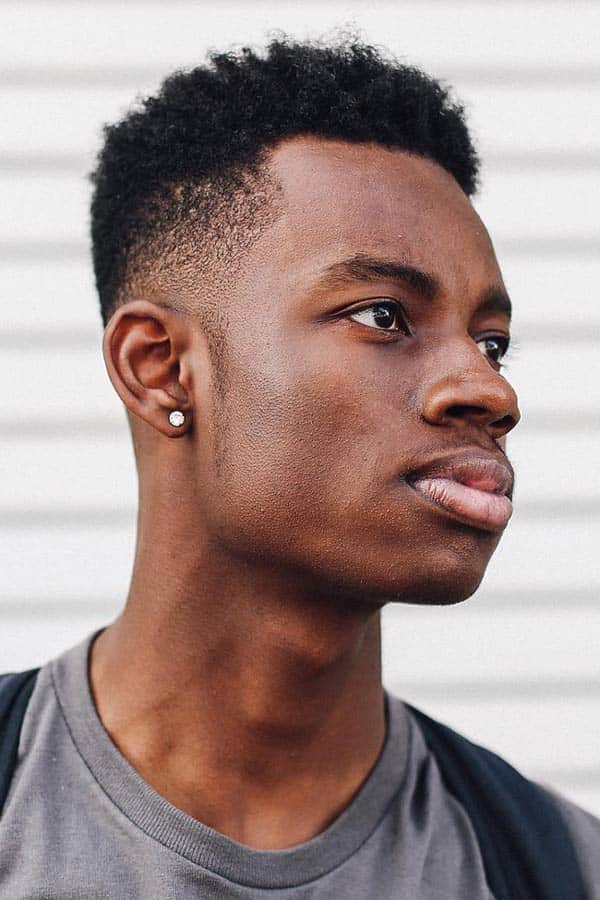 Source: @londonschoolofbarbering via Instagram
If you want to keep the balance between length graduation, look no further than the mid fade haircut. This cut involves a taper fade black men always choose for a neat look, and a slight outline on the temple area, which is less drastic than classic temps.
Slicked Back + Box Fade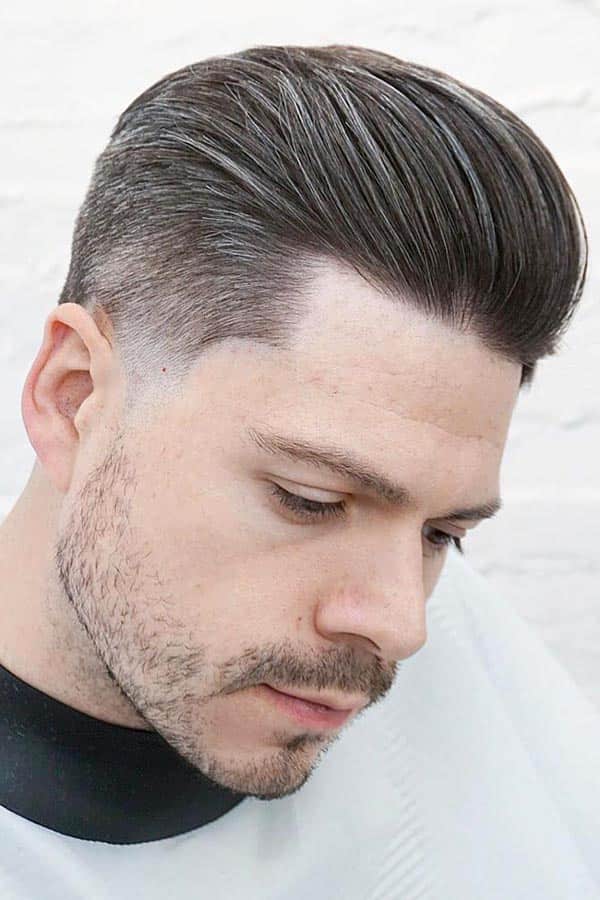 Source: @glassboxbarbershop via Instagram
Though some gents think that there's no white guy fade can suit, there are men's taper fade variations for everyone, and kinky curls aren't the crucial point. You can enhance your favorite slicked-back style with a box fade, thus making it more eye-catching. Yes, the box is another temp's face.
Dimensional Waves Haircut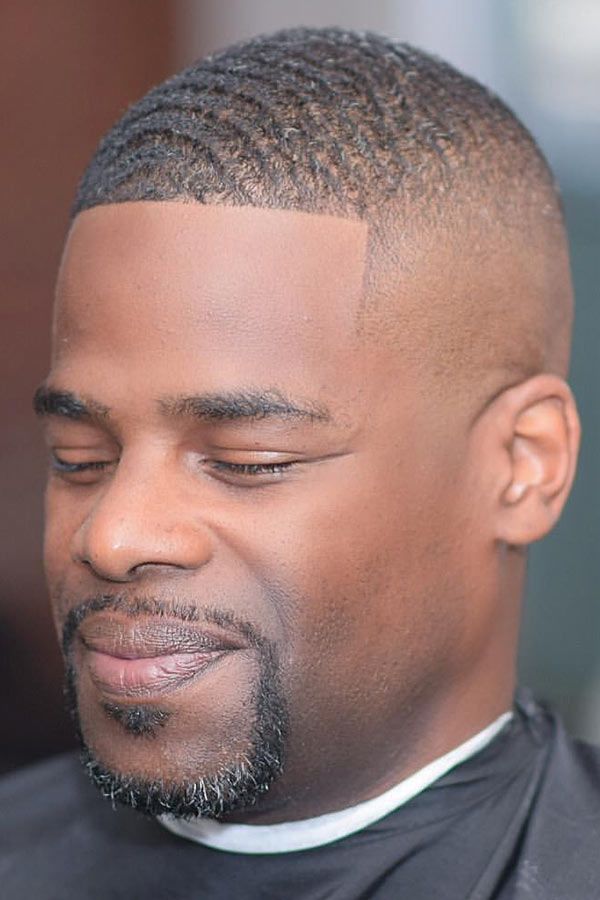 Source: @sirpaulcharles via Instagram
Curly guys are lucky to have a dimensional line up haircut with minimum length involved. The 360 waves men with natural hair go for is probably the most effortless and clean way to tame unruly curls: it's comfy and standout, and that's enough.
High Temp Fade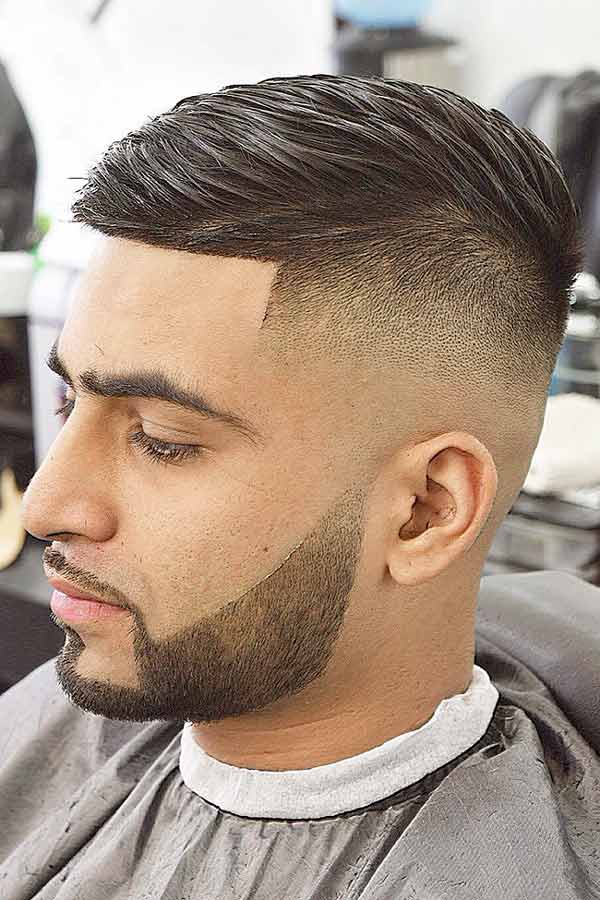 Source: @f4fade via Instagram
Unlike the previous blowout temp fade, this idea is all about making your hair pop. A high fade haircut features a sharper outline and a fade blend over the middle level, which gives an attention-grabbing appearance.
Colored Fade Haircut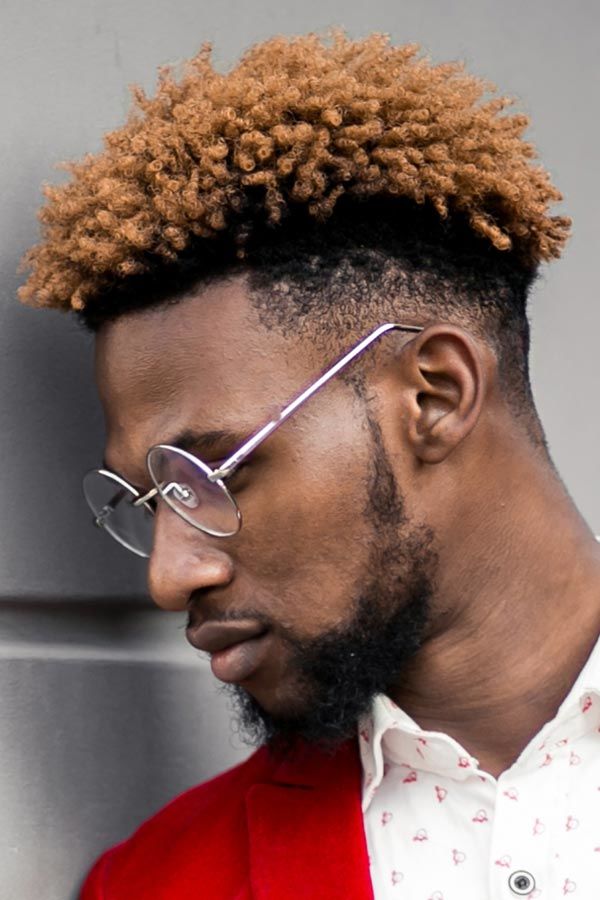 PH888/Shutterstock
Looking for a curly afro temp fade haircut that will let you express yourself? The dyed temp fade with the colored top and highly clean sides and back is a nice way to play around.
Sectioned Line Up Cut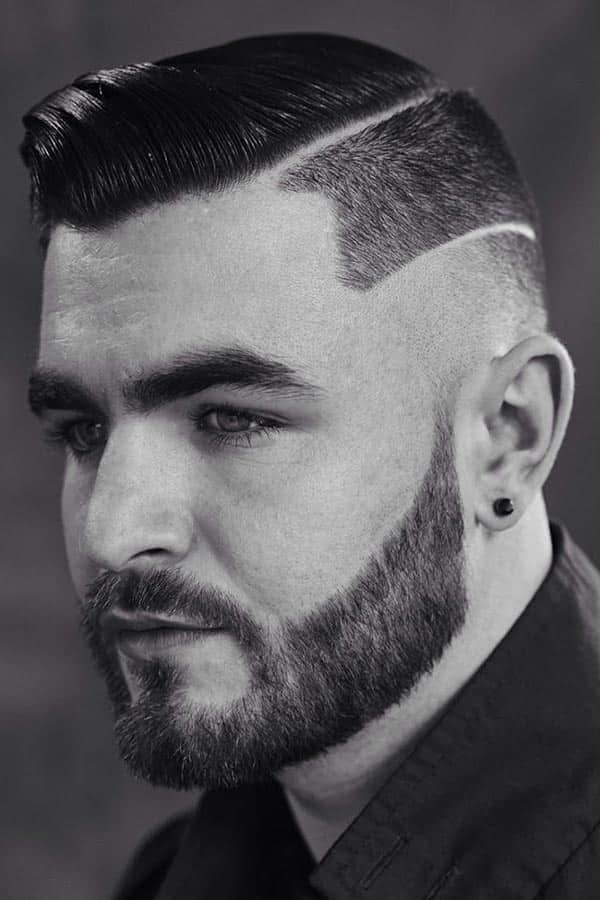 Source: @londonschoolofbarbering via Instagram
This temp fade haircut with sharp line up seems to give a new definition to style precision. This idea embraces two types of temp thickness, showing its potential in a new light. P.S. Temp fade with a beard is the duo you shouldn't miss!
Sponge Twist + Temp Fade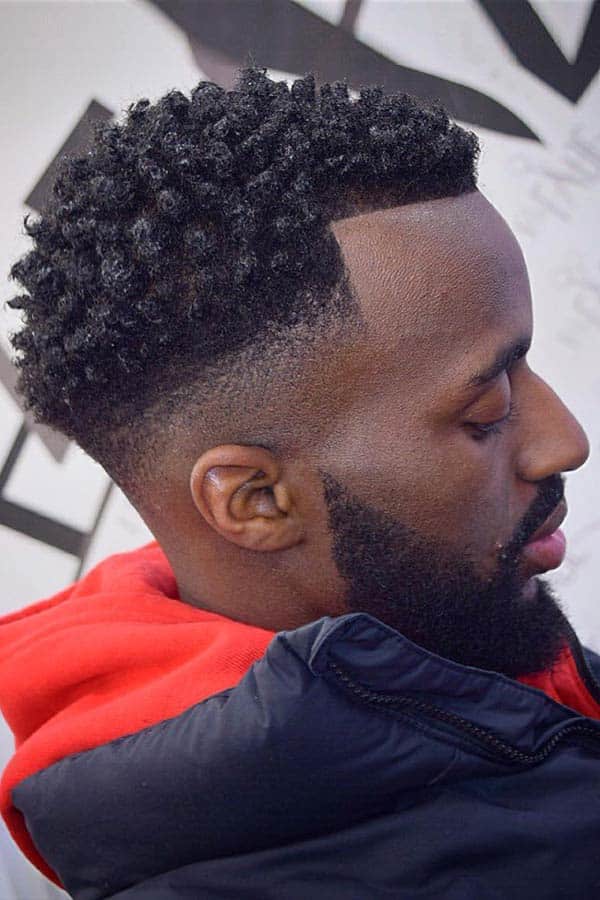 Source: @f4fade via Instagram
How about you to mix the popular fade haircut with sponge curls? Such a curly style is the number one request in natural hair community, so making it look unique with a temp fade blowout is a good idea
Buzz Cut Temple Fade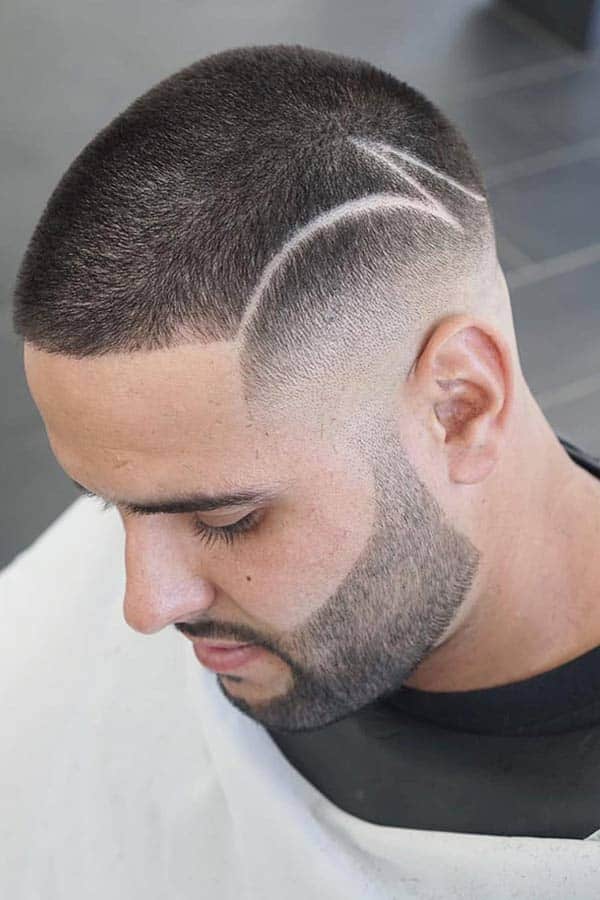 Source: @glassboxbarbershop via Instagram
Meet the unique variation of temp fade black men have simply nailed. This buzz-to-temp idea shows that there's no temp fade short can spoil: on the contrary, short looks are the smoothest.
Temp Fade With Hard Part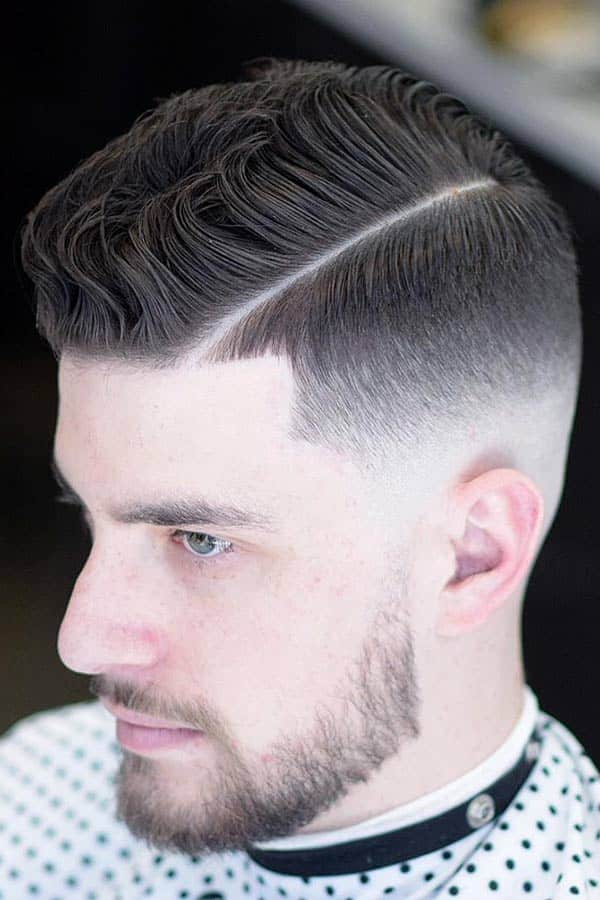 Source: @sirpaulcharles via Instagram
The temp fade high top haircuts are also the most requested ones. Gentlemen who are into strict, yet significant image usually opt for temp fade with a part, combining a perfect outline with undercut vibes.
Shaved Line Temp Fade Haircut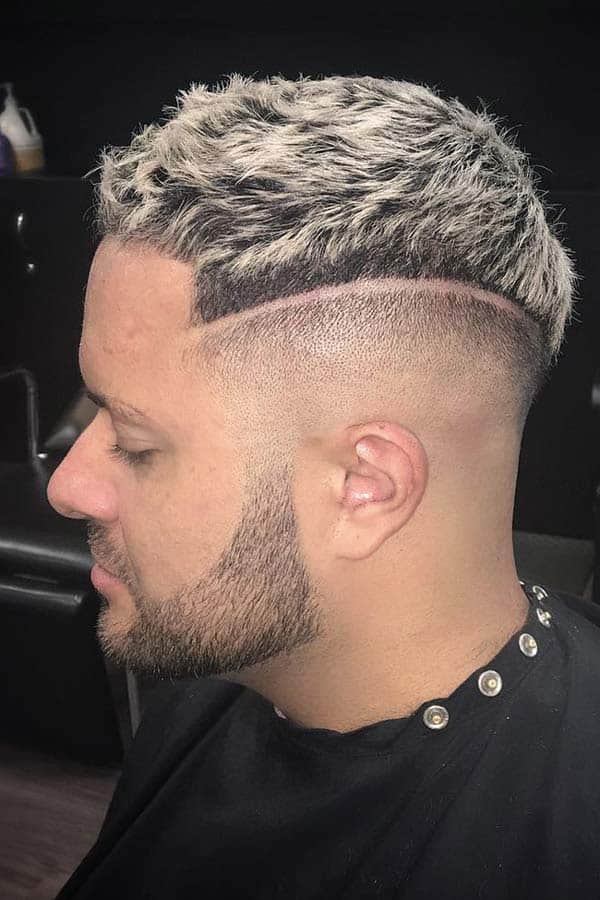 Source: @lena_piccininni via Instagram
There's no better way to put your hair in a spotlight than to show up with a temp fade skin cut. The shaved portion gently blends with a beard, while the spectacular top is defined with a sideline.
Temp Fade With Shaved Design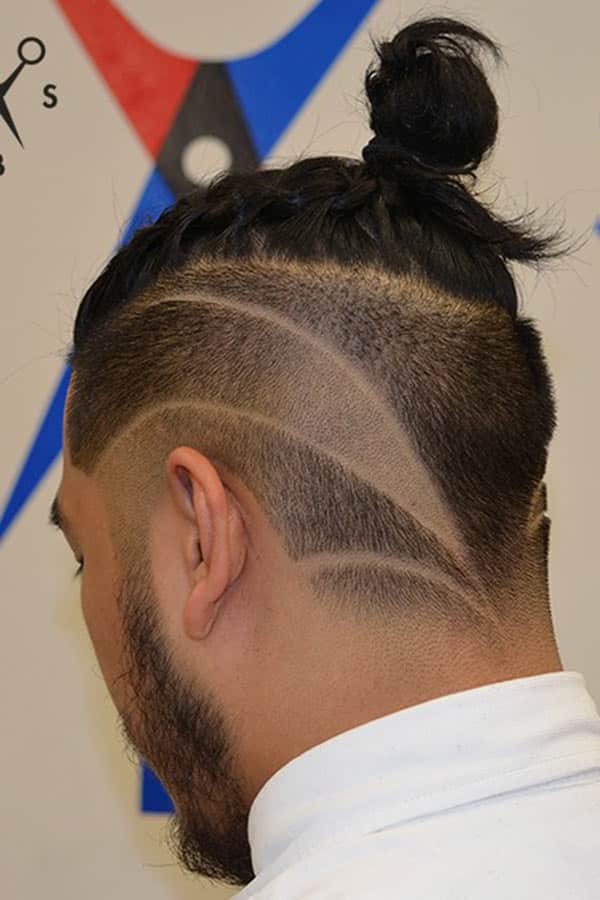 Source: @londonschoolofbarbering via Instagram
Love wearing the effortless top knot? Why don't you make it show off your creativity, then? You can spice up your temp fade with design, experimenting at your best.
Fringe Up Temp Fade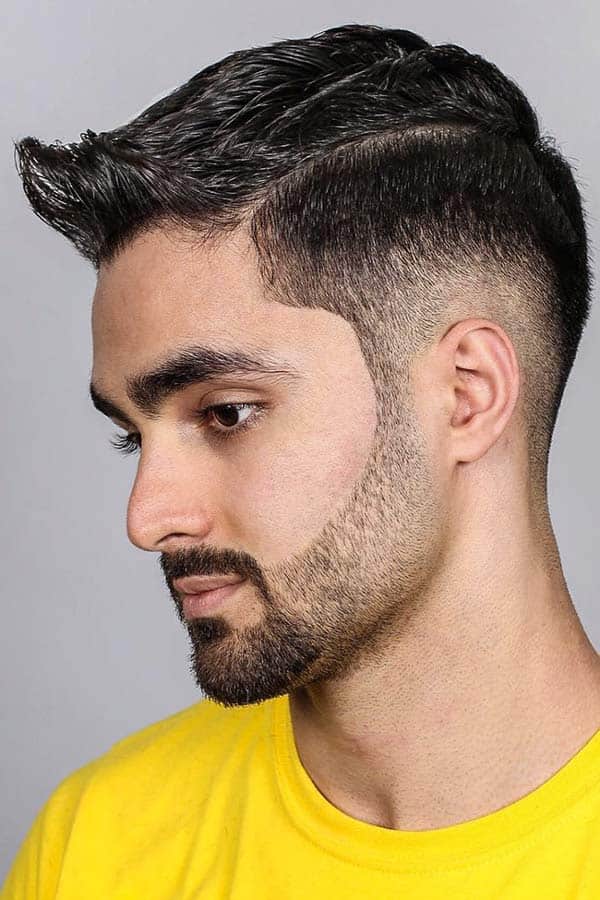 Source: @londonschoolofbarbering via Instagram
Following the style of famous football players can be even more outstanding. Just look at how a touch of stubble-to-sides precision takes the familiar idea to the next level.
Man Bun With Beard Shape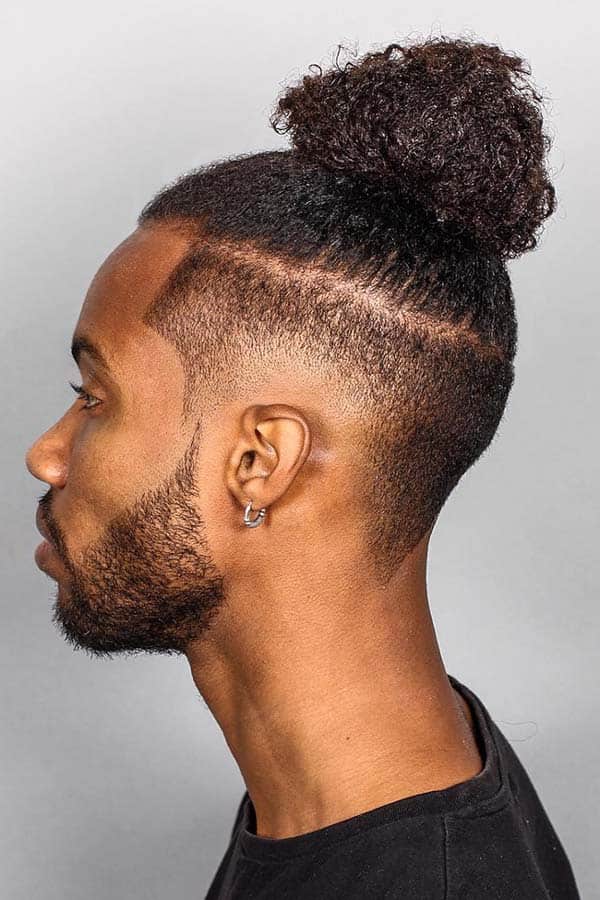 Source: @londonschoolofbarbering via Instagram
For most black men temp fade is the best choice: their texture always needs whipping into shape. And this man bun shows how versatile the fade can be! Whether you sport it as a long undercut or twist it into a bun, your look will be distinctive anyway.
Temp Fade With Pomp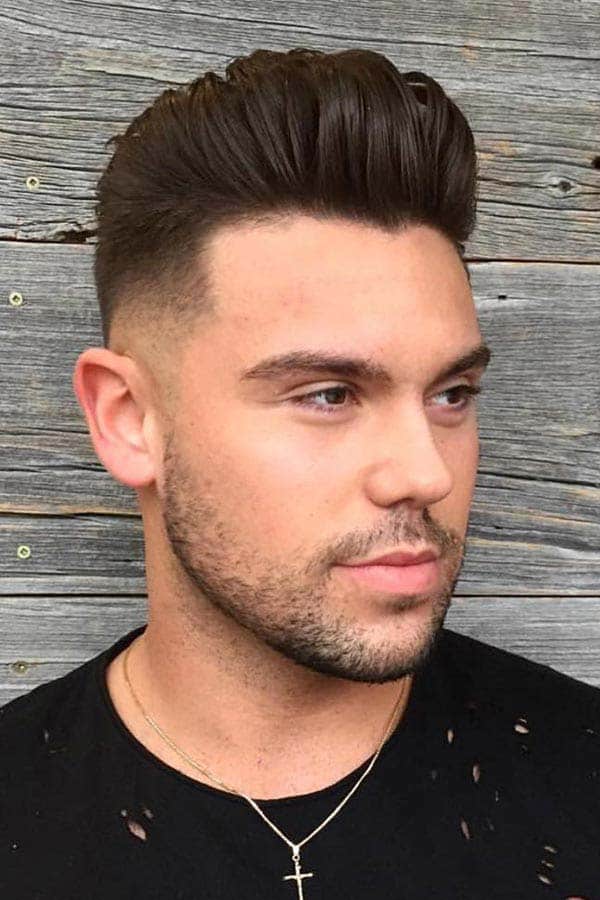 Source: @hairraribarber via Instagram
When nothing seems to make the good-old pompadour better, the high top shows up to prove otherwise. A bit of neatness is the key: the defined outline works awesome with a dramatic top.
Cornrows Style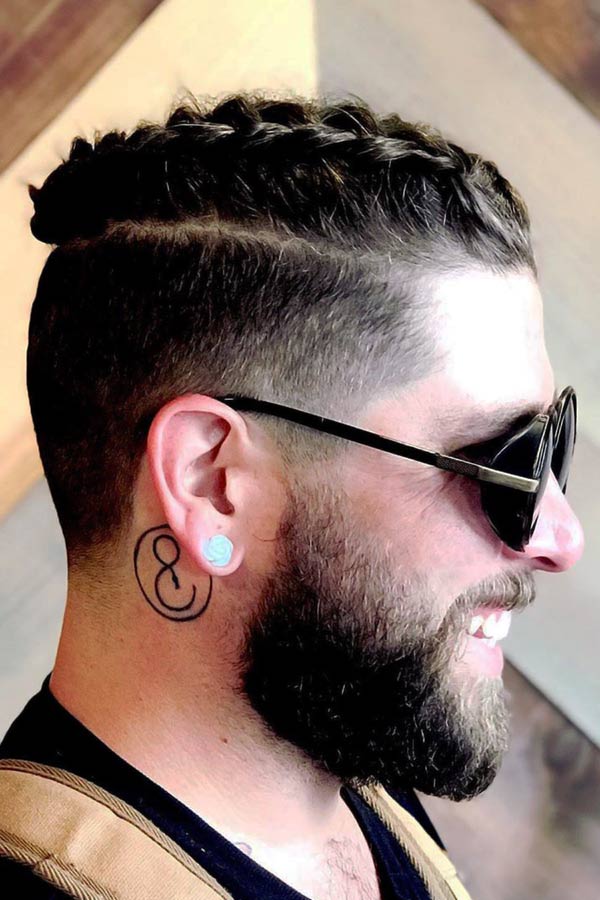 Source: @w_k_o via Instagram
Want to keep your hair tight, comfy, and striking at once? This afro haircut, where the high temp fade abruptly graduates to the cornrowed top is the idea you are looking for.
Faded Mohawk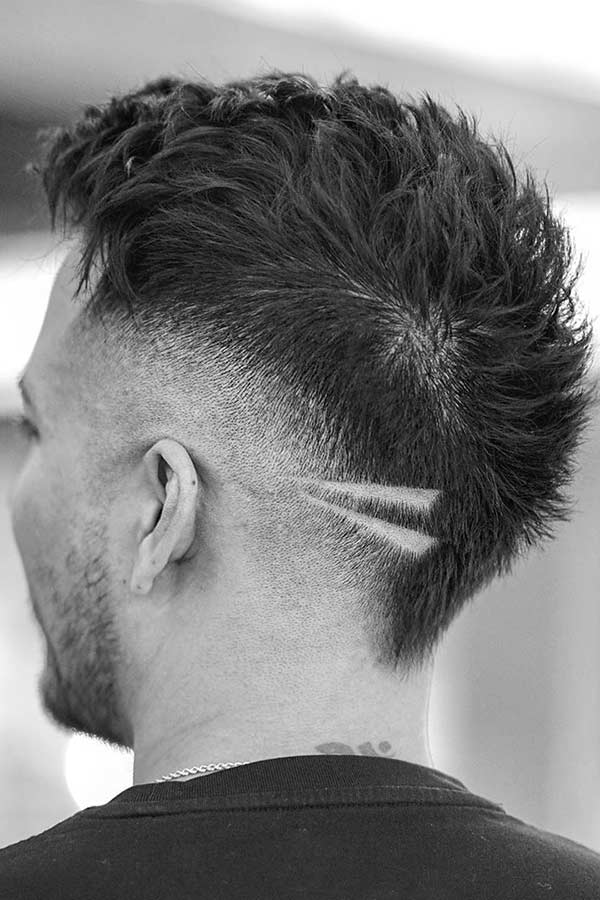 Source: @shrunknheads via Instagram
Those who are about to expose their punky nature will love this temp fade mohawk haircut. As you know, mohawk requires short, shaved, or sleek sides and voluminous top. Well, the curly hair can nicely fit in the role of the hawk, especially if you finish if with a gradual burst fade.
Caesar Cut Box Fade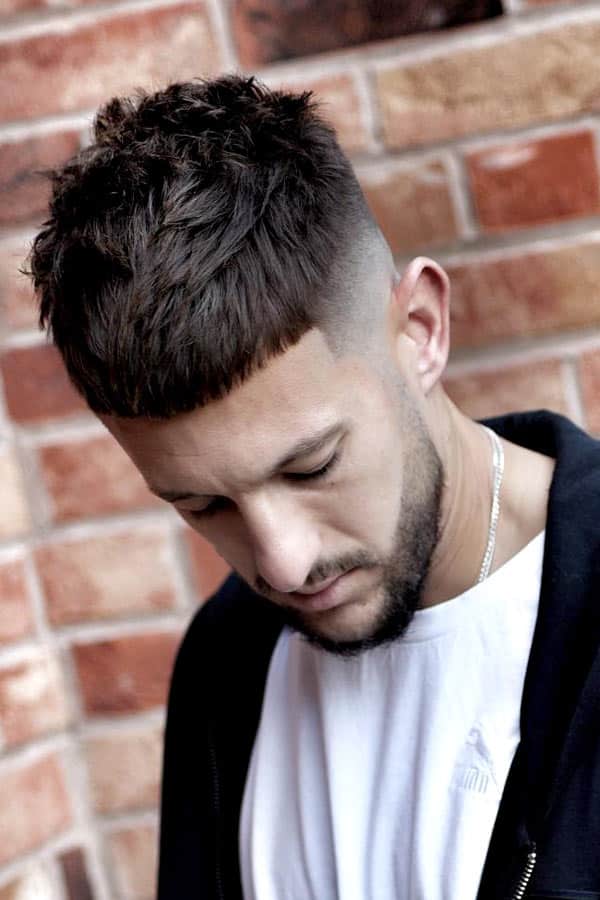 Source: @ryancullenhair via Instagram
A caesar haircut with textured hair on top is another way to embrace a minimalist look of high temple fade haircut. It has everything a modern man needs: the edge, individuality, and movement.
Flat Top Haircut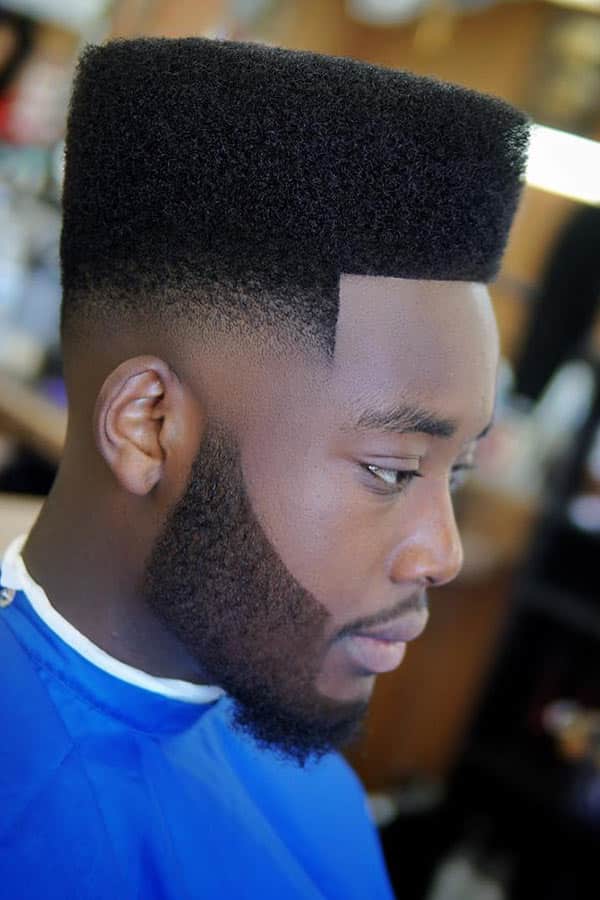 Source: @nickthebarber via Instagram
The legendary flat top haircut deserves sacrificing your easy styling routine. Nothing can compare to the staggering nappy afro look of this high-maintenance cut. If you are ready for such a commitment, don't forget to make it pop with a temp fade afro.
Temple Fade With Long Top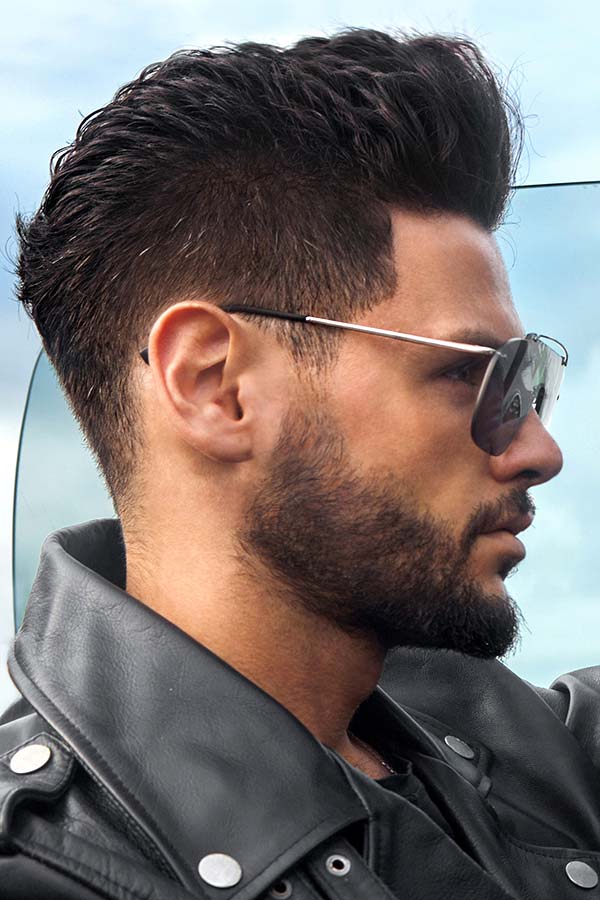 AS Inc/Shutterstock
There's no way you haven't seen the bald temp fade with a beard and slicked back undercut! This awesome trio is officially the hottest trend combination for men who have thick hair. If you want to keep up with contemporary fashion, that's the key.
Spiky Top Haircut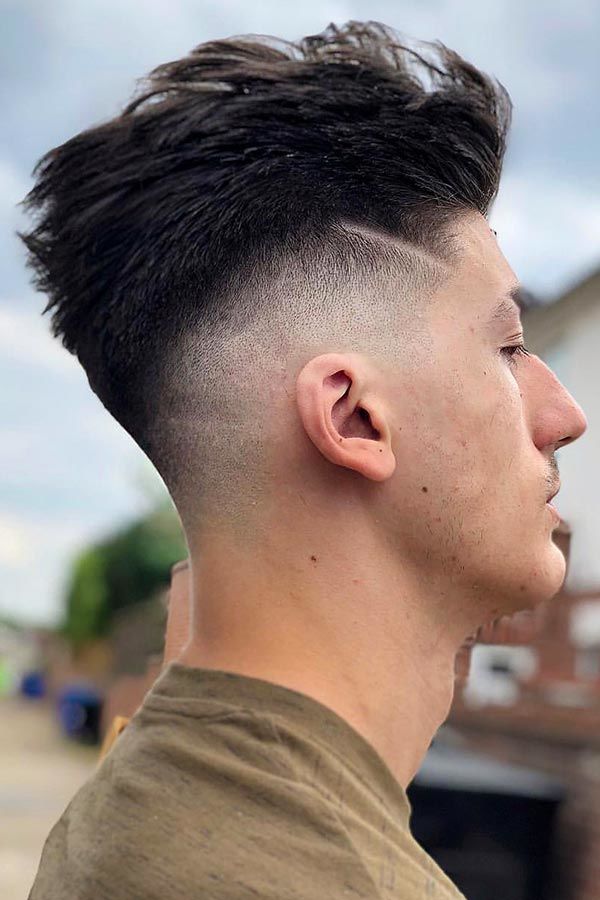 Source: @egobarbers via Instagram
Since you've got closer to the versatility of the temp fade, it's time to call your barber! This fade isn't a commitment; it's a little highlight that adds more precision to your cut, so nothing stops you from making your cut better.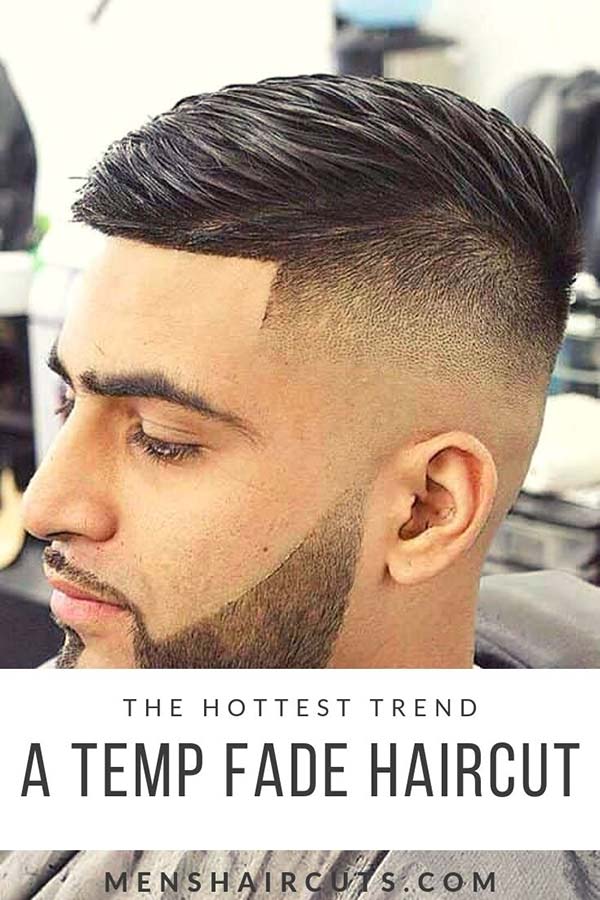 REFERENCES:
Give your look a fresh and fashionable update with one of these awesome temp fade haircuts for stylish gents. Source
The temple fade is a lesser known barbering technique that will add a contemporary twist to any classic cut. Source