Choose Short Hairstyles For Men That Speak To You
Short hairstyles for men will probably never go out of fashion. Along with incredibly low maintenance, they offer a myriad of dapper and classy styling options. The sides and top can considerably vary in length and texture, giving you a plethora of cool styling options. If you still haven't decided on the haircut you're going to ask your stylist for on your next visit to a barbershop, we've stacked the pile of the best short hairstyles to match any taste. Check it out and pick up yours!
High And Tight Men's Hair Styles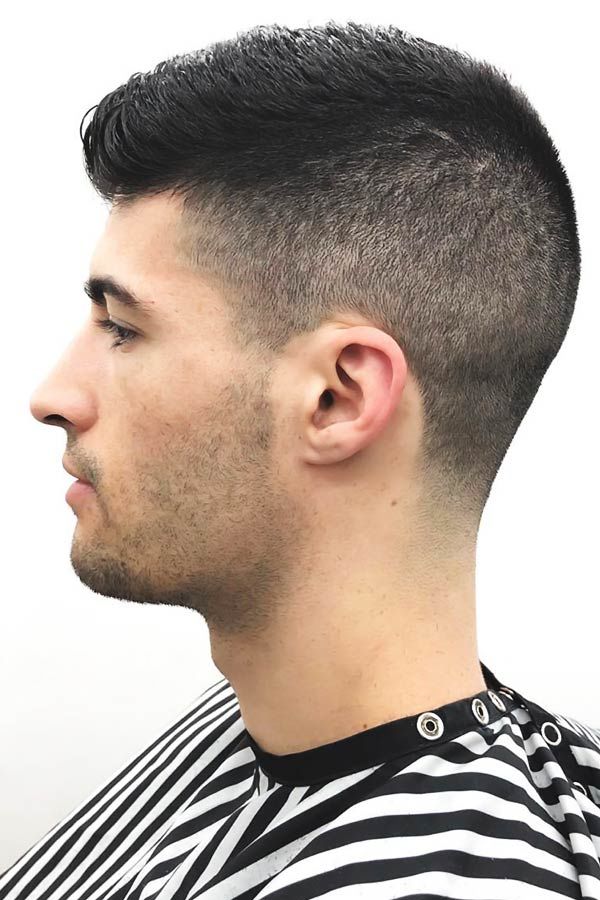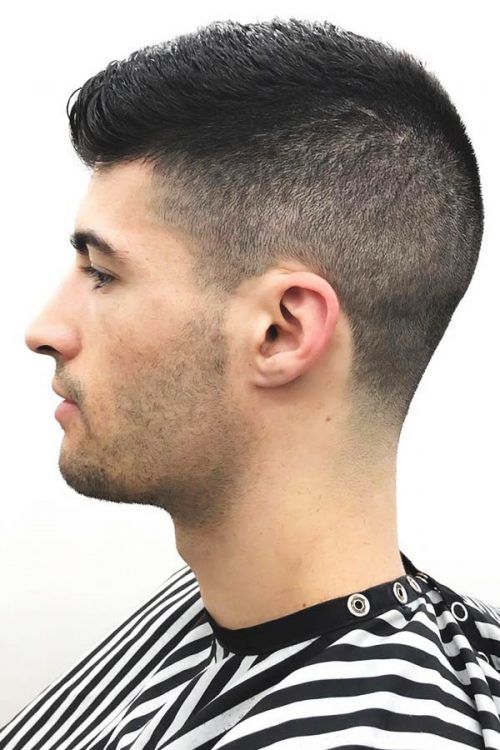 Source: @hairraribarber via Instagram
High and tight men hairstyles are flattering to basically any face shape and hair texture. The sides and back of the head should be cut shorter, while the top is left longer. To place emphasis on the top, you can make the sides and back faded or undercut. These modern haircuts allow you to adjust them to any environment, either formal or casual.
Trendy White Color Textured Top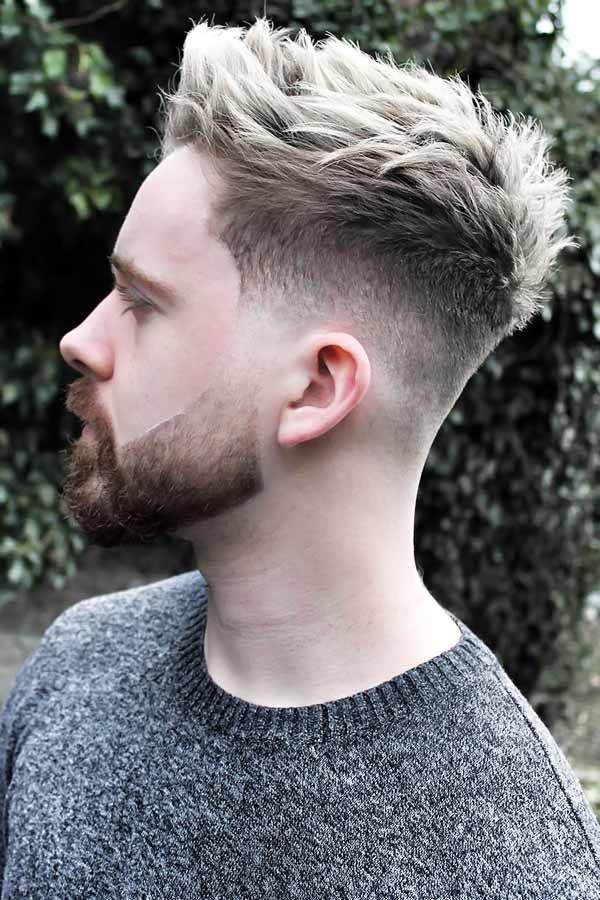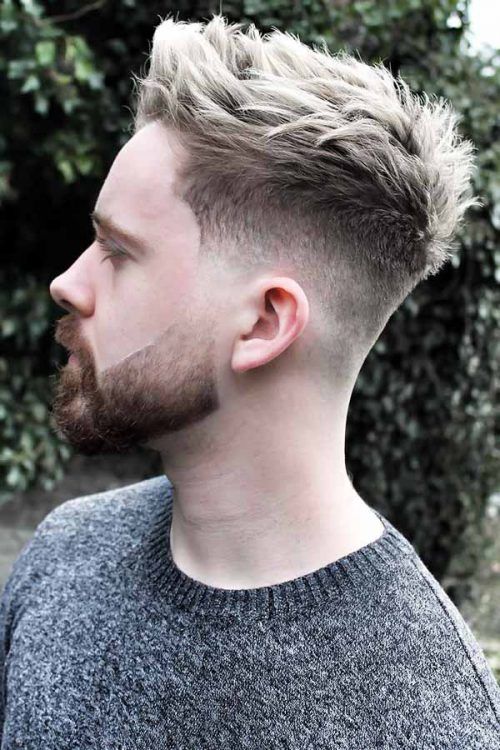 Source: @ryancullenhair via Instagram
There are a couple of ways to accentuate your hairstyle. First, you can emphasize the texture hair on top has with a styling product. Second, you can get one of the contrasty men's haircuts with short sides and long top. Third, you can play around with the color. And finally, you can have an all-in-one, as short hair styles have no restricting limits. This light ashy-blond haircut with the textured long top and undercut fade on the sides and back is an obvious proof of that.
Short Sides Long Top Hair Style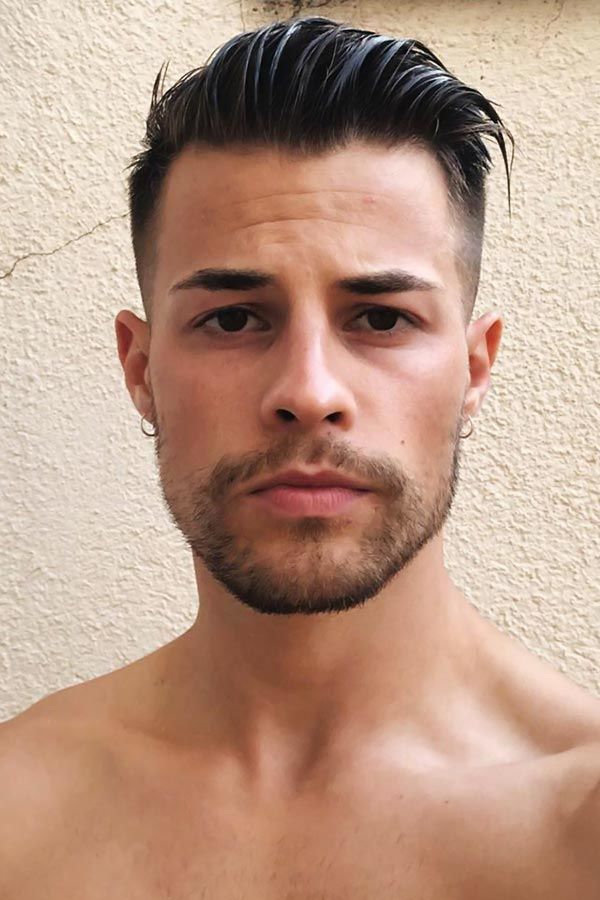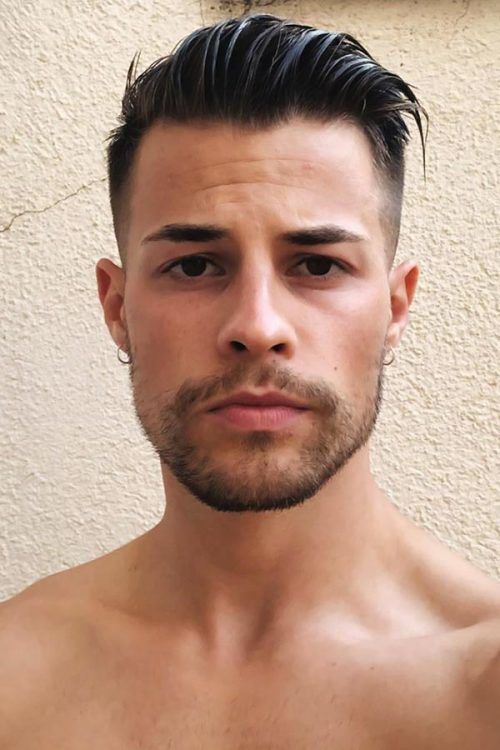 Source: @kevinelezaj via Instagram
The short sides long top is one of the most common short hairstyles for men. It doesn't require much maintenance while looking stylish and spruce. All you need to do for styling it in the morning is to run a comb with a blob of a styling product through the top section of your hair.
Shaggy Hair Style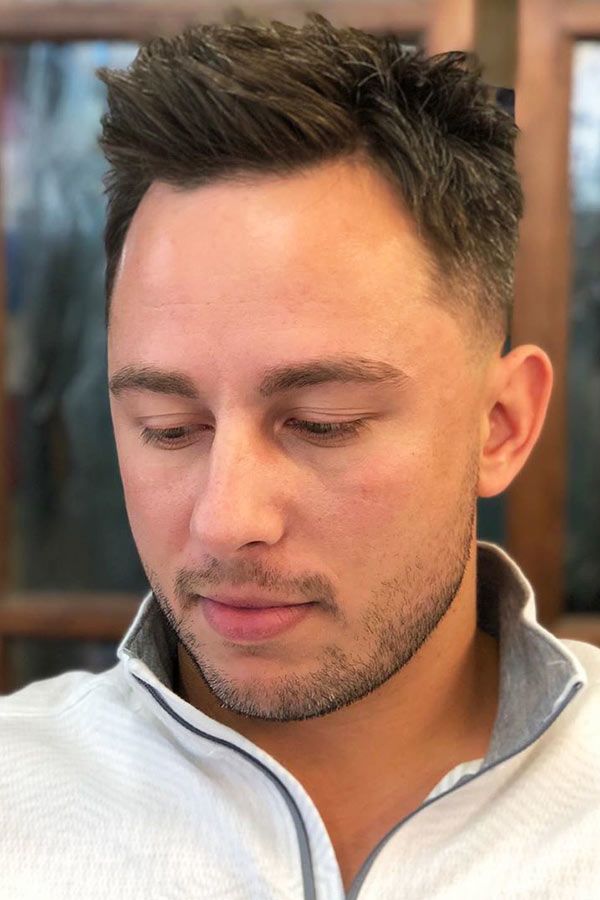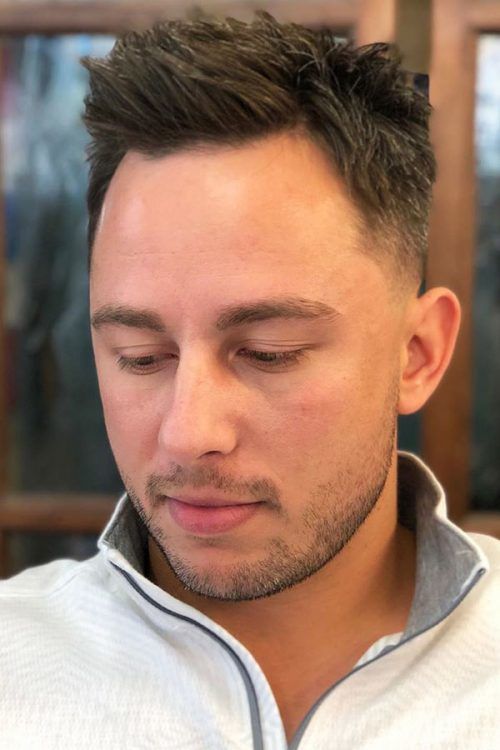 Source: @hailwormatron via Instagram
If you want to disguise your expansive forehead or narrow down round face features, you should opt for shaggy razor cut short hairstyles. Cut in layers, such short haircuts for men create an interesting and defined look. For upkeep, don't forget to use a razor comb regularly.
Short Taper Hairstyle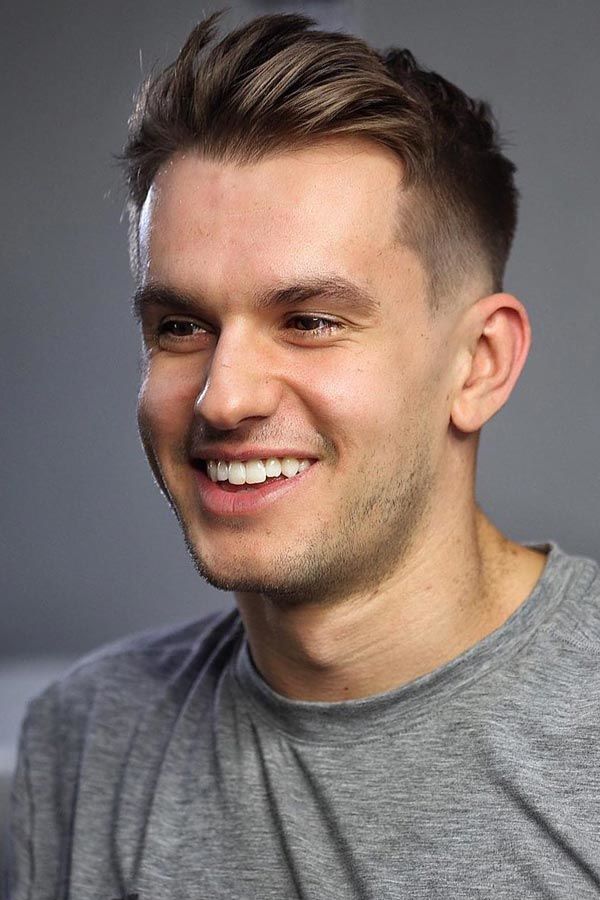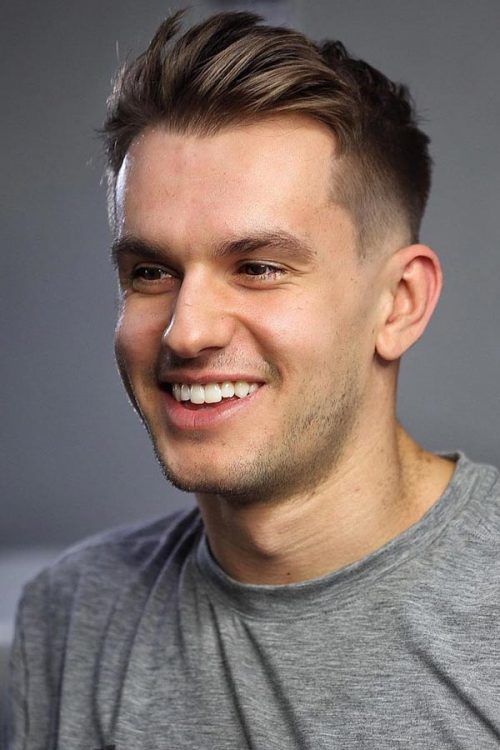 Source: @ryancullenhair via Instagram
The modern mens short hairstyles have been showing the tendency of getting longer either on top or around the back and sides, which gives the green light for tapers. To create a gradual transition, you need to taper the hair on top of your head down slightly from back to front, which will give your seemingly trivial hairstyle a new twist.
Short Spiky Hawk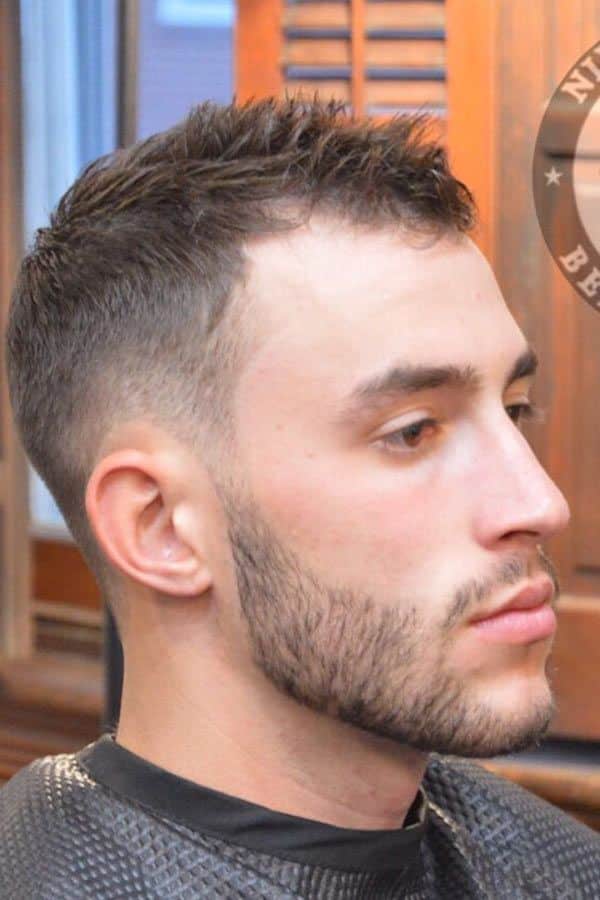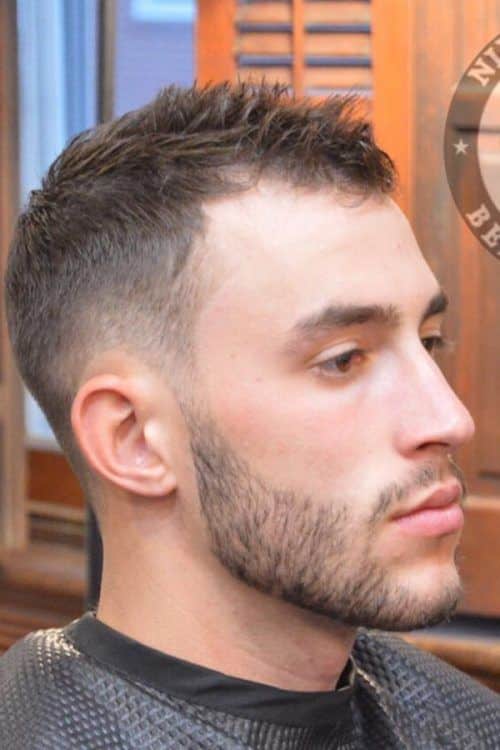 Source: @ninothenice via Instagram
With a variance of styles, lengths and shapes available, spiky hair is so much on trend right now. To embrace your inner punk without drastic changes, style your hair in a short spiky hawk. This youthful and eye-catching men hairstyle perfectly works on any face shape and hair type.
Swept Up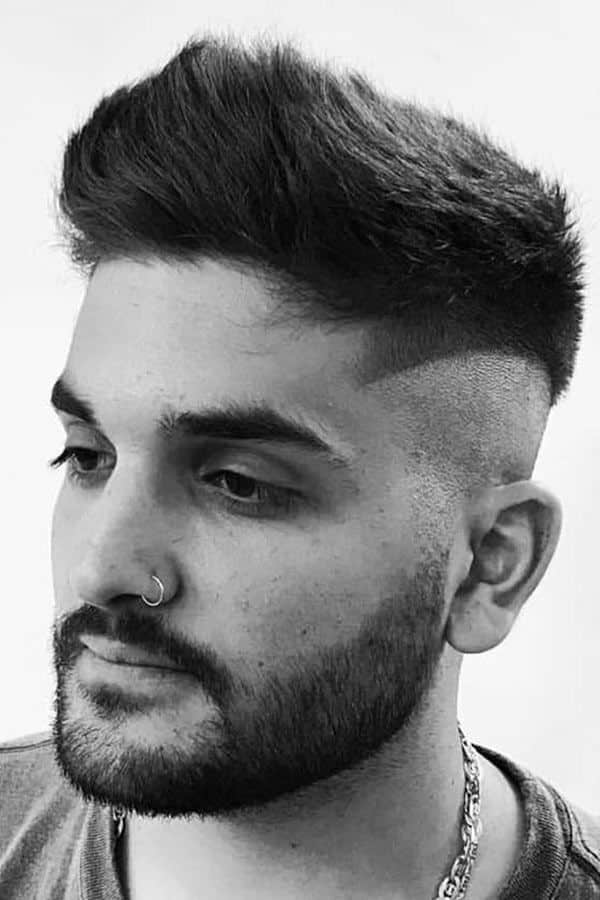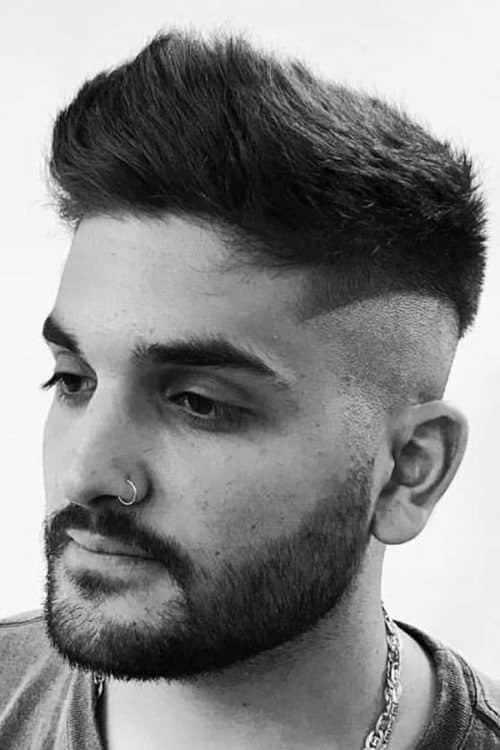 Source: @hairraribarber via Instagram
Arguably, the best thing about hair styles for short hair is that they look like you've spent hours doing them while in reality, they've taken you just a couple of minutes. Short mens hair cuts can look elegant and sophisticated without much effort. For instance, you can swipe the front section of the top hair up with a comb, securing it with a styling product, and you're good to go.
Faux Hawk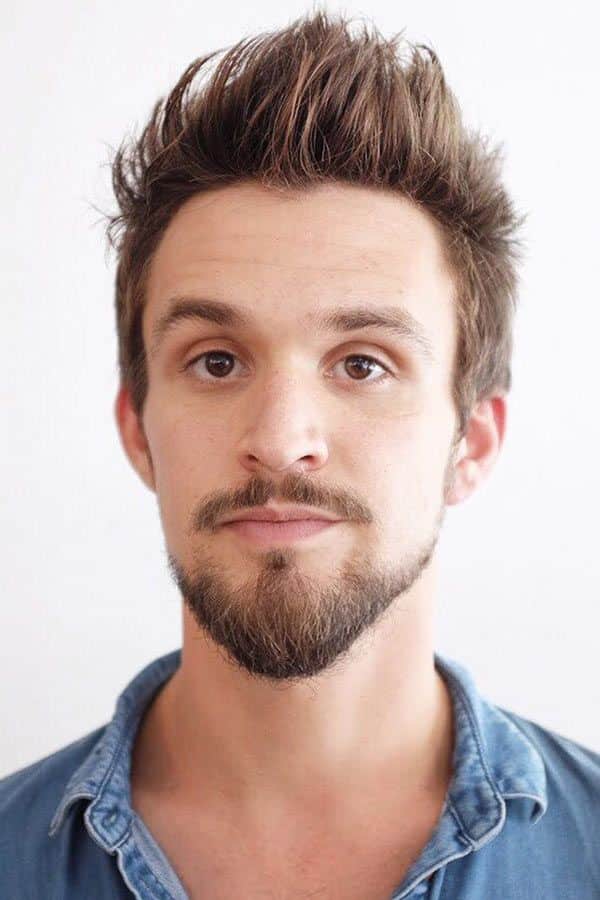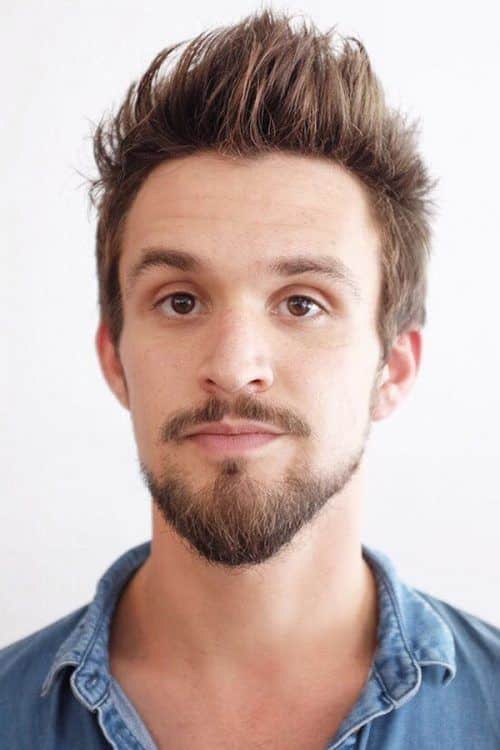 Source: @hairraribarber via Instagram
A faux hawk is a great option for those guys who prefer longer mens hair on top while keeping the sides and back relatively short. The hair atop is usually cut so that it gets longer towards the front. For styling, rub a bead of a styling product between your hands and rake the top of the hair from back to front with your fingers.
Ultra Short Textured Top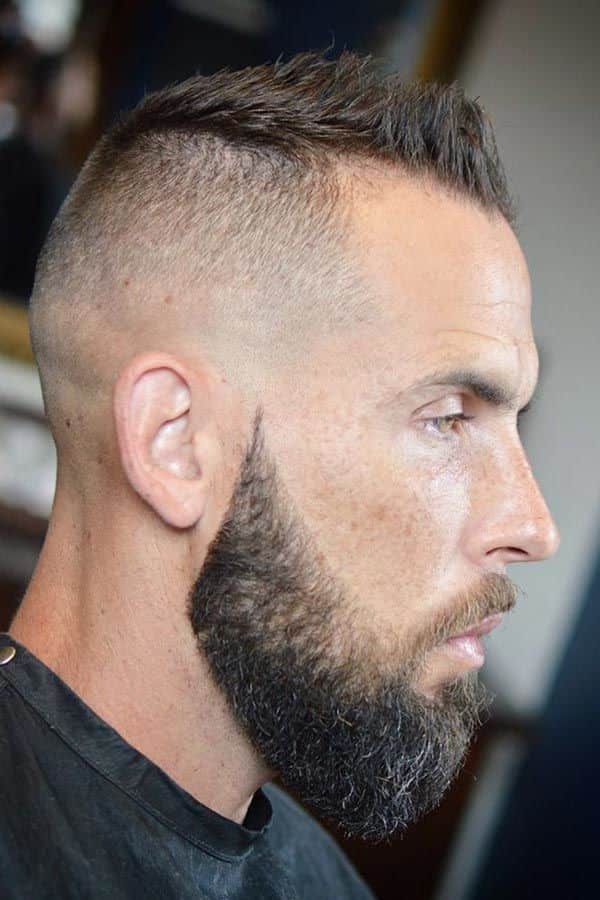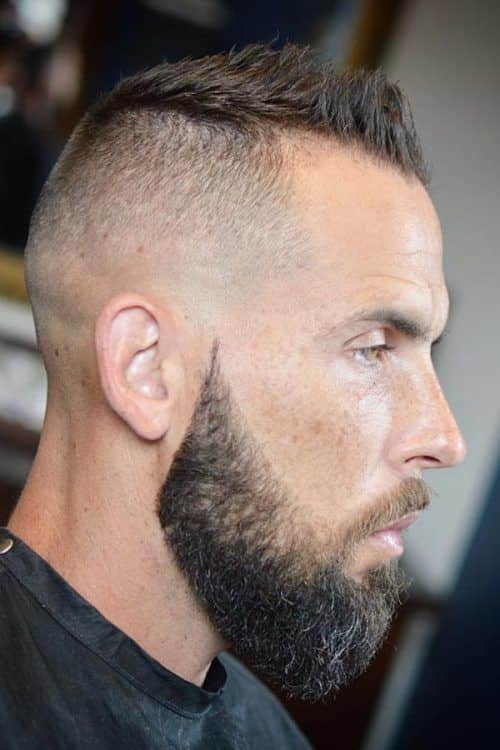 Source: @ninothenice via Instagram
This ultra short hair cut is the number one choice for those men who prefer wearing their hair neat and clean. It's a good idea to accentuate a textured cropped top with a high fade haircut on the sides. Use a little gel or mousse to style the top section of your hair by molding it up into a point. As this hairstyle is clean and very short, you can partner it with a full beard. However, keep in mind that it also should be well-trimmed.
Slicked Back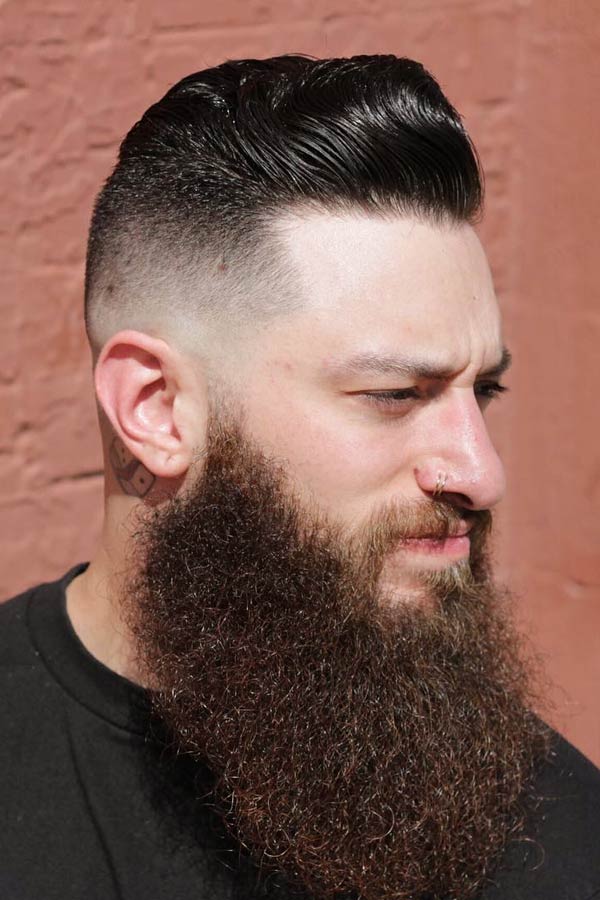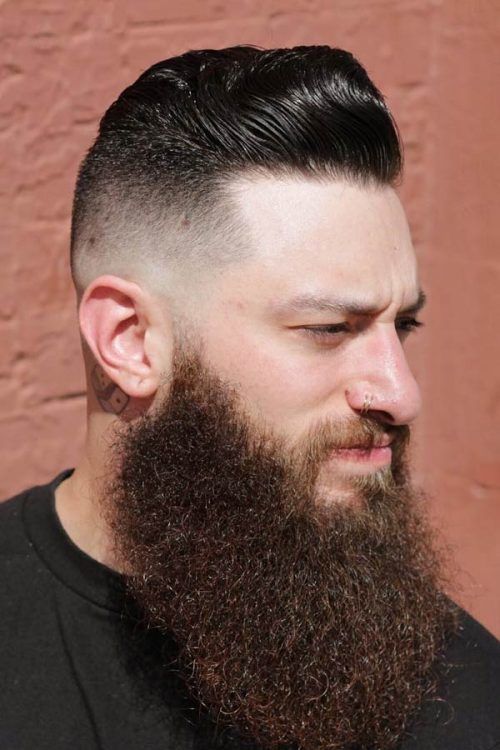 Source: @barberjustin via Instagram
Slick back hair is one of the most popular mens haircuts styles of yesterday, today and tomorrow. It gives you a polished and refined look while doesn't require excessive styling. To get the look right, you just need to brush or comb your hair back with a dime of a styling product.
Short Tight Curls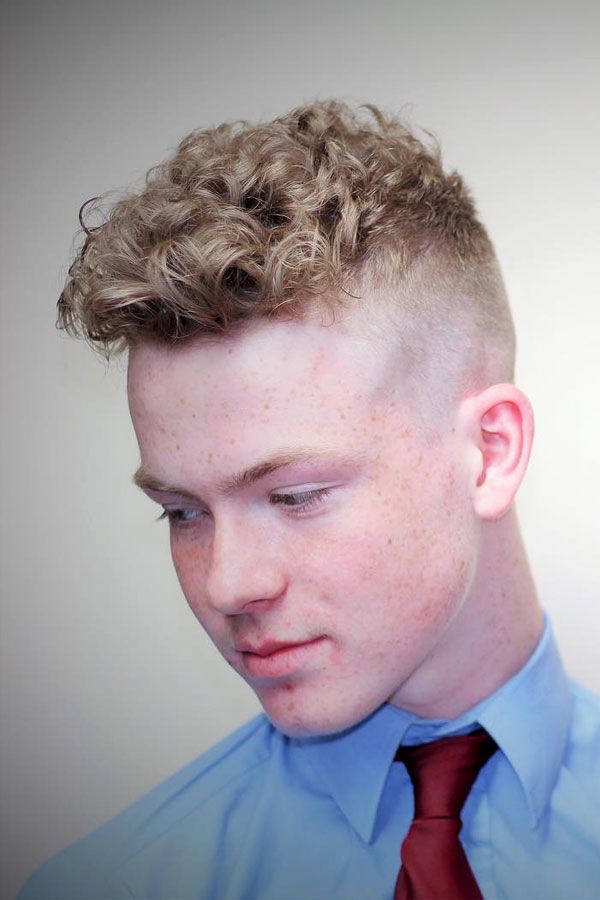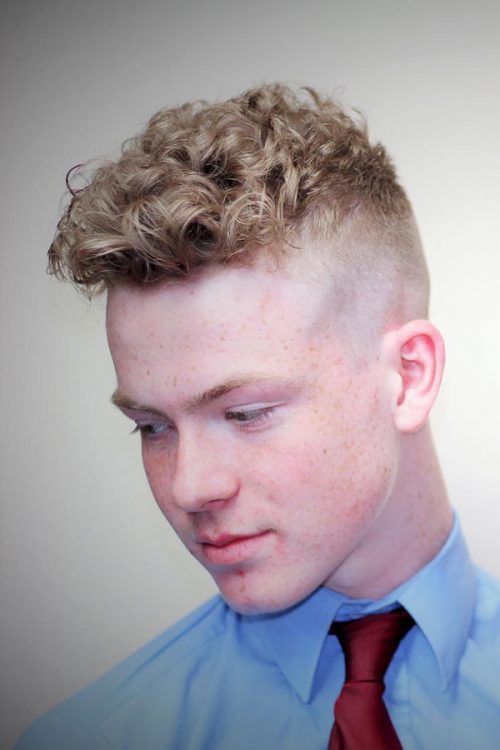 Source: @barbersofbt45 via Instagram
Curly hair men can also find short haircuts very wearable. First, it's much easier to keep your kinky hair in check when it's short and tight. Second, you are still able to highlight the beauty and uniqueness of your defined hair texture, especially when the sides are faded.
Military Style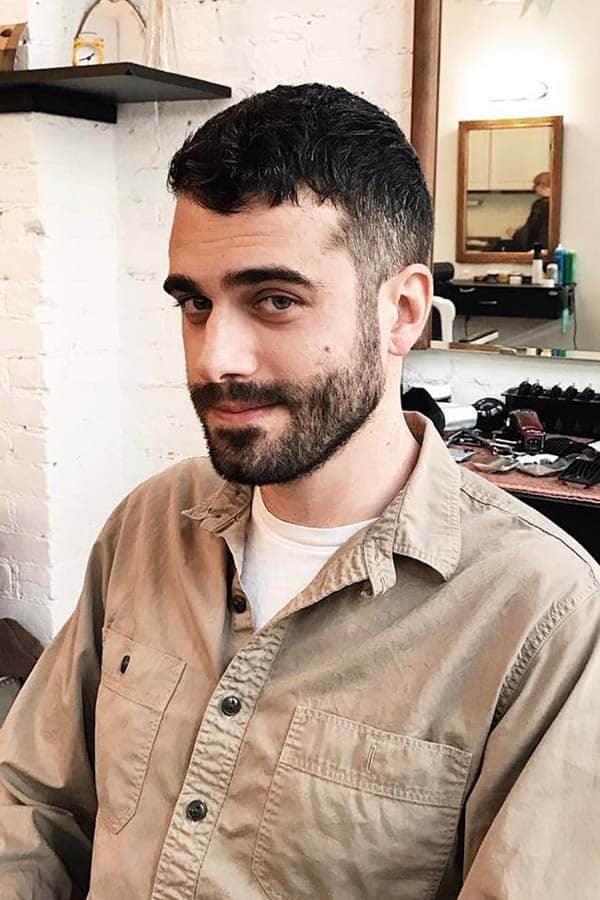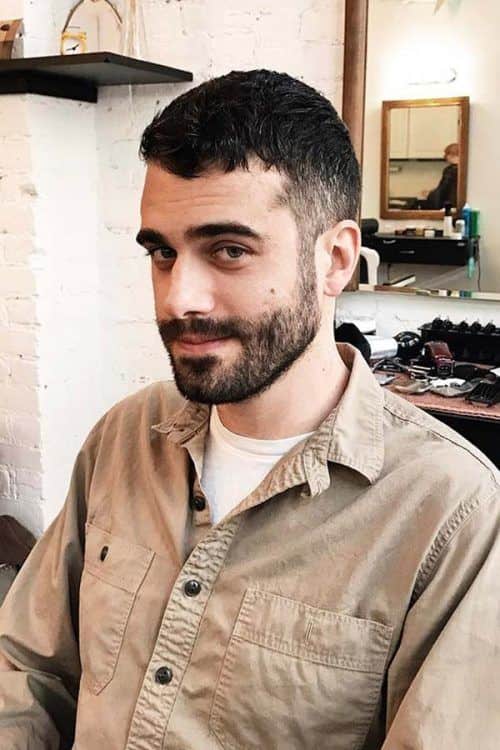 Source: @hairraribarber via Instagram
The military haircut is no longer a style of choice for army officers only. This hairstyle for short hair men with an active lifestyle sport the most has successfully wedged into the civil world and sits there very tightly. Not for nothing, we must say.
Square Blunt Cut With Texture Top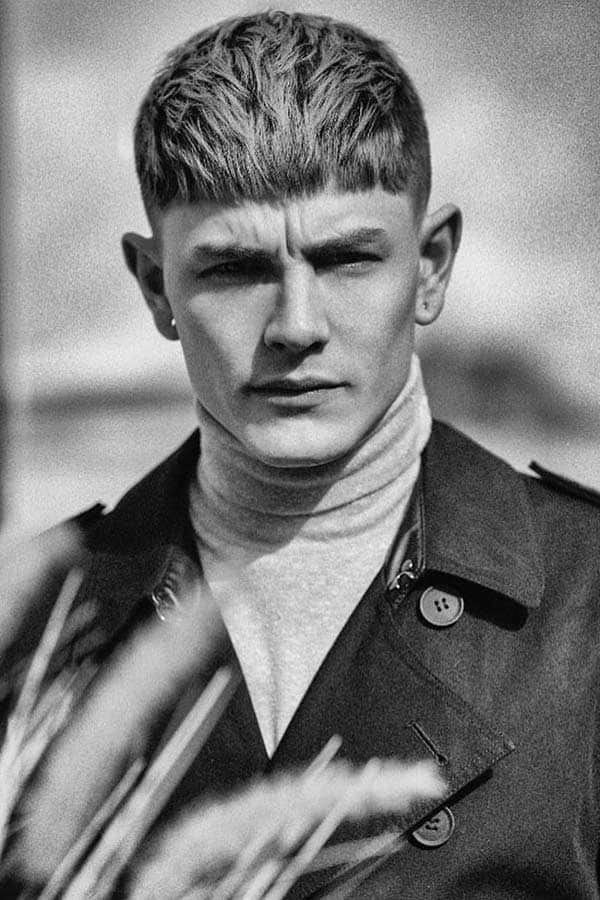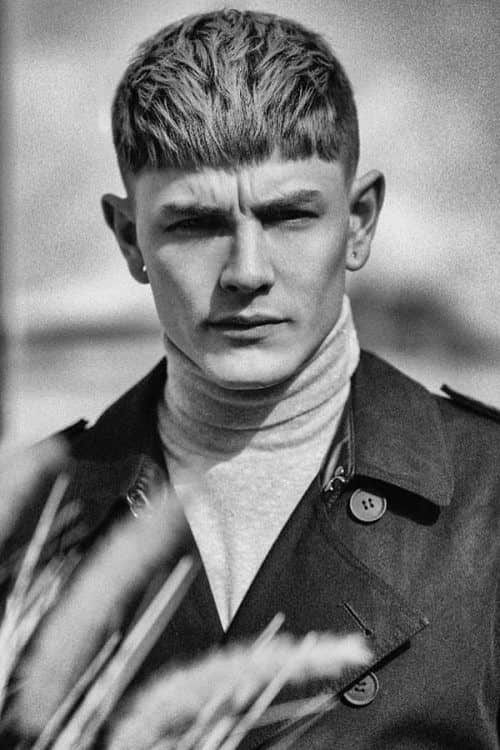 Source: @hairraribarber via Instagram
Not every man will be able to pull off such a unique and controversial look. While some people may frown upon square blunt haircut styles for men, others find them daring and stylish. If you feel like trying this cut on, consider accentuating it with the textured top.
Slick Side Part Style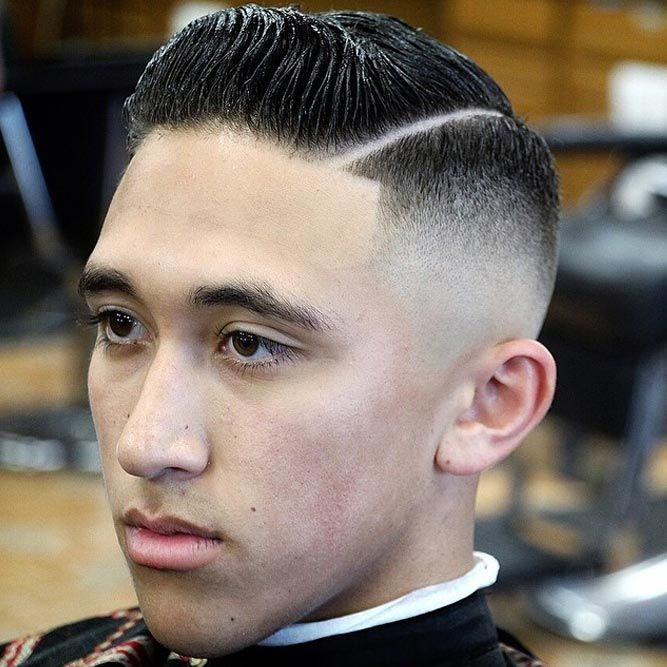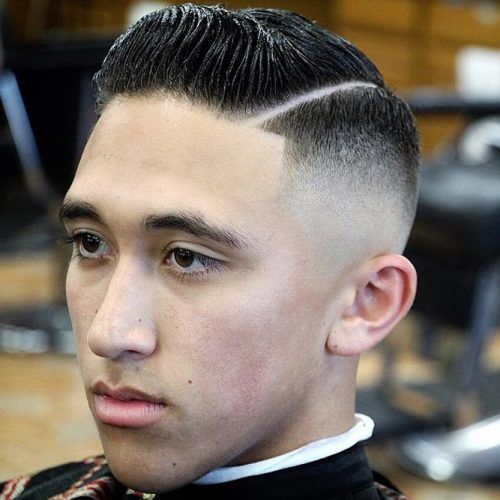 Source: @nickthebarber via Instagram
Slicked back hair is always a win-win 'do for short hair gents. It makes you look cool and elegant no matter what. To give it a definition, shave in a side hard part. For added shine and smoothness, use a styling balm or wax for male hairstyles.
Short Flat Top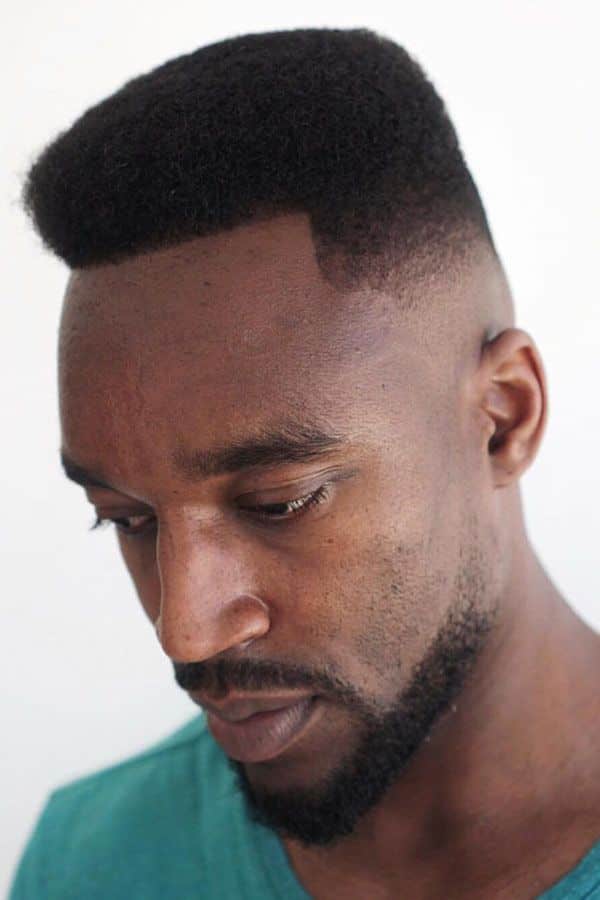 Source: @glassboxbarbershop via Instagram
The high flat tops are not as popular as the similar short hair styles. When cut short, the flat top helps to tame your afro mane and give your look a dapper and classy touch. For added boldness, pair the flats with fades. The high fade will work just fine.
Short Pompadour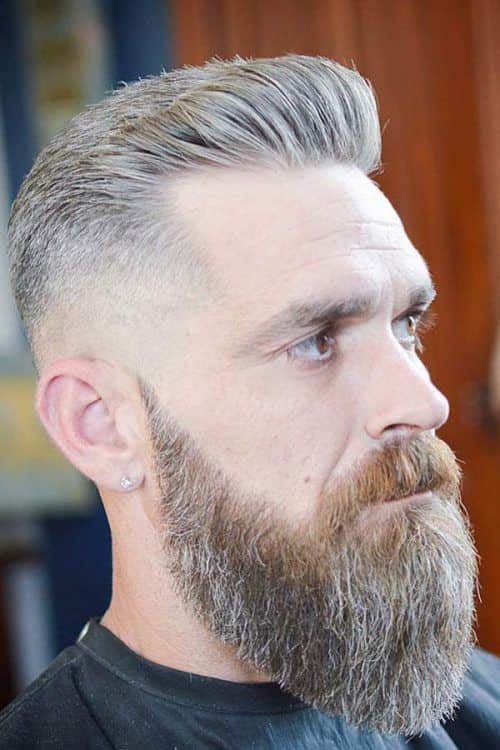 Source: @ninothenice via Instagram
Who said that the pompadour haircut should necessarily feature a full mane of hair? It can actually be cut quite short without losing its original vintage flair. The pomp belongs to the hair styles men with an exquisite sense of style choose. In short length, it looks less intense and shows off your attractive facial features better.
Wavy Slight Side Part Style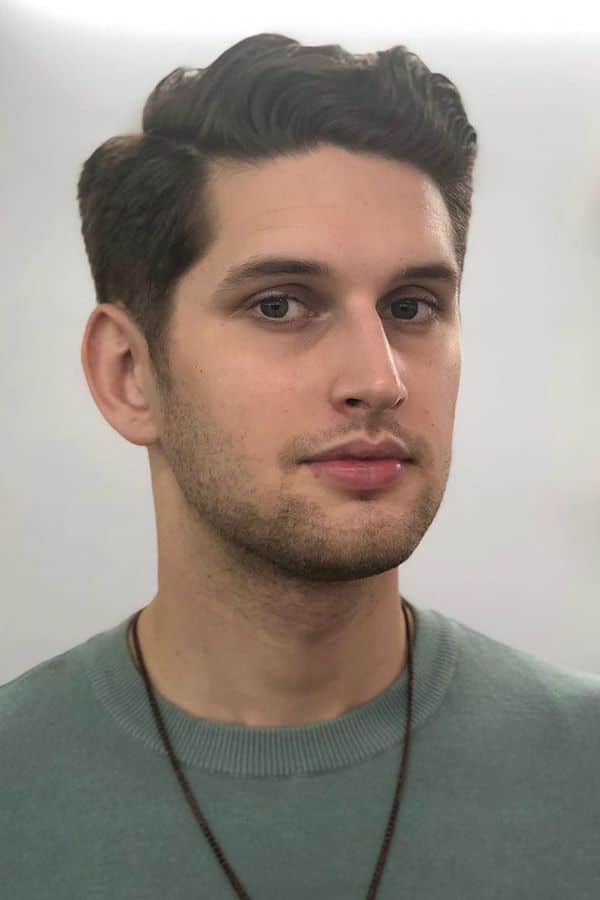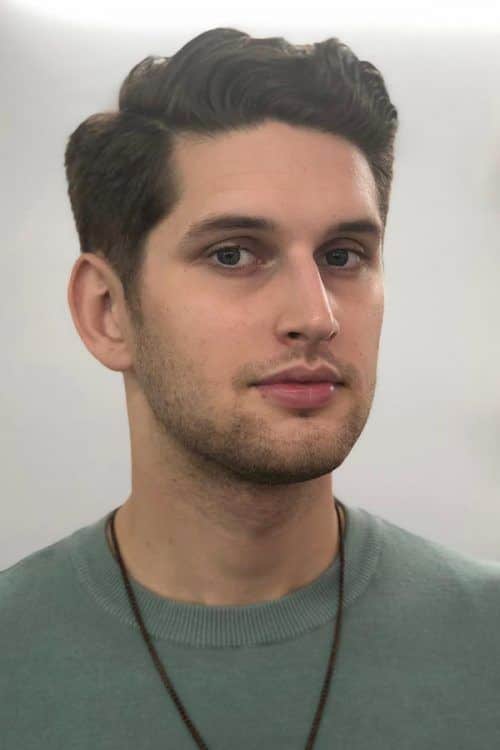 Source: @hairraribarber via Instagram
If you enjoy the process of styling your hair itself, then you should opt for short hairstyles with a side part and wavy top. This is not a particularly short hairstyle, as you need to have some material to work with. For styling, use a bit of a styling product to give your locks on top the desired shape.
Spiky Top With High Fade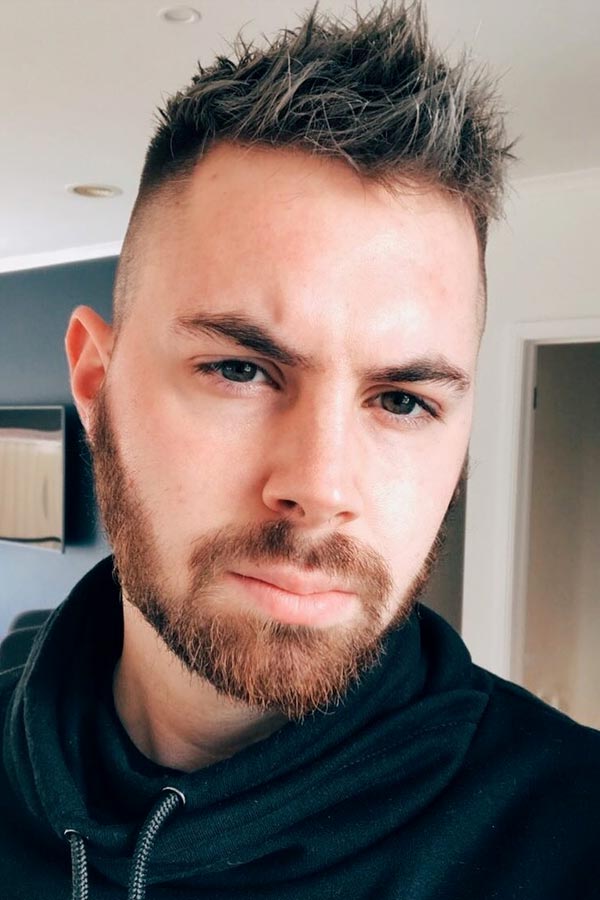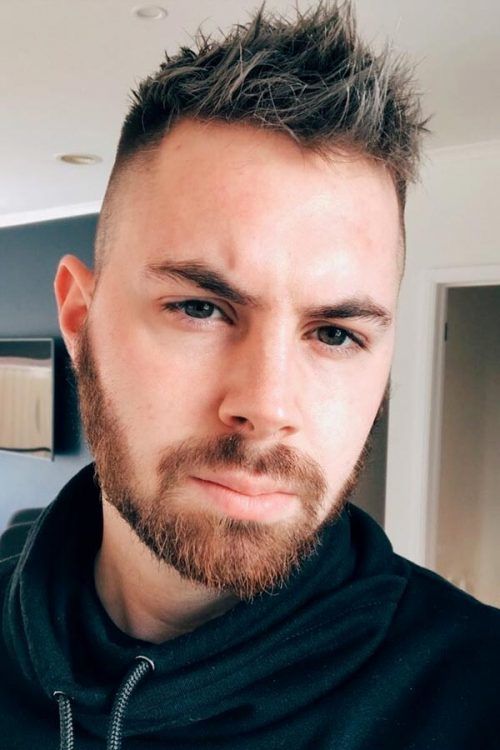 Source: @bradcanning via Instagram
Want a really eye-catching look? Team a couple of trendy hairstyles in one to achieve the ultimate contrast and edge. Get the high fade on the sides to shift the focus to the hair on the top of your head. As for the latter, spike it up with a drop of hair gel for a crispy touch.
Caesar Haircut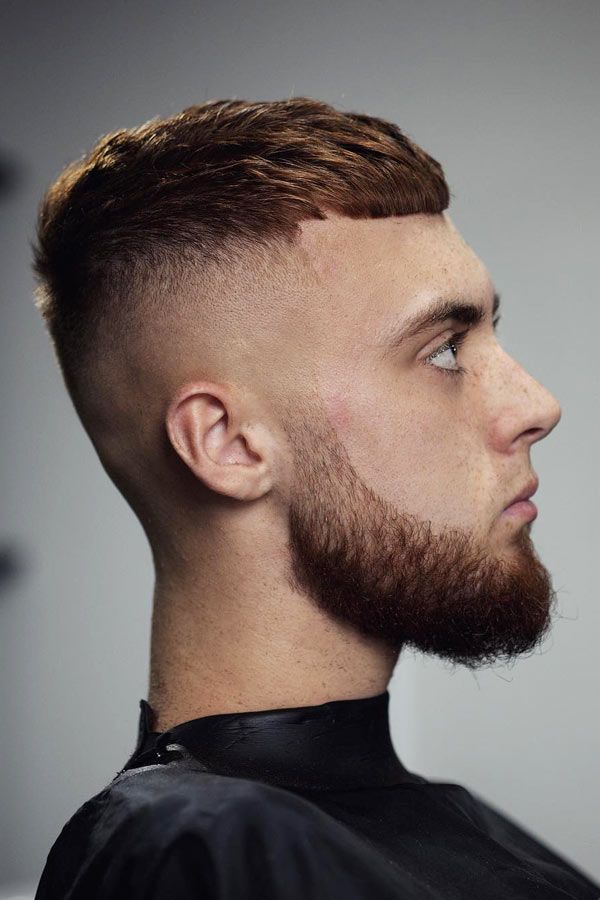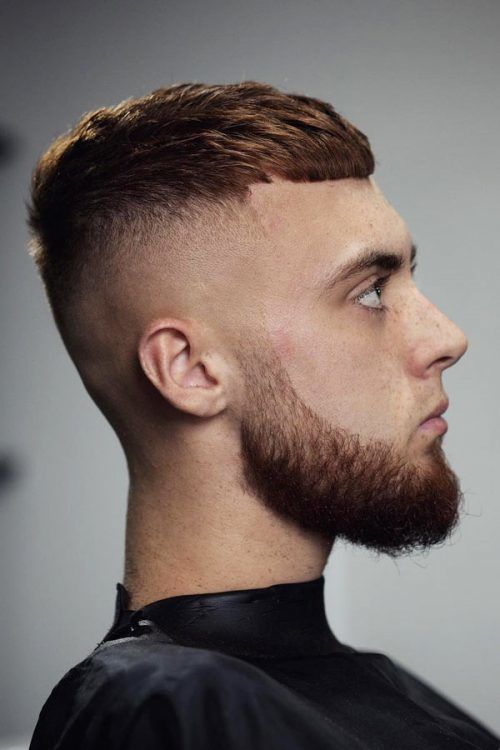 Source: @ryancullenhair via Instagram
A classic Caesar haircut is always a good idea to go for. You can make it bolder by emphasizing the textured hair atop with a high skin fade. So little hair on the sides and back makes the top a focal point of the whole look, so do your best to make it look eye gluing.
Buzz Cut With Faded Sides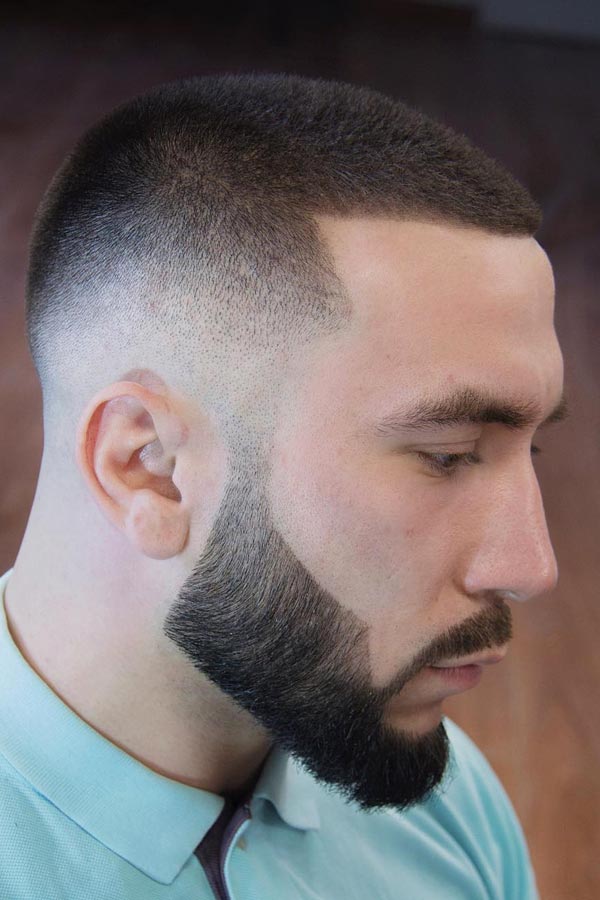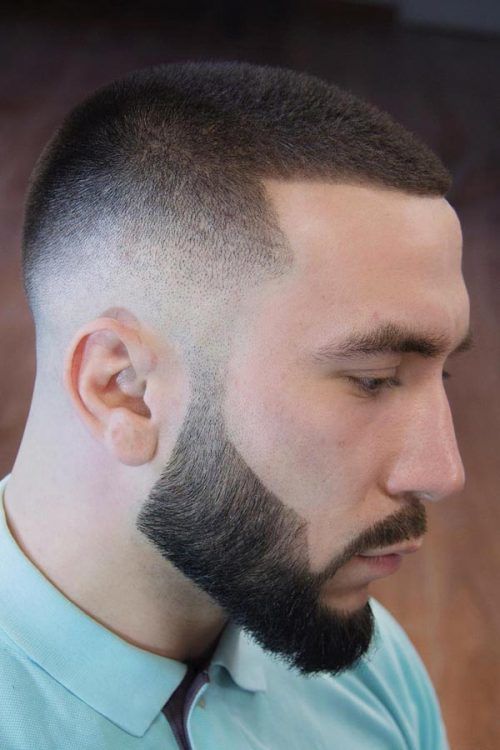 Source: @meha_barber via Instagram
Even if you choose such a short hairstyle as a buzz cut, it doesn't mean you can't complement it with a fade. No matter how much hair you leave on top, different types of skin fades work wonders for all short hairstyles for men. Add here a perfectly outlined beard, and you will guaranteed be in the spotlight.
Textured French Сrop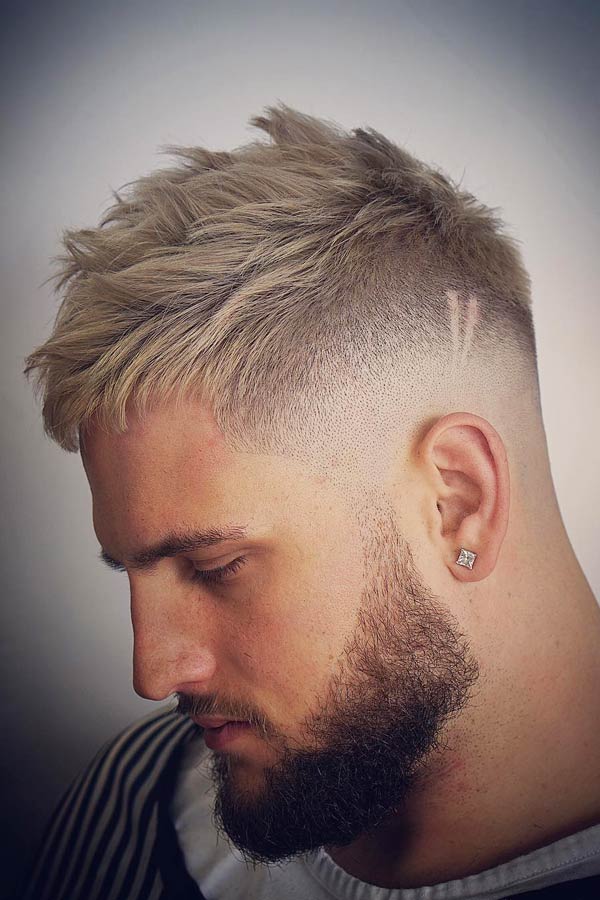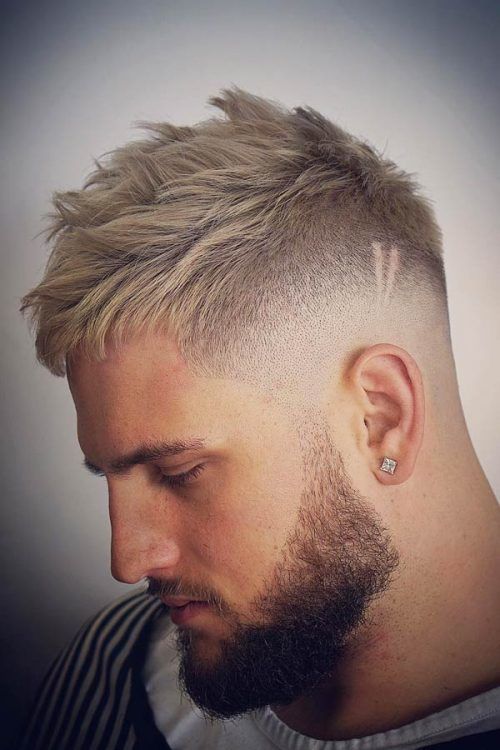 Source: @mikes_custom_kuts via Instagram
Although a French crop is sometimes considered quite a plain hairstyle, with proper styling, it can be transformed into the look that follows the latest fashion trends. First, you want to make the top hair textured using a generous amount of a hair styling product. Then, you will get the sides faded. And finally, you will complement it with small yet tasteful hair design.
Mohawk Style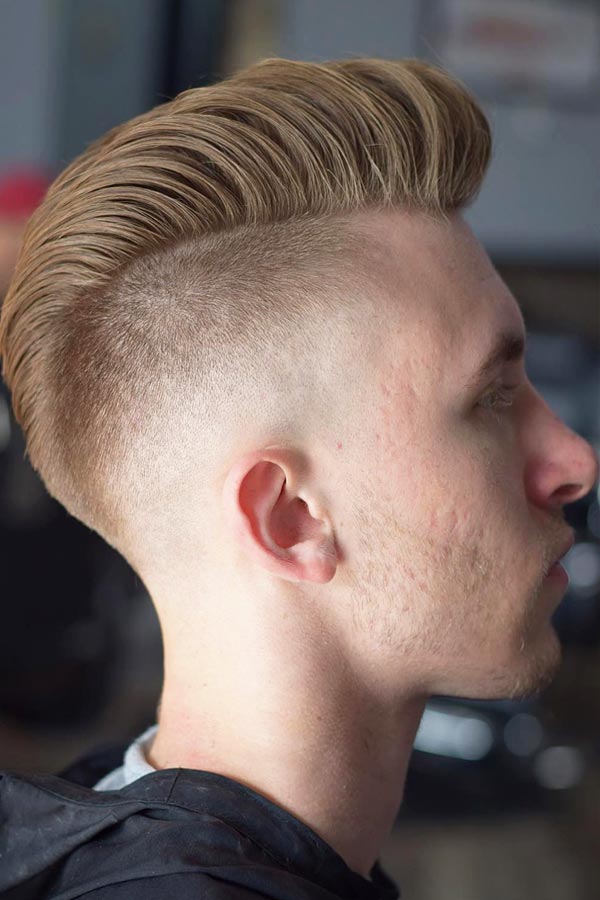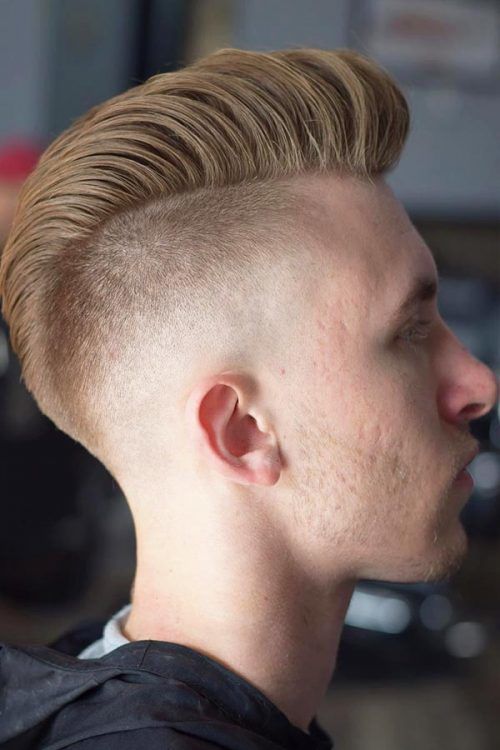 Source: @mikes_custom_kuts via Instagram
It has been proved that a modern take on a classic mohawk hairstyle is no longer unkempt and rugged. Instead, it can look quite sleek and dapper. To achieve this, you need to leave quite a wide strip of hair on the top while having the sides trimmed. Brush your crest back helping to mold a perfect shape with your hand covered in a hair styling product.
Quiff Straight Hairstyle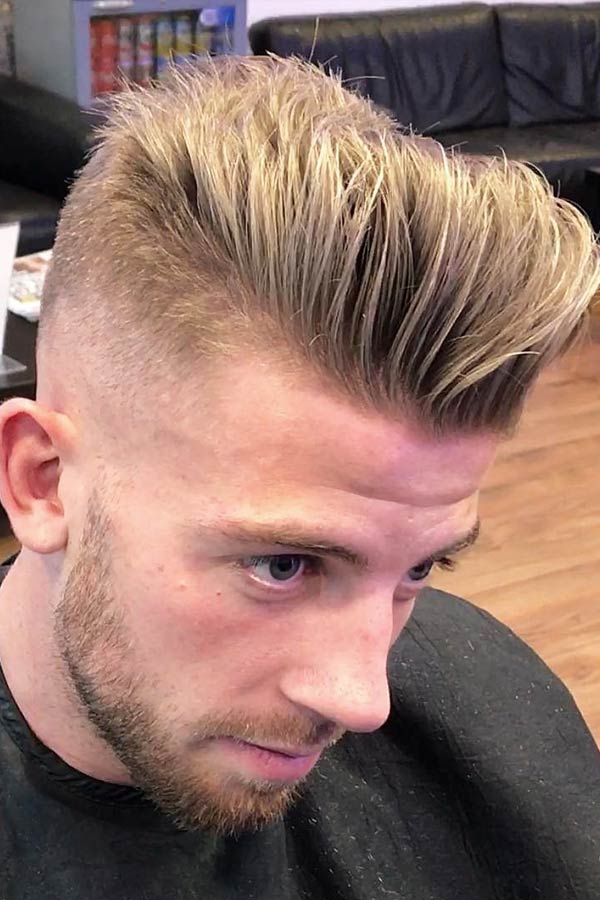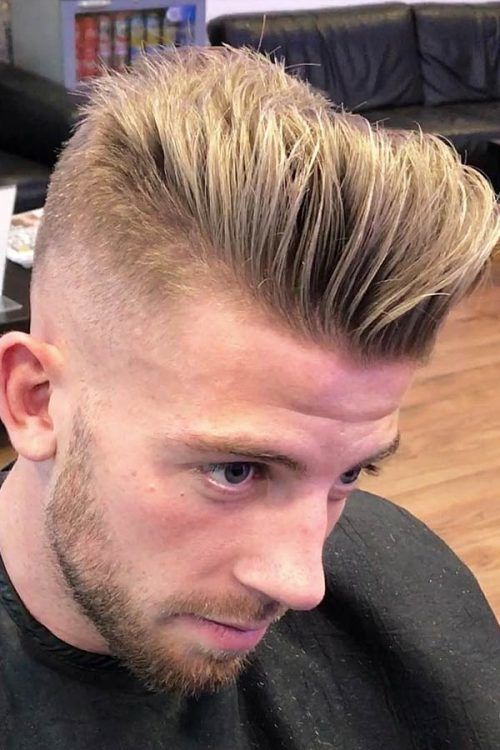 Source: @egobarbers via Instagram
Do you associate a quiff with something boring and preppy? Gone those days when it was like that. Now quiff hairstyles seem trendy and bold. To get one of these looks, you need to have a skin fade on the sides and back while the locks on top should be brushed up.
Brushed Back Short Hairstyle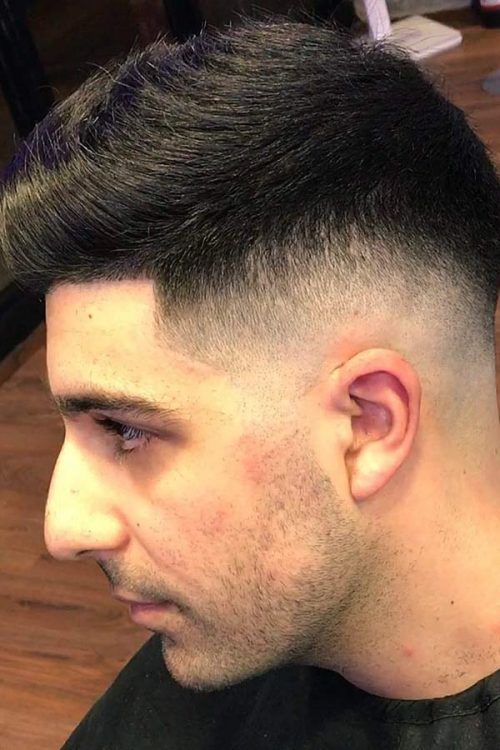 Source: @egobarbers via Instagram
Aiming for elegance and neatness? Brush all the hair on the top of the head back and secure it with strong hold hairspray. To bring a sharp twist to this look, complement it with a taper fade on the sides and back while outlining the hairline with an angled line up.
Long Bangs And Hard Part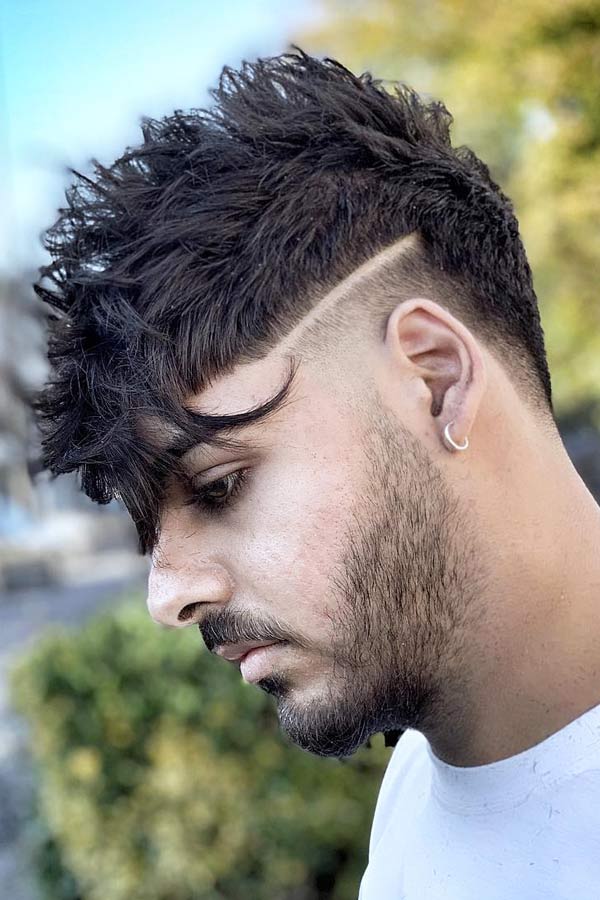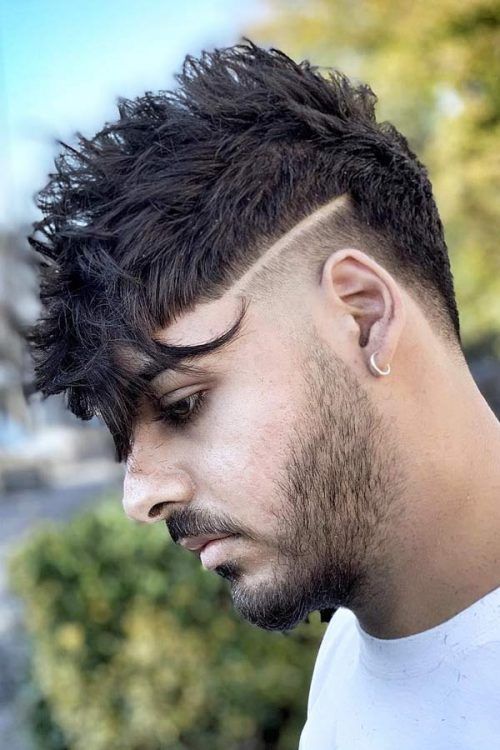 Source: @egobarbers via Instagram
If you have long bangs and want to leave them like that, you are welcome to do so. However, you want to bring a trendy touch to your hairstyle too, don't you? To achieve it, add a hard part to your cut, which also delivers some precision and dimension to the look. Notably, it should not necessarily go where your natural side part is. It's totally up to you where you want to it to go.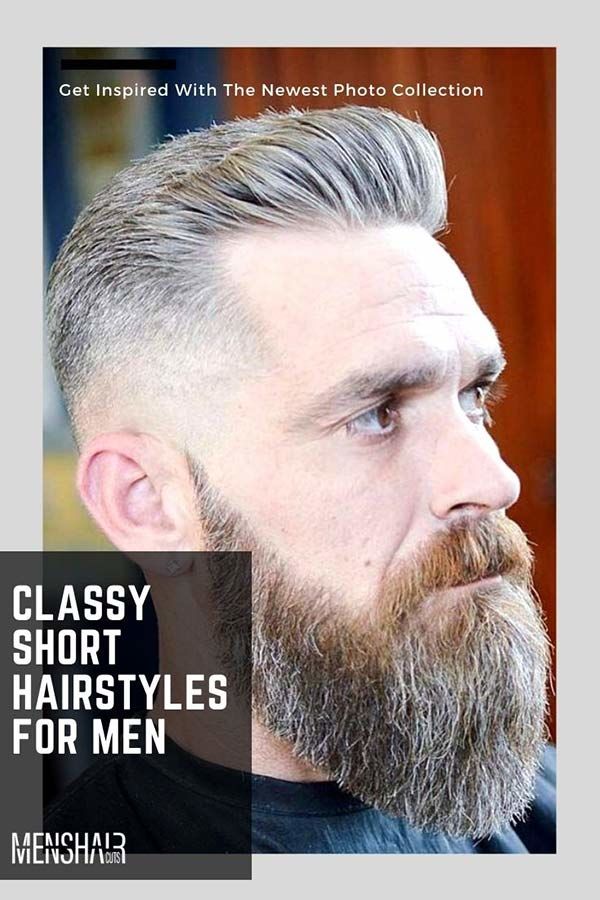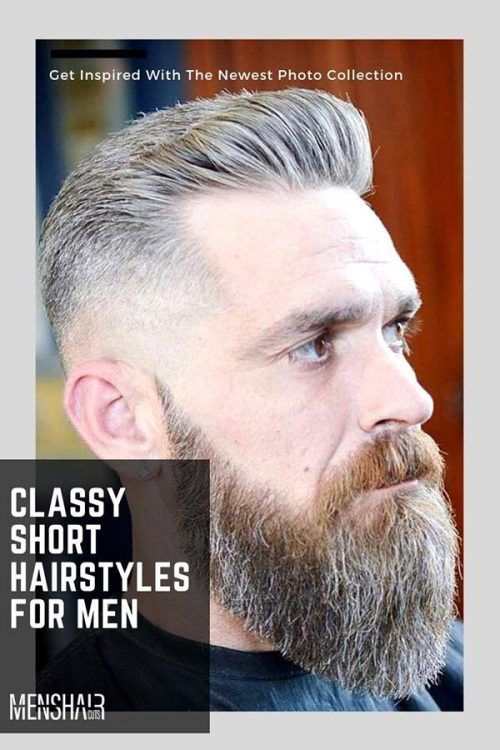 Congrats for making it to the end and joining us at the finish line! Though, if you haven't still taken off to the nearest barbershop to get one of these stylish and handy short hairstyles we suggest, what are you waiting for? We sincerely hope to see you with a new fresh haircut soon.