Let Your Hair Live Its Best Life With The Newest Mens Hairstyles
There are so many mens hairstyles out there that sometimes the choice of the new cut becomes a really daunting task. If this is your case, then you need some really trusty source that will keep you updated on the latest mens hair trends. You want your hair to look its best and fit any occasion, right? In our guide, we have put together the best hairstyles for men that will match any taste and preferences. Be sure to arrange a meeting with your barber, as after finishing it, you'll surely want a fresh cut.
Quiff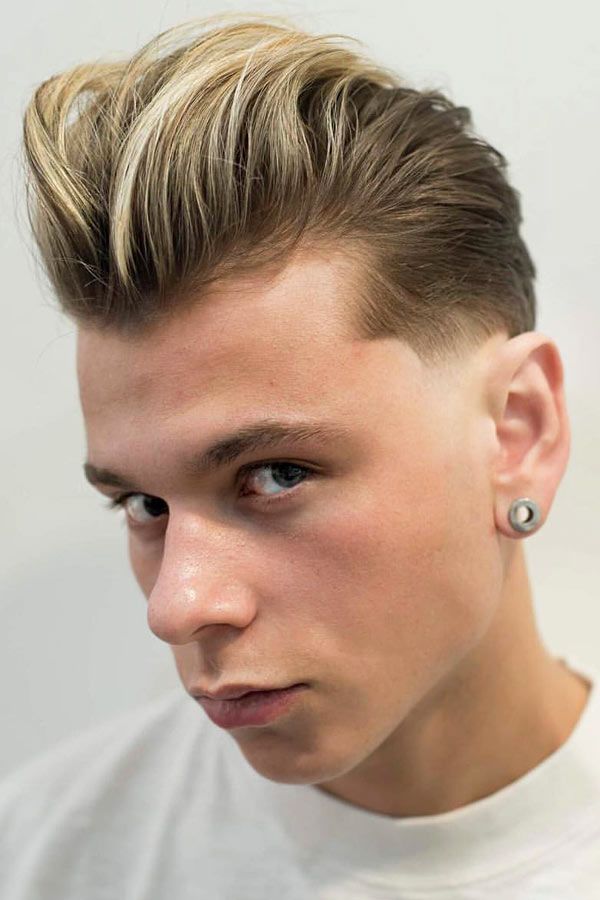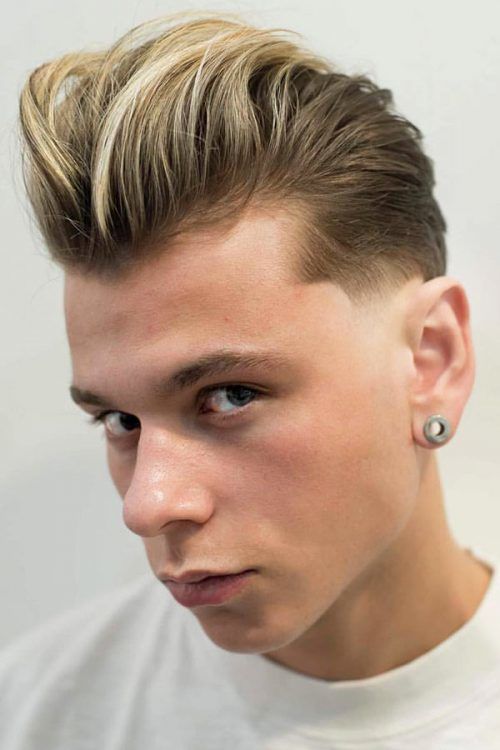 Source: @hayden_cassidy via Instagram
A quiff haircut has been on a roll for so long that we barely remember where it all began. It's not a low maintenance haircut, and a newbie is hardly able to pull it off. However, all the time and effort won't be vain, as the quiff hairstyle fully pays off. There's no need to grow your hair long to get a cool quaff hairstyle. Three-inch length hair at the front of the head is more than enough. To style it, simply apply a hair product, brush the quiff back and finish up with a blow dryer.

Slicked Back Hair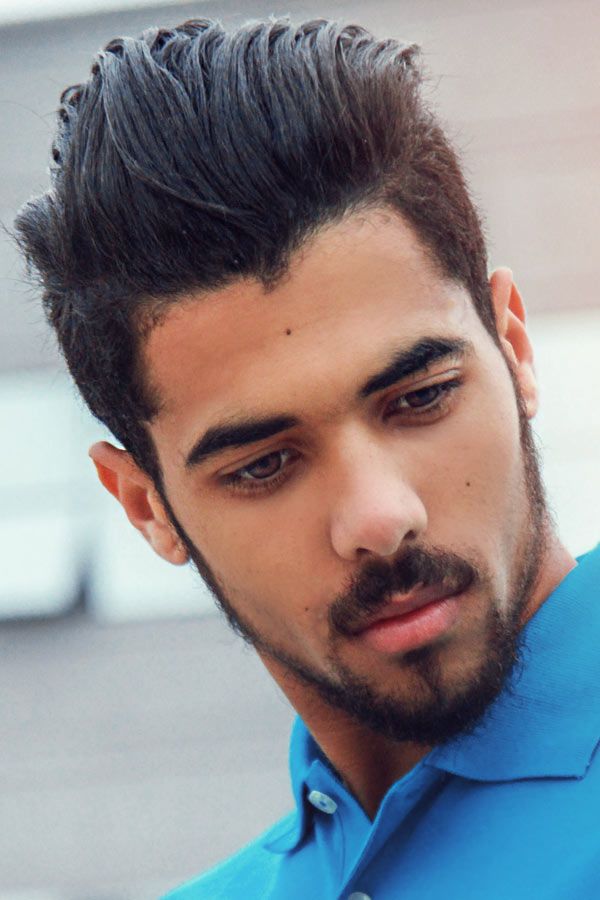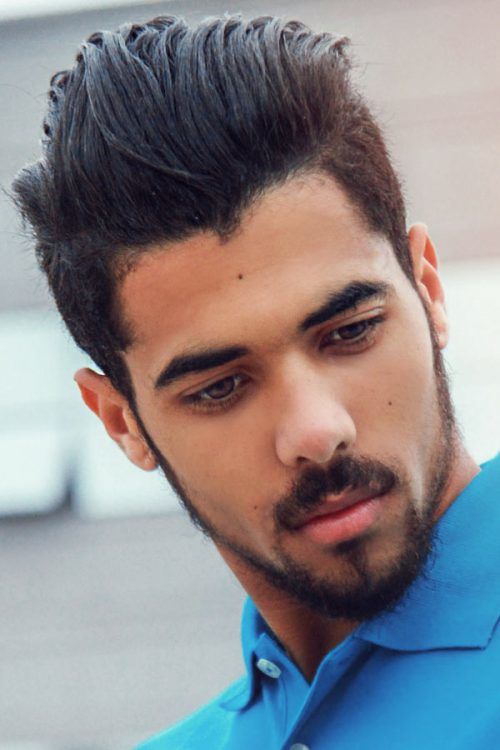 Slick back hair will arguably never go out of fashion. To give a modern touch to this timeless hairstyle, enhance it with one of the trendy short mens hairstyles on the sides, such as a fade or taper. Besides, the contemporary version of a slicked backed hair style is more textured and matte, which can be achieved with a generous amount of such hair styling products as cream or clay.

Side Part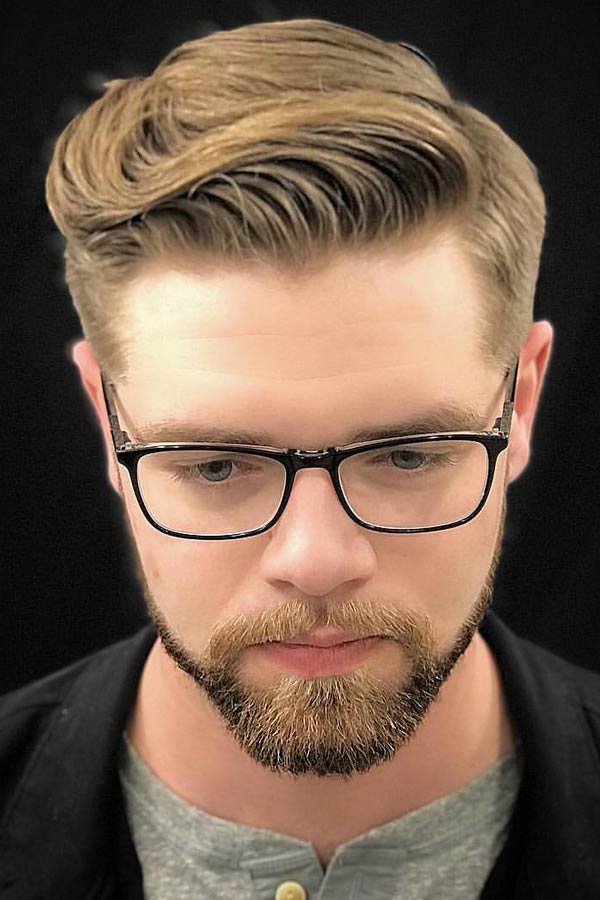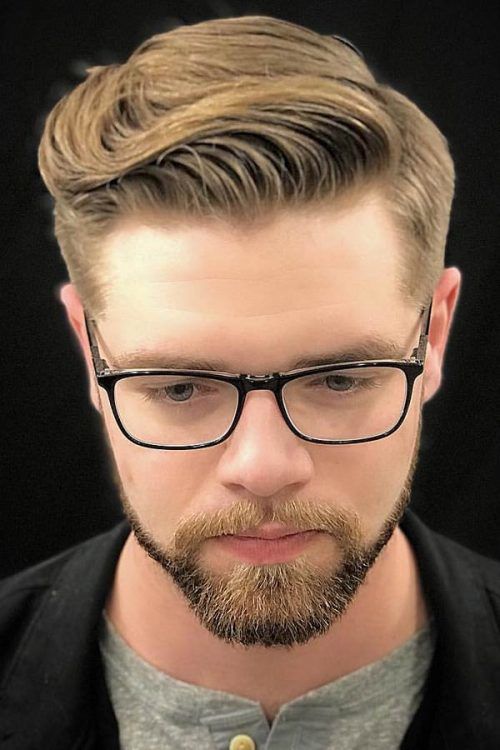 Source: @shrunknheads via Instagram
Another option for gents who prefer elegant and professional look is a side part haircut. Although it looks sophisticated, it doesn't require much effort. First, you need to cut your hair in one of the traditional short hairstyles for men. Then, apply some hair product and using a comb, divide your hair into two sections at the point where your hairline bends. Comb the top hair section in the opposite to the side part direction while the hair on the other side should be combed down.

Messy Top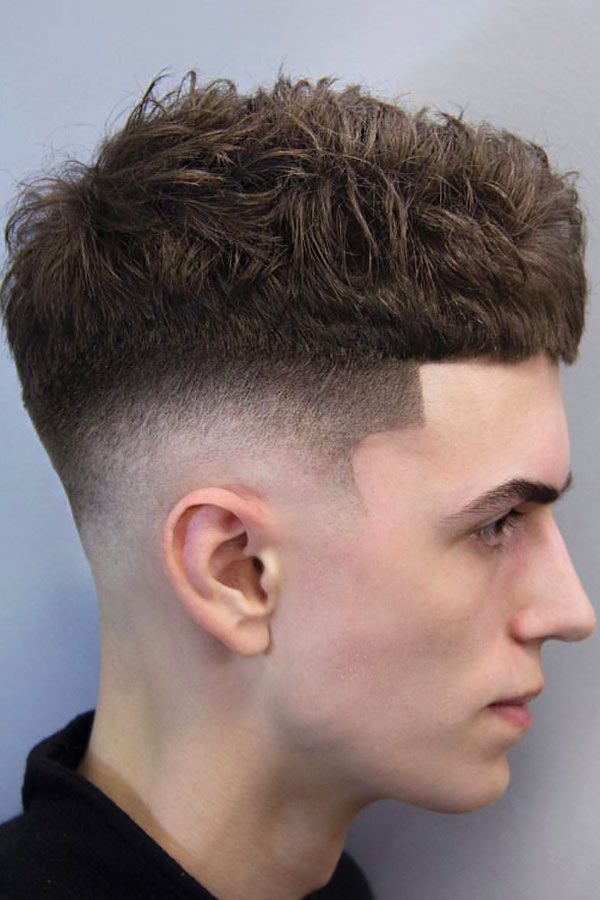 Source: @meha_barber via Instagram
Messy hair men styles are on top right now for good reason. They look careless and relaxed, thus making you instantly more attractive. Besides, messy mens hair styles are extremely versatile, as they suit any hair texture and length. There are also many ways of how you can achieve a messy look, as it fully depends on your initial haircut and desirable look. Don't forget to stock up on a hair product too. Even though messy hairstyles look effortless, they do require a bit of styling.
Pompadour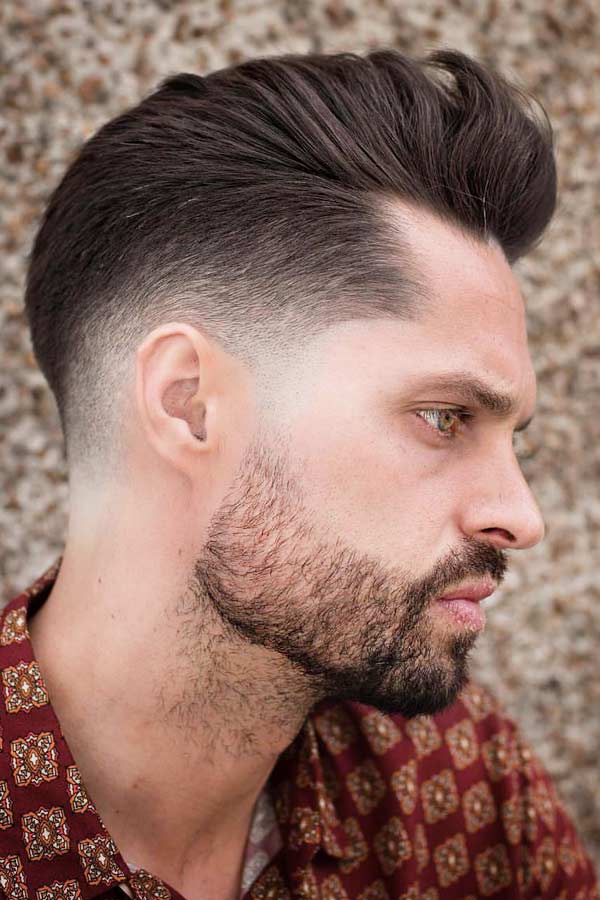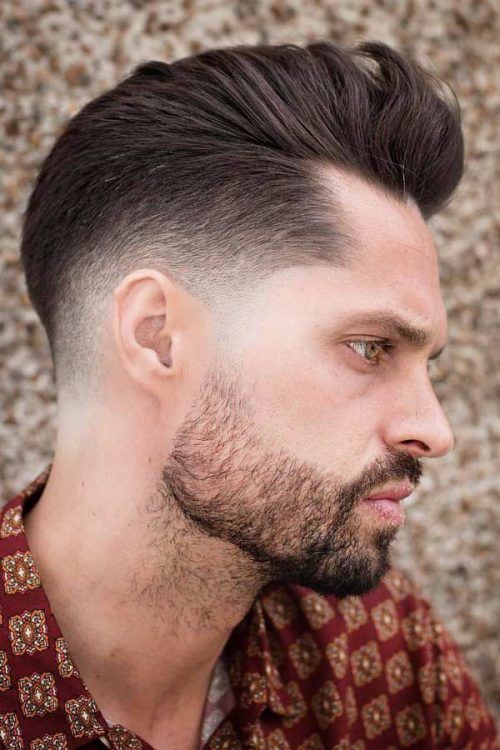 Source: @hayden_cassidy via Instagram
One more staple of classic mens hairstyles that made a huge comeback to stay. Of course, a modern pompadour hairstyle a bit differs from its original version, as it's been upgraded to keep in pace with modern trends. Today, a pompadour haircut can incorporate fades, tapers and undercuts on the sides, which makes it even bolder and more awe-inspiring.

Spiked Hair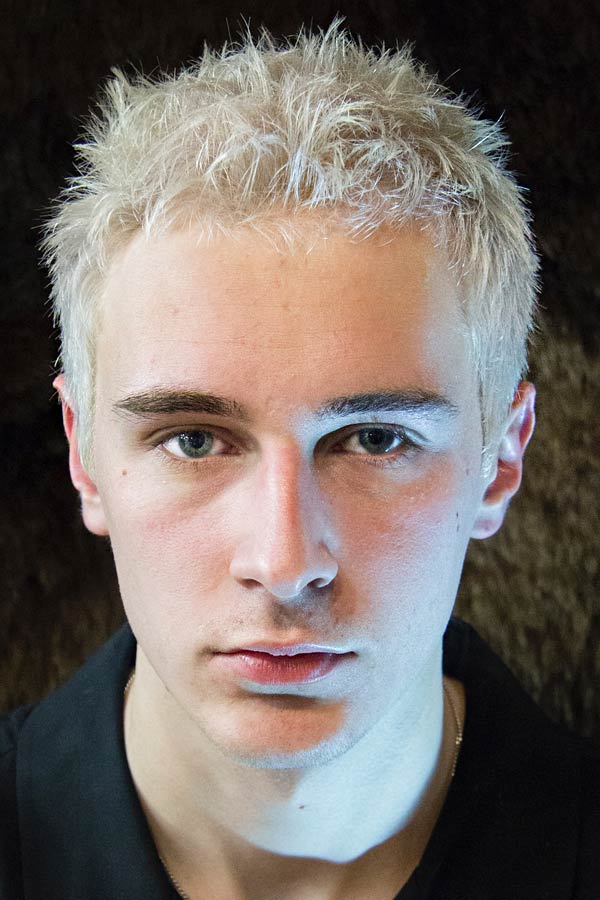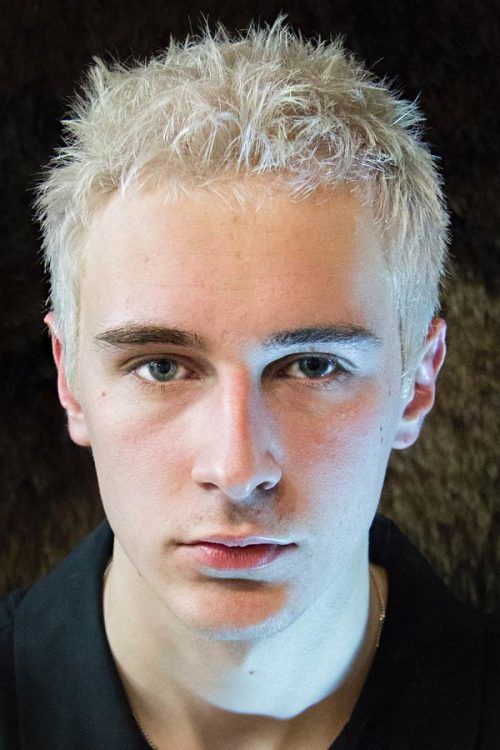 Source: @meha_barber via Instagram
Spiky hair has much in common with mens messy hairstyles. Though, the former is a bit more textured and defined. For this men hairstyle, your mane should not necessarily have a particular cut, as basically any will do provided it's longer on top and shorter on the sides. To get the look, grab a styling product, rub it between your hands and shape the spikes with your fingers.

Curly Hair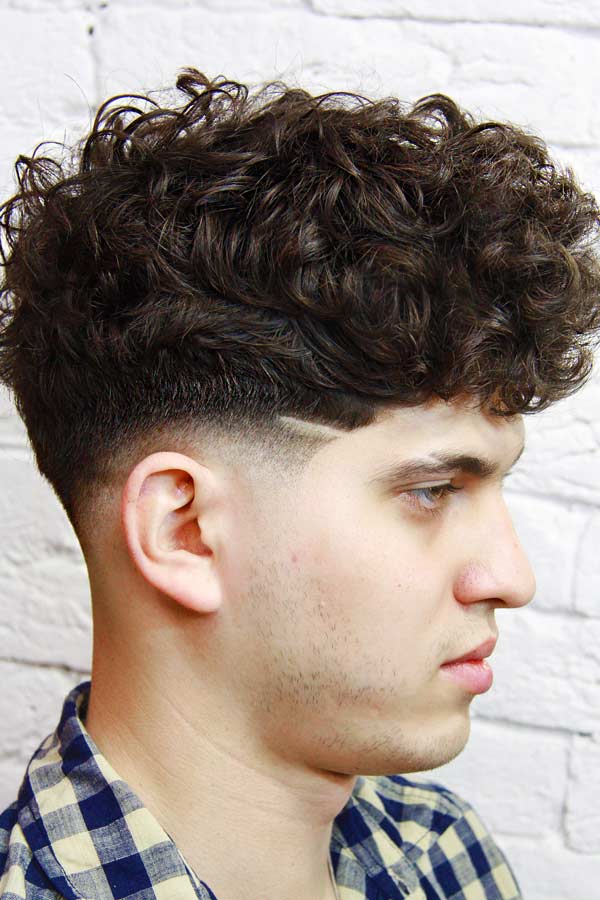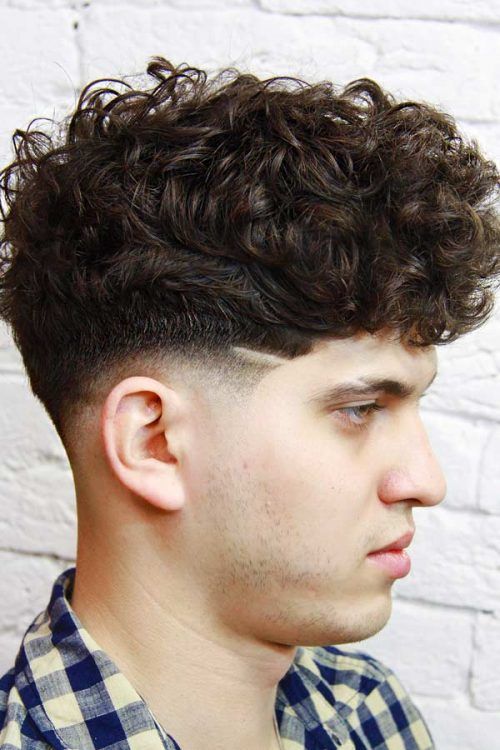 Source: @meha_barber via Instagram
Curly hair men are always considered trendy, as their defined hair texture allows creating many cool hairstyles. Because your wiry hair is often difficult to tame, turn to mens short hairstyles for thick hair, which usually feature tapered, faded or undercut fade to keep the focus on the prominent top.

Medium Length Hair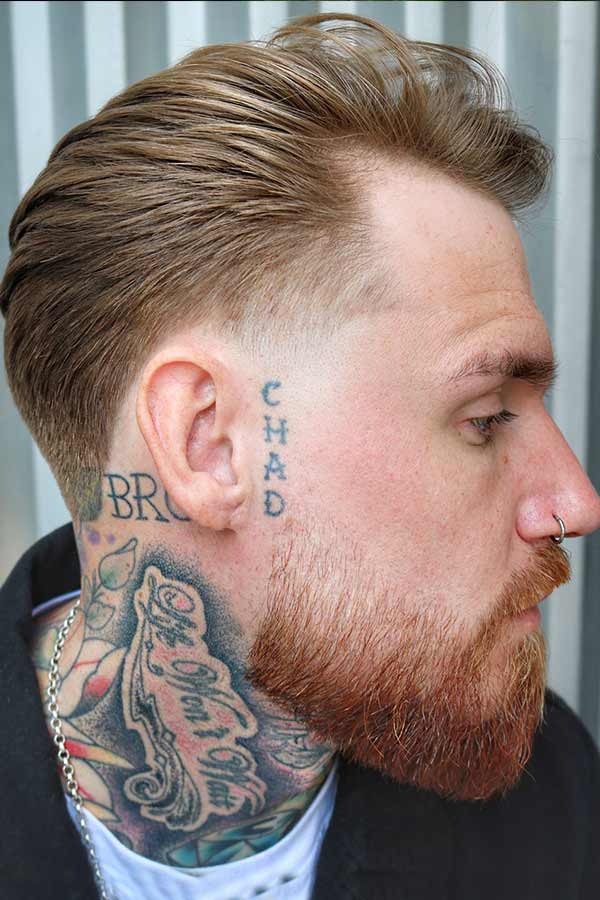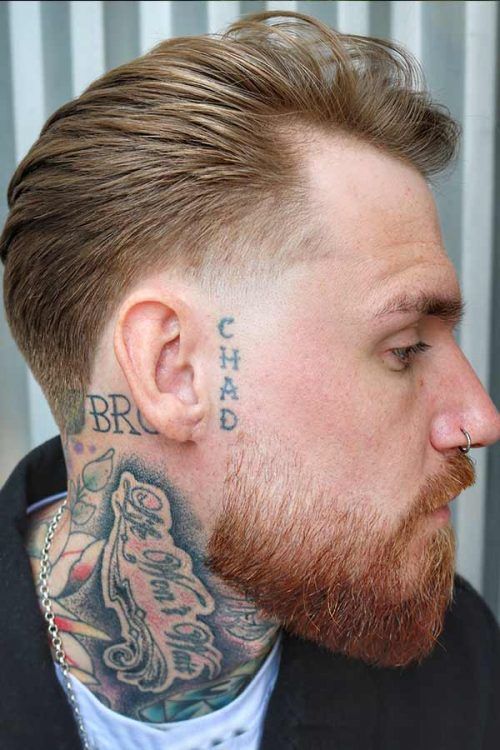 Source: @hayden_cassidy via Instagram
Medium length hair men cuts are popular among guys who lean toward a happy medium. They offer you many styling options, ranging from messy and casual to elegant and elaborate. On top of that, mens medium hairstyles are suitable for all hair types. So, no matter what your hair texture or personal style is, you have all the chances to find a bunch of medium length mens hairstyles that meet all your requirements.

Faux Hawk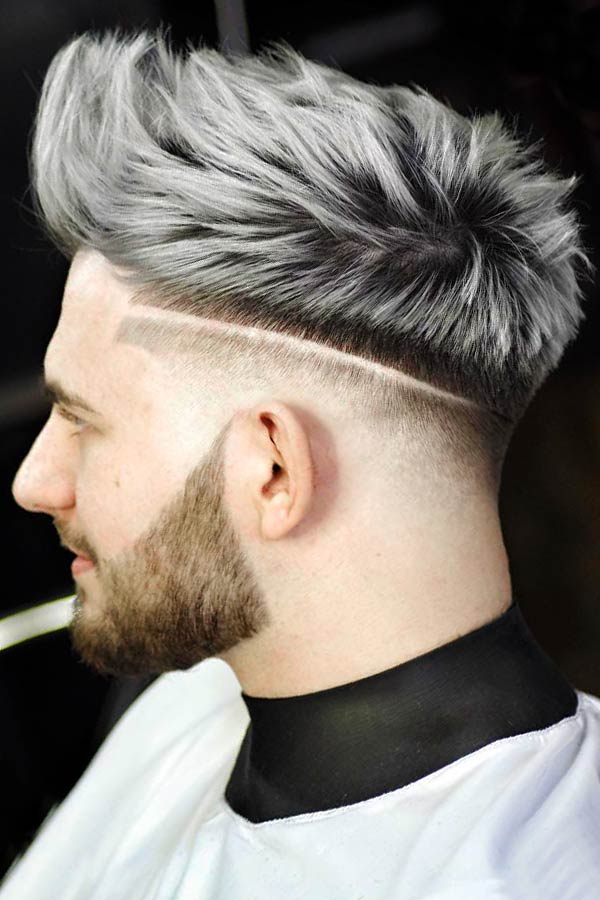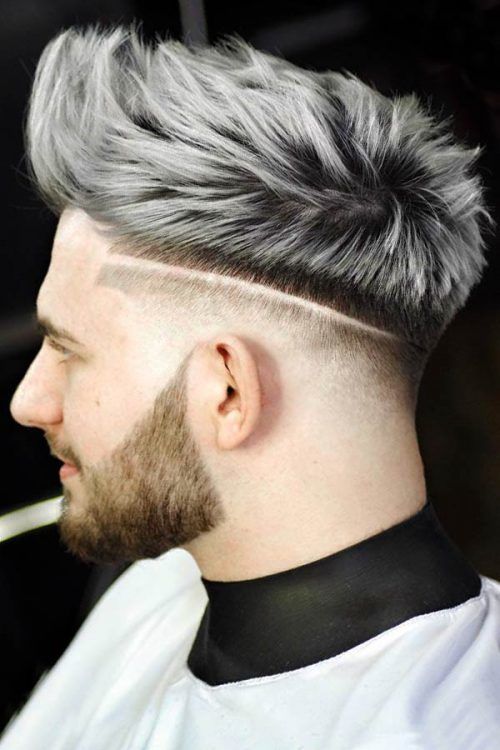 Source: @ryancullenhair via Instagram
A faux hawk is a moderate take on a traditional Mohawk mens hairstyle. It features shortly trimmed sides and a longish top, which is usually pushed up. For added contrast, you are welcome to go for a faux hawk fade or taper, thus transforming your faux Mohawk into one of the trendiest mens undercut hairstyles.

Swept Back Hair And Beard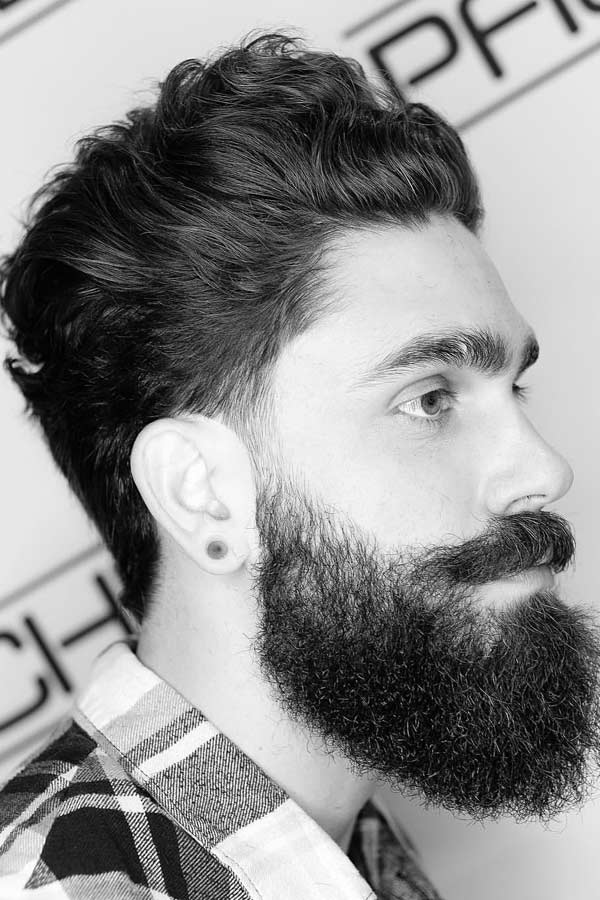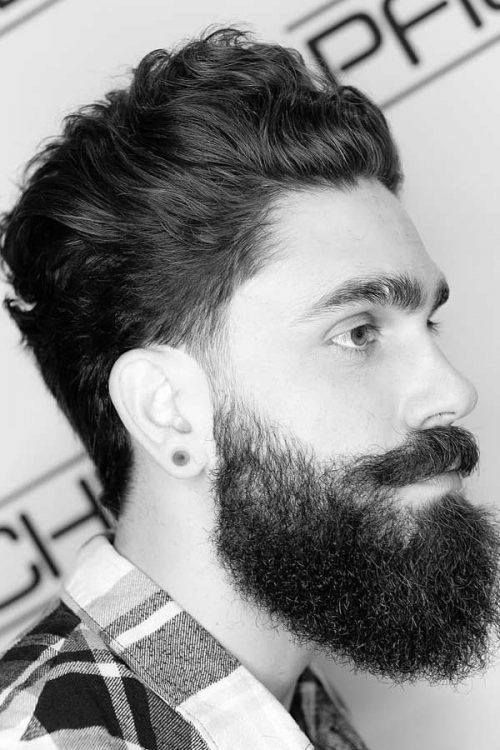 Source: @fernthebarber via Instagram
They say that classic is always in fashion, and we can't agree more. Swept back men's hairstyles look up-to-date no matter what. If you're afraid that you won't be able to pull it off and will end up looking rather old-fashion, team your hairstyle with a coarse beard. Thus, you'll be rocking one of the trendiest mens hairstyles 2019.
Long Fringe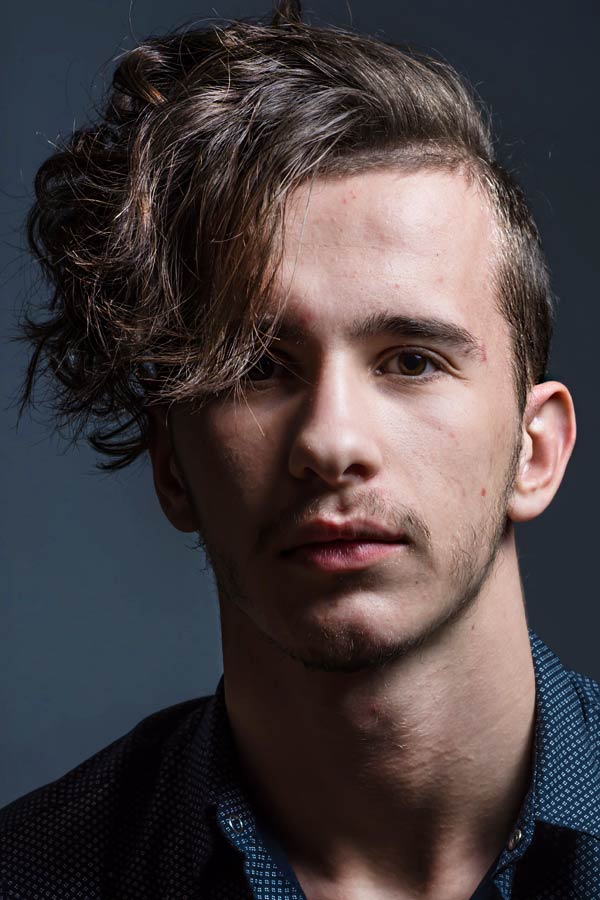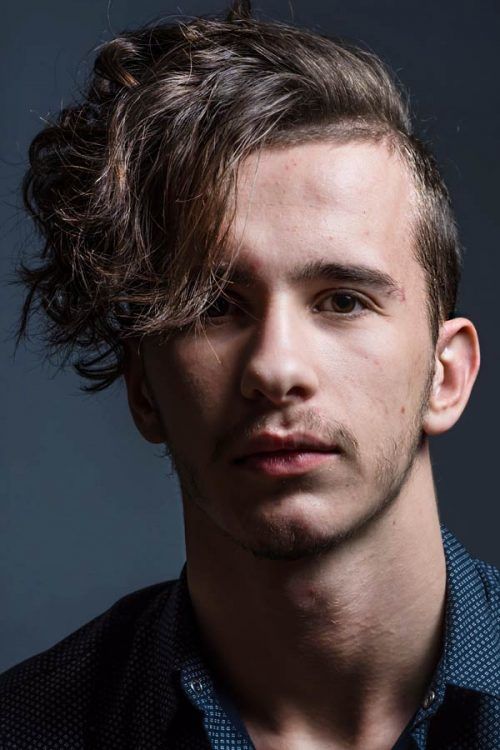 Long mens hairstyles don't always have to be long all the way around. You can leave only a part of your hair longish while cutting the rest short. It's a great solution if you're fed up with your tresses but aren't ready to drastic measures yet or if you want to try whether mens long hairstyles suit you. With a long fringe haircut men get the chance to wear their hair both short and long in one hairstyle.
Man Bun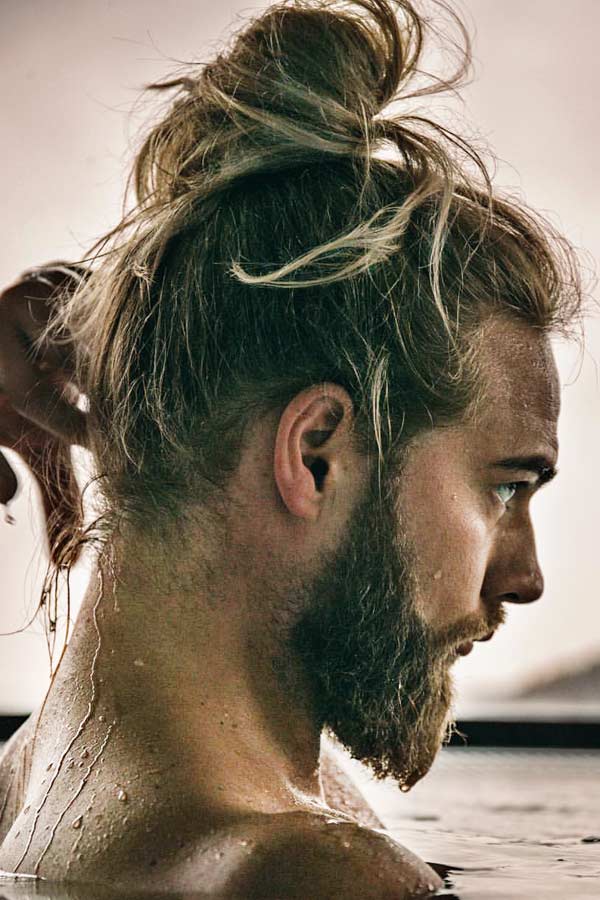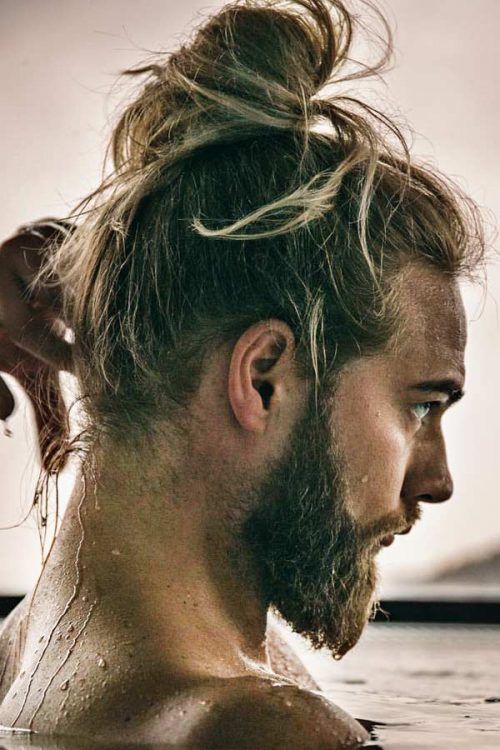 Source: @lasselom via Instagram
Even though a man bun belongs to rather controversial male hairstyles, it doesn't make it less popular or trendy. Many fashion-savvy guys are happy to pull their mens long hairstyles into a bun. It not only takes the hair away from your face but also adds a touch of virility to your whole look, especially when paired with a rough beard.

Flow Hair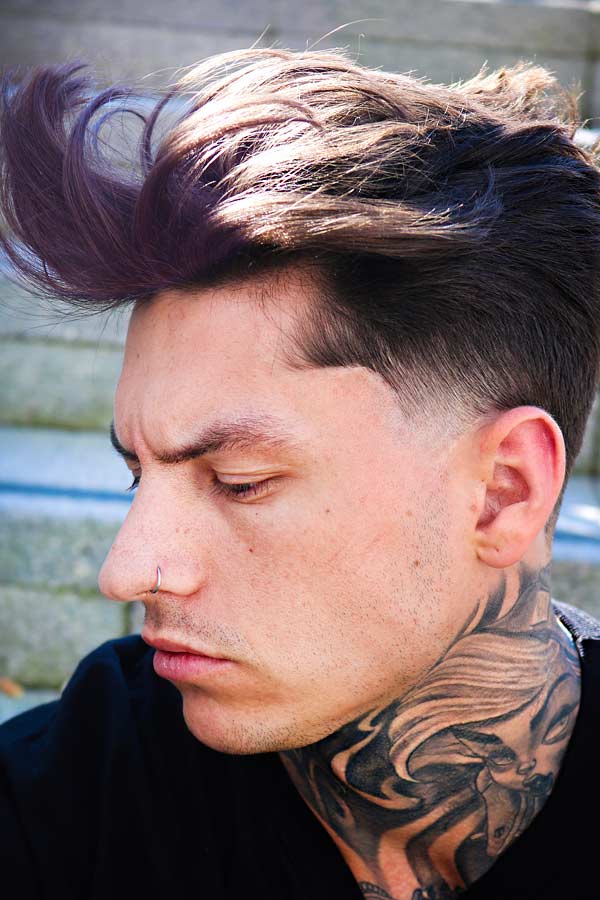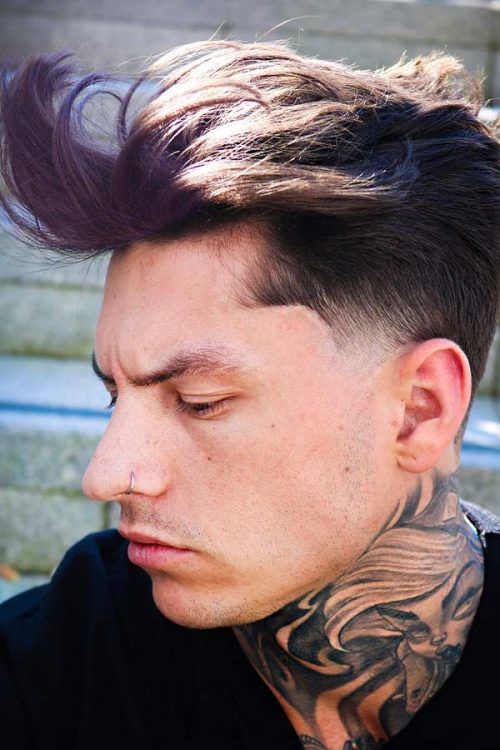 Source: @hayden_cassidy via Instagram
Try out one of the medium length hairstyles for men with an easy-going and free attitude. Such popular mens hairstyles give breezy and relaxed vibes thanks to the flowing effect they create. To achieve this look, you need to apply some mousse to the top of your damp hair and blow dry it with a hairdryer.
Straight Style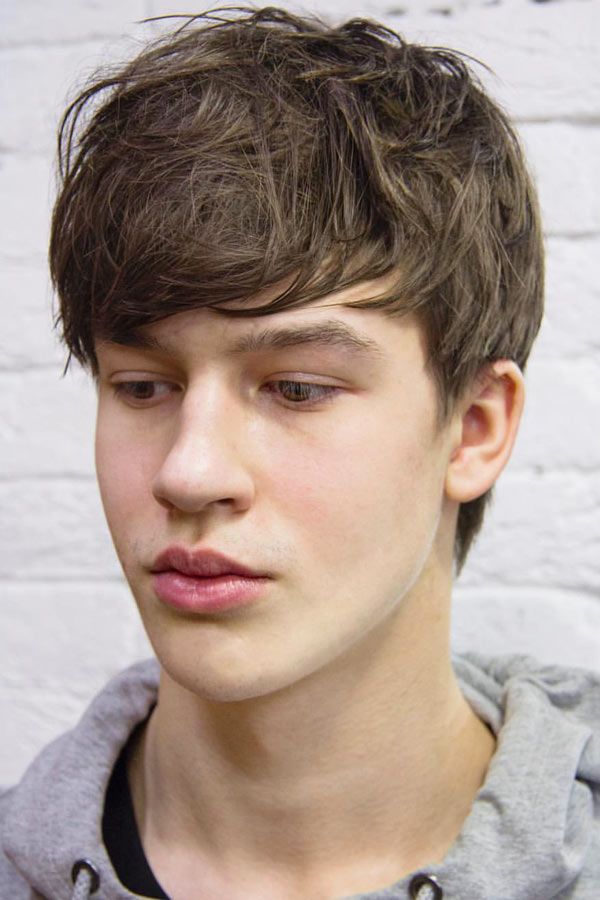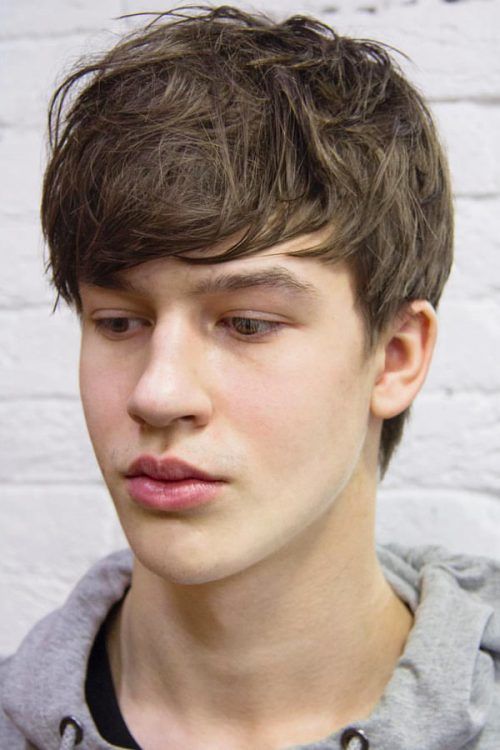 Source: @meha_barber via Instagram
It's a common knowledge that naturalness is always on trend. If you were blessed with straight hair, then there's no excuse for not taking advantage of it. Straight hair almost never looks untidy or scruffy. Besides, it's easily manageable and low maintenance. Finally, it gives you an opportunity to pull off any of the most popular guy hairstyles. Don't miss your chance to look your best!

Surfer Hair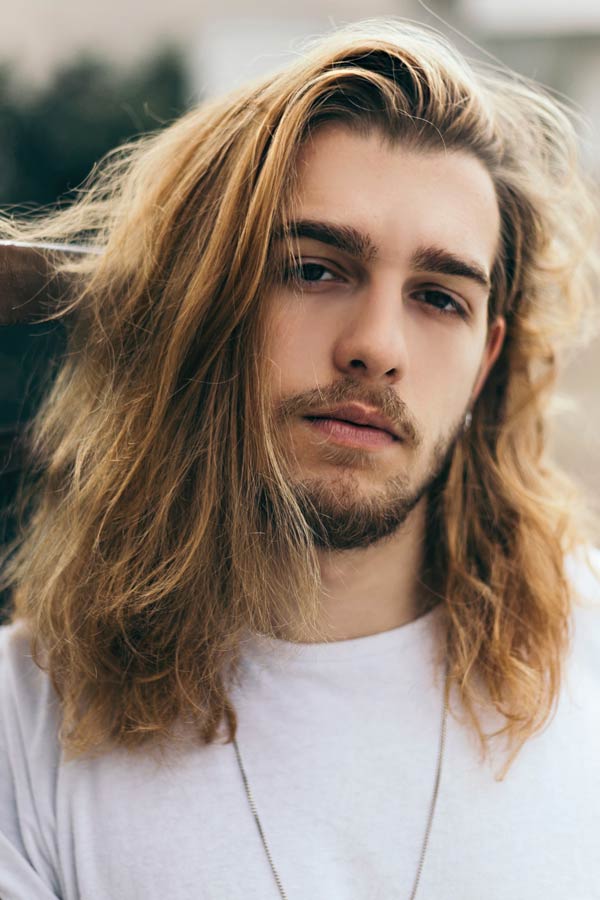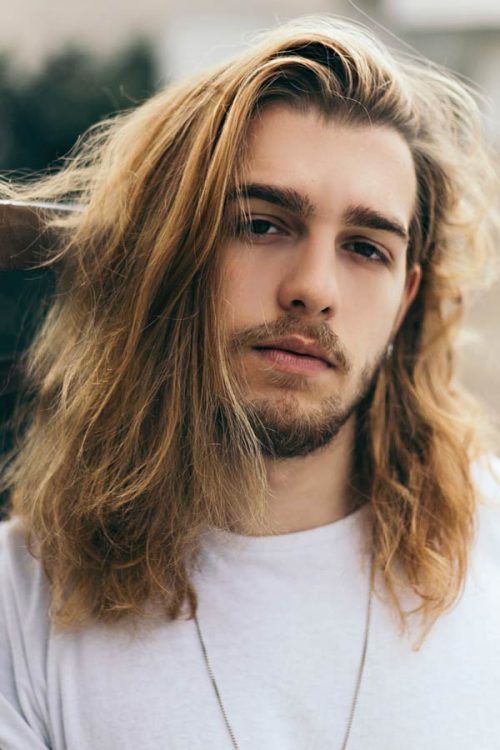 You can hardly imagine any mens hairstyles that would look as effortless and breezy as surfer hair. To pull off the look, there's no need to spend hours on the beach. However, you will need to grow out your hair at least medium length. For styling purposes, you'll need a sea salt hairspray, as it's hard to achieve the desired effect without it. Spritz it all over your locks after washing and towel drying them and leave air dry or use a blower with a special diffuser attachment.

Textured Fringe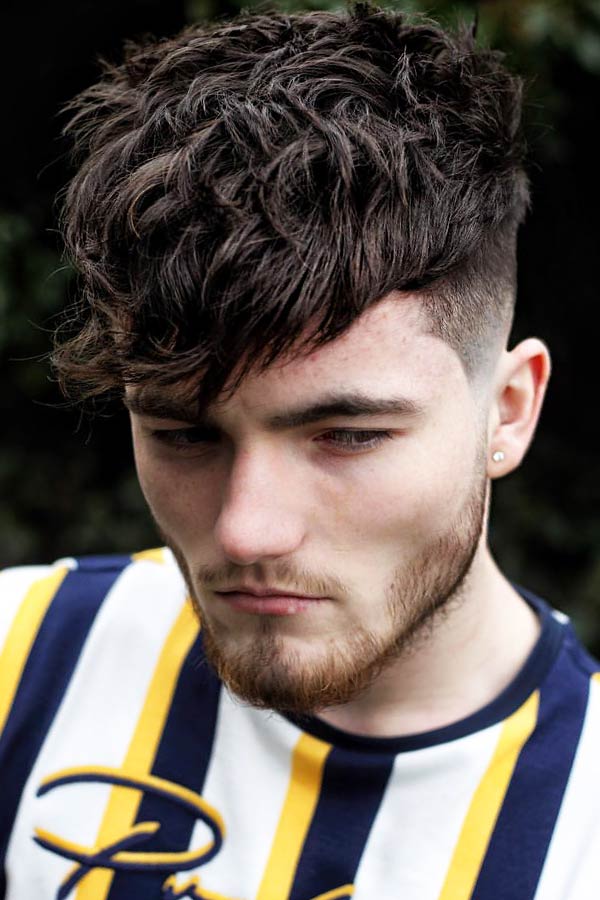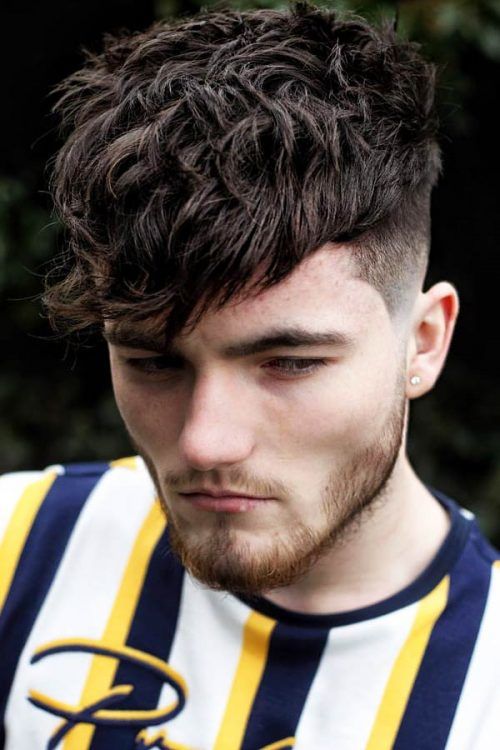 Source: @ryancullenhair via Instagram
A fringe can't be attributed to new hairstyles, as it comes and goes year after year. However these days, a fringe has reemerged, and it doesn't seem to leave soon. Though every time, a fringe brings something new to customary men hairstyles trends. It's no longer slick and glossy. On the contrary, the modern fringe hairstyle is textured, defined and preferably has a matte finish.
360 Waves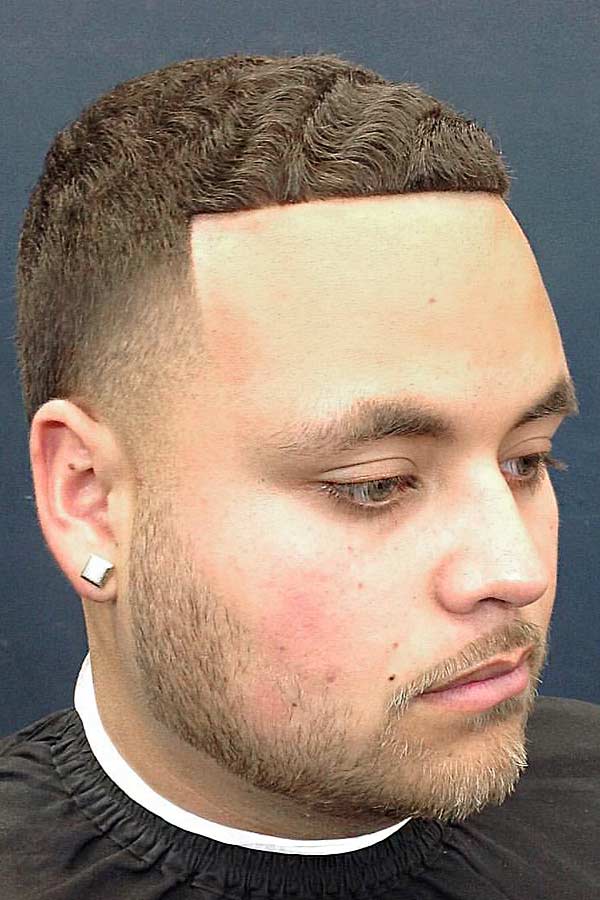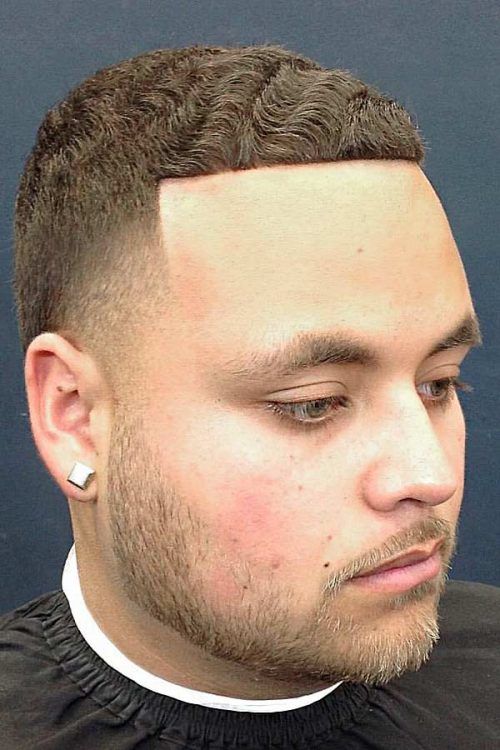 Source: @chadius_maximus via Instagram
Although 360 waves hair style can be pulled off not only on curly locks, it nevertheless belongs to mens curly hairstyles because of its finished look. To achieve this awesome hairstyle, you'll need a couple of special tools, such as a wave-brush and a durag, and a ton of patience and will, as this isn't an easy to get 'do. However, the end result will pay you back a hundredfold.

Braided Hair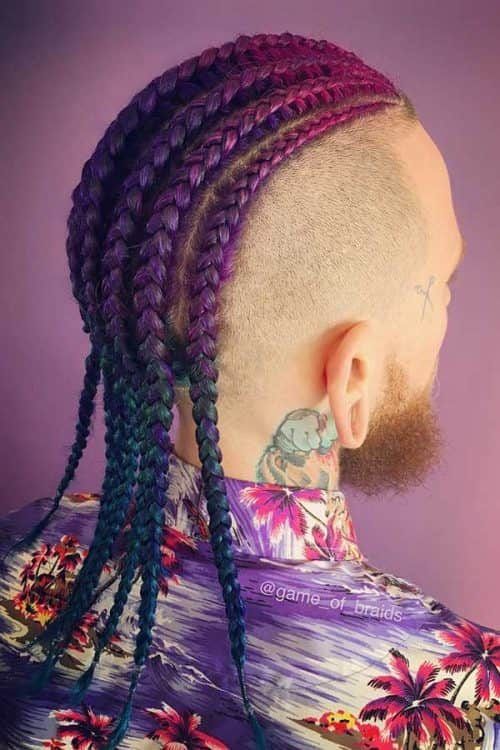 Source: @game_of_braids via Instagram
Man braid hairstyles raise a lot of controversies. Despite that, they remain one of the trendiest hair styles men all over the world opt for. There is a bazillion of ways to have your hair braided, so you'll definitely find a style to your taste. Good news is that your hair shouldn't be that long to plait it, as four-inch locks can be turned into cool cornrows.

Dreadlocks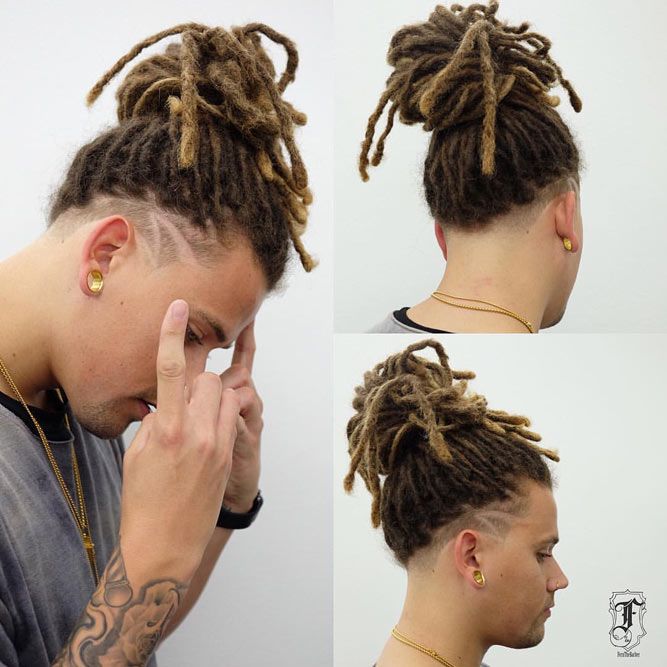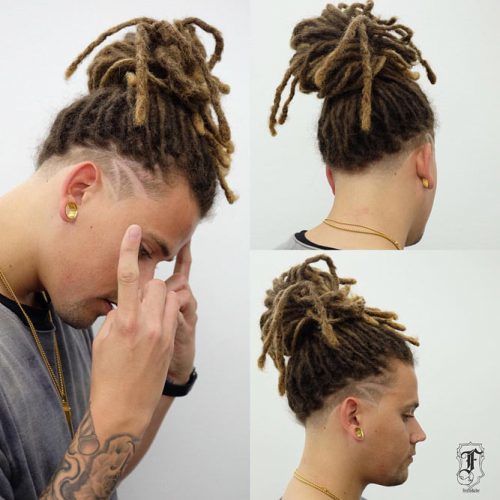 Source: @fernthebarber via Instagram
Dreads are another timeless men's hairstyle that generated many creative variations. Dreadlocks range in length, size and shape. They can be paired with various mens short hairstyles on the sides, such as an undercut or fade. Besides, they can be styled in a bun, ponytail, braid or any other hair styles that come to your mind.

Comb Over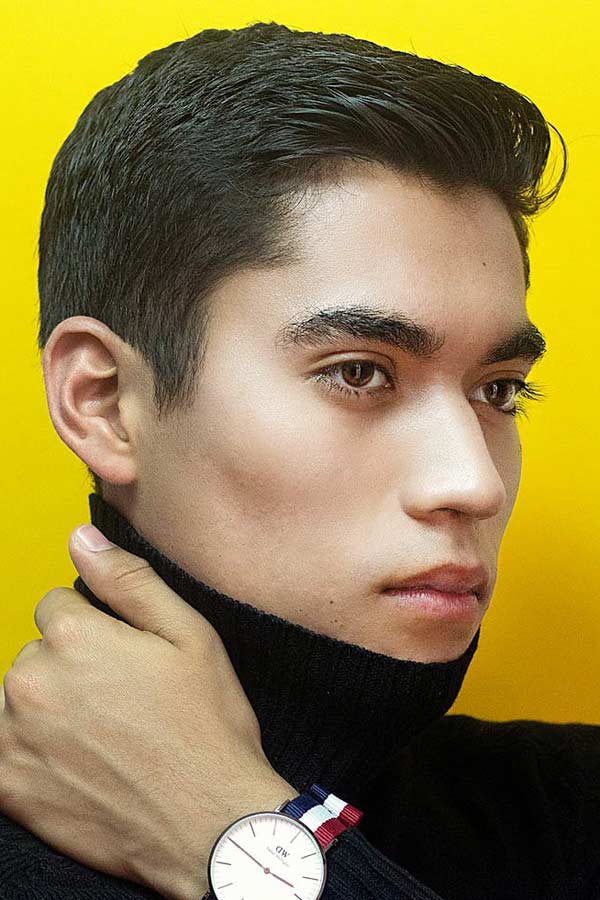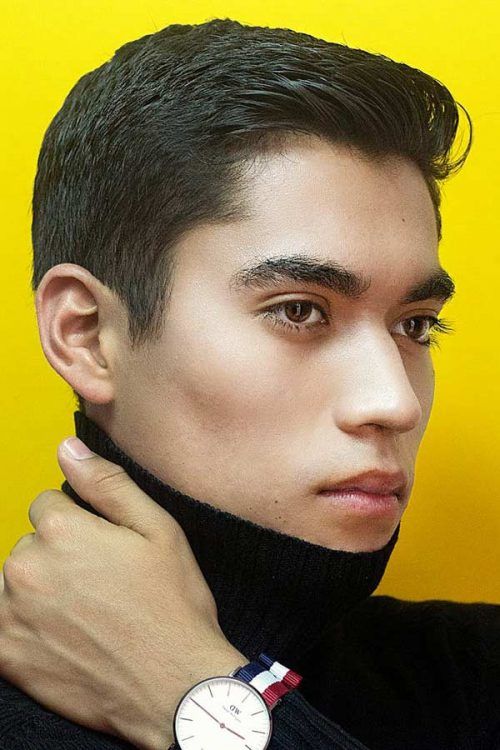 If you're looking for a hairstyle for men with an exquisite taste, here it is. A comb over haircut is ageless. Its stylishness and elegance make it one of the best mens hairstyles of all time. Today, it comes in many different lengths and shapes. It can be enhanced with short hair styles on the sides while keeping the top comparatively long.

Textured Top Taper Fade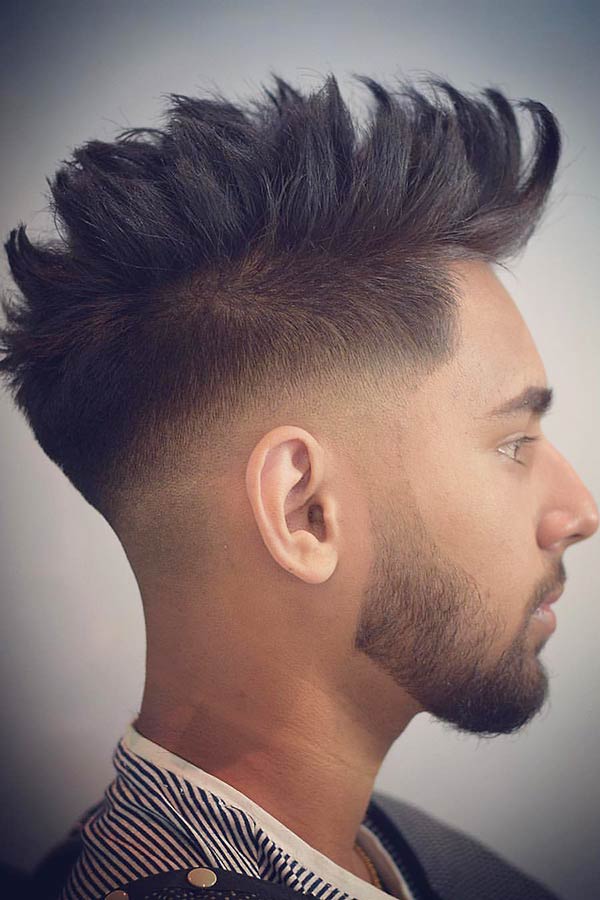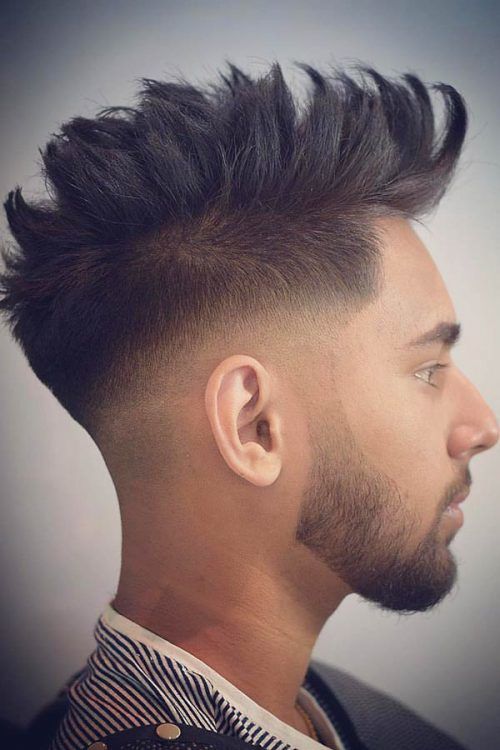 Source: @mikes_custom_kuts via Instagram
Textured hairstyles for men pair with all kinds of faded hair styles perfectly. If you want to place emphasis on the structured top yet do not make it look overly prominent, go for a taper fade on the sides and back. Such male hairstyles can be complemented with fine stubble of facial hair for a more casual look.
Burst Fade Fohawk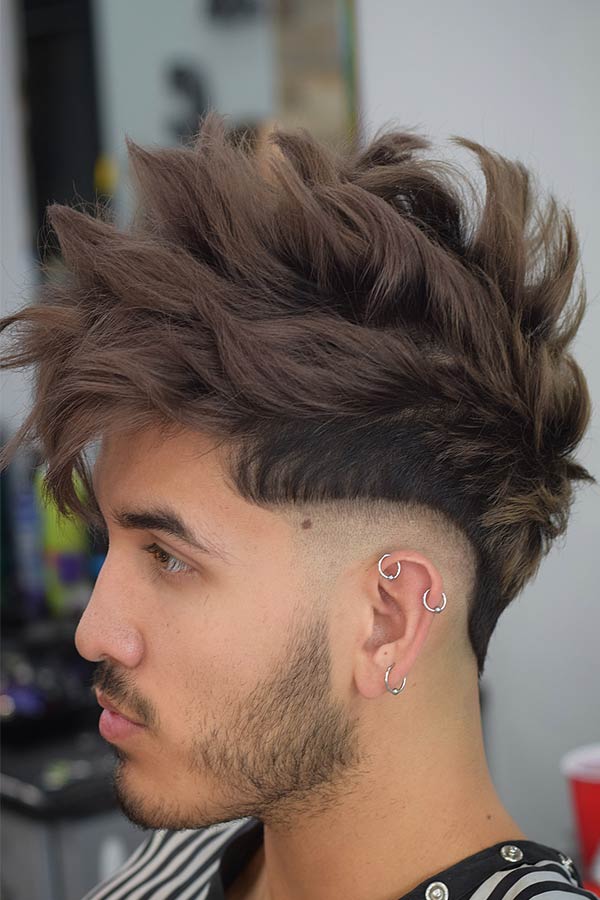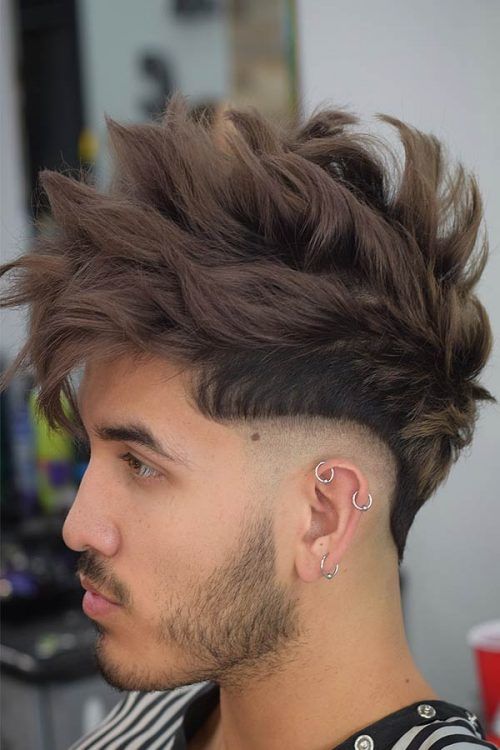 Source: @mikes_custom_kuts via Instagram
To enhance your Fohawk, it is hard to think of a better option than faded short hairstyles. They allow you to make your hair atop a focal point of the look yet keeping it presentable thanks to the clean-cut sides. One of the best faded men hairstyles to partner with a faux hawk is a burst fade.
Messy Tapered Hairstyle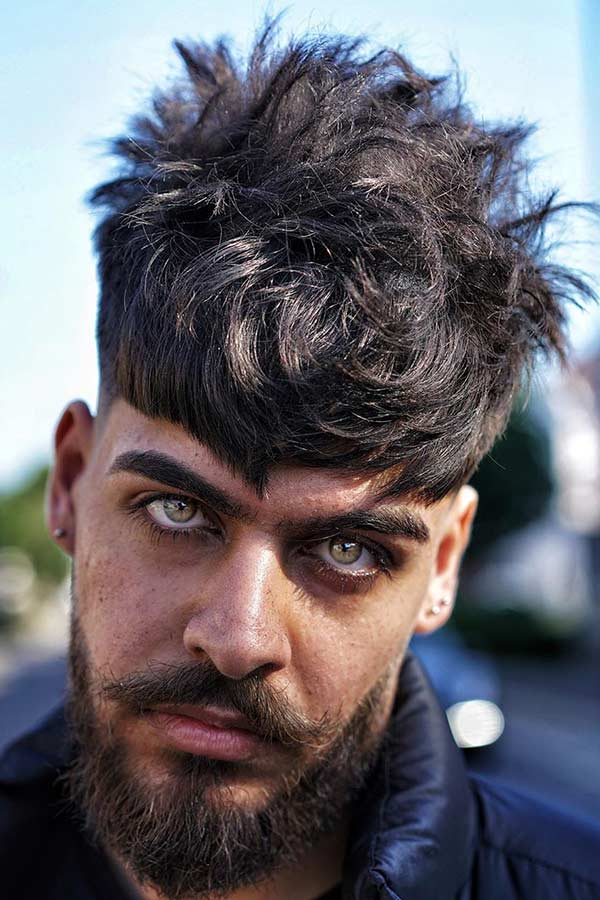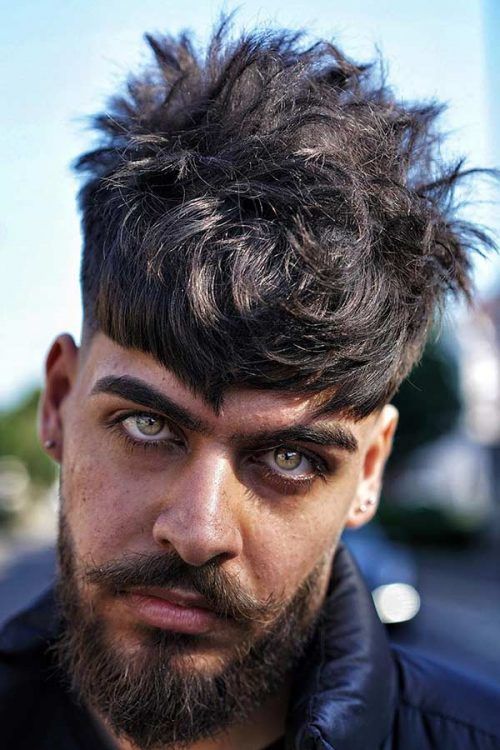 Source: @egobarbers via Instagram
Messy hairstyles for short hair are a great way to show off your relaxed and carefree nature. Yet, when being tapered, they get to another level of coolness. Most popular short hairstyles 2019 combine a messy top with a tapered back and sides for an ultimately stylish and trendy look.
Crew Cut With High Fade And Beard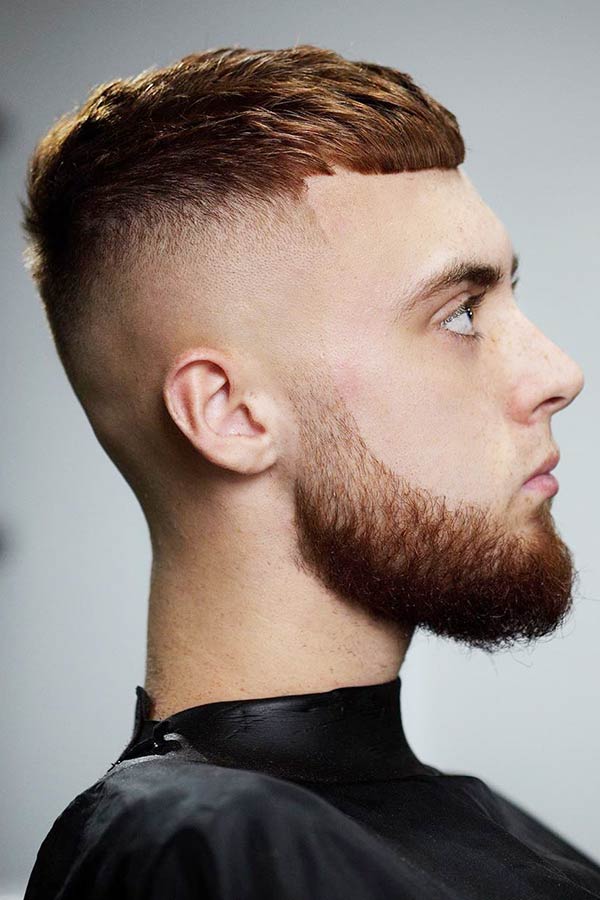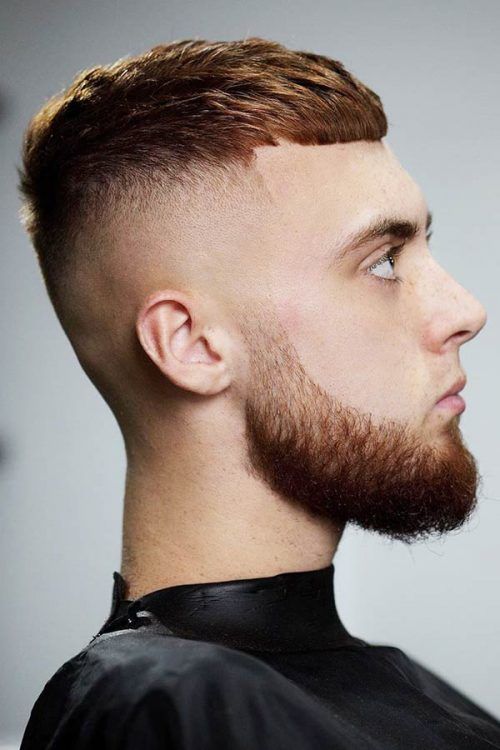 Source: @ryancullenhair via Instagram
A crew cut is one of those short hair styles that are not only utilitarian but also trendy. If you want to give your look an added sharpness and contrast, go for a high fade on the sides and back. Remember, the higher the fade, the cleaner appearance it creates. So, if you choose a high fade, then you are welcome to complement it with a full beard.
Longer Flow Hairstyles With Short Sides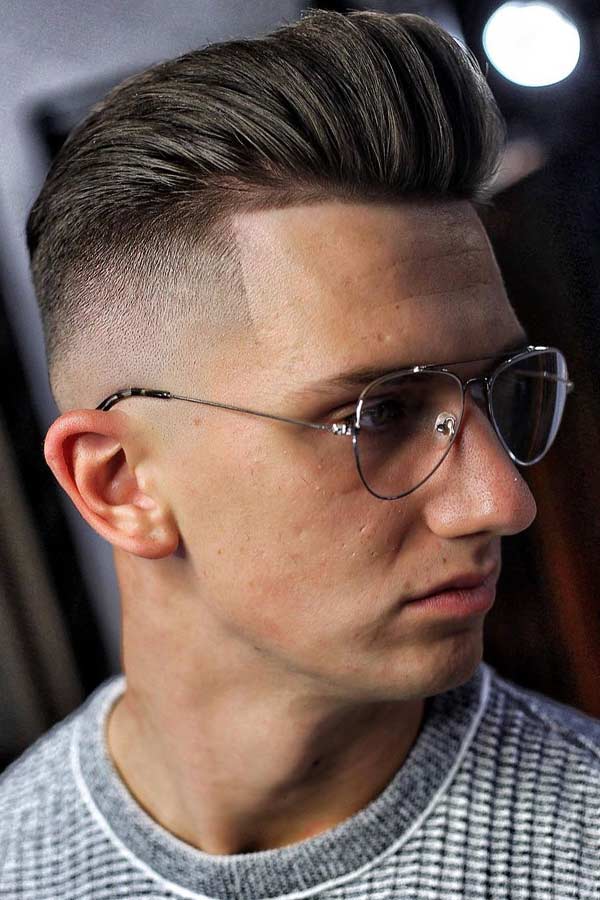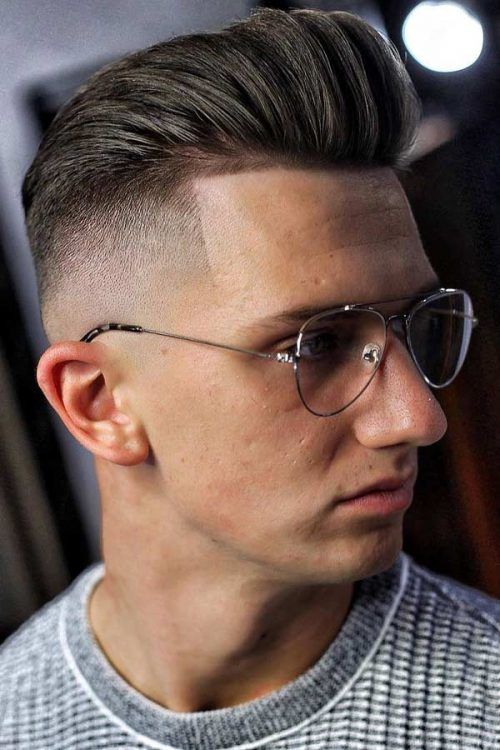 Source: @ryancullenhair via Instagram
Express you fashion forwardness by opting for flowing long hairstyles for men. They seem cool and trendy yet do not require much styling or maintenance. Just push your locks on the top freely back and accentuate them with shortly trimmed sides. A line up along the forehead and temples will finalize the look.
Short Textured Haircut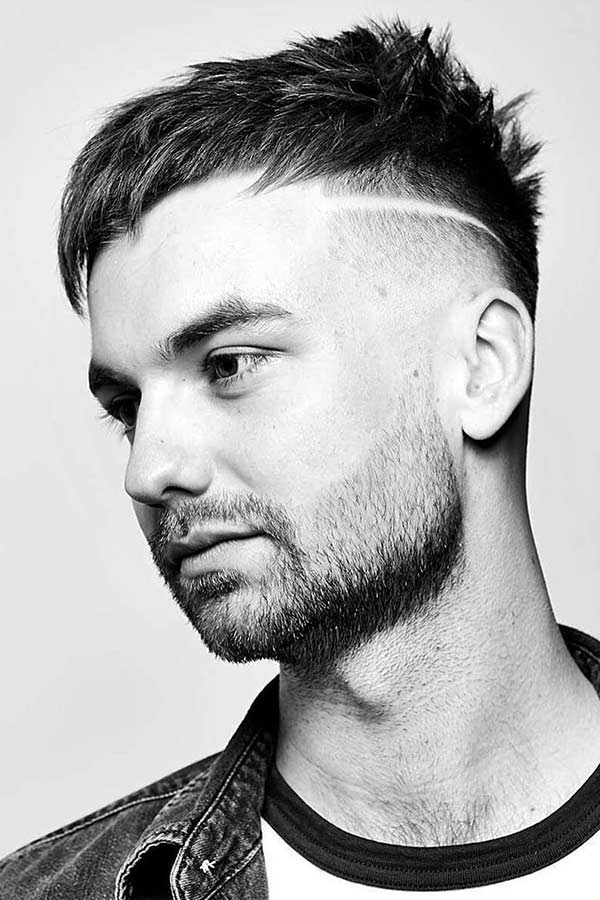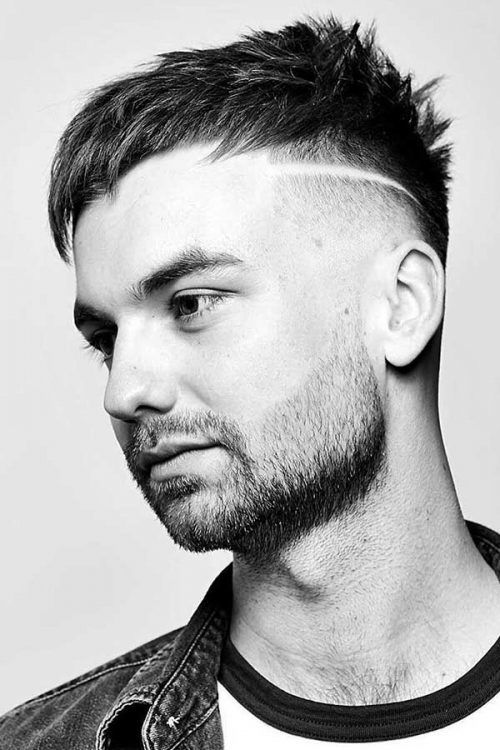 Source: @ryancullenhair via Instagram
Short hairstyles for men usually do not give you plenty of styling options. However, they are practical and effortless. Yet, these men's hairstyles can still look trendy when trimmed in the right way. With a textured cut, you give your hairstyle definition and outline. Thus, no extra styling is needed.
Nowadays, mens hairstyles range is so broad that it basically makes your head spin. Thus, it's always a good idea to get some help from a reliable source. Hopefully, our exclusive collection has provided you with lots of inspiration on your next cut.